Beyond Four Walls: 'Home' and 'Unhomeliness' in a Rapidly Transforming China
About changing concepts of home in China: from 'home is where my pig is' to 'has your frog returned home yet?'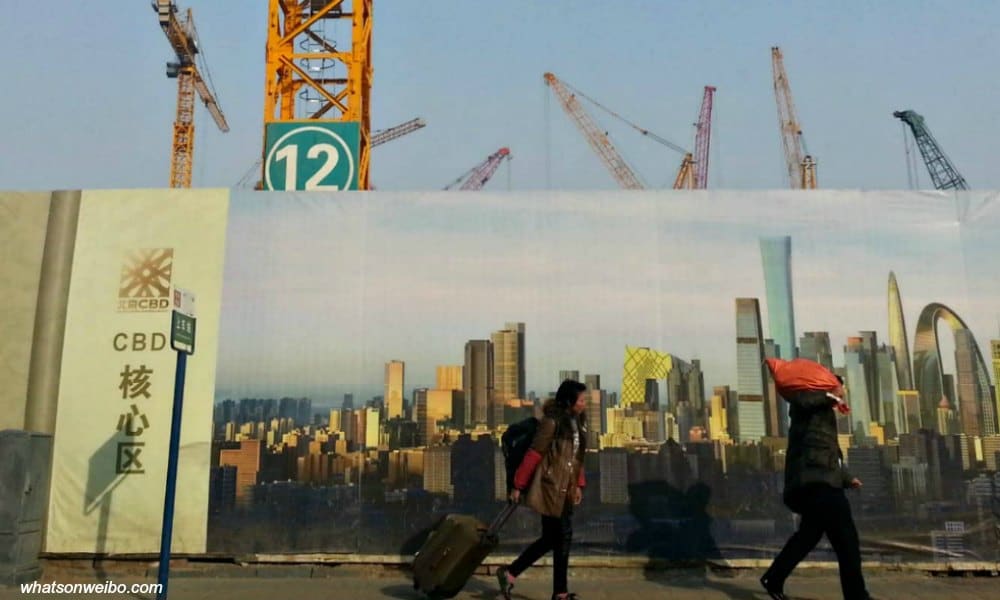 First published
A new global research report by IKEA has found that, increasingly, the feeling of home is no longer restricted to the four walls of residential buildings. In China, the study finds, approximately one-third of people in cities feel more 'at home' at other places than the space they live in. How can we translate these findings into present-day China? An overview by What's on Weibo editor Manya Koetse.
According to a global research report released by IKEA Group this week, traditional ideas of where people "feel at home" are drastically changing. The annual study on international living trends found that 35% of people feel more at home elsewhere than the place where they live, with a staggering 29% of people not feeling at home where they live at all.
The findings show remarkable changes associated with "feeling at home" compared to earlier annual reports, indicating that demographic, technological, and cultural forces are rapidly transforming conceptions of "home" in various places across the world.
China is part of this trend. The report, undertaken by London-based agency C Space, is based on studies that were conducted from March to August of 2018. Besides China, a large-scale survey was undertaken in 21 other countries among 22,854 respondents (11,325 from urban areas), and qualitative research was conducted in China, US, Germany, Denmark, Italy, and the UK.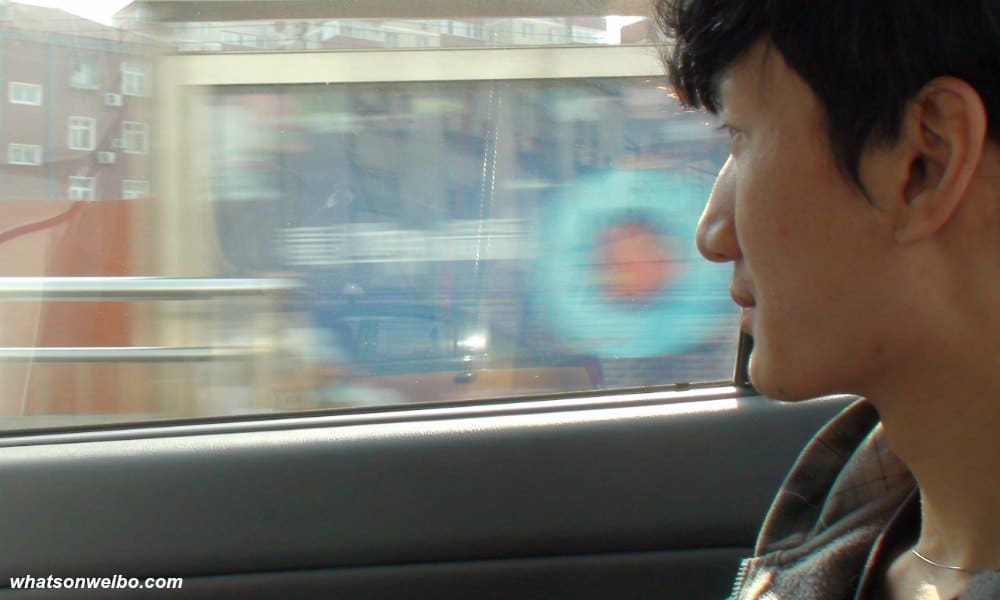 The results of the study might resonate with what many experience in Europe and the US, but also with the societal changes they have seen in China over the past decade – although the reasons for these developments are different between these places.
These are transformations that do not only become clear from the trends on Chinese social media, but, for me personally, also from the lives of friends and social circles in Beijing and Shanghai, and the rapid pace in which I have seen them moving from residence to residence, from neighborhood to neighborhood, and sometimes even from city to city, often with seemingly little emotional attachment to the houses where they have lived for years as urban dwellers. Where is that place called 'home'?
Going "Home" in China
"'Home' is much more than the place where people sleep at night: it is there where the (grand)mother cooks."
Every year at the time of China's Spring Festival, there is one hashtag that always goes trending on Chinese social media platform Weibo: "Return Home", #回家, Huíjiā.
For many people, the Spring Festival is the only time of the year they can return to their hometowns to celebrate the new year with their family and friends. As many now know, the travel season leading up to the Festival, the chūnyùn (春运), is the biggest annual mass migration of the world. Many of China's urban areas become deserted as people return to their native provinces to be 'home.'
The word for 'home' in Chinese, '家' jiā, means both 'home' and 'family.' The character has a history of some 3000 years; first depicting a house with a pig inside, as this article explains, and then evolving into the character it is today (see image below). In its earliest meanings, the 'home' was simply there where pigs were raised and where family activities took place; there where the family house was situated.
This duality in the concept of jiā still plays an important role in how the meaning of 'home' is understood in China today. In a small-scale survey that was done for the dissertation research of Wei Zhao (2015), for example, participants had various answers to the simple question of "what is jiā?", some describing it as a space or place, some seeing it as an abstract concept (representing, amongst others, 'harmony'), with others understanding it as the (extended) family itself (Zhao 2015, 125).
A simple search for the words 'going home' (回家) on Chinese social media today comes up with dozens of photos of mostly food, with Weibo users describing 'home' as that place where they eat the traditional home cooking from their family, also suggesting that 'home' is much more than the place where people sleep at night: it is there where the (grand)mother cooks, it is there where the land is, it is there where the family residence might have been situated for decades.
According to Wei Zhao's research, people from Yanxia, a town in the Zhejiang region of China, often associate 'home' with the various forms of land, both in the present and past, that is tied to where their families live or lived. It is a "place-bound relationship," Zhao writes (2015, 123), "enriched with social meanings," where the land incorporates those places that "support various kinds of daily activities, help construct social relations, and sustain cultural performances."
Many people who have moved from outside their family homes or villages to far away places or cities are no longer physically connected with this concept of 'home', drastically impacting how people experience "feelings of home" and how it relates to the places where they actually reside.
Unhomeliness and the City
"36% of Chinese renters get a sense of "belonging" from other spaces outside their residential home."
Due to many different factors, including the privatization of farmland, surplus of rural labor, and increased labor demands in the city, China is currently seeing the largest rural-to-urban migration in human history.
Rural residents who have lived in the same homes for decades are being relocated to new settlements, old houses are being demolished, and China's so-called 'ghost cities' are rapidly coming to life.
For the first time in Chinese history, more people are living in China's cities than they do in the countryside. In 2020, it is expected that 60 percent of the Chinese population will be permanent urban residents (Xinhua 2018).
A significant percentage of China's population is what is called a "floating population," China's internal migratory population; those who are living as temporary residents or 'migrant workers' in the cities (without changes in their 'hukou' or household registration). According to data provided by Chinese state media, that number of people is expected to hit 291 million in 2020 (Xinhua 2015).
As described by Yang et al (2014) in their article in Transforming Chinese Cities, there is a gap in living conditions between household residents and the 'floating' population, with the latter holding an 11,4 square meter size residence per capita, compared to 27.1 square meter per capita for the household population. Besides size, the 'floating' population also has less access to the more basic necessities in a home such as a kitchen (more than 45% has no kitchen) or flushing toilet (nearly 75% have to do without) (Yang et al 2014, 71).
In cities such as Beijing, underground nuclear bunkers from the Cold War era still serve as a residence to many urban dwellers. According to some sources, there are still one million people living in this underground world in Beijing alone, often dealing with poor air circulation and tiny living spaces with no daylight.
Although the nuclear bunkers are an extreme example, the living conditions of many people in Chinese cities, whether they are migrant workers, students, or those who have restricted access to urban housing, are far from ideal; think of overcrowdedness and a lack of what many would consider basic conditions for comfortable housing.
So, without even considering the idea that the perfect concept of "home" might always be a place outside of one's (urban) residence, it perhaps does not come as a surprise that many people do not always feel at home at all in their own house.
In China, the IKEA-commissioned study* found that 32% of those surveyed felt more at home outside their residential home, and that 36% of Chinese renters get a sense of "belonging" from other spaces than where they actually live (in other physical and/or virtual environments).* Since 89% of those surveyed lives in an urban location, these sentiments are especially telling about experiences of 'home' in the city.
A Sense of Belonging
"I felt that my house was the place I rented, but it was not my 'home'."
When residences are experienced as "unhomely," it could mean many things. There might be a lack of comfort, a lacking sense of community, a feeling of security/privacy that is not there, or a missing feeling of 'rootedness' in the place where one lives.
The findings of IKEA's study in China perhaps makes more sense when one considers the study's results that found that 62% of those surveyed believe that community is an extension of the residential home. This strengthens the idea that 'home' is not the four walls one lives in, but an emotional landscape that is influenced by all kinds of factors.
An interesting 2013 study by scholar Xiaobo Su argues that ideas of 'home' are made through social and emotional relationships, and that 'houses' in China are often perceived as exchangeable commodities to which one does not necessarily have these emotional connections, whereas 'home' is a sphere where one feels free and at ease.
People, therefore, go looking for that 'experience of home' through other ways; it might be through friends and social events, through (digital) communities, or through tourism: traveling to those places where people do get that sense of home. Su (2013) suggests that Chinese domestic tourists consume the idea of 'home' by visiting (heritage) tourist sites that embody that image for them.
Earlier this year, the huge success of the mobile 'Travelling Frog' game in China became a media hype. The game revolves around the travels of a little frog who lives in a stone cave and goes on frequent trips. Although perhaps far-fetched, some Chinese media tied the success of this game to a need for belonging and family, saying that higher house prices, intensive jobs, and the collapse of the pyramid family structure had led to a decline in young people starting their own family and homes; and started looking to these type of games or digital communities to fill the gap. "Has your frog returned home yet?" even became somewhat of a common question among young people in January of 2018.
Besides the rise of various online communities, the rapid digitalization of China has also made it easier for families and friends to stay in touch through social media and messaging apps. This also brought about that physical proximity to relatives has become less of a priority now than in earlier (nondigital) times (Tao et al 2014, 197).
A China Merchants Bank commercial that went viral in late 2017 titled 'The world is no bigger than a fried tomato omelette' ("世界再大,大不过一盘番茄炒蛋") shows how a mother helps her son to cook a home-made dish via mobile video while he is studying abroad. The viral campaign hit home for many exchange students.
Despite the fact that the dwellings of many people in present-day China lack space, privacy, or comfort, it does not necessarily mean that those living in these houses are dissatisfied. An interesting study by Li Tao et al (2014) on residential satisfaction of migrant workers in China found that kinship, family, friendship, and mobility, all play a significant role in how people feel about how they live. Additionally, instead of a focus on the sizes of their houses or the privacy they have, there is also a heightened focus on the low costs and transportation convenience of where one lives.
The fact that 'home' is an ever-changing and hot topic also becomes evident from the many posts on Chinese social media dedicated to this issue. As said, food is a recurring topic in these posts. On October 9, one Weibo netizen named Zhang Xizi (@张西子) wrote:
"What do you think is 'home'? For me, at one time, I felt that my house was the place I rented, but it was not my 'home'. If I was hungry, I would just order something, and I hardly touched my stove at all. But then I started feeling that although I rent my home, it is still my life. Home should be a place with character. And then I started to enjoy cooking, especially when other people enjoy the food with me, is when I feel happy. So feel welcome to come to my home."
Another Weibo user nicknamed 'I love rabbits' (@我爱兔子) writes:
"What is home? It's a person's most private space. What is happiness? It is the warmth one feels with every dish at the dining table after returning home."
A person named Sofo concludes: "What home is? If the people I love are there, then even a tent on the beach could be my home."
Interested to read more relating to this topic?
* Viral Merchants Bank Commercial Hits Close to Home for Chinese Students Abroad
* Chinese Ghost Cities Coming to Life
* Chinese Media Ascribe 'Traveling Frog' Game Hype to China's Low Birth Rates
* "I Am Fan Yusu" – Beijing Migrant Worker's Writing Takes Chinese Internet by Storm
Find the IKEA Life at Home report here.
By Manya Koetse
Follow @whatsonweibo
* Note that not all of the market specific results have been publicly issued by IKEA. What's on Weibo author has access to the market-specific results. Please email us if you have further questions about this data and the report's findings or contact IKEA.
* The report says that "36% of renters look to other physical spaces or even virtual environments for a sense of belonging"; for Chinese home-owners, this is 22%.
References
IKEA. 2018. Beyond Four Walls: Life at Home Report 2018. October. https://lifeathome.ikea.com/home/ [9.10.18].
Su, Xiaobo. 2014. "Tourism, Modernity and the Consumption of Home in China." Transactions of the Institute of British Geographers, 39(1): 50-61.
Tao, Li, Francis K.W. Wong, Eddie C.M. Hui. 2014. "Residential Satisfaction of Migrant Workers in China: A Case Study of Shenzhen." Habitat International 42:193–202
Xinhua. 2015. "China's floating population to hit 291 million in 2020: report." China Daily, Nov 12. http://www.chinadaily.com.cn/business/2015-11/12/content_22438127.htm [9.10.18].
Xinhua. 2018. "Urbanization rate of China's agricultural province exceeds 50 pct." Xinhua, March 5. http://www.xinhuanet.com/english/2018-03/05/c_137017957.htm [9.10.18].
Yang, Shangguan, Chunlan Wang and Mark Y. Wang.2014."Synergistic Evolution of Shanghai Urban Economic Development Transition and Social Spatial Structure." In Transforming Chinese Cities, Mark Y. Wang, Pookong Kee, and Jia Gao (eds). London: Routledge.
Zhao, Wei. 2015. "Home Beyond the House: The Meaning of Home for People Living in Yanxia Village, Zhejiang Province, China." Dissertation / Degree of Doctor of Philosophy in Architecture, Graduate College of the University of Illinois at Urbana-Champaign.
Spotted a mistake or want to add something? Please let us know in comments below or email us.
©2018 Whatsonweibo. All rights reserved. Do not reproduce our content without permission – you can contact us at info@whatsonweibo.com
'Good Doctor', Digital Hospitals: How Mobile Apps Are Alleviating China's Healthcare Problems
With the rapid digitalization of China's healthcare, Chinese patients now have more ways than one to receive medical assistance.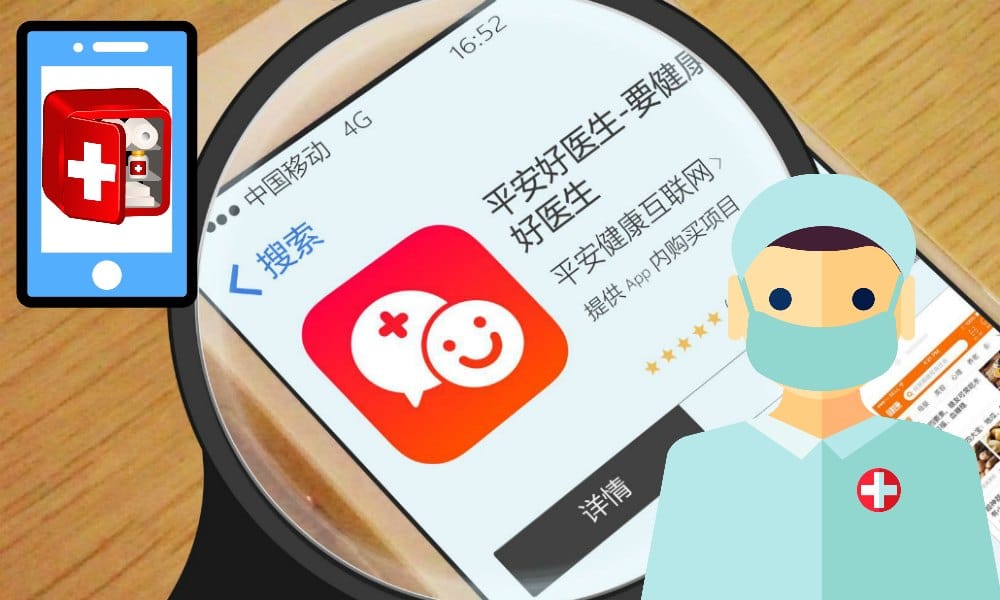 China's healthcare industry is facing some serious challenges. As Chinese society is rapidly digitalizing, mobile apps now provide innovative solutions to alleviate pressing problems in the country's health services sector.

This is the "WE…WEI…WHAT?" column by Manya Koetse, originally published in German by Goethe Institut China on Goethe.de: "Good-Doctor Apps und Digitale Krankenhäuser." 

Social Credit System, artificial intelligence, surveillance cameras; these are some of the hottest topics making headlines in mainstream Western media when discussing China-related developments recently.
With the rapid digitalization of Chinese society, these topics certainly have come to play a more important role in social media discussions within the People's Republic of China (PRC). But if there is one issue that seems to concern Chinese social media users the most, it is not facial recognition nor their 'Sesame score': it is the topic of healthcare.
In December of 2017, a photo showing a crying mother kneeling down beside a toddler on the sidewalk in front of a Shanghai hospital went viral overnight. The moment was captured on camera by a reporter who was visiting Shanghai's Children's Hospital.
The mother, Guo Yinzhen, is a single parent who had traveled from a remote village to seek medical help for her 3-old-son, who was suffering from congenital hydrocephalus or 'water on the brain.' Already having traveled to the city multiple times and spending all her money on medical bills, Guo could not afford the additional 100.000 yuan (€ 12.600) for medical procedures needed to save her son's life.
Guo's story struck a chord with Chinese netizens, who continue to share the heartbreaking photo on social media to this day. It has become emblematic of China's healthcare problems.
Crowded Hospitals and 'Healthcare Disturbance'
The key to an adequate healthcare system, no matter where in the world, is that there is a right balancing in the "iron triangle" of efficiency/cost containment, high quality care, and patient access.[1] China, however, struggles with all three sides of this triangle.
Guo's case is an extreme example, but many people in China dealing with less serious health issues and needing basic medical services also struggle to afford and access the healthcare they need.
Over 95% of people in China have health insurance, but people from different regions do not enjoy the same benefits and their out-of-pocket expenses can vary greatly. Uncovered medical costs can sometimes be catastrophic and simply unaffordable for patients and their families.
As more money flows are going to healthcare facilities in China's cities, there is also the issue of varying levels of providers' medical education and the overall healthcare quality, with the substantial majority of modern hospitals still existing in urban areas.
Easy access to the right kind of healthcare can be especially problematic for China's rural population, as people often need to travel long distances and have to go through the lengthy process of registering and waiting for their doctor's appointment, which sometimes requires them to stay in the city overnight.
For all of these reasons, China's bigger public hospitals can get super crowded, sometimes resembling shopping malls on an end-of-season sales day. On social media, both patients and medical workers often complain about the stress brought about by the huge crowds and the shortage of doctors in hospitals across the country.
Perhaps it is no wonder that China even has a word to describe outbursts of violence between patients and doctors: 'Yī nào' (医闹, literally: "healthcare disturbance").
One major problem within China's healthcare conundrum is the lack of local family or primary-care doctors, which often makes bigger hospitals the first stop to any kind of medical treatment for Chinese patients.
The reasons for this issue are manifold. There is a general lack of trust in private and smaller local healthcare clinics, for example, and patients often choose to go directly to a bigger hospital to avoid making extra costs.
This makes it extra difficult for many community health care centers – that are already struggling – to make enough money and to retain qualified staff. In a society that is rapidly aging, the challenges facing China's healthcare industry are only becoming more pressing.
A Doctor Today, Just an App Away
As China's online environment is thriving, new innovative online apps are popping up on a daily basis. Some of these apps, that have found their ways into China's most popular app rankings, are offering solutions to some of the country's most pressing healthcare problems.
One of these apps is Ping'an Good Doctor (平安好医生), which was developed by health insurance provider Ping'an in 2015 and calls itself China's "one-stop healthcare ecosystem."
Employing some 1000 medical staff in its in-house team, contracting over 5,200 external doctors, and collaborating with 3000 hospitals and thousands of pharmacy outlets across the country, the app is somewhat of an "online hospital."
Through the app, users can look through an online database of medical professionals, order medicine at nearby pharmacies, get 24/7 online medical consultancy, search for information about both Western and Chinese Traditional Medicine, etc., but they can also use Ping'an Good Doctor as a fitness app to track their own health.
When looking for a specific doctor for a one-on-one consult, the app first lets users select an area of expertise (e.g. dermatology or gynecology), and then offers a list of different specialists in various price categories.
Doctors from well-known hospitals, for example, or those with excellent ratings, have a one-time consultation fee of 100 yuan (€ 12,60). Other doctors can be consulted starting from 30 yuan (€3,70). All costs can be paid efficiently via online payment apps.
Ping'an Good Doctor uses an AI-driven system to ask patients various questions about their symptoms and to automatically create a user's medical record to save time. Based on the AI-generated record and the conversation with the patients – files such as photos can also be uploaded to the app -, the doctors can prescribe medicine or refer the patient to a hospital for an offline appointment if needed.
Ping'an recently announced that its number of registered users exceeded 300 million users, with 62 million monthly active users. Because the app keeps building on its AI-driven system, Ping'an Good Doctor can be expected to only become a 'smarter' smart health app the more popular it gets.
Although Ping'an is now leading within China's medical app category, there are many other apps providing similar services, such as Chunyu Yisheng (春雨医生), Haodafu Online (好大夫在线), or DingXiang Doctor (丁香医生).
The emergence of these apps is just one of the many ways in which China's digital developments, online media, and tech giants are impacting the healthcare industry, profoundly changing how patients receive healthcare information and access medical services now and in the future.
In a way, China's medical consultation apps fill the void in offline primary care. Patients who would otherwise turn to hospital care as their first stop can now  access medical consultations any time, any day, at a relatively low cost. Those who suffer from relatively harmless conditions could be diagnosed by a medical specialist via the app and get the medicine they need within a matter of minutes. With the growing popularity of these kinds of apps, many patients no longer need to visit a hospital at all.
Are smart health apps such as Ping'an Good Doctor the solution to China's healthcare problems? No, they're not. Struggling mums like Guo Yinzhen will not find the help they need there. But they do contribute to a more efficient healthcare environment where crowd flows in hospitals can be reduced, and patients do not need to spend a lot of time and money to stand in hour-long queues to get five minutes of their doctor's time.
Although smart health apps could not help Guo Yinzhen and her son, social media apps could. As soon as their story went viral in late 2017, Shanghai Children's Welfare Foundation Xiaoxingxin offered to cover medical treatments for the little boy, with a notable pediatric neurosurgeon operating the child. According to the latest updates, the boy's situation was "looking good."
Hopefully, the same holds true for the challenging sides of China's healthcare industry.
By Manya Koetse
Follow @whatsonweibo
[1] Burns & Liu, 2017: 3-4.
References/Linked Sources
Burns, Lawton Robert, and Gordon G. Liu. 2017. "Introduction." In China's Healthcare Industry: A System Perspective, Lawton Robert Burns and Gordon G. Liu (eds), pp-1-116. Cambridge: Cambridge University Press.
Economist, 2017. "China needs many more primary-care doctors." The Economist, May 11 https://www.economist.com/china/2017/05/11/china-needs-many-more-primary-care-doctors [20.10.19].
Zhou, Viola. 2018. "Does China Have Universal Healthcare? A Long (And Better) Answer." Inkstone, Oct 10 https://www.inkstonenews.com/health/china-translated-does-china-have-universal-health-care/article/2167579
This text was first published by Goethe-Institut China under a CC-BY-NC-ND-4.0-DE license (Creative Commons) as part of a monthly column in collaboration with What's On Weibo.
How Chinese Kuaishou Rebel 'Pangzai' Became a Twitter King
He's been called a 'Twitter king', but how did the unexpected online fame of this 'Hebei Pangzai' start?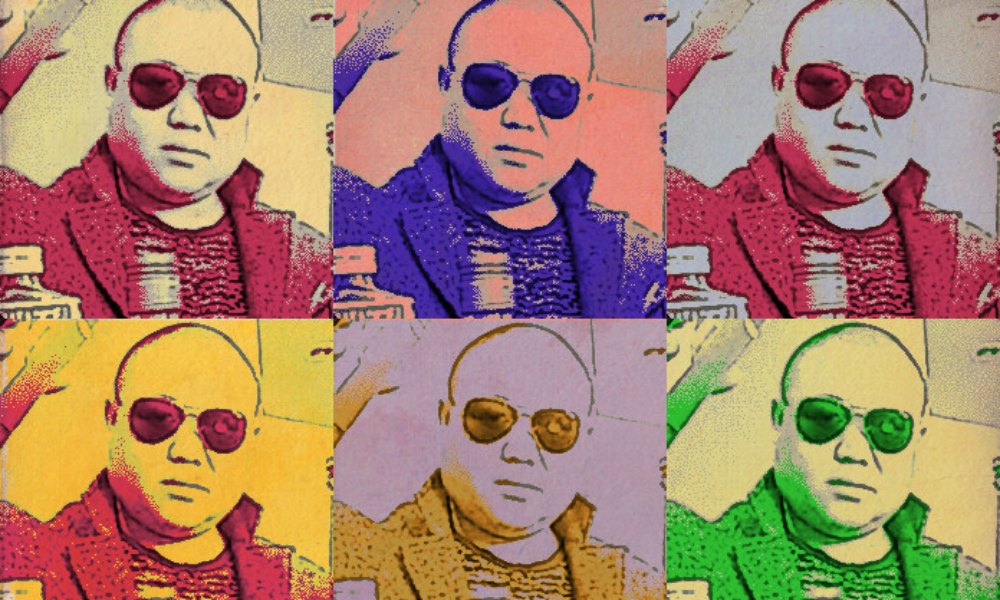 Twitter has fallen in love with a Chinese farmer after his drinking videos on Kuaishou were cross-posted abroad and went viral. He has embraced his new fans and Western social media, arguably becoming one of China's most successful cultural ambassadors of the year.
He describes himself as the "inventor of tornado beer drinking style" and as an "ordinary peasant from China." 'Hebei Pangzai' only joined Twitter in August of 2019, but he already has a Twitter following of more than 111.6K.
Although his account is temporarily restricted by Twitter at time of writing ("due to suspicious activity"), his popularity is only growing. Some Twitterers, such as the China twitterer Carl Zha (@CarlZha), are even initiating a "#FreePangzai campaign" to restore the account of the "one true King."

But where and when did the online fame of 'Hebei Pangzai' start?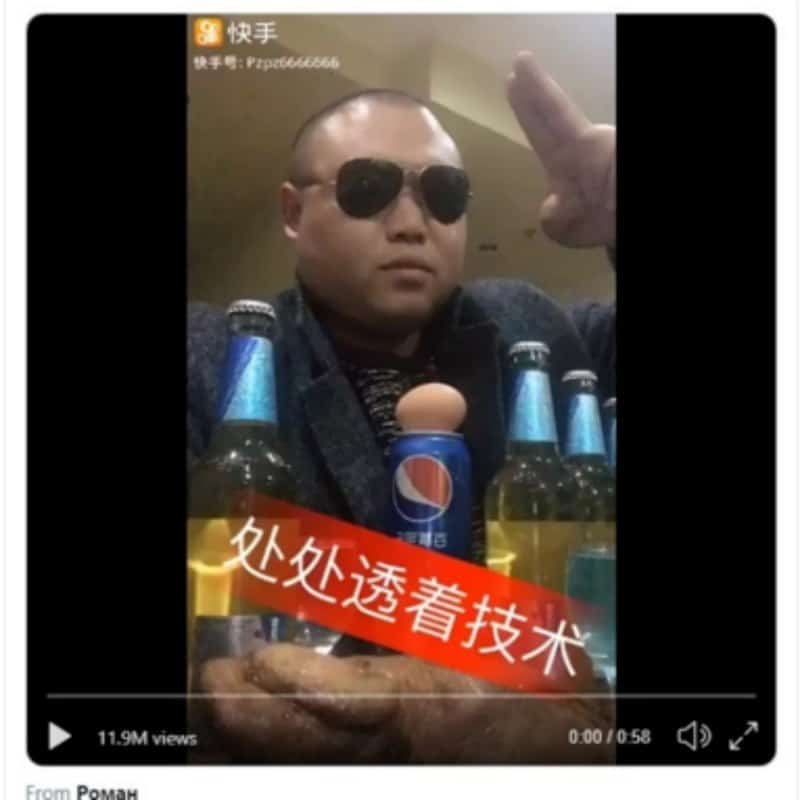 Let's begin our introduction to Pangzai with one tweet from March of this year, when Twitter user 'Hunnaban Trenchboss' posted a video from Chinese short video app Kuaishou (快手) showing a man – 'Pangzai' – wearing sunglasses and smoking a cigarette while preparing an incredible mixed drink.
The man in the video smoothly pops the cap off a bottle of beer with a chopstick, pours some in a large jar, then twirls the bottle and propels the rest of the beer in a tornado of force down his throat.
He follows that up by pouring in more beer, some blue liquor, an egg, some Pepsi, and a hefty glass of baijiu – which he dumps in only after lighting it on fire, igniting his finger, and coolly lighting his cigarette. He then chugs the entire concoction in a matter of seconds.
"How do I become as cool as this guy, The Coolest Guy?", the tweet said.
The same video was shared again in August by a few Russian accounts, was retweeted by an American account, and then went completely viral, racking up millions of views and tens of thousands of retweets.
That video has now been viewed almost 12 million times on Twitter, and has inspired tens of thousands of fans who herald him as 'king.'
The man in the video referred to as 'Pangzai' (胖仔, 'chubby dude') is Liu Shichao (刘世超), a 33-year-old farmer and small-time Chinese internet celebrity from a city called Xingtai in Hebei Province.
According to an interview with Technode, he found out about the video on Twitter when some of his new foreign fans opened Chinese social media accounts to find him and tell him about his overnight online fame.
"One message told me that I was a celebrity now in America," he told Technode: "So I chatted with the person [who sent the message] for a whole day, with the help of translation software."
Within two days of his video going viral, Pangzai had figured out how to use a VPN, opened his own Twitter account and started uploading videos.
He even posted a reply on the original viral video to alert everybody to his account.
Since then, Liu 'Pangzai' has amassed over 111,000 followers and has posted many more videos of everything from drinking, to cooking, to exploring his countryside hometown.
But it was the drinking videos specifically that earned him his following, both abroad and in China.
IT STARTED ON KUAISHOU
"Pangzai epitomizes the typical Kuaishou account."
Liu began his internet career three years ago on Kuaishou, a Chinese short video app massively popular among China's lower-tier cities and countryside.
In contrast to the polished, celeb-heavy platform Douyin, which is most popular among urban youths, Kuaishou is a platform for the masses. Its users are known for their crazy antics and general disregard for personal safety.
Pangzai epitomizes the typical Kuaishou account. Posting under the handle "Chubby Dude from Hebei" (@河北胖仔), he uploads videos of himself eating and drinking in eye-popping combinations, or sometimes smashing things – from bricks to unopened water bottles – with his bare hands.
Liu also gained notoriety, and a couple hundred thousand followers, from his mastery of the so-called 'beer tornado technique' (小旋风 xiǎo xuànfēng).
According to an interview with the BBC, he peaked at 470,000 followers on Kuaishou and was monetizing his online fame with some 10,000 RMB ($1420) per month.
Unfortunately for Liu, China's Cyberspace Administration announced a crackdown on vulgar and illegal content across multiple social media platforms in spring of 2018, with a focus on Douyin, Kuaishou, and its sister news company Jinri Toutiao. Kuaishou was pulled from app stores until it cleaned up its act.
It is unclear just how many videos and accounts have been removed as a result of the cleanup. We can get a rough idea from an announcement by Kuaishou earlier this year that in March of 2019 alone, it removed an average of over 11,000 videos and blocked almost 1,000 accounts every day.
The result for Liu was that his account was suspended for four months and the majority of his most popular videos, including the one that went viral abroad, were removed for promoting 'unhealthy drinking habits.'
When you look at his Kuaishou account today, you won't see many videos focused solely on baijiu and beer chugging.
The videos that remain on his account do include drinking (and his signature tornado move) but it is always accompanied by eating food or some other activity (such as sitting deep in a field of corn, munching on roast duck and dribbling baijiu down a corn leaf into a glass.)
Liu still has 354,000 followers on Kuaishou. His Chinese fans, like his foreign ones, marvel at his cool and collected manner as he eats and drinks all sorts of disgusting things.
Canned herring features heavily in his most popular recent videos, where he can be seen sipping the juice directly from the can.
"This has to be the most unaffected anyone has ever been by eating canned herring," says one fan. "The flavor is disgusting! 99.9% of people who try this would vomit," another online commenter replies.
AN UNEXPECTED TWITTER KING
"Liu is like many young men from the countryside of Northern China: open, friendly, humble, and genuinely excited to share his life."
This year, Liu seems to have embraced his newfound international stardom with grace and savvy.
He uses Twitter's in-app translation to help him communicate with fans and has been highly interactive on the platform.
Liu 'Pangzai' was also quick to open up a Paypal account and share it with followers, and has recently made YouTube and Instagram accounts to prevent scams pretending to be him. He has also collaborated with a Twitter fan to sell T-shirts online in America.
Many online fans have dubbed him 'king', perhaps the highest praise one can receive on the internet today.
But in contrast to the sunglasses and chill demeanor of his videos, Liu does not appear to be an internet celebrity overly obsessed with being cool.
Instead, he is like many young men from the countryside of Northern China: open, friendly, humble, and genuinely excited to share his life (and drinking habits) with the rest of the world.
After reposting all of his old drinking videos from Kuaishou, Liu started asking Twitter fans what they would like to see from him. Many responded that they wanted more about his life in rural China.
He has since followed up with videos showing him fixing a pipe with his friends, exploring his local market, cooking sweet potatoes, and, of course, a tutorial on how to master the 'tornado beer' technique.
Many have expressed concern for his health in light of his drinking habits, but he has assured everybody that everything he does is "within his ability" and that he doesn't drink like that very often.
Liu is grateful for all the support and praise he has received from abroad. "It's crazy to have all of these foreign friends all of a sudden," he recently said in an interview with Deadspin: "I really have to thank them a lot. If I have a chance I will find them and we can drink together."
Seemingly to that end, Liu has recently organized a party to be held near his hometown in China, exciting fans all over the world and spurring many to apply for passports and visas.
The date is set for December 14, 2019 in Zhuamadian City, Hebei Province; too soon for many to make it, but he promises another party in the spring. There is talk also of organizing a visit for Liu 'Pangzai' to go to America.
WINDOW INTO CHINESE SOCIAL MEDIA
"Liu's growing notoriety abroad seems to have flown completely under the radar of the Chinese internet."
Although there are many vloggers like Pangzai in China, he stands out on Twitter as some sort of window into Chinese social media, especially because this online world is usually so separate from the Western realms of social media.
The recent explosive growth of Chinese social media apps such as TikTok has not done much to facilitate this kind of cultural interaction between China and the West.
Although Tiktok is, in fact, a Chinese app (called Douyin 抖音 in China), there are actually two different versions of the same app in mainland China and abroad, meaning that the other 'Pangzais' of the Chinese internet still remain within the social media spheres of the PRC, rarely gaining fame outside of the Great Firewall.
In China, aside from his fans on Kuaishou, Liu's growing notoriety abroad seems to have flown completely under the radar of the Chinese internet. He is mentioned only one or two times across Weibo, and searches for his name and handle on WeChat, Baidu, and various Chinese tech news sites bring up nothing.
Liu is a rare example of genuine soft power coming out of China. A pure, grassroots man of the people with strong cultural appeal who sincerely enjoys sharing his life and his culture with the rest of the world. His tweets are full of affection and appreciation for his fans, as well as frequent prompts for followers to share their own lives and customs of their home countries.
To watch his introduction to Twitter and rise to fame is to see the best of the internet: cultural interaction, genuinely shared delight, and mutual admiration inspired by hilarious antics caught on camera.
His Twitter fans express their hope that Twitter Support will soon lift the temporary ban on their 'Twitter king.' To them, it's perfectly clear: this online king is nowhere near dead, long live Pangzai!
Follow the #FreePangzai hashtag on Twitter.
Update: Panghaizi is out of Twitter jail!

Want to read more about unexpected online celebrities from China? Also see:
The Story of Two Farmers Who Became Internet Celebrities;
The "Vagrant Shanghai Professor";
From Farmgirl to Fashionista: Weibo Celebrity Fairy Wang.

By Jessica Colwell
Follow @whatsonweibo
It's almost Black Friday! We've already listed the best VPN deal for you here.
Spotted a mistake or want to add something? Please let us know in comments below or email us. First-time commenters, please be patient – we will have to manually approve your comment before it appears.
©2019 Whatsonweibo. All rights reserved. Do not reproduce our content without permission – you can contact us at info@whatsonweibo.com.