Mao-Era Military Marriage Regulations Under Fire on Weibo
"The crime of destruction of the military marriage" (破坏军婚罪) apparently is not a crime if you're cheating from within the army.
If you have an affair with a military spouse, it is a criminal offense. But if you're cheating from within the military, it is not considered a crime against military marriage. On Weibo, the story of one military wife has sparked anger among netizens about the Mao-era military marriage regulations.
An online discussion regarding marriage regulations for military personnel in China has been censored following anger over supposed unequal treatment of "the crime of destruction of the military marriage" (破坏军婚罪).
The discussion was triggered by an online post of a military wife who claimed her husband cheated on her with another female army member. It concerns a Chinese serviceman by the name of Gu Yan (顾炎) and a female officer named Shen Jingwen (沈静雯). The hashtag "Gu Yan, Shen Jingwen" (#顾炎沈静雯#) soon went viral on Weibo.
The lengthy story was originally published on Weibo by Gu Yan's wife, a medical doctor.
According to the online account, Gu Yan and his wife met each other during their junior high school days, and then each went on to study in different fields. Gu Yan trained to join the army; his wife specialized in the medical field and became an anesthesiologist. The couple got married in 2016, had a child in 2017, and their future looked bright until the husband and wife were separated for eight months during the COVID19 epidemic.
According to Gu's wife, it was during their long time apart that Gu started seeing Shen Jingwen, an army staff member whose father also serves as a commander in the army. The affair soon became serious, and Gu supposedly became more invested in this new relationship than in his marriage, even to the point of blocking his wife, who then contacted his unit to report the affair.
Gu's wife alleges that Shen Jingwen threatened and bullied her and that she suffered abuse by her husband. Screenshots and phone conversation recordings to prove this behavior towards Gu's wife were also leaked online.
In her online post, Gu's wife indicates that the situation between her, her husband and Shen had become untenable but that she had nowhere to turn to since the existing laws mostly protect those who are serving in the army. Even if she wanted a divorce, she could not get one if he would not want to file for divorce.
The 'destruction of military marriage' (破坏军婚罪) is a criminal offense in China, but in this case, the law did not apply because it concerned a military officer starting an extramarital relationship with another member of military staff. The law mainly focuses on non-marital acts that occur between non-military personnel and military spouses.
The law is a controversial one. As previously explained by Sixth Tone, it is a Mao-era law to prevent military spouses from straying. In 2016, one man from Beijing was prosecuted under the law for living with a soldier's wife for two months.
In 2019, one man was sentenced to two years' imprisonment for living together with a military spouse and also fathering her child with prior knowledge that her husband was a serviceman, as reported by China Military.
Although the regulations on the protection of marriage of soldiers date back much longer, breaking up a military marriage was also listed as a criminal offense under "The Offenses Against Marriage and the Family (Arts. 179-184)" in the Criminal Law that was enacted in 1979.1
Weibo netizens are sharing screenshots of the Baidu Encyclopedia page explaining the law, with one segment clearly stating that "if it concerns an illicit love affair between two members of the army, and their partners are not members of the army, then this does not constitute as a crime of destructing a military marriage [破坏军婚罪]."
Censorship showed the sensitivity of the topic; not only was it removed from Weibo, but also from other sites such as Q&A site Zhihu.com. The sentence from the Baidu page that was highlighted and shared online also no longer shows up on the Encyclopedia page.
"The moment this hit the Weibo hot search lists, it was gone within minutes," one person on a Baidu message board wrote.
The sensitive nature of the topic partly lies in the fact that this is about members of the military, who are usually praised as heroes for their sacrifices for the country.
"To me, the word 'serviceman' always sounded like a divine word," one commenter writes on Weibo: "I'd never expected that it could also bring up loathing in me."
Meanwhile, many alternative hashtags popped up on social media to replace the censored ones. Besides the "Gu Wen Shen Jingwen" hashtag (#顾炎沈静雯#), there are also many others including "Military Cheating Is Not Considered a Crime against Military Marriage" (#军人出轨不算破坏军婚罪#), "Gu Wen and Shen Jingwen Are Shameless" (#顾炎沈静雯不要脸#) and the creative hashtag "Female Jun People Break Jun Marriage" (#女jun人破坏jun婚#), with 'jun' being pinyin for the Chinese character '军' (army).
A mainstream sentiment expressed online is that existing laws regarding military marriages are clearly unfair: anyone who cohabitates with a spouse of an active member of the military could be sentenced, while someone within the military could cheat on their wife without any consequences for them nor for their extramarital sex partner.
Many netizens defend Gu's wife and condemn Gu and his military girlfriend for abusing their power and taking advantage of their position to bully the weakest party, especially while there is a child involved.
"If a military wife needs to rely on netizens to assert their legitimate marital rights and interests, it really is a disgrace to the Chinese PLA [People's Liberation Army]", one blogger wrote.
On the evening of March 19, the Weibo account 'People's Frontline' (@人民前线), an official channel of the People's Liberation Army, responded to the situation. Their official statement confirms that their department previously received a complaint from Gu's wife about the living situation of her husband within the army, and that both Gu and Shen were given discipline sanctions. Gu and his wife are currently getting a divorce.
The statement also says that the PLA does not condone the actions of individual members of the army who violate social morals and family virtues. The statement was shared over 18,000 times on Saturday.
Some netizens praised the official statement, saying it showed that the army was becoming more "open and transparent."
By Manya Koetse, with contributions by Miranda Barnes
1 Leng, Shao-Chuan. 1982. "Crime and Punishment in Post-Mao China." China Law Reporter 2, no. 1: 5-35.
Spotted a mistake or want to add something? Please let us know in comments below or email us. First-time commenters, please be patient – we will have to manually approve your comment before it appears.
©2021 Whatsonweibo. All rights reserved. Do not reproduce our content without permission – you can contact us at info@whatsonweibo.com.
Courage, Camaraderie, and Criticism: The 2022 Sichuan Earthquake on Chinese Social Media
Hashtags and online stories shared on Chinese social media in the aftermath of the devastating earthquake in China's Sichuan.
These are the hashtags and online stories that are shared on Chinese social media this week during the aftermath of the devastating earthquake in China's Sichuan.
On Monday September 5, at 12:52 local time, a strong earthquake struck southwestern China's Sichuan Province. The 6.8-magnitude earthquake jolted Luding County, Ganzi Tibetan Autonomous Prefecture, and killed at least 88 people.
The tremor could be felt miles away from the epicenter, including in the provincial capital Chengdu, which is about 220 kilometers from Luding. The earthquake injured more than 270 people, while 30 persons are still missing.
As many netizens shared videos of how they experienced the earthquake, dozens of hashtags went trending on Chinese social media relating to the earthquake and its aftermath, including the 2.9 magnitude aftershock Luding experienced on Wednesday.
There were many stories shared on Weibo relating to the extensive damage and devastation caused by the earthquake. But besides the solidarity statements expressed online, there was also criticism coming from netizens about local authorities prioritising the battle against Covid-19 at such a critical moment.

Sharing Stories of Compassion and Camaraderie after Earthquake

Bad times sometimes bring out the best in people, and this was shown in the many stories circulating online this week.
The 56-year-old Ms. Gao, who runs a local chicken noodle soup restaurant in the town of Moxi in Luding county, was not at her restaurant when the earthquake hit. But she soon rushed to the disaster area and used all she had left to provide free soup and noodles to local residents and rescue workers, even though Gao, who suffers from breast cancer, is struggling herself (#患癌女子用仅剩一罐气为震区居民做汤面#).
Another Luding country resident, a local farmer named Chen, reportedly spent 12,000 yuan ($1730) out of his own pocket to buy and butcher three giant pigs in order to provide the local residents and fire fighters with roast pork. Chen's brother additionally donated 1000 kilos of rice so that people in the disaster zone could have some warm meals (#四川兄弟给震区捐3头猪2000斤米#).
On September 9, one Chinese TV reporter who was working in the disaster zone rescued a young child who was separated from his parents during the chaos. Videos showed how the reporter, determined to find the child's parents, prioritized the child over his work. The little boy was eventually reunited with his mother, who had not slept for 48 hours (#记者受人之托紧抱孩子不撒手#).
These kind gestures and efforts were much needed for those dealing with grief and loss after the earthquake. One man in Luding smiled when a reporter approached him, but he broke down in tears the moment he started talking about losing his sister in the earthquake (#大哥微笑接受采访一开口泪崩了#).
Chinese media outlet Fengmian reported that the 26-year-old rescue worker Qin Xiaoqiang (秦晓强) worked around the clock to rescue and dig out three people who were trapped under the rubble. Afterward, he learned that his own father and sister were killed in the earthquake (#痛失家人特警说要让更多家庭团圆#).
Some families lost all they had in the earthquake. On Weibo, many people donated to various earthquake-related causes via the Weibo Public Good platform (微公益).
Besides the aid charities raising funds thanks to Weibo and Wechat users, there are also dozens of Chinese celebrities who stepped up and donated money to help rescue work in the region. Among them were Chinese actor Leo Wu (Wu Lei, 吴磊) and Chinese actress Rosy (Zhao Lusi, 赵露思) – both made headlines for their contributions to the rescue operation (#吴磊为四川震区捐赠物资#, #赵露思向四川泸定捐赠物资#).
There were also other celebrities, including names such as Zhang Tian'ai and Wang Yibo, who donated money to help fund five Sichuan rescue teams to go to the front lines and to transport basic necessities to Luding County and other affected regions (#王一博为四川震区捐赠物资#).

Official Media Accounts Highlight Compassionate & Courageous Rescue Efforts

Over the past week, Chinese official state media outlets such as People's Daily, Xinhua, and CCTV published countless posts on Weibo relating to the earthquake. In covering the earthquake on social media, Chinese state media have a clear human interest angle and make a strong appeal to emotion as many of these posts specifically focus on the rescue and relief efforts and the bravery, compassion, and humanity shown by Chinese rescue workers (#消防武警民兵公安奔赴震区救援#).
On September 8, People's Daily highlighted the moment an armed officer evacuated a baby from the disaster zone, the small child calmy drinking their milk while safely strapped on the soldier's back (#震区宝宝在武警背上乖乖喝奶#).
People's Daily also reported about several firefighters carrying an old lady and getting her out of the earthquake zone.
Global Times published a story and video about a firefighter whose feet were completely blistered and battered after working in the earthquake-hit zones (#震区消防员脚底被磨破#).
Official media published various propaganda posters showing emergency workers, including firefighters, paramedics, and police officers, during the rescue operations. One poster compared the ongoing relief efforts in Luding to those during the 2008 Great Sichuan earthquake or Wenchuan earthquake, during which a devastating 69,000 people lost their lives.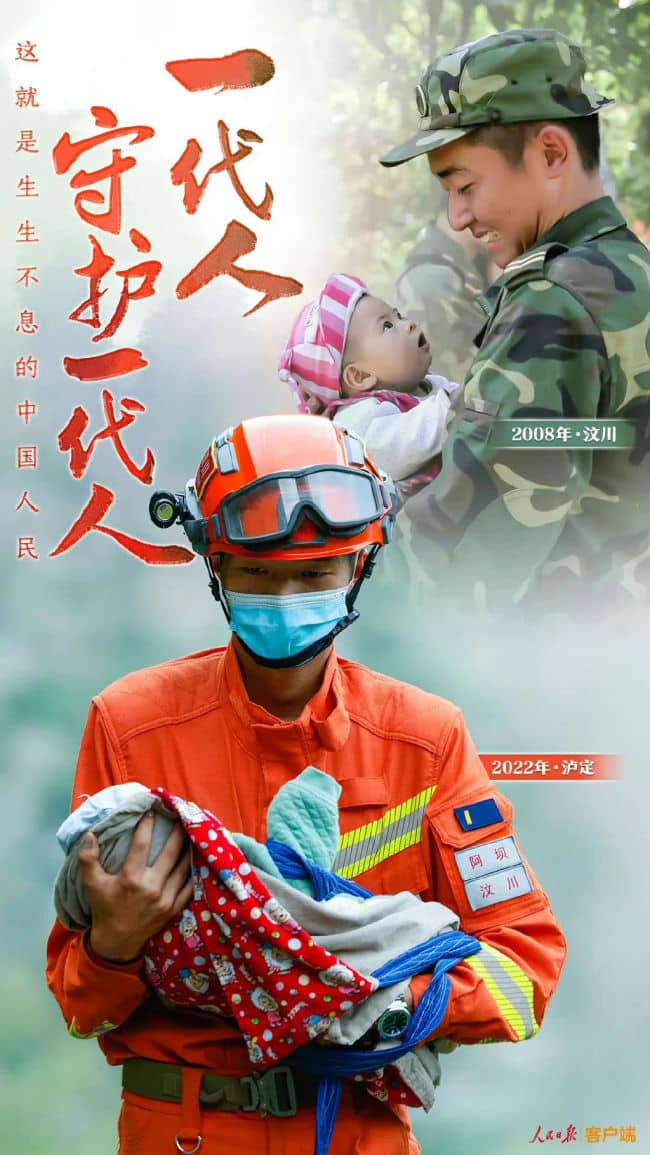 The China Fire and Rescue account shared a "Pray for Luding" poster on Weibo showing emergency workers carrying a special rescue stretcher with the help of volunteers. The hashtag "Pray for Luding" (#为泸定祈福#) received over 280 million clicks within four days time.
State media outlet Xinhua emphasized the bravery shown by young workers operating excavators on dangerously steep hills to clear roads of debris (#震区绝壁上的挖掘机手是90后# and #泸定地震中打通生命通道的孤勇者#).
The story of a team of 24 rescue workers who got stranded in the Hailuogou Scenic Area near Moxi Town also was covered a lot; the rescue workers were at the scene shortly after the earthquake hit but then were unable to get back to due to changing weather conditions. Their safe return was celebrated by various Chinese state media on September 10 (#24名滞留震区孤岛特警全部平安#).

Online Grassroots Criticism on Prioritizing Anti-Epidemic Efforts

But amid all the online stories and Chinese media narratives focusing on courage, compassion, and camaraderie, there was also criticism, as the strong earthquake put things into perspective regarding China's ongoing fight against COVID-19 and the zero-Covid policy.
After local health authorities in the disaster area announced a strengthening of epidemic prevention and control measures on September 7, including daily nucleic acid testing for rescue workers and a stop on volunteer rescue workers coming into the area, many people showed little understanding.
"The earthquake is not as important as epidemic prevention," some wrote.
"People's lives are at stake and we're still all about epidemic prevention. The earthquake [apparently] is not as powerful as the 'big flu' – it's really hopeless."
"Trivia. During the few years of epidemic in Sichuan, a total of three people died. During a few minutes of the earthquake, more than 70 died." "By now, the mortality rate of this virus is less than the flu," one person responded.
"The epidemic prevention comes first, people's lives come second," others wrote. "What happened to 'putting people and life first?'" some wondered, mentioning the famous quote by Xi Jinping.
One Weibo user posted a photo of a dog getting tested for Covid, writing: "[China's] major nucleic acid testing companies allegedly made $16 billion in the first half of this year, so it's certainly wouldn't be excessive if they donated some money to the earthquake area, right?"
By Manya Koetse 
Get the story behind the hashtag. Subscribe to What's on Weibo here to receive our weekly newsletter and get access to our latest articles:
Spotted a mistake or want to add something? Please let us know in comments below or email us. First-time commenters, please be patient – we will have to manually approve your comment before it appears.
©2022 Whatsonweibo. All rights reserved. Do not reproduce our content without permission – you can contact us at info@whatsonweibo.com.
"True Heroes of the City": Sparks of Patriotism as Firefighters Contain Chongqing Wildfire
Chinese firefighters and volunteers are praised on Weibo for going above and beyond to control the Chongqing forest fire.
Chinese social media is flooding with posts praising the "heroes of the city": all the firefighters, officers, soldiers, and Chinese citizens who fought 'fire with fire' and joined hands in combating the Chongqing wildfires under extreme weather conditions. The Chongqing wildfire containment has also fuelled patriotism among netizens.
This week, the mountain fires raging in Chongqing have become a big topic on Chinese social media. On Friday, the topic attracted at least one billion views on Weibo after professional firefighters and volunteers worked around the clock to contain the wildfire in the city's Beibei District (#重庆山火#).
The fight to contain the fire became a collective effort, with thousands of Chinese volunteers from Chongqing and beyond coming to the scene to help in any way they could. Professional firefighters from other regions also came to the rescue, including teams from Yunnan and Gansu Province that specialize in forest fires.
Videos taken at the scene on Jinyun Mountain on Thursday evening showed countless people helping out at the mountain, some footage captured how people were shouting out "come on!" ("雄起!") at each other for encouragement.
The southwestern regions of Chongqing and Sichuan Province have been battling forest fires since mid-August after the region has been facing scorching temperatures and severe drought.
Meanwhile, there have also been power cuts in Sichuan and Chongqing due to power shortages during the extreme summer.
At the same time, the city is also handling an emerging Covid outbreak and rolled out a mass testing campaign in order to test about 10 million residents in the city.
Chongqing is dealing with a lot: the wildfires are burning, the power cuts are leaving parts of the city in the dark, meanwhile the Covid tests are ongoing. (Image on Weibo, it says: mountain fire – power restrictions – nucleic acid) pic.twitter.com/rNxU62iu1A

— Manya Koetse (@manyapan) August 25, 2022
One image that circulated on Weibo showed a photo of Chongqing dealing with mountain fires, power cuts, and Covid test lines all at the same time.

Nixingzhe: The Heroes Going Against the Current

On the early morning of August 26, when the Beibei District fire was under control, Chinese social media flooded with posts praising the "heroes of the city": all the firefighters, officers, soldiers, and common citizens who joined hands to combat the fires under extreme weather conditions.
Dramatic photos and digital artworks also circulated on Chinese social media, including photoshopped images produced by netizens and state media.
One photo from the scene (displayed below) served as an inspiration for other online posters and edited images, including one by state media outlet People's Daily.
People's Daily published multiple images evoking feelings of patriotism, such as a bird's eye view photo of the mountain fire and the rescue efforts, writing: "These are the amazing Chinese people" ("这就是了不起的中国人").
On social media, the Chongqing firefighters are referred to as nìxíngzhě (逆行者), "the ones going against the tide." This term, describing those who go beyond their call of duty, has been used by state media since early 2020 to refer to frontline workers and individuals who made a significant contribution or sacrifice during China's initial battle against the novel coronavirus (see 2020 Top 10 Buzzwords in China).
An important method used to contain the spreading wildfires in Chongqing is 'fighting fire with fire.' With the help of all the people at the scene, Chinese specialized teams used controlled fires to prevent more forest fires by burning the fuel that could feed another fire. People's Daily dedicated a Weibo hashtag page to this special and sometimes risky tactic of controlled burning ("以火灭火") (#重庆北碚山火中的反向点火战术#). According to Chinese media, this fire fighting tactic played a decisive role in containing the fire.
Videos circulating on Weibo showed how drained some local firefighters were after containing the fires in the stifling heat, dealing with heat stroke and exhaustion.
"I don't know what else to say, thank you," some commenters wrote, with others saluting Chongqing's heroes ("致敬英雄").
Many people expressed pride in how the wildfires in Chongqing were handled, drawing comparisons with forest fires in Australia and other countries.
One Hunan-based Weibo user wrote:
"Compared to last year's mountain fires in Australia which burned for nearly two months, and the July 30 fire in America's California that saw local people fleeing and leaving, the fires in Chongqing showed us the power of the Chinese people. People spontaneously donated money and goods, and young people rushed to the frontline. It reminded me of the major flood efforts in '98, how prepared for battle the white clothes workers were during the Covid outbreak in Wuhan, the subway rescue scene that happened in Zhengzhou last year. It makes my eyes tear up. This power comes from the love for the homeland that is rooted in the bones and blood of all Chinese people, this is the benevolent 'all for one, one for all' power of the Chinese people."
On Friday afternoon and evening, firefighters and officers returning from the mountain were welcomed by groups of locals applauding them, waving flags, and offering them bottles of water and lemonade. These scenes were shared by official media channels on Weibo and beyond.
Although the narrative of the movie-like Chongqing battle against the fire is largely directed by state media propaganda on Chinese social media, many netizens join in the online celebration of this positive outcome of a difficult firefight. At a time of zero-Covid, power cuts, and scorching heat, it seems that many people are glad to see a happy ending to an otherwise devastating natural disaster.
"The fire is finally out," one Weibo user wrote: "Front-line troops, firefighters, veterans, people of Chongqing, you are heroes, thank you for your great work!"
The past 48 hours have been incredibly intense for those in Chongqing's Beibei District, where thousands of people joined the fight against the wildfires on Thursday. pic.twitter.com/nvuntFogAB

— Manya Koetse (@manyapan) August 26, 2022
By Manya Koetse 
Get the story behind the hashtag. Subscribe to What's on Weibo here to receive our weekly newsletter and get access to our latest articles:
Spotted a mistake or want to add something? Please let us know in comments below or email us. First-time commenters, please be patient – we will have to manually approve your comment before it appears.
©2022 Whatsonweibo. All rights reserved. Do not reproduce our content without permission – you can contact us at info@whatsonweibo.com.