Mao-Era Military Marriage Regulations Under Fire on Weibo
"The crime of destruction of the military marriage" (破坏军婚罪) apparently is not a crime if you're cheating from within the army.
If you have an affair with a military spouse, it is a criminal offense. But if you're cheating from within the military, it is not considered a crime against military marriage. On Weibo, the story of one military wife has sparked anger among netizens about the Mao-era military marriage regulations.
An online discussion regarding marriage regulations for military personnel in China has been censored following anger over supposed unequal treatment of "the crime of destruction of the military marriage" (破坏军婚罪).
The discussion was triggered by an online post of a military wife who claimed her husband cheated on her with another female army member. It concerns a Chinese serviceman by the name of Gu Yan (顾炎) and a female officer named Shen Jingwen (沈静雯). The hashtag "Gu Yan, Shen Jingwen" (#顾炎沈静雯#) soon went viral on Weibo.
The lengthy story was originally published on Weibo by Gu Yan's wife, a medical doctor.
According to the online account, Gu Yan and his wife met each other during their junior high school days, and then each went on to study in different fields. Gu Yan trained to join the army; his wife specialized in the medical field and became an anesthesiologist. The couple got married in 2016, had a child in 2017, and their future looked bright until the husband and wife were separated for eight months during the COVID19 epidemic.
According to Gu's wife, it was during their long time apart that Gu started seeing Shen Jingwen, an army staff member whose father also serves as a commander in the army. The affair soon became serious, and Gu supposedly became more invested in this new relationship than in his marriage, even to the point of blocking his wife, who then contacted his unit to report the affair.
Gu's wife alleges that Shen Jingwen threatened and bullied her and that she suffered abuse by her husband. Screenshots and phone conversation recordings to prove this behavior towards Gu's wife were also leaked online.
In her online post, Gu's wife indicates that the situation between her, her husband and Shen had become untenable but that she had nowhere to turn to since the existing laws mostly protect those who are serving in the army. Even if she wanted a divorce, she could not get one if he would not want to file for divorce.
The 'destruction of military marriage' (破坏军婚罪) is a criminal offense in China, but in this case, the law did not apply because it concerned a military officer starting an extramarital relationship with another member of military staff. The law mainly focuses on non-marital acts that occur between non-military personnel and military spouses.
The law is a controversial one. As previously explained by Sixth Tone, it is a Mao-era law to prevent military spouses from straying. In 2016, one man from Beijing was prosecuted under the law for living with a soldier's wife for two months.
In 2019, one man was sentenced to two years' imprisonment for living together with a military spouse and also fathering her child with prior knowledge that her husband was a serviceman, as reported by China Military.
Although the regulations on the protection of marriage of soldiers date back much longer, breaking up a military marriage was also listed as a criminal offense under "The Offenses Against Marriage and the Family (Arts. 179-184)" in the Criminal Law that was enacted in 1979.1
Weibo netizens are sharing screenshots of the Baidu Encyclopedia page explaining the law, with one segment clearly stating that "if it concerns an illicit love affair between two members of the army, and their partners are not members of the army, then this does not constitute as a crime of destructing a military marriage [破坏军婚罪]."
Censorship showed the sensitivity of the topic; not only was it removed from Weibo, but also from other sites such as Q&A site Zhihu.com. The sentence from the Baidu page that was highlighted and shared online also no longer shows up on the Encyclopedia page.
"The moment this hit the Weibo hot search lists, it was gone within minutes," one person on a Baidu message board wrote.
The sensitive nature of the topic partly lies in the fact that this is about members of the military, who are usually praised as heroes for their sacrifices for the country.
"To me, the word 'serviceman' always sounded like a divine word," one commenter writes on Weibo: "I'd never expected that it could also bring up loathing in me."
Meanwhile, many alternative hashtags popped up on social media to replace the censored ones. Besides the "Gu Wen Shen Jingwen" hashtag (#顾炎沈静雯#), there are also many others including "Military Cheating Is Not Considered a Crime against Military Marriage" (#军人出轨不算破坏军婚罪#), "Gu Wen and Shen Jingwen Are Shameless" (#顾炎沈静雯不要脸#) and the creative hashtag "Female Jun People Break Jun Marriage" (#女jun人破坏jun婚#), with 'jun' being pinyin for the Chinese character '军' (army).
A mainstream sentiment expressed online is that existing laws regarding military marriages are clearly unfair: anyone who cohabitates with a spouse of an active member of the military could be sentenced, while someone within the military could cheat on their wife without any consequences for them nor for their extramarital sex partner.
Many netizens defend Gu's wife and condemn Gu and his military girlfriend for abusing their power and taking advantage of their position to bully the weakest party, especially while there is a child involved.
"If a military wife needs to rely on netizens to assert their legitimate marital rights and interests, it really is a disgrace to the Chinese PLA [People's Liberation Army]", one blogger wrote.
On the evening of March 19, the Weibo account 'People's Frontline' (@人民前线), an official channel of the People's Liberation Army, responded to the situation. Their official statement confirms that their department previously received a complaint from Gu's wife about the living situation of her husband within the army, and that both Gu and Shen were given discipline sanctions. Gu and his wife are currently getting a divorce.
The statement also says that the PLA does not condone the actions of individual members of the army who violate social morals and family virtues. The statement was shared over 18,000 times on Saturday.
Some netizens praised the official statement, saying it showed that the army was becoming more "open and transparent."
By Manya Koetse, with contributions by Miranda Barnes
1 Leng, Shao-Chuan. 1982. "Crime and Punishment in Post-Mao China." China Law Reporter 2, no. 1: 5-35.
Spotted a mistake or want to add something? Please let us know in comments below or email us. First-time commenters, please be patient – we will have to manually approve your comment before it appears.
©2021 Whatsonweibo. All rights reserved. Do not reproduce our content without permission – you can contact us at info@whatsonweibo.com.
"Remember Their Faces": An Online Tribute to the Chinese Soldiers Killed in Border Clash with India
"My love is crystal clear, it is only for China" – quotes and images; this is how the PLA soldiers are remembered on Weibo.
Quotes, photos, music, and posters; this is how the four Chinese soldiers killed at the Galwan Valley clash are being remembered on Chinese social media.
In June of 2020, four Chinese soldiers of the People's Liberation Army (PLA) were killed during a bloody border clash with Indian troops. The battle in the Galwan River Valley, in the disputed frontier region of Ladakh, was the deadliest border clash between the two countries in four decades.
News of the Chinese casualties was not released until late February of this year. Directly after the clash last year, Indian authorities said 20 of its troops had been killed. After the clash, a lot of fake news about the incident was circulating online.
That allegedly also played a role in why details about the deaths were revealed now, with Chinese Foreign Ministry spokeswoman Hua Chunyin (华春莹) stating that the truth about the incident was "distorted and misled international public opinion." She also said that "China's disclosure of the truth about the border confrontation in June 2020 helps people understand the facts and show respect for the martyrs."
Hua suggested that China initially did not report on the news to promote the "cooling and relaxation of the situation." According to Foreign Policy, it is rare for the People's Liberation Army to admit its casualties.
The four Chinese soldiers who were killed on June 15 of 2020 are Chen Hongjun (陈红军), 33, Xiao Siyuan (肖思远), 24, Wang Zhuoran (王焯冉), 24 and Chen Xiangrong (陈祥榕), 18.
Their commanding officer Qi Fabiao (祁发宝), 41, was badly injured during the clash. The four killed soldiers were posthumously awarded honorary and first-class merit citations. The injured regimental commander was also conferred with an honorary title.
On social media platform Weibo, the hashtag "Four PLA Soldiers Died in China-India Border Clashes" (#4名解放军官兵在中印边境冲突中牺牲#) had received 1,2 billion views by early March. Another hashtag, 'The Central Military Commission Honors the Five Heroic Officers and Soldiers Guarding the Borders' (#中央军委表彰5名卫国戍边英雄官兵#) received 250 million views on Weibo.
Chinese state media outlets made noteworthy efforts to shape the ways in which the soldiers are to be remembered, merging the political and the personal, and praising their patriotic commitment. Various official media accounts such as CCTV and People's Daily have posted several images on social media to pay respect to the officers and soldiers, including the images below, using the phrases "The place where I stand is China" ("我站立的地方是中国") and "I will defend the motherland with my life" ("我的祖国,我用生命捍卫守护").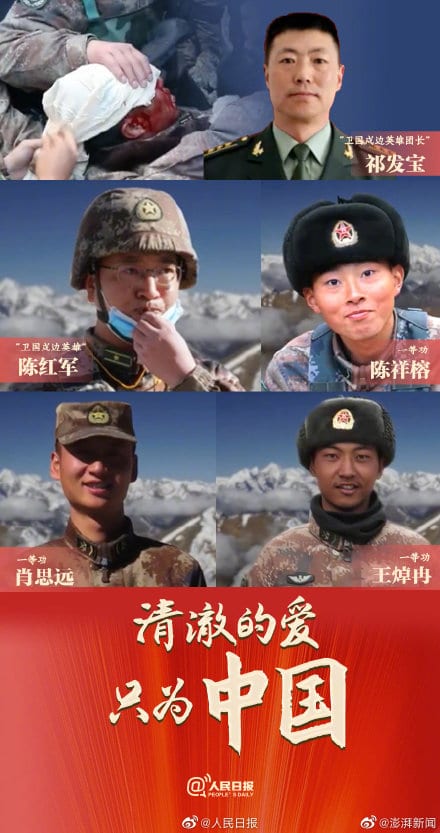 The phrase "We can't lose an inch of our motherland" (#祖国山河一寸不能丢#) was also used in posts dedicated to the remembrance of the killed soldiers.
People's Daily also published a video paying tribute to the soldiers along with the text "Please remember their faces" ("请记住他们的面孔"). The song "China Is Where I Stand" accompanies the images and footage of PLA soldiers in the video.
China Daily also published the quotes of the honored soldiers.
They are the following:
Qi Fabao: "Not everyone can understand my choice, but I have no regrets."("不是所有人都能理解我的选择,但我却无怨无悔").
According to Chinese media reports, Colonel Qi was the first one during the border clash who went forward along with just a few other soldiers and officers to negotiate with the Indian troops. He supposedly approached them with open arms when he was met with violence and was attacked with steel pipes and stones. He suffered serious injuries to the head.
Chen Hongjun: "No matter what post I hold, I will contribute my utmost."("党把自己放在什么岗位上,就要在什么岗位上建功立业".
As a battalion commander, Chen allegedly immediately came to the rescue when he saw Qi was being attacked, bringing other soldiers into what is described as a "rain of stones." Chen leaves behind his wife, who was five months pregnant at the time.
Chen Xiangrong: "My love is crystal clear, it is only for China."("清澈的爱,只为中国"). 
According to Chinese media reports on this confrontation, Chen Xiangrong rushed to the front and used his body as a shield to protect his comrades behind him. He was only 18 when he died.
Xiao Siyuan: "We are the boundary markers of our country. Every inch of soil under our feet is part of the motherland." ("我们就是祖国的界碑,脚下的每一寸土地都是祖国的领土"). 
Xiao reportedly also used his body to protect his comrades from stones, sticks, and pipes. He held a photo in his wallet of his girlfriend, with whom he was preparing to get married.
Wang Zhuoran: "Mum and dad, I may not be there until the end, but if there is an afterlife, I will still be a filial child and care for you well." ("爸妈,儿子不孝,可能没法给你们养老送终了。如果有来生,我一定还给你们当儿子,好好报答你们.")
Wang reportedly drowned while crossing a river to rescue his comrades.
After the details of these soldiers were released, many netizens on Weibo expressed their gratitude to them and praised the men.
"The battalion commander saved the regimental commander, the soldier saved the battalion commander, and the squad leader saved the soldiers. I pay my utmost tributes to you heroes!"
"Chen Xangrong, he is only an 18-year-old kid! I really don't want to call him a martyr. So heartbreaking!"
"Remember their names: Qi Fabao, Chen Hongjun, Chen Xiangrong, Xiao Siyuan and Wang Zhuoran! Salute!"
While hundreds of comments and posts on Chinese social media remember the soldiers, the ways in which they are remembered and the border clash is recounted remains a sensitive issue.
It has been reported that former Economic Observer journalist Qiu Ziming (仇子明), along with two other bloggers, have been detained for "insulting" the Chinese soldiers under a law against "defaming heroes." Qiu, who had 2.4 million fans on his (now-deleted) Weibo page, made remarks questioning the number of casualties China said it suffered in the border clash. News of his arrest received over 460 million views on the hashtag page (#辣笔小球被批捕#).
By early March, video footage came out showing a detained Qiu expressing remorse over his comments.
Meanwhile, on Weibo, the tribute to the PLA soldiers continues: "Thank you to our heroes," hundreds of commenters write: "We pay our respects to all those soldiers who are guarding the frontier!"

By Vivian Wang and Manya Koetse
Follow @whatsonweibo
Spotted a mistake or want to add something? Please let us know in comments below or email us. First-time commenters, please be patient – we will have to manually approve your comment before it appears.
©2021 Whatsonweibo. All rights reserved. Do not reproduce our content without permission – you can contact us at info@whatsonweibo.com.
'Random', 'Shocking', 'Pointless': Female Military Doctor Stabbed to Death in Tianjin Hospital
Another random outburst of violence in a Chinese hospital has shocked Weibo commenters.
A 47-year-old doctor from Tianjin died after a random knife attack in an outpatient clinic. Over recent years, more and more outbursts of violence against doctors make headlines in China.
The fatal stabbing of a female military doctor in Tianjin on July 12th has shocked Chinese netizens.
The Tianjin Affiliated Hospital of The Chinese People's Armed Police Forces, where the stabbing took place, issued a statement on Weibo about the incident (image below), saying that the 47-year-old Zhao Junyan (赵军艳) was violently attacked by three people at the outpatient clinic on Thursday morning.
Zhao died of her injuries later that day. The main suspect and two other suspects were apprehended by the police at the scene of the crime.
One witness told reporters at We Video that the attackers did not try to run away after the stabbing: "The [main] suspect was about 50 years old. He did not run away, perhaps he knew that would be futile. He did not say anything after stabbing the doctor. We called the police and had him arrested."
The same witness also suggests that the main suspect was the husband of a patient at the clinic, although Sina News reports that it did not concern one of Zhao's own patients.
Another person who was there when it happened told Chinese media: "When the suspect was arrested, he said that his target was not Dr. Zhao, but another doctor. Dr. Zhao was just unlucky to be the victim."
Violence against Chinese Medical Staff
Zhao's killing is one of many of such incidents over previous years; violence has become a more and more common occurrence in Chinese hospitals, where the so-called yinao phenomenon (医闹, 'medical disturbance') is a growing problem. Yinao is the organized disturbance and violence in hospitals against medical workers.
In 2012, another female doctor was axed to death by a patient in Tianjin; in 2013, a patient in Wenling fatally stabbed his doctor after he was unhappy with the results of an operation. Just last year, a male doctor in Anhui province was stabbed to death by the father of one of his patients. The list of incidents goes on, and it is extensive.
In response to the recent incident, Weibo users collectively expressed their anger and concern in the comment sections; dozens of threads on the issue received thousands of responses on Weibo this week, with people calling the brutal attack "pointless" and "outrageous."
"If this crime doesn't receive the death penalty, our legal system is a joke," a commenter by the name of '@33daysofsilence' wrote.
Another user wrote: "Even if this was their doctor there's no reason to hurt her. It is tragic to see that doctors end up in dangerous situations nowadays."
"Wouldn't let our kids become doctors"
"My husband is a doctor and I am a nurse. But we wouldn't let our kids become doctors. If this [violence] keeps happening, nobody will be willing to work in the healthcare industry anymore," a user named @Jinyueyao2008 wrote.
Many Chinese face major obstacles in getting access to the healthcare they need. Doctor-patient conflicts in China partly come from the high costs and long waiting times in Chinese hospitals and clinics, triggering frustration among patients. As conflicts become more violent and receive more media attention, more people are starting to perceive the professions of doctors or nurses as a potentially hazardous.
"It is difficult and expensive to see a doctor- this leads to more conflicts between doctors and patients," a top commenter writes on Weibo.
"There was no reason for this at all, these people must be crazy. This society is becoming more and more scary," another person wrote.
Meanwhile, the death of Zhao Junyan, who leaves behind a son and her husband, is mourned on Weibo. Posting virtual candles, many hope that Zhao can "rest in peace."
By Chauncey Jung
Follow @whatsonweibo
This article has been edited and condensed for clarity.
Spotted a mistake or want to add something? Please let us know in comments below or email us.
©2018 Whatsonweibo. All rights reserved. Do not reproduce our content without permission – you can contact us at info@whatsonweibo.com.