Growing Distrust in Car-Hailing Services: The Huolala Incident Explained
The Huolala incident has brought back existing safety concerns regarding ride-hailing apps in China.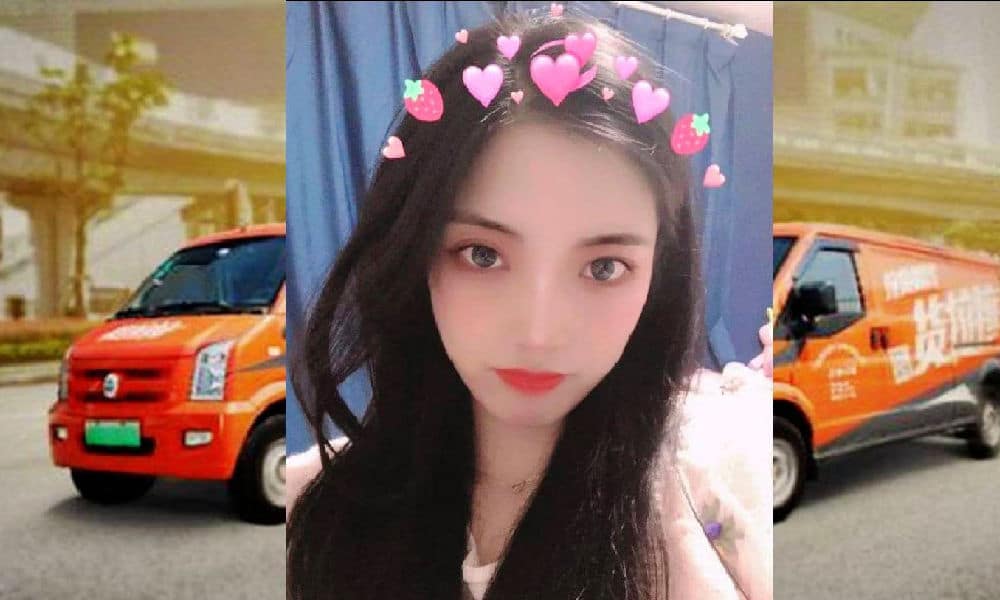 "Are there still any reliable vehicle service platforms in China?", many wonder after discussions continue on social media in light of the Huolala case, in which a 23-year-old woman died after jumping out of a moving vehicle. 
Over the past few weeks, a horrific incident involving China's leading private freight company Huolala (货拉拉) became a much-discussed topic on Chinese social media.
On February 6, a 23-year-old woman named Che Shasha jumped out of the window of a moving van she rented via Huolala when she was moving into a new house in Changsha.
According to an official police report posted on social media in early March, the main reason that made Che jump from the moving vehicle was that the driver, a man by the name of Zhou, had deviated from the intended route – supposedly in order to save time for the next order. Che, who was uncomfortable and scared, asked Zhou about the different routes multiple times, but he remained silent.
When Che exited the vehicle via the passenger window, the driver reportedly did not do anything to stop her. According to official announcements, the young woman died four days after the incident due to severe brain injury.
On 23 February, Zhou was detained by public security organ because of suspected negligence that caused Che's death. On March 3rd, Zhou was formally arrested and charged with manslaughter.
Huolala is an online vehicle-hailing platform founded in 2013. It's an on-demand logistics and delivery firm that makes it much easier and convenient for customers to arrange a van.
The Huolala incident immediately grabbed public attention. Although the official statements did not indicate that the driver physically assaulted Che, Weibo netizens pointed out the suspicious points in this case. Although some suggested that Che's actions were irrational, many commenters accused the driver of causing this tragedy.
On February 24, Huolala publicly apologized for the incident and said it would bring in better safety functions for passengers including emergency calls, vehicle recording, number protection, route sharing, and enhanced background checks on drivers.
Behind the Huolala Case
Although there have been no new developments in the Huolala case, online discussions regarding its underlying problems and issues are ongoing.
Most importantly, this incident triggered public anger about the existing security and safety issues of ride-hailing platforms in China.
This display of public anger is fuelled by two prominent cases that happened over the past years. The murder of a Chinese stewardess by a driver of the Didi Chuxing car-hailing app in 2018 became one of the most discussed topics of that year. Shortly before going missing, the 21-year-old woman from Zhengzhou had texted her friend that the driver of the ride she had arranged was "acting strange." Her body was found the next day. The driver's body was retrieved from a river nearby.
The horrific case was followed by a second Didi murder of a 20-year-old woman in Wenzhou. The victim was on her way to a birthday party when she contacted a friend via text asking for help. She was later found to have been raped and killed in a mountainous area nearby. The 27-year-old driver was arrested.
These two cases, which also brought other cases to light in which female passengers were abused by their drivers, sparked major public concerns about the safety of these online platforms. Car-hailing app Didi later introduced several new measures to protect their passengers. One safety guideline that included an 8 pm curfew for female riders drew outrage on social media.
The fact that a female passenger in 2021 apparently felt so threatened in a situation with her driver that she would jump from a moving vehicle led social media discussions back to the Didi murders and sparked new concerns over female passenger safety.
On Weibo, there were those comments indicating that even if the driver did not do anything to physically harm the female passenger, he was still guilty for not explaining why he would stray from the indicated route:
"Even you are innocent, you are still guilty. Not answering customer's questions just because you're in a bad mood? The driver should have explained the cause of the deviation in time and he should have tried his best to prevent the girl from jumping. After all, inaction is a crime in this case!"
Others also argued that the young woman had every reason to fear for her life"
"What kind of person would not be afraid to take head out into remote, unlit places?" And: "She is a tiny and slender girl, only 1.5m. It is absolutely understandable that she was so frightened."
However, there are also commenters who speak out in defense of the driver:
"The driver did nothing wrong. He did not physically harm her. Also, he waited for the girl while moving her stuff from the house to the van for such a long time, and just gained 50 yuan [$7.6]? Actually, the girl was overreacting, she was only considering her own interests, and even jumped from the window. Who would do such a crazy thing?"
Many commenters pointed out that the woman, who had a cell phone with her, could have just called the police.
There were also online rumors that the female passenger was engaged in illegal business involving prostitution, which may have made her more reluctant to contact police and more paranoid. These rumors were later refuted by a WeChat blogger.
The polarized discussions regarding this incident and who was responsible for it are still ongoing. Based on tragedies that happened in recent years involving vehicle-hailing platforms, many argue that thoroughly completing relevant regulations and reinforcing driver security checks is the only way to increase passenger safety in China today.
By Vivian Wang 
Follow @whatsonweibo
Spotted a mistake or want to add something? Please let us know in comments below or email us. First-time commenters, please be patient – we will have to manually approve your comment before it appears.
©2021 Whatsonweibo. All rights reserved. Do not reproduce our content without permission – you can contact us at info@whatsonweibo.com.
'Welcome Home, Molly' – Chinese Zoo Elephant Returns to Kunming after Online Protest
One small step for animal protection in China, one giant leap for Molly the elephant.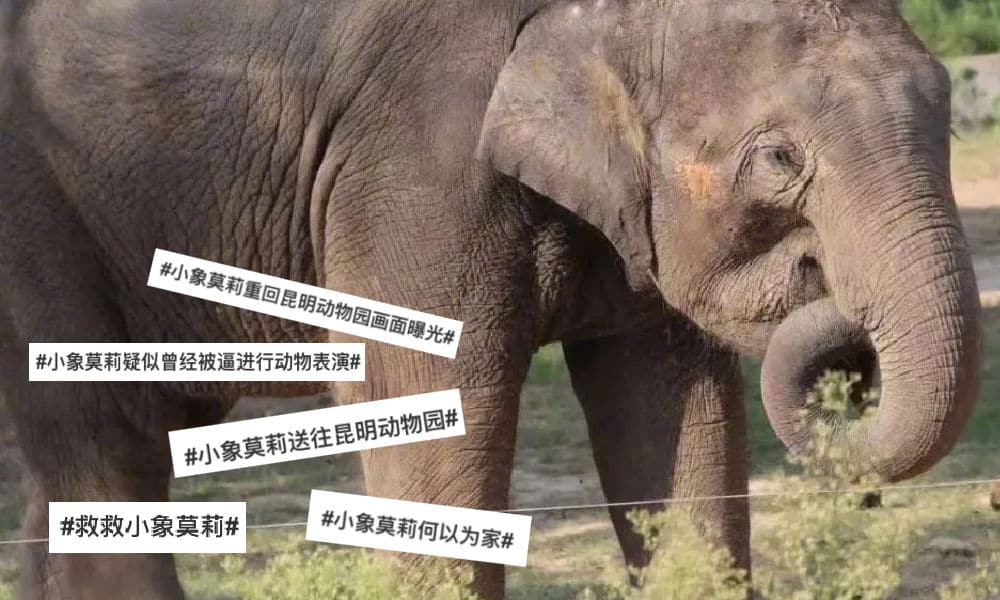 Following online protest and the efforts of animal activists, Molly has returned to the Kunming Zoo where she was born and where mother elephant Mopo is.
The little elephant named Molly is a big topic of discussion on Chinese social media recently.
The popular Asian elephant, born in the Kunming Zoo in 2016, was separated from her mother at the age of two in April of 2018. Molly was then transferred from Kunming Zoo to Qinyang, Jiaozuo (Henan), in exchange for another elephant. Over the past few years, fans of Molly started voicing their concerns online as the elephant was trained to do tricks and performances and to carry around tourists on her back at the Qinyang Swan Lake Ecological Garden (沁阳天鹅湖生态园), the Qinyang Hesheng Forest Zoo (沁阳和生森林动物园), the Jiaozuo Forestry Zoo (焦作森林动物园), and the Zhoukou Safari Park (周口野生动物世界).
Since the summer of 2021, more people started speaking out for Molly's welfare when they spotted the elephant chained up and seemingly unhappy, forced to do handstands or play harmonica, with Molly's handlers using iron hooks to coerce her into performing.
Earlier this month, Molly became a big topic on Chinese social media again due to various big accounts on Xiaohongshu and Weibo posting about the 'Save Molly' campaign and calling for an elephant performance ban in China (read more).
Due 2 pandemic prevention measures in China, Molly's zoo had been closed for long. It was just re-open & a Molly Group friend went to see her 2 days ago, shared a video and photos. The zoo was under much pressure from netizens, so no 🐘 shows, rides, at the moment. #FreeMolly pic.twitter.com/4BjoVk2DBC

— Diving paddler (@KU09814701) April 25, 2022
Although zookeepers denied any animal abuse and previously stated that the elephant is kept in good living conditions and that animal performances are no longer taking place, Molly's story saw an unexpected turn this week. Thanks to the efforts of online netizens, Molly fans, and animal welfare activists, Molly was removed from Qinyang.
On May 15, the Henan Forestry Bureau – which regulates the holding of all exotic species, including those in city zoos – announced that Molly would return to Kunming in order to provide "better living circumstances" for the elephant. A day later, on Monday, Molly left Qinyang and returned to the Kunming Zoo where she was born. In Kunming, Molly will first receive a thorough health check during the observation period.
Good news. After many people's working together for months, Molly's going back to Kunming Zoo to stay with her mom. Though Kunming Zoo has a very dark history, we will keep monitoring it to ensure Molly living in good condition. We will save other performing 🐘. #FreeMolly https://t.co/kC1uByyVpG pic.twitter.com/KhFlLpQgaa

— Diving paddler (@KU09814701) May 16, 2022
Many online commenters were happy to see Molly returning home. "Finally! This is great news," many wrote, with others saying: "Please be good to her" and "Finally, after four years of hardship, Molly will be reunited with her mother."
Besides regular Weibo accounts celebrating Molly's return to Kunming, various Chinese state media accounts and official accounts (e.g. the Liaocheng Communist Youth League) also posted about Molly's case and wished her a warm welcome and good wishes. One Weibo post on the matter by China News received over 76,000 likes on Monday.
Although many view the effective online 'Save Molly' campaign as an important milestone for animal welfare in China, some animal activists remind others that there are still other elephants in Chinese zoos who need help and better wildlife protection laws. Among them are the elephant Kamuli (卡目里) and two others who are still left in Qinyang.
For years, animal welfare activists in China and in other countries have been calling for Chinese animal protection laws. China does have wildlife protection laws, but they are often conflicting and do not apply to pets and there is no clear anti-animal abuse law.
"I'll continue to follow this. What are the next arrangements? What is the plan for Molly and the other elephants? How will you guarantee a safe and proper living environment?"
Another Weibo user writes: "This is just a first step, there is much more to be done."
To follow more updates regarding Molly, check out Twitter user 'Diving Paddler' here. We thank them for their contributions to this article.
To read more about zoos and wildlife parks causing online commotion in China, check our articles here.
By Manya Koetse
References (other sources linked to within text)
Arcus Foundation (Ed.). 2021. State of the Apes: Killing, Capture, Trade and Ape Conservation. Cambridge: Cambridge University Press.
China Daily. 2012. "Animal Rights Groups Seek Performance Ban." China Daily, April 16 http://www.china.org.cn/environment/2012-04/16/content_25152066.htm [Accessed May 1 2022].
Li, Peter J. 2021. Animal Welfare in China: Culture, Politics and Crisis. Sydney: Sydney University Press.
Get the story behind the hashtag. Subscribe to What's on Weibo here to receive our weekly newsletter and get access to our latest articles:
Spotted a mistake or want to add something? Please let us know in comments below or email us. First-time commenters, please be patient – we will have to manually approve your comment before it appears.
©2022 Whatsonweibo. All rights reserved. Do not reproduce our content without permission – you can contact us at info@whatsonweibo.com.
Fangcang Forever: China's Temporary Covid19 Makeshift Hospitals To Become Permanent
China's temporary 'Fangcang' shelter hospitals are here to stay.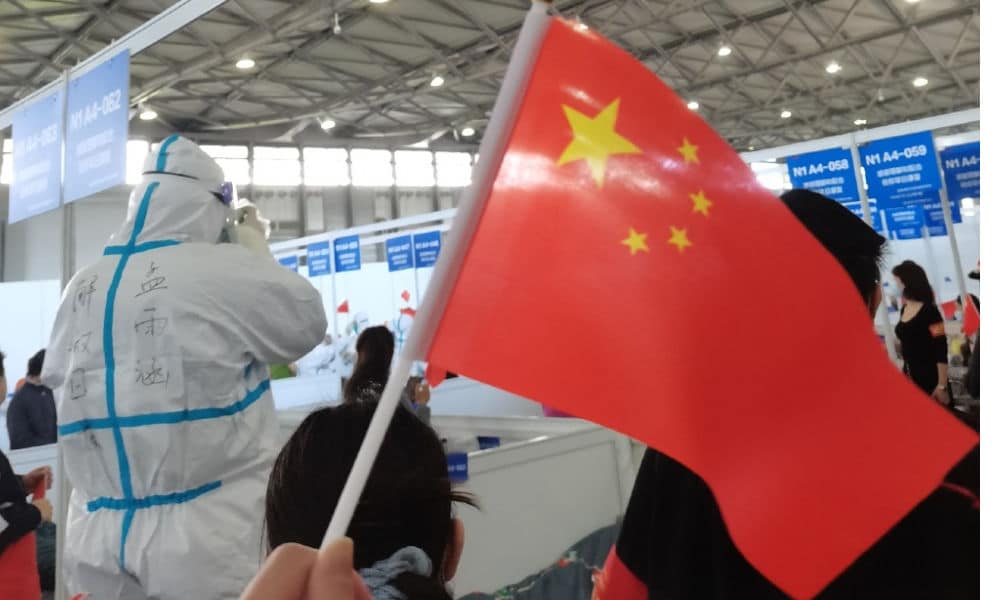 A new term has been added to China's pandemic lexicon today: Permanent Fangcang Hospital. Although China's 'Fangcang' shelter hospitals are, by definition, temporary, these healthcare facilities to isolate and treat Covid patients are now becoming a permanent feature of China's Zero-Covid approach.
Over the past few days, Chinese authorities have emphasized the need for China's bigger cities to build or renovate existing makeshift Covid hospitals, and turn them into permanent sites.
So-called 'Fangcang hospitals' (方舱医院, square cabin hospitals) are large, temporary makeshift shelter hospitals to isolate and treat Covid-19 patients. Fangcang shelter hospitals were first established in China during the Wuhan outbreak as a countermeasure to stop the spread of the virus.
They have since become an important part of China's management of the pandemic and the country's Zero-Covid policy as a place to isolate and treat people who have tested positive for Covid-19, both asymptomatic and mild-to-moderate symptomatic cases. In this way, the Fangcang hospitals alleviate the pressure on (designated) hospitals, so that they have more beds for patients with serious or severe symptoms.
On May 5th, Chinese state media reported about an important top leadership meeting regarding China's Covid-19 situation. In this meeting, the Politburo Standing Committee stressed that China would "unswervingly adhere to the general Zero-Covid policy" and that victory over the virus would come with persistence. At the meeting, chaired by Xi Jinping, the seven-member Politburo Standing Committee also declared that China would fight against any words or acts that "distort, doubt, or deny" the country's dynamic Zero-Covid policy.
Following the meeting, there have been multiple official reports and statements that provide a peek into China's 'zero Covid' future.
On May 13, China's National Health Commission called on all provinces to build or renovate city-level Fangcang hospitals, and to make sure they are equipped with electricity, ventilation systems, medical appliances, toilets, and washing facilities (Weibo hashtag ##以地级市为单位建设或者改造方舱医院#).
On May 16, the term 'Permanent Fangcang Hospital' (Weibo hashtag #永久性方舱医院) became a trending topic on Weibo after Ma Xiaowei (马晓伟), Minister of China's National Health Commission, introduced the term in Qiushi (求是), the leading official theoretical journal of the Chinese Communist Party.
The term is new and is somewhat contradictory as a concept, since 'Fangcang hospitals' are actually defined by their temporary nature.
Ma Xiaowei stressed the need for Chinese bigger cities to be ready for the next stage of China's Covid control. This also includes the need for some central 'Fangcang' makeshift hospitals to become permanent ones.
In order to 'normalize' the control and monitoring that comes with living in Zero-Covid society, Chinese provincial capitals and bigger cities (more than ten million inhabitants) should do more to improve Covid testing capacities and procedures. Ma proposes that there should be nucleic acid sample collection points across the city within a 15-minute walking distance radius, and testing frequency should be increased to maximize efficient control and prevention.
Cities should be prepared to take in patients for isolation and/or treatment at designated hospitals, centralized isolation sites, and the permanent Fangcang hospitals. The recent Covid outbreak in Shanghai showed that local authorities were unprepared to deal with the outbreak, and sites that were used as Fangcang hospitals often lacked proper facilities, leading to chaotic scenes.
The hashtag "Permanent Fangcang Hospitals" received over 140 million views on Weibo on Monday.
One of the Weibo threads by state media reporting on the Permanent Fangcang hospitals and the publication by Ma Xiaowei received nearly 2000 comments, yet the comment section only displayed three comments praising the newly announced measures, leaving out the other 1987 comments.
Elsewhere on Weibo, people shared their views on the Permanent Fangcang Hospitals, and most were not very positive – most commenters shared their worries about China's Covid situation about the stringent measures being a never-ending story.
"We're normalizing nucleic acid test, we're introducing permanent fangcang hospitals, [but] why isn't the third Covid vaccination coming through?" one person wondered.
"If there was still a little bit of passion inside me, it was just killed by reading these words 'Permanent Fangcang Hospital,'" another commenter writes, with one Weibo user adding: "I feel desperate hearing the words 'Permanent Fangcang Hospital.'"
"Building permanent Fangcang? Why? Why don't you use the resources you're now spending on normalizing testing to create more hospital beds, more medical staff and more medications?"
Another commenter wrote: "China itself is one giant permanent Fangcang hospital."
"The forever Fangcang are being built," one Weibo user from Guangdong writes: "This will never end. We'll be locked up like birds in a cage for our entire life."
For more articles on the Covid-19 topics on Chinese social media, check here.
By Manya Koetse, with contributions by Miranda Barnes
Get the story behind the hashtag. Subscribe to What's on Weibo here to receive our weekly newsletter and get access to our latest articles:
Featured image via user tongtong [nickname] Weibo.com.
Spotted a mistake or want to add something? Please let us know in comments below or email us. First-time commenters, please be patient – we will have to manually approve your comment before it appears.
©2022 Whatsonweibo. All rights reserved. Do not reproduce our content without permission – you can contact us at info@whatsonweibo.com.