Growing Distrust in Car-Hailing Services: The Huolala Incident Explained
The Huolala incident has brought back existing safety concerns regarding ride-hailing apps in China.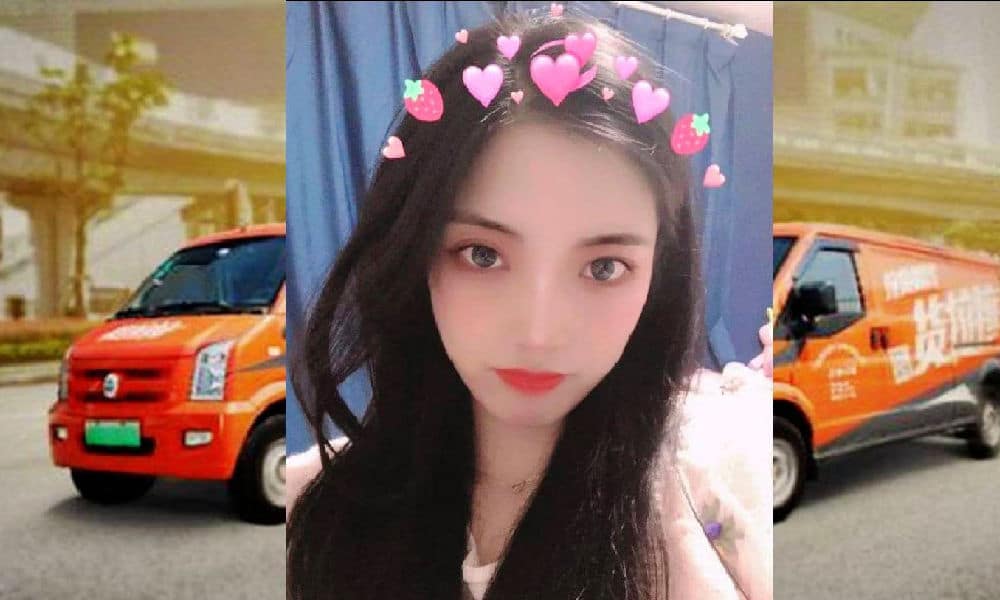 "Are there still any reliable vehicle service platforms in China?", many wonder after discussions continue on social media in light of the Huolala case, in which a 23-year-old woman died after jumping out of a moving vehicle. 
Over the past few weeks, a horrific incident involving China's leading private freight company Huolala (货拉拉) became a much-discussed topic on Chinese social media.
On February 6, a 23-year-old woman named Che Shasha jumped out of the window of a moving van she rented via Huolala when she was moving into a new house in Changsha.
According to an official police report posted on social media in early March, the main reason that made Che jump from the moving vehicle was that the driver, a man by the name of Zhou, had deviated from the intended route – supposedly in order to save time for the next order. Che, who was uncomfortable and scared, asked Zhou about the different routes multiple times, but he remained silent.
When Che exited the vehicle via the passenger window, the driver reportedly did not do anything to stop her. According to official announcements, the young woman died four days after the incident due to severe brain injury.
On 23 February, Zhou was detained by public security organ because of suspected negligence that caused Che's death. On March 3rd, Zhou was formally arrested and charged with manslaughter.
Huolala is an online vehicle-hailing platform founded in 2013. It's an on-demand logistics and delivery firm that makes it much easier and convenient for customers to arrange a van.
The Huolala incident immediately grabbed public attention. Although the official statements did not indicate that the driver physically assaulted Che, Weibo netizens pointed out the suspicious points in this case. Although some suggested that Che's actions were irrational, many commenters accused the driver of causing this tragedy.
On February 24, Huolala publicly apologized for the incident and said it would bring in better safety functions for passengers including emergency calls, vehicle recording, number protection, route sharing, and enhanced background checks on drivers.
Behind the Huolala Case
Although there have been no new developments in the Huolala case, online discussions regarding its underlying problems and issues are ongoing.
Most importantly, this incident triggered public anger about the existing security and safety issues of ride-hailing platforms in China.
This display of public anger is fuelled by two prominent cases that happened over the past years. The murder of a Chinese stewardess by a driver of the Didi Chuxing car-hailing app in 2018 became one of the most discussed topics of that year. Shortly before going missing, the 21-year-old woman from Zhengzhou had texted her friend that the driver of the ride she had arranged was "acting strange." Her body was found the next day. The driver's body was retrieved from a river nearby.
The horrific case was followed by a second Didi murder of a 20-year-old woman in Wenzhou. The victim was on her way to a birthday party when she contacted a friend via text asking for help. She was later found to have been raped and killed in a mountainous area nearby. The 27-year-old driver was arrested.
These two cases, which also brought other cases to light in which female passengers were abused by their drivers, sparked major public concerns about the safety of these online platforms. Car-hailing app Didi later introduced several new measures to protect their passengers. One safety guideline that included an 8 pm curfew for female riders drew outrage on social media.
The fact that a female passenger in 2021 apparently felt so threatened in a situation with her driver that she would jump from a moving vehicle led social media discussions back to the Didi murders and sparked new concerns over female passenger safety.
On Weibo, there were those comments indicating that even if the driver did not do anything to physically harm the female passenger, he was still guilty for not explaining why he would stray from the indicated route:
"Even you are innocent, you are still guilty. Not answering customer's questions just because you're in a bad mood? The driver should have explained the cause of the deviation in time and he should have tried his best to prevent the girl from jumping. After all, inaction is a crime in this case!"
Others also argued that the young woman had every reason to fear for her life"
"What kind of person would not be afraid to take head out into remote, unlit places?" And: "She is a tiny and slender girl, only 1.5m. It is absolutely understandable that she was so frightened."
However, there are also commenters who speak out in defense of the driver:
"The driver did nothing wrong. He did not physically harm her. Also, he waited for the girl while moving her stuff from the house to the van for such a long time, and just gained 50 yuan [$7.6]? Actually, the girl was overreacting, she was only considering her own interests, and even jumped from the window. Who would do such a crazy thing?"
Many commenters pointed out that the woman, who had a cell phone with her, could have just called the police.
There were also online rumors that the female passenger was engaged in illegal business involving prostitution, which may have made her more reluctant to contact police and more paranoid. These rumors were later refuted by a WeChat blogger.
The polarized discussions regarding this incident and who was responsible for it are still ongoing. Based on tragedies that happened in recent years involving vehicle-hailing platforms, many argue that thoroughly completing relevant regulations and reinforcing driver security checks is the only way to increase passenger safety in China today.
By Vivian Wang 
Follow @whatsonweibo
Spotted a mistake or want to add something? Please let us know in comments below or email us. First-time commenters, please be patient – we will have to manually approve your comment before it appears.
©2021 Whatsonweibo. All rights reserved. Do not reproduce our content without permission – you can contact us at info@whatsonweibo.com.
Censorship of Chinese 6B4T & Feminist Groups Prompts Wave of Support for "Douban Sisters"
Even those who don't agree with '6b4t' views condemn Douban's recent crackdown on 6b4t and feminist groups.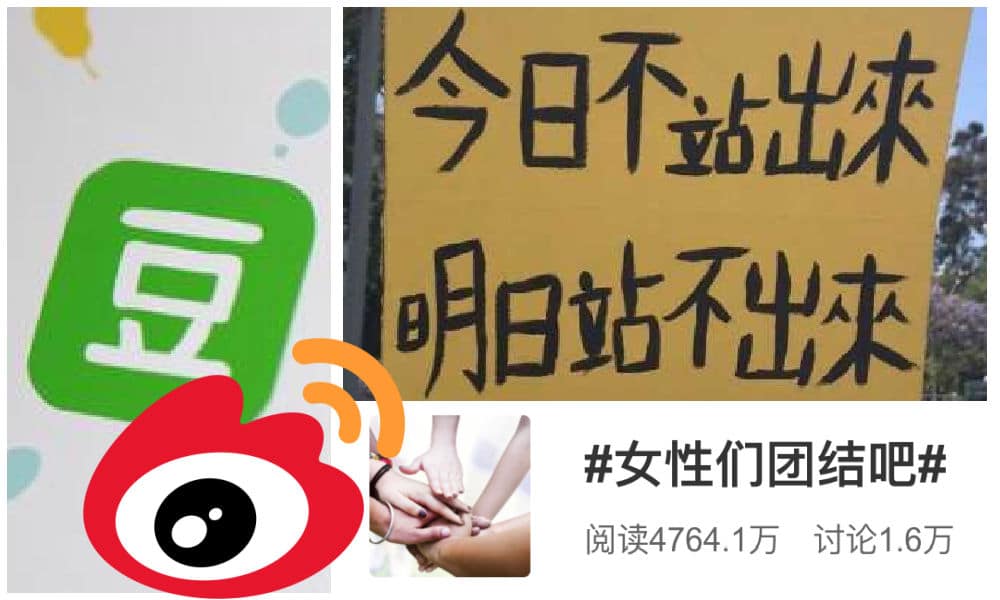 What is 6b4t? That is the question popping up in several places on Chinese social media this week after the popular networking platform Douban closed down several feminist groups and targeted the keyword '6B4T.'
Douban (豆瓣) is an influential Chinese social media platform that allows users to discuss and review books, music, films, and other topics. The platform has a 'group' (小组) function, with groups being like online forums revolving around a particular topic where Douban users can subscribe, post, and interact.
On the night of April 12, Douban closed down more than ten Douban feminist groups, of which some were linked to '6b4t' views.
6b4t is an online movement that originated in South Korea and is about female empowerment and independence that shifts away from patriarchal society and male-dominated fields in popular culture and beyond.
The '6B' stands for no husband, no children, no boyfriend, no male sex partner, not buying any products/brands that are unfriendly to women, and offering support to single women. The movement received some media attention earlier in 2019, when it was still about '4B' or the '4 no's' (no marriage, no kids, no boyfriend, no sex; the 'single women support' and 'refusal of buying misogynistic products' were added later). The '4T' stands for the rejection of shapewear (corsets), religion, otaku culture, and idols.
"A devastating blow for Chinese radical feminists"
The censorship of 6b4t-related groups on Douban sparked sharp criticism and anger online. On Twitter, 'HAL 10000' (@dualvectorfoil) called the crackdown "a devastating blow" for Chinese radical feminists.
Chinese radical feminists just suffered a devastating blow. On April 12, the Chinese government disbanded all radical feminist groups on Douban, a popular social networking website. Those are the only discussion forums that Chinese feminists could find.

— HAL 10000 (@dualvectorfoil) April 13, 2021
The Twitter account FreeChineseFeminists (@FeministChina) posted a screenshot of Douban's notification that the '6B4T' group had been removed, with the platform calling it an "extreme" and "radical" "ideology."
Douban, a social media site used by Chinese urban youth, closed more than 10 feminist groups and banned the keyword 6B4T, a feminist view from South Korea that advocates women not getting married and having no children. Douban calls 6B4T an "extreme" and "radical" "ideology." pic.twitter.com/o9QxhIZoqj

— FreeChineseFeminists (@FeministChina) April 13, 2021
On Weibo, many commenters also spoke out against the removal of the feminist Douban groups.
"I am 6b4t and although it might seem extreme in the eyes of some, I am not harming anyone at all," one person wrote, with another commenter adding: "This is completely limited to myself, I do not influence others."
"I've been 6b4t for years without even realizing," one Weibo user jokingly wrote: "I've been single forever!"
Another person admitted: "I don't really look at Douban, and I don't really understand 6b4t, but blowing up those groups like this goes too far."
"We have to firmly support our Douban sisters"
The account of Xianzi, the woman who became famous for the Xianzi versus Zhu Jun court case, also commented on the Douban censorship on April 13:
"I am not a follower of 6b4t at all, but I firmly support my Douban sisters and oppose how the feminist Douban groups have been shut out. First, 6B4T clearly is an important branch of contemporary online feminism – shutting these groups out is shutting out discussions on female topics. Seconds, the viewpoint of 6B4T is not radical at all, it just asserts that women do not need to enter heterosexual relationships and can break away from masculine control. This is completely up to women themselves and has nothing to do with anyone else. When even such a viewpoint is banned, and women insisting on being single are still seen as rebellious — this is the fundamental reason why we have to firmly support our Douban sisters."
Many people support Xianzi's statement, and meanwhile, the hashtag "Women Let's Unite" (#女性们团结吧#) also took off on Weibo, with many commenters calling on women to let their voices be heard.
"If someone is covering your mouth to try and silence you – scream louder," one person wrote.
The hashtag was also used to address issues of domestic abuse, a topic that has received a lot of attention on Chinese social media over the past year. In October of 2020, the death of the female vlogger Lamu, who was burnt by her ex-husband, also sparked an online movement that called on authorities to do more to protect and legally empower female victims of domestic abuse.
The 'Women Unite' hashtag page had received over 47 million views by late Tuesday night. Another relating hashtag, 'Douban Feminism' (#豆瓣女权#) was viewed over 40,000 times.
"You can disagree, but you can't silence them"
While the search for '6b4t' gave few new results on the Douban site at the time of writing, there were still some older posts on the topic.
One noteworthy one is that by user *Blossom*, who took the time earlier this year to explain what 6b4t means to her, saying "6b4t is an act of struggle, it is not a discipline."
In the post of February 2nd of this year, 'Blossom' explains that 6b4t is a way of resistance where the keyword is "sovereignty," namely the female sovereignty over her own body. 6b4t is a way to fight for radical feminism, Blossom claims:
"In the context of patriarchal society, women are sexually objectified while male sexuality equals power. Under this premise, marriage, childbearing, romantic love, and sexual activity are all about reinforcing the power of men and benefiting them. So we advocate 4b, which essentially is a non-violent and non-cooperative struggle mode, with the same characteristics as workers' and slaves' strikes."
Although there are also people expressing disagreement with the 6b4t movement, many defend their right to have online discussion groups about their ideas.
"You can disagree, you can call them into question, but you can't cover their mouths to silence them," one Weibo user wrote.
"We can have groups advocating marriage and childbirth, why can't we have groups advocating being single and childfree?", another person asked, with one commenter stating: "I do not advocate 6B4T, but I will defend to the death the right of these women to advocate 6B4T."
Throughout the years, feminist movements have often become a target of censorship on Chinese social media. Douban previously also censored content relating to the Zhu Jun sexual harassment case, and in the case of demanding justice for Lamu, some hasthag pages were also removed from Weibo. The renowned feminist Weibo account 'Feminist Voices' (@女权之声) was permanently banned in 2018, along with other feminist accounts.
"A new era of witch-hunting has started," one top comment in a thread of 2200 comments said: "Get ready to fight, let your voice be heard!"
A somewhat ironic consequence of Douban's latest censorship is that many people who had never heard about this 'radical feminism' now know what 6b4t is because it became a 'banned term.' "I've learnt a new word today," some commenters say, with others vowing to support their silenced 'Douban sisters.'
By Manya Koetse
Spotted a mistake or want to add something? Please let us know in comments below or email us. First-time commenters, please be patient – we will have to manually approve your comment before it appears.
©2021 Whatsonweibo. All rights reserved. Do not reproduce our content without permission – you can contact us at info@whatsonweibo.com.
Delivery Man in Anhui Run Over by Ambulance Sent to Rescue Him
From bad to worse: this Eleme delivery man was run over by an ambulance after being hit by an SUV.
On April 12, a delivery man in the city of Bozhou, Anhui province, was run over by an ambulance arriving at the scene of an accident where he had just been injured.
Shocking footage circulating on Chinese social media shows the delivery man lying in the middle of the road when the ambulance arrives and runs over his leg. The incident happened around 12:00 in the afternoon (link to video, viewer discretion advised).
While the delivery man already suffered injuries because he was hit by an SUV shortly before, things quickly went from bad to worse when the ambulance that was supposed to come to his rescue crushed his leg. The man is currently undergoing treatment at a local hospital in Mengcheng county.
According to recent news reports, the ambulance driver has currently been suspended and is under investigation.
The incident received a lot of attention on Weibo today, where the hashtag page discussing the double accident received over 150 million views (#外卖员被救护车二次碾压#).
Many comments relating to this incident are focused on the role of the traffic police at the scene of the accident, with people wondering why there was no guard standing next to the victim.
Thousands of commenters also address how sorry they feel for the victim, especially because the lives of many food delivery drivers – facing long working hours and low wages – is already tough enough.
According to Toutiao News (头条新闻), the delivery man works for Chinese food delivery giant Eleme. Wang Gang (王刚, alias) is approximately 30 years old and has a wife and a child. He had only been working for Eleme for a few months and reportedly did not have any prior accidents.
In Monday's double accident, Wang suffered a mild skull fracture, seven broken ribs, and a fractured lower leg. He is in stable condition.
By Manya Koetse
Spotted a mistake or want to add something? Please let us know in comments below or email us. First-time commenters, please be patient – we will have to manually approve your comment before it appears.
©2021 Whatsonweibo. All rights reserved. Do not reproduce our content without permission – you can contact us at info@whatsonweibo.com.