No Cookie-Cutter #MeToo Approach: An Overview of China's Me Too Movement (Updated)
There is no China-based, Chinese #metoo movement as there is in the US and other countries.
In the months after the #Metoo movement first shook social media in the US and other countries, "#Metoo in China" has become a much-discussed topic. What's on Weibo provides an overview of what has happened in the PRC regarding the global #Metoo movement.
Ever since the #Metoo movement caught fire on social media with people sharing personal stories of sexual harassment, many journalists, China watchers, and Me Too activists have been closely watching if, and how, the #Metoo movement would surface in China.
More than five months after #Metoo particularly shook entertainment and media circles in the US, it has become evident that the #Metoo movement has not taken off in the PRC as it has in some other countries.
What is noticeable about those 'Me Too' stories that did become big in China, is that (1) they mostly relate to sexual harassment in academic circles, that (2) the majority is linked to US-based Chinese and the overseas Chinese community, and that (3) some stories on sexual harassment that went viral in China were only framed as '#Metoo' accounts by English-language media – not by the posters themselves.
Some US news outlets have determined that there is no 'me too' movement in China because it has been silenced by the government. Although there has in fact been online censorship regarding this issue, there is no sign of a truly China-based 'Me Too' movement in which regular female netizens collectively share their stories of sexual abuse in the way it has unfolded in many Western countries.
At time of writing, neither the #Metoo hashtag nor its Chinese equivalents (#我也是,#Metoo在中国, #米兔) were censored on Chinese social media platform Sina Weibo. In addition, contrary to some reports in English-language media, Chinese mainstream media have reported about the Me Too movement since October 2017, with some state-run media (e.g. CRI) serving as a platform for victims of sexual harassment to make their stories known to the public.
This is an overview of some important moments in mainland China since October regarding the global #Metoo movement.
---

● 15 October 2017: Me Too

Ten days after the New York Times first published an article detailing sexual harassment complaints against Hollywood mogul Harvey Weinstein, American actress Alyssa Milano posts a tweet that urges victims of sexual abuse to come forward using the words 'me too'.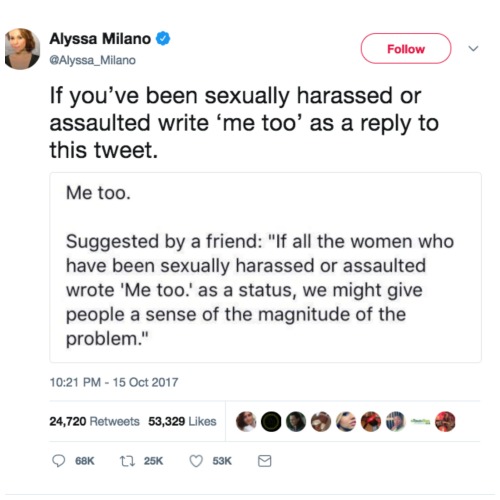 The 'me too' slogan was first used in 2006 by Tamara Burke to help sexual assault survivors in underprivileged communities.
#Metoo soon becomes a hashtag and movement that particularly rocks the American entertainment industry and focuses on the widespread prevalence of sexual assault and harassment, especially in the workplace.

● 16 October 2017: China Daily Controversy

The state-run newspaper China Daily publishes an opinion column by Canadian-Egyptian author Sava Hassan titled "Weinstein case demonstrates cultural differences," in which Hassan alleges that sexual harassment is less common in China because "Chinese traditional values and conservative attitudes tend to safeguard women against inappropriate behavior from members of the opposite gender."
The article is linked to on Twitter by China Daily, writing: "What prevents sexual harassment from being a common phenomenon in China, as it's in most Western societies?"
Over recent years, various surveys have pointed out that sexual harassment is, in fact, a problem in mainland China. A 2016 survey amongst over 2000 working females conducted by the Social Survey Center of China Youth Daily indicated that more than 30% experienced sexual harassment. Another survey by the China Family Planning Association also showed that more than 30% of China's college students have been sexually assaulted or harassed.
The article and tweet trigger waves of criticism and is temporarily taken offline. At time of writing, the article is available online again at the China Daily website.

● October – November 2017: State Media Reports #Metoo

Various mainstream and state-run Chinese media extensively report about the "Me Too" movement in North America and elsewhere.
Some examples (in Chinese):
*People's Daily, October 30 2017: "我也是受害者!揭发性骚扰运动走上法国街头" ["I am also a victim! The movement to expose sexual harassment is heading to the streets of France."] http://world.people.com.cn/n1/2017/1031/c1002-29617842.html
*Xinhua, November 4 2017:"美国揭露性骚扰运动延烧到国会山" ["The US movement against sexual harassment extends to Capitol Hill."] http://www.xinhuanet.com/2017-11/04/c_1121905779.htm
*Xinhua, November 6 2017: "我也是"运动蔓延 美国会酝酿反性骚扰培训" ["As 'MeToo' movement grows, America explores anti-sexual harassment trainings."] http://www.xinhuanet.com/world/2017-11/06/c_129733177.htm
*Xinhua, November 11 2017: "随笔:"我也是",你有勇气说出吗?" ["'Me Too': Do You Have the Courage to Speak Out?"] http://www.xinhuanet.com/2017-11/16/c_1121965426.htm
*Sina News, December 1 2017: "大声地说出来 羞耻的不是你" ["Speak out loud: you are not the one to be ashamed."] http://news.sina.com.cn/c/2017-12-01/doc-ifyphtze2990099.shtml
*China Daily, December 6 2017 "《时代》揭晓2017年度人物:性骚扰丑闻"打破沉默者" ["Time announces Person of the Year 2017: those breaking the silence on sexual harassment."] http://language.chinadaily.com.cn/2017-12/07/content_35249891.htm

● 27 November 2017: Shanghai Harassment goes Viral

The 28-year-old Xu Yalu (nicknamed 'Brazil Teacher Xu' 巴西徐老师) posts on WeChat about how she has been harassed multiple times by the same man in Shanghai from 2013 to 2015, and that the police will not do anything to stop the man.
The article, titled "I was harassed three times within two years time by an old pervert" ("上海静安寺,我2年内被一个老色狼猥亵3次") receives more than 1.19 million views before it is taken down by Chinese censors. Three days later, Xu Yalu republishes her article on Zhihu.com where it is not taken offline.
Although the original article by Xu Yalu does not mention the '#metoo' hashtag once, this story is placed into a larger Chinese '#metoo' context by the New York Times and Reuters.

● November 2017: Sophia Huang Xueqing Steps Forward for Chinese 'Metoo'

Huang Xueqin (黄雪琴 aka Sophia Huang Xueqing), a female reporter, launches a survey focused on the sexual harassment of Chinese female journalists and emerges as an initiator of a potential Chinese #Metoo movement by launching ATSH, an Anti-sexual harassment platform on WeChat.
Huang speaks to various English-language media about the silence with which the global #metoo movement is met in China. According to HKFP, Huang receives over 200 responses from female journalists, of which only 16% say they have never experienced sexual harassment.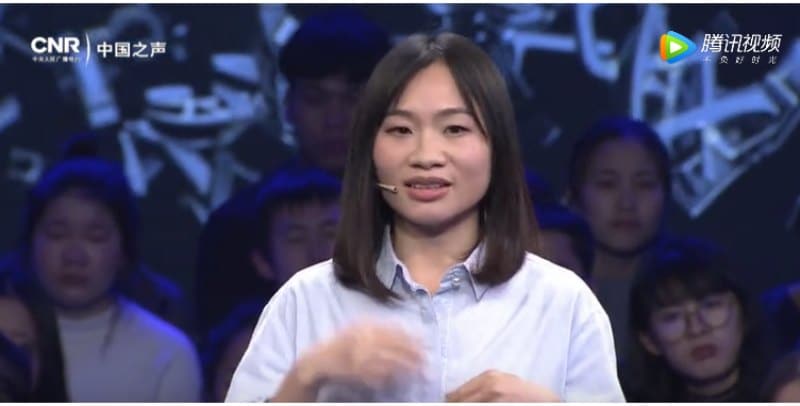 Later, in January, Huang publicly speaks out in a special show titled 'Hear me Speak' by the CRI TV programme "China's Voice" (中国之声) about the 'Metoo' movement in China and about her personal experiences being sexually harassed as a journalist.

● 1 January 2018: Wo Ye Shi

With the hashtag 'Wo Ye Shi' (#我也是, "#metoo") a US-based former doctoral student named Luo Xixi (罗茜茜) comes forward on Chinese social media (@cici小居士) with sexual harassment allegations against her previous supervisor Chen Xiaowu (陈小武).
Luo accuses the award-winning professor Chen of sexually harassing her and several other students 12 years ago at Beihang University, also known as Beijing University of Aeronautics and Astronautics (BUAA). On the Chinese Q&A platform Zhihu.com, Luo shares how her supervisor attempted to force himself upon her. She also posts several testimonies online to support claims that Chen also sexually assaulted at least seven other students.
In a blog post on Weibo, Luo writes that she was inspired to come forward with her story when she first heard about the Harvey Weinstein scandal and the launch of the "#metoo" campaign on Twitter and Facebook.

● 4 January 2018: "Social movements play limited role"

State-run newspaper Global Times, commonly regarded a Party mouthpiece, publishes an article in which it addresses claims made by Western media outlets that "sex-related crimes are serious in China," but that the country "'rarely' takes sexual assault allegations seriously."
Although Global Times acknowledges that sexual violence is a problem in China, as it is in other countries, it also stresses that "social movements can only play a limited role in reducing sexual harassment."
Instead, it says that the most effective solution is that "more efforts should be put into establishing and perfecting laws and regulations so as to deter potential sexual violence and properly handle it if it happens."

● 7 January 2018: Fudan Survey

Former Fudan student 'Taoligeriler' (@桃莉格日勒在路上), inspired by Luo Xixi's account, starts a petition asking Fudan University in Shanghai to do more to tackle the problem of sexual harassment on campus.
SCMP reports that the petition collects 300 signatures in a day. On Weibo, Taogeriler writes: "About the petition against sexual harassment, I have asked a lot of people to join, but many people feel it does not have anything to do with them."

● 11 January 2018: "Say no to sexual harassment!"

After investigating the claims of Luo Qianqian and other former students, Beihang University fires Chen from his position. Three days later, the Education Departments also recalls his scholar title.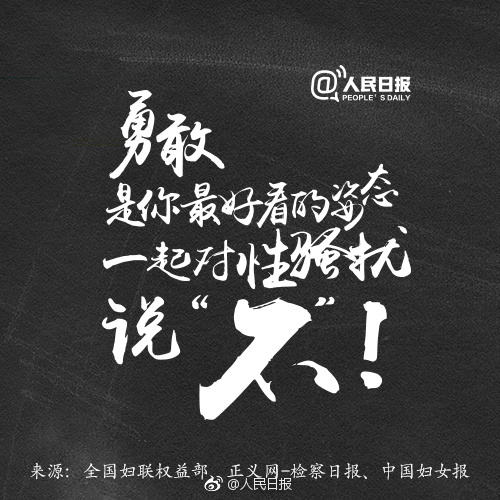 Meanwhile, Party newspaper People's Daily launches an online campaign titled "Being courageous is the best you can be. Turn things around and say no to sexual harassment!"

● 15-19 January 2018: Manifests and Hashtags

According to the South China Morning Post, students and alumni across China have been inspired by Luo's account to press their own universities for change. The report does not give out numbers, but estimate that "between 30 and 50 campaigns had emerged on social media over the past week."
One of them is an anti-sexual harassment manifesto drafted by Xu Kaibin 徐开彬, a journalism professor at Wuhan University. It is signed by approximately 50 instructors from over 30 Chinese colleges.
Although there are not many accounts of women sharing their own stories of sexual assault on Weibo, various hashtags emerge on Chinese social media as variations to #metoo. Besides #woyeshi (#我也是)there is also #MeTooInChina (#MeToo在中国).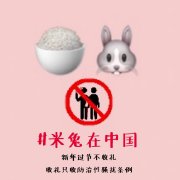 From January 17 to February 17, the hashtag #MeTooInChina gets temporarily blocked on Weibo. In response to this, Weibo users launch the alternative hashtag #mitu, written as #米兔, which literally means 'rice bunny', but sounds like the English #metoo, and the hashtag #MiTuinChina (#米兔在中国#).

● 31 January 2018: Chinese-American lawyer Hua Qiang's #Metoo

Chinese state-run news outlet CRI.com publishes a feature article about LA-based Chinese-American lawyer Hua Qiang (华强) who has joined the #metoo campaign by sharing her story of sexual harassment.
Hua Qiang tells CRI that during a 2008 annual conference for lawyers, an influential lawyer by the name of Malcolm S. McNeil gave her a ride home after her car broke down. On the highway, Hua states, the lawyer suddenly started harassing Hua, grabbing her bosom, while driving. Too afraid to cause an accident on the freeway, Hua was too scared to fight him off. His wide network and strong influence in the area also made Hua too afraid to speak out, until the #metoo movement arrived.

● February 2018: MeToo in South Korea

The spread of the 'Me Too' movement in South Korea makes headlines in Chinese (state) media and becomes a topic of discussion on Chinese social media.

● 9 March 2018: Wang Ao Speaks Out

Chinese assistant professor of East Asian Studies Wang Ao (王敖) at Wesleyan University, Connecticut, writes an article on sexual harassment on Chinese social networking site Douban, in which he expresses his admiration of Luo Xixi and her #MeToo story.
In a lengthy post*, Wang details sexual harassment cases he has encountered inside academic circles.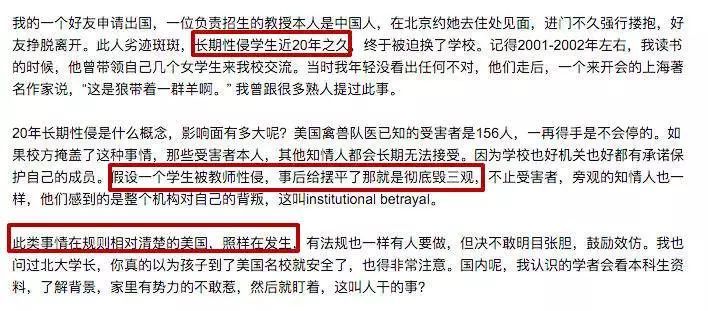 In one example, Wang tells about an acquaintance who planned to study overseas and received an invitation from the professor in charge of admissions. When she arrived at his Beijing residence, the man tried to grab her and she finally manages to escape. Wang also alleges that the same professor has been targeting students for more than 20 years, and even had to change schools because of it. Although Wang does not mention any names in his article, the Douban link is soon removed.

● 10-16 March 2018: The Gary Xu Scandal

Wang Ao publishes another article on March 10, first on Douban and then on Zhihu, in which he provides a name with the professor mentioned in his earlier story. According to Wang, it concerns Xu Gang (徐钢), better known as Gary Xu, a prominent art curator at the Shenzhen Biennale and associate professor of East Asian studies at the University of Illinois Urbana-Champaign (UIUC). UIUC is known for its large numbers of Chinese students.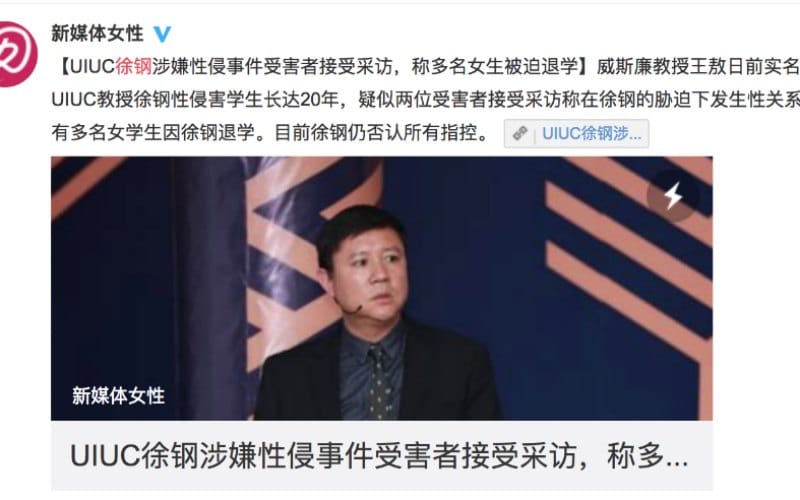 Wang adds that not only students but also some his own colleagues became a victim of Xu's improper conduct. A female commenter under the name "Survivor 2018" replies to the thread, telling her own story of alleged abuse by Xu Gang.
Chinese law graduates in North America start asking people to offer relevant information regarding Xu Gang's misconduct to be able to take legal actions against the professor.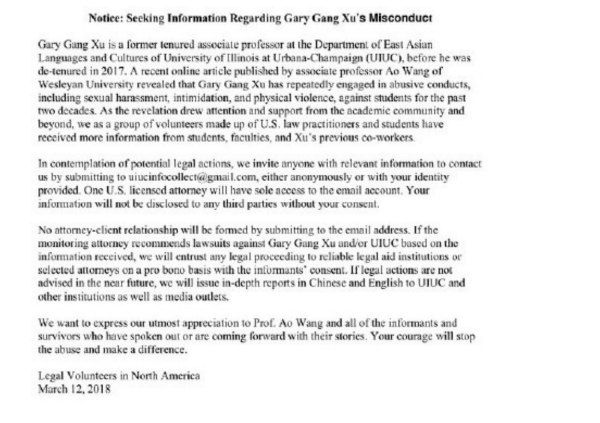 On March 16, Xu Gang posts a lengthy article through WeChat in response to the accusations made against him. Xu states that he supports the #MeToo movement, but that he denies any sexual misconduct allegations and says that Wang just aims to destroy his reputation.
Meanwhile, Chinese media outlet Sixth Tone reports that two women have come forward about sexual misconduct they say they experienced at the hands of Xu.
One woman told Sixth Tone she was forced into unwanted sexual actions with Xu, which she says "ruined her life" at the time. She furthermore claimed that other UIUC students also had sexual relations with Xu. In 2015, an undergraduate student already reported Gary Xu to the school for engaging in sexual misconduct with several female students.

● March 19 2018: Gary Xu Non-Active

According to Sixth Tone, the University of Illinois responded to this case through email, saying that "the University investigates and takes appropriate action whenever conduct is reported that may jeopardize or impact the safety or security of our students or others," and that they are not allowed to discuss any potential investigations. They added that "Dr. Xu currently is not teaching any courses but will hold his tenured status until Aug. 16, 2018, when he will resign from the university."
Xu has since also been fired from his post as the curator of the upcoming 2018 Shenzhen Biennale.

● March 20 2018: Various Hashtags

Many discussions using the 'metoo' hashtag on social media now relate to how the #metoo movement is gaining traction in South Korea.
*MeToo: 34.8 millions views, 20.000 comments, 241 fans of this hashtag.
*WoYeShi #我也是: 1.7 million views, 2339 comments, 6 followers of this hashtag.
*MeTooinChina #Metoo在中国#: 7.2 million views, 6941 comments, 134 followers of this hashtag.
*MiTu #米兔: 3.2 million views, 8050 comments, 0 followers.
*MiTuinChina #米兔在中国: 3.5 million views, 4456 comments that include this hashtag, 64 followers of this hashtag.

● UPDATE – April 2018: Gao Yan Case

A two-decade-old sexual abuse case becomes trending on Weibo when Canada-based netizen named Li Youyou (李悠悠), inspired by Luo Xixi and '#metoo', comes forward on social media about a Peking University classmate named Gao Yan (高岩), who committed suicide in 1998.
Twenty years after her death, Li and some of Gao's other old classmates, link Gao's suicide to the behavior of Professor Shen Yang (沈阳), who had since moved on to work in the Literature & Language department of Nanjing University. They claim Gao was raped by the professor on multiple occasions over a two-year period, and had been called "mentally ill" by him.
The case draws much attention and also leads to the dismissal of Professor Shen. On Chinese social media, rather than a '#metoo' movement, netizens link the story with that of two other university suicides, namely that of male student Yang Baode (杨宝德) and Tao Chongyuan (陶崇园); they address a bigger problem of exploitation of students in Chinese universities. More than sexual abuse, it is also about emotional and verbal abuse, and official misconduct in academic circles – regardless of gender. Also read our article about this here.
---
By now, there are sporadic discussions of China's 'metoo' movement on Weibo. "I still hope #metoo can influence China," one netizen (@末未木十) writes.
Another netizen says: "The #metoo movement is meaningful, but it hasn't really been able to become a reality in China."
"#MetooinChina has returned," one other Weibo user says: "But there's barely discussions about it anymore. Now, the hashtag "International Women's Day Against Harassment" (#三八反骚扰#) has been deleted. I wonder when that one will come back."
Perhaps saying that there is no Chinese MeToo movement at all is too crude; after all, there are important stories and initiatives in China that are connected to the global #metoo movement. But unlike in the US and other countries, these events have not led to a wider movement of common netizens widely sharing their own stories of abuse on social media.
Why is this the case? According to the Washington Post, it is because of China's "patriarchal culture and a male-dominated one-party state that obsessively protects those in power."
Stephany Zoo at RadiiChina says that 'metoo' has not taken off because China's business landscape is built on guanxi, relationships, and that speaking out would pose too much of a risk to individuals within such a stability-focused culture.
One Chinese blogger claims that China's metoo movement has been hindered by, amongst others, the decade-old abuse case of Tang Lanlan. This case triggered massive attention earlier this year when Chinese media exposed the identity of the victim, potentially ruining her chances to lead her life out of the public eye.
The Chinese so-called 'human flesh search engine' could cause victims of sexual abuse to become victimized once again by becoming the focus of attention in an online environment that is joined by more than 700 million people; in order to protect oneself, not speaking out in public might be the safer option in the eyes of many people.
But maybe there is also another reason for it, namely that some social movements emerge in a country because it is the right time and the place for it. Just as many Chinese movements have never emerged in the US, many American movements will have no success spouting up in the PRC. #Metoo is not a movement that can have a cookie-cutter approach – even if it does spring up in other countries, it will have different shapes, voices, and outcomes.
"Foreign media can report whatever they want [about China]," one Weibo commenter says: "In the end, it's up to us to pay attention to [the movements] we find important."
By Manya Koetse with contribution from Boyu Xiao
Follow @whatsonweibo
* title: 《关于学校里的性侵犯,我看到了什么,想了什么,能做什么》
Spotted a mistake or want to add something? Please let us know in comments below or email us.
Want to support what we do? Please see our donations page.
©2018 Whatsonweibo. All rights reserved. Do not reproduce our content without permission – you can contact us at info@whatsonweibo.com.
These Are the Foreign Brands Apologizing to China amid Hong Kong Tensions
Who's apologizing and why? An A-Z list of the foreign companies caught up in China's online brand hunt.
First published
Foreign luxury brands hoping to appease the Chinese market are walking on eggshells as the political crisis in Hong Kong is deepening. Chinese netizens and state media recently condemned foreign brands for showing any signs of disregarding the One-China Policy. An online witch hunt has begun: this is the list of brands.
While the political crisis in Hong Kong is deepening, the propaganda machine in mainland China is running at full speed to condemn anti-Beijing 'rioters' and promote the one-China principle.
As state media has been intensifying its news coverage on the situation in Hong Kong, with virtually all outlets using similar narratives, Chinese web users started to focus on foreign (luxury) brands and whether or not they list Hong Kong, Macau, or Taiwan as being part of China.
Starting on August 8, Chinese social media platform Weibo has seen dozens of hashtags taking over Chinese social media in relation to the big brand scandal; one foreign brand after the other was exposed as 'ignoring' China's one-China principle on their website or products.
By the beginning of this week, the online brand hunt had almost become like an online contest, with thousands of netizens suggesting new brands that are allegedly not respecting China's sovereignty.
Although the trend initially began with Chinese web users condemning brands -starting with Versace-, Chinese state media soon also reported about the online controversies and intensified the movement.
Communist Party newspaper People's Daily wrote that Western brands are quick to apologize, but should also "learn from their mistakes" in the long run, and cannot disregard the One-China Policy if they want to do business in China.
State media outlet Global Times also published an illustration online, writing the slogan "China can't be one bit less" ("中国一点都不能少") that has been used by state media to emphasize China's one-China principle since the 2016 South China Sea dispute.
In response to the controversies, it has been raining apologies from foreign brands on Chinese social media the past days.
Who is mainly responsible for this online witch hunt? Although it first started with Chinese web users sharing images and screenshots of foreign brands and their 'erroneous representation' of China, state media and celebrities soon also started to play a major role in this issue and have contributed to the enormous snowball effect of the trend.
What's the 'correct' way to list Hong Kong or Taiwan according to the one-China principle? Below is an image of the (adjusted) website of Valentino where it lists countries and lists Hong Kong and Taiwan as being part of China.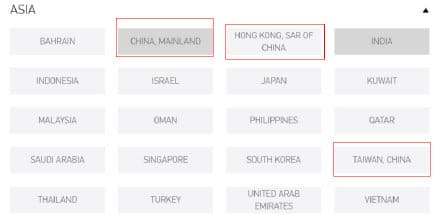 Here's a list of the global brands have become tied up in controversy on the mainland this week (this list might still be updated):
● ASICS 亚瑟士
Japanese footwear brand
Brand Weibo account:
https://www.weibo.com/asicsofficial (240,000+ fans)
Hashtag:
"ASICS lists HK & Taiwan as Separate Countries" (#亚瑟士将香港与台湾列为国家#): 110 million views.
What's the problem?
The ASICS website listed Hong Kong and Taiwan as countries.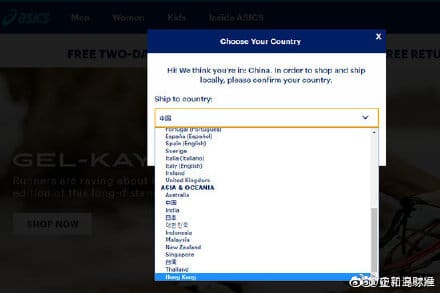 Apology?
Yes, statement on August 12, followed by "ASICS apologizes" hashtag (#亚瑟士致歉#), 6,5 million views on Weibo. The footwear brand emphasized that it abides by the one-China policy and that it will correct its "mistakes."
Consequences:
Besides some netizens who vow not to buy any of the brands in this list disregarding the PRC's one-China policy, there are no indications as of now that the brand is affected by the issue.
● CALVIN KLEIN
American fashion brand
Brand Weibo account:
https://weibo.com/calvinklein (303,000 fans)
Hashtag:
"CK Exposed for Insulting China" (##CK被曝辱华##): 1,5 million views.
What's the problem?:
Calvin Klein faced criticism for listing Taiwan and Hong Kong as separate countries or regions on its website.
Apology?
Yes, statement on August 13, followed by "CK apologizes" hashtag (#ck道歉#), 15 million views on Weibo.
Consequence:
Chinese actress Jelly Lin, Calvin Klein's brand ambassador for the Asia-Pacific region, announced an immediate termination of collaboration with the American fashion house. The hashtag for this event (#林允终止与CK合作#) received no less than 510 million views. Zhang Yixing (Lay Zhang), a Chinese member of K-pop group Exo and a Calvin Klein model, warned the US clothing company to respect Beijing's "one China" policy but did not stop working the brand (he did terminate collaborations with Samsung, also in this list).
● COACH 蔻驰
American luxury accessories company 
Brand Weibo account:
https://www.weibo.com/coachchina (4+ million fans)
Hashtag:
"Coach Lists HK, Macau, Taiwan as Countries" (#蔻驰将港澳台列为国家#): 6 million views.
What's the problem?:
Less than 24 hours after Versace's apology, Coach was among the second batch of brands, along with Givenchy, ASICS, and Fresh, to be exposed online for erroneous geographic listings. Coach got in trouble for a t-shirt displaying 'Hong Kong' as an independent region and listing 'Taipei' as belonging to 'Taiwan,' while Shanghai and Beijing are listed under China.
The brand was also found to have listed Hong Kong and Taiwan as independent countries under its website's  "search country" option.
Apology?:
Yes, statement on August 12, followed by "Coach apologizes" hashtag (#蔻驰道歉#), 300 million views on Weibo.
Consequences:
Coach's China ambassador, supermodel Liu Wen, said on Weibo on Monday that she had cut off her endorsement deal with the fashion label (#刘雯终止与蔻驰合作#, 6 million views) as the brand "seriously impacted the national sentiment of the Chinese people." State media outlet Global Times suggested the brand faced "potential boycott in China."
● FRESH 馥蕾诗
American beauty brand 
Brand Weibo account:
https://www.weibo.com/freshbeauty (339,500 milion fans)
Hashtag:
No separate hashtag for this incident.
What's the problem?:
Fresh faced backlash for listing 'Hong Kong' as a separate region on its official (English) website.
Apology?:
Yes, statement on August 12, followed by "Fresh apologizes" hashtag (#fresh道歉#,) 8 million views on Weibo.
Consequence:
No known direct consequences.
● GIVENCHY 纪梵希
French luxury fashion and perfume house
Brand Weibo account:
https://weibo.com/officialgivenchy (1.5 milion fans)
Hashtag:
The topic 'Givenchy T-Shirt' (#纪梵希t恤#) became big on Weibo. The hashtag page has over 500 million views.
What's the problem?:
Like Coach, Givenchy also got in trouble for a t-shirt displaying 'Hong Kong' as an independent region and listing 'Taipei' as belonging to 'Taiwan.'
Apology?:
Yes, statement on August 12, followed by "Givenchy apologizes" hashtag (#纪梵希道歉#,) 290 million views on Weibo.
Consequence:
Chinese singer Jackson Yee terminated his brand partnerships with Givenchy (#易烊千玺与纪梵希解约# 680 million views).
● POCARI SWEAT 宝矿力水特
Japanese sport's drink
Brand Weibo account:
https://www.weibo.com/pocarisweat (15400 fans)
Hashtag:
"Pocari Sweat Get Out of China"(#宝矿力水特滚出中国#) is one of the early hashtags associated with the Pocari controversy. With just over 300,000 views, it did not gain huge traction on Weibo.
What's the problem?
Pocari Sweat is among the earliest brands – if not the earliest- to be caught up in the brand controversy relating to the protests in Hong Kong. As described by Japan Times, pro-democracy demonstrators praised Pocari after it pulled advertising from Hong Kong television station TVB, which protesters accuse of pro-Beijing coverage. Pocari became a popular drink among Hong Kong protesters.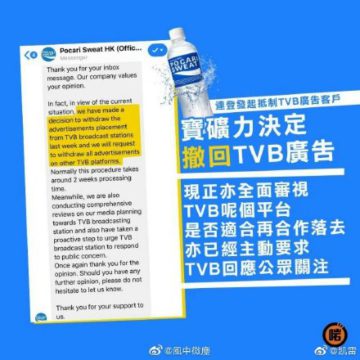 Apology?:
The mainland China office of the brand issued two apology statements on July 11 and 21 in which it emphasized that it operates separately from the Hong Kong division and that it respects China's "one country, two systems" policy.
Consequence:
Pocari Sweat was condemned by Chinese state media, but it is not clear if people in mainland China are drinking less Pocari because of the issue.
● VALENTINO 
Italian fashion house
Brand Weibo account:
www.weibo.com/valentinoofficial (413,000+ fans)
Hashtag:
No particular hashtag.
What's the problem?:
Valentino listed Hong Kong and Taiwan as separate countries in the region/language menu on its foreign website.
Apology?:
Yes, statement on August 13, in which Valentino apologizes for making "a mistake" on its website. The website has since been changed.
Consequence:
No known consequences, the website seemed to be quickly adjusted, and many netizens expressed their praise for that and for the fact that the recent trend seems to make foreign brands more aware of the importance of respecting the One-China Policy.
● VERSACE 范思哲 
Italian fashion house
Brand Weibo account:
https://www.weibo.com/versacechina (850,000+ fans)
Hashtag:
"Versace Suspected of [Supporting] Hong Kong and Macau Independence" (#范思哲涉嫌港独澳独#): 3.2 million views.
What's the problem?:
Versace is the first brand to be targeted in this week's brand-hunting trend. An image of a T-shirt that listed Hong Kong and Macau as independent countries was first posted on Weibo by a female netizen on August 8, who wrote: "I discovered this recently, and wondered if the design of this t-shirt means that Versace is supporting Hong Kong independence?" Three days later, the image had circulated so much that it became a trending topic. Commenters called out the brand for being "two-faced" and for profiting from Chinese money while disregarding Chinese sovereignty.
Apology?:
Yes, statement on August 11, followed by "Versace apologizes" hashtag (#范思哲道歉#,) 860 million views on Weibo. In its statement, Versace stated that the t-shirts had already been recalled and destroyed in late July, and that the fashion house "deeply apologized for the controversy" that was caused by an "error in its t-shirt design." Versace further stated that the brand "loves China" and "resolutely respects China's territorial sovereignty."
Donatella Versace, the designer and chief creative officer of Versace, also issued a personal apology through Instagram, writing: "Never have I wanted to disrespect China's National Sovereignty and this is why I wanted to personally apologize for such inaccuracy and for any distress that it may have caused."
Consequence:
Chinese celebrity Yang Mi ended her relationship with Versace. The announcement received a lot of attention on Chinese social media (#杨幂终止与Versace合作# 1.1 billion views).
● SWAROVSKI 施华洛世奇
Austrian jewelry company
Brand Weibo account:
https://www.weibo.com/swarovskicom (500,00+ fans)
Hashtag:
Swarovski, together with Calvin Klein, was one of the brands that popped up in the general 'luxury brand scandal' after the Versace controversy had snowballed and had moved to Coach, Givenchy, ASICS, and Fresh. The Swarovski issue was exposed just a bit later and had no separate hashtag on Weibo.
What's the problem?
Swarovski went trending on Chinese social media for classifying Hong Kong as a country on its website.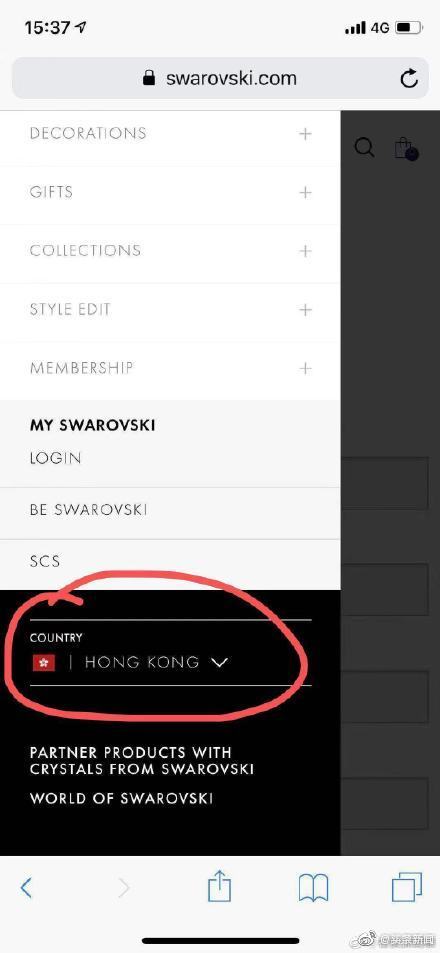 Apology?
Swarovski issued an apology statement on August 13. The hashtag "Swarovski Apologizes" received over 750 million views on Weibo (#施华洛世奇道歉#).
Consequence:
Chinese actress Jiang Shuying, also known as Maggie Jiang, announced on Tuesday (August 13) that she would be ending her cooperation with Swarovski (#江疏影与施华洛世奇解约#, 410 million views).
CURRENTLY UNDER SCRUTINY BUT NO APOLOGIES:
● AMAZON 亚马逊
American e-commerce company
Brand Weibo account:
https://www.weibo.com/amazonchina (4.4 million fans)
Hashtag:
"Amazon T-shirts" (#亚马逊t恤#), 140 million views; "Amazon Sells Hong Kong Independence Shirts" (#亚马逊售卖港独T恤#), 18 million views.
What's the problem?
Amazon is one of the latest brands to be added to the virtual PRC wall of shame of international brands going against Beijing's "One China" principle. On August 14, screenshots of the Amazon e-commerce platform selling t-shirts promoting an independent Hong Kong and displaying anti-China slogans went viral on Weibo.
Reaction
Amazon did not apologize for the merchandise sold on its platforms, but the company did respond to ChinaNews (#亚马逊回应T恤事件#), emphasizing that Amazon always has and will respect China's one-China principle, and abide by local laws of the countries Amazon is active in. There were also netizens on Weibo saying they understood that Amazon cannot be responsible for all the merchandise sold by its online shops around the world.
● SAMSUNG 三星 
South Korean Tech Company
Brand Weibo account:
https://www.weibo.com/samsung (2.8+ million fans)
Hashtag:
No separate hashtag for this issue, although the announcement that Zhang Yixing would terminate his contract with Samsung did receive over 980 million views, making it one of the bigger hashtags in this brand scandal.
What's the problem?:
Samsung faced criticism on August 14 for damaging China's "territorial integrity" by displaying choices Hong Kong, China, and Taiwan as "countries" on its website.
Consequence:
Chinese celebrity and K-Pop star Zhang Yixing (Lay Zhang) announced on August 13 that he would no longer work together with Samsung as a brand ambassador for "hurting the national feelings of Chinese compatriots" (#张艺兴与三星解约#, 980 million views!).
By Manya Koetse
Follow @whatsonweibo
Spotted a mistake or want to add something? Please let us know in comments below or email us. Please note that your comment below will need to be manually approved if you're a first-time poster here.
©2019 Whatsonweibo. All rights reserved. Do not reproduce our content without permission – you can contact us at info@whatsonweibo.com
How the Hong Kong Protests Are Discussed on Chinese Social Media
"Hong Kong, the Pearl of the Orient, is no longer blooming, but covered in cuts and bruises."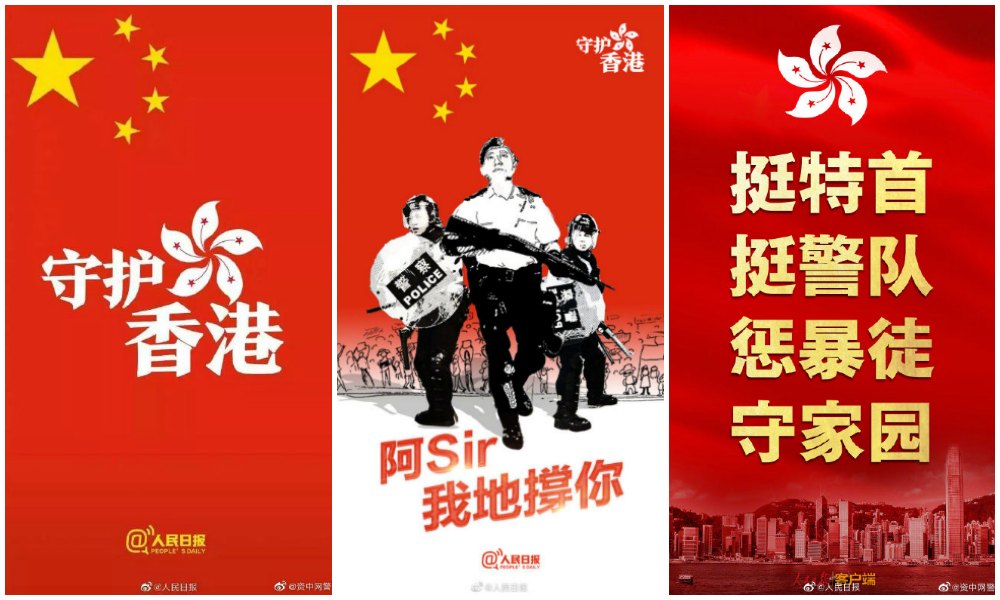 Although discussions on the Hong Kong protests were initially silenced on Chinese social media, the demonstrations are now trending all over Weibo, with state media propagating hashtags and illustrations in favor of Hong Kong government and in support of the Hong Kong Police Force.
The political crisis in Hong Kong shows no signs of de-escalating after another series of mass demonstrations and violent clashes between police and protesters.
This week marks the ninth consecutive week of protests in Hong Kong. The first demonstrations started in March and April of this year against an extradition bill that would allow local authorities to detain and extradite people wanted in mainland China.
After demonstrations escalated in June, the bill was declared "dead" and suspended by Hong Kong leader Carrie Lam, but it was not formally withdrawn.
Protests have since continued throughout June, July, and into August, and are now about much more than the extradition bill alone – they are, amongst others, about greater freedom and democracy in Hong Kong, and about less political influence from the Beijing government.
Protesters are calling for Lam's resignation and for democratic elections, and have denounced violent tactics and "abuse of power" used by the Hong Kong Police Force.
The absence of the police during an attack on residents by suspected gang members dressed in white shirts at the Yuen Long station on July 21 is one of the incidents protesters mention as police misconduct.
But there is also a division between demonstrators, and not necessarily one unified voice. There are also those, for example, who support Hong Kong police. And those who denounce the actions of angry protesters.
China's Central Government Condemns Protests
Although authorities in mainland China initially remained quiet on the topic of the Hong Kong protests, the Hong Kong and Macau Affairs Office of the State Council, China's top agency for handling Hong Kong affairs, held its first press conference on its stance regarding Hong Kong demonstrations on July 29.
Yang Guang, the office's spokesperson, condemned the actions of protesters over recent weeks, saying that they "exceeded the boundaries of acceptable protest."
On August 6, there was another press briefing where Yang Guang used stronger language to denounce the protests, saying that the "radical protests (..) severely impacted Hong Kong's prosperity and stability, pushing it into a dangerous abyss" and that those behind the demonstrations should not "misjudge" the situation and "mistake our restraint for weakness."
Main Stances on Chinese Social Media
On Chinese social media sites, news and discussions on the Hong Kong protest were initially silenced (also see this article), but that has changed now.
Although discussions are still heavily controlled, the topic of the Hong Kong demonstrations has been dominating the trending streams over the past days on China's popular social media platforms.
On Douyin, one of the most popular short video / social media apps in mainland China, there are dozens of different videos of violent incidents in Hong Kong that are being reposted and liked thousands of times.
On news app Toutiao, articles relating to the Hong Kong protests are in the recommended and 'hot' sections, while bloggers and news accounts on WeChat are also posting and reposting Hong Kong related content.
For the scope of this article, we will solely focus on Weibo – the narratives that are spread in daily discussions on the platform are comparable to those on other platforms.
Although the ensuing examples are the main types of posts on Hong Kong that are most popular on Chinese social media now, and definitely receive a lot of support, there are also posts with other views and ideas that might be blocked before ever making it to Weibo or other apps/platforms.
But the restrictions on free discussions on social media do not only relate to platform censorship.
Recently, there are also instances in which Chinese netizens speak out in support of the protesters in Hong Kong who then become a victim of the so-called "human flesh search engine."
One female Weibo user, responding to the demonstrations in Hong Kong, wrote on August 5th: "Respect to every person out there striking and protesting!" Other Weibo users then made screenshots of her comment and revealed personal details about the woman (a 26-year-old Chinese citizen), labeling her a traitor.
One blogger reposting the woman's photo and Weibo profile has 1,3 million followers, making this incident quite big and serving as a warning to other Weibo users not to spread their 'politically incorrect' views on the Hong Kong protests.
"Protect Hong Kong, Support the Police Force"
With over 5 billion views, the hashtag "Protect Hong Kong" (#守护香港#) is very popular on Weibo these days.
The hashtag is promoted by Party newspaper People's Daily, that also launched another viral hashtag, namely "Officers, We Support You" (#阿sir我们挺你#, 300 million views).  The word for 'officer' used in this hashtag is "Ah Sir" or "阿Sir", a uniquely Hong Kong form of address used for policemen and teachers.
Using the "Protect Hong Kong" and "Officers, We Support You" slogans, People's Daily has also issued an illustration that shows three police officers carrying weapons and protective screens. Behind them are protesters, and above them is China's Five-starred Red Flag.
The main idea behind these hashtags/illustrations is that the People's Republic of China (PRC) firmly supports the Hong Kong government and the Hong Kong Police Force in dealing with so-called "thugs" or "bandits"  ("暴徒").
A common stance expressed by Chinese netizens is that pro-democracy protesters are "damaging public security" in Hong Kong and are "dividing the nation."
"Talk about democracy and freedom in a fair and reasonable way," one commenter writes: "Don't talk about freedom and democracy while breaking the law and acting outrageous."
"It's horrible to see," another person says: "The Pearl of the Orient is no longer blooming, but is now covered with cuts and bruises."
Many stories of violence used against the police force are circulating on Chinese social media. Some videos show protesters using potentially dangerous laser pointers to shine directly in faces of police officers. Last Tuesday, student leader Keith Fong was arrested for possession of such lasers.
One particular trending story concerns a bald police officer named 'Liu Sir' (刘sir) who was violently attacked by a group of protesters on July 31st. The mob allegedly punched and kicked him, and assaulted him with sticks and objects before he pulled out his gun.
Officer Liu, who has sustained some minor injuries from the incident, responded to the incident writing in a text: "[I] just hate the fact that they are also Chinese – it feels wrong to hit them and also wrong not to. It really pains me!"
Officer Liu has become somewhat of a hero on Chinese social media, as his image is propagated by Chinese state media through photos and illustrations.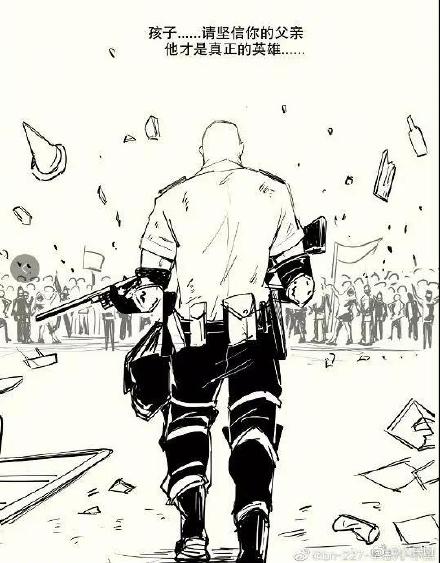 The idea of 'protecting' Hong Kong and supporting its police force goes hand in hand with the idea that Hong Kong is, and "always will be," a "part of China."
Many commenters in the comment sections express their anger about Hong Kong protesters attacking police and throwing the Chinese flag into the water. "If you do not want to be Chinese, then don't live on Chinese territory," some write.
"Hong Kong's Colonial Mentality" 
A post by an economics blogger (@同行中的我, 14674 fans) that received more than 6500 'likes' on Weibo argues that one problem behind the protests is that Hong Kong youth are stuck in a "colonial mentality."
The blogger says that Hong Kong people have a lack of patriotic education and have no "sense of belonging." It is this Hong Kong mentality, the writer argues, that prevents the region from blooming. Without mainland China, Hong Kong is nothing, the post says.
This sentiment is reiterated by many commenters on Weibo, who write things such as "Without a country, you have no home."
Hong Kong Island was ceded to Britain in 1842 as part of the Treaty of Nanjing. July 1st of 1997 marked Hong Kong's return to China, and the moment it became a Special Administrative Region (SAR) of the PRC, based on the principle of "one country, two systems."
Those who are protesting for Hong Kong independence are also called "Pro HK Independence 'Poison'" on Weibo (港毒分子, a wordplay with characters meaning 'Hong Kong-independence/poison-members': a derogatory term for those supporting Hong Kong independence).
"The Pro HK Independence Poison comes from Hong Kong education. Its education comes from its system. So to get rid of this poison, you first need to replace the system, and then change education in Hong Kong," one person suggests.
"Biased Media Representations"
"Western media only use pictures that are taken out of context -they have an ulterior motive," Weibo news blogger Jianhua (@建华Wei业) writes: "They fabricate news about Hong Kong police power abuse and violence."
The accusation of Western media representing the Hong Kong protesters as the 'good guys' and the Hong Kong police as the 'bad guys' is repeated on Chinese social media quite a lot these days.
One major example is the aforementioned case of Sir Liu, as many media allegedly only forwarded those images or footage of the police pulling his gun, leaving out the part where he was attacked by protesters first.
Since there is a clear pro-Hong Kong Police Force dominant narrative on Weibo, many netizens defend the police and describe the protesters as violent and unreasonable rioters.
"US Meddling in Hong Kong Affairs"
Besides criticism on supposed biased media representations of the situation in Hong Kong, there is also criticism on the role of the United States in the Hong Kong protests.
One photo of American diplomat Julie Eadeh meeting up with student leaders involved in Hong Kong's pro-democracy movement circulated on Chinese social media this week, with state media accusing the US of playing a role in "creating disorder" in Hong Kong.
"What Is America Up To?"(#美国居心何在#) is one of the hashtags related to the incident that is shared on Chinese social media, promoted by CCTV.
"America has no right to meddle in Hong Kong affairs," commenters on Weibo respond: "Hong Kong is China's Hong Kong."
Adding fuel to this discussion is the fact that some Hong Kong protesters have recently started waving American flags at demonstrations (read more about that here).
Trending on August 9 is an incident in which a woman angrily pulled the American flags from protesters' hands at Hong Kong airport. Many people on Weibo praise the woman for being so "courageous" to stand up to the demonstrators. "We just want Hong Kong to be stable and peaceful," the woman stated to the media.
Others on Weibo call on protesters in Hong Kong to be reasonable. "I feel that the situation in Hong Kong is getting more and more complicated," one commenter writes: "I hope the protesters can rationally overthink why they are participating in these demonstrations; they shouldn't let themselves be used by others."
"I just cannot make sense of what these angry youth are doing," another commenter writes: "They are waving the American flag. But when they leave [Hong Kong], people won't see them as Hong Kongnese – foreigners will all think they are Chinese. I just don't get where they're going."

Keep an eye on What's on Weibo for more related stories in the time to come. Follow us on Facebook, Twitter, and subscribe to notifications via the bell in this screen (Chrome/Firefox/Android).

By Manya Koetse
Follow @whatsonweibo
Spotted a mistake or want to add something? Please let us know in comments below or email us. Please note that your comment below will need to be manually approved if you're a first-time poster here.
©2019 Whatsonweibo. All rights reserved. Do not reproduce our content without permission – you can contact us at info@whatsonweibo.com