No Cookie-Cutter #MeToo Approach: An Overview of China's Me Too Movement (Updated)
There is no China-based, Chinese #metoo movement as there is in the US and other countries.
In the months after the #Metoo movement first shook social media in the US and other countries, "#Metoo in China" has become a much-discussed topic. What's on Weibo provides an overview of what has happened in the PRC regarding the global #Metoo movement.
Ever since the #Metoo movement caught fire on social media with people sharing personal stories of sexual harassment, many journalists, China watchers, and Me Too activists have been closely watching if, and how, the #Metoo movement would surface in China.
More than five months after #Metoo particularly shook entertainment and media circles in the US, it has become evident that the #Metoo movement has not taken off in the PRC as it has in some other countries.
What is noticeable about those 'Me Too' stories that did become big in China, is that (1) they mostly relate to sexual harassment in academic circles, that (2) the majority is linked to US-based Chinese and the overseas Chinese community, and that (3) some stories on sexual harassment that went viral in China were only framed as '#Metoo' accounts by English-language media – not by the posters themselves.
Some US news outlets have determined that there is no 'me too' movement in China because it has been silenced by the government. Although there has in fact been online censorship regarding this issue, there is no sign of a truly China-based 'Me Too' movement in which regular female netizens collectively share their stories of sexual abuse in the way it has unfolded in many Western countries.
At time of writing, neither the #Metoo hashtag nor its Chinese equivalents (#我也是,#Metoo在中国, #米兔) were censored on Chinese social media platform Sina Weibo. In addition, contrary to some reports in English-language media, Chinese mainstream media have reported about the Me Too movement since October 2017, with some state-run media (e.g. CRI) serving as a platform for victims of sexual harassment to make their stories known to the public.
This is an overview of some important moments in mainland China since October regarding the global #Metoo movement.
---

● 15 October 2017: Me Too

Ten days after the New York Times first published an article detailing sexual harassment complaints against Hollywood mogul Harvey Weinstein, American actress Alyssa Milano posts a tweet that urges victims of sexual abuse to come forward using the words 'me too'.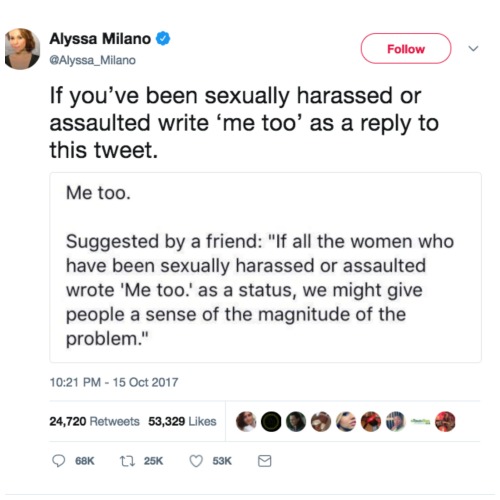 The 'me too' slogan was first used in 2006 by Tamara Burke to help sexual assault survivors in underprivileged communities.
#Metoo soon becomes a hashtag and movement that particularly rocks the American entertainment industry and focuses on the widespread prevalence of sexual assault and harassment, especially in the workplace.

● 16 October 2017: China Daily Controversy

The state-run newspaper China Daily publishes an opinion column by Canadian-Egyptian author Sava Hassan titled "Weinstein case demonstrates cultural differences," in which Hassan alleges that sexual harassment is less common in China because "Chinese traditional values and conservative attitudes tend to safeguard women against inappropriate behavior from members of the opposite gender."
The article is linked to on Twitter by China Daily, writing: "What prevents sexual harassment from being a common phenomenon in China, as it's in most Western societies?"
Over recent years, various surveys have pointed out that sexual harassment is, in fact, a problem in mainland China. A 2016 survey amongst over 2000 working females conducted by the Social Survey Center of China Youth Daily indicated that more than 30% experienced sexual harassment. Another survey by the China Family Planning Association also showed that more than 30% of China's college students have been sexually assaulted or harassed.
The article and tweet trigger waves of criticism and is temporarily taken offline. At time of writing, the article is available online again at the China Daily website.

● October – November 2017: State Media Reports #Metoo

Various mainstream and state-run Chinese media extensively report about the "Me Too" movement in North America and elsewhere.
Some examples (in Chinese):
*People's Daily, October 30 2017: "我也是受害者!揭发性骚扰运动走上法国街头" ["I am also a victim! The movement to expose sexual harassment is heading to the streets of France."] http://world.people.com.cn/n1/2017/1031/c1002-29617842.html
*Xinhua, November 4 2017:"美国揭露性骚扰运动延烧到国会山" ["The US movement against sexual harassment extends to Capitol Hill."] http://www.xinhuanet.com/2017-11/04/c_1121905779.htm
*Xinhua, November 6 2017: "我也是"运动蔓延 美国会酝酿反性骚扰培训" ["As 'MeToo' movement grows, America explores anti-sexual harassment trainings."] http://www.xinhuanet.com/world/2017-11/06/c_129733177.htm
*Xinhua, November 11 2017: "随笔:"我也是",你有勇气说出吗?" ["'Me Too': Do You Have the Courage to Speak Out?"] http://www.xinhuanet.com/2017-11/16/c_1121965426.htm
*Sina News, December 1 2017: "大声地说出来 羞耻的不是你" ["Speak out loud: you are not the one to be ashamed."] http://news.sina.com.cn/c/2017-12-01/doc-ifyphtze2990099.shtml
*China Daily, December 6 2017 "《时代》揭晓2017年度人物:性骚扰丑闻"打破沉默者" ["Time announces Person of the Year 2017: those breaking the silence on sexual harassment."] http://language.chinadaily.com.cn/2017-12/07/content_35249891.htm

● 27 November 2017: Shanghai Harassment goes Viral

The 28-year-old Xu Yalu (nicknamed 'Brazil Teacher Xu' 巴西徐老师) posts on WeChat about how she has been harassed multiple times by the same man in Shanghai from 2013 to 2015, and that the police will not do anything to stop the man.
The article, titled "I was harassed three times within two years time by an old pervert" ("上海静安寺,我2年内被一个老色狼猥亵3次") receives more than 1.19 million views before it is taken down by Chinese censors. Three days later, Xu Yalu republishes her article on Zhihu.com where it is not taken offline.
Although the original article by Xu Yalu does not mention the '#metoo' hashtag once, this story is placed into a larger Chinese '#metoo' context by the New York Times and Reuters.

● November 2017: Sophia Huang Xueqing Steps Forward for Chinese 'Metoo'

Huang Xueqin (黄雪琴 aka Sophia Huang Xueqing), a female reporter, launches a survey focused on the sexual harassment of Chinese female journalists and emerges as an initiator of a potential Chinese #Metoo movement by launching ATSH, an Anti-sexual harassment platform on WeChat.
Huang speaks to various English-language media about the silence with which the global #metoo movement is met in China. According to HKFP, Huang receives over 200 responses from female journalists, of which only 16% say they have never experienced sexual harassment.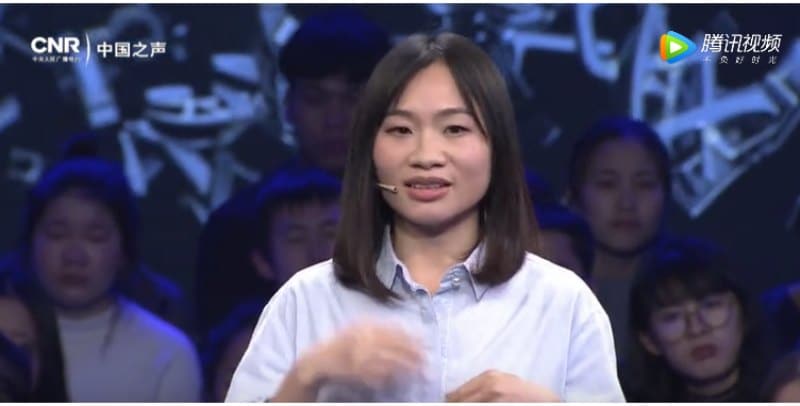 Later, in January, Huang publicly speaks out in a special show titled 'Hear me Speak' by the CRI TV programme "China's Voice" (中国之声) about the 'Metoo' movement in China and about her personal experiences being sexually harassed as a journalist.

● 1 January 2018: Wo Ye Shi

With the hashtag 'Wo Ye Shi' (#我也是, "#metoo") a US-based former doctoral student named Luo Xixi (罗茜茜) comes forward on Chinese social media (@cici小居士) with sexual harassment allegations against her previous supervisor Chen Xiaowu (陈小武).
Luo accuses the award-winning professor Chen of sexually harassing her and several other students 12 years ago at Beihang University, also known as Beijing University of Aeronautics and Astronautics (BUAA). On the Chinese Q&A platform Zhihu.com, Luo shares how her supervisor attempted to force himself upon her. She also posts several testimonies online to support claims that Chen also sexually assaulted at least seven other students.
In a blog post on Weibo, Luo writes that she was inspired to come forward with her story when she first heard about the Harvey Weinstein scandal and the launch of the "#metoo" campaign on Twitter and Facebook.

● 4 January 2018: "Social movements play limited role"

State-run newspaper Global Times, commonly regarded a Party mouthpiece, publishes an article in which it addresses claims made by Western media outlets that "sex-related crimes are serious in China," but that the country "'rarely' takes sexual assault allegations seriously."
Although Global Times acknowledges that sexual violence is a problem in China, as it is in other countries, it also stresses that "social movements can only play a limited role in reducing sexual harassment."
Instead, it says that the most effective solution is that "more efforts should be put into establishing and perfecting laws and regulations so as to deter potential sexual violence and properly handle it if it happens."

● 7 January 2018: Fudan Survey

Former Fudan student 'Taoligeriler' (@桃莉格日勒在路上), inspired by Luo Xixi's account, starts a petition asking Fudan University in Shanghai to do more to tackle the problem of sexual harassment on campus.
SCMP reports that the petition collects 300 signatures in a day. On Weibo, Taogeriler writes: "About the petition against sexual harassment, I have asked a lot of people to join, but many people feel it does not have anything to do with them."

● 11 January 2018: "Say no to sexual harassment!"

After investigating the claims of Luo Qianqian and other former students, Beihang University fires Chen from his position. Three days later, the Education Departments also recalls his scholar title.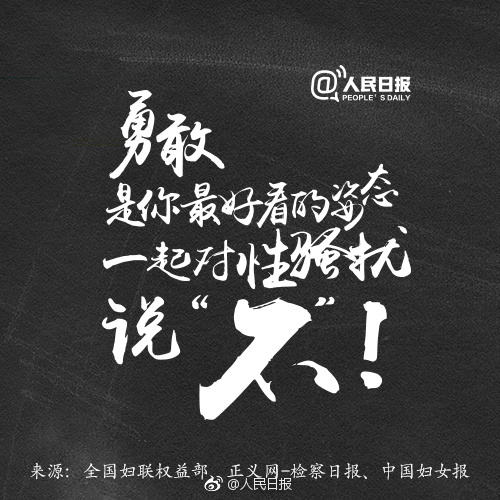 Meanwhile, Party newspaper People's Daily launches an online campaign titled "Being courageous is the best you can be. Turn things around and say no to sexual harassment!"

● 15-19 January 2018: Manifests and Hashtags

According to the South China Morning Post, students and alumni across China have been inspired by Luo's account to press their own universities for change. The report does not give out numbers, but estimate that "between 30 and 50 campaigns had emerged on social media over the past week."
One of them is an anti-sexual harassment manifesto drafted by Xu Kaibin 徐开彬, a journalism professor at Wuhan University. It is signed by approximately 50 instructors from over 30 Chinese colleges.
Although there are not many accounts of women sharing their own stories of sexual assault on Weibo, various hashtags emerge on Chinese social media as variations to #metoo. Besides #woyeshi (#我也是)there is also #MeTooInChina (#MeToo在中国).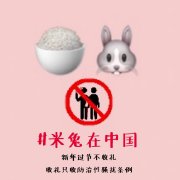 From January 17 to February 17, the hashtag #MeTooInChina gets temporarily blocked on Weibo. In response to this, Weibo users launch the alternative hashtag #mitu, written as #米兔, which literally means 'rice bunny', but sounds like the English #metoo, and the hashtag #MiTuinChina (#米兔在中国#).

● 31 January 2018: Chinese-American lawyer Hua Qiang's #Metoo

Chinese state-run news outlet CRI.com publishes a feature article about LA-based Chinese-American lawyer Hua Qiang (华强) who has joined the #metoo campaign by sharing her story of sexual harassment.
Hua Qiang tells CRI that during a 2008 annual conference for lawyers, an influential lawyer by the name of Malcolm S. McNeil gave her a ride home after her car broke down. On the highway, Hua states, the lawyer suddenly started harassing Hua, grabbing her bosom, while driving. Too afraid to cause an accident on the freeway, Hua was too scared to fight him off. His wide network and strong influence in the area also made Hua too afraid to speak out, until the #metoo movement arrived.

● February 2018: MeToo in South Korea

The spread of the 'Me Too' movement in South Korea makes headlines in Chinese (state) media and becomes a topic of discussion on Chinese social media.

● 9 March 2018: Wang Ao Speaks Out

Chinese assistant professor of East Asian Studies Wang Ao (王敖) at Wesleyan University, Connecticut, writes an article on sexual harassment on Chinese social networking site Douban, in which he expresses his admiration of Luo Xixi and her #MeToo story.
In a lengthy post*, Wang details sexual harassment cases he has encountered inside academic circles.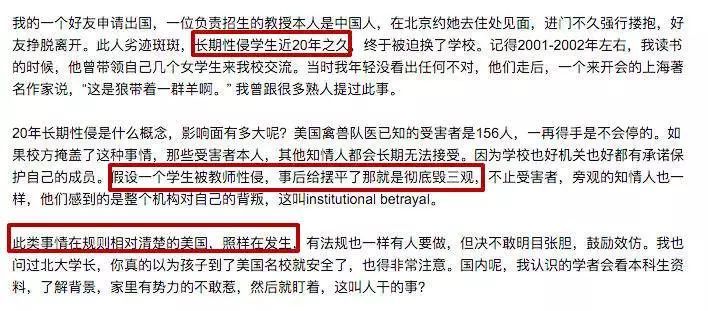 In one example, Wang tells about an acquaintance who planned to study overseas and received an invitation from the professor in charge of admissions. When she arrived at his Beijing residence, the man tried to grab her and she finally manages to escape. Wang also alleges that the same professor has been targeting students for more than 20 years, and even had to change schools because of it. Although Wang does not mention any names in his article, the Douban link is soon removed.

● 10-16 March 2018: The Gary Xu Scandal

Wang Ao publishes another article on March 10, first on Douban and then on Zhihu, in which he provides a name with the professor mentioned in his earlier story. According to Wang, it concerns Xu Gang (徐钢), better known as Gary Xu, a prominent art curator at the Shenzhen Biennale and associate professor of East Asian studies at the University of Illinois Urbana-Champaign (UIUC). UIUC is known for its large numbers of Chinese students.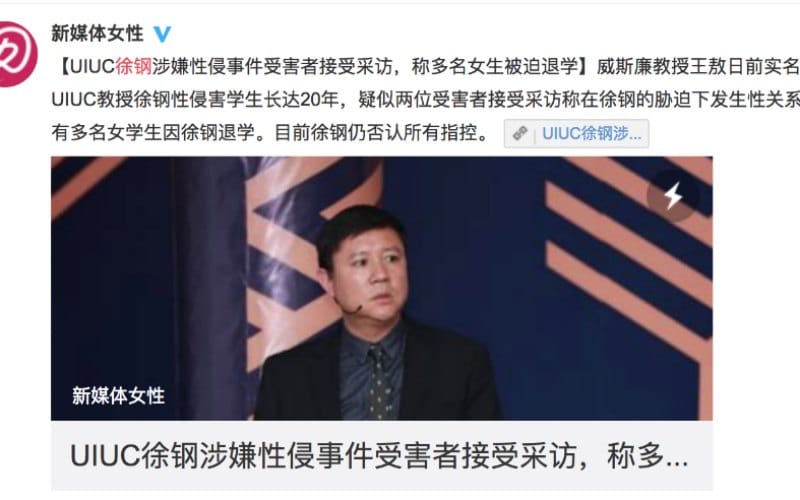 Wang adds that not only students but also some his own colleagues became a victim of Xu's improper conduct. A female commenter under the name "Survivor 2018" replies to the thread, telling her own story of alleged abuse by Xu Gang.
Chinese law graduates in North America start asking people to offer relevant information regarding Xu Gang's misconduct to be able to take legal actions against the professor.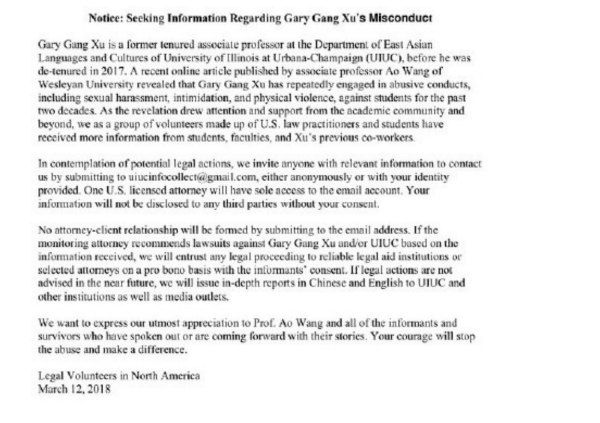 On March 16, Xu Gang posts a lengthy article through WeChat in response to the accusations made against him. Xu states that he supports the #MeToo movement, but that he denies any sexual misconduct allegations and says that Wang just aims to destroy his reputation.
Meanwhile, Chinese media outlet Sixth Tone reports that two women have come forward about sexual misconduct they say they experienced at the hands of Xu.
One woman told Sixth Tone she was forced into unwanted sexual actions with Xu, which she says "ruined her life" at the time. She furthermore claimed that other UIUC students also had sexual relations with Xu. In 2015, an undergraduate student already reported Gary Xu to the school for engaging in sexual misconduct with several female students.

● March 19 2018: Gary Xu Non-Active

According to Sixth Tone, the University of Illinois responded to this case through email, saying that "the University investigates and takes appropriate action whenever conduct is reported that may jeopardize or impact the safety or security of our students or others," and that they are not allowed to discuss any potential investigations. They added that "Dr. Xu currently is not teaching any courses but will hold his tenured status until Aug. 16, 2018, when he will resign from the university."
Xu has since also been fired from his post as the curator of the upcoming 2018 Shenzhen Biennale.

● March 20 2018: Various Hashtags

Many discussions using the 'metoo' hashtag on social media now relate to how the #metoo movement is gaining traction in South Korea.
*MeToo: 34.8 millions views, 20.000 comments, 241 fans of this hashtag.
*WoYeShi #我也是: 1.7 million views, 2339 comments, 6 followers of this hashtag.
*MeTooinChina #Metoo在中国#: 7.2 million views, 6941 comments, 134 followers of this hashtag.
*MiTu #米兔: 3.2 million views, 8050 comments, 0 followers.
*MiTuinChina #米兔在中国: 3.5 million views, 4456 comments that include this hashtag, 64 followers of this hashtag.

● UPDATE – April 2018: Gao Yan Case

A two-decade-old sexual abuse case becomes trending on Weibo when Canada-based netizen named Li Youyou (李悠悠), inspired by Luo Xixi and '#metoo', comes forward on social media about a Peking University classmate named Gao Yan (高岩), who committed suicide in 1998.
Twenty years after her death, Li and some of Gao's other old classmates, link Gao's suicide to the behavior of Professor Shen Yang (沈阳), who had since moved on to work in the Literature & Language department of Nanjing University. They claim Gao was raped by the professor on multiple occasions over a two-year period, and had been called "mentally ill" by him.
The case draws much attention and also leads to the dismissal of Professor Shen. On Chinese social media, rather than a '#metoo' movement, netizens link the story with that of two other university suicides, namely that of male student Yang Baode (杨宝德) and Tao Chongyuan (陶崇园); they address a bigger problem of exploitation of students in Chinese universities. More than sexual abuse, it is also about emotional and verbal abuse, and official misconduct in academic circles – regardless of gender. Also read our article about this here.
---
By now, there are sporadic discussions of China's 'metoo' movement on Weibo. "I still hope #metoo can influence China," one netizen (@末未木十) writes.
Another netizen says: "The #metoo movement is meaningful, but it hasn't really been able to become a reality in China."
"#MetooinChina has returned," one other Weibo user says: "But there's barely discussions about it anymore. Now, the hashtag "International Women's Day Against Harassment" (#三八反骚扰#) has been deleted. I wonder when that one will come back."
Perhaps saying that there is no Chinese MeToo movement at all is too crude; after all, there are important stories and initiatives in China that are connected to the global #metoo movement. But unlike in the US and other countries, these events have not led to a wider movement of common netizens widely sharing their own stories of abuse on social media.
Why is this the case? According to the Washington Post, it is because of China's "patriarchal culture and a male-dominated one-party state that obsessively protects those in power."
Stephany Zoo at RadiiChina says that 'metoo' has not taken off because China's business landscape is built on guanxi, relationships, and that speaking out would pose too much of a risk to individuals within such a stability-focused culture.
One Chinese blogger claims that China's metoo movement has been hindered by, amongst others, the decade-old abuse case of Tang Lanlan. This case triggered massive attention earlier this year when Chinese media exposed the identity of the victim, potentially ruining her chances to lead her life out of the public eye.
The Chinese so-called 'human flesh search engine' could cause victims of sexual abuse to become victimized once again by becoming the focus of attention in an online environment that is joined by more than 700 million people; in order to protect oneself, not speaking out in public might be the safer option in the eyes of many people.
But maybe there is also another reason for it, namely that some social movements emerge in a country because it is the right time and the place for it. Just as many Chinese movements have never emerged in the US, many American movements will have no success spouting up in the PRC. #Metoo is not a movement that can have a cookie-cutter approach – even if it does spring up in other countries, it will have different shapes, voices, and outcomes.
"Foreign media can report whatever they want [about China]," one Weibo commenter says: "In the end, it's up to us to pay attention to [the movements] we find important."
By Manya Koetse with contribution from Boyu Xiao
Follow @whatsonweibo
* title: 《关于学校里的性侵犯,我看到了什么,想了什么,能做什么》
Spotted a mistake or want to add something? Please let us know in comments below or email us.
Want to support what we do? Please see our donations page.
©2018 Whatsonweibo. All rights reserved. Do not reproduce our content without permission – you can contact us at info@whatsonweibo.com.
What Are Weibo's "Super Topics"?
Explaining Weibo's "Super Topics"
What are Weibo's "Super Topics" (超级话题) and what makes them different from normal hashtags?
Over the past year, Weibo's so-called "Super Topics" (超级话题) have become more popular on the social media platform as online spaces for people to connect and share information.
Weibo's "super topic" function has been around since 2016. The function allows Weibo users to create and join interest-based content community pages that are online groups separated from the main Weibo space. One could perhaps compare these Weibo Super Groups to 'mega-threads' or 'subreddits' on Reddit.
These are the most important things to know about Weibo's Super Topics:
#1 A Super Topic is Not the Same as a Hashtag
Similar to Twitter, hashtags make it possible for Weibo users to tag a topic they are addressing in their post so that their content pops up whenever other people search for that hashtag.
Different from Twitter, Weibo hashtags also have their own page where the hashtag is displayed on top, displaying how many people have viewed the hashtag, how many comments the hashtag is tagged in, and allowing users to share the hashtag page with others.
A Super Topic goes beyond the hashtag. It basically is a community account where all sort of information is shared and organized. People can 'follow' (关注) a Super Topic and can also 'sign in' (签到).
On the main page of every Super Topic page, the main subject or purpose of the super topic is briefly explained, and the number of views, followers, and posts are displayed.
A super topic-page can be created by any Weibo user and can have up to three major hosts, and ten sub-hosts. The main host(s) can decide which content will be featured as essential, they can place sticky notes, and post links to suggested topics.
#2 A Super Topic Is a Way to Organize Content
Super Topic pages allow hosts to organize relevant content in the way they want. Besides the comment area, the page consists of multiple tabs.
A tab right underneath the main featured information on the page, for example, shows the "sticky posts" (置顶帖) that the host(s) of the page have placed there, linking to relevant information or trending hashtag pages. Below the sticky notes, all the posts posted in the Super Topic community are displayed.
One of the most important tabs within the Super Topic page is called "essential content" (精花), which only shows the content that is manually selected by the host(s). This is often where opinion pieces, articles, official news, or photos, etc. are collected and separated from all the other posts.
Another tab is the "Hall of Fame" (名人堂), which mainly functions as a reference page. It features links to the personal Weibo pages of the super topic page host(s), links to the Weibo pages of top contributors, and shows a list of the biggest fans of the Super Topic. Who the biggest fan of the page is, is decided by the number of consecutive days a person has "checked-in" on the page.
#3 Super Topics Are a Place for Fans to Gather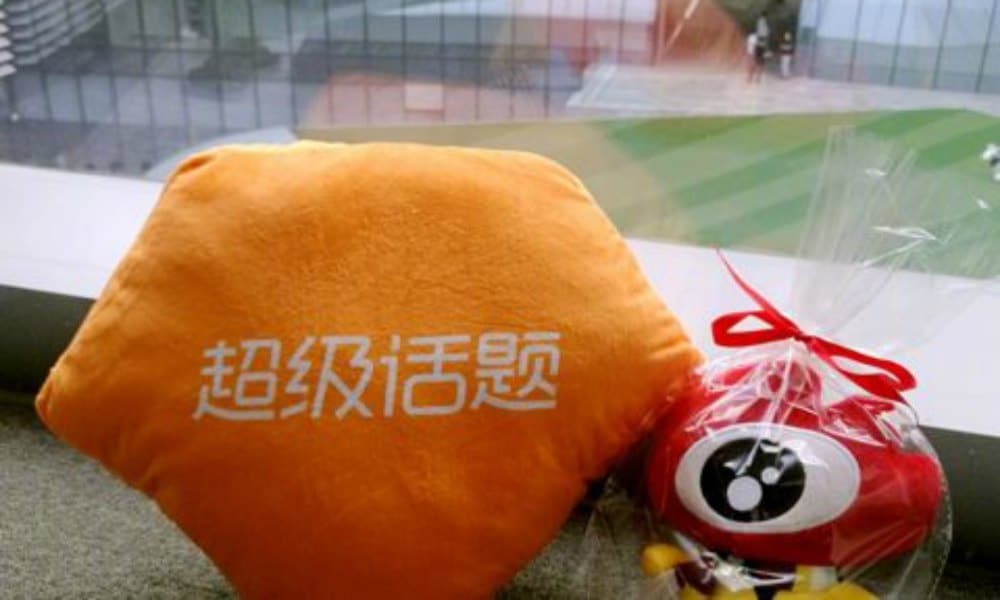 Although a Super Topic could basically be about anything, from cities to products or hobbies, Super Topics are often created for Chinese celebrities, video games, football clubs, or TV dramas.
Through Super Topic pages, a sense of community can be created. People can be ranked for being the most contributive or for checking in daily, and comment on each other's posts, making it a home base for many fan clubs across China.
The host(s) can also help somebody's page (e.g. a celebrity account) grow by proposing them to others within the group.
Super Groups are ranked on Weibo based on their popularity. This also gives fans more reason to stay active in the group, making their Super Topic top ranking within their specific category (TV drama, food, photography, sports, games, etc).
What makes the Super Topic group more 'private' than the common Weibo area, is that people posting within the Super Topic can decide whether or not they also want their comment shared on their own Weibo page or not. If they choose not to, their comments or posts will only be visible within the Super Topic community.
By Manya Koetse & Gabi Verberg, with contributions from Boyu Xiao
Spotted a mistake or want to add something? Please let us know in comments below or email us.
©2019 Whatsonweibo. All rights reserved. Do not reproduce our content without permission – you can contact us at info@whatsonweibo.com
Why Trump Has Two Different Names in Chinese
Why does 'Trump' have multiple names in Chinese?
First published , updated version published March 7, 2019
It is confusing even for Chinese netizens and journalists: why does Donald Trump have multiple names in Chinese? And which is the right one to use? What's on Weibo explains.
Donald Trump has two most commonly used different names in Chinese. In Mandarin*, they are Tèlǎngpǔ (特朗普) and Chuānpǔ (川普). Both names have been used by Chinese mainstream media and netizens for years.
*(Due to the scope of this article, we'll just use the Mandarin pinyin here.)
In the Chinese translation of Donald Trump's autobiography The Art of the Deal (1987), the 'Tèlǎngpǔ' transliteration is used, whereas the translation of the George Ross book Trump-Style Negotiations (2008) uses 'Chuānpǔ' as the Chinese name for Trump.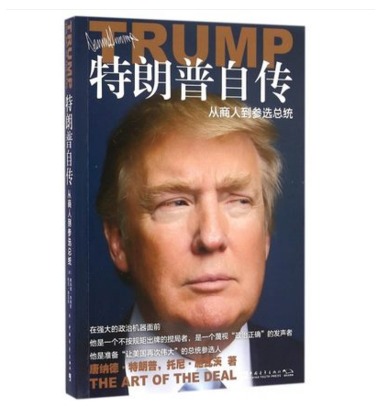 Considering that Trump is making headlines every day, more people are wondering why Trump has two Chinese names, and which one is the correct name to use. There are even discussions about the topic on Chinese social media.
Why are foreign names translated?
Why are non-Chinese names actually translated into Chinese at all? With English and Chinese being such vastly different languages with entirely different phonetics and script, the majority of Chinese people will find it hard to pronounce a foreign name that is written in English.
Writing foreign names or terms in Chinese script has a long history and practical reasons which won't be further elaborated on here. At present, aside from being standardized, it does not just help Chinese speakers to pronounce these words, it also makes it easier to remember them. Most Chinese names usually consist of two or three characters; the first character is the surname, and the last character(s) is the given name.
Translating a name to better adapt to the culture in which it is used does not only happen with English names in China; you often see the same happening with Chinese names in foreign countries.
In that case, the first character (surname) is moved to the back, and the given name changed into an English one. Alibaba's Ma Yun, for example, has become globally known as 'Jack Ma.' Film star Zhao Wei is called 'Vicky Zhao', Tencent's Ma Huateng is known as 'Pony Ma,' and the popular actress Lin Yun is called 'Jelly Lin.'
The right way to translate a foreign name in Chinese
There are multiple ways to translate a foreign name to Chinese. Most commonly, a name is translated into Chinese characters that are phonetically similar to the original name, without necessarily being very meaningful. The transliteration of 'Hillary' (Clinton), for example, is 'Xīlālǐ' (希拉里). 'Bush' is translated as 'Bùshí' (布什).
Another option is to choose a name purely based on meaning rather than phonetics. One example is Elvis Presley, who is called 'Cat King' (Māo Wáng 猫王) in Chinese, which stays close to his nickname "The Hillbilly Cat."
The best option when translating a foreign name into Chinese, however, is to make sure it stays close to its original pronunciation while also using elegant characters. In other words; it is nice when a name's translation makes sense both phonetically and semantically. Marilyn Monroe's last name in Chinese is Mènglù (梦露), for example, which sounds like 'Monroe' and has the characters for 'Dream Dew' – a perfect transliteration for such a dreamy actress.
Even when the characters used for a foreign name in Chinese are not necessarily intended to convey a certain meaning, it is important that they do not have any negative connotations. Nobody wants a character in their name associated with divorce, disease or death – it is believed to bring bad luck.
Another thing is that it is considered helpful for foreign names in Chinese is to maintain a 'foreign flavor' to it, to make it clear that the name is actually a transliteration. To give an example raised in this Nikkei article: President Reagan's name is generally translated as Lǐgēn 里根 in Chinese – the characters being somewhat uncommon for a Chinese name.
The same name could also be written with the characters 李根, very common for a Chinese name, but then it would be difficult to know whether a media report is talking about Reagan the President or just a local Chinese person by the same name. Transliterations of foreign names, therefore, are often easily recognizable as foreign names on purpose.
Trump, Tèlǎngpǔ, and Chuānpǔ
In the case of Trump, his Chinese names are mainly chosen for phonetic reasons, with different sources using different characters. Part of the challenge in deciding the right Chinese translation for his name, is the fact that Chinese does not have consonant cluster 'tr' as one sound.
The Chinese-language Nikkei newspaper dedicated an op-ed written by Chinese scholar Ke Long (柯隆) to the matter, who argues that although it may all seem trivial, it is actually quite confusing and unpractical for president Trump to have more than one name in Chinese.
The Chinese media in Taiwan, Hong Kong, and most overseas Chinese-language media, refer to Trump as 'Chuānpǔ' (川普).* According to the World Journal, the biggest Chinese-language newspaper in the US, it is the only proper way to translate this name, yet most Chinese state media and Chinese-language UK media (such as BBC) all use 'Tèlǎngpǔ.'
* (The Chinese version of The New York Times 纽约时报中文版 is an exception, as 'Tèlǎngpǔ' 特朗普 is generally also used in this publication.)
Author Ke Long explains that Chinese translations of foreign names try to stay as close as possible to the pronunciation of a name in its original language. This is why the name of the city 'Paris' is pronounced 'Bālí' (巴黎) in Mandarin Chinese, staying close to the French pronunciation, and 'Amsterdam' being 'Āmǔsītèdān' (阿姆斯特丹), which follows the city's Dutch pronunciation.
If the British would pronounce 'Trump' as 'te-lan-pu,' then it would thus perhaps be more understandable why media such as the BBC would write Tèlǎngpǔ. But they don't pronounce it like that, Ke Long argues, saying that the use of 'Tèlǎngpǔ' thus does not make sense, and is actually closer to the Japanese way of writing Trump's name ('トランプ': to-ra-n-pu).
More so, the author writes, it does not make sense for Chinese media to take over the British transliteration of the Trump name. Considering Trump is American, Chinese media should follow the translations made by American media. He also notes that if it would be about the Prime Minister of Britain, the Chinese transliteration should follow the one used by the media in the UK.
Although the Nikkei author seems to advocate for a singular use of 'Chuānpǔ' by all media, no Chinese media are necessarily 'wrong' in their transliteration of the name Trump. The 'Tèlǎngpǔ' 特朗普 translation follows the example of outlets such as the BBC, while Chuānpǔ 川普 follows that of other media.
Some Chinese bloggers argue that Chuānpǔ 川普 is the best way to write Trump's name, because the first character, that actually means 'river,' is commonly used in Chinese, making the name sound more 'natural' and easy to pronounce than 'Tèlǎngpǔ.' Moreover, they argue that the Mandarin 'chuan' sound is more appropriate to convey the pronunciation of 'tr' than the 'te-lang' way.
In the end, the reason why Trump has two names most commonly used in Chinese is just a matter of media, with various mainstream outlets adopting different names since Trump first made headlines, and without there being any clear consensus on which Chinese name to use across all these different Chinese-language media platforms around the world.
Chuángpù and Chuángpò?
On Chinese social media, President Trump even has more than two names. There are also netizens referring to him as 床鋪, 闯破 or 床破 (Chuángpù/Chuángpò); these are all transliterations that contain strange or negative characters, making the name unrefined and harsh-sounding on purpose to make the name 'Trump' look and sound bad.
Although there have been online discussions on the right transliteration for the name Trump, it is unlikely that there will be one official Chinese name for the US President in the near future. Xinhua News, China's official state-run press agency, has consistently been using Tèlǎngpǔ 特朗普 for years, and will probably continue to use it.
Many netizens simply use both versions of his name in one post to avoid confusion, and some news reports have even started using both names in its headlines (image below).
Despite the somewhat confusing situation at hand, there are also those who do not seem to mind at all. "Who cares if it is Tèlǎngpǔ or Chuānpǔ anyway?" one netizen says: "In this day and age, we all know who it is we are talking about."
– By Manya Koetse
Follow on Twitter or Like on Facebook
This article first appeared in 2017 and has been republished with various corrections:
– The first version did not properly convey the argument made by author Ke Long in his Nikkei piece, which is more clearly laid out in this version.
– This version has added some extra information coming from sources after 2017.
Spotted a mistake or want to add something? Please email us.
©2019 Whatsonweibo. All rights reserved. Do not reproduce our content without permission – you can contact us at info@whatsonweibo.com