Ofo's Bike Sharing Services Spark Outrage on Chinese Social Media for "Giving Privileges to Foreigners"
Apparently, all it takes is to be an American to get your deposit back from Ofo?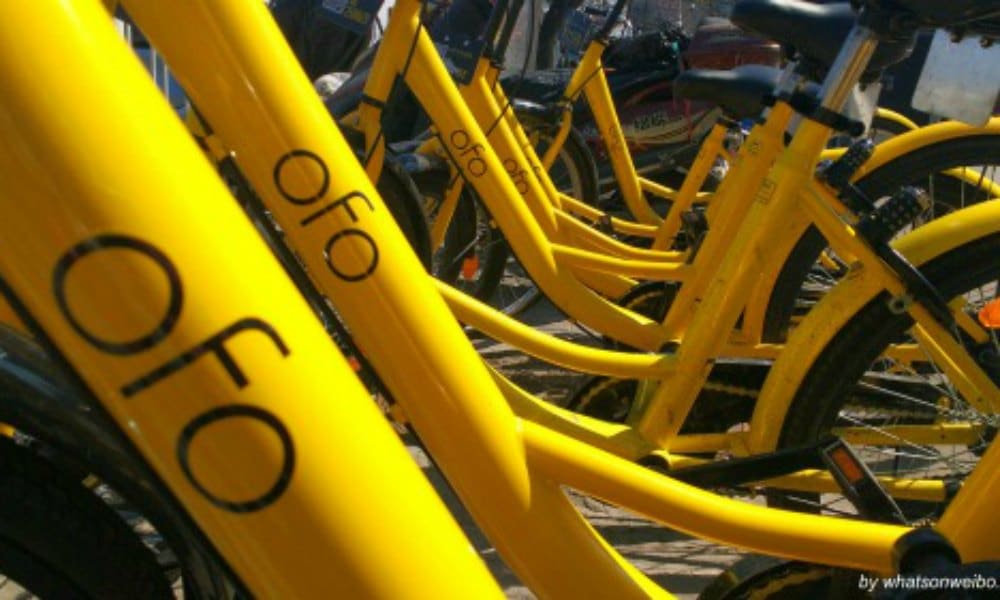 First published
When one man dreaded waiting forever on the phone with Ofo's customer service to get a deposit back, he decided the "foreigner reporting strategy," and it allegedly worked. It is a story that is now going viral on Chinese social media, where netizens are outraged about the company's "unfair treatment" of customers.
When one Chinese Ofo customer decided he did not feel like waiting forever on the phone to get his deposit of 199 yuan back, he decided to go "foreign." Changing his account details, he pretended to be a man from California living in China for the past three years and sent an email to Ofo in English, Tencent News and other Chinese media report. Not only did he immediately get his deposit back, the company even sent him an apology letter.
For over a year now, the Ofo bike sharing service company is facing financial troubles which have forced the company to lay off workers and have made it extra difficult for Ofo users to get a refund of their 199 yuan ($29) deposit.
As reported by Technode earlier this month, amidst recent reports on Ofo's alleged nearing bankruptcy and rumors of an acquisition by ride-hailing giant Didi, users have rushed to get their deposits back.
In the CCTV2 Economic News (经济信息联播) programme on December 3rd, Ofo users told reporters that the company's app now only has a "top up" credit button in its settings, and that the button for "getting a refund of deposit" had been removed. When people tried calling the service center of the company, many got no response, despite numerous attempts.
Ofo was founded in 2014 and first launched its services in Beijing in 2015. Ofo bikes can now be found in many cities across China, where users first pay a deposit and can then unlock and track bikes, which can be rented for one yuan by the hour, using the smartphone app.
Now, the news has gone viral of the Chinese man who not only got his deposit refunded, but even received an apology letter from Ofo. All it allegedly took for him to succeed is pretending to be a foreigner.
When the Chinese man, who goes by the username "@ztj93," had heard that he had to go through much trouble to get his deposit back, he pretended to be an American and used Gmail to write an email to Ofo in English, of which he took a screenshot and reposted it on his Weibo account. Within a day, the money was sent back to his Alipay-account, and a letter of apology was sent to his email.
The email from "ztj93" sent to Ofo on the 13th of December, at 3:51 pm, as shared on social media:
Ofo's reply on the 14th of December, at 10:03 am:
When the man shared his success online, news went viral immediately.
At the time of writing, the hashtag "Pretend to be foreign and Ofo refunds immediately" (#假装外国人ofo秒退押金#) has received over 140 million views on Weibo.
Many netizens praise the man for his clever approach and congratulate him with his success, while also condemning the Ofo company for their "unfair treatment" of customers, with some even expressing their hopes for the company to go bankrupt as soon as possible.
By now, the original poster has placed a letter on his Weibo account in which he expresses his surprise with the fact that Ofo actually responded to him and that he got his money back, but also with the fact that the news has blown up on Weibo as it has. The man also explains that he is a long-time user of Weibo and that he since long has used the international Weibo version (it not clear at time of writing where the man exactly adjusted his profile details and if it was on Ofo or on Weibo).
He writes that although initially, it was just funny to him, he now has mixed feelings about the entire incident; on the one hand, he is happy that he has his money back, he writes, but on the other hand, he says that it makes him "uncomfortable" knowing that Ofo might give a preferential treatment to foreigners.
While he understands people's anger about this, he writes, he also says that this anger should stay within "reasonable realms," which it, apparently, has not. The poster has since deleted his Ofo posts, saying he knew the power of Weibo, but that he did not expect his post to be so influential.
On Saturday night (China time), Chinese media outlet Pear Video published a video on the issue in which two spokespersons for Ofo state they do not know about the incident and will look into it. Later, the phone for Ofo's PR services was allegedly not able to be reached again.
By Gabi Verberg and Manya Koetse, with contributions from Miranda Barnes
Follow @whatsonweibo
Spotted a mistake or want to add something? Please let us know in comments below or email us.
©2018 Whatsonweibo. All rights reserved. Do not reproduce our content without permission – you can contact us at info@whatsonweibo.com
Chinese Fashion Brand Peacebird Accused of Plagiarism (Again!)
The Chinese fashion brand Peacebird turns out to be a copycat.
The Chinese fashion brand Peacebird (太平鸟) is trending on Chinese social media this week for its alleged involvement in various cases of plagiarism. The brand is accused of producing exact copies of garments designed by other labels. Hashtag "Peacebird Repeatedly Accused of Plagiarism" (#太平鸟多次被控抄袭#) drew in over 230 million views on Weibo.
In late October of this year, fashion blogger and small fashion brand @SOS_SEAMSTRESS called out Peacebird on Weibo for plagiarizing one of their designs.
Besides changing the material used for the garment, the Peacebird outfit is an exact copy of the design by SOS Seamstress – even the buttons and pockets and other details are exactly the same. The price, however, is five times higher.
SOS Seamstress condemned Peacebird for claiming to have their own original fashion designs, produced by their in-house design team, while actually stealing from others and completely disregarding the rights of domestic local designers.
It is the fifth time this year that the fashion house is accused of plagiarism. Beijing Business News reported that other brands, including Mostwantedlab and Annomundi, previously also accused Peacebird of stealing their designs. In February of this year, the artist @LOONY_FACE also publicly exposed Peacebird for using his designs without his permission.
Chinese netizens have further researched other clothing brands that Peacebird allegedly plagiarized, including UNALLOYED, Moussy, Off-White, FREI, Maje, and other domestic and international brands.
Various Chinese media outlets, including Beijing Business News, call it noteworthy that Peacebird's response to these plagiarism accusations is not an apology but a simple statement that "original brands can go through legal channels." Meanwhile, the company has allegedly also taken down the designs that have been pointed out as copies.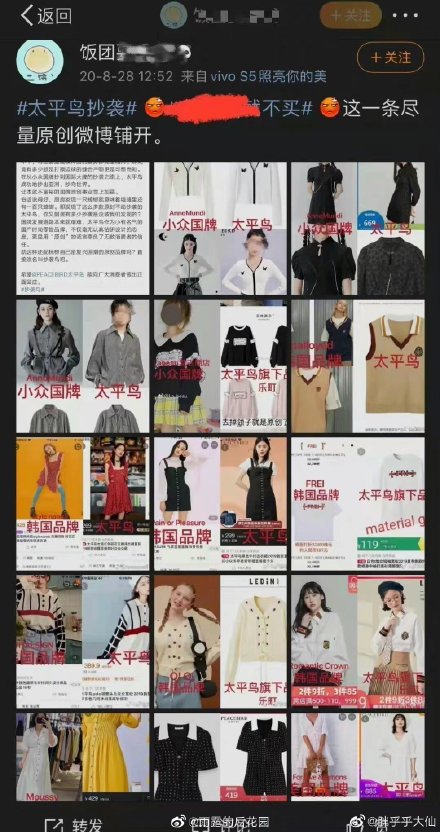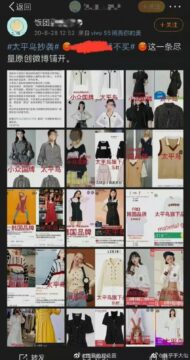 Peacebrand is a fashion retail brand established in Ningbo in 1996. The company also holds various smaller brands such as LEDIN (乐町) and Material Girl. The fashion company claims to have approximately 12,000 employees in its stores, headquarters and factories. In 2018, it made its first debut at New York Fashion Week.
Among all the people commenting on this issue, there are many who think that although 'borrowing' popular designs has always been a part of the fashion industry, doing an exact copy is uncommon and unacceptable – especially for such a large company as Peacebird. "Shameless!", multiple commenters say.
"I once bought an embroidered garment at Peacebird's, and then later saw the same design from a brand I didn't know. I thought it was copied from Peacebird, but now I think it might've been the other way around," one person writes.
"I'm shocked that the national brand Peacebird would plagiarize while waving the flag of originality," another commenter says.
"Plagiarizing one time, ok, but plagiarizing so many times and then even doing one on one copies, how can they run a business?!"
There are also those who hope that the current focus on Peacebird's alleged plagiarism will lead to more attention for smaller, original brands in China.
To read more about the recent surge in popularity of domestic brands in China, see: "Chinese Fashion First: Consumer Nationalism and 'China Chic'."
By Manya Koetse
Spotted a mistake or want to add something? Please let us know in comments below or email us. First-time commenters, please be patient – we will have to manually approve your comment before it appears.
©2021 Whatsonweibo. All rights reserved. Do not reproduce our content without permission – you can contact us at info@whatsonweibo.com.
Hotpot Chain Haidilao Is Shutting Down Over 300 Restaurants
After adding 544 stores in 2020, Haidilao will close 300 locations this year.
News that China's most popular hotpot chain is closing down over 300 restaurants became a top trending topic on Chinese social media site Weibo on Friday.
Haidilao (海底捞) made the announcement on Friday evening through a social media post, saying the company will gradually shut down about 300 of its stores. The restaurants that are to be closed are those with relatively low customer traffic and lower-than-expected business performance.
Although the stores will be shut down before December 31 of this year, some of them will potentially reopen at a later date after reorganization. The company also said it would not lay off its staff for now.
Haidilao has approximately 1600 restaurants, of which many were opened in 2020, when the chain added an astonishing 544 new restaurants. In the summer of 2021, Haidilao had a total of 131,084 employees.
It has been over 25 years since Zhang Yong, the owner of Haidilao, set up his first hot pot restaurant in Jianyang, Sichuan, with a mere investment of 10,000 yuan ($1470). It later became the dominant hot pot chain in the country.
Hot pot restaurants, where fresh meat and vegetables are cooked at the table in the simmering broth, are extremely common across China. But Zhang Yong chose to market Haidilao and its authentic Sichuan hot pot with an innovative strategy: high-service, high-tech, and high-quality.
The restaurant is known for giving its customers a free manicure along with snacks and drinks while waiting for a table. The staff is thoroughly trained in providing the best customer service, and Haidilao has introduced new concepts throughout the years to enhance customer experience. People who dine alone, for example, will get a teddy bear to join them. The restaurant also introduced robot waiters and is known for its noodle dancers and staff singing birthday songs whenever there is a birthday celebration.
Over the past two years, however, Haidilao's table turnover rate shrunk dramatically. The average table turnover rate in 2019 was 4.8 per day, but that number fell to 3 times per day in 2021, with some restaurants only doing 2.3 per day, leading to significant losses for the company's net profit.
Due to the Covid19 crisis and lockdowns, Haidilao closed its doors in late January of 2020. By mid-March, it started to gradually reopen some of its locations, although they initially offered fewer seats and introduced an increased distance between dining table, that were allowed to have no more than three guests.
Due to the restaurant's limited tables and increased labor costs, its menu prices went up, much to the dismay of many netizens, who already thought the prices at Haidilao were steep before the pandemic.
In October of this year, the story of a Haidilao customer in Zhengzhou discovering that the 200 grams of tripe he ordered for 72rmb ($11) was actually only 138 grams also went viral on Weibo, stirring discussions on the Haidilao menu prices.
Headlines that matter. "Next time I'm bringing my scale to Haidilao": 260 million views (!) on Weibo today for the hashtag about a customer at hotpot chain Haidilao in Zhengzhou discovering that the 200gr of tripe he ordered for 72rmb ($11) was actually only 138gr. 😂🤯 pic.twitter.com/Yl0Y8qPzIE

— Manya Koetse (@manyapan) October 19, 2021
While news about Haidilao closing so many of its stores attracted over 260 million views by Friday night, many commenters agreed that the company should scale down. "The more stores you open, the less you focus on service, the surroundings of the newly opened stores are not up to par, while prices are only rising," one person wrote on Weibo.
"They're not making enough money, while their prices were already being pressed down, and still I can't afford to eat there," another commenter wrote.
Others also wondered how Haidilao could claim they would not sack their staff while closing down so many stores. "Does that basically mean they'll wait for them to leave for themselves?"
"When there's a pandemic, there's bound to be bad luck [in business]," another commenter writes: "There's really not much to do about it."
By Manya Koetse
Spotted a mistake or want to add something? Please let us know in comments below or email us. First-time commenters, please be patient – we will have to manually approve your comment before it appears.
©2021 Whatsonweibo. All rights reserved. Do not reproduce our content without permission – you can contact us at info@whatsonweibo.com.