Online Influencers: New Perspectives on Social Change (Live Event)
What are the challenges bloggers are facing in China today? How can blogging help create tolerance in a divided society? These are the questions addressed at today's event about New Perspectives on Social Change at the RNW headquarters
The age of digitalization and social media empowers young bloggers and journalists to get their voices heard and influence politics and society. RNW Media has organized an event where a number of these online influencers will talk about how they are shaping the future of journalism – an issue not just relevant for the case of China, but for the world at large.
What are the challenges bloggers are facing in China today? How can blogging help create tolerance in a divided society? These are the issues addressed at today's event about New Perspectives on Social Change at the RNW headquarters in Hilversum, The Netherlands.
The speakers at today's event are Chinese blogger and journalist Yuan Chang, who will focus on the challenges facing bloggers in the PRC; Dacia Munezero (@mdacia), co-founder of the influential Yaga bloggers project in Burundi, who will explain how blogging can help create tolerance in a divided society; and Abir Sarras (@abirsarras), coordinator of Love Matters Arabic, who will talk about the recent trial of an Egyptian blogger (RNW event page).
Director RNW Media Robert Zaal (@RobertZaal) welcomes today's audiences. Today's host is mass media researcher and author Piet Bakker (@pietbakker). "Digital first," Bakker says: "This is a choice made by RNW [Radio Netherlands Worldwide] – radio is no longer our main platform, we have changed with our times, with a focus on human rights and freedom of speech. Journalism in countries where there is no freedom of speech naturally becomes some sort of activism."
"Digital comes first," Bakker says: "This is a choice made by RNW [Radio Netherlands Worldwide] – radio is no longer our main platform, we have changed with our times, with a focus on human rights and freedom of speech. Journalism in countries where there is no freedom of speech naturally becomes some sort of activism." This is what today's event is about:
The Challenges Facing Bloggers in China
Yuan Chang is a Chinese blogger and journalist. He has worked for the New York Times, and is now a blogger for RNW. He speaks about censorship and online freedom.
"There is a small space between hardcore politics and personal rights in China," Yuan Chang says. "Censorship in China is not a black and white issue. The PRC is not North Korea. There is a small space of freedom, and that is where I move around."
"In China, we work with a VPN [virtual private network] to get access to the sites that are blocked. It is getting harder and harder as the Great Firewall of China is getting more sophisticated all the time, but we always find a way to circumvent it."
"With my blogging, I never got any real problems. I was censored before, but I am still here. When I worked for the New York Times, the police did in fact give me a call multiple times – but that is not really surprising when you work for foreign media as a Chinese citizen."
"In Europe, people fuss about privacy a lot. In China, we don't fuss about it, because we know they know everything about us. They would give me a call and say: 'Ah, you're back in China for the summer, why don't you relax for a while now and don't work – remember you still have a Chinese passport.' For me, I don't worry too much about it. It is actually transparent: I know they know everything I do."
"I have no expectations of foreign companies like Facebook or Google in China. For them, it is business first, and they will not help to overcome censorship. Instead, these kind of companies impose self-censorship."
"There will not be a big change in China because of what is happening online now. It will take a lot of little changes before, slowly but surely, a bigger change will come about."
Burundi: Blogging as a Bridge in a Divided Society
Burundi blogger Dacia Munezero would have been here today, Piet Bakker (@pietbakker) says, but the circumstances in her country unfortunately did not allow her to come.
In this video she talks about the letter she wrote to the wife of President Pierre Nkurunziza, which she wrote out of sheer desperation over the current crisis in her country.
Antoine Kaburahe , director of the Iwacu media group, has come to talk about the situation in Burundi: "Last year there was an attempt at a coup in Burundi. During this night, all traditional media were destroyed. This was the moment where bloggers, like the Yaga network, but also Twitter and Facebook, really exploded."
"Those platforms were the only windows to the world for us at that point. We in Burundi live in a radio culture, but nowadays most people have smartphones. So when the credible radio station suddenly disappeared, these smartphones became our source of media."
"My father was a journalist as well, and he created the first Catholic newspaper of Burundi. This is why I also wanted to start a newspaper, which also works with social media and Web TV. I believe I have enough impact now – I don't need to make radio."
"Our regime does not like social media. Dacia already says [in the video] how she was threatened after sending a letter to the first lady – this is what happens. It might happen that we are cut off from Internet completely – we don't know."
Talking about Sex and Online Freedom in Egypt
Ahmed Naji would be one of the speakers with Abir Sarras today. Ahmed Naji is a journalist, blogger and published author in Egypt who was prosecuted last year (read more). "Ten days ago the court found that Ahmed was innocent," Abir Sarras, producer of the Arabic blog Love Matters, says: "But it was overruled and he has not off the hook yet." Abir Sarras will talk about her work and online freedom in Egypt here.
"Love Matters is the first blog about love and sexual health in Egypt, it is an encyclopedia about everything related to sexual health – from lovemaking to pregnancy. We use a big network of bloggers from the region. People who blog for us talk about things that are actually taboo – we give them a platform to talk about these things."
"The blog has only been around for 1,5 years, but it is already very popular. There is a real lack of information. People learn all their lives that sex is taboo, and when they get married, they suddenly are expected to know what to do during their wedding night. Porn is actually very well-watched in Arabic countries. Actually – in the areas where ISIS is most active, there is a lot of porn viewing going on."
"We talk about health risks and points of focus when you want to try different things. We have also done an item about anal sex."
"We are online – we are 'outside' – and that makes us safe. Also, a lot of experts are endorsing our content. We are a scientific website, and we try to keep away from religion. We don't criticize it, but we do try to balance out the [sexual] advice people have got from their religious background."
*This blog is now closed. *
– By Manya Koetse (@manyapan)
Follow @WhatsOnWeibo
©2016 Whatsonweibo. All rights reserved. Do not reproduce our content without permission – you can contact us at info@whatsonweibo.com.
Bizarre Buildings & Ambitious Architecture of Rural China: Here's Chinese Vlogger 'Schlieffen'
Chinese vlogger Schlieffen explores a bizarre and amazing side of rural China many have never seen before.
"Making Hebei great again" is one of his slogans. Schlieffen is China's first self-proclaimed 'agritourism' vlogger, showing Chinese netizens the unexpected sides of Hebei, an "almost invisible" province in Northern China. Anna Wang explains.
It all started in May of 2018 when Schlieffen (@史里芬Shǐlǐfēn) launched his first video titled "World's Biggest Tortoise" ("世界上最大的王八"), introducing a 1680-square-meter turtle-shaped sports venue at Hebei's Lake Baiyangdian.
Ever since that time, Schlieffen has grown out to become a popular Chinese vlogger and blogger who is active on various social media platforms. Focusing on unexpected architecture in lesser-known parts of China, he has a fanbase of thousands of followers, from Weibo to Bilibili.
His fourth video, "A Trip to Hogwarts Hebei" ("霍格沃茨河北分校之旅") launched him to stardom in his channel's first month.
The video documents the bizarre architecture of the Hebei Academy of Fine Arts, which has been compared to the 'Hogwarts' School of Witchcraft and Wizardry from Harry Potter due to its bizarre castle campus.
Schlieffen's 4-minute video shows the vlogger's exploration of the 'Hogwarts'-like area. After a long drive down a country road, he arrives at the so-called 'Empire Square', which is surrounded by three magnificent rococo, Renaissance and Gothic-style buildings.
The center building, adorned with dramatic towers and turrets, is the school's administration building. Imagine grading student work in a medieval castle in the middle of a cornfield!
Guiding the viewer through the premises, Schlieffen shows the hotel and conference center on the left; the interior is crammed with densely arranged pillars and painted ceilings  – which might be a homage to the Sistine Chapel, without the high ceilings.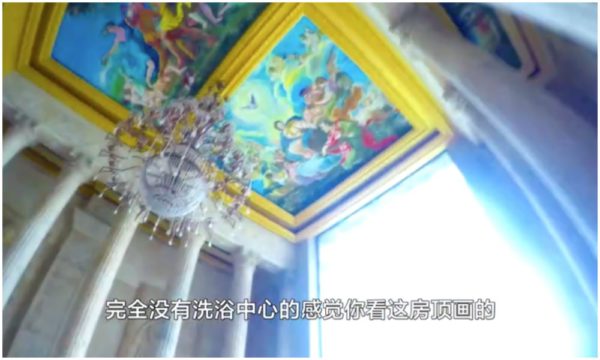 The pseudo-European buildings are somewhat laughable on their own, but there's a lot more. The campus is divided in two halves: one is European-themed, and the other one focuses on ancient China. The two are separated by a manmade "Mediterranean" lake complete with manmade islands covered in artificial palm trees.
Schlieffen's videos always follow a similar pattern. He often uses a wide-angle lens and speeds up the video to four or even eight times its normal speed, with quick edits – no shot lasts longer than 3 seconds. Each video begins with the vlogger getting off from a train or getting out of a car from where he starts his tour. "Please hold on and sit tight," is one of his signature phrases.
"They suddenly seemed to realize that there were parts of China they had no clue about."
"A Trip to Hogwarts Hebei" soon started making its rounds on Chinese social media, and was especially shared among well-educated netizens and white-collar workers, who suddenly seemed to realize that there were parts of China they had no clue about.
The Chinese term "shanzhai" (山寨) is a derogatory term for "knock-off goods," but it literally means "mountain village." The assumption is that people from rural mountain villages cannot afford real luxury goods, so they buy cheap counterfeits made in poorly run factories. The metropolitan middle class already knew about shanzhai Louis Vuitton bags, but they weren't aware that hillbillies were capable of building a 288-acre shanzhai Hogwarts.
Schlieffen's video on the noteworthy Hebei Academy of Fine Arts has currently been viewed over nine million times on Miaopai alone.
After the success of his initial videos, Schlieffen continued filming knock-off world wonders in Hebei. By now, he has made fifty vlogs, including those on wondrous places such as Hebei Jerusalem or Hebei Venice.
Through the course of his vlogging career, Schlieffen expanded his field of interest to include any attraction teetering on the thin line between ambitious and ridiculous.
Whether sharing images and videos on the world's largest cement elephant or the biggest turtle sculpture, Schlieffen's posts always attract hundreds of likes. One of his other popular videos explores the somewhat bizarre site of the Baoding Zoo.
"Hebei is an almost invisible province, as transparent as the air – I used that invisibility to make myself visible."
There are not many online influencers focusing on Hebei, a place that is not exactly known for its glamor and charm. At a December 2018 event hosted by Chinese tech news site Huxiu.com, Schlieffen said that "Hebei is an almost invisible province, as transparent as the air – I used that invisibility to make myself visible."
Hebei, a coastal province in Northern China, contains two municipalities under the direct control of the central government: Beijing and Tianjin. People often say that Beijing and Tianjin are the flavorful 'fillings of a dumpling' while Hebei is 'the plain wrapper.'
Under the current household registration system, being a resident of Beijing or Tianjin means better social welfare than the rest of Hebei. Thus, the 'brain drain' from Hebei to the cities has been ongoing for decades.
When people talk about Hebei, they usually describe it as an uneventful place, but Schlieffen's representation of Hebei completely changes their idea of the region, turning it into a place where people can be wildly ambitious.
Their ambitions can take on two forms: first, they are obsessed with huge, grand buildings. Second, they want to include every aesthetic they can think of, Chinese or European, ancient or contemporary. These ambitions come together in a brazenly unsophisticated form of architecture.
Schlieffen (1992) was born and raised in Hebei. After college, he went to England for graduate school until 2018.
While he was studying abroad, a new wave of Chinese vloggers launched their careers in mainland China. Many of them, such as the female vlogger Zhuzi (@你好_竹子), were studying abroad in Western countries. They shot and shared short videos of their daily lives, satisfying their audience's curiosity about life in a strange land.
Schlieffen began to seriously consider vlogging as a career after finishing his studies and returning to his hometown. He found that his prospective audience seemed to have grown tired of watching Chinese exchange students living happy, fashionable lives overseas. As a lover of traveling, he decided to start his own travel vlog.
In an interview with Li Dangxin for Huxiu.com, Schlieffen explains: "You have to ask yourself time and time again why the audience wants to watch your videos." Careful consideration led him to shoot the bizarre buildings in Hebei.
There are tens of thousands of Hebei natives working in big cities, Schlieffen thought; they care about what's going on in their hometowns, but they haven't necessarily seen these incredible buildings in person. They would be his first audience and if they shared his posts, his videos would surely go viral.
Things happened just as Schlieffen expected. Well-educated white-collar workers who had left their hometowns behind were stunned by Schlieffen's discoveries and collectively reposted his videos with their friends.
"Making Hebei great again."
Even after having produced dozens of vlogs and posts, Schlieffen is not worried about running out of stories. After his initial success, he also began covering stories in other provinces.
Schlieffen found that if a village's richest man happens to be the local party secretary and is also a Chinese People's Political Consultative Conference (CPPCC) member, you're sure to find ridiculous architecture in that village.
These locally powerful people often want to put up monuments and realize impressive structures to build on their legacy. Their power often goes largely unchecked in the various corners of Chinese -more rural- provinces, and their subordinates will not question them – those with the ability to challenge them aesthetically have probably already fled to bigger cities.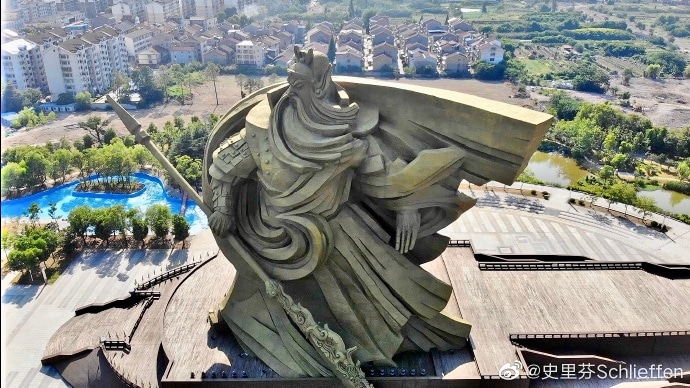 One example features in Schlieffen's video on the Long Wish Hotel International. Boasting an elevation of 328 meters, the hotel is ranked No. 8 in China and No. 15 worldwide in terms of height. It isn't in densely populated Beijing or Shanghai, but in Huaxi village in Jiangsu province. When asked why one would build such a gigantic hotel in a rural area, the village party secretary answered: "Because we can."
The hotel in Huaxi has nouveau riche written all over it. Every corner is decorated with glittering sculptures made with gold, silver or crystal. There are miniatures of Tiananmen, the White House and Arc De Triomphe in the village. On top of the White House stands a miniature Statue of Liberty.
In reporting on all these wondrous places and buildings, Schlieffen avoids making strong statements about them. Instead, he often makes playful or edgy comments. His slogan "Make Hebei great again" also means different things to different people. Some instantly understand his application of the phrase, while others simply take it literally.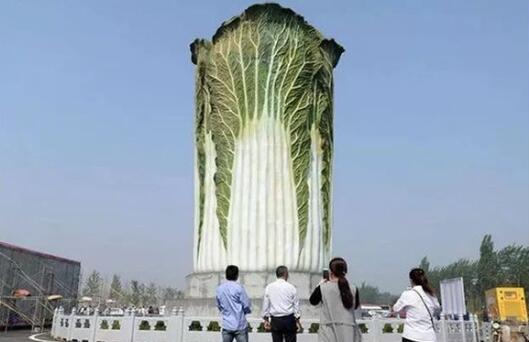 What is noteworthy is that Schlieffen rarely offends locals. He's welcomed wherever he visits. After he made a video about Wan Jia Li, a hotel/shopping mall in Hunan, the owner supposedly even invited Schlieffen to visit his home, saying: "My home is more fun than my business."
Being featured in one of Schlieffen's video can be lucrative for places in Hebei and elsewhere, as these places in rural areas will suddenly see a flux of visitors. Hebei Academy of Fine Arts has even become a popular destination for wedding photos.
Schlieffen is convinced he has found the right perspective from which to observe China's rapidly changing areas. Meanwhile, his next video is on its way. "Please hold on and sit tight," Schlieffen says again. Enjoy the ride. 
By Anna Wang
Follow @whatsonweibo
Spotted a mistake or want to add something? Please let us know in comments below or email us. Please note that your comment below will need to be manually approved if you're a first-time poster here.
©2019 Whatsonweibo. All rights reserved. Do not reproduce our content without permission – you can contact us at info@whatsonweibo.com
CCTV Launches Dramatic Propaganda Video Condemning Hong Kong Protests, Praising HK Police Force
This CCTV video leaves no doubt about what narrative on the Hong Kong protests it's trying to convey.
This week, while the protests in Hong Kong were intensifying, Chinese state broadcaster CCTV published a video on its social media channels in support of the Hong Kong Police Force. The hashtag used with the video is "HK Police, We Support You!" (香港警察我们挺你#).
"Evil will not press [us] down! A Sir [HK Officers], 1.4 billion compatriots support you!" is the sentence used to promote the video.
The video was initially issued by Xiaoyang Video (小央视频), CCTV's short video platform, on August 13. There is a Cantonese and a Mandarin version of the same video, which is spread on various channels from Weibo to Bilibili, from YouTube to iQiyi.
"Hong Kong is not a place you can do whatever you please with" is the other message promoted in the video, that uses words such as "terrorists" and "bandits" to describe the Hong Kong protesters.
The sentence that Hong Kong is not a place "to do whatever you like with" ("香港,不是你们为所欲为的地方") comes from one of the movie scenes incorporated in the video (Hong Kong movie Cold War 2 / 寒战2).
The video is a compilation of footage using TV dramas and movies combined with actual footage from the recent protests.
By using spectacular images and dramatic film scenes, the video conveys a dramatic narrative on the Hong Kong protests, clearly portraying the Police Force as the good guys fighting against evil.
As the video is being liked and shared by thousands of web users on various platform, one popular comment on video platform Bilibili says: "No matter whether it's a natural disaster, or a man-made disaster, we can overcome this."
Some of the footage used in this video comes from Firestorm, a 2013 Hong Kong action film (the first 3D Hong Kong police action film). Hong Kong police thriller films Cold War and its sequel are also used, along with Hong film The White Storm (2013), Shock Wave (2017), Tactical Unit: Comrades in Arms (2009), Kill Zone (2005), crime drama Line Walker, L Storm (2018), Project Gutenberg (2018), The Menu (2015), and Chasing the Dragon and its sequal (2017/2019).
All of the fictional segments are from made-in-Hong Kong productions.
Watch the propaganda video here.
By Manya Koetse
Follow @whatsonweibo
Spotted a mistake or want to add something? Please let us know in comments below or email us. Please note that your comment below will need to be manually approved if you're a first-time poster here.
©2019 Whatsonweibo. All rights reserved. Do not reproduce our content without permission – you can contact us at info@whatsonweibo.com