Online Influencers: New Perspectives on Social Change (Live Event)
What are the challenges bloggers are facing in China today? How can blogging help create tolerance in a divided society? These are the questions addressed at today's event about New Perspectives on Social Change at the RNW headquarters
The age of digitalization and social media empowers young bloggers and journalists to get their voices heard and influence politics and society. RNW Media has organized an event where a number of these online influencers will talk about how they are shaping the future of journalism – an issue not just relevant for the case of China, but for the world at large.
What are the challenges bloggers are facing in China today? How can blogging help create tolerance in a divided society? These are the issues addressed at today's event about New Perspectives on Social Change at the RNW headquarters in Hilversum, The Netherlands.
The speakers at today's event are Chinese blogger and journalist Yuan Chang, who will focus on the challenges facing bloggers in the PRC; Dacia Munezero (@mdacia), co-founder of the influential Yaga bloggers project in Burundi, who will explain how blogging can help create tolerance in a divided society; and Abir Sarras (@abirsarras), coordinator of Love Matters Arabic, who will talk about the recent trial of an Egyptian blogger (RNW event page).
Director RNW Media Robert Zaal (@RobertZaal) welcomes today's audiences. Today's host is mass media researcher and author Piet Bakker (@pietbakker). "Digital first," Bakker says: "This is a choice made by RNW [Radio Netherlands Worldwide] – radio is no longer our main platform, we have changed with our times, with a focus on human rights and freedom of speech. Journalism in countries where there is no freedom of speech naturally becomes some sort of activism."
"Digital comes first," Bakker says: "This is a choice made by RNW [Radio Netherlands Worldwide] – radio is no longer our main platform, we have changed with our times, with a focus on human rights and freedom of speech. Journalism in countries where there is no freedom of speech naturally becomes some sort of activism." This is what today's event is about:
The Challenges Facing Bloggers in China
Yuan Chang is a Chinese blogger and journalist. He has worked for the New York Times, and is now a blogger for RNW. He speaks about censorship and online freedom.
"There is a small space between hardcore politics and personal rights in China," Yuan Chang says. "Censorship in China is not a black and white issue. The PRC is not North Korea. There is a small space of freedom, and that is where I move around."
"In China, we work with a VPN [virtual private network] to get access to the sites that are blocked. It is getting harder and harder as the Great Firewall of China is getting more sophisticated all the time, but we always find a way to circumvent it."
"With my blogging, I never got any real problems. I was censored before, but I am still here. When I worked for the New York Times, the police did in fact give me a call multiple times – but that is not really surprising when you work for foreign media as a Chinese citizen."
"In Europe, people fuss about privacy a lot. In China, we don't fuss about it, because we know they know everything about us. They would give me a call and say: 'Ah, you're back in China for the summer, why don't you relax for a while now and don't work – remember you still have a Chinese passport.' For me, I don't worry too much about it. It is actually transparent: I know they know everything I do."
"I have no expectations of foreign companies like Facebook or Google in China. For them, it is business first, and they will not help to overcome censorship. Instead, these kind of companies impose self-censorship."
"There will not be a big change in China because of what is happening online now. It will take a lot of little changes before, slowly but surely, a bigger change will come about."
Burundi: Blogging as a Bridge in a Divided Society
Burundi blogger Dacia Munezero would have been here today, Piet Bakker (@pietbakker) says, but the circumstances in her country unfortunately did not allow her to come.
In this video she talks about the letter she wrote to the wife of President Pierre Nkurunziza, which she wrote out of sheer desperation over the current crisis in her country.
Antoine Kaburahe , director of the Iwacu media group, has come to talk about the situation in Burundi: "Last year there was an attempt at a coup in Burundi. During this night, all traditional media were destroyed. This was the moment where bloggers, like the Yaga network, but also Twitter and Facebook, really exploded."
"Those platforms were the only windows to the world for us at that point. We in Burundi live in a radio culture, but nowadays most people have smartphones. So when the credible radio station suddenly disappeared, these smartphones became our source of media."
"My father was a journalist as well, and he created the first Catholic newspaper of Burundi. This is why I also wanted to start a newspaper, which also works with social media and Web TV. I believe I have enough impact now – I don't need to make radio."
"Our regime does not like social media. Dacia already says [in the video] how she was threatened after sending a letter to the first lady – this is what happens. It might happen that we are cut off from Internet completely – we don't know."
Talking about Sex and Online Freedom in Egypt
Ahmed Naji would be one of the speakers with Abir Sarras today. Ahmed Naji is a journalist, blogger and published author in Egypt who was prosecuted last year (read more). "Ten days ago the court found that Ahmed was innocent," Abir Sarras, producer of the Arabic blog Love Matters, says: "But it was overruled and he has not off the hook yet." Abir Sarras will talk about her work and online freedom in Egypt here.
"Love Matters is the first blog about love and sexual health in Egypt, it is an encyclopedia about everything related to sexual health – from lovemaking to pregnancy. We use a big network of bloggers from the region. People who blog for us talk about things that are actually taboo – we give them a platform to talk about these things."
"The blog has only been around for 1,5 years, but it is already very popular. There is a real lack of information. People learn all their lives that sex is taboo, and when they get married, they suddenly are expected to know what to do during their wedding night. Porn is actually very well-watched in Arabic countries. Actually – in the areas where ISIS is most active, there is a lot of porn viewing going on."
"We talk about health risks and points of focus when you want to try different things. We have also done an item about anal sex."
"We are online – we are 'outside' – and that makes us safe. Also, a lot of experts are endorsing our content. We are a scientific website, and we try to keep away from religion. We don't criticize it, but we do try to balance out the [sexual] advice people have got from their religious background."
*This blog is now closed. *
– By Manya Koetse (@manyapan)
Follow @WhatsOnWeibo
©2016 Whatsonweibo. All rights reserved. Do not reproduce our content without permission – you can contact us at info@whatsonweibo.com.
Social Media Blows up over Chinese Teen Celebrity Roy Wang Smoking in Beijing Restaurant
The star, who recently featured in a 'social credit' song, triggered controversy for smoking indoors and breaking the law.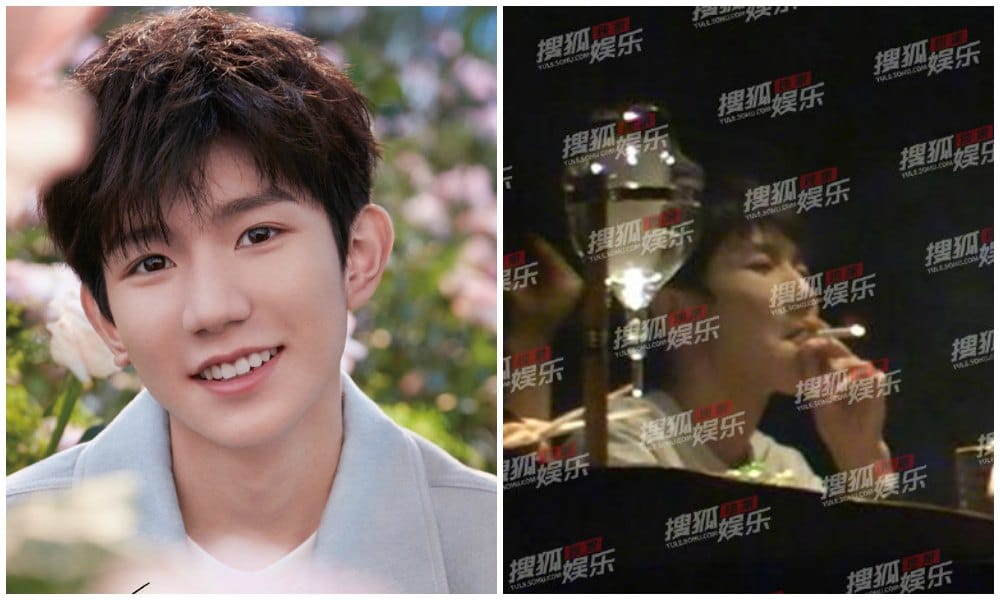 Roy Wang (Wang Yuan 王源), who is considered one of the most influential teens in China, was caught smoking during a '520' banquet in Beijing. May 20 (5.20) is China's unofficial second Valentine's Day.
The Sohu Entertainment channel published the exclusive photos of Wang smoking a cigarette. The hashtag 'Wang Yuan Smoking' (#王源抽烟#) received a staggering 1,4 billion views on Weibo on Tuesday, making it the number one trending topic of the day.
Wang was having dinner at a Japanese restaurant near Beijing's Worker's Stadium together with Chinese actor Jia Nailiang (贾乃亮) and teen idol Yang Chaoyue (杨超越) when the pictures were taken.
Roy Wang, who is now 18 years old, is a member of the super popular boy band TFBoys, but also has a solo career as a singer-songwriter and actor.
Wang often appears in high profile (government) events and media campaigns. With the TFBoys, he performed for the CCTV Spring Gala multiple times. Recently, he also starred in the 'social credit song' that was released by the Communist Youth League.
The fact that Wang's smoking has blown up on Chinese social media relates to two things. Beijing has banned smoking in all public indoor spaces since 2015, meaning that Wang was breaking the law by lighting up in a restaurant. Then there is also the fact that Wang, as a teen icon, is young and influential, with many people considering it inappropriate for him to smoke at all.
One popular comment on Weibo summarized the issue as follows: "Actually, smoking is quite normal. But 1) as a very influential teen idol you must surely avoid it – the fans are all young and they can easily be influenced. 2) It is not okay for him to smoke in a public place. It is forbidden by regulations, should you break those [regulations] as a celebrity?"
The incident led to Sina Headlines introducing the Weibo hashtag "Can You Accept that [Your] Idol Smokes?" (#你能接受偶像吸烟吗#), which received over 21 million views on Tuesday.
"Smoking is not a problem. It is harmful to one's health, and that's an individual choice. But smoking in a public place is inappropriate and bothers other people," some said, with others being less forgiving, writing: "If Wang does it again, he'll surely lose fans. It's unacceptable."
A poll, that 530,000 responded to, asked people if they could accept their idol smoking. A majority of people (50.3%) responded: "No, it's not setting a good example." Over 49% of respondents said they could forgive their idol for smoking.
Wang Yuan has now expressed regret on his social media account, after getting a warning from health authorities. He reportedly has been fined for smoking indoors.
Wang has nearly 73 millions fans on his Weibo page.
"I'm so sorry!" he wrote on May 21st: "This issue has made me deeply reflect on my actions, and how they negatively affect society. I feel sorry and ashamed. I apologize for setting the wrong example. I take on all responsibility and will accept punishment. As a public figure, I will now pay more attention to my words and actions. I hope nobody will follow my wrongful actions. I apologize again, and I will take this as a lesson to become a better person."
His post received over 219,000 shares.
Meanwhile, the restaurant where Wang smoked has received a visit from local inspectors, who found that there were no stipulated "No Smoking" signs on the premises. The restaurant has been ordered to adhere to local regulations as soon as possible, Phoenix News reports.
Update May 22: The first memes relating to Wang's smoking scandal have now also appeared online:
I was already expecting some 'Wang Yuan breaks the internet by smoking' memes. Voila. pic.twitter.com/nFJsoQDfgF

— Manya Koetse (@manyapan) 22 mei 2019
By Manya Koetse
Follow @whatsonweibo
Spotted a mistake or want to add something? Please let us know in comments below or email us. Please note that your comment below will need to be manually approved if you're a first-time poster here.
©2019 Whatsonweibo. All rights reserved. Do not reproduce our content without permission – you can contact us at info@whatsonweibo.com
Waves of Support for Huawei on Chinese Social Media following US Blacklisting
"My next phone will definitely be a Huawei."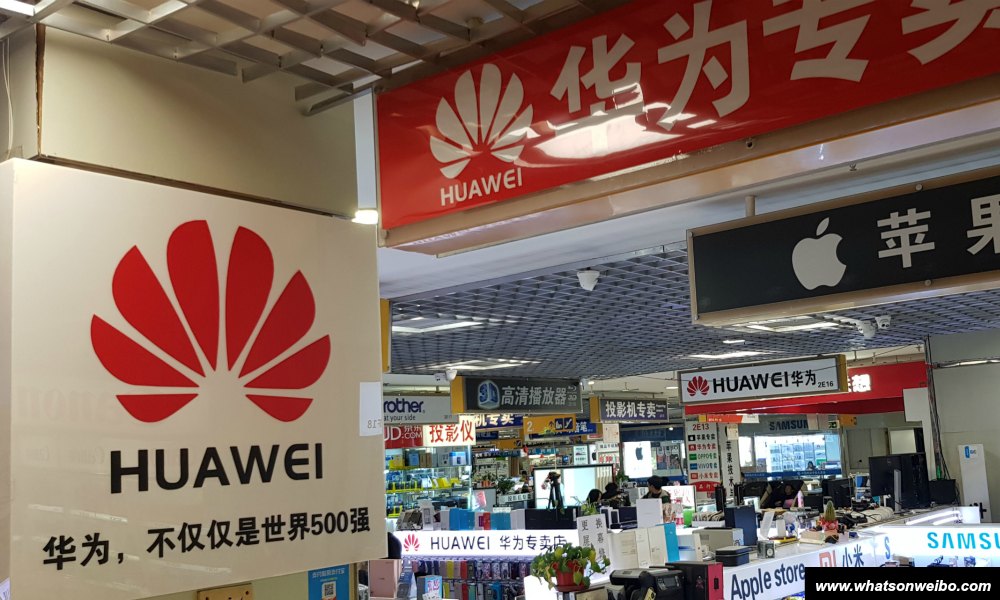 The US blacklisting of Huawei has left many Huawei owners across the world shocked and wondering if they will need to stop using their phone. In China, however, social media users are seemingly less worried, cheering on Huawei as China's 'national pride.'
Huawei smartphone users will allegedly receive no future updates from Android now that Google has suspended Huawei's access to its mobile Operating System, following orders issued by the US Trump administration, Reuters reported on Sunday.
The Chinese telecom giant was added to a trade blacklist earlier last week,as the China-US trade war reached another tipping point.
Huawei has been using Google's operating system for over a decade. Huawei debuted its first Android smartphone in February of 2009.
Besides being cut off from the world's best-selling operating system, some of the world's leading chip designers and suppliers are also ceasing their dealings with Huawei until further notice.
The news left many Huawei users outside of China worried and panicked. On Twitter, Huawei users have been asking what to do with their new Huawei device, with some saying they want to switch brands as soon as possible.
On Chinese social media, however, many people discussing this news are vowing not to abandon Huawei in light of the recent developments. "I've always used Huawei, and will never change," some said, with others even commenting: "I'm preparing to switch to a Huawei phone, I hope they can stand firm."
Huawei responded to the recent developments on May 20th, saying that Huawei does not need to depend on American suppliers for their chips, nor for their Operating System (OS). Huawei has reportedly been working on its in-house 'Hong Meng' OS since 2012.
They also promised to continue providing security updates and after-sale services for its smartphones and tablets, The Guardian reports.
Perhaps surprisingly, the majority of Chinese online responses to the issue are rather positive at the time of writing. The larger part of comments on Weibo are not necessarily anti-American, nor pessimistic about Huawei's future, but instead confident that Huawei will have no problems in overcoming the recent hurdles.
On Weibo, the hashtag "Huawei Doesn't Need to Rely on America for its Microchips" (#华为芯片可以不依赖美国供应链#) had over 19 million views by Monday night. The hashtag "Huawei's Self-Developed Operating System Hong Meng" (#华为自研操作系统鸿蒙#) also took off on Monday in response to the news that Huawei has been developing its own OS for years, in case it would no longer be able to depend on Google for the Android OS.
"What's been happening with Huawei recently teaches us an important lesson," one Weibo user (@叼着猫的小花鱼) wrote: "Sometimes, it's essential to have a plan B!" The Chinese idiom 'Jū ān sī wēi' (居安思危) is used by many, meaning "think of dangers in times of safety" or "be vigilant in peacetime." The second character of the idiom, ān 安, is also the first in the Chinese term for 'Android' (安卓).
Many netizens commented that they are looking forward to the Huawei OS, and predict that one potential consequence of the China-US trade war will be that all Chinese smartphones might eventually switch to a Chinese Operating System and use made-in-China chips and electronics.
On China's Douyin (Tiktok) platform, hundreds of people are sharing short videos of Huawei chief Ren Zhengfei (任正非) talking about Huawei as the world leader in 5G technology, with comment sections showing praise for the Huawei brand: "My next phone will definitely be a Huawei."
"We [Chinese] are becoming more and more confident," one of the 12,000+ comments on Douyin said.
Both on Weibo and Douyin, people express that Huawei is more than a brand to them, saying it is a "national pride." The slogan "Go China! Go Huawei!" ("加油中国 加油华为") is ubiquitous on social media.
"Some of my close friends are thinking of buying an iPhone, and I think it's shameful," one Douyin user wrote. "I will unconditionally support domestically produced products. Go Huawei!", others wrote on Weibo.
For now, Huawei users will still have access to the Android version on their existing devices and will still be able to download app updates provided by Google.
By Manya Koetse
Spotted a mistake or want to add something? Please let us know in comments below or email us.
©2019 Whatsonweibo. All rights reserved. Do not reproduce our content without permission – you can contact us at info@whatsonweibo.com