Online Influencers: New Perspectives on Social Change (Live Event)
What are the challenges bloggers are facing in China today? How can blogging help create tolerance in a divided society? These are the questions addressed at today's event about New Perspectives on Social Change at the RNW headquarters
The age of digitalization and social media empowers young bloggers and journalists to get their voices heard and influence politics and society. RNW Media has organized an event where a number of these online influencers will talk about how they are shaping the future of journalism – an issue not just relevant for the case of China, but for the world at large.
What are the challenges bloggers are facing in China today? How can blogging help create tolerance in a divided society? These are the issues addressed at today's event about New Perspectives on Social Change at the RNW headquarters in Hilversum, The Netherlands.
The speakers at today's event are Chinese blogger and journalist Yuan Chang, who will focus on the challenges facing bloggers in the PRC; Dacia Munezero (@mdacia), co-founder of the influential Yaga bloggers project in Burundi, who will explain how blogging can help create tolerance in a divided society; and Abir Sarras (@abirsarras), coordinator of Love Matters Arabic, who will talk about the recent trial of an Egyptian blogger (RNW event page).
Director RNW Media Robert Zaal (@RobertZaal) welcomes today's audiences. Today's host is mass media researcher and author Piet Bakker (@pietbakker). "Digital first," Bakker says: "This is a choice made by RNW [Radio Netherlands Worldwide] – radio is no longer our main platform, we have changed with our times, with a focus on human rights and freedom of speech. Journalism in countries where there is no freedom of speech naturally becomes some sort of activism."
"Digital comes first," Bakker says: "This is a choice made by RNW [Radio Netherlands Worldwide] – radio is no longer our main platform, we have changed with our times, with a focus on human rights and freedom of speech. Journalism in countries where there is no freedom of speech naturally becomes some sort of activism." This is what today's event is about:
The Challenges Facing Bloggers in China
Yuan Chang is a Chinese blogger and journalist. He has worked for the New York Times, and is now a blogger for RNW. He speaks about censorship and online freedom.
"There is a small space between hardcore politics and personal rights in China," Yuan Chang says. "Censorship in China is not a black and white issue. The PRC is not North Korea. There is a small space of freedom, and that is where I move around."
"In China, we work with a VPN [virtual private network] to get access to the sites that are blocked. It is getting harder and harder as the Great Firewall of China is getting more sophisticated all the time, but we always find a way to circumvent it."
"With my blogging, I never got any real problems. I was censored before, but I am still here. When I worked for the New York Times, the police did in fact give me a call multiple times – but that is not really surprising when you work for foreign media as a Chinese citizen."
"In Europe, people fuss about privacy a lot. In China, we don't fuss about it, because we know they know everything about us. They would give me a call and say: 'Ah, you're back in China for the summer, why don't you relax for a while now and don't work – remember you still have a Chinese passport.' For me, I don't worry too much about it. It is actually transparent: I know they know everything I do."
"I have no expectations of foreign companies like Facebook or Google in China. For them, it is business first, and they will not help to overcome censorship. Instead, these kind of companies impose self-censorship."
"There will not be a big change in China because of what is happening online now. It will take a lot of little changes before, slowly but surely, a bigger change will come about."
Burundi: Blogging as a Bridge in a Divided Society
Burundi blogger Dacia Munezero would have been here today, Piet Bakker (@pietbakker) says, but the circumstances in her country unfortunately did not allow her to come.
In this video she talks about the letter she wrote to the wife of President Pierre Nkurunziza, which she wrote out of sheer desperation over the current crisis in her country.
Antoine Kaburahe , director of the Iwacu media group, has come to talk about the situation in Burundi: "Last year there was an attempt at a coup in Burundi. During this night, all traditional media were destroyed. This was the moment where bloggers, like the Yaga network, but also Twitter and Facebook, really exploded."
"Those platforms were the only windows to the world for us at that point. We in Burundi live in a radio culture, but nowadays most people have smartphones. So when the credible radio station suddenly disappeared, these smartphones became our source of media."
"My father was a journalist as well, and he created the first Catholic newspaper of Burundi. This is why I also wanted to start a newspaper, which also works with social media and Web TV. I believe I have enough impact now – I don't need to make radio."
"Our regime does not like social media. Dacia already says [in the video] how she was threatened after sending a letter to the first lady – this is what happens. It might happen that we are cut off from Internet completely – we don't know."
Talking about Sex and Online Freedom in Egypt
Ahmed Naji would be one of the speakers with Abir Sarras today. Ahmed Naji is a journalist, blogger and published author in Egypt who was prosecuted last year (read more). "Ten days ago the court found that Ahmed was innocent," Abir Sarras, producer of the Arabic blog Love Matters, says: "But it was overruled and he has not off the hook yet." Abir Sarras will talk about her work and online freedom in Egypt here.
"Love Matters is the first blog about love and sexual health in Egypt, it is an encyclopedia about everything related to sexual health – from lovemaking to pregnancy. We use a big network of bloggers from the region. People who blog for us talk about things that are actually taboo – we give them a platform to talk about these things."
"The blog has only been around for 1,5 years, but it is already very popular. There is a real lack of information. People learn all their lives that sex is taboo, and when they get married, they suddenly are expected to know what to do during their wedding night. Porn is actually very well-watched in Arabic countries. Actually – in the areas where ISIS is most active, there is a lot of porn viewing going on."
"We talk about health risks and points of focus when you want to try different things. We have also done an item about anal sex."
"We are online – we are 'outside' – and that makes us safe. Also, a lot of experts are endorsing our content. We are a scientific website, and we try to keep away from religion. We don't criticize it, but we do try to balance out the [sexual] advice people have got from their religious background."
*This blog is now closed. *
– By Manya Koetse (@manyapan)
Follow @WhatsOnWeibo
©2016 Whatsonweibo. All rights reserved. Do not reproduce our content without permission – you can contact us at info@whatsonweibo.com.
Censorship of Chinese 6B4T & Feminist Groups Prompts Wave of Support for "Douban Sisters"
Even those who don't agree with '6b4t' views condemn Douban's recent crackdown on 6b4t and feminist groups.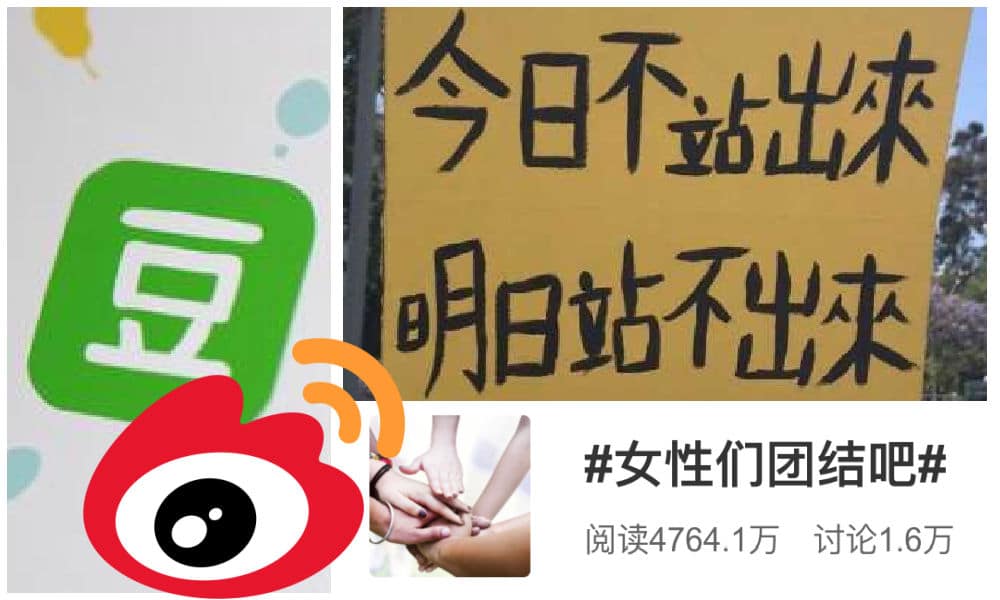 What is 6b4t? That is the question popping up in several places on Chinese social media this week after the popular networking platform Douban closed down several feminist groups and targeted the keyword '6B4T.'
Douban (豆瓣) is an influential Chinese social media platform that allows users to discuss and review books, music, films, and other topics. The platform has a 'group' (小组) function, with groups being like online forums revolving around a particular topic where Douban users can subscribe, post, and interact.
On the night of April 12, Douban closed down more than ten Douban feminist groups, of which some were linked to '6b4t' views.
6b4t is an online movement that originated in South Korea and is about female empowerment and independence that shifts away from patriarchal society and male-dominated fields in popular culture and beyond.
The '6B' stands for no husband, no children, no boyfriend, no male sex partner, not buying any products/brands that are unfriendly to women, and offering support to single women. The movement received some media attention earlier in 2019, when it was still about '4B' or the '4 no's' (no marriage, no kids, no boyfriend, no sex; the 'single women support' and 'refusal of buying misogynistic products' were added later). The '4T' stands for the rejection of shapewear (corsets), religion, otaku culture, and idols.
"A devastating blow for Chinese radical feminists"
The censorship of 6b4t-related groups on Douban sparked sharp criticism and anger online. On Twitter, 'HAL 10000' (@dualvectorfoil) called the crackdown "a devastating blow" for Chinese radical feminists.
Chinese radical feminists just suffered a devastating blow. On April 12, the Chinese government disbanded all radical feminist groups on Douban, a popular social networking website. Those are the only discussion forums that Chinese feminists could find.

— HAL 10000 (@dualvectorfoil) April 13, 2021
The Twitter account FreeChineseFeminists (@FeministChina) posted a screenshot of Douban's notification that the '6B4T' group had been removed, with the platform calling it an "extreme" and "radical" "ideology."
Douban, a social media site used by Chinese urban youth, closed more than 10 feminist groups and banned the keyword 6B4T, a feminist view from South Korea that advocates women not getting married and having no children. Douban calls 6B4T an "extreme" and "radical" "ideology." pic.twitter.com/o9QxhIZoqj

— FreeChineseFeminists (@FeministChina) April 13, 2021
On Weibo, many commenters also spoke out against the removal of the feminist Douban groups.
"I am 6b4t and although it might seem extreme in the eyes of some, I am not harming anyone at all," one person wrote, with another commenter adding: "This is completely limited to myself, I do not influence others."
"I've been 6b4t for years without even realizing," one Weibo user jokingly wrote: "I've been single forever!"
Another person admitted: "I don't really look at Douban, and I don't really understand 6b4t, but blowing up those groups like this goes too far."
"We have to firmly support our Douban sisters"
The account of Xianzi, the woman who became famous for the Xianzi versus Zhu Jun court case, also commented on the Douban censorship on April 13:
"I am not a follower of 6b4t at all, but I firmly support my Douban sisters and oppose how the feminist Douban groups have been shut out. First, 6B4T clearly is an important branch of contemporary online feminism – shutting these groups out is shutting out discussions on female topics. Seconds, the viewpoint of 6B4T is not radical at all, it just asserts that women do not need to enter heterosexual relationships and can break away from masculine control. This is completely up to women themselves and has nothing to do with anyone else. When even such a viewpoint is banned, and women insisting on being single are still seen as rebellious — this is the fundamental reason why we have to firmly support our Douban sisters."
Many people support Xianzi's statement, and meanwhile, the hashtag "Women Let's Unite" (#女性们团结吧#) also took off on Weibo, with many commenters calling on women to let their voices be heard.
"If someone is covering your mouth to try and silence you – scream louder," one person wrote.
The hashtag was also used to address issues of domestic abuse, a topic that has received a lot of attention on Chinese social media over the past year. In October of 2020, the death of the female vlogger Lamu, who was burnt by her ex-husband, also sparked an online movement that called on authorities to do more to protect and legally empower female victims of domestic abuse.
The 'Women Unite' hashtag page had received over 47 million views by late Tuesday night. Another relating hashtag, 'Douban Feminism' (#豆瓣女权#) was viewed over 40,000 times.
"You can disagree, but you can't silence them"
While the search for '6b4t' gave few new results on the Douban site at the time of writing, there were still some older posts on the topic.
One noteworthy one is that by user *Blossom*, who took the time earlier this year to explain what 6b4t means to her, saying "6b4t is an act of struggle, it is not a discipline."
In the post of February 2nd of this year, 'Blossom' explains that 6b4t is a way of resistance where the keyword is "sovereignty," namely the female sovereignty over her own body. 6b4t is a way to fight for radical feminism, Blossom claims:
"In the context of patriarchal society, women are sexually objectified while male sexuality equals power. Under this premise, marriage, childbearing, romantic love, and sexual activity are all about reinforcing the power of men and benefiting them. So we advocate 4b, which essentially is a non-violent and non-cooperative struggle mode, with the same characteristics as workers' and slaves' strikes."
Although there are also people expressing disagreement with the 6b4t movement, many defend their right to have online discussion groups about their ideas.
"You can disagree, you can call them into question, but you can't cover their mouths to silence them," one Weibo user wrote.
"We can have groups advocating marriage and childbirth, why can't we have groups advocating being single and childfree?", another person asked, with one commenter stating: "I do not advocate 6B4T, but I will defend to the death the right of these women to advocate 6B4T."
Throughout the years, feminist movements have often become a target of censorship on Chinese social media. Douban previously also censored content relating to the Zhu Jun sexual harassment case, and in the case of demanding justice for Lamu, some hasthag pages were also removed from Weibo. The renowned feminist Weibo account 'Feminist Voices' (@女权之声) was permanently banned in 2018, along with other feminist accounts.
"A new era of witch-hunting has started," one top comment in a thread of 2200 comments said: "Get ready to fight, let your voice be heard!"
A somewhat ironic consequence of Douban's latest censorship is that many people who had never heard about this 'radical feminism' now know what 6b4t is because it became a 'banned term.' "I've learnt a new word today," some commenters say, with others vowing to support their silenced 'Douban sisters.'
By Manya Koetse
Spotted a mistake or want to add something? Please let us know in comments below or email us. First-time commenters, please be patient – we will have to manually approve your comment before it appears.
©2021 Whatsonweibo. All rights reserved. Do not reproduce our content without permission – you can contact us at info@whatsonweibo.com.
Delivery Man in Anhui Run Over by Ambulance Sent to Rescue Him
From bad to worse: this Eleme delivery man was run over by an ambulance after being hit by an SUV.
On April 12, a delivery man in the city of Bozhou, Anhui province, was run over by an ambulance arriving at the scene of an accident where he had just been injured.
Shocking footage circulating on Chinese social media shows the delivery man lying in the middle of the road when the ambulance arrives and runs over his leg. The incident happened around 12:00 in the afternoon (link to video, viewer discretion advised).
While the delivery man already suffered injuries because he was hit by an SUV shortly before, things quickly went from bad to worse when the ambulance that was supposed to come to his rescue crushed his leg. The man is currently undergoing treatment at a local hospital in Mengcheng county.
According to recent news reports, the ambulance driver has currently been suspended and is under investigation.
The incident received a lot of attention on Weibo today, where the hashtag page discussing the double accident received over 150 million views (#外卖员被救护车二次碾压#).
Many comments relating to this incident are focused on the role of the traffic police at the scene of the accident, with people wondering why there was no guard standing next to the victim.
Thousands of commenters also address how sorry they feel for the victim, especially because the lives of many food delivery drivers – facing long working hours and low wages – is already tough enough.
According to Toutiao News (头条新闻), the delivery man works for Chinese food delivery giant Eleme. Wang Gang (王刚, alias) is approximately 30 years old and has a wife and a child. He had only been working for Eleme for a few months and reportedly did not have any prior accidents.
In Monday's double accident, Wang suffered a mild skull fracture, seven broken ribs, and a fractured lower leg. He is in stable condition.
By Manya Koetse
Spotted a mistake or want to add something? Please let us know in comments below or email us. First-time commenters, please be patient – we will have to manually approve your comment before it appears.
©2021 Whatsonweibo. All rights reserved. Do not reproduce our content without permission – you can contact us at info@whatsonweibo.com.