Online Influencers: New Perspectives on Social Change (Live Event)
What are the challenges bloggers are facing in China today? How can blogging help create tolerance in a divided society? These are the questions addressed at today's event about New Perspectives on Social Change at the RNW headquarters
The age of digitalization and social media empowers young bloggers and journalists to get their voices heard and influence politics and society. RNW Media has organized an event where a number of these online influencers will talk about how they are shaping the future of journalism – an issue not just relevant for the case of China, but for the world at large.
What are the challenges bloggers are facing in China today? How can blogging help create tolerance in a divided society? These are the issues addressed at today's event about New Perspectives on Social Change at the RNW headquarters in Hilversum, The Netherlands.
The speakers at today's event are Chinese blogger and journalist Yuan Chang, who will focus on the challenges facing bloggers in the PRC; Dacia Munezero (@mdacia), co-founder of the influential Yaga bloggers project in Burundi, who will explain how blogging can help create tolerance in a divided society; and Abir Sarras (@abirsarras), coordinator of Love Matters Arabic, who will talk about the recent trial of an Egyptian blogger (RNW event page).
Director RNW Media Robert Zaal (@RobertZaal) welcomes today's audiences. Today's host is mass media researcher and author Piet Bakker (@pietbakker). "Digital first," Bakker says: "This is a choice made by RNW [Radio Netherlands Worldwide] – radio is no longer our main platform, we have changed with our times, with a focus on human rights and freedom of speech. Journalism in countries where there is no freedom of speech naturally becomes some sort of activism."
"Digital comes first," Bakker says: "This is a choice made by RNW [Radio Netherlands Worldwide] – radio is no longer our main platform, we have changed with our times, with a focus on human rights and freedom of speech. Journalism in countries where there is no freedom of speech naturally becomes some sort of activism." This is what today's event is about:
The Challenges Facing Bloggers in China
Yuan Chang is a Chinese blogger and journalist. He has worked for the New York Times, and is now a blogger for RNW. He speaks about censorship and online freedom.
"There is a small space between hardcore politics and personal rights in China," Yuan Chang says. "Censorship in China is not a black and white issue. The PRC is not North Korea. There is a small space of freedom, and that is where I move around."
"In China, we work with a VPN [virtual private network] to get access to the sites that are blocked. It is getting harder and harder as the Great Firewall of China is getting more sophisticated all the time, but we always find a way to circumvent it."
"With my blogging, I never got any real problems. I was censored before, but I am still here. When I worked for the New York Times, the police did in fact give me a call multiple times – but that is not really surprising when you work for foreign media as a Chinese citizen."
"In Europe, people fuss about privacy a lot. In China, we don't fuss about it, because we know they know everything about us. They would give me a call and say: 'Ah, you're back in China for the summer, why don't you relax for a while now and don't work – remember you still have a Chinese passport.' For me, I don't worry too much about it. It is actually transparent: I know they know everything I do."
"I have no expectations of foreign companies like Facebook or Google in China. For them, it is business first, and they will not help to overcome censorship. Instead, these kind of companies impose self-censorship."
"There will not be a big change in China because of what is happening online now. It will take a lot of little changes before, slowly but surely, a bigger change will come about."
Burundi: Blogging as a Bridge in a Divided Society
Burundi blogger Dacia Munezero would have been here today, Piet Bakker (@pietbakker) says, but the circumstances in her country unfortunately did not allow her to come.
In this video she talks about the letter she wrote to the wife of President Pierre Nkurunziza, which she wrote out of sheer desperation over the current crisis in her country.
Antoine Kaburahe , director of the Iwacu media group, has come to talk about the situation in Burundi: "Last year there was an attempt at a coup in Burundi. During this night, all traditional media were destroyed. This was the moment where bloggers, like the Yaga network, but also Twitter and Facebook, really exploded."
"Those platforms were the only windows to the world for us at that point. We in Burundi live in a radio culture, but nowadays most people have smartphones. So when the credible radio station suddenly disappeared, these smartphones became our source of media."
"My father was a journalist as well, and he created the first Catholic newspaper of Burundi. This is why I also wanted to start a newspaper, which also works with social media and Web TV. I believe I have enough impact now – I don't need to make radio."
"Our regime does not like social media. Dacia already says [in the video] how she was threatened after sending a letter to the first lady – this is what happens. It might happen that we are cut off from Internet completely – we don't know."
Talking about Sex and Online Freedom in Egypt
Ahmed Naji would be one of the speakers with Abir Sarras today. Ahmed Naji is a journalist, blogger and published author in Egypt who was prosecuted last year (read more). "Ten days ago the court found that Ahmed was innocent," Abir Sarras, producer of the Arabic blog Love Matters, says: "But it was overruled and he has not off the hook yet." Abir Sarras will talk about her work and online freedom in Egypt here.
"Love Matters is the first blog about love and sexual health in Egypt, it is an encyclopedia about everything related to sexual health – from lovemaking to pregnancy. We use a big network of bloggers from the region. People who blog for us talk about things that are actually taboo – we give them a platform to talk about these things."
"The blog has only been around for 1,5 years, but it is already very popular. There is a real lack of information. People learn all their lives that sex is taboo, and when they get married, they suddenly are expected to know what to do during their wedding night. Porn is actually very well-watched in Arabic countries. Actually – in the areas where ISIS is most active, there is a lot of porn viewing going on."
"We talk about health risks and points of focus when you want to try different things. We have also done an item about anal sex."
"We are online – we are 'outside' – and that makes us safe. Also, a lot of experts are endorsing our content. We are a scientific website, and we try to keep away from religion. We don't criticize it, but we do try to balance out the [sexual] advice people have got from their religious background."
*This blog is now closed. *
– By Manya Koetse (@manyapan)
Follow @WhatsOnWeibo
©2016 Whatsonweibo. All rights reserved. Do not reproduce our content without permission – you can contact us at info@whatsonweibo.com.
17-Year-Old High School Student in Guangdong 'Marries' a 14-Year-Old Girl
Their family says they did not know the marriage was not legal.
The Guangdong wedding of a 17-year-old high school student and a 14-year-old junior high school student went trending on Chinese social media on Monday. On Weibo alone, the topic received over 470 million views on November 30.
The controversial wedding took place in the town of Guiyu (贵屿镇) on November 28. A short video of the couple having a 'wedding reception' dinner together has spread on various social media channels.
In light of the commotion over the young married couple, Shantou's Chaoyang district, in which Guiyu is located, publicly responded to the issue. According to official sources cited in the media, the parents of the children have a "weak understanding of the legal system." Both sides agreed to the marriage, but did not officially apply for marriage registration. The marriage ceremony was done according to local rural customs.
China globally is among the countries with the highest minimum age for marriage: 22 for men and 20 for women. Recent proposals to lower the marriage age in China have always triggered controversy on social media (here, here).
By now, local authorities have intervened and ordered the young 'bride' to return to her own family, stating that her mother and father must fulfill their parental duties. They also advised the children to go back to school.
On Weibo, many people denounce the children's parents and say that having a "weak notion of the law" is not a sufficient explanation in this case, saying it is a violation of the law.
Others expressed concern that such marriages still occur in present-day China. "Your mind and body have not even been fully developed yet at the age of 14, how can they let her marry?" "They're still kids!"
According to the latest reports, family members of the 'newlyweds' spoke to reporters, saying the boy and the girl, who is from a neighboring village, had met online and wanted to get married themselves. They had dropped out of school before their wedding.
The grandfather and grandmother on the boy's side helped with the wedding preparations. In a recorded interview, the boy's grandmother tearfully says: "We didn't know it was against the law. We're both old, and we didn't know."
The family also declares that the girl has since been sent back to her parents and will continue to go to school.
By Manya Koetse
Follow @WhatsOnWeibo
Spotted a mistake or want to add something? Please let us know in comments below or email us. First-time commenters, please be patient – we will have to manually approve your comment before it appears.
©2020 Whatsonweibo. All rights reserved. Do not reproduce our content without permission – you can contact us at info@whatsonweibo.com.
Annual List of China's Best Hospitals: Ranking the Top 10 Hospitals of the Year
These are China's best hospitals according to the Fudan University annual ranking list.
A new list with the 50 highest rated hospitals in China of the year 2019 has been released earlier this month.
A hospital list, ranking the best hospitals in China, was released earlier this month. The list is independently issued annually since 2010 by the Hospital Management Institute of Shanghai's Fudan University. It ranks the top 100 hospitals in China and the top 10 hospitals over various clinical specialties. In doing so, it has become one of the most important hospital rankings in China.
The topic became trending on Weibo with over 110 million views (#复旦版中国医院排行榜#). Although there is a major interest in this topic, there are also those questioning what makes a hospital the 'best' hospital. This list, among other things, is based on the hospital's reputation and its capacity to conduct scientific research.
"What is fame and reputation? What I care about when seeing a doctor is their success rate in curing patients," one social media user wrote – a sentiment shared by many. Others also say it is best to look for the right hospital depending on the patient's personal needs.
Although it is true that these rankings do not include any rates on treatment results, they are relevant to patients for their reputation and size nonetheless.
China currently has a significant shortage of doctors, and the most qualified doctors are more prone to go to the hospitals with the best reputation. It is an ongoing cycle that has left many of the more rural and smaller hospitals lacking qualified staff. (For more about the problems facing China's healthcare system, also see this article.)
We will list the top 10 of China's best hospitals according to the report here, including some basic info.
#1 Peking Union Medical College Hospital
中国医学科学院北京协和医院
Peking Union Medical College Hospital (PUMCH) has topped these rankings consecutively for 11 years. The hospital was founded in 1921 by Rockefeller Foundation and is affiliated to both Peking Union Medical College (PUMC) and the Chinese Academy of Medical Sciences (CAMS).
PUMCH offers 2000 beds, has more than 4000 employees, and 57 clinical and medical departments. The hospital recently also launched its online services, including consultation, prescribing medicine, and electronic medical recording, which reportedly will expand to all clinical sections of the hospital.
Weibo: @北京协和医院 (960906 followers)
Website: link
Address: #9 Dongdan 3rd Alley, Dongcheng, Beijing, China
#2 West China Hospital Sichuan University
四川大学华西医院
Founded in 1872, the West China Medical Center is China's biggest hospital in terms of size, and also ranks number two in the list of the world's largest hospitals (no 1 being the Chang Gung Memorial Hospital in Taiwan). The hospital has a capacity of 4300 beds and there are 46 clinical departments.
West China Hospital has recently been in the news a lot due to the development of its own experimental COVID19 vaccine.
Weibo: @四川大学华西医院 (483829 followers)
Website: link
Address: #37 Guoxue Alley, Wuhou District, Chengdu, Sichuan Province
#3 People's Liberation Army General Hospital / 301 Hospital
中国人民解放军总医院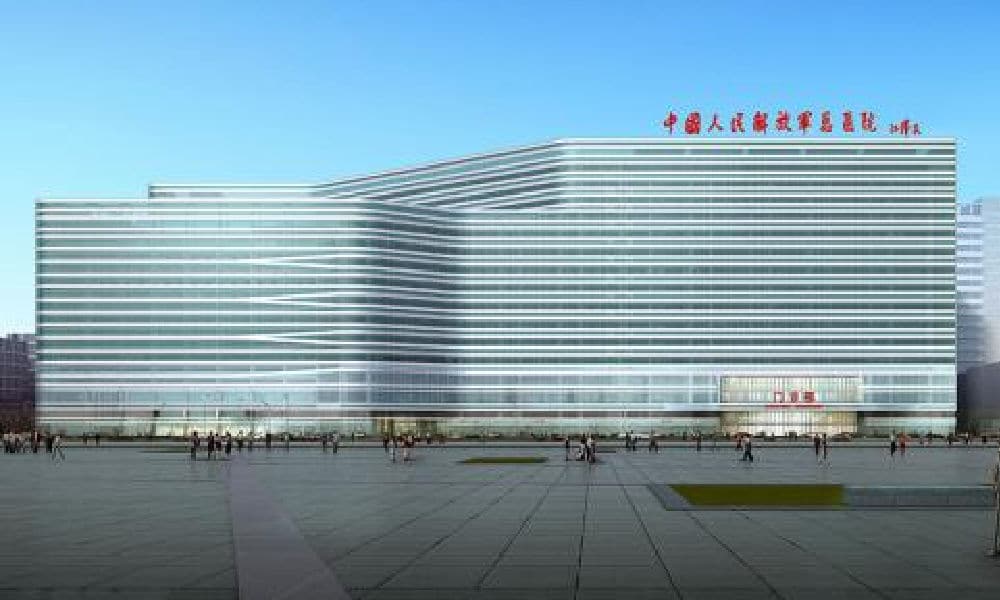 The General Hospital of the People's Liberation Army (PLAGH), also known as 301 Hospital or PLA General Hospital, is the largest general hospital under the auspices of the People's Liberation Army. The military hospital, used by the top leadership, was founded in 1953 and has a capacity of 4000 beds.
Earlier this year, the hospital made headlines for being the first center in Asia to provide newly advanced (ZAP) non-invasive technologies to treat brain tumors.
Website: link
Address: No. 28 Fuxing Road, Haidian District, Beijing
#4 Ruijin Hospital
上海交通大学医学院附属瑞金医院
Ruijin Hospital, formally known as Guangci Hospital, was founded in 1907. The hospital has 34 clinical departments, with a capacity of 1774 beds and a staff of over 3300.
The hospital is known for the rescue of burn victim Qiu Caikang, an iron worker of Shanghai Steel Factory who was burnt by molten steel in 1958. Although he suffered extensive burns to 89% of his body – and was thought unlikely to survive -, the staff at the hospital were able to successfully treat him. The hospital's technologies in treatment of deep burns has since been renowned throughout the country.
Website: link
Address: 197, Rui Jin Er Road,Shanghai 
#5 Zhongshan Hospital Fudan University
复旦大学附属中山医院
This Shanghai hospital, which opened in 1937, is a major teaching hospital affiliated with the Shanghai Medical College of Fudan University. It was the first large-scale general hospital managed by Chinese people at its time of opening.
Zhongshan Hospital is leading in China when it comes to the treatment of heart, kidney, and diseases, and liver cancer. The hospital has over 1900 beds and more than 4000 hospital staff.
Website: link
Address: 180 Fenglin Road, Shanghai
#6 The First Affiliated Hospital, Sun Yat-sen University
中山大学附属第一医院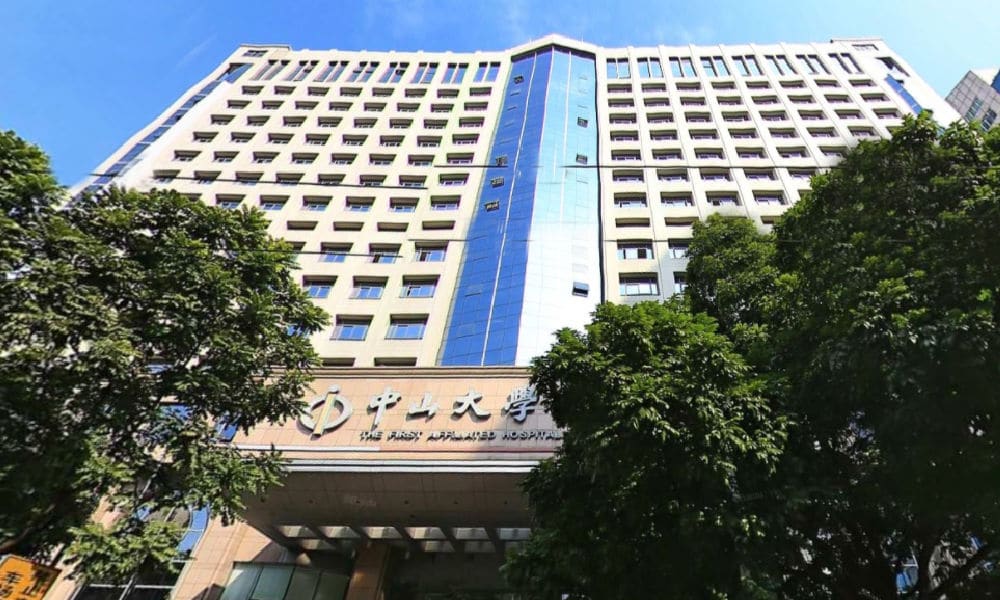 The First Affiliated Hospital of Sun Yat-Sen University is celebrating its 110th anniversary this year. Founded in 1910, the hospital was initially called the Affiliated Hospital of Guangdong Public Institution of Medicine. It is one of the largest hospitals in China.
The hospital is renowned for various medical specialties, including liver and kidney transplantion. The hospital has 72 clinical departments, 3523 beds, and over 6000 staff.
Website: link
Address: 58 Zhongshan 2nd Rd, Yuexiu District, Guangzhou, Guangdong Province
#7 Tongji Hospital, Huazhong University of Science and Technology
华中科技大学同济医学院附属同济医院
Tongji Hospital was officially founded by German doctor Erich Paulun in 1900, located in Shanghai, and did not move the Medical College to Wuhan until 1950. The hospital, which now has some 4000 beds and 7000 staff members, has 52 clinical and paramedical departments.
During the new coronavirus outbreak in Wuhan, the hospital provided 800 beds for severe cases.
Website: link
Address: No.1095 Jie Fang Avenue, Hankou, Wuhan
#8 Xijing Hospital
空军军医大学西京医院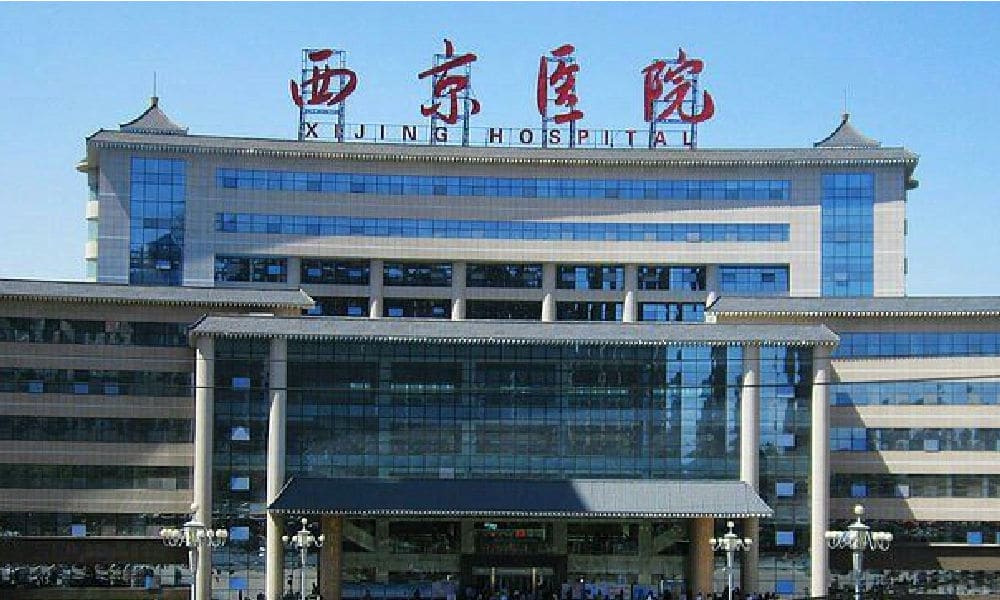 Xijing Hospital was founded in 1939 and has since been a hospital of several 'world's firsts', including being world's first hospital to recreate a '4D'-printed breast for a cancer patient who underwent a mastectomy. The hospital also saw China's first baby born from a transplanted womb.
Xijing Hospital houses 3218 beds.
Website: link
Adress: No. 127 Changle West Road, Xincheng District, Xi'an
#9 Huashan Hospital
复旦大学附属华山医院
Huashan Hospital's main branch is located in the city center of Shanghai, in the former French Concession. The hospital was founded in 1907 as the Chinese Red Cross General Hospital by Governor Shen Dunhe, the founder of the Red Cross Society of China. The hospital opened for business in 1909.
Besides being a general hospital with around 3000 staff members and over 1215 beds at the main branch, it is also Fudan University's major and renowned teaching hospital. Huashan is one of the best-known hospitals in China.
Website: link
Address: 12 Wulumuqi Middle Rd, Jing'an District, Shanghai
#10 Wuhan Union Hospital
华中科技大学同济医学院附属协和医院
Wuhan Union Hospital has a long history; it was founded in 1866 by Griffith John, a Welsh Christian missionary and translator in China. The hospital is an active general hospital, as well as focusing on teaching and scientific research.
The hospital has a total of 5000 beds and more than 8000 staff members. In 2020, the hospital became one of the designated hospitals to treat patients from the COVID-19 pandemic.
Website: link
Address: 1277 Jiefang Avenue, Wuhan, Hubei Province
By Manya Koetse
Follow @WhatsOnWeibo
Original photo used in featured image by Adhy Savala
Spotted a mistake or want to add something? Please let us know in comments below or email us. First-time commenters, please be patient – we will have to manually approve your comment before it appears.
©2020 Whatsonweibo. All rights reserved. Do not reproduce our content without permission – you can contact us at info@whatsonweibo.com.