Watching 'Chunwan' 2023: Liveblog CMG Spring Festival Gala by What's on Weibo
Culture meets commerce, Party propaganda meets pop culture, it's time for the annual Spring Festival Gala! Watch it with What's on Weibo.
As we bid the Year of the Tiger farewell, and welcome the Year of the Rabbit, it is time for the annual CMG Spring Festival show. Watch the Gala together with What's on Weibo here and follow our liveblog to keep up with what's happening on screen and the latest on social media.
It is that time of the year again! It is time for the CMG Spring Festival Gala, better known as Chunwan (春晚), one of the world's most-watched live televised events. Lasting a total of four hours, from 8pm to 1am Beijing time, the Chunwan is annually broadcasted since 1983 and has become a part of the Chinese New Year's Eve.
The show usually consists of some 30-40 different acts. Although there was a time when the Gala was mostly considered corny and old-fashioned by most young people, the show has now also become ingrained in China's social media environment. Besides traditionally being broadcasted via CCTV, it can now also be live-streamed through social apps such as WeChat, TikTok, and Kuaishou. This has also helped to boost viewership. The 2021 Gala reached a record 1.14 billion viewers around the globe, and in 2022, another record was broken after some 1.29 billion viewers tuned in at home and abroad.
But while viewer ratings of the Gala in the 21st century have skyrocketed, so has the critique on the show – which seems to be growing year on year. According to many viewers, the spectacle generally is often "way too political" with its display of communist nostalgia and nationalistic songs. This has also led to an increase in censorship. Last year, Weibo issued an indirect warning to netizens criticizing the festive annual Chinese New Year Galas by suspending 21 Weibo users spreading "negativity" regarding broadcasted festival programs and their performances. A few years earlier, Weibo even shut down entire comment sections.
Nevertheless, complaining about the show is part of the tradition now, with the sentence "there will never be a worse, just worse than last year" (中央春晚,没有最烂,只有更烂) always showing up in comment sections. At the same time, many viewers and fans are also looking forward to seeing some of their favorite idols and performers appear on the show.
You might also know the Festival as the 'CCTV Gala,' but since 2020, it was rebranded to CMG Gala. CMG stands for China Media Group, which is the predominant state broadcaster in China and was founded in 2018 as a fusion of, among others, CCTV (China Central Television), CNR (China National Radio), and CRI (China Radio International).
CMG is under the direct control of the Central Propaganda Department of the Chinese Communist Party, and the show is an important moment for the Party to communicate its official ideology, highlight traditional culture, and showcase the nation's top performers. Although the CCTV Gala is also a commercial event, it is still highly political and mixes official propaganda with entertainment.
Since recent years, it has also become a platform to showcase China's innovative digital technologies. In 2015 the show first featured the exchange of virtual hongbao, red envelopes with money, which WeChat users could obtain while shaking their phones during specific moments in the show. Such marketing strategies have drawn in much younger viewer audiences than before. In 2021, the Gala explicitly presented itself as a "tech innovation event" by using 8K ultra high-tech definition video and AI+VR studio technologies and super high definition cloud communication technology to coordinate performances on stage.
This year, official media also present the event as a "technological innovation" show, which makes extensive use of new technologies such as 5G/4K/8K, AI, VR, and XR to promote China's digital innovation developments.
The Gala will be broadcast on TV and will be live-streamed via various channels on January 21st, 20.00 pm China Standard Time. So turn on your TV and tune into CCTV or watch on YouTube, or head to the CCTV website. We have also embedded the live stream on this page. We will be live-blogging on this page here and you can scroll & watch at the same time from this page.
This is the 8th time for What's on Weibo to do a liveblog of the Spring Festival Gala. If you want to know more about the previous editions, we also live-blogged
– 2022: Chunwan 2022: The CMG Spring Festival Gala Liveblog by What's on Weibo
– 2021: The Chunwan Liveblog: Watching the 2021 CMG Spring Festival Gala
– 2020: CCTV New Year's Gala 2020
– 2019: The CCTV Spring Festival Gala 2019 Live Blog
– 2018: CCTV Spring Festival Gala 2018 (Live Blog)
– 2017: CCTV New Year's Gala 2017 Live Blog
– 2016: CCTV's New Year's Gala 2016 Liveblog
Liveblog CMG Spring Festival Gala 2023
Underneath here you will see our liveblog being updated. Leave the page open and you'll see the new posts coming in, there should be a 'ping' too with every update.
There will also be some social media updates via Twitter at @manyapan here.
Update: this liveblog is now closed, check below for an overview of the entire show.

——–
The original liveblog was done via a third-party app. The original texts and images are copied below for reference. If there are links to particular segments of the show, they have been added later. The timestamp (in Beijing time) refers to the last moment that post was updated.
——–

What Can We Expect Tonight?
Jan 21 19:41
So, what can we expect for this 41st edition of the Gala? Although the official program list of the show is always leaked days before the event, it is never 100% correct until just one or two days before the actual show. This year, the program was issued on January 20, just a day before the Gala.
This year, the show's main director is the female director Yu Lei (于蕾). The Gala has had a male chief director for many consecutive years, so it's nice to see a female director for a change (and "Change" is actually one of the main themes for the night). Yu Lei has an impressive resume with a lot of experience at CCRV, where she is a senior program producer. She's been closely involved in the production of the Spring Festival Gala since 2013, and also played a role in the production of the G20 performance in Hangzhou and the 2022 Beijing Winter Olympics.
Tonight's show has been completely rehearsed a total of five times before tonight. These rehearsals are recorded and almost nothing ever goes wrong during the live show – perhaps some bad lipsyncing here and there – since the recording is running at the same time so that producers can always switch to a pre-recorded act.
Over the next few hours, we will see a variety of acts, including song and dance, comedy, sketches, opera, martial arts, acrobatics, and more.
● The song "Hello Stranger" (你好,陌生人) will be performed later tonight by Mao Buyi and it was released prior to the show as one of the theme songs about people helping each other out in times of need. The song hints at the difficult times of the past months in which China faced local Covid outbreaks before a major Covid wave hit the country after the 'zero Covid' policy was let go in early December of 2022.
● There's also a Belt and Road Song – a classic Spring Festival Gala element to highlight China's importance in the world today.
● There will also be a "mini-film" (微电影), which is the first time this genre appears on the show.
● We will see loads of young people tonight. Last year there were also quite some young performers, but there was actually more focus on honoring China's recognized, elderly performers at the time. We're gonna see a lot more singers and performers born after the 1990s and 2000s tonight, which suits the Gala's "New China" theme.
Also: the show's ending will be different this year as the super famous singer Li Guyi (李谷一) won't be there. Her absence has gone trending on Weibo, where one related hashtag received 360 million views at time of writing (#李谷一回应缺席春晚#). Li is at the hospital, recovering from Covid.
——–

Tu Yuanyuan, the Mascot
Jan 21 20:02
Ah, what a cute start to the show. The mascot of the show this year is Tu Yuanyuan (兔圆圆). The mascot was created by a special visual arts team, and it took a total of four months to make Tu Yuanyuan come to life through 3D technology.
The rabbit's chief designer is Mr. Chen Xiangbo, the director of Guan Shanyue Art Museum, and it's been well-received on Chinese social media.
That is actually quite special at a time when so many rabbits got roasted over their design. Perhaps you read about the Chongqing rabbit lantern getting so much criticism that it was taken down before the New Year even started.
China's Post blue rabbit stamp was also deemed ugly, and a dedicated mascot was thrown out.
But the Nanning rabbit probably got the most criticism. "You can't please everyone," some commenters wrote: "But it is possible to displease everyone."
——–

Opening Act
Jan 21 20:07
We've officially started now! Tonight, so many famous people appear on stage.
First and foremost, Jackie Chan will return to the stage. Jackie Chan (成龙) has become an annually returning performer at the Spring Festival Gala. The last time he performed at the Gala, in 2021, he sang "Tomorrow Will Be Better" (明天会更好), which was about the epidemic situation. Last year, Jackie Chan wasn't in the show, so it's good to see he's still alive & kicking because it's become tradition to have him at the Gala.
We will then see some of China's celebrated Olympic athletes. There's short track speed skater Wu Dajing (武大靖) who won gold for the 2000m mixed relay at the Winter Olympics in Beijing in 2022; there's Xu Mengtao (徐梦桃), who won China's first Olympic gold medal in the women's freestyle skiing aerials; there's also Gao Tingyu (高停宇) who won the men's 500m speed skating gold medal with an Olympic record of 34.32 seconds at the Beijing Winter Olympics (he became China's first-ever male Olympic gold medalist in speed skating).
But Gu Ailing (Eileen Gu) wasn't listed, despite being one of the stars of the Beijing Olympics in 2022. Despite her popularity, she also triggered some controversy after the Olympics after some online discussions focused on her alleged privileged position. At the time of the Gala, Gu is competing at the Freestyle Ski World Cup in Calgary.
We will also see a bunch of very famous actors and actresses on stage. We see Qin Hailu (秦海璐), Taiwanese actor Alec Su (苏有朋), Chinese actress Yang Zi (杨紫 aka Andy Yang), actor Sha Yi (沙溢), Wu Lei (吴磊), Zhao Liying (赵丽颖), Bai Yu (白宇), Oho Ou (欧豪), Song Zu'er (宋祖儿), Song Yi (宋轶)Wan Qian (万茜), Wang Baoqiang (王宝强), Rayzha Alimjan (熱依扎), Qin Lan (秦岚) and Josie Ho (祖丝), and many others, accompanied by different choir and dance groups, who are all from various places, from Beijing to Nanjing and beyond.
——–

Tonight's Hosts
Jan 21 20:08
The line-up of hosts was previously released.
Ren Luyu 任鲁豫 (1978)
Chinese television host from Henan, who has also presented the Gala multiple times (2010, 2016, 2018, 2019, 2021). Familiar face to the show.
Sa Beining 撒贝宁 (1976)
Also known as Benny Sa, Sa presented the Gala in 2012, 2013, 2015, 2016 and in 2022. He is a famous Chinese television host known for his work for CCTV.
Nëghmet Raxman尼格买提 (1983)
Nëghmet is a Chinese television host of Uyghur heritage who also is not a newcomer; he hosted the Gala since 2015, 2016, 2017, 2018, 2019, and in 2021.
Long Yang 龙洋(1989)
She was the youngest presenter hosting the CCTV Gala in 2021. Born in Hunan's Chenzhou, she's been working in Chinese state media for years. As a host, she's done various big events before, but 2021 was the first time for her to host the CMG Spring Festival Gala.
Ma Fanshu 马凡舒 (1993)
Ma Fanshu was the youngest and newest host in the 2022 Gala. She is a sports program host who has also been called "the most beautiful host of CCTV."
Wang Jianing 王嘉宁 (1992)
The Beijing-born Wang Jianing, born in Beijing, is a Chinese actress and, unless we're mistaken, this is the first time she is a host at the Gala. She graduated from the New York Film Academy with a performance and directing major and has since starred in many Chinese television dramas, movies, and TV shows.
——–

"Let's Eat, Let's Have Fun"
Jan 21 20:12
This song ("开饭!开FUN!") has some happy vibes. Uncoincidentally, Da Zhangwei (大张伟) – better known as Wowkie Zhang – also performed a song titled "Happy Vibes" in 2022. Singing with him is the TV star and singer Zhang Ruoyun (张若昀).
On stage with them are four different dance troupes, including the China Post Art Troupe.
Meanwhile, on social media, some wonder if everyone on stage had agreed to wear red without Yang Zi being informed about it.
——–

"Hundred Birds Return to the Nest"
Jan 21 20:14
This song is titled "Homing Birds" (百鸟归巢) and it's sung by Tan Weiwei (谭维维) who is also known as Sitar Tan. She is a singer from Sichuan who rose to fame when she became a runner-up in the Super Girl talent show.
This is her third appearance on the show, as she also performed at the Spring Festival Gala in both 2016 and in 2022. In 2020, she released a noteworthy album titled 3811 which focused on the struggles women in China are facing, with each of the eleven songs on the album telling the different stories of women from diverse backgrounds.
——–

No More Masks!
Jan 21 20:19
Something we already wondered about: would the audience be wearing masks for this year's Gala or not? They are not! Last year's Gala in 2022 was the second year the audience was wearing a face mask. In 2020, when Wuhan was first facing the Covid19 outbreak, the audience was not wearing face masks yet. 2021 was the first year.
By the way, something unrelated; it's noteworthy that renowned CCTV host Zhu Jun (朱军) still has not returned to the Gala. The presenter was accused of sexually assaulting an intern in 2018 and hasn't been a host at the Gala since. Although the intern lost the sexual harassment lawsuit against Zhu Jun, he still hasn't reappeared and it seems he has really lost his spot on the show now.
——–

Time for Some Crosstalk
Jan 21 20:22
This is the first xiangsheng (相声) act or crosstalk act of the night. Xiangsheng is a traditional Chinese comedic performance that involves a dialogue between two performers, using rich language and many puns.
This act is performed by Yue Yunpeng (岳云鹏, 1985), who is particularly known for his xiangsheng performances. He is part of a famous duo together with well-known Beijing-born comedian Sun Yue (孙越1979). They've previously also performed together at the Gala in 2020 and 2021.
The participating poker magician is Jian Lunting (简纶廷) from Taiwan.
——–

Theme: "China's New Era and a Better Life"
Jan 21 20:28
Every year, the Gala has a special theme or a recurring narrative. This year's theme is not particularly original, but it does make sense in the context of what happened over the past year. After previous themes such as "New China", "Chinese Dream", "National Unity", "Family Affinity", and "Chinese values, Chinese power," this 2023 year's theme is all about "China's Flourishing New Era" and "A Better Life amid Rapid Changes" ("欣欣向荣的新时代中国,日新月异的更美好生活").
"China's New Era and a Better Life" should be seen in the context of China's reopening, rapid changes over the past months, and the continuance of China's road to rejuvenation, which was also strongly reiterated during the 20th Party Congress in October 2022. The themes that were highlighted there (read more here) also play an important part during the Gala, such as Chinese-style modernization, building a strong socialist modern country, being united in struggle, and building beautiful China with a focus on green development. We'll see these themes come up throughout the show.
Another clear theme is homecoming, as this year will be the first time many families can finally reunite since the start of the Covid outbreak (people were previously discouraged from traveling home, doing a 'staycation' instead for the new year).
As noted by Andrew Methven @ Slow Chinese, the language and visuals used throughout the show are also a lot about flowers and blossoming, with some of these titles purposely sounding like "growing flowers", which sounds the same as "China" (种花 / 中华 / 中华民族 / 以花为名). This resonates with the theme of a New China.
——–

"Good Luck Will Come"
Jan 21 20:31
Popsong with traditional influences. On stage, we see Deng Chao (邓超, 1979), who is a Chinese actor, comedian, director, and singer. He is known for his work in multiple box-office hit films such as The Mermaid (2016) and Duckweed (2017). He also appeared as a singer in last year's Gala, when he performed together with Jackson Yee and Li Yuchun.
Tonight, Deng is on stage with Wang Erni (王二妮, 1985), the famous singer from Shaanxi who had her major breakthrough in 2007 with her Northern Shaanxi folk songs.
——–

Acrobatics ("龙跃神州")
Jan 21 20:33
Yang Hao (杨浩), Li Yifan (李一凡), and Zhang Haozheng (张浩正) perform in tonight's fist acrobatics act with, among others, the Cangzhou Acrobatics Troupe.
——–

"Clear waters and green mountains" ("绿水青山")
Jan 21 20:40
"Clear Waters and Green Mountains" (绿水青山) is the title of this song, which refers to a political slogan on environmental policy formulated by Xi Jinping and is all about emphasizing the harmony between people and nature.
This song is sung by Huang Xiaoyun (黄霄雲, 1998), a singer/actress of Bouyei ethnicity who mostly became known due to the talent show The Voice of China in 2015. Also on stage is Shan Yichun (单依纯), who was the Voice of China winner in 2020.
Song Yi (宋轶, 1989) and Song Zu'er (宋祖儿, 1998) are both well-known actresses, mostly known for starring in various hit TV dramas.
This performance includes Chinese traditional Huangmei opera, one of the five major opera genres in China, by performers Pan Ningjing (潘柠静) and Zhang Xiaowei (张小威).
See a link to this performance here.
——–

Zhang Ruoyun eating the chicken
Jan 21 20:44
During an earlier performance (the xiangsheng one), actor Zhang Ruoyun (张若昀) got the roasted chicken that magically appeared during the magic trick performed by magician Jian Lunting. The fact that he actually ATE the chicken while sitting in the audience is something that is causing some giggles on social media.
Maybe he was just really hungry!
——–

Xiaopin: "First Look Photo Studio"
Jan 21 20:57
This is the first sketch comedy or short play of the night, called xiaopin 小品 in Chinese. Traditionally, the xiaopin is both the best-received and most-condemned type of performance of the Gala for evoking laughter among the audiences or triggering controversies for reinforcing (gender) stereotypes.
In 2017, for example, the sketch "Long Last Love" was about a woman who wanted to divorce her husband because she was not able to conceive children and wanted her husband to move on to another wife. The show was criticized for depicting women as "breeding machines" and viewers later demanded an apology from CCTV via social media.
Xiaopin sketches are usually not so deep though – they're filled with puns, funny lines, and plot twists to entertain the viewers.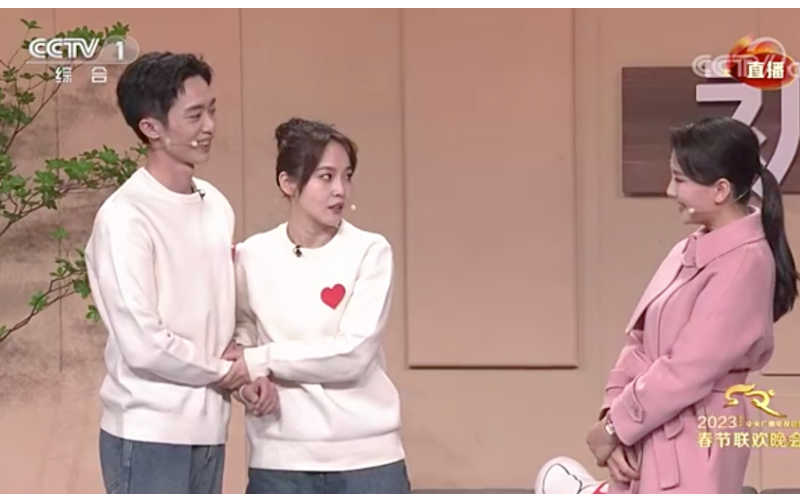 In this sketch, titled "First Look Photo Studio" (初见照相馆) we see Yu Zhen (于震), Sun Xi (孙茜), Bai Yufan (白宇帆), Zhang Jianing (张佳宁), Ma Xudong (马旭东), Lu Tengfei (吕腾飞), Li Hongjia (李红佳).
It's about a couple who lost their marriage certificate and came to make new photos. Two couples meet in the photo studio, showing the contrast between the older and the younger generation. The younger couple still has some natural innocence and cuteness about them as a couple (all dressed in matching outfits), while the older couple has a lot of complaints about their marriage. In the end, the older couple also turns out to be very loving and encourage the younger generation to pull through, even if times are hard. The message of this sketch seems to be: get married, stay married – an important message at a time of falling marriage and birth rates!?
——–

"Hello Stranger"
Jan 21 21:01
"Hello Stranger" ("你好, 陌生人") is a song that was released prior to the Gala by CMG as one of the theme songs for the night. Performed by the 28-year-old Chinese singer-songwriter Mao Buyi (毛不易), the song is all about helping each other and it already received some praise on Weibo prior to the show (hashtag: #毛不易春晚唱你好陌生人#).
Mao Buyi rose to fame in 2017 thanks to the all-male singing competition "The Coming One" show. At the time, he was a 23-year-old nursing graduate. As previously described by Sixth Tone, Mao stood out in the show due to his "sheer normality."
We also spotted the first creepy rabbit of the night, although online opinions vary on this.
Another rabbit that is attracting attention is actually very cute; it's the one on the jacket of Ren Luyu, one of the hosts.
——–

Martial Arts Spectacle!
Jan 21 21:06
This spectacular martial arts show is performed by Vincent Zhao Wenzhuo, the Shaolin Martial Arts Group, and the Shaolin Tagou Martial Arts School from Henan.
Vincent Zhao Wenzhuo (1972) is a famous Chinese actor and martial artist, best known for starring in the Once Upon a Time in China action film and television series.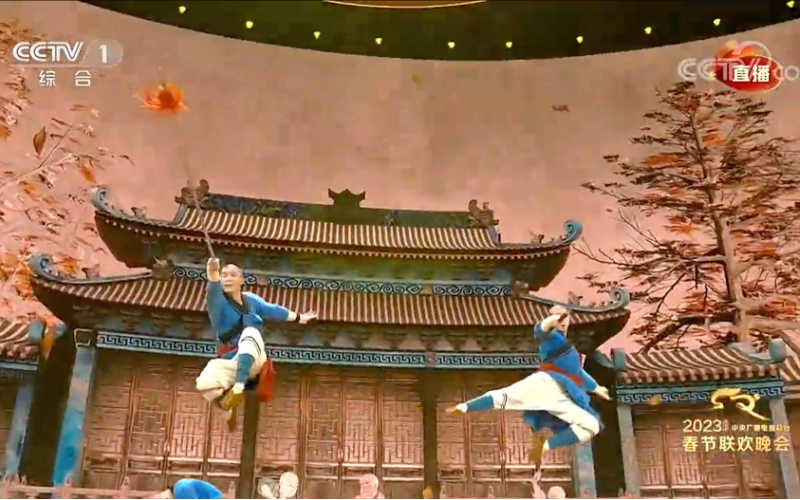 ——–

Me and My Grandpa
Jan 21 21:11
We just saw the first public service ad of the night; these are short videos in between the show containing a propaganda message. The title of this video was "Village Night" ("村晚"), a word play on the Chunwan, the Spring Festival Gala Night, as it sounds similar.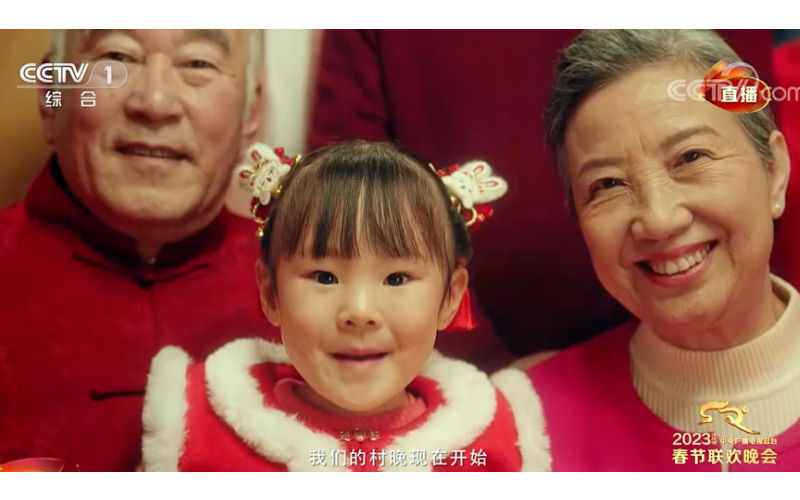 This next act is a performance for the kids, titled "Me and my Granddad Walk on Stilts" (我和爷爷踩高跷). There's a special kid's show every year, and they're often quite popular for being so cute.
——–

"Give Me A Minute"
Jan 21 21:16
This is a stand-up comedy-like part of the show titled "Give Me a Minute" featuring Zhao Xiaohui (赵晓卉), Qiu Rui (邱 瑞), He Yanzhi (何广智), and Xu Zhisheng (徐志胜).
Last year, a similar performance (which came as a new kind of performance genre) received a lot of criticism, as people do not find the format of the 'talk show + singing' suitable for the Chunwan.
By the way, did you notice that the rabbit in the background interacts with the content of the show? It is displayed at all times and laughs about jokes and looks around in the audience. It is the first time for the Gala to have such a mascot, and if you see its 3D design and how interactive it is, you can understand why the development project of 'Tu Yuanyuan' (the rabbit's name) took four months in total, involving an entire team!
——–

"Toast to the Past"
Jan 21 21:22
This song, performed by Taiwan singers Chiang Yu-Heng (姜育e) and Alec Su (苏有朋), together with Reno Wang (王铮亮) and Silence Wang (汪苏拢), is meant as a romantic, nostalgic "Toast to the Past" (跟往事干了好几杯).
Silence Wang (Wang Sulong) is an ethnic Manchu, whose first album came out in 2010 when he was 20 years old.
——–

Beautiful Dance
Jan 21 21:29
In this dance performance (碗步桥), we see Shanghai Dance School's Zhu Jiejing (朱洁静, 1985).
Zhu was selected from a group of 3,000 applicants to attend the Shanghai Dance School at the age of nine. She later rose to fame with her roles in productions such as Farewell My Concubine, and became the vice chairman of the Shanghai Dancers' Association.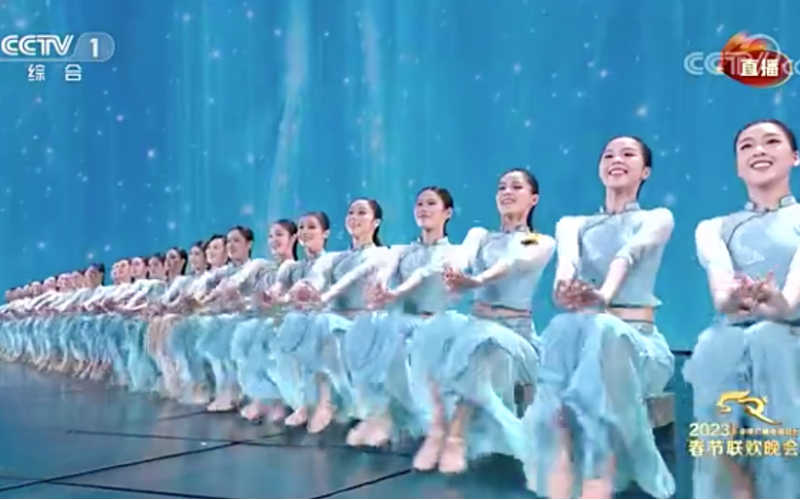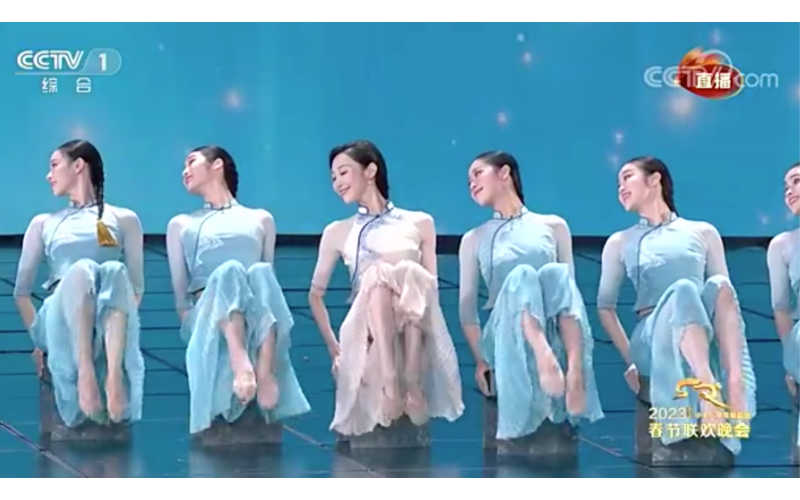 ——–

"Mini Film" – "Me and My Chunwan"
Jan 21 21:37
This 'mini-film' features some of China's super famous actors, such as Jacky Wu, Huang Bo, Sandra Ma Sichun, Fan Wei, and others. It is the first time for the Gala to introduce such a film, which is different from the short public service ads that pop up two or three times during the show.
This mini film, titled "Me and my Spring Festival Night" (我和我的春晚) is meant to highlight the personal stories of ordinary people watching the Gala and was inspired by actual letters sent in by viewers. The presenter just mentioned that even in these digital times, people still write letters to the show.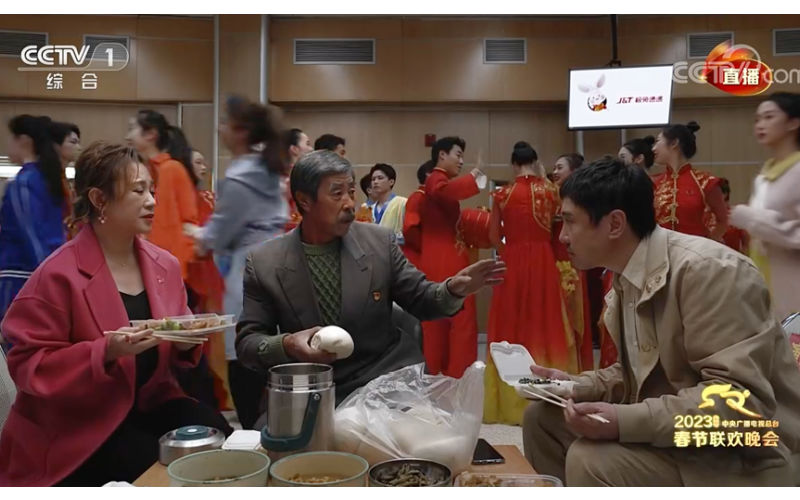 ——–

Goodmorning Sunshine
Jan 21 21:43
Multiple people from all kinds of professions and social groups are represented in "Good Morning, Sunshine," including medical workers.
What is really remarkable is that the topic of the epidemic and Covid have not been explicitly mentioned at all yet. There's been some hinting at "difficult times" and "change", but Covid and the many infections throughout the country have not been addressed. This song is an indirect reference to the epidemic situation, singing about sunshine always coming after rainstorms.
——–

"I'm Coming"
Jan 21 21:52
Another xiaopin, a comical skit, this time featuring Chinese celebrity performers Wang Baoqian, Yang Zi, and Wang Ning.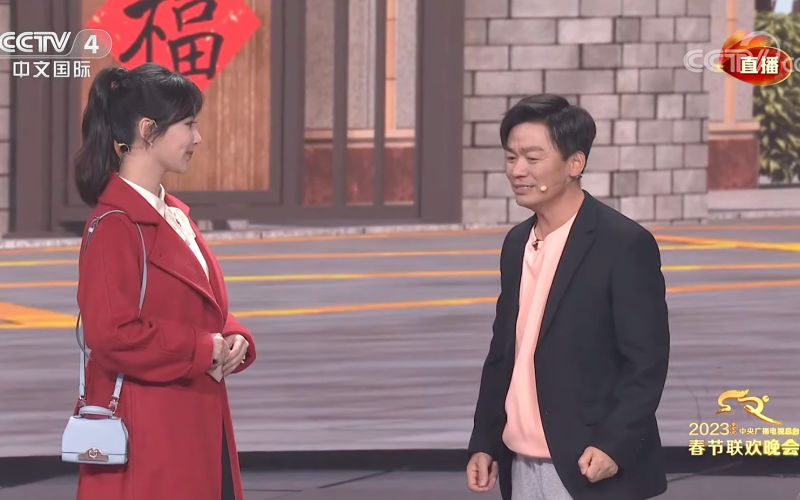 Yang Zi is also known as Andy Yang, and she is a well-known Chinese actress and singer. She was previously named one of the 'Four Dan Actresses' (top actresses) of the post-90s Generation.
Wang Baoqiang is also very popular, perhaps also due to his humble background. At the age of 8, the actor left his family to study kung fu and later went to Beijing to play small roles as an actor in film and TV while doing construction jobs on the side. Wang made his big break when major director Feng Xiaogang chose him to play in A World Without Thieves (2003). Wang later became a critically acclaimed actor, known for his roles in films like Blind Shaft (2003) and A Touch of Sin (2013).
——–

Little Brother
Jan 21 22:01
This song, performed by Huang Bo, is about all those delivery drivers across China. It suits the comical sketch that just preceded it, as the message was also to have more understanding for other people in tough jobs like the delivery staff.
The host Nëghmet Raxman 尼格买提 also just mentioned the epidemic for the first time when introducing this song, as he said that especially the 'kuaidi' and food delivery drivers have been struggling and working a lot to keep society going in Covid times.
——–

Garden Full of Flowers
Jan 21 22:04
This stunning performance is called "Garden Full of Flowers/"National Colors"(满庭芳·国色) [translated by CCTV as C"ourtyard of Beauty, Colors of A Nation"], performed by Chinese actress Zhao Liying (赵丽颖) and others. It uses a lot of the special technologies (VR, XR) that were already promoted by the show's directors beforehand.
——–

Forget Your Worries
Jan 21 22:10
After a second public service ad of the night, we've already arrived at the 20th performance of the night.
Zhou Shen (周深) is singing this song ("花开忘忧"), with performances by Li Guangfu (李光复) and Sun Guitian (孙桂田). As previously mentioned in another post here, flowers are really a recurring theme throughout the night as they represent blossoming (main theme is "flourishing new China") and new beginnings.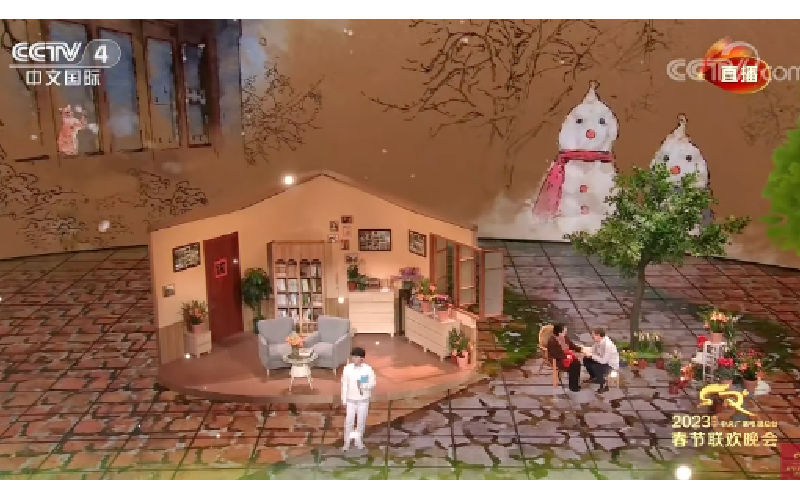 ——–

Treadmill
Jan 21 22:14
Some netizens have noticed how during the performance of the "Little Brother" song, an actual treadmill appeared on stage to make the performers walk. Some people find it funny: Huang Bo didn't come to the Gala to perform, he came there to work out!
——–

Beautiful Pear Garden (华彩梨园)
Jan 21 22:21
The first major Chinese opera performance of the night! These kinds of performances are generally well-liked among viewers, much more than comical sketches, which many people do not find that funny.
The actors on stage are all of different ages: the youngest performer is only 4 years old!
In this performance, you can also see the use of some cool effects made possible by the show's integration of new technologies such as 4K/8K, AI, and XR.
——–

How's this show different from other years thus far?
Jan 21 22:35
There are some ways in which this show is different thus far. Over previous years, the Gala partnered with Tencent, Kuaishou, Baidu, Bytedance, JD, etc to allow various 'media moments' during which viewers can 'catch' red envelopes. Actually, the Gala became especially linked to social media since it first featured this kind of exchange of 'hongbao', red envelopes with money, which is a Chinese New Year's tradition. In 2015, for the first time, viewers were able to receive virtual 'hongbao' as part of a cooperation between CCTV and WeChat. WeChat users shook their phones 11 billion times that night in order to 'grab' the money. These kinds of campaigns drew in many more young viewers – the Gala was previously viewed as something for older audiences (– although it still might be, social media has helped get the younger viewers involved, too).This year, we haven't seen any kind of 'shake your phone' or 'grab hongbao' media activities.
Another difference is that the show is normally held across several locations besides the main studio in Beijing, which is a great opportunity for other places to boost tourism and attract attention to their region or city. In light of Covid, the Gala was also only held in Beijing's CCTV studio 1 in 2021 and 2022. Perhaps the choice to again have just one location for the Gala is also related to the current Covid situation. This also still makes the Gala a bit less 'spectacular' and festive than the earlier versions before 2020, probably because it would not be appropriate at this time.
——–

Local authorities not doing their job
Jan 21 22:48
The name of the comical skit we just saw was "Hole" or "Pit" (抗), and it was about local authorities not properly doing their job to fix a hole in the street, despite it being dangerous for people.
This skit is among the most well-received ones tonight, as many people recognize the scene as part of everyday realities. The actors in this skit are Shen Teng (沈腾), Ma Li (马丽), Ai Lun (艾伦), Chang Yuan (常远), Song Yuan (宋阳), and Yu Jian (于健).
——–

Mother and Daughter
Jan 21 22:50
This is a really sweet song about the bond between mother and daughter. Perhaps this is the influence of having a female director? Huang Qishan (Susan Huang) is a 54-year-old Chinese musician who has also been referred to as the "number one female voice in Asia."
The song is also performed by the Beijing-born Curley Gao (希林娜依·高). The 24-year-old singer has a Uighur first name because her mum is from Xinjiang (her dad is Han Chinese from Beijing). Although she is known as 'Curley' in English, her actual first name is transcribed as Shirinay (Xilinnayi). She rose to fame due to her participation in the "Sing! China" talent show.
This song is striking a chord among the people in the audience, and a little boy and an older woman were filmed as they got a bit teary-eyed.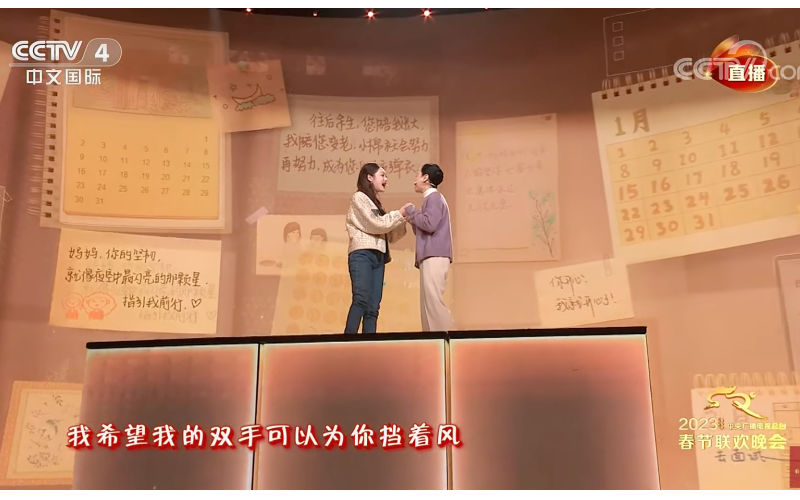 ——–

High-tech song
Jan 21 22:52
This act, focused on kids, uses new VR + 3D technologies to let the mystic animals of the ancient past meet with Chinese children the present-day.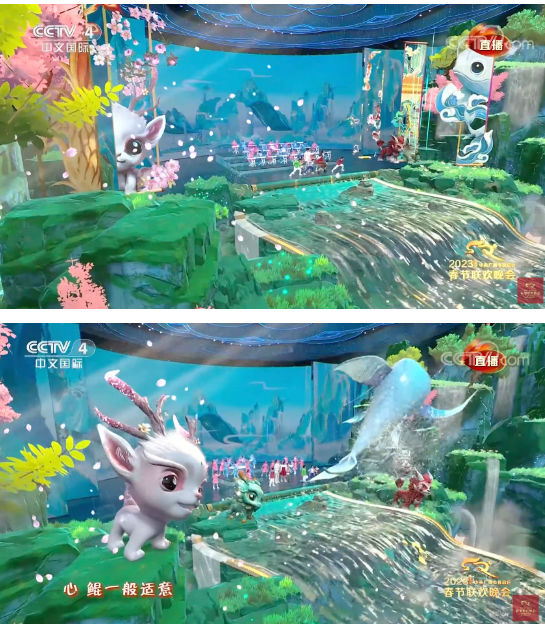 ——–

Future, I'm Coming
Jan 21 22:58
The future is always an important topic during the Gala, and this song is comparable to songs that were featured on previous Gala nights. It's titled "Future I'm Coming" and it is performed by Ou Hao, Bai Yu, Wei Chen, and Wu Lei. It even includes some rap..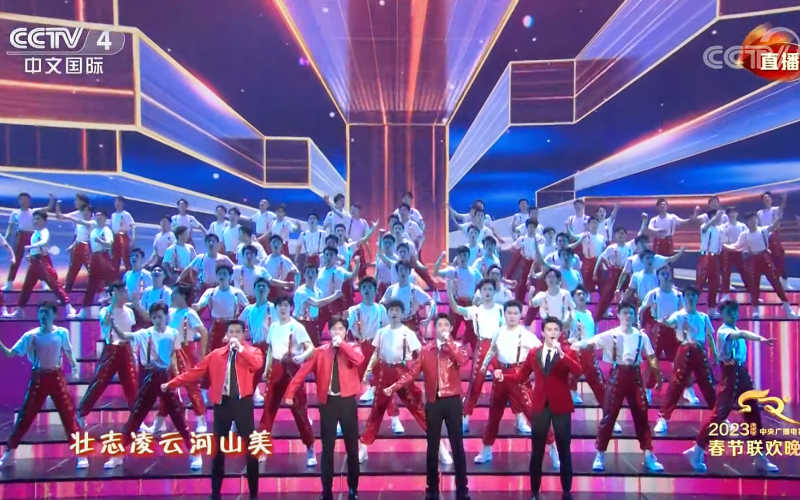 ——–

"I Made It to the Hot Search List!"
Jan 21 23:08
This sketch is about a social media video unexpectedly going viral and causing problems between husband and wife as the husband said things he did not mean in order to get more clicks.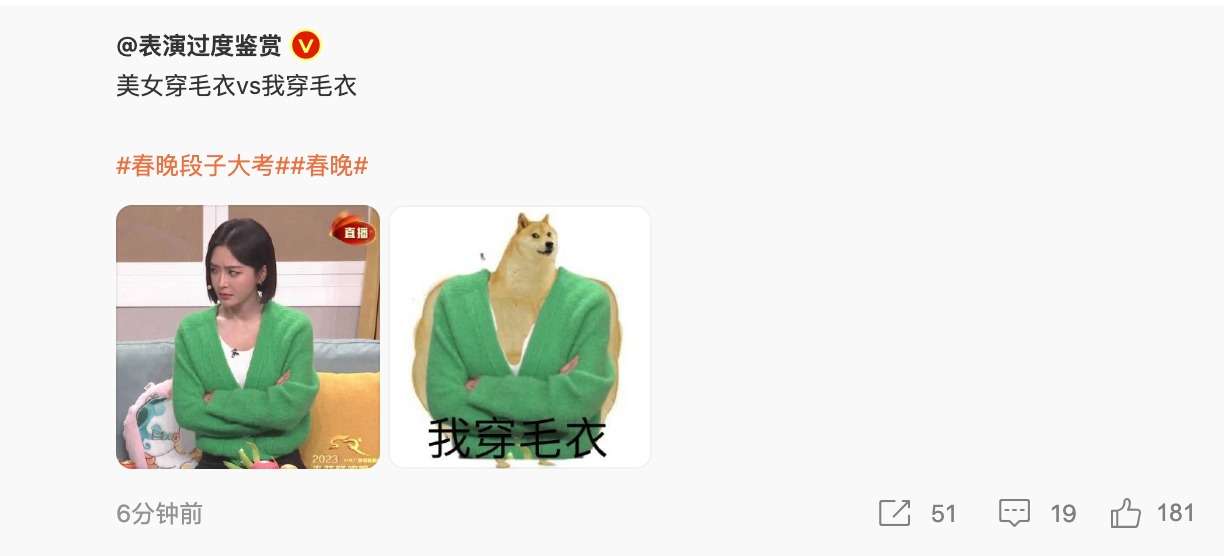 One discussion that has come up prior to this show is that the popular Chinese comedian actress Jia Ling is not performing today. She is known for her annual Spring Festival Gala performances together with Zhang Xiaofei.
——–

Everything is going to be ok
Jan 21 23:18
The hosts just addressed Covid for the first time this show. It also looked as if Ren Luyu was tearing up.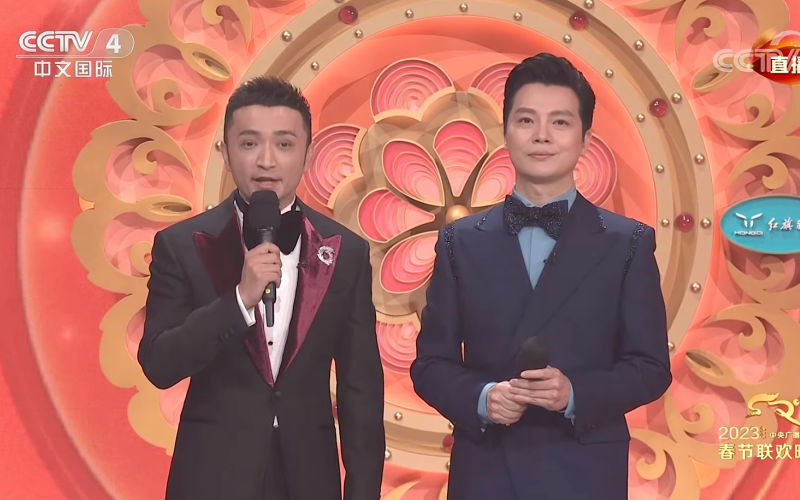 The song that follows is a classic pop song performed by a group of artists (Xiao Ke, Sha Yi, Qin Hailu, Hu Xia, Hui Yuanmeng, and Li Guangjie), and they are bringing a positive message about things taking a change for the better.
——–

As Beautiful as Brocade (锦绣)
Jan 21 23:23
This beautiful dance featuring main dancer Li Qian (李倩) and the Beijing Art Troupe is inspired by the Han Dynasty.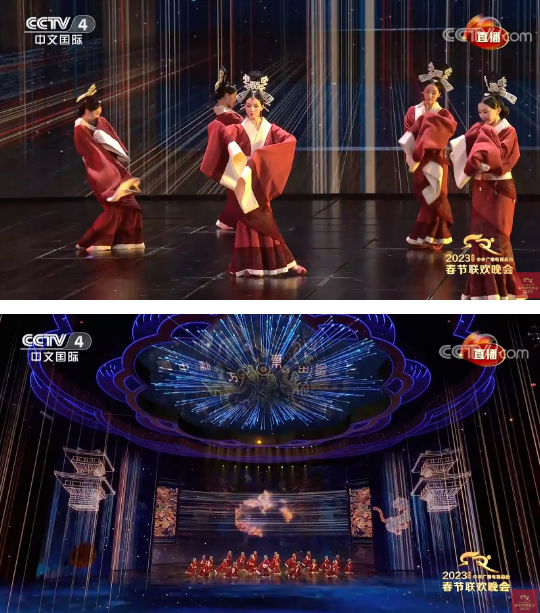 See a link to this performance here.
——–

"One Belt, One Beautiful Road Song" (一带繁花一路歌)
Jan 21 23:29
In this most international song of the night, we see a compilation of songs and performers from Indonesia, Greece, Serbia, Egypt Pakistan, New Zealand, Tanzania, Argentina, Kazakhstan, and then the last song, the famous Chinese "Mo Li Hua" [Jasmine Flower] song, is sung by a group of singers from various 'Belt and Road' countries.
Lang Lang is on stage playing the piano!
Over the past few years, the Belt and Road Initiative wasn't really featured very much at the Gala during the closed, Covid era. Now that the borders have reopened, there is room for more international focus again, even if the performers are joining via video.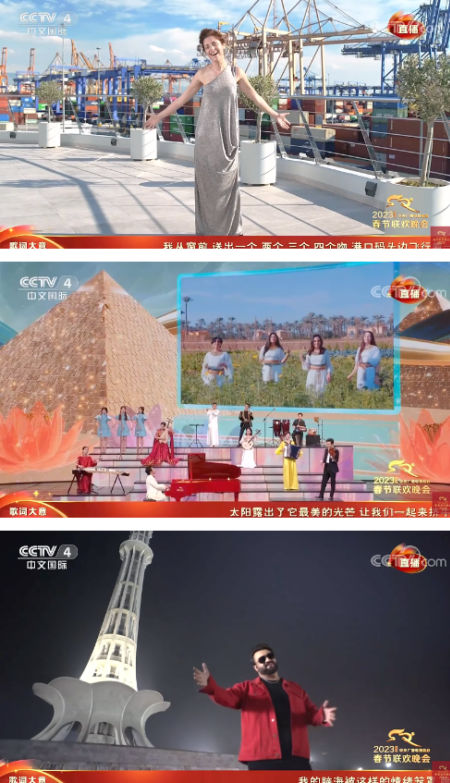 ——–

"My Hometown"
Jan 21 23:37
After the third public service announcement of the night, we're on to the song "Hometown," performed by Tibetan singer Alan Dawa Dolma (阿兰·达瓦卓玛), ethnic Mongol singer Daiqing Tana (黛青塔娜), Kashgar singer Air (艾热), Gansu singer Zhang Gasong (张尕怂), and Wu Tong (吴彤) from Liaoning. There's always a song during the Gala that has different minorities from all over the country. This time, this is it, and they tried to do it a bit different this time by also integrating some modern rock and pop music.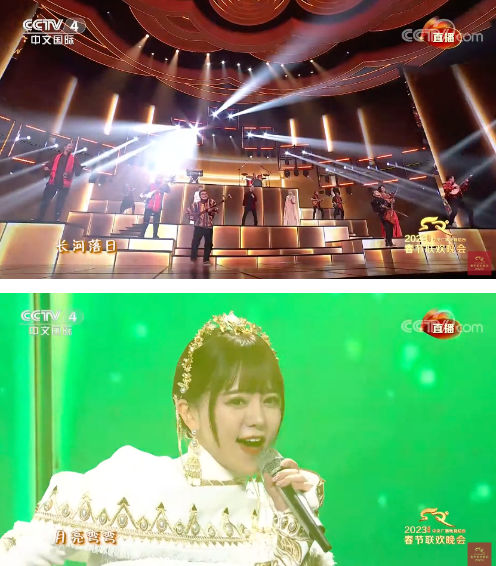 ——–

Exemplary Persons
Jan 21 23:40
Like every year, this is the part of the show where some 'exemplary persons' get honored for their accomplishments. This special segment recognizes people for their exceptional service and contributions to the Party and the country.
——–

"Youth to the Sun" (青春向太阳)
Jan 21 23:44
Ah, here's Jackie Chan again after being absent during last year's performance. Jackie Chan (成龙) has become an annually returning performer at the CCTV Gala. Although his performances are always much-anticipated, they've sometimes also been pretty cringe-worthy. In 2017, the song performed by Jackie was simply titled "Nation" and was met with criticism for being overly political. In 2018, the Hong Kong martial artist sang a song that was called "China" and in 2019 he performed 'My Struggle, My Happiness.' In 2021 he sang "Tomorrow Will Be Better" (明天会更好) which was about the epidemic situation and that song was actually received very well and made many viewers tear up.
He is now performing a song dedicated to China's youth, together with Peng Yuchang (1994), Jiang Yiyi (2001), Guo Junchen (1997), Chen Linong (2000, from Taiwan), Yan Mingxi (2005, from Hong Kong) and Josie Ho (1989, from Macao).
——–

A Song for All My Friends
Jan 21 23:46
Sun Nan is here! Sun Nan (孙楠) is a famous Chinese Mandopop singer who performed at the Gala multiple times over the past year, including the iconic 2016 performance where he danced together with 540 robots. In 2022 he was on stage with Tan Weiwei.
This time he is on stage with Hacken Lee (李克勤).
Just before this song started, the host addressed the difficulties so many in China faced over the past year. Although Covid is barely mentioned, the Gala has definitely hinted at the epidemic several times. Instead of some sad songs, the program is mostly filled with songs that are about positivity, hope, friendship, and "better times" – which is also one of the show's main themes.
——–

Homeland
Jan 21 23:52
We actually thought the main "minority song" was already featured, but "Homeland" (家园) turns out to be the true "minority song" of the night, featuring dancers and singers from various minority groups, holding hands together in unity and singing about love.
——–

Nearing Countdown, Expedition
Jan 21 23:55
It's almost time for the countdown! First, we are seeing the song "Expedition" (远征) performed by Liao Changyong, Wu Bixia, Wang Kai, and Yisa Yu.
——–

Countdown! Happy New Year!
Jan 21 0:05
Countdown! Happy New Year to you! All the hosts have just expressed their well-wishes to the viewers, wishing everybody blessings for the Year of the Rabbit. The countdown was started with everybody on stage, and there were even some well-wishes from out of space! [Added comment: although we didn't immediately notice during the show, many social media users later commented that the countdown moment saw some delay and was not exactly times at 0:00.]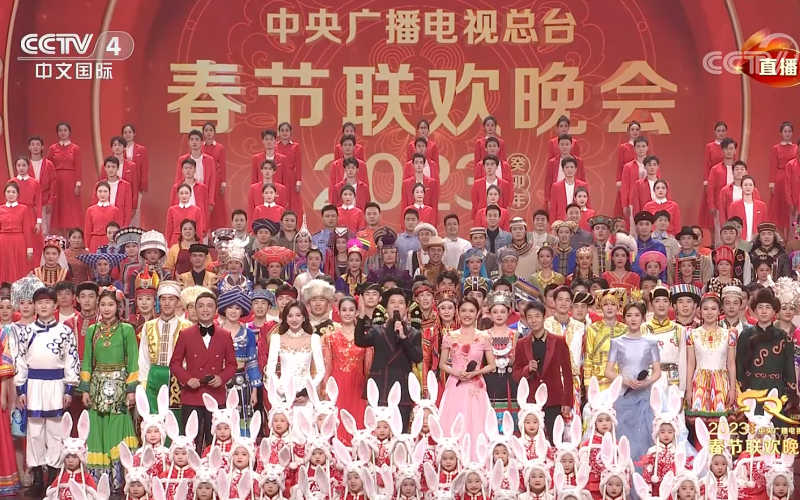 "New Year Hopping" (新春蹦蹦) is performed by Phoenix Legend, Chinese rapper Dong Baoshi, and Chinese actress/singer Angel Zhao. Phoenix Legend is a Chinese popular music duo of female vocalist Yangwei Linghua and male rapper Zeng Yi. The duo was also part of the CCTV Gala in 2016 and in 2018.
All the performers are joined on stage by Tu Yuanyuan, the little rabbit that undoubtedly is the star of the 2023 Gala. It danced right there with them.
——–

Last Performances of the Night
Jan 21 0:20
After the comical skit performed by Jin Jing, Zhou Tienan, Yan Peirun (a romantic one about couples), we are now moving on to the "Group Photo" song.
This song is performed by Xu Song aka Vae, an independent musician from Hefei who is super popular on social media.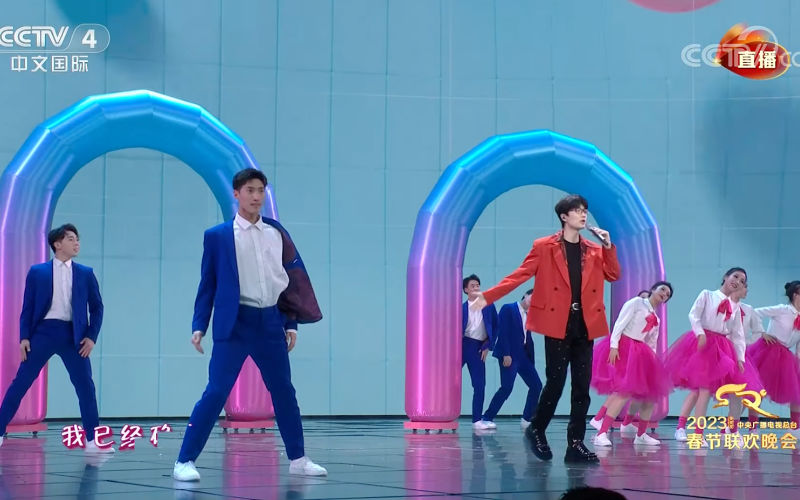 ——–

"To Advance Bravely"
Jan 21 0:22
This is the 38th act of tonight and also the last acrobatics one featuring performers Shi Renqi, Li Songlin, and Yang Jinhao together with the China Acrobatic Group.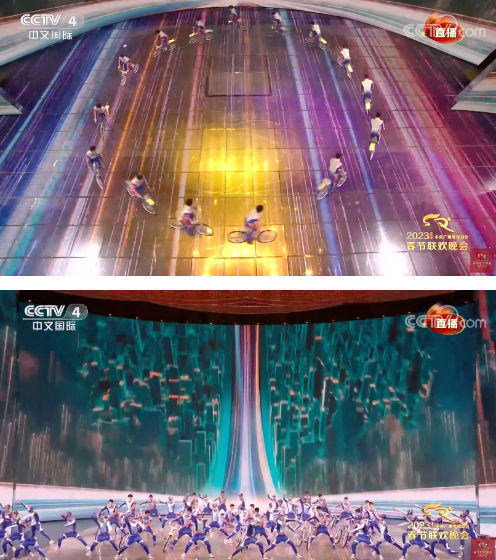 ——–

Our Field and Dreams in Spring
Jan 21 0:28
The final dance of the night, titled "Our Field" (我们的田野) is a beautiful performance by the Liaoning Ballet.
The performance, all set in golden colors, is about harvesting wheat.
The performance is followed up by "Dreams in Spring."
"Dreams in Spring" (梦在春天如愿) is performed by Wei Song, Huo Yong, Mo Hong, and Wang Li – among so many young performers this night, they represent the older generation of artists.
——–

Unforgettable Night
Jan 21 0:35
This is a very unusual ending to the Gala. Ever since the 1980s, the last song of the night was "Unforgettable Night" (难忘今宵) sung by Li Guyi (李谷一). As Li is now recovering from Covid at the hospital, all the performers are gathered on stage and sing the song together.
The song was composed in 1984 when CCTV was preparing for its second Spring Festival Gala.
That's a wrap! Thank you so much for joining, and we wish you a very happy Year of the Rabbit.
By Manya Koetse , with contributions by Miranda Barnes, and Zilan Qian
Get the story behind the hashtag. Subscribe to What's on Weibo here to receive our newsletter and get access to our latest articles:
Spotted a mistake or want to add something? Please let us know in comments below or email us. First-time commenters, please be patient – we will have to manually approve your comment before it appears.
©2023 Whatsonweibo. All rights reserved. Do not reproduce our content without permission – you can contact us at info@whatsonweibo.com.
Rock 'n' Troll Chaos: The Controversy Surrounding Thefts at China's Central Midi Festival
A theft scandal rocked China's Midi Festival, which took place in Nanyang this week. Midi, however, blames online trolls for hyping the case.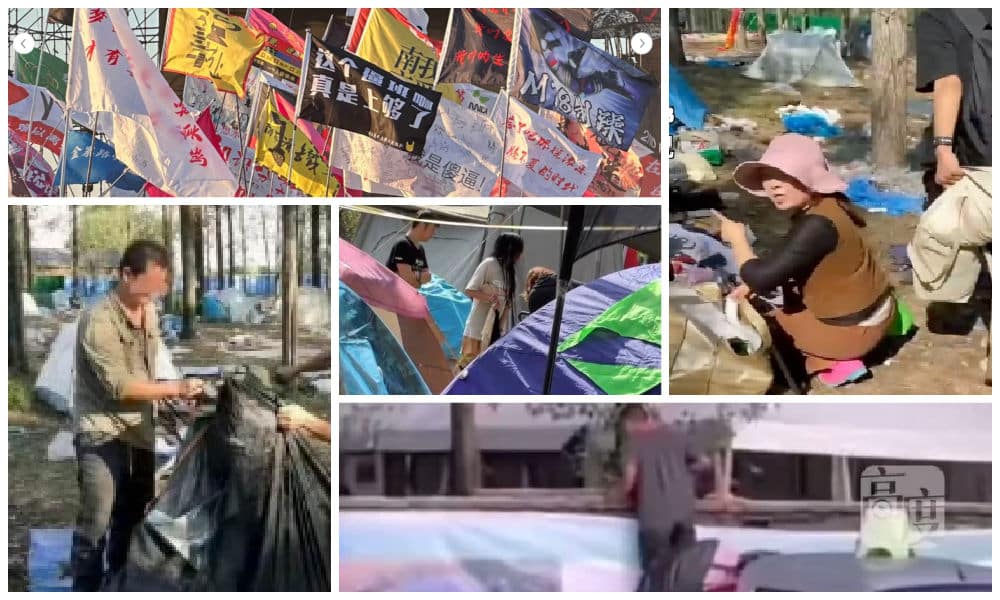 What was supposed to be celebration of music, mud, and Midi freedom turned into a controversy that captured widespread attention on Chinese social media this week, as reports of looting surfaced online. As online discussions continue, people do not agree on who is to blame for the incident and the widespread attention for it.
The city of Nanyang in Henan has been all the talk on Chinese social media over the past few days due to large amounts of personal belongings getting stolen during the Central Midi Festival (中原迷笛音乐节).
The Midi Festival, founded by the Beijing Midi School of Music, is among China's largest and most influential rock music festivals. Midi has been around for some thirty years, with variations in themes and taking place in different locations.
The most recent edition was held in Nanyang from September 29 to October 2nd. It drew approximately 150,000 visitors who flocked to Henan to have a good time, enjoy the music, dance in the mud, and stay at the camp site throughout the multi-day festival.
The local government had hoped that hosting the festival would help promote the city and make it more popular among young people. To create a positive impression, the entire city, including a remarkable 40,000 volunteers, local authorities, hotels, and transportation companies, dedicated their efforts to ensure the success of the Midi Festival. The mayor even personally welcomed festival-goers at the train station.

Free-for-all Festival

However, it seems that some locals had different intentions. They watched the festivities from behind the fences, and then started coming in and entering the camp sites. When they found unattended tents, as the owners were enjoying the music, they started stealing items from inside.
What began as isolated incidents soon escalated. More people joined in, more items were stolen, and the thieves grew bolder, sometimes even stealing from tents while their owners were present and trying to stop them.
There's a video circulating showing an older lady rummaging through a festivalgoer's tent while he filmed the scene. The lady casually stated, "I'll take your camp light, dear," and informed him of her theft.
Even sponsors and official vendors at the festival site fell victim to theft, as people entered their areas and stole their products and merchandise to resell later. There were reports of chairs and cables being stolen – essential items for a smooth-running festival.
Although security guards and police did intervene when the looting began, they allegedly just sent the thieves away at first without apprehending them. Some festivalgoers claimed to have lost personal items valued at over 10,000 RMB ($1,388).
By now, as the incident has gained national attention via social media, the case is being thorougly researched. The local police have received a total of 73 reports and they have confirmed 65 cases of theft. Some of the thieves have been arrested, and some of the stolen items have been recovered.

It Started with a Rumor

How could the festival looting get so out of control? According to local authorities in Nanyang, the incident began when a short video platform user known as "Wuyu" (无语) posted a video on October 2nd, falsely claiming that all the tents at the festival were available for taking as the event had ended and the premises needed to be cleared.
This rumor soon widely circulated, and prompted nearby villagers to come to the site to see what they could get.
The person behind the "Wuyu" account, identified as Chen Feng (陈峰), has since been identified and was taken into custody by the police.
On October 5, the Midi Festival released a statement on Weibo, reassuring the public that the festival and the local government are working together to try their best and recover all stolen items.
Midi also lashed out against online 'trolls' who were hyping up the situation at Midi to smear the festival and the city's reputation. The festival condemned both the small group of thieves and the larger group of online trolls.

Provincial Prejudice

The controversy has generated a lot of anger, not just among visitors and the festival organization staff, but also among local Nanyang authorities who had invested considerable effort into making the festival a success.
The incident has cast a shadow over Midi. In an online poll conducted by Fengmian Redian (@封面热点), a majority of respondents indicated that they would not want to attend the festival after this happened, expressing their disappointment over the looting.
The controversy also reflects badly on Henan, where people already face provincial prejudice. Henan is often characterized as a poor and unrefined province, associated with phone scammers or people who would even steal manhole covers to sell them for scrap metal, causing dangerous situations.
The Midi Festival controversy has perpetuated these stereotypes about the people of Henan, much to the dismay of local residents who have been actively working to challenge and dispel public biases against the province.

Rock 'n' Roll Chaos

While many Weibo users come to Nanyang's defense, there are also those who stress that the local authorities should have taken more steps to improve security around the festival site.
Others, however, do not agree. They argue that the Midi Festival, in Woodstock style, is about chaos, rock 'n' roll, and freedom. They think that the festival should not be overly controlled and that people should not blame the organization or local governments for not looking after their stuff.
Festival attendees and dedicated rock music enthusiasts argue that Midi, Nanyang, and the Chinese fans and musicians turned the festival into a great success.
They suggest that the theft incident should not be attributed to them nor reflect badly on China's thriving music scene; it was simply the result of immoral behavior from a few individuals who failed to grasp the spirit of the event.
Meanwhile, the entire incident has not just triggered anger; it has also become a source of banter and online jokes.
Some Henan natives are not exactly helping to promote their home province. One widely-shared comment referred to the Henan bank protests, stating: "If even the money we deposit in the bank can disappear, it's no surprise that things can go missing at a music festival."
By Manya Koetse and Miranda Barnes
with contributions by Miranda Barnes
Get the story behind the hashtag. Subscribe to What's on Weibo here to receive our newsletter and get access to our latest articles:
Spotted a mistake or want to add something? Please let us know in comments below or email us. First-time commenters, please be patient – we will have to manually approve your comment before it appears.
©2023 Whatsonweibo. All rights reserved. Do not reproduce our content without permission – you can contact us at info@whatsonweibo.com.
Three Reasons Why Lipstick King's 'Eyebrow Pencil Gate' Has Blown Up
From beauty guru to betrayal: why one livestream moment is shaking China's internet.
PREMIUM CONTENT
Li Jiaqi, also known as Austin Li the 'Lipstick King,' has become the focus of intense media attention in China over the past days.
The controversy began when the popular beauty influencer responded with apparent annoyance to a viewer's comment about the high price of an eyebrow pencil. As a result, his fans began unfollowing him, netizens started scolding him, Chinese state criticized him, and the memes started flooding in.
Li Jiaqi's tearful apology did not fix anything.
We reported about the incident here shortly after it went trending, and you can see the translated video of the moment here:
China's famous make-up influencer #LiJiaqi is in hot water due to an e-commerce livestream he did on Sunday. When viewers complained about an eyebrow pencil being too expensive (79 RMB/$10.9), he got annoyed, insisting that the product was not expensive at all. Translated video: pic.twitter.com/JDKGMKovDX

— Manya Koetse (@manyapan) September 11, 2023
The incident may seem minor at first glance. Li was merely promoting Florasis brand (花西子) eyebrow pencils, and some viewers expressed their opinion that the pencils, priced at 79 yuan ($11), had become more expensive.
In response, Li displayed irritation, questioning, "Expensive how?" He went on to suggest that viewers should also reflect on their own efforts and whether they were working hard enough to get a salary increase.
But there is more to this incident than just an $11 pencil and an unsympathetic response.
#1 The King Who Forgot the People Who Crowned Him
The initial reaction of netizens to Li Jiaqi's remarks during the September 10th livestream was characterized by a strong sense of anger and disappointment.
Although celebrities often face scrutiny when displaying signs of arrogance after their rise to fame, the position of Li Jiaqi in the wanghong (internet celebrity) scene has been especially unique. He initially worked as a beauty consultant for L'Oreal within a shopping mall before embarking on his livestreaming career through Alibaba's Taobao platform.
In a time when consumers have access to thousands of makeup products across various price ranges, Li Jiaqi established himself as a trusted cosmetics expert. People relied on his expertise to recommend the right products at the right prices, and his practice of personally applying and showcasing various lipstick colors made him all the more popular. He soon garnered millions of online fans who started calling him the Lipstick King.
By 2018, he had already amassed a significant fortune of 10 million yuan ($1.53 million). Fast forward three years, and his wealth had ballooned to an astonishing 18.5 billion yuan ($2.5 billion).
Despite his growing wealth, Li continued to enjoy the support of his fans, who appreciated his honest assessments of products during live testing sessions. He was known for candidly informing viewers when a product wasn't worth buying, and the story of his humble beginnings as a shop assistant played a major role in why people trusted him and wanted him to succeed.
However, his recent change in tone, where he no longer seemed considerate of viewers who might find an $11 brow pencil to be expensive, suggests that he may have lost touch with his own customer base. Some individuals perceive this shift as a form of actual "betrayal" (背叛), as if a close friend has turned their back on them.
One cartoon shared on social media shows Li Jiaqi, with mouse ears, as he initially begs his online viewers for money. However, as he becomes more prosperous, the cartoon portrays him gradually growing arrogant and eventually scolding those who helped him rise to fame.
Many people accuse Li of being insincere, suggesting that he revealed his true colors during that short livestream moment. This is also one of the reasons why most commenters say they do not believe his tears during his apology video.
"He betrayed China's working class," one popular vlog suggested.
#2 Internet Celebrity Crossing the Lines
Another reason why the incident involving Li Jiaqi is causing such a storm is related to the media context in which Chinese (internet) celebrities operate and what is expected of them.
Whether you are an actor, singer, comedian, or a famous livestreamer/e-commerce influencer, Chinese celebrities and performers are seen as fulfilling an exemplary role in society, serving the people and the nation (Jeffrey & Xu 2023). This is why, as explained in the 2019 research report by Jonathan Sullivan and Séagh Kehoe, moral components play such a significant role in Chinese celebrity culture.
In today's age of social media, the role of celebrities in society has evolved to become even more significant as they have a vast reach and profound influence that extends to countless people and industries.
Their powerful influence makes celebrities important tools for authorities to convey messages that align with their goals – and definitely not contradict them. Through the media and cultural industries, the state can exert a certain level of control within the symbolic economy in which celebrities operate, as discussed by Sullivan and Kehoe in their 2019 work (p. 242).
This control over celebrities' actions became particularly evident in the case of Li Jiaqi in 2022, following the 'cake tank incident' (坦克蛋糕事件). This incident unfolded during one of his livestreams when Li Jiaqi and his co-host introduced a chocolate cake in the shape of a tank, with an assistant in the back mentioning something about the sound of shooting coming from a tank ("坦克突突"). This livestream took place on June 3rd, on the night before the 33rd anniversary of the crackdown on the Tiananmen protests.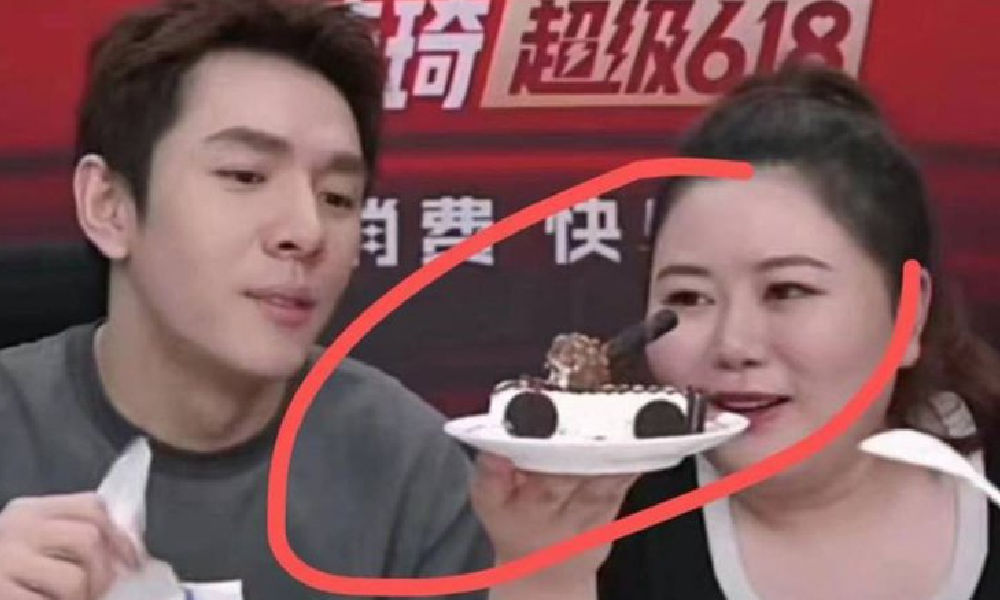 While Li Jiaqi did not directly touch upon a politically sensitive issue with his controversial livestream, his actions were perceived as a disregard for customer loyalty and displayed an arrogance inconsistent with socialist core values. This behavior garnered criticism in a recent post by the state media outlet CCTV.
Other state media outlets and official channels have joined in responding to the issue, amplifying the narrative of a conflict between the 'common people' and the 'arrogant influencer.'
#3 Striking a Wrong Chord in Challenging Times
Lastly, Li Jiaqi's controversial livestream moment also became especially big due to the specific words he said about people needing to reflect on their own work efforts if they cannot afford a $11 eyebrow pencil.
Various online discussions and some media, including CNN, are tying the backlash to young unemployment, tepid consumer spending, and the ongoing economic challenges faced by workers in China.
Since recent years, the term nèijuǎn ('involution', 内卷) has gained prominence when discussing the frustrations experienced by many young people in China. It serves as a concept to explain the social dynamics of China's growing middle class who often find themselves stuck in a "rat race"; a highly competitive education and work environment, where everyone is continually intensifying their efforts to outperform one another, leading to this catch 22 situation where everyone appears to be caught in an unending cycle of exertion without substantial progress (read more here).
Weibo commenters note that, given China's current employment situation and wage levels, hard work is not necessarily awarded with higher income. This context makes Li Jiaqi's comments seem even more unnecessary and disconnected from the realities faced by his customers. One Shanghai surgeon responded to Li's comments, saying that the fact that his salary has not increased over the last few year certainly is not because he is not working hard enough (#上海胸外科医生回应李佳琦言论#).
Some observers also recognize that Li, as an e-commerce professional, is, in a way, trapped in the same cycle of "inversion" where brands are continuously driving prices down to such low levels that consumers perceive it as the new normal. However, this pricing strategy may not be sustainable in the long run. (Ironically, some brands currently profiting from the controversy by promoting their own 79 yuan deals, suggesting their deal is much better than Li's. Among them is the domestic brand Bee & Flower 蜂花, which is offering special skin care products sets for 79 yuan in light of the controversy.)
Many discussions therefore also revolve around the question of whether 79 yuan or $11 can be considered expensive for an eyebrow pencil, and opinions are divided. Some argue that people pay much more for skincare products, while others point out that if you were to weigh the actual quantity of pencil color, its price would surpass that of gold.
The incident has sparked discussions about the significance of 79 yuan in today's times, under the hashtag "What is 79 yuan to normal people" (#79元对于普通人来说意味着什么#).
People have shared their perspectives, highlighting what this amount means in their daily lives. For some, it represents an entire day's worth of home-cooked meals for a family. It exceeds the daily wages of certain workers, like street cleaners. Others equate it to the cost of 15 office lunches.
Amid all these discussions, it also becomes clear that many people are trying to live a frugal live in a time when their wages are not increasing, and that Li's comments are just one reason to vent their frustrations about the situation they are in, In those regards, Li's remarks really come at a wrong time, especially coming from a billionaire.
Will Li be able to continue his career after this?
Some are suggesting that it is time for Li to take some rest, speculating that Li's behavior might stem from burn-out and mental issues. Others think that Li's hardcore fans will remain loyal to their e-commerce idol.
For now, Li Jiaqi must tread carefully. He has already lost 1.3 million followers on his Weibo account. What's even more challenging than regaining those one million followers is rebuilding the trust of his viewers.
Update: On September 19, the Florasis/Huaxizi brand finally apologized for its late response to the controversy, and the brand stated that the controversy provided an opportunity for them to listen to "the voice of their consumers." Their decision to release a statement seemed fruitful: they gained 20,000 new followers in a night.
By Manya Koetse
with contributions by Miranda Barnes
Jeffreys, Elaine, and Jian Xu. 2023. "Governing China's Celebrities." Australian Institute of International Affairs, 18 May https://www.internationalaffairs.org.au/australianoutlook/governing-chinas-celebrities/ [12 Sep 2023].
Sullivan, Jonathan, and Séagh Kehoe. 2019. "Truth, Good and Beauty: The Politics of Celebrity in China." The China Quarterly 237 (March): 241–256.
Spotted a mistake or want to add something? Please let us know in comments below or email us. First-time commenters, please be patient – we will have to manually approve your comment before it appears.
©2023 Whatsonweibo. All rights reserved. Do not reproduce our content without permission – you can contact us at info@whatsonweibo.com.
Subscribe to our newsletter
Stay updated on what's trending in China & get the story behind the hashtag
Sign up here to become a premium member of What's on Weibo today and gain access to all of our latest and premium content, as well as receive our exclusive Weibo Watch newsletter. If you prefer to only receive our free newsletter with an overview of the latest articles, you can subscribe for free here.
Would you like to become a contributor, or do you have any tips or suggestions for us? Get in touch with us here.