(Op-Ed) Not All About the Money: Why the One Child Generation Aren't Keen on Having More Babies
The 'Two Child Policy' has not led to a baby boom, but are the costs to blame?
China's quest for more babies is a hot topic in the media recently. News reports generally explain the country's declining birth rates through an economic lens. But by ignoring the social and historical background that has shaped the ways Chinese young parents think about family life today, they miss the essential point, Frankie Huang argues in this op-ed contribution for What's on Weibo.
Recently, various proposed measured aimed at encouraging young Chinese couples to have more children are making headlines, from a 'maternity fund' tax for the childless, to a rumored Third Child Policy.
News reports often interpret China's low birth rates through an economic lens, identifying costs as the determining factor in people's decision to postpone a second child, or eschew one entirely.
But what's missing from this picture is the crucial background factor that lays the foundation to how young Chinese parents dimensionalize family life, shaped by their own childhood.
"During Mao's reign, policies and propaganda directed citizens to have more children, even banning birth control for a time."
Since the founding of the People's Republic of China, the government has treated population planning as a cog in the planned economy. Citizens are regarded as units of consumption and production, and fertility is a tap that can be turned up and down as required to support economic growth.
During Mao's reign, policies and propaganda directed citizens to have more children, even banning birth control for a time. But when overpopulation threatened China's growth, a strict bottleneck in the form of One Child Policy was slapped into place.
In the thirty years since its implementation, the One Child Policy remains the largest experiment in social engineering the world has ever seen. The Chinese government claims that it has prevented 400 million births. But when faced with a rapidly aging population and a shrinking labor force with which to support it, the government did a swift about-face to rally for more babies.
"People are not avoiding more children simply because they are too immature and too selfish."
In the two years since China officially ended the One Child Policy, people have not eagerly embraced the new policy that allows them to have more children, and birth rates remain sluggish.
The leading explanations for this phenomenon focus on logistics; couples are faced with high cost of living, real estate prices, stressful work pressure, the exorbitant price of child care, and aging parents. While present economic conditions make it difficult for families to afford more children, this type of thinking falls prey to the notion that young Chinese people are what behavioral economist Richard Thaler calls Econs, beings who are able to make perfectly logical economic decisions without being influenced by idiosyncrasies that make up who they are.
True, another popular explanation blames the "little emperor effect" – the highly individualistic and self-centered disposition of those who grew up as the focal point of the entire family unit. But this paints a rather unflattering and reductive picture of the mentality of the One Child generation. People are not avoiding more children simply because they are too immature and too selfish.
To understand how many from the One Child generation understand family and parenthood, we must take into account how the One Child Policy made the single child family normative by erasing the experience of having siblings from the lives of millions.
"None of my friends ever wished out loud that they have a sibling, and I certainly didn't feel like there was something missing in my life."
I was born in 1980s Beijing, and I was the only child of an only child. I had a happy, fulfilling childhood with many happy memories. I have no recollection of ever thinking it strange that every family only has one child. If anything, it was too mundane a detail to be considered, it would have been like thinking it strange that the sky was blue.
I did learn the concept of siblings through stories and cartoons, but they were fantasy, removed from my reality. Maybe a precocious child would have asked why there were so many stories about brothers and sisters and yet nobody has one of their own, but I was not that clever. After all, none of my friends ever wished out loud that they have a sibling, and I certainly didn't feel like there was something missing in my life.
When I moved to the United States in third grade, I met children my age with siblings for the first time in my life, and over the next couple of decades, I learned much about the joys of having them. I even considered asking my mother if she'd have another child, though I never wanted it enough to ask.
I couldn't really imagine living with a little brother or sister, I just knew that it would change everything. My husband has a little sister, and they are extremely close. Watching them interact sometimes feels like seeing another species with an additional vital organ I do not possess.
"The One Child generation lack a deep emotional connection with the distinctive experience of having siblings."
I've never felt like my life has been incomplete without siblings. My warm feelings towards the idea of having a sibling is that of a detached observer, markedly different from having the happy memories of growing up with siblings. When it comes to starting a family of my own, I feel inclined to reproduce when I loved about my childhood, and improve what I didn't like, and I liked being the only child just fine.
This, I think, is a mental state shared by many of my peers in China, and it keeps them from having any strong emotional engagement with the idea of having more than one child. As natural as it feels for people in most other countries to have more than one child, it feels natural for the One Child generation of China to have just one. They lack a deep emotional connection with the distinctive experience of having siblings to feel the strong need to bestow it upon their children.
This probably contributed to the strong backlash against the recent People's Daily article "Giving Birth Is Family Business, But Also A National Issue" ("生娃是家事也是国事"), in which the author glibly noted that "(..) having kids has a special meaning for Chinese people. Not wanting to have kids is just a lifestyle of passively giving in to society's pressures." People often draw on the happy memories from when their youth to shape their present and future, and they would not appreciate being told their preferences is just them "passively giving into society's pressures."
"What is normal and common for people in other countries is a great and terrifying unknown for couples in China."
The frightening effectiveness of the One Child Policy is that it took just thirty-odd years for a generation to lose touch with something as normal as a multi-child household. Policies, incentives and punishments can work to a point, but it will take years before having more than one child is normalized once more in people's hearts and minds.
For now, young couples can only use their existing knowledge to imagine what life is like with more than one offspring. Is it simply doubling the resources and energy required by one child? Is each additional child just the most exhausting game of multiplication in the world? It is no wonder that young couples are agitated and generally unenthused over the prospects of raising more than one child.
What is normal and common for people in other countries is a great and terrifying unknown for couples in China. And this anxiety would not be alleviated by propaganda that proclaim child birth as a civic duty, nor policies that reward childbirth and penalize childlessness.
What they need is to be reassured that additional children can be more than just a larger economic burden, that there's an innumerable joy to be had too.
By Frankie Huang
Follow author on Twitter
Follow @whatsonweibo
Spotted a mistake or want to add something? Please let us know in comments below or email us.
©2018 Whatsonweibo. All rights reserved. Do not reproduce our content without permission – you can contact us at info@whatsonweibo.com.
The Detainment of Canadian Ex-Diplomat Michael Kovrig Triggers (Censored) Discussions on Weibo
"You take one of ours, we take one of yours," some commenters write.
First published
The detainment of former Canadian diplomat Michael Kovrig is generating major discussions on Chinese social media – but many comment sections have now been locked.
The news that former Canadian diplomat Michael Kovrig has been detained in Beijing is not only generating mass attention on Twitter and in English-language newspapers today; on Chinese social media, thousands of people have also responded to the issue.
Kovrig, who is known as Kang Mingkai (康明凯) in Chinese, served as a diplomat in Beijing and Hong Kong until 2016, and currently is a Hong Kong-based Senior Adviser at the International Crisis Group, where he works on foreign affairs and global security issues in Northeast Asia.
News of his arrest in mainland China came out through the International Crisis Group. In a media release on December 12, the International Crisis Group called for the immediate release of Michael Kovrig, and stated that Kovrig was detained on Monday night in the Chinese capital by the Beijing Bureau of Chinese State Security.
According to the Washington Post, China's Foreign Ministry spokesman Lu Kang (陆慷) told reporters during a regular press briefing on Wednesday that he had nothing to say about the issue, and that China and Canada have maintained "normal consular communication."
Lu further said that the International Crisis Group was not legally registered in China, and that the organization had "violated Chinese laws" because "it was not registered."
On Weibo, a post of the state tabloid newspaper Global Times on the issue became the most-read post on the account (17,7 million followers) on Wednesday. At the end of the day, it had more than 34,400 comments, 158,000 'likes' and over 36,000 shares.
The post says:
"[Foreign media: "Former Canadian diplomat Kang Mingkai has been detained in China"] According to Reuters, the International Crisis Group stated on Tuesday that its senior adviser in Northeast Asia and former Canadian diplomat Kang Mingkai (Michael Kovrig), has recently been detained by the Chinese government. According to the resources, Kang Mingkai is a former diplomat in Canada and in Hong Kong, who held a position as a strategic communications expert at the United Nations Headquarters in New York, and is able to speak Mandarin. He joined the International Crisis Group last year as a senior adviser to Northeast Asia to study and analyze foreign affairs and global security issues in China, Japan, and the Korean Peninsula. He criticized China many times, and advocates a hard-line approach towards China."
Despite the many comments, the post's comments section was locked for viewing by the Global Times on Wednesday night local time, only allowing some comments to remain visible, such as one saying: "This is most likely an old spy on a special agent mission."
Other posts on the issue that generated much attention, such as the Beijing News post that received approximately 5000 comments, or the Toutiao post that received 11,000 comments, were also locked for viewing.
A later post by Global Times (China time December 12, 23:07) stated:
"Confirmed! This Canadian is held for legal investigation. – Reporters have learned from relevant departments that Canadian citizen Kang Mingkan (Michael John Kovrig) is suspected of engaging in activities that are harmful to China's security. As of December 10, he is held by the Beijing National Security Bureau for investigation according to law. Currently, the case is under investigation."
"Well done," a typical comment said, with many accusing Kovrig of being a spy.
But there are also more critical comments, with some saying: "This might not be a good thing," and others suggesting that Kovrig is a "political prisoner."
Elsewhere on Weibo, the many comments on this issue are also open, with one popular one saying: "They are using a legal way to tell Canada their behavior is illegal."
On both Weibo and Twitter, as well as in the English-language media, Kovrig's detainment is linked to the recent arrest of Meng Wanzhou (孟晚舟), the financial officer of Chinese telecom giant Huawei Technology – which happens to have been founded by her father, Ren Zhengfei (任正非).
Meng was detained on December 1st during a transit at the Vancouver airport at the request of United States officials. She is accused of fraud charges for violating US sanctions on Iran. According to CNN Business, Meng allegedly is accused of helping Huawei get around sanctions on Iran by misleading financial institutions into believing that subsidiary company 'Skycom' – which is active in networking and telecommunication in Iran – was a separate company in order to conduct business in the country.
Chinese officials, demanding Meng's release, have called the arrest "a violation of a person's human rights." Meng has been released on bail on Tuesday, December 11.
"You take one of ours, we take one of yours," one commenter replied to news relating to Kovrig's detainment.
"Are we exchanging hostages like North Korea?" one Weibo user responded.
On the Weibo account of the Canadian embassy, there have been no direct mentions of Kovrig, but the embassy did dedicate a post to the celebration of human rights on December 12th, saying: "We commemorate the 70th anniversary of the Universal Declaration of Human Rights. Canada, China and all member states of the United Nations support this basic document of the United Nations."
By Manya Koetse
Follow @whatsonweibo
Spotted a mistake or want to add something? Please let us know in comments below or email us.
©2018 Whatsonweibo. All rights reserved. Do not reproduce our content without permission – you can contact us at info@whatsonweibo.com
"Is the Moon Still Rounder in Europe?" – Weibo Responses after Strasbourg Shooting
As reports of the Strasbourg attack make their rounds on Weibo, many social media users are concerned about public safety in Europe.
As the Strasbourg shooting is making headlines worldwide, the idea that is dominating public discussions on Chinese social media is that Europe, in general, has become an unsafe place.
At around 20:00 local time, a man opened fire near a Christmas market in the French city of Strasbourg on Tuesday night, killing at least four people and injuring eleven others.
French authorities have identified the gunman as the 29-year-old Cherif Chekatt, who is listed on a security and terror watch list.
As the gunman is still at large, approximately 350 security officers – including two helicopters – are involved in the search for the suspected terrorist, who reportedly had criminal convictions in France and Germany, had served time in prison, and was supposed to be arrested by the French police hours before the shooting occurred.
News of the shooting has been reported on Chinese social media by state media outlets including China News Service (中国新闻网), CCTV, People's Daily (人民网), Legal Evening News (法制晚报), and many others.
The Consulate of the People's Republic of China in Strasbourg has issued an "urgent safety reminder" on its website, warning Chinese who are in Strasbourg to stay vigilant, to remain indoors as much as they can, and to avoid the city center.
On Weibo, the Strasbourg shooting is receiving hundreds of comments across dozens of posts, with many similar reactions coming up as those after earlier terrorist attacks in Europe. Whether it is the Paris attacks of 2015, the New Year's mass sex assault in Cologne in 2016, the Brussels explosions of 2016, the Manchester Arena attack of 2017, or others, a sentiment that is often dominating discussions on Chinese social media is that 'Europe' in general is not a safe place.
"I am supposed to go and study in the UK next year, would it be safe? I am a bit scared," one popular comment said, with another person responding: "UK or France, it's all the same, depending on the city or neighborhood where you live."
"I am preparing to go back to China," one Spain-based netizen writes: "At least China is safe."
"My god," another person says: "I've just been to Strasbourg last week. Our car got stuck in between a march of the Yellow Vests and the riot police."
"France has been in chaos recently, I hope our compatriots are safe. My sister is there, and we've been terribly worried."
"It's better in China," a typical comment said.
"I'm scared. My dad has been pleading with me not to make my move to France," another concerned commenter writes. "Go to another country," a Chinese student living in France responds: "Right now I am looking forward to graduate as soon as possible so I can return to China."
"How is the situation in Italy?" another person asks: "I am going, but I'm afraid to." There are many more similar responses, with people saying they have booked a trip to France or Europe, and are now doubting whether they should go or not.
Although there are also some voices who are saying the Chinese media is exaggerating reports about Europe, and that France is safe depending on the area, there are those responding saying: "How can you still say it's safe when you also say 'don't go there and there and you'll be ok,' 'just avoid the demonstrations and you'll be fine,' 'don't go out at night and it's no problem,' – isn't this what 'unsafe' means?"
For many, the reports about Strasbourg are adding to the image they have of France and Europe following a week of turmoil involving the Yellow Vests (黄马甲) movement, which has also been widely covered in Chinese media.
There are many who respond to the shooting with sarcasm, saying the suspect used the "weapon of democracy" and that it is not a 'terrorist attack' but a "rise of oppressed ethnic groups in France," also adding slogans such as "Vive la France!"
The expression "Is the moon still rounder in Europe?" or "Is the moon still rounder abroad?" ("国外的月亮不是圆吗") is also posted multiple times in response to the attack.
It refers to a popular sarcastic expression that was ubiquitous in China during the early years of the Reform and Opening Up, that everything in America, Europe, or 'the West' is allegedly better (the grass 'greener') than in China – even the moon.
Public opinion on Chinese social media is now seemingly turning towards the idea that China is the safer place to be. As one commenter writes: "We were not born in safe times, but at least we were born in a safe country" ("我们不是生在和平年代,我们只是生在和平的国家").
"France was messy before, now it's even more chaotic. Friends in France, please stay safe!"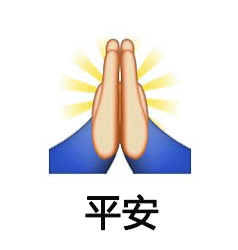 By Manya Koetse
Follow @whatsonweibo
Spotted a mistake or want to add something? Please let us know in comments below or email us.
©2018 Whatsonweibo. All rights reserved. Do not reproduce our content without permission – you can contact us at info@whatsonweibo.com