China's Proposed 'No Child Tax' Stirs Controversy: "First Forced Abortions, Now Pressured Into Pregnancy"
Whose right is it to decide whether or not have a second child – and who pays the price?
A recent article, in which two Chinese academics propose the implementation of some sort of 'tax' for people under 40 who have no second child, has sparked outrage on social media. "The same woman who had to undergo a forced abortion before, is now pressured to get pregnant," some say.
A controversial 'no child tax' measure proposed by two Chinese academics has set off a wave of criticism on Chinese social media this week.
The proposal was published in Xinhua Daily, a newspaper controlled by the Jiangsu Communist Party branch, on August 14, and was authored by Nanjing University economics professors Liu Zhibiao (刘志彪) and Zhang Ye (张晔).
In their proposal, Liu and Zhang suggest various measures to prevent a supposed demographic crisis in mainland China. Their idea of imposing taxes on those who do not have a second child particularly sparked anger online.
The authors plead for a so-called 'maternity fund system' (生育基金制度) in which citizens under the age of 40, regardless of gender, have to pay a certain percentage of their income in some sort of 'tax fund' as long as they do not bear a second child.
They write:
"If families do have more than one child, they can apply for withdrawal from the 'maternity fund' and receive subsidies that will compensate for the short-term income losses women and the family might suffer during maternity leave. If citizens do not have a second child, the deposited money will stay in the account and can be taken out by the time they retire. The 'maternity fund' adopts the Pay-as-you-go System, which means that individual deposits and the 'maternity funds' that have not yet been taken out can be used by the government to provide other families with maternity subsidies, and if it is not sufficient, the state will subsidize it. "
The proposal has caused uproar on Chinese social media, where many see an obligatory maternity fund as a penalty rather than an award, and see the compulsory payments as a 'fine' in disguise for families that do not have a second baby.
"So now I get a fine for being single?", some said on Weibo: "Are they now punishing us for not having children?"
IS HAVING A BABY A 'STATE AFFAIR'?
"They do not treat us as humans, they do not treat us as women, they treat us as 'fertility resources'."
The current controversy is the second in a row in this month. On August 6, official Party newspaper People's Daily published another article titled "Having a Baby is a Family Matter and also a State Affair" ("生娃是家事也是国事"). In this article, People's Daily author Zhang Yiqi (张一琪) argues that "the government should take more targeted measures to solve the problem of low birth rates."
This article also made it to the top trending topics on Weibo, where many women rejected such ideas. "They do not treat us as humans, they do not treat us as women," author Hou Hongbin (@侯虹斌) said on Weibo: "They're treating us as 'fertility resources' (生育资源)."
With the growing societal burdens of China's ageing crisis, many demographers have called for a liberalization of the family planning system before.
Previous proposals to encourage more and earlier childbirth in Chinese women also sparked controversy. Last year, for example, many people were shocked when a National People's Congress deputy called for a lowering of China's legal marriage age.
It seems that all these (proposed) measures, however, are not making young people more eager to marry young and bear (more) children. Even now that the two-child policy is new national standard (全面二孩), it is not having the desired effect: according to data released by the China Population and Development Research Center, the total number of births in mainland China in 2017 was 17.23 million – which indicates a decrease of 630,000 from the previous year.
China's population is growing old at a faster rate than almost all other countries in the world. In a recent publication in China Newsweek, Population & Economics professor Zhang Chewei expressed concerns over China's ageing population, writing: "In 2017, the population of China aged 65 and older accounted for 11.4% of the total population. Although this percentage is not extremely high, the biggest concern is that China's aging rate is the fastest in the world. Even more concerning is that the aging process of developed countries generally lasts for decades, or even for more than a century."
Although most people are aware of China's demographic troubles, many take issue with the way the government addresses this problem.
"I understand the pressure the country is facing regarding its dropping birthrates, but in whose hand is the right to reproduce?", some write on Weibo. "Reproduction should be a citizen's right, not an obligation," others said.
OPPOSING MEASURES
"Not long ago second children had to be aborted, and now I have to pay for a second child I don't even have."
This week's controversy has also brought about major online discussions on China's previous forced abortions during the One Child Policy decades. To adhere to the country's strict family planning policies, many women were subjected to forced sterilizations or abortions.
A typical comment in response to proposed measures to encourage childbirth said: "Not long ago second children had to be aborted, and now I have to pay for a second child I don't even have. What's next?"
A 2015 Netease news article that looked back at a forced abortion that occurred in Shaanxi in 2012 was pulled from the archives and was shared over 65,000 times on Weibo this week.
The viral post looks back at the forced abortion of Feng Jianmei, of which the photos shocked the internet in 2012. Feng Jianmei was seven months pregnant with her second child when she had to undergo an abortion after local officials had demanded that Feng and her husband pay a 40,000 yuan ($5800) fine for violating the one-child policy, which they could not pay.
The photo of Feng Jianmei laying on the hospital bed beside the dead fetus became a symbol of the dark side of China's strict family planning policy. The three officials responsible for the forced abortion were later suspended.
"I've just become a mother myself, and I can't bear to look at this photograph," one woman responded: "The poor child, the poor mother. The person who was forced to have an abortion then, is the same person who is pressured to have a baby now. Can we still make our own decisions, not even as women, but as [Chinese] citizens? To have a baby or not is a decision that should be made between a husband and wife, why would you want to force someone to such a degree?!"
SIGNS OF THINGS TO COME
"They just wanted to throw a stone to test the waters."
Not just individuals netizens collectively speak out against the 'maternity tax' proposal; some state media articles also condemn it.
In an article published by CCTV on Friday, the author called the proposal "unbelievable," suggesting that the implementation of such a policy would only have an adverse effect on young peoples' willingness to have a second child.
The article further argues that the reason for China's current low birth-rate lies in the sharp rise in the costs of raising children, along with other factors such as China's changing society and women's labor participation.
Other media, such as Sina News, suggest that the implementation of this policy will only increase the financial burden on young people. Since the average cost of a child from birth to its 18th birthday is an average of 2.76 million yuan ($445,000) in cities such as Beijing, a financial burden too heavy for many, the proposed government's rewards and subsidies are nothing in comparison of the actual cost.
Having to pay an extra tax on top of a life that already is expensive might push couples in the opposite direction than the policy intends; making them decide that having a child is financially not possible at all.
Many netizens allege that the recent media attention for these kind of proposals and a rumored 'three child policy' are just a sign of things to come.
As discussions on the issue continued on Weibo this weekend, some comment sections were no longer visible for viewing, including a thread by CCTV that received more than 9000 responses.
"Maybe they just wanted to throw out a stone to test the water," some speculated: "They wanted to know the public's opinions, and it's turned out against them."
By Gabi Verberg, Manya Koetse, and Miranda Barnes
Follow @whatsonweibo
Spotted a mistake or want to add something? Please let us know in comments below or email us.
©2018 Whatsonweibo. All rights reserved. Do not reproduce our content without permission – you can contact us at info@whatsonweibo.com.
Chinese Musician Song Dongye Canceled (Again) after Complaining about China's Cancel Culture
Song Dongye was shut down by Weibo after airing his grievances at being shut out from China's entertainment circles.
Five years after being caught with drugs, Chinese singer Song Dongye went on Weibo to share his grievances on still being 'canceled' and asking for another chance to restart his career. Instead, he got criticized and blocked.
Chinese folk singer Song Dongye (宋冬野) has become a major topic on Chinese social media site Weibo this week after he posted a lengthy statement on his account airing his grievances regarding how he was shut out from China's entertainment world after being caught with drugs.
In Song's Weibo post of October 11 titled "I Need to Say Something" ("我需要说一些话"), the singer complained that one of his performances was canceled and that he has not been able to perform since he was detained for drug use five years ago.
The Beijing singer was scheduled to hold a concert in Chengdu on October 16th, but local authorities eventually canceled the show after receiving reports about Song being a drug addict.
According to Song, it is not the first time that one of his concerts is suddenly canceled for no apparent reason. In his post, the Beijing artist shared how disappointed he is that yet another performance was called off, even though it was previously approved and was organized in compliance with all strict regulations.
It seems that Song Dongye just cannot get rid of his tainted reputation.
The 34-year-old Song Dongye started his career as a musician in 2009 and signed with the Modern Sky record label in 2012. One of his biggest hits is the 2013 song 'Miss Dong' (董小姐) (link), after which Song's career further flourished.
Things went sour in 2016, when Song was arrested for smoking marijuana in Beijing after someone allegedly tipped off the police. Not long after news on his arrest made the rounds, Song himself posted a statement on his Weibo account on October 25th of 2016, apologizing to everyone for violating the law and promising to better himself.
Song is not the first Chinese celebrity to have been caught with drugs. There is an entire list of celebrities who were caught doing drugs, especially in the 2014-2016 years – including names such as Jaycee Chan, Kai Ko, and Zhang Mo.
In Song's most recent Weibo post, the solo artist explains how his former drug abuse deeply affected him and his family, and that he has never touched drugs again since his ten-day prison sentence five years ago in 2016.
Despite the fact that Song complied with court orders and became an anti-drug advocate, he apparently is still not able to perform – even though the prescribed three-year ban on performing (in accordance with regulations provided by the Ministry of Culture) has officially ended two years ago.
The musician writes that he feels wronged. As a former drug abuser, he feels it was right for him to be punished, but he also says that drug users are actually the victims, claiming that drug trafficking is the real crime. Song argues that it is very difficult to be in the entertainment industry and that it is not easy to say no to drugs when you are down, depressed, and pressured.
In his Weibo post, the artist actually suggests he has been victimized in two ways: firstly, as a depressed artist lured into taking drugs, and second, as a canceled celebrity who keeps on being shut out from China's entertainment circles.
"I can't understand it, I'm confused," Song writes: "I've violated the law, but I've been punished! I've been detained and then I also received five years of verbal abuse! I've been educated! I understand! I never messed up again! I got up again, and I changed! I became a better person! Is that still not enough for me to be able to make a living? Why? I'm not doing anything but playing some small offline gigs in order to get by! I'm just a singer-songwriter! What else do you want me to do? (..) Shouldn't society give people who have broken the law another chance?"
Song concludes his post by saying that, regardless of the challenges he is facing, he will not give up on his work.
Song's Post Backfires
Soon after Song Dongye posted his short essay on Weibo, thousands of reactions started flooding in. Many netizens did not feel sorry for the artist, but instead blamed him for "playing the victim."
The issue triggered a major discussion on Chinese social media on whether or not artists with a bad reputation should be allowed back into the limelight.
A recent article by What's on Weibo on 25 'tainted celebrities' in China (25 'Tainted Celebrities': What Happens When Chinese Entertainers Get Canceled?) shows that Chinese entertainers who previously got 'canceled' generally do not return to the big stage, either because they have simply fallen out of favor with most people or because they are being shunned and sidelined in the entertainment industry (or a combination of both).
Many people felt that Song Dongye was being a hypocrite, not just because they felt he was excusing his former drug use by saying drug traffickers are the real offenders, but also because Song allegedly did do multiple commercial shows over the past five years and has been actively setting up new businesses since his 2016 arrest.
For official media accounts, in the meantime, this apparently seemed to be a good moment to highlight their anti-drug informational posts.
State newspaper People's Daily posted a series of photographs on October 12th featuring police officers who got injured while doing their work combating drug trafficking and drug use, stating that over thirty staff members of the law enforcement against drugs were killed since 2017.
The post's message was clear: these Chinese officers in drug law enforcement were unable to get a second chance in life – why would Song, as a drug abuser, be allowed to get another chance to restart his career as a performer?
That idea resonated with many, who wrote: "We should have a zero-tolerance policy [towards drugs]. We can't ever revive these police officers!"
Another image circulated on social media with the tagline "taking drugs and selling drugs is the same crime," showing a musician offering money for drugs and a law enforcement officer being shot on the job (image below).
On that same day, Song's Weibo account was temporarily suspended. The hashtag "Song Dongye's Weibo Suspended" (#宋冬野微博被禁言#) received over 620 million views in the days following the ban.
Many people on Weibo share the view that those who chose to take illegal drugs for their own pleasure can never be a public figure again, earning money from commercial appearances.
Others wrote that Song should have never posted his essay at all since it only caused him to be labeled as a 'tainted celebrity' again, even though many people had already forgotten about his former drug use. They think that Song's real problem hindering his future career now is not his 2016 offense, but his 2021 Weibo post.
Song Dongye's post did not just affect him, it indirectly also affected other Chinese 'tainted celebrities.'
A planned concert by Chinese singer Li Daimo (李代沫), a previous contestant of The Voice of China (中国好声音), was also canceled this week following the Song Dongye controversy.
Li Daimo was arrested in 2014 for possession of drugs and was later sentenced to a fine and nine months in prison. After being released from prison, Li resumed his music career. Although his tainted past was still sometimes discussed on social media, he was one of the few artists who seemed to have made some sort of a comeback to the entertainment industry after such a major controversy.
The Song Dongye situation, however, also made people (and authorities) reflect on Li's current career.
Over the past year, Chinese celebrities have become a target of authorities and state media have consistently been reporting on the importance of Chinese stars setting a good example for their fans.
But amid all controversy, there are also people who come to Song's defense: "If an artist has been punished for three years, we should give people the opportunity to reappear. It might [even] be more beneficial to the anti-drug campaign."
"I really like his songs," one person wrote about Song: "But he did drugs, and I can't forgive him for that."
At this time, it is not clear when or if Song Dongye will be allowed to post on his Weibo account again. Although his Weibo page is still there, it currently says: "This account has temporarily been suspended for violating Weibo guidelines." It is not clarified which specific guidelines Song violated with his post.
By Manya Koetse
Spotted a mistake or want to add something? Please let us know in comments below or email us. First-time commenters, please be patient – we will have to manually approve your comment before it appears.
©2021 Whatsonweibo. All rights reserved. Do not reproduce our content without permission – you can contact us at info@whatsonweibo.com.
Goodbye 996? Weibo Discussions on Changes in Overtime Work Culture
Beijing made it clear that working overtime is illegal, but netizens are concerned about the realities of changing working schedules.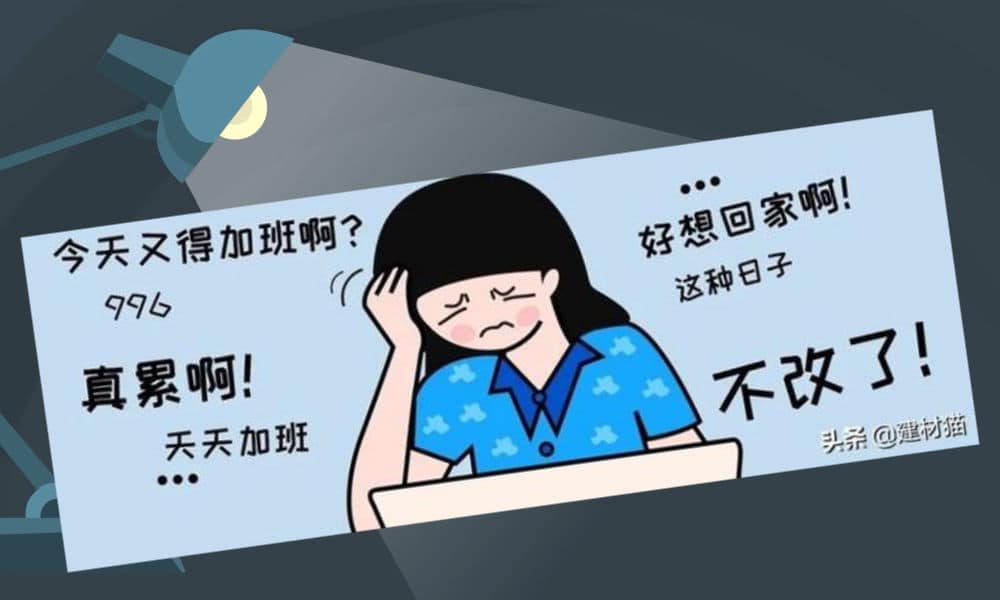 Many people are tired of being forced to log long hours, but are also worried about how a national crackdown on '996' working culture could impact their workload and income.
In late August of 2021, China's Ministry of Human Resources & Social Security (人社部) and the Supreme People's Court issued a joint clarification on the country's legal standards of working hours and overtime pay.
Their message was clear: the practices of '996' (working 9am-9pm, six days per week) and '007' (working 24 hours seven days per week, referring to a flexible working system worse than 996) are illegal, and employers are obliged to obey the national working-time regime.
On Weibo, China's state broadcaster CCTV published a 10-minute long video illustrating the 10 typical cases of overtime work laid out by the ministry and the top court. The moment was marked as the first time for the state-owned broadcaster to publicly comment on overtime work practices.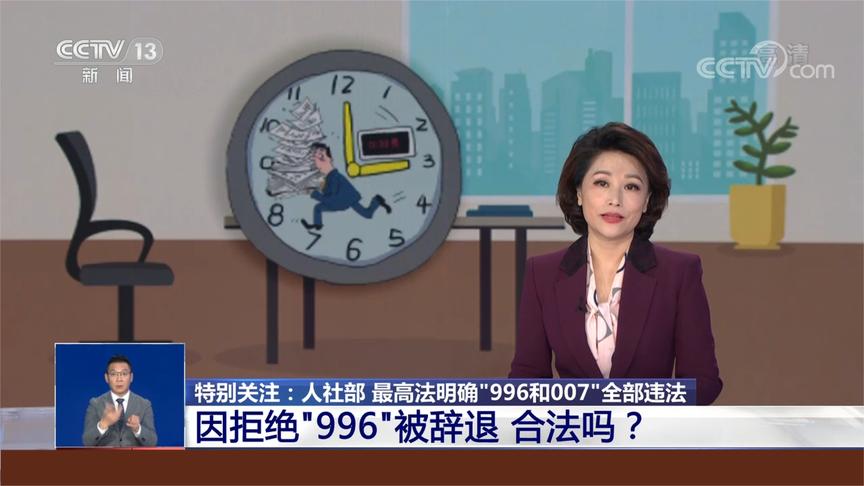 The Weibo post pointed out that "striving for success is not a shield companies can use to evade legal responsibilities," and made it clear that employees have the right to "say no to forced overtime."
The topics of overtime work and China's 996 work culture generated many discussions on Weibo, with the hashtag "Ministry of Human Resources & Social Security and the Supreme Court Clarify 996 and 007 Are Illegal" (#人社部最高法明确996和007都违法#) generating over 420 million views on the social media platform.

"Without implementation and enforcement, the law is useless"

The current labor law in China bars employees from working more than 44 hours a week, and any overtime work must be paid.
Although the 996 practice is technically prohibited by law, many companies still enforce the hours informally.
Many employees revealed online that, although the 996 practice is legally prohibited, they were nevertheless being assigned job tasks that exceeded the prescribed working hours.
"I wonder if the workload will decrease after all. If it doesn't change, it means people will now have to work voluntarily," one Weibo user commented.
People also indicated that, since the start of the pandemic, remote work has become a new norm. Many companies have moved from office to working at home, making it harder to draw the line between regular working hours and overtime hours.
"What really matters is whether working from home includes overtime hours," one Weibo user wrote. Many netizens complained that their companies wouldn't explicitly stipulate a 996 schedule; instead, most of them disguise the overtime hours as 'voluntary' work.
"These regulations are good, but they are basically impossible to implement. Even if they ban '996' and '007' there is no way to regulate the so-called 'voluntary work,'" one Weibo user wrote.
Some people said that their companies have various performance assessments and that they feared that refusing to work more hours would make them lose their competitive advantage: "The burn-out (内卷 nèijuǎn, 'involution') is severe. It is too difficult for us. I have only one day off during the week and I'm so tired," one person commented.

"We don't need those who comfortably work 8 hours"

China's 996 work culture has been championed by tech leaders and denounced by workers for years, and it has become an unwritten standard – not just in the tech sector but also in other industries.
While working long hours has been ingrained in Chinese workplace culture since the early days of the country's internet boom, it later also started to represent 'a road to success' for Chinese tech entrepreneurs.
Many Chinese netizens blame Alibaba's Jack Ma for praising the '996' work system. In 2019, Ma called the 12-hour working day a "huge blessing," causing much controversy online. During his talk at Kyiv International Economic Forum, Ma said: "(..) '996 is the spirit that I encourage Alibaba people to follow. If you want to have a bright future, (..) if you want to be successful, you have to work hard."
On another occasion, the tech mogul reportedly said: "If you join Alibaba, you should get ready to work 12 hours a day, otherwise why do you come to Alibaba? We don't need those who comfortably work 8 hours."
However, after the shocking death of one Chinese delivery man working for food delivery platform Ele.me and the widespread discussions about the '996 ICU' project – which called on tech workers to add names and evidence of excessive hours to a 'blacklist,' – the 996 work culture has come under increased scrutiny.
Some people argue that the overtime culture is draining employees and creating an unhealthy work-life balance; others argue that they work for themselves and believe that putting in extra hours will eventually translate to individual success.
While economic growth has slowed down during the pandemic, most companies are persisting with long working hours because they are under pressure to achieve results.
According to an online survey conducted by an influential tech blogging account (@IT观察猿), more than one-third of participants claimed to have one day off per week, and more than one quarter claimed they didn't have any weekend days off.

"The workload is the same, but the income has reduced"

Starting from August 1st, ByteDance, the Chinese company behind the popular short-form video app TikTok, dropped its 'big and small week' (大小周) – a schedule that previously required employees to work six days in a row every other week.
ByteDance is not the only Chinese tech company that has begun to cut back on its long working hours. More and more companies have decided to drop grueling work schedules.
Kuaishou, another Chinese short-form video app company, stopped scheduling weekend work in July. Since early June, Tencent – China's largest game publisher – has encouraged people to clock out at 6 pm every Wednesday.
Although these changes seem to signal a positive development, there are also many people who do not support the new measures. When Bytedance announced the changes to its working schedule, news came out that one-third of the employees did not support the decision (#字节跳动1/3员工不支持取消周末加班#).
Those relying on overtime pay said abolishing overtime work will cut their take-home pay by around 20%. Indeed, the first pay-out after the new implementation at Bytedance showed an overall drop of 17% in employees' wages.
"The workload is the same, but the income has reduced," one Weibo commenter complained.
One trending discussion on Weibo focused on the question "Do companies need to make up for employees' financial loss after the abolition of weekend work?" Many comments revealed the situation faced by thousands of struggling workers who value free time but value their income more.
Many on Weibo still wonder whether a company that abolishes '996' will come up with an alternative to compensate those employees who will otherwise inevitably lose vital income.
By Yunyi Wang
Follow @whatsonweibo
Spotted a mistake or want to add something? Please let us know in comments below or email us. First-time commenters, please be patient – we will have to manually approve your comment before it appears.
©2021 Whatsonweibo. All rights reserved. Do not reproduce our content without permission – you can contact us at info@whatsonweibo.com.