China's Proposed 'No Child Tax' Stirs Controversy: "First Forced Abortions, Now Pressured Into Pregnancy"
Whose right is it to decide whether or not have a second child – and who pays the price?
A recent article, in which two Chinese academics propose the implementation of some sort of 'tax' for people under 40 who have no second child, has sparked outrage on social media. "The same woman who had to undergo a forced abortion before, is now pressured to get pregnant," some say.
A controversial 'no child tax' measure proposed by two Chinese academics has set off a wave of criticism on Chinese social media this week.
The proposal was published in Xinhua Daily, a newspaper controlled by the Jiangsu Communist Party branch, on August 14, and was authored by Nanjing University economics professors Liu Zhibiao (刘志彪) and Zhang Ye (张晔).
In their proposal, Liu and Zhang suggest various measures to prevent a supposed demographic crisis in mainland China. Their idea of imposing taxes on those who do not have a second child particularly sparked anger online.
The authors plead for a so-called 'maternity fund system' (生育基金制度) in which citizens under the age of 40, regardless of gender, have to pay a certain percentage of their income in some sort of 'tax fund' as long as they do not bear a second child.
They write:
"If families do have more than one child, they can apply for withdrawal from the 'maternity fund' and receive subsidies that will compensate for the short-term income losses women and the family might suffer during maternity leave. If citizens do not have a second child, the deposited money will stay in the account and can be taken out by the time they retire. The 'maternity fund' adopts the Pay-as-you-go System, which means that individual deposits and the 'maternity funds' that have not yet been taken out can be used by the government to provide other families with maternity subsidies, and if it is not sufficient, the state will subsidize it. "
The proposal has caused uproar on Chinese social media, where many see an obligatory maternity fund as a penalty rather than an award, and see the compulsory payments as a 'fine' in disguise for families that do not have a second baby.
"So now I get a fine for being single?", some said on Weibo: "Are they now punishing us for not having children?"
IS HAVING A BABY A 'STATE AFFAIR'?
"They do not treat us as humans, they do not treat us as women, they treat us as 'fertility resources'."
The current controversy is the second in a row in this month. On August 6, official Party newspaper People's Daily published another article titled "Having a Baby is a Family Matter and also a State Affair" ("生娃是家事也是国事"). In this article, People's Daily author Zhang Yiqi (张一琪) argues that "the government should take more targeted measures to solve the problem of low birth rates."
This article also made it to the top trending topics on Weibo, where many women rejected such ideas. "They do not treat us as humans, they do not treat us as women," author Hou Hongbin (@侯虹斌) said on Weibo: "They're treating us as 'fertility resources' (生育资源)."
With the growing societal burdens of China's ageing crisis, many demographers have called for a liberalization of the family planning system before.
Previous proposals to encourage more and earlier childbirth in Chinese women also sparked controversy. Last year, for example, many people were shocked when a National People's Congress deputy called for a lowering of China's legal marriage age.
It seems that all these (proposed) measures, however, are not making young people more eager to marry young and bear (more) children. Even now that the two-child policy is new national standard (全面二孩), it is not having the desired effect: according to data released by the China Population and Development Research Center, the total number of births in mainland China in 2017 was 17.23 million – which indicates a decrease of 630,000 from the previous year.
China's population is growing old at a faster rate than almost all other countries in the world. In a recent publication in China Newsweek, Population & Economics professor Zhang Chewei expressed concerns over China's ageing population, writing: "In 2017, the population of China aged 65 and older accounted for 11.4% of the total population. Although this percentage is not extremely high, the biggest concern is that China's aging rate is the fastest in the world. Even more concerning is that the aging process of developed countries generally lasts for decades, or even for more than a century."
Although most people are aware of China's demographic troubles, many take issue with the way the government addresses this problem.
"I understand the pressure the country is facing regarding its dropping birthrates, but in whose hand is the right to reproduce?", some write on Weibo. "Reproduction should be a citizen's right, not an obligation," others said.
OPPOSING MEASURES
"Not long ago second children had to be aborted, and now I have to pay for a second child I don't even have."
This week's controversy has also brought about major online discussions on China's previous forced abortions during the One Child Policy decades. To adhere to the country's strict family planning policies, many women were subjected to forced sterilizations or abortions.
A typical comment in response to proposed measures to encourage childbirth said: "Not long ago second children had to be aborted, and now I have to pay for a second child I don't even have. What's next?"
A 2015 Netease news article that looked back at a forced abortion that occurred in Shaanxi in 2012 was pulled from the archives and was shared over 65,000 times on Weibo this week.
The viral post looks back at the forced abortion of Feng Jianmei, of which the photos shocked the internet in 2012. Feng Jianmei was seven months pregnant with her second child when she had to undergo an abortion after local officials had demanded that Feng and her husband pay a 40,000 yuan ($5800) fine for violating the one-child policy, which they could not pay.
The photo of Feng Jianmei laying on the hospital bed beside the dead fetus became a symbol of the dark side of China's strict family planning policy. The three officials responsible for the forced abortion were later suspended.
"I've just become a mother myself, and I can't bear to look at this photograph," one woman responded: "The poor child, the poor mother. The person who was forced to have an abortion then, is the same person who is pressured to have a baby now. Can we still make our own decisions, not even as women, but as [Chinese] citizens? To have a baby or not is a decision that should be made between a husband and wife, why would you want to force someone to such a degree?!"
SIGNS OF THINGS TO COME
"They just wanted to throw a stone to test the waters."
Not just individuals netizens collectively speak out against the 'maternity tax' proposal; some state media articles also condemn it.
In an article published by CCTV on Friday, the author called the proposal "unbelievable," suggesting that the implementation of such a policy would only have an adverse effect on young peoples' willingness to have a second child.
The article further argues that the reason for China's current low birth-rate lies in the sharp rise in the costs of raising children, along with other factors such as China's changing society and women's labor participation.
Other media, such as Sina News, suggest that the implementation of this policy will only increase the financial burden on young people. Since the average cost of a child from birth to its 18th birthday is an average of 2.76 million yuan ($445,000) in cities such as Beijing, a financial burden too heavy for many, the proposed government's rewards and subsidies are nothing in comparison of the actual cost.
Having to pay an extra tax on top of a life that already is expensive might push couples in the opposite direction than the policy intends; making them decide that having a child is financially not possible at all.
Many netizens allege that the recent media attention for these kind of proposals and a rumored 'three child policy' are just a sign of things to come.
As discussions on the issue continued on Weibo this weekend, some comment sections were no longer visible for viewing, including a thread by CCTV that received more than 9000 responses.
"Maybe they just wanted to throw out a stone to test the water," some speculated: "They wanted to know the public's opinions, and it's turned out against them."
By Gabi Verberg, Manya Koetse, and Miranda Barnes
Follow @whatsonweibo
Spotted a mistake or want to add something? Please let us know in comments below or email us.
©2018 Whatsonweibo. All rights reserved. Do not reproduce our content without permission – you can contact us at info@whatsonweibo.com.
On Wuhan's 'Reopening Day', Even Traffic Jams Are Celebrated
As the COVID-19 lockdown has ended in Wuhan, many people are happy to see the city's traffic finally getting busy again. "I hated traffic jams before, now it makes me happy to see them."
It was chilly and grey in Wuhan when the coronavirus epicenter city went into a full lockdown on January 23 of this year. On April 8, 76 days later, it is sunny and twenty degrees warmer outside as people leave their homes to resume work or go for a stroll.
The end of the Wuhan lockdown is a special day for many, as the city finally lifted the 11-week-long ban that shut down all travel to and from the city in a radical effort to curb the spread of COVID-19.
On Wednesday, city residents returned to work as public transport started again. Roads, bridges, and tunnels were reopened, and the local airport resumed flights.
On Chinese social media, various hashtags relating to the Wuhan lockdown end have become popular topics. Using hashtags such as "Wuhan Lifts the Ban" (#武汉解封#), "Wuhan Open Again after 76 Days" (#武汉暂停76天后重启#), and "Wuhan Reopens" (#武汉重启#), the end of the coronavirus ban is a much-discussed news item, along with the spectacular midnight light show that was organized to celebrate the city's reopening.
"Today has finally arrived! It's been difficult for the people of Wuhan," some commenters write.
According to China's official statistics, that are disputed, over 3330 people have died from the new coronavirus since its outbreak; 80% of these fatal cases were reported in Wuhan. On April 6, authorities claimed that for the first time since the virus outbreak, there were zero new COVID-19 deaths.
Some state media, including People's Daily, report that the reopening of restaurants and food shops is going smoothly in the city, as people – for the first time since January – are back to buying pan-fried dumplings and noodles from their favorite vendors.
Meanwhile, the fact that the traffic in some Wuhan areas is back to being somewhat congested is something that is widely celebrated on social media.
On Wuhan's 'Reopening Day', even traffic jams are celebrated after 76 days of quiet streets. "I hated traffic congestion before, now it makes me happy" – https://t.co/affNFah073 #Wuhan #COVID19 pic.twitter.com/yhaY3PAi7S

— What's on Weibo (@WhatsOnWeibo) April 8, 2020
Some call the mild traffic congestions "great", viewing it as a sign that the city is coming back to life again after practically turning into a ghost town for all these weeks.
"I hated traffic jams before, now it makes me happy to see them," one Weibo commenter writes.
"I won't complain about congested traffic again, because it's a sign the streets are flourishing," another Weibo user posted.
While netizens and media outlets are celebrating the end of the lockdown, several Chinese media accounts also remind people on social media that although the ban has been lifted, people still need to be vigilant and refrain from gathering in groups and standing close to each other.
For more COVID-19 related articles, please click here.
By Manya Koetse (@manyapan)
Follow @whatsonweibo
Spotted a mistake or want to add something? Please let us know in comments below or email us. First-time commenters, please be patient – we will have to manually approve your comment before it appears.
©2020 Whatsonweibo. All rights reserved. Do not reproduce our content without permission – you can contact us at info@whatsonweibo.com.
Online Anger over "Special Treatment" for Quarantined Foreigners in China
Are foreigners in quarantine being treated better than Chinese nationals? This Nanjing Daily article has triggered controversy.
On March 27, an article titled "For the Good Health of 684 Foreigners" ("为了684个"老外"的安康") sparked controversy online over the alleged special treatment of foreign nationals during their mandatory 14-day quarantine period.
According to the article published by Nanjing Daily, Nanjing's Xianlin Subdistrict set up a special WeChat group for foreign nationals and their families returning to the city after the Spring Festival holiday, which coincided with the outbreak of the new coronavirus.
In special WeChat groups, subdistrict officers, doctors, translators, and property managers provide assistance and daily services to these China-based foreigners. Examples of such "daily services" include delivering fresh bread or contacting pet boarding facilities.
"One young man loved online shopping on Taobao, and once we delivered twenty packages for him within one day," one member of the service group told Nanjing Daily.
Although foreign residents in China and foreigners with previously issued visas are currently no longer allowed to enter China, they needed to undergo a two-week quarantine period upon entry until the travel ban of a few days ago.
Jiangsu Province, of which Nanjing is the capital, tightened quarantine rules on March 23, making every traveler from abroad subject to a centralized quarantine (e.g. in a hotel) for fourteen days.
The special services for returning foreigners reported by Nanjing Daily triggered controversy on Chinese social media this week. Many netizens criticized it as a "supra-nationals treatment" (超国民待遇).
Under one Weibo post by media outlet The Cover (@封面新闻), which received over one million views, many people are criticizing local officers' favorable treatment of foreigners. One commenter writes: "Will they provide the same comprehensive services to their compatriots?"
Another person writes: "Why don't they also adhere to the slogan of 'Serve the People' (..) when dealing with Chinese citizens?"
In discussing the supposed inequality between the treatment of foreigners and Chinese nationals in quarantine, many netizens raise a recent example of a quarantined Chinese student who asked the civil police staff for mineral water. In a video that circulated online in mid-March, the girl quarrels with the police for not being offered mineral water. The student, demanding mineral water over the available boiled tap water, was ridiculed for suggesting that having mineral spring water is a "human right."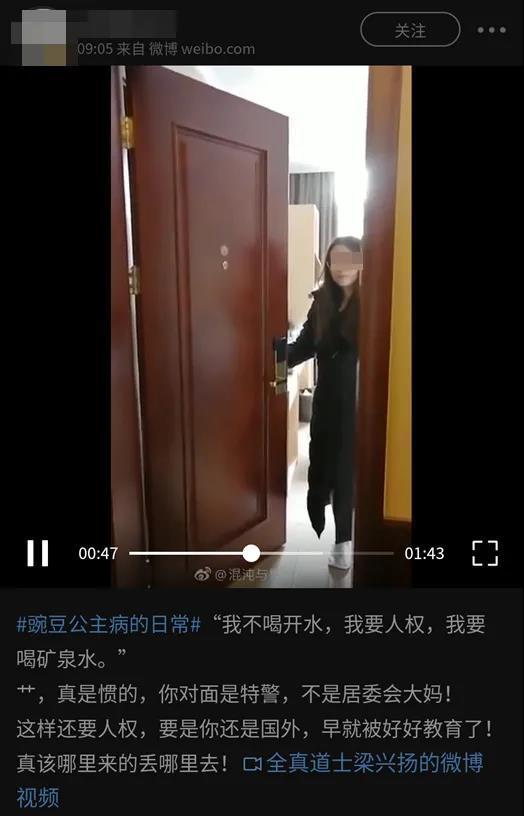 Ironically, the Nanjing Daily article explicitly mentions how the Xianlin Subdistrict deals with foreigners drinking purified water: "[This] Laowai [foreigner] wants to drink bottled purified water, [so] we bought four barrels for him (..) and carried them from the community gate to his apartment."
The contrast in treatment of quarantined foreigners versus Chinese nationals prompted some Weibo users to reflect on their previous remarks on the female student: "I apologize for previously mocking the Chinese student at the quarantine center in Pudong, Shanghai, for demanding to drink mineral water," one commenter writes.
In response to the online controversy, the office of the Xianlin Subdistrict clarified that Chinese nationals would receive "corresponding services" during their quarantine period. Some netizens question what these alleged "corresponding services" exactly entail.
In another media report, the official reply was that "the Subdistrict treats Chinese and foreign citizens the same."
Over recent years, there have been many online controversies on the issue of privilege in China. Earlier this year, there was public outrage over two women driving a Benz SUV into the Palace Museum, where cars are usually not allowed.
The issue of the perceived privileges of foreigners in China has particularly triggered anger among netizens. The "preferential treatment" of overseas students and the "dorm disparities" between Chinese and foreign students in China, for example, previously became major topics of online discussion.
A popular WeChat article that comments on the Nanjing controversy of this week also lists examples of special treatment for foreigners, including cases where foreigners were not fined when breaking rules in China or being "treated better" in other ways. By now, the article has received over 100,000 views.
For more COVID-19 related articles, please click here.
By Bobby Fung (@bobbyfungmr)
Spotted a mistake or want to add something? Please let us know in comments below or email us. First-time commenters, please be patient – we will have to manually approve your comment before it appears.
©2020 Whatsonweibo. All rights reserved. Do not reproduce our content without permission – you can contact us at info@whatsonweibo.com.