Op-Ed: Your Use of "Netizen" Hurts Responsible China Coverage
It's not innocent jargon. Not anymore.
Far from innocent jargon, the word 'netizen' has political implications in its use today and should not be casually tossed around, says Beijing-based journalist Dave Yin. In this op-ed contribution, Yin responds to our recent article "Netizens or Not?"
It's unlikely that when internet theorist and author Michael F. Hauben coined the word "netizen" more than thirty years ago, he would have imagined that, one day, on the other side of the world, a few handfuls of Western reporters and media critics covering China would be divided: in one camp applauding and in the other cursing his creation. It's equally unlikely he'd recognize at first glance what his word has come to mean in 2018 – and to whom.
Common thought is that whether or not "netizen" should be used, and what it means, are at the heart of this debate, which by now spans publications both big and small, free and censored. It hasn't gotten us anywhere.
But in view of China's escalation of online policing and digital surveillance, the concept of "netizen" is evolving, as must its coverage in Western media. Far from innocent jargon, the word today has political implications and a growing potential for harm, one Western media must recognize if it is to conduct responsible reporting.
A Western interpretation
When considering the word "netizen," it helps to know what one is talking about. Namely, pick a definition, and stick with it.
Scenario A)
One clear-cut definition offered by the Atlantic designates a unique identity; young, wealthy, educated Chinese urbanites and/or politically active individuals in online communities adept at skirting censorship.
Here, simple protocol applies. Writers using "netizen" must first make sure the subjects of their story actually match this description. Then, they must assess whether these complex socioeconomic and political elements are evident in this word. Hint: they're not.  Inevitably, writers should be explaining these elements to accompany the use of this term in each article it appears in. Anything short of this is incomplete reporting.
Scenario B)
If broadly defined to be a synonym to "Chinese internet users," as is more often the case, then several questions emerge: Why do Chinese internet users need a special label in the first place? Why is "Chinese internet user" inadequate when this type of terminology works for everyone else? If research (paywall) suggests the online habits of Chinese are similar to the rest of us, what are we trying to accomplish by othering them?
Self-applied labels
In advocacy reporting, we try to respect a person's self-applied labels, such as with race or sexual orientation, so I appreciate the irony when I say that just because Chinese people call themselves "netizens" doesn't necessarily mean we should.
Be it when describing race, sexual orientation, disability, etc. there is a general effort to use terminology that centers the person, and not the circumstance, which is often complex. "Person with impaired vision," "a cisgender gay man," "the woman, who identifies as a second-generation Filipino immigrant," "individuals claiming to be members of the Anonymous collective" are infinitely better than "the blind," "the gay," "the Filipino," "Anonymous." In pieces where nuance and individuals matter, these words do more than fill up space.
"Netizen," as it is currently used, erases both.
What's more, these often political labels emerged in societies with freedom of association where one makes a statement simply by publicly identifying. By contrast, what does it mean to label yourself with something as vague and abstract as "netizen" in a society that doesn't allow such freedom, and what effect does it have when Western media take up this cause?
A Chinese strategy
The self-applied label argument is also unsound when you consider that "netizen" is actually a mistranslation of the word "wǎngmín" (网民).
In wǎngmín 人民 (people), nóngmín 农民 (farmer), jūmín 居民 (resident), yímín 移民 (migrant), yúmín 渔民 (fisherman), and míngē 民歌 (folk song), "mín" 民 simply means "people," without any "citizen" connotation, and therefore "wǎngmín" 网民 really just means "internet people/people on the internet."
In other words, "netizen" and "wǎngmín" are faux amis. It's a mistake that Western media has allowed to proliferate and one that we must now contend with.
While the use of the English word by ordinary Chinese and private Chinese media could boil down to guileless ignorance towards English nuance, by contrast, "wǎngmín," when applied by the Chinese government and its mouthpieces, is part of deliberate national policy. As described by Manya Koetse in her analysis, the Chinese term is an official category of Chinese nationals on which the CCP imposes severe restrictions.
What ramifications are there for Western media in not consciously decoupling these wildly different interpretations by different actors? By casually tossing the word around, do we not run the risk of normalizing Chinese internet policy?
While we, working in the Far East, may feel at times that our work is isolated, it should be noted that people are, in fact, reading, for better or worse.
"['Netizen'] has been used when reporting on China for a decade+ [sic] in order to relieve journalists of understanding what they're reporting on," one Reddit user (Western netizen?) writes. "Today it is a lazy way to assume all internet users in China think the same way by f*cking lazy journalists."
"Netizen" may well stick around. China's emerging digital policies have all but ensured it. But we owe it to our readers and the people we cover to get with the program, to evolve our terminology and critical judgment at the same pace as the subject matter.
We need to understand that the benefits of its selective, judicious use, as a result of explicit purpose, come from highlighting and decoding China's socioeconomic and political situation, not from generalizing 772 million individuals, and least of all from othering them or normalizing their constraints. It may help everyone's understanding of this country, including our own.
By Dave Yin
Follow @whatsonweibo
Spotted a mistake or want to add something? Please let us know in comments below or email us.
©2018 Whatsonweibo. All rights reserved. Do not reproduce our content without permission – you can contact us at info@whatsonweibo.com.
TikTok CEO Shou Zi Chew Hailed as Asian "Solitary Hero" on Chinese Social Media
After the congressional hearing of the TikTok CEO, some called Shou Zi Chew "Mr. Perfect in the eye of the storm."
While there were enough people on Chinese social media swooning over celebrities this weekend during the Weibo Award Night, there were also many netizens admiring another person, namely Shou Zi Chew (周受资, Zhou Shouzi), the CEO of TikTok.
Earlier this week, Shou Zi Chew appeared before the House Energy and Commerce Committee in the United States, facing a four-and-a-half-hour hearing over data security and harmful content on the TikTok app.
The hearing took place in light of Washington's increasing concerns over TikTok "as a threat to national and personal security," with officials calling for a nationwide ban on the app's U.S. operations – unless Chinese owners sell their stake in the social media platform (more here).
TikTok is a super popular short video app by Chinese company Bytedance, which also runs Douyin, the Chinese counterpart of the international Tiktok app. TikTok has over 150 million users in the U.S. alone.
Being grilled about concerns over China's influence over the Beijing-based Bytedance and China's access to American data, Chew emphasized that ByteDance is a private business and "not an agent of China or any other country."
During the hearing, Chew faced various questions from officials. One clip that was shared a lot on Twitter showed Arizona Republican Congresswoman Debbie Lesko asking Shou Zi Chew:
– "Do you agree that the Chinese government has persecuted the Uyghur population?"
"It's deeply concerning to hear about all accounts of human rights abuse," Shou answered: "My role here is to explain – "
– "I think you're being pretty evasive. It's a pretty easy question. Do you agree that the Chinese government has persecuted the Uyghur population?"
"Congresswoman, I'm here to describe TikTok, and what we do as a platform, and as a platform, we allow our users to freely express their views on this issue and any other issue that matters to them," Shou replied.
– "Well, you didn't answer the question, " Lesko said while interrupting Shou.
Another moment that was widely shared was when Congressman Richard Hudson asked Shou Chew: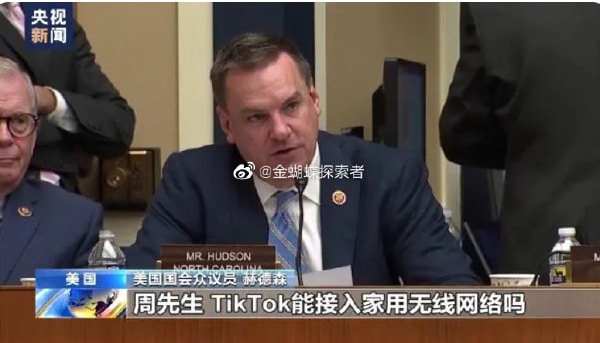 – "Does TikTok access the home WiFi network?"
"Only if the user turns on the wifi," Shou replied: "I'm sorry I may not understand the.."
– "So if I have TikTok on my phone, and my phone is on my home wifi, does TikTok access that network?", Hudson asked.
"It will have to access the network to get connected to the internet, if that is your question."
– "Is it possible then that it can access other devices on that home wifi network?" Hudson asked.
"Congressman, we do not do anything that is beyond any industry norms. I believe the answer to your question is no," Chew replied.
On Chinese social media, the hearing received extensive discussion and analysis.

A "Collective Cursing Activity"

Chinese blogger Chairman Rabbit (兔主席), a conservative political commentator who often comments on US-related issues (read more), analyzed the hearing in a recent blog.
According to Chairman Rabbit, the hearing was a one-way conversation from the Congress side, and was more like a "collective 'cursing' activity" ("一场集体"骂娘"活动") than dialogue, with the American officials not giving Shou the time to reply and basically – and rudely – answering their own questions.
The blogger also suggested that Chew was questioned as if he himself represented the Communist Party of China, even though he is Singaporean and the CEO of a private company. Regardless, the Americans seemed to take this time of questioning Shou as an opportunity to vent their anger at the Party and the Chinese government at large.
The main gist of Chairman Rabbit's blog was shared by many others on social media, with some calling the hearing not much more intelligent than a "kindergarten fight" ("比幼儿园吵架高明不了多少").
One meme making its rounds on Weibo and Wechat showed a photo of Apple CEO Tim Cook in China versus TikTok CEO Shou Zi Chew in the U.S., suggesting that while the Chinese side treated an American tech giant CEO with warmth and kindness, the American side had treated a Chinese tech giant CEO with coldness and paranoia.
Another image circulating on Weibo is a political cartoon by the Singaporean artist Heng that was also published on Twitter by Lianhe Zaobao, the largest Singaporean Chinese-language newspaper.
The image shows the TikTok CEO tied to a tree, and a pile of wood stacked around him. Three 'executioners,' including Uncle Sam, are about to burn Chew at the stake with the help of some "Anti-Chinese Sentiment" fuel.

Shou Zi Chew: Mr. Perfect in the Eye of the Storm

Meanwhile, Chew himself has become super popular on Chinese social media, including on Weibo, Douyin, and Xiaohongshu, where he has become idolized by some ("I won't even compare you with the stars, you're much better than the stars.")
Some bloggers and commenters noted how Chew fits the supposed idea of a 'perfect Asian' by staying calm despite unreasonable allegations and emphasizing business interests over culture. One Weibo user (@老叔开画) called Shou Zi Chew "Mr. Perfect in the eye of the storm."
Mostly, people admire how he stood up against Congress despite being "bullied" by American officials and "defended" China's interests although he is Singaporean himself. Some called him a "solitary hero" ("孤胆英雄").
Then there are those who praise the Singaporean businessman and entrepreneur for his career journey and his work ethic. The now 40-year-old studied in London and graduated from Harvard, he previously worked at Goldman Sachs and Xiaomi, and became the CEO of TikTok at 38 years old.
On the Xiaohongshu app, Chew is mentioned as a source of inspiration on how to remain calm and professional when facing a difficult situation.
Lastly, many fans just think Chew is "charming" and "handsome" – and they focus on details of Chew and his life that have nothing to do with the contents of the hearing. Some Weibo users pointed out how he came to his hearing well-prepared with four bottles of water, others discuss his personal life, including his wife Vivian Kao.

From Weibo to TikTok: Criticism from Two Sides

Besides receiving support from Chinese social media users, Chew's handling of the hearing was also praised on the TikTok app by international users, including many Americans.
One popular Chew quote during the U.S. congressional hearing that came up on TikTok is how Chew said:
"I don't think the [Chinese] ownership is the issue here, with a lot of respect, American social companies do not have a good track record when it comes to data security and privacy, just look at Facebook and Cambridge Analytica – and that's just one example."
Another popular quote was Chew defending TikTok, saying:
"There are more than 150 million Americans who love our platform, and we know we have a responsibility to protect them, which I'm making the following commitments to you and all our users. Number one: we will keep safety, particularly for teenagers, as a top priority for us. Number two: we will firewall protect the U.S. data from unwanted foreign access. Number three: TikTok will remain a place for free expression and will not be manipulated by any government. And fourth, we will be transparent and we will give access to third-party independent monitors to remain accountable for our commitments."
Many TikTok users are not just fond of the app – and do not want it to get banned, – they also criticize the U.S. officials for how they handled the hearing, with their lack of technological knowledge and unfamiliarity with the TikTok app shining through in their questions.
Some TikTok creators suggested that the officials missed an opportunity to gain actual knowledge of TikTok's data handling, and should have asked things like (suggested by TikTok user @sharonsaysso):
– "Are you collecting any passive data from the back end of the phones, even if the person isn't logged in?"
– "How long are you storing this data for?"
– "What data is being passed to advertisers?"
– "If a user would like to have their data expunged from your systems, is there a process in place with them to easily and fairly quickly have that done?"
– "Have you ever willingly or unwillingly relinquished any of your user data to the government of China or any other country?"
– "Please explain in detail what elements your algorithm considers in its optimization process?"
After American media outlet NBC reported about how TikTok users declared their support for the platform and its CEO after the hearing, screenshots of the article were also shared on Chinese social media.
Chinese political commentator Hu Xijin (@胡锡进) wrote a lengthy post about the TikTok hearing on Weibo, and he also criticized how Chew was facing questions that were already framed and filled with "imaginary accusations" against China.
Hu Xijin and others do not necessarily hail Chew as a "hero," but instead point out the arrogance and biased approach taken by U.S. official during the hearing.
"They give a dog a bad name and hang him," some say, with others agreeing that this matter is no longer about the actual facts regarding TikTok's operations, but about how American authorities have already set their agenda on how TikTok content is problematic and how the app is controlled by Beijing and cannot guarantee the security of U.S. users' data and privacy.
Some commenters are already predicting the outcome of this matter: "You should prepare for the possibility of being banned or forced to sell."
Watch a video of the hearing on YouTube here.

By Manya Koetse 
With contributions by Miranda Barnes and Zilan Qian
Get the story behind the hashtag. Subscribe to What's on Weibo here to receive our newsletter and get access to our latest articles:
Spotted a mistake or want to add something? Please let us know in the comments below or email us. First-time commenters, please be patient – we will have to manually approve your comment before it appears.
©2023 Whatsonweibo. All rights reserved. Do not reproduce our content without permission – you can contact us at info@whatsonweibo.com.
Slip of the Tongue: Biden Accidentally Says He "Applauds China"
On Weibo, people joke that Biden's gaffe was a Freudian slip: "He finally said how he really feels about China."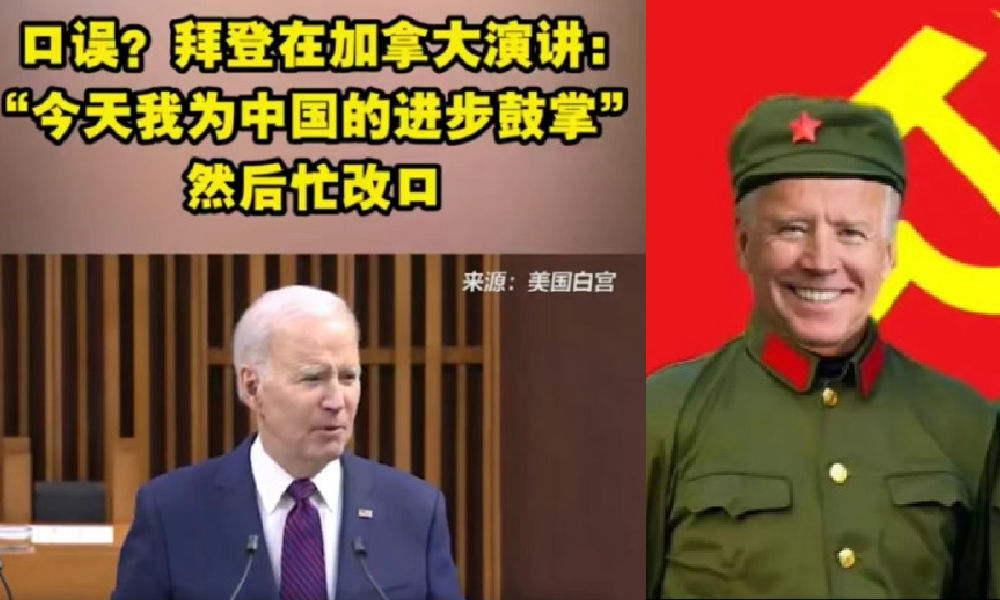 It was a top headline on Baidu News on Saturday, March 25: while delivering a speech to the Canadian parliament on Friday, U.S. President Biden said he "applauded China for stepping up," quickly correcting himself and saying he meant to say 'Canada' instead of 'China.'
Biden was giving the speech in Ottowa during a state visit to Canada, during which the U.S. President and Canadian Prime Minister Trudeau held bilateral talks discussing various security issues.
In the speech, Biden reaffirmed the strong relations between Canada and the United States.
At the moment of Biden's gaffe, he said: "So today I applaud China for stepping up," before correcting himself and making a quick joke: "Excuse me, I applaud Canada. You can tell what I'm thinking…about China. We won't get into that yet."
Ahead of the state visit, Trudeau spoke to CNN about U.S.-Canada relations and China, stating that there are areas in which they will "going to have to directly challenge China" on issues such as human rights and security. He said: "We're going to have to continue to be wide-eyed and clear about the threat that China poses and wants to pose to the stability of our democracies."
Regarding Biden's gaffe, Chinese media were quick to jump on it and soon the incident spread on Weibo using various hashtags ("Biden Corrects Himself after Saying He Applauds China" #拜登称为中国鼓掌后改口#; "Biden Accidentally Says He Applauds China" #拜登口误为中国鼓掌#).
Chinese state media outlet Global Times (环球网) posted one of the most popular posts on the matter, which included a video of the moment, receiving over 82,000 likes.
But other big accounts, such as the Communist Youth League, also posted about the moment.
"Even if he dreams, he still thinks of China," one top comment said, with others replying things such as: "He just can't keep China out of his mouth."
Some people also suggested it was a Freudian slip, and that Biden actually said what he was thinking: "Finally he said what he feels!" and "he loves China."
China's Communist Youth League also posted a meme about Biden allegedly also saying "US-China relations" instead of "US-Canada relations" during a bilateral meeting in 2021.
At one time in 2022, Biden apparently also mixed up "Ukraine" and "China" during a speech.
By now, Biden's mix-ups and mistakes have become a regular occurrence, something that was already covered by The New York Times as early as 2019.
One meme on Chinese social media featured Joe Biden and Donald Trump side by side wearing a 1960s PLA uniform, the flag of the Communist Party in the background.
Trump was previously also jokingly called "Comrade Trump" on Chinese social media, saying he was the man "making China great again," suggesting that his policies and actions inadvertently contributed to China's rise. For this reason, he was also nicknamed "Build the Country Trump" (川建国) and 'Comrade Jianguo' (建国同志 [Comrade Build-Country]).
For a similar reason, Biden is now also nicknamed "Boosting China Biden" (拜振华). Both 'Build the Country Trump' and 'Boosting China Biden' are written in such ways that they could pass as Chinese names, which is part of the joke.
Some netizens playfully warned Biden and Trump about being careful not to give themselves away: "Please, comrades, be careful about hiding your true identity!"
"Comrade Boost China Biden, thanks for your hard work," another jokingly wrote.
By Manya Koetse 
Get the story behind the hashtag. Subscribe to What's on Weibo here to receive our newsletter and get access to our latest articles:
Spotted a mistake or want to add something? Please let us know in comments below or email us. First-time commenters, please be patient – we will have to manually approve your comment before it appears.
©2023 Whatsonweibo. All rights reserved. Do not reproduce our content without permission – you can contact us at info@whatsonweibo.com.
By Manya Koetse 
With contributions by Miranda Barnes
Get the story behind the hashtag. Subscribe to What's on Weibo here to receive our newsletter and get access to our latest articles:
Spotted a mistake or want to add something? Please let us know in comments below or email us. First-time commenters, please be patient – we will have to manually approve your comment before it appears.
©2023 Whatsonweibo. All rights reserved. Do not reproduce our content without permission – you can contact us at info@whatsonweibo.com.