Op-Ed: Your Use of "Netizen" Hurts Responsible China Coverage
It's not innocent jargon. Not anymore.
Far from innocent jargon, the word 'netizen' has political implications in its use today and should not be casually tossed around, says Beijing-based journalist Dave Yin. In this op-ed contribution, Yin responds to our recent article "Netizens or Not?"
It's unlikely that when internet theorist and author Michael F. Hauben coined the word "netizen" more than thirty years ago, he would have imagined that, one day, on the other side of the world, a few handfuls of Western reporters and media critics covering China would be divided: in one camp applauding and in the other cursing his creation. It's equally unlikely he'd recognize at first glance what his word has come to mean in 2018 – and to whom.
Common thought is that whether or not "netizen" should be used, and what it means, are at the heart of this debate, which by now spans publications both big and small, free and censored. It hasn't gotten us anywhere.
But in view of China's escalation of online policing and digital surveillance, the concept of "netizen" is evolving, as must its coverage in Western media. Far from innocent jargon, the word today has political implications and a growing potential for harm, one Western media must recognize if it is to conduct responsible reporting.
A Western interpretation
When considering the word "netizen," it helps to know what one is talking about. Namely, pick a definition, and stick with it.
Scenario A)
One clear-cut definition offered by the Atlantic designates a unique identity; young, wealthy, educated Chinese urbanites and/or politically active individuals in online communities adept at skirting censorship.
Here, simple protocol applies. Writers using "netizen" must first make sure the subjects of their story actually match this description. Then, they must assess whether these complex socioeconomic and political elements are evident in this word. Hint: they're not.  Inevitably, writers should be explaining these elements to accompany the use of this term in each article it appears in. Anything short of this is incomplete reporting.
Scenario B)
If broadly defined to be a synonym to "Chinese internet users," as is more often the case, then several questions emerge: Why do Chinese internet users need a special label in the first place? Why is "Chinese internet user" inadequate when this type of terminology works for everyone else? If research (paywall) suggests the online habits of Chinese are similar to the rest of us, what are we trying to accomplish by othering them?
Self-applied labels
In advocacy reporting, we try to respect a person's self-applied labels, such as with race or sexual orientation, so I appreciate the irony when I say that just because Chinese people call themselves "netizens" doesn't necessarily mean we should.
Be it when describing race, sexual orientation, disability, etc. there is a general effort to use terminology that centers the person, and not the circumstance, which is often complex. "Person with impaired vision," "a cisgender gay man," "the woman, who identifies as a second-generation Filipino immigrant," "individuals claiming to be members of the Anonymous collective" are infinitely better than "the blind," "the gay," "the Filipino," "Anonymous." In pieces where nuance and individuals matter, these words do more than fill up space.
"Netizen," as it is currently used, erases both.
What's more, these often political labels emerged in societies with freedom of association where one makes a statement simply by publicly identifying. By contrast, what does it mean to label yourself with something as vague and abstract as "netizen" in a society that doesn't allow such freedom, and what effect does it have when Western media take up this cause?
A Chinese strategy
The self-applied label argument is also unsound when you consider that "netizen" is actually a mistranslation of the word "wǎngmín" (网民).
In wǎngmín 人民 (people), nóngmín 农民 (farmer), jūmín 居民 (resident), yímín 移民 (migrant), yúmín 渔民 (fisherman), and míngē 民歌 (folk song), "mín" 民 simply means "people," without any "citizen" connotation, and therefore "wǎngmín" 网民 really just means "internet people/people on the internet."
In other words, "netizen" and "wǎngmín" are faux amis. It's a mistake that Western media has allowed to proliferate and one that we must now contend with.
While the use of the English word by ordinary Chinese and private Chinese media could boil down to guileless ignorance towards English nuance, by contrast, "wǎngmín," when applied by the Chinese government and its mouthpieces, is part of deliberate national policy. As described by Manya Koetse in her analysis, the Chinese term is an official category of Chinese nationals on which the CCP imposes severe restrictions.
What ramifications are there for Western media in not consciously decoupling these wildly different interpretations by different actors? By casually tossing the word around, do we not run the risk of normalizing Chinese internet policy?
While we, working in the Far East, may feel at times that our work is isolated, it should be noted that people are, in fact, reading, for better or worse.
"['Netizen'] has been used when reporting on China for a decade+ [sic] in order to relieve journalists of understanding what they're reporting on," one Reddit user (Western netizen?) writes. "Today it is a lazy way to assume all internet users in China think the same way by f*cking lazy journalists."
"Netizen" may well stick around. China's emerging digital policies have all but ensured it. But we owe it to our readers and the people we cover to get with the program, to evolve our terminology and critical judgment at the same pace as the subject matter.
We need to understand that the benefits of its selective, judicious use, as a result of explicit purpose, come from highlighting and decoding China's socioeconomic and political situation, not from generalizing 772 million individuals, and least of all from othering them or normalizing their constraints. It may help everyone's understanding of this country, including our own.
By Dave Yin
Follow @whatsonweibo
Spotted a mistake or want to add something? Please let us know in comments below or email us.
©2018 Whatsonweibo. All rights reserved. Do not reproduce our content without permission – you can contact us at info@whatsonweibo.com.
2020 Black Friday / Cyber Monday Deals on VPNs (Express & Nord)
We've previously recommended these VPNs on What's on Weibo, today we show their deals for this Black Friday and Cyber Monday.
Black Friday is here! At What's on Weibo, we have had good experiences with both ExpressVPN and NordVPN.
Please take into consideration that pretty much all VPNs have occasional connection issues if used from within the PRC – it happens to the best of them. To be sure to always stay connected, you could consider purchasing multiple VPNs if using them from within the Great Firewall of China (but if that's what you use it for and you only want one, Express VPN is your safest bet).
We're only highlighting these two good deals here.
This Black Friday and Cyber Monday, Express VPN offers another special; three months free when you purchase the 12-month plan – which is the 15 month deal for only $6.67 per month.
ExpressVPN, which actually calls itself the "#1 Trusted leader in VPN", is a reliable service with mostly steady connections depending on what location you select. The app has the 'smart location' button that helps you pick the best location to connect to from where you are. They have friendly service and frequent updates for desktop, mobile, and tablet. Express VPN usually offers single month services starting from $12.95, 6-month plans from $9.99/month, and 1-year plans for $8.32/month, so the Black Friday deal obviously is a nice money-saving deal.
The "30 Days Risk-Free" promise of ExpressVPN makes the barrier to try it out much lower. If you are not satisfied, they'll get you your money back without any questions asked.
Remember to get your Black Friday/Cyber Monday ExpressVPN discount before Tuesday – that's when it will end.
Click here to get the deal. To read more about ExpressVPN, check here.
Nord VPN has a particularly good offer this Black Friday. Now, they offer 68% off their VPN + 3 months free, including a 30-day money-back guarantee.
Besides its basic VPN service, NordVPN also incorporates additional web security services and outstanding usability. We like the fact that they have 24/7 customer support.
NordVPN was previously rated with 5/5 stars by VPN Mentor, and was named one of the best VPN services by PCMag, where it became the Editors' Choice winner.
It's a limited-time offer only, go grab the deal here.

NB: This post is not a sponsored post. These recommendations may, however, include an affiliate link that at absolutely no additional cost whatsoever to you allows What's on Weibo to receive a small percentage in case you purchase the service. (Which also helps a bit to keep our site going, so it's win-win!)
Do you think we should recommend another VPN and want to share your experiences? We're open to try it out and add to this list – feel free to contact us.
Featured image (modified) by Justin Lim 
Spotted a mistake or want to add something? Please let us know in comments below or email us.
©2020 Whatsonweibo. All rights reserved. Do not reproduce our content without permission – you can contact us at info@whatsonweibo.com.
Annual List of China's Best Hospitals: Ranking the Top 10 Hospitals of the Year
These are China's best hospitals according to the Fudan University annual ranking list.
A new list with the 50 highest rated hospitals in China of the year 2019 has been released earlier this month.
A hospital list, ranking the best hospitals in China, was released earlier this month. The list is independently issued annually since 2010 by the Hospital Management Institute of Shanghai's Fudan University. It ranks the top 100 hospitals in China and the top 10 hospitals over various clinical specialties. In doing so, it has become one of the most important hospital rankings in China.
The topic became trending on Weibo with over 110 million views (#复旦版中国医院排行榜#). Although there is a major interest in this topic, there are also those questioning what makes a hospital the 'best' hospital. This list, among other things, is based on the hospital's reputation and its capacity to conduct scientific research.
"What is fame and reputation? What I care about when seeing a doctor is their success rate in curing patients," one social media user wrote – a sentiment shared by many. Others also say it is best to look for the right hospital depending on the patient's personal needs.
Although it is true that these rankings do not include any rates on treatment results, they are relevant to patients for their reputation and size nonetheless.
China currently has a significant shortage of doctors, and the most qualified doctors are more prone to go to the hospitals with the best reputation. It is an ongoing cycle that has left many of the more rural and smaller hospitals lacking qualified staff. (For more about the problems facing China's healthcare system, also see this article.)
We will list the top 10 of China's best hospitals according to the report here, including some basic info.
#1 Peking Union Medical College Hospital
中国医学科学院北京协和医院
Peking Union Medical College Hospital (PUMCH) has topped these rankings consecutively for 11 years. The hospital was founded in 1921 by Rockefeller Foundation and is affiliated to both Peking Union Medical College (PUMC) and the Chinese Academy of Medical Sciences (CAMS).
PUMCH offers 2000 beds, has more than 4000 employees, and 57 clinical and medical departments. The hospital recently also launched its online services, including consultation, prescribing medicine, and electronic medical recording, which reportedly will expand to all clinical sections of the hospital.
Weibo: @北京协和医院 (960906 followers)
Website: link
Address: #9 Dongdan 3rd Alley, Dongcheng, Beijing, China
#2 West China Hospital Sichuan University
四川大学华西医院
Founded in 1872, the West China Medical Center is China's biggest hospital in terms of size, and also ranks number two in the list of the world's largest hospitals (no 1 being the Chang Gung Memorial Hospital in Taiwan). The hospital has a capacity of 4300 beds and there are 46 clinical departments.
West China Hospital has recently been in the news a lot due to the development of its own experimental COVID19 vaccine.
Weibo: @四川大学华西医院 (483829 followers)
Website: link
Address: #37 Guoxue Alley, Wuhou District, Chengdu, Sichuan Province
#3 People's Liberation Army General Hospital / 301 Hospital
中国人民解放军总医院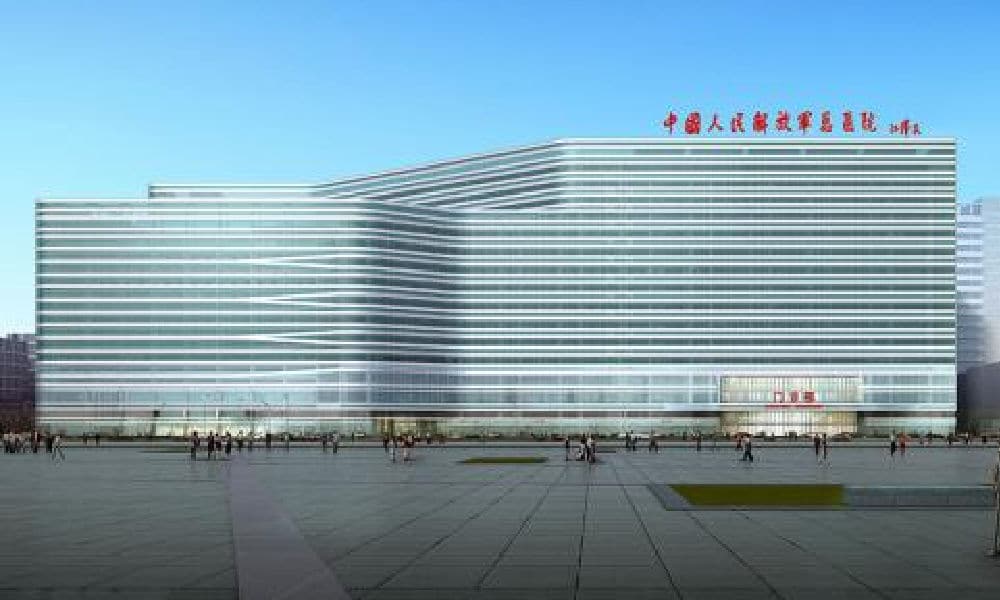 The General Hospital of the People's Liberation Army (PLAGH), also known as 301 Hospital or PLA General Hospital, is the largest general hospital under the auspices of the People's Liberation Army. The military hospital, used by the top leadership, was founded in 1953 and has a capacity of 4000 beds.
Earlier this year, the hospital made headlines for being the first center in Asia to provide newly advanced (ZAP) non-invasive technologies to treat brain tumors.
Website: link
Address: No. 28 Fuxing Road, Haidian District, Beijing
#4 Ruijin Hospital
上海交通大学医学院附属瑞金医院
Ruijin Hospital, formally known as Guangci Hospital, was founded in 1907. The hospital has 34 clinical departments, with a capacity of 1774 beds and a staff of over 3300.
The hospital is known for the rescue of burn victim Qiu Caikang, an iron worker of Shanghai Steel Factory who was burnt by molten steel in 1958. Although he suffered extensive burns to 89% of his body – and was thought unlikely to survive -, the staff at the hospital were able to successfully treat him. The hospital's technologies in treatment of deep burns has since been renowned throughout the country.
Website: link
Address: 197, Rui Jin Er Road,Shanghai 
#5 Zhongshan Hospital Fudan University
复旦大学附属中山医院
This Shanghai hospital, which opened in 1937, is a major teaching hospital affiliated with the Shanghai Medical College of Fudan University. It was the first large-scale general hospital managed by Chinese people at its time of opening.
Zhongshan Hospital is leading in China when it comes to the treatment of heart, kidney, and diseases, and liver cancer. The hospital has over 1900 beds and more than 4000 hospital staff.
Website: link
Address: 180 Fenglin Road, Shanghai
#6 The First Affiliated Hospital, Sun Yat-sen University
中山大学附属第一医院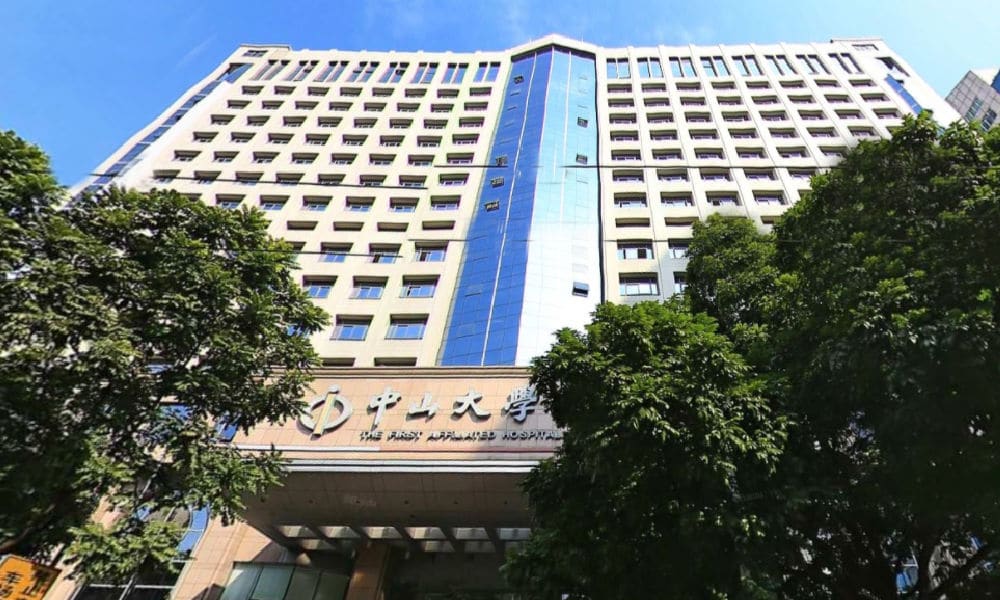 The First Affiliated Hospital of Sun Yat-Sen University is celebrating its 110th anniversary this year. Founded in 1910, the hospital was initially called the Affiliated Hospital of Guangdong Public Institution of Medicine. It is one of the largest hospitals in China.
The hospital is renowned for various medical specialties, including liver and kidney transplantion. The hospital has 72 clinical departments, 3523 beds, and over 6000 staff.
Website: link
Address: 58 Zhongshan 2nd Rd, Yuexiu District, Guangzhou, Guangdong Province
#7 Tongji Hospital, Huazhong University of Science and Technology
华中科技大学同济医学院附属同济医院
Tongji Hospital was officially founded by German doctor Erich Paulun in 1900, located in Shanghai, and did not move the Medical College to Wuhan until 1950. The hospital, which now has some 4000 beds and 7000 staff members, has 52 clinical and paramedical departments.
During the new coronavirus outbreak in Wuhan, the hospital provided 800 beds for severe cases.
Website: link
Address: No.1095 Jie Fang Avenue, Hankou, Wuhan
#8 Xijing Hospital
空军军医大学西京医院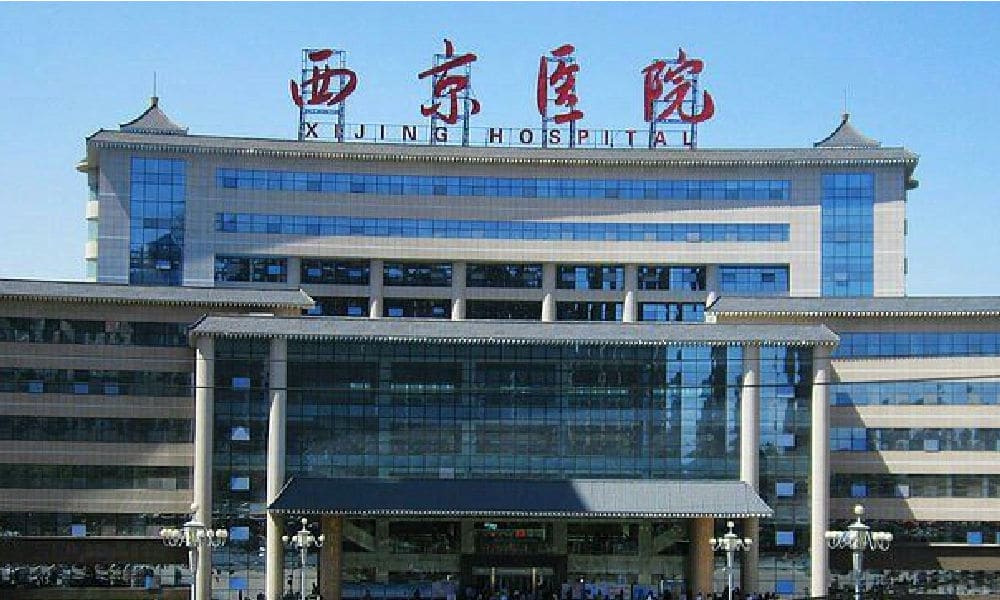 Xijing Hospital was founded in 1939 and has since been a hospital of several 'world's firsts', including being world's first hospital to recreate a '4D'-printed breast for a cancer patient who underwent a mastectomy. The hospital also saw China's first baby born from a transplanted womb.
Xijing Hospital houses 3218 beds.
Website: link
Adress: No. 127 Changle West Road, Xincheng District, Xi'an
#9 Huashan Hospital
复旦大学附属华山医院
Huashan Hospital's main branch is located in the city center of Shanghai, in the former French Concession. The hospital was founded in 1907 as the Chinese Red Cross General Hospital by Governor Shen Dunhe, the founder of the Red Cross Society of China. The hospital opened for business in 1909.
Besides being a general hospital with around 3000 staff members and over 1215 beds at the main branch, it is also Fudan University's major and renowned teaching hospital. Huashan is one of the best-known hospitals in China.
Website: link
Address: 12 Wulumuqi Middle Rd, Jing'an District, Shanghai
#10 Wuhan Union Hospital
华中科技大学同济医学院附属协和医院
Wuhan Union Hospital has a long history; it was founded in 1866 by Griffith John, a Welsh Christian missionary and translator in China. The hospital is an active general hospital, as well as focusing on teaching and scientific research.
The hospital has a total of 5000 beds and more than 8000 staff members. In 2020, the hospital became one of the designated hospitals to treat patients from the COVID-19 pandemic.
Website: link
Address: 1277 Jiefang Avenue, Wuhan, Hubei Province
By Manya Koetse
Follow @WhatsOnWeibo
Original photo used in featured image by Adhy Savala
Spotted a mistake or want to add something? Please let us know in comments below or email us. First-time commenters, please be patient – we will have to manually approve your comment before it appears.
©2020 Whatsonweibo. All rights reserved. Do not reproduce our content without permission – you can contact us at info@whatsonweibo.com.