Op-Ed: Your Use of "Netizen" Hurts Responsible China Coverage
It's not innocent jargon. Not anymore.
Far from innocent jargon, the word 'netizen' has political implications in its use today and should not be casually tossed around, says Beijing-based journalist Dave Yin. In this op-ed contribution, Yin responds to our recent article "Netizens or Not?"
It's unlikely that when internet theorist and author Michael F. Hauben coined the word "netizen" more than thirty years ago, he would have imagined that, one day, on the other side of the world, a few handfuls of Western reporters and media critics covering China would be divided: in one camp applauding and in the other cursing his creation. It's equally unlikely he'd recognize at first glance what his word has come to mean in 2018 – and to whom.
Common thought is that whether or not "netizen" should be used, and what it means, are at the heart of this debate, which by now spans publications both big and small, free and censored. It hasn't gotten us anywhere.
But in view of China's escalation of online policing and digital surveillance, the concept of "netizen" is evolving, as must its coverage in Western media. Far from innocent jargon, the word today has political implications and a growing potential for harm, one Western media must recognize if it is to conduct responsible reporting.
A Western interpretation
When considering the word "netizen," it helps to know what one is talking about. Namely, pick a definition, and stick with it.
Scenario A)
One clear-cut definition offered by the Atlantic designates a unique identity; young, wealthy, educated Chinese urbanites and/or politically active individuals in online communities adept at skirting censorship.
Here, simple protocol applies. Writers using "netizen" must first make sure the subjects of their story actually match this description. Then, they must assess whether these complex socioeconomic and political elements are evident in this word. Hint: they're not.  Inevitably, writers should be explaining these elements to accompany the use of this term in each article it appears in. Anything short of this is incomplete reporting.
Scenario B)
If broadly defined to be a synonym to "Chinese internet users," as is more often the case, then several questions emerge: Why do Chinese internet users need a special label in the first place? Why is "Chinese internet user" inadequate when this type of terminology works for everyone else? If research (paywall) suggests the online habits of Chinese are similar to the rest of us, what are we trying to accomplish by othering them?
Self-applied labels
In advocacy reporting, we try to respect a person's self-applied labels, such as with race or sexual orientation, so I appreciate the irony when I say that just because Chinese people call themselves "netizens" doesn't necessarily mean we should.
Be it when describing race, sexual orientation, disability, etc. there is a general effort to use terminology that centers the person, and not the circumstance, which is often complex. "Person with impaired vision," "a cisgender gay man," "the woman, who identifies as a second-generation Filipino immigrant," "individuals claiming to be members of the Anonymous collective" are infinitely better than "the blind," "the gay," "the Filipino," "Anonymous." In pieces where nuance and individuals matter, these words do more than fill up space.
"Netizen," as it is currently used, erases both.
What's more, these often political labels emerged in societies with freedom of association where one makes a statement simply by publicly identifying. By contrast, what does it mean to label yourself with something as vague and abstract as "netizen" in a society that doesn't allow such freedom, and what effect does it have when Western media take up this cause?
A Chinese strategy
The self-applied label argument is also unsound when you consider that "netizen" is actually a mistranslation of the word "wǎngmín" (网民).
In wǎngmín 人民 (people), nóngmín 农民 (farmer), jūmín 居民 (resident), yímín 移民 (migrant), yúmín 渔民 (fisherman), and míngē 民歌 (folk song), "mín" 民 simply means "people," without any "citizen" connotation, and therefore "wǎngmín" 网民 really just means "internet people/people on the internet."
In other words, "netizen" and "wǎngmín" are faux amis. It's a mistake that Western media has allowed to proliferate and one that we must now contend with.
While the use of the English word by ordinary Chinese and private Chinese media could boil down to guileless ignorance towards English nuance, by contrast, "wǎngmín," when applied by the Chinese government and its mouthpieces, is part of deliberate national policy. As described by Manya Koetse in her analysis, the Chinese term is an official category of Chinese nationals on which the CCP imposes severe restrictions.
What ramifications are there for Western media in not consciously decoupling these wildly different interpretations by different actors? By casually tossing the word around, do we not run the risk of normalizing Chinese internet policy?
While we, working in the Far East, may feel at times that our work is isolated, it should be noted that people are, in fact, reading, for better or worse.
"['Netizen'] has been used when reporting on China for a decade+ [sic] in order to relieve journalists of understanding what they're reporting on," one Reddit user (Western netizen?) writes. "Today it is a lazy way to assume all internet users in China think the same way by f*cking lazy journalists."
"Netizen" may well stick around. China's emerging digital policies have all but ensured it. But we owe it to our readers and the people we cover to get with the program, to evolve our terminology and critical judgment at the same pace as the subject matter.
We need to understand that the benefits of its selective, judicious use, as a result of explicit purpose, come from highlighting and decoding China's socioeconomic and political situation, not from generalizing 772 million individuals, and least of all from othering them or normalizing their constraints. It may help everyone's understanding of this country, including our own.
By Dave Yin
Follow @whatsonweibo
Spotted a mistake or want to add something? Please let us know in comments below or email us.
©2018 Whatsonweibo. All rights reserved. Do not reproduce our content without permission – you can contact us at info@whatsonweibo.com.
Prohibited to Promote Top Students, Chinese Schools Are Praising their Excellent 'Fruit' Instead
Who knew Chinese schools were so good at harvesting fruit?
It is that time of the year again: China's gaokao results are in. Chinese schools that are proud of their top-scoring students would like to scream it from the rooftops, but they are banned from doing so. So they are now posting about their very successful fruit production instead.
This week, the scores came out for China's gaokao (高考), the National Higher Education Entrance Examinations that took place earlier this months.
The exams are a prerequisite for entering China's higher education institutions and are taken by students in their last year of senior high school. Scoring high grades for this exam can give high school students access to a better college, which enlarges their chances of obtaining a good job after graduation.
Those who succeed in becoming top scorers in their field and area are known as the gāokǎo zhuàngyuán (高考状元, 'gaokao champions'). Gaokao champions are usually widely praised, not just by families and friends, but also by their hometowns and schools for which the top-scoring students are their pride and unique selling point.
But since 2018, as explained in this article, it is prohibited for Chinese media and schools to give publicity to gaokao top scorers. The Chinese Ministry of Education banned the promotion of top achievers in line with Xi Jinping Thought, emphasizing the value of equality and sociability instead.
This year, local authorities again reiterated the message that in order to set the right example and "establish the correct orientation of education," the hyping up of school exam results and publishing top score rankings are strictly prohibited.
Because of the Ministry of Education guidelines, schools can not openly flaunt the successes of their top scorers, but some have found creative ways to do so anyway.
"Of a batch of 1320 ripe mango's, there are over hundred weighing more than 600 grams," one school in Guangxi's Nanning wrote. The 'weight' refers to the score, with 600 being a very high score (the maximum score is usually 750, depending on the field and area). ""[We] picked a mango weighing as much as 696 grams, the king of Qinzhou fruit. Two fruit dealers in the capital have already heard of it and are eager to take it."
Besides mango's, there were also other schools mentioning their successful production of 'plums or peaches.'
One blog by Jiangchacha (姜茶茶) listed various examples of schools boasting about their 'fruit harvest' in social media posts.
The blog explained that some schools in Guangxi used the mango metaphor because Guangxi has some of the country's largest mango-producing regions. Meanwhile, the word for 'peaches and plums' in Chinese (桃李) also refers to one's pupils or disciples.
Another school's post said: "It is harvest season (..), and the campus is fragrant with peaches and plums, and fruitful results!", adding that "a total of 2400 high quality peaches and plums have been harvested, and over 93% are of high quality!"
There was also one school that mentioned other schools were below them in scores, writing that its "excellence rate" was "clearly ahead of the three other big gardens on the east coast."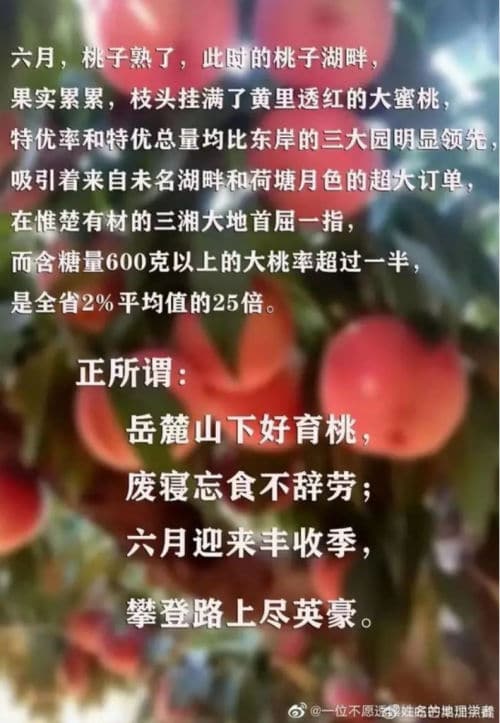 "Our king peach weighs no less than 689 grams," another school announced. There were also schools that did not discuss fruit but were making references to fish, trees, and high-speed trains instead.
The issue of schools reporting their 'harvest' became a trending topic on Weibo, where some found it very funny. But others also voiced criticism that schools cannot publish about some of their students being gāokǎo zhuàngyuán, top scorers.
"There is nothing to hide, the exam scores are the result of hard work by both the teachers and students," one popular comment said, with others replying: "Why wouldn't you announce the scores? It might inspire other students!"
"This entire guideline is just nonsense," another typical comment said.
Meanwhile, some netizens suggested that Sichuan schools could use pandas as a metaphor for their top scorers, while Chongqing could use chili peppers next year, with others suggesting other types of fruit that could be used in these 'covered-up' gaokao score publications. It's bound to be another fruitful year in 2023.
Want to read more about gaokao? Check out more related articles here.
By Manya Koetse
With contributions by Miranda Barnes
Get the story behind the hashtag. Subscribe to What's on Weibo here to receive our weekly newsletter and get access to our latest articles:
Photo by Bangyu Wang on Unsplash
Spotted a mistake or want to add something? Please let us know in comments below or email us. First-time commenters, please be patient – we will have to manually approve your comment before it appears.
©2022 Whatsonweibo. All rights reserved. Do not reproduce our content without permission – you can contact us at info@whatsonweibo.com.
Confusion over Official Media Report on China's "Next Five Years" of Zero Covid Policy
'The next five years': four words that flooded Chinese social media today and caused commotion among netizens who interpreted this as written proof that China's current Covid strategy would continue for at least five more years. But the Beijing Daily editor-in-chief has since responded to the issue, blaming reporters for getting it all mixed up.
On June 27th, after the start of the 13th Beijing Municipal Party Congress, Chinese state media outlet Beijing Daily (北京日报) published an online news article about a report delivered by Beijing's Party chief Cai Qi (蔡奇).
The article zoomed in on what the report said about Beijing's ongoing efforts in light of China's zero-Covid policy, and introduced Beijing's epidemic prevention strategy as relating to "the coming five years" ("未来五年").
Those four words then flooded social media and caused commotion among netizens who interpreted this as a sign that China's current Covid strategy would continue at least five more years. Many people wrote that the idea of living with the current measures for so many years shocked and scared them.
Soon after, the article suddenly changed, and the controversial "coming five years" was left out, which also led to speculation.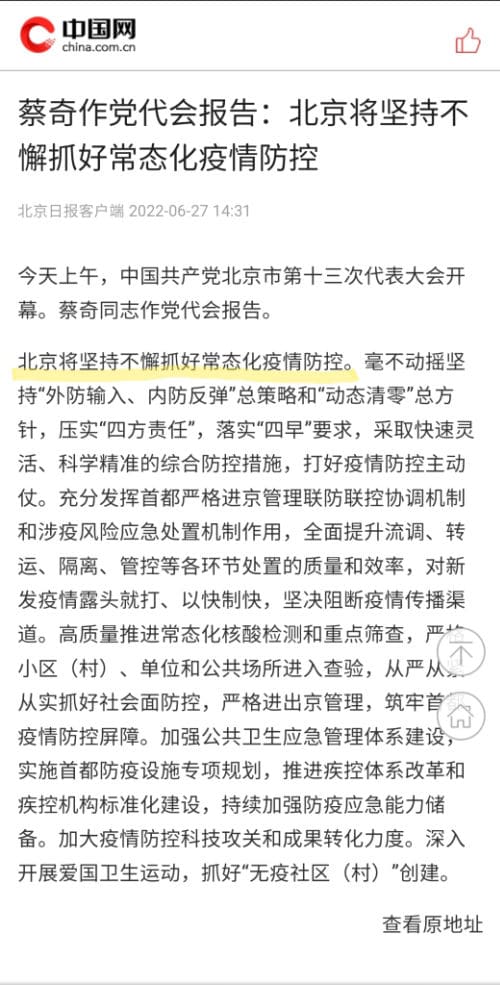 Beijing Times editor-in-chief Zhao Jingyun (赵靖云) then clarified the situation in a social media post, claiming that it was basically an error made due to the carelessness of reporters who already filled in information before actually receiving the report:
"I can explain this with some authority: the four-word phrase "the next five years" was indeed not included in the report, but was added by our reporter[s] by mistake. Why did they add this by mistake? It's funny, because in order to win some time, they dismantled the report's key points and made a template in advance that "in the next five years" such and such will be done, putting it in paragraph by paragraph, and also putting in "insist on normalized epidemic prevention and control" without even thinking about it. This is indeed an operational error at the media level, and if you say that our people lack professionalism, I get it, but I just hope that people will stop magnifying this mistake by passing on the wrong information."
Global Times commentator Hu Xijin (@胡锡进), who used to be the editor-in-chief and party secretary of the state media outlet, also weighed in on the incident in a social media post on Monday. He started his post by saying that the reporter who initially made the phrase 'next five year' go viral had a "lack of professionalism" which caused the overall misunderstanding.
Hu also added a photo of the relevant page within the original report that was delivered at the Congress, showing that the phrase 'the coming five years' was indeed not written before the segment on China's battle against Covid, which detailed Beijing's commitment to its strict epidemic prevention and control measures.
But Hu also added some nuance to the confusion and how it came about. The original report indeed generally focuses on Beijing developments of the past five years and the next five years, but adding the "in the next five years" phrase right before the segment was a confusing emphasis only added by the reporter, changing the meaning of the text.
Hu noted that the right way to interpret the report's segment about China's Covid battle is that it clarifies that the battle against the virus is not over and that China will continue to fight Covid – but that does not mean that Beijing will stick to its current zero Covid policy for the next five years to come, including its local lockdowns and restrictions on movement.
Hu Xijin wrote:
"I really do not believe that the city of Beijing would allow the situation as it has been for the past two months or so go on for another five years. That would be unbearable for the people of Beijing, it would be too much for the city's economy, and it would have a negative impact on the whole country. So it's unlikely that Beijing would come up with such a negative plan now, and I'm convinced that those in charge of managing the city will plan and strive to achieve a more morale-boosting five years ahead."
After the apparent error was set straight, netizens reflected on the online panic and confusion that had erupted over just four words. Some said that the general panic showed how sensitive and nervous people had become in times of Covid. Others were certain that the term "next five years" would be banned from Weibo. Many just said that they still needed time to recover from the shock they felt.
"The peoples' reactions today really show how fed up everyone is with the 'disease prevention' – if you want to know what the people think, this is what they think," one Weibo user from Beijing wrote.
To read more about Covid-19 in China, check our articles here.
By Manya Koetse
With contributions by Miranda Barnes
Get the story behind the hashtag. Subscribe to What's on Weibo here to receive our weekly newsletter and get access to our latest articles:
Spotted a mistake or want to add something? Please let us know in comments below or email us. First-time commenters, please be patient – we will have to manually approve your comment before it appears.
©2022 Whatsonweibo. All rights reserved. Do not reproduce our content without permission – you can contact us at info@whatsonweibo.com.