Op-Ed: Your Use of "Netizen" Hurts Responsible China Coverage
It's not innocent jargon. Not anymore.
Far from innocent jargon, the word 'netizen' has political implications in its use today and should not be casually tossed around, says Beijing-based journalist Dave Yin. In this op-ed contribution, Yin responds to our recent article "Netizens or Not?"
It's unlikely that when internet theorist and author Michael F. Hauben coined the word "netizen" more than thirty years ago, he would have imagined that, one day, on the other side of the world, a few handfuls of Western reporters and media critics covering China would be divided: in one camp applauding and in the other cursing his creation. It's equally unlikely he'd recognize at first glance what his word has come to mean in 2018 – and to whom.
Common thought is that whether or not "netizen" should be used, and what it means, are at the heart of this debate, which by now spans publications both big and small, free and censored. It hasn't gotten us anywhere.
But in view of China's escalation of online policing and digital surveillance, the concept of "netizen" is evolving, as must its coverage in Western media. Far from innocent jargon, the word today has political implications and a growing potential for harm, one Western media must recognize if it is to conduct responsible reporting.
A Western interpretation
When considering the word "netizen," it helps to know what one is talking about. Namely, pick a definition, and stick with it.
Scenario A)
One clear-cut definition offered by the Atlantic designates a unique identity; young, wealthy, educated Chinese urbanites and/or politically active individuals in online communities adept at skirting censorship.
Here, simple protocol applies. Writers using "netizen" must first make sure the subjects of their story actually match this description. Then, they must assess whether these complex socioeconomic and political elements are evident in this word. Hint: they're not.  Inevitably, writers should be explaining these elements to accompany the use of this term in each article it appears in. Anything short of this is incomplete reporting.
Scenario B)
If broadly defined to be a synonym to "Chinese internet users," as is more often the case, then several questions emerge: Why do Chinese internet users need a special label in the first place? Why is "Chinese internet user" inadequate when this type of terminology works for everyone else? If research (paywall) suggests the online habits of Chinese are similar to the rest of us, what are we trying to accomplish by othering them?
Self-applied labels
In advocacy reporting, we try to respect a person's self-applied labels, such as with race or sexual orientation, so I appreciate the irony when I say that just because Chinese people call themselves "netizens" doesn't necessarily mean we should.
Be it when describing race, sexual orientation, disability, etc. there is a general effort to use terminology that centers the person, and not the circumstance, which is often complex. "Person with impaired vision," "a cisgender gay man," "the woman, who identifies as a second-generation Filipino immigrant," "individuals claiming to be members of the Anonymous collective" are infinitely better than "the blind," "the gay," "the Filipino," "Anonymous." In pieces where nuance and individuals matter, these words do more than fill up space.
"Netizen," as it is currently used, erases both.
What's more, these often political labels emerged in societies with freedom of association where one makes a statement simply by publicly identifying. By contrast, what does it mean to label yourself with something as vague and abstract as "netizen" in a society that doesn't allow such freedom, and what effect does it have when Western media take up this cause?
A Chinese strategy
The self-applied label argument is also unsound when you consider that "netizen" is actually a mistranslation of the word "wǎngmín" (网民).
In wǎngmín 人民 (people), nóngmín 农民 (farmer), jūmín 居民 (resident), yímín 移民 (migrant), yúmín 渔民 (fisherman), and míngē 民歌 (folk song), "mín" 民 simply means "people," without any "citizen" connotation, and therefore "wǎngmín" 网民 really just means "internet people/people on the internet."
In other words, "netizen" and "wǎngmín" are faux amis. It's a mistake that Western media has allowed to proliferate and one that we must now contend with.
While the use of the English word by ordinary Chinese and private Chinese media could boil down to guileless ignorance towards English nuance, by contrast, "wǎngmín," when applied by the Chinese government and its mouthpieces, is part of deliberate national policy. As described by Manya Koetse in her analysis, the Chinese term is an official category of Chinese nationals on which the CCP imposes severe restrictions.
What ramifications are there for Western media in not consciously decoupling these wildly different interpretations by different actors? By casually tossing the word around, do we not run the risk of normalizing Chinese internet policy?
While we, working in the Far East, may feel at times that our work is isolated, it should be noted that people are, in fact, reading, for better or worse.
"['Netizen'] has been used when reporting on China for a decade+ [sic] in order to relieve journalists of understanding what they're reporting on," one Reddit user (Western netizen?) writes. "Today it is a lazy way to assume all internet users in China think the same way by f*cking lazy journalists."
"Netizen" may well stick around. China's emerging digital policies have all but ensured it. But we owe it to our readers and the people we cover to get with the program, to evolve our terminology and critical judgment at the same pace as the subject matter.
We need to understand that the benefits of its selective, judicious use, as a result of explicit purpose, come from highlighting and decoding China's socioeconomic and political situation, not from generalizing 772 million individuals, and least of all from othering them or normalizing their constraints. It may help everyone's understanding of this country, including our own.
By Dave Yin
Follow @whatsonweibo
Spotted a mistake or want to add something? Please let us know in comments below or email us.
©2018 Whatsonweibo. All rights reserved. Do not reproduce our content without permission – you can contact us at info@whatsonweibo.com.
Japanese Gold Medalist Becomes a Meme in China after Controversial Men's Gymnastics All-Around
Weibo's Olympic meme machine has begun!
The Olympic Games are in full swing and Chinese social media users are building on their meme collections as online discussions are getting more intense on Weibo – especially when it comes to competitions between China and Japan.
Japanese athlete Daiki Hashimoto (橋本 大輝) won the gold for men's gymnastics individual all-around on the sixth day of the Tokyo Olympics. China's Xiao Ruoteng (肖若腾), who had been leading the competition in the first five rotations, claimed the silver medal after the team's inquiry over his score of 14.066 in the last rotation was rejected.
Online discussions arose as videos and pictures of Hashimoto's landing pose in the vaulting event were shared by some netizens on Weibo, questioning if Hashimoto deserves a score of 14.7 as he failed to end with a stable landing.
A video made by Shanghai Oriental Sports Daily compares the performances of the two athletes and shows how the scoring leaves people confused; the two gymnasts performed the same routine and ended in completely different poses (land firmly vs. stumble while landing and stepping out of line), yet they only had a score difference of 0.166.
Some Chinese gymnasts also posted on Weibo and hinted at the scoring controversy.
Li Xiaopeng (李小鹏), the male gymnast who currently holds 16 world titles, called the result "a pity" in a Weibo post published on July 28. He wrote: "Congratulations on the second place. The fact is not that I do not understand [the game] – it's that I understand it all too well."
Gymnast Chen Yibing (陈一冰), four-time world champion on still rings who himself experienced disputed scoring at the 2012 Summer Olympics, wrote: "No matter what the result is, Sun Wei and Xiao Ruoteng are perfect! Xiao Ruoteng IS the champion."
More than 10 related hashtags appeared in the top 30 of Weibo's top search list after the competition, even though it was already late at night in China. The hashtag relating to the judges of the Olympic gymnastics (#体操裁判#) received about 640 million views.

A screenshot of the Weibo's trending list at Beijing Time 11:15 pm on July 28, showing 12 hashtags related to the competition of Men's Gymnastics Individual All-Around.
Online discussions on the controversial gymnastics' scoring then shifted, setting off a wave of content creation. Some memes mocking the new champion's landing pose in the event of vault went viral on Weibo.

"I am the champion"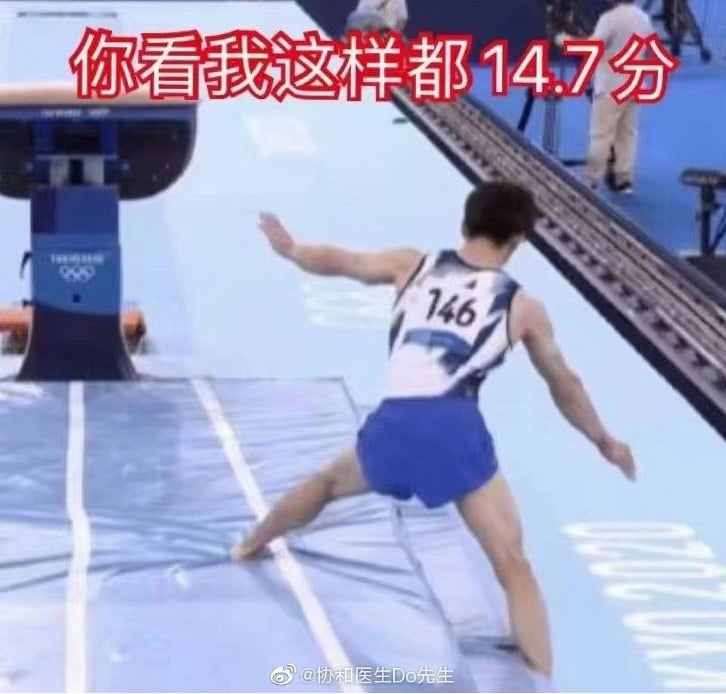 "See, I got 14.7 points with this."

"I split, I step out of line, but I got 14.7 and I am the world champion."

"Let me go down and pick up a gold medal."

"Judge: This is perfect! The feet are still on the ground! 14.7!"
This is not the first controversy that generated heated discussions and set off a meme machine on Weibo since the Summer Olympics kicked off.
Monday's mixed doubles table tennis final between China and Japan (Jun Mizutani/Mima Ito vs Xin Xu/Shiwen Liu) also became a major topic, especially because the Chinese players were defeated by their Japanese counterparts and won silver instead of gold. For the past 14 years, China had monopolized the gold medals in table tennis.
One moment that stood out is when Xu Xin (许昕), a Chinese professional table tennis player who is ranked world's No. 2 for men's singles by the International Table Tennis Federation (ITTF), entertained social media users by holding his breath immediately after he realized he was going to blow on the ping pong ball (see video here).

"Xu Xin Wants to Blow, Then Stops"
He did so because of the new anti-epidemic rules during the Tokyo Olympics. Some of these regulations include that players are not allowed to touch the game table with their hands and that they are not allowed to blow on the ball.
The hashtag "Xu Xin Wants to Blow, Then Stops" (#许昕欲吹又止#) that described Xu's cautiousness went trending and generating about 450 million views on Weibo.
Another related hashtag is "Jun Mizutani Blows on the Ball" (#水谷隼吹球#). The hashtag is about the moment when the Japanese table tennis player blows on the ball during the event but does not receive a warning from judges (see video here). The hashtag has so far generated about 820 million views on Weibo.

"Jun Mizutani Blows on the Ball"
Going against COVID19 regulations, Japanese table tennis player Mima Itō also touched the table several times, but the referee apparently did not notice or turned a blind eye. This also led to a Weibo hashtag page (#伊藤美诚也多次摸球桌#) and several memes.
Another hashtag, "Japanese Players Swimming on the Chinese Players" (#日本选手压在中国选手身上游# ), describes another moment during the Olympics that happened during the Chinese and Japanese women's water polo team competition on July 28, when a Chinese player was pushed underwater by a Japanese player while swimming. Some Weibo users suggested the move was dangerous and 'could have killed' her (see video here).
As the Games continue, the meme collections grow as online discussions are getting more intense on Weibo – especially when it comes to competitions between China and Japan.
In response to the ongoing controversies, the Central Communist Youth League of China (@共青团中央) published the video of the judges taking the Olympic oath during the opening ceremony and asked: "Have you followed your oath?"
A picture of a training venue for Chinese weightlifters was widely shared on Weibo because the slogan on the wall says: "To win a clean gold medal" (#中国选手的训练场馆 拿干净金牌#).
Chinese netizens applauded this principle of a 'clean' victory and have started to use the picture to call for fewer tricks during the rest of the Olympic competitions.
By Wendy Huang
Follow @whatsonweibo
Spotted a mistake or want to add something? Please let us know in comments below or email us. Please note that your comment below will need to be manually approved if you're a first-time poster here.
©2021 Whatsonweibo. All rights reserved. Do not reproduce our content without permission – you can contact us at info@whatsonweibo.com
Weibo's Keyboard Warrior Olympics: Online Attacks against Chinese Athletes
These Chinese female athletes particularly suffered cyberbullying on Weibo this week.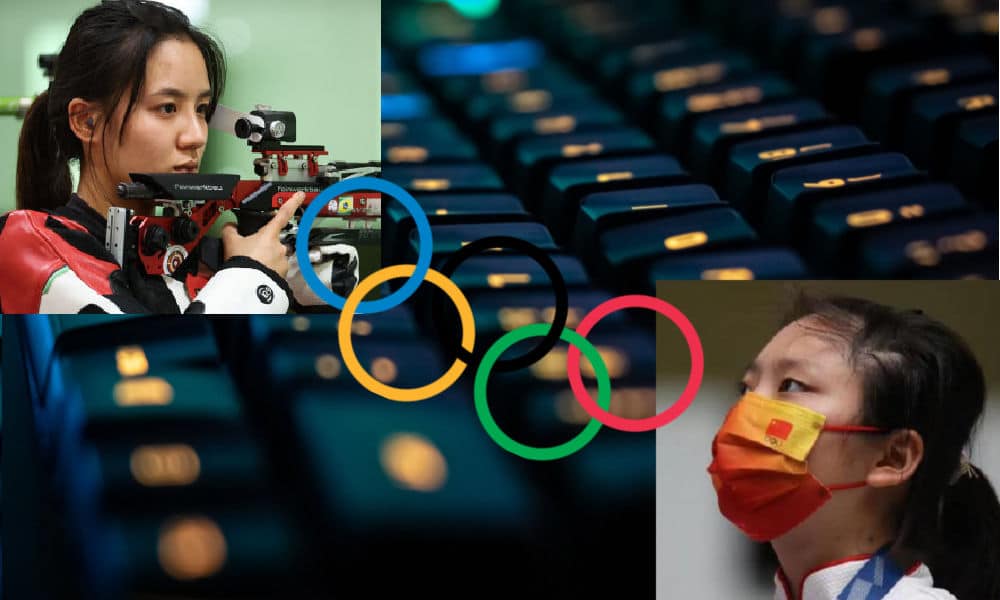 China's success at the Tokyo Olympics is all the talk on Weibo. But it's not all praise for Chinese athletes, as perceived flaws in their behavior can soon lead to online attacks by angry trolls.
The Tokyo Olympics are dominating the top trending lists on Chinese social media this week. On the fifth day of the Summer Olympics, China was ranking first in the live medal table with a total of 11 Gold medals, 5 Silver, and 8 Bronze.
Despite all the social media users supporting the Chinese athletes, there are also some who are speaking out against them. These Chinese female athletes particularly suffered cyberbullying on Weibo this week.
Wang Luyao (王璐瑶), a favorite to win the women's air-rifle competition, was the first one to be attacked online after she failed to make the finals on Saturday. After the 10-metre air rifle event, the 23-year-old athlete posted a picture of herself on her Weibo account, writing: "Sorry everyone, I'm sorry, I admit I chickened out, see you all in three years" ("各位抱歉,很遗憾,我承认我怂了,三年后再见吧").
The post triggered many comments and led to the "Wang Luyao Says See You in Three Years" hashtag (#王璐瑶说三年后再见#). Instead of supporting Wang, many netizens turned against her instead.
As also reported by Global Times, some criticized the athlete because they felt her post wasn't showing "the spirit of sports." Some threads on Weibo are filled with harsh criticism of the athlete, with many arguing that her post was "frivolous," that she has a "bad attitude," and that she was behaving more like a pop star instead of an athlete.
Facing online attacks, Wang deleted her own post shortly after. On July 28, she followed up with another post in which she says she will begin her life back in Beijing again with a fresh start.
Yang Qian: Attacked over Nike Shoe Collection
Another female athlete experiencing an online storm this week is Yang Qian (杨倩). Even though the Chinese sport shooter won the first gold medal for China in these Olympics, there was a shift in online attitudes when it turned out she owns a collection of Nike shoes.
Yang posted pictures of her Nike shoe collection on December 31st of 2020.
Yang's apparent love for Nike was brought to the light by Beijing Television (BTV) director Liu Hao (刘昊), who commented on Yang's old post: "Chinese athletes, why would you want to collect Nike shoes, shouldn't you take the lead in boycotting Nike? Aren't our domestic brands such as Erke, Li Ning, and Anta good enough [for you]?"
Nike and other Western brands received backlash in China this year for no longer sourcing cotton from China's Xinjiang region. Chinese brands have also been cast in a more positive light over the past few years due to more controversies involving Western brands. Showing off one's love for Nike, rather than the Chinese Li Ning for example, could come across as being 'unpatriotic' for some (read more about this trend here).
Discovering Yang's apparent like for the Nike brand, many Weibo users started to leave angry messages.
Although some Weibo users were quick to criticize Yang, it soon came out that Yang's post on her shoe collection dated from before Nike triggered controversy in China, and, noteworthy enough, that the BTV director who criticized her also seemed to have been a fan of Nike herself before; a Weibo post from 2017 was dug up by some social media users showing Liu's love for the brand.
Top-Notch Athletes
The online condemnation of Wang and Yang shows just how quickly public sentiment can turn against those who are in the limelight. Despite these occurrences, there is still a majority of people showing their support for their athlete heroes.
Shortly after Wang's post triggered online controversy, another hashtag supporting her received over 550 million views: "Wang Luyao Is Still Our Amazing Zhejiang Girl" (#王璐瑶仍是浙江了不起的姑娘#).
"If you can go to the Olympics, you're already excellent," some wrote: "They are our top-notch athletes."
For the past three days, the hashtag "Strongly Oppose Cyberbullying of Athletes" (#坚决反对网暴奥运选手#) has been making its rounds on Chinese social media, with netizens condemning those who are using these athletes to vent their own anger via social media.
Some posters labeled the angry netizens as 'keyboard warriors' (键盘侠) with nothing better to do: "Keyboard warriors only have their keyboard." "They can't even manage to throw their keyboard in their trash bin."
Weibo users attacking Yang and Wang were not just criticized by other social media users, they were also punished by Sina Weibo. Besides removing dozens of posts, the platform banned a total of 33 accounts for up to 180 days for comments they made towards Wang. A total of 32 Weibo accounts that posted "malicious" comments about Yang were also temporarily suspended from the platform and made public by the Weibo regulators.
These harsh penalties also made some netizens wonder if they could still criticize the Olympic team at all. "Can I still vent about the women's team soccer coach, or will I be banned for doing so?", one Weibo user wondered.
By Manya Koetse (@manyapan)
With contributions by Miranda Barnes
Spotted a mistake or want to add something? Please let us know in comments below or email us. First-time commenters, please be patient – we will have to manually approve your comment before it appears.
©2021 Whatsonweibo. All rights reserved. Do not reproduce our content without permission – you can contact us at info@whatsonweibo.com.