Op-Ed: Your Use of "Netizen" Hurts Responsible China Coverage
It's not innocent jargon. Not anymore.
Far from innocent jargon, the word 'netizen' has political implications in its use today and should not be casually tossed around, says Beijing-based journalist Dave Yin. In this op-ed contribution, Yin responds to our recent article "Netizens or Not?"
It's unlikely that when internet theorist and author Michael F. Hauben coined the word "netizen" more than thirty years ago, he would have imagined that, one day, on the other side of the world, a few handfuls of Western reporters and media critics covering China would be divided: in one camp applauding and in the other cursing his creation. It's equally unlikely he'd recognize at first glance what his word has come to mean in 2018 – and to whom.
Common thought is that whether or not "netizen" should be used, and what it means, are at the heart of this debate, which by now spans publications both big and small, free and censored. It hasn't gotten us anywhere.
But in view of China's escalation of online policing and digital surveillance, the concept of "netizen" is evolving, as must its coverage in Western media. Far from innocent jargon, the word today has political implications and a growing potential for harm, one Western media must recognize if it is to conduct responsible reporting.
A Western interpretation
When considering the word "netizen," it helps to know what one is talking about. Namely, pick a definition, and stick with it.
Scenario A)
One clear-cut definition offered by the Atlantic designates a unique identity; young, wealthy, educated Chinese urbanites and/or politically active individuals in online communities adept at skirting censorship.
Here, simple protocol applies. Writers using "netizen" must first make sure the subjects of their story actually match this description. Then, they must assess whether these complex socioeconomic and political elements are evident in this word. Hint: they're not.  Inevitably, writers should be explaining these elements to accompany the use of this term in each article it appears in. Anything short of this is incomplete reporting.
Scenario B)
If broadly defined to be a synonym to "Chinese internet users," as is more often the case, then several questions emerge: Why do Chinese internet users need a special label in the first place? Why is "Chinese internet user" inadequate when this type of terminology works for everyone else? If research (paywall) suggests the online habits of Chinese are similar to the rest of us, what are we trying to accomplish by othering them?
Self-applied labels
In advocacy reporting, we try to respect a person's self-applied labels, such as with race or sexual orientation, so I appreciate the irony when I say that just because Chinese people call themselves "netizens" doesn't necessarily mean we should.
Be it when describing race, sexual orientation, disability, etc. there is a general effort to use terminology that centers the person, and not the circumstance, which is often complex. "Person with impaired vision," "a cisgender gay man," "the woman, who identifies as a second-generation Filipino immigrant," "individuals claiming to be members of the Anonymous collective" are infinitely better than "the blind," "the gay," "the Filipino," "Anonymous." In pieces where nuance and individuals matter, these words do more than fill up space.
"Netizen," as it is currently used, erases both.
What's more, these often political labels emerged in societies with freedom of association where one makes a statement simply by publicly identifying. By contrast, what does it mean to label yourself with something as vague and abstract as "netizen" in a society that doesn't allow such freedom, and what effect does it have when Western media take up this cause?
A Chinese strategy
The self-applied label argument is also unsound when you consider that "netizen" is actually a mistranslation of the word "wǎngmín" (网民).
In wǎngmín 人民 (people), nóngmín 农民 (farmer), jūmín 居民 (resident), yímín 移民 (migrant), yúmín 渔民 (fisherman), and míngē 民歌 (folk song), "mín" 民 simply means "people," without any "citizen" connotation, and therefore "wǎngmín" 网民 really just means "internet people/people on the internet."
In other words, "netizen" and "wǎngmín" are faux amis. It's a mistake that Western media has allowed to proliferate and one that we must now contend with.
While the use of the English word by ordinary Chinese and private Chinese media could boil down to guileless ignorance towards English nuance, by contrast, "wǎngmín," when applied by the Chinese government and its mouthpieces, is part of deliberate national policy. As described by Manya Koetse in her analysis, the Chinese term is an official category of Chinese nationals on which the CCP imposes severe restrictions.
What ramifications are there for Western media in not consciously decoupling these wildly different interpretations by different actors? By casually tossing the word around, do we not run the risk of normalizing Chinese internet policy?
While we, working in the Far East, may feel at times that our work is isolated, it should be noted that people are, in fact, reading, for better or worse.
"['Netizen'] has been used when reporting on China for a decade+ [sic] in order to relieve journalists of understanding what they're reporting on," one Reddit user (Western netizen?) writes. "Today it is a lazy way to assume all internet users in China think the same way by f*cking lazy journalists."
"Netizen" may well stick around. China's emerging digital policies have all but ensured it. But we owe it to our readers and the people we cover to get with the program, to evolve our terminology and critical judgment at the same pace as the subject matter.
We need to understand that the benefits of its selective, judicious use, as a result of explicit purpose, come from highlighting and decoding China's socioeconomic and political situation, not from generalizing 772 million individuals, and least of all from othering them or normalizing their constraints. It may help everyone's understanding of this country, including our own.
By Dave Yin
Follow @whatsonweibo
Spotted a mistake or want to add something? Please let us know in comments below or email us.
©2018 Whatsonweibo. All rights reserved. Do not reproduce our content without permission – you can contact us at info@whatsonweibo.com.
Must-Read: SCMP's China Internet Report 2020
The China Internet Report brings order to the chaos of China's ever-changing digital environment. There's a special What's on Weibo discount for the Pro-edition.
First published
SCMP Research's China Internet Report 2020 is here, covering the country's biggest tech trends, breaking down the major players and key markets, and bringing some order to the chaos of China's rapidly changing digital environment.
Today, the South China Morning Post (SCMP) has launched its third edition of the China Internet Report – a super-comprehensive resource on China's technology landscape offering insights into the most important trends and players shaping the world's biggest internet community.
This year, China's online population has reached the staggering number of 904 million users, with the average daily time spent on the internet rising to 7.2 hours in March.
COVID-19 has significantly increased online media consumption across China.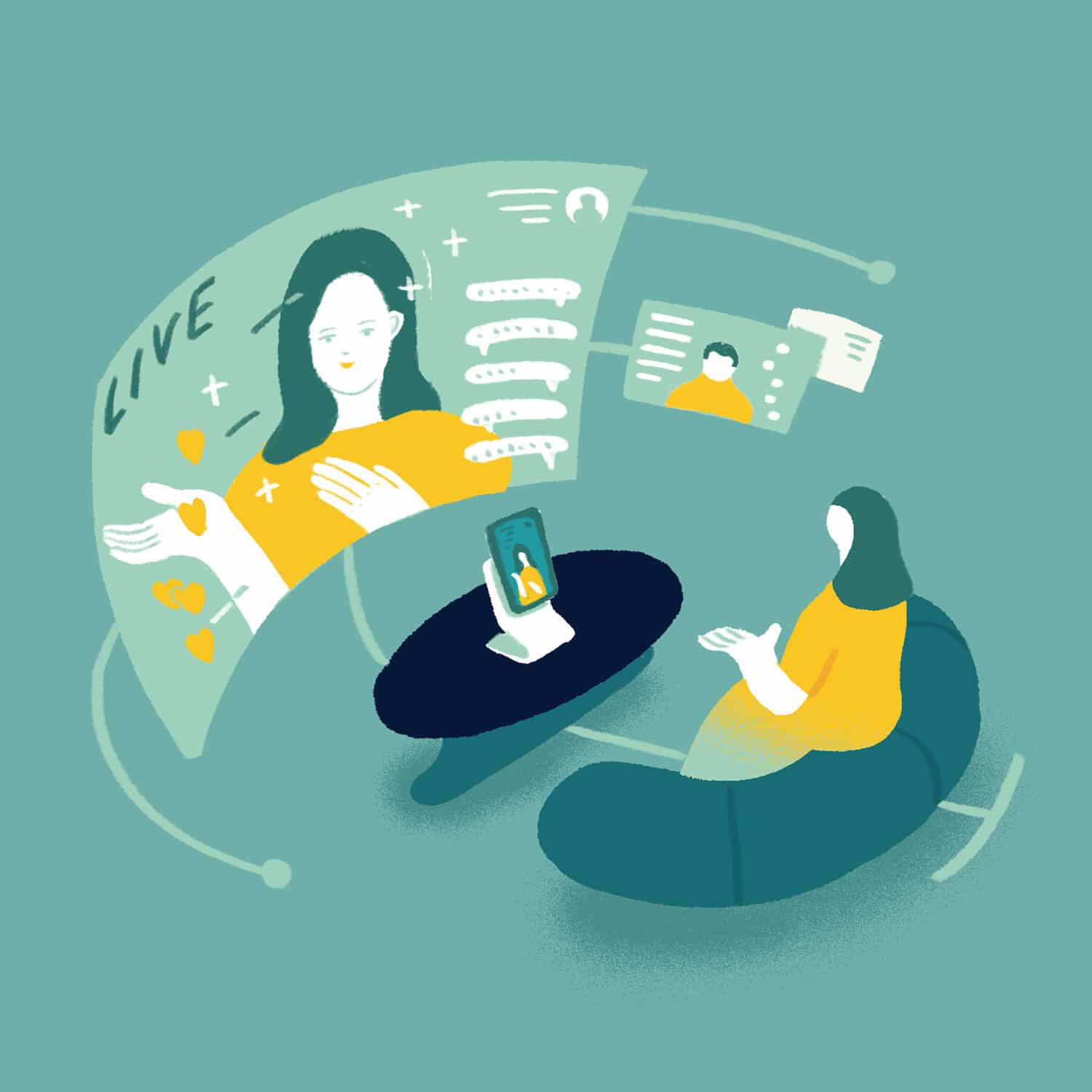 China's rapid digitization has not just radically altered Chinese society – it is also increasingly impacting the global internet ecosystem at large.
With yesterday's local startups becoming tomorrow's international tech leaders, and today's trends soon becoming worldwide shifts, understanding China's latest digital developments has never been more important.
The new coronavirus outbreak in China has not just temporarily affected people's online behavior, the report finds, suggesting that COVID-19 will have a lasting impact on China's tech sectors.
Besides social media platforms and other apps becoming a crucial tool of mass communication and information for Chinese netizens in times of COVID-19, the pandemic also changed how people in China started using technology in their everyday lives, from online learning to digital healthcare seeking. These trends have brought about permanent changes.
The accelerated digitization and the innovative tech use in times of the coronavirus crisis are listed as one of the major trends of 2020, among other vital digital shifts changing China's online landscape, from the mass adoption of 5G to live streaming in China reaching its third phase.
To check out the main trends for 2020, China's latest internet statistics, its top tech competitors, internet companies, and more, here's a link to the report.
This year, in addition to the free report, SCMP Research also introduces its Pro Edition (US$400) that features more than a hundred pages of deep-dive per sector – from e-commerce to healthtech, 5G and more – providing additional analysis, data, as well as access to six closed-door webinars with leading C-level executives of internet and technology companies in China.
The folks at SCMP have been kind enough to reach out and offer a special 30% discount on the Pro Edition report for What's on Weibo readers.
You'll get the discount by using the discount code: "WHATSONWEIBO", or by clicking this link that will automatically include your discount code.
By Manya Koetse
Follow @WhatsOnWeibo
Spotted a mistake or want to add something? Please let us know in comments below or email us. First-time commenters, please be patient – we will have to manually approve your comment before it appears.
©2020 Whatsonweibo. All rights reserved. Do not reproduce our content without permission – you can contact us at info@whatsonweibo.com.
Spicy Sauce Scam Goes Viral – Tencent Duped by Fake Lao Gan Ma Deal
The bizarre story that went trending this week involves China's tech giant Tencent and China's undisputed sauce queen Lao Gan Ma.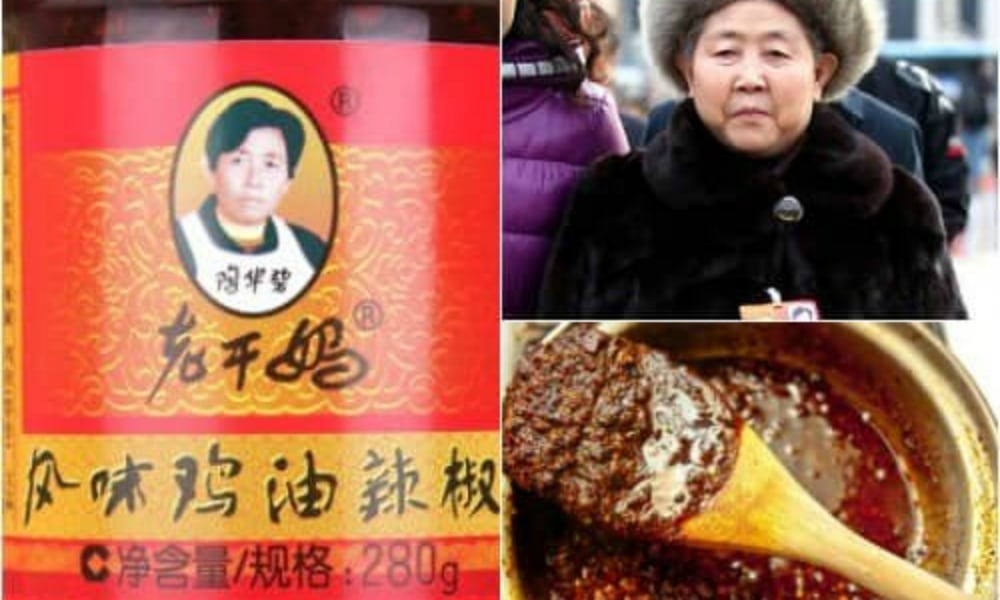 First published
The super popular Chinese chilli sauce brand Lao Gan Ma has been all the talk on Chinese social media this week since a somewhat bizarre incident occurred where the world of tech scams and spicy sauce collided.
News came out earlier this week that Chinese tech giant Tencent sued Lao Gan Ma over a contract dispute for failing to pay the advertising fees for their online platforms. The case led to an initial Shenzhen court ruling requiring Lao Gan Ma to freeze 16.24 million yuan ($2.3 million) worth of assets.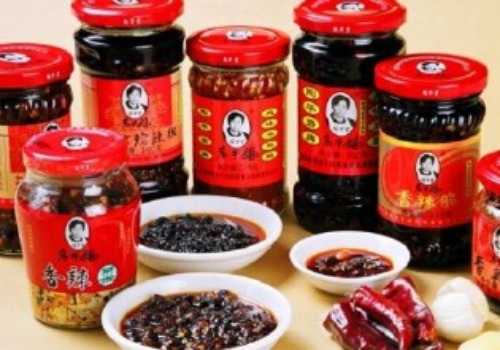 According to Chinese state media outlet Global Times, Tencent claimed it had signed a marketing contract with the famous chilli brand in March of last year, and has since delivered marketing promotions worth of tens of millions yuan without receiving payment.
Lao Gan Ma, however, denied ever signing this contract with Tencent and reported the matter to police.
It then turned out that Tencent had actually signed the marketing cooperation with imposters pretending to represent the chilli manufacturer, and had actually been cheated.
Meanwhile, the hashtag "CCTV Investigates the Lao Gan Ma Suitcase" (#央视调查腾讯老干妈诉讼事件#) received over 400 million views on social media platform Weibo.
The imposters' goal allegedly was to obtain the online game package codes that are part of Tencent's promotional activities, in order to resell them online.
On July 1st, Guiyang police released a statement on Weibo saying they had arrested three people in the fraud case; a 36-year old man, and two women aged 40 and 36. The topic became trending on Weibo (#警方通报3人伪造老干妈印章签合同#), receiving 190 million views.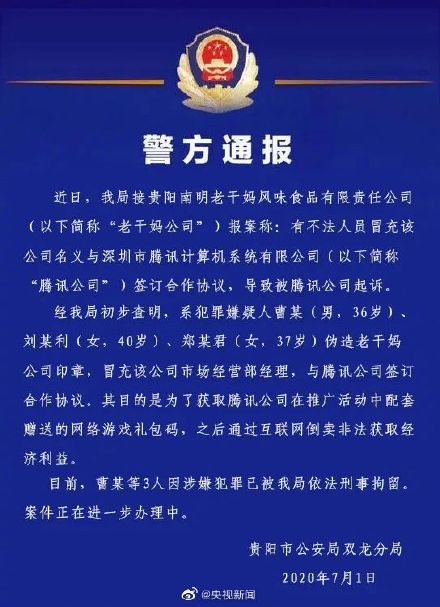 On social media, many netizens wonder how a big company such as Tencent – one of China's biggest internet giants – could fall for such a scam.
"Even I know that Laoganma doesn't need advertisement to promote its products," some commenters wrote.
"Wouldn't such a business deal actually require them to meet?", others wonder.
Other people express their anger at Tencent, demanding an apology from the company for suing their beloved chilli sauce brand.
But the majority of people think the matter is somewhat hilarious, ridiculing Tencent – that has a penguin as its main logo – for getting caught up in such an embarrassing scam. Dozens of memes circulating on Weibo make fun of the company for being so stupid and naive.
The Tencent company joined the meme machine to also ridicule itself, asking Chinese netizens for information that could prevent them from falling for such a scam in the future. As a reward, the company writes, they will give away thousand jars of Lao Gan Ma chilli sauce.
Want to know more? To read all about the Lao Gan Ma brand and its history, click here for our feature article on the brand and its founder.
Hungry? Lao Gan Ma is also for sale in your local (Asian) supermarket, and also sells it products through Amazon here.
By Manya Koetse
Follow @WhatsOnWeibo
Spotted a mistake or want to add something? Please let us know in comments below or email us. First-time commenters, please be patient – we will have to manually approve your comment before it appears.
©2020 Whatsonweibo. All rights reserved. Do not reproduce our content without permission – you can contact us at info@whatsonweibo.com.