Op-Ed: Your Use of "Netizen" Hurts Responsible China Coverage
It's not innocent jargon. Not anymore.
Far from innocent jargon, the word 'netizen' has political implications in its use today and should not be casually tossed around, says Beijing-based journalist Dave Yin. In this op-ed contribution, Yin responds to our recent article "Netizens or Not?"
It's unlikely that when internet theorist and author Michael F. Hauben coined the word "netizen" more than thirty years ago, he would have imagined that, one day, on the other side of the world, a few handfuls of Western reporters and media critics covering China would be divided: in one camp applauding and in the other cursing his creation. It's equally unlikely he'd recognize at first glance what his word has come to mean in 2018 – and to whom.
Common thought is that whether or not "netizen" should be used, and what it means, are at the heart of this debate, which by now spans publications both big and small, free and censored. It hasn't gotten us anywhere.
But in view of China's escalation of online policing and digital surveillance, the concept of "netizen" is evolving, as must its coverage in Western media. Far from innocent jargon, the word today has political implications and a growing potential for harm, one Western media must recognize if it is to conduct responsible reporting.
A Western interpretation
When considering the word "netizen," it helps to know what one is talking about. Namely, pick a definition, and stick with it.
Scenario A)
One clear-cut definition offered by the Atlantic designates a unique identity; young, wealthy, educated Chinese urbanites and/or politically active individuals in online communities adept at skirting censorship.
Here, simple protocol applies. Writers using "netizen" must first make sure the subjects of their story actually match this description. Then, they must assess whether these complex socioeconomic and political elements are evident in this word. Hint: they're not.  Inevitably, writers should be explaining these elements to accompany the use of this term in each article it appears in. Anything short of this is incomplete reporting.
Scenario B)
If broadly defined to be a synonym to "Chinese internet users," as is more often the case, then several questions emerge: Why do Chinese internet users need a special label in the first place? Why is "Chinese internet user" inadequate when this type of terminology works for everyone else? If research (paywall) suggests the online habits of Chinese are similar to the rest of us, what are we trying to accomplish by othering them?
Self-applied labels
In advocacy reporting, we try to respect a person's self-applied labels, such as with race or sexual orientation, so I appreciate the irony when I say that just because Chinese people call themselves "netizens" doesn't necessarily mean we should.
Be it when describing race, sexual orientation, disability, etc. there is a general effort to use terminology that centers the person, and not the circumstance, which is often complex. "Person with impaired vision," "a cisgender gay man," "the woman, who identifies as a second-generation Filipino immigrant," "individuals claiming to be members of the Anonymous collective" are infinitely better than "the blind," "the gay," "the Filipino," "Anonymous." In pieces where nuance and individuals matter, these words do more than fill up space.
"Netizen," as it is currently used, erases both.
What's more, these often political labels emerged in societies with freedom of association where one makes a statement simply by publicly identifying. By contrast, what does it mean to label yourself with something as vague and abstract as "netizen" in a society that doesn't allow such freedom, and what effect does it have when Western media take up this cause?
A Chinese strategy
The self-applied label argument is also unsound when you consider that "netizen" is actually a mistranslation of the word "wǎngmín" (网民).
In wǎngmín 人民 (people), nóngmín 农民 (farmer), jūmín 居民 (resident), yímín 移民 (migrant), yúmín 渔民 (fisherman), and míngē 民歌 (folk song), "mín" 民 simply means "people," without any "citizen" connotation, and therefore "wǎngmín" 网民 really just means "internet people/people on the internet."
In other words, "netizen" and "wǎngmín" are faux amis. It's a mistake that Western media has allowed to proliferate and one that we must now contend with.
While the use of the English word by ordinary Chinese and private Chinese media could boil down to guileless ignorance towards English nuance, by contrast, "wǎngmín," when applied by the Chinese government and its mouthpieces, is part of deliberate national policy. As described by Manya Koetse in her analysis, the Chinese term is an official category of Chinese nationals on which the CCP imposes severe restrictions.
What ramifications are there for Western media in not consciously decoupling these wildly different interpretations by different actors? By casually tossing the word around, do we not run the risk of normalizing Chinese internet policy?
While we, working in the Far East, may feel at times that our work is isolated, it should be noted that people are, in fact, reading, for better or worse.
"['Netizen'] has been used when reporting on China for a decade+ [sic] in order to relieve journalists of understanding what they're reporting on," one Reddit user (Western netizen?) writes. "Today it is a lazy way to assume all internet users in China think the same way by f*cking lazy journalists."
"Netizen" may well stick around. China's emerging digital policies have all but ensured it. But we owe it to our readers and the people we cover to get with the program, to evolve our terminology and critical judgment at the same pace as the subject matter.
We need to understand that the benefits of its selective, judicious use, as a result of explicit purpose, come from highlighting and decoding China's socioeconomic and political situation, not from generalizing 772 million individuals, and least of all from othering them or normalizing their constraints. It may help everyone's understanding of this country, including our own.
By Dave Yin
Follow @whatsonweibo
Spotted a mistake or want to add something? Please let us know in comments below or email us.
©2018 Whatsonweibo. All rights reserved. Do not reproduce our content without permission – you can contact us at info@whatsonweibo.com.
Separated by Fence, These Chinese Students Still Manage to Have Hotpot Together
Social life and entertainment in times of closed-off campuses.
Over the past two weeks, universities across China have welcomed back their students, but campus life is not back to how it was in pre-COVID19 times.
Many universities have implemented strict anti-virus measures, with some promoting 'closed-off management' (封校管理), making it difficult for students to leave campus to go out.
This week, the popular Wechat account "Newsbro" (新闻哥) reported how a student in Baoding, Hebei province, made the best of his fenced-off campus situation by meeting his girlfriend for hotpot through the fence.
A video of the get-together was shared on social media by Fengmian News.
On Weibo, some commenters suggested the scene was "like a prison", while others thought it looked like a "pet owner feeding its pet."
Although some think the hotpot scene is staged, 'Newsbro' reports that there are multiple examples of "love in times of closed-off schools" ("封校时期的爱情"), with the account sharing a photo of another scene where lovebirds hug each other through the school fence.
Newsbro (新闻哥) also shares some gifs of people entertaining themselves at the dorms (see Twitter thread below).
Due to anti-virus measures, some Chinese universities have a 'closed campus', making it hard for students to leave the campus to go out. What to do on a boring night in the dorm? How about turning it into a catwalk! This guy nails it. pic.twitter.com/mvWz4Zyi8y

— Manya Koetse (@manyapan) September 15, 2020
In the article on dorm life in times of COVID19, Newsbro also shows that some people find creative ways to still get a haircut (image below).
Weibo Video also shared a post that showed that parents and new students still keep in touch through the fence. Parents bring their children food, and some families still manage to share dinners through the fence.
It is common for parents to see off their college freshman children at the start of a new semester. The so-called 'tents of love' custom, where parents actually stay on campus to help their children settle into their new life at university, is impossible due to COVID19 measures.
Recent photos and videos on Weibo and Wechat show that, despite the 'new normal' of Chinese campus life, people still find plenty of creative ways to keep their social life and late-night entertainment going.
Also read: The "Tents of Love" Phenomenon: Chinese Parents Sleep in Tents At Their Kids' New University
Read more about COVID19 in China here.
By Manya Koetse and Miranda Barnes
Follow @WhatsOnWeibo
Spotted a mistake or want to add something? Please let us know in comments below or email us. First-time commenters, please be patient – we will have to manually approve your comment before it appears.
©2020 Whatsonweibo. All rights reserved. Do not reproduce our content without permission – you can contact us at info@whatsonweibo.com.
Famous Goubuli Restaurant Calls Police for Getting Roasted Online, Gets Kicked Out of Franchise Group
Goubuli Wangfujing shows how NOT to address a social media crisis.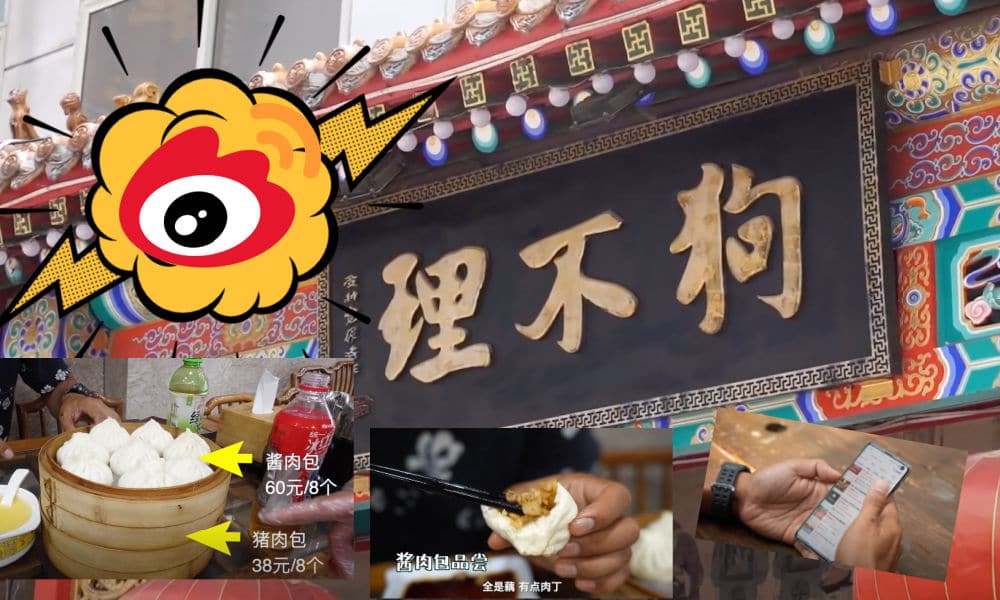 The well-known Goubuli Wangfujing restaurant just got a bit more famous this week. The branch, which specializes in steamed buns, is now not just known as one of Beijing's worst-rated restaurants, but also as a business that shot itself in the foot by handling a social media crisis the wrong way.
The famous Wangfujing main branch of Goubuli Steamed Buns (狗不理包子) is caught up in a social media storm since responding to a blogger's negative video of their restaurant by contacting the police.
The video, Goubuli's response to it, and the following consequences have hit the top trending topic lists on Weibo today.
Goubuli, sometimes transcribed as Go Believe, is a well-known franchise brand of steamed stuffed buns (baozi) from Tianjin that was founded in 1858. The brand now has more than 80 restaurants in mainland China, 12 of them in Beijing. Since Wangfujing is one of Beijing's most famous streets, the Wangfujing branch is popular with both foreign and Chinese visitors.
Gu Yue's "Visiting the Worst-Rated Restaurant" Video
The social media storm started on September 8, when Weibo blogger Gu Yue (谷岳) posted a video titled "Visiting the Worst-Rated Restaurant" ("探访评分最差餐厅"). Gu Yue is a travel blogger with over 1,7 million fans on Weibo.
In the video, Gu Yue starts by explaining he chose to visit Gubouli after searching for the restaurant that receives the lowest ratings in the Beijing Wangfujing and Dongdan areas on the super-popular Chinese mobile food app Dianping.
The blogger found that, out of the 1299 listed restaurants in the area, Wangfujing Goubuli Baozi was the worst-rated place. Ironically, the brand's name Gǒubùlǐ (狗不理) literally means 'dogs don't pay attention,' which makes the name 'Goubuli Baozi' sound like a place with stuffed buns that even dogs would not eat.
Complaining about the service, prices, and quality of food, many Dianping users rated the restaurant with just one out of five stars.
Gu Yue then sets out to visit the restaurant himself to see if Gubouli on Wangfujing really is as bad as Dianping users say. He orders some steamed braised pork dumplings, 60 yuan ($8.7) for 8, and regular pork dumplings, 38 yuan ($5.5) for 8.
The blogger concludes that Gubouli's dumplings are not worth the money: the dumplings are greasy, the dough is too sticky, and they do not have enough filling. Gu Yue's video also suggests that the restaurant's hygienic standards are not up to par, with loud coughing coming from the kitchen.
Gu Yue's video received over 97,000 likes and thousands of responses on Weibo, with many fans praising the idea of the blogger checking out the worst-rated restaurants.
Goubuli's Reaction Starts a Social Media Storm
The Wangfujing branch of Goubuli did not appreciate Gu Yue's video.
In an online statement on September 11, the branch accused the blogger of spreading lies about their restaurant and harming their reputation, and demanded a public apology.
Goubuli Wangfujing called the video "vicious slander" and stated they had contacted the police in relation to the matter.
The hashtag "Wangfujing Goubuli Responds to Netizen's Negative Video" (#王府井狗不理回应网友差评视频#) immediately went viral on Weibo, attracting some 430 million views.
Many Weibo users were outraged about the way the Goubuli branch handled the situation. "Aren't we even allowed to say if something is tasty or not?!" many commenters wondered, with others writing: "You are harming your own reputation!"
"Let's call the police over the quality of your food," others suggested.
There were also many netizens who commented that some Chinese Time-Honored brands, such as Goubuli, often only survive because of their history and fame rather than actually delivering good quality to their customers.
Following the major online backlash on its statement, the restaurant soon removed their post again. But the social media storm did not end there.
On September 15, the Goubuli Group issued a statement saying that it would directly terminate its franchise cooperation with the Goubuli Wangfujing branch over the incident.
With over 280 million views on its hashtag page (#狗不理解除与王府井店加盟方合作#), news of the franchise termination blew up on Weibo.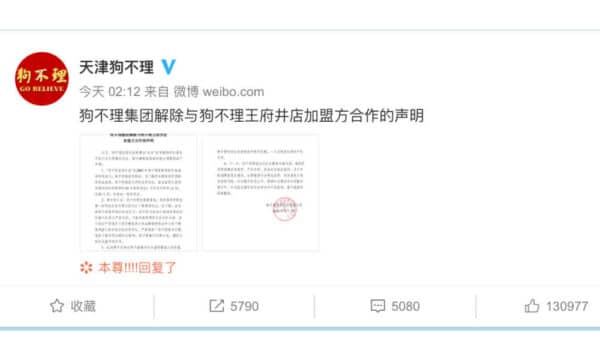 According to the latest Weibo reports on September 15, the Wangfujing Goubuli branch was closed for business on Tuesday (#狗不理包子王府井店门店关闭#).
"This is the power of clout," one person comments: "If it were not for the [Goubuli] restaurant's flawed marketing department, this would not have led to their closure."
"The restaurant has brought this on themselves. There's nothing wrong with posting a bad review."
Another person comments: "This is the first time I've seen a marketing department making something big out of something small, leading to their own closing."
Meanwhile, blogger Gu Yue says that he was not contacted by Goubuli, nor by the police. The social media controversy has only made him more popular.
"Gue Yue single-handedly crushed this restaurant," some say, appreciating how social media has increased the power of Chinese consumers to make or break a business.

Also read: Overview of the Dolce&Gabbana China Marketing Disaster Through Weibo Hashtags

By Manya Koetse
Follow @WhatsOnWeibo
Spotted a mistake or want to add something? Please let us know in comments below or email us. First-time commenters, please be patient – we will have to manually approve your comment before it appears.
©2020 Whatsonweibo. All rights reserved. Do not reproduce our content without permission – you can contact us at info@whatsonweibo.com.