Op-Ed: Your Use of "Netizen" Hurts Responsible China Coverage
It's not innocent jargon. Not anymore.
Far from innocent jargon, the word 'netizen' has political implications in its use today and should not be casually tossed around, says Beijing-based journalist Dave Yin. In this op-ed contribution, Yin responds to our recent article "Netizens or Not?"
It's unlikely that when internet theorist and author Michael F. Hauben coined the word "netizen" more than thirty years ago, he would have imagined that, one day, on the other side of the world, a few handfuls of Western reporters and media critics covering China would be divided: in one camp applauding and in the other cursing his creation. It's equally unlikely he'd recognize at first glance what his word has come to mean in 2018 – and to whom.
Common thought is that whether or not "netizen" should be used, and what it means, are at the heart of this debate, which by now spans publications both big and small, free and censored. It hasn't gotten us anywhere.
But in view of China's escalation of online policing and digital surveillance, the concept of "netizen" is evolving, as must its coverage in Western media. Far from innocent jargon, the word today has political implications and a growing potential for harm, one Western media must recognize if it is to conduct responsible reporting.
A Western interpretation
When considering the word "netizen," it helps to know what one is talking about. Namely, pick a definition, and stick with it.
Scenario A)
One clear-cut definition offered by the Atlantic designates a unique identity; young, wealthy, educated Chinese urbanites and/or politically active individuals in online communities adept at skirting censorship.
Here, simple protocol applies. Writers using "netizen" must first make sure the subjects of their story actually match this description. Then, they must assess whether these complex socioeconomic and political elements are evident in this word. Hint: they're not.  Inevitably, writers should be explaining these elements to accompany the use of this term in each article it appears in. Anything short of this is incomplete reporting.
Scenario B)
If broadly defined to be a synonym to "Chinese internet users," as is more often the case, then several questions emerge: Why do Chinese internet users need a special label in the first place? Why is "Chinese internet user" inadequate when this type of terminology works for everyone else? If research (paywall) suggests the online habits of Chinese are similar to the rest of us, what are we trying to accomplish by othering them?
Self-applied labels
In advocacy reporting, we try to respect a person's self-applied labels, such as with race or sexual orientation, so I appreciate the irony when I say that just because Chinese people call themselves "netizens" doesn't necessarily mean we should.
Be it when describing race, sexual orientation, disability, etc. there is a general effort to use terminology that centers the person, and not the circumstance, which is often complex. "Person with impaired vision," "a cisgender gay man," "the woman, who identifies as a second-generation Filipino immigrant," "individuals claiming to be members of the Anonymous collective" are infinitely better than "the blind," "the gay," "the Filipino," "Anonymous." In pieces where nuance and individuals matter, these words do more than fill up space.
"Netizen," as it is currently used, erases both.
What's more, these often political labels emerged in societies with freedom of association where one makes a statement simply by publicly identifying. By contrast, what does it mean to label yourself with something as vague and abstract as "netizen" in a society that doesn't allow such freedom, and what effect does it have when Western media take up this cause?
A Chinese strategy
The self-applied label argument is also unsound when you consider that "netizen" is actually a mistranslation of the word "wǎngmín" (网民).
In wǎngmín 人民 (people), nóngmín 农民 (farmer), jūmín 居民 (resident), yímín 移民 (migrant), yúmín 渔民 (fisherman), and míngē 民歌 (folk song), "mín" 民 simply means "people," without any "citizen" connotation, and therefore "wǎngmín" 网民 really just means "internet people/people on the internet."
In other words, "netizen" and "wǎngmín" are faux amis. It's a mistake that Western media has allowed to proliferate and one that we must now contend with.
While the use of the English word by ordinary Chinese and private Chinese media could boil down to guileless ignorance towards English nuance, by contrast, "wǎngmín," when applied by the Chinese government and its mouthpieces, is part of deliberate national policy. As described by Manya Koetse in her analysis, the Chinese term is an official category of Chinese nationals on which the CCP imposes severe restrictions.
What ramifications are there for Western media in not consciously decoupling these wildly different interpretations by different actors? By casually tossing the word around, do we not run the risk of normalizing Chinese internet policy?
While we, working in the Far East, may feel at times that our work is isolated, it should be noted that people are, in fact, reading, for better or worse.
"['Netizen'] has been used when reporting on China for a decade+ [sic] in order to relieve journalists of understanding what they're reporting on," one Reddit user (Western netizen?) writes. "Today it is a lazy way to assume all internet users in China think the same way by f*cking lazy journalists."
"Netizen" may well stick around. China's emerging digital policies have all but ensured it. But we owe it to our readers and the people we cover to get with the program, to evolve our terminology and critical judgment at the same pace as the subject matter.
We need to understand that the benefits of its selective, judicious use, as a result of explicit purpose, come from highlighting and decoding China's socioeconomic and political situation, not from generalizing 772 million individuals, and least of all from othering them or normalizing their constraints. It may help everyone's understanding of this country, including our own.
By Dave Yin
Follow @whatsonweibo
Spotted a mistake or want to add something? Please let us know in comments below or email us.
©2018 Whatsonweibo. All rights reserved. Do not reproduce our content without permission – you can contact us at info@whatsonweibo.com.
Children of Hubei Medical Workers to Receive 10 Extra Points on High School Enrolment Examination
Hubei officials announced a controversial measure to reward frontline medical workers.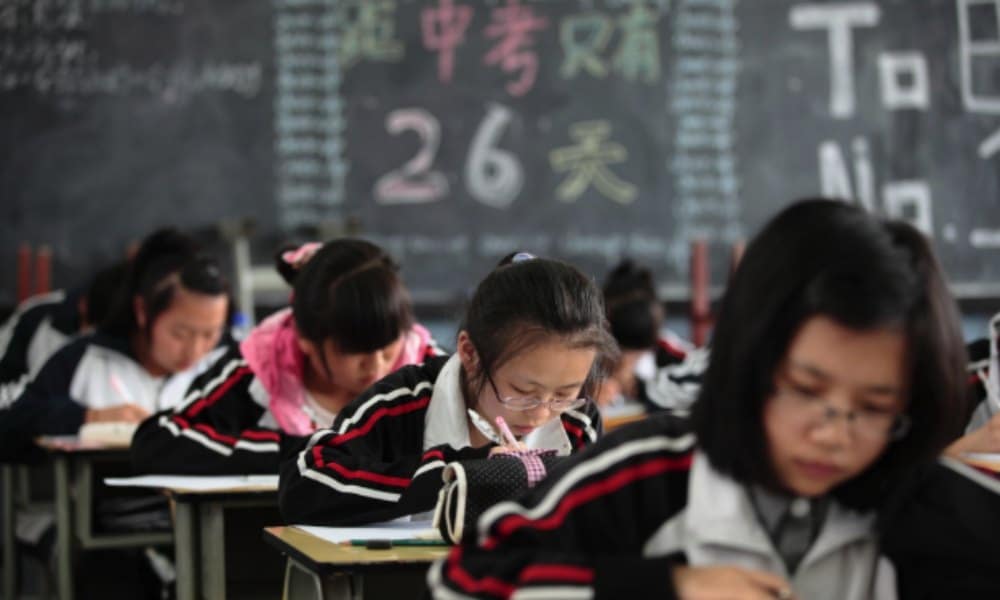 First published
Hubei authorities announced new measures on Tuesday to encourage and support the work of Hubei's front-line medical workers during the coronavirus crisis.
One of these measures, rewarding the children of medical staff an extra ten points in their zhongkao examination, became a somewhat controversial top trending topic on Chinese social media today.
The zhongkao is an important academic examination in China taken during the last year of junior high school, right before entering education institutions at the senior high school level. These enrollment examinations are held annually in June or July, depending on the region.
A good mark on the exam is of crucial importance for many students, as it will give them admission to their preferred senior high school, which then could have more profound effects on their education after high school and their further career.
According to the new policy, children of Hubei's medical workers would be rewarded with ten extra points on top of their overall score for the exams if they take it. Since the exams are highly competitive, every extra point could mean a world of difference since it will mean leaving hundreds of other students behind you.
On Weibo, one announcement of the new measure published by Chinese news source The Paper received over 938.000 likes and more than 11.000 comments. Many Weibo users do not agree with the policy.
"It should be the medical workers themselves who are rewarded through promotion or a salary increase," a top comment says: "It shouldn't be their children who are rewarded."
Although a majority of commenters say that medical workers should be given special rewards in these times of hardships, most also agree that rewarding their children in their exam results is not the way to go. "This only makes the exam system more unfair," a recurring comment says.
With 610 million views at the time of writing, the hashtag "The kids of Hubei frontline medical staff will get extra 10 points on zhongkao score" (#湖北一线医务人员子女中考加10分#) is one of the most-dicussed topics on Weibo of the day.
For more COVID-19 related articles, please click here.
By Manya Koetse (@manyapan)
Follow @whatsonweibo
Spotted a mistake or want to add something? Please let us know in comments below or email us. First-time commenters, please be patient – we will have to manually approve your comment before it appears.
©2020 Whatsonweibo. All rights reserved. Do not reproduce our content without permission – you can contact us at info@whatsonweibo.com.
Online Outrage over Gansu Female Medical Workers Required to Shave Their Heads
Heroes of the coronavirus crisis or victims of visual propaganda? A video showing female medical workers having their heads shaved has triggered controversy.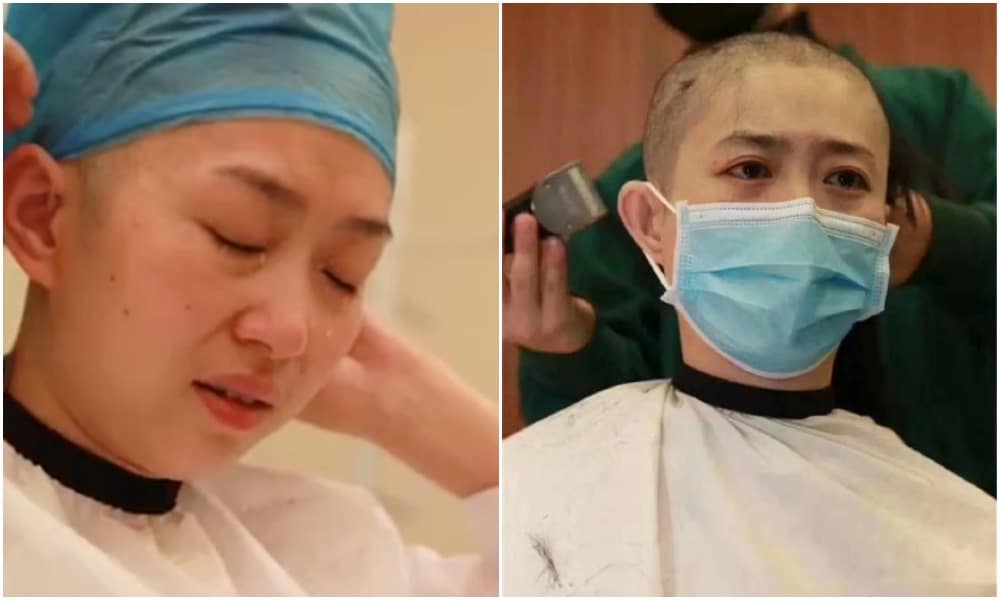 First published
A Chinese media post praising female nurses for having their heads shaved has sparked outrage on Weibo and WeChat. Are these women heroes of the coronavirus crisis or victims of gendered visual propaganda?
A video showing tearful female medical workers having their head shaved before going to COVID-19 epicenter city Wuhan has sparked outrage on Chinese social media.
The video, originally posted by Gansu Daily (每日甘肃网) on February 15, shows how a group of female nurses is standing in line to have their hair shaved off in preparation of their mission to Hubei to assist during the ongoing coronavirus crisis.
In the short segment that has since gone viral on Weibo and WeChat, some women can be seen crying while having all of their hair shaved off.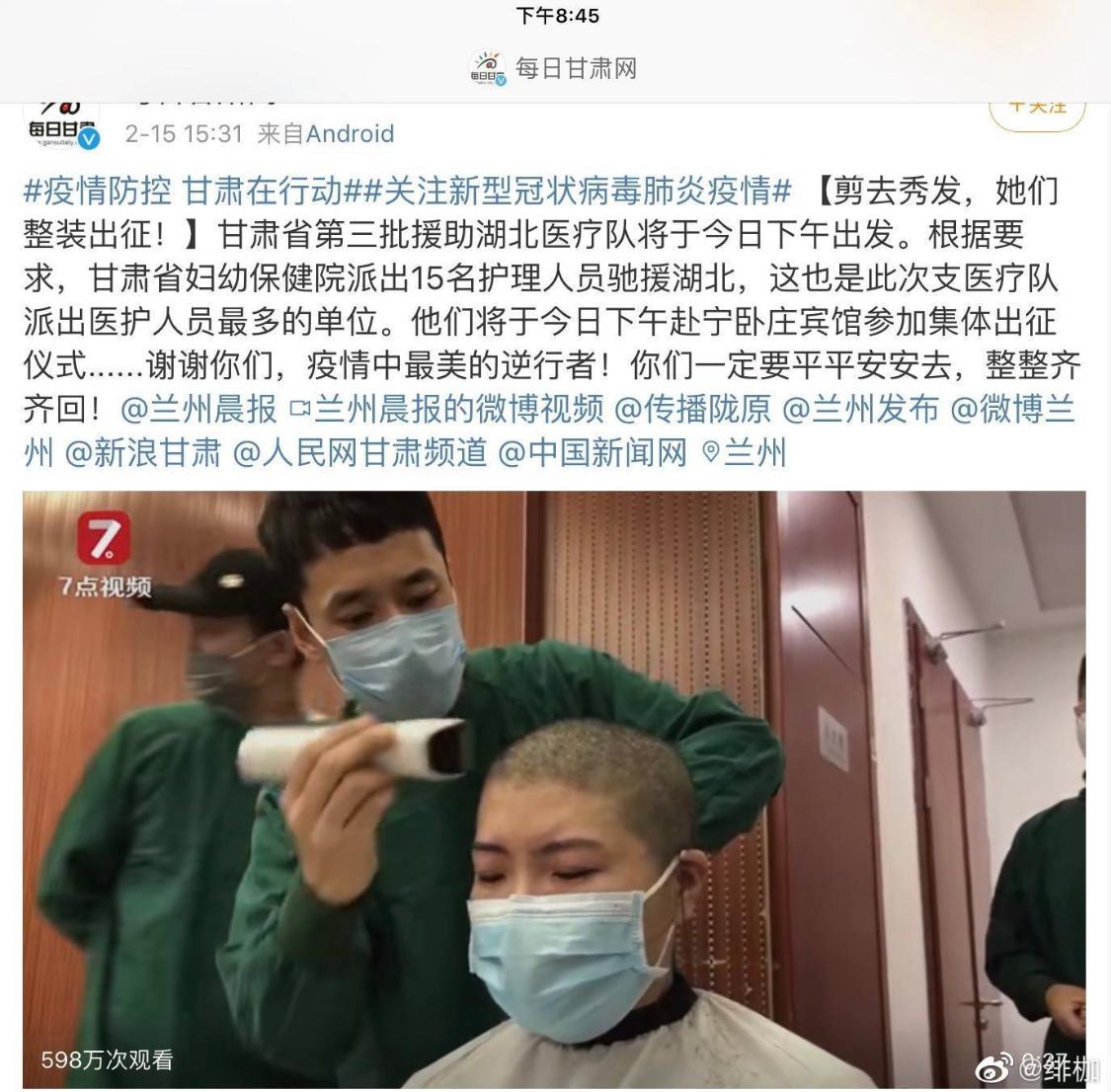 According to Gansu Daily and other Chinese media, the fifteen nurses, including one man, are part of a medical aid group that was sent out to Wuhan this weekend. Their hair was reportedly shaved off "in accordance with requirements" to make their work more efficient and reduce the risk of infection.
The original news post praises the women as "the epidemic's heroes in harm's way" ("疫情中最美的逆行者") – a term also used to describe brave firefighters during the 2015 Tianjin explosions (for more background on this term in Chinese, also see Xinhua and Zhihu).
Although the story praises the female medical workers as heroes and was soon reposted and promoted by many other (state) media, it was not just met with positive reactions from Chinese netizens.
On the contrary: it triggered waves of criticism over the medical team's supervisors requiring the women to shave off their hair, with many deeming the measures unnecessary, humiliating, and sexist.
"Why do they need to shave all of their hair, the men don't even need to do that?!", some Weibo commenters wonder.
Many Weibo users wonder how necessary it actually is for the women to go completely bold for medical work purposes, wondering why the male workers do not need to shave their heads and why the women could not just opt for a shorter hairstyle instead – suggesting the media circus surrounding the shaving of the heads is more about visual propaganda than actually being a necessity.
"I am a medical worker myself," one Weibo user writes: "I consulted an infection control doctor [on this matter] and they said it is not necessary at all to have a bald head. Short hair is convenient enough, and hair has a protective function too to reduce [skin] irritation from the friction of wearing hats and masks. It furthermore also has a function of catching sweat, preventing it from dripping to your eyes. A shaven head does more harm than good."
"Why do people need to bleed and cry in order for them to become heroes?", others say: "This is just cruel."
Adding to the online fury was a photo showing the group of medical workers after their heads were shaved, as the one male nurse in the group not only seemed to wear a better quality face mask, but also appeared to have much more hair left than the female nurses.
The original Gansu Daily post has since been deleted from social media.
On WeChat account Epoch Story ("epochstory2017″/Epoch故事小馆), author Chen Mashu (陈麻薯) posted a critique on February 17th titled "Please Stop Using Female Bodies as Propaganda Tools" ("请停止用女性的身体,作为宣传的工具").
Recent online Chinese visual propaganda in times of the coronavirus crisis has seen a strong focus on Wuhan medical workers.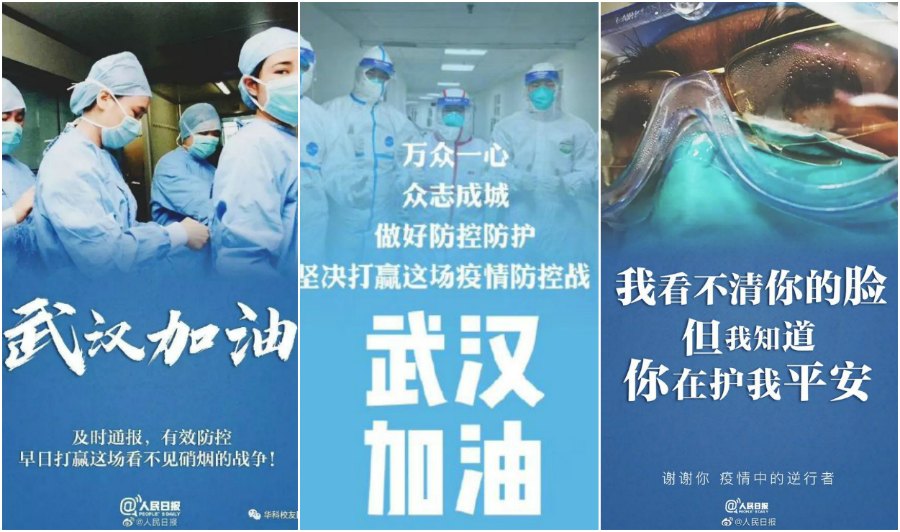 This kind of visual propaganda often highlights the idea of "sacrificing," especially when it comes to women as pretty girls, loving mothers, or good wives.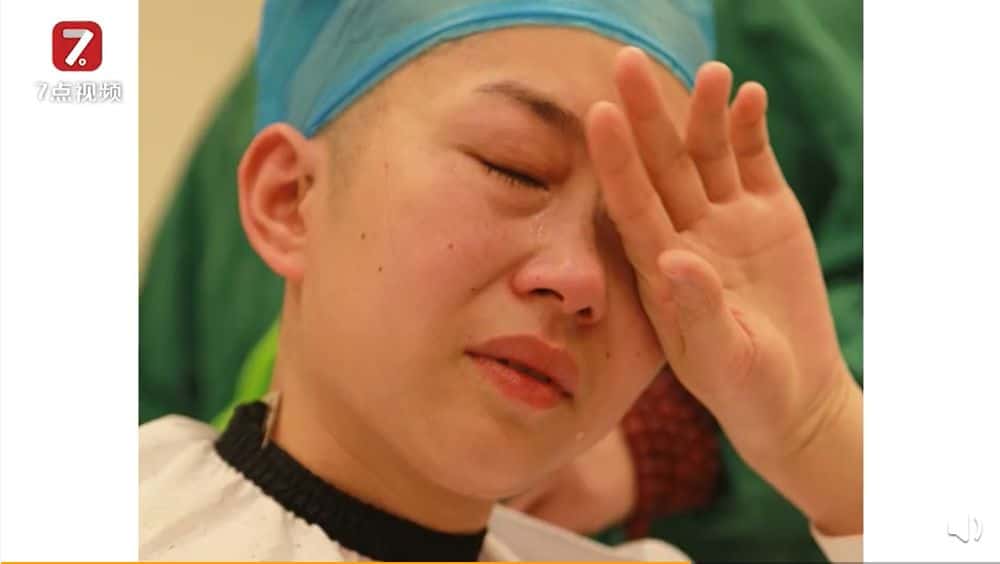 In the WeChat article, author Chen argues that Chinese state media always uses women's bodies as a tool for propaganda, and argues that it should not be necessary for women to endure extra hardship or suffering (in this case, sacrifice their hair) in order to make them admirable 'model workers.' The fact that they are fighting on the front line should be more than enough reason to praise them, Chen writes.
While these women's tears were "used to try to impress the audience" and become an example of some "collectivist spirit," Chen argues, this kind of propaganda backfired because the individual needs and wishes of these women were completely ignored during the process.
Although the original story and visuals may have meant to be empowering in times of coronacrisis, they are actually counterproductive to female empowerment at large.
This is not the first time the role of women in Chinese state media propaganda become a big topic of discussion online.
In 2016, a photo series titled "100.000 soldier-loving girls" (十万恋军女孩) posted by China's Military Web during the Wuhan flood also caused controversy. In the online media campaign, Chinese state media paid a 'tribute' to rescue workers by sharing pictures of girls holding the message "I wish to wash your uniform for you". It triggered online discussions on the submissive female image propagated by Chinese state media.
At time of writing, various posts about the shaved heads of the Gansu medical workers have been taken offline.
For more COVID-19 related articles, please click here.
By Manya Koetse (@manyapan) and Bobby Fung (@bobbyfungmr), with contributions by Miranda Barnes
Spotted a mistake or want to add something? Please let us know in comments below or email us. First-time commenters, please be patient – we will have to manually approve your comment before it appears.
©2020 Whatsonweibo. All rights reserved. Do not reproduce our content without permission – you can contact us at info@whatsonweibo.com.