War Against Dialect? Shanghai Textbook Standardises the Word 'Grandma'
'Laolao' or 'waipo'? A Shanghai textbook decides that only one of them is right for granny.
What is the word that refers to your mother's mother? In English, the word is quite simple: grandmother or grandma. If one needs to make it more specific, 'paternal' or 'maternal' grandmother will solve the problem.
However, the story is not that easy in Chinese. With many varieties and dialects, different regions in China will have different words for 'grandma.' Some call her 'Laolao' 姥姥. Others say 'Waipo' 外婆. Both terms can be used interchangeably and, generally, would not be cause for confusion or misunderstanding.
Although the term usually would not be a big issue of debate, it became a hot topic of discussion this week when a Chinese textbook from Shanghai ruled the phrase 'waipo' 外婆 a form of dialect.
The book suggested that the expression 'waipo' is not a part of the standard Chinese language, but rather part of a local dialect. Editors from the Shanghai School Board changed the original texts in the textbook, replacing all 'waipo' 外婆 terms with 'laolao' 姥姥 to promote Putonghua, also known as standard Chinese.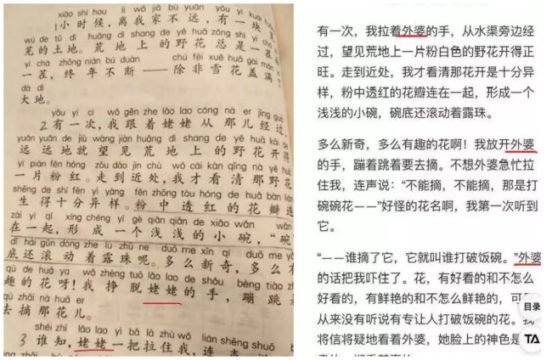 The incident was brought to light by a Weibo user who discovered the issue while reading a second-grade Chinese literacy textbook, in which an article was edited by the publishers, replacing all use of 'waipo' 外婆 to 'laolao' 姥姥.
The Shanghai School Board has responded to the incident, stating that, according to the 'Modern Chinese Language Dictionary,' waipo 外婆 is an expression used in Chinese dialects. While the word 'grandmother' can be translated into either 'laolao' 姥姥 or 'waizumu' 外祖母, the committee decided to use the term 'laolao' 姥姥 to help Shanghai students better understand different expressions used in the Chinese language.
"Shanghai is an international city, understanding the diversity of the Chinese language will better help construct a more open environment," the Shanghai School Board stated in its official media response to the controversy.

Angered Weibo Users

On Chinese social media, however, the controversy has not blown over. For many native Chinese speakers, it just does not make sense to mark waipo 外婆 as a term used in dialects.
"People from southern China all use the term waipo," a typical comment on Weibo said.  
"Why did they change the original texts?" other users wondered.
"Laolao is the dialect term. We don't say that in southern China," one Weibo user commented, with others saying: "Before reading this article I had no clue whether laolao was the father's mother or the mother's mother. They've always made us use the same word. What a joke!"
One commenter criticized the way in which the Shanghai School Board forces 'unity' of language expressions: "It is just like saying that we all eat dumplings during the Spring Festival. But the reality is that we don't eat that at all."
Several Chinese media outlets also criticized the Shanghai School Board for their decision. Media site Sohu argues the Shanghai School Board is oppressing language diversity in the name of promoting diversification.
State media Guangming Daily pointed out that dialects incorporate special sentiments and local traditions that cannot be replaced by translations.

Unity Above Everything

Putonghua or standard Chinese has been China's official language since a vigorous government campaign in 1956. Standard Chinese is mainly based on the Beijing dialect and Mandarin dialects spoken by the majority of the population in China.
One of the main objectives of the standardization of Chinese language was to achieve national unity. However, after more than six decades of actively promoting Putonghua, the effectiveness of the policy is still questioned.
According to a 2015 Xinhua News report, 400 million Chinese citizens cannot speak Mandarin or Putonghua. Many Chinese citizens speak local dialects in their respective regions, such as Cantonese in Guangdong, or Shanghainese in Shanghai. In addition, people in Tibet and Xinjiang speak their own languages, making it even more difficult to promote Putonghua in these regions.
Discussions of the detrimental effects of promoting standardized Chinese are very much alive on Chinese online forums (e.g. Zhihu) today. Some critics see the Putonghua policy as a threat to dialects and local identities. href="">threat for the preservation of local dialects.
Recently, the gradual disappearance of local dialects has received more attention in Chinese media. In April of this year, China News Agency reported that dialects in Hainan are in danger as the younger generations are losing the ability and motivation to learn and use these local Hainan dialects. The report featured a 4-year-old kid who was teased and mocked when speaking dialect, showing the pressures people now face in dialect preservation.
One online discussant remarked: "This is ridiculous. On the one hand, they express concerns on dialects disappearing. On the other hand, they are forcing everyone to use the same language."
Update June 23: People's Daily and other Chinese media report that the Shanghai School Board has now apologized and reversed the textbook changes in response to the controversy.
By Chauncey Jung
Follow @whatsonweibo
Spotted a mistake or want to add something? Please let us know in comments below or email us.
©2018 Whatsonweibo. All rights reserved. Do not reproduce our content without permission – you can contact us at info@whatsonweibo.com.
"This is Swedish Police!" – Sweden under Fire in China for "Brutal Abuse" of Chinese Tourists
Swedish police drag Chinese tourists out of hotel – some call them thugs, but others say it is the Chinese who were misbehaving.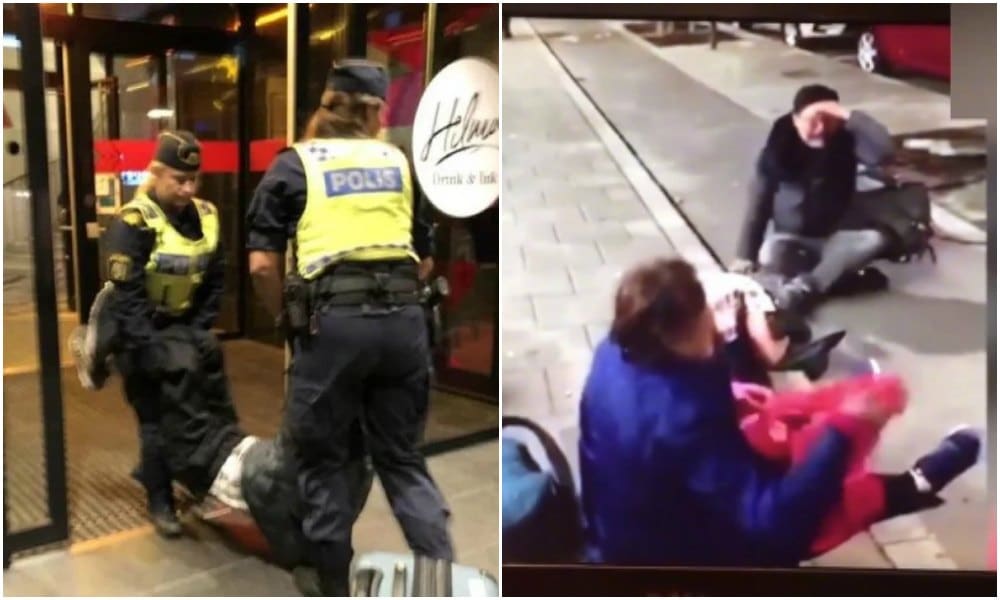 The maltreatment of a Chinese family in Stockholm earlier this month has ignited major discussions on Chinese social media, and has led to the Chinese Embassy in Sweden issuing a safety alert for Chinese tourists visiting the country. Many netizens are skeptical of the trending incident.
Over the past few days, an incident that took place in Sweden earlier this month has attracted major attention on Chinese social media.
Bystander videos going around Chinese social media show how a Chinese man is dragged out of a hotel by Swedish police, and later shows a woman and young man are crying on the street outside of a hotel (see embedded video below).
According to various Chinese news reports, the incident involves the Chinese family Zeng (曾), a younger man and his two senior parents, that was traveling to Sweden's capital Stockholm on September 2nd.
When they arrived at their hotel, the Generator Stockholm hostel, it was not yet check-in time. The family suggested they would pay a fee to the hotel as long as they could wait in the lobby until they could check in to their hotel rooms. Zeng's father reportedly is 67 years old and suffers from cardiovascular disease.
Sina News reports that the hotel refused the family's request and even called the police to have the Chinese tourists removed from their lobby in the middle of the night, though both parents claimed they were feeling sick.
State media outlet ECNS writes that the police also denied the family's request to stay at the hotel, and dragged his father out of the lobby and threw him to the ground outside.
The man later claimed on Chinese social media that his father consequently lost consciousness and that his body started twitching. Zeng and his parents were allegedly taken away from the hotel in a police car and were dropped off near a cemetery in the city's suburbs.
The family then received help from bystanders in getting back to the city center, where they reported the incident to the Chinese embassy.
THE AFTERMATH
"This has inevitably raised questions over Sweden's ability to protect human rights and conduct law enforcement in a civilized manner."
Chinese media are greatly criticizing Swedish authorities for how they have handled the incident; both that night and during the aftermath. Swedish authorities did not respond to the issue for two weeks after it occurred.
On Friday, September 14, the Chinese Embassy in Sweden issued a safety alert, stating that recently, there are more cases where Chinese tourists have been victims of theft and robbery, as well as cases where victims were treated poorly by Swedish police.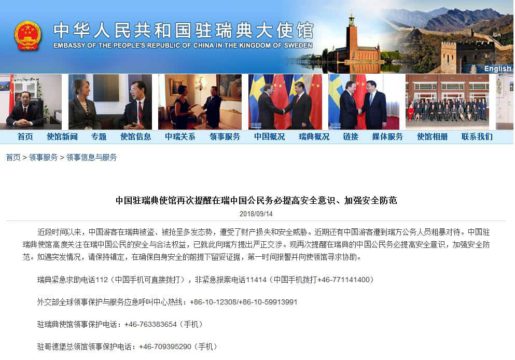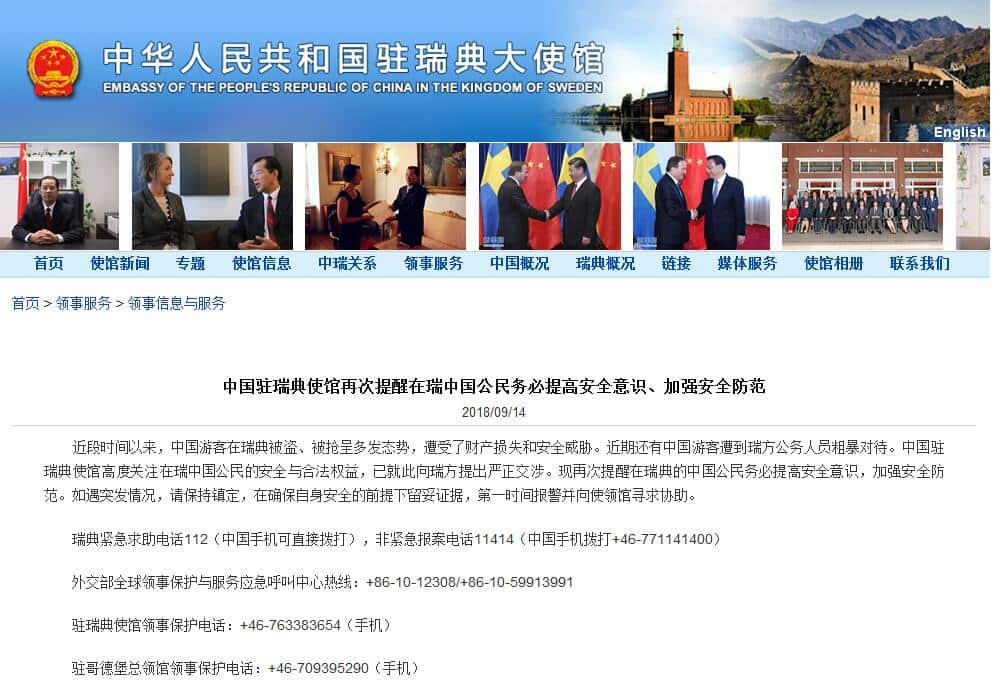 A day later, the Chinese Embassy in Sweden also issued a statement regarding the "brutal abuse of Chinese tourists by Swedish police," writing:
"Around midnight on 2 September, three Chinese tourists were brutally abused by the Swedish police. The Chinese Embassy in Sweden is deeply appalled and angered by what happened and strongly condemns the behavior of the Swedish police. The Embassy and Ministry of Foreign Affairs of China have made solemn representations to the Swedish government respectively in Stockholm and Beijing, stressing that what the police had done severely endangered the life and violated the basic human rights of the Chinese citizens. We urged the Swedish government to conduct thorough and immediate investigation, and respond to the Chinese citizens' requests for punishment, apology and compensation in time. We cannot understand why the Swedish side has not given us any feedback. We hope that the Swedish side will handle the case in accordance with law, and urge the Swedish side again to take immediate actions to protect the safety and legitimate rights and interests of Chinese citizens in Sweden."
Swedish media first reported the incident on Saturday, September 15 (Aftonbladet). On Sunday, September 16, the Swedish Embassy finally responded to the issue.  A statement on their official Weibo account said that the Embassy is aware of the case and is assigning a special prosecutor to investigate the case and to determine whether or not the Swedish police have used improper violence. As clarified by a spokesperson of the Embassy of Sweden to What's on Weibo: "The Embassy has not assigned the special prosecutor, as you can read in our statement. Instead, the prosecutor is assigned automatically every time an incident of alleged police misconduct is reported."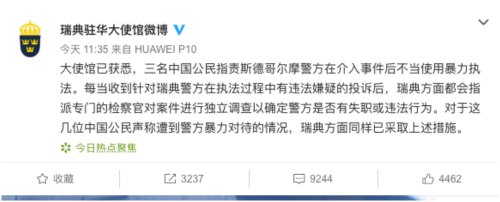 According to a column on the website of English-language Chinese state broadcaster CGTN, the incident is now also one about a Swedish human rights protection:
"(..) the way the local police in downtown Stockholm conducted themselves during the incident in a city hotel and on the streets on September 2 has inevitably raised questions over Sweden's ability to protect human rights and conduct law enforcement in a civilized manner."
SOCIAL MEDIA RESPONSES
"Is this the police or the criminal underworld?"
On Chinese social media, responses to the incident have been mixed. Many people feel that the family unnecessarily "made a big scene," and condemn the young Mr. Zeng for "falling down on the ground as a crying baby." They also say that these Chinese tourists are a "disgrace": "They might as well have buried them at the graveyard," some commenters write.
But there are also those who do not understand why the Swedish police handled the case in this way, taking the family in a police car and dropping them on a suburban curbside some six kilometers away, instead of bringing them to the police station or another hotel for the night.
"Perhaps the behavior of these three Chinese citizens was not very appropriate, but two of them are old people, they are not familiar with the area. To throw them out in the early morning, miles away at a cemetery where there are no hotels or stores, is really incorrect behavior by the Swedish police."
One well-known law blogger (@易辩任煜) wrote on Weibo: "It's ok to enforce law and to bring people back to the police station and to give them a fine or something like that, but to throw them out like that? Is this the police or the criminal underworld?
There are also Chinese (micro-) bloggers who claim that the fact that this incident is making headlines in Chinese state media now relates to the Dalai Lama's recent visit to Sweden, writing: "China just needs a reason to put pressure on them."
"This is all about the visit of the Dalai Lama Sweden on the 12th," many others claim.
By now, the hashtag "Chinese Tourists Maltreated by Swedish Police" (#中国游客遭瑞典警察粗暴对待#) has received more than 100 million views.
This is not the first time the maltreatment of Chinese tourists abroad receives mass attention in Chinese media. In January of 2016, pictures and a video of two Dutch boys emptying boxes of milk powder over Chinese tourists in Amsterdam also ignited major discussions.
In 2017, a video of a Chinese-looking man being dragged out of an overbooked United Airlines flight also went viral online in China, attracting tens of thousands of outraged posts on the discrimination of Chinese abroad. It later turned out that the passenger involved in the incident, now called the "United Express Flight 3411 Incident", was not a Chinese citizen, but a 69-year-old Asian-American doctor from Kentucky.
About this incident, some Chinese social media users say that they think it will affect international relations between China and Sweden.
Update: since this original article was published on Sunday (Sept 16), this news item has made international headlines. For the latest developments and news facts in this matter check, for example, this Washington Post article.
By Manya Koetse
With contributions by Miranda Barnes
Follow @whatsonweibo
Spotted a mistake or want to add something? Please let us know in comments below or email us.
©2018 Whatsonweibo. All rights reserved. Do not reproduce our content without permission – you can contact us at info@whatsonweibo.com.
Victim of Violence or Rage-driven Killer? BMW Owner Attacking a Bike Driver Stabbed to Death with Own Knife
The BMW driver pulled a long knife to stab the biker, but the knife killed himself instead.
A road rage incident occurring in Kunshan, Jiangsu province, has become a trending topic on Chinese social media this week, when the driver of a BMW pulled a knife to attack a man riding a bike. Unexpectedly, it was the BMW driver who turned out to be a victim of his own violence. Is this a case of "self-defense" (防卫过当) or "intentional injury" (故意伤害)?
An incident in which a BMW driver hit a man on a bike was captured on surveillance cameras and attracted major attention on Weibo and Wechat this week.
Update: Video link here (YouTube) (NOTE! Viewer discretion advised, this video is the direct surveillance video and is not blurred.)
The incident occurred in the night of August 27 in Kunshan, Jiangsu, when a BMW switched from the car lane to the bicycle lane, colliding with a man driving his bike, who seemingly refused to give way.
Two men then stepped out of their BMW vehicle to confront the cyclist, with one man going back to his vehicle, suddenly pulling out a long knife.
Circulating videos of the incident show that the BMW driver tries to attack the bike driver with the knife, the bike-driver (in white shirt) seemingly not fighting back.
In the midst of the fight, however, the BMW owner suddenly lets the knife slip out of his hands, after which the bike owner quickly picks it up. With the knife in his hands, he now starts attacking the BMW driver.
Various videos (another angle here) show how the bike driver runs after the man, hitting and stabbing him with the knife at least five or six times.
When the police and rescuers arrived at the scene, the BWM driver had already died from his injuries, Kunshan authorities stated.
According to various sources, the man had been drinking before stepping into the car.
"I support the bike driver. He is not guilty; this is justifiable defense. He did well."
In response to the incident, a hot discussion sparked on Chinese social media, where a main point of discussion was whether or not the stabbing, which led to the death of the BMW driver, could be called a "legitimate act of self-defense."
Some netizens argue that the bike owner acted in self-defense, and therefore must not be held criminally responsible for his death. In doing so, many refer to Article 20 of the Criminal Law of the People's Republic of China, which states that people who act out of "legitimate defense" to protect themselves against personal danger should not bear criminal responsibility.[1]
The question is whether the cyclist exceeded the necessary limits to defend himself.
In the Legal Evening News, lawyer Zhou Baomin (周保民), a partner of the Beijing Asia-Pacific Law Firm, states that the bicycle owner might in fact be held responsible for intentional injury and death.
Zhou argues that the video shows that the bicycle rider chases the BMW driver once he gets hold of the knife. At that point, the BMW owner clearly wants to escape, and is not attacking the man anymore – making the stabbing incident one of attack instead of defense.
Although the fatal stabbing is not visible in the videos, the bike rider stabs his attacker many times, which, according to lawyer Zhou, also goes beyond self-defense, since it would require a situation in which the one being attacked is powerless.
Zhou further states that causing deliberate injury leading to death is generally sentenced with more than ten years in prison or the death penalty. However, they add, the supposed fact that the cyclist is not committing a premeditated crime and that he does not own the lethal weapon, are factors that would be taken into consideration by the court.
Most netizens still feel sympathy for the bike owner, saying: 'If you encounter such a situation, between life or death, the desire to survive will dominate everything. I think that the bicycle owner is not crazy. If he hadn't defended himself, it would have been him who would have been stabbed to death instead."
Many Weibo users express their hope that the man will not be punished too severely for his deed, with some even writing: "I support the bike owner. He is not guilty; this is justifiable defense. He did well."
"There are very few purely good or bad people. Most people are neither very good nor very bad."
The appearance and background of the BMW owner also seem to play a role in netizens' perceptions of the events.
Various media sources report that the deceased man, who is now dubbed 'BMW Guy' (Bǎomǎ nán 宝马男), was the 36-year-old infamous 'Liu Hailong (刘海龙), commonly known as 'Brother Long,' who was known to have a criminal record.
But in March of this year, this same man, as Sina News reports, also was allegedly rewarded a certificate of Justice and Courage (见义勇为奖励) from a Kunshan foundation for giving out valuable information to the police about drugs trafficking.
However, many Weibo users write: "Having a long knife in your car that you can use whenever needed – is that what you call being prepared to be brave and handle in the name of justice?!"
Or: "Still talking about his behavior being justified and courageous? Why not talk about him being jailed five times?"
And: "If a person like this, who has the habit of stabbing and driving while being intoxicated by alcohol, with a criminal record as thick as a book, still has recently gained recognition from the government [for his justice and courage], then this is not the tragedy of the people involved in this matter, it's the tragedy of this country; a tragedy of society."
But there are also those who express a more nuanced opinion, writing: "Come on, are you all primary school students? It's not all black or white, not being a very good person doesn't mean you are a bad person. Most people are grey; they have a good side and a bad side to themselves. There are very few purely good or bad people. Most people are neither very good nor very bad. Could we please discuss such matters in a slightly more mature way?"
This case is currently under police investigation. Meanwhile, the hashtag "Man Chasing Biker with Knife is Killed Himself" (#追砍电动车主遭反杀#) has gathered over 390 million views on Weibo today.
UPDATE: August 30 17:00 (China time):
A day later, this topic is still among the biggest topics being discussed on Chinese social media, as more information emerges on the cyclist in this story. What's on Weibo was the first news blog to cover this topic in English (just sayin'!), but now other foreign news outlets are following with more information, too.
China Daily USA reports that the cyclist is a 41-year-old man by the name of Yu.
Meanwhile, photos are circulating that show that Yu has injuries to his face. Netizens, siding with the cyclist, are nicknaming Yu "the Terminator of Brother Long":
Yu is currently being detained by police and has no life-threatening injuries. The hashtag for this incident has now received over 670 million views on Weibo.
By Gabi Verberg,Manya Koetse, with contributions from Miranda Barnes
Follow @whatsonweibo
[1]"In order to protect the state, the public interest, the personal, property and other rights of the person or others from being illegally infringed upon, and causing damage to the unlawful infringer, it is a legitimate defense and does not bear criminal responsibility. Unlimited legitimate defense refers to violent crimes committed in the situation of serious dangers to personal safety, and the use of defensive behaviors, resulting in unlawful infringement of human casualties. […] If the defense exceeds the necessary limit and causes severe damage, it shall be criminally liable, but the punishment shall be alleviated or exempted."
Spotted a mistake or want to add something? Please let us know in comments below or email us.
©2018 Whatsonweibo. All rights reserved. Do not reproduce our content without permission – you can contact us at info@whatsonweibo.com.