Chinese Netizens Are Done with Abuse of Emergency Lane, Support Proposal for Tougher Punishments
As the 'Two Sessions,' the annual gatherings of the National People's Congress (NPC) and the National Committee of the Chinese People's Political Consultative Conference (CPPCC), continue, thirty representatives of the Jiangsu NPC submitted a proposal that received a lot of attention on Chinese social media this week.
Emergency lane drivers should face tougher punishments to safeguard traffic safety, the proposal says. Illegal use of emergency lanes is commonplace in China, leading to dangerous situations and making it more difficult for rescue vehicles to make it to the scene of an accident.
Currently, drivers are fined 200 yuan ($30) for occupying the reserved lane, along with a 6-point driver's license deduction. In some cases, they might even face some days in prison.
If it is up to the Jiangsu NPC deputies, this punishment will be increased to a 3000 yuan ($444) fine and a 12-point deduction.* This means that the offender's driver's license would be immediately revoked for at least three months and that the offender needs to take a 7-day training and take a new examination in order to get their license back. The 12-point deduction punishment is equal to the punishment for drunk driving or fleeing after a traffic incident.
The proposal further calls for a 15 days prison sentence when drivers are caught using the emergency lane for the third time.
The Jiangsu NPC's proposal seems to resonate with Chinese netizens.  Within a day after the news first made its rounds, the hashtag "Proposal to Deduct 12 Points for Those Illegally Using the Emergency Lane" (#建议违法占用应急车道扣12分#) received more than 25 million views on Weibo.
One Weibo commenter says: "I propose to install a 'photo reporting system' where whistleblowers are rewarded with money. This money reward can come out of the fine, and I tell you, this phenomenon [of people illegally driving in the emergency lane] would be eradicated within no time."
Another typical comment read: "I absolutely support this proposal, and in my opinion, the punishments should be even tougher." Many others posted comparable comments, calling for "immediate detainment" and a "life-long prohibition to drive" for these lawbreakers.
What perhaps contributes to the general support for the new proposal is recent media coverage that focuses on the dangers of illegally blocking the emergency lane. Earlier this year, a viral video showed a desperate mother crying on the street when rescue workers were unable to assist her injured daughter; the ambulance was blocked because of vehicles occupying the emergency lane. At the time, the video caused outrage on social media.
This week, the Yangtse Evening Post (扬子晚报), a newspaper from Jiangsu province, published an article listing the various emergency situations where paramedics were hindered in doing their job because of illegal emergency lane driving.
Despite the public support for this proposal, there is no guarantee that it will actually be implemented. Every year, many proposals are put forward during the two-week 'Two Sessions,' and only some will actually lead to legislative amendments.
By Gabi Verberg
*Each driver has 12 points in his driver's license a year that can be deducted. For "minor" violations such as speeding, talking on the phone while driving, a few points will be deducted. More serious crimes, such as running a red light or covering one's license plate, will be punished with a 6-, 10- or 12-point reduction. Combined with this point deduction, people will often face fines or short-time imprisonment.
Spotted a mistake or want to add something? Please let us know in comments below or email us.
©2019 Whatsonweibo. All rights reserved. Do not reproduce our content without permission – you can contact us at info@whatsonweibo.com
Two Hour Time Limit for KTV: China's Latest Covid-19 Measures Draw Online Criticism
China's latest COVID-19 infection prevention and control measures are drawing criticism from social media users.
First published
No more never-ending nights filled with singing and drinking at the karaoke bar for now, as new pandemic containment measures put a time limit as to how long people can stay inside entertainment locations and wangba (internet cafes).
On June 22nd, China's Ministry of Culture and Tourism (文旅部) issued an adjusted version to earlier published guidelines on Covid-19-related prevention and control measures for theaters, internet cafes, and other indoor entertainment venues.
Some of the added regulations have become big news on Chinese social media today.
According to the latest guidelines, it will not be allowed for Chinese consumers to stay at various entertainment locations and wangba for more than two hours.
Singing and dancing entertainment venues, such as KTV bars, can only operate at no greater than 50% maximum occupancy. This also means that private karaoke rooms will be much emptier, as they will also only be able to operate at 50% capacity.
On Weibo, the news drew wide attention today, with the hashtag "KTV, Internet Cafe Time Limit of Two Hours" (#KTV网吧消费时间不得超2小时#) receiving over 220 million views at the time of writing. One news post reporting on the latest measures published on the People's Daily Weibo account received over 7000 comments and 108,000 likes.
One popular comment, receiving over 9000 likes, criticized the current anti-coronavirus measures for entertainment locations, suggesting that dining venues – that have reopened across the country – actually pose a much greater risk than karaoke rooms due to the groups of people gathering in one space without a mask and the "saliva [drops] flying around."
The comment, that was posted by popular comic blogger Xuexi, further argues that cinemas – that have suffered greatly from nationwide closures – are much safer, as people could wear masks inside and the maximum amount of seats could be minimized by 50%. Karaoke rooms are even safer, Xuexi writes, as the private rooms are only shared by friends or colleagues – people who don't wear face masks around each other anyway.
Many people agree with the criticism, arguing that the latest guidelines do not make sense at all and that two hours is not nearly enough for singing songs at the karaoke bar or for playing online games at the internet cafe. Some wonder why (regular) bars are not closed instead, or why there is no two-hour time limit for their work at the office.
Most comments are about China's cinemas, with Weibo users wondering why a karaoke bar, where people open their mouths to sing and talk, would be allowed to open, while the cinemas, where people sit quietly and watch the screen, remain closed.
Others also suggest that a two-hour limit would actually increase the number of individuals visiting one place in one night, saying that this would only increase the risks of spreading the virus.
"Where's the scientific evidence?", some wonder: "What's the difference between staying there for two hours or one day?"
"As a wangba owner, this really fills me with sorrow," one commenter writes: "Nobody cares about the financial losses we suffered over the past six months. Our landlord can't reduce our rent. During the epidemic we fully conformed to the disease prevention measures, we haven't opened our doors at all, and now there's this policy. We don't know what to do anymore."
Among the more serious worries and fears, there are also some who are concerned about more trivial things: "There's just no way we can eat all our food at the KTV place within a two-hour time frame!"
By Manya Koetse
Follow @WhatsOnWeibo
*" 餐饮其实才更严重,一群人聚在一起,而且不戴口罩,唾沫横飞的。开了空调一样也是密闭空间。电影院完全可以要求必须戴口罩,而且座位可以只出售一半。KTV其实更安全,都是同事朋友的,本身在一起都不戴口罩了,在包间也无所谓。最危险的餐饮反而都不在意了"
Spotted a mistake or want to add something? Please let us know in comments below or email us. First-time commenters, please be patient – we will have to manually approve your comment before it appears.
©2020 Whatsonweibo. All rights reserved. Do not reproduce our content without permission – you can contact us at info@whatsonweibo.com.
Oil Tanker Truck Explosion Sends Shock Waves through Wenling, Zhejiang
A major oil tanker explosion has left over a hundred people injured and at least ten dead in Wenling, Zhejiang.
First published
On June 13, the explosion of an oil tanker truck has caused chaos in the city of Wenling in China's Zhejiang province, leaving at least 112 127 people injured and nine 10 people dead.
The explosion took place in the afternoon at approximately 16:40 near the exit of the G15 Shenhai highway, causing a loud bang and wrecking some homes in the vicinity.
Just in on Weibo – scenes showing the chaos after a tank truck explosion in Wenling, Zhejiang. pic.twitter.com/GHQvDx6eSz

— Manya Koetse (@manyapan) June 13, 2020
The hashtag "Zhejiang Wenling Tanker Wagon Explosion" (#浙江温岭槽罐车爆炸#) and other related hashtags (#浙江温岭一油罐车爆炸#) are attracting millions of views on social media site Weibo on Saturday evening (local time), with Chinese media and netizens sharing the footage of the damage caused by the explosion.
More footage of today's Wenling explosion, that has left at least 112 people injured and 9 people dead according to the latest reports. pic.twitter.com/BxcyPWlH50

— Manya Koetse (@manyapan) June 13, 2020
"My god, this is so scary," a typical comment on Weibo says, with many people expressing their shock over the major incident.
Emergency and rescue workers are currently still at the scene to assist victims and clear away the wreckage caused by the explosion.
On Saturday night around 21:15 local time, Chiense state media outlet CCTV was still broadcasting a live stream through Weibo showing the latest images and footage of the situation and interviewing injured people in the hospital.
Local authorities and Chinese media are warning people not to go near Wenling's Daxi to keep the roads clear for rescue workers.
Meanwhile, people on Chinese social media are spreading praying emoji's and candles, expressing their sympathies for the victims of today's explosion.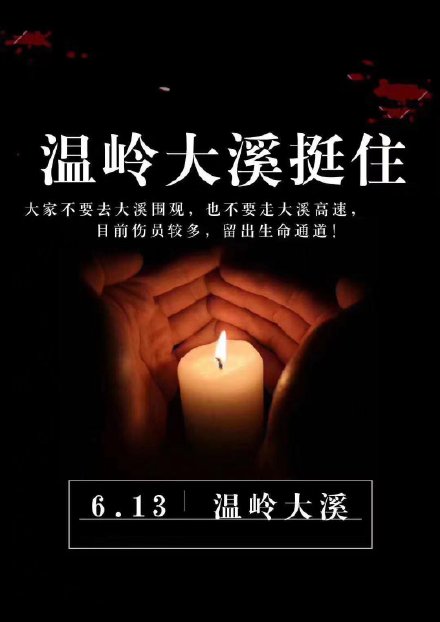 By Manya Koetse
Follow @WhatsOnWeibo
Spotted a mistake or want to add something? Please let us know in comments below or email us. First-time commenters, please be patient – we will have to manually approve your comment before it appears.
©2020 Whatsonweibo. All rights reserved. Do not reproduce our content without permission – you can contact us at info@whatsonweibo.com.