Chinese Netizens Are Done with Abuse of Emergency Lane, Support Proposal for Tougher Punishments
As the 'Two Sessions,' the annual gatherings of the National People's Congress (NPC) and the National Committee of the Chinese People's Political Consultative Conference (CPPCC), continue, thirty representatives of the Jiangsu NPC submitted a proposal that received a lot of attention on Chinese social media this week.
Emergency lane drivers should face tougher punishments to safeguard traffic safety, the proposal says. Illegal use of emergency lanes is commonplace in China, leading to dangerous situations and making it more difficult for rescue vehicles to make it to the scene of an accident.
Currently, drivers are fined 200 yuan ($30) for occupying the reserved lane, along with a 6-point driver's license deduction. In some cases, they might even face some days in prison.
If it is up to the Jiangsu NPC deputies, this punishment will be increased to a 3000 yuan ($444) fine and a 12-point deduction.* This means that the offender's driver's license would be immediately revoked for at least three months and that the offender needs to take a 7-day training and take a new examination in order to get their license back. The 12-point deduction punishment is equal to the punishment for drunk driving or fleeing after a traffic incident.
The proposal further calls for a 15 days prison sentence when drivers are caught using the emergency lane for the third time.
The Jiangsu NPC's proposal seems to resonate with Chinese netizens.  Within a day after the news first made its rounds, the hashtag "Proposal to Deduct 12 Points for Those Illegally Using the Emergency Lane" (#建议违法占用应急车道扣12分#) received more than 25 million views on Weibo.
One Weibo commenter says: "I propose to install a 'photo reporting system' where whistleblowers are rewarded with money. This money reward can come out of the fine, and I tell you, this phenomenon [of people illegally driving in the emergency lane] would be eradicated within no time."
Another typical comment read: "I absolutely support this proposal, and in my opinion, the punishments should be even tougher." Many others posted comparable comments, calling for "immediate detainment" and a "life-long prohibition to drive" for these lawbreakers.
What perhaps contributes to the general support for the new proposal is recent media coverage that focuses on the dangers of illegally blocking the emergency lane. Earlier this year, a viral video showed a desperate mother crying on the street when rescue workers were unable to assist her injured daughter; the ambulance was blocked because of vehicles occupying the emergency lane. At the time, the video caused outrage on social media.
This week, the Yangtse Evening Post (扬子晚报), a newspaper from Jiangsu province, published an article listing the various emergency situations where paramedics were hindered in doing their job because of illegal emergency lane driving.
Despite the public support for this proposal, there is no guarantee that it will actually be implemented. Every year, many proposals are put forward during the two-week 'Two Sessions,' and only some will actually lead to legislative amendments.
By Gabi Verberg
*Each driver has 12 points in his driver's license a year that can be deducted. For "minor" violations such as speeding, talking on the phone while driving, a few points will be deducted. More serious crimes, such as running a red light or covering one's license plate, will be punished with a 6-, 10- or 12-point reduction. Combined with this point deduction, people will often face fines or short-time imprisonment.
Spotted a mistake or want to add something? Please let us know in comments below or email us.
©2019 Whatsonweibo. All rights reserved. Do not reproduce our content without permission – you can contact us at info@whatsonweibo.com
Children of Hubei Medical Workers to Receive 10 Extra Points on High School Enrolment Examination
Hubei officials announced a controversial measure to reward frontline medical workers.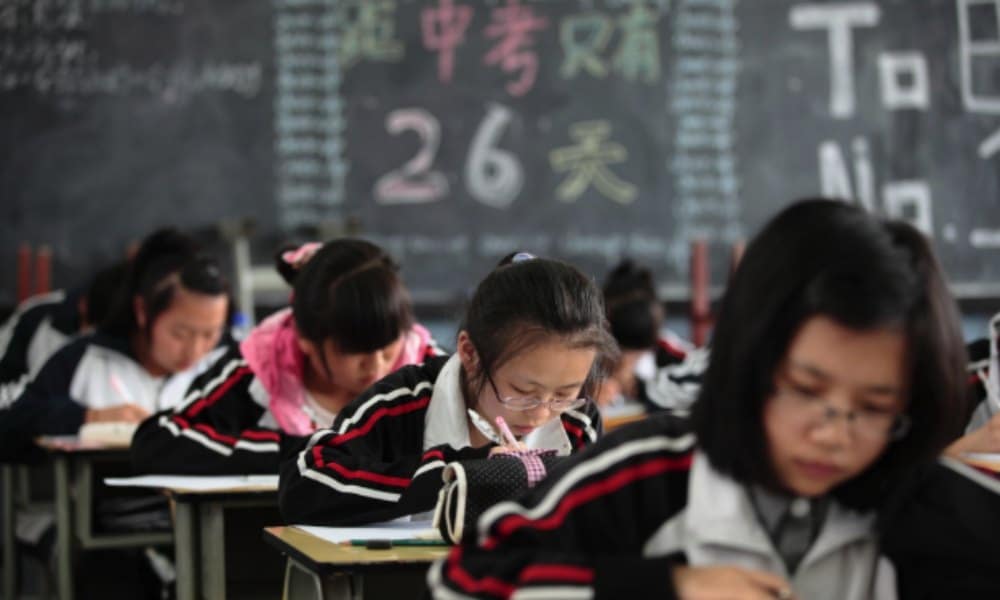 First published
Hubei authorities announced new measures on Tuesday to encourage and support the work of Hubei's front-line medical workers during the coronavirus crisis.
One of these measures, rewarding the children of medical staff an extra ten points in their zhongkao examination, became a somewhat controversial top trending topic on Chinese social media today.
The zhongkao is an important academic examination in China taken during the last year of junior high school, right before entering education institutions at the senior high school level. These enrollment examinations are held annually in June or July, depending on the region.
A good mark on the exam is of crucial importance for many students, as it will give them admission to their preferred senior high school, which then could have more profound effects on their education after high school and their further career.
According to the new policy, children of Hubei's medical workers would be rewarded with ten extra points on top of their overall score for the exams if they take it. Since the exams are highly competitive, every extra point could mean a world of difference since it will mean leaving hundreds of other students behind you.
On Weibo, one announcement of the new measure published by Chinese news source The Paper received over 938.000 likes and more than 11.000 comments. Many Weibo users do not agree with the policy.
"It should be the medical workers themselves who are rewarded through promotion or a salary increase," a top comment says: "It shouldn't be their children who are rewarded."
Although a majority of commenters say that medical workers should be given special rewards in these times of hardships, most also agree that rewarding their children in their exam results is not the way to go. "This only makes the exam system more unfair," a recurring comment says.
With 610 million views at the time of writing, the hashtag "The kids of Hubei frontline medical staff will get extra 10 points on zhongkao score" (#湖北一线医务人员子女中考加10分#) is one of the most-dicussed topics on Weibo of the day.
For more COVID-19 related articles, please click here.
By Manya Koetse (@manyapan)
Follow @whatsonweibo
Spotted a mistake or want to add something? Please let us know in comments below or email us. First-time commenters, please be patient – we will have to manually approve your comment before it appears.
©2020 Whatsonweibo. All rights reserved. Do not reproduce our content without permission – you can contact us at info@whatsonweibo.com.
"Our Cities Are Sick, But We Will Make Them Better" – Popular Online Video Promotes Chinese Unity in Times of COVID-19
Chinese state media are spreading more hopeful and positive online content in times of coronacrisis.
From Guangzhou to Shenzhen, from Wuhan to Chengdu, bustling streets and busy markets are left empty and quiet, as China is in the midst of dealing with the coronavirus (COVID-19) crisis.
"[People are] afraid, they are anxious, and the masks they wear widens the distance between them," a whispered female voiceover says in a new 3-minute 'documentary' video that has been propagated online by Chinese state media over the past week.
The short video shows scenes from cities all across China – a deserted train station in Wuhan, a person cycling on a quiet Beijing street, a nearly empty highway in Shenzhen – while a tracker in the corner shows the number of confirmed coronavirus diseases cases in that location.
While the first half of the online 'shortdoc' emphasizes how COVID-19 has affected every corner of the country in negative ways, making the past Chinese New Year the most depressing one in decades, the second half shifts to a message of hope and positivity.
Instead of highlighting the grey and empty streets across China, the video focuses on the energy and courage of the medical workers, policemen, and construction workers across the country doing what they can to fight the battle against the coronavirus.
"We are looking forward to the day we will take off our masks again, leave our homes, be with our loved ones, and enjoy that tasty bite of steaming hot buns."
The voiceover continues to say that "every city will wake up again" and that "the smiles will return to people's faces," concluding: "Because we are still together [in this], because we are Chinese."
The short video ends with the slogan "Our cities are sick, but we will cure them" ("我们的城市生病了,但是我们会治好它").
Originally posted by state-run media People's Daily on Weibo, the three-minute film attracted more than 80 million views within two days after it was posted. By now, the hashtag "3-minute Documentary Features Chinese Cities in Times of Epidemic" (#3分钟记录疫情下的中国城市#), also hosted by People's Daily, was viewed almost 90 million times.
The video was produced under the 'New Studio Media Group' (Xinpianchang / 新片场社区) with video contributions from 48 different content producers from all over the country. Xinpianchang is a Beijing-based online media group and video content platform founded in 2012.
Many online viewers express that they are touched and inspired by the short doc.
Recently, Chinese social media has seen more short videos depicting what life in times of coronacrisis is like for people living in different parts of China.
Chinese publication The Cover (封面新闻) recenty also posted a three-minute video of the scenes in Chengdu city, showing that its once bustling streets are now more like a ghost city.
Some Weibo netizens from Wuhan also post short videos of their city, repeating the slogan "Our city is sick, but we will cure it" and welcoming people to visit Wuhan once this epidemic is over.
Over the past weeks, Chinese state media have started to disseminate and propagate more hopeful online content, praising the work of those fighting COVID-19 and showing support to the people of Wuhan and emphasizing the unity of China in times of crisis.
For more about this and other COVID-19 related articles, please click here.
By Jialing Xie
This article has been edited for clarity.
Spotted a mistake or want to add something? Please let us know in comments below or email us. First time commenters, please be patient – we will have to manually approve your comment before it appears.
©2019 Whatsonweibo. All rights reserved. Do not reproduce our content without permission – you can contact us at info@whatsonweibo.com