Chinese Netizens Are Done with Abuse of Emergency Lane, Support Proposal for Tougher Punishments
As the 'Two Sessions,' the annual gatherings of the National People's Congress (NPC) and the National Committee of the Chinese People's Political Consultative Conference (CPPCC), continue, thirty representatives of the Jiangsu NPC submitted a proposal that received a lot of attention on Chinese social media this week.
Emergency lane drivers should face tougher punishments to safeguard traffic safety, the proposal says. Illegal use of emergency lanes is commonplace in China, leading to dangerous situations and making it more difficult for rescue vehicles to make it to the scene of an accident.
Currently, drivers are fined 200 yuan ($30) for occupying the reserved lane, along with a 6-point driver's license deduction. In some cases, they might even face some days in prison.
If it is up to the Jiangsu NPC deputies, this punishment will be increased to a 3000 yuan ($444) fine and a 12-point deduction.* This means that the offender's driver's license would be immediately revoked for at least three months and that the offender needs to take a 7-day training and take a new examination in order to get their license back. The 12-point deduction punishment is equal to the punishment for drunk driving or fleeing after a traffic incident.
The proposal further calls for a 15 days prison sentence when drivers are caught using the emergency lane for the third time.
The Jiangsu NPC's proposal seems to resonate with Chinese netizens.  Within a day after the news first made its rounds, the hashtag "Proposal to Deduct 12 Points for Those Illegally Using the Emergency Lane" (#建议违法占用应急车道扣12分#) received more than 25 million views on Weibo.
One Weibo commenter says: "I propose to install a 'photo reporting system' where whistleblowers are rewarded with money. This money reward can come out of the fine, and I tell you, this phenomenon [of people illegally driving in the emergency lane] would be eradicated within no time."
Another typical comment read: "I absolutely support this proposal, and in my opinion, the punishments should be even tougher." Many others posted comparable comments, calling for "immediate detainment" and a "life-long prohibition to drive" for these lawbreakers.
What perhaps contributes to the general support for the new proposal is recent media coverage that focuses on the dangers of illegally blocking the emergency lane. Earlier this year, a viral video showed a desperate mother crying on the street when rescue workers were unable to assist her injured daughter; the ambulance was blocked because of vehicles occupying the emergency lane. At the time, the video caused outrage on social media.
This week, the Yangtse Evening Post (扬子晚报), a newspaper from Jiangsu province, published an article listing the various emergency situations where paramedics were hindered in doing their job because of illegal emergency lane driving.
Despite the public support for this proposal, there is no guarantee that it will actually be implemented. Every year, many proposals are put forward during the two-week 'Two Sessions,' and only some will actually lead to legislative amendments.
By Gabi Verberg
*Each driver has 12 points in his driver's license a year that can be deducted. For "minor" violations such as speeding, talking on the phone while driving, a few points will be deducted. More serious crimes, such as running a red light or covering one's license plate, will be punished with a 6-, 10- or 12-point reduction. Combined with this point deduction, people will often face fines or short-time imprisonment.
Spotted a mistake or want to add something? Please let us know in comments below or email us.
©2019 Whatsonweibo. All rights reserved. Do not reproduce our content without permission – you can contact us at info@whatsonweibo.com
Catharsis on Taobao? Chinese 'All is Well' TV Drama Fans Are Paying Up to Scold the 'Su Family Villains'
Some netizens are getting too worked up over this hit TV drama.
Chinese TV drama 'All is Well' is such an online hit, that the collective despise for the fictional villains in the story is getting all too real. The show itself, along with an online service to scold its characters, has become a trending topic on Chinese social media this week.
The Chinese TV series All is Well (都挺好) is such a success that some people would even pay to scold the drama's main 'villains.' One Taobao seller had nearly one thousand customers paying a fee this week for a special service to curse the characters they despise so much.
All is Well is a 46-episode urban TV drama that premiered on March 1st of this year on Zhejiang and Jiangsu Television. The series is based on the novel by A'nai (阿耐), who is also known for writing the super popular Ode to Joy TV drama.
All is Well tells the story of white-collar worker Su Mingyu and the conflicts within her family. The role of this daughter is played by Chinese actress Yao Chen (姚晨), one of the most popular celebrities on Weibo.
As the only daughter, Su Mingyu is the black sheep of the family and grows up feeling lonely and unloved. When her mother suddenly passes away, the Su family falls apart. The father becomes selfish and overbearing, while her brothers are also unsuccessful in keeping the family together.
The three men within the Su family have become much-hated characters on Chinese social media for their selfishness and manipulative traits. Su Mingcheng (Li Junting) is Mingyu's older brother, Su Mingzhe (Gao Xin) is her younger brother, and Su Daqiang (Ni Dahong) is her father.
While the TV drama is a major hit, many fans seem to take pleasure in scolding the main characters. On Weibo, some netizens are changing their names into some of the Su villains, allowing others to scold them.
But there are also people who have turned the collective contempt for the Su men into a small business. On e-commerce site Taobao, one seller set up a service to "curse the Su family father and sons" (怒骂苏家三父子), charging a 0.5 yuan fee, Caijing reports.
Various Chinese media report that the seller has had at least 300 customers over the past week who could "vent their anger" about the drama's characters. The seller would open a chat window, displaying the photo and name of one of the three despised characters, and pretending to be them. He also displays a counter that shows how many times the characters have been scolded by customers.
Other news sites report that there are at least 40 online shops selling this 'scolding service' to customers, with one seller allegedly serving nearly 1000 customers in one day.
The topic, under the hashtag "Online Shop Sells Service to Scold the Su Father and Sons" (#网店出售怒骂苏家三父子服务#), received nearly 100 million views on Weibo this week.
Many netizens are surprised and amused that their favorite TV drama has turned into a business opportunity for Taobao sellers. "I'm a shop seller," one commenter says: "I give all the money to charity. I work during the day, but in the evenings I'm here for all of you!"
"Is this the rival of the Kua Kua group?", one commenter wonders. Kua Kua groups, as we recently explained in this article, are online chat groups where people can be complimented or praised, sometimes for money. The current scolding groups, in a way, serve a similar purpose: offering netizens a way to vent their feelings and feel a bit better.
Although the cursing may provide emotional catharsis for some, others just find it really funny. "How about you give me one yuan, and I scold you?", one commenter suggests: "It's crazy that these type of services exist."
All is Well can be viewed through iQiyi (without English subtitles, regional restrictions apply – VPN).
Also see:
By Manya Koetse 
Spotted a mistake or want to add something? Please email us.
©2019 Whatsonweibo. All rights reserved. Do not reproduce our content without permission – you can contact us at info@whatsonweibo.com.
The Day After the "3•21" Devastating Yancheng Explosion: 47 Dead, 640 Injured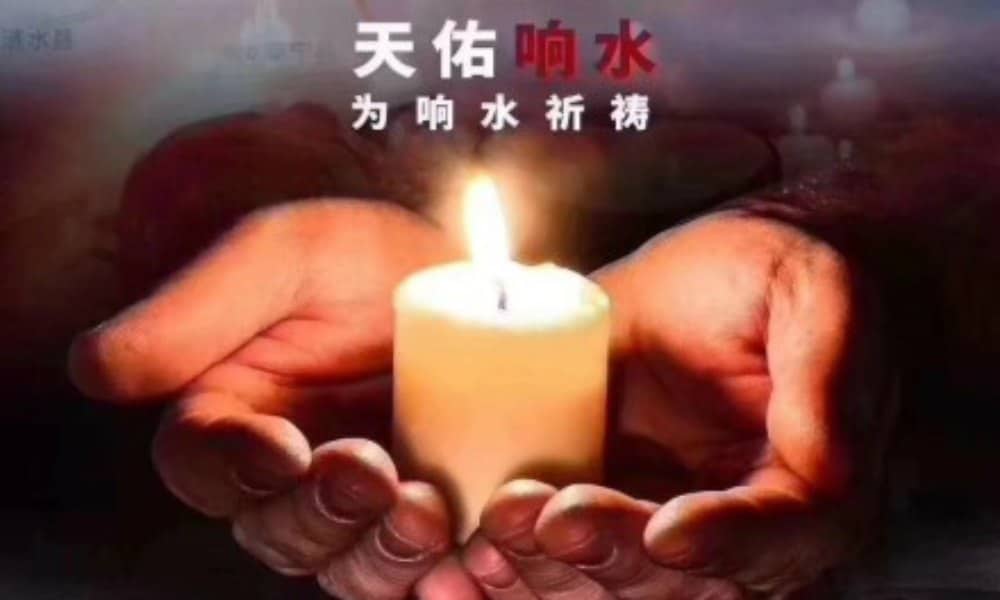 Last updated
The enormous explosion at a chemical plant in Jiangsu's Yancheng on March 21st has sent shockwaves through the country. While state media are focusing on the efforts of rescue workers, Chinese social media users are mourning the lives lost and are searching for those still missing.
One day after a devastating explosion occurred at a chemical plant in Yancheng city in Jiangsu, at the Xiangshui Eco-chemical Industrial Zone, the number of confirmed casualties and injured has now gone up to 47 dead, 90 critically injured, with around 640 requiring hospital treatment (issued Friday 19.00 local time).
The explosion happened on Thursday around 14.48 local time at the Jiangsu Tianjiayi Chemical Plant (天嘉宜化工厂). Images and videos of the explosion and its aftermath quickly spread on Weibo and other social media, showing the huge impact of the blast.
Footage showed shattered windows from buildings in the area and injured persons lying on the streets. Other videos showed children crying and blood on the pavements. There are residential areas and at least seven schools located in the vicinity of the chemical plant, leading to injuries among residents and students due to glass that was allegedly "flying around."
Footage published by WeMedia show the impact of the Jiangsu Yancheng chemical plant explosion that occurred around 14.00 local time – https://t.co/pXM7Eg6Jf6 pic.twitter.com/LEL36M30z5

— Manya Koetse (@manyapan) 21 maart 2019
It is reported that there are residential areas and 7 schools in the vicinity of where the Yancheng explosion happened, people have been injured because of glass that was "flying around," eyewitnesses said. pic.twitter.com/LYYNQgwLl4

— Manya Koetse (@manyapan) 21 maart 2019
According to official sources on Weibo, a total of 930 firefighters worked side by side to control the fire.
The hashtag "Lining Up to Donate Blood in Xiangshui" (#响水市民自发排队献血#) also attracted some attention on Weibo, with state media reporting that dozens of local residents have donated blood to help the injured. On Thursday night, there were long lines at a local mobile blood donation bus.
What is quite clear from the Chinese media reports on the incident and the social media posts coming from official (authorities) accounts, is that there is an emphasis on the number of people who are helping out, rather than a focus on the number of people that were killed: there are at least 930 firefighters, 192 fire trucks, 9 heavy construction machinery, 200 police officers, 88 people rescued, 3500 medical staff, 200 people donating blood, etc. – the number of people joining forces to provide assistance in the area is overwhelming.
A man is rescued from the site of the devastating Yancheng explosion, and firefighters give him a phone to call home to let them know he's come out alive. He's visibly emotional and shocked, yet the conversation seems so casual: "I was out of battery", "Where are you going?".. pic.twitter.com/f4RBU33AbN

— Manya Koetse (@manyapan) 22 maart 2019
Meanwhile, there are desperate family members who are turning to social media in search of loved ones, posting their photos and asking people if they know anything about their whereabouts since the explosion.
While dozens of Weibo users are airing their grievances on what happened, there are also more personal stories coming out. The wife of the local factory worker Jiang is devastated; her husband of four years, father of one son, celebrated his 30th birthday on Thursday. She received a message from her husband twenty minutes before the explosion occurred. He was one of the many people who lost their lives.
On Thursday, Chinese netizens complained that their posts about the Yancheng explosion were being taken offline, suggesting that information flows relating to the incident are being strictly controlled. "This is just too big to conceal," one commenter said.
This is not the first time such an explosion makes headlines in China. In 2015, an enormous explosion at a petrol storage station in Tianjin killed 173 people and caused hundreds of people to be injured. Two years ago, an explosion at a Shandong petrochemical plant left 13 people dead.
By Manya Koetse 
Spotted a mistake or want to add something? Please email us.
©2019 Whatsonweibo. All rights reserved. Do not reproduce our content without permission – you can contact us at info@whatsonweibo.com.