Chinese Netizens Are Done with Abuse of Emergency Lane, Support Proposal for Tougher Punishments
As the 'Two Sessions,' the annual gatherings of the National People's Congress (NPC) and the National Committee of the Chinese People's Political Consultative Conference (CPPCC), continue, thirty representatives of the Jiangsu NPC submitted a proposal that received a lot of attention on Chinese social media this week.
Emergency lane drivers should face tougher punishments to safeguard traffic safety, the proposal says. Illegal use of emergency lanes is commonplace in China, leading to dangerous situations and making it more difficult for rescue vehicles to make it to the scene of an accident.
Currently, drivers are fined 200 yuan ($30) for occupying the reserved lane, along with a 6-point driver's license deduction. In some cases, they might even face some days in prison.
If it is up to the Jiangsu NPC deputies, this punishment will be increased to a 3000 yuan ($444) fine and a 12-point deduction.* This means that the offender's driver's license would be immediately revoked for at least three months and that the offender needs to take a 7-day training and take a new examination in order to get their license back. The 12-point deduction punishment is equal to the punishment for drunk driving or fleeing after a traffic incident.
The proposal further calls for a 15 days prison sentence when drivers are caught using the emergency lane for the third time.
The Jiangsu NPC's proposal seems to resonate with Chinese netizens.  Within a day after the news first made its rounds, the hashtag "Proposal to Deduct 12 Points for Those Illegally Using the Emergency Lane" (#建议违法占用应急车道扣12分#) received more than 25 million views on Weibo.
One Weibo commenter says: "I propose to install a 'photo reporting system' where whistleblowers are rewarded with money. This money reward can come out of the fine, and I tell you, this phenomenon [of people illegally driving in the emergency lane] would be eradicated within no time."
Another typical comment read: "I absolutely support this proposal, and in my opinion, the punishments should be even tougher." Many others posted comparable comments, calling for "immediate detainment" and a "life-long prohibition to drive" for these lawbreakers.
What perhaps contributes to the general support for the new proposal is recent media coverage that focuses on the dangers of illegally blocking the emergency lane. Earlier this year, a viral video showed a desperate mother crying on the street when rescue workers were unable to assist her injured daughter; the ambulance was blocked because of vehicles occupying the emergency lane. At the time, the video caused outrage on social media.
This week, the Yangtse Evening Post (扬子晚报), a newspaper from Jiangsu province, published an article listing the various emergency situations where paramedics were hindered in doing their job because of illegal emergency lane driving.
Despite the public support for this proposal, there is no guarantee that it will actually be implemented. Every year, many proposals are put forward during the two-week 'Two Sessions,' and only some will actually lead to legislative amendments.
By Gabi Verberg
*Each driver has 12 points in his driver's license a year that can be deducted. For "minor" violations such as speeding, talking on the phone while driving, a few points will be deducted. More serious crimes, such as running a red light or covering one's license plate, will be punished with a 6-, 10- or 12-point reduction. Combined with this point deduction, people will often face fines or short-time imprisonment.
Spotted a mistake or want to add something? Please let us know in comments below or email us.
©2019 Whatsonweibo. All rights reserved. Do not reproduce our content without permission – you can contact us at info@whatsonweibo.com
Chinese Musician Song Dongye Canceled (Again) after Complaining about China's Cancel Culture
Song Dongye was shut down by Weibo after airing his grievances at being shut out from China's entertainment circles.
Five years after being caught with drugs, Chinese singer Song Dongye went on Weibo to share his grievances on still being 'canceled' and asking for another chance to restart his career. Instead, he got criticized and blocked.
Chinese folk singer Song Dongye (宋冬野) has become a major topic on Chinese social media site Weibo this week after he posted a lengthy statement on his account airing his grievances regarding how he was shut out from China's entertainment world after being caught with drugs.
In Song's Weibo post of October 11 titled "I Need to Say Something" ("我需要说一些话"), the singer complained that one of his performances was canceled and that he has not been able to perform since he was detained for drug use five years ago.
The Beijing singer was scheduled to hold a concert in Chengdu on October 16th, but local authorities eventually canceled the show after receiving reports about Song being a drug addict.
According to Song, it is not the first time that one of his concerts is suddenly canceled for no apparent reason. In his post, the Beijing artist shared how disappointed he is that yet another performance was called off, even though it was previously approved and was organized in compliance with all strict regulations.
It seems that Song Dongye just cannot get rid of his tainted reputation.
The 34-year-old Song Dongye started his career as a musician in 2009 and signed with the Modern Sky record label in 2012. One of his biggest hits is the 2013 song 'Miss Dong' (董小姐) (link), after which Song's career further flourished.
Things went sour in 2016, when Song was arrested for smoking marijuana in Beijing after someone allegedly tipped off the police. Not long after news on his arrest made the rounds, Song himself posted a statement on his Weibo account on October 25th of 2016, apologizing to everyone for violating the law and promising to better himself.
Song is not the first Chinese celebrity to have been caught with drugs. There is an entire list of celebrities who were caught doing drugs, especially in the 2014-2016 years – including names such as Jaycee Chan, Kai Ko, and Zhang Mo.
In Song's most recent Weibo post, the solo artist explains how his former drug abuse deeply affected him and his family, and that he has never touched drugs again since his ten-day prison sentence five years ago in 2016.
Despite the fact that Song complied with court orders and became an anti-drug advocate, he apparently is still not able to perform – even though the prescribed three-year ban on performing (in accordance with regulations provided by the Ministry of Culture) has officially ended two years ago.
The musician writes that he feels wronged. As a former drug abuser, he feels it was right for him to be punished, but he also says that drug users are actually the victims, claiming that drug trafficking is the real crime. Song argues that it is very difficult to be in the entertainment industry and that it is not easy to say no to drugs when you are down, depressed, and pressured.
In his Weibo post, the artist actually suggests he has been victimized in two ways: firstly, as a depressed artist lured into taking drugs, and second, as a canceled celebrity who keeps on being shut out from China's entertainment circles.
"I can't understand it, I'm confused," Song writes: "I've violated the law, but I've been punished! I've been detained and then I also received five years of verbal abuse! I've been educated! I understand! I never messed up again! I got up again, and I changed! I became a better person! Is that still not enough for me to be able to make a living? Why? I'm not doing anything but playing some small offline gigs in order to get by! I'm just a singer-songwriter! What else do you want me to do? (..) Shouldn't society give people who have broken the law another chance?"
Song concludes his post by saying that, regardless of the challenges he is facing, he will not give up on his work.
Song's Post Backfires
Soon after Song Dongye posted his short essay on Weibo, thousands of reactions started flooding in. Many netizens did not feel sorry for the artist, but instead blamed him for "playing the victim."
The issue triggered a major discussion on Chinese social media on whether or not artists with a bad reputation should be allowed back into the limelight.
A recent article by What's on Weibo on 25 'tainted celebrities' in China (25 'Tainted Celebrities': What Happens When Chinese Entertainers Get Canceled?) shows that Chinese entertainers who previously got 'canceled' generally do not return to the big stage, either because they have simply fallen out of favor with most people or because they are being shunned and sidelined in the entertainment industry (or a combination of both).
Many people felt that Song Dongye was being a hypocrite, not just because they felt he was excusing his former drug use by saying drug traffickers are the real offenders, but also because Song allegedly did do multiple commercial shows over the past five years and has been actively setting up new businesses since his 2016 arrest.
For official media accounts, in the meantime, this apparently seemed to be a good moment to highlight their anti-drug informational posts.
State newspaper People's Daily posted a series of photographs on October 12th featuring police officers who got injured while doing their work combating drug trafficking and drug use, stating that over thirty staff members of the law enforcement against drugs were killed since 2017.
The post's message was clear: these Chinese officers in drug law enforcement were unable to get a second chance in life – why would Song, as a drug abuser, be allowed to get another chance to restart his career as a performer?
That idea resonated with many, who wrote: "We should have a zero-tolerance policy [towards drugs]. We can't ever revive these police officers!"
Another image circulated on social media with the tagline "taking drugs and selling drugs is the same crime," showing a musician offering money for drugs and a law enforcement officer being shot on the job (image below).
On that same day, Song's Weibo account was temporarily suspended. The hashtag "Song Dongye's Weibo Suspended" (#宋冬野微博被禁言#) received over 620 million views in the days following the ban.
Many people on Weibo share the view that those who chose to take illegal drugs for their own pleasure can never be a public figure again, earning money from commercial appearances.
Others wrote that Song should have never posted his essay at all since it only caused him to be labeled as a 'tainted celebrity' again, even though many people had already forgotten about his former drug use. They think that Song's real problem hindering his future career now is not his 2016 offense, but his 2021 Weibo post.
Song Dongye's post did not just affect him, it indirectly also affected other Chinese 'tainted celebrities.'
A planned concert by Chinese singer Li Daimo (李代沫), a previous contestant of The Voice of China (中国好声音), was also canceled this week following the Song Dongye controversy.
Li Daimo was arrested in 2014 for possession of drugs and was later sentenced to a fine and nine months in prison. After being released from prison, Li resumed his music career. Although his tainted past was still sometimes discussed on social media, he was one of the few artists who seemed to have made some sort of a comeback to the entertainment industry after such a major controversy.
The Song Dongye situation, however, also made people (and authorities) reflect on Li's current career.
Over the past year, Chinese celebrities have become a target of authorities and state media have consistently been reporting on the importance of Chinese stars setting a good example for their fans.
But amid all controversy, there are also people who come to Song's defense: "If an artist has been punished for three years, we should give people the opportunity to reappear. It might [even] be more beneficial to the anti-drug campaign."
"I really like his songs," one person wrote about Song: "But he did drugs, and I can't forgive him for that."
At this time, it is not clear when or if Song Dongye will be allowed to post on his Weibo account again. Although his Weibo page is still there, it currently says: "This account has temporarily been suspended for violating Weibo guidelines." It is not clarified which specific guidelines Song violated with his post.
By Manya Koetse
Spotted a mistake or want to add something? Please let us know in comments below or email us. First-time commenters, please be patient – we will have to manually approve your comment before it appears.
©2021 Whatsonweibo. All rights reserved. Do not reproduce our content without permission – you can contact us at info@whatsonweibo.com.
Chinese Student Forced to Undergo "Fake Surgery" and Borrow Money While Lying on the Operating Table
The 17-year-old girl from Shaanxi underwent surgery for no reason at all, without her parents' consent.
The story of a 17-year-old girl who was forced to undergo a "fake surgery" at Shaanxi's Ankang Xing'an Hospital has gone viral on Chinese social media.
One of the netizens to break the story on social media is the Weibo user @QinguanSihai (@秦观四海, 90,000+ followers), who posted about the incident on October 6.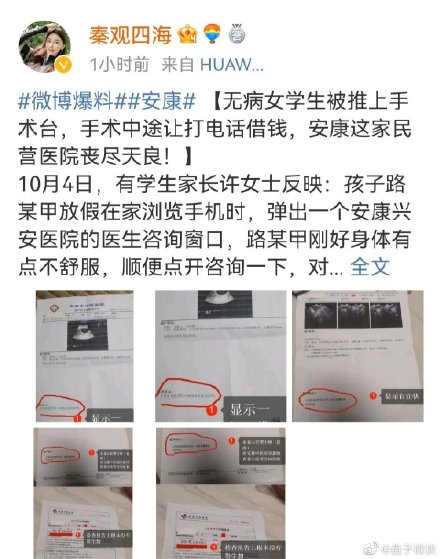 According to the post, the incident occurred on October 4 when a young woman named Lu went online to seek medical attention because she was not feeling well. Since there was an available spot for a medical consultation at the private Ankang Xing'an Hospital, Lu went to see a doctor there.
While she was at the hospital in the city of Ankang, the woman allegedly was directly taken to the operating room and placed on the operating table after a short consultation; not for a medical examination, but for surgery.
The girl initially thought she was undergoing a routine medical check. As the surgery was already underway, the doctor stopped to let Lu sign some papers and then asked her if she could gather the money to pay for her medical procedure. When Lu protested and demanded to get off the surgery table, the doctor warned her that she was losing blood and that interrupting the procedure would be life-threatening.
Lying on the operating table, Lu called some of her friends to gather the money, all the while being pressured by the doctor that the money she had (1200 yuan/$185) was not enough to cover for the costs of surgery – which was still ongoing. The doctor allegedly even told Lu to get more money via the Alipay 'Huabei' loaning app.
Lu's parents, who were contacted by concerned friends, soon showed up at the hospital as the doctor hastily ended the surgery. The parents, who were furious to discover their underage daughter had undergone a medical procedure without their consent, became even more upset when they later found out that Lu had undergone surgery to remove cervical polyps, while Lu's medical reports showed that she actually had no cervical polyps at all. No reason could be found for their healthy daughter to have been operated on her cervix.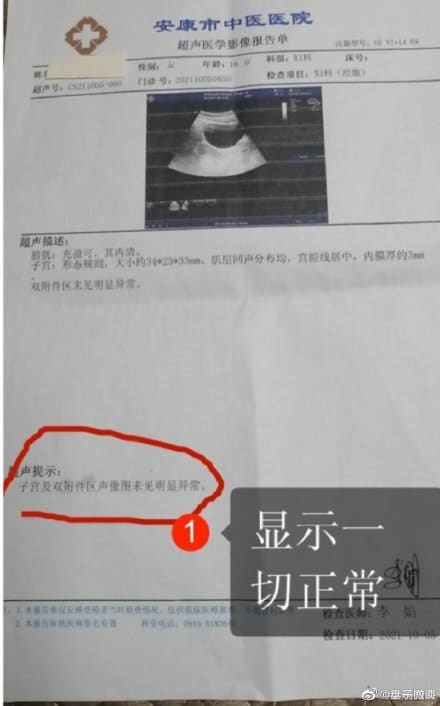 After Lu's story went viral on social media, local authorities quickly started an investigation into the matter and soon confirmed that the story was real. An initial statement said that Angkang Xing'an Hospital is at fault for performing surgery on a minor without the consent of a guardian or parent. It was also recognized that the hospital has committed serious ethical violations. The hospital, located on 78 Bashan Middle Road (巴山中路), is now temporarily closed, and the doctor in question has since been fired.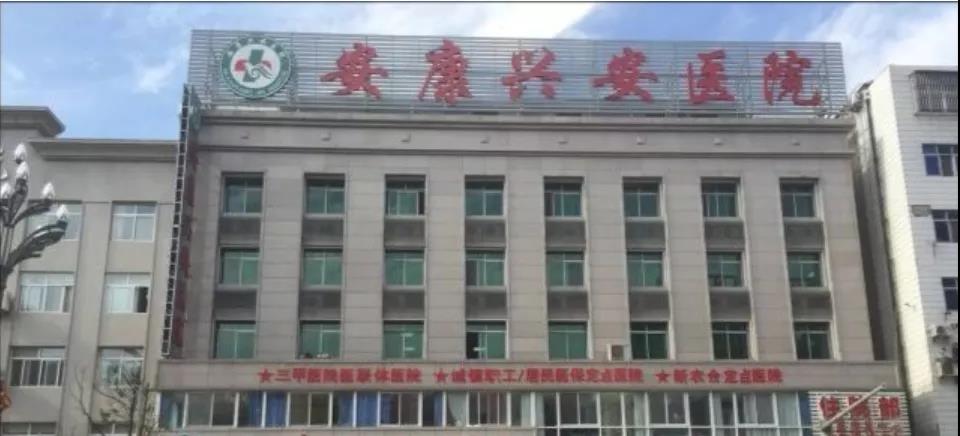 Many Chinese netizens are angered about the incident, calling private hospitals such as Ankang Xing'an a "disgrace" to China's healthcare industry.
This is by no means the first time that malpractices at Chinese local hospitals or clinics trigger online controversy. Various incidents that previously went viral show how some clinics put commercial interests above the health of their patients, and how some doctors think they can get away with abusing and scamming their patients.
In 2016, the death of the 21-year-old cancer patient Wei Zexi (魏则西) sparked online outrage. Wei Zexi, who shared his medical experiences on social media, spent 200,000 RMB to receive contested form of immunotherapy at the Beijing Armed Police Corps No. 2 Hospital (武警二院). The treatment, that was promoted on China's leading search engine Baidu, was actually completely ineffective and the advertising for it was false.
By now, one hashtag relating to the Ankang incident has received over 270 million views on Weibo (#官方通报无病女生被推上手术台#), with other relating hashtags also circulating on social media (#家属回应无病女学生被迫手术#, #无病女学生被推上手术台涉事医院停业整顿#).
"This can't be a real hospital, right?!" some worried netizens write, with others expressing the hopes that the medical institution will be severely punished for their wrongdoings.
By Manya Koetse
Spotted a mistake or want to add something? Please let us know in comments below or email us. First-time commenters, please be patient – we will have to manually approve your comment before it appears.
©2021 Whatsonweibo. All rights reserved. Do not reproduce our content without permission – you can contact us at info@whatsonweibo.com.