Series of Shocking Hit-and-Run Incidents: Ruining the Reputation of BMW in China?
The negative news coverage surrounding BMW in China starkly contradicts its marketing image.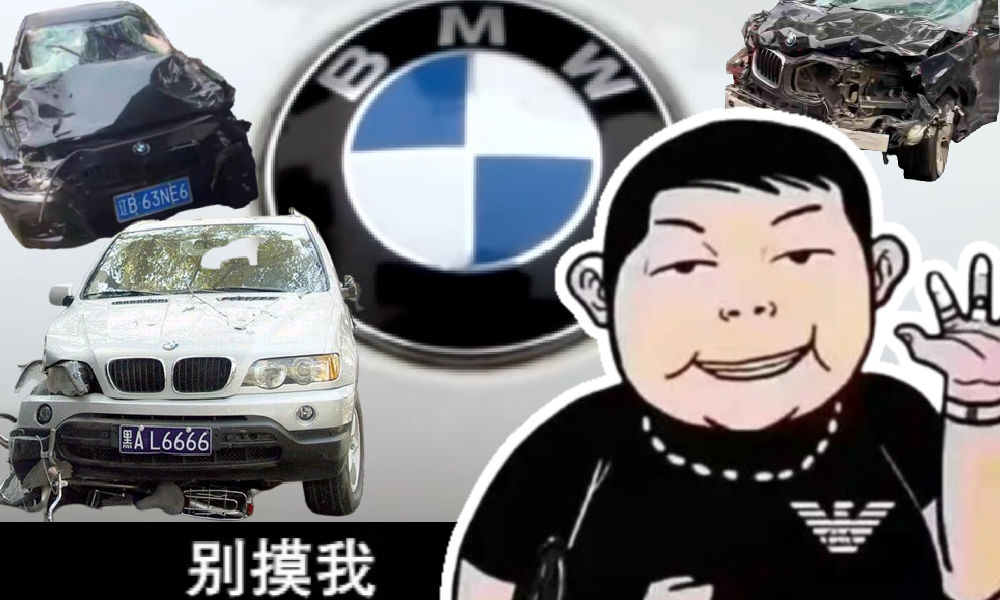 Although it is one of China's strongest luxury car brands, BMW often makes headlines in China in the context of horrific hit-and-run incidents. Lately, a series of incidents involving BMW drivers ramming into people received a lot of attention on social media. Are the negative headlines impacting BMW's brand image in China?
Multiple incidents involving BMW drivers driving into crowds of people have attracted online attention in China recently. It is not the first time. BMW hit-and-run cases have made headlines in China since at least two decades ago.
With BMW as a car brand coming up so often in headlines concerning shocking cases, from drunk drivers ramming into people to BMW owners misbehaving in traffic, are attitudes towards the BMW car brand shifting in China?
Here, we will discuss some of the cases that have received a lot of attention on Chinese social media recently, and the role BMW as a brand plays in these discussions.
Three Hit-and-Run Cases Sparking Outrage
Drunk female driver drags victim along for over 1 kilometer in Loudi
On Tuesday, April 11, a court case related to a hit-and-run incident that involved a woman driving a BMW sparked online discussions. The incident happened in September of 2022 in Loudi City, Hunan Province. A female named Xiao (肖) drove into a person on an electrical bike who was then dragged along under the car for a kilometer before the car was finally stopped by traffic police.
Shocking footage of the scene spread online and sparked anger. As the driver was stopped – the victim was still underneath the BMW, – she seemed reluctant to cooperate and was busy staring at her phone. The 28-year-old driver turned out to be driving under influence and was arrested. After being rushed to the hospital, the victim's condition stabilized.
According to her family, the victim had to stay at the intensive care unit until January of this year. Now, six months later, she is still unable to speak and cannot walk (#宝马女司机撞人拖行案受害者家属发声#).
Once the trial started at the Loudi People's Court, the incident again went trending, especially because the court decided to postpone its verdict due to the "complexity of the case" ("称因案件疑难复杂将择期宣判"). The woman is accused of causing serious damage or injury while driving (交通肇事罪).
As the victim's family spoke to reporters in the days leading up to the trial, it also became known that the driver's family had tried to convince the victim's husband on three different occasions to sign an apology letter, seeking to mitigate her sentence. They allegedly also told the victim's family that the driver and her family were also "victims" in this case. This did not exactly help in gaining more sympathy from the public.

Liu Dong drove into Dalian pedestrians to take "revenge on society"
On May 22, 2021, a Saturday morning, a black BMW drove into a crowd of pedestrians in the northeastern Chinese city of Dalian, leaving five people dead and five injured. The driver, who was soon arrested, was a man by the name of Liu Dong (刘东), who reportedly purposely drove into the crowd to take "revenge on society" after an investment failure.
The case recently became trending again because, following his October 2021 trial and death penatly sentencing, Liu Dong was executed on April 7th, 2023.
On social media, the execution attracted a lot of attention. One related hashtag, "Dalian BMW Driver Who Drove Into People Executed by Death Penalty" (#大连宝马撞人案司机被执行死刑#), received over 230 million clicks.

22-year-old man ploughed his car through a busy Guangzhou intersection
Five people were killed and 13 others were injured in a traffic incident involving a BMW driving into pedestrians at Tianhe Road in Guangzhou on January 11, 2023. The incident recently received online attention again due to its similarity with the Dalian hit-and-run.
The incident happened around 17:25 local time. Videos circulating on Douyin and Weibo showed how the black SUV just ploughed his car through the busy street at Tianhe Road/Tiyu East Road, where dozens of people were walking and crossing the intersection. Shortly after the incident, some people could be seen lying motionless on the road.
The driver, who was later filmed driving into other people and throwing money out of his car window, was a 22-year-old man from Jieyang in Guangdong. He was arrested shortly after and there has not been an update in his case since.
The "BMWs Driving Into People" Phenomenon
The three aforementioned incidents are prominent cases in which drivers drove into people. In all of these cases, the BMW car brand was explicitly mentioned in related hashtags and headlines. But these are not the only shocking incidents in which the BMW brand was explicitly mentioned, as there have been so many more "BMW drives into people" cases (宝马撞人案件) throughout the years.
One of the earlier cases happened in October 2003 in Harbin, where a BMW car rammed into a crowd. The incident resulted in the death of one person and injured 12 others. The driver, Su Xiuwen (苏秀文), was later sentenced to two years in prison.
In another well-known incident, a 3-year-old boy in Xinyi, Jiangsu, died under the wheels of a BMW after being run over four times in less than 30 seconds. Although the incident was an accident, the driver drove off and did not even attempt to get help for the child.
In 2016, a BMW driver drove into a crowd in Shenyang, killing two people and injuring six. Other incidents happened in Nanjing (2011/2015), Dongguan (2012), Chengdu (2012), and in many others cities across China where drivers fled the scene after a collision, often causing injuries or killing people.
One other case that became one of the biggest trending topics on Chinese social media in 2018 was that of a Kunshan man driving a BMW who got out of his car in an act of shocking road rage, pulling a long knife to attack a cyclist. (In the end, the cyclist was able to grab the knife and he stabbed his attacker, who died from his injuries. The case was later determined to be an act of self-defense, resulting in the cyclists's acquittal. This decision brought great joy to netizens who had supported the cyclist all along.)
Back in 2010, author Meng Ke already wrote about the phenomenon of "BMWs driving into people" ("宝马撞人") in China on the Chinese-language BBC website, suggesting the phrase had come to represent "being rich but immoral" (为富不仁). According to the article, the BMW brand was not just gaining a reputation as the car rich people like to drive, but also as the car they were using as a murder weapon.
"I Would Rather Cry in a BMW"
The idea that people driving a BMW are not just rich but also materialistic has been widespread in China for years, also reflected in the phrase "I would rather cry in a BMW" (宁愿宝马里哭) – a famous Chinese catchphrase and meme. The phrase became an online sensation in 2010 after it came up in the popular dating show Fei Cheng Wu Rao (非诚勿扰 If You Are the One).
Ma Nuo (马诺), a 20-year-old female contestant on the show, was asked if she would ride a bicycle with one of the male contestants. In response, she said she would "rather cry in a BMW than smile on a bicycle" ("我宁愿坐在宝马里哭,也不愿坐在自行车里笑"). Soon after, Ma was roasted by Chinese netizens, who attacked her for being a "gold digger" and criticized her for prioritizing material possessions above love. Ma suffered cyber bullying for years.
While BMW stands for Bayerische Motoren Werke AG, it is sometimes also jokingly said to stand for "Be My Wife," which actually went viral due to a short Valentine Day film co-created by BMW which was released in 2021 (婚礼, link). It is also said to stand for "Bié Mō Wǒ" (别摸我), meaning "don't touch me." This literally conveys the idea of BMW owners being untouchable, and it comes from the popular 2006 film Crazy Stone (疯狂的石头).
The popularity of the "rather cry in a BMW," "Bie Mo Wo," and "Be My Wife" phrases shows the power of the BMW brand. In the eyes of many, it symbolizes money, capital, and status.
In fact, the success of BMW in the Chinese market – which it entered in 1994 – greatly relies on its brand image of not just producing high-quality, reliable, and superior cars, but also on its brand association with an active, luxurious, and stylish lifestyle (Wang 2013, 107-108).
The negative news coverage surrounding BMW thus starkly contradicts its marketing image, creating a jarring clash between the positive perception of the brand and the unfavorable publicity it has received.
It's Not the Car, It's the Rich People Who Drive It
In online discussions surrounding the recent hit-and-run incidents, it is not so much the BMW cars but the rich persons driving them who have a widespread negative reputation. This was also suggested by one popular car blogger on Zhihu (Youshi Qiche @优视汽车), who wrote that BMW owners in China have gotten a notoriously bad name throughout the years.
One study by the Hurun Research Institute on Chinese luxury brands ("中国豪华车品牌特性研究白皮书") writes that Chinese BMW owners are perceived as being "high-profile and ostentatious, materialistic, showing-off, and lacking a sense of responsibility." They are also seen as "enjoying new things, good at making friends, seeking social recognition, individualistic and flaunting their wealth."
Another characteristic attributed to Chinese BMW owners is that they are "profiting without effort" or "reaping what they have not sown," as they are often associated with China's nouveau rich (暴发户 bào fā hù) or fù'ér dài (富二代), the 'second generation rich' who owe their wealth and lavish lifestyles to their parents' success under China's economic reforms.
According to Youshi Qiche on Zhihu, some BMW owners only have themselves to blame for the negative stereotypes surrounding them. But what arguably plays a bigger role in their bad image is the social prejudice against those who are perceived as having excessive wealth or privileges, combined with the role media plays in the way they report on BMW owners causing trouble. When an accident involves a BMW or Porsche, it is more likely to be mentioned in the headlines and hashtags.
In many of the aforementioned incidents, but also in others that did not involve a BMW, rich and privileged people causing accidents – deliberately or not, – often try to shift responsibility and use their money, position, or network to avoid punishment.
The most well-known example of this, which has become a part of China's internet culture, is the "My Dad is Li Gang" incident from 2010. The 22-year-old Li Qiming was drunk driving when he ran down two college students on the campus of Hebei University, killing one of them. When he was arrested after fleeing the scene of the accident, he yelled: "Sue me if you dare! My Dad is Li Gang!" ("我爸是李刚"). Li Gang was the deputy director of the local public security bureau.
"My Dad is Li Gang" instantly became a popular meme in China. Four years later, the sentence "Do you know who my dad is?" ("你知道我爸是谁阿") became similarly famous after a young man who drove his BMW to school was caught cheating on an exam by a teacher and then intimidated them by suggesting his family was rich and powerful.
Although these incidents happened years ago, the sentiments have largely remained the same, and people are fed up with the careless, agressive and conceited behaviour displayed by nouveau riche who think they are invincible because of their status. These kinds of attitudes are associated with fraud and corruption – a sensitive social problem – and the recent incidents involving BMW drivers further reinforce preconceived beliefs about priviliged and 'immoral' BMW owners.
Despite all the negative news coverage in which BMW is mentioned, it is clear that the brand itself is not to blame for these horrific incidents. Nevertheless, the German multinational has shifted its marketing strategies in China over the past years and instead of purely focusing on pleasure, joy, and luxury, it is also placing more emphasis on social values and responsibility. As mentioned by Youshi Qiche, BMW China started sponsoring art and cultural projects, and is playing a role in creating awareness on traffic safety for Chinese children.
BMW's current Chinese brand ambassador is the wildly popular singer and actor Jackson Yee (易烊千玺), who has a huge fanbase on social media. These kind of marketing strategies resonate with China's younger generations, for whom the brand image of BMW will probably be different than the associations their parents have with the car.
After all, BMW is generally still seen as a prestigious and high-quality car brand, and it maintains its position as a leading luxury car brand in the Chinese market. Still, not all people prefer a BMW nowadays. "Remember that phrase 'I'd rather cry in a BMW than smile on a bicycle?' I'd now say it's the other way around," one Weibo user writes.
"I'd rather smile regardless," another commenter said: "And if I could smile in my own BMW, then I'd go with that one."
By Manya Koetse 
Get the story behind the hashtag. Subscribe to What's on Weibo here to receive our newsletter and get access to our latest articles:
References
Meng Ke (蒙克). 2010. "评论:宝马撞人成了为富不仁的同义词 [Commentary: 'BMWs Driving Into People' Has Become Synonymous with 'the Immoral Rich People']." BBC, September 14 https://www.bbc.com/zhongwen/simp/china/2010/09/100914_analysis_bmw [April 12, 2023].
Wang, Kangmao. 2013. Capital War : How Foreign Companies Fight Their War in China. China MBA Series, Paths International Limited.
Youshi Qiche (优视汽车). 2021. "20年过去了 宝马在国人心目中的品牌形象有改变吗 [After 20 Years, Has BMW's Brand Image Changed in the Minds of the Chinese?"]. Zhihu, June 9 https://zhuanlan.zhihu.com/p/379235942 [April 12, 2023].
Spotted a mistake or want to add something? Please let us know in comments below or email us. First-time commenters, please be patient – we will have to manually approve your comment before it appears.
©2023 Whatsonweibo. All rights reserved. Do not reproduce our content without permission – you can contact us at info@whatsonweibo.com.
'Carpet Pacific': A Timeline of the Cathay Pacific Scandal Through Weibo Hashtags
Cathay Pacific flight attendants mocking non-English speaking passengers by saying, "If you can't say blanket, you can't have it," has sparked a major controversy and caused a marketing catastrophe.
Last week, Xiamen Airlines was the focus of attention on Chinese social media after one of their pilots was caught secretly filming a female staff members in the ladies room. This week, the focus has shifted to Cathay Pacific, as the Hong Kong-based airline faced accusations of discrimination against travelers from mainland China.
The incident gained significant attention on May 22 when a user of the Xiaohongshu (Little Red Book) app shared a public complaint about the Hong Kong airline. In the post, the author, who claimed to have resided in Hong Kong for eleven years, expressed their inability to remain silent after witnessing overt discrimination on a Cathay Pacific CX987 flight from Chengdu to Hong Kong.
The passenger said they were seated near the area where the flight attendants rest and prepare meals, and that they could hear the cabin crew making fun of passengers who could not speak English. Passengers who tried to ask them for help in English about filling out immigration cards allegedly also received impatient responses. The passenger recorded some of their conversation, and later posted the audio clip online.
In one clip, you can hear the staff laughing about a passenger who wanted a blanket but could not properly say it in English. "If you cannot say blanket, you cannot have it," they joked. Since some passengers allegedly had used the word 'carpet' instead of 'blanket', the cabin crew can be heard saying: "A carpet is on the floor."
The biggest China social story of the past few days started with one passenger exposing Cathay cabin crew mocking & discriminating against non-English speaking (Mainland) passengers. His complaint and this 30 second audio snippet led to them being fired, and a social media storm. pic.twitter.com/BDuabQcm0S

— Manya Koetse (@manyapan) May 27, 2023
Since the incident was first exposed on social media, it turned into a major controversy and a marketing crisis for the Cathay Pacific company. As Cathay was condemned by million of netizens, many also vowed to boycott the airline.
Cathay Pacific has been hit hard by the pandemic, and was seeing an increased demand for travel into the Chinese Mainland since quarantine-free travel between Hong Kong the Mainland was finally resumed on January 8 of this year. Cathay is heavily dependent on the Chinese market, and approximately 70% of its revue reportedly comes from China (#国泰航空近七成营收来自中国#).
The incident has ignited anger due to the discriminatory treatment of mainland customers by a Hong Kong company, leading to further discussions on anti-Chinese sentiments in Hong Kong and the role of language in fostering (or hindering) national unity between mainland China and Hong Kong.
This is a timeline of the incident through Weibo hashtags that have gone trending over the past few days.
▶︎ The Cathay Discrimination Audio Leaked Online #国泰空乘歧视乘客录音曝光# (260 million views)
After a netizen posted about supposed discrimination against non-English speaking passengers by cabin crew members on the Cathay Pacific CX987 flight, the incident soon garnered widespread attention on Chinese social media, especially when the 30-second audio was also shared online (hear the audio snippet here).
▶︎ Cathay Pacific Apologizes #国泰航空致歉# (210 million views)
On May 22, Cathay Pacific soon issued a response apologizing for the passenger's experience and promised a thorough investigation. However, their initial apology was considered inadequate by many netizens, and only sparked more debates about the discrimination against mainland Chinese passengers within Cathay's work environment.
On May 23, Cathay Pacific issued a second apology via social channels, mentioning that they had contacted the passenger and that they had suspended the flight attendants involved.
▶︎ Cathay Pacific Uses Standard Mandarin to Apologize #国泰航空行政总裁用普通话道歉# (10 million views)
During a media briefing in Guangzhou on May 24, Cathay Pacific CEO Lin Shaobo (林绍波) once again expressed his sincere apologies on behalf of Cathay for the incident. In doing so, he used Standard Mandarin, the national language of mainland China.
▶︎ Three Employers Fired for Discriminating Against Passengers #国泰航空3名歧视乘客空乘被解聘# (460 million views)
At this time, it was also announced that Cathay had completed their investigation into the matter and, in accordance with the company's regulations, had dismissed the three involved cabin crew members. Lin Shaobo clarified that the airline maintains a "zero tolerance" approach towards any employees who violate the company's rules and ethical standards.
▶︎ Cathay Pacific's Flight Attendant Union Regrets the Incident #国泰空乘工会对空姐被解聘感到遗憾# (180 million views)
On May 24, there was some online turmoil over a statement issued by Cathay Pacific's Flight Attendant Union (FAU). In the statement, the union expressed that Cathay is "facing a shortage of both manpower and resources, a significant increase in workload and low salaries." Because these problems are ignored, Cathay is seeing an "extremely low" morale among cabin crew and more complaints regarding cabin service. "Nothing comes from nothing," the statement said. The Union was criticized for "whitewashing" the cabin crew's discrimination against non-English-speakers.
▶︎ No Official Support for The Union #国泰航空称空中服务员工会不代表国泰# (130 million views)
On May 25, Cathay Pacific issued a statement in which they clarified that The Union is an independent labor union and does not represent the company. They also clarified that did not support the union's position nor agreed with it.
▶︎ Hu Xijin Recommends Mainland Passengers to Speak Mandarin #胡锡进建议乘国泰航空只讲普通话# (910,000 views)
Chinese political & social commentator Hu Xijin (@胡锡进) also responded to the Cathay incident in multiple posts. In one of them, he suggested that mainland passengers should primarily speak Mandarin when they fly Cathay in the future. Since so much of their customer base is from mainland, Cathay should have enough cabin crew speaking Mandarin, he argued. Hu also reflected on how Cathay also caused controversy in 2019, when it would not stop staff from joining the Kong Kong pro-democracy protests. According to Hu, the company should pay attention to "correcting the values" of their employees.
▶︎"Leaked" Internal Email Labeled as Fake News #国泰航空称网传英文内部信件为伪造# (77 million views)
In the meantime, some images circulated online that allegedly showed an internal Cathay Pacific memo by the company's HK Express CEO Mandy Ng in which a warning was issued to be "cautious when engaging with customers from China and be aware of their media culture." That memo was labeled as being false by Cathay Pacific.
▶︎ Hong Kong Perfomer Condemns Cathay for Incident #香港演员怒斥国泰空乘歧视乘客# (170 million views)
Hong Kong celebrity Maria Cordero, nicknamed 'Fat Mama' (肥妈) went trending on Weibo for condemning the Cathay Pacific crew members in a recent interview. "Is speaking English that important?" she wondered: "The whole world is learning Chinese!" She also expressed that the primary duty of flight attendants is to look after passengers and help solve their problems. If they are incapable of fulfilling their duty, they should be sacked.
▶︎ Blankets for Everyone #旅客称现在国泰的航班挨个发毛毯# (6.5 million views)
According to passengers flying Cathay after the 'blanket incident,' the cabin crew went around explicitly asking all passengers if they needed any blankets, making announcements in English, Mandarin, and Cantonese.
▶︎ Follow-up to the Incident #国泰航空空乘歧视乘客后续# (26 million views)
As the Cathay scandal keeps fermenting online, one commenter expressed a common viewpoint by stating: "If Cathay Pacific is so unwilling to serve Chinese people and they refuse to speak Mandarin, why don't they clearly state that they don't welcome Chinese passengers? They can't have it both ways by earning money from Chinese tickets without providing the same level of service."
Meanwhile, an online meme has gained popularity, depicting 'Cathay Pacific' as 'Carpet Pacific' in reference to the controversial comments made by the cabin crew.
Other memes include the quote: "If you cannot say blanket, you cannot have it," or include the phrase "no zuo no die" – a popular internet meme that basically means 'what goes around comes around.'
Those flying China Southern Airlines or Eastern Airlines are posting about their warm on-board blankets, joking: "I didn't even have to say 'blanket' and still got it!"
By Manya Koetse
Get the story behind the hashtag. Subscribe to What's on Weibo here to receive our newsletter and get access to our latest articles:
Spotted a mistake or want to add something? Please let us know in comments below or email us. First-time commenters, please be patient – we will have to manually approve your comment before it appears.
©2023 Whatsonweibo. All rights reserved. Do not reproduce our content without permission – you can contact us at info@whatsonweibo.com.
Repurposing China's Abandoned Nucleic Acid Booths: 10 Innovative Transformations
Abandoned nucleic acid booths are getting a second life through these new initiatives.
During the pandemic, nucleic acid testing booths in Chinese cities were primarily focused on maintaining physical distance. Now, empty booths are being repurposed to bring people together, serving as new spaces to serve the community and promote social engagement.
Just months ago, nucleic acid testing booths were the most lively spots of some Chinese cities. During the 2022 Shanghai summer, for example, there were massive queues in front of the city's nucleic acid booths, as people needed a negative PCR test no older than 72 hours for accessing public transport, going to work, or visiting markets and malls.
The word 'hésuān tíng' (核酸亭), nucleic acid booth (also:核酸采样小屋), became a part of China's pandemic lexicon, just like hésuān dìtú (核酸地图), the nucleic acid test map lauched in May 2022 that would show where you can get a nucleic test.
During Halloween parties in Shanghai in 2022, some people even came dressed up as nucleic test booths – although local authorities could not appreciate the creative costume.
In December 2022, along with the announced changed rules in China's 'zero Covid' approach, nucleic acid booths were suddenly left dismantled and empty.
With many cities spending millions to set up these booths in central locations, the question soon arose: what should they do with the abandoned booths?
This question also relates to who actually owns them, since the ownership is mixed. Some booths were purchased by authorities, others were bought by companies, and there are also local communities owning their own testing booths. Depending on the contracts and legal implications, not all booths are able to get a new function or be removed yet (Worker's Daily).
In Tianjin, a total of 266 nucleic acid booths located in Jinghai District were listed for public acquisition earlier this month, and they were acquired for 4.78 million yuan (US$683.300) by a local food and beverage company which will transform the booths into convenience service points, selling snacks or providing other services.
Tianjin is not the only city where old nucleic acid testing booths are being repurposed. While some booths have been discarded, some companies and/or local governments – in cooperation with local communities – have demonstrated creativity by transforming the booths into new landmarks. Since the start of 2023, different cities and districts across China have already begun to repurpose testing booths. Here, we will explore ten different way in which China's abandoned nucleic test booths get a second chance at a meaningful existence.
1: Pharmacy/Medical Booths
Blogger 'copyquan' recently explored various ways in which abandoned PCR testing points are being repurposed.
One way in which they are used is as small pharmacies or as medical service points for local residents (居民医疗点). Alleviating the strain on hospitals and pharmacies, this was one of the earliest ways in which the booths were repurposed back in December of 2022 and January of 2023.
Chongqing, Tianjin, and Suzhou were among earlier cities where some testing booths were transformed into convenient medical facilities.
2: Market Stalls
In Suzhou, Jiangsu province, the local government transformed vacant nucleic acid booths into market stalls for the Spring Festival in January 2022, offering them free of charge to businesses to sell local products, snacks, and traditional New Year goods.
The idea was not just meant as a way for small businesses to conveniently sell to local residents, it was also meant as a way to attract more shoppers and promote other businesses in the neighborhood.
3: Community Service Center
Some residential areas have transformed their local nucleic acid testing booths into community service centers, offering all kinds of convenient services to neighborhood residents.
These little station are called wǎnggé yìzhàn (网格驿站) or "grid service stations," and they can serve as small community centers where residents can get various kinds of care and support.
4: "Refuel" Stations
In February of this year, 100 idle nucleic acid sampling booths were transformed into so-called "Rider Refuel Stations" (骑士加油站) in Zhejiang's Pinghu. Although it initially sounds like a place where delivery riders can fill up their fuel tanks, it is actually meant as a place where they themselves can recharge.
Delivery riders and other outdoor workers can come to the 'refuel' station to drink some water or tea, warm their hands, warm up some food and take a quick nap.
5: Free Libraries
In various Chinese cities, abandoned nucleic acid booths have been transformed into little free libraries where people can grab some books to read, donate or return other books, and sit down for some reading.
Changzhou is one of the places where you'll find such "drifting bookstores" (漂流书屋) (see video), but similar initiatives have also been launched in other places, including Suzhou.
6: Study Space
Another innovative way in which old testing points are being repurposed is by turning them into places where students can sit together to study. The so-called "Let's Study Space" (一间习吧), fully airconditioned, are opened from 8 in the morning until 22:00 at night.
Students – or any citizens who would like a nice place to study – can make online reservations with their ID cards and scan a QR code to enter the study rooms.
There are currently ten study booths in Anji, and the popular project is an initiative by the Anji County Library in Zhejiang (see video).
7: Beer Kiosk
Changing an old nucleic acid testing booth into a beer bar is a marketing initiative by the Shanghai McCann ad agency for the Belgium beer brand Hoegaarden.
The idea behind the bar is to celebrate a new spring after the pandemic. The ad agency has revamped a total of six formr nucleic acid booths into small Hoegaarden 'beer gardens.'
8: Police Box
In Taizhou City, Jiangsu Province, authorities have repurposed old testing booths and transformed them into 'police boxes' (警务岗亭) to enhance security and improve the visibility of city police among the public.
Currently, a total of eight vacant nucleic acid booths have been renovated into modern police stations, serving as key points for police presence and interaction with the community.
9: Lottery Ticket Booths
Some nucleic acid booths have now been turned into small shops selling lottery tickets for the China Welfare Lottery. One such place turning the kiosks into lottery shops is Songjiang in Shanghai.
Using the booths like this is a win-win situation: they are placed in central locations so it is more convenient for locals to get their lottery tickets, and on the other hand, the sales also help the community, as the profits are used for welfare projects, including care for the elderly.
10: Mini Fire Stations
Some communities decided that it would be useful to repurpose the testing points and turn them into mini fire kiosks, just allowing enough space for the necessary equipment to quickly respond to fire emergencies.
Want to read more about the end of 'zero Covid' in China? Check our other articles here.
By Manya Koetse,
Get the story behind the hashtag. Subscribe to What's on Weibo here to receive our newsletter and get access to our latest articles:
Spotted a mistake or want to add something? Please let us know in comments below or email us. First-time commenters, please be patient – we will have to manually approve your comment before it appears.
©2023 Whatsonweibo. All rights reserved. Do not reproduce our content without permission – you can contact us at info@whatsonweibo.com.
Subscribe to our newsletter
Stay updated on what's trending in China & get the story behind the hashtag
Sign up here to become a premium member of What's on Weibo today and gain access to all of our latest and premium content, as well as receive our exclusive newsletter. If you prefer to receive just our weekly newsletter with an overview of the latest, you can subscribe for free here.
Would you like to become a contributor, or do you have any tips or suggestions for us? Get in touch with us here.