The Shengnu Dilemma: (Don't) Marry Before You're 30
Do (not) get married before you're 30? It is an issue many netizens are concerned about.
A new video by skincare brand SK-II on the topic of the marriage pressure faced by China's single women has become popular on Sina Weibo. With best-selling books like 'Don Not Marry Before You're 30' (30岁前别结婚) and 'You Should Marry Before You're 30' (30岁前要结婚) hitting the Chinese market, the dilemma of China's 'leftover women' consistently is a hot topic in China's current popular culture.
In the follow-up to the Marriage Market Takeover video that made international headlines, skincare brand SK-II recently released a new video about finding "Mr. Right", featuring Chinese-American author Joy Chen.
The previous SK-II video showed the dilemma of single Chinese women whose parents tell them it's high time to "fix the problem" of being unmarried. Should they follow the traditional ideas about marriage their parents have ("you get matched, you get married"), or choose their own path ("I want real love" and "I feel free and enjoy the single status")? In the ad, the women express that they do not want to marry for the sake of marrying, even if it makes them feel guilty and selfish towards their family.
In SK-II's most recent video, that is also part of the brand's Change Destiny (#改写命运#) campaign, Joy Chen talks about the pressure Chinese women are facing to get married and advises them to become their own 'Ms. Right' before searching for 'Mr. Right'. Within a week of its release, it had over two million views and was shared over 2000 times on Sina Weibo.
Don't Marry Before You're 30
Joy Chen (陈愉) is the Chinese-American author of the book Do not Marry Before You're 30 (30岁前别结婚), which was published in 2012.
The book became a best-seller in China, where especially women are pressured to get married before the age of 30 – a recent survey pointed out that 50% of Chinese men think a woman is already 'leftover' when she is not married by the age of 25. The marriage pressure facing Chinese women worsened due to China's unbalanced male-female ratio since the 1980s, where China has a surplus of men of marriageable age.
The All-China Women's Federation issued a report in late 2015 that showed that over 90% of married women in China tie the knot before the age of 30 and that the average Chinese gets married at 26. It was the same All-China Women's Federation that first defined the term shèngnǚ 剩女 a.k.a. 'leftover woman' in 2007 as single women older than 27, later broadening to include unmarried women over the age of 25 (Fincher 2014, 16).
In Do Not Marry Before You're 30, Chen talks about her own experiences as a 'leftover woman'. Despite her two graduate degrees and successful career (i.e. she became Deputy Mayor of Los Angeles at 31), her parents still stressed the importance of becoming a good wife and mother. But this is exactly where the problem lies, according to Chen; a myriad of Chinese young women are well-educated, hard-working, and full of talent, but are being held back by their families and society at large by the time they graduate and get their first jobs. "Why is an entire generation of otherwise outstanding young Chinese women faltering at the very moment when they should be taking flight?" Chen asks.
The answer lies in the 'leftover women' stigma that is permeated in Chinese society and, consciously or unconsciously, ingrained in women's minds. Chen goes against the grain and argues that for women to be successful in life and love, they should first focus on gaining experience – both work-wise and romantically – before settling down. Since people are still developing throughout their 20s, it is better to postpone marriage until you are ready to find the right person and make it work.
You Should Marry Before You're 30
There are many books on the Chinese market that propagate a very different message. One of them is by author Xu Li (徐黎), who wrote a self-help book titled You Should Marry Before You're 30 (30岁前要结婚) in 2013.
The book is a self-proclaimed "roadmap to happiness". In this book, Xu says that China's single women often flaunt their frivolous single lifestyle, but as they get older, they grow more anxious about their single status, which eventually will not make them happy. Xu's message to women is not to wait with finding a partner until they are desperate, but to settle down while they are still carefree and relaxed about it.
Xu says that well-educated women all make the same mistake: "They think the more educated they are, the more charming they will be. But they do not know that a woman's charm is not determined by her education record" (5). She also writes that women should "wake up", as "nobody will only love you for your ambitions – you have to give them a reason to love you" (216).
At the same time, Xu propagates women to be independent within their marriage: "Ladies, if you want both financial support and emotional consideration from a relationship, then make sure you also make money, struggle and work. Love is not about being dependent, it is about strengthening each other's independence and then make the effort to make it work together" (217).
The book's main message is to settle down before 30 since it is easier for women to find a partner when they are in their twenties, and because it gives a couple the time to grow into a marriage together. As she says: "Some say that marriage is the end of love, but it is just the beginning."
Becoming Ms. Right
In the latest SK-II video, the author of Do Not Marry Before You're 30 talks about the right path to love. "In our society, our mothers urge us to marry early," she says: "But our goal should not be marriage, it should be love. We first have to understand ourselves and grab this opportunity to become Miss Right, after which we can find a Mister Right that really suits us." Chen tells she started dating at 18, did not get married until 38, and had her children at age 39 and 41.
Chen says that this is the first time in Chinese history that women have so many options when it comes to marriage and career. One's twenties and thirties should be about making choices and finding one's way, Chen says, and about realizing your own dreams.
"Not marrying is also an option"
The video and overall 'Change Destiny' campaign has received much support from Chinese netizens, who, in great numbers, share their views on the issue.
Many female Weibo netizens have been inspired by the campaign and post pictures of themselves with a written statement to choose their own destiny and to not let society or family put pressure on them to marry for the sake of marriage.
There are also those who stress the commercial aspect of the video: "SK-II, we have to buy, buy, buy!" Others say: "This brand does really understand its target audience."
Some netizens write that with all this focus on marrying and finding Mr. Right, one would almost forget that not marrying is also an option: "One should just live a wonderful life, which doesn't necessarily include marriage," one netizen comments. Another user says: "If my career goes well, I might choose not to get married."
– By Manya Koetse
Follow @WhatsOnWeibo
References
-Chen, Joy. 2012. 30岁前别结婚 [Do Not Marry Before You're 30]. Beijing: 中信出版社
-Fincher, Leta Hong. 2014. Leftover Women: The Resurgence of Gender Inequality in China. London: Zedbooks.
-Xu Li (徐黎). 2013. 30岁前要结婚 [You Should Marry Before You're 30]. Beijing: 商务印书馆国际有限公司.
©2016 Whatsonweibo. All rights reserved. Do not reproduce our content without permission – you can contact us at info@whatsonweibo.com.
Chinese Fashion Brand Peacebird Accused of Plagiarism (Again!)
The Chinese fashion brand Peacebird turns out to be a copycat.
The Chinese fashion brand Peacebird (太平鸟) is trending on Chinese social media this week for its alleged involvement in various cases of plagiarism. The brand is accused of producing exact copies of garments designed by other labels. Hashtag "Peacebird Repeatedly Accused of Plagiarism" (#太平鸟多次被控抄袭#) drew in over 230 million views on Weibo.
In late October of this year, fashion blogger and small fashion brand @SOS_SEAMSTRESS called out Peacebird on Weibo for plagiarizing one of their designs.
Besides changing the material used for the garment, the Peacebird outfit is an exact copy of the design by SOS Seamstress – even the buttons and pockets and other details are exactly the same. The price, however, is five times higher.
SOS Seamstress condemned Peacebird for claiming to have their own original fashion designs, produced by their in-house design team, while actually stealing from others and completely disregarding the rights of domestic local designers.
It is the fifth time this year that the fashion house is accused of plagiarism. Beijing Business News reported that other brands, including Mostwantedlab and Annomundi, previously also accused Peacebird of stealing their designs. In February of this year, the artist @LOONY_FACE also publicly exposed Peacebird for using his designs without his permission.
Chinese netizens have further researched other clothing brands that Peacebird allegedly plagiarized, including UNALLOYED, Moussy, Off-White, FREI, Maje, and other domestic and international brands.
Various Chinese media outlets, including Beijing Business News, call it noteworthy that Peacebird's response to these plagiarism accusations is not an apology but a simple statement that "original brands can go through legal channels." Meanwhile, the company has allegedly also taken down the designs that have been pointed out as copies.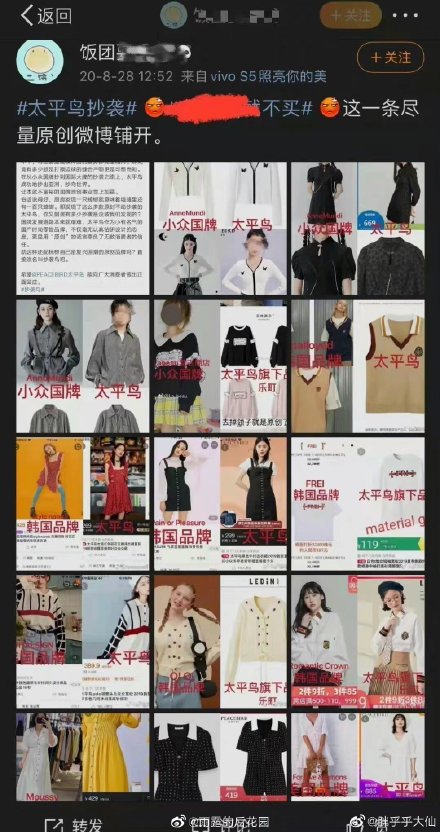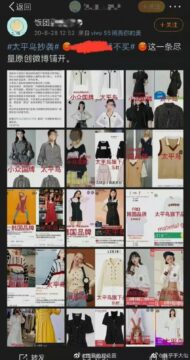 Peacebrand is a fashion retail brand established in Ningbo in 1996. The company also holds various smaller brands such as LEDIN (乐町) and Material Girl. The fashion company claims to have approximately 12,000 employees in its stores, headquarters and factories. In 2018, it made its first debut at New York Fashion Week.
Among all the people commenting on this issue, there are many who think that although 'borrowing' popular designs has always been a part of the fashion industry, doing an exact copy is uncommon and unacceptable – especially for such a large company as Peacebird. "Shameless!", multiple commenters say.
"I once bought an embroidered garment at Peacebird's, and then later saw the same design from a brand I didn't know. I thought it was copied from Peacebird, but now I think it might've been the other way around," one person writes.
"I'm shocked that the national brand Peacebird would plagiarize while waving the flag of originality," another commenter says.
"Plagiarizing one time, ok, but plagiarizing so many times and then even doing one on one copies, how can they run a business?!"
There are also those who hope that the current focus on Peacebird's alleged plagiarism will lead to more attention for smaller, original brands in China.
To read more about the recent surge in popularity of domestic brands in China, see: "Chinese Fashion First: Consumer Nationalism and 'China Chic'."
By Manya Koetse
Spotted a mistake or want to add something? Please let us know in comments below or email us. First-time commenters, please be patient – we will have to manually approve your comment before it appears.
©2021 Whatsonweibo. All rights reserved. Do not reproduce our content without permission – you can contact us at info@whatsonweibo.com.
Hotpot Chain Haidilao Is Shutting Down Over 300 Restaurants
After adding 544 stores in 2020, Haidilao will close 300 locations this year.
News that China's most popular hotpot chain is closing down over 300 restaurants became a top trending topic on Chinese social media site Weibo on Friday.
Haidilao (海底捞) made the announcement on Friday evening through a social media post, saying the company will gradually shut down about 300 of its stores. The restaurants that are to be closed are those with relatively low customer traffic and lower-than-expected business performance.
Although the stores will be shut down before December 31 of this year, some of them will potentially reopen at a later date after reorganization. The company also said it would not lay off its staff for now.
Haidilao has approximately 1600 restaurants, of which many were opened in 2020, when the chain added an astonishing 544 new restaurants. In the summer of 2021, Haidilao had a total of 131,084 employees.
It has been over 25 years since Zhang Yong, the owner of Haidilao, set up his first hot pot restaurant in Jianyang, Sichuan, with a mere investment of 10,000 yuan ($1470). It later became the dominant hot pot chain in the country.
Hot pot restaurants, where fresh meat and vegetables are cooked at the table in the simmering broth, are extremely common across China. But Zhang Yong chose to market Haidilao and its authentic Sichuan hot pot with an innovative strategy: high-service, high-tech, and high-quality.
The restaurant is known for giving its customers a free manicure along with snacks and drinks while waiting for a table. The staff is thoroughly trained in providing the best customer service, and Haidilao has introduced new concepts throughout the years to enhance customer experience. People who dine alone, for example, will get a teddy bear to join them. The restaurant also introduced robot waiters and is known for its noodle dancers and staff singing birthday songs whenever there is a birthday celebration.
Over the past two years, however, Haidilao's table turnover rate shrunk dramatically. The average table turnover rate in 2019 was 4.8 per day, but that number fell to 3 times per day in 2021, with some restaurants only doing 2.3 per day, leading to significant losses for the company's net profit.
Due to the Covid19 crisis and lockdowns, Haidilao closed its doors in late January of 2020. By mid-March, it started to gradually reopen some of its locations, although they initially offered fewer seats and introduced an increased distance between dining table, that were allowed to have no more than three guests.
Due to the restaurant's limited tables and increased labor costs, its menu prices went up, much to the dismay of many netizens, who already thought the prices at Haidilao were steep before the pandemic.
In October of this year, the story of a Haidilao customer in Zhengzhou discovering that the 200 grams of tripe he ordered for 72rmb ($11) was actually only 138 grams also went viral on Weibo, stirring discussions on the Haidilao menu prices.
Headlines that matter. "Next time I'm bringing my scale to Haidilao": 260 million views (!) on Weibo today for the hashtag about a customer at hotpot chain Haidilao in Zhengzhou discovering that the 200gr of tripe he ordered for 72rmb ($11) was actually only 138gr. 😂🤯 pic.twitter.com/Yl0Y8qPzIE

— Manya Koetse (@manyapan) October 19, 2021
While news about Haidilao closing so many of its stores attracted over 260 million views by Friday night, many commenters agreed that the company should scale down. "The more stores you open, the less you focus on service, the surroundings of the newly opened stores are not up to par, while prices are only rising," one person wrote on Weibo.
"They're not making enough money, while their prices were already being pressed down, and still I can't afford to eat there," another commenter wrote.
Others also wondered how Haidilao could claim they would not sack their staff while closing down so many stores. "Does that basically mean they'll wait for them to leave for themselves?"
"When there's a pandemic, there's bound to be bad luck [in business]," another commenter writes: "There's really not much to do about it."
By Manya Koetse
Spotted a mistake or want to add something? Please let us know in comments below or email us. First-time commenters, please be patient – we will have to manually approve your comment before it appears.
©2021 Whatsonweibo. All rights reserved. Do not reproduce our content without permission – you can contact us at info@whatsonweibo.com.