The Shengnu Dilemma: (Don't) Marry Before You're 30
Do (not) get married before you're 30? It is an issue many netizens are concerned about.
A new video by skincare brand SK-II on the topic of the marriage pressure faced by China's single women has become popular on Sina Weibo. With best-selling books like 'Don Not Marry Before You're 30' (30岁前别结婚) and 'You Should Marry Before You're 30' (30岁前要结婚) hitting the Chinese market, the dilemma of China's 'leftover women' consistently is a hot topic in China's current popular culture.
In the follow-up to the Marriage Market Takeover video that made international headlines, skincare brand SK-II recently released a new video about finding "Mr. Right", featuring Chinese-American author Joy Chen.
The previous SK-II video showed the dilemma of single Chinese women whose parents tell them it's high time to "fix the problem" of being unmarried. Should they follow the traditional ideas about marriage their parents have ("you get matched, you get married"), or choose their own path ("I want real love" and "I feel free and enjoy the single status")? In the ad, the women express that they do not want to marry for the sake of marrying, even if it makes them feel guilty and selfish towards their family.
In SK-II's most recent video, that is also part of the brand's Change Destiny (#改写命运#) campaign, Joy Chen talks about the pressure Chinese women are facing to get married and advises them to become their own 'Ms. Right' before searching for 'Mr. Right'. Within a week of its release, it had over two million views and was shared over 2000 times on Sina Weibo.
Don't Marry Before You're 30
Joy Chen (陈愉) is the Chinese-American author of the book Do not Marry Before You're 30 (30岁前别结婚), which was published in 2012.
The book became a best-seller in China, where especially women are pressured to get married before the age of 30 – a recent survey pointed out that 50% of Chinese men think a woman is already 'leftover' when she is not married by the age of 25. The marriage pressure facing Chinese women worsened due to China's unbalanced male-female ratio since the 1980s, where China has a surplus of men of marriageable age.
The All-China Women's Federation issued a report in late 2015 that showed that over 90% of married women in China tie the knot before the age of 30 and that the average Chinese gets married at 26. It was the same All-China Women's Federation that first defined the term shèngnǚ 剩女 a.k.a. 'leftover woman' in 2007 as single women older than 27, later broadening to include unmarried women over the age of 25 (Fincher 2014, 16).
In Do Not Marry Before You're 30, Chen talks about her own experiences as a 'leftover woman'. Despite her two graduate degrees and successful career (i.e. she became Deputy Mayor of Los Angeles at 31), her parents still stressed the importance of becoming a good wife and mother. But this is exactly where the problem lies, according to Chen; a myriad of Chinese young women are well-educated, hard-working, and full of talent, but are being held back by their families and society at large by the time they graduate and get their first jobs. "Why is an entire generation of otherwise outstanding young Chinese women faltering at the very moment when they should be taking flight?" Chen asks.
The answer lies in the 'leftover women' stigma that is permeated in Chinese society and, consciously or unconsciously, ingrained in women's minds. Chen goes against the grain and argues that for women to be successful in life and love, they should first focus on gaining experience – both work-wise and romantically – before settling down. Since people are still developing throughout their 20s, it is better to postpone marriage until you are ready to find the right person and make it work.
You Should Marry Before You're 30
There are many books on the Chinese market that propagate a very different message. One of them is by author Xu Li (徐黎), who wrote a self-help book titled You Should Marry Before You're 30 (30岁前要结婚) in 2013.
The book is a self-proclaimed "roadmap to happiness". In this book, Xu says that China's single women often flaunt their frivolous single lifestyle, but as they get older, they grow more anxious about their single status, which eventually will not make them happy. Xu's message to women is not to wait with finding a partner until they are desperate, but to settle down while they are still carefree and relaxed about it.
Xu says that well-educated women all make the same mistake: "They think the more educated they are, the more charming they will be. But they do not know that a woman's charm is not determined by her education record" (5). She also writes that women should "wake up", as "nobody will only love you for your ambitions – you have to give them a reason to love you" (216).
At the same time, Xu propagates women to be independent within their marriage: "Ladies, if you want both financial support and emotional consideration from a relationship, then make sure you also make money, struggle and work. Love is not about being dependent, it is about strengthening each other's independence and then make the effort to make it work together" (217).
The book's main message is to settle down before 30 since it is easier for women to find a partner when they are in their twenties, and because it gives a couple the time to grow into a marriage together. As she says: "Some say that marriage is the end of love, but it is just the beginning."
Becoming Ms. Right
In the latest SK-II video, the author of Do Not Marry Before You're 30 talks about the right path to love. "In our society, our mothers urge us to marry early," she says: "But our goal should not be marriage, it should be love. We first have to understand ourselves and grab this opportunity to become Miss Right, after which we can find a Mister Right that really suits us." Chen tells she started dating at 18, did not get married until 38, and had her children at age 39 and 41.
Chen says that this is the first time in Chinese history that women have so many options when it comes to marriage and career. One's twenties and thirties should be about making choices and finding one's way, Chen says, and about realizing your own dreams.
"Not marrying is also an option"
The video and overall 'Change Destiny' campaign has received much support from Chinese netizens, who, in great numbers, share their views on the issue.
Many female Weibo netizens have been inspired by the campaign and post pictures of themselves with a written statement to choose their own destiny and to not let society or family put pressure on them to marry for the sake of marriage.
There are also those who stress the commercial aspect of the video: "SK-II, we have to buy, buy, buy!" Others say: "This brand does really understand its target audience."
Some netizens write that with all this focus on marrying and finding Mr. Right, one would almost forget that not marrying is also an option: "One should just live a wonderful life, which doesn't necessarily include marriage," one netizen comments. Another user says: "If my career goes well, I might choose not to get married."
– By Manya Koetse
Follow @WhatsOnWeibo
References
-Chen, Joy. 2012. 30岁前别结婚 [Do Not Marry Before You're 30]. Beijing: 中信出版社
-Fincher, Leta Hong. 2014. Leftover Women: The Resurgence of Gender Inequality in China. London: Zedbooks.
-Xu Li (徐黎). 2013. 30岁前要结婚 [You Should Marry Before You're 30]. Beijing: 商务印书馆国际有限公司.
©2016 Whatsonweibo. All rights reserved. Do not reproduce our content without permission – you can contact us at info@whatsonweibo.com.
Chinese Comedian Li Dan under Fire for Promoting Lingerie Brand with Sexist Slogan
Underwear so good that it can "help women lie to win in the workplace"? Sexist and offensive, according to many Weibo users.
Popular talk show host and comedian Li Dan (李诞) has sparked controversy on Chinese social media this week for a statement he made while promoting female underwear brand Ubras.
The statement was "让女性轻松躺赢职场", which loosely translates to "make it easy for women to win in the workplace lying down" or "make women win over the workplace without doing anything," a slogan with which Li Dan seemed to imply that women could use their body and sex to their advantage at work. According to the underwear brand, the idea allegedly was to convey how comfortable their bras are. (The full sentence being "一个让女性躺赢职场的装备": "equipment that can help women lie to win in the workplace").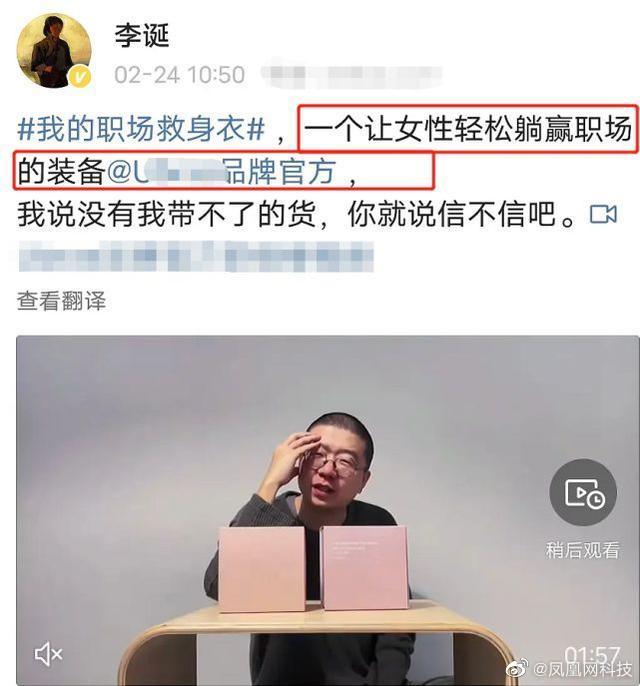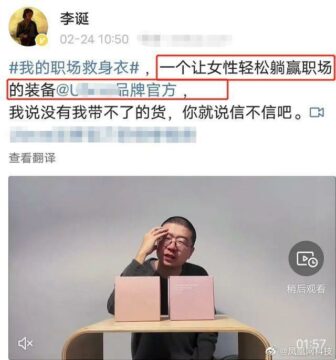 Li Dan immediately triggered anger among Chinese netizens after the controversial content was posted on his Weibo page on February 24. Not only did many people feel that it was inappropriate for a male celebrity to promote female underwear, they also took offense at the statement. What do lingerie and workplace success have to do with each other at all, many people wondered. Others also thought the wording was ambiguous on purpose, and was still meant in a sexist way.
Various state media outlets covered the incident, including the English-language Global Times.
By now, the Ubras underwear brand has issued an apology on Weibo for the "inappropriate wording" in their promotion campaign, and all related content has been removed.
The brand still suggested that the slogan was not meant in a sexist way, writing: "Ubras is a women's team-oriented brand. We've always stressed 'comfort and wearability as the essence of [our] lingerie, and we're committed to providing women with close-fitting clothing solutions that are unrestrained and more comfortable so that more women can deal with fatigue in their life and work with a more relaxed state of mind and body."
Li Dan also wrote an apology on Weibo on February 25, saying his statement was inappropriate. Li Dan has over 9 million followers on his Weibo account.
The objectification of women by brands and media has been getting more attention on Chinese social media lately. Earlier this month, the Spring Festival Gala was criticized for including jokes and sketches that were deemed insensitive to women. Last month, an ad by Purcotton also sparked controversy for showing a woman wiping away her makeup to scare off a male stalker, with many finding the ad sexist and hurtful to women.

By Manya Koetse
with contributions by Miranda Barnes
Follow @whatsonweibo
Spotted a mistake or want to add something? Please let us know in comments below or email us. First-time commenters, please be patient – we will have to manually approve your comment before it appears.
©2021 Whatsonweibo. All rights reserved. Do not reproduce our content without permission – you can contact us at info@whatsonweibo.com.
Hard Measures for Durex in China after "Vulgar" Ads
One Durex sex toy ad gave off the wrong vibrations to Chinese regulators.
As if it wasn't already bad enough that fewer people are having sex during COVID19 lockdowns, leading to a decline in condom sales, condoms & sex toys brand Durex is now also (again) punished for the "vulgar" contents of its advertisements in China.
News of Durex facing penalties in China became top trending on Thursday, with one Weibo hashtag page about the matter receiving over 1,2 billion views.
Durex has over three million fans on its official Weibo account (@杜蕾斯官方微博), which is known for its creative and sometimes bold posts, including spicy word jokes. Durex opened its official Weibo account in 2010.
A post by Durex published on Wednesday about the release of Apple's super speedy new 5G iPhone, for example, just said: "5G is very fast, but you can take it slow," adding: "Some things just can't be quick." The post received over 900,000 likes.
Other ads have also received much praise from Chinese netizens. One ad's slogan just shows a condom package, saying "Becoming a father or [image of condom] – it's all a sign of taking responsibility."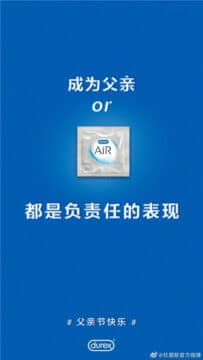 According to various Chinese news outlets, Durex has been penalized with a 810,000 yuan ($120,400) fine for failing to adhere to China's official advertisement guidelines, although it is not entirely clear to us at this point which fine was given for which advertisement, since the company received multiple fines for different ads over the past few years.
One fine was given to Durex Manufacturer RB & Manon Business (Shanghai) for content that was posted on e-commerce site Tmall, Global Times reports.
According to the state media outlet, "the ad used erotic words to describe in detail multiple ways to use a Durex vibrator." The fine was already given out in July of this year, but did not make headlines until now.
In another 2019 case, the condom brand did a joint social media campaign cooperation with Chinese milk tea brand HeyTea, using the tagline "Tonight, not a drop left," suggesting a connection between HeyTea's creamy topping and semen.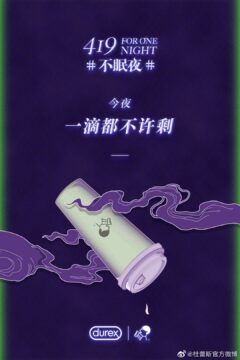 According to China's Advertisement Examination System (广告审查制度), there are quite some no-goes when it comes to advertising in China. Among many other things, ads are not allowed to be deceptive in any way, they cannot use superlatives, nor display any obscene, scary, violent or superstitious content.
Chinese regulators are serious about these rules. In 2015, P&G's Crest was fined $963,000 for "false advertising", at it promised that Crest would make your teeth whiter in "just one day."
However, advertisement censorship can be a grey area. Any ads that "disturb public order" or "violate good customs," for example, are also not allowed. For companies, it is not always clear when they are actually crossing a line.
On Weibo, there are also contrasting opinions on this matter. Many people, however, support Durex and enjoy their exciting ads and slogans. With the case dominating the top trending charts and discussions on social media the entire day, the latest penalty may very well be one of Durex's most successful marketing campaigns in China thus far.
By Manya Koetse
Follow @WhatsOnWeibo
Spotted a mistake or want to add something? Please let us know in comments below or email us. First-time commenters, please be patient – we will have to manually approve your comment before it appears.
©2020 Whatsonweibo. All rights reserved. Do not reproduce our content without permission – you can contact us at info@whatsonweibo.com.