Shocking Video Shows Shanghai Policeman Pushing Woman with Baby to the Ground
A disturbing video that shows how a woman and a small child are thrown to the ground local police ignites debate on police use of force in China.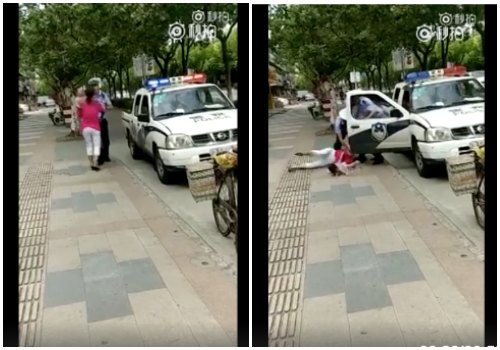 A disturbing video that shows how a woman and a small child are thrown to the ground by a local Shanghai policeman became a trending topic on Friday, sparking wide debates on police use of force in China.
A video that shows a Shanghai policeman pushing down a woman holding a small child in her arms is going viral on Chinese social media on September 1.
With millions of views on Weibo and WeChat, the incident is sparking a wide discussion on police brutality in China.
In the video, that was recorded in Shanghai's Songjiang district on Friday morning, a woman can be seen arguing with a policeman while she is holding a crying child in her arms. As the conflict continues, the officer suddenly pushes the woman to the ground, causing the baby to fall from her arms and landing on the sidewalk.
Other footage after the incident shows that the fall has left the woman's face badly swollen and bruised.
The policemen in the video were allegedly checking for illegal parking. Shanghai Songjiang police confirmed on Weibo that the incident is currently under investigation and that the policeman involved has now been suspended. The woman and the child were sent to the hospital.
The video triggered much discussion on Chinese social media under the hashtag "Woman holding baby pushed down by police" (#抱娃女子被民警绊摔#), which had over four million views by Friday afternoon.
Chinese netizens are divided over the issue, with some condemning the policeman's violent actions and others blaming the woman for provoking an officer while carrying a child in her arms.
"You don't even care for your own child, and push the police while using the kid in your arms as your shield. Now you're playing the victim," commenters said. Some also said that some footage of the incident circulating online was deliberately edited to leave out the part that shows the woman acting hostile towards the police.
But many also think the police use of force, in this case, cannot be justified: "I only want to say that those two policemen did not even bother to check if the child was ok after it fell to the ground," a person named Isaha commented.
"It's alright for the police to use force, but in this incident, they should have considered the baby," a typical comment read.
Other internet commenters – possibly members of the state-backed 50 Cent Army – used the incident to show some patriotism: "If you love our country and the Communist Party you should not criticize the police. When you forward information like this, you're telling people that our police is violent, and that this is how our government works, but we should be against spreading that message – where's your patriotism?!"
This is not the first time discussions on the use of force by Chinese police flare up on Chinese social media. In 2016, the death of the 29-year-old Beijing resident Lei Yang while in police custody sparked online outrage, with netizens connecting the fatality to police brutality.
"Regardless of what sh*t excuse the Shanghai police comes up with about the use of force (..), everyone can see, and it is more visible in the video than in the image, how this bastard uses the technique that he learned in police academy to push the woman to the ground, while her baby is flying mid-air on the floor. He completely ignores the baby; and not just him, also his colleague, who also rushes to clamp the woman down while ignoring the crying baby," a netizen from Guangdong wrote.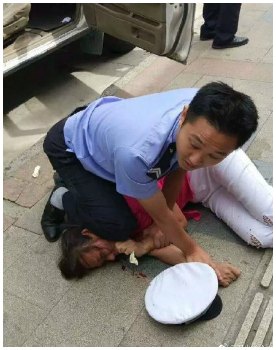 No matter if netizens defend the police's right to use force or side with the woman, there is one thing commenters all seem to agree with. "The baby is innocent," they say: "It should have been left out of this conflict from the start."
State tabloid Global Times responded to the issue on Friday night through their official WeChat account, claiming that the woman who was pushed down by the police "had a mysterious smile on her face upon discovering that bystanders sympathized with her because of the child."
On Weibo, some commenters wondered why Global Times would post such a thing: "It's not her [the woman] that's grim, it's the person who wrote this."
"Their imagination is too big," some said: "This woman's face is distorted because of her injuries; who would have a smile on their face after being beaten like this? Global Times must think others are as stupid as they are if they believe they'd follow their way of thinking.."
By Miranda Zhou Barnes & Manya Koetse
Follow @whatsonweibo
[showad block=1]
©2017 Whatsonweibo. All rights reserved. Do not reproduce our content without permission – you can contact us at info@whatsonweibo.com.
10-Year-Old Girl from Jiangsu Commits Suicide For 'Not Doing Well at School', Leaves Farewell Video
"This is something I have to do," the 10-year-old told her parents in a video message.
News of the suicide of a young girl by self-poisoning has shocked Chinese netizens. Pressure at school, circumstances at home, and the ease of availability of pesticides in China have all potentially contributed to the girl's death.
A 10-year-old girl from Xuzhou city in Jiangsu province died this week after self-poisoning in her own home. She left behind a 3-minute video and a 2-page farewell letter to her family, Beijing News reports through Weibo.
In the video, the girl calmly says: "Mum, dad, I'm off. I want to tell you I am sorry. I want to go to heaven, and want to bid you all farewell."
"When my birthday comes up, don't forget to place a cake in front of my grave. (..) Thanks mum and dad, for taking care of me all these years."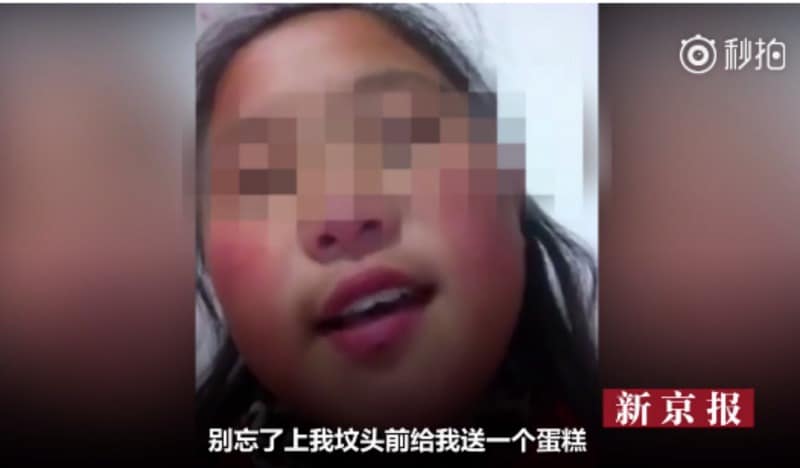 "You beat me and you scold me," the girl added: "But I know it is all for my own good. I will take care of you from heaven. I don't want to let you down. This is something I need to do."
The young girl stated in her farewell message that she wanted to go to heaven because she was "not doing well at school."
Too Much Pressure
According to Sina News, the young girl died after drinking pesticides on November 14 – just 3 days before the mid-term exams would be held at her school.
The girl reportedly was receiving low grades this semester and was punished for it by her teacher, who did not want her to take part in the mid-term exams because she would allegedly bring down the average grade of the whole class.
Her mother told Chinese news outlet The Paper that the pressure at school might have led to the child's suicide.
According to a 2010 study, one third of Chinese primary school children suffer from psychological stress because of the pressure at school and their parents' expectations.
In November of 2014, the suicide of a 10-year-old boy from Guangzhou after his mid-term exams also shocked netizens. The boy, who received just 39 points for an English exam, hung himself after writing about his low grade in his diary.
A year prior, in 2013, another 10-year-old committed suicide by jumping from a building after being scolded by a teacher after failing to complete an assignment.
Pesticide Suicides in China
Suicide is the top cause of death among Chinese youth; school stress is often a major factor. But in the case of the Jiangsu girl, the availability of pesticides might also relate to her death.
"When I was that age, I also thought of committing suicide," one person on Weibo wrote: "I found a person through QQ who could sell me pesticides. He asked 900 for it [±135$] and I thought it was too expensive so I didn't buy it. I don't even know how I'm still alive now."
Suicide by pesticide poisoning is the most common method of suicide in China, both for males and females. Pesticides are readily available, especially in China's rural areas, where the occurrence of self-poisoning are much higher than in urban areas (Page et al 2017).
A recent study published in BMC Public Health this year (Yimaer et al 2017) found that pesticide poisoning for children is a serious problem in China. In the 2006-2015 period, a total of 2952 children were poisoned by pesticides in the province of Zhejiang alone.
Weibo Discussions
On Weibo, the young girl's death has led to many discussions. Some people blame the parents for the girl's death, others say that Chinese children are too pressured by the school system. There are also those who do not believe that such a prepared suicide could really be the work of a 10-year-old alone, and wonder if someone perhaps made her do it.
"At 10 years old, she does not even grasp the what death is," some say.
There are also people who share their own childhood problems. "When I was that age I also had suicidal thought," one commenter writes: "But I never had the courage. She is more courageous than I am."
On November 16, the local education department stated that authorities are currently further investigating the case.
By Manya Koetse
@manyapan
Follow @whatsonweibo
References
Page, A., Liu, S., Gunnell, D., Astell-Burt, T., Feng, X., Wang, L., & Zhou, M. 2017. "Suicide by pesticide poisoning remains a priority for suicide prevention in China: Analysis of national mortality trends 2006–2013." Journal of Affective Disorders, 208(November 2016): 418–423.
Yimaer A., Chen G., Zhang M., Zhou L., Fang X., Jiang W. 2017. "Childhood pesticide poisoning in Zhejiang, China: a retrospective analysis from 2006 to 2015." BMC Public Health 17(1): 602.
Spotted a mistake or want to add something? Please let us know in comments below or email us.
©2017 Whatsonweibo. All rights reserved. Do not reproduce our content without permission – you can contact us at info@whatsonweibo.com.
Reporter's Smiling Selfie at Scene of Horrifying Accident Triggers Anger on Weibo
"This is no laughing matter" – A happy selfie at the scene of a grave accident triggers anger on social media.
A young woman smiling at the scene of a horrible accident in Anhui Province have left thousands of netizens angry.
Local media reports in China blame a "sudden fog" for a horrifying accident at an Anhui expressway that killed at least 18 people and injured 21 others on Wednesday morning. The multiple collision caused over 30 vehicles to pile up, NDTV reports.
Dramatic footage (CCTV video, Youtube) taken at the scene, near Fuyang city, shows that multiple trucks and cars caught fire after the collision and how rescue workers are at work to verify casualties.
The gravity of the accident did not stop a local Fuyang reporter, however, from taking smiling selfies at the scene. The woman, a presenter at Fuyang's Yingxiang Traffic Radio (@颍上交通音乐广播), makes a peace sign and holds her badge as she happily poses in front of burnt out cars. A man in uniform is standing next to her in one of the photos.
The photos were posted on Weibo by multiple accounts, one belonging to a female netizen who is a local resident from Fuyang, Anhui. She writes:
"At 7.45 in the morning of the 15th, 30 vehicles collided, leaving 18 people dead and 21 wounded. Yet this Fuyang Radio presenter poses at the scene of the crash with a man in uniform grinning from ear to ear. Don't you have a conscience? Don't you have any personal integrity in your work?"
The pictures triggered thousands of angry reactions on Weibo. A typical comment by an anonymous netizen said:
"She has no humanity at all. So many people have died, and she is still playing around with selfies, is that human? Just seeing this scene, my heart feels so upset. I hope the relevant authorities in Anhui will teach her a lesson."
Many of the people commenting to the issue said they were also from Fuyang and grieved by the accident and the woman's behaviour at the scene. Fuyang is a prefecture-level city in Anhui with more than 7,5 million inhabitants.
On Wednesday evening, the presenter in question uploaded a video in which she apologizes for her actions. "Hello everybody I am Ling, and I want to sincerely apologize for what has happened today," she says: "I'm sorry. I was wrong."
In the morning of November 16, the Fuyang Traffic Radio station posted an announcement on social media denouncing their colleagues' behavior, stating that her employment at the station has since been terminated.
This is not the first time a smiling photo at the scene of a serious accident goes viral on Weibo. In 2012, a local Shaanxi official made headlines when he was photographed laughing at the scene of a traffic collision that left 36 people dead.
The photo of the "smiling official" instigated a 'human flesh search' with people on Weibo researching his identity and background. His expensive watches drew the attention of netizens, who eventually exposed him as a corrupt official.
On Weibo, many people do not understand how someone can be smiling under grave circumstances: "Is she braindead? How could you ever laugh when 18 people just died?"
There are also a few people, however, who feel the presenter is criticized too harshly by the online community. One person writes: "Give the girl a chance. People make mistakes."
Others remind the people discussing this issue to focus on the victims of the accident instead: "We hope they can rest in peace."
By Manya Koetse
Spotted a mistake or want to add something? Please let us know in comments below or email us.
©2017 Whatsonweibo. All rights reserved. Do not reproduce our content without permission – you can contact us at info@whatsonweibo.com.