Six Years after Chinese Pop Star Zhang Muyi (24) Declared Love for 12-Year-Old Miki Akama, They're Now Tying the Knot
Zhang Muyi became her music coach when Miki Akama was only 8 years old. A decade later, the couple announces their wedding on Weibo.
Six years after Chinese pop star Zhang Muyi (1987) publicly declared his love for the then 12-year-old music pupil Miki Akama (2000), the two have now announced their wedding on Weibo. Although some say their love is meant-to-be, others say it is a case of pedophilia.
In 2012, it made international headlines when the then 24-year-old Chinese popstar Zhang Muyi publicly declared his love for 12-year-old Canada-born model Miki Akama.
The two met when Zhang Muyi was hired to be Miki's music coach when she was only 8 years old. In 2012, Muyi wrote on Weibo that he "simply couldn't wait" for Miki's next four birthdays to pass, saying he was "counting down each one."
At the time, the 12-year-old Miki, whose mother is Chinese/German and whose father is Japanese, had already built up a fanbase of 500,000 followers on Weibo. She replied to Zhang, saying: "Wait until I'm old enough to marry you, and then I'm going to say "I do".'
Six years later, the now 30-year-old Zhang Muyi (@张木易, 1.4 million followers on Weibo), and the 17-year-old Miki Akama (@张千巽, 1.8 million Weibo fans) have announced their wedding through social media.
On April 4, Zhang wrote on Weibo: "You've made me see the most beautiful picture in this world," adding a photo of a wedding dress. Miki responded to the post, writing: "You make me as beautiful as I can be."
He later added: "We are indeed preparing for our wedding in all kinds of ways. On September 11, 2018, Miki will turn 18, and it will be ten years since we first met."
The wedding announcement prompted a wave of reactions. Within 48 hours after the post, Zhang's photo had received 23,800 responses and nearly 18,000 shares. The couple became one of the most-searched hot topics on social media in China on April 6, and the hashtag "Zhang Muyi and Miki Akama Getting Married" (#张木易张千巽结婚#) received more than 85 million views by Friday.
Although there are many netizens who wish the couple a happy life and find their story romantic, there are also many opponents who think the base of the couple's relationship is unhealthy.
Weibo account @LoveMatters (an account affiliated to RNW Media) writes:
"In most parts of the world, it is hard to give blessing to a relationship between a teacher and their student. The fundamental reason for this is that there is an unequal power relation between teachers and students, which makes it difficult to speak of an equal and truly harmonious connection between two people. Let alone if one of the two persons is underage; this further intensifies the unequal relationship in terms of knowledge and experience. Let's not even focus on whether or not this is pedophilia."
"We should discuss this from the angle of pedophilia," one netizen responds: "Because even though it is now disguised as 'romantic love', its base still essentially is the relationship between an adult and an 8-year-old girl."
Many others also say that this a "white-washing of pedophilia," with some expressing that it makes them "feel like vomiting."
In response to the controversy, Miki addressed their engagement on Weibo in a lengthy blog post.
In her statement, Miki expresses the shock at the negativity surrounding their wedding engagement, saying that people are "turning this story into something they want it to be," and that they are downgrading her to a "brainless girl" who has been "living in the dark" all her life.
"I do want to correct something," she writes:
"There are people who are changing our story and are using the fact that I was 8 years old [when we met], and in doing so, are harming us and our loved ones. In their articles, they are deleting the part that really matters: When I was 8, I met Muyi and he was my music teacher; teaching me how to sing and teaching me self-confidence. By the time I was 12, my parents had let me read many books and see many movies, and I had a good education at school. Many of my friends with the same age as me had started reaching puberty and I also started to think about who I liked. I could talk to Muyi about everything. He said that when I would reach the age of dating, he would help me check them out. At the time I did not understand what it meant, and he said he would not let me date bad guys, because it is very easy for people to get hurt. Looking back now, Muyi was also still young at that time, so I told him that if he did not want me to get hurt in the future, he should just marry me. At the time we were just joking around, like playing house. With that uncomplicated promise, I grew up with him by my side. Of course, we will stay pure until marriage."
Regardless of Miki's statement, many netizens still hold their own opinions about the matter. Some compare Zhang and Miki to the case of the Taiwan lyricist Li Kuncheng (李坤城) and his wife Lin Jingen (林靖恩, 1996).
The couple became a big topic of discussion in 2015, when the then 58-year-old Li tied the knot with the then 18-year-old Lin.
About Zhang and Miki, one commenter writes: "I don't think this is as serious as pedophilia. The goal of pedophilia is unpure [sex], but they have been together a long time. Zhang has no evil intentions."
Still, many people express their worries about the situation, wondering "where the parents are" in this, and saying that they do not want their own children to be influenced by this.
By now, some experts and KOL (Key Opinion Leaders) have also gotten involved in the matter. While influential Nanjing police officer Wang Haiding (王海丁, @江宁婆婆) condemns the relationship, famous Chinese sexologist Li Yinhe (@李银河) says it does not meet the criteria of pedophilia.
"The three principles of sex that I have proposed are that it is is voluntary, between adults, and in private. If it is in line with these three principles, it is not punishable by law. The law can punish adults who have sex with girls under the age of 14, but if they wait with having sex until they are both adults, then the law cannot control them. (..) Pedophiles are people who sexually assault children. This is clearly not the case here."
Amidst all controversy and analyses, many netizens just jokingly say: "I'm also ready to meet my future spouse – too bad they're still in kindergarten."
UPDATE – see our latest video about this topic here:
By Manya Koetse and Boyu Xiao
Follow @whatsonweibo
Spotted a mistake or want to add something? Please let us know in comments below or email us.
©2018 Whatsonweibo. All rights reserved. Do not reproduce our content without permission – you can contact us at info@whatsonweibo.com.
King of Workout Livestream: Liu Genghong Has Become an Online Hit During Shanghai Lockdown
Liu Genghong (Will Liu) is leading his best lockdown life.
With their exercise livestreams, Liu and his wife are bringing some positive vibes to Shanghai and the rest of China in Covid times, getting thousands of social media users to jump along with them.
On Friday, April 22, the hashtag "Why Has Liu Genghong Become An Online Hit" (#为什么刘畊宏突然爆火#) was top trending on Chinese social media platform Weibo.
Liu Genghong (刘畊宏, 1972), who is also known as Will Liu, is a Taiwanese singer and actor who is known for playing in dramas (Pandamen 熊貓人), films (True Legend 苏乞儿), and releasing various music albums (Rainbow Heaven 彩虹天堂). He is a devout Christian.
Besides all of his work in the entertainment business, Liu is also a fitness expert. In 2013, Liu participated in the CCTV2 weight loss programme Super Diet King (超级减肥王, aka The Biggest Loser) as a motivational coach, and later also became a fitness instructor for the Jiangsu TV show Changing My Life (减出我人生), in which he also helped overweight people to become fit. After that, more fitness programs followed, including the 2017 Challenge the Limit (全能极限王) show.
During the Covid outbreak in Shanghai, the 50-year-old Liu Genghong has unexpectedly become an online hit for livestreaming fitness routines from his home. Together with his wife Vivi Wang, he streams exercise and dance videos five days of the week via the Xiaohongshu app and Douyin.
In his livestreams, Liu and his wife appear energetic, friendly, happy and super fit. They exercise and dance to up-beat songs while explaining and showing their moves, often encouraging those participating from their own living rooms ("Yeah, very good, you're doing well!"). Some of their livestreams attract up to 400,000 viewers tuning in at the same time.
The couple, both in lockdown at their Shanghai home, try to motivate other Shanghai residents and social media users to stay fit. Sometimes, Liu's 66-year-old mother in law also exercises with them, along with the children.
"I've been exercising watching Liu and his wife for half an hour, they're so energetic and familiar, they've already become my only family in Shanghai," one Weibo user says.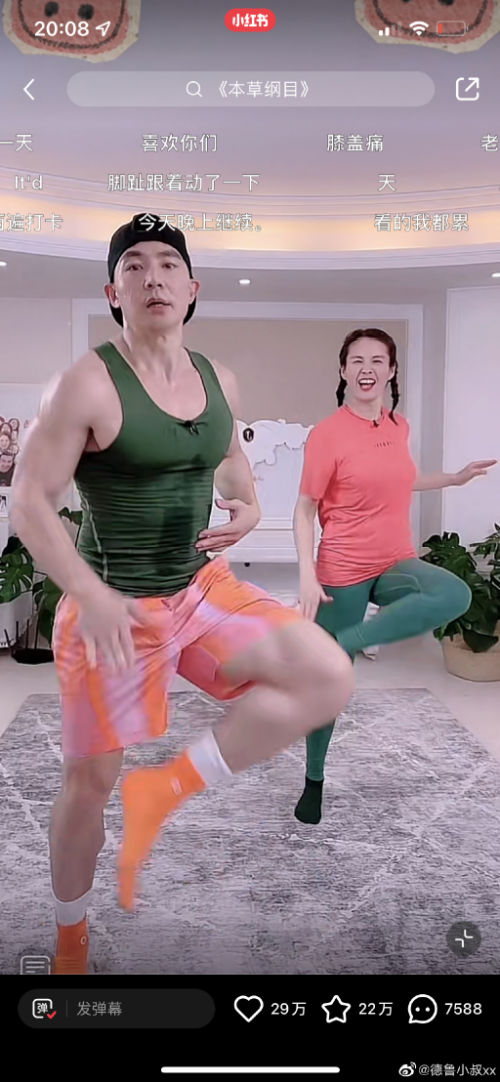 "I never expected Liu Genghong to be a 'winner' during this Covid epidemic in Shanghai," another person writes.
Along with Liu's online success, there's also a renewed interest in the Jay Chou song Herbalist's Manual (本草纲目), which is used as a workout tune, combined with a specific dance routine. Liu is also a good friend and fitness pal to Taiwanese superstar Jay Chou.
This week, various Chinese news outlets such as Fengmian News and The Paper have reported on Liu's sudden lockdown success. Livestreaming workout classes in general have become more popular in China since the start of Covid-19, but there reportedly has been no channel as popular as that of Liu Genghong.
The channel's success is partly because of Liu's fame and contagious enthusiasm, but it is also because of Vivi Wang, whose comical expressions during the workouts have also become an online hit.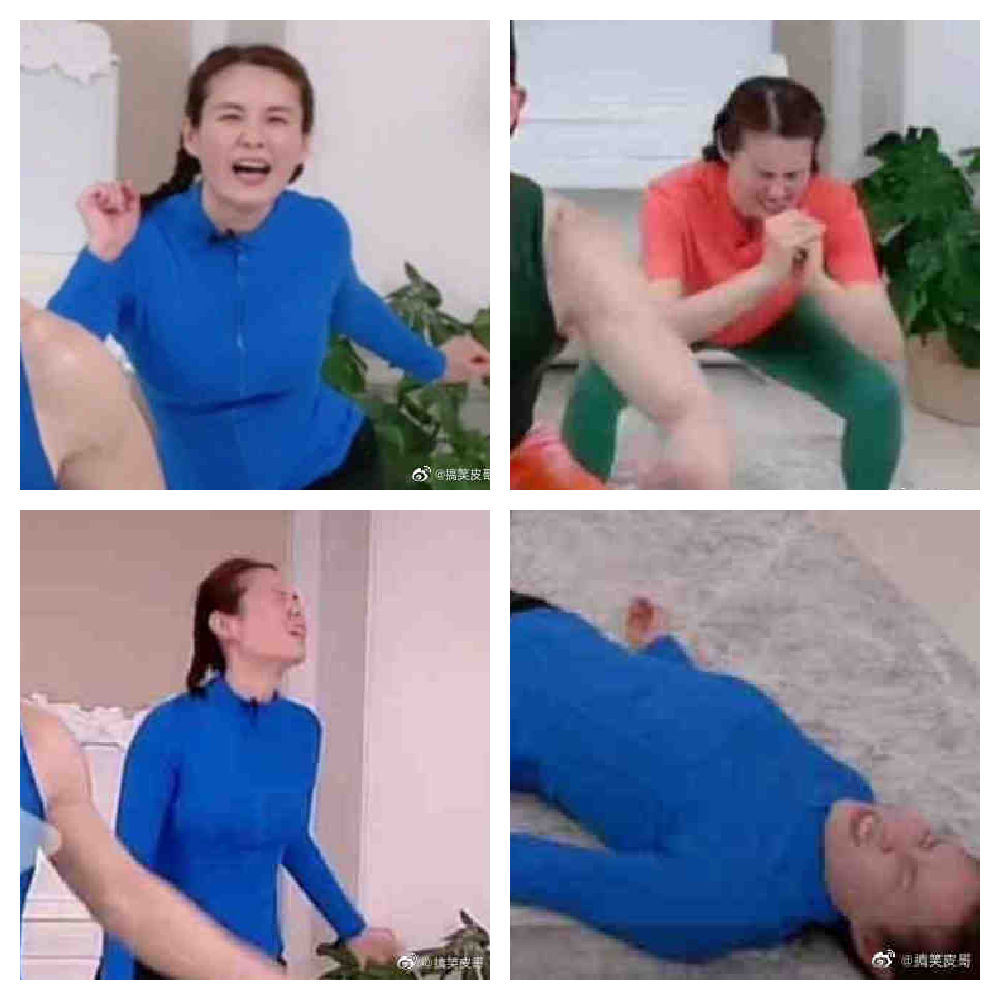 While many netizens are sharing their own videos of exercizing to Liu's videos, there are also some who warn others not to strain themselves too quickly.
"I've been inside for over 40 days with no exercise" one person writes: "I did one of the workouts yesterday and my heart nearly exploded." "I feel fine just watching," others say: "I just can't keep up."
Will Liu (刘畊宏) has become an online sensation in China together with his wife for their livestreamed workout sessions from Shanghai, especially inspiring those in lockdown to break a sweat. This routine to Jay Chou's song Herbalist's Manual (本草纲目) is the hit of the moment. pic.twitter.com/X4VvEBWvFU

— Manya Koetse (@manyapan) April 22, 2022
Watch one of Liu's routines via Youtube here, or here, or here.
For more articles on the Covid-19 topics on Chinese social media, check here.
By Manya Koetse
Get the story behind the hashtag. Subscribe to What's on Weibo here to receive our weekly newsletter and get access to our latest articles:
Spotted a mistake or want to add something? Please let us know in comments below or email us. First-time commenters, please be patient – we will have to manually approve your comment before it appears.
©2022 Whatsonweibo. All rights reserved. Do not reproduce our content without permission – you can contact us at info@whatsonweibo.com.
Weibo Shuts Down Rumors of Tong Liya's Alleged Marriage to CMG President Shen Haixiong
The censorship surrounding the Tong Liya story almost drew more attention than the actual rumors themselves.
The famous actress and dancer Tong Liya (佟丽娅, 1983) has had an eventful year. After hosting the CCTV Spring Festival Gala in 2020, she performed at the CCTV Spring Festival Gala in February of 2021 and in May she announced that after seven years of marriage, she finalized her divorce with actor and director Chen Sicheng (陈思诚).
Tong Liya is of Xibe ethnicity and was born in Xinjiang. The former beauty pageant and award-winning actress is known for her roles in many films and TV series, such as those in The Queens and Beijing Love Story. She also starred in the 2021 Chinese historical film 1921, which focuses on the founding of the Communist Party of China.
This month, online rumors about Tong flooded the internet, alleging that she was recently remarried to Shen Haixiong (慎海雄, 1967), the deputy minister of the Party's Central Propaganda Department and the President of the CMG (China Media Group), which includes CCTV, China National Radio, and China Radio International.
Some of the rumors included those claiming the actress was previously Shen's mistress, or netizens connecting Tong Liya's relations with such an influential and powerful person to her role at the previous CCTV Spring Gala Festival.
But these rumors did not stay online for long, and the quick censorship itself became somewhat of a spectacle. As reported by China Digital Times, the topic 'Tong Liya's Remarriage' ('佟丽娅再婚') was completely taken offline.
Following the rumors and censorship, it first was announced that Tong reported the online rumors about her to the police, with the hashtag "Tong Liya Reports the Case to Authorities" (#佟丽娅报案#) receiving over 310 million clicks. On December 23rd, the hashtag "Beijing Police is Handling Tong Liya's Report" (#北京警方受理佟丽娅报案#) went viral online, attracting over 1.7 billion (!) views on Weibo within three days.
The Beijing Haidian police statement on Weibo is as follows:
"In response to the recent rumors on the Internet, the public security authorities have accepted Tong Liya's report, and the case is now under investigation. The internet is not a place beyond the law, and illegal acts such as starting rumors and provoking trouble will be investigated and punished according to the law."

The statement led to some confused responses among netizens who wanted to know more about what was actually reported and what it is the police are exactly 'investigating.'
On Twitter, Vice reporter Viola Zhou wrote that the censorship "angered many young people," some of whom lost their social media accounts for discussing Tong Liya's second marriage: "It's now prompting a mass pushback against the potential abuse of censorship power."
So Beijing police said the rumor was false, but the full censorship used to stop it has angered many young people, some of whom lost their WeChat/Weibo accounts for talking about it. It's now prompting a mass pushback against the potential abuse of censorship power. pic.twitter.com/EfGnVrRItt

— Viola Zhou (@violazhouyi) December 22, 2021
In an attempt to circumvent censorship, and perhaps also ridicule it, some netizens even resorted to morse code to write about Tong Liya.
One Weibo post about the issue by Legal Daily received over 3000 comments, yet none were displayed at the time of writing.
The case is allegedly still being investigated by Beijing authorities.
By Manya Koetse
With contributions by Miranda Barnes.
Spotted a mistake or want to add something? Please let us know in comments below or email us. First-time commenters, please be patient – we will have to manually approve your comment before it appears.
©2021 Whatsonweibo. All rights reserved. Do not reproduce our content without permission – you can contact us at info@whatsonweibo.com.