Surprise Attack: CCTV6 Unexpectedly Airs Anti-American Movies as China-US Trade War Intensifies
"They have no new anti-American films, so they're showing us the old ones instead."
First published
CCTV 6, the movie channel of China's main state television broadcaster, has gone trending on Chinese social media today for changing its schedule and playing three anti-American movies for three days in a row.
Some suggest the selection for the movies is no coincidence, and that it's sending out a clear anti-US message while the trade war is heating up.
The three movies are the Korean war movies Heroic Sons and Daughters (英雄儿女, 1964), Battle on Shangganling Mountain (上甘岭, 1954), and Surprise Attack (奇袭, 1960), airing from May 17-19 during prime time at 20:15.
Ongoing trade tensions between China and the United States heightened when Trump raised an existing 10 percent tax on many Chinese imports to 25 percent earlier this month. Chinese authorities responded by raising taxes on many American imports.
Over the past week, anti-American propaganda has intensified in Chinese state media, with the slogan "Wanna talk? Let's talk. Wanna fight? Let's do it. Wanna bully us? Dream on!"* ("谈,可以!打,奉陪!欺,妄想!") going viral on Chinese social media.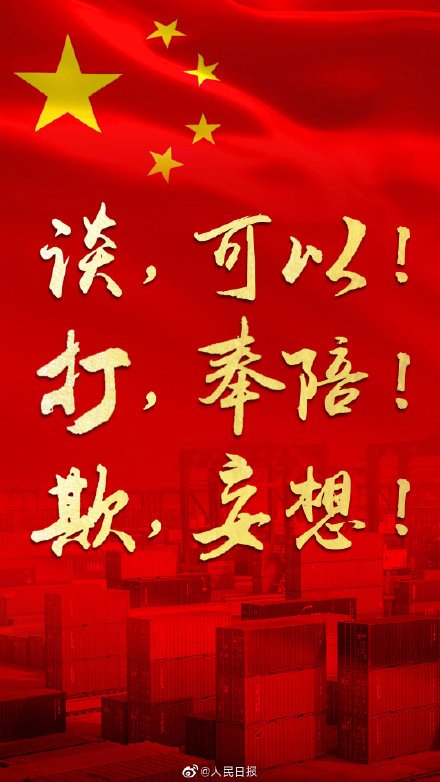 The movies broadcasted by CCTV these days are so-called "Resist America, Help North Korea" movies ("抗美援朝影片").
The 'Resist the USA, Help North Korea' (or: "Resist American Aggression and Aid North Korea") was a propaganda slogan launched in October 1950 during the Korean War (1950-1953). China came to the assistance of North Korea after the war with the South had broken out in June that year and the UN forces intervened in September.
The government, led by Mao Zedong, sent troops to fight in the war. Mao's own son, Mao Anying, was killed in action by an air strike a month after the start of this 3-year war against US aggression in support of North Korea. The war ended with the armistice of July 1953.
All three movies aired on CCTV6 are set during the "War to Resist US Aggression and Aid Korea."
Battle on Shangganling Mountain focuses on a group of Chinese People's Volunteer Army soldiers who are holding Triangle Hill for several days against US forces.
Heroic Sons and Daughters tells the story of a political commissar in China's volunteer army who finds his missing daughter on the Korean battlefield.
Surprise Attack revolves around the mission of the Chinese army to blow up the strategic Kangping Bridge, cutting off supplies to the American army and allowing the Chinese to engage in a full attack.
On Chinese social media, the unexpected decision of the CCTV to change its original schedule and to air the three historical films has become a much-discussed topic, with many people praising CCTV6 for showing these movies.
The issue was also widely reported on by Chinese media, from Sohu News to Global Times, which called the broadcast programming itself a "Surprise Attack."
Not all netizens praise the initiative, however, with some commenting: "It seems that there are no new anti-American TV series or movies now, so they've come up with these old films to brainwash us." Others said: "This kind of brainwashing is not useful."
Many Weibo users, however, just enjoy seeing classic movies, saying "They don't make movies like this anymore," and "It's good for the younger generation to also see these classics."
If you're reading this article on Saturday night China Central Time, you're still in time to watch the airing of Battle on Shangganling Mountain on CCTV6 here.
Update 18th May CST: It seems that a fourth movie has been added to the series now. This might just become the CCTV6 Anti-American movies month! We'll keep you updated.
By Manya Koetse and Miranda Barnes
*Translation suggested by @kaiserkuo.
Spotted a mistake or want to add something? Please let us know in comments below or email us.
©2019 Whatsonweibo. All rights reserved. Do not reproduce our content without permission – you can contact us at info@whatsonweibo.com
Lost in Translation? UBS's "Chinese Pig" Comment Stirs Controversy
"Chinese pig" – much ado about nothing or an insulting remark?
A report by the UBS titled "Very Normal Inflation" caused controversy on Chinese social media on Thursday for containing the term "Chinese pig."
The UBS, a Swiss multinational investment bank, published the article on consumer price inflation on June 12. The author, economist Paul Donovan, wrote: "Chinese consumer prices rose. This was mainly due to sick pigs. Does it matter? It matters if you are a Chinese pig." The same text also appeared in a podcast on inflation in China.
Global Times (环球时报), a Chinese and English language media outlet under the People's Daily newspaper, lashed out against the USB for its "insulting" and "discrimatory" remarks.
Many netizens agreed with the Global Times, and see the "Chinese pig" remark as a joke with a double meaning, assuming that Donovan was both talking about pigs in China, as well as insulting Chinese people.
Some people suggest that if Donovan did not intend to make a pun, he could have written "it matters if it is a pig in China" instead. They argue that UBS and Donovan could have avoided using the term to begin with, and intentionally wrote it up like this to insult Chinese people.
There are also social media users who come to Donovan's defense. Author Deborah Chen (陈叠) writes on Weibo that she has known Paul for a long time and that she knows him as a straightforward and humorous commentator. "There is just one kind of translation for 'pigs of China' (中国的猪) and 'Chinese pigs' (中国猪) in English," she says: "If you look at the context, you'll see he's talking about farm animals, and is not humiliating the people of the nation."
On Weibo, multiple people called the reactions to the article "overly sensitive."
A commenter nicknamed "Taxpayer0211809" wrote: "The way I understood is just that China's consumer prices have inflated and that this is because of the swine fever. Is this thing important? It is important if you are a pig in China, or if you like eating pork, for the rest of the world there won't be a big influence."
Shortly after the controversy erupted, the UBS and Donovan sent their apologies, which were also published by Global Times: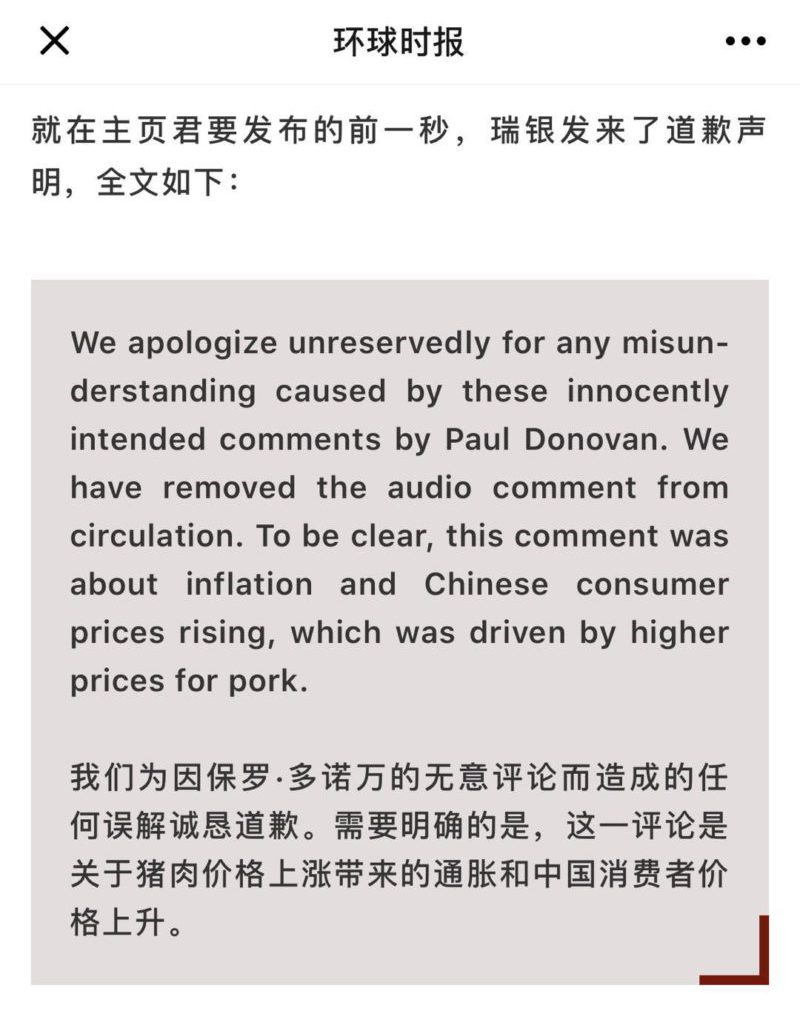 But some Chinese web users did not accept those apologies. One Chinese author wrote there was nothing "innocent" about the remarks made.
The article in question has since been removed from the USB website.

Also read: Bulgari's Noteworthy New China Marketing Campaign on a Happy 'Jew' Year of the Pig (Zhu)

By Manya Koetse and Miranda Barnes
Follow @whatsonweibo
Photo by Fabian Blank on Unsplash
Spotted a mistake or want to add something? Please let us know in comments below or email us. Please note that your comment below will need to be manually approved if you're a first-time poster here.
©2019 Whatsonweibo. All rights reserved. Do not reproduce our content without permission – you can contact us at info@whatsonweibo.com
On 30th Anniversary of the Tiananmen Protests, Weibo Completely Cracks Down on the T-Word
The T-word is the taboo subject, but not for the State Office.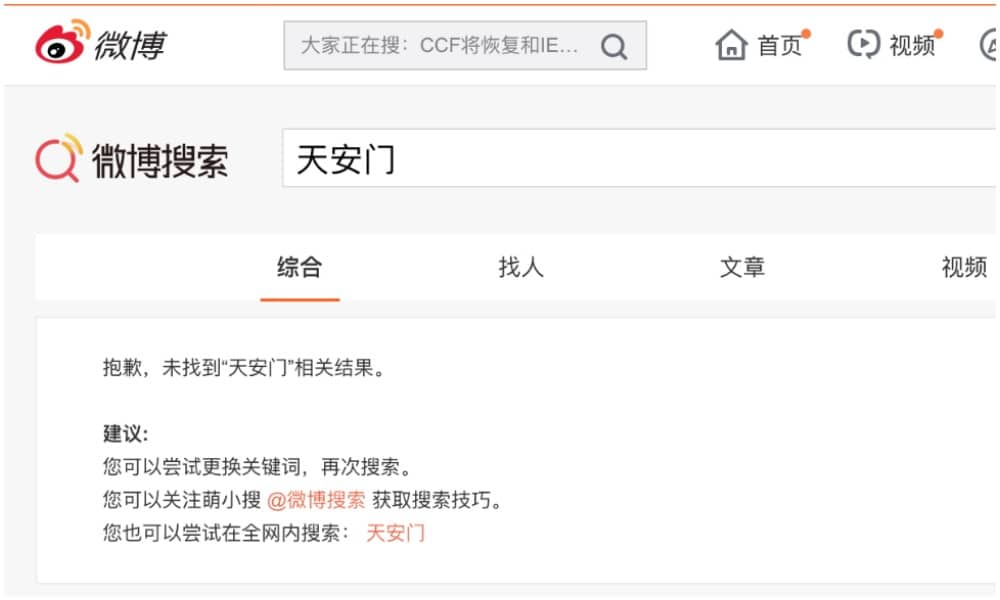 Nobody can mention the T-word on social media this week, except for the State Council Information Office.
It is the time of the year that censorship on Chinese internet intensifies, and this year the date carries even more weight, as it marks the 30th anniversary of the Tiananmen student protests that started in April 1989 and ended with the violent crackdown on June 4th of that year.
What is noticeable about this anniversary on Weibo this year? Whereas certain combinations of 'Tiananmen' together with 'protests' or '6.4' are always controlled on the social media site, searching for the Chinese word 'Tiananmen' now only shows a series of media posts about the celebration of the 70th anniversary of the People's Republic of China (#庆祝新中国成立70年#).
The posts all come from Chinese (state) media outlets and mention the word 'Tiananmen' in it, with different state media outlets all posting the same post after the other starting from Monday night local time (e.g. one posts at 19:35, the other at 19:36, 19:45, etc).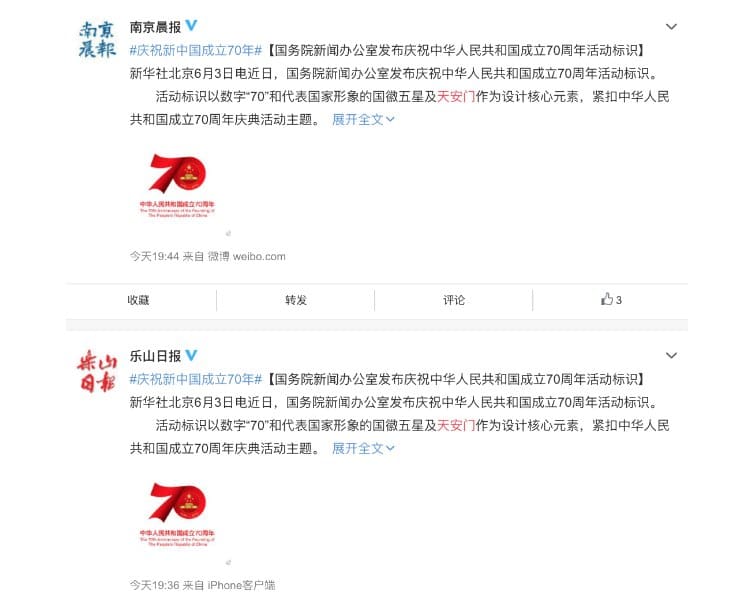 The post is a press release from the State Council Information Office that for the first time now shares the official logo to celebrate the 70th anniversary of the founding of the People's Republic of China.
The logo is the number "70" and the National Emblem of the People's Republic of China, which contains in a red circle a representation of Tiananmen Gate and the five stars of the national flag. The word 'Tiananmen' is mentioned twice in the official state media Weibo posts.
Earlier on Monday, shortly before the press release, searching for 'Tiananmen' on Weibo showed that there were over 18 million posts containing the word 'Tiananmen,' but when clicking the results page, it suddenly showed that there were "no results" at all, suggesting a complete shutdown of searches for this term.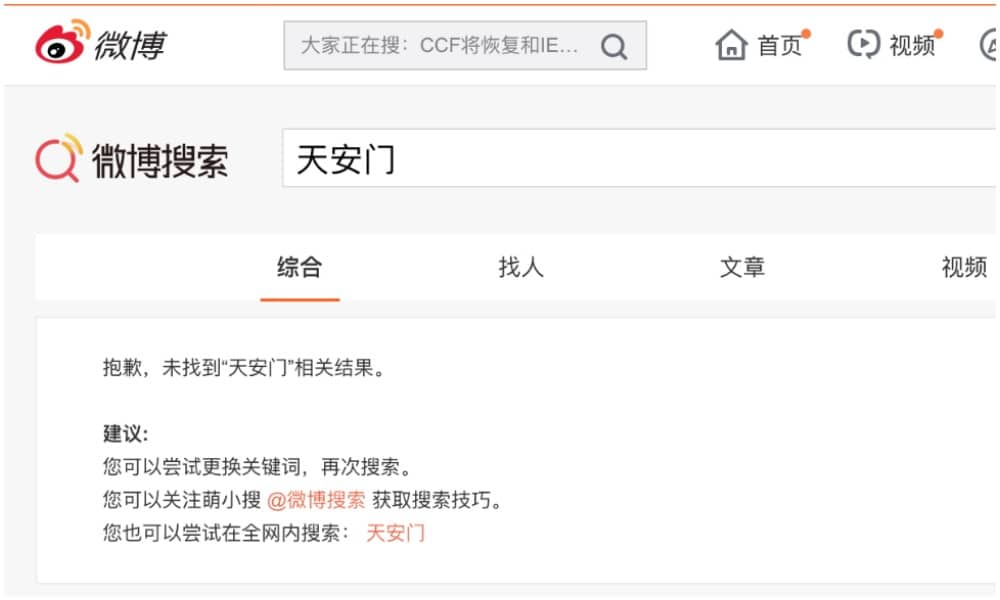 The hashtag page for #Tiananmen# (#天安门#) also comes up with zero results at time of writing.
For more on this subject, also read: Tiananmen Without the Tanks – The 1980s China Wants to Remember and the interview with musician Jeroen den Hengst, who was in Beijing in 1989.
By Manya Koetse
Follow @whatsonweibo
Spotted a mistake or want to add something? Please let us know in comments below or email us. Please note that your comment below will need to be manually approved if you're a first-time poster here.
©2019 Whatsonweibo. All rights reserved. Do not reproduce our content without permission – you can contact us at info@whatsonweibo.com