Surprise Attack: CCTV6 Unexpectedly Airs Anti-American Movies as China-US Trade War Intensifies
"They have no new anti-American films, so they're showing us the old ones instead."
First published
CCTV 6, the movie channel of China's main state television broadcaster, has gone trending on Chinese social media today for changing its schedule and playing three anti-American movies for three days in a row.
Some suggest the selection for the movies is no coincidence, and that it's sending out a clear anti-US message while the trade war is heating up.
The three movies are the Korean war movies Heroic Sons and Daughters (英雄儿女, 1964), Battle on Shangganling Mountain (上甘岭, 1954), and Surprise Attack (奇袭, 1960), airing from May 17-19 during prime time at 20:15.
Ongoing trade tensions between China and the United States heightened when Trump raised an existing 10 percent tax on many Chinese imports to 25 percent earlier this month. Chinese authorities responded by raising taxes on many American imports.
Over the past week, anti-American propaganda has intensified in Chinese state media, with the slogan "Wanna talk? Let's talk. Wanna fight? Let's do it. Wanna bully us? Dream on!"* ("谈,可以!打,奉陪!欺,妄想!") going viral on Chinese social media.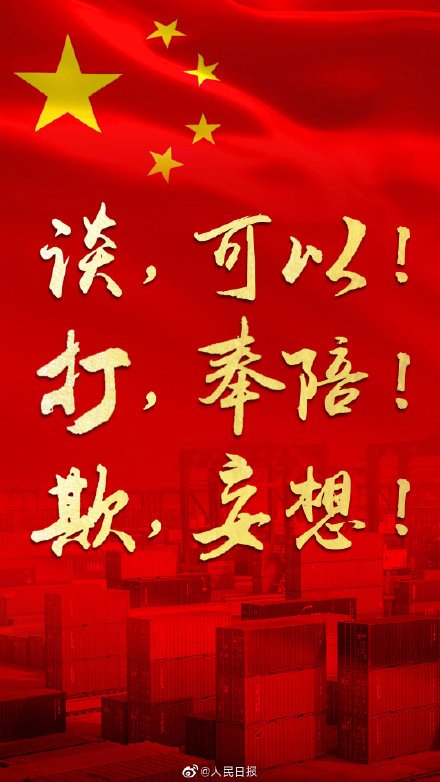 The movies broadcasted by CCTV these days are so-called "Resist America, Help North Korea" movies ("抗美援朝影片").
The 'Resist the USA, Help North Korea' (or: "Resist American Aggression and Aid North Korea") was a propaganda slogan launched in October 1950 during the Korean War (1950-1953). China came to the assistance of North Korea after the war with the South had broken out in June that year and the UN forces intervened in September.
The government, led by Mao Zedong, sent troops to fight in the war. Mao's own son, Mao Anying, was killed in action by an air strike a month after the start of this 3-year war against US aggression in support of North Korea. The war ended with the armistice of July 1953.
All three movies aired on CCTV6 are set during the "War to Resist US Aggression and Aid Korea."
Battle on Shangganling Mountain focuses on a group of Chinese People's Volunteer Army soldiers who are holding Triangle Hill for several days against US forces.
Heroic Sons and Daughters tells the story of a political commissar in China's volunteer army who finds his missing daughter on the Korean battlefield.
Surprise Attack revolves around the mission of the Chinese army to blow up the strategic Kangping Bridge, cutting off supplies to the American army and allowing the Chinese to engage in a full attack.
On Chinese social media, the unexpected decision of the CCTV to change its original schedule and to air the three historical films has become a much-discussed topic, with many people praising CCTV6 for showing these movies.
The issue was also widely reported on by Chinese media, from Sohu News to Global Times, which called the broadcast programming itself a "Surprise Attack."
Not all netizens praise the initiative, however, with some commenting: "It seems that there are no new anti-American TV series or movies now, so they've come up with these old films to brainwash us." Others said: "This kind of brainwashing is not useful."
Many Weibo users, however, just enjoy seeing classic movies, saying "They don't make movies like this anymore," and "It's good for the younger generation to also see these classics."
If you're reading this article on Saturday night China Central Time, you're still in time to watch the airing of Battle on Shangganling Mountain on CCTV6 here.
Update 18th May CST: It seems that a fourth movie has been added to the series now. This might just become the CCTV6 Anti-American movies month! We'll keep you updated.
By Manya Koetse and Miranda Barnes
*Translation suggested by @kaiserkuo.
Spotted a mistake or want to add something? Please let us know in comments below or email us.
©2019 Whatsonweibo. All rights reserved. Do not reproduce our content without permission – you can contact us at info@whatsonweibo.com
"New Chapter of Sino-Russian Friendship": Putin Publishes Op-Ed in China's People's Daily, Xi in Rossiiskaya Gazeta
In Xi's piece, the word "China" was the most recurring one. In Putin's article, the word "Russia" was repeated the most.
Op-eds authored by Chinese leader Xi Jinping and Russian President Vladimir Putin were published in the other countries' government newspapers ahead of Xi's three-day state visit to Russia. Both articles emphasized the importance of partnership, mutual trust, and friendship between the two nations.
Chinese leader Xi Jinping arrived in Moscow on Monday, March 20, for his scheduled state visit to Russia.
During his three-day Moscow visit, Xi will have one-on-one talks with Russian President Vladimir Putin. This is the first time Xi visits Russia since the Russian invasion of Ukraine.
On the first day of the top-level meeting, the Chinese state media outlet People's Daily headlined that Xi Jinping published an article in the Russian government newspaper Rossiiskaya Gazeta on the occasion of his state visit, while also featuring the news about Putin's signed article on the front page (the actual article was published on page three).
Meanwhile, the Rossiiskaya Gazeta did the same: they also featured Xi's publication on the front page of their digital newspaper, while also turning Putin's contribution to the People's Daily into one of the main headlines. The newspaper also published a special section dedicated to Sino-Russian friendship.
Xi's article, in Russian here and in Chinese here, was also translated to English and published by China's Ministry of Foreign Affairs on their website here.
The article, titled "Forging Ahead to Open a New Chapter of China-Russia Friendship, Cooperation and Common Development" ("踔厉前行,开启中俄友好合作、共同发展新篇章") mainly stresses the strong bond and mutual trust between China and Russia and the future of Sino-Russian relations, with the word "cooperation" being used 22 times and the word "friendship" used 8 times in the text. The most-mentioned word in the text is "China" (24 times); "Russia" was mentioned 22 times.
"Ukraine" was mentioned three times in one paragraph about the 'Ukraine crisis,' which emphasized China's "impartial position" and its active promotion of peace talks.
The article by Putin is titled "Russia and China – A Future-Bound Partnership" ("俄罗斯和中国——面向未来的伙伴关系") (link in Chinese, link in English) and it is similar to Xi's op-ed in multiple ways, and also focused on stressing the special friendship between both countries and how similar they allegedly are in their culture, tradition, and foreign policy.
The article was actually also very similar to an earlier article titled "Russia and China: A Future-Oriented Strategic Partnership" published by Vladimir Putin for Chinese state media outlet Xinhua just before the Winter Olympics and Putin's visit to China in 2022 (link in English).
The current article condemns America's role in the international community and thanks China for its approach to the Ukrainian issue. The word that comes up most often in the text is "Russia" (20 times); "China" is mentioned 18 times. Words such as "cooperation" and "partnership" also come up a lot (7 and 5 times respectively).
The hashtag "Xi Jinping Published Signed Article in Russian Media" (#习近平在俄罗斯媒体发表署名文章#) was posted on social media site Weibo by Xinhua.
China Daily posted images featuring several quotes from Xi's signed article in Chinese and English.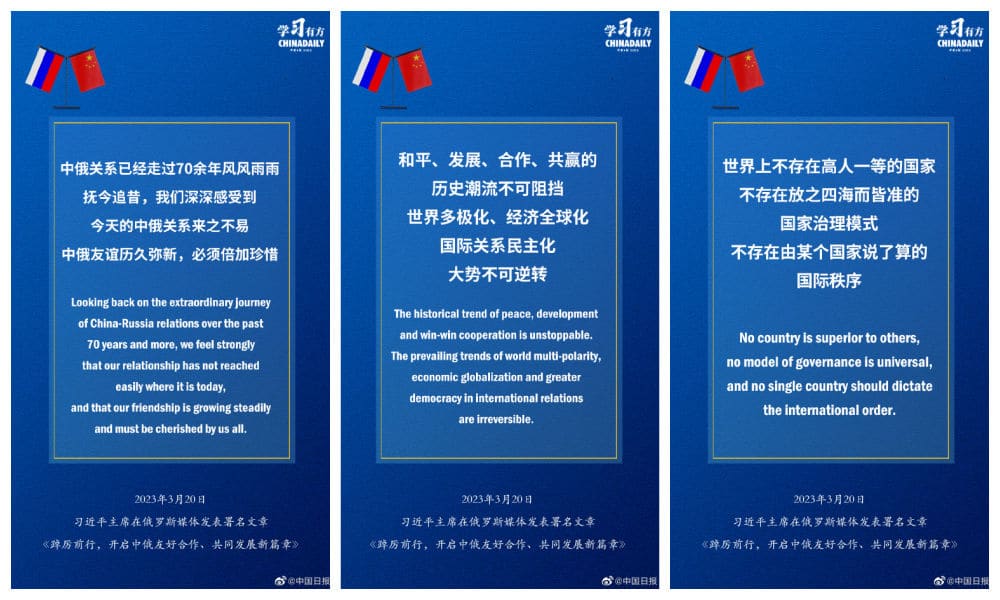 While it was not the first time for Putin to post an op-ed in a Chinese state media newspaper, it was also not the first time for Xi Jinping to publish a signed article in a Russian government newspaper. He also posted one in 2015 (link in Chinese).
Xi previously also published letters or bylined articles in the media of other countries.
Ahead of his state visit to Finland in 2017, the Finnish newspaper Helsinki Times featured Xi's article titled "Our Enduring Friendship" ("穿越历史的友谊"). Xi also stressed bilateral relations in letters to the foreign media of countries such as Myanmar, Greece, Nepal, North Korea, and others.
The term used by Xi in the article, "starting a new chapter" ("开启时代新篇章") was repeated by many commenters replying to the topic on Weibo, where Xi's Russia visit is covered by many media accounts in videos, text, and images.
In a recent post, political commentator Hu Xijin (@胡锡进) noted how Xi's Russia visit made international headlines, underlining the major significance of the meeting. Hu wrote that no third party could hinder the "steady development of Sino-Russian relations." At time of writing, only three out of more than a hundred replies to Hu's post were displayed – the three replies consisted of hearts and thumbs up emoji only – with the other comments being filtered.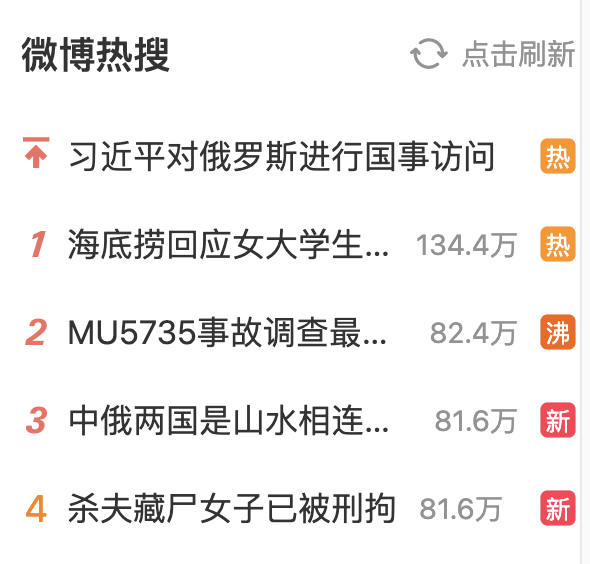 Although the meeting between Xi and Putin was promoted in the Weibo trending lists, most posts about the state visit only allowed some selected replies in the threads below, or simply closed the comment sections. This was also the case went Putin's annual address in Moscow was featured by various accounts on Weibo.
For more articles on China-Russian relations and related Weibo discussions, check our archives here.
By Manya Koetse 
With contributions by Miranda Barnes
Get the story behind the hashtag. Subscribe to What's on Weibo here to receive our newsletter and get access to our latest articles:
Spotted a mistake or want to add something? Please let us know in comments below or email us. First-time commenters, please be patient – we will have to manually approve your comment before it appears.
©2023 Whatsonweibo. All rights reserved. Do not reproduce our content without permission – you can contact us at info@whatsonweibo.com.
Meet Ren Xiaorong, People's Daily AI Virtual News Anchor
Although their functions are still limited, AI news anchors such as Ren Xiaorong are a sign of the future.
Ren Xiaorong (任小融) joined the Chinese state media outlet People's Daily as a virtual presenter/news anchor this week.
Ren Xiaorong is the AI-powered host of an app allowing users to ask questions related to the Two Sessions, the annual plenary sessions of the National People's Congress and of the Chinese People's Political Consultative Conference that have been taking place this week.
Through the People's Daily app, you can ask Ren Xiaorong to tell you more about various topics covered during the Two Sessions, including education, epidemic prevention, housing, employment, environmental protection, and many other issues.
According to the introduction video launched by People's Daily, Ren is also available to discuss other news topics people would like to know more about.
Ren Xiaorong is interactive to a certain (very limited) extent; users can select the topics they want to learn more about, but the app does not yet allow to ask specific questions.
A related hashtag went viral on Weibo on Sunday (#人民日报AI虚拟主播#), triggering discussions on the use of virtual news presenters.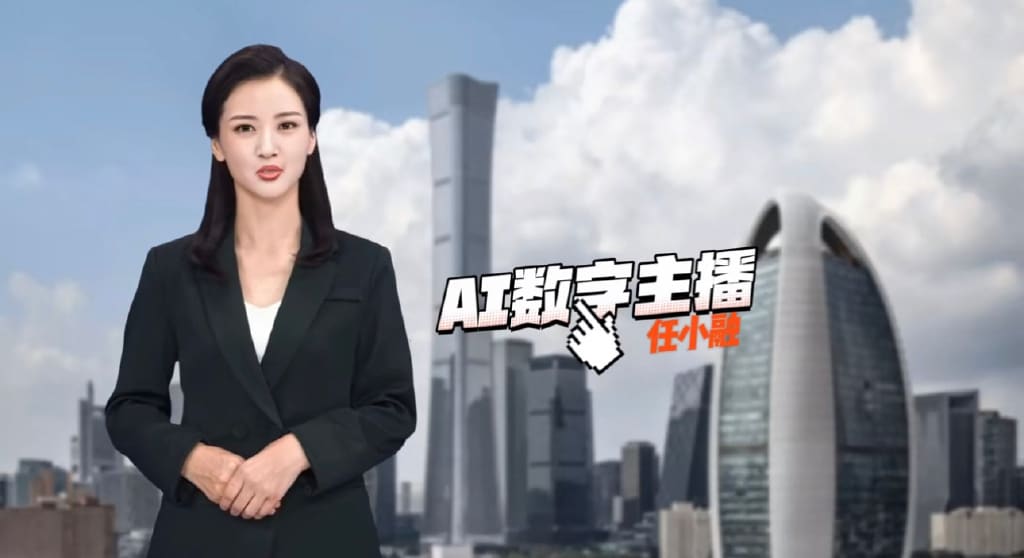 Ren Xiaorong is not the first People's Daily virtual news anchor. In 2019, the very first AI-powered presenter was unveiled at the 2019 Big Data Expo (#人民日报首位AI虚拟主播#). Guo Guo (果果), aka Little Guo Guo (小果果), was based on the real-life Chinese reporter Guo Xinyu (果欣禹).
China's state media outlets Xinhua, Beijing TV, Hunan TV, and CCTV previously also unveiled their own AI-powered virtual news anchors at a time when China's virtual idol market started to explode.
During the 2022 Winter Olympics in Beijing, there was also a virtual host and China's first AI sign language presenter.
Although news media outlets have started experimenting with virtual presenters for some time now, some netizens are still not convinced about the actual purpose of having virtual TV hosts and news anchors, especially when their AI-driven interactive functions are still limited.
Weibo blogging account 'Media People Online' (@传媒人在线) writes: "I've never really understood this, is there a shortage of broadcasting talent, or are AI anchors better at it? Why would you use a robot to broadcast the news? Are you spending so much money on an AI presenter just to show technological progress?"
But other bloggers (@夏日之阳新闻传播考研) think that virtual anchors could improve the quality and availability of news, since they could broadcast around the clock while saving on manpower, alleviating the pressure on newsrooms.
Whether people approve of virtual news readers or not, most agree Ren Xiaorong, along with her virtual colleagues, is a harbinger of the digitalization of the media at a time when artificial intelligence has already come to play a pivotal role in everyday activities.
Want to see Ren Xiaorong at work? Click this link on mobile.
By Manya Koetse 
Get the story behind the hashtag. Subscribe to What's on Weibo here to receive our newsletter and get access to our latest articles:
Spotted a mistake or want to add something? Please let us know in comments below or email us. First-time commenters, please be patient – we will have to manually approve your comment before it appears.
©2023 Whatsonweibo. All rights reserved. Do not reproduce our content without permission – you can contact us at info@whatsonweibo.com.