The Detainment of Canadian Ex-Diplomat Michael Kovrig Triggers (Censored) Discussions on Weibo
"You take one of ours, we take one of yours," some commenters write.
First published
The detainment of former Canadian diplomat Michael Kovrig is generating major discussions on Chinese social media – but many comment sections have now been locked.
The news that former Canadian diplomat Michael Kovrig has been detained in Beijing is not only generating mass attention on Twitter and in English-language newspapers today; on Chinese social media, thousands of people have also responded to the issue.
Kovrig, who is known as Kang Mingkai (康明凯) in Chinese, served as a diplomat in Beijing and Hong Kong until 2016, and currently is a Hong Kong-based Senior Adviser at the International Crisis Group, where he works on foreign affairs and global security issues in Northeast Asia.
News of his arrest in mainland China came out through the International Crisis Group. In a media release on December 12, the International Crisis Group called for the immediate release of Michael Kovrig, and stated that Kovrig was detained on Monday night in the Chinese capital by the Beijing Bureau of Chinese State Security.
According to the Washington Post, China's Foreign Ministry spokesman Lu Kang (陆慷) told reporters during a regular press briefing on Wednesday that he had nothing to say about the issue, and that China and Canada have maintained "normal consular communication."
Lu further said that the International Crisis Group was not legally registered in China, and that the organization had "violated Chinese laws" because "it was not registered."
On Weibo, a post of the state tabloid newspaper Global Times on the issue became the most-read post on the account (17,7 million followers) on Wednesday. At the end of the day, it had more than 34,400 comments, 158,000 'likes' and over 36,000 shares.
The post says:
"[Foreign media: "Former Canadian diplomat Kang Mingkai has been detained in China"] According to Reuters, the International Crisis Group stated on Tuesday that its senior adviser in Northeast Asia and former Canadian diplomat Kang Mingkai (Michael Kovrig), has recently been detained by the Chinese government. According to the resources, Kang Mingkai is a former diplomat in Canada and in Hong Kong, who held a position as a strategic communications expert at the United Nations Headquarters in New York, and is able to speak Mandarin. He joined the International Crisis Group last year as a senior adviser to Northeast Asia to study and analyze foreign affairs and global security issues in China, Japan, and the Korean Peninsula. He criticized China many times, and advocates a hard-line approach towards China."
Despite the many comments, the post's comments section was locked for viewing by the Global Times on Wednesday night local time, only allowing some comments to remain visible, such as one saying: "This is most likely an old spy on a special agent mission."
Other posts on the issue that generated much attention, such as the Beijing News post that received approximately 5000 comments, or the Toutiao post that received 11,000 comments, were also locked for viewing.
A later post by Global Times (China time December 12, 23:07) stated:
"Confirmed! This Canadian is held for legal investigation. – Reporters have learned from relevant departments that Canadian citizen Kang Mingkan (Michael John Kovrig) is suspected of engaging in activities that are harmful to China's security. As of December 10, he is held by the Beijing National Security Bureau for investigation according to law. Currently, the case is under investigation."
"Well done," a typical comment said, with many accusing Kovrig of being a spy.
But there are also more critical comments, with some saying: "This might not be a good thing," and others suggesting that Kovrig is a "political prisoner."
Elsewhere on Weibo, the many comments on this issue are also open, with one popular one saying: "They are using a legal way to tell Canada their behavior is illegal."
On both Weibo and Twitter, as well as in the English-language media, Kovrig's detainment is linked to the recent arrest of Meng Wanzhou (孟晚舟), the financial officer of Chinese telecom giant Huawei Technology – which happens to have been founded by her father, Ren Zhengfei (任正非).
Meng was detained on December 1st during a transit at the Vancouver airport at the request of United States officials. She is accused of fraud charges for violating US sanctions on Iran. According to CNN Business, Meng allegedly is accused of helping Huawei get around sanctions on Iran by misleading financial institutions into believing that subsidiary company 'Skycom' – which is active in networking and telecommunication in Iran – was a separate company in order to conduct business in the country.
Chinese officials, demanding Meng's release, have called the arrest "a violation of a person's human rights." Meng has been released on bail on Tuesday, December 11.
"You take one of ours, we take one of yours," one commenter replied to news relating to Kovrig's detainment.
"Are we exchanging hostages like North Korea?" one Weibo user responded.
On the Weibo account of the Canadian embassy, there have been no direct mentions of Kovrig, but the embassy did dedicate a post to the celebration of human rights on December 12th, saying: "We commemorate the 70th anniversary of the Universal Declaration of Human Rights. Canada, China and all member states of the United Nations support this basic document of the United Nations."
By Manya Koetse
Follow @whatsonweibo
Spotted a mistake or want to add something? Please let us know in comments below or email us.
©2018 Whatsonweibo. All rights reserved. Do not reproduce our content without permission – you can contact us at info@whatsonweibo.com
Faking Street Photography: Why Staged "Street Snaps" Are All the Rage in China
Staged street photography is the latest "15 minutes of fame" trend on Chinese social media.
It looks as if they are spontaneously photographed or filmed by one of China's many street photographers, but it is actually staged. Chinese online influencers – or the companies behind them – are using street photography as part of their social media strategy. And then there are those who are mocking them.
Recently a new trend has popped up on Chinese social media: people posting short videos on their accounts that create the impression that they are being spotted by street fashion photographers. Some look at the camera in a shy way, others turn away, then there are those who smile and cheekily stick out their tongue at the camera.
Although it may appear to be all spontaneous, these people – mostly women – are actually not randomly being caught on camera by one of China's many street fashion photographers in trendy neighborhoods. They have organized this 'fashion shoot' themselves, often showing off their funny poses and special moves, from backward flips to splits, to attract more attention (see example in video embedded below).
These are some examples of the "pretending to be spontaneously spotted by street fashion photographer so gotta do something funny" phenomenon: pic.twitter.com/OUMhGaFG6W

— Manya Koetse (@manyapan) 25 juni 2019
In doing so, these self-made models are gaining more fans on their Weibo, Douyin, Xiaohongshu, or WeChat accounts, and are turning their social media apps into their very own stage.
Street Photography in Sanlitun
The real street photography trend has been ongoing in China for years, near trendy areas such as Hangzhou's Yintai shopping mall, or Chengdu's Taikoo Li.
One place that is especially known for its many street photographers is Beijing's see-and-be-seen Sanlitun area, where photographers have since long been gathering around the Apple or Uniqlo stores with their big lens cameras to capture people walking by and their trendy fashion.
A few years ago, Thatsmag featured an article discussing this phenomenon, asking: "Who are these guys and what are they doing with their photos?"
Author Dominique Wong found that many of these people are older men, amateur photographers, who are simply snapping photos of attractive, fashionable, and unique-looking people as their hobby.
But there are also those who are working for street fashion blogs or style magazines such as P1, and are actually making money with their street snaps capturing China's latest fashion trends.
People featured in these street snaps can sometimes go viral and become internet celebrities (网红). One of China's most famous examples of a street photographed internet celebrity is "Brother Sharp."
It's been ten years since "Brother Sharp" (犀利哥), a homeless man from Ningbo, became an online hit in China for his fashionable and handsome appearance, after his street snap went trending on the Chinese internet.
Staged Street Scenes
But what if nobody's snapping your pics and you want to go viral with your "Oh, I am being spotted by street fashion photographers" video? By setting up their own "street snap" shoots, online influencers take matters into their own hands.
It is not just individuals who are setting up these shoots; there are also companies and brands that do so in order to make their (fashion) products more famous. According to People's Daily, in Hangzhou alone, there are over 200 photographers for such "street snaps" and hundreds of thousands of models for such "performances."
The photographers can, supposedly, earn about 20,000 to 30,000 yuan ($2,890-$4,335) per day and the models are well paid.
In this way, the "street snap performance" phenomenon is somewhat similar to another trend that especially became apparent in China around 2015-2016, namely that of 'bystander videos' capturing a public scene. Although these videos seem to be real, there are actually staged.
One such example happened in 2017 when a video went viral of a young woman being scolded on a Beijing subway for wearing a revealing cosplay outfit.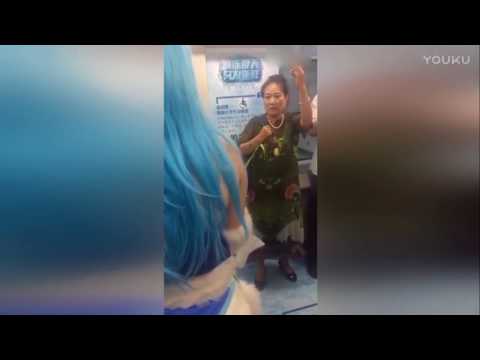 The story attracted much attention on social media at the time, with many netizens siding with the young woman and praising her for responding coolly although the woman was attacking her. Later, the whole scene turned out to be staged with the purpose of generating more attention for the ad of a "cool" food delivery platform behind the older lady.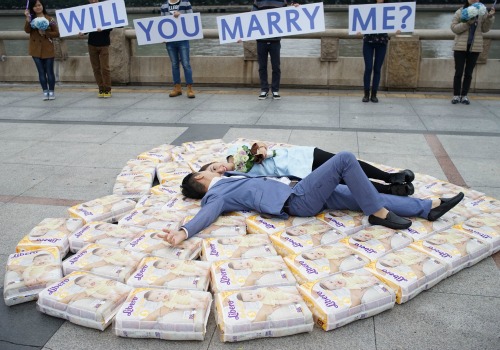 In 2015, photos of a 'romantic proposal' made its rounds on social media when a young man asked his pregnant girlfriend to marry him using over 50 packs of diapers in the shape of a giant heart. One bag of diapers carried a diamond ring inside. It was later said the scene was sponsored by Libero Diapers.
Wanghong Economy
Both the latest street snap trend and the staged video trend are all part of China's so-called "Wanghong economy." Wǎnghóng (网红) is the Chinese term for internet celebrities, KOL (Key Opinion Leader) or 'influencer.' Influencer marketing is hot and booming in China: in 2018, the industry was estimated to be worth some $17.16 billion.
Being a wanghong is lucrative business: the more views, clicks, and fans one has, the more profit they can make through e-commerce and online advertising.
Using Chinese KOLs to boost brands can be an attractive option for advertisers, since their social media accounts have a huge fanbase. Prices vary on the amount of fans the 'influencer' has. In 2015, for example, the Chinese stylist Xiao P already charged RMB 76,000 ($11,060) for a one-time product mention on his Weibo account (36 million fans).
According to the "KOL budget Calculator" by marketing platform PARKLU, a single sponsored post on the Weibo account of a famous influencer will cost around RMB 60,000 ($8730).
The current staged street snap hype is interesting for various online media businesses in multiple ways. On short video app Douyin, for example, the hugely popular street snap videos come with a link that allows app users to purchase the exact same outfits as the girls in the videos.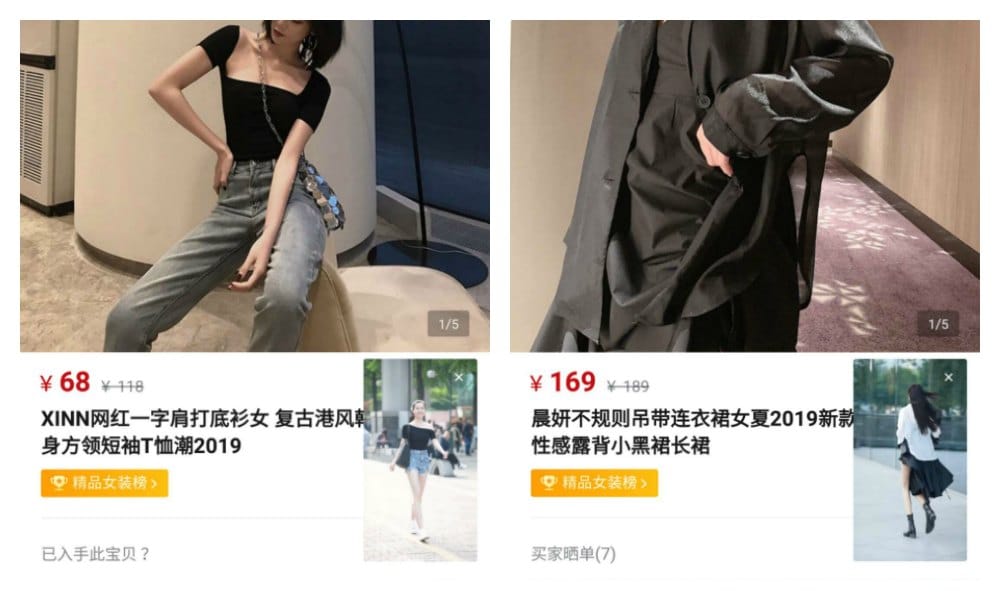 Perhaps unsurprisingly, an online survey by Tencent found that 54% of college-age respondents had the ambition to become an "online celebrity."
Making Non-Fashion Fashion: The Farm Field as a Catwalk
Although becoming an actual online celebrity used to be a far-fetched dream for many Chinese netizens, the latest staged-street-snap trend creates the possibility for people to experience their "15 minutes of fame" online.
Just as in previous online trends such as the Flaunt Your Wealth Challenge or A4 Waist Challenge, you see that many people soon participate in them, and that they are then followed by an "anti-movement" of people making fun of the trend or using it to promote a different social point-of-view.
The 2018 "Flaunt Your Wealth" challenge, for example, in which Chinese influencers shared pictures of themselves falling out of their cars with their expensive possessions all around them, was followed by an Anti-Flaunt Your Wealth movement, in which ordinary people mocked the challenge by showing themselves on the floor with their diplomas, military credentials, painting tools, or study books around them.
In case of the (staged) "Fashion Street Photography" movement, that now has over 103 million views on Weibo (#全国时尚街拍大赏# and #街拍艺术行为大赏#), you can also see that many people have started to mock it.
"I find [this trend] so embarrassing that I want to toss my phone away, yet I can't help but watch it," one Weibo user (@十一点半关手机) writes, with others agreeing, saying: "This is all so awkward, it just makes my skin crawl."
The anti-trend answer to the staged street shoot hype now is that people are also pretending to be doing such a street snap, but ridiculing it by making over-the-top movements, doing it in 'uncool' places, wearing basic clothing, or setting up a funny situation (see embedded tweet below).
And then this is other example (there are many) of people mocking this pretending-to-be-spotted-by-street-photographers trend pic.twitter.com/2WBP3F326l

— Manya Koetse (@manyapan) 25 juni 2019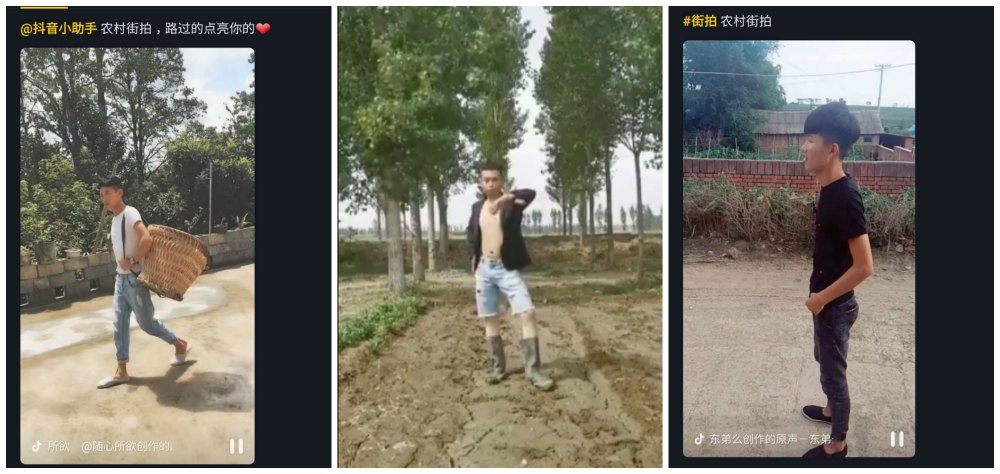 Some of these short videos show 'models' walking in a rural area, pretending to be photographed by a 'street fashion photographer' – it's an anti-trend that's become a trend in itself (see videos in embedded tweets below).
There's a recent Chinese social media trend of people mocking the wannabe cool Sanlitun rich kids who are walking the streets like it's their catwalk while pretending to be spotted by street photographers. It's always the anti-cool people who are actually the coolest..👇👏 pic.twitter.com/LnEOEdyzRE

— Manya Koetse (@manyapan) 24 juni 2019
Although this 'anti-trend' is meant in a mocking way, it is sometimes also a form of self-expression for young people for whom the Sanlitun-wannabe-models life is an extravagant and sometimes unattainable one.
More: pic.twitter.com/WpcDepTcYe

— Manya Koetse (@manyapan) 24 juni 2019
They don't need trendy streets and Chanel bags to pretend to be models: even the farm field can be their catwalk.
In the end, the anti-trend "models" on Chinese social media are arguably much cooler than the influencers pretending to be photographed. Not only do they convey a sense of authenticity, they also have something else that matters the most in order to be truly cool and attractive: a sense of humor.
Also read: From Mountains of Taishan to Faces of Amsterdam – Interview with Street Photographer Jimmy on the Run
Also read: Beijing Close-Up: Photographer Tom Selmon Crosses the Borders of Gender in China
By Manya Koetse
Follow @whatsonweibo
Spotted a mistake or want to add something? Please let us know in comments below or email us. Please note that your comment below will need to be manually approved if you're a first-time poster here.
©2019 Whatsonweibo. All rights reserved. Do not reproduce our content without permission – you can contact us at info@whatsonweibo.com
Nineteen Eighty-Four Turns 70: Orwellian China and Orwell in China
"We still need independent, courageous thinkers like George Orwell. We still need 1984."
First published
George Orwell's classic Nineteen Eighty-Four turned seventy this week. For a country that is labeled 'Orwellian' so often, it is perhaps surprising that the modern classic, describing a nightmarish totalitarian state, is well-read within the People's Republic of China and is not banned from its bookstores.
"Big Brother is Watching You" is the sentence that people around the world have come to know through the novel 1984 or Nineteen Eighty-Four, that turned 70 this week.
Nineteen Eighty-Four is a novel about a nightmare future in the year 1984. It takes place in a totalitarian state where the Party is central to people's everyday lives and where propaganda, surveillance, misinformation, and manipulation of the past are ubiquitous.
The book revolves around Winston Smith, a citizen of London, Oceania, who works at Minitrue (Ministry of Truth) and who secretly hates the society he lives in with its all-controlling Party, the 'Big Brother' leader, and the Thought Police.
Smith is critical of the workings of the Party and the lies it imposes, which then pass into history and become 'truth'; as the Party slogan goes: "Who controls the past, controls the future: who controls the present controls the past."
"Orwellian China"
There is probably no other country in the world that has been described as "Orwellian" in English-language media as often as China has over the past few years. According to Google Trends, 'China' currently is one of the most related topics people in the US are searching for when they type in the word 'Orwellian' on the search engine.
The topic recently most associated with Orwell's novel is that of China's Social Credit System. In October of 2018, US Vice President Mike Pence addressed China's nascent Social Credit System in a speech on China, calling it "an Orwellian system premised on controlling virtually every facet of human life" (Whitehouse.gov).
Since then, George Orwell and Nineteen Eighty-Four have been used more often to describe developments in China.
'Orwellian' and 'China' come up with more than 28,000 results in Google News alone, the term often being used with any PRC news that relates to technology, government control, and propaganda.
Ironically, many of the news reports addressing 'Orwellian China' and its Social Credit System (SCS) are, in the Orwellian tradition, spreading misinformation themselves, conflating different issues or presenting speculation as fact – see some examples of speculative reporting on the SCS in this list.
But also when reporting on China's growing mass camera surveillance, the Xinjiang internment camps, the launch of the 'Study Xi, Strengthen China' [Xuexi Qiangguo] app, or the increasing use of facial recognition, the comparison to George Orwell's 1949 classic is everywhere in the English language media world today.
一九八四: Orwell's Nineteen Eighty-Four in China
For a country that is labeled 'Orwellian' so often, it is perhaps surprising that Nineteen Eighty-Four is actually not censored or banned in the People's Republic of China (PRC).
Since the first PRC edition of the novel was published in 1979, it has become a famous and well-read work that is available for purchase in Chinese or English in all big bookstores in Chinese cities or online via e-commerce sites as Taobao.com.
The famous sentence "Big Brother is Watching You" translates to "Lǎo dàgē zài zhùshìzhe nǐ" ("老大哥在注视着你") in Mandarin, and often pops up on social media, together with terms such as "doublethink" (shuāngchóng sīxiǎng, 双重思想) or "Thought Police" (sīxiǎng jǐngchá 思想警察).
On Douban, an influential web portal that allows users to rate and review books, films, etc, various editions of Nineteen Eighty-Four (most of them translated by Dong Leshan 董乐山) have been rated with a 9.3 or higher by thousands of web users.
"I like this book, it's just a bit too dark for me," some reviewers write, with others just saying the book is "very scary," or seeing some resemblance with the classic works of Chinese authors such as Wang Xiaobo or Lu Xun.
WeChat blog Vopoenix recently stressed the importance of Nineteen Eighty-Four, writing that the novel is not anti-socialism per se: "What Orwell really opposes is fascism, totalitarianism, and nationalism (..), what he really supports is political democracy and social justice."
70 years later, totalitarianism still has not disappeared, the blog writes: "(..) instead, it has evolved with the times in a more secret way (..). We still need independent, keen and courageous thinkers like George Orwell. We still need 1984."
One Douban reviewer writes about their thoughts after reading Nineteen Eighty-Four, saying: "What scares me is that sometimes people will ridicule North Korea for being so shut off from the world, but what about us? We're like frogs at the bottom of a well, but the scary thing is, we don't even know we're in the well."
"Just a work of fiction to Chinese"?
Public sentiments about the 70-year-old Nineteen Eighty-Four novel bearing a resemblance to (present-day) China are seemingly growing stronger on Chinese social media recently. The book appears in online comments and discussions on a daily basis.
"I finished reading the book today," one Weibo commenter writes: "The biggest thought I had is: this book is very suitable for Chinese people to read."
"I can now imagine what those ten years were like," one Douban user posts, referring to the Cultural Revolution (1966-1976).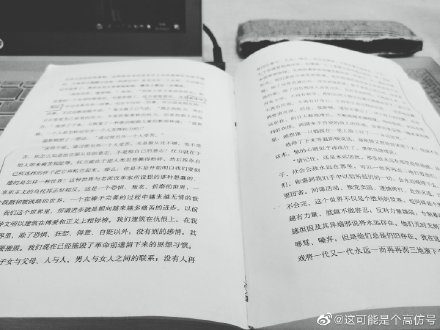 "Nineteen Eighty-Four is the first satirical book I've read that comes close to the situation in China. If you read it, you'll know what I mean," another reader writes.
Different from English-language (social) media, Chinese commenters are not mentioning the book in relation to the country's Social Credit System at all, but in relation to the heightened censorship that China has recently been seeing in light of the China-US trade war, the Tiananmen anniversary, and the Hong Kong protests.
One Weibo blogger writing a critique about the growing "bizarreness" of the "elephant in the room" (referring to all those big China-related issues that cannot be discussed on social media due to censorship) attracted the attention of Chinese netizens earlier this week (see the full translation of post here).
Many commenters spoke about the Weibo post in relation to Nineteen Eighty-Four, especially when the post addressing the censorship was censored itself.
Others also wrote that it seemed "like a miracle" that the book was not banned in China, and some suggested it might still happen in the future.
"It will be forbidden very soon," one Weibo commenter speculates.
"The future is becoming more difficult, really," one netizen recently wrote: "It's nearing 1984 (一九八四), and [we] might not be able to see it later."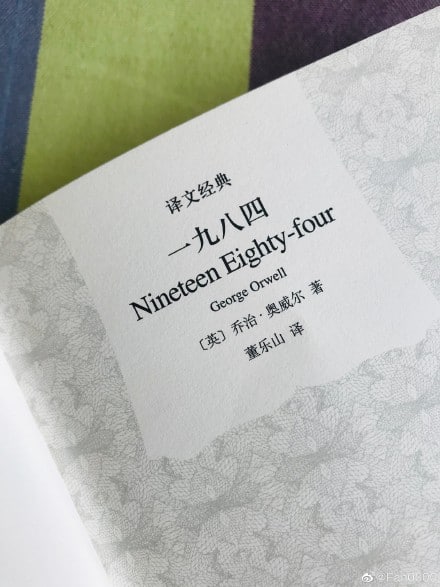 But, in Chinese online media, Nineteen Eighty-Four is by no means only mentioned in relation to China. There are also those blogs or news articles that mention the Orwellian aspects of the story of Edward Snowden, or connect Orwell to Trump's America.
In late 2018, state tabloid Global Times denounced the ubiquitous Western media reports on "Orwellian China." Author Yu Jincui wrote:
"Orwell's Nineteen Eighty-Four is a classic to Westerners, but it is just a work of fiction to Chinese and they are fed up with Orwellian style preaching from Western elites. This kind of conversation will lead nowhere."
But many netizens do not agree with the fictional part. "Nineteen Eighty-Four is not a work of fiction, it is a record of our future," one Weibo user writes.
"Is Big Brother watching me?" others wonder.
"The first time I read it, I just read it," another Douban user says: "The second time I read it, I really started to understand. Here's to George Orwell!"
Despite all speculation on social media, there are no indications that Nineteen Eighty-Four will be banned from China any time soon.
For now, even 70 years after its first publication and 40 years after its first Chinese translation, readers in the People's Republic can continue to devour and discuss Orwell's classic work and the mirror it holds up to present-day China, America, Europe, and the world today.
By Manya Koetse
Follow @whatsonweibo
PS: Some recommended reading on Social Credit in English:
* Creemers, Rogier. 2018. "China's Social Credit System: An Evolving Practice of Control."May 9. Available at SSRN: https://ssrn.com/abstract=3175792.
* Dai, Xin. 2018. "Toward a Reputation State: The Social Credit System Project of China." June 10, available at SSRN: https://ssrn.com/abstract=3193577 or http://dx.doi.org/10.2139/ssrn.3193577.
* Daum, Jeremy. 2017. "China through a glass, darkly." China Law Translate, Dec 24 https://www.chinalawtranslate.com/seeing-chinese-social-credit-through-a-glass-darkly/?lang=en [24.5.18].
* Daum, Jeremy. 2017. "Giving Credit 2: Carrots and Sticks." China Law Translate, Dec 15 https://www.chinalawtranslate.com/giving-credit-2-carrots-and-sticks/?lang=en [27.5.18].
* Horsley, Jamie. 2018. "China's Orwellian Social Credit Score Isn't Real." Foreign Policy, Nov 16 https://foreignpolicy.com/2018/11/16/chinas-orwellian-social-credit-score-isnt-real/ [10.6.19].
* Koetse, Manya. 2018. "Insights into the Social Credit System on Chinese Online Media vs Its Portrayal in Western Media." What's on Weibo, Oct 30 https://www.whatsonweibo.com/insights-into-the-social-credit-system-on-chinese-online-media-and-stark-contrasts-to-western-media-approaches/
* Koetse, Manya. 2018. "Open Sesame: Social Credit in China as Gate to Punitive Measures and Personal Perks." What's on Weibo, May 27 https://www.whatsonweibo.com/open-sesame-social-credit-in-china-as-gate-to-punitive-measures-and-personal-perks/.
* Kostka, Genia. 2018. "China's Social Credit Systems and Public Opinion: Explaining High Levels of Approval" SSRN, July 23. Available at https://ssrn.com/abstract=3215138 or http://dx.doi.org/10.2139/ssrn.3215138 [29.10.18].
Spotted a mistake or want to add something? Please let us know in comments below or email us. Please note that your comment below will need to be manually approved if you're a first-time poster here.
©2019 Whatsonweibo. All rights reserved. Do not reproduce our content without permission – you can contact us at info@whatsonweibo.com