"I'm So Qiou" – The New Chinese 'Character of the Year' is 'Dirt-Poor & Ugly'
If there is one single word for being 'dirt-poor' and 'ugly' it would be 'qiou' – a character many self-mocking young Chinese say they identify with.
A new (unofficially) elected 'character of the year' of 2018 is qiou, a creative combination of 'dirt-poor' and 'ugly.' Many self-mocking netizens identify with the new online word.
A new Chinese character, created by netizens, has become all the rage on social media this week.
The character is a combination of two characters, namely '穷' (qióng) and '丑' (chǒu). The first (穷) literally means 'poor,' whereas the second (丑) is used to describe something ugly.
The pinyin of this new character would be 'qiou', which mixes qióng and chǒu. Unsurprisingly, the meaning of the new character is something like being 'poor-ugly.'
Actually, there is a third character hiding among those strokes: '土' (tǔ), which means earth, soil or dust. So the added meaning of the newly created character would not just be poor and ugly, but dirt-poor and ugly.
In a time of staggering house prices and unrealistic beauty ideals, 'qiou' is a character that "suits our time," according to many on Weibo, who say the character 'describes their current situation.'
"The time of our youth was a happy one," one netizen poetically states: "Because it was not yet clear to us at the time, how poor and ugly we were."
The character became all the rage when it was dubbed "the character of 2018" ("2018年度汉字") by Chinese media outlet Modern Express (现代快报), selected by netizens.
The word has become popular among self-mocking young social media users, who come out saying: "I'm qiou [我qiou]."
According to some, the word should be pronounced in the third tone. They identify so much with the word, that the word for "I" ('wǒ'), which is also in the third tone, is also somehow included in 'qiou' by making it a third tone pronunciation.
Some Weibo users share the state of their Wechat wallet online, only adding: "I'm so qiou."
It is not the first time that new words or characters are being made up on Chinese social media or in popular culture. Online language is changing constantly, with new creative words, expressions, and characters being added to the online slanguage all the time (also see these popular terms).
In 2015, one new character and word that entered the online language sphere was duang, a term that became popular after Jackie Chan used it in a shampoo commercial in 2004 and a creative netizen made a remix of it 11 years later. Despite the fact that was somewhat unclear what 'duang' meant (it was more of a feeling, perhaps), the word became an absolute hype.
As for 'qiou' – the word cannot be typed out in Chinese characters, nor is there any indication it will ever be included in an official Chinese dictionary. But that's no problem for many: "This is the first new character I've come across I do not need to look up, because I could understand its meaning straight away."
By Crystal Fan and Manya Koetse, with contributions from Miranda Barnes
Follow @whatsonweibo
Spotted a mistake or want to add something? Please let us know in comments below or email us.
©2018 Whatsonweibo. All rights reserved. Do not reproduce our content without permission – you can contact us at info@whatsonweibo.com
The Mulan Makeup Challenge: Traditional Chinese Makeup Goes Trending
Recreating the Mulan make-up look was the biggest beauty challenge on Chinese social media this July.
Will traditional Chinese make-up make a comeback because of Disney's Mulan?
Since Disney released the official trailer for its live-action Mulan movie earlier this month, Mulan is recurringly appearing in the top trending lists on Chinese social media.
Among all the different topics relating to the upcoming Mulan movie, the Mulan make-up challenge is one that jumps out this month.
The Disney live-action trailer showed a scene in which Mulan, played by Chinese American actress Crystal Liu Fei (刘亦菲), has a full face of betrothal makeup. The original animated Disney movie also features a full makeup Mulan.
Although there was also online criticism of the 'exaggerated' makeup, there are many people who appreciate Mulan's colorful makeup look.
On Weibo, many showed off their skills in copying Mulan's makeup look this month.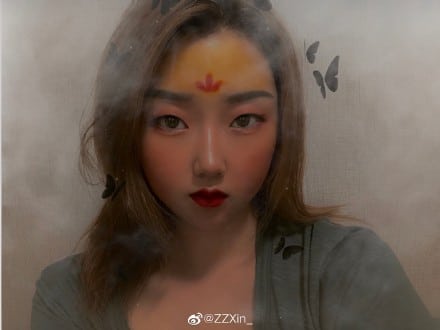 By now, the hashtags "Mulan Makeup Imitation" (#花木兰仿妆#) and "Mulan Makeup Imitation Contest" (#花木兰仿妆大赛#) have attracted over 300 million views.
Makeup such as lipstick has been used in China as far back as two or three thousand years ago.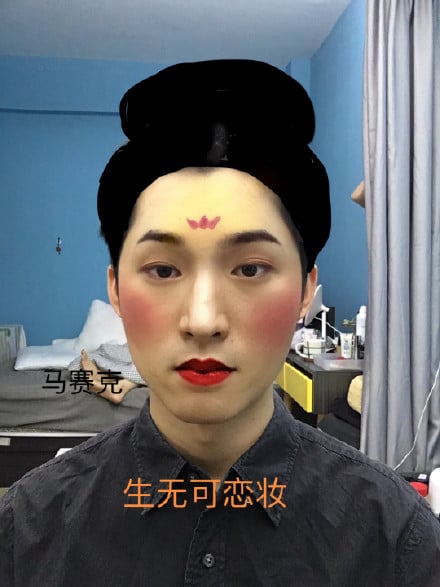 Makeup vlogger Emma Zhou explains more about Tang Dynasty (618-907) makeup customs here; the skin would be whitened with rice flower, followed by the application of 'blush' (pigment of strong-colored flowers) to the cheeks and eyes in a round shape, to emphasize the roundness of the face.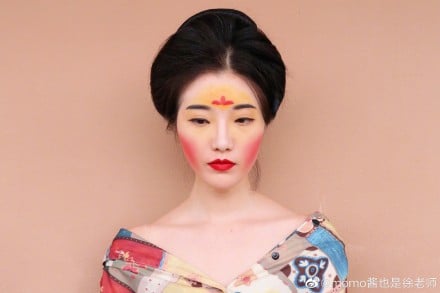 A floral-like decoration would be placed in between the eyebrows.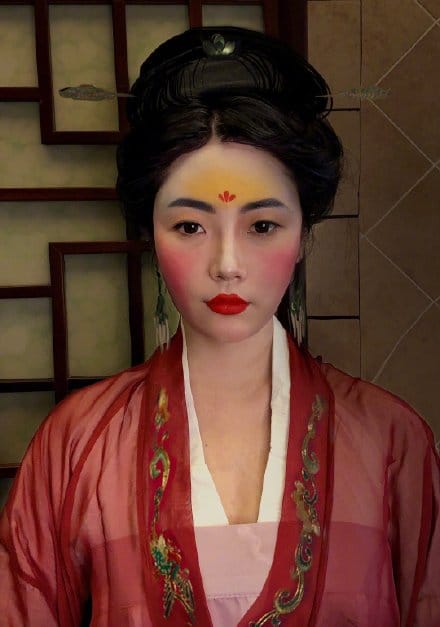 The yellow forehead, as can be seen in the live-action Mulan, is also known as "Buddha's makeup," and was especially popular among ladies during the Tang Dynasty. A yellow aura on the forehead was believed to be auspicious (Schafer 1956, 419).
Although contemporary Chinese makeup trends are much different than those depicted in Mulan, traditional makeup seems to make somewhat of a come-back because of the Disney movie, with hundreds of Chinese netizens imitating the look.
Beauty bloggers such as Nico (@黎千千Nico, image below) receive much praise from Weibo users for their makeup look. Nico wrote: "I even opened the door for the delivery guy this way!"
It is not just girls imitating the look; there are also some boys showing off their Mulan makeup.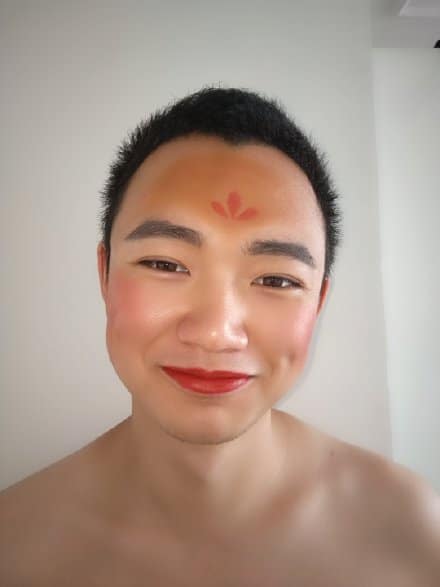 Although many still find the Mulan makeup look exaggerated and even "laughable," there are also those who think it looks really "cool" – of course, depending on whether or not the application is successful.
Want to try it out for yourself? There are various amateur tutorials available on Youtube (in Chinese), such as here, here, or here.
The Mulan make-up hype will probably continue in 2020; the Mulan movie will come out in late March.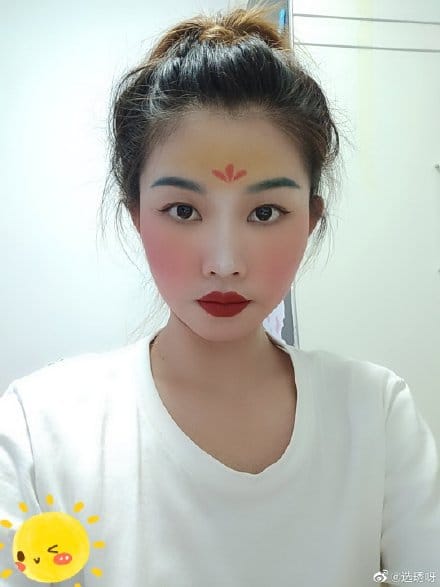 To read more about Mulan, please see our latest feature article on Mulan here.
By Manya Koetse
Follow @whatsonweibo
References
Schafer, Edward H. 1956. "The Early History of Lead Pigments and Cosmetics in China." T'oung Pao, Second Series, 44, no. 4/5: 413-38. http://www.jstor.org/stable/4527434.
Spotted a mistake or want to add something? Please let us know in comments below or email us. Please note that your comment below will need to be manually approved if you're a first-time poster here.
©2019 Whatsonweibo. All rights reserved. Do not reproduce our content without permission – you can contact us at info@whatsonweibo.com
Weibo Blows Up after Fan Bingbing Announces Breakup
It's been a tough year for Chinese celebrity Fan Bingbing.
First published
Two years after their engagement, Chinese actress Fan Bingbing and actor Chen Li have announced their breakup.
On the night of June 27 (China Standard Time), news came out that Chinese actress Fan Bing Bing is breaking up with her partner, Chinese actor Chen Li.
It was Fan herself who announced the separation through a post on social media, writing:
"We go through all kinds of farewells during our lifetime. The love and warmth we gain throughout our encounters become everlasting forces. I want to thank you for all the love and support you've given me. Thank you for your care and love in the future. We are no longer 'we', but we are still ourselves."
The post soon received over 180,000 comments and more than 650,000 likes.
Chen Li also posted a message on his Weibo account, saying:
"From friends to lovers, and now back to friends. Emotions can change, but the purest feeling between you and me will not change. The trust and support we have for each other will always be there. We are no longer 'we', but we are still ourselves."
This breakup comes after a difficult year in Fan's career. In summer of 2018, the 37-year-old actress was at the center of a social media storm due to a tax evasion scandal.
She disappeared from the public eye for months, and then returned with an emotional apology on Weibo.
The announcement of the split has triggered thousands of reactions on Weibo, where the hashtag "Fan Bingbing and Li Chen Split Up" (#范冰冰李晨分手#) had received 380 million views by Thursday night.
At time of writing, the breakup is dominating Weibo's top trending topics, with many netizens commenting that Weibo is 'exploding' and that Weibo servers must be overheating due to the celebrity news.
It is often celebrity news that causes Weibo to blow up. A recent incident of Chinese teen idol smoking inside a Beijing restaurant also triggered millions of views and comments.
When Chinese singer and actor Lu Han announced his relationship with actress Guan Xiaotong in 2017, it even led to a rare temporary breakdown of Weibo's servers.
By Manya Koetse
Spotted a mistake or want to add something? Please let us know in comments below or email us. Please note that your comment below will need to be manually approved if you're a first-time poster here.
©2019 Whatsonweibo. All rights reserved. Do not reproduce our content without permission – you can contact us at info@whatsonweibo.com