"I'm So Qiou" – The New Chinese 'Character of the Year' is 'Dirt-Poor & Ugly'
If there is one single word for being 'dirt-poor' and 'ugly' it would be 'qiou' – a character many self-mocking young Chinese say they identify with.
A new (unofficially) elected 'character of the year' of 2018 is qiou, a creative combination of 'dirt-poor' and 'ugly.' Many self-mocking netizens identify with the new online word.
A new Chinese character, created by netizens, has become all the rage on social media this week.
The character is a combination of two characters, namely '穷' (qióng) and '丑' (chǒu). The first (穷) literally means 'poor,' whereas the second (丑) is used to describe something ugly.
The pinyin of this new character would be 'qiou', which mixes qióng and chǒu. Unsurprisingly, the meaning of the new character is something like being 'poor-ugly.'
Actually, there is a third character hiding among those strokes: '土' (tǔ), which means earth, soil or dust. So the added meaning of the newly created character would not just be poor and ugly, but dirt-poor and ugly.
In a time of staggering house prices and unrealistic beauty ideals, 'qiou' is a character that "suits our time," according to many on Weibo, who say the character 'describes their current situation.'
"The time of our youth was a happy one," one netizen poetically states: "Because it was not yet clear to us at the time, how poor and ugly we were."
The character became all the rage when it was dubbed "the character of 2018" ("2018年度汉字") by Chinese media outlet Modern Express (现代快报), selected by netizens.
The word has become popular among self-mocking young social media users, who come out saying: "I'm qiou [我qiou]."
According to some, the word should be pronounced in the third tone. They identify so much with the word, that the word for "I" ('wǒ'), which is also in the third tone, is also somehow included in 'qiou' by making it a third tone pronunciation.
Some Weibo users share the state of their Wechat wallet online, only adding: "I'm so qiou."
It is not the first time that new words or characters are being made up on Chinese social media or in popular culture. Online language is changing constantly, with new creative words, expressions, and characters being added to the online slanguage all the time (also see these popular terms).
In 2015, one new character and word that entered the online language sphere was duang, a term that became popular after Jackie Chan used it in a shampoo commercial in 2004 and a creative netizen made a remix of it 11 years later. Despite the fact that was somewhat unclear what 'duang' meant (it was more of a feeling, perhaps), the word became an absolute hype.
As for 'qiou' – the word cannot be typed out in Chinese characters, nor is there any indication it will ever be included in an official Chinese dictionary. But that's no problem for many: "This is the first new character I've come across I do not need to look up, because I could understand its meaning straight away."
By Crystal Fan and Manya Koetse, with contributions from Miranda Barnes
Follow @whatsonweibo
Spotted a mistake or want to add something? Please let us know in comments below or email us.
©2018 Whatsonweibo. All rights reserved. Do not reproduce our content without permission – you can contact us at info@whatsonweibo.com
When Hotpot Gets Really Hot: Haidilao Customers Shocked by Steamy TV
Haidilao is taking its customer service to a whole new level.
First published .
Customers dining at a Haidilao hotpot restaurant in Wuhan on January 5th were shocked when the big television screen in the restaurant, usually used for showing Haidilao ads, suddenly showed an X-rated film.
Haidilao is China's most famous hotpot chain, and is usually known for its excellent service. On busy nights, people stand in line for hours at the Haidilao restaurants, that are always packed full of people enjoying the good food and outstanding hospitality.
The incident, that happened on Saturday afternoon at the restaurant's Great Ocean mall location, has now made its rounds on Chinese social media after one Haidilao customer shared photos of the embarrassing moment on Weibo. At time of writing, the hashtag "Haidilao TV shows vulgar scene" (#海底捞电视播不雅画面#) has received more than 240 million views.
Waiters at the restaurant were fast to turn off the television. According to some online reports, a reporter visited the restaurant a few hours after the incident happened, and confirmed the television was still turned off at night.
On Sunday, January 6, Haidilao issued a statement in which the restaurant apologized to the customers for the "vulgar content" that was displayed on the television, and that police are investigating the case. Online pornography is banned in China, and spreading X-rated films is illegal.
It is yet unsure how the film ended up on the restaurant's screen, and whether it was a Haidilao employee who was watching the video and then made a mistake, or that a customer was using IR or Bluetooth on their smartphone and (purposely) connected it to their screen.
The incident has provoked hilarity on social media, where some netizens suggest that the X-rated film perhaps was a "customer demand" and that "Haidilao's service is beyond expectations," or that people were "eating and getting hard."
The incident, as of now, does not seem to negatively affect people's love for the Haidilao brand. "Please don't close it down, I still want to eat hotpot," some netizens comment, while others simply state: "Haidilao, I'm coming!"
(PS Want to know more about steamy hotpots? Check out What's on Weibo's sister site Hotpot Ambassador!)
By Manya Koetse and Miranda Barnes
Spotted a mistake or want to add something? Please let us know in comments below or email us.
©2019 Whatsonweibo. All rights reserved. Do not reproduce our content without permission – you can contact us at info@whatsonweibo.com
This is "Chinese Santa": Weibo Launches Lei Bao 'Santa Claus' Emoticon for Christmas
The Chinese Santa emoticon is here!
On Christmas day, Sina Weibo released a new emoticon in the image of a character named Lei Bao (雷豹, literally 'thunder leopard') from the 1990s comedy movie Hail the Judge (九品芝麻官), for his costumes, beard, and impressive eyebrows, that bear some resemblance to Santa Claus.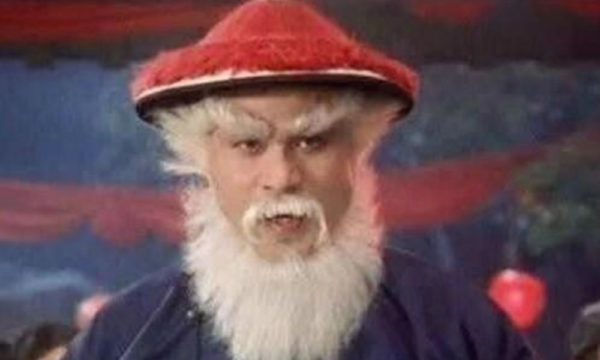 The emoticon was created by the cartoonist @大绵羊BOBO after social media users started using images of 'Lei Bao' to celebrate Christmas on Weibo and WeChat, writing: "It is said that Santa is a man with a white beard wearing a red hat."
The Chinese actor Xu Jinjiang (@徐锦江/Elvis Tsui), who played this entertaining character in the movie, posted a response on his Weibo saying: "Best wishes to you all from an old man with white beard and wearing on Christmas."
According to an online announcement issued on the official account of the Sina Weibo content center, the social media website first received permission from the emoticon's creator and from Xu Jinjiang to launch the image, and then posted a message to look for the copyright owner of the movie.
Later, Tiffany Chen (@向太Tiffany陳嵐), wife of Win's Entertainment founder Charles Heung Wah-Keung (向华强), the copyright holder of the movie, replied on Weibo and gave permission to launch the emoticon online.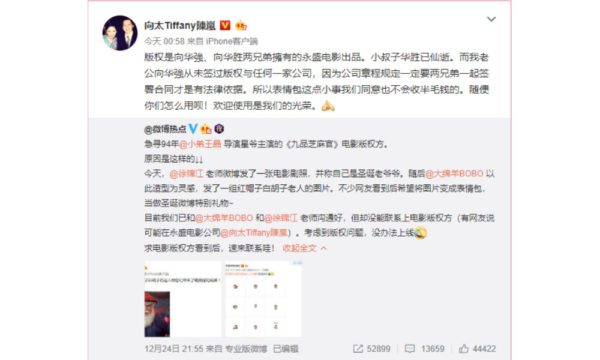 Within less than 24 hours, Weibo managed to solve the copyright issue and to release the emoticon online – just in time for Christmas.
In response to the 'Chinese Santa' emoticon, two hashtags became popular on Weibo: "Weibo Santa Claus Emoticon" (#微博圣诞老人表情#) and "Christmas Emoticon of Xu Jinjiang" (#圣诞徐锦江表情包#), attracting some 370 million views in total on Weibo at time of writing.
Thousands of netizens have started to use the new emoticon and joke around with it, with many expressing some Christmas joy over this new 'Chinese Santa,' that will undoubtedly make a comeback next year again.
By Wendy Huang
Follow @whatsonweibo
Spotted a mistake or want to add something? Please let us know in comments below or email us.
©2018 Whatsonweibo. All rights reserved. Do not reproduce our content without permission – you can contact us at info@whatsonweibo.com