"I'm So Qiou" – The New Chinese 'Character of the Year' is 'Dirt-Poor & Ugly'
If there is one single word for being 'dirt-poor' and 'ugly' it would be 'qiou' – a character many self-mocking young Chinese say they identify with.
A new (unofficially) elected 'character of the year' of 2018 is qiou, a creative combination of 'dirt-poor' and 'ugly.' Many self-mocking netizens identify with the new online word.
A new Chinese character, created by netizens, has become all the rage on social media this week.
The character is a combination of two characters, namely '穷' (qióng) and '丑' (chǒu). The first (穷) literally means 'poor,' whereas the second (丑) is used to describe something ugly.
The pinyin of this new character would be 'qiou', which mixes qióng and chǒu. Unsurprisingly, the meaning of the new character is something like being 'poor-ugly.'
Actually, there is a third character hiding among those strokes: '土' (tǔ), which means earth, soil or dust. So the added meaning of the newly created character would not just be poor and ugly, but dirt-poor and ugly.
In a time of staggering house prices and unrealistic beauty ideals, 'qiou' is a character that "suits our time," according to many on Weibo, who say the character 'describes their current situation.'
"The time of our youth was a happy one," one netizen poetically states: "Because it was not yet clear to us at the time, how poor and ugly we were."
The character became all the rage when it was dubbed "the character of 2018" ("2018年度汉字") by Chinese media outlet Modern Express (现代快报), selected by netizens.
The word has become popular among self-mocking young social media users, who come out saying: "I'm qiou [我qiou]."
According to some, the word should be pronounced in the third tone. They identify so much with the word, that the word for "I" ('wǒ'), which is also in the third tone, is also somehow included in 'qiou' by making it a third tone pronunciation.
Some Weibo users share the state of their Wechat wallet online, only adding: "I'm so qiou."
It is not the first time that new words or characters are being made up on Chinese social media or in popular culture. Online language is changing constantly, with new creative words, expressions, and characters being added to the online slanguage all the time (also see these popular terms).
In 2015, one new character and word that entered the online language sphere was duang, a term that became popular after Jackie Chan used it in a shampoo commercial in 2004 and a creative netizen made a remix of it 11 years later. Despite the fact that was somewhat unclear what 'duang' meant (it was more of a feeling, perhaps), the word became an absolute hype.
As for 'qiou' – the word cannot be typed out in Chinese characters, nor is there any indication it will ever be included in an official Chinese dictionary. But that's no problem for many: "This is the first new character I've come across I do not need to look up, because I could understand its meaning straight away."
By Crystal Fan and Manya Koetse, with contributions from Miranda Barnes
Follow @whatsonweibo
Spotted a mistake or want to add something? Please let us know in comments below or email us.
©2018 Whatsonweibo. All rights reserved. Do not reproduce our content without permission – you can contact us at info@whatsonweibo.com
Love at First Sight? Man Attempts to Sue Woman after Instant Crush at Beijing Bookstore
After waiting for 50 days to see her again, the man decided to sue a woman he met at a bookstore to trace her down.
Every now and then, romantic trending stories pop up on Chinese social media in which people try to reconnect with people they've met. But the story of Mr. Sun, who tried to find the girl he met in a bookstore by suing her, has caused unease among netizens.
When a man named Sun saw a young woman during a visit to the Wangfujing bookstore in Beijing, it was love at first sight for him.
He first saw the woman in the afternoon of September 24th in the well-known bookstore, where she was wearing a yellow hoodie and "skin-colored stockings." The two allegedly had prolonged eye contact, which is when he realized he had a special connection with her, according to Chinese news platform Pear Beijing.
Within no time, he lost sight of the girl, and was not able to find her again. Without knowing her name, age, or other details, the search for the woman was virtually impossible.
But Sun was reportedly so desperate to see the young lady again, that he went back to the store in the fifty following days to wait for her. Since the man went to the bookstore instead of to work, he had to borrow money from friends and family to sustain a living.
According to Chinese media, Sun has waited in the store all those days from 11 in the morning to 7 in the evening.
On December 10th, the man went down to the local Dongcheng courthouse in order to sue the woman, hoping to find her through the legal system.
According to the petition for appeal, the man sought to sue the woman for emotional distress. By tracing her down through the legal system, he further hoped to get some answers that would "solve his mental anguish."
The Dongcheng courthouse, however, has advised the man not to sue the woman, and his case was not accepted. Sun now says he will think of another way to find the woman – whom he thinks might be the love of his life, – telling reporters that he will "figure out other ways if the normal way is not working."
On Weibo, Sun's case has received a lot of attention today. One Toutiao News post dedicated to the story received almost 30,000 shares and over 40,000 comments at the time of writing.
More than 170 million people have now viewed the Weibo hastag "Man Attempts to Sue the Person He's Looking for" (#男子欲起诉寻人#).
Many netizens think there is nothing romantic about this story. Instead, they label Sun as a "maniac" and are worried about the safety of the girl if he were to find her. One Weibo user writes: "This is sexual harassment, not LOVE. He is a stalker, and totally has no respect for the girl. The girl should stay far away from him."
Others suggest that reporters should find out more about the man and his situation. In the papers he prepared for court, which were readable in the Pear Video report of the case, he wrote down that he "possibly lost the love of life, as well as the meaning of life," leading to some worrying about the man's mental well-being.
In 2016, another bizarre love story also went trending on Chinese social media, involving a Dutchman who waited for over ten days at Changsha airport in hopes of meeting his online Chinese girlfriend – who failed to show up. After eating nothing but instant noodles and sleeping on airport benches, the man was even admitted to the local hospital due to physical exhaustion.
For that Dutchman, the story unexpectedly took a happy turn when it was widely reported in Chinese media. It turned out that due to poor communication, the 'online girlfriend' did not know the Dutchman was waiting for her, and still wished to pursue a romantic relationship with him.
As for Sun, if it were up to the people in the social media comments sections, he will never find his "true love" again. "Girl, if you see this Weibo post, please remember how this guy looks, and stay far, far away from him," one popular blogger writes.
By Manya Koetse and Wendy Huang
Follow @whatsonweibo
Spotted a mistake or want to add something? Please let us know in comments below or email us.
©2018 Whatsonweibo. All rights reserved. Do not reproduce our content without permission – you can contact us at info@whatsonweibo.com
"A Hundred Reasons to Eat Bamboo Rats": The Story of Two Farmers Who Became Internet Celebrities
Within days, the vlogs of two farmers using ridiculous selecting criteria for animal consumption racked millions of views.
In the past months, two farmers called "the Magnificent Farm Brothers" (华农兄弟) have become an internet sensation by vlogging their day-to-day life on a bamboo rat breeding farm in southern China, where these rodents are served as a delicacy. Their propensity to always find a pretext, no matter how ridiculous, for eating their own animals, has amused millions of netizens.
They are China's most popular farmers of the past year: "The Magnificent Farm Brothers" Liu (刘) and Hu (胡).
It all started a few months ago when the two started vlogging about their day-to-day life on a bamboo rat breeding farm in Ganzhou, Jiangxi Province. The script hardly changes and is loaded with clickbait potential: Hu films his 29-year-old companion Liu doting on a cute-looking bamboo rat before finding an excuse to mercilessly execute and eat it.
Under the hashtag "A Hundred Reasons to Eat Bamboo Rats," (#吃竹鼠的一百种理由#), with over 160 million views on Weibo, netizens have compiled countless scenes of the duet's rat-gobbling.
There is no doubt that the comical value lies in Liu's excuse-making. In one scene, a rat hasn't eaten for three days due to a depression – Liu, feigning mercy, hastily concludes that he should put it out of its misery by eating it. Be it heat stroke, internal injuries, or some other health problem, Liu's diagnosis for every rodent is always the same.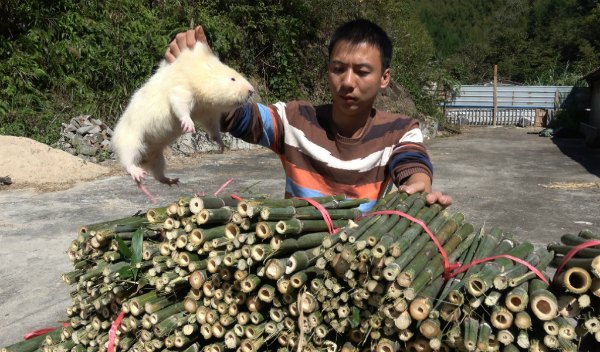 Aside from the gales of laughter incited by such provoking scenes, the duet's vlog has also provided a business boost. In an interview with a local TV station, the two farmers stated that they started vlogging with the intention of turning the bamboo rat into a popular culinary delicacy.
Since going viral, the two farmers have been receiving orders for their bamboo rats from all over the country. The spike in demand for bamboo rat consumption has also benefited the two farmers' co-workers – according to an article in the China Daily, the wages of other bamboo rat breeders have also increased thanks to the duet's online following.
But the vlogs show more than just the farmer's arbitrarily deciding which rat to kill next. To spare viewers, Liu kills the rodent off-screen, after which he resumes vlogging, explaining how to prepare a succulent meal of bamboo rat –marinate the dead rodent, stuff it with vegetables, then roast until cooked throughout.  The devouring of the meat is not left out, as viewers get to see the two farmers tuck into the so-called delicacies.
The false pretexts for animal-killing apply to anything that moves, not just bamboo rats. In one vlog, Liu catches a chicken, saying he'd better eat it since it might have caught a cold from last night's rain. Ducks and pigs also receive a similar treatment. In some vlogs, Liu's dogs make an appearance – but these he doesn't eat (yet).
Netizens' Reactions
The video channel of the "Magnificent Farm Brothers" on Bilibili, a Chinese video streaming website, has over 150 million views and 2.1 million subscribers to date.
A series of gags and memes have emerged from these viral vlogs. Some netizens joke that their own lives have a lot in common with the tragic fate of the little rodents that end up in Liu's belly.
Others joke that Liu's tendency to praise his livestock as "beautiful" or "cute" before devouring them highlights the danger of being deemed attractive, to the point where refusing to accept being complimented as good-looking is a necessary survival measure.
(Image below: "You are very beautiful!", "No, I'm not, I'm really not, I'm not pretty.")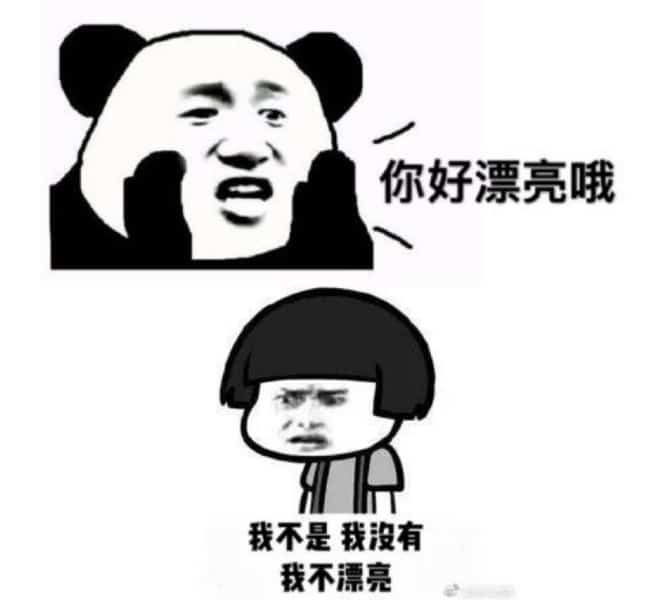 One Weibo post with over 64 thousand likes reads "these are the scariest moments of my life," followed by pictures of farmer Liu saying "you are so cute," "I heard you got wet in the rain last night," "I heard you got injured," etc.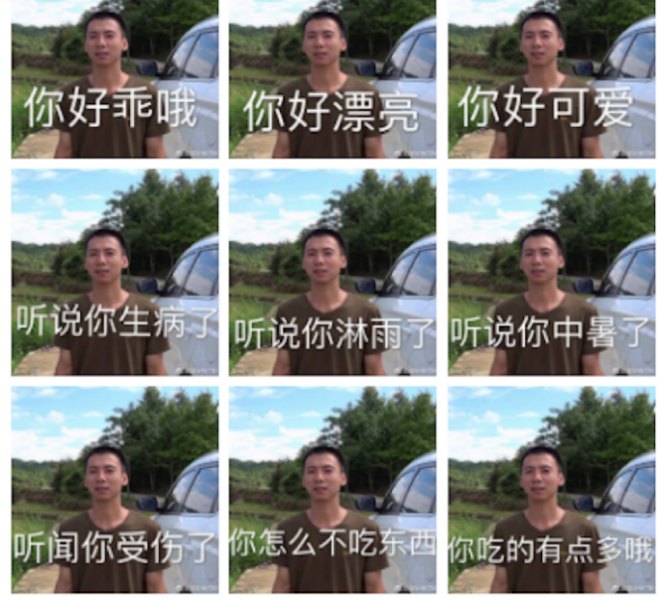 The two farmers may have become one of the biggest internet sensations this past year, but they have reacted calmly to their popularity. During a TV interview, the two commented:
"At first, we were somewhat afraid that our popularity would perhaps disturb our quiet life on the farm. But fortunately, this is not the case."
In any case, the duet has publicly expressed gratitude towards their fans, vowing to continue making videos of their skit-like, countryside life.
With animal activists nowhere to be seen, the success of the "Magnificent Farm Brothers" shows yet again the Chinese Internet's magnetic attraction to gruesome content and irony-packed humor.
Want to judge for yourself? Check out some vlogs (no English subtitles) on Youtube here, here, or here.
By Gabi Verberg, edited by Eduardo Baptista.
Follow @whatsonweibo
Spotted a mistake or want to add something? Please let us know in comments below or email us.
©2018 Whatsonweibo. All rights reserved. Do not reproduce our content without permission – you can contact us at info@whatsonweibo.com