"I'm So Qiou" – The New Chinese 'Character of the Year' is 'Dirt-Poor & Ugly'
If there is one single word for being 'dirt-poor' and 'ugly' it would be 'qiou' – a character many self-mocking young Chinese say they identify with.
A new (unofficially) elected 'character of the year' of 2018 is qiou, a creative combination of 'dirt-poor' and 'ugly.' Many self-mocking netizens identify with the new online word.
A new Chinese character, created by netizens, has become all the rage on social media this week.
The character is a combination of two characters, namely '穷' (qióng) and '丑' (chǒu). The first (穷) literally means 'poor,' whereas the second (丑) is used to describe something ugly.
The pinyin of this new character would be 'qiou', which mixes qióng and chǒu. Unsurprisingly, the meaning of the new character is something like being 'poor-ugly.'
Actually, there is a third character hiding among those strokes: '土' (tǔ), which means earth, soil or dust. So the added meaning of the newly created character would not just be poor and ugly, but dirt-poor and ugly.
In a time of staggering house prices and unrealistic beauty ideals, 'qiou' is a character that "suits our time," according to many on Weibo, who say the character 'describes their current situation.'
"The time of our youth was a happy one," one netizen poetically states: "Because it was not yet clear to us at the time, how poor and ugly we were."
The character became all the rage when it was dubbed "the character of 2018" ("2018年度汉字") by Chinese media outlet Modern Express (现代快报), selected by netizens.
The word has become popular among self-mocking young social media users, who come out saying: "I'm qiou [我qiou]."
According to some, the word should be pronounced in the third tone. They identify so much with the word, that the word for "I" ('wǒ'), which is also in the third tone, is also somehow included in 'qiou' by making it a third tone pronunciation.
Some Weibo users share the state of their Wechat wallet online, only adding: "I'm so qiou."
It is not the first time that new words or characters are being made up on Chinese social media or in popular culture. Online language is changing constantly, with new creative words, expressions, and characters being added to the online slanguage all the time (also see these popular terms).
In 2015, one new character and word that entered the online language sphere was duang, a term that became popular after Jackie Chan used it in a shampoo commercial in 2004 and a creative netizen made a remix of it 11 years later. Despite the fact that was somewhat unclear what 'duang' meant (it was more of a feeling, perhaps), the word became an absolute hype.
As for 'qiou' – the word cannot be typed out in Chinese characters, nor is there any indication it will ever be included in an official Chinese dictionary. But that's no problem for many: "This is the first new character I've come across I do not need to look up, because I could understand its meaning straight away."
By Crystal Fan and Manya Koetse, with contributions from Miranda Barnes
Follow @whatsonweibo
Spotted a mistake or want to add something? Please let us know in comments below or email us.
©2018 Whatsonweibo. All rights reserved. Do not reproduce our content without permission – you can contact us at info@whatsonweibo.com
When Weibo Stopped Updating Its Trending Topics List…
..Chinese netizens made the super-popular reality show "Sisters Who Make Waves" go viral anyway.
Sina Weibo stopped updating its trending topics list from June 10 to June 17 in compliance with an order from the Cyberspace Administration of China (CAC) for "disrupting online communication order" and "spreading illegal information."
During the seven day suspension, Weibo users had no access to the list of the most popular search terms and topics, which, similar to Twitter, appears in the feed or sidebar of the user interface.
One new reality show, however, became all the rage among Chinese web users and inspired some trending hashtags.
The popular reality show, titled Sisters Who Make Waves (乘风波浪的姐姐) was produced by Mango TV. The show follows the idea of idol group reality shows such as Youth with You (青春有你) produced by iQIYI.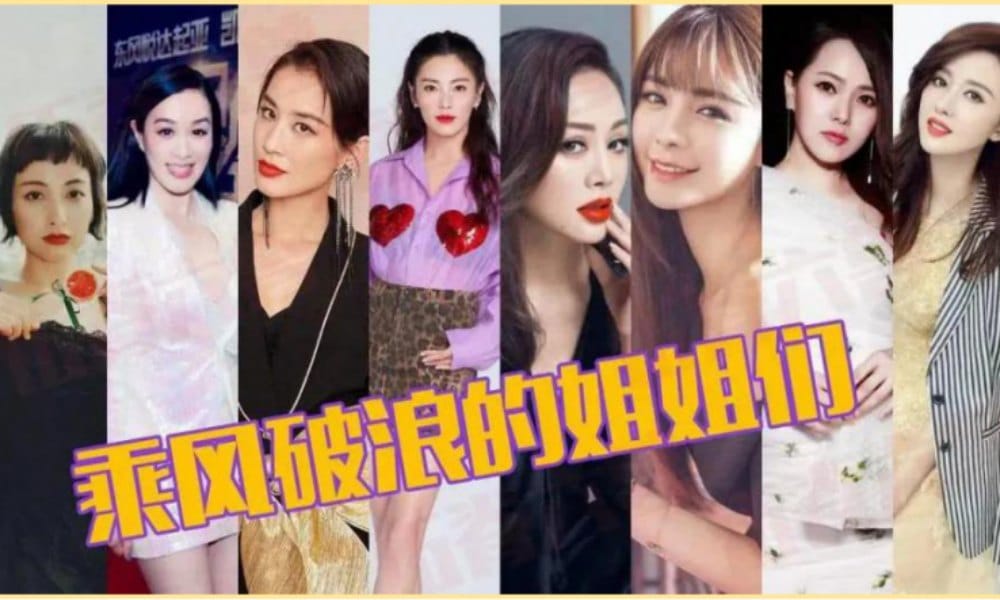 What makes the show different from other Chinese idol reality shows, is that all thirty contestants are familiar faces in the entertainment industry. These thirty 'sisters' are all singers, dancers, and actresses over the age of thirty, with some of them having made their debut a decade ago.
The first episode of the show premiered on June 12 11:50 AM, during Friday's working hours. Though its launch date and time were not even pre-announced on the show's official Weibo account, the premiere still raised heated discussions and soon became 'trending' – but with Weibo's temporary ban on trending lists, the topics were not displayed in any lists on the site.
Netizens found original ways to still show their big interest in this show and make it go viral.
Some Weibo users, for example, made "handwritten lists of 'Sisters Who Make Waves' trends" (#乘风破浪的姐姐手写热搜#). That hashtag alone already received more than 3.2 million views.
All these user-generated handwritten topics are related to some details of the first episode of the show, including quotes by the 'sisters', or the behavior of the show's presenter and judges.
Actor Huang Xiaoming, the official presenter of the final group, garnered more than 130 million views with a hashtag that had his name included. "Huang Xiaoming, the Master of Carrying Water"(#黄晓明端水大师#) went viral, hinting to Huang's behavior during the show; he posted thirty messages to the thirty 'sisters' in alphabetical order on Weibo just before the premiere, and he comforted each one of them by telling them that the show is nothing but "a plus" for them (#黄晓明这是加分项#).
Actress Ning Jing (宁静), one of the thirty sisters who is known for her straightforwardness, responded to the director's request to do an on-camera "self-introduction" by questioning out loud why she still needed to introduce herself at all. After all these of being active years in the industry, she wondered, had it all been for nothing? Her quick and witty response triggered another Weibo hashtag (#宁静 我几十年白干了#).
The hashtag "Sisters Who Make Waves Kick Off" (#乘风破浪的姐姐开播#) has attracted more than 430 million views on Weibo so far, with the hashtag of the show's title (#乘风破浪的姐姐#) receiving more than 7.6 billion views.
One thing is clear –  Sisters Who Make Waves definitely knows how to make waves on Weibo. No matter if Sina Weibo has trending lists or not, Weibo users will make sure that the topics they love go viral anyway.
By Wendy Huang
Follow @whatsonweibo
Spotted a mistake or want to add something? Please let us know in comments below or email us. Please note that your comment below will need to be manually approved if you're a first-time poster here.
©2019 Whatsonweibo. All rights reserved. Do not reproduce our content without permission – you can contact us at info@whatsonweibo.com
Hainan's Anti-Drug Police Team Covers Jay Chou's "Mojito"
Hainan's police have never been cooler.
Jay Chou's new single "Mojito", filmed in Havana, Cuba, has taken China by storm. It has sold more than 4 million copies on QQ Music alone and has even been endorsed by the Embassy of Cuba.
An anti-drug police team from Hainan, an island at the southernmost part of China, have now hopped on the trend.
On June 14, the Hainan Anti-Drug Police released a cover of the song on Weibo, complete with an accompanying music video.
With lyrics like "Could I trouble you to get a mojito for my drug dealer?" and scenes of policemen cruising down the coastline in a buggy, the video has gone viral.
The post has more than 160,000 likes on Weibo. At the time of writing, the hashtags "Anti-Drug Police Cover Mojito" (#禁毒民警翻唱mojito#) and "Hainan Anti-Drug Police Cover Mojito" (#海南禁毒民警版mojito#) have more than 34 million views and 27 million views respectively.
On their Weibo post, the Hainan Anti-Drug Police add: "From the song lyrics, can you get our hint?"
In Jay Chou's music video, he drives along the streets of Havana in a hot pink car, accompanied by a troupe of friends and a Cuban band. Netizens seem to love the Hainan anti-drug police's cover of "Mojito" as much as they love the original, with many commending the police's efforts. 
"Haha, one day to write lyrics, one day to record, and one day to film, this speed is not bad," one comment on Weibo said.
"The small island's anti-drug messaging is getting better and better!! I want to loudly praise you guys!!! Can you hear it!!" another Weibo user wrote.
Another commenter urges: "Please debut, okay?"
The cover has also cemented netizens' love for the original song.
"I suddenly feel that Jay Chou is really awesome. The first time I heard ['Mojito'], I thought it was just normal. After listening for a long time, I feel it's really awesome. Recently there are many versions of this song everywhere. Police 'uncles' (警察叔叔) are amazing," another commenter says.
Many others, including actor Hong Junjia and YouTuber/singer Jeremy Yang, have also covered the popular song.
It seems that the Hainan Anti-Drug Police's efforts have been fruitful. Their cover has been reposted more than 52,000 times on Weibo. Netizens not only praise their musical skills but have also shown support for the video's anti-drug message.
"Reject drugs, everyone has to work together," one comment writes. Another commenter says: "Treasure your life, stay away from drugs!"
Check out the video here.
By Yin Lin Tan
Follow @WhatsOnWeibo
 Spotted a mistake or want to add something? Please let us know in comments below or email us. First-time commenters, please be patient – we will have to manually approve your comment before it appears.
©2020 Whatsonweibo. All rights reserved. Do not reproduce our content without permission – you can contact us at info@whatsonweibo.com.