Weibo's Online Slang: 10 Chinese 'Tribes' & 'Clans' to Know
Online slang has been an important part of Chinese online culture ever since the first message boards were launched, and is ubiquitous and ever-changing on popular social media platforms such as Weibo or Wechat.
A major part of this online slang culture is the categorization of people into 'tribes' or 'clans' (族); classifying those (urban) young Chinese people who share certain traits.
Although many of these terms are often ironic and generalized, to a large extent, they also represent a bigger trend in China's transforming society and digital culture.
1. 低头族 (Dītóuzú): "The Bowed Head Clan"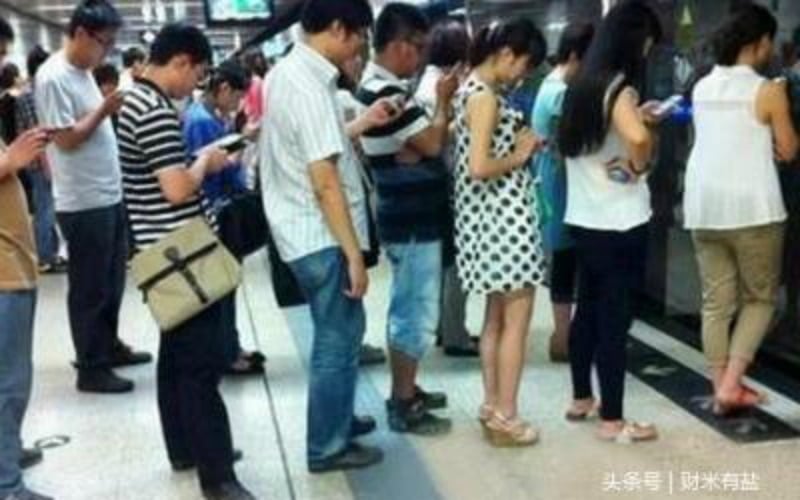 This word is comparable to the English term of 'phubber'; which is a combination of "phone" and "snubber", meaning people who lower their heads to look at their smartphones. There is also a word called "Thumb Tribe" (拇指族), which also refers to people whose thumbs are constantly moving on their smartphone screen.
Dītóuzú literally means 'lower-head-clan'; they use their phone for almost everything, at every moment. They always bow their heads to look at their phone. For the dītóuzú, it seems that the smartphone fulfills their every need, including entertainment, surfing internet, updating their social media and communicating with people, ordering food, shopping, etc.
But when the smartphone addiction becomes serious, they get mental and physical problems. It makes their life hard. On Weibo, this word was especially used in 2017 when a Chinese mother was watching her phone in the swimming pool while her 4-year-old son was drowning in the pool just meters away from her.
2. 月光族 (Yuèguāngzú): "The Moonlight Clan"
The Yuèguāngzú is the "moonlight clan." It is meant to categorize the groups of people who live from paycheck to paycheck. Most of them are young Chinese people, who spend all of their salary before their next payday – although they don't have any savings in their bank account.
For some of them, their salary just covers their basic living expenses, such as rent, food, transportation and some social occasions.
But there are also those who might have a much higher income, but still live day by day, without any serious plans for their life or future. They like to spend money whenever they want, in any way they want. They also exhaust their earnings before their next salary day.
3. 酷抠族 (Kùkōuzú): "The Cool Carl"
As nicely explained in Shenzhen Daily or by China Daily, Kùkōuzú refers to those people who live a simple life, and while faced with inflation and high housing prices, try to spend as little as possible.
"Kù" (酷) is the Chinese transliteration of the English word "cool," "kōu" (抠) is short for kōumén (抠门) which means "stingy." Normally those who lead a "stingy life" are not considered "cool." In today's China, however, where inflation and high housing prices make life difficult for the middle class, many people think that people who live a simple live can also be "cool."
4. 啃老族 (Kěnlǎozú): "The Leech Tribe"
The kěnlǎozú is a group of people who are currently not engaged in employment, education or training. Their daily life totally depends on their parents or other older generations. They are often fresh graduates.
Some graduates find it so difficult to find a job, and get so frustrated that they give up looking for a job and stay at home with their parents. Their parents then have to cover all of their expenses and feed them, treating them as if they're still a child.
5. 恨嫁族 (Hènjiàzú): "The Hate-to-get-married Tribe"
If we literally translate Hènjiàzú, it would mean "hate getting married tribe." But is this truly what's meant with this term in present-day China?
The term Hènjià (恨嫁) is originally from Guangdong local language. It refers to young women who have huge expectations for their future marriage. They often hope to get married as soon as they reach the legal age of marriage. But it usually turns out that the reality is very different from their dreams.
Now, this term has come to indicate those girls who dream about a marriage that will change their life for the better. Instead of making a career for themselves, they are aiming to look for a husband with a high income. For them, getting married with a money-making man is a first priority.
This kind of women was criticized by education businessman Yu Minhong recently, who stated that women's standards for men are leading to a "degeneration of the country."
6. 闪婚族 (Shǎnhūnzú): "The Flash Marriage Group"
The Shǎnhūnzú refers to people who have only known each other a short time and get married straight away, as quick as a lightning bolt (闪电). According to Baidu, it is a sign of the "fast food love" era.
Although a Flash Marriage can happen because of extreme infatuation, there are also other reasons for a quick marriage; some people are simply in a hurry to get rid of the pressure from their parents to get married.
7. 愤怒青年 (Fènnù Qīngnián): "The Angry Youth"
Fènqīng (愤青) is an abbreviation for Fènnù Qīngnián (愤怒青年), which literally translates as the "angry young."
It mainly refers to Chinese youth who display a high level of Chinese nationalism. This term first appeared in Hong Kong in the 1970s, referring to those young people who were not satisfied with Chinese society, and sought reform.
It has now evolved into a term used predominantly in Chinese Internet slang. Nowadays, it refers to a group of young people who have strong or sharp opinion on society and politics. Most of them are not satisfied with what is happening now and want to make changes. They like to use internet to publish their ideas and initiate online battles with people who have different opinions. They seem to care for their country and society very much, and will give their opinions on various public affairs. Their opinions will sometimes influence the public debate.
8. 标题党 (Biāotídǎng): "The Clickbait Club"
Biāotídǎng (标题党) translates as the "clickbait club." It refers to sensationalist online writers who want to have more readers or followers, and therefore use exaggerated or hot words for their titles to attract more readership.
Because online readers are curious about what is going on after seeing the "attractive" title, they continue to read the text or click the link. In most cases, there is no consistency between the content and the title.
Over the past year, various Chinese state media have warned against the use of clickbait titles, labeling it as "vulgar content."
9. 健盘侠 (Jiànpánxiá): "The Keyboard Warriors"
Jiànpánxiá (健盘侠) means 'keyboard warrior': a group of people that is very active and often aggressive within the online comment sections. They especially like to comment below the hot Weibo topics.
They are 'big fighters' in the cyber world when it comes to their words and opinions, but they would never actually dare to do the things they say.
In their real life, 'keyboard warriors' are very ordinary people and are actually afraid of many things. But when they are back online, they are like the warriors in the Gongfu world. They use words as their weapons and are 'social justice warriors.' They often 'troll' other Weiboers or social media users.
By doing so, they get a lot of online attention which satisfies their ego, as they are unsuccesful in getting the attention they need in their offline life.
10. 嘻哈族 (Xīhāzú): "The Hip Hop Clan"
The Xīhāzú refers to a subculture or group of young Chinese who are fan of hip hop and African-American culture influence lifestyle. "Xīhā" (嘻哈) is the Chinese translation for 'hiphop.'
The term has been around for years. But especially over the past year, hip hop has seen a comeback in China with popular shows as the Rap of China becoming major hits.
By Crystal Fan, with contributions from Manya Koetse
Follow @whatsonweibo
Spotted a mistake or want to add something? Please let us know in comments below or email us.
©2018 Whatsonweibo. All rights reserved. Do not reproduce our content without permission – you can contact us at info@whatsonweibo.com
Chinese Netizens' Response to New Zealand Mosque Attacks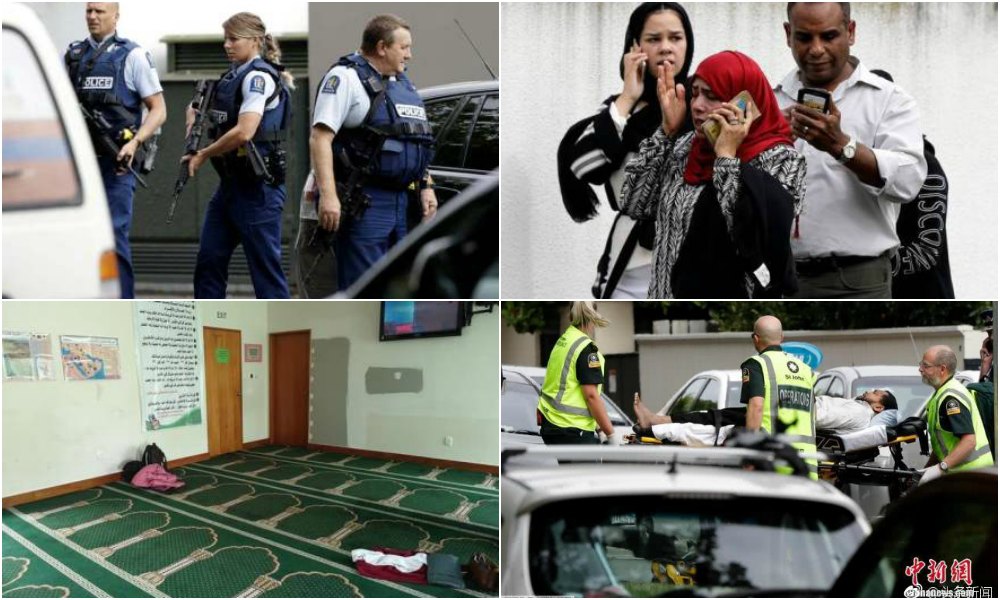 The shocking New Zealand mosque attack, killing at least 49 people, is making headlines worldwide. On Weibo, it is the top trending topic today. A short overview of some of the reactions on Chinese social media.
At least 49 people were killed and 20 wounded when an attacker opened fire at two mosques in Christchurch, New Zealand, on Friday. According to various media reports, one man in his late 20s had been arrested and charged with murder. Three other people, two men and one woman, have also been arrested in relation to the attack.
Footage of the brutal shootings, which was live-streamed by the gunman, has been making its rounds on social media. Although the videos are being taken down from Facebook and Twitter, people are still sharing the shocking images and footage on Weibo at time of writing.
The gunman, who has been named as the 28-year-old Brenton Tarrant, reportedly also posted a 70-page manifesto online expressing white supremacist views.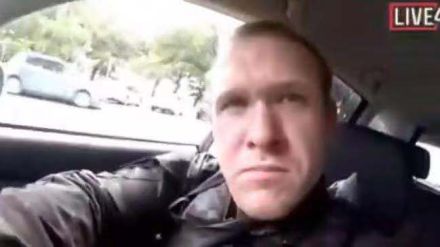 On Chinese social media platform Sina Weibo, the New Zealand mosque attack became a number one trending topic on Friday night, local time, with the hashtag "New Zealand Shootings" (#新西兰枪击案#) receiving at least 130 million views, and thousands of reactions.
"It takes the collaborate efforts of all people to work on a beautiful world, it just takes a few people to destroy it," one Weibo user wrote.
"Extremism is incredibly scary," others said. "I saw the livestreaming video and it's too cruel – like a massacre from a shooter video game." "I'm so shaken, I don't even want to think of the panic these people must have felt."
"I've seen the footage, and this is so horrible. It makes me want to cry. It's a massacre." Other commenters also write: "This is just so inhumane."
One aspect that especially attracted attention on Chinese social media is that, according to many people posting on Weibo and Wechat, the main suspect expressed in his manifesto that the nation he felt closest to in terms of his "political and social values" is "that of the People's Republic of China."
Journalist Matthew Keys reportedly uploaded the main suspect's manifesto, which was published on January 21, 2019. This article says that to the question about whether he was a fascist, Tarrant indeed wrote that "the nation with the closest political and social values to my own is the People's Republic of China."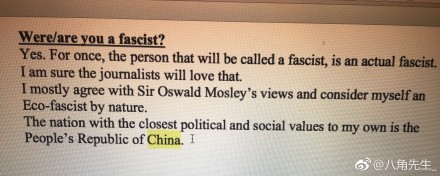 Some netizens wrote that, in mentioning the PRC, the shooter "also vilified China." Others also said that the shootings definitely "do not correspond to the values of China."
There are also dozens of Weibo users who blame Western media for the attacker's comments on China corresponding to his own values. "What he appreciated is what Western media is propagating about our management of Muslims in Xinjiang," some say: "He was influenced by the foreign media disseminating that we're anti-Muslim."
"He sympathized with the China portrayed by foreign media, not with the real China."
"Western governments and media have demonized China for a long time, what they are making Western people believe about what China is, this is what the New Zealand shooter felt closest to in terms of his values," one person wrote.
"These kinds of extreme-right terrorists would be destroyed in China," others wrote.
Among all people expressing their disgust and horror at the Christchurch shootings, there are also those expressing anti-Muslim views and hatred, with some comment sections having turned into threads full of vicious remarks.
Then there are those criticizing the Muslims that are also commenting on Weibo: "The Muslims in China were quiet when it was about the [islamist extremist] attacks in Kunshan, but now that this massacre happened at the pig-hating mosque, they are all bemoaning the state of the universe and are denouncing terrorism."
Among the thousands of reactions flooding in on Weibo, there are countless comments condemning those who turn the shocking attack into an occasion for making anti-Muslim or political remarks. "This is a terrorist attack. The victims are ordinary people. Why would you make malicious comments?"
One Weibo user simply writes: "The world has gone crazy." "A tragic event. I hope the victims will rest in peace."
By Manya Koetse 
Spotted a mistake or want to add something? Please email us.
©2019 Whatsonweibo. All rights reserved. Do not reproduce our content without permission – you can contact us at info@whatsonweibo.com.
In China's "Kua Kua" Chat Groups, People Pay to Be Praised [Updated]
Money can't buy you love, but in these 'kua kua' groups, they can buy you praise.
First published
Social media is often called a battlefield, but in these Chinese WeChat 'Kua kua' groups (夸夸群), people will praise you no matter what you do or say.
A new phenomenon has become a hot topic on Chinese social media these days. 'Kua kua' groups (夸夸群) are chat groups where people share some things about themselves – even if they are negative things – and where other people will always tell them how great they are, no matter what.
Kua kua groups (夸 'kuā' literally means 'praise') have become all the rage in China. People seem to love them for the mere fact that it makes them feel good about themselves.
The format is clear. Person A tells about something that is on their minds, and asks people for positive feedback. Person B, C, and D will then come forward and tell them how good or pretty they are, sometimes based on their profile photo.
One could say: "Hi everyone, I've just turned down a job offer, but now my future is full of uncertainty, please compliment me." Then people in the chat group will respond and say things such as: "You look like the type of person who knows exactly what they want."
The Kua kua praise group phenomenon allegedly began within the online community of Xi'an Jiaotong University – although some claim it was Shanghai's Fudan University – when one person asked others in a chat group to compliment them. The idea started to compliment and praise others, and so a trend was born; first, in university (BBS) chat groups, and now on WeChat and beyond the realm of universities.
The phenomenon has been around for at least six years, but only recently started gaining widespread attention on Chinese social media. According to China's Toutiao News, virtually every college now has its own 'praise group.'
But the praise does not always come for free. Although many (college-based) chat groups are free to join, people who want to be complimented and are not yet a member of an existing group can join Kua kua groups when they pay for it. On Chinese e-commerce platform Taobao, there are various online shops that sell a 'Praise group' membership starting from 50 yuan ($7,5) per person, going up to 188 yuan ($28).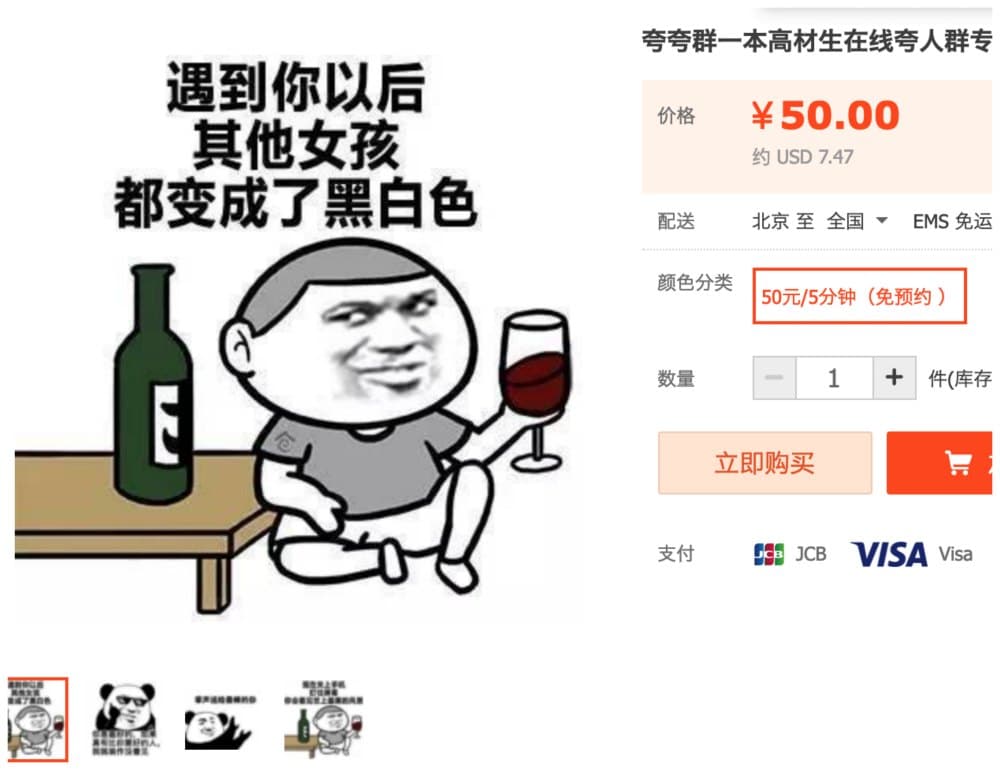 The time of praise is limited to five minutes unless you pay more. The quality of the compliments you'll be getting also depends on how much you pay. Some groups allegedly consist of "students of great talent," and the number of people complimenting one person could reach up to 500 people.
The contents of the praise could literally be anything. A simple "I want to be praised" comment could get a variety of reactions from "your hat looks nice" to "the fact that you're so honest and straightforward about what you want is something that is hard to come across in this day and age," to "you used a period mark [at the end of your sentence], you must be someone who is very persistent in reaching your goals."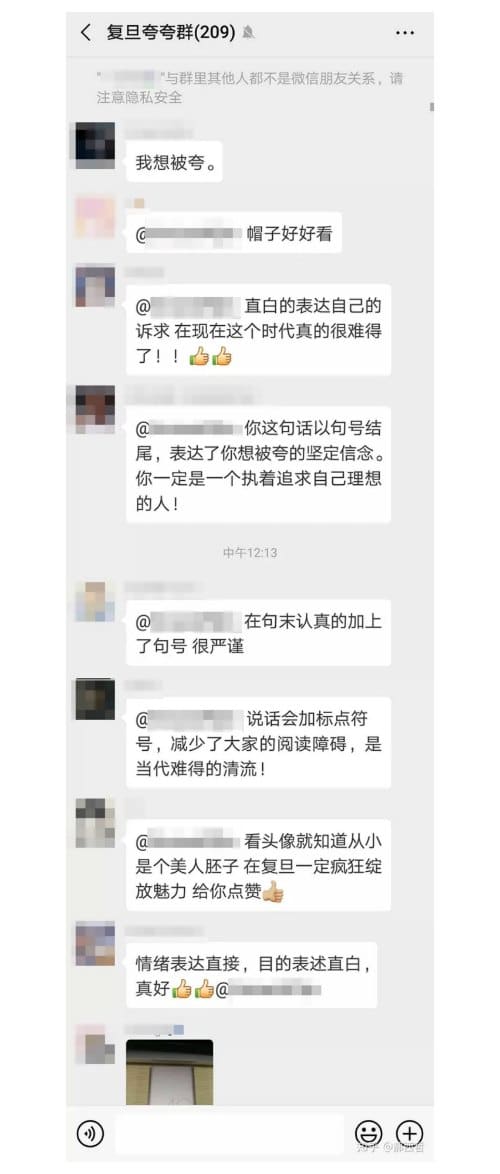 The fact that the "Kua kua" phenomenon is such a success in China might relate to its culture, where humility and modesty are considered ideal in day-to-day communications. When given a compliment, it is common in China to deny it or to suggest that the person giving the compliment is much better than they are (also see Cheng 2003, 30).
These chat groups, however, break away from the dominant cultural interactions: people don't have to be polite in responding to the compliments and can wallow in the praise they paid for.
Although not as big as the "Kua Kua" group phenomenon, these kinds of groups also exist in the English-language social media sphere. On Reddit's "Toast Me" page, for example, there are some 92,000 subscribers participating in asking and giving positive feedback to others, albeit unpaid.
The people giving compliments in the Chinese Kua kua groups are random people, some students, some staff of Taobao stores, who get hongbao, red envelopes with digital money gifts, for contributing to the group. According to some reports, some 'customers' end up staying the group and become a part of the team themselves.
We will follow up on this later: we booked a 'five-minute praise session' ourselves, but are still awaiting admission to the group…
Update: Our Kua Kua Experience
So what is the Kua kua experience like? We decided to try out for ourselves and purchased a 5-minute praise session through Taobao for 50 yuan ($7,5) from a seller that had a good rating.
After the purchase is completed, the seller will contact you with details asking for your WeChat ID. After adding, they will ask you what your 'problem' or issue is, and you will be put in a virtual queue until your turn comes up to be praised.
You'll then be added to a WeChat group that has your name in the headline (ours was something like "Manya you can do it") and that has around 200 participants.
The message posted by us was:
"Hello, I'm Manya (Dutch). I've been studying Chinese for more than ten years. In fact, I'm afraid to say it may even be more than 13 years, but I still often don't understand what Beijing taxi drivers are saying. Even studying every day won't help. I've been learning for so many years, yet I often still don't understand what the old people in Beijing are saying. It's a bit embarrassing. I think my Chinese is still not good enough. I can't understand the 'crosstalk' [comedy sketches] during the Spring Festival Gala at all. It makes me feel a little dispirited."
Within a matter of seconds, the screen then just fills up with positive feedback and emoji. There are dozens of comments, and they almost go too fast to read them all.
Some of the responses:
"You're great, and even I don't understand Beijing taxi drivers."
"Stay confident in yourself!"
"You're so cool."
"You can type so many Chinese characters, who'd say your Chinese is not good enough?!"
"Manya, you're so fantastic."
"None of us understand what old people in Beijing are saying."
"Chinese is just not easy to study, the fact that you've been doing it for so long already shows how great you are."
"It's incredible that you've already come this far."
"A woman who is so motivated about studying really moves me, you're my role model, you make me want to study more English."
During the praise session, the group leader will occasionally post a hongbao [envelope with money] for the participants to receive in return for their compliments.
After five minutes, the session ends, and the people will send out some last words of encouragement. The group leader will personally thank you for being part of the group, and later, you'll be removed from the group as the people will move on to the next person who is waiting in line to be praised.
How does it feel to be praised by some 200 people, receiving hundreds of compliments? It's overwhelming, and even though you know it's all just an online mechanism, and that it doesn't matter who you are or what you say, it still makes you glow a little bit inside.
Although some experts quoted by Chinese state media warn people not to rely on these praise groups too much, there does not seem to be much harm in allowing yourself to be complimented for some minutes from time to time.
Other people reviewing the same Kua kua group apparently feel the same: "I'm super satisfied, the result is amazing."
By Manya Koetse  and Miranda Barnes
Featured image via hexun.com.
References
Cheng, Winnie. 2003. Intercultural Communication. Amsterdam, John Benjamins Publishing.
Spotted a mistake or want to add something? Please email us.
©2019 Whatsonweibo. All rights reserved. Do not reproduce our content without permission – you can contact us at info@whatsonweibo.com.