Top 10 Most Popular Smartphones in China (Fall/Winter 2020)
From OPPO to iPhone, these are the most popular smartphones in China at the moment.
These are the most popular smartphone brands and devices in China right now. An overview by What's on Weibo.
It's been a while since What's on Weibo last did a top 10 of most popular / top-rated smartphones in China (link). Because the latest smartphone models have been attracting a lot of attention on Chinese social media recently, it is high time for another update.
Apple's iPhone 12 series, Huawei's Mate 40, and Samsung's Note 20 series are among the most discussed smartphones this season, but there are so many more devices gaining popularity over the past few weeks and months.
In previous years, there was a strong focus on bezel-less screens, trendy designs, and selfie camera quality. Now, there's a shifting focus on 5G, (8K) video and multiple cameras, fast charging technology, and overall fast performance. All models in this list are 5G ready.
For this list, we loosely follow the popularity rankings of Zol, a leading IT portal website in China that compiles its lists based on the data provided by its own Internet Consumer Research Center (ZDC 互联网消费调研中心).
Since its top ten rankings are changing every day, we also take into account how much views and clicks these latest models are receiving on social media site Weibo. If multiple models of the same series occur in different places in the official rankings, we've put them under one ranking together (e.g. the OPPO Reno 4 SE and the OPPO Reno 4 Pro, or the Huawei Nova 7 Pro and Huawei Mate 40).
China's most popular smartphone brands at this moment are OPPO, Vivo, Huawei, Apple, and Honor.
When popular Weibo blogger Gǎojī Juéshì (@搞机爵士,2.1 million fans) recently asked his followers which flagship phone of the moment they would choose – Apple's iPhone 12, Huawei's Mate 40, or Samsung's Note 20 – a majority of 49% of respondents voted for the Huawei brand. 43% voted Apple, and 8% voted Samsung.
Although the number one of this list, the OPPO Reno4, has consistently been holding the number one spot in last week's ranking, the other models are shifting places in the top rankings, so this is not an 'official' top ranking list, just one that is compiled by us following the latest trends.
1. OPPO RENO4 SE & PRO (8GB/128GB/5G)

OPPO is a Guangdong-based brand officially launched in 2004. It is mainly known for targeting China's young consumers with trendy designs and smart marketing. Its product quality combined with successful online marketing has made the brand super popular throughout the years.
For the Reno4, TF Boys member Wang Junkai (@王俊凯, aka Karry Wang) who has nearly 79 million fans on Weibo, is the OPPO brand ambassador promoting this model. One Weibo post by Wang promoting the Reno4 SE received over 735,000 comments and one million likes.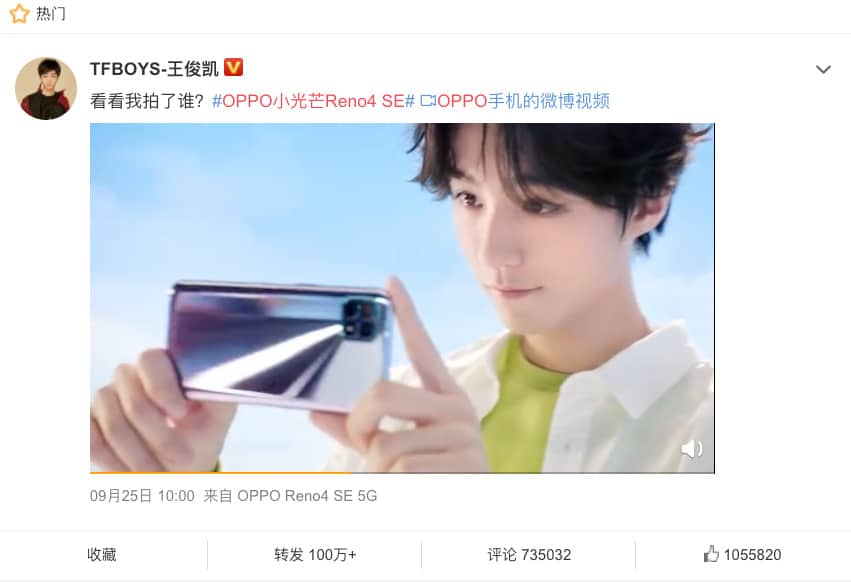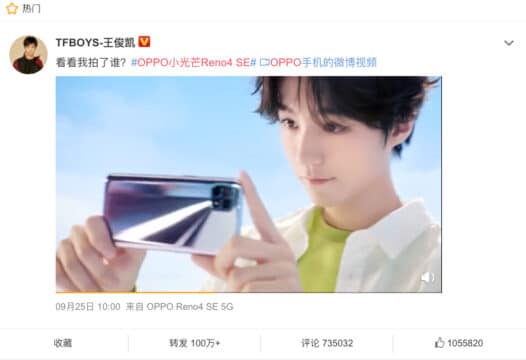 The OPPO Reno4 SE was officially launched in China in late September of 2020 and is not yet available for the international market.
The Reno4 SE has a 6.43-inch AMOLED display (1080 x 2400 pixels) and comes with a triple rear camera setup (48MP, 8MP, 2MP). Noteworthy is its 32MP (!) selfie camera.
It comes with 8GB of RAM and 128GB storage (no expandable storage). Some of the Reno4 SE's other highlights include the 65W fast charging and 5G connectivity support. The smartphone runs Android 10 OS, topped with OPPO's own ColorOS 7.2.
On Weibo, the OPPO Reno4 SE hashtag (#OPPO小光芒Reno4 SE#) has 710 million views at the time of writing.
The Oppo Reno 4 Pro is also listed in Zol's top ranking list, ranking 8 at the time of writing. This model is slightly bigger, with a Super AMOLED display and extra memory card slot. It also has NFC and a more high-end camera. It is priced around ¥3799 ($566).
The OPPO Reno4 SE is priced at ¥2499 ($373) at JD.com and Tmall, and is one of the cheaper devices in this list – its price is nowhere near that of the Samsung Note 20 Ultra or the iPhone 12, making it much more affordable to many. The Reno4 SE smartphone comes in three color options: Super Flash Black, Super Flash Blue, and Super Flash White.
2. VIVO X50 PRO (8GB/128GB/5G)

At time of writing, not only does the Vivo x50 Pro hold the number two spot in the top popular smartphone rankings, but Vivo is also ranking as the second most popular smartphone brand in China at this moment (OPPO being number one).
Like OPPO, Vivo is another Chinese domestic brand that has gained worldwide success, first entering the market in 2009. Its headquarters are based in Dongguan, Guangdong.
When it comes to marketing its smartphones, Vivo has really focused on camera quality over the past years. Its earlier Vivo x27 device was launched as a "night photo wonder tool," and for the Vivo x50 Pro, there is again this focus on "redefined photography," camera light sensitivity and stabilization.
The main camera is a 48MP "Gimbal" main camera, accompanied by a 13MP, 50 mm prime portrait camera, a wide-angle lens, and 60 x optical zoom camera.
Collaborating with state media outlet CCTV, there recently was a Golden Week social media promotion of the device showing beautiful night photos from the Summer Palace.
The Vivo x50 Pro was launched in June of 2020. The slim device has a 6.56 inch AMOLED display, 1080 x 2376 pixels. Due to its powerful processor, 90 Hz high refresh & 180 Hz touch sampling rate, and gaming-centric features, the Vivo x50 Pro will also be appreciated by gamers.
By now, the Weibo hashtag associated with the Vivo x50 series (#vivo X50系列 超感光微云台#) has gained over 1.7 billion views.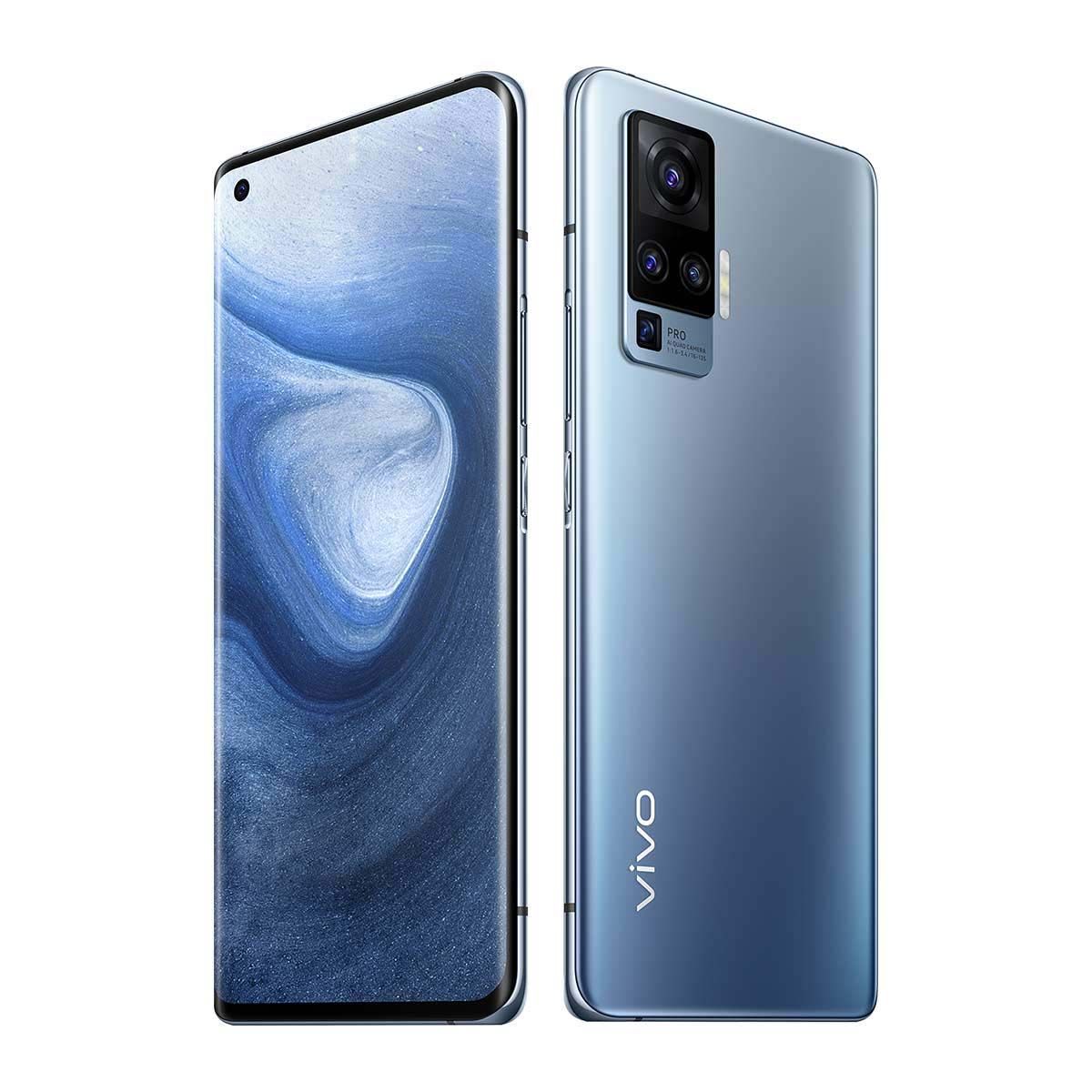 Many people on social media also share their own photos shot with their Vivo x50 Pro.
The Vivo x50 Pro 5G is priced at ¥3998 ($596) at e-commerce sites such as JD.com. It comes in Dark Blue and Light Blue colors.
3. Huawei Nova 7 Pro (8GB/128GB/5G) and Huawei Mate 40 (8B/128GB/5G)

Both the Huawei Nova 7 Pro and Huawei Mate 40 are in the top ranking lists of this moment. Huawei also ranks number three in official top-ranking smartphone brand lists of this moment, coming in before Apple in popularity.
The Huawei Nova 7 was released in April of 2020, and the Huawei Mate 40 series was released in China on October 30 with the Mate 40, Mate 40 Pro, and Mate 40 Pro+ (we'll update this when more news comes out). The Mate 40 and Mate 40 Pro were previously on pre-order sale, and reportedly sold out within 30 seconds. The Mate 40, which ranks highest in popularity at this time, is an 'entry-level' device within the Mate 40 series.
The Huawei Mate 40 comes with a 6.76-inch Flex OLED display with a 2722 x 1344 pixels screen resolution, a 90Hz refresh rate, and a 240Hz touch sampling rate. There's been a lot of hype surrounding the Huawei Mate 40 since it was said it would come with "a feature" that was still to be disclosed – which turned out to be the digital yuan wallet feature.
The older Huawei Nova7 Pro is a dual-sim device. It has a 6.57-inch display (1080 x 2340) and a 64MP + 8MP + 8MP + 2MP rear camera, the front camera being 32MP + 8MP.
The Weibo hashtag for the Huawei Nova 7 series (#华为nova7#) has nearly 2 billion views on Weibo at time of writing, with the Huawei Mate 40 garnering 1.2 billion views on its hashtag page (#华为Mate40#).
The Nova 7 pro is priced at ¥3699 ($550). The Nova 7 Pro was released in the colors Midnight Black, Silver, Forest Green, Midsummer Purple, and Honey Red. The Mate40 is ¥4999 ($745).
4. Samsung Galaxy Note 20 Ultra (12GB/256GB/5G)
Together with Apple, Samsung currently is among the most popular smartphone brands in the PRC that is not made-in-China. The brand seems to have been able to win back consumer's trust after previous problems with overheating and exploding batteries.
The Galaxy Note 20 and Note 20 Ultra were launched in summer 2020. Both are top-notch devices, with a Snapdragon 865 Plus processor and a 10-megapixel selfie camera, and of course, the Note's landmark 'S Pen' including new gestures.
What makes the 'Ultra' device different from the Galaxy Note 20 is its Gorilla Glass Victus back (which is more durable and has better drop resistance), its AMOLED screen, 108-megapixel camera, and its microSD card slot – making it possible to expand the  256GB storage with a Micro-SD of up to 1TB. Despite the price difference, the aforementioned features make it understandable that the 'Ultra' is a more popular choice over the Samsung Note 20 device.
The Galaxy Note 20 Ultra shoots 8K video, the highest-resolution video recording available. It is also the first Note with a 120 Hz refresh rate display. For reference:  a standard smartphone display usually refreshes at 60 times per second, or at 60 Hz. This high refresh rate means you get smoother animations and navigation. The device also has a 240Hz touch sampling rate (the frequency at which the display polls for touches on the display).
With its 6.9 inch (1440 x 3088) display, the Note 20 Ultra is the biggest phone on this list. It weighs 208 grams.
On Weibo, the hashtag "Samsung Note 20" (#三星note20#) has over 330 million views. The Samsung Note 5G Ultra is available in bronze, white, and black, and is available from ¥9199 ($1370), making it the most expensive phone on this list. Although many people on Weibo say they do like this phone, the high price is an obstacle, with some saying: "The price just kills me."
5. OnePlus 8Pro and 8T (8GB/128 GB/5G)
"Never settle" is the slogan used by OnePlus, a Shenzhen-based Chinese smartphone manufacturer founded by Pete Lau and Carl Pei in December 2013.
Both the OnePlus8Pro and the cheaper 8T models are ranking high in current top listings. The 8T was released in October of this year, while the Pro version came out earlier in April.
Both phones come with Dual-SIM, AMOLED display (120 Hz refresh rate), Gorilla Glass 5 front and back, 4K video, stereo speakers, NFC, and 48MP main cameras.
The Pro is the bigger phone – with its 6.79 inch screen and 199 grams, it comes quite close to the Samsung Note 20 Ultra. It also has a slightly more advanced quad camera.
The OnePlus 8 series hashtag (#一加8#) currently has some 1,3 billion views on Weibo.
The OnePlus 8 Pro received quite some attention on social media earlier this year, when it turned out that its 'Photochrom' color filter, using infrared sensors, could see through some materials, such as plastic.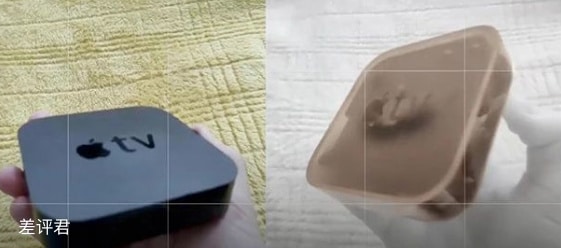 The OnePlus 8 Pro 5G is priced at ¥5399 ($805), the OnePlus 8T model is priced at ¥3399 ($507).
6. iQOO 5 (12GB/128GB/5G)
The iQOO is not well-known outside of China, but it is actually a sub-brand of Vivo. iQOO is owned by the BKK Group (步步高), which also owns OPPO, OnePlus, and RealMe.
The iQOO 5 was released in August of this year. Its AMOLED display is about the same size as the OnePlus8T (6.56 inch), they both have 120Hz refresh rate screen, dual SIM, and the two phones actually seem to be competitors in multiple ways, although the iQOO is the pricier option.
The iQOO has a 16-megapixel selfie camera, its rear camera is a 50MP, along with a 13MP ultra-wide angle and 13MP depth sensor. It has 8K video recording.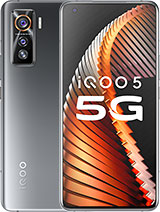 On social media, the iQOO is mainly marketed as a 'fast phone' – and in doing so (#iQOO 5 超能竞速#) it has reached 370 million views on its hashtag page at time of writing.
The iQOO 5 is priced at ¥4298 ($640) and comes in blue or grey.
7. OPPO FIND X2 PRO (12GB/256GB/5G)

The OPPO Find X2 Pro was already launched in March of 2020 and yet it still is one of the most popular phones of the moment in China – even though it is also one of the more expensive devices in this list.
With its 6.7 inch display, it is just as big as the Apple iPhone 12 Pro Max, and in some ways it could be argued that it is a real competitor. With its 48 MP/13MP/48MP main camera and 32MP selfie camera, and, among others, stereo speakers and fast-charging features, it's a fancy device.
Some reviewers argue the design is better than the Apple iPhone Pro, and that its display is more impressive.
The OPPO Find X2 series hashtag page (#OPPO Find X2#) has over 1.8 billion views on Weibo.
Priced at ¥5999 ($895), the OPPO Find x2 Pro comes in Black, Orange, Light Grey, Green, Lamborghini Edition, with the orange/grey/green editions all made from (vegan) leather instead of glass or plastic.
8. IPHONE 12 (4GB/128GB/5G) & IPHONE 12 PRO MAX (6GB/128GB/5G)

Despite its relatively high price, the iPhone 12 is still very popular in China – but at time of writing, still lags behind a bit in the top-ranking lists, and does not come up in the top five lists (yet).
The Apple iPhone 12 and the Pro Max were both announced on October 13, with the iPhone 12 launched later in October, along with the Apple iPhone 12 Pro. The Apple iPhone 12 Mini, like the Pro Max, is yet to be released.
The iPhone 12 is the smallest and lightest model of the 12 / 12 Pro / 12 Pro Max trio. It has a 6.1 inch (1170 x 2532) Super Retina XDR display, which is also among the smaller device displays in this list. The phone is also marketed as "the world's smallest, thinnest, lightest 5G phone" with the "best iPhone display ever." It comes with a dual 12-megapixel camera on the rear and a 12-megapixel selfie camera on the front.
It's actually hard to track the views on the iPhone 12 series on Weibo since there are so many different hashtags relating to iPhone12 news – this in itself gives an idea of how popular this phone is. The most used "iPhone 12" hashtag (#iphone12#) has a staggering 9 billion views.
The iPhone 12 comes in the Black, White, Red, Green, Blue colors, and is currently priced at ¥6299 ($940) in China. The 12 Pro Max, with a giant 6.7-inch display and fancier camera, is priced at ¥9299 ($1387) – making it the most expensive phone on this list.
9. HONOR X10 & HONOR 30 (6GB/128GB/5G)

Together with the super popular OPPO's Reno 4 SE, the Honor X10 and Honor 30 are among the more affordable devices on this list, with the X10 being slightly more popular than the more expensive Honor 30.
Honor is perhaps not as well-known outside of China as other Chinese smartphone brands are.  Honor (荣耀), established in 2013, is the budget-friendly sister of the Huawei brand. The company's sub-brand has been doing very well over the past years. Honor focuses on great value for money, and in doing so, targets younger consumers, not just with its relatively low prices, but also with its trendy designs.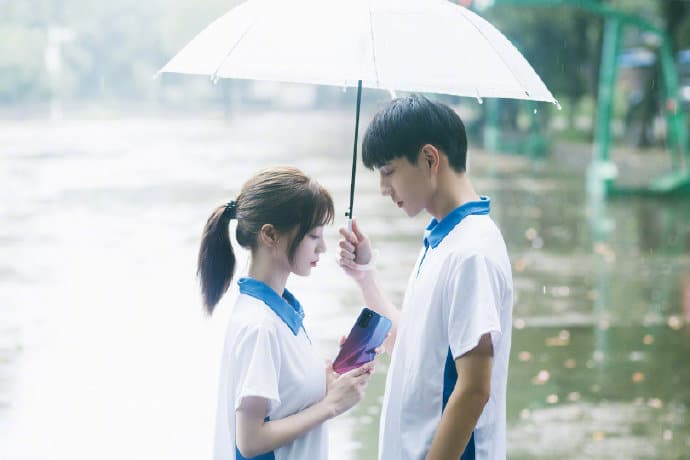 The Honor X10 5G was released in May of this year, the Honor30 was released a month earlier. Size-wise, display-wise, price-wise, these Honor devices could compete with the newer OPPO Reno 4 device, with many of their specs being similar. Both devices support expandable memory.
The Honor 30 is slightly better than the X10 when it comes to pixel density and CPU speed, but this model also has a better camera setup (40+8+8+2 MP versus 40+8+2 MP).
The X10, however, has a stronger battery (4300mAh) and a bigger screen (6.63 inches).
Honor30 hashtag (#荣耀30#) has garnered 3,5 billion views on Weibo thus far; the X10 is also popular on social media (#荣耀x10#) with 1,1 billion clicks.).
The Honor X10 is priced at ¥2199 ($328). The Honor 30 is ¥2699 ($402).
10. XIAOMI 10 (8GB/128GB)

Since the launch of its first smartphone in 2011, Beijing-brand Xiaomi has become one of the world's largest smartphone makers.
The Xiaomi 10, released in May 2020, is a dual SIM device that comes with a 6.67-inch (2340 x 1080) AMOLED display with a 90 Hz refresh rate, a strong 4780 mAh battery, and 108+13+2+2 MP rear camera. It also supports 5G and has quick charging, so it's a very 2020 device. According to Gadgets Now, the Xiaomi 10 "lives up to the hype."
With over 3,2 billion views on the Xiaomi 10 hashtag page on Weibo (#小米10#), the Xiaomi brand also succeeded to create an online hype earlier this year. Discussions were mostly focused on the model's camera performance and its screen.
The Xiaomi 10 is priced around ¥3499 ($521), with cheaper deals available. It comes in black, grey, green, and pink.

For clarification, we'll list the aforementioned devices again, based on pricing, with the most expensive devices coming first. Note that these are the approximate prices for the Chinese market, which might be (very) different outside of China:
1. iPhone 12 Pro Max / ¥9299 ($1387)
2. Samsung Note 20 5G Ultra / ¥9199 ($1370)
3. iPhone 12 / ¥6299 ($940)
4. OPPO Find x2 Pro / ¥5999 ($895)
5. OnePlus 8 Pro 5G / ¥5399 ($805)
6. iQOO 5 / ¥4298 ($640)
7. Vivo x50 Pro 5G / ¥3998 ($596)
8. OPPO Reno4 Pro / ¥3799 ($565)
8. Huawei Nova 7 Pro 5G / ¥3699 ($550)
9. Xiaomi 10 / ¥3499 ($521)
10. OnePlus 8T / ¥3399 ($507)
11. Honor30 / ¥2699 ($402)
12. OPPO Reno4 SE / ¥2499 ($373)
13. Honor x10 / ¥2199 ($328)
By Manya Koetse
Follow @WhatsOnWeibo
NB: This post is not a sponsored post in any way. This article may, however, include affiliate links that at absolutely no additional cost whatsoever to you allows this site to receive a small percentage in case you purchase something after you click.
Spotted a mistake or want to add something? Please let us know in comments below or email us. First-time commenters, please be patient – we will have to manually approve your comment before it appears.
©2020 Whatsonweibo. All rights reserved. Do not reproduce our content without permission – you can contact us at info@whatsonweibo.com.
"Daddy Ma, Are You OK?" – Jack Ma's Situation Discussed on Chinese Social Media
Public sentiments on Jack Ma have shifted, but the fans still defend their idol.
Chinese tech superhero Jack Ma has become a hot topic on international social media this month since he has been missing in action for weeks, while Alibaba is facing an anti-monopoly investigation. Ma seems to have fallen out of favor, not just with authorities but also with many Chinese web users.
This month, the alleged 'disappearance' of Alibaba founder Jack Ma made headlines in various English-language media, from Reuters to CNN and the Financial Times.
The direct reason for speculation about Jack Ma's whereabouts was his absence at Africa's Business Heroes, a talent show he helped create in which Ma was part of the finale judge panel. According to FT.com, the final – which won't be broadcasted until spring – took place in November.
Although an Alibaba spokesperson explained Ma's absence from the show as a "schedule conflict" that made it impossible for the tech tycoon to participate, many Twitter users directly tied his 'suspected missing' to a critical speech he gave at the Shanghai Bund Finance Summit on October 24 of 2020.
In this speech, Ma made critical remarks on how China's financial market is regulated and supervised. Kevin Xu at Interconnected provides an English translation of this speech here.
On November 3rd, two days before Alibaba's fintech subsidiary Ant Group was set to raise around $37 billion with the biggest initial public offering of all time, Chinese regulators abruptly suspended the process. A report by the Wall Street Journal claimed that Chinese President Xi Jinping personally made the decision to halt the IPO of Ant Group after years of rising tensions between Ma and the government.
Pressure on Jack Ma and Alibaba further increased in December when Chinese regulators launched an anti-monopoly investigation into Alibaba and the Ant Group.
Alibaba announced the investigation of its company on its official Weibo channel on December 25 of 2020.
On December 25, People's Daily also reported the anti-monopoly investigation. The state newspaper hosted a hashtag page about the matter on Sina Weibo (#人民日报再评阿里巴巴被调查#) which garnered over 240 million views. They wrote:
"Large Internet platform companies should take the lead in strengthening industry self-discipline, in further enhancing their sense of social responsibility, and in safeguarding a favorable Internet economic ecosystem. The Internet industry has never been, and should never become, a place that is outside the law for anti-monopoly. Regarding platform economy, reinforcing anti-monopoly regulations is never a "winter" for the industry – it is just a new starting point for better and healthier development."
Although Chinese official media have since not reported much on the issue, and have not published about Ma's alleged 'disappearance', Ma's whereabouts and his situation has become a much-discussed topic on various Chinese social media platforms.
Jack Ma in Short
Being among the top 20 richest people in the world, Jack Ma is world-famous as the founder of Alibaba, a multinational tech company specializing in e-commerce that was founded in 1999.
Jack Ma, whose Chinese name is Ma Yun 马云, was born in Hangzhou in 1964 to a family of low status. His life story has been retold in many books. Ma was bullied at school, had poor math skills, and flunked the entrance exam twice before he was accepted into the Hangzhou Teacher's Institute, where he graduated in 1988 with a Bachelor of Arts in English.
Ma had been interested in English since he was a young boy. He would cycle to the main hotel in his city to connect with foreign tourists, acting as their local tour guide in return for English classes. The name 'Jack' was given to him by one of the tourist friends he made at that time.
Ma went on to become an English teacher and barely even touched a keyboard before he traveled to the US in 1995 as an interpreter. It was during this trip that he was first introduced to the internet, after which he became inspired to set up his own commercial web site in China – a web site named 'China Pages' for Chinese businesses.
Although that business flopped, Jack Ma founded Alibaba in 1999, which would turn into an internet giant influencing virtually all corners of China's digital world. The Alibaba Group now operates numerous businesses, including Taobao, TMall, AliExpress, and the Ant Group.
Ma's success is a source of inspiration to many, and his 'crazy Jack' energetic behavior and willingness to make fun of himself has only made him and his story all the more captivating.
Ma officially stepped down as Alibaba's CEO in 2019 but is still the company's largest individual shareholder.
"What's up with Ma Yun?"
Until recently, Jack Ma was one of the more popular Chinese celebrities on social media. Jack Ma quotes, memes, videos, or stories would frequently go viral.
As one of the most respected and powerful entrepreneurs of China, bookstores have entire sections dedicated to Jack Ma and his role as a business magnate, the richest man of China, and also as a welldoer and an inspiring influential.
Whatever Ma would say or do would go trending, with many people praising what he did, what he said, or where he went.
In 2017, the meeting between US President Trump and Alibaba's Ma was a big topic of discussion, with many Chinese web users taking pride in Ma's meeting with Trump, calling him the perfect ambassador to China in their dealings with Trump. "Ma Yun [Jack Ma] for president!" was a much recurring phrase.
It is a phrase you won't read as much, if at all, on Chinese social media these days anymore. The silence surrounding Jack Ma recently has led to speculation and reflections on his current situation.
On Chinese search engine Baidu, the search prediction reflects web users' confusion over his whereabouts; upon searching for 'Ma Yun' in the first week of January, the first five automatic predictions are the following:
– Jack Ma fled abroad
– Did Jack Ma really flee abroad?
– Jack Ma sentenced to prison
– Jack Ma disappeared
– Jack Ma Shanghai Bund speech
On Douyin (the Chinese TikTok), the first sentence to come up when searching for Ma Yun, is "What's up with Ma Yun?"
On Weibo, where Jack Ma has over 26.4 million followers on his official account, there have not been any new posts since October 17. But Ma's last post, which talks about an educational event, is still attracting new comments every few minutes.
"Daddy Ma, come on, ok? We're rooting for you," one commenter writes.
"We haven't seen you in a long time, Brother Ma," some write: "When will you come back into the public arena?", with others saying: "Teacher Ma, what happened?"
But besides the messages from those who seem concerned about the well-being of the tech tycoon, there are many angry ones.
Some blame Ma for praising the '996' work system (working from 9am-9pm, 6 days a week). In 2019, Ma called the 12-hour working day a "blessing," causing much controversy online. Because the death of a young employee at Pinduoduo was also linked to her long working hours, the '996' work system is a hot topic this week, with many condemning how Chinese tech companies are exploiting their employees and revisiting Ma's 2019 comments.
Others also turn to Jack Ma's Weibo page to complain about the shutdown of Alibaba's music streaming app Xiami. Although Xiami only holds a small percentage of China's music streaming market – apps such as QQ Music and KuGou are more popular – there are still many people who have been using the app for years and hate to see it go: "Why can't you give it another chance, why can't you take care of our Xiami!?"
And then there are those commenters who, in light of the recent developments and anti-monopoly investigations, call Ma a "greedy capitalist" and a "bloodsucker." "Maybe he'll be punished," one person writes: "Is that a 'blessing' too?" "I went from being a fan to a hater," another commenter writes, with others calling him an opportunist.
Changing Sentiments on Social Media
Jack Ma used to be an idol for many young people in China, but now it seems they have started to oppose him. On the Chinese video sharing site Bilibili, mainly used by younger generations, comments appearing in some videos featuring Ma are filled with anger and scolding.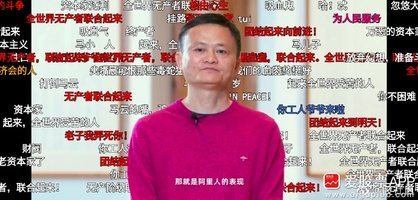 This shift in Ma's popularity among young people was recently also explained by young Chinese vlogger Yu He in this video, who argues that young people do not adore Jack Ma in the same way older Chinese people do.
Ma's vision of working really hard, praising the '996' work culture, and "everybody can be successful if you really try hard" was an inspiration to previous generations, but many post-90s people in China today – who are struggling in a highly competitive job market – do not have a lot of faith in Ma's work philosophy when their everyday lives are not about working to live, but about living to work. To them, Ma's ideas about working around the clock to get further in life do not make sense, as some feel they are working themselves to death while others get rich.
There is also anger over consumer lending platform Huabei, a product of Alibaba's Ant Group. Huabei previously encouraged users to spend more money in its ads, and its platform makes it very easy to spend money first and pay it back later – even for those who might not oversee the long-term consequences of excessive debt.
The question of why Jack Ma seems to have fallen out of favor with many Chinese people is also a topic of discussion on question-and-answer platform Zhihu.com.
One popular analysis by the e-commerce account Zhiser claims that Jack Ma used to be supported by the ordinary people because he made it possible for so many of them to make money through the Taobao marketplace platform, which started in 2003. Alibaba's Alipay online payment platform made it possible for common people to conveniently transfer money without extra fees.
But over recent years, Zhiser argues, Alibaba's business strategies have changed in such a way that its own profits are maximized and small sellers are negatively impacted.
With the arrival and growth of Alibaba's Tmall, where only brand owners or authorized dealers can open an online store & where transaction commissions are much higher, the traffic of small sellers on the Taobao marketplace has been reduced. Alibaba's activities are increasingly focused on benefiting the bigger companies – and itself -, while small entrepreneurs are increasingly struggling to be noticed and make money.
Without the means to open their own Tmall shop, without the capital to afford advertisement and paid promotions for their shops, the small sellers are watching helplessly how the big boys dominate the platform algorithms and take the money, Zhiser explains.
Alibaba is now also increasingly focusing on the fruit & vegetable market. There's Alibaba's Hema Fresh supermarket brand, for example, with big plans to open hundreds of stores nationwide in the upcoming years. The rise of Alibaba's fresh food businesses directly impacts the livelihood of ten thousands of ordinary Chinese who have their own small vegetable shops or street stalls – exactly those people who are already in vulnerable social groups.
Although the rise of Alibaba was once a great opportunity for common people, the changing business strategies have now resulted in Jack Ma getting more enemies, including small entrepreneurs, small sellers and buyers, offline shops, offline vendors, etc.
For them, the 'Alibaba dream' of using the power of the Internet and technological advancement to enable small businesses and young people to share the benefits of free trade has lost credibility.
"These years, Jack Ma has played the role of the destroyer rather than the savior," the author writes. His article received over 10,500 endorsements.
Zhiser's article reflects a perspective that surfaces in many places. "We believed him, that he really was making things better for us," another blogger writes.
Others think that Jack Ma was true about his intentions and dreams when he was a teacher and then started his business, but changed when he became surrounded by money-driven big investors, causing him to become alienated from his former ideas and philosophies, losing touch with China's younger generation, the small shop owners he promised to serve and the ordinary people.
"He changed China, he changed the world"
Despite the recent criticism of Ma, many people still defend and support him. There are even those who criticize him but still express their admiration for him.
Regarding the criticism coming from post-90s generations, one Chinese web user commented:
"You have no idea what it was like before Jack Ma came around. You're too young to know. If you want to go back [in that time], I suggest you go live on the moon."
Discussing the changing sentiments regarding Ma, Zhihu author Qing Rui writes:
"Jack Ma is a great entrepreneur of this era. He changed China, he changed the world. A lot of nonsensical people scold him for damaging China's real economy, while he's actually worked hard to improve the efficiency of the business sector, which has not only greatly boosted the real economy, but also greatly improved the living standards of the Chinese people."
It is a sentiment shared by many, who express that they think the recent shift in views on Ma is uncalled for, or reminding people of the positive effect Ma and his businesses have had on China's development.
"Those who scold Jack Ma are brainless idiots," some write.
"How is it possible for the public opinion on Daddy Ma shifting 180 degrees? It's like throwing stones at someone who fell down," one Weibo user from Shenyang writes.
Although perhaps less crowded than before, online 'Ma Yun Fanclubs' are still active. One Weibo fan writes: "Let's all hope our favorite idol Ma Yun will smoothly sail through this crisis!"
As for the 'disappearance' of Jack Ma that has previously been reported – although Ma has not been out in public, it is highly unlikely that he is actually missing.
CNBC reported on January 5 that the Chinese billionaire is lying low, according to a person familiar with the matter.
When famous Chinese actress Fan Bingbing got caught up in a tax evasion scandal in 2018, her 'disappearance' also made headlines in international media. After months of silence and wild rumors, the actress returned to social media with a public apology. She was ordered to pay taxes and fines worth hundreds of millions of yuan.
Meanwhile, Jack Ma's Weibo page is still receiving dozens of new messages. In between the "evil capitalist" scoldings, there are some who really hope Ma will come back to public life soon: "We'll support you, teacher Ma, don't give up!"
By Manya Koetse
Follow @WhatsOnWeibo
Spotted a mistake or want to add something? Please let us know in comments below or email us. First-time commenters, please be patient – we will have to manually approve your comment before it appears.
©2021 Whatsonweibo. All rights reserved. Do not reproduce our content without permission – you can contact us at info@whatsonweibo.com.
Pinduoduo Employee's Suicide Intensifies Online Debate on Company's Working Culture
For the second time this month, Pinduoduo makes headlines for the death of an employee.
The suicide of a Pinduoduo staff member is trending today on Chinese social media, where discussions on tough '996' working schedules (working 9am-9pm, 6 days a week) have been ongoing since the sudden death of another employee.
The staff member named Tan (谭) reportedly jumped from the 27th floor of an apartment building in his hometown of Changsha in Hunan province, where he had arrived that same day. The incident occurred around 0:30 AM 12:30 pm on January 9.
Pinduoduo published a statement about the death of their employee, expressing their condolences. They also said they were awaiting the results of the ongoing investigation into the death of Tan.
Meanwhile, the company stated they would immediately open a special channel within their office system for psychological support and consultation.
Tan had been working at Pinduoduo since July of last year as a technology development engineer. He was unmarried.
Pinduoduo is China's largest interactive online shopping platform. The company has been under fire on social media recently, with stories coming out on the company's overwork culture that is putting an enormous strain on its employees.
The death of a 22-year-old female staff member, who suddenly collapsed after a long day of work on December 29, is still being investigated. Although no official cause of death has been given, her death has been linked to Pinduoduo's extreme working culture.
"A Second Foxconn?"
Since Pinduoduo is making headlines again for another employee death, people on Weibo are now mentioning the electronics manufacturer Foxconn (富士康). Foxconn attracted major media attention after a series of employee suicides in 2010 and 2012 linked to low pay and poor working conditions.
On Weibo, many commenters wonder if Pinduoduo is becoming a second Foxconn.
Meanwhile, more staff members are speaking out about Pinduoduo's working culture. The stories of former employees of the company's community group buying unit Duoduo Maicai (多多买菜) were shared by Sohu News. They talk about 12-hour workdays and "supersize" work weeks (超级大小周) where staff would work 13 days in a row, then get one day off, or not getting days off at all. They also speak of requirements to minimally work 300 hours per month.
Despite the waves of criticism on Pinduoduo, there are also online voices who praise the company for bringing out a clear and honest statement right after the death of their employee and opening up a support channel for staff members.
Update January 11:
In an updated statement released to the media, Pinduoduo states that their employee had applied for leave from his supervisor on January 8 at 8:37 a.m., without giving a reason. He reportedly passed the probationary period and was a high achiever who received an average 80 out of 100 assessments at the company.
The company also states that when their support team flew to Changsha to provide assistance to the family, they learned that the employee already booked his return flight for January 9 from Changsha to Shanghai.

By Manya Koetse, with contributions by Miranda Barnes
Follow @WhatsOnWeibo

For information and support on mental health and suicide, international helplines can be found at www.befrienders.org.
Spotted a mistake or want to add something? Please let us know in comments below or email us. First-time commenters, please be patient – we will have to manually approve your comment before it appears.
©2021 Whatsonweibo. All rights reserved. Do not reproduce our content without permission – you can contact us at info@whatsonweibo.com.