Top 10 Most Popular Smartphones in China (Fall/Winter 2020)
From OPPO to iPhone, these are the most popular smartphones in China at the moment.
These are the most popular smartphone brands and devices in China right now. An overview by What's on Weibo.
It's been a while since What's on Weibo last did a top 10 of most popular / top-rated smartphones in China (link). Because the latest smartphone models have been attracting a lot of attention on Chinese social media recently, it is high time for another update.
Apple's iPhone 12 series, Huawei's Mate 40, and Samsung's Note 20 series are among the most discussed smartphones this season, but there are so many more devices gaining popularity over the past few weeks and months.
In previous years, there was a strong focus on bezel-less screens, trendy designs, and selfie camera quality. Now, there's a shifting focus on 5G, (8K) video and multiple cameras, fast charging technology, and overall fast performance. All models in this list are 5G ready.
For this list, we loosely follow the popularity rankings of Zol, a leading IT portal website in China that compiles its lists based on the data provided by its own Internet Consumer Research Center (ZDC 互联网消费调研中心).
Since its top ten rankings are changing every day, we also take into account how much views and clicks these latest models are receiving on social media site Weibo. If multiple models of the same series occur in different places in the official rankings, we've put them under one ranking together (e.g. the OPPO Reno 4 SE and the OPPO Reno 4 Pro, or the Huawei Nova 7 Pro and Huawei Mate 40).
China's most popular smartphone brands at this moment are OPPO, Vivo, Huawei, Apple, and Honor.
When popular Weibo blogger Gǎojī Juéshì (@搞机爵士,2.1 million fans) recently asked his followers which flagship phone of the moment they would choose – Apple's iPhone 12, Huawei's Mate 40, or Samsung's Note 20 – a majority of 49% of respondents voted for the Huawei brand. 43% voted Apple, and 8% voted Samsung.
Although the number one of this list, the OPPO Reno4, has consistently been holding the number one spot in last week's ranking, the other models are shifting places in the top rankings, so this is not an 'official' top ranking list, just one that is compiled by us following the latest trends.
1. OPPO RENO4 SE & PRO (8GB/128GB/5G)

OPPO is a Guangdong-based brand officially launched in 2004. It is mainly known for targeting China's young consumers with trendy designs and smart marketing. Its product quality combined with successful online marketing has made the brand super popular throughout the years.
For the Reno4, TF Boys member Wang Junkai (@王俊凯, aka Karry Wang) who has nearly 79 million fans on Weibo, is the OPPO brand ambassador promoting this model. One Weibo post by Wang promoting the Reno4 SE received over 735,000 comments and one million likes.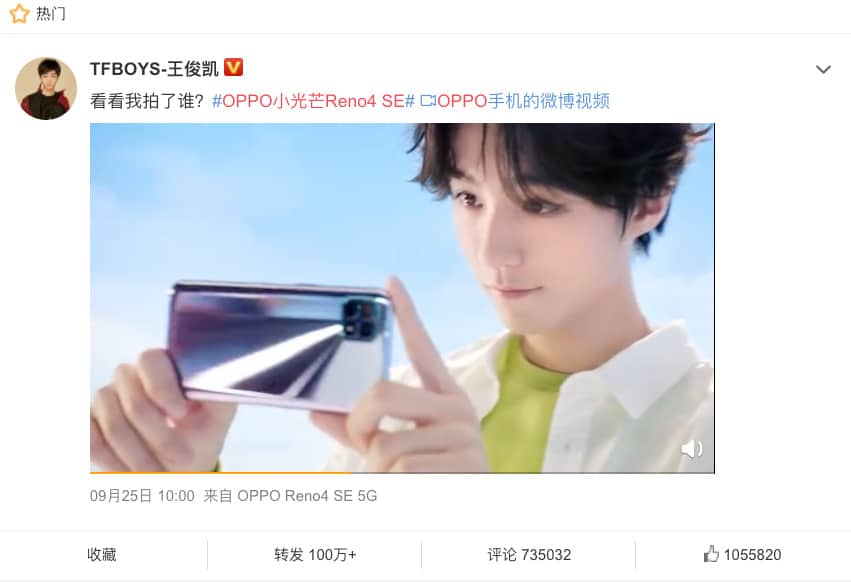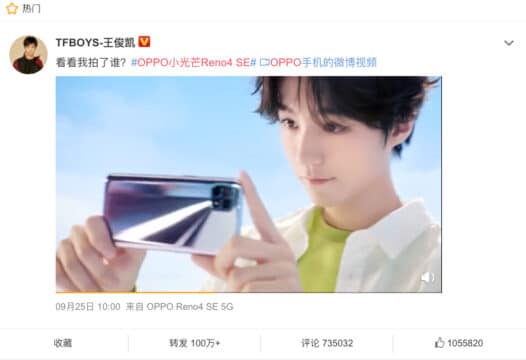 The OPPO Reno4 SE was officially launched in China in late September of 2020 and is not yet available for the international market.
The Reno4 SE has a 6.43-inch AMOLED display (1080 x 2400 pixels) and comes with a triple rear camera setup (48MP, 8MP, 2MP). Noteworthy is its 32MP (!) selfie camera.
It comes with 8GB of RAM and 128GB storage (no expandable storage). Some of the Reno4 SE's other highlights include the 65W fast charging and 5G connectivity support. The smartphone runs Android 10 OS, topped with OPPO's own ColorOS 7.2.
On Weibo, the OPPO Reno4 SE hashtag (#OPPO小光芒Reno4 SE#) has 710 million views at the time of writing.
The Oppo Reno 4 Pro is also listed in Zol's top ranking list, ranking 8 at the time of writing. This model is slightly bigger, with a Super AMOLED display and extra memory card slot. It also has NFC and a more high-end camera. It is priced around ¥3799 ($566).
The OPPO Reno4 SE is priced at ¥2499 ($373) at JD.com and Tmall, and is one of the cheaper devices in this list – its price is nowhere near that of the Samsung Note 20 Ultra or the iPhone 12, making it much more affordable to many. The Reno4 SE smartphone comes in three color options: Super Flash Black, Super Flash Blue, and Super Flash White.
2. VIVO X50 PRO (8GB/128GB/5G)

At time of writing, not only does the Vivo x50 Pro hold the number two spot in the top popular smartphone rankings, but Vivo is also ranking as the second most popular smartphone brand in China at this moment (OPPO being number one).
Like OPPO, Vivo is another Chinese domestic brand that has gained worldwide success, first entering the market in 2009. Its headquarters are based in Dongguan, Guangdong.
When it comes to marketing its smartphones, Vivo has really focused on camera quality over the past years. Its earlier Vivo x27 device was launched as a "night photo wonder tool," and for the Vivo x50 Pro, there is again this focus on "redefined photography," camera light sensitivity and stabilization.
The main camera is a 48MP "Gimbal" main camera, accompanied by a 13MP, 50 mm prime portrait camera, a wide-angle lens, and 60 x optical zoom camera.
Collaborating with state media outlet CCTV, there recently was a Golden Week social media promotion of the device showing beautiful night photos from the Summer Palace.
The Vivo x50 Pro was launched in June of 2020. The slim device has a 6.56 inch AMOLED display, 1080 x 2376 pixels. Due to its powerful processor, 90 Hz high refresh & 180 Hz touch sampling rate, and gaming-centric features, the Vivo x50 Pro will also be appreciated by gamers.
By now, the Weibo hashtag associated with the Vivo x50 series (#vivo X50系列 超感光微云台#) has gained over 1.7 billion views.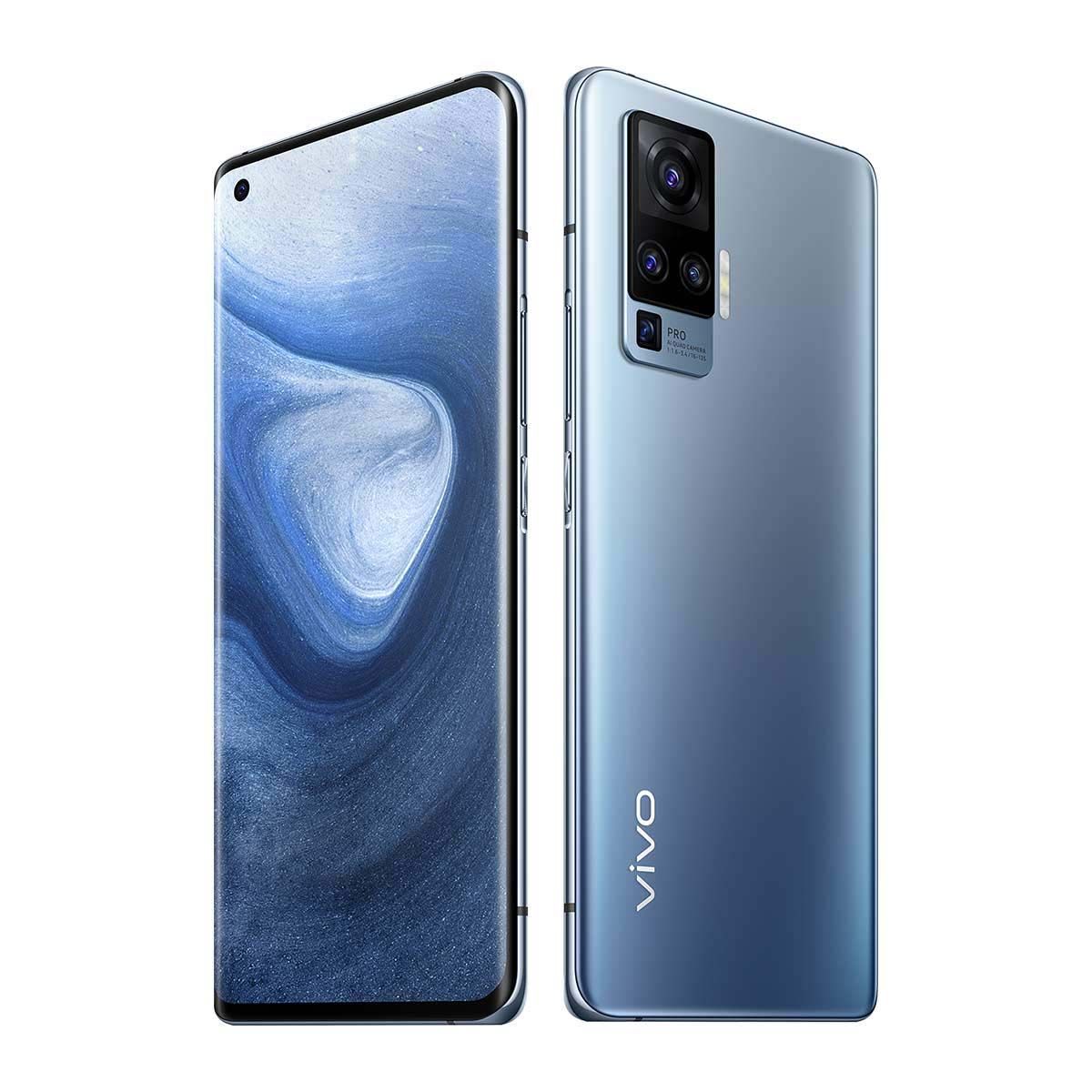 Many people on social media also share their own photos shot with their Vivo x50 Pro.
The Vivo x50 Pro 5G is priced at ¥3998 ($596) at e-commerce sites such as JD.com. It comes in Dark Blue and Light Blue colors.
3. Huawei Nova 7 Pro (8GB/128GB/5G) and Huawei Mate 40 (8B/128GB/5G)

Both the Huawei Nova 7 Pro and Huawei Mate 40 are in the top ranking lists of this moment. Huawei also ranks number three in official top-ranking smartphone brand lists of this moment, coming in before Apple in popularity.
The Huawei Nova 7 was released in April of 2020, and the Huawei Mate 40 series was released in China on October 30 with the Mate 40, Mate 40 Pro, and Mate 40 Pro+ (we'll update this when more news comes out). The Mate 40 and Mate 40 Pro were previously on pre-order sale, and reportedly sold out within 30 seconds. The Mate 40, which ranks highest in popularity at this time, is an 'entry-level' device within the Mate 40 series.
The Huawei Mate 40 comes with a 6.76-inch Flex OLED display with a 2722 x 1344 pixels screen resolution, a 90Hz refresh rate, and a 240Hz touch sampling rate. There's been a lot of hype surrounding the Huawei Mate 40 since it was said it would come with "a feature" that was still to be disclosed – which turned out to be the digital yuan wallet feature.
The older Huawei Nova7 Pro is a dual-sim device. It has a 6.57-inch display (1080 x 2340) and a 64MP + 8MP + 8MP + 2MP rear camera, the front camera being 32MP + 8MP.
The Weibo hashtag for the Huawei Nova 7 series (#华为nova7#) has nearly 2 billion views on Weibo at time of writing, with the Huawei Mate 40 garnering 1.2 billion views on its hashtag page (#华为Mate40#).
The Nova 7 pro is priced at ¥3699 ($550). The Nova 7 Pro was released in the colors Midnight Black, Silver, Forest Green, Midsummer Purple, and Honey Red. The Mate40 is ¥4999 ($745).
4. Samsung Galaxy Note 20 Ultra (12GB/256GB/5G)
Together with Apple, Samsung currently is among the most popular smartphone brands in the PRC that is not made-in-China. The brand seems to have been able to win back consumer's trust after previous problems with overheating and exploding batteries.
The Galaxy Note 20 and Note 20 Ultra were launched in summer 2020. Both are top-notch devices, with a Snapdragon 865 Plus processor and a 10-megapixel selfie camera, and of course, the Note's landmark 'S Pen' including new gestures.
What makes the 'Ultra' device different from the Galaxy Note 20 is its Gorilla Glass Victus back (which is more durable and has better drop resistance), its AMOLED screen, 108-megapixel camera, and its microSD card slot – making it possible to expand the  256GB storage with a Micro-SD of up to 1TB. Despite the price difference, the aforementioned features make it understandable that the 'Ultra' is a more popular choice over the Samsung Note 20 device.
The Galaxy Note 20 Ultra shoots 8K video, the highest-resolution video recording available. It is also the first Note with a 120 Hz refresh rate display. For reference:  a standard smartphone display usually refreshes at 60 times per second, or at 60 Hz. This high refresh rate means you get smoother animations and navigation. The device also has a 240Hz touch sampling rate (the frequency at which the display polls for touches on the display).
With its 6.9 inch (1440 x 3088) display, the Note 20 Ultra is the biggest phone on this list. It weighs 208 grams.
On Weibo, the hashtag "Samsung Note 20" (#三星note20#) has over 330 million views. The Samsung Note 5G Ultra is available in bronze, white, and black, and is available from ¥9199 ($1370), making it the most expensive phone on this list. Although many people on Weibo say they do like this phone, the high price is an obstacle, with some saying: "The price just kills me."
5. OnePlus 8Pro and 8T (8GB/128 GB/5G)
"Never settle" is the slogan used by OnePlus, a Shenzhen-based Chinese smartphone manufacturer founded by Pete Lau and Carl Pei in December 2013.
Both the OnePlus8Pro and the cheaper 8T models are ranking high in current top listings. The 8T was released in October of this year, while the Pro version came out earlier in April.
Both phones come with Dual-SIM, AMOLED display (120 Hz refresh rate), Gorilla Glass 5 front and back, 4K video, stereo speakers, NFC, and 48MP main cameras.
The Pro is the bigger phone – with its 6.79 inch screen and 199 grams, it comes quite close to the Samsung Note 20 Ultra. It also has a slightly more advanced quad camera.
The OnePlus 8 series hashtag (#一加8#) currently has some 1,3 billion views on Weibo.
The OnePlus 8 Pro received quite some attention on social media earlier this year, when it turned out that its 'Photochrom' color filter, using infrared sensors, could see through some materials, such as plastic.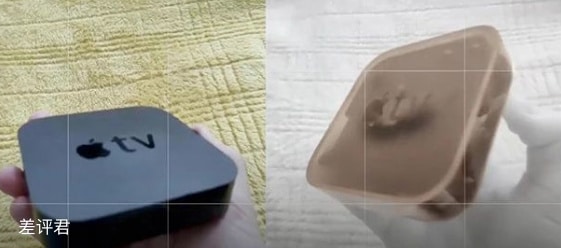 The OnePlus 8 Pro 5G is priced at ¥5399 ($805), the OnePlus 8T model is priced at ¥3399 ($507).
6. iQOO 5 (12GB/128GB/5G)
The iQOO is not well-known outside of China, but it is actually a sub-brand of Vivo. iQOO is owned by the BKK Group (步步高), which also owns OPPO, OnePlus, and RealMe.
The iQOO 5 was released in August of this year. Its AMOLED display is about the same size as the OnePlus8T (6.56 inch), they both have 120Hz refresh rate screen, dual SIM, and the two phones actually seem to be competitors in multiple ways, although the iQOO is the pricier option.
The iQOO has a 16-megapixel selfie camera, its rear camera is a 50MP, along with a 13MP ultra-wide angle and 13MP depth sensor. It has 8K video recording.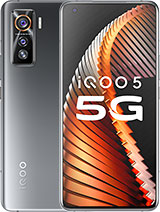 On social media, the iQOO is mainly marketed as a 'fast phone' – and in doing so (#iQOO 5 超能竞速#) it has reached 370 million views on its hashtag page at time of writing.
The iQOO 5 is priced at ¥4298 ($640) and comes in blue or grey.
7. OPPO FIND X2 PRO (12GB/256GB/5G)

The OPPO Find X2 Pro was already launched in March of 2020 and yet it still is one of the most popular phones of the moment in China – even though it is also one of the more expensive devices in this list.
With its 6.7 inch display, it is just as big as the Apple iPhone 12 Pro Max, and in some ways it could be argued that it is a real competitor. With its 48 MP/13MP/48MP main camera and 32MP selfie camera, and, among others, stereo speakers and fast-charging features, it's a fancy device.
Some reviewers argue the design is better than the Apple iPhone Pro, and that its display is more impressive.
The OPPO Find X2 series hashtag page (#OPPO Find X2#) has over 1.8 billion views on Weibo.
Priced at ¥5999 ($895), the OPPO Find x2 Pro comes in Black, Orange, Light Grey, Green, Lamborghini Edition, with the orange/grey/green editions all made from (vegan) leather instead of glass or plastic.
8. IPHONE 12 (4GB/128GB/5G) & IPHONE 12 PRO MAX (6GB/128GB/5G)

Despite its relatively high price, the iPhone 12 is still very popular in China – but at time of writing, still lags behind a bit in the top-ranking lists, and does not come up in the top five lists (yet).
The Apple iPhone 12 and the Pro Max were both announced on October 13, with the iPhone 12 launched later in October, along with the Apple iPhone 12 Pro. The Apple iPhone 12 Mini, like the Pro Max, is yet to be released.
The iPhone 12 is the smallest and lightest model of the 12 / 12 Pro / 12 Pro Max trio. It has a 6.1 inch (1170 x 2532) Super Retina XDR display, which is also among the smaller device displays in this list. The phone is also marketed as "the world's smallest, thinnest, lightest 5G phone" with the "best iPhone display ever." It comes with a dual 12-megapixel camera on the rear and a 12-megapixel selfie camera on the front.
It's actually hard to track the views on the iPhone 12 series on Weibo since there are so many different hashtags relating to iPhone12 news – this in itself gives an idea of how popular this phone is. The most used "iPhone 12" hashtag (#iphone12#) has a staggering 9 billion views.
The iPhone 12 comes in the Black, White, Red, Green, Blue colors, and is currently priced at ¥6299 ($940) in China. The 12 Pro Max, with a giant 6.7-inch display and fancier camera, is priced at ¥9299 ($1387) – making it the most expensive phone on this list.
9. HONOR X10 & HONOR 30 (6GB/128GB/5G)

Together with the super popular OPPO's Reno 4 SE, the Honor X10 and Honor 30 are among the more affordable devices on this list, with the X10 being slightly more popular than the more expensive Honor 30.
Honor is perhaps not as well-known outside of China as other Chinese smartphone brands are.  Honor (荣耀), established in 2013, is the budget-friendly sister of the Huawei brand. The company's sub-brand has been doing very well over the past years. Honor focuses on great value for money, and in doing so, targets younger consumers, not just with its relatively low prices, but also with its trendy designs.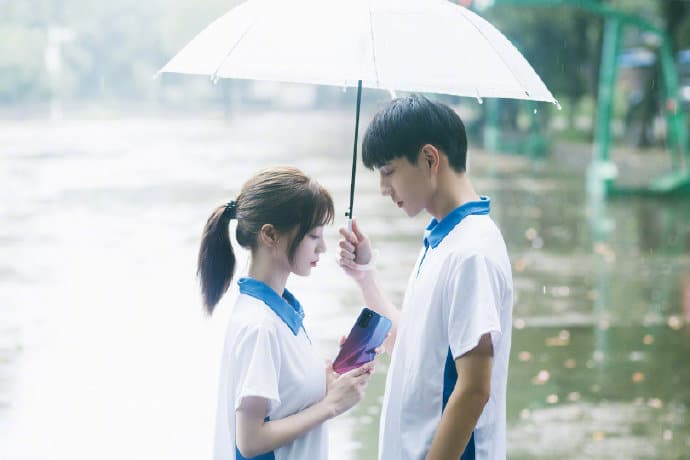 The Honor X10 5G was released in May of this year, the Honor30 was released a month earlier. Size-wise, display-wise, price-wise, these Honor devices could compete with the newer OPPO Reno 4 device, with many of their specs being similar. Both devices support expandable memory.
The Honor 30 is slightly better than the X10 when it comes to pixel density and CPU speed, but this model also has a better camera setup (40+8+8+2 MP versus 40+8+2 MP).
The X10, however, has a stronger battery (4300mAh) and a bigger screen (6.63 inches).
Honor30 hashtag (#荣耀30#) has garnered 3,5 billion views on Weibo thus far; the X10 is also popular on social media (#荣耀x10#) with 1,1 billion clicks.).
The Honor X10 is priced at ¥2199 ($328). The Honor 30 is ¥2699 ($402).
10. XIAOMI 10 (8GB/128GB)

Since the launch of its first smartphone in 2011, Beijing-brand Xiaomi has become one of the world's largest smartphone makers.
The Xiaomi 10, released in May 2020, is a dual SIM device that comes with a 6.67-inch (2340 x 1080) AMOLED display with a 90 Hz refresh rate, a strong 4780 mAh battery, and 108+13+2+2 MP rear camera. It also supports 5G and has quick charging, so it's a very 2020 device. According to Gadgets Now, the Xiaomi 10 "lives up to the hype."
With over 3,2 billion views on the Xiaomi 10 hashtag page on Weibo (#小米10#), the Xiaomi brand also succeeded to create an online hype earlier this year. Discussions were mostly focused on the model's camera performance and its screen.
The Xiaomi 10 is priced around ¥3499 ($521), with cheaper deals available. It comes in black, grey, green, and pink.

For clarification, we'll list the aforementioned devices again, based on pricing, with the most expensive devices coming first. Note that these are the approximate prices for the Chinese market, which might be (very) different outside of China:
1. iPhone 12 Pro Max / ¥9299 ($1387)
2. Samsung Note 20 5G Ultra / ¥9199 ($1370)
3. iPhone 12 / ¥6299 ($940)
4. OPPO Find x2 Pro / ¥5999 ($895)
5. OnePlus 8 Pro 5G / ¥5399 ($805)
6. iQOO 5 / ¥4298 ($640)
7. Vivo x50 Pro 5G / ¥3998 ($596)
8. OPPO Reno4 Pro / ¥3799 ($565)
8. Huawei Nova 7 Pro 5G / ¥3699 ($550)
9. Xiaomi 10 / ¥3499 ($521)
10. OnePlus 8T / ¥3399 ($507)
11. Honor30 / ¥2699 ($402)
12. OPPO Reno4 SE / ¥2499 ($373)
13. Honor x10 / ¥2199 ($328)
By Manya Koetse
Follow @WhatsOnWeibo
NB: This post is not a sponsored post in any way. This article may, however, include affiliate links that at absolutely no additional cost whatsoever to you allows this site to receive a small percentage in case you purchase something after you click.
Spotted a mistake or want to add something? Please let us know in comments below or email us. First-time commenters, please be patient – we will have to manually approve your comment before it appears.
©2020 Whatsonweibo. All rights reserved. Do not reproduce our content without permission – you can contact us at info@whatsonweibo.com.
U.S. Embassy Launches WeChat Stickers Featuring Cartoon Eagle
A Weibo hashtag about the eagle stickers, that feature some phrases previously used by China's Foreign Ministry, has now been taken offline.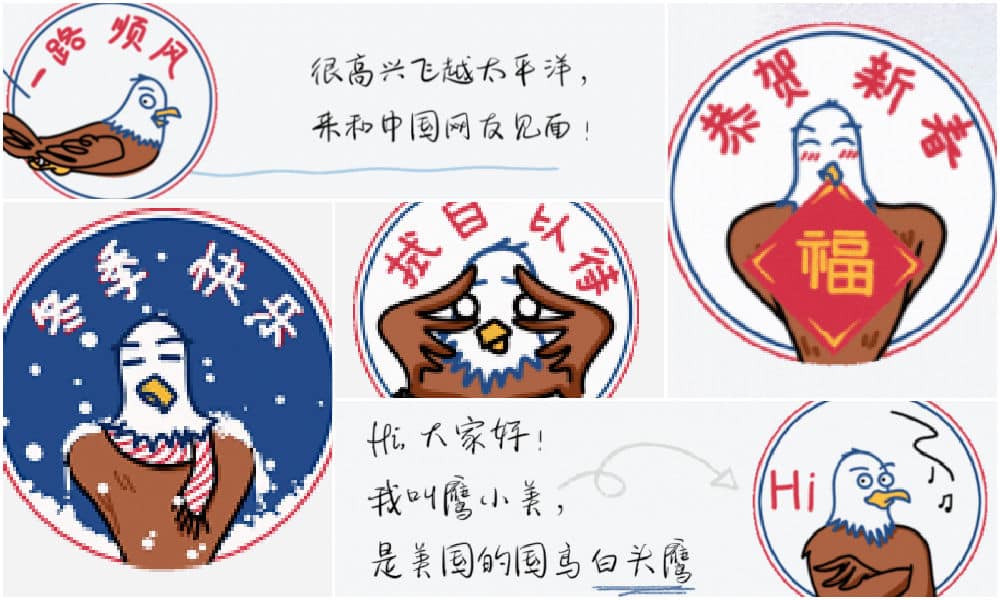 On January 30, the American Embassy in China announced the launch of its very own series of social media gifs, a special 'emoticon collection' (表情包), featuring a little, somewhat silly cartoon eagle.
The U.S. Embassy launched the eagle series on WeChat and also announced the series on their Weibo account, writing that the eagle made its first public appearance in light of the festivities surrounding the Chinese New Year.
The eagle is called "Xiaomei" or "Little Mei" (鹰小美). The 'mei' is part of 美国 Měiguó, Chinese for the 'United States,' but měi also means beautiful and pretty.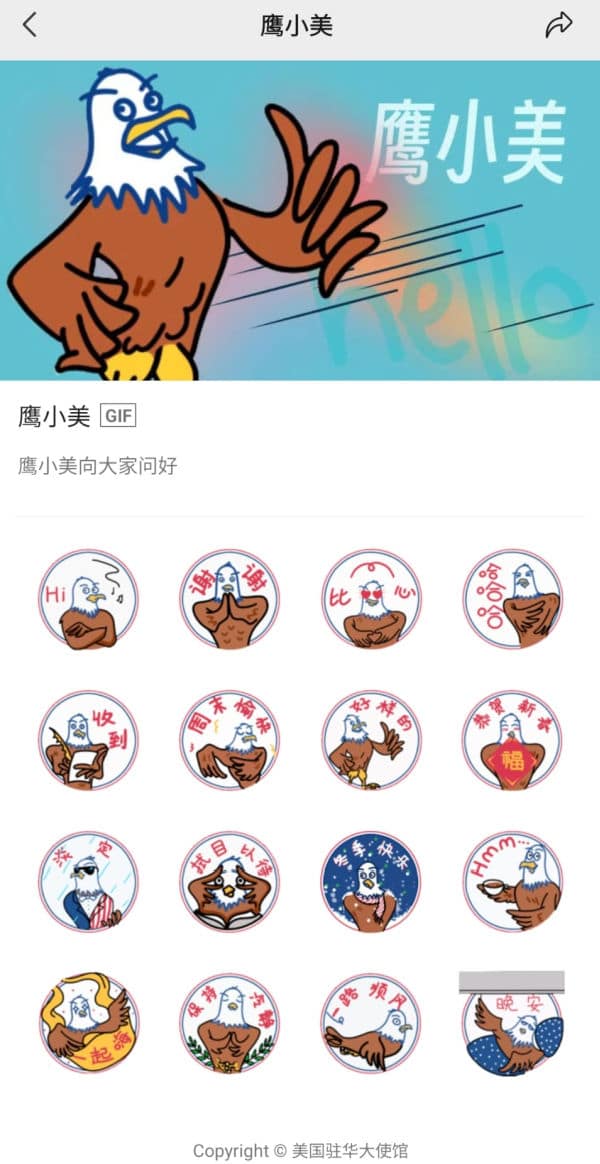 The American embassy issued a total of 16 different animated stickers, and they're intended to be used on Tencent's WeChat, where users can download all kinds of different emoticons or stickers to use in conversations.
WeChat users often use many different animated stickers in conversations to express emotions, make jokes, or increase the festive mood (by sending out celebratory New Year's or birthday etc gifs). Users can download new and preferred sticker packages through the app's sticker section.
One sticker shows Xiaomei with a festive decoration with 福 (fú) for blessing and prosperity, wishing everyone a happy start to the Chinese Lunar New Year. There are also stickers showing the texts "happy winter," "hi," and "thank you."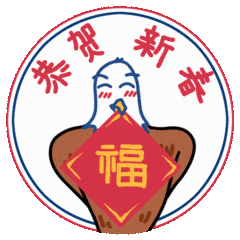 Another sticker in the series that has triggered some online responses is one that shows the eagle with a surprised look, wiping its eyes, with the words "wait and see" written above. The Chinese expression used is 拭目以待 shìmù yǐdài, to eagerly wait for something to happen, literally meaning to wipe one's eyes and wait.
This same expression was often used by the Chinese Foreign Ministry spokesperson Zhao Lijian (赵立坚) during press conferences, and he also used it in 2022 when responding to questions related to Nancy Pelosi's controversial visit to Taiwan and how the Chinese military would respond (e.g. he first used "wait and see" in the context of waiting to see if Pelosi would actually dare to go to Taiwan or not). But Zhao also used "please wait and see" (请大家拭目以待) when foreign reporters asked him how China would respond to the announced U.S. boycott of the Winter Olympics in 2021.
The Little Mei emoji triggered the most responses as some netizens felt it was meant as a sneer to the Chinese Foreign Ministry.
One of Little Mei's quotes is also "remain calm" (保持冷静 bǎochí lěngjìng), which was – perhaps coincidentally – also often used by Zhao in the context of the war in Ukraine and to refer to other international conflicts or tensions ("all parties should remain calm"). The animated sticker also has olive branches growing behind the eagle.
It recently became known that Zhao, who became known as the 'Wolf Warrior' diplomat, was removed as the Foreign Ministry spokesperson and was moved to the Department of Boundary and Ocean Affairs.
Especially in the context of Zhao leaving his post, some wondered why the U.S. Embassy would use phrases related to his press conferences for their new emoticons.
Although some people suggested the WeChat stickers were not launched in China with good intentions, others appreciated the humorous visuals and felt it was funny. Some also joked that America was infiltrating Chinese social media with its cultural export ("文化输出"), and others wondered if they could not also introduce some other stickers with more Chinese Foreign Ministry popular phrases on them.
A hashtag related to the topic made its rounds on Weibo on Tuesday (#美驻华大使馆上线鹰小美表情包#), but the topic suddenly was taken offline on Tuesday evening local time, along with some of the media reports about the remarkable WeChat series.
The WeChat stickers are still available for downloading by scanning the QR code below through WeChat.
By Manya Koetse , with contributions by Miranda Barnes
Get the story behind the hashtag. Subscribe to What's on Weibo here to receive our newsletter and get access to our latest articles:
Spotted a mistake or want to add something? Please let us know in comments below or email us. First-time commenters, please be patient – we will have to manually approve your comment before it appears.
©2023 Whatsonweibo. All rights reserved. Do not reproduce our content without permission – you can contact us at info@whatsonweibo.com.
Video Shows Real-Time "Departure" Information Board at Chinese Crematorium
From "cremation in process" to "cooling down," the digital display shows the progress of the cremation to provide information to those waiting in the lobby. The crematorium 'departure' board strikes a chord with many.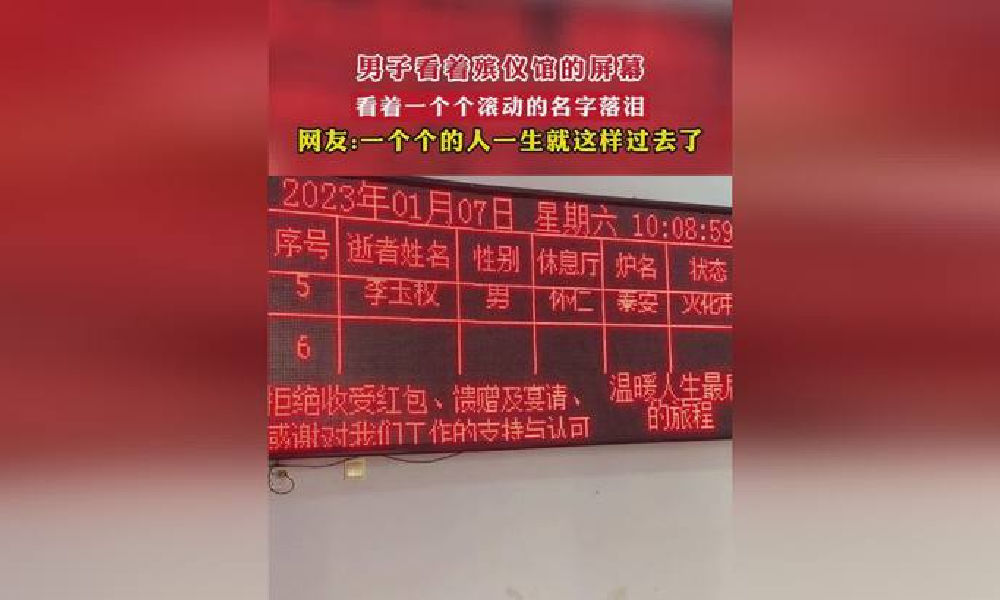 A video showing a live display screen announcing the names and status of the deceased at a Yunnan crematorium has been making its rounds on Chinese social media, from WeChat to Weibo, where one version of the video received over 1,7 million views.
Somewhat similar to a real-time platform departure display on train stations, the screen shows the waiting number of the deceased person, their name, gender, the name of the lounge/room (if any) for families, the name of the crematorium chamber, and the status of the cremation process. Below in the screen, it says "the final journey of a warm life" (温暖人生的最后旅程).
For example, the screen displays the names of a Mr. Chen and a Mr. Li; their bodies were in the process of being cremated (火化中), while other cremations were marked as "completed" (完成) or "cooling down" (降温中).
This video of a real-time "departure" information board in the lobby of a Chinese crematorium is making its rounds on Weibo/Wechat these days. The display shows the name and gender of deceased, which cremation chamber, and the cremation status to inform families of the progress. pic.twitter.com/EA94OWGwdk

— Manya Koetse (@manyapan) January 16, 2023
Through such a screen, located in the crematorium lobby, family members and loved ones can learn about the progress of the cremation of the deceased.
The video, recorded by a local on Jan. 7, received many comments. Among them, some people commented on the information board itself, while others simply expressed grief over those who died and the fragility of life. Many felt the display was confronting and it made them emotional.
"It makes me really sad that this how people's lives end," one commenter said, with another person replying that the display also shows you still need to wait in line even when you're dead.
"I didn't expect the screens [in the crematorium] to be like those in hospitals, where patients are waiting for their turn," another Weibo user wrote. "It would be better if the names were hidden, like in the hospitals, to protect the privacy of the deceased," another person replied.
Others shared their own experiences at funeral parlors also using such information screens.
"My grandfather passed away last September, and when we were at the undertaker's, the display was also jumping from one name to the other and we could only comfort ourselves knowing that he was among those who lived a relatively long life."
"Such a screen, it really makes me sad," another commenter from Guangxi wrote, with others writing: "It's distressing technology."
Although the information screen at the crematorium is a novelty for many commenters, the phenomenon itself is not necessarily related to the Covid outbreak and the number of Covid-related deaths; some people share how they have seen them in crematoriums before, and funeral parlor businesses have used them to provide information to families since at least 2018.
According to an article published by Sohu News, more people – especially younger ones – have visited a funeral home for the first time in their lives recently due to the current Covid wave, also making it the first time for them to come across such a digital display.
The online video of such an information board has made an impact at a time when crematoriums are crowded and families report waiting for days to bury or cremate their loved ones, with especially a large number of elderly people dying due to Covid.
On Jan. 4, one social media user from Liaoning wrote:
"I really suggest that the experts go to the crematoriums to take a look. There is no place to put the deceased, they're parked outside in temporary containers, there's no time left to hold a farewell ceremony and you can only directly cremate, and for those who were able to have a ceremony, they need to finish within ten minutes (..) At the funeral parlor's big screen, there were eight names on every page, and there were ten pages for all the people in line that day, I stood there for half an hour and didn't see the name of the person I was waiting for pop up anymore."
As the video of the display in the crematorium travels around the internet, many commenters suggest that it is not necessarily the real-time 'departure' board itself that bothers them, but how it shows the harsh reality of death by listing the names of the deceased and their cremation status behind it. Perhaps it is the contrast between the technology of the digital display boards and the reality of the human vulnerability that it represents that strikes a chord with people.
One blogger who reposted the video on Jan. 13 wrote: "Life is short, cherish the present, let's cherish what we have and love yourself, love your family, and love this world." Among dozens of replies, some indicate that the video makes them feel uncomfortable.
Another commenter also wrote:
"I just saw a video that showed an electronic display at a crematorium, rolling out the names of the deceased and the stage of the cremation. One name represents the ending of a life. And it just hit me, and my tears started flowing. I'm afraid of parting, I'm afraid of loss, I just want the people I love and who love me to stay by my side forever. I don't want to leave. I'm afraid I'll be alone one day, and that nobody will ever make me feel warm again."
One person captured why the information board perhaps causes such unease: "The final moments that people still spent on this earth take place on the electronic screen in the memorial hall of the funeral home. Then, they are gone without a sound."
Get the story behind the hashtag. Subscribe to What's on Weibo here to receive our newsletter and get unlimited access to all of our articles:
By Manya Koetse 
with contributions by Zilan Qian
Spotted a mistake or want to add something? Please let us know in comments below or email us. First-time commenters, please be patient – we will have to manually approve your comment before it appears.
©2023 Whatsonweibo. All rights reserved. Do not reproduce our content without permission – you can contact us at info@whatsonweibo.com.