Top 10 of the Most Evil Power Women in China's History
They might have lived centuries ago, but are still the talk of the day in Chinese books, television shows and online media. They were often beautiful on the outside but cruel on the inside. They were rebels of their time, and would bewitch men with their charms to get what they wanted- some of them changed China's history because of it. A top ten list of the most evil and powerful women in China's history.
China has a long history of notoriously strongheaded or ruthless women. This is a list compiled by What's on Weibo of 10 women in China's history who are often referred to as "evil" in (online) media.
They might have lived centuries ago, but are still the talk of the day in Chinese books, television shows and online media. They were often beautiful on the outside but cruel on the inside. They were rebels of their time, and would bewitch men with their charms to win more power – some of them changed China's history because of it. From ten to one: a top 10 of evil power women in China's history, carefully selected and compiled by What's on Weibo based on different online Chinese charts and books about 'evil' women of China.
(Updated April/2018: Check out our recent video on this topic here).
SECRET ROMANCE & LAVISH SPENDING
10. Lu Xiaoman (陆小曼)
Lu Xiaoman was one of the most famous women in China's roaring twenties. In her own time, she was considered scandalous: she had an extramarital affair, was then divorced, and led a lavish lifestyle.
Lu was born in an upperclass Shanghai family in 1903 and became known as a beautiful, well-educated and talented woman. She spoke fluent English and was a gifted writer and painter. She became married to the erudite Wang Geng. Within the first years of their marriage, Lu fell in love with one of Wang's friends named Xu Zhimo, who was one of China's most famous poets at the time. Zhimo had been married before, but was already divorced in what has been described as China's "first modern divorce" (Lee 2007, 389).
Lu and the poet soon got tangled up in a complicated love-affair, while Lu was still married to Wang. Eventually, she got divorced herself and remarried to Xu in 1926. Xu soon found out that he could not afford Lu's lifestyle. She lavishly spend their money on luxury goods, delicacies and extravagant nights out. She rented an expensive apartment and hired 14 servants. Lu's luxurious lifestyle eventually got Xu in serious financial trouble.
During a fight over their expenses, the two got into a fight and Xu left their home for a trip, during which he died in a plane crash. Because Xu left during an argument, and because he took an old plane since he could not afford a modern one due to Lu's spending, some argue that it was Lu Xiaoman who actually "killed" her husband (Sina 2014; Hong Lee&Stefanowska 2003, 389-391).
Lu Xiaoman, on the right pictured together with Xu Zhimo.
FROM SUPERSTAR TO SUPERTRAITOR
9. Li Xianglan (李香兰)
Li Xianglan was an actress and singer who was loved by the Chinese people for her talent and beauty, but also hated by them for her nationality. She was a Japanese woman who pretended to be Chinese for many years. Yamagachi Yoshiko (her Japanese name) was born in 1920 Manchuria to Japanese parents. As the Sino-Japanese War was on the way, she jumped to superstar status. Being fluent in Mandarin, the Chinese audience did not know she was Japanese.
During these years, she played in seventeen different films, of which some were produced by Japanese studios to create pro-Japanese sentiment in China. When she was later arrested for treason, she had to expose her true nationality in order to avoid punishment.
She initially fled to the US and changed her name to Shirley Yamaguchi, but later settled down in Japan and took on the name Otaka Yoshiko, although she also remained known as Ri Koran (the Japanese pronunciation of her Chinese name).
Throughout her life, Li Xianglan had five different identities. When she passed away in the summer of 2014, many Chinese people still remembered her as a woman who lied about her identity and betrayed China. To know more about Li Xianglan, read 'Caught Between China & Japan: Superstar Li Xianglan'.
Li Xianglan.
INCEST & MURDER
8. Wen Jiang (文姜)
Her charm and beauty was praised in the oldest collection of Chinese poetry, the Classic of Poetry (诗经): Wen Jiang.  She lived during the 6th century BC as princess of the State of Qi, and became the wife of Duke Huan of Lu (present-day Shandong) with whom she had a son.
Wen Jiang was a politically powerful woman with a dark secret, as she was involved in an ongoing incestuous relationship with her own brother, Duke Xiang. When the affair was exposed, Duxe Xiang threw a big feast for his brother-in-law and got him drunk in the hopes of calming matters down.
The opposite happened, as things got out of hand and Duke Huang was killed on the same night – allegedly by the son of Xiang at his order. Although Wen Jiang initially was supposed to bring her dead husband's body back to Lu, she ended up staying at the border of Qi and Lu, where her son build her a residence. She stayed there for the rest of her life (Cook 2007, 81).
Wen Jiang in contemporary imagery.
ADULTERY & INFANTICIDE
7. Zhao Feiyan (趙飛燕)
Zhao Feiyan (c. 32-1 BC) was a beautiful woman of humble origin who was called 'flying swallow' (feiyan) because of her ability to dance elegantly like a bird. The ruling emperor of the Han Dynasty, Cheng, became enticed with her. He turned Feiyan one of his mistresses together with her sister Hede.
Feiyan soon became powerful. Emperor Cheng became so attached to her that he got rid of his empress in favor of Feiyan, who now became empress in spite of her low societal background. Although she had taken the place of the first wife, she had one problem: she could not bear a son. She went to extreme measures to try to get pregnant. She started sleeping around with palace slaves in the hopes of getting pregnant.
When Cheng's other concubines got pregnant, Feiyan forced them into abortions and killed any living children. As a result, the Emperor never had a heir. When Emperor Cheng passed away, Feiyan was arrested and sent to his tomb. This is where she commited suicide (Zhao 2000, 89).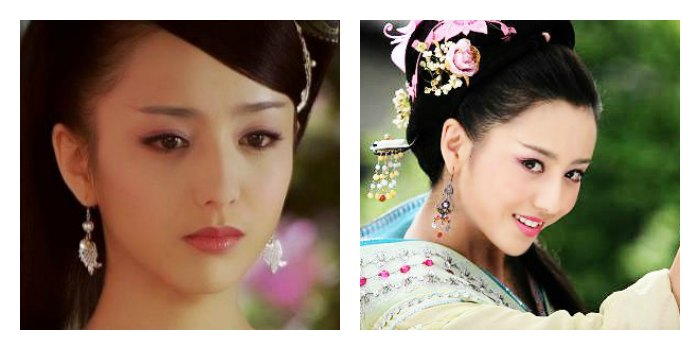 The role of Zhao Feiyan played by actress Tong Liya in the 2008 Chinese film The Queens (母仪天下).
THE REAL MADAME BUTTERFLY
6. Shi Peipu (时佩璞): 'M. Butterfly'
Although Shi Peipu was not biologically a woman, 'she' needs to be on this list because of her incredibly crafty ways and the fact she has cross-dressed as a woman for over two decades.
Shi Peipu was a spy working for the Chinese secret service, and was involved in what has been called one of the "strangest cases in international espionage" (Wadler 2009). For twenty years Shi pretended to be a woman during a love relationship with French diplomat Bernard Bouriscot in order to gather intelligence information from him.
Shi Peipu originally was an opera singer and actor from Kunming, who moved to Beijing in the 1960s. The 26-year-old Shi met Bouriscot there at a Christmas party at the French embassy in 1964, where Shi came dressed as a man. Shi told Bouriscot that he was actually a female opera singer who had been forced by his father to present himself as a man because he desired a son so much. Bouriscot believed it, and their affair took off; a romance that also continued when Bouriscot was stationed abroad.
Shi got Bouriscot entangled in Chinese espionage practices and went to extreme measures to keep the Frenchman close, as 'she' even convinced Boursicot that she had become pregnant with his child. Shi adopted a boy and presented him as their alleged child. In 1982, Shi and Bouriscot moved to Paris where they were both arrested a year later. Boursicot attempted suicide when he discovered that Shi was actually a man. He was convicted of espionage and spent six years in prison.
Shi passed away in 2009. The Broadway play 'M. Butterfly' by David Hwang was based on this story. It was also turned into a film. About the affair, Boursicot later said: "When I believed it, it was a beautiful story" (KPBS 1993; Leung 2003, 119). Shi's adopted child, Shi Dudu, lives in Paris and has a family with three sons.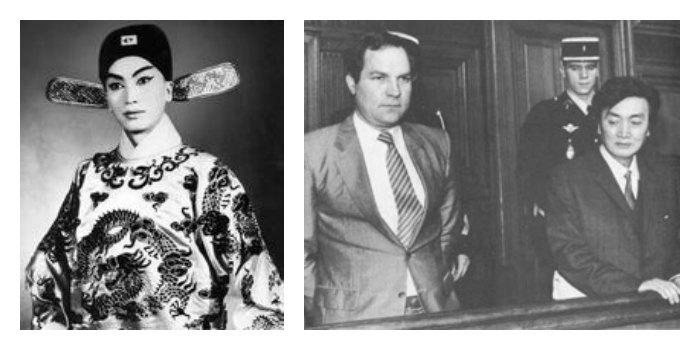 Shi Peipu the opera singer on the left, on the right: Bouriscot and Shi Peipu at court.
ANYTHING FOR POWER
5. Wu Zetian (武则天): Empress Wu 
Wu Zetian (625-705) was an empress during the Tang Dynasty, and become famous for being the first and only female in Chinese history to rule the country as an emperor. She reigned China from 690, when she was 65 years old. Her status as emperor was not the only reason she became a famous historical figure: she was known for being extremely ruthless, going to utmost extremes in order to maintain power.
Wu Zetian was born into a rich family and was well-educated. She was only 13 when she was introduced to Emperor Taizhong. She became his concubine, although she also took a liking to his son Li Zhi. When the Emperor died, the 27-year old Wu then, unconventionally, became a concubine to Li Zhi. She had a baby daughter, but it was soon strangled to death. Wu accused the first wife of Li Zhi of murdering her baby, although it is commonly believed that it was Wu herself who killed it to frame Li Zhi's first wife. She succeeded; the empress was deposed, and Wu rose in in rank. Her power grew even more when she had a son, who became the new emperor.
When the young man died of a stroke, Wu took over his rule. Some historians believe Wu in fact killed her own son to ascend the throne. She was declared emperor in 690. Wu was known for killing or locking up anybody that stood in her way. She had her own army of secret police to spy on her enemies and eliminate them. She eventually abdicated to let her third son rule. Not long after, she passed away at the age of 80 (Custer; WIWH 1996). The popular 2013 Chinese costume drama Women of the Tang Dynasty is based on the era of Wu Zetian the generations that followed.
Wu Zetian played by Hui Yinghong in the TV series Women of the Tang Dynasty (唐宫燕).
KILLING WITH CAKE
4. Empress Wei (韦皇后)
Empress Wei lived around the same as Wu Zetian. You might say Wu Zetian was a role model to Wei, as she tried to emulate her evil ways in order to gain power and influence. She was the wife of Emperor Zhongzong, Wu Zetian's son, who was sent into exile when his brother was put on the throne. Wei joined her husband in exile. After 705, the emperor reascended the throne. At this time, Wei and the emperor had suffered many hardships while away from
After 705, the emperor reascended the throne. At this time, Wei and the emperor had suffered many hardships while away from court. Now that Wu Zetian had died, the spiteful Wei was determined to get a hold onto power. She began to interfere in state affairs. In order to get what she wanted, she manipulated and mobilized the clique of spies and supporters Wu Zetian had gathered while in power. In this way, Wei got to control the entire court. Her husband had become nothing but a puppet. She soon set out to remove and kill all of her enemies; she framed them with ingenious plots, got them exiled or executed. When her husband saw through her plans, she murdered him with poisonous steamed cakes – his favorite food.
In order to get what she wanted, she manipulated and mobilized the clique of spies and supporters Wu Zetian had gathered while in power. In this way, Wei got to control the entire court. Her husband had become nothing but a puppet. She soon set out to remove and kill all of her enemies; she framed them with ingenious plots, got them exiled or executed. When her husband saw through her plans, she murdered him with poisonous steamed cakes – his favorite food. Eventually her plans failed as her former sister-in-law jumped to power. Wei was beheaded in 710 (Peterson 2000, 202-206).
Empress Wei played by He Saifei in the 2013 television series Women of the Tang Dynasty (唐宫燕).
RUTHLESS & LAVISH
3. Empress Dowager Cixi (慈禧太后)
Empress Dowager Cixi (1835-1908) is one of China's most famous empresses, known for her ruthlessness and resilience. She was born into a distinguished family of Manchu lineage and arrived at the Forbidden City as a concubine to Emperor Xianfeng in 1851.
She soon became his favorite, especially after she had given birth to a son. Xianfeng often discussed political matters with Cixi. She became well informed on state affairs and gradually grew more powerful. When Xianfeng died, Cixi did everything she could to gain political power. She ordered the suicide of the emperor's regents and had her own son Tongzhi crowned as emperor.
She governed the state during his reign and during that of her nephew Guangxu. When he was put on the throne, she ordered him to reclusion in a palace within the Forbidden City, isolating him from the world and leaving him to see nobody but his wife and servants, who were then either put to death or banished. She effectively ruled the Chinese government for 47 years. Cixi was known for squandering money on luxurious banquets and expensive jewelry. At her banquets, she would request to be served 150 different dishes. She drank from a jade cup and ate with golden chopsticks. She was known for putting her own interests ahead of the nation until the end of her rule. At the end of her life, she still held grudges against her nephew Guangxu. She killed him through arsenic poisoning. She died one day later (Hilton 2013; SACU 2001; Spence 1990, 217-218).
The empress in pictures. Right photograph is part of a photo series of the Empress Dowager, 1903-1904. To learn more about these pictures, see this info page about an exhibition themed around them.
MURDER, MANIPULATION & TORTURE
2. Empress Lü Zhi (吕后)
Empress Lü (241–180 BC) was the first woman to become Empress of China. She was the wife of Emperor Liu Bang (Gaozu), founder of the Han Dynasty. Lü was very intelligent and her role was crucial in centralizing her husband's rule. She became infamous for her cruelty and persistence in gaining ultimate power.
Empress Lü had several aristocratic and influential families killed so that the Emperor (and she herself) would maintain authority. After he died, she turned against his concubines. One of them was Qizi, who was very much loved by the Emperor. Qizi had born the Emperor a son, Ru Yi, who was the new heir of the household; something the Empress was displeased with. She had the young boy poisoned to death, and later turned against his mother. She mutilated Qizi by chopping off her hands and feet, scooping out her eyes, making her deaf and dumb with toxins, and abandoning her in a pigsty.
Up to her dying day, Empress Lü was known to make others suffer so she could have all the power to herself (Yao et al 2010, 64; Peterson 2000, 45-51).
The role of Empress Lü played by Wang Ji in 2011 costume drama The Han Triump (大风歌).
A VERY EVIL, VERY EVIL WOMAN
1. Jiang Qing (江青) or Madame Mao
Jiang Qing (1914-1991) is often pinpointed as one of the most evil women from China's history because of her role during the Cultural Revolution. Deng Xiaoping once called her a "very evil, very evil woman" (很坏很坏的女人). Jiang played an important role during the Mao years as she was married to Mao Zedong and influenced his policies, especially those on art and culture.
She met Mao when she went to Yan'an in 1937. She was an actress in the left-wing theatre, and had been married and divorced twice before. She soon started to live together with Mao. Although Jiang initially kept her distance in political matters, she gradually became more influential and involved during the 1950s. She strengthened Mao's position (and her own) by making sure that all influential people in the government and work units were loyal to Mao and herself. She removed those who allegedly were not. She soon gathered a group of supporters around her, and focused on the destruction of her enemies.
In 1968, she had the children of her enemy Zhou Enlai tortured and killed. As Mao's health declined, she grew in influence. Together with Yao Wenyuan, Wang Hongwen and Zhang Chunqiao she formed the Gang of Four. After Mao's death, the Gang was soon overthrown and accused of "persecuting to death" an estimated 34,800 people during the Cultural Revolution and having "framed and persecuted" 729,511 others during the years they were in power. Jiang maintained that Mao had supported her and that she had only obeyed his will (Spence 1990, 680-681; Kristof 1991). Although Jiang was initially condemned to death, she was later sentenced to life in prison. She committed suicide at the age of 77 in 1991 (Lee 2007, 259-263).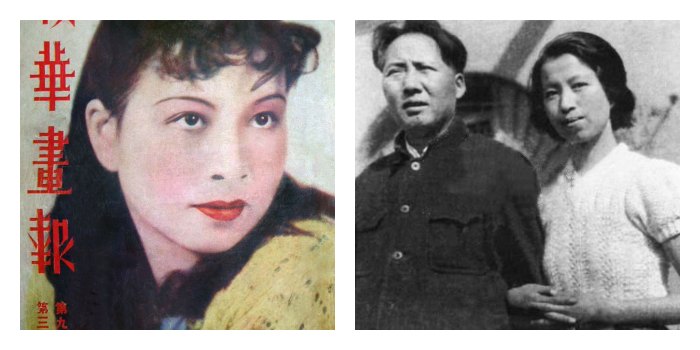 Jiang qing in her young years on the cover of a movie magazine and pictured with Mao Zedong (right).
References
Cook, Constance. 2007. "Wen Jiang, Wife of Duke Huan of Lu," In Lily Xiao Hong Lee and A.D. Stefanowska (eds), Biographical Dictionary of Chinese Women, Antiquity Through Sui, 1600 B.C.E. – 618 C.E., 81. New York: ME Sharpe.
Custer, Charles. "Wu Zetian, China's Only Female Emperor." Chinese Culture  http://chineseculture.about.com/od/historyofchina/fl/Wu-Zetian.htm (Accessed Dec 8, 2014).
Hilton, Isabel. 2013. "Empress Dowager Cixi: The Concubine Who Launched Modern China by Jung Chang – review." The Guardian, 25 Oct http://www.theguardian.com/books/2013/oct/25/empress-dowager-cixi-jung-chang-review (Accessed November 19, 2014).
KPBS. 1993. "Theatre Preview M. Butterfly at North Coast Reportory Theatre." KPBS On Air Magazine, August www.patteproductions.com/Previews/Archive/prev93/oa930800.htm (Accessed December 5, 2014).
Kristof, Nikolas. 1991. "Suicide of Jiang Qing, Mao's Widow, Is Reported." New York Times, 5 June http://www.nytimes.com/1991/06/05/obituaries/suicide-of-jiang-qing-mao-s-widow-is-reported.html (Accessed December 5, 2014).
Lee, Lily Xiao Hong and A.D. Stefanowska (eds). 2003. Biographic Dictionary of Chinese Women. The Twentieth Century: 1912-2000. New York: M.E. Sharpe.
Lee, Lily Xiao Hong. 2007. "Lu Xiaoman." In Lily Xiao Hong Lee and A.D. Stefanowska (eds), Biographical Dictionary of Chinese Women, Antiquity Through Sui, 1600 B.C.E. – 618 C.E.,389-392. New York: ME Sharpe.
–. 2003. "Jiang Qing." In Lily Xiao Hong Lee and A.D. Stefanowska (eds). 2003. Biographic Dictionary of Chinese Women. The Twentieth Century: 1912-2000, 259-263. New York: M.E. Sharpe.
Leung Li, Siu. 2003. Cross-Dressing in Chinese Opera. Hong Kong: Hong Kong University Press.
Peterson, Barbara Bennett (ed). 2000. Notable Women of China: Shang Dynasty to the Early Twentieth Century. New York: M.E. Sharpe.
SACU. 2001. "The Life of Empress Cixi." Society for Anglo-Chinese Understanding http://www.sacu.org/cixi.html (Accessed December 5, 2014).
Sina 2014. "花钱太多:徐志摩养不活陆小曼." Sina News, 3 July http://history.sina.com.cn/bk/mgs/2014-07-03/163294573.shtml (Accessed December 5, 2014).
Spence, Jonathan. 1990. The Search for Modern China. Norton&Company: New York.
Wadler, Joyce. 2009. "Shi Pei Pu, Singer, Spy and 'M. Butterfly,' Dies at 70." New York Times, 9 June http://www.nytimes.com/2009/07/02/world/asia/02shi.html (Accessed Dec 9, 2014).
WIWH (Women in World History). 1996. "Empress Wu Zetian." Women in World History www.womeninworldhistory.com/heroine6.html (Accessed December 4, 2014).
Yao Dan et al. 2010. Chinese Literature. Cambridge: Cambridge University Press.
Zhao Xiaoming. 2000. "Zhao Feiyan." In Barbara Bennett Peterson (ed), Notable Women of China: Shang Dynasty to the Early Twentieth Century, 87-89. New York: M.E. Sharpe.
Follow What's on Weibo on Twitter. 
Appreciate this article and want to donate a cup of green tea? Yay! You can do so here.
©2014 Whatsonweibo. All rights reserved. Do not reproduce without permission – you can contact us at info@whatsonweibo.com.
More Than Just a Visit: Explaining the Chinese 'Cuànfǎng'
'Cuànfǎng' became a popular word on Chinese social media and in official Chinese discourse this year. But what is it?
Since Pelosi's stopover in Taiwan, the word 'cuànfǎng' has been all over Chinese social media to refer to this controversial visit. But 'cuànfǎng' is more than just 'visiting' alone. Jin Luo explains.
It was a sleepless night for many Chinese people when U.S. House Speaker Pelosi flew to Taiwan on August 2nd of 2022. A new Chinese word created in recent years, cuànfǎng (窜访) appeared in the official statement that was issued by the Chinese Foreign Ministry at 11 pm that night, and subsequently it appeared all over social media.
Meanwhile, a pop song released more than 30 years ago titled "Tonight, Are You Coming or Not" ("今夜你会不会来") suddenly became a Weibo hot topic before it was taken offline. What is this word lost in translation, and why did people suddenly get nostalgic over an old romantic song?

Cuànfǎng: A 'Sneaky Visit'

Here is the original wording in Chinese and the official translation to English from the statement of the Chinese Foreign Ministry on the evening on 2 August:
"In disregard of China's strong opposition and diplomatic discontent, Speaker of the U.S. House of Representatives Nancy Pelosi visited China's Taiwan region" ("美国国会众议长佩洛西不顾中方强烈反对和严正交涉,窜访中国台湾地区.") The word 'visited' in Chinese that is used here is "cuànfǎng" 窜访.
While the English verb "visit" is a neutral word by itself, the Chinese "cuànfǎng" 窜访 has much stronger connotations. According to the Wiktionary, the word is a derogatory, officialese way to say "to visit." But it is not an easy word to translate, as there is no direct equivalent in English, and both the literal and implied meaning of the word need to be understood.
Cuànfǎng is actually a compound word: cuàn 窜 refers to fleeing, escaping, hiding, or running away; fǎng 访 refers to inquiring, seeking, or visiting.
To make matters more complicated, cuàn 窜 by itself is also a compound character. It is written as '竄' in traditional Chinese: the top radical '穴' means 'hole,' and the lower part is the character '鼠' which means 'mouse.' The character, having the shape of a mouse hiding in a hole, therefore has the meaning of 'hiding' and 'escaping.'
The mouse or rat is an animal that is more often associated with negative things in Chinese culture. They are often considered sneaky, dirty, running around everywhere, and able to reproduce quickly. With mice so often carrying a negative association, cuàn '窜' also refers to a kind of hiding and escaping that is negative or objectionable.
The second character fǎng 访 is a neutral word that simply means "to visit."
At the New York Times, Chris Buckley captured the underlying meaning of this word in writing: "The Chinese word used in the official statements for 'visit' — cuanfang — connotes a sneaky or illicit encounter, not an aboveboard meeting."

The Evolution of Cuànfǎng

Although it is a relatively new word, cuànfǎng already existed before the Pelosi incident and was not created in light of this controversial visit.
Since the word's first appearance, translators have had some difficulties in properly translating the term into different languages.
Research papers in translation studies and international relations in China suggested that cuànfǎng is a "new derogatory term invented in recent years, specifically for the purpose of maintaining national security and unity, and condemning and exposing the national separatists" and "demonstrated the big wisdom of Chinese diplomatic discourse users; vividly described the image of the separatists, that they go on the run sneakily, just like thieves and mice" (source, in Chinese).
Other sources interpret it as "the unjust, improper visit conducted in order to reach hidden political agenda, to agitate and peddle the separatist ideas," and:
"1. You went somewhere where you were not supposed to go;
2. The visit was not accepted or welcomed by the (Chinese) government;
3. The purpose is to shake justice and create conflicts" (source, in Chinese).
Cuàn was mainly meant to add an emotional aspect to the term and shows the contempt of the person who uses it.
The word was first prominently used in Chinese official discourse when the Foreign Ministry in 2006 referred to the Dalai Lama's visit to Israel. Since cuàn has the meaning of fleeing, it is especially suitable when referring to political dissidents who went into exile overseas.
Since then, it has been used again for further visits of the Dalai Lama to other countries (US 2014, Mongolia 2017), as well as for Rebiya Kadeer, Lee Teng-hui, Shinzo Abe, Joshua Wong, and others.
Although it is clear that the term is not only applied to Chinese dissidents, it is generally applied to those who conducted visits that were perceived to be hostile towards China, with Nancy Pelosi's Taiwan visit serving as a clear example.
Since the Dalai Lama has been living outside of China and conducted numerous visits to other countries, cuànfǎng was previously mostly used in this context until Pelosi's visit, which ended up being good for more than 80% of the search results of cuànfǎng on the Chinese Foreign Ministry website.
If cuànfǎng is a word with such strong emotional connotations, why was it simply translated as "visit" in official English-language documents? Some say it is because of the mere difficulty to translate this word, while others say it is the routine sanitization of English translations by the Foreign Ministry.
David Gitter, president of the Center for Advanced China Research based in Washington D.C., said that the external goal of Beijing can be different from the internal goal towards the nationalist domestic audiences, and that "more accurate yet counterproductive translations … [often] breach normal diplomatic language."
At this point, it remains up for debate whether this is a linguistic constraint or a political choice.

Tonight, Are You Coming or Not?

While the term cuànfǎng has been widely used in official discourse, it has also become a popular online word. Chinese netizens seemed to be as passionate as the Chinese Foreign Ministry – and perhaps even more so –  in condemning Pelosi's Taiwan visit and demanding radical countermeasures.
Chinese netizens were watching the entire event unfold with mixed feelings – on the one hand, there was a strong sense of patriotism and anger, on the other hand, the massive attention to the event also turned it into something that was almost as exciting as a celebrity drama.
On that specific evening of Pelosi's nearing arrival in Taipei, Chinese netizens were doing two things: watching real-time tracking of Pelosi's flight, and listening to a classic pop song released in 1991 titled "Tonight, Are You Coming or Not" (今夜你会不会来) (video). Back in the previous century, Hong Kong singer Leon Lai expressed the emotions of someone waiting for his lover to arrive in this melodic song, singing:
"你是否愿意为我停留
Would you be willing to stay for me
今夜你来告诉我
Tonight, you tell me
你是否愿意陪我走过我的梦
Are you willing to accompany me through my dream?
我的所有
My everything
(Chorus)
今夜你会不会来
Tonight, are you coming or not?
你的爱还在不在
Is your love still there or not?
如果你的心已经离开
If your heart has left already
我宁愿没有未来
I would rather not have a future
今夜你会不会来
Tonight, are you coming or not?
你的爱还在不在
Is your love still there or not?
别让我所有的等待
Don't let all my wait
变成一片空白
Go all in vain"
In the middle of the uncertainty about whether Pelosi would come to Taiwan or not, this song served as entertainment for netizens and became a "collective carnival" of people jokingly applying the song to Pelosi, turning her into a 'mysterious lover' that might or might not show up. (Later, some were unable to play the song anymore, although it remains unclear if this was due to geographic restrictions or because the song was actually taken offline by censors.)
"Taiwan has been preparing for your cuànfǎng 'sneaky visit', are you coming or not tonight?" some netizens wrote, combining the title song with the cuànfǎng term. In doing so, Pelosi became both a 'sneaky mouse' and 'mysterious lover', both a target of condemnation and subject of fun and banter.
All jokes and cuànfǎng references aside, Pelosi did end up realizing that visit, and its aftermath, including a second Taiwan visit by a U.S. congressional delegation, has had a substantial impact on U.S.-China relations that were already strained before the move.
Will there be more cuànfǎng to Taiwan? It's likely not an issue of if, but when. For next time, at least we've got cuànfǎng covered.
By Jin Luo 
Featured image by Alexa from Pixabay
Get the story behind the hashtag. Subscribe to What's on Weibo here to receive our weekly newsletter and get access to our latest articles:
Spotted a mistake or want to add something? Please let us know in comments below or email us. First-time commenters, please be patient – we will have to manually approve your comment before it appears.
©2022 Whatsonweibo. All rights reserved. Do not reproduce our content without permission – you can contact us at info@whatsonweibo.com.

A Baby for Sale, a Mother Chained Up – How Chinese Netizens Are Pushing Specific Social Issues to the Forefront
The stories of Liu Xuezhou and the Xuzhou mother both developed in real-time while netizens pushed them to the front page, making them too big for state media to ignore.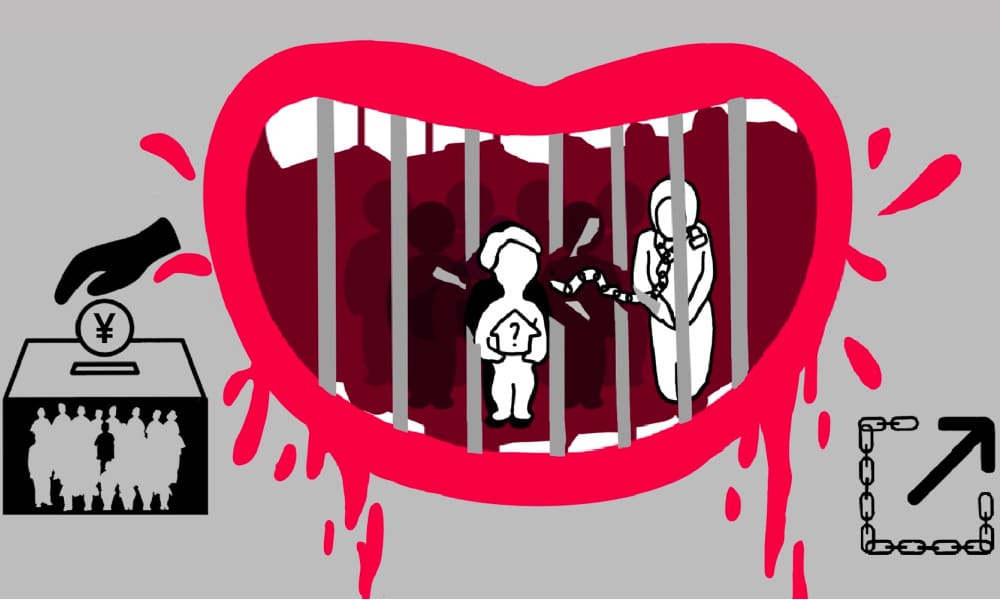 It only takes a spark to start a wildfire. From Liu Xuezhou to the Xuzhou mother, China's online spheres have seen multiple major trending topics this year that started with one short video and then caused a social media storm with netizens highlighting and amplifying specific stories to address bigger social problems.

This is the "WE…WEI…WHAT?" column by Manya Koetse, original publication in German by Goethe Institut China, visit Yi Magazin: WE…WEI…WHAT? Manya Koetse erklärt das chinesische Internet.

It was December 6th of 2021 when a teenage boy posted a short video on Chinese social media. With a straight back, clear voice, and serious face, he looked directly into the camera and said:
"Hello everyone, I am Liu Xuezhou and I am looking for my biological parents. I was born in between 2004 and 2006 and around the age of three months old, I was bought by my parents, my adoptive parents, in Datong in Shanxi. I am healthy. I don't have any congenital physical defects or diseases; I don't have any obvious birthmarks or scars. At the age of four, my adoptive parents passed away due to an accident. I am now living in Nangong, Xingtai, in Hebei Province. I study in Shijiazhuang. I wish I'd found my biological parents sooner, to make up for what I missed. I hope you can help me spread my message so that those who suspect they might be my parents can see it."
This video would be the start of a story followed by millions of Chinese netizens. It is the story of Liu Xuezhou (刘学州). The search for his parents and his death became one of the biggest topics on China's social media of the past months.
Why did the tragic story of one teenage boy capture the entire nation? There are multiple reasons. By posting his call for help in finding his biological parents, Liu involved Chinese netizens in his journey from the start, allowing them to follow his story in real-time through his social media and news reports. Another aspect of Liu's story is the resilience he showed despite his tough life, something that many admired about him.
But more importantly, Liu's story is part of a recent broader interest in the stories behind the widespread problem of trafficking in women and children in China, with more people raising awareness on the tragedies caused by these practices and demanding justice for the victims.
Besides Liu's story, the story of a Xuzhou mother-of-eight being tied up and living in abominable conditions in a shed also dominated online discussions for weeks on end.
Liu's Story: Sold, Orphaned, Abandoned
After Liu Xuezhou posted the aforementioned video on Douyin, the Chinese version of the popular TikTok short video platform, it soon went viral and various Chinese news sites started reporting on Liu's search for his biological family.
Liu's resilience was impressive. In interviews, he said that his story did not define him and that he was determined to make something of his life. Since 2018, the young Liu was working to earn money while also going to school. His plan was to be admitted to university.
After his adoptive parents died in a firework explosion, Liu was raised by his grandparents and was sent to boarding school. Liu's childhood was not a happy one. Being so young without parents, he was a target of school bullies and had to change schools at least four times until, by grade six, he had finally found a school where he could thrive.
Many people supported Liu and wanted to help the teenage boy, who was thought to have been kidnapped as a baby and then bought by his adoptive parents through an intermediary at a Datong hotel for 30,000 yuan ($4735).
Although Liu's birth certificate said he was born in September of 2005, nobody was sure how old Liu actually was, and his grandparents did not remember the details surrounding his adoption. By late 2021, as a 16-something-year-old, Liu felt it was time to get some answers and find his biological parents. How did he end up being adopted? Was he abducted? Were his parents still out there searching for him?
Through his own efforts – sped up by finding his vaccination records – and with some help of the police, Liu was able to trace down his biological parents. On the evening of December 15, Liu sent a message to a journalist reporting on the case: "I found my mum and dad."
His parents' story, however, was not what Liu had expected at all. After DNA tests confirmed that they were in fact his biological parents, Liu was ready to meet them. But what was supposed to be a happy reunion turned out to be a bitter disappointment.
Liu's biological parents, who were living in Datong, were not together anymore. Liu soon learned that he had not been abducted as a child, but that he had been sold on purpose by his father. His parents were unmarried when they had him, and Liu's father turned out to have used the money they earned by selling their baby to marry Liu's birth mother. They married and had another son, but then ended up divorcing. Both remarried again, and Liu's father even got divorced two more times after that.
Although some of the unhappy circumstances surrounding Liu's reunion with his parents came out through his posts on social media throughout January of this year, most of the details surrounding his situation only became clear when Liu posted a farewell letter on his Weibo account on January 24th, just a few minutes past midnight.
Titled "Born with little, return with nothing," Liu posted a lengthy letter explaining his situation.
In this letter, Liu said that besides being sold as a child and becoming an orphan at the age of four, he was also severely bullied by classmates and molested by a teacher at school. His aunt, whom he loved as a mother, also left him behind after she moved away due to a broken marriage.
As he spiraled into depression, Liu felt a spark of hope when he saw the news about Sun Zhuo (孙卓), whose story became one of the major trending news stories of 2021. In 2007, when Sun was only four, he was stolen off the street by a human trafficker. His biological parents never gave up hope they would find their son again and sacrificed everything to be able to fund their search efforts. The Chinese film Dearest (亲爱的) was partly based on their story.
After a years-long search, Sun was found in 2021 due to the help of authorities and face recognition technology that helped trace the person suspected of abducting him. In an unexpected twist, Sun stated that he would prefer to stay with his adoptive parents, who had raised him for a decade. The story triggered many online discussions and raised more awareness on the issue of the trafficking of children in China in times of the country's one-child policy. Sun's biological father spoke to the media saying: "For 2022, my biggest wish is that all the abducted children can finally be found."
It was Sun Zhuo's story that inspired Liu to search for his own parents, and it was also Sun Zhuo's story that brought more attention for Liu's initial video, which struck a chord with many who hoped that he could also be reunited with his parents and actually stay with them.
Liu described how his biological father did not seem happy when Liu first contacted him, and seemed reluctant to meet. His biological father eventually did come to see him, but their communication afterward was not smooth. When his father told Liu that he was sold as a baby so that he could pay for the bride price to marry Liu's mother, Liu was heartbroken and could not sleep for several days: he was not kidnapped, and his parents never searched for him.
His mother also was not elated that her biological son had found his way back to her. Liu felt unwanted, again, and was also searching for a home to live and was not sure who to turn to anymore. After he asked his biological father for help in buying or renting a place to live, he was blocked on WeChat. Liu then decided to take his parents to court.
Sharing screenshots on social media of the developments between him and his parents, Liu was condemned and bullied by netizens, who accused him of only wanting to find his biological parents for financial gains.
It was all too much for the teenage boy. In his farewell letter, he expressed the hope that the traffickers and biological parents would be punished for their deeds. Liu was later found to have committed suicide at a beach in the city of Sanya, and could no longer be rescued. Liu passed away within a month after meeting his biological parents at the age of just 15 years old.
By now, Liu's farewell letter has been shared approximately 174,000 times on Weibo, it was 'liked' over 2,4 million times and has received thousands of comments.
The topic of Liu's death exploded on social media and led to national outrage. Many people sympathized with the boy and were angry at all who failed him: "Poor child, abandoned and sold off by his parents, bullied and humiliated by his schoolmates, molested and discriminated by his teacher, cyberbullied by keyboard warriors. Now he's dead!"
The injustice of Liu's situation – starting with how he was sold as a child – is what angered people most. China Digital Times recently described how on the Weibo page of Dr. Li Wenliang, one of the doctors who raised the alarm about the coronavirus outbreak, many people also mention Liu Xuezhou. Dr. Li Wenliang was one of the eight so-called 'whistleblowers' who tried to warn his colleagues about the Wuhan virus outbreak in late 2019, but was censored and reprimanded by local police for making "false comments." He later became infected with the virus himself while working at the Wuhan Central Hospital and passed away on February 7th of 2020, sparking a wave of anger and sadness on social media.
Over the past two years, Dr. Li's Weibo page has become a digital Wailing Wall where people send little messages to remember Dr. Li, tell about their own anxieties and worries, but also address social injustices. As recorded by China Digital Times, one among thousands of comments said:
"Two years ago today, I had a sleepless night because of you, and my Weibo account once got shut down because I posted something about you. Over the past two years, I've often wondered: will this world become a better place? But between the Liu Xuezhou incident and the woman in Xuzhou with eight kids, I've been disappointed time and time again. If you happen to see Liu Xuezhou, please be good to him."
Looking at Dr. Li's Weibo account today, it is not just Liu Xuezhou who is brought up by commenters; 'the woman in Xuzhou' is also mentioned by dozens of people as someone experiencing injustice. But who is she?
The Chained-Up Mother in Xuzhou
In late January of 2022, right around the same time when Liu Xuezhou was one of the biggest topics on Chinese social media, a TikTok video showing a woman chained up in a shed went viral online and triggered massive outrage with thousands of people demanding answers about the woman's circumstances.
The video, filmed by a local vlogger in the village of Huankou in Xuzhou, showed how the woman was kept in a dirty hut without a door in the freezing cold. She did not even wear a coat, and she seemed confused and unable to express herself.
To give the full story, here is the original video that caused the social media storm, which is still ongoing today (tw distressing content, not sure why the lock is blurred, as if that is the most shocking thing about this video..) pic.twitter.com/UOA5zrfeQ4

— Manya Koetse (@manyapan) January 30, 2022
Other TikTok videos that came out around the same time showed how the woman's husband, a man by the name of Dong Zhimin (董志民), was playing and talking with their eight children in the family home right next to the hut where the mother was confined.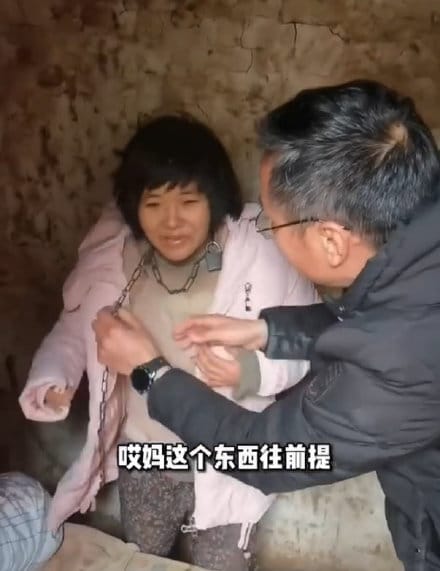 The video caused a storm on social media. Many netizens worried about the woman's circumstances. Why was she chained up? Was she a victim of human trafficking? Was she being abused? How could she have had eight babies? Was she forced to have so many children? While netizens were speculating about the case and venting their anger, Weibo shut down some of the hashtags dedicated to this topic, but the topic soon popped up everywhere, and people started making artworks and writing essays in light of the case.
Following public demands, local authorities started looking into the case. An initial statement by Feng County, where the village of Huankou is located, was issued on January 28 and it said that the woman, named Yang (杨), married her husband in 1998 and that there was no indication that she was a victim of human trafficking.
The woman was dealing with mental problems and would display sudden violent outbursts, beating children and older people. The family allegedly thought it was best to separate her from the family home during these episodes, letting her stay chained up in a small hut next to the house.
The first statement raised more questions than it answered and more people, including influential Weibo bloggers and media insiders, started investigating the case. Meanwhile, it became clear that husband Dong Zhimin was giving interviews to other vloggers flocking to Huankou. Besides talking about his eight children (seven sons, one daughter) as future providers for the family, he also used his newly-acquired 'fame' to make money through social media. This only led to more online anger about Dong exploiting his wife and children.
As the social media storm intensified, more official statements ensued. On January 30, Feng County local officials responded to the controversy in a second statement, in which the Xuzhou mother was identified as Yang *Xia (杨某侠) who allegedly once was "a beggar on the streets" in the summer of 1998 when she was taken in by Dong family and ended up marrying their 30-something son Dong Zhimin.
Local officials did not properly check and verify Yang's identity information when registering the marriage certificate and the local family planning department also made errors in implementing birth control measures and following up with the family. The statement said that Yang had been diagnosed with schizophrenia and was now receiving treatment.
A third, fourth, and even fifth statement issued by authorities on February 7th, 10th, and 23rd confirmed what many on Weibo had suspected all along, namely that Yang had indeed been a victim of human trafficking. Xuzhou authorities said their investigation had brought them to the village of Yagu in Yunnan, a place that was mentioned on Yang's marriage certificate.
Yang was identified as Xiaohuamei (小花梅), born and raised in Yagu. Yang's DNA had been compared to that of the family of Xiaohuamei, and the DNA match confirmed that Yang was indeed Xiaohuamei. According to the statements, Xiaohuamei married and moved to another city in 1994, but she divorced and returned to her village two years later, which is when she allegedly also showed signs of mental illness.
Her parents, now deceased, then allegedly ordered a female fellow villager to take their daughter to Jiangsu to get married there. According to the woman, she took Xiaohuamei with her on a train from Yunnan to Jiangsu's Donghai, but she allegedly 'went missing' shortly after arrival. The woman never reported her as missing to the police and she never notified the family.
That woman, along with another man and Dong Zhimin, are now held criminally responsible for illegal detainment and human trafficking. Xiaohuamei was reportedly sold to a man in Donghai for 5,000 yuan ($790) in 1998. Though Xiaohuamei managed to escape, she was sold twice again, eventually ending up with the Dong family.
While details surrounding the case of the 'chained Xuzhou mother of eight' are still being discussed on Chinese social media, it has become clear that by now, 'Yang' has come to represent many more women like her. Over the past few weeks, the stories of other women who also might be a victim of human trafficking have surfaced, and the public outcry demanding justice for trafficked women is ongoing.
One Social Media Spark Starting a Wildfire
Both in the case of Liu Xuezhou and the Xuzhou mother, it should be noted that their stories initially did not catch the public's attention because official news media reported them, but because of first-hand videos being posted on TikTok (Douyin) and then being picked up and shared by bigger accounts.
Both Liu's video and the short video featuring the mother of eight were posted on accounts that were not necessarily very popular: starting as a small spark in an online environment with over 900 million social media users, they were shared, commented on, and then spread like wildfire.
Both stories developed in real-time while netizens were following the case, both stories eventually became too big for Chinese state media to ignore, and both Liu and Yang highlighted bigger social issues in contemporary China, mainly those relating to human trafficking.
Since these cases went viral, there has been a heightened focus on the problem of human trafficking, which mostly occurs in China's poorer areas with weak governance. The trafficking of especially women and children has various purposes, including forced marriage and illegal adoption in areas where there is a shortage of women (along with a preference for baby boys).
China Daily recently reported that lawmakers and advisers are now pushing for heavier punishment for human trafficking crimes, suggesting that the current penalties imposed on the buyers of women and children are too weak; the maximum prison sentence for those who purchase abducted women and children is three years.
In the case of the Xuzhou mother, there has been online censorship but the ongoing intense public outrage eventually did lead to higher-level research into the case. The mother was rescued from her terrible situation, the human traffickers involved are being held responsible, and so are 17 officials, who will be punished by authorities for their wrongdoings in the case.
As for Liu Xuezhou, his adoptive family members have recently filed a request at the Sanya Public Security Bureau to launch another investigation into his case. Their request was accepted on February 23rd, with multiple people being suspected of criminal offenses, eventually leading to his death. On Weibo, many people are now demanding punishment for Liu's biological parents.
In late January of this year, following the tragic ending to Liu's story, Chinese state media1 emphasized how the widespread attention for these kinds of stories in the social media era is also changing how government agencies should interact with the public.
According to Dr. Liu Leming, associate professor at East China University's Political Science faculty, government agencies need to follow up and respond more quickly to social incidents like these in the internet era: "When public issues emerge, people who are involved in social problems or incidents want to know, more than anything, whether their requests have been seen and who will handle their concerns."
In light of these recent stories, the public is happy that actions have been taken, but they are not satisfied with how these cases were handled. Many argue that authorities have failed in being transparent, that local governments have not done enough to prevent these cases from happening, and that China should do more to put an end to human trafficking.
And so, they are still posting the stories of children like Liu and women like Xiaohuamei to keep raising awareness and to keep pressuring local authorities and lawmakers to take more action to eradicate these practices.
As Liu is no longer alive and Xiaohuamei, still hospitalized, cannot defend herself, Chinese netizens keep raising their voices for them. In doing so, they have not just impacted how authorities dealt with these specific cases, but they are also changing how cases such as these will be handled in the future.
One Weibo user discussing Liu and the Xuzhou mother wrote: "We need to get to the bottom of these kinds of stories: who is to blame, who made mistakes, and where do we go from here?"
In the meantime, online posts, videos, and artworks honor both Liu and Xiaohuamei, so that their stories will not be forgotten. "Dear little one, springtime has come," one among thousands of messages still flooding Liu Xuezhou's Weibo page says: "You have endured too many things that you should have never experienced. It should have been us, the adults, taking care of these things for you. You please go and rest now, we will finish the rest for you."
By Manya Koetse
Follow @whatsonweibo
For information and support on mental health and suicide, international helplines can be found at www.befrienders.org.
1 Cao Yin and Li Yang. 2022. "Policymakers, Lawmakers Respond to Opinion Voiced Online." China Daily Hong Kong, January 28, Page 1-2.
Featured image by Ama for Yi Magazin.
This text was written for Goethe-Institut China under a CC-BY-NC-ND-4.0-DE license (Creative Commons) as part of a monthly column in collaboration with What's On Weibo.
Spotted a mistake or want to add something? Please let us know in comments below or email us. First-time commenters, please be patient – we will have to manually approve your comment before it appears.