Toxic Love Affair: Mistress Poisons Love Rival with Thallium
September 16, 2014: Weibo netizens are feverishly discussing the 'Anhui poisoning trial' (#安徽铊投毒案#), a rare case in the southeast of China, revolving around a love triangle and a poisoning with the highly toxic substance thallium. The Anqing court found kindergarten teacher Ling Ling guilty of chemically poisoning the ex-wife of her lover. She was sentenced to life in prison. Netizens express their worries over the seemingly effortless way the convict was able to purchase thallium over the Internet. "This reminds me of the Tsinghua University Thallium poisoning case of Zhu Ling [1995]", one netizen says: "how can thallium be purchased so easily?!" This is the third thallium poisoning case in China.
Victim Pan Jingjing (left), her husband Awang and their child in happier times (picture:

Sina 2014

).
Pan Jingjing will turn 26 next month. She will not be able to celebrate, as the young woman has been in a vegetative state for over a year – the result of a two-time thallium poisoning in the presence of her ex-husband Awang and his girlfriend Ling Ling (pseudonym). Soluble thallium is highly toxic. Formerly, it was used in rat poisons and insecticides. Due to its historic popularity as a murder method, it is also known as "the poisoner's poison".
Although married to Pan, Awang got to know kindergarten teacher Ling Ling through the Internet in 2009, Sina reports. The two first became friends, and then developed a love relationship. Pan Jingjing discovered her husband's extramarital affair in 2011. Although the couple soon filed for divorce, Pan Jingjing remained living in their family home and did not tell her family or co-workers of her divorce, while her husband and Ling Ling continued their relationship.
On September 2nd 2014, the Anqing court reasoned that Ling Ling's main motive for poisoning Pan was to free herself of her lover's ex-wife, who was still so involved in his daily life.
Ling purchased the toxic chemical thallium through the internet in April, 2012. She had invited Pan to join her and Awang for a hotpot dinner on April 17th. When Pan left the table to get some beer, she mixed the chemical in her drink. That same night, Pan Jingjing got sick with diarrhea, and later suffered from pain in her legs and hair loss. When doctors in Hefei (capital of Anhui) could not find the cause of her symptoms, she was diagnosed with a mental disorder. By the summer of 2012, Pan had gradually recovered. Ling and Awang were now officially married. Ling Ling poisened Pan with thallium for a second time in August 2012, by mixing thallium through her tea in a karaoke bar. This time, Pan found herself unable to walk and was admitted to the hospital in critical condition. Doctors later discovered traces of thallium in her system.
The judicial thallium case has now come to a close after two years. Although both Ling Ling and Awang were arrested as suspects in the poisoning case in 2012, Awang has now been acquitted of all charges due to a lack of evidence of his involvement. Ling Ling, who now has a baby with Awang, has been sentenced to life in prison.
A former colleague of Pan Jingjing has stated to the press that Pan had expressed doubts of being poisoned after initially getting sick in April 2012. Her colleague had been there when Pan directly asked her husband if he and his girlfriend had mixed medicine in her drink to harm her, as she remembered the presence of a white substance in her drink at the hotpot restaurant. "Nonsense," her husband allegedly said: "That was just an ingredient of your drink."
"What is happening to this world?", says another netizen: "This morning I woke up to headline news about a woman who poured acid in her cheating husband's mouth while he was sleeping… and this afternoon I read about this mistress poisoning the ex-wife. I guess it's safer to stay single."
"We must not underestimate thallium," says commentator Su Li in online magazine ZJJZX: "This case really is about two keywords: 'thallium', and 'online shopping'." Su pleads for a stricter organization of the online shopping market and a serious restriction to the sales in toxic goods.
For Pan Jingjing, future stricter regulations of China's online sales in toxic substances will come too late. She is currently still hospitalized and unable to speak.
Pan Jingjing cannot move or talk, and needs constant care (picture by 163.com).
[box] This is Weiblog: the What's on Weibo blog section. Short daily updates on what is currently trending on China's biggest social medium, Sina Weibo.[/box]
Outrage over Chinese Food Blogger Torturing Cat in Online Video
Chinese food vlogger Xu Zhihui (徐志辉) was part of a cat abuse chat group on QQ.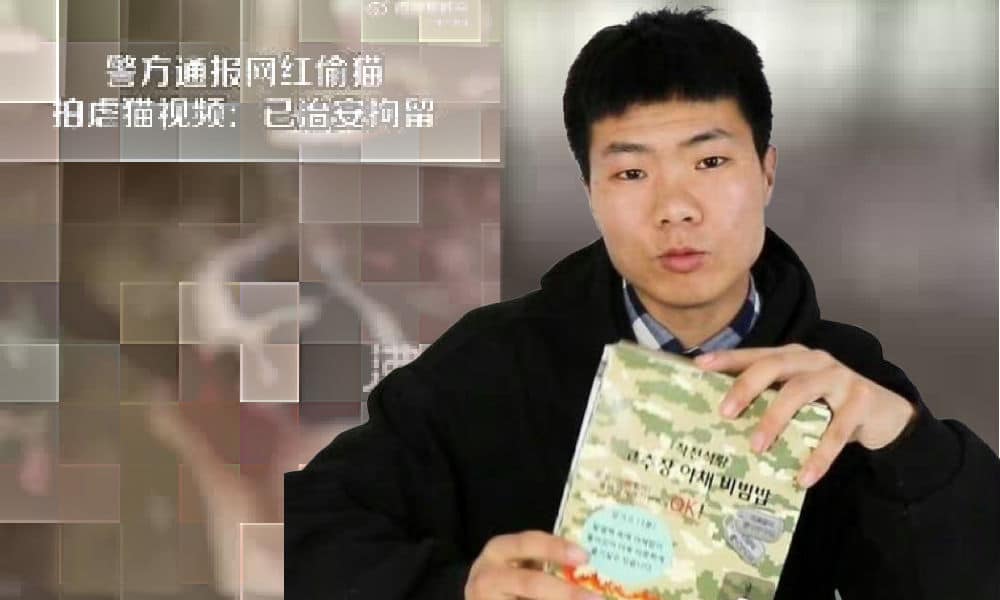 A shocking and extremely cruel video in which a Chinese wanghong (online influencer) tortures a stolen cat has sparked outrage on Chinese social media.
The person involved is the Anhui-based food blogger/vlogger Xu Zhihui (徐志辉), who runs multiple accounts, including a Bilibili account with more than 400,000 followers and a Weibo account with over 20,000 fans (@杰克辣条). Xu is mostly known for posting videos of himself cooking and eating food.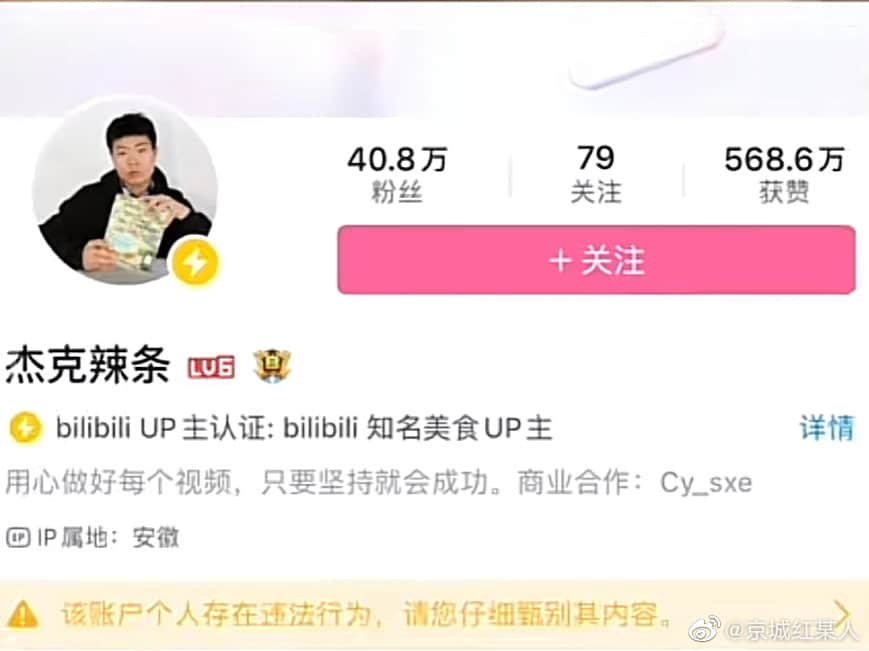 The cat abuse incident happened on April 15 in Funan County's Lucheng, Anhui Province, where the 29-year-old Xu filmed his horrific acts, including tying up the cat, binding it to a tree, cutting its paws, and burning it alive. He then uploaded the video and shared it to a QQ group dedicated to cat abuse. It later circulated around social media, triggering outrage.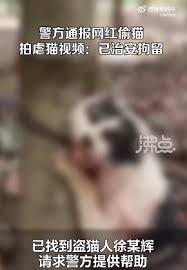 According to screenshots that leaked online and the very fact Xu was part of a cruel 'cat abuse chat group,' this probably was not the first time for him to torture animals.
According to a police statement, authorities received reports about the stolen cat and the abuse video on April 26th, after which they immediately launched an investigation.
On April 27th, Xu posted an apology on his Weibo channel, in which he said he felt ashamed and sorry for what he did and that he was willing to bear "all the consequences" of his actions. He also wrote that he was being criticized and held accountable by both the public security bureau and Internet authorities. "Please give me another chance," he wrote. The comments on the post were switched off.
A noteworthy part of Xu's online apology is that it has a dedicated Weibo hashtag page including a 'topic summary' in which Xu apologized. The hashtag page was hosted by Toutiao News. The mix of the personal message by Xu on a hashtag page hosted by Chinese media seems to indicate that these parties worked together in spreading Xu's words about how remorseful he allegedly is (#偷猫拍虐猫视频网红道歉#).
The comment sections suggest that most people will not forgive Xu for what he did. Many people say the story makes them feel sick to their stomach, and that the idea of 'cat abuse' chat groups makes their skin crawl.
"People like this do not change," one person wrote. "Give you another chance?! Did you give that kitty a chance?!"
"Today he abuses a cat, tomorrow he kills a person. Straight to hell with him," others wrote: "Go die!"
Xu's actions are regarded as "negatively impacting society" and he currently is detained in Funan in accordance with the Public Security Administrative Punishments Law. His Bilibili account currently also displays a message that it is getting banned.
Although there are various laws in China regarding wildlife and the protection of animals, there currently is no national law that is explicitly against animal cruelty for all animals. Some legal bloggers explored under which laws Xu could be punished for his actions other than the abuse itself, such as stealing a cat and also uploading such a video to the internet (#虐待无主流浪猫狗或不被处罚#, #公共场合虐待动物并传播视频或犯罪#).
In recent years, voices calling for better laws on animal abuse in China have grown louder. In 2020, after a horrific story of a Chinese security guard pouring scalding water over a cat went viral, Chinese media outlet CCTV called out for a rapid legislation against animal abuse. That same video was shared in light of this incident again.
In 2021, home security cameras captured how anti-epidemic workers beat a pet dog to death in Shangrao. This also caused an online storm over animal abuse during 'zero Covid.'
"I strongly call for legislation, [we must] defend the bottom line of morality," some commenters now write: "We will never forgive this."
By Manya Koetse
Get the story behind the hashtag. Subscribe to What's on Weibo here to receive our newsletter and get access to our latest articles:
Spotted a mistake or want to add something? Please let us know in comments below or email us. First-time commenters, please be patient – we will have to manually approve your comment before it appears.
©2023 Whatsonweibo. All rights reserved. Do not reproduce our content without permission – you can contact us at info@whatsonweibo.com.
Beijing Changfeng Hospital Fire: Five Things To Know
29 people lost their lives due to the devastating fire that occurred in Beijing's Changfeng Hospital on Tuesday. These are 5 things to know.
On Tuesday, April 18, a big fire broke out inside Changfeng Hospital, a private hospital located in Beijing's Fengtai District. The incident, which killed 29 people, is now known as the "4.18 Beijing Changfeng Hospital Fire Incident" (4•18北京长峰医院火灾事故).
Videos of the incident that circulated on Chinese social media (see here) showed smoke coming out of the hospital windows on different floors, with patients hanging on to air conditioning units outside of the windows. The footage also showed patients falling down the building from higher floors.
This is the timeline of the incident as reported by Chinese official media:
• April 18 / 13:00-15:00
At 12:57 on April 18, the Fengtai District fire and emergency services received an alert that a fire had broken out in the east building of the inpatient department of Beijing Changfeng Hospital. The fire, which was extinguished at 13:33, killed 21 people. The cause of the incident was still under investigation.
• April 18 / 15:30
At 15:30, the rescue work was finished and a total of 71 patients were evacuated and transferred to other hospitals in Beijing.
• April 18 / Evening
Changfeng Hospital closed its doors and only allowed immediate family members of inpatients to still enter the hospital. The Chinese Non-government Medical Institutions Association, the largest association of private hospitals in China, later also announced that they had canceled the membership of Beijing Changfeng Hospital in light of the incident.
• April 19 / 9:00
As of 9:00 local time, official sources reported that the death toll of the fire incident had risen to 29 people. 27 of them were patients who were treated at the hospital, and some of them died after their transfer to another hospital. The average age was 71.2 according to China Youth Daily.
• April 19 / 12:00
In a briefing held by Beijing authorities, it was said that the fire originated from sparks that arose during renovation and construction work at the hospital, according to Chinese media reports. Authorities stated that the Changfeng Hospital director, along with 11 others (including the hospital's Vice President, the construction company's leader, and one construction workers on site), had been detained for their criminal liability in the fire incident.
• April 19 / Late afternoon
According to CCTV, Beijing's Fengtai District has set up a community working group (群众工作组) to provide assistance and support to patient's families and help with any practical problems at the scene.
Here are five important things to know regarding the deadly fire at Beijing's Changfeng Hospital:
1. The Patients Were Especially Vulnerable
The fire reportedly broke out at the 5th floor of the Changfeng Hospital, which is a private hospital specializing in neurology, vascular tumors, and arteriovenous malformations.
The patients that were staying at the higher floors at the affected building were especially weak, as they were mostly elderly patients and those receiving critical or end-of-life care. Many of them were mobility-limited patients who could not easily get out of bed and escape the fire by themselves.
2. There Were No Adequate Fire Evacuation Measures in Place
There were no adequate fire evacuation measures in place at the hospital, where hospital rooms were crowded with multiple patients. According to one nurse who was quoted by China Youth Daily, she had to climb down a water pipe from the 8th floor of the hospital, which is the building's top floor. The videos that circulated also showed the lack of fire stairs, as patients fled from windows and held on to air conditioning units.
Because the fire occurred during daylight hours, emergency responders were able to act quickly, the hospital building had only 8 floors, and rescue efforts were not hindered by road obstructions, the high death toll resulting from the Changfeng fire is all the more surprising and tragic.
In late February of this year, Changfeng Hospital had released news about strictly implementing fire prevention and control measures. The hospital reportedly also held a fire prevention and control meeting according to government regulator requirements, but the April 18 fire showed that these measures were not actively implemented.
3. The Construction Work on the Hospital Seemed Unregulated
Chinese media source The Time Weekly (时代周报) reported that residents in the hospital's neighborhood stated that the renovation of the building had been going on for some time and that many wires could be seen outside of the building where the fire occurred, expected to be illegal power lines (私拉电线) without proper safety measures.
The cause of the fire can be traced back to sparks that were generated during renovations on the inside of the hospital, at the inpatient department, and they reportedly ignited volatile fumes from combustible paint on the site.
This also suggests that the construction workers and the renovation procedures in general did not follow proper safety or risk assessment protocols that could have prevented the fire from breaking out.
4. Media Coverage of the Fire Was Initially Limited, Comments Censored
Although the Changfeng Hospital fire is now all over Chinese social media, news about the fire was strictly controlled in the direct aftermath of the incident.
On Twitter, VOA News reporter Wen Hao (@ThisIsWenhao) noted how public anger erupted across Chinese social media on Tuesday as videos and social media posts about the fire were taken down. Wen states that it was not until 20:49 that local official media first announced the fire and the number of deaths.
Reporter Vivian Wu (@vivianwubeijing) also noted how it was not until about 21:00 before Chinese news outlets received the "green light" to report on the incident.
All the big reports about the incident only were released eight hours after the fire started, suggesting that local authorities wanted to make sure the fire was under control and that there was enough information on the incident – and how to communicate it to family members and the general audience – before further news was released and went viral on social media.
In a blog that has now been censored on socials titled "5 Facts the News Conference Didn't Tell You About the Changfeng Hospital Fire that Killed 29 People" ("长峰医院火灾致29人死亡,发布会没告诉你的5条真相")* – still online at iFeng – the author called it "a mystery" that such a major fire in Beijing could stay under wraps for eight hours until the official announcement came out. The author, along with other sources, also claimed that some family members did not know about the fire until they saw the news pop up.
In 2022, a fire that occurred in Urumqi city, Xinjiang, triggered waves of mourning and anger on Chinese social media. On Weibo, there were many questions and rumors surrounding the incident at a particularly sensitive zero-Covid time, when frustrations were already building (read all about the aftermath here).
Although the context and location of the Urumqi fire is very different from the Changfeng one, it seems clear that there was a government-orchestrated media strategy following the direct aftermath of the April 18 fire to keep information flows under control.
5. The Incident Reignited Scrutiny on Private Hospitals in China
The fire at Changfeng Hospital has reignited scrutiny on the role of private hospitals in China, which have been previously also been criticized for prioritizing financial gain over the well-being of patients.
In light of this incident, some netizens mention Putian Medical Group, a powerful player in China's healthcare industry that has set up private hospitals all over the country. Putian has previously been criticized for overpricing patients, working together with Baidu to lead patients to their clinics, and fraudulent affairs (read more here).
Now, Changfeng Hospital – which runs a number of hospitals in twenty cities across the country – is also facing backlash for spending hundreds of millions of yuan on advertising their medical services while suffering financial losses. At the same time, they were clearly not allocating enough resources for proper fire control and safety measures in their buildings.
Chinese media outlet The Observer wrote that the hospital actually shows similarities with the Putian Medical Group, as various clinics or hospitals led by Changfeng were previously also reported for medical scams. The Fengtai branch itself was penalized a total of 11 times since 2016 for various reasons (#长峰医院7年间至少被罚11次#).
For now, many people are still questioning how the incident could have happened and why its outcome is so tragic. While further investigations are still underway, some of these questions will hopefully be answered in the near future.
By Manya Koetse 
Follow @whatsonweibo
* The five questions that the news conference did not answer according to the blogger relate to: 1. Why family members and the general audience only learnt about the fire at such a relatively late time; 2. Why the death toll of the incident was so high considering the circumstances; 3. Why the hospital was allowed to do interior construction work while also resuming normal operations; 4. Why the owner of the Changfeng Hospital group is not among the 12 people detained after the fire; 5. Why Hunan patients who were treated at the hospital were allegedly transferred to private secondary hospitals in Beijing.
Get the story behind the hashtag. Subscribe to What's on Weibo here to receive our newsletter and get access to our latest articles:
Spotted a mistake or want to add something? Please let us know in comments below or email us. First-time commenters, please be patient – we will have to manually approve your comment before it appears.
©2023 Whatsonweibo. All rights reserved. Do not reproduce our content without permission – you can contact us at info@whatsonweibo.com.
Subscribe to our newsletter
Stay updated on what's trending in China & get the story behind the hashtag
Sign up here to become a premium member of What's on Weibo today and gain access to all of our latest and premium content, as well as receive our exclusive newsletter. If you prefer to receive just our weekly newsletter with an overview of the latest, you can subscribe for free here.
Would you like to become a contributor, or do you have any tips or suggestions for us? Get in touch with us here.