Toxic Love Affair: Mistress Poisons Love Rival with Thallium
September 16, 2014: Weibo netizens are feverishly discussing the 'Anhui poisoning trial' (#安徽铊投毒案#), a rare case in the southeast of China, revolving around a love triangle and a poisoning with the highly toxic substance thallium. The Anqing court found kindergarten teacher Ling Ling guilty of chemically poisoning the ex-wife of her lover. She was sentenced to life in prison. Netizens express their worries over the seemingly effortless way the convict was able to purchase thallium over the Internet. "This reminds me of the Tsinghua University Thallium poisoning case of Zhu Ling [1995]", one netizen says: "how can thallium be purchased so easily?!" This is the third thallium poisoning case in China.
Victim Pan Jingjing (left), her husband Awang and their child in happier times (picture:

Sina 2014

).
Pan Jingjing will turn 26 next month. She will not be able to celebrate, as the young woman has been in a vegetative state for over a year – the result of a two-time thallium poisoning in the presence of her ex-husband Awang and his girlfriend Ling Ling (pseudonym). Soluble thallium is highly toxic. Formerly, it was used in rat poisons and insecticides. Due to its historic popularity as a murder method, it is also known as "the poisoner's poison".
Although married to Pan, Awang got to know kindergarten teacher Ling Ling through the Internet in 2009, Sina reports. The two first became friends, and then developed a love relationship. Pan Jingjing discovered her husband's extramarital affair in 2011. Although the couple soon filed for divorce, Pan Jingjing remained living in their family home and did not tell her family or co-workers of her divorce, while her husband and Ling Ling continued their relationship.
On September 2nd 2014, the Anqing court reasoned that Ling Ling's main motive for poisoning Pan was to free herself of her lover's ex-wife, who was still so involved in his daily life.
Ling purchased the toxic chemical thallium through the internet in April, 2012. She had invited Pan to join her and Awang for a hotpot dinner on April 17th. When Pan left the table to get some beer, she mixed the chemical in her drink. That same night, Pan Jingjing got sick with diarrhea, and later suffered from pain in her legs and hair loss. When doctors in Hefei (capital of Anhui) could not find the cause of her symptoms, she was diagnosed with a mental disorder. By the summer of 2012, Pan had gradually recovered. Ling and Awang were now officially married. Ling Ling poisened Pan with thallium for a second time in August 2012, by mixing thallium through her tea in a karaoke bar. This time, Pan found herself unable to walk and was admitted to the hospital in critical condition. Doctors later discovered traces of thallium in her system.
The judicial thallium case has now come to a close after two years. Although both Ling Ling and Awang were arrested as suspects in the poisoning case in 2012, Awang has now been acquitted of all charges due to a lack of evidence of his involvement. Ling Ling, who now has a baby with Awang, has been sentenced to life in prison.
A former colleague of Pan Jingjing has stated to the press that Pan had expressed doubts of being poisoned after initially getting sick in April 2012. Her colleague had been there when Pan directly asked her husband if he and his girlfriend had mixed medicine in her drink to harm her, as she remembered the presence of a white substance in her drink at the hotpot restaurant. "Nonsense," her husband allegedly said: "That was just an ingredient of your drink."
"What is happening to this world?", says another netizen: "This morning I woke up to headline news about a woman who poured acid in her cheating husband's mouth while he was sleeping… and this afternoon I read about this mistress poisoning the ex-wife. I guess it's safer to stay single."
"We must not underestimate thallium," says commentator Su Li in online magazine ZJJZX: "This case really is about two keywords: 'thallium', and 'online shopping'." Su pleads for a stricter organization of the online shopping market and a serious restriction to the sales in toxic goods.
For Pan Jingjing, future stricter regulations of China's online sales in toxic substances will come too late. She is currently still hospitalized and unable to speak.
Pan Jingjing cannot move or talk, and needs constant care (picture by 163.com).
[box] This is Weiblog: the What's on Weibo blog section. Short daily updates on what is currently trending on China's biggest social medium, Sina Weibo.[/box]
"Hideous" and "Scary": Giant Chongqing Rabbit Lantern Gets Roasted by Residents
More rabbits are getting roasted this year. This giant Chongqing rabbit was removed after sparking criticism for being ugly.
Earlier this month, the design of the latest zodiac stamp by China Post when viral after the little blue rabbit with red eyes and human hands triggered controversy for being "monster-like." Now, another rabbit is criticized for its questionable design. This time, it concerns a giant rabbit lantern in Chongqing.
The giant rabbit lantern appeared at Sanxia Square in Chongqing's Shapingpa District. As the Year of the Rabbit is about to start, huge rabbit decorations have popped up all over China.
But this particular Chongqing rabbit was received with disapproval from residents who said it looked uncanny and so ugly it almost made them cry. "Giant Chongqing rabbit lantern gets roasted for being scary," Beijing Headlines wrote (#重庆巨型兔子灯被吐槽吓人#).
The rabbit is different from a more standard and cute cartoon rabbit, as it has human-like eyes and eyebrows and a serious expression on its face. Its body has festive orange, green, and yellow colors.
Although its design was not received well by many, others also said they liked the more traditional paper cutting-style of the rabbit.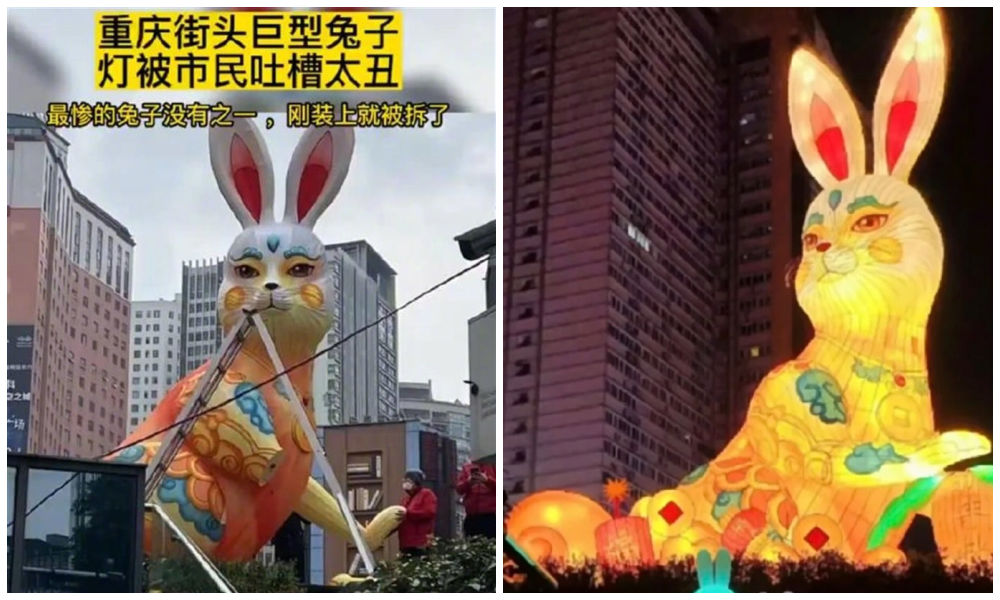 "I don't think it's ugly," one person commented: "But it's certainly not pretty."
Nevertheless, it was apparently decided that the bunny needed to go, and workers came to Sanxia Square to get rid of the rabbit lantern (hashtag #被吐槽吓人巨型兔子灯已被拆除#).
The district management committee told Chinese reporters on January 18 that they gave orders to dismantle the lanterns after receiving reports from residents that the giant rabbit was "appalling" (#官方回应巨型兔子灯被吐槽吓人#).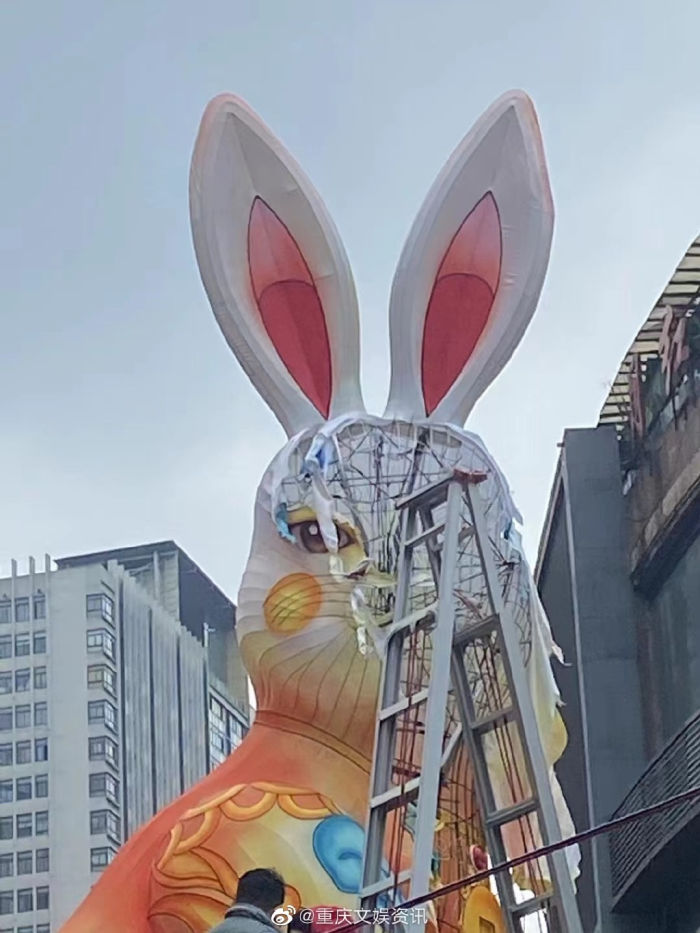 In the case of the blue rabbit stamp, a mascot that was specially designed to celebrate the launch of the zodiac stamp and the Year of the Rabbit was also discarded after people said they found the red-eyed rabbit "rat-like" and "horrible."
Earlier this week, an art sculpture created by artist Xu Hongfei (许鸿飞) which is displayed inside Guangzhou Airport, also became a topic of discussion on Chinese social media as many could not appreciate the work of art and its representation of women. Airport management is reportedly now "investigating" how to deal with the controversy and the sculpture itself (#机场回应大厅雕塑被指有损女性形象#).
The Shanghai Morning Post (新闻晨报) wrote a post about the rabbit incident on Weibo, in which the newspaper – that falls under the Shanghai party newspaper Jiefang Daily – implicitly criticized the way in which both the blue rabbit stamp and the colorful Chongqing rabbit have recently come under fire and how the situations were handled.
"Give creativity some room!", the news outlet wrote, arguing that rabbits aren't always only "cute," and that works that are more innovative, unique, and creative inevitably will cause some controversy because they make more impact and people have different views on what is considered beautiful and what is considered ugly.
Simply getting rid of artworks or public installations because many people don't like them is unconstructive and a waste of public resources, according to the post. It would be better to actively engage in conversations, in the earlier phases of a project, but also once a work of art is already completed and if it is met with some controversy, the post argues; let people think about it, explore it, reflect on it – but do not just cover it up, tear it down, and throw the baby out with the bathwater.
Although some Weibo commenters applauded how Chongqing authorities listened to the people, others did not agree with the rabbit being removed because people thought it was ugly: "What are you taking it down for? If it's ugly, just let it be ugly, at least it's unforgettable!"
In light of the discussion, other social media users, including Zhihu user 'Hǎiniú móumóu' (海牛眸眸) and Weibo blogger Kai Lei (凯雷), took the initiative to make a collection of other rabbits on display in Chinese cities for the Year of the Rabbit. Some of them made the Chongqing rabbit look perfectly normal.
Such as the cyberpunk rabbit on display in Zigong.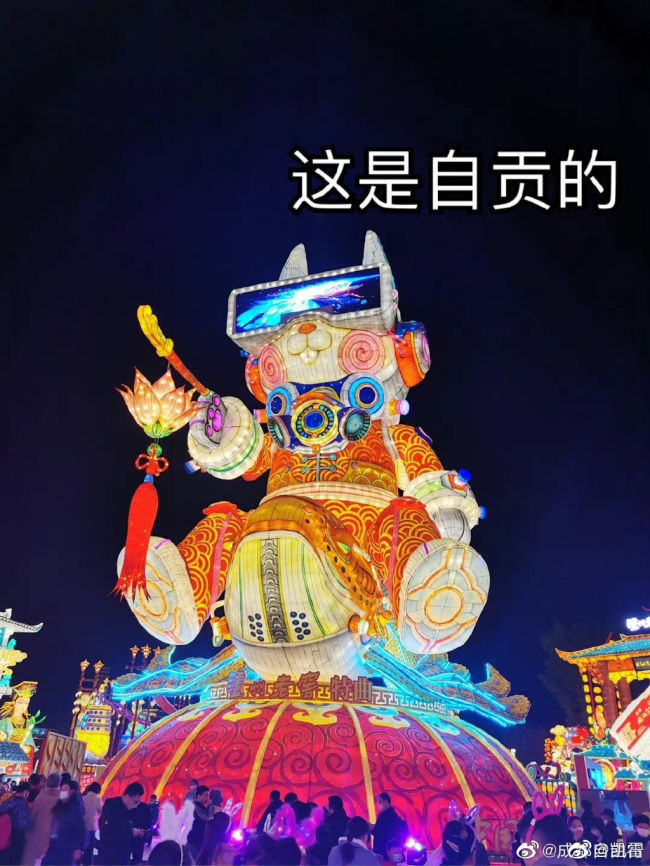 Or the peaceful bunny from Quanzhou.
The big-eyed Nanjing one.
The Shanghai angry, boxing bunny.
But the one in Nanning takes the crown, as it left people utterly confused (#南宁兔子灯被嘲羊不羊兔不兔#).
"I guess you can't please everyone," one Weibo user wrote: "But you can displease everyone."
By Manya Koetse , with contributions by Zilan Qian
Get the story behind the hashtag. Subscribe to What's on Weibo here to receive our newsletter and get access to our latest articles:
Spotted a mistake or want to add something? Please let us know in comments below or email us. First-time commenters, please be patient – we will have to manually approve your comment before it appears.
©2023 Whatsonweibo. All rights reserved. Do not reproduce our content without permission – you can contact us at info@whatsonweibo.com.
Driver Speeds through Busy Intersection in Guangzhou
The driver, a 22-year-old man, killed 5 people and injured 13 when he drove into people who were just crossing the road in Guangzhou.
Update: Several of the hashtags linked within this article were taken offline after the time of publication.
Five people were killed and 13 others were injured in a traffic incident involving a BMW driving into pedestrians at Tianhe Road in Guangzhou on January 11. The shocking incident went trending on Weibo, where one hashtag related to the topic received over 1.2 billion views before midnight Beijing time (#广州一宝马冲撞人群已致5死13伤#).
The incident happened around 17:25 local time on Wednesday. Videos circulating on Douyin and Weibo show how the black SUV just ploughed his car through the busy street at Tianhe Road/Tiyu East Road, where dozens of people were walking and crossing the intersection. Shortly after the incident, some people could be seen lying motionless on the road.
A shocking incident involving an SUV driving into pedestrians in #Guangzhou earlier today left 5 people dead and injured 13. The suspect, a 22-year-old Guangdong male, has now been arrested. Videos circulating on Chinese socials show the incident & aftermath (viewer discretion). pic.twitter.com/TaUJs2Nbvf

— What's on Weibo (@WhatsOnWeibo) January 11, 2023
Another video shows how the car, apart from the intersection incident, also drove into a woman at another intersection and into a person riding on an electric scooter. Later on, the driver could be seen crashing into traffic fences, throwing money out of his car window while driving. The driver then got out of his car and started throwing money bills around. Shortly after, he was arrested.
According to Chinese media, the driver is a 22-year-old male from Jieyang in Guangdong, identified as 'Wen X.' The incident is still under investigation.
"This is the first time in my life I've ever been ashamed to say I come from Jieyang," one commenter wrote. "I saw the videos and I'm crying, I'm so shocked," another person wrote: "He must be severely punished."
Other people called the culprit 'inhumane' and 'devilish,' saying he does not deserve to live.
Earlier this week, another major road incident that happened near Youlan Town in Nanchang, Jiangxi, killed 19 people and injured 21 others. The incident occurred on the very early morning (0:49) of 8 January, when a truck drove into a funeral procession.
At the time of the incident, a thick fog allegedly reduced visibility, but the incident is still under investigation. According to witnesses, it took the driver of the vehicle several hundred meters to stop after driving into the crowd. Most of the people who were killed in the incident were locals who had attended the funeral.
On Chinese social media, that topic also received a lot of attention this week. Some of the hashtags used to discuss the incident, however, were taken offline.
People wondered why a funeral procession would take place so late at night. Although some commenters suggested it could be due to local customers, others claimed it was related to the long waiting times for funerals at a time of a major Covid outbreak and related deaths.
"It's too bitter. It's a tragedy upon a tragedy," one person commented.
By Manya Koetse
Get the story behind the hashtag. Subscribe to What's on Weibo here to receive our newsletter and get access to our latest articles:
Spotted a mistake or want to add something? Please let us know in comments below or email us. First-time commenters, please be patient – we will have to manually approve your comment before it appears.
©2023 Whatsonweibo. All rights reserved. Do not reproduce our content without permission – you can contact us at info@whatsonweibo.com.