Toxic Love Affair: Mistress Poisons Love Rival with Thallium
September 16, 2014: Weibo netizens are feverishly discussing the 'Anhui poisoning trial' (#安徽铊投毒案#), a rare case in the southeast of China, revolving around a love triangle and a poisoning with the highly toxic substance thallium. The Anqing court found kindergarten teacher Ling Ling guilty of chemically poisoning the ex-wife of her lover. She was sentenced to life in prison. Netizens express their worries over the seemingly effortless way the convict was able to purchase thallium over the Internet. "This reminds me of the Tsinghua University Thallium poisoning case of Zhu Ling [1995]", one netizen says: "how can thallium be purchased so easily?!" This is the third thallium poisoning case in China.
Victim Pan Jingjing (left), her husband Awang and their child in happier times (picture:

Sina 2014

).
Pan Jingjing will turn 26 next month. She will not be able to celebrate, as the young woman has been in a vegetative state for over a year – the result of a two-time thallium poisoning in the presence of her ex-husband Awang and his girlfriend Ling Ling (pseudonym). Soluble thallium is highly toxic. Formerly, it was used in rat poisons and insecticides. Due to its historic popularity as a murder method, it is also known as "the poisoner's poison".
Although married to Pan, Awang got to know kindergarten teacher Ling Ling through the Internet in 2009, Sina reports. The two first became friends, and then developed a love relationship. Pan Jingjing discovered her husband's extramarital affair in 2011. Although the couple soon filed for divorce, Pan Jingjing remained living in their family home and did not tell her family or co-workers of her divorce, while her husband and Ling Ling continued their relationship.
On September 2nd 2014, the Anqing court reasoned that Ling Ling's main motive for poisoning Pan was to free herself of her lover's ex-wife, who was still so involved in his daily life.
Ling purchased the toxic chemical thallium through the internet in April, 2012. She had invited Pan to join her and Awang for a hotpot dinner on April 17th. When Pan left the table to get some beer, she mixed the chemical in her drink. That same night, Pan Jingjing got sick with diarrhea, and later suffered from pain in her legs and hair loss. When doctors in Hefei (capital of Anhui) could not find the cause of her symptoms, she was diagnosed with a mental disorder. By the summer of 2012, Pan had gradually recovered. Ling and Awang were now officially married. Ling Ling poisened Pan with thallium for a second time in August 2012, by mixing thallium through her tea in a karaoke bar. This time, Pan found herself unable to walk and was admitted to the hospital in critical condition. Doctors later discovered traces of thallium in her system.
The judicial thallium case has now come to a close after two years. Although both Ling Ling and Awang were arrested as suspects in the poisoning case in 2012, Awang has now been acquitted of all charges due to a lack of evidence of his involvement. Ling Ling, who now has a baby with Awang, has been sentenced to life in prison.
A former colleague of Pan Jingjing has stated to the press that Pan had expressed doubts of being poisoned after initially getting sick in April 2012. Her colleague had been there when Pan directly asked her husband if he and his girlfriend had mixed medicine in her drink to harm her, as she remembered the presence of a white substance in her drink at the hotpot restaurant. "Nonsense," her husband allegedly said: "That was just an ingredient of your drink."
"What is happening to this world?", says another netizen: "This morning I woke up to headline news about a woman who poured acid in her cheating husband's mouth while he was sleeping… and this afternoon I read about this mistress poisoning the ex-wife. I guess it's safer to stay single."
"We must not underestimate thallium," says commentator Su Li in online magazine ZJJZX: "This case really is about two keywords: 'thallium', and 'online shopping'." Su pleads for a stricter organization of the online shopping market and a serious restriction to the sales in toxic goods.
For Pan Jingjing, future stricter regulations of China's online sales in toxic substances will come too late. She is currently still hospitalized and unable to speak.
Pan Jingjing cannot move or talk, and needs constant care (picture by 163.com).
[box] This is Weiblog: the What's on Weibo blog section. Short daily updates on what is currently trending on China's biggest social medium, Sina Weibo.[/box]
Boy, 15, Fatally Beaten and Buried by Group of Minors in Shaanxi
The heinous crime has sparked discussions on the problem of campus violence and China's criminal liability age.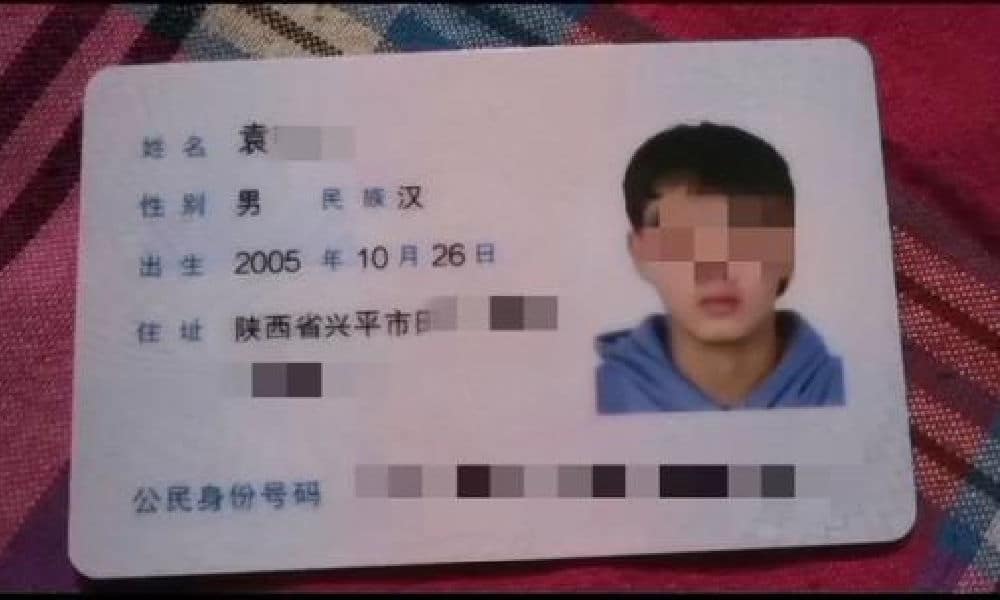 A brutal incident that took place in the city of Xingping in Shaanxi province is top trending on Chinese social media today.
On October 29, a 15-year-old boy by the name of Yuan (袁) was fatally beaten and buried by a group of six people, all minors.
Beijing News reports that Yuan was a second-year student at the Xianyang Xingping Jincheng Middle School. He had taken time off from school and had a temporary job in Xi'an before the incident occurred.
Yuan's father told reporters that his son had returned to Xingping on October 29. A small group of minors, including four students, allegedly demanded money from Yuan, which he refused. It is also reported that a conflict occurred because Yuan added one of the minors to his phone's 'blacklist' (电话拉黑).
According to various news reports, the group of minors attacked the boy with a pickaxe after which he became unconscious. They then brought him over to a nearby hotel and discovered he was dead the next day. They later buried his lifeless body in a pit near the school premises.
On November 2, other students who had heard of the crime reported it to the police. Yuan's body was found in the pit shortly after officers arrived at the scene.
Local authorities released a statement about the case on November 10, in which they stated the suspects have been detained and that the case is still under investigation.
Various sources on Weibo claim that Yuan previously also suffered beatings at school, with severe school bullying being the main reason for the 15-year-old to temporarily drop out of school.
In a video report by Pear Video, Yuan's father says they are still unsure of how their son died, suggesting he might have still been alive when he was buried in the pit.
China has been dealing with an epidemic of school violence for years. In 2016, Chinese netizens already urged authorities to address the problem of extreme bullying in schools, partly because minors under the age of 16 rarely face criminal punishment for their actions.
On social media site Weibo and on the news app Toutiao, many commenters are not just angered about the incident but also focus on China's laws regarding the criminal responsibility of minors.
Some write: "Our criminal laws for minors should protect minors instead of protecting juvenile offenders!"
China's criminal liability age is currently set at 14. Last month, Global Times reported on a proposal to lower the age of criminal liability in China from 14 to 12 in response to concerns about an alleged increase in juvenile violence.
"These minors need to be severely punished," multiple commenters wrote: "Who knows who else they might hurt?"
By Manya Koetse
Follow @WhatsOnWeibo
Spotted a mistake or want to add something? Please let us know in comments below or email us. First-time commenters, please be patient – we will have to manually approve your comment before it appears.
©2020 Whatsonweibo. All rights reserved. Do not reproduce our content without permission – you can contact us at info@whatsonweibo.com.
Viral Video Exposes Wuhan Canteen Kitchen Food Malpractices
Boots in the food bowl, meat from the floor: this Wuhan college canteen is making a food safety mess.
A video that exposes the poor food hygiene inside the kitchen of a Wuhan college canteen has been making its rounds on Chinese social media these days.
The video shows how a kitchen staff member picks up meat from the floor to put back in the tray, and how another kitchen worker uses rain boots to 'wash' vegetables in a big bowl on the ground, while another person is smoking.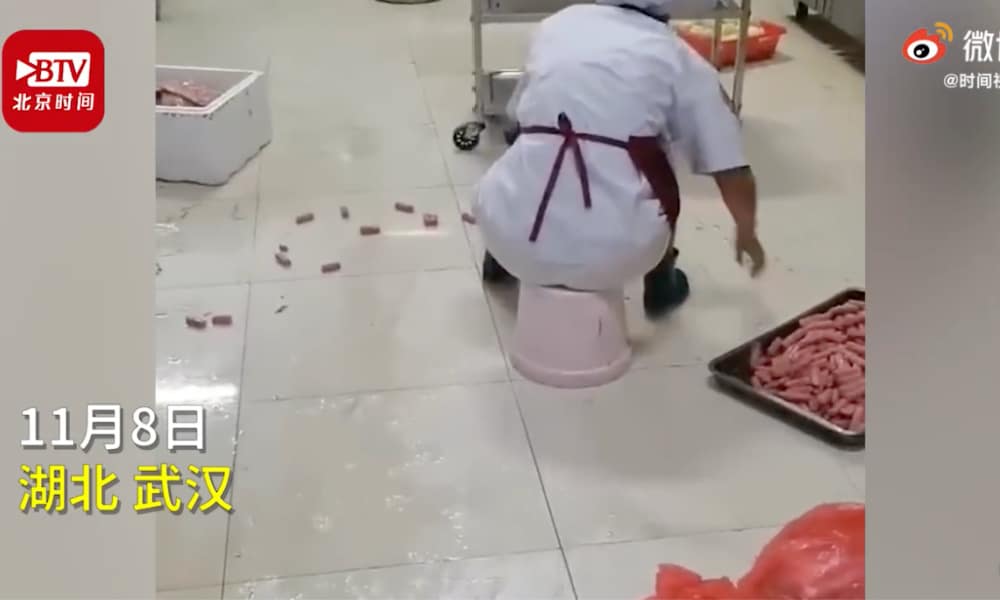 The video was reportedly shot by someone visiting the canteen of the Wuhan Donghu University (武汉东湖学院) and was posted on social media on November 7.
According to various news sources, including Toutiao News, the school has confirmed that the video was filmed in their canteen, stating that those responsible for the improper food handling practices have now been fired.
Can imagine the students at Wuhan Donghu University were not happy to see this behind the scenes footage from their canteen – kitchen staff smoking, picking up food from the floor and putting it back in the tray, and using their boots to mix vegetables in the bowl 😵 pic.twitter.com/vV9NnsQX6v

— Manya Koetse (@manyapan) November 8, 2020
The Wuhan Donghu University also posted a statement on their Weibo account on November 8, saying it will strengthen the supervision of its canteen food handling practices.
"The students at this school will probably vomit once they see this footage," some commenters on Weibo wrote.
Wuhan Donghu University is an undergraduate private higher education institution established in 2000. The school has approximately 16,000 full-time undergraduate students.
"I'm afraid that this is just the tip of the iceberg," one popular comment said, receiving over 25,000 likes.
Students from other universities also expressed concerns over the food handling practices in their own canteens, while some said they felt nauseous for having had lunch at the Wuhan canteen in question.
By Manya Koetse
Follow @WhatsOnWeibo
Spotted a mistake or want to add something? Please let us know in comments below or email us. First-time commenters, please be patient – we will have to manually approve your comment before it appears.
©2020 Whatsonweibo. All rights reserved. Do not reproduce our content without permission – you can contact us at info@whatsonweibo.com.