Toxic Love Affair: Mistress Poisons Love Rival with Thallium
September 16, 2014: Weibo netizens are feverishly discussing the 'Anhui poisoning trial' (#安徽铊投毒案#), a rare case in the southeast of China, revolving around a love triangle and a poisoning with the highly toxic substance thallium. The Anqing court found kindergarten teacher Ling Ling guilty of chemically poisoning the ex-wife of her lover. She was sentenced to life in prison. Netizens express their worries over the seemingly effortless way the convict was able to purchase thallium over the Internet. "This reminds me of the Tsinghua University Thallium poisoning case of Zhu Ling [1995]", one netizen says: "how can thallium be purchased so easily?!" This is the third thallium poisoning case in China.
Victim Pan Jingjing (left), her husband Awang and their child in happier times (picture:

Sina 2014

).
Pan Jingjing will turn 26 next month. She will not be able to celebrate, as the young woman has been in a vegetative state for over a year – the result of a two-time thallium poisoning in the presence of her ex-husband Awang and his girlfriend Ling Ling (pseudonym). Soluble thallium is highly toxic. Formerly, it was used in rat poisons and insecticides. Due to its historic popularity as a murder method, it is also known as "the poisoner's poison".
Although married to Pan, Awang got to know kindergarten teacher Ling Ling through the Internet in 2009, Sina reports. The two first became friends, and then developed a love relationship. Pan Jingjing discovered her husband's extramarital affair in 2011. Although the couple soon filed for divorce, Pan Jingjing remained living in their family home and did not tell her family or co-workers of her divorce, while her husband and Ling Ling continued their relationship.
On September 2nd 2014, the Anqing court reasoned that Ling Ling's main motive for poisoning Pan was to free herself of her lover's ex-wife, who was still so involved in his daily life.
Ling purchased the toxic chemical thallium through the internet in April, 2012. She had invited Pan to join her and Awang for a hotpot dinner on April 17th. When Pan left the table to get some beer, she mixed the chemical in her drink. That same night, Pan Jingjing got sick with diarrhea, and later suffered from pain in her legs and hair loss. When doctors in Hefei (capital of Anhui) could not find the cause of her symptoms, she was diagnosed with a mental disorder. By the summer of 2012, Pan had gradually recovered. Ling and Awang were now officially married. Ling Ling poisened Pan with thallium for a second time in August 2012, by mixing thallium through her tea in a karaoke bar. This time, Pan found herself unable to walk and was admitted to the hospital in critical condition. Doctors later discovered traces of thallium in her system.
The judicial thallium case has now come to a close after two years. Although both Ling Ling and Awang were arrested as suspects in the poisoning case in 2012, Awang has now been acquitted of all charges due to a lack of evidence of his involvement. Ling Ling, who now has a baby with Awang, has been sentenced to life in prison.
A former colleague of Pan Jingjing has stated to the press that Pan had expressed doubts of being poisoned after initially getting sick in April 2012. Her colleague had been there when Pan directly asked her husband if he and his girlfriend had mixed medicine in her drink to harm her, as she remembered the presence of a white substance in her drink at the hotpot restaurant. "Nonsense," her husband allegedly said: "That was just an ingredient of your drink."
"What is happening to this world?", says another netizen: "This morning I woke up to headline news about a woman who poured acid in her cheating husband's mouth while he was sleeping… and this afternoon I read about this mistress poisoning the ex-wife. I guess it's safer to stay single."
"We must not underestimate thallium," says commentator Su Li in online magazine ZJJZX: "This case really is about two keywords: 'thallium', and 'online shopping'." Su pleads for a stricter organization of the online shopping market and a serious restriction to the sales in toxic goods.
For Pan Jingjing, future stricter regulations of China's online sales in toxic substances will come too late. She is currently still hospitalized and unable to speak.
Pan Jingjing cannot move or talk, and needs constant care (picture by 163.com).
[box] This is Weiblog: the What's on Weibo blog section. Short daily updates on what is currently trending on China's biggest social medium, Sina Weibo.[/box]
Shanghai 'Dead Man' Taken Away to Morgue, Found to Be Alive
An incident in which a man taken to a morgue turned out to be alive doesn't really help to restore residents' trust in Shanghai.
An incident in which a Shanghai man, who was thought to be dead, was taken to a funeral home before he was found to be alive has become a big topic on Chinese social media.
The incident happened on the afternoon of May 1st at the Shanghai Xinchangzheng Nursing Home (上海新长征福利院) in the city's Putuo District.
A video of the incident went viral on Chinese social media in which a body bag can be seen put into a vehicle by three people, two members of staff from the nursing home and one funeral home worker. Shortly after, the body bag is taken out again and put back on a trolley. One of the nurses zips open the bag, pulls a cover from the man's face, and apparently finds him to be alive.
"He's alive," one of the workers says in shock: "He's alive, I saw it, he's alive. Don't cover him any more."
The man is then transferred back into the nursing home, still inside the body bag.
The video that is making its rounds on social media was filmed from two different angles, the person filming can be heard calling the incident "a disgrace for human life" and "irresponsible."
This is the video everyone's talking about today, showing how a Shanghai nursing home resident is taken away to the morgue in a body bag. At around 38 sec in the video, the staff member backs away and says: "He's alive. He's alive, I saw it. Don't cover him anymore." pic.twitter.com/Y3HzRRpxUl

— Manya Koetse (@manyapan) May 2, 2022
On May 2nd, the Chinese state media outlet People's Daily posted about the incident on Weibo, saying the city district is currently investigating the case. The man was hospitalized and his vital signs are stable.
Meanwhile, multiple people are held accountable for the incident. The head of the nursing home has been dismissed and will be further investigated, along with four district officials. The license of the doctor involved will also be revoked.
The Shanghai Xinchangzheng Nursing Home has also apologized for the incident (#上海一福利院就未死亡老人被拉走道歉#).
On social media, many people are angry about the incident, wondering why the old man was transported to the funeral home in the first place, and why the members of staff seemed to be indifferent after finding out he was still alive.
In the video, the member of staff standing next to the man can be seen covering the patient's face again after finding out he is still alive, leaving the body bag zipped up. Many also see this as a cold and incomprehensible way to respond.
After weeks of online anger about the chaotic and sometimes inhumane way in which Shanghai authorities have been handling the Covid outbreak in the city, this incident seems to further lower the public's trust in how patients and vulnerable residents are being treated.
"Shanghai is such a terrifying place!", some on Weibo write.
"Just think about it," one person responded: "This incident took place in one of China's most prosperous cities and happened to be filmed. How much is happening in other cities that is not caught on camera? Today, it's this man, in the future, it's us."
For more articles on the Covid-19 topics on Chinese social media, check here.
By Manya Koetse, with contributions by Miranda Barnes
Get the story behind the hashtag. Subscribe to What's on Weibo here to receive our weekly newsletter and get access to our latest articles:
Spotted a mistake or want to add something? Please let us know in comments below or email us. First-time commenters, please be patient – we will have to manually approve your comment before it appears.
©2022 Whatsonweibo. All rights reserved. Do not reproduce our content without permission – you can contact us at info@whatsonweibo.com.
'Hard Isolation' is Shanghai's New Word of the Day
In line with a new 'hard isolation' measure, the entrances of some Shanghai residential buildings were fenced up.
While some Shanghai households have already endured weeks of isolation, a new word was added to their epidemic vocabulary today: 'hard isolation' or 'strong quarantine' (yìng gélí 硬隔离)
The word popped up on Chinese social media on April 23rd after some Shanghai netizens posted photos of fences being set up around their community building to keep residents from walking out.
"New word: hard isolation. Shanghai is rotten to the core," one commenter wrote.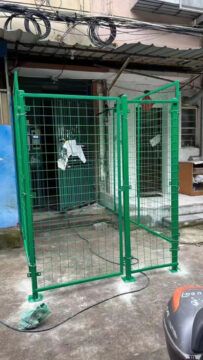 The word soon turned into a hashtag page where people started commenting on the issue of fences being placed around residential buildings, voicing concerns on what a fence around buildings would mean for fire safety, especially after online rumors suggested that there had been a fire at one community in Pudong on Saturday night.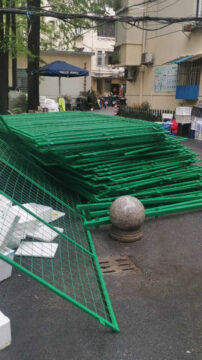 An official document regarding the 'hard isolation' measure was also shared online on Saturday. It is dated April 23, 2022, and its source is the Pudong New Area Office for Epidemic Control.
The document states that in line with the guidelines for the city's epidemic prevention and control, the division between areas or zones that are in certain risk categories should be 'optimized,' with those in the high-risk category requiring a 'hard isolation.' Security guards should also be on duty 24 hours a day at the entrance of the buildings.
Earlier this month, Shanghai adopted "3-level control measures" after its initial phased lockdown. It means that local areas will be classified as "locked-down," "controlled" or "precautionary," based on their Covid19 risk.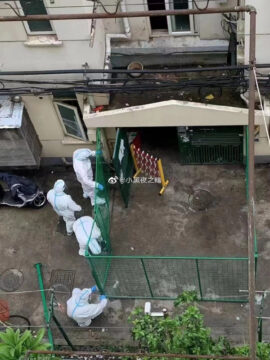 "Could we also put fences around the homes of Shanghai leaders?", one person suggested, while others posted images from the Walking Dead to mock the situation.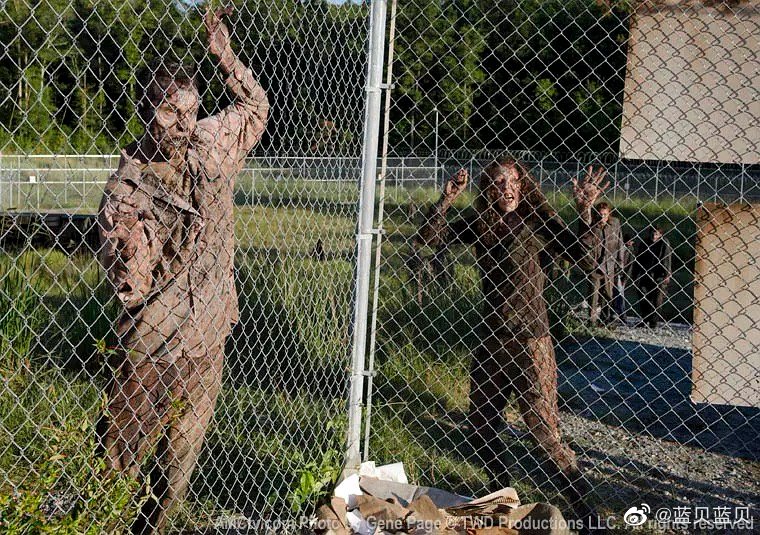 In the hope of Shanghai soon tackling the Covid situation, not everybody disagreed with the decision to fence some buildings or communities in the Pudong area: "I don't disagree with it, as long as there is always someone there to open the fence in case of fire," one person stated.
Although having a fence around their building is currently not a reality for most in Shanghai, the online photos of some communities seeing their buildings being fenced up is a reason to worry for some: "It's been 40 days, and now they start hard isolation? This actually scares me. Before we know it, it's June."
One Weibo user asked: "Why is it possible to implement this hard isolation now? Was this created by the same persons who also implemented the rule to separate children from parents at isolation sites?"
"I truly can't imagine why some people thought this is a good idea," others wrote.
For more articles on the Covid-19 topics on Chinese social media, check here.
By Manya Koetse
Get the story behind the hashtag. Subscribe to What's on Weibo here to receive our weekly newsletter and get access to our latest articles:
Spotted a mistake or want to add something? Please let us know in comments below or email us. First-time commenters, please be patient – we will have to manually approve your comment before it appears.
©2022 Whatsonweibo. All rights reserved. Do not reproduce our content without permission – you can contact us at info@whatsonweibo.com.