Viral Merchants Bank Commercial Hits Close to Home for Chinese Students Abroad
A viral commercial titled 'The World is No Bigger than a Tomato Omelette' is making Chinese students tear up.
A Merchants Bank viral campaign titled 'The World is No Bigger than a Tomato Omelette' is triggering many reactions on Chinese social media. While the commercial moves many people to tears, others find it sends out the wrong message.
Over the past two days, a commercial by China Merchants Bank (招商银行) titled 'The world is no bigger than a fried tomato omelette' ("世界再大,大不过一盘番茄炒蛋") has gone viral on Chinese social media. While the ad campaign is a tearjerker for many, some find it a source of annoyance.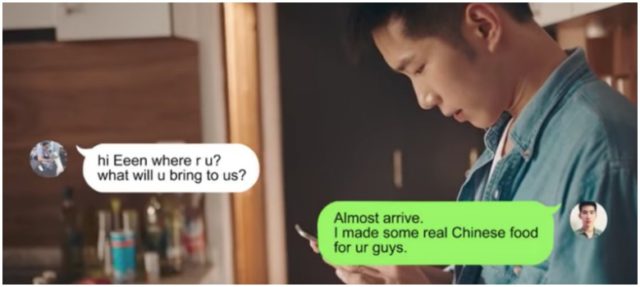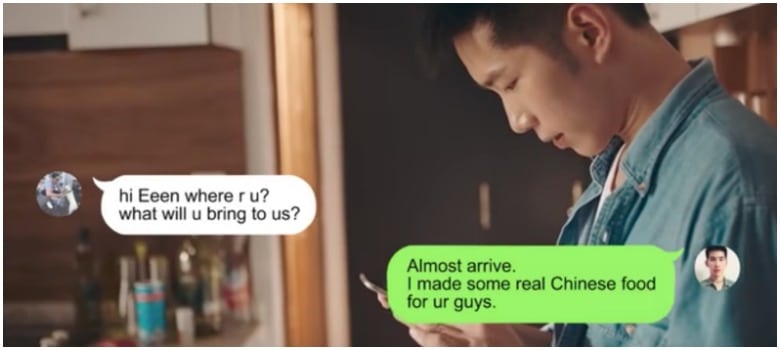 The 4-minute commercial revolves around Chinese exchange student Yang who is in his first week in America and has to cook a Chinese dish for a potluck party.
"Your world means the world to us."
Worried that he does not know how make the classic Chinese xīhóngshì chǎo jīdàn dish (西红柿炒鸡蛋 generally: 'scrambled eggs with tomatoes'), Yang calls up his mother in China for help.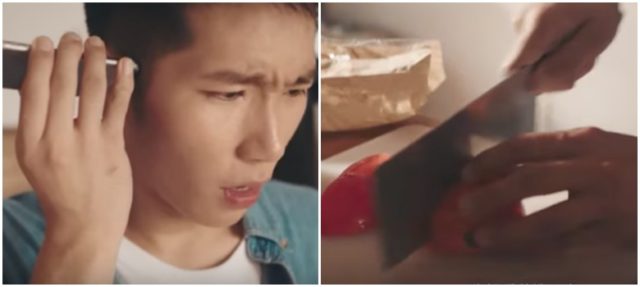 When he finds his mother's explanation on how to prepare the dish not clear enough, the young man gets frustrated. Just as he is about to panic, his phone beeps that there is an incoming WeChat message; it is his mother on a video showing her son how to make fried tomato and eggs from her kitchen.
Thanks to his mother's help, Yuan shows up at the party with a tasty dish. One of the party's attendants asks Yuan about China and how much the time difference with America is.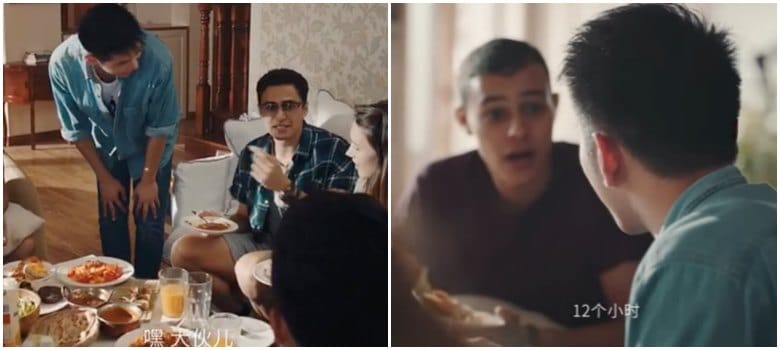 The moment Yang replies "12 hours," he realizes that he asked his mother for help in the middle of the night – and that she got up for him without her ever complaining about it.
Touched that his parents would wake up in the dark of the night to make a video tutorial for him, he messages his mother to say "thank you."
The commercial ends with an image of Yang's parents in their kitchen in China, texting: "We want to stand by your side, but we want even more for you to have the world. Your world means the world to us" ("你的世界大于全世界").
The commercial promotes the Merchants Bank's special Visa credit card for exchange students.
VIEW THE VIDEO HERE:
The commercial, that went trending on Weibo and Wechat today, touched many people to tears. Moved by these parents' unconditional love for their child, people shared their own stories of studying abroad and receiving help from their parents.
"An idiot who doesn't sympathize with his parents and does not even care about the time difference."
Many other people, though, say the commercial sends out the wrong message, and that Chinese parents today are raising children who are not independent enough.
A Weibo user nicknamed Wuyue (@五岳散人) writes:
"That sucker ad by the Merchants Bank is really powerful alright. He doesn't know how to stir-fry tomatoes and eggs, and despite the fact that it is broad daylight there, he doesn't even know it's nighttime in China and calls his mummy for help. He then, particularly proud, tells his friends 'I am from China.' What does that mean? It means his mother raised a boy who cannot even cook for himself. An idiot who doesn't sympathize with his parents and does not even care about the time difference."
Other people agree, saying: "You can't disturb your sleeping parents to make tomato omelette," or: "Don't we have Baidu [search engine] for this?"
Some commenters say they find the commercial "infuriating," stating that people who do not know how to make tomato and eggs should not even qualify to study abroad.
There are also commenters who simply wonder what the commercial has to do with the credit card it promotes.
"True portrayal of relations between Chinese exchange students and their parents."
An author at news platform 36kr.com disagrees with the critics, writing: "As someone who has been an exchange student before, this commercial made me cry when I saw it late at night."
"Yesterday night, this commercial started going viral on WeChat and my friends who are studying abroad sent it to me with teary emoticons."
The 36kr author says that some of her friends were crying their eyes out over the ad:
"This ad is a true portrayal of the relations between exchange students and their parents. The tomato and eggs dish is just an example, but behind it you'll find the far-reaching love of parents towards their children that goes beyond any time-difference."
Many on Weibo agree with this stance, writing: "Over the past few days, every single chat group for exchange students has been posting this video. I finally watched it. Tears were streaming down my face."
About the connection to the credit card product, the author of 36kr.com writes: "The most important purpose [of this ad] is to enhance the brand image of the China Merchants Bank. Tying the brand together with this scene, we have emotional resonance and thus it creates more trust in the brand, associating the Merchants Bank with 'warmth,' 'care,' and 'love.'"
"China Merchants Bank is taking a route that is more common in Thailand, where 'sadvertising' is a well-known phenomenon."
By choosing to promote their latest credit card in this way, the China Merchants Bank is taking a route that is more common in Thailand, where 'sadvertising' is a well-known phenomenon.
Throughout the years, several Thai tearjerking movie-like commercials have become very popular on the internet. These Thai commercials, internationally acclaimed, mainly focus on narrative and plot and are similar to short movies.
They are called 'sadvertising' because their touching narratives, strong actors, qualitative film work and emotive music make it difficult not to tear up while watching.
'The World is No Bigger than a Tomato Omelette' was not produced by a Thai director, however. Its director is Xi Ran (席然), a young creative filmmaker whose work includes movies such as I Love You to Love Me (爱在一起).
According to this article on marketing platform Meihua.info, Xi Ran has had previous successes in making commercials.
"The commercial shows the great lengths to which Chinese parents will go to support their children in their education and endeavours – no matter where in the world they are."
Despite all criticism, the commercial could be called a great success as it has become the talk of the day in many chat groups – mainly relating to those students who are studying abroad.
According to Quartz, Chinese students are studying abroad in record numbers. In 2015 alone, more than half a million Chinese headed overseas to study.
But the commercial does not just resonate with those outside of China. Many students who go to university within China also have to travel long hours to see their parents, and often do not have the means or time to see their family.
Children from China's younger generations, mostly the post-90s generation, are often the pride of their family for being the first person to go to university or to study abroad.
They generally are used to receive a lot of attention and (financial) help from their family. This also shows in the 'tents of love' phenomenon, where parents will accompany their children when they first go to college and sleep in tents outside the campus.
The viral 'tomato and eggs' commercial also shows, in its own way, the great lengths to which Chinese parents will go to make sure they can support their children in their education and endeavours – no matter where in the world they are.
"I saw it. I cried," many commenters simply wrote.
"This commercial annoyed me," one person says: "Not because of the story, but because it made me realize I actually also do not know how to make tomato omelette."
Also wondering about the right way to make this comfort dish now? Here's a link for you – so you don't have to call up your parents in the middle of the night.
By Manya Koetse and Miranda Barnes
Follow @whatsonweibo
Spotted a mistake or want to add something? Please let us know in comments below or email us.
©2017 Whatsonweibo. All rights reserved. Do not reproduce our content without permission – you can contact us at info@whatsonweibo.com.
"What Is Peppa?" – Viral Ad Campaign for 'Peppa Pig' Movie Makes the British Pig More Chinese Than Ever
It's the Chinese new year of Peppa Pig.
A new ad campaign for the upcoming Peppa Pig movie features a grandfather living in rural China who goes on a quest to find out what Peppa is. The commercial is a huge success on Chinese social media, and strikes a chord with netizens for touching upon various societal and cultural issues. Peppa is more Chinese than ever now.
"What is Peppa?" That is the question that is currently going viral on Chinese social media, with the hashtag #WhatisPeppa (#啥是佩奇#) receiving a staggering 400 million times on social media platform Weibo at time of writing.
The reason for the trend is an ad campaign, titled 'What's Peppa', promoting the Peppa Pig Celebrates Chinese New Year film, a production by Entertainment One and China's Alibaba Pictures.
The promotional video (5:39 length, watch featured video), that came out via various online channels on January 17, focuses on a grandfather living in a remote rural village who is anticipating the Spring Festival reunion with his son and his family, who now live in a big city.
The grandfather, named Yu Bao, wants to know what gift to get for his little grandson. When calling his family on a bad connection through his old 2G mobile phone, the word "Peppa" is all he gets from his little grandson before his phone breaks down. But what's Peppa?
Yu Bao then goes on a comical mission to find out what Peppa is: looking it up in the dictionary, asking his friends -who are just as oblivious as he is-, and asking the entire village.
At the local shop, it is suggested that 'Peppa' is some kind of shampoo.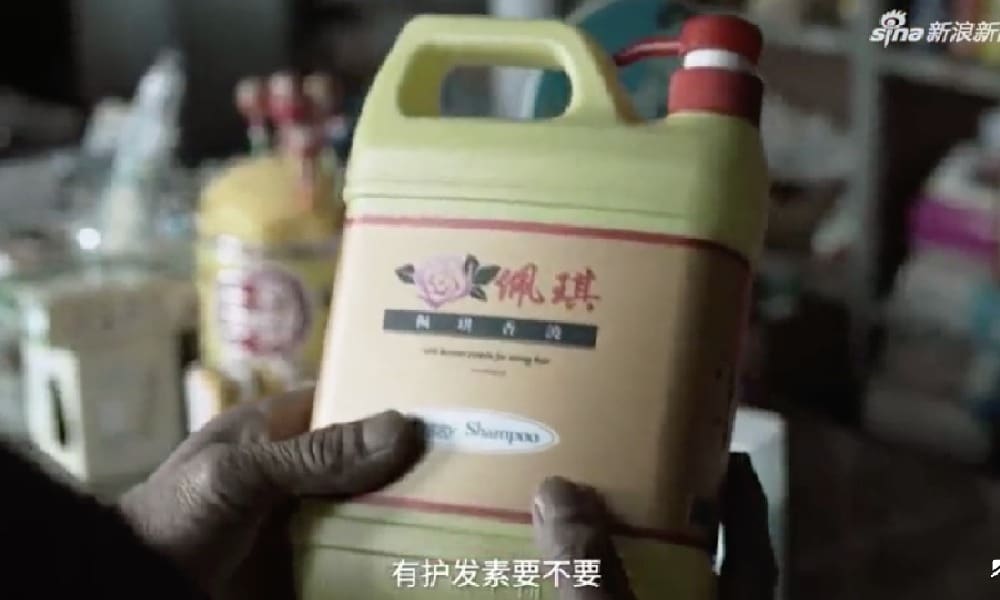 Eventually, one of the female villagers, who used to be a nanny, knows what Peppa is. She tries to explain it to Yu Bao, who now even seems willing to paint his own pig pink for his grandson. She explains that it is a pink cartoon pig whose face looks somewhat like a traditional fire blower.
With some guidance, the grandfather then goes to work and creates a unique 'Peppa Pig' gift from a metal air-blower to surprise his grandson during Chinese New Year.
But much to his disappointment, he then receives a phone call from his son, who tells him they are not coming home for Chinese New Year – before the connection drops again.
As grandpa, sad and lonely, is walking by the side of the road, his son suddenly appears in his car, telling him that the connection dropped too soon; he was not just telling him the family was not coming for Chinese New Year, he was trying to tell him that they invited him to come to their home instead.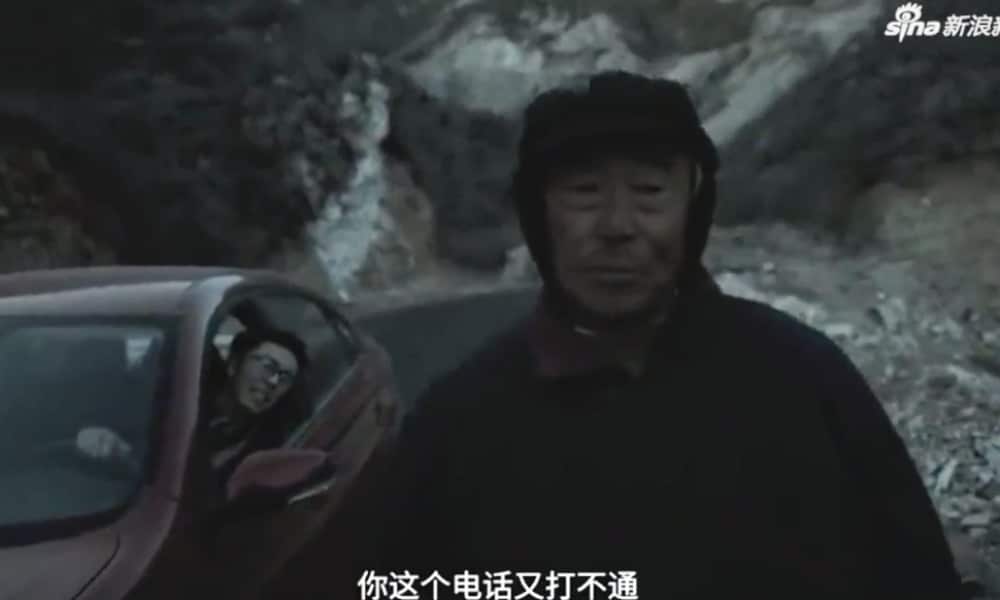 When the family is finally reunited, it is time for the proud grandfather to show the result of his difficult quest for Peppa to his grandson.
The grandpa's mission is complete: he gives his grandson a one-of-a-kind Peppa Pig.
The commercial ends with the entire family enjoying the upcoming Peppa film in the cinema together. When a friend from the village calls the grandfather to let him know he finally found Peppa thanks to his new smartphone, Yu Bao says: "It's okay, I found Peppa already!"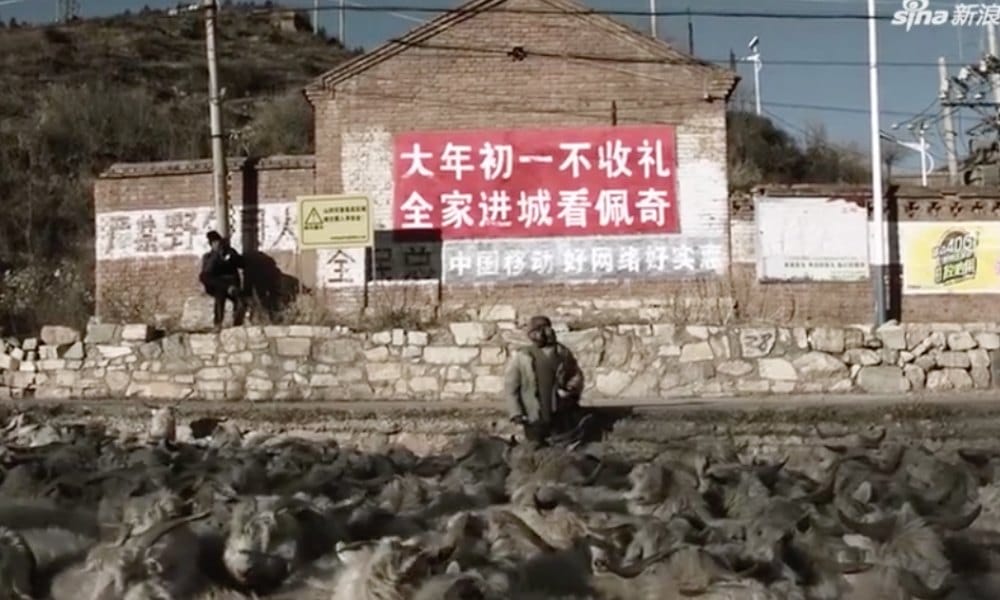 The last shot of the video shows Yu Bao's friend, a sheepherder, standing with his new phone, while someone in the back plays the tune of the Peppa cartoon. The big slogan on the wall is partly based on a popular catchphrase from another Chinese ad, and says: "At the start of the New Year, don't accept gifts; the whole family goes to the city to watch Peppa instead."
What's Peppa Pig?
Peppa Pig is a popular children's cartoon that first aired as a British animated television series (produced by Astley Baker Davies) in May of 2004. It took more than eleven years before the show was officially launched in the PRC (CCTV/June 2015).
Since then, Peppa Pig has become one of the most popular programs for preschoolers in China. But not just preschoolers love the pig; it has also become highly popular among young adults, who wear Peppa t-shirts, Peppa watches, and are major consumers of China's thriving Peppa industry.
In 2018, Chinese popular short video app Douyin (also known in English as Tik Tok) removed approximately 30,000 short videos relating to British cartoon Peppa Pig from its platform, as Peppa had turned into somewhat of a subversive symbol to a Chinese online youth subculture dubbed 'shehuiren' (社会人) (read more here).
This news item led to some confusion in Western media, where it was often suggested that Peppa was completely banned in China. She is, in fact, not banned; she is now more popular than ever.
Peppa the Movie
Amid the huge success of Peppa in China, it was announced in the summer of 2018 that Chinese tech giant Alibaba was working together with Entertainment One on the release of a Peppa Pig movie especially for the Chinese market, as this year's Chinese New Year is the start of the Year of the Pig.
The movie, titled 'Peppa Pig Celebrates New Year' (小猪佩奇过大年), is set for a nationwide release on February 5, the first day of the Chinese Lunar New Year. This is the most popular time for big blockbusters to come out, as many people are free during Chinese New Year and have the time to go out to the cinema together with their families.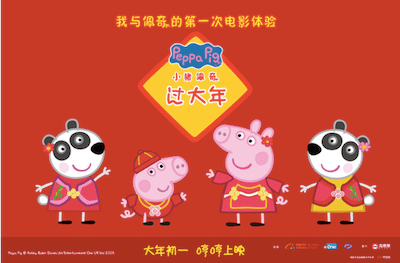 The movie itself revolves around Peppa and little brother George and their parents, who are having a reunion for the Spring Festival. It features various Chinese traditions, and of course, something unexpected will happen.
Why This Peppa Ad Campaign is So Brilliant 
The Peppa ad has really struck a chord on Chinese social media for various reasons. The video was directed by Beijing director Zhang Dapeng (张大鹏, 1984), who also directed the actual Peppa movie, and the campaign is also sponsored by China Mobile.
What this ad campaign does:
– It mixes the love for Peppa with the warm feeling of Chinese family reunions during Chinese New Year.
– It presents a nostalgic idea of the Chinese village community, where neighbors come together and look out for each other.
– It touches upon the issue of China's rapid urbanization, that has caused many villages to become deserted and isolated as younger generations have settled in the cities.
– It highlights how China's digitalization is leaving behind its elderly population (read more here).
– It shows the strong grandparent–grandchild relationship; usually, Chinese grandparents play an active role in raising grandchildren, something that has been changing due to younger generations moving to the city.
In other words; the advertisement completely draws the figure of Peppa Pig into a Chinese socio-cultural context, where it symbolizes the strong connection between Chinese families amid China's rapid urbanization and digitalization.
By now, the Peppa campaign is making its rounds from Weibo to WeChat and elsewhere on the Chinese internet, with some online sellers already offering a remake of the Peppa present for sale as a collector's item. Bloomberg reports that Chinese stocks connected to Peppa Pig have surged after the clip went viral yesterday and today.
"I give this video 100 points!" some commenters on social media write, with others saying it has made them tear up. "This already is the best ad campaign of the year."
Peppa was already a famous figure in China, but with this viral hit and the upcoming movie, the British pig really has become a part of China's popular culture and media environment: it's the Chinese new year of Peppa Pig.
By Manya Koetse and Miranda Barnes
Follow @whatsonweibo
Spotted a mistake or want to add something? Please let us know in comments below or email us.
©2019 Whatsonweibo. All rights reserved. Do not reproduce our content without permission – you can contact us at info@whatsonweibo.com
When Ad Breaks Get Weird: Branded Content in Chinese TV Dramas Is Ruining It For the Viewers
China's ubiquitous inserted ad marketing is alienating viewers from their favorite TV drama characters.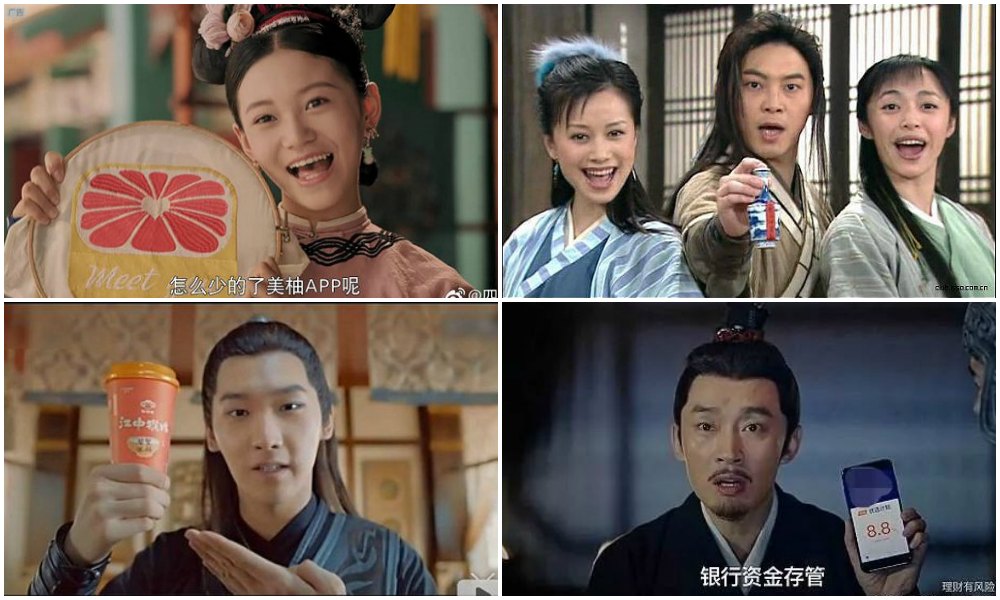 Ad breaks can be annoying, but when it's the main character of your favorite historical drama promoting the latest smartphone, it can actually ruin the viewer experience. In recent online discussions, China's ubiquitous 'Inserted Ad Marketing' (中插广告), that goes beyond product placement, is being attacked by netizens and media.
A 2017 Ad Age article on the high levels of branded content in China's online TV argues that Chinese viewers generally do not mind embedded marketing. They have allegedly become so used to to all kinds of branded distractions in TV shows, dramas, and films, that it is just "another part of the entertainment" (Doland 2017). But recent discussions on Chinese social media signal that the general sentiments regarding inserted sponsored content are changing.
On January 6, Chinese author Ma Boyong (@马伯庸, 4.5 million followers) posted an article on Weibo in which he criticized the phenomenon of inserted ad content in Chinese television series, saying the marketing style often does not suit the characters and is making the actors less credible.
Although Ma does not oppose to embedded marketing per se, he argues it hurts the credibility of TV dramas and the viewer's experience when it does not blend in with the style of the TV drama and its characters.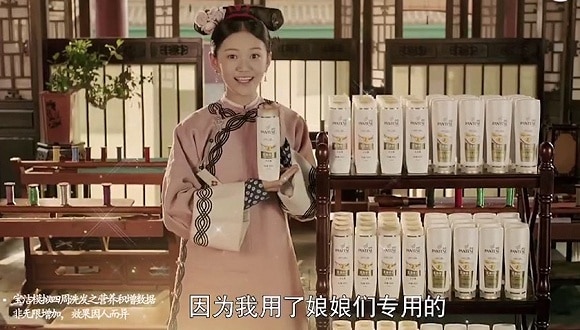 One of the TV dramas where the sponsored segments 'hurt' the show, according to Ma, is Mystery of Antiques (古董局中局, 2018) that is based on one of the author's novels. The actor Qiao Zhenyu (乔振宇), who plays the leading role, allegedly "looks like a fool" because of the inserted ad.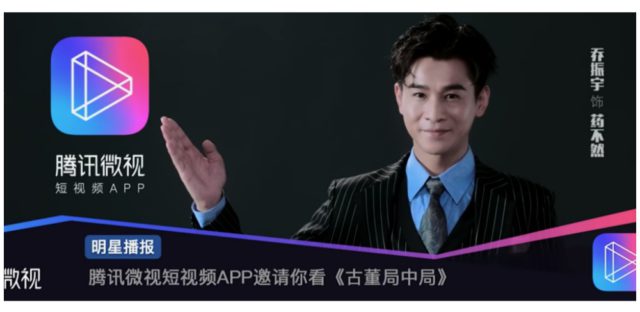 The type of advertising, that is central to this recent discussion, goes beyond product placement; it is the type of ad that appears inside (online) TV shows in which the actors, in character, straightforwardly promote a certain brand and product, sometimes in a scene dialogue ('storyline ads'), but also often while looking directly into the camera (see example here or here, Chinese term: zhōngchā guǎnggào 中插广告).
The hashtag 'Ma Boyong Roasts Inserted Ad Marketing' (#马伯庸吐槽中插广告#) had received more than 50 million views on Weibo by Sunday night, with the overall majority of people supporting the author's stance.
"Finally someone says this," one commenter said: "When it just started out, it was new, and I could endure it, but now it just really annoys me." "It is really disruptive," others agree.
A New Kind of Money-Making Machine
China's history of TV advertisement is not a long one; it wasn't until 1979 that China's first TV commercial was aired. Since then, the industry has blossomed, and branded content has become ubiquitous; the first TV drama incorporating product placement was broadcasted in 1991 (Li 2016).
Product placement is known as a powerful marketing tool since it is inescapable, has a long shelf life, is inexpensive, and unobtrusive (Huan et al 2013, 508). But as China's product placement has been turning into 'branded entertainment' within the settings of the show, it is losing its 'unobtrusiveness.'
Unsurprisingly, this is not the first time this type of advertising receives criticism. In 2017, various Chinese media, such as People's Daily, noted the rise of inserted product ads, stating that TV dramas were "shooting themselves in the foot" with these ad campaigns.
When the protagonist of a dynastic costume drama suddenly promotes a new smartphone app during an inserted ad break, he falls out of character, and the entire drama loses credibility. Do you remember those weird ad breaks in the famous American movie The Truman Show? Even Truman did not fall for that!
In China, this particular type of advertising can be traced back to the 2006 TV drama My Own Swordsman (武林外传), in which the characters suddenly turn to the camera in promoting a "White Camel Mountain" medicinal powder (watch the famous segment here).
Although that scene was for entertainment purposes only (the product was non-existent), it became reality in 2013, when the TV series Longmen Express (龙门镖局) first started using this kind of 'creative' advertising. Many online dramas then followed and started to use these inserted ads, especially since 2015 (Beijing Daily 2017). The promoted products are often new apps or money lending sites.
In the beginning, many people appreciated the novel way of advertising, and as the online video industry rose, so did the price of such advertisements. In a timeframe of roughly two years, their price became ten times higher. These type of 'ad breaks' have become an important and relatively easy money-making machine for drama productions (Beijing Daily 2017). In 2016 alone, Chinese TV drama productions made 800 million rmb (±116 million USD) through this marketing method – a figure that has been on the rise ever since.
The V-Effect: From Vips to Verfremdung
In China's flourishing online streaming environment, one of the problems with inserted ad campaigns is that even 'VIP members' of popular video sites such as iQiyi cannot escape them, nor 'skip' them, even though they pay monthly fees to opt out of commercials (similar to YouTube Premium).
"The reason I signed up for a VIP membership is to avoid ads, and now we get this," many annoyed netizens comment on Weibo.
Although that is one point that many people are dissatisfied with, the biggest complaint on social media regarding the inserted ad phenomenon is that it breaks down audience engagement in the show they are watching, and alienates them from the character, which is also known as verfremdungseffekt, distancing effect, or simply the 'V-effect,'  a performing arts concept coined by German playwright Bertolt Brecht in the 1930s.
The Brechtian "direct address" technique, one of the characteristics that made the American TV series House of Cards so successful, is employed to "break the fourth wall" – the imaginary wall between the actors and audience  – and serves a clear purpose: it makes viewers less emotionally attached to the characters and the narrative, it makes them more conscious and less likely to 'lose themselves' in the show they are watching, and is meant to provoke a social-critical audience response.
But this is exactly the faux pas China's ubiquitous 'creative inserted ads' make in letting popular TV drama characters promote a new app or soda; it is not meant to provoke a social-critical response, it is meant to advertise a product. But by alienating audiences from the show for a commercial and non-meaningful purpose, they actually reach the opposite effect of what their marketing objective is. Audiences become annoyed, less engaged, and 'exit the show' (in Chinese, the term '出戏' [disengage from the performance] is used).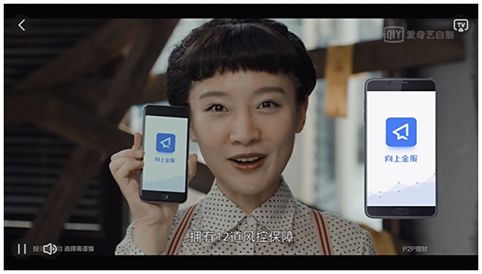 "These kind of ads make the entire drama seem so low," a typical comment on Weibo says. "What can we do? As long as people pay for it, they'll do it," others say.
Despite the recent attack on China's 'branded entertainment,' there is no sign of a change in these marketing techniques. Perhaps, if critique persist, this might change in the future. For now, disgruntled viewers turn to social media to vent their frustrations: "These ads completely make me lose interest in the story, they need to be criticized. I'm happy someone stood up to say it."
By Manya Koetse
Follow @whatsonweibo
References
Beijing Daily (北京日报). 2017. "创意中插广告泛滥,唯独缺了创意" [The Overflow of Creative Inserted Ads, Only They're Lacking Creativity] (in Chinese). Beijing Daily, Oct 18. Available online http://bjrb.bjd.com.cn/html/2017-10/18/content_183998.htm [Jan 6th 2019].
Doland, Angela. 2017. "China's online TV pushes product placement to crazy levels. Even crazier: Viewers don't mind." Ad Age, May 16. Vol.88(10), p.0030.
Huan Chen , En-Ying Lin , Fang Liu & Tingting Dai. 2013. "'See Me or Not, I Am There': Chinese White-Collar Moviegoers' Interpretation of Product Placements in Chinese Commercial Movies." Journal of Promotion Management, 19:5, 507-533.
Li, Hongmei. 2016. Advertising and Consumer Culture in China. Cambridge: Polity Press.
Spotted a mistake or want to add something? Please let us know in comments below or email us.
©2019 Whatsonweibo. All rights reserved. Do not reproduce our content without permission – you can contact us at info@whatsonweibo.com