China's Online 'Baoman' Community Shut Down: Behind Rage Comics (Baozou Manhua)
Why have China's most popular Rage Comics (Baozou Manhua) channels been shut down?
Rage Comics, known as Baozou Manhua in Chinese, have become a widespread phenomenon on Chinese social media over the past decade. Online censors are now targeting channels spreading these popular webcomics, which serve as a humorous weapon to China's younger generations. What's on Weibo explains.
Sixteen Weibo accounts relating to Rage Comics (暴走漫画) were shut down by Sina Weibo administrators this week for allegedly "insulting" and "slandering" the names of Chinese heroes and martyrs.
The official Weibo administrator account (@微博管理员) issued a statement in the evening of May 17, writing:
"In accordance with the Law on the Protection of Heroes and Martyrs (英雄烈士保护法), the Cybersecurity Law (网络安全法), and other legal guidelines, Weibo has fulfilled its corporate responsibility (..) and has focused on disposing of harmful information that insults, slanders, or in any other way infringes on the name, portrayal, or reputation of heroes."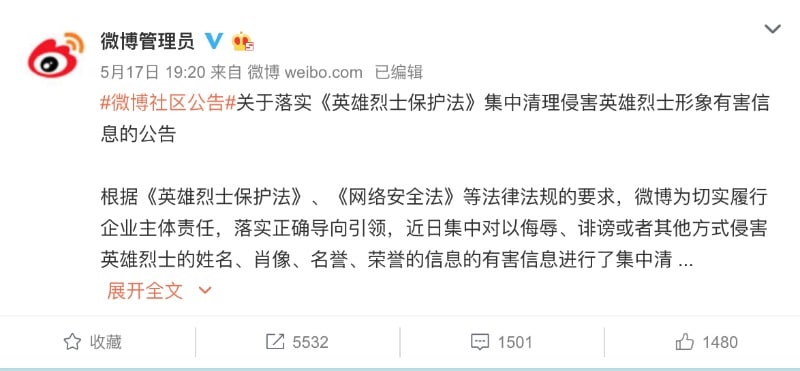 Among the banned Weibo accounts are @Baozoumanhua (@暴走漫画), @Baozoudashijian (@暴走大事件), @HuangJiguang (@黄继光砸缸) and @DongCunRuiattheoffice (@办公室的董存瑞) – all very popular channels through which China's so-called 'Rage Comics' are created and spread.
The ban also goes beyond Weibo, affecting Rage Comics accounts on Q&A platform Zhihu.com, video-streaming sites Youku and iQIYI, and official Baozou Manhua websites.

China's Online 'Baoman' Community

What are Rage Comics? Many internet users will be familiar with the online crude and simple online comics featuring various characters, often created with simple drawing software such as MS Paint, telling stories about everyday annoyances or personal embarrassments, and ending with a punchline. The jokes are often straightforward and politically incorrect (MacDonald 2016).
This genre of webcomics first surfaced in North America on the English-language website 4chan, after which it became more widespread in online communities such as Tumblr, Reddit, and beyond.
The Chinese translation of 'Rage Comics' is Bàozǒu Mànhuà (暴走漫画), with 'baozou' literally meaning 'out of control', and 'manhua' meaning 'sketches', popularized through the Japanese manga term. The term baozou manhua is also abbreviated as Baoman (暴漫).
Baoman became more popular in mainland China when 'Wang Nima' (@王尼玛 on Weibo) launched the website baozoumanhua.com (now offline) in 2008, inspired by the success of the webcomics on English-language online communities (Chen 2014, 690).
The website baozoumanhua.com became a thriving online community and media platform – allowing users to create their own Baoman through the creator's tool (制作器), and to browse the popular comics of the day through its many channels, the 'Baozou Daily', an online forum, videos, and gif collection.
In 2012, the website officially registered the copyright of their Baoman products, as baozoumanhua.com started receiving 5000 to 8000 daily submissions of new comics (Chen 2014, 692-695); Chinese 'rage comics' then also became more widespread on platforms such as Weibo or Wechat, where these 'rage faces' are commonly sent as emoticon-like stickers during chat conversations.
Some of the popular Baoman characters are the same in China as in the US, such as 'rage guy' or 'troll face', or the 'B*tch please' meme – which is actually the face of Chinese retired professional basketball player Yao Ming responding to a journalist's question during a post-game press conference.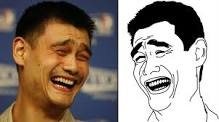 The Yao Ming image is typically used as a 'reaction face' to convey a dismissive attitude towards comments in online discussions (Knowyourmeme 2018).
But there are also typically Chinese characters or biaoqing (表情 'expressions'), for example, those based on Chinese celebrities or referencing to Chinese pop culture (Chen 2014, 695; Xu 2016).
As described by Christina Xu in the Field Guide to China's Most Indispensible Meme; although Chinese 'Baoman' and/or 'biaoqing' all started as a Chinese response to the American Rage Comics, and still use some original characters, an "entirely separate pantheon has emerged" in the PRC (Xu 2016), in which Chinese netizens have collectively built a uniquely Chinese online 'subculture' and Baoman community.
Baoman have been especially functional in China for urban Chinese youth to "vent their frustration about the inequalities they face on a daily basis," as Chen (2014) points out in "Baozou Manhua, Internet Humour and Everyday Life."
These issues go from rising unemployment to the high cost of living, or the difficulty of entering Chinese universities through the gaokao (national entrance exam) system.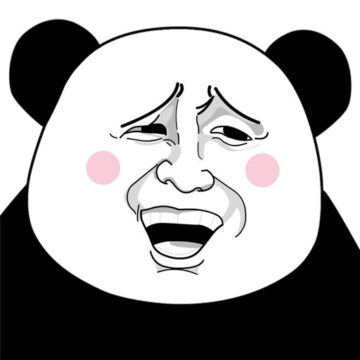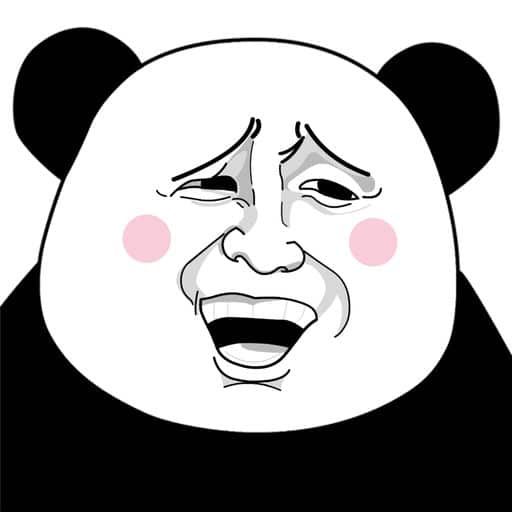 Self-mockery and self-satire is an important part of China's so-called "diaosi tribe": a huge group of Chinese youths who've labeled themselves 'diaosi' (屌丝), basically meaning "losers", as they struggle with the hardships of everyday life and growing social inequality. The ugly, amateuristic graphics of the Baozou manhua suit this youth culture, meeting their need for expression in a culture that focuses on 'keeping face' (Ma 2016, 20).
According to baozoumanhua.com founder Wang Nima, the Baoman genre provides Chinese gao gen (grassroots) netizens "a 'lance' to express themselves" (Chen 20154, 693); meaning this kind of humour can also serve as a frivolous way of resistance, using humor as a weapon to talk about daily frustrations.

No Disrepect for Chinese Heroes: A 'Ban' on Baoman

The recent ban on Baoman directly relates to a 2015 image and a 2014 short Baozou manhua video clip, which was reposted to online news app Jinri Toutiao earlier this month. Both the image and the clip joked about some of China's renowned heroes, including Chinese civil war figures Ye Ting (叶挺, military leader) and Dong Cunrui (董存瑞, PLA soldier who destroyed an enemy bunker in a suicide bombing) (Lin 2018).
(
The clip in question; some commenters say the words have been taken out of context.
)
In the clip, Sixth Tone reports, video host Wang Nima – wearing a 'rage face' mask as always – narrates: "Dong Cunrui stared at the enemy's bunker, his eyes bursting with rays of hate. He said resolutely, 'Commander, let me blow up the bunker. I am an eight-point youth, and this is my eight-point bunker.'" The script, Qiqing Lin writes, was meant as a pun on a KFC sandwich that was broadcasted in 2014.
Although sarcasm and crudeness are very much inherent in the Baoman humor, this does not mix well with the new law that has recently been implemented in mainland China to 'protect' its national heroes.
The Law on the Protection of Heroes and Martyrs (yīngxióng lièshì bǎohùfǎ, 英雄烈士保护法), has been introduced in March of 2018, as China Daily writes, "so that the country and the people forever remember the sacrifices made by the nation's heroes and martyrs for the good of the country."
It has thus become illegal to make fun of Chinese heroes, and people who "defame" them can now face criminal punishment.
But is this law really the only reason for the shutdown of Baoman channels? Or is it the fact that the all too popular Rage Comics are a representation of an online subculture that goes against the government's view of "healthy developments" of Chinese youth and cultural industries?
Baozoumahua.com founder 'Wang Nima', who now has over 16.6 million followers on Weibo, responded to the ban on the Baoman channels on Thursday, saying he offered his "profound apologies" for bringing an "unhealthy influence" into society. The 40,000 comments to his post were not available to view at time of writing.

The Future of China's Baozou Comics

Over the past few days, the ban on Baozou Manhua has been a huge topic of discussion on Chinese social media, although most comment threads have become publicly unavailable.
Current bans on China's most important online webcomics channels do not necessarily predict their existence and survival in the future. Over the past few months, various online (announced) bans were overturned or denied after triggering controversy (e.g. the ban on gay content or the alleged Douyin targeting of Peppa Pig).
Although channels and hashtags are easy to take offline for censors, the actual creation and spread of new and existing Baoman is virtually impossible to combat. No sources thus far have pointed towards a current ban on the actual comics themselves (just their channels).
Besides the shutdown of the various social media channels, the closure of the baozoumanhua.com media empire is a huge blow to its fans and creators. The website's founder Wang Nima's net worth is estimated to be around 4 billion yuan (±US$628 million), according to Daily Economic News (每日经济新闻).
Netflix recently paid $30 million for the Chinese animated film 'Next Gen', which is also based on the original webcomic '7723' by Wang Nima. Baozou financed and produced the film, which Chinese majors Alibaba and Wanda will reportedly release in China this summer (Amidi 2018).
Whether or not that will happen, and whether or not baozoumanhua.com will be allowed to go online again, is something to be seen.
For many netizens on Weibo, the fact that Baozuo Manhua has been punished for things in the past with a new law that has just been introduced, is something they find unjust. But there are also those who say it serves them right and that the names of Chinese heroes can not be slandered.
"Why Baozuo Manhua?", one netizen says: "Why not other programs with vulgar content? (..) It's unfair!"
Another Weibo commenter says: "China is a big country with many people, and since their education levels are unequal we need a level of control, but it doesn't mean we should control absolutely everything. If there's a problem it gets blocked and deleted, but problems do not get solved at their root."
"Wang Nima I love you, I wait for your return," one fan writes.
By Manya Koetse
Follow @whatsonweibo
References
Amidi, Amid. 2018. "Why Did Netflix Pay $30 Million At Cannes For The Chinese Animated Film 'Next Gen'?" Cartoon Brew, May 13. https://www.cartoonbrew.com/feature-film/why-did-netflix-pay-30-million-at-cannes-for-the-chinese-animated-film-next-gen-158348.html [20.5.18].
Chen, Shih-Wen. 2014. "Baozou manhua (rage comics), Internet humour and everyday life." Continuum: Journal of Media & Cultural Studies 28(5): 690-708.
China Daily. 2018. "英雄烈士保护法(yīngxióng lièshì bǎohùfǎ): Law on the protection of heroes and martyrs." China Daily, May 3. http://www.chinadaily.com.cn/a/201805/03/WS5aea50e6a3105cdcf651ba95.html [20.5.18]
Know Your Meme. 2018. "Yao Ming Face / Bitch Please." Know your Meme. http://knowyourmeme.com/memes/yao-ming-face-bitch-please [20.5.18].
Lin, Qiqing. 2018. "Popular 'Rage Comics' Brand Gagged for Making Fun of Martyrs." Sixth Tone, May 18. https://www.sixthtone.com/news/1002298/popular-rage-comics-brand-gagged-for-making-fun-of-martyrs [19.5.18].
Ma, Xiaojun. 2016. "From Internet Memes to Emoticon Engineering: Insights from the Baozou Comic Phenomenon in China." HCI (3) 9733, Lecture Notes in Computer Science (Springer): 15-27.
Xu, Christina. 2016. "A Field Guide to China's Most Indispensible Meme." Motherboard, August 1. https://motherboard.vice.com/en_us/article/bmvd74/china-meme-face-a-biaoqing-field-guide [20.5.18].
MacDonalds, Sean. 2016. Animation in China: History, Aesthetics, Media. London: Routledge.
Spotted a mistake or want to add something? Please let us know in comments below or email us.
Directly support Manya Koetse. By supporting this author you make future articles possible and help the maintenance and independence of this site. Donate directly through Paypal here. Also check out the What's on Weibo donations page for donations through creditcard & WeChat and for more information.
©2018 Whatsonweibo. All rights reserved. Do not reproduce our content without permission – you can contact us at info@whatsonweibo.com.
(Op-Ed) The Forgotten Genres & Loss of "Intellectual Taste" in Chinese TV Drama
"We need to recall those TV dramas and genres that have vanished into oblivion," Zhao writes.
First published
When What's on Weibo published a list of classics of Chinese TV dramas, Beijing Film Academy graduate Zhao B. felt the list was missing relevant titles and genres. These are the top classic TV dramas that should be added to the list, according to an article sent in to What's on Weibo by Zhao.
The entertainment industry is a hot topic in present-day China, where online videos are being watched by millions of internet users every day. The way in which these videos are created, spread, and consumed, signals a new kind of emotional consumerism.
TV drama is still a benchmark of China's popular culture, but it is no longer the newest one – and might even have started to be somewhat worn out. It has gone into a phase of systematically deleting conflicting memories, in sync with the loud internet environment and the pop culture factory.
Not only has the length of TV drama episodes been shortened for today's 'online binging,' but streaming sites are also filled with certain algorithms and tracking codes that accelerate the obliteration of certain television dramas. The mass 'industrialization' of popular culture has shortened the lifespan of television dramas and its genres.
Which is why if a list such as the Top 30 Classic TV Dramas in China is based on rankings provided by social media sites or online video platforms such as Sougo or Douban, there are certain blind spots.
It is not out of mere nostalgia that we need to recall those TV dramas and genres that have vanished into oblivion. It gives us an overview of marginalized genres and taste, that are different from the current mainstream ones. They are the working memories for contemporary life.
Genres that have come up and have since been forgotten in the People's Republic of China from roughly 1978 to 2018, are:
-the "rural genre" (农村题材)
-the "youth genre" (青少年题材)
-the "army genre" (军旅题材), a sub-category of the military genre.
Theme Productions versus Genre
There is a socio-historical difference in Chinese and English popular culture industries in use of the term 'genre' that should be noted here. Chinese TV dramas are often categorized in 'topics' or 'themes' (tícái 题材) rather than in 'genres' (lèixíng 类型).
Thematic terms were used in planning and reviewing art productions (literature, film, TV drama) in PRC history, but this practice has been transforming over the past forty years. 
With the rise of the pop culture industry, the term 'genre' (类型) also became more popularized, with 'theme' and 'genre' now existing together.
Some productions have been recognized as either an old-fashioned 'theme' product, while also being categorized as a genre. For example, the TV drama Era of Peace (和平年代, 1996) marks the transition from the thematic categorization of 'Revolutionary History theme' (革命历史题材) to the categorization of 'Era genre' (年代戏). Later, the famous production The Year of Burning Passion (激情燃烧的岁月, 2001) was simply categorized as a typical 'Era Genre' rather than a theme production.
But there are also those thematic productions that did not have a 'genre offspring.' One of those is the established "intellectual theme" (知识分子题材) in Chinese literature, film, and TV drama, which is not reflected in today's TV drama industry. Although educated identity plays a key role in today's medical genre (医疗剧) – a subcategory of the 'professional genre' TV drama (职业剧) – the agenda and rhetoric are very different.
To avoid long discussions on the complex nature of theme versus genre productions and categories in Chinese TV dramas, the following overview mixes both thematic and genre TV dramas, using the terms interchangeably.
'Forgotten' TV Dramas
An overview of some series in supplement to the Top 30 Classic Chinese TV dramas article:
#1 'Trilogy of Women's Fate' (女人命运三部曲)
* 篱笆、女人和狗  'Fence, Woman and Dog'
Year: 1989
Episodes: 12
Genre: Rural/Family
Directed by 陈雨田 Chen Yutian
* 辘轳、女人和井 'Windlass, Woman and Well'
Year: 1991
Episodes: 12
Genre: Rural/Family
Directed by 陈雨田 Chen Yutian 可人 Ke Ren
* 古船、女人和网 Ancient Ship, Woman and Net
Year: 1993
Episodes: 14
Genre: Rural/Family
Directed by 吴珊 Wu Shan 张扬 Zhang Yang
In this 1990s 'Trilogies of Country Life' (农村三部曲), China's rural community is still presented as being in a stage of self-reflecting amidst a time of transformation. This portrayal of China's countryside stands in stark contrast to present-day productions that often represent the rural community as either 'to be developed' or to be laughed about, caught in a discourse of urban-rural binary opposition. These series are still available for viewing on sites such as QQ (no English subs).
#2. 'The Flowering Season of Being Sixteen' (十六岁的花季)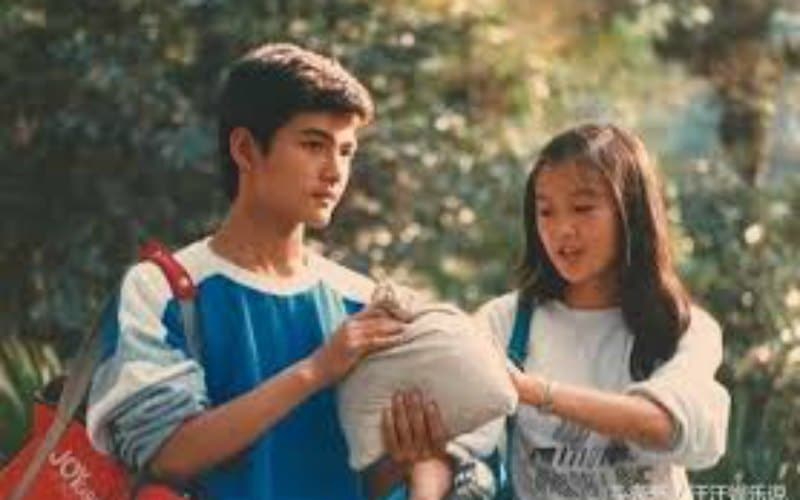 Year: 1990
Episodes: 12
Genre: Youth
Directed by Directed by 富敏 Fu Min 张弘 Zhang Hong
This TV drama, spoken in Shanghai accent, tells the coming-of-age story of a group of middle school students. It represents Chinese youth as being in the age of poetic self-reflection, rather than the 'young idol' genre that is ubiquitous today. The actors and narrator's voice directly reflect on society and question it. The episodes are available for viewing on Youtube here (no English subtitles).
#3. Young Special Force 少年特工
Year: 1992
Episodes: 16
Genre: Military
Directed by 郑方南 Zheng Fangnan
This TV drama, set in contemporary China, tells the story of the experiences of children during a military camp in Shandong, where these young scouts are thrown into a 'battle' between the 'Red Army' and the 'Blue Army.' The military setting and modern timeframe ironically reveal the hidden elite and historical subtext. Link to episodes on Youtube here.
#4. Era of Peace (和平年代)
Year: 1996
Episodes: 23
Genre: Army/History
Directed by 李舒 Li Shu 张前 Zhang Qian
This title represents the difference between the army sub-genre and military genre. It is a retrospective story that describes the transformation of China's armed troops from the Reform and Opening Up (改革开放) (1978-1996) period, going from war preparations to a period of peace.
Over the last two decades, the army sub-genre has gradually allowed new components into the military TV drama genre, which has also led to those narratives in the late 2010s that focus on overseas operations by elite soldiers.
#5. Fortress Besieged (围城)
Year: 1990
Episodes: 10
Genre: No (some will say Historical)
Directed by 黄蜀芹 Huang Shuqin
This drama, a classic adaptation of the same-titled 1947 novel by Qian Zhongshu, is set in the 1930s and portrays Chinese intellectuals, while focusing on the misadventures of Fang Hongjian, who returns to China after studying in Europe. The mild, cautious, ironic yet effortless taste from 1940 Shanghai and the figures of Republic of China's bourgeois intellectuals, showed itself for the very first time to PRC audiences in this classic.
Nobody would like to admit they forgot about this classic adaptation. Actually, people tend to forget it not because of itself, but for its isolation from any current trends. Intellectual taste and artistic pursuit are quite alien to China's current TV drama culture. Intellectual influence and TV as art was a cultural feature of the late socialist planned economy of the 20th century, when the Communist war against intellectuals had ended, and the capitalist front was yet to be developed.
Various episodes are available for viewing on Youtube.
#6. Sinful Debt (孽债)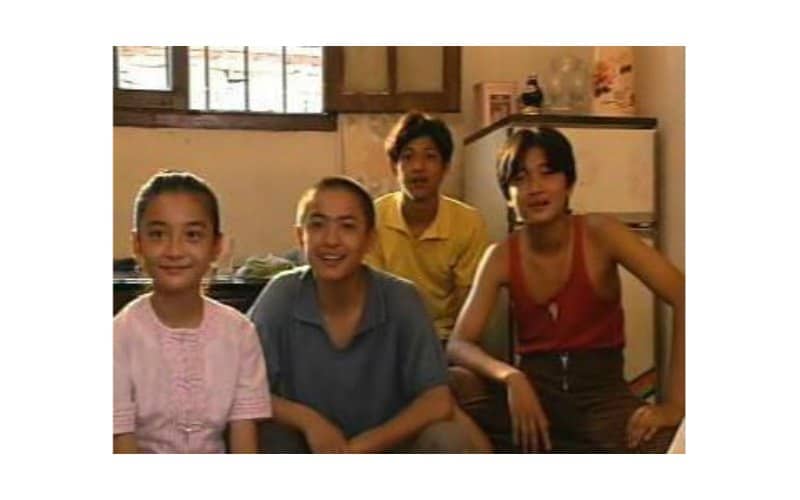 Year: 1995
Episodes: 20
Genre: Family
Directed by 黄蜀芹 Huang Shuqin
This drama, from the same female director Huang Shuqin (黄蜀芹) of Fortress Besieged, tells the story of five left-behind children in pursuit of their fathers – former sent-down "educated youths" as part of the Cultural Revolution crusade. It is a drama of middle-aged males, females and children, affected by historical, geographical, social and ethnic displacement. These series represent a delayed response to Scar Literature on TV.
The portrayal of Shanghai intellectuals in 1990s TV drama was very different from the 1980s intellectual idealism on TV, which then later transformed in the full-fledged populism in today's political discourse of pop culture. In policy and critiques after 1990s, the once legit intellectual theme (知识分子题材) was completely erased.
Episodes of Sinful Debt are available for viewing on Youtube here.
By Zhao B.
Edited for clarity by Manya Koetse
Spotted a mistake or want to add something? Please let us know in comments below or email us.
©2018 Whatsonweibo. All rights reserved. Do not reproduce our content without permission – you can contact us at info@whatsonweibo.com
The Never-Ending Drama: Ma Rong Accuses Wang Baoqiang of Violent Attack, Netizens Don't Buy It
A messy story is flooding Weibo today, as Chinese celebrity Ma Rong accuses ex-husband Wang Baoqiang of assault.
First published
It is the never-ending drama: China's most famous divorced celebrity couple Ma Rong and Wang Baoqiang once again hit the top trending lists on Chinese social media. This time, it concerns an alleged violent outburst during which Ma Rong was injured.
Ever since the 2016 split between Chinese celebrities Wang Baoqiang (王宝强) and his ex-wife Ma Rong (马蓉), the former couple keeps on making headlines. On Sunday, December 2nd, the hashtag "Wang Baoqiang Beats Up Ma Rong" (#王宝强殴打马蓉#) went trending on Weibo, receiving some 520 million views at time of writing (update: the hashtag page has since been taken offline).
According to various Chinese media, Chinese actress Ma Rong stated that her ex-husband attacked her when she wanted to take her children with her in the early morning on Sunday. The children allegedly were not present when the altercation occurred.
Ma Rong claimed that she was hit and kicked in the head and back by Wang, who was accompanied by "four or five" others.
Dramatic photos of a seemingly injured Ma Rong have spread on social media, along with photos of her in the hospital.
A video issued by Sina Entertainment News on Sunday shows Ma Rong lying in her (hospital) bed crying, telling the interviewer that Wang has previously been abusive towards her and their two children.
But there is also another side to this murky story, as security footage from surveillance cameras at Wang's house have leaked, reportedly showing that Ma came to Wang's house with her mother on Saturday night around 19.00 to "cause a scene", carrying scissors with her to intimidate Wang's family. The footage shows how a woman, said to be Ma Rong, jumps up to the camera in an apparent attempt to sabotage it.
According to an "insider" quoted by Sina Entertainment, Ma and her mother were apparently involved in an altercation with Wang Baoqiang's mother, although these rumors have since been refuted by Ma's family.
A report on Jinri Toutiao also claims that the altercation had already started on Saturday night, and that police were present at the scene around 23.00 in an ongoing confrontation that allegedly lasted the entire night.
Wang's mother, who was present at the scene, was apparently so shaken by the turmoil, that she reportedly was also checked into a local hospital with "palpitations" on Saturday night.
As the situation is somewhat messy, and details are still unclear, most netizens side with Wang Baoqiang and are not buying Ma's story, suggesting the photos of the injured actress have been staged. Ma Rong has become very unpopular since her divorce from Wang, with many calling her a "gold digger."
"She's a very good actress," many commenters say. "There's seriously something wrong with her," others write.
The first memes on today's case are also surfacing on WeChat and Weibo, with some photoshopping Ma's photo on a magazine cover of Zhiyin (知音), an old Chinese magazine known for telling dramatic and sensationalized social stories.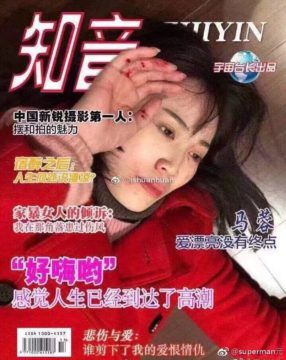 Others post the dramatic photo with the underline: "Oh, my head hurts."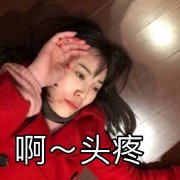 Chinese actor Wang Baoqiang, known for his roles in films such as Blind Shaft (2003) and A Touch of Sin (2013), is highly popular in China. Born into a poor rural family in Hebei Province, the former migrant construction worker rose to fame when he was cast in his first movie. With his rural-to-urban, migrant-to-actor story, Wang has come to represent the Chinese dream in the eyes of many.
In 2016, Wang Baoqiang publicly announced on Weibo that after seven years of marriage, he was divorcing Ma Rong as an exposed illicit affair between his wife and his manager Song Zhe (宋喆) had damaged his marriage "beyond repair."
At the time, the exposure of the alleged relationship between Ma Rong and manager Song Zhe hit Weibo like an earthquake, with millions of netizens jumping on the discussion – many of them scolded Ma and alleged she had only married the Chinese film star for his money. With ten billion views, it became one of the all-time biggest topics on Weibo.
The story has continued to attract people's attention. A year after the initial separation, Song Zhe was arrested in Beijing for embezzlement – a topic that immediately became trending on Chinese social media.
The various court cases between Wang and Ma Rong, who first sued her estranged husband for defamation of character and then refused to sign the divorce papers, has also recurrently been in the media.
According to the latest reports, Ma has now left the hospital. A video that is spreading on Weibo shows how a woman, supposedly Ma Rong, is carried out of the hospital and is put inside a car, while reporters are running after her (see embedded tweet below).
Super bizarre. Videos show how Ma Rong (supposedly) is carried out of the hospital after allegedly being attacked by ex-husband Wang Baoqiang, chased by group of reporters. Why are reporters allowed in there at all? This is like Britney Spears in 2007. https://t.co/ldP8oVO1sY pic.twitter.com/XQFrD49nBq

— Manya Koetse (@manyapan) 2 december 2018
At time of writing, Wang has not posted any statement regarding this incident on his Weibo page, where he has more than 28 million fans.
By Manya Koetse and Miranda Barnes
Follow @whatsonweibo
Spotted a mistake or want to add something? Please let us know in comments below or email us.
©2018 Whatsonweibo. All rights reserved. Do not reproduce our content without permission – you can contact us at info@whatsonweibo.com