China's Online 'Baoman' Community Shut Down: Behind Rage Comics (Baozou Manhua)
Why have China's most popular Rage Comics (Baozou Manhua) channels been shut down?
Rage Comics, known as Baozou Manhua in Chinese, have become a widespread phenomenon on Chinese social media over the past decade. Online censors are now targeting channels spreading these popular webcomics, which serve as a humorous weapon to China's younger generations. What's on Weibo explains.
Sixteen Weibo accounts relating to Rage Comics (暴走漫画) were shut down by Sina Weibo administrators this week for allegedly "insulting" and "slandering" the names of Chinese heroes and martyrs.
The official Weibo administrator account (@微博管理员) issued a statement in the evening of May 17, writing:
"In accordance with the Law on the Protection of Heroes and Martyrs (英雄烈士保护法), the Cybersecurity Law (网络安全法), and other legal guidelines, Weibo has fulfilled its corporate responsibility (..) and has focused on disposing of harmful information that insults, slanders, or in any other way infringes on the name, portrayal, or reputation of heroes."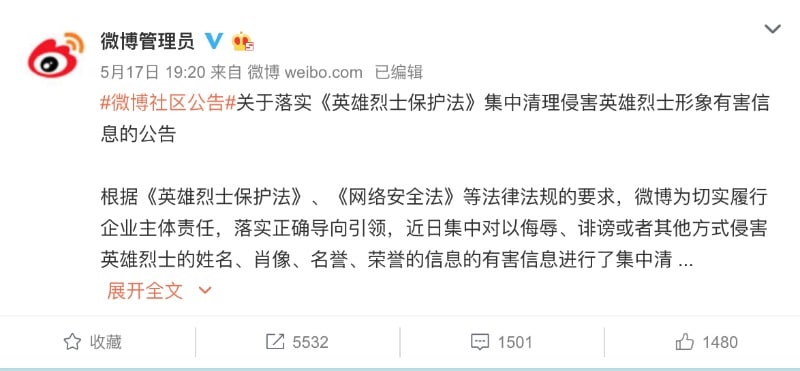 Among the banned Weibo accounts are @Baozoumanhua (@暴走漫画), @Baozoudashijian (@暴走大事件), @HuangJiguang (@黄继光砸缸) and @DongCunRuiattheoffice (@办公室的董存瑞) – all very popular channels through which China's so-called 'Rage Comics' are created and spread.
The ban also goes beyond Weibo, affecting Rage Comics accounts on Q&A platform Zhihu.com, video-streaming sites Youku and iQIYI, and official Baozou Manhua websites.

China's Online 'Baoman' Community

What are Rage Comics? Many internet users will be familiar with the online crude and simple online comics featuring various characters, often created with simple drawing software such as MS Paint, telling stories about everyday annoyances or personal embarrassments, and ending with a punchline. The jokes are often straightforward and politically incorrect (MacDonald 2016).
This genre of webcomics first surfaced in North America on the English-language website 4chan, after which it became more widespread in online communities such as Tumblr, Reddit, and beyond.
The Chinese translation of 'Rage Comics' is Bàozǒu Mànhuà (暴走漫画), with 'baozou' literally meaning 'out of control', and 'manhua' meaning 'sketches', popularized through the Japanese manga term. The term baozou manhua is also abbreviated as Baoman (暴漫).
Baoman became more popular in mainland China when 'Wang Nima' (@王尼玛 on Weibo) launched the website baozoumanhua.com (now offline) in 2008, inspired by the success of the webcomics on English-language online communities (Chen 2014, 690).
The website baozoumanhua.com became a thriving online community and media platform – allowing users to create their own Baoman through the creator's tool (制作器), and to browse the popular comics of the day through its many channels, the 'Baozou Daily', an online forum, videos, and gif collection.
In 2012, the website officially registered the copyright of their Baoman products, as baozoumanhua.com started receiving 5000 to 8000 daily submissions of new comics (Chen 2014, 692-695); Chinese 'rage comics' then also became more widespread on platforms such as Weibo or Wechat, where these 'rage faces' are commonly sent as emoticon-like stickers during chat conversations.
Some of the popular Baoman characters are the same in China as in the US, such as 'rage guy' or 'troll face', or the 'B*tch please' meme – which is actually the face of Chinese retired professional basketball player Yao Ming responding to a journalist's question during a post-game press conference.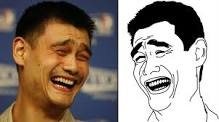 The Yao Ming image is typically used as a 'reaction face' to convey a dismissive attitude towards comments in online discussions (Knowyourmeme 2018).
But there are also typically Chinese characters or biaoqing (表情 'expressions'), for example, those based on Chinese celebrities or referencing to Chinese pop culture (Chen 2014, 695; Xu 2016).
As described by Christina Xu in the Field Guide to China's Most Indispensible Meme; although Chinese 'Baoman' and/or 'biaoqing' all started as a Chinese response to the American Rage Comics, and still use some original characters, an "entirely separate pantheon has emerged" in the PRC (Xu 2016), in which Chinese netizens have collectively built a uniquely Chinese online 'subculture' and Baoman community.
Baoman have been especially functional in China for urban Chinese youth to "vent their frustration about the inequalities they face on a daily basis," as Chen (2014) points out in "Baozou Manhua, Internet Humour and Everyday Life."
These issues go from rising unemployment to the high cost of living, or the difficulty of entering Chinese universities through the gaokao (national entrance exam) system.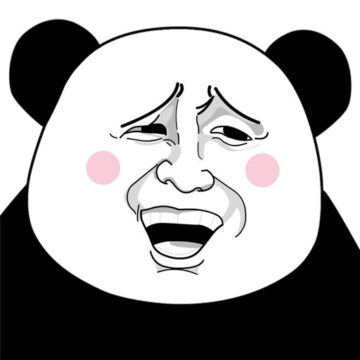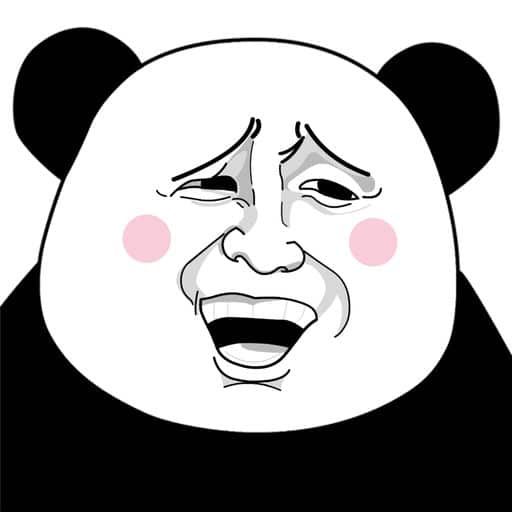 Self-mockery and self-satire is an important part of China's so-called "diaosi tribe": a huge group of Chinese youths who've labeled themselves 'diaosi' (屌丝), basically meaning "losers", as they struggle with the hardships of everyday life and growing social inequality. The ugly, amateuristic graphics of the Baozou manhua suit this youth culture, meeting their need for expression in a culture that focuses on 'keeping face' (Ma 2016, 20).
According to baozoumanhua.com founder Wang Nima, the Baoman genre provides Chinese gao gen (grassroots) netizens "a 'lance' to express themselves" (Chen 20154, 693); meaning this kind of humour can also serve as a frivolous way of resistance, using humor as a weapon to talk about daily frustrations.

No Disrepect for Chinese Heroes: A 'Ban' on Baoman

The recent ban on Baoman directly relates to a 2015 image and a 2014 short Baozou manhua video clip, which was reposted to online news app Jinri Toutiao earlier this month. Both the image and the clip joked about some of China's renowned heroes, including Chinese civil war figures Ye Ting (叶挺, military leader) and Dong Cunrui (董存瑞, PLA soldier who destroyed an enemy bunker in a suicide bombing) (Lin 2018).
(
The clip in question; some commenters say the words have been taken out of context.
)
In the clip, Sixth Tone reports, video host Wang Nima – wearing a 'rage face' mask as always – narrates: "Dong Cunrui stared at the enemy's bunker, his eyes bursting with rays of hate. He said resolutely, 'Commander, let me blow up the bunker. I am an eight-point youth, and this is my eight-point bunker.'" The script, Qiqing Lin writes, was meant as a pun on a KFC sandwich that was broadcasted in 2014.
Although sarcasm and crudeness are very much inherent in the Baoman humor, this does not mix well with the new law that has recently been implemented in mainland China to 'protect' its national heroes.
The Law on the Protection of Heroes and Martyrs (yīngxióng lièshì bǎohùfǎ, 英雄烈士保护法), has been introduced in March of 2018, as China Daily writes, "so that the country and the people forever remember the sacrifices made by the nation's heroes and martyrs for the good of the country."
It has thus become illegal to make fun of Chinese heroes, and people who "defame" them can now face criminal punishment.
But is this law really the only reason for the shutdown of Baoman channels? Or is it the fact that the all too popular Rage Comics are a representation of an online subculture that goes against the government's view of "healthy developments" of Chinese youth and cultural industries?
Baozoumahua.com founder 'Wang Nima', who now has over 16.6 million followers on Weibo, responded to the ban on the Baoman channels on Thursday, saying he offered his "profound apologies" for bringing an "unhealthy influence" into society. The 40,000 comments to his post were not available to view at time of writing.

The Future of China's Baozou Comics

Over the past few days, the ban on Baozou Manhua has been a huge topic of discussion on Chinese social media, although most comment threads have become publicly unavailable.
Current bans on China's most important online webcomics channels do not necessarily predict their existence and survival in the future. Over the past few months, various online (announced) bans were overturned or denied after triggering controversy (e.g. the ban on gay content or the alleged Douyin targeting of Peppa Pig).
Although channels and hashtags are easy to take offline for censors, the actual creation and spread of new and existing Baoman is virtually impossible to combat. No sources thus far have pointed towards a current ban on the actual comics themselves (just their channels).
Besides the shutdown of the various social media channels, the closure of the baozoumanhua.com media empire is a huge blow to its fans and creators. The website's founder Wang Nima's net worth is estimated to be around 4 billion yuan (±US$628 million), according to Daily Economic News (每日经济新闻).
Netflix recently paid $30 million for the Chinese animated film 'Next Gen', which is also based on the original webcomic '7723' by Wang Nima. Baozou financed and produced the film, which Chinese majors Alibaba and Wanda will reportedly release in China this summer (Amidi 2018).
Whether or not that will happen, and whether or not baozoumanhua.com will be allowed to go online again, is something to be seen.
For many netizens on Weibo, the fact that Baozuo Manhua has been punished for things in the past with a new law that has just been introduced, is something they find unjust. But there are also those who say it serves them right and that the names of Chinese heroes can not be slandered.
"Why Baozuo Manhua?", one netizen says: "Why not other programs with vulgar content? (..) It's unfair!"
Another Weibo commenter says: "China is a big country with many people, and since their education levels are unequal we need a level of control, but it doesn't mean we should control absolutely everything. If there's a problem it gets blocked and deleted, but problems do not get solved at their root."
"Wang Nima I love you, I wait for your return," one fan writes.
By Manya Koetse
Follow @whatsonweibo
References
Amidi, Amid. 2018. "Why Did Netflix Pay $30 Million At Cannes For The Chinese Animated Film 'Next Gen'?" Cartoon Brew, May 13. https://www.cartoonbrew.com/feature-film/why-did-netflix-pay-30-million-at-cannes-for-the-chinese-animated-film-next-gen-158348.html [20.5.18].
Chen, Shih-Wen. 2014. "Baozou manhua (rage comics), Internet humour and everyday life." Continuum: Journal of Media & Cultural Studies 28(5): 690-708.
China Daily. 2018. "英雄烈士保护法(yīngxióng lièshì bǎohùfǎ): Law on the protection of heroes and martyrs." China Daily, May 3. http://www.chinadaily.com.cn/a/201805/03/WS5aea50e6a3105cdcf651ba95.html [20.5.18]
Know Your Meme. 2018. "Yao Ming Face / Bitch Please." Know your Meme. http://knowyourmeme.com/memes/yao-ming-face-bitch-please [20.5.18].
Lin, Qiqing. 2018. "Popular 'Rage Comics' Brand Gagged for Making Fun of Martyrs." Sixth Tone, May 18. https://www.sixthtone.com/news/1002298/popular-rage-comics-brand-gagged-for-making-fun-of-martyrs [19.5.18].
Ma, Xiaojun. 2016. "From Internet Memes to Emoticon Engineering: Insights from the Baozou Comic Phenomenon in China." HCI (3) 9733, Lecture Notes in Computer Science (Springer): 15-27.
Xu, Christina. 2016. "A Field Guide to China's Most Indispensible Meme." Motherboard, August 1. https://motherboard.vice.com/en_us/article/bmvd74/china-meme-face-a-biaoqing-field-guide [20.5.18].
MacDonalds, Sean. 2016. Animation in China: History, Aesthetics, Media. London: Routledge.
Spotted a mistake or want to add something? Please let us know in comments below or email us.
Directly support Manya Koetse. By supporting this author you make future articles possible and help the maintenance and independence of this site. Donate directly through Paypal here. Also check out the What's on Weibo donations page for donations through creditcard & WeChat and for more information.
©2018 Whatsonweibo. All rights reserved. Do not reproduce our content without permission – you can contact us at info@whatsonweibo.com.
Chinese Actor Zhao Lixin Banned from Weibo over Comments on Second Sino-Japanese War
The actor was banned for "downplaying" the Japanese aggression in China during the Second Sino-Japanese War.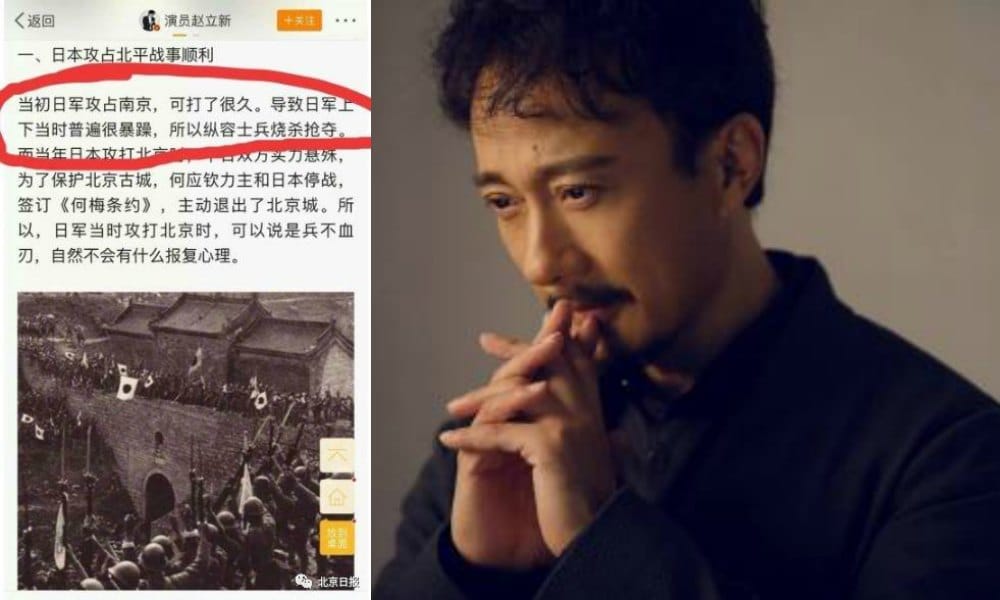 Sina Weibo issued a statement on April 16 that the Weibo account of the Chinese-Swedish actor Zhao Lixin has been terminated following remarks he made about Japan's invasion of China and the Second Sino-Japanese War.
The Weibo account of Zhao Lixin (赵立新, 1968) has been closed after the Chinese-Swedish actor made controversial comments on the Second Sino-Japanese War.
On April 2nd, Zhao Lixin, who had more than 7 million followers, posted a message on Weibo that questioned why the Japanese military did not pillage and destroy the Beijing Palace Museum during the Second Sino-Japanese War:
"The Japanese occupied Beijing for eight years. Why didn't they steal relics from the Palace Museum and burn it down [during that time]? Is this in line with the nature of an invader?"
The actor also commented on the Nanjing Massacre of 1937, suggesting that it was a consequence of Chinese resistance to the Japanese invasion.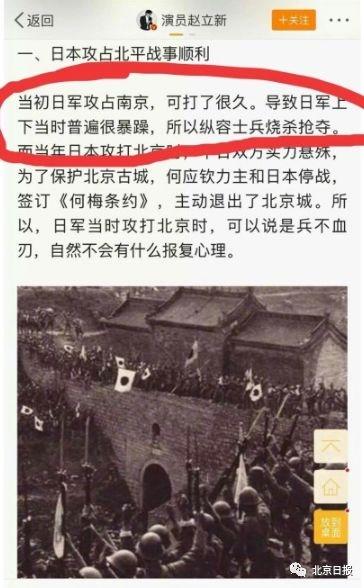 Zhao's post led to much controversy in early April, followed by a lengthy apology statement from the actor on April 3rd, in which he said he did not phrase his comments carefully enough and that he was remorseful over the storm of criticism he had ignited. His controversial Weibo post was soon taken offline.
Many people were mostly angered because they felt Zhao's comments "defended" the Japanese invaders. "Zhao's permit to work in China should be terminated forever!", some commenters posted on Weibo.
The Second Sino-Japanese War is still a highly sensitive topic in China today, with anti-Japanese sentiments often flaring up when Japan-related topics go trending on Chinese social media.
The 'Nanjing massacre' or 'Rape of Nanjing' is an especially sensitive topic within the history of the Second Sino-Japanese War, also because some Japanese politicians and scholars consistently deny it even happened, heightening the tension between the two countries. For a Chinese celebrity to seemingly 'downplay' the aggression and atrocities committed by Japanese invaders in the 1937-1945 period is therefore highly controversial.
Despite Zhao's apologies, Sina Weibo issued a notice on April 16 "Relating to Harmful Political Information" (关于时政有害信息的处理公告), stating that the account of Zhao Lixin, along with some others, had been closed for spreading this kind of information.
The hashtag relating to Zhao's social media suspension received more than 57 million views on Weibo today.
"It's good that his account was taken down," a popular comment said: "It's insulting our country." Others said that Zhao should not have posted something that is "out of line" "considering his position as an actor."
Zhao Lixin is mainly known for his roles in TV dramas such as The Legend of Mi Yue, Memoirs In China, and In the Silence.
Zhao is not the first KOL (Key Opinion Leader) to have been banned from Weibo after making controversial remarks relating to China's history. In 2016 the famous entrepreneur Ren Zhiqiang disappeared from Weibo after publishing various posts on his experience with communism in the past, and the status quo of media in China.
By Manya Koetse , with contributions from Miranda Barnes
Spotted a mistake or want to add something? Please email us.
©2019 Whatsonweibo. All rights reserved. Do not reproduce our content without permission – you can contact us at info@whatsonweibo.com.
Catharsis on Taobao? Chinese 'All is Well' TV Drama Fans Are Paying Up to Scold the 'Su Family Villains'
Some netizens are getting too worked up over this hit TV drama.
Chinese TV drama 'All is Well' is such an online hit, that the collective despise for the fictional villains in the story is getting all too real. The show itself, along with an online service to scold its characters, has become a trending topic on Chinese social media this week.
The Chinese TV series All is Well (都挺好) is such a success that some people would even pay to scold the drama's main 'villains.' One Taobao seller had nearly one thousand customers paying a fee this week for a special service to curse the characters they despise so much.
All is Well is a 46-episode urban TV drama that premiered on March 1st of this year on Zhejiang and Jiangsu Television. The series is based on the novel by A'nai (阿耐), who is also known for writing the super popular Ode to Joy TV drama.
All is Well tells the story of white-collar worker Su Mingyu and the conflicts within her family. The role of this daughter is played by Chinese actress Yao Chen (姚晨), one of the most popular celebrities on Weibo.
As the only daughter, Su Mingyu is the black sheep of the family and grows up feeling lonely and unloved. When her mother suddenly passes away, the Su family falls apart. The father becomes selfish and overbearing, while her brothers are also unsuccessful in keeping the family together.
The three men within the Su family have become much-hated characters on Chinese social media for their selfishness and manipulative traits. Su Mingcheng (Li Junting) is Mingyu's older brother, Su Mingzhe (Gao Xin) is her younger brother, and Su Daqiang (Ni Dahong) is her father.
While the TV drama is a major hit, many fans seem to take pleasure in scolding the main characters. On Weibo, some netizens are changing their names into some of the Su villains, allowing others to scold them.
But there are also people who have turned the collective contempt for the Su men into a small business. On e-commerce site Taobao, one seller set up a service to "curse the Su family father and sons" (怒骂苏家三父子), charging a 0.5 yuan fee, Caijing reports.
Various Chinese media report that the seller has had at least 300 customers over the past week who could "vent their anger" about the drama's characters. The seller would open a chat window, displaying the photo and name of one of the three despised characters, and pretending to be them. He also displays a counter that shows how many times the characters have been scolded by customers.
Other news sites report that there are at least 40 online shops selling this 'scolding service' to customers, with one seller allegedly serving nearly 1000 customers in one day.
The topic, under the hashtag "Online Shop Sells Service to Scold the Su Father and Sons" (#网店出售怒骂苏家三父子服务#), received nearly 100 million views on Weibo this week.
Many netizens are surprised and amused that their favorite TV drama has turned into a business opportunity for Taobao sellers. "I'm a shop seller," one commenter says: "I give all the money to charity. I work during the day, but in the evenings I'm here for all of you!"
"Is this the rival of the Kua Kua group?", one commenter wonders. Kua Kua groups, as we recently explained in this article, are online chat groups where people can be complimented or praised, sometimes for money. The current scolding groups, in a way, serve a similar purpose: offering netizens a way to vent their feelings and feel a bit better.
Although the cursing may provide emotional catharsis for some, others just find it really funny. "How about you give me one yuan, and I scold you?", one commenter suggests: "It's crazy that these type of services exist."
All is Well can be viewed through iQiyi (without English subtitles, regional restrictions apply – VPN).
Also see:
By Manya Koetse 
Spotted a mistake or want to add something? Please email us.
©2019 Whatsonweibo. All rights reserved. Do not reproduce our content without permission – you can contact us at info@whatsonweibo.com.