China's Online 'Baoman' Community Shut Down: Behind Rage Comics (Baozou Manhua)
Why have China's most popular Rage Comics (Baozou Manhua) channels been shut down?
Rage Comics, known as Baozou Manhua in Chinese, have become a widespread phenomenon on Chinese social media over the past decade. Online censors are now targeting channels spreading these popular webcomics, which serve as a humorous weapon to China's younger generations. What's on Weibo explains.
Sixteen Weibo accounts relating to Rage Comics (暴走漫画) were shut down by Sina Weibo administrators this week for allegedly "insulting" and "slandering" the names of Chinese heroes and martyrs.
The official Weibo administrator account (@微博管理员) issued a statement in the evening of May 17, writing:
"In accordance with the Law on the Protection of Heroes and Martyrs (英雄烈士保护法), the Cybersecurity Law (网络安全法), and other legal guidelines, Weibo has fulfilled its corporate responsibility (..) and has focused on disposing of harmful information that insults, slanders, or in any other way infringes on the name, portrayal, or reputation of heroes."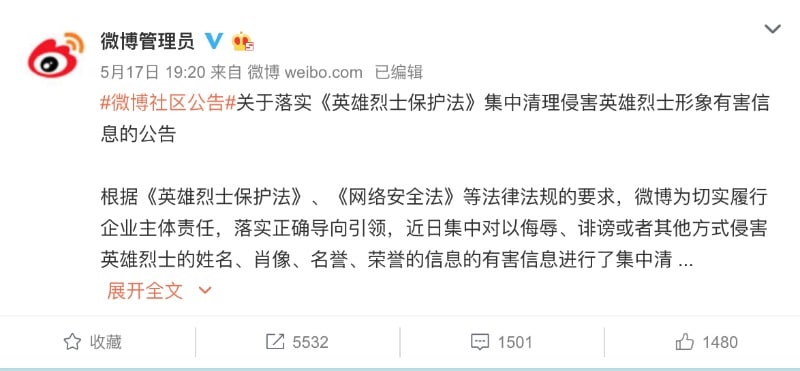 Among the banned Weibo accounts are @Baozoumanhua (@暴走漫画), @Baozoudashijian (@暴走大事件), @HuangJiguang (@黄继光砸缸) and @DongCunRuiattheoffice (@办公室的董存瑞) – all very popular channels through which China's so-called 'Rage Comics' are created and spread.
The ban also goes beyond Weibo, affecting Rage Comics accounts on Q&A platform Zhihu.com, video-streaming sites Youku and iQIYI, and official Baozou Manhua websites.

China's Online 'Baoman' Community

What are Rage Comics? Many internet users will be familiar with the online crude and simple online comics featuring various characters, often created with simple drawing software such as MS Paint, telling stories about everyday annoyances or personal embarrassments, and ending with a punchline. The jokes are often straightforward and politically incorrect (MacDonald 2016).
This genre of webcomics first surfaced in North America on the English-language website 4chan, after which it became more widespread in online communities such as Tumblr, Reddit, and beyond.
The Chinese translation of 'Rage Comics' is Bàozǒu Mànhuà (暴走漫画), with 'baozou' literally meaning 'out of control', and 'manhua' meaning 'sketches', popularized through the Japanese manga term. The term baozou manhua is also abbreviated as Baoman (暴漫).
Baoman became more popular in mainland China when 'Wang Nima' (@王尼玛 on Weibo) launched the website baozoumanhua.com (now offline) in 2008, inspired by the success of the webcomics on English-language online communities (Chen 2014, 690).
The website baozoumanhua.com became a thriving online community and media platform – allowing users to create their own Baoman through the creator's tool (制作器), and to browse the popular comics of the day through its many channels, the 'Baozou Daily', an online forum, videos, and gif collection.
In 2012, the website officially registered the copyright of their Baoman products, as baozoumanhua.com started receiving 5000 to 8000 daily submissions of new comics (Chen 2014, 692-695); Chinese 'rage comics' then also became more widespread on platforms such as Weibo or Wechat, where these 'rage faces' are commonly sent as emoticon-like stickers during chat conversations.
Some of the popular Baoman characters are the same in China as in the US, such as 'rage guy' or 'troll face', or the 'B*tch please' meme – which is actually the face of Chinese retired professional basketball player Yao Ming responding to a journalist's question during a post-game press conference.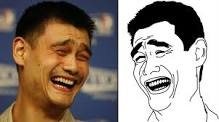 The Yao Ming image is typically used as a 'reaction face' to convey a dismissive attitude towards comments in online discussions (Knowyourmeme 2018).
But there are also typically Chinese characters or biaoqing (表情 'expressions'), for example, those based on Chinese celebrities or referencing to Chinese pop culture (Chen 2014, 695; Xu 2016).
As described by Christina Xu in the Field Guide to China's Most Indispensible Meme; although Chinese 'Baoman' and/or 'biaoqing' all started as a Chinese response to the American Rage Comics, and still use some original characters, an "entirely separate pantheon has emerged" in the PRC (Xu 2016), in which Chinese netizens have collectively built a uniquely Chinese online 'subculture' and Baoman community.
Baoman have been especially functional in China for urban Chinese youth to "vent their frustration about the inequalities they face on a daily basis," as Chen (2014) points out in "Baozou Manhua, Internet Humour and Everyday Life."
These issues go from rising unemployment to the high cost of living, or the difficulty of entering Chinese universities through the gaokao (national entrance exam) system.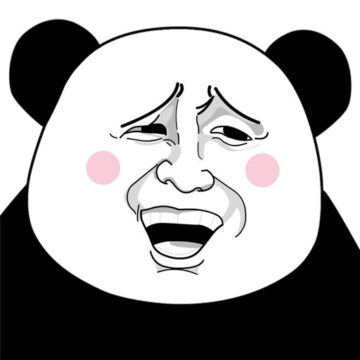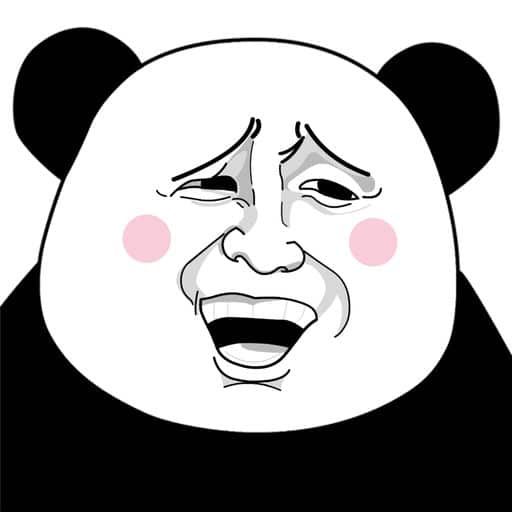 Self-mockery and self-satire is an important part of China's so-called "diaosi tribe": a huge group of Chinese youths who've labeled themselves 'diaosi' (屌丝), basically meaning "losers", as they struggle with the hardships of everyday life and growing social inequality. The ugly, amateuristic graphics of the Baozou manhua suit this youth culture, meeting their need for expression in a culture that focuses on 'keeping face' (Ma 2016, 20).
According to baozoumanhua.com founder Wang Nima, the Baoman genre provides Chinese gao gen (grassroots) netizens "a 'lance' to express themselves" (Chen 20154, 693); meaning this kind of humour can also serve as a frivolous way of resistance, using humor as a weapon to talk about daily frustrations.

No Disrepect for Chinese Heroes: A 'Ban' on Baoman

The recent ban on Baoman directly relates to a 2015 image and a 2014 short Baozou manhua video clip, which was reposted to online news app Jinri Toutiao earlier this month. Both the image and the clip joked about some of China's renowned heroes, including Chinese civil war figures Ye Ting (叶挺, military leader) and Dong Cunrui (董存瑞, PLA soldier who destroyed an enemy bunker in a suicide bombing) (Lin 2018).

(The clip in question; some commenters say the words have been taken out of context.)
In the clip, Sixth Tone reports, video host Wang Nima – wearing a 'rage face' mask as always – narrates: "Dong Cunrui stared at the enemy's bunker, his eyes bursting with rays of hate. He said resolutely, 'Commander, let me blow up the bunker. I am an eight-point youth, and this is my eight-point bunker.'" The script, Qiqing Lin writes, was meant as a pun on a KFC sandwich that was broadcasted in 2014.
Although sarcasm and crudeness are very much inherent in the Baoman humor, this does not mix well with the new law that has recently been implemented in mainland China to 'protect' its national heroes.
The Law on the Protection of Heroes and Martyrs (yīngxióng lièshì bǎohùfǎ, 英雄烈士保护法), has been introduced in March of 2018, as China Daily writes, "so that the country and the people forever remember the sacrifices made by the nation's heroes and martyrs for the good of the country."
It has thus become illegal to make fun of Chinese heroes, and people who "defame" them can now face criminal punishment.
But is this law really the only reason for the shutdown of Baoman channels? Or is it the fact that the all too popular Rage Comics are a representation of an online subculture that goes against the government's view of "healthy developments" of Chinese youth and cultural industries?
Baozoumahua.com founder 'Wang Nima', who now has over 16.6 million followers on Weibo, responded to the ban on the Baoman channels on Thursday, saying he offered his "profound apologies" for bringing an "unhealthy influence" into society. The 40,000 comments to his post were not available to view at time of writing.

The Future of China's Baozou Comics

Over the past few days, the ban on Baozou Manhua has been a huge topic of discussion on Chinese social media, although most comment threads have become publicly unavailable.
Current bans on China's most important online webcomics channels do not necessarily predict their existence and survival in the future. Over the past few months, various online (announced) bans were overturned or denied after triggering controversy (e.g. the ban on gay content or the alleged Douyin targeting of Peppa Pig).
Although channels and hashtags are easy to take offline for censors, the actual creation and spread of new and existing Baoman is virtually impossible to combat. No sources thus far have pointed towards a current ban on the actual comics themselves (just their channels).
Besides the shutdown of the various social media channels, the closure of the baozoumanhua.com media empire is a huge blow to its fans and creators. The website's founder Wang Nima's net worth is estimated to be around 4 billion yuan (±US$628 million), according to Daily Economic News (每日经济新闻).
Netflix recently paid $30 million for the Chinese animated film 'Next Gen', which is also based on the original webcomic '7723' by Wang Nima. Baozou financed and produced the film, which Chinese majors Alibaba and Wanda will reportedly release in China this summer (Amidi 2018).
Whether or not that will happen, and whether or not baozoumanhua.com will be allowed to go online again, is something to be seen.
For many netizens on Weibo, the fact that Baozuo Manhua has been punished for things in the past with a new law that has just been introduced, is something they find unjust. But there are also those who say it serves them right and that the names of Chinese heroes can not be slandered.
"Why Baozuo Manhua?", one netizen says: "Why not other programs with vulgar content? (..) It's unfair!"
Another Weibo commenter says: "China is a big country with many people, and since their education levels are unequal we need a level of control, but it doesn't mean we should control absolutely everything. If there's a problem it gets blocked and deleted, but problems do not get solved at their root."
"Wang Nima I love you, I wait for your return," one fan writes.
By Manya Koetse
Follow @whatsonweibo
References
Amidi, Amid. 2018. "Why Did Netflix Pay $30 Million At Cannes For The Chinese Animated Film 'Next Gen'?" Cartoon Brew, May 13. https://www.cartoonbrew.com/feature-film/why-did-netflix-pay-30-million-at-cannes-for-the-chinese-animated-film-next-gen-158348.html [20.5.18].
Chen, Shih-Wen. 2014. "Baozou manhua (rage comics), Internet humour and everyday life." Continuum: Journal of Media & Cultural Studies 28(5): 690-708.
China Daily. 2018. "英雄烈士保护法(yīngxióng lièshì bǎohùfǎ): Law on the protection of heroes and martyrs." China Daily, May 3. http://www.chinadaily.com.cn/a/201805/03/WS5aea50e6a3105cdcf651ba95.html [20.5.18]
Know Your Meme. 2018. "Yao Ming Face / Bitch Please." Know your Meme. http://knowyourmeme.com/memes/yao-ming-face-bitch-please [20.5.18].
Lin, Qiqing. 2018. "Popular 'Rage Comics' Brand Gagged for Making Fun of Martyrs." Sixth Tone, May 18. https://www.sixthtone.com/news/1002298/popular-rage-comics-brand-gagged-for-making-fun-of-martyrs [19.5.18].
Ma, Xiaojun. 2016. "From Internet Memes to Emoticon Engineering: Insights from the Baozou Comic Phenomenon in China." HCI (3) 9733, Lecture Notes in Computer Science (Springer): 15-27.
Xu, Christina. 2016. "A Field Guide to China's Most Indispensible Meme." Motherboard, August 1. https://motherboard.vice.com/en_us/article/bmvd74/china-meme-face-a-biaoqing-field-guide [20.5.18].
MacDonalds, Sean. 2016. Animation in China: History, Aesthetics, Media. London: Routledge.
Spotted a mistake or want to add something? Please let us know in comments below or email us.
Directly support Manya Koetse. By supporting this author you make future articles possible and help the maintenance and independence of this site. Donate directly through Paypal here. Also check out the What's on Weibo donations page for donations through creditcard & WeChat and for more information.
©2018 Whatsonweibo. All rights reserved. Do not reproduce our content without permission – you can contact us at info@whatsonweibo.com.
Rocking it for a Decade, Beijing Band Namo Catches the Spirit of Their Generation
Beijing band Namo, that brings a fresh sound by mixing rock with Chinese traditional music influences, is celebrating its ten-year anniversary this year.
Mixing traditional Chinese music with Western rock influences, Beijing-based band NAMO is one of Beijing's new generation's go-to bands. This fall, the band celebrates its ten-year anniversary with a new tour all across China. A short introduction (video here!) to Namo and its style by What's on Weibo.
Although the Beijing-based ban Namo (Nanwu 南无乐队) has been already rocking it for over a decade, their star has especially been on the rise recently, with their upcoming anniversary tour, titled 'Ruyi' (如一) bringing them to concert halls all across China.
The start of 'Namo' – a term from Buddishm showing reverence and devotion – takes us back to late 2007, when lead singer Liu Xiangsong (刘相松, 1984), who was born and raised in Shandong, had come to Beijing and founded the band after graduating from the Sichuan Music Academy.
Liu's education has had a profound impact on the band, with his focus on guitar performance, classical guitar, and Chinese opera. Liu also has a strong interest in Chinese traditional culture and Buddhism, which clearly shines through in Namo.
Through the years, the band has seen some shifts in its line-up and now is a perfect coming-together of six people with their own strengths and backgrounds.
Besides Liu, the band consists of Zhang Lan (also known as Lanzi 张岚) on guitar and keys, Chen Ying (陈颖) on flute, percussion by Zhang Shuo (张硕), Daniel (丹尼奥) on bass, and drums by Shenzi Jun (申子俊) (主唱:刘相松/吉他手:张岚/笛子:陈颖/贝斯:丹尼奥/鼓手:申子俊/民打:张硕).
A little over two years after the band first came together, they were the first music group to perform at the Famen Temple (法门寺), one of China's most prestigious pagoda temples, to open for renowned Chinese pop star Faye Wong. Shortly after, they became the first Chinese band ever to play at Japan's Summer Sonic in 2011.
Namo won the "Best Newcomer Award" at Midi 2010. Since then, the band signed with the SX Music (视袭音乐) label, and have made quite a name for themselves, performing at music festivals across China, Japan, and Korea.
In 2014, Namo was invited to perform for the CCTV Spring Gala, where they played their song 'Spring is Here' (春来了).
In the first season of Chinese reality TV show 'Sing My Song' (中国好歌曲), in 2014, Liu Xiangsong also performed the same song on stage (see video below), which then gained in popularity.
Their music is inspired by Chinese music, but also uses influences from Western music styles, resulting in an original style that is both charming and humorous at times.
At Beehype, William Griffith describes the band as follows: "Combining Chinese culture obsessed, 80s nostalgic, vigorous lyric-based melodies, and crosstalk rock, a traditional Chinese comedic performance style, the band is a creation of their generation of youth."
Namo is a representation of the Chinese post-80s generation (bālínghòu 八零后) in multiple ways. Their songs reflect on the urban stories of China's modern-day society and the lives of young Chinese, and the overall style of the band also corresponds with what characterizes China's post-80s; they are formed by traditional Chinese culture, but also grew up in a China that was quickly modernizing, transforming, and impacted by Western influences. Noteworthy is that Namo's band members come from all across China.
Social Media & Online Channels
Recently, Namo and its band members have been growing more popular on Chinese social media. Their official Weibo account @南无乐队微博 has over 48,500 fans, but the individual members also have quite a following.
* Lead singer Liu Xiangsong currently has approximately 74,000 fans on his Weibo account: @南无刘相松.
* Band member Lanzi: @南无岚子 (48,400 fans).
* Namo's Chen Ying: @陈颖小卡 (30,100 fans)
* Shenzi Jun: @申子俊 (10,150)
* Zhang Shuo: @南无张叫母 (4270 fans)
* Daniel: @丹尼奥帅牛哈哈 (2000 fans)
Listen to Namo on Xiami here.
On Douban here.
QQ channel here.
Tour Dates
Although the band has already been touring over the past year, they will still perform in many Chinese cities for the weeks to come. For those interested, we've listed the tour dates with links to further information on venues, times, and tickets.
November 9: Xi'an
November 10: Chengdu
November 11: Chongqing
November 14: Nanning
November 16: Guangzhou
November 17: Shenzhen
November 18: Xiamen
November 21: Wenzhou
November 23: Shanghai
November 24: Nanning
November 25: Wuhan
Don't forget to check out What's on Weibo's latest video on Namo here.
Interested to read more? You might be interested in the following:
* Rock Hotpot: Why Chinese Celebrities are Opening Up their Own Hotpot Places
* The Early Days of Rock in China – Interview with Sinologist & Hardrocker Jeroen den Hengst: From copied tapes to a unique rock scene – Jeroen den Hengst was part of the Beijing rock scene when it first awakened.
By Manya Koetse
Follow @whatsonweibo
Directly support Manya Koetse. By supporting this author you make future articles possible and help the maintenance and independence of this site. Donate directly through Paypal here. Also check out the What's on Weibo donations page for donations through creditcard & WeChat and for more information.
Spotted a mistake or want to add something? Please let us know in comments below or email us.
©2018 Whatsonweibo. All rights reserved. Do not reproduce our content without permission – you can contact us at info@whatsonweibo.com.
K-Pop's Recipe for Success: Why Korean Idol Groups Got So Big in China and are Conquering the World
The success of K-Pop in China and beyond is evident – the causes for its success are less obvious.
K-Pop (Korean pop music) is one of South Korea's most successful export products today. With bands such as BTS that are dubbed the 'biggest boy band on the planet', it is obvious that the locally produced K-Pop has become a globally well-liked phenomenon. Although its popularity is obvious, the reasons why K-Pop became so big, from China to the US and beyond, are less evident.
On coming Saturday, October 13, the South-Korean boy band BTS will perform in an Amsterdam area in front of thousands of fans who have been looking forward to this event for months. Ticket sales for the first concert of the 7-member boy group in the Netherlands were sold out within minutes, despite their relatively high prices, with people paying up to €250 ($290) in the official sales, or even €400 ($460) and more for a single ticket in the unofficial online sales afterward.
It is not just the success of the BTS European tour that is making headlines; the record-breaking views on YouTube on their videos – the latest being the song 'Idol', that had more than 200 million views in little over a month – is also attracting the attention of the media.
And BTS is not alone. Other Korean pop (K-Pop) groups such as EXO, BIGBANG, TWICE, Shinee, or Got7, have also broken records when it comes to online video views or Spotify plays.
Although the English-language media attention for the K-pop phenomenon is more recent, the Korean entertainment industry has since long been extremely popular in China and on Chinese social media. In this overview, What's on Weibo explores the K-Pop popularity (focusing on its idol boy and girl groups), its short history, and success formula.
BTS and More: An Army of Fans
The pop group BTS (방탄소년단), also known as the Bangtan Boys (防弹少年团, lit: 'Bulletproof Boyscouts'), is an award-winning seven-member South Korean boy band formed by Big Hit Entertainment that debuted in the summer of 2013. They are currently hyped as the "biggest boy band on the planet."
Initial auditions for the band were held in 2010, followed by roughly three years during which the band was formed and prepared for their major debut, that was promoted on social media months before their actual launch in June of 2013.
The band consists of multi-talented young men. Singer-songwriter Kim Seokjin (Jin) (1992) was studying film at Konkuk University when he was invited to audition by Big Hit; rapper Min Yoongi (Suga) (1993) was an underground rapper before he was signed; dancer and rapper Jung Hoseok (J-Hope) (1994) was part of a dance team in his pre-BTS life.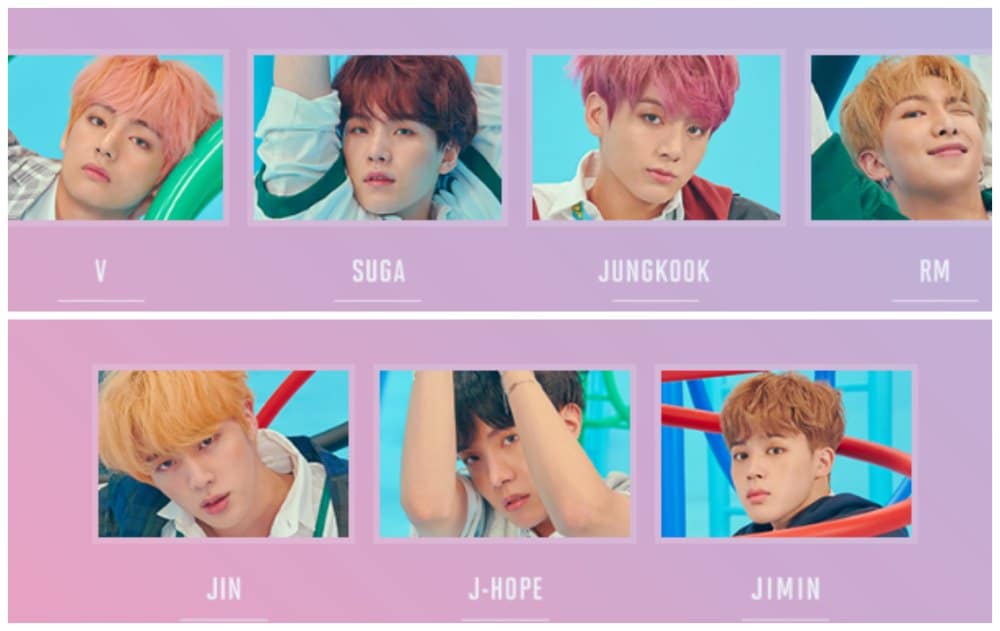 Lead rapper Kim Namjoon (RM) (aka Rap Monster, 1994) was already active in the music scene as rapper and producer; dancer and vocalist Park Jimin (Jimin) (1995) was a top student as Busan School of Arts before joining; vocalist Kim Taehyung (V) (1995) is known to have one of the most expressing voices of the group; and main vocalist Jeon Jungguk (Jungkook) (1997) was only 12 years old when he auditioned for BTS, followed by three years of intense training.
BTS, formerly 'Behind The Scenes', is known for its strong social media presence, which helps to spread its music and connect to its fans, who call themselves an 'ARMY' (also stands for Adorable Representative Master of ceremonies for Youth). The band has more than 16 million followers on Twitter, 3.3 million fans on Weibo, 12 million subscribers on Youtube, and nearly 8 million followers on Facebook.
Although BTS is the band that is currently dominating the headlines, there are many more K-Pop bands that are extremely popular on Weibo and beyond. The nine-member South Korean–Chinese boy band EXO, for example, has dozens of fanclubs on Chinese social media. Band member Oh Se-hun alone already has almost 9,5 million fans on his Weibo page. BIGBANG has more than 7 million Weibo fans, the eight-member girl band Girl's Generation (少女时代) is on the rise with 1,5 million Weibo followers, Super Junior over a million, and the list goes on.
CREATING SUCCESS
A Short History of K-Pop: Finding a Sublime Entertainment Formula
Besides media attention, there has been ample scholarly attention for the Korean pop culture phenomenon over the past decade. The year 2012 especially marked a special moment in the history of K-Pop, when the song 'Gangnam Style' by Korean rapper Psy broke all YouTube records and became a global hit.
But before K-Pop became a global force to reckon with – that seemingly rose out of nowhere -, it had already made its first international successes in neighboring countries China and Japan since the early 2000s.
In China, the success of Korean popular culture is defined as Hallyu (韩流)*, the 'Korean Wave' since 1997 (Yang 2012, 105). Hallyu encompasses far more than idol bands; it includes the boom of South-Korean dramas, films, celebrity idols, and entertainment programs. In 2002, for example, the South-Korean soap opera 'Winter Sonata' became a hit in both China and Japan.
The early 2000s mark the 'first Korean wave' in China, that mainly revolved around TV dramas produced in South Korea and were liked by females above the age of 30. It was followed by the second wave from the mid-2000s to 2010, when the K-Pop music genre popularized in China.
The third period, after 2010, marks the moment when K-Pop was further incorporated into mainstream Chinese popular culture, with a ubiquity of K-Pop idols in everyday Chinese pop culture, and the launch of Chinese versions of Korean entertainment programs (Ahn 2014, 47). It was also in this 'third wave' that you saw the debut of pop groups such as EXO. Formed in 2012, that band incorporates both Korean and Chinese members, performing in both languages.
Although K-Pop from South Korea became somewhat less visible in the PRC during the past few years, mainly because the industry suffered from various politically-motivated bans on Hallyu in China, the genre's influence on China's mainstream pop culture is evident, with some Chinese groups, for example, also being modeled after K-Pop bands.
Entertainment Powerhouses
Many studies explain the foreign success of Korean popular culture in Asia, mainly China and Japan, through "cultural proximity," saying that the success of K-Pop especially occurred in China and Japan because they have, for example, linguistic similarities and corresponding Confucian values (Ahn 2014, 47; Messerlin & Shin 2017, 412).
But the more recent global wave of K-Pop shows that cultural proximity is not the sole answer to the genre's success. Besides, there is actually nothing traditionally "Korean" about K-Pop, which only emerged in the 1990s (Shin & Kim 2013, 256).
The genre's success mainly lies in the big players that brought forth the first Korean pop idol groups and have excelled (and still do) in selecting the right entertainment "products" to invest in, with a strong focus on both on the production side and the market demand side.
SM Entertainment, JYP, and YG Entertainment are the first major and leading entertainment houses of the 1990s. Big Hit Entertainment, home to BTS, followed later; founder Bang Si-Hyuk (1972) used to collaborate with JYP Entertainment founder Park Jin-Young (1971) before going his own way in 2005.
-SM Entertainment, founded 1988 by musician and TV host Lee Soo Man (1952)
-YG Entertainment, founded in 1996 by musician Yang Hyun-Suk (1970)
-JYP Entertainment, founded in 1997 by musician and producer Park Jin-Young (1971)
-Big Hit Entertainment, founded in 2005 by producer/songwriter Bang Si-hyuk (1972)

What characterizes these entertainment houses is that they are/were small in terms of revenue and employees (very different from big labels such as Sony or Universal), and play multiple roles as intermediate between musicians and consumers, as well as producers.
Different from many international big players in the entertainment world, K-Pop entertainment companies integrate processes of artist selection, songwriting, management, signing advertisement deals, etc. in-house rather than leaving these processes to various parties outside their own studio (Shin & Kim 2013, 260). Significant about the founders of these entertainment powerhouses is that they all had ample experience in the music industry themselves before starting their studios.
The story of SM Entertainment, which was founded by musician and TV host Lee Soo Man in 1988, is crucial in understanding the beginning of the K-Pop industry. Lee was inspired by the transforming American music market after spending time there in the 1980s, and decided to replicate US entertainment in a new way. In his first studio he brought together the right equipment, the right expertise, and the right talent all in one place to kick-start his business (Shin & Kim 2013, 263).
Although the first acts that came from SM's studio were no instant success, Lee was determined in learning through trial and error until he found the right beat and image that struck a chord with young consumers. In doing so, he adopted a strategy in which teenagers were surveyed on what they wanted, and in which he focused on scouting new talent from all over the country to give them intensive training in dancing, singing, and acting at the SM Studio (Shin & Kin 2013, 264).
In 1996, eight years after Lee Soo Man started his entertainment company, and going through years of changing, refining, and improving his strategies, the first success was there. The boy band H.O.T., consisting of five hand-picked members who each had their own strength, debuted in 1996 and became the first major success in the short history of K-Pop.
Companies that followed after SM's initial successes further experimented in adopting new strategies and trying out new styles of music, but stayed true to the idea of in-house training of young, new artists, rather than selecting renowned artists with defined styles (Shin & Kim 2013, 264). With frequently held auditions and training programmes that can last for years, some trainees start as young as 5 or 6 so that they are fully equipped for the entertainment industry by the time they reach adolescence (ibid., 265).
More than being teachers, producers, songwriters, marketers, etc., these entertainment houses are also trend watchers; training their talents in various areas now in order to be able to place them in the right setting and format in the future, corresponding with (global) market demands.
Companies such as SM place an emphasis on the export of music, and focus on appealing to global audiences, making use of hundreds of composers and experts from around the world in doing so. In producing and performing the K-pop girl band Girl's Generation's song 'Genie', for example, SM Entertainment used a Japanese choreographer, a Norwegian songwriter, and Korean lyricist (Shim 2016, 38).
SHAPING SUCCESS
The Popularisation of K-Pop: A Digital Strategy
Although a main cause of K-Pop's initial success lies in the (training) strategies adopted by the aforementioned entertainment houses, there are also other major factors that have contributed to its global influence.
The Korean government contributed to the initial success of K-Pop by developing a world-leading internet infrastructure (although the goal of developing that infrastructure, obviously, was not to promote K-Pop), which helped the rapid rise of the genre through online strategies.
According to some studies (e.g. Messerlin & Shin 2017, 422-425), Korean entertainment companies have been the first in the world when it comes to realizing the potential of the internet for the distribution and marketing of their performances; they were already long awake to its possibilities and were acting upon them, while many big players in Europe and America were still focusing on traditional album formats.
What also helped the spread of K-Pop at the time were the relatively friendly and equally balanced Korean policies on issues such as copyright, that were (and are) less protective and restrictive compared to America or the EU (Messerlin & Shin 2017, 421).
The first success (1997-2007) of K-Pop and other Korean popular culture products in China, Japan, and other countries within Asia, have also been called the first major Korean Wave, whereas the current period (2008-present), represents the 'New Korean Wave,' that is defined by the role that is played by new media technology and social media as a platform for K-Pop to reach every corner of the world (Jin 2016).
Online strategies were particularly relevant in the context of the (early) K-Pop industry because 1) it was dominated by relatively small businesses that did not have the means to invest in other major publishing platforms than that of efficient online distribution and 2) they did not have costly plants where they could produce CDs, DVDs, or vinyl. Having the high-tech Korean electronical market on their side, online strategies were thus a natural and cost-efficient solution to give publicity to their performances (Messerlin & Shin 2017, 426). More so than focusing on traditional album releases, the release of digital singles that come with visually attractive online videos, for example, is one important K-Pop production characteristic.
Probably the best example showing that this strategy works is the global success of 'Gangnam Style' that was made possible through YouTube. By now, six years after its release, the world-famous song by Psy, who was signed by YG Entertainment, has over 3,2 billion plays on YouTube.
The revenue of concert tickets for K-pop performances, its merchandise industry, the digital singles, advertisement income, the many brands wanting to associate themselves with the star industry that K-pop has generated, etc., makes K-Pop production a money-making machine that shows that the model that focuses on traditional (CD) album formats and promotional single releases has become outdated.
CONTINUING SUCCESS
Marketing more than a Band: Active Fans and Interesting Characters
While South-Korea's innovative music enterprises were crucial for the international launch of K-pop, its worldwide fanbase has now also become a motor driving its continuing success.
Different from the initial spread of K-Pop in China or other Asian countries – where K-Pop has become common in everyday pop culture -, is that many consumers of the genre in the US, Europe, or elsewhere, fully depend on the internet and social media to access K-Pop, as it is not a genre that is prevalent in the mainstream popular culture of their own countries.
The fact that fans of K-Pop in these regions have to actively seek for the latest information and releases of their favorite groups, also means that they have become participatory and engaged consumers in the spread of K-Pop – almost turning them into the 'soldiers' of fandoms such as the BTS 'army'. They have become part of enormous (online) subcultures in various countries across Europe and America.
More than just listening and watching K-pop, these fans become members of the 'culture' by translating material, circulating it to friends, or integrating it on their own social media channels (Jin & Yoon 2016, 1285).
What further strengthens this fandom is that the successful K-Pop bands are anything but one-dimensional. More than just building on their synced choreography, flawless singing, fashionable looks, and visually attractive videos, the band members of groups such as BTS, EXO, or TWICE, have their own identities, voices, and goals that go beyond music; their various characters and roles within the group resonate with their different fans.
The fact that many K-Pop groups and members also have an androgynous and gender-bender appearance also makes them more interesting to many fans, with many K-pop boys being 'pretty and cute' and girls having a 'strong and handsome' look, breaking through typical male and female stereotypes.
Furthermore, more than pop bands, these K-Pop groups have virtually become 'platforms' with their own streaming channels, websites, television shows, merchandise shops, lively online communities, stories, and so on.
In their recent appearance on the US Tonight Show by Jimmy Fallon, BTS frontman RM explained the group's mission in perfect English, saying: "It is about speaking yourself, instead of letting other people speaking for you. Cause in order to truly know ourselves, it is important to firstly know who I am, where I'm from, what my name is, and what my voice is."
Many find their voice in K-Pop. And that is a sound, from a local Korean product to a global force, we can expect to grow much louder in the future.
By Manya Koetse
Follow @whatsonweibo
* For clarity: note that due to scope this article focuses on the development of the K-pop phenomenon, and does not explore the anti-Hallyu or anti-Korean wave movement in China, and the previous bans on Hallyu in the PRC.
References
Ahn, Jungah. 2014. "The New Korean Wave in China: Chinese Uders' Use of Korean Popular Culture via the Internet." International Journal of Contents, 10 (3): 47-54.
Jin, Dal Yong. 2016. New Korean Wave: Transnational Culture in the Age of Social Media. University of Illinois.
Jin, Dal Yong, and Kyong Yoon.2016. "The Social Mediascape of Transnational Korean Pop Culture: Hallyu 2.0 as Spreadable Media Practice." New Media & Society 18 (7): 1277-1292.
Messerlin, Patrick A. and Wonkyu Shin. 2017. "The Success of K-Pop: How Big and Why So Fast?" Asian Journal of Social Science 45: 409-439.
Shim, Doobo. 2016. "Hybridity, Korean Wave, and Asian media." Routledge Handbook of East Asian Popular Culture,Koichi Iwabuchi, Eva Tsai, Chris Berry (eds), Chapter 3. London: Routledge.
Shin, Solee I. and Lanu Kim. "Organizing K-Pop: Emergence and Market Making of Large Korean Entertainment Houses, 1980-2010." East Asia 30: 255-272.
Yang, Jonghoe. 2012. "The Korean Wave (Hallyu) in East Asia: A Comparison of Chinese, Japanese, and Taiwanese Audiences Who Watch Korean TV Dramas." Development and Society, 41 (1): 103-147.
Spotted a mistake or want to add something? Please let us know in comments below or email us.
©2018 Whatsonweibo. All rights reserved. Do not reproduce our content without permission – you can contact us at info@whatsonweibo.com