The 'Zhinan' Stereotype: Teasing the 'Straight Guy' is an Online Game
For many girls, makeup is part of their day to day life. But what happens when girls test their boyfriend's knowledge about their makeup items? A new popular game on WeChat and Sina Weibo does not only reveal men's ignorance on cosmetics, it also reiterates China's 'Zhinan' ['Straight Guy'] stereotype.
For many women, makeup is part of their day-to-day life. But what happens when they test their boyfriend's knowledge about their makeup items? A new popular game on WeChat and Sina Weibo does not only reveal men's ignorance on cosmetics, it also reiterates China's 'Zhinan' ['Straight Guy'] stereotype.
How much are your makeup items worth according to your boyfriend? This question is at the center of a new online test that has drawn hundreds of thousands of participants on China's social media overnight.
The 'test' entails that girls present their boyfriends with their many different cosmetics while filming, and ask them to guess their functions and prices. The video is then later shared on social media under the hashtag "How much is your makeup according to your BF? (#男朋友觉得你的化妆品多少钱) – the 'game' instantly became a top trending topic on Weibo.
Teasing the 'ignorant' boyfriend
Many girls are eager to participate in the game. Those without boyfriends invite their male friends to take part. In most cases, the men are completely confused about women's cosmetics; they mistake eyeliner for lipstick, and have somewhat peculiar excuses to explain their incorrect answers – when asked why a "foundation" would be black (actually an eye-shadow), one young man answered it was "because some people like looking like South-East Asian beach style". As for prices, many boys simply adopt the '35-yuan strategy', where everything is guessed to be 35 RMB (±5,4$), randomly attaching low prices to their girlfriends fancy cosmetics. Although most men seemingly know nothing about their girlfriend's makeup, they often appear dead serious in the video's, and seem quite confident that they have the situation under control – to much amusement of Weibo's female netizens.
China is not the first country where this game became a hype. A similar test "Guys guessing the price of makeup" was popular on English social media in 2014. But in China, there's more to the game than teasing the ignorant boyfriend; it is about making fun of 'zhinan' (直男, literally "straight guys") in general.
China's zhinan stereotype
'Zhinan' (直男) in Chinese originally referred to 'straight' heterosexual males. But throughout the years, the word has derived in meaning, and instead of just pointing to sexual orientation, it has now come to refer to an entire category of men in China.
According to common stereotype, the zhinan generally lacks good taste in clothing. He tends to be chauvinistic (大男子主义) and has an almost excessive level of self-confidence. A more precise term that entails the negative connotations of zhinan is 'zhinan ai' (直男癌, 'straight male cancer'), a term that has triggered many discussions on social media in recent years, where being a zhinan is compared to having a disease.
What exactly is zhinan ai? According to online question-and-answer platform Zhihu, these are some famous 'zhinan' quotes:
 – "Giving birth is the born duty of women. Not doing so is anti-human."
 – "A woman is not a complete human being if she is not married. Arguing against this is arguing against Darwin."
 – "You, a woman, knows who Beckham is? You know about cars and politics? Tat, tat, you're not a good woman."
The zhinan stereotype can be traced back to some old beliefs rooted in China's paternalistic society, where males are believed to be superior to women both in status and intelligence. In this view, marriage is believed to be essential to individual lives, with a strict division of labour; men are the breadwinners, dealing with the external world, while women take care of the household and the 'inside' world. As the supporting column (顶梁柱) of the family, men have absolute authority with what they say and what they do. According to this male stereotype, men are not supposed to spend too much attention on their looks – which is considered a women's issue.
Traces of this male-dominated conception way can still be found everywhere in today's China. A recent Xinhua article claimed that 40% of Chinese men show serious symptoms of zhinan ai.
More than just a laugh?
But along with China's fast modernization, the social discourse on gender issues is also gradually changing. It has made the idea of the dominant and controlling pater familias outdated. Zhinan, in this sense, embodies this concept of the archaic view on gender dichotomy and male power.
Teasing your boyfriend by testing his knowledge on cosmetics can be just a laugh between lovers. But there is also a more serious message to guys underneath the game: sticking head-strong to a traditional male ideal and old-fashioned gender divisions does not make you more of a 'real man' in a romantic relationship in today's China.
But not all Weibo netizens think the cosmetics test is representative of gender divisions. "I'm a girl, and I don't understand cosmetics at all," one commenter says.
– By Diandian Guo, additional editing by Manya Koetse
Follow @WhatsOnWeibo
©2016 Whatsonweibo. All rights reserved. Do not reproduce our content without permission – you can contact us at info@whatsonweibo.com.
Chinese Doctor Knocks Herself Out in Controversial Self-Experiment
Dr. Chen wanted to warn about the dangers of sevoflurane and other drugs.
A female doctor has become a topic of discussion on Chinese social media for her self-experimentation with anesthesia.
Dr. Chen (陈大夫), a Nanjing doctor who works in the Obstetrics and Gynecology department, conducted the experiment in response to an ongoing discussion on whether or not a handkerchief dipped in inhalation anesthetics could cause immediate unconsciousness ("一捂就晕").
The discussion was triggered by news of the death of a 23-year-old woman from Foshan, Guangdong Province, on February 8. The recent college graduate was found in a hotel room and it was later ruled that the cause of death was acute respiratory failure due to sevoflurane toxicity. The victim's company supervisor, a 39-year-old man named Peng, is now suspected of fatally sedating and raping the young woman.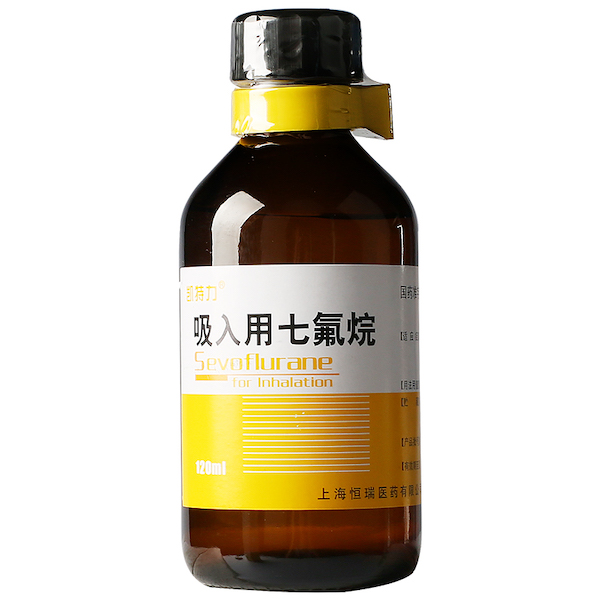 The case led to speculation among netizens whether or not sevoflurane could have knocked out the woman in seconds. There have been ongoing debates on the effects of general anesthetics used to sedate unsuspected victims, with some specialists arguing that it is not so easy to make someone slip into unconsciousness within a matter of seconds – saying it would take much longer than and only if an unusually high dosage is used.
Dr. Chen posted on February 10 that she was certain that it is possible for certain inhalation anesthetics to immediately make someone pass out, but her claim was refuted by others. The popular Weibo blogger Jiangning Popo (@江宁婆婆), a police officer, was one of the persons involved in the discussion claiming Chen was wrong.
Dr. Chen is active on Weibo under the handle @妇产科的陈大夫, and with over two million followers on her account, she is somewhat of a 'celebrity' doctor.
Instead of spending time arguing back and forth on the internet, Dr. Chen decided to put the issue to the test herself with an unopened bottle of sevoflurane that she had previously purchased for the planned sterilization of her dog. The sevoflurane had already passed its expiry date.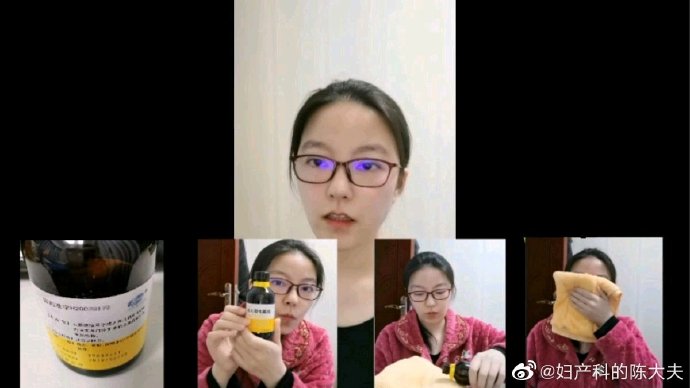 On February 16, Dr. Chen then asked someone else to film her doing the self-experiment and she posted the video on Weibo, in which she inhaled sevoflurane on a cloth. The doctor soon passed out in the video, which has since been deleted.
The experiment in the video lasts 64 seconds, and shows Chen:
– 00:01-00:06 Opening the bottle of sevoflurane
– 00:07-00:12 Preparing a cloth
– 00:13-00:23 Putting the sevoflurane on the cloth
– 00:23-00:26 Closing the cap of the bottle
– 00:27-00:28 Putting the cloth on her mouth and nose
– 00:29-01:33 = the time frame of losing consciousness (with first symptoms starting at 0:44) to going limp and falling on the floor (1:20) and being completely unconscious (1:21-1:33).
Dr. Chen's experiment immediately sparked controversy after she posted the video on social media.
Although sevoflurane is a prescription drug and a controlled substance, it is also sold online as a type of drug. According to The Paper, the number of rape cases in China facilitated by drugs have risen over the past three years, with many 'date rape drugs' being sold and bought over the internet.
With sevoflurane being a controlled substance, Dr. Chen's video triggered discussions on whether or not she was actually involving in a criminal act by doing the self-experiment. She also received criticism from within the medical community that she used this medication outside of the hospital environment.
Dr. Chen soon deleted the video herself and then called the police to personally explain and apologize for the incident, with the news soon going viral (#女医生拿自己做实验后报警并致歉#, 270 million views).
But despite the controversy, the doctor still defends her actions to some extend. Although Chen stated on February 17 that her self-experiment was "not right," dangerous, and should never be imitated by anyone, she later also explained on her Weibo page that she thinks sevoflurane as a prescription drug is too easy to get your hands on and that the existing laws to prevent people from buying it are too weak.
The doctor has succeeded in raising public awareness on the dangers of these kinds of drugs. She also reminds both women and men never to leave their drink unattended, as the dangers of someone slipping something in your drink are real and the consequences can be grave.
As the incident has gone trending on Chinese social media, many commenters praise Dr. Chen for her experiment, while others also praise her for being transparent and admitting her mistakes.

By Manya Koetse
with contributions by Miranda Barnes
Follow @whatsonweibo
Spotted a mistake or want to add something? Please let us know in comments below or email us. First-time commenters, please be patient – we will have to manually approve your comment before it appears.
©2021 Whatsonweibo. All rights reserved. Do not reproduce our content without permission – you can contact us at info@whatsonweibo.com.
Another Gala, Another Controversy: 2021 Spring Festival Gala Draws Criticism for Gendered Jokes
Many felt the Gala's comic sketches were insensitive to Chinese women and singles.
The 2021 Spring Festival Gala was held on Thursday on the night of Chinese New Year's Eve. The annual Spring Festival Gala, arranged and produced by the state broadcaster CCTV, is one of the world's most-watched TV shows.
Although watching the Gala together with family members has become an annual tradition for Chinese families for several decades already, the show's comic sketches and skits – often the highlights of the show – are becoming increasingly controversial and less popular in recent years.
In earlier decades, the xiaopin (comic sketch) was the best-received type of performance of the Gala for evoking laughter among the audiences. The various xiaopin shows are filled with puns, funny lines, and plot twists to entertain the viewers.1
Over recent years, these comic acts performed during the Spring Festival Gala have come to center more on social issues such as environmental protection, corruption, social morals, migrant workers, and family affairs – including those concerning love and marriage. Many of the performances in this year's Gala followed a 'happy beginning with sad endings' plot, conveying more sophisticated messages and values that many viewers did not appreciate.
These seemingly changing undertones are also a reason why younger generations often say they prefer spending time online instead of watching the Gala. Some young people say they feel the Spring Festival Gala is losing the real "Spring Festival atmosphere" ("年味").
By now, the Gala is increasingly known for triggering controversy online.
In 2015, the Gala was criticized for being misogynistic. One of the sketches titled "Goddesses and Tomboys" ("女神和女汉子") marked a contrast between an 'iron woman' or 'tomboy' (女汉子) and a 'goddess' (女神) by depicting the first as a single chubby woman and the second as a succesful slim model, which critics deemed to be stereotypical and sexist. The same show also drew criticism for depicting 'leftover women,' unmarried women over 30, as unwanted and second-hand goods.
In 2017, another controversial sketch titled "Permanent True Love" ("真情永驻") seemed to convey that women have an obligation to reproduce. The featuring female character voluntarily asked to divorce her husband after she had a miscarriage, out of consideration for his supposed right to offspring.
In 2018, a comedy sketch titled "Share the Same Joy and Happiness" ("同喜同乐"), which included an actress wearing blackface, struck the wrong note with many social media users, who deemed it 'inappropriate', 'offensive', and 'racist.'
This year, the Gala also was not without controversies. One sketch titled "Happiness towards Spring" ("开往春天的幸福") was meant to emphasize the love between couples but drew criticism for the sexist jokes it contained. One of the male characters in the scene compared his ex-wife to an ugly villain when she does not wear make-up saying: "Have you seen her take off her makeup?No brows! Once we ate together face to face, and she held a pair of chopsticks, with the light flashing, and I thought she was Voldemort."
Similar jokes and puns reappeared several times. Many viewers criticized the exaggerated banter over women transforming once their make-up is removed, with some commenting: "These lines are delivering a simple message that women with makeup are pretty, while women without makeup are invariably ugly and sloppy."
Another skit titled "Urged to Get Married Every Holiday" ("每逢佳节被催婚") attracted online attention as well for containing lines like "My daughter is already 28 yet still has no boyfriend" and for referring to unmarried people as "Single Dogs" (单身狗) – a term that initially appeared in 2011 as a buzzword filled with self-mockery before the term developed a strong negative connotation.
Bloggers and web users expressed that the use of these kinds of insensitive terms in the Gala made them feel uncomfortable, only adding to the anxiety and self-loathing they already feel in a time of major social pressure.
"I have been urged to get married countless times by my relatives these days already, do I still also have to be insulted in this skit, too?" some Weibo users said, with others wondering if there was "something wrong" with the director of the show for embarrassing unmarried people like this.
Over recent years, there are more online discussions regarding the pressure faced by women to get married and how women (and their appearance) are portrayed in the media. There is a growing public awareness about gender discrimination and inequality, with campaigns on women's rights also being highlighted by Chinese official media. The media's stigmatization and stereotyping of women are topics that are now more often challenged and questioned on Chinese social media.
Although many female web users spoke out against the misrepresentation and distortion of female roles in the Gala, there were also commenters who advocated a more lighthearted approach, writing things such as: "Don't overreact, these gendered jokes only serve a theatrical purpose." Others argue that people are only looking for the negative messages in sketches that are meant to be positive, with one Weibo user wondering about all the controversy: "Are we even watching the same Gala?!"
The diverse discussions regarding the Gala and how it represents gender roles do not stand by themselves – they are a signal of a bigger movement questioning the representation of gender roles in Chinese popular culture. Since these discussions won't die out any time soon, we can expect more of these controversies to surface again in the Galas to come.
Want to know more about the Gala? What's on Weibo did a liveblog, check it out here.
By Vivian Wang
Follow @whatsonweibo
Edited for clarity by Manya Koetse
References
1 Liu, Ji. 2010. "Ambivalent Laughter: Comic Sketches in CCTV's Spring Festival Eve Gala." Journal of Modern Literature in Chinese, 10(1), 103-12.
Spotted a mistake or want to add something? Please let us know in comments below or email us. First-time commenters, please be patient – we will have to manually approve your comment before it appears.
©2021 Whatsonweibo. All rights reserved. Do not reproduce our content without permission – you can contact us at info@whatsonweibo.com.