Top 8 Scams in China to Watch Out for (2018)
From oldskool scams to WeChat scams – people are still falling for this every single day.
As times change, so do scams. In an age of smartphones and social media, Chinese scammers are more prone to abandon old tricks and use new technology for their swindling business. But in a time of more digital scams, there are also still scammers who use people's inexperience and desperation to earn money by simply fooling them on the streets. Here's a top 8 of 2018 [check out top 10 China scams in 2015 here].
With the rapidly increasing number of online transactions in China, the persisting problem of counterfeit money scams in China may now be less of a problem than it was before. But other scams are on the rise.
Although people are now less vulnerable to scams involving cash money, services as WeChat wallet and Alipay are also not without peril. Over the years, scammers have developed numerous ways to cheat people and steal money from WeChat or Alipay wallets.
From infecting smartphones with viruses, to letting people "voluntarily" hand over their personal information, scammers have found ways to trick people from all ages and all layers of society.
As a follow-up to an earlier top 10 we did on scams in China, What's on Weibo has compiled a list of 8 scams that are recently trending on social media or in the Chinese newspapers.
#1 WeChat Scams: Hacking Accounts
With over 800 million users of WeChat Pay in China, WeChat users are a lucrative target for scammers. In recent years, there have been various cases of WeChat scams, in which hackers of private accounts pretend to be a friend or family member, and convince others to send them money.
Last summer, the news went viral of Chinese parents becoming a victim of scammers pretending to be their children.
These hackers, using the children's accounts, told 'their parents' that they had to attend a special course or lecture, often held by professors from renowned universities such as Tsinghua or Beijing University. Once the scammer convinced the parent to pay for the extra curriculum activity, the scammers send the contact information of the "teachers" in charge of the event.
Once the parents added the "teachers'" to WeChat and transferred the money, the scammers continued to get parents to pay for all sorts of things such as service fees, registration fees, supply fees, etc.
In other more extreme examples, parents were asked to follow a link to complete the payment. The link installed a virus onto the parent's phone, allowing the scammer to have full access to the victim's WeChat wallet.
#2 Voice Scams: Imitation Champions
Another rising problem that China and many other countries are currently facing is the issue of so-called 'voice scams.' Often done through WeChat, scammers collect a person's voice messages and then pretend to be this person by imitating his or her voice.
The scammers will then make a fake WeChat account that is an exact copy of the one they are imitating. They will contact family members and friends of the person they are imitating, and ask to borrow money. Because the voices sound so much alike, they often win the trust of people and get them to send the money.
In one extreme case, a young man's voice was imitated so well that scammers were able to convince the man's mother that her son was abducted. In a complete panic, the mother transferred the demanded ransom.
In all cases, the police advise people to always confirm face-to-face with the other person before sending money. Additionally, they also warn people should be on their guard sharing voice messages or any other form of personal information with strangers.
#3 Delivery Scams: Too Many Packages
As easy and convenient online shopping might seem, it is not without danger. Just as with WeChat scams, there are many ways in which scammers will try to find weak points within the system.
One of the issues that makes people more vulnerable to scams within the world of online shopping is that many people order so many products online, that they are more likely to believe that a package is theirs – even if they have never actually ordered it.
The most common online shopping scam involves "cash on delivery," where the courier asks people to pay upon delivery. Once opening the packaging, people discover their package is actually empty.
In another version, scammers will first call the victim pretending to be their neighbor. They will ask them to do them a favor and accept a package, since they are not able to be home on time to accept it themselves. This way, people are even more likely to accept the package.
In yet another scam, often referred to as the "compensation scam," scammers call customers and pretend to be employees of a delivery company. On the phone, they will tell that one of their carriers accidentally lost or damaged the ordered product and that they want to compensate for the loss. The only thing the victim has to do is to fill out an online "compensation form" for which personal information and bank information is required. With this information, the scammers can easily break into their victim's bank account.
In some cases, scammers ask customers to add a WeChat account so they can be compensated for their 'loss'. In the final step, they will require them to scan a QR-code, or click a link, and to transfer a small 'service' fee. Once they have transferred the fee, a virus will be installed on their phone, allowing the scammers to access their WeChat wallet.
Delivery companies advise their customers not to accept any package if they are not sure they have actually ordered it. With cash delivery packages, customers are advised to always check the package before sending the courier away.
About lost or damaged packages: delivery companies will never ask you to fill out a compensation form or share any personal or bank information. In case the delivery company loses or damages your order, the company you bought it from will then inform you and transfer the money back to your bank account.
#4 Catching Red Envelopes
Snatching 'red envelopes', qiǎng hóngbāo (抢红包) in Chinese, originated from China's long-standing tradition of giving red envelopes to children to celebrate the Chinese New Year.
However, as the tradition of giving red envelopes is transforming from offline to online, the new phenomenon of 'snatching red envelopes' has also become more ubiquitous.
Through WeChat, people can send red envelopes to a group of friends: the (few) people who are first in opening that envelope will then receive an amount of money. Companies often use this feature as a marketing tool.
Scammers also make use of this red envelope craze. The 'red envelop scam' starts with a message via one of one's WeChat contacts, reading something like: "I just discovered a group and the host of the group is going crazy! He keeps sending red envelopes! Add yourself to the group and snatch some envelopes." This message will often be followed by a message telling you that you will be rewarded money when you add more people to the group.
Within a few minutes, the group chat has added hundreds of people. As members increase, the group owner will encourage people to add more people to the group by keeping on sending red envelopes. In the meantime, the group owner will send out a message saying that the ones who already opened an envelope are registered. In case they do not add ten people to the group within 30 minutes they will be kicked out. As for those who add 20 people to the group within half an hour, they will be rewarded even more money.
This way, people will keep adding contacts to the group. And because it is not allowed to talk in the group, people are also not able to warn each other of its potential dangers, because, at this point, the red envelopes will actually change into QR codes – the group owner will post a message saying that his transactions surpassed the transactions limit of the day and that if people want to continue receiving money, they will have to scan the QR-code and pay the symbolic amount of one yuan ($0.14). If they do so, they are promised to be rewarded with a high amount of money.
Once these people pay the one yuan, they have been scammed: through the QR code, the scammers have installed a virus into their WeChat, allowing them to empty their WeChat wallet. There are many versions to this kind of "red envelope" and "free money" scams. To avoid being scammed, it is best to remember that there is no such thing as getting money for nothing – there's always a price to be paid.
#5 Winning Lottery-Ticket Scam
For the "winning lottery ticket scam," scammers play with people's minds. And no matter how simple this trick may seem, it is a worldwide phenomenon.
The scam starts with the victim finding a lottery ticket that has intentionally been placed somewhere. Since the owner of the lottery ticket is nowhere to be found, most people finding the ticket then call the number registered on the ticket to find out whether or not the ticket won a price. And, of course, they are told that the found ticket is indeed a 'prize-winning' ticket.
Because people, at this point, are so excited about their unexpected 'luck', they often no longer keep their mind straight. The scammer on the phone will inform the lucky finder that they only need to pay a handling fee before they can receive their prize money.
In some cases, the scammers even convince the victim to pay an income tax before receiving the prize money. Once the lucky winner paid the handling fee or income tax [via WeChat or Alipay], the connection will be cut off, and of course, the victim will never get the prize.
#6 Found Wallet Scam
You are walking outside, and suddenly you find a wallet on the streets – the owner is already out of sight. As you stand still with the wallet in your hand, a stranger comes up to you accusing you of stealing money from that found wallet.
It is a scam that frequently occurs in China, and it is easy to imagine that someone who just found a wallet might feel awkward about the situation, especially when accused of trying to steal the money inside of the wallet.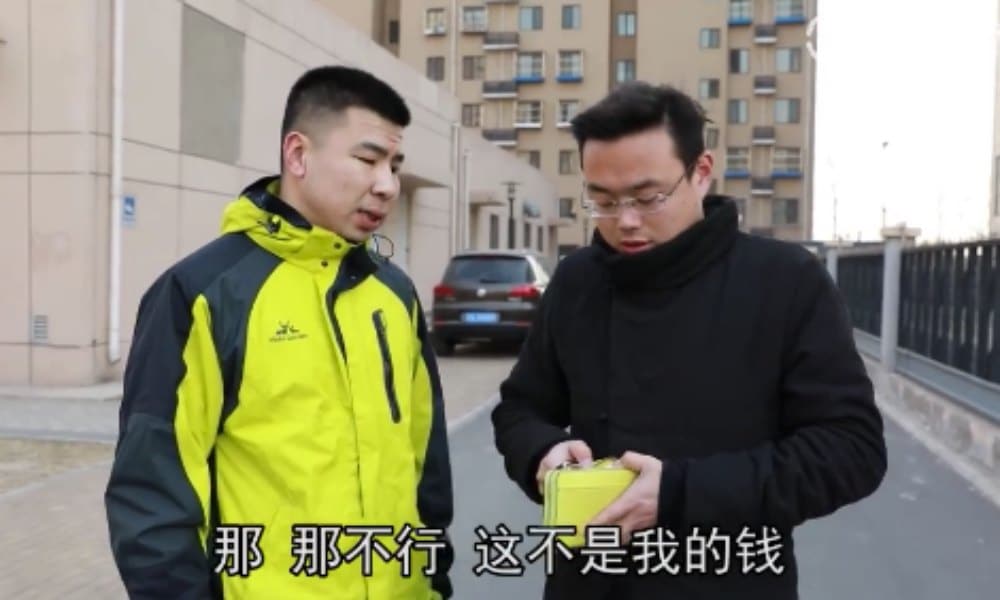 While explaining that they did not intend on trying to steal money, the stranger will intimidate the finder to give him some of the cash inside to settle the matter. Many people will do so in order to avoid a public scene.
But that is not the end of the scam, as the 'owner' of the wallet will then suddenly pop up, asking for his wallet, and discovering that some money inside is missing. The 'finder' will then compensate for that loss to get themselves out of the humiliating situation.
Obviously, the two men – the 'bad guy' demanding the money and the person who lost the wallet – work together in setting people up like this. Police advise people who find a wallet to turn it in at the closest police station.
Netease has reconstructed the scam on a video here.
#7 Fake Job Scam
One of the most common scams in China nowadays is the so-called "fake job scam." Scammers will place fake job ads, and meet responders outside a company office for their 'job interview.'
In most cases, the applicant is 'hired' immediately after the job interview. But before they can get to work, they first have to pass a medical test at a designated 'research center.' The victim is then told that he has to pay for the transportation and medical fees, and that the money will be reimbursed at the end of the first working month.
In many cases, victims also pay for service costs and forward a deposit for cards that allow them into the office, etc. When all these fees are paid, the 'company' can no longer be contacted and is suddenly untraceable.
To avoid people from getting tricked into these fake job scams, police advise to only reply to job ads with a registered phone number and official company address.
#8 Trap Loans: A Mountain of Loans
The problem of 'trap loans' has received much media attention in China over recent years. Earlier this year the story of one woman went viral; she borrowed 2,000 yuan ($292) and ended up with a 150,000 yuan ($21.872) debt two months later.
She is just of among many victims of China's "trap loans." In various other cases reported by the media, people end up in such huge debts and depression, that they take their own lives.
Scammers specifically target people who are temporarily short of cash. It often starts with an individual lender offering a quick loan, only for a few days, in the name of a small loaning company (小额贷款公司). Once the person tells the loaning company they need credit, a lender will come up with a contract that has blank spaces in them. The contract is often so long and complicated that people don't read it through carefully enough.
When the contract is signed, the loaning company will insert extra information into the blank spaces of the signed contract. They will, for example, change the time you are allowed to borrow money, the interest rate, or the name of the lender.
In the next phase, the loaning company will purposely make the borrower breach the contract by, for example, temporarily being out of service or unreachable, so that the borrower is not able to pay off his debts as recorded in the agreement. They will then face the sum of accumulated interest on the borrowed money, and fines for overdue payments.
Around this time, the lender will introduce the borrowers to another loaning company where they can take out more loans to pay off the debts of the first contract. This can go on for many years and many contracts. The borrower will not be able to repay the entire sum of borrowed money, so keeps on paying huge interest rates and fines for overdue payments.
There have been reports of trap loans in various forms such as campus loans, where students are tricked into 'easy money loans' by on-campus advertisements; or naked loans, where scammers demand people to send a (partly) nude picture of themselves holding their ID as collateral. Often this photo will later be used to blackmail a person.
Want to read more? Also check out our previous 'Top 10 Scams to Watch Out For in China'.
By Gabi Verberg
Follow @whatsonweibo
Spotted a mistake or want to add something? Please let us know in comments below or email us.
©2018 Whatsonweibo. All rights reserved. Do not reproduce our content without permission – you can contact us at info@whatsonweibo.com
Waves of Support for Huawei on Chinese Social Media following US Blacklisting
"My next phone will definitely be a Huawei."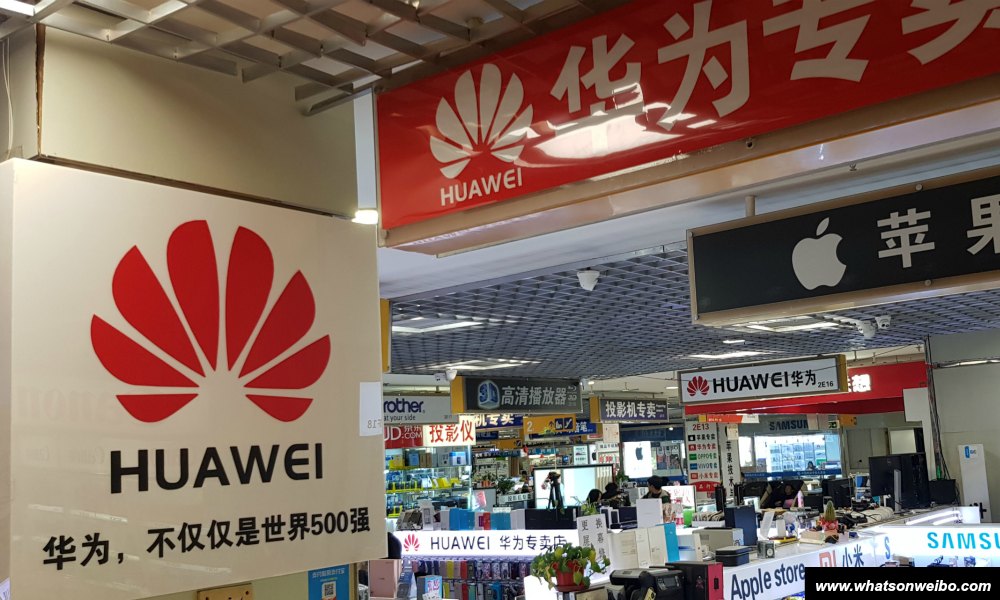 The US blacklisting of Huawei has left many Huawei owners across the world shocked and wondering if they will need to stop using their phone. In China, however, social media users are seemingly less worried, cheering on Huawei as China's 'national pride.'
Huawei smartphone users will allegedly receive no future updates from Android now that Google has suspended Huawei's access to its mobile Operating System, following orders issued by the US Trump administration, Reuters reported on Sunday.
The Chinese telecom giant was added to a trade blacklist earlier last week,as the China-US trade war reached another tipping point.
Huawei has been using Google's operating system for over a decade. Huawei debuted its first Android smartphone in February of 2009.
Besides being cut off from the world's best-selling operating system, some of the world's leading chip designers and suppliers are also ceasing their dealings with Huawei until further notice.
The news left many Huawei users outside of China worried and panicked. On Twitter, Huawei users have been asking what to do with their new Huawei device, with some saying they want to switch brands as soon as possible.
On Chinese social media, however, many people discussing this news are vowing not to abandon Huawei in light of the recent developments. "I've always used Huawei, and will never change," some said, with others even commenting: "I'm preparing to switch to a Huawei phone, I hope they can stand firm."
Huawei responded to the recent developments on May 20th, saying that Huawei does not need to depend on American suppliers for their chips, nor for their Operating System (OS). Huawei has reportedly been working on its in-house 'Hong Meng' OS since 2012.
They also promised to continue providing security updates and after-sale services for its smartphones and tablets, The Guardian reports.
Perhaps surprisingly, the majority of Chinese online responses to the issue are rather positive at the time of writing. The larger part of comments on Weibo are not necessarily anti-American, nor pessimistic about Huawei's future, but instead confident that Huawei will have no problems in overcoming the recent hurdles.
On Weibo, the hashtag "Huawei Doesn't Need to Rely on America for its Microchips" (#华为芯片可以不依赖美国供应链#) had over 19 million views by Monday night. The hashtag "Huawei's Self-Developed Operating System Hong Meng" (#华为自研操作系统鸿蒙#) also took off on Monday in response to the news that Huawei has been developing its own OS for years, in case it would no longer be able to depend on Google for the Android OS.
"What's been happening with Huawei recently teaches us an important lesson," one Weibo user (@叼着猫的小花鱼) wrote: "Sometimes, it's essential to have a plan B!" The Chinese idiom 'Jū ān sī wēi' (居安思危) is used by many, meaning "think of dangers in times of safety" or "be vigilant in peacetime." The second character of the idiom, ān 安, is also the first in the Chinese term for 'Android' (安卓).
Many netizens commented that they are looking forward to the Huawei OS, and predict that one potential consequence of the China-US trade war will be that all Chinese smartphones might eventually switch to a Chinese Operating System and use made-in-China chips and electronics.
On China's Douyin (Tiktok) platform, hundreds of people are sharing short videos of Huawei chief Ren Zhengfei (任正非) talking about Huawei as the world leader in 5G technology, with comment sections showing praise for the Huawei brand: "My next phone will definitely be a Huawei."
"We [Chinese] are becoming more and more confident," one of the 12,000+ comments on Douyin said.
Both on Weibo and Douyin, people express that Huawei is more than a brand to them, saying it is a "national pride." The slogan "Go China! Go Huawei!" ("加油中国 加油华为") is ubiquitous on social media.
"Some of my close friends are thinking of buying an iPhone, and I think it's shameful," one Douyin user wrote. "I will unconditionally support domestically produced products. Go Huawei!", others wrote on Weibo.
For now, Huawei users will still have access to the Android version on their existing devices and will still be able to download app updates provided by Google.
By Manya Koetse
Spotted a mistake or want to add something? Please let us know in comments below or email us.
©2019 Whatsonweibo. All rights reserved. Do not reproduce our content without permission – you can contact us at info@whatsonweibo.com
What Are Weibo's "Super Topics"?
Explaining Weibo's "Super Topics"
What are Weibo's "Super Topics" (超级话题) and what makes them different from normal hashtags?
Over the past year, Weibo's so-called "Super Topics" (超级话题) have become more popular on the social media platform as online spaces for people to connect and share information.
Weibo's "super topic" function has been around since 2016. The function allows Weibo users to create and join interest-based content community pages that are online groups separated from the main Weibo space. One could perhaps compare these Weibo Super Groups to 'mega-threads' or 'subreddits' on Reddit.
These are the most important things to know about Weibo's Super Topics:
#1 A Super Topic is Not the Same as a Hashtag
Similar to Twitter, hashtags make it possible for Weibo users to tag a topic they are addressing in their post so that their content pops up whenever other people search for that hashtag.
Different from Twitter, Weibo hashtags also have their own page where the hashtag is displayed on top, displaying how many people have viewed the hashtag, how many comments the hashtag is tagged in, and allowing users to share the hashtag page with others.
A Super Topic goes beyond the hashtag. It basically is a community account where all sort of information is shared and organized. People can 'follow' (关注) a Super Topic and can also 'sign in' (签到).
On the main page of every Super Topic page, the main subject or purpose of the super topic is briefly explained, and the number of views, followers, and posts are displayed.
A super topic-page can be created by any Weibo user and can have up to three major hosts, and ten sub-hosts. The main host(s) can decide which content will be featured as essential, they can place sticky notes, and post links to suggested topics.
#2 A Super Topic Is a Way to Organize Content
Super Topic pages allow hosts to organize relevant content in the way they want. Besides the comment area, the page consists of multiple tabs.
A tab right underneath the main featured information on the page, for example, shows the "sticky posts" (置顶帖) that the host(s) of the page have placed there, linking to relevant information or trending hashtag pages. Below the sticky notes, all the posts posted in the Super Topic community are displayed.
One of the most important tabs within the Super Topic page is called "essential content" (精花), which only shows the content that is manually selected by the host(s). This is often where opinion pieces, articles, official news, or photos, etc. are collected and separated from all the other posts.
Another tab is the "Hall of Fame" (名人堂), which mainly functions as a reference page. It features links to the personal Weibo pages of the super topic page host(s), links to the Weibo pages of top contributors, and shows a list of the biggest fans of the Super Topic. Who the biggest fan of the page is, is decided by the number of consecutive days a person has "checked-in" on the page.
#3 Super Topics Are a Place for Fans to Gather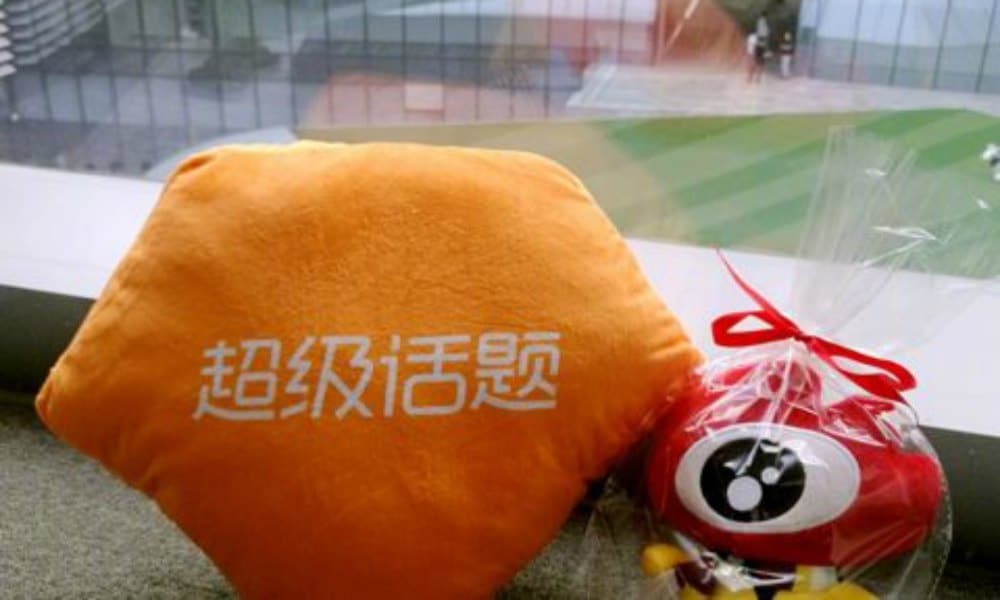 Although a Super Topic could basically be about anything, from cities to products or hobbies, Super Topics are often created for Chinese celebrities, video games, football clubs, or TV dramas.
Through Super Topic pages, a sense of community can be created. People can be ranked for being the most contributive or for checking in daily, and comment on each other's posts, making it a home base for many fan clubs across China.
The host(s) can also help somebody's page (e.g. a celebrity account) grow by proposing them to others within the group.
Super Groups are ranked on Weibo based on their popularity. This also gives fans more reason to stay active in the group, making their Super Topic top ranking within their specific category (TV drama, food, photography, sports, games, etc).
What makes the Super Topic group more 'private' than the common Weibo area, is that people posting within the Super Topic can decide whether or not they also want their comment shared on their own Weibo page or not. If they choose not to, their comments or posts will only be visible within the Super Topic community.
By Manya Koetse & Gabi Verberg, with contributions from Boyu Xiao
Spotted a mistake or want to add something? Please let us know in comments below or email us.
©2019 Whatsonweibo. All rights reserved. Do not reproduce our content without permission – you can contact us at info@whatsonweibo.com