15 Chinese Ad Campaigns That Make Abortion Procedures Look Glamorous
With pink flowers and dreamlike imageries, these prevalent advertisements promise Chinese women a fast and 'glamorous' abortion.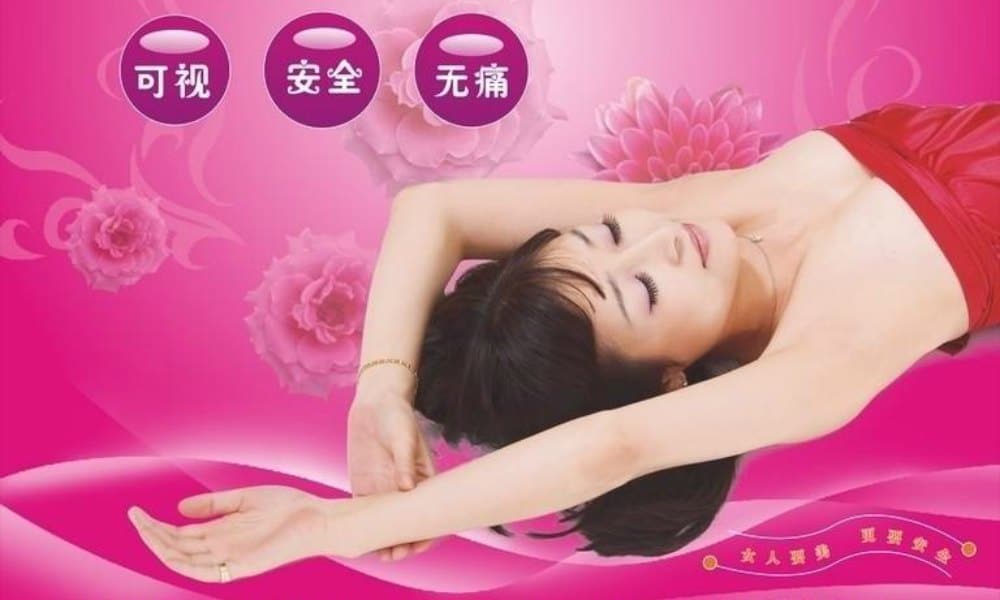 From bus stops to magazines, advertisements of clinics promising women a 'fast' and 'painless' abortion are commonplace in China, sending out the message that terminating a pregnancy is as easy as getting your nails done.
When it is rush hour in Beijing, street marketers often pass out flyers to people around busy subway stations. Most of the time, these pamphlets promote a new neighborhood restaurant or an upcoming real estate project.
Often, however, they promote abortion procedures at a local clinic. The pink and shiny ad campaigns advertise their abortion procedures in similar ways as beauty parlors or nail salons would market their services – a phenomenon which would be unimaginable in many western countries.
China's "Abortion Culture"
The legal and moral obstacles to abortion that are ubiquitous in the US or elsewhere are much less pervasive in China, a country that has one of the highest abortion rates in the world. According to the National Health and Family Planning Commission, approximately 13 million abortions are carried out in China every year (Yang 2015).
The actual number, however, is probably much higher. The official figures do not include the abortion statistics from private clinics, nor the estimated 10 million induced abortions per year through medicine (Xinhua 2014), let alone the numbers of sex-selective abortions– a practice that has officially been illegal since 2004.
There are various reasons why China's abortion rates are so high. In "Women's Health and Abortion Culture in China: Policy, Perception, and Practice," author Naomi Bouchard describes how the "visible abortion culture" in China today is an (indirect) consequence of the 1979 Family Planning Policy (better known as the One-Child Policy), family pressure, traditional values, and insufficient sexual education (2014, 2).
Especially the last dimension leads to unplanned pregnancies, notably in young women. According to official data, 4% of China's unmarried female teenagers experience an unplanned pregnancy, with 90% of them ending in abortion (Pan 2013). According to a doctor quoted in Bouchard's study, it is both lack of knowledge as well as embarrassment about buying condoms or other contraceptives that contributes to unplanned pregnancies in young women (2014, 17).
Thriving Abortion Industry
Besides the social factors that play an important role in China's "abortion culture," there is also the legal aspect that makes abortion procedures relatively common in the PRC. Unlike many other countries, China allows abortion for any reason (Theodorou & Sandstrom 2015).
The upper limit for legal abortions depends on circumstances. According to Hemmenki et al (2005), China's 1979 abortion law sets 28 weeks of gestation as the upper limit for pregnancy termination, although some provinces "have made their own laws stipulating the place and performer of the abortion." Other literature suggests that there is no limit fixed by statue (Jackson 2013, 423), and that abortions can take place up to the ninth month if the pregnancy is affected by severe anomalies (Deng et al 2015, 312).
All the aforementioned components have led to the existence of a thriving medical industry focused on abortion procedures in China, which comes with a strong commercial marketing of these procedures – advertised anywhere from bus stops to magazines and through flyers.
Scroll through the slider below (move arrows below) to see a selection of 15 advertisements for abortion procedures. The majority of these ads use the color pink and show young women either by themselves or with their partner. Besides addressing the women, their slogans also often speak to their partners ("If you love her, give her the best").
This ad by Jinzhong Friendship Hospital offers the service of "Korea JRS's dream abortions," persuading people to choose for their services with the underline: "You love her, give her the best." The main slogan says: "Bye bye pain, hello happiness."
Another Didi Murder Shocks China: 20-Year-Old Woman Raped and Killed by Driver on Her Way to a Birthday Party
Xiao Zhao is the second woman in China to have been killed by her Didi driver this year, raising concerns among Chinese regarding the safety of the car-hailing app.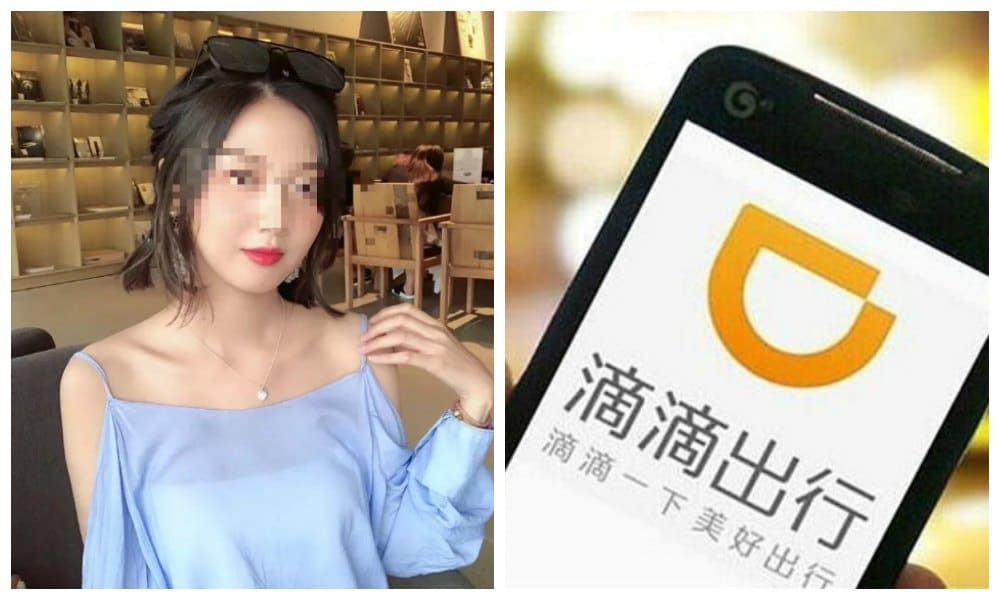 The 20-year-old Xiao Zhao, who went missing after she arranged a ride through Didi, China's popular Uber-like car-hailing app, has been found raped and murdered. Police have since arrested the suspect, the 27-year-old driver.
A 20-year-old woman from Wenzhou, Zhejiang, went missing on August 24 after taking a Didi taxi from Yueqing (乐清) to Yongjia (永嘉) county at one o'clock in the afternoon to attend a birthday party.
Her parents contacted the police when they could not reach their daughter Xiao Zhao after 14:00, which is when she had sent a message to a friend that she was in trouble.
Although her friend (@Super_4ong) immediately tried to contact Didi after Xiao Zhao had cried out for help, she was allegedly told to wait and no immediate action was taken.
Hours later, in the early morning on Saturday, August 25, police arrested the suspect responsible for the woman's disappearance, the 27-year-old driver from Sichuan.
Yueqing authorities reported that the body of Xiao Zhao was discovered in a mountainous area nearby, after the driver told police he had killed her and had thrown her body off a cliff. Local police report on their official Weibo account that the driver had also admitted to raping the woman.
It now appears that the driver had been reported by another female passenger earlier this week for indecent behavior. She came forward through WeChat today, claiming the same driver had harassed her around the same place where the murder took place. She was able to get away, and says she later contacted Didi to have his license removed but that Didi had not taken action yet.
Didi Chuxing (滴滴顺风车) is China's biggest ride-sharing company. Like Uber, it allows customers to arrange a taxi via the app or Wechat programme. Didi has around 450 million users in more than 400 cities across China.
The case is seemingly similar to another shocking Didi murder that occurred earlier this year. In May of this year, the murder of a 21-year-old flight attendant raised concerns among Chinese regarding the safety of car-hailing app Didi.
The 21-year-old Lucky Air flight attendant Li Mingzhu (李明珠) was killed in the early morning of May 6th after she had arranged a ride through Didi, and was on her way home from Zhengzhou Airport in Henan province. A friend of Li had received messages from her while she was on her way home, saying that her driver was "acting strange" and was telling her that he was "tempted to kiss her."
Unable to contact their daughter later that day, Li's family reported her missing on the afternoon of May 7. Her body was discovered by local police the following day. Police confirmed that the woman was killed by the driver with a weapon. The body of the driver was later retrieved from a river nearby.
At the time, Didi Chuxing issued an apology for Li's death, and said they had "incumbent responsibility." They also promised to improve their safety measures for passengers, but apparently have not succeeded in doing so; before yesterday's brutal killing, at least ten other Didi incidents also occurred since May, including the rape of a young female passenger on May 15 in Nantong (Jiangsu), the rape of an intoxicated woman in Foshan (Guangdong) who took a Didi taxi after going for a night out on May 13, and the sexual assault of another woman in Huai'an (Jiangsu).
Today, the company again issued a statement on Chinese social media, in which they said they were "filled with grief" over Friday's violent crime, and that they are deeply sorry: "We fell short of your expectations," they wrote. The statement received over 200,000 comments today.
The Didi murder is a major topic of discussion on Chinese social media today, with the hashtag "Wenzhou woman murdered when taking Didi" (#温州女孩乘滴滴遇害#) having been viewed more than 16 million times on Weibo at time of writing. Another similar hashtag (#女孩乘滴滴顺风车遇害#) was viewed more than 430 million times. Five of the top 10 'hot search' list topics relate to the murder.
One commenter (@Babylily杨杨莉莉) wrote: "As someone of the same age as she was, and me using Didi all the time, I'm just happy nothing has happened to me before. But I hope Didi can undertake action so that all women can safely use their services."
"I'm too afraid to ride with Didi now," others said. Amid safety concerns, some netizens now say they want Didi to incorporate an alarm button into its app, so that users can send for help immediately the moment they are being harrassed by their driver.
Others encourage women to quickly change settings in their app to allow the option to automatically share one's ride with friends, so they can exactly follow the location of the car.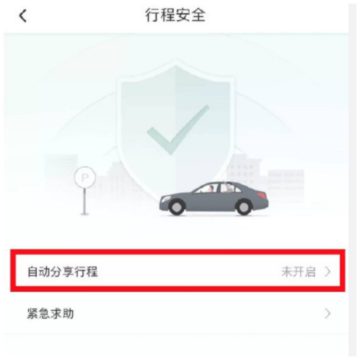 There are also many people who simply do not want to use Didi's services anymore; they are posting screenshots of them deleting the Didi app from their phones.
UPDATE: More details emerge.
By Manya Koetse, and Miranda Barnes
Follow @whatsonweibo
Spotted a mistake or want to add something? Please let us know in comments below or email us.
©2018 Whatsonweibo. All rights reserved. Do not reproduce our content without permission – you can contact us at info@whatsonweibo.com.
Remarkable Rebranding: Employees Confused and Angry about "58 Transport" Name Change to "Fast Dog Drivers"
Some workers at Fast Dog would've rather seen a cat in their company's remarkable rebranding campaign.
During the dog days of summer, Chinese transport company '58 Suyun' has made a remarkable move: they've rebranded under the name 'Fast Dog Drivers' (快狗打车). But since 'dog' is a derogatory term in Chinese that can mean 'damned' or 'bastard,' employees are reluctant to drive around with the new sign that marks them as 'damned drivers.'
Chinese logistics and delivery company "58 Transport" (58 Suyun/58速运) recently changed its name to "Fast Dog Drivers" or "Fast Dog Pickup [Service]" (loose translation of Kuài gǒu dǎchē 快狗打车), but workers are not happy about the name change.
A Chinese media news report (video) shows how workers in Zhengzhou have gathered at the office to express their anger about the name change. (Video also on Youtube here).
Many drivers feel the name has a double meaning, implying that either the drivers themselves are 'dogs' or that the people they serve are 'dogs,' or that they are actually picking up dogs.
'Dog' in Chinese (狗 gŏu) can be used as an insult, meaning 'damned' or 'cursed.' The words gǒudàn (狗蛋, lit. 'dog egg') or gǒuzǎizi (狗崽子, lit. 'dog bastard'), for example, can be translated as 'loser' or 'son of a b*tch.'
But 'dog' also pops up in many other vulgar or derogatory terms. Gǒupì (狗屁, lit. 'dog fart') meaning 'bullsh*t' and gǒurì (狗日) meaning 'lousy.'
Many Chinese (negative) idioms also use the word 'dog.' Gǒu yǎn kàn rén dī (狗眼看人低, lit. 'dog-eye-look-people-down')means 'to act like a snob.' Or gòu gǎi bù liǎo chī shǐ (狗改不了吃屎), literally 'a dog can't stop himself from eating shit,' meaning 'bad habits are hard to change.'
Some employees at the "Fast Dog Drivers" are afraid their new name might get in trouble, and refuse to have the new name sign on their minivans, asking: "Why can't the main company just change its name, and let us carry the old name on our vans?"
Some drivers have even put up signs on their van, saying: "We are respectful! We are no 'dogs'!"
One employee speaking to reporters (video) said: "If I call up a customer, am I supposed to say, 'Hello, this is 'Fast Dog' ['fast bastard'] speaking? I can't say that! I'd be scolding myself and the company!"
The employee further tells reporters: "Our company told us that JD.com also has a dog in its logo, yeah, but their name is still JD.com!" He says: "Just look at Tmall [e-commerce site 天猫 lit. 'day cat'], they have a 'cat' [in their name] and that's not insulting. Nobody uses 'cat' as a bad word, now do they, telling someone they're a 'cat' doesn't do anything, now does it?"
On Weibo, news about the name change is also causing some surprise: "Is this for real?", some say: "This name is so undignified!"
The name change surely is for real; '58 Transport' has also changed its Weibo account to 'Fast Dog Drivers' (@快狗打车官方微博). But the name introduction on its Weibo page has also attracted some dozen reactions saying: "Are your drivers 'dogs' ['damned']?"
Some people, however, mention the fact that one of China's biggest search engines also has a 'dog' in it: Sougou (搜狗) literally means 'searching dog.'
'58 Transport' or 'Fast Dog Drivers' is a company that operates in more than 25 major cities across China. It offers services in picking up goods, moving services, and other transport services, and especially stresses the speed of delivery and quality customer services as its main company strengths.
For now, according to reports, the workers in Zhengzhou do not need to put the new name on their minivans – if they do not have them yet – until the headquarters release instructions about the future marketing strategy of the 'Fast Dog' company.
By Manya Koetse
Follow @whatsonweibo
Spotted a mistake or want to add something? Please let us know in comments below or email us.
©2018 Whatsonweibo. All rights reserved. Do not reproduce our content without permission – you can contact us at info@whatsonweibo.com.