American Randy's Illegal Changzhou Food Booth Sparks Discussion over "Double Standards for Foreigners"
Some accuse city authorities of double standards for allowing Randy to run his hamburger stall.
When Chinese local authorities reacted leniently to the improvised breakfast food stall of 'grandpa' Randy in Changzhou, debates erupted on Weibo about double standards for foreigners in China.
A hot topic that has been included among Weibo's top posts this week involves the American 'Randy', nicknamed 'grandpa,' who has set up an improvised and unlicensed breakfast food stall in the city of Changzou, Jiangsu province.
The post was shared by popular Weibo account Meishi Shijie (@美食视界, 'Food Horizons'), which has 2.25 million followers. Within 72 hours, the post was liked more than 8000 times, shared over a 1000 times and received 2600 comments.
The topic was also widely discussed elsewhere on Weibo.
The post said:
"American grandpa Randy recently opened a breakfast stall on a street in Changzhou, Jiangsu, selling hamburgers, hot-dogs, and mineral water. Because the food is so delicious and the stall so hygienic, his business has become very popular. This has come to the attention of city law enforcement, but they've not bothered him at all. In fact, they simply shook hands with him as they talked about matters regarding his license."
According to People's Daily, Randy is a 62-year-old American who has been living in Changzhou for seven years. He reportedly received permission from the local market to set up his stall there. He sells his hamburgers for 15 RMB (±$2).
The apparent lenient reaction of the city authorities towards Randy's illicit food stall did not go down too well with some Chinese netizens. Many expressed that they felt the treatment was unfair, arguing that the leniency shown was based on the fact that the man is a white foreigner.
"What if the old man was Chinese? Surely the outcome would be different …" read the most popular comment, which was liked 4500 times.
"Wouldn't they (the authorities) have confiscated the stall if he were Chinese?", others wondered.
Many cities across China have seen crackdowns on unlicensed food stalls over the past year.
In the city center of Beijing, for example, many street food stalls have disappeared over the last years due to "civilized Beijing" campaign; street food is often seen as an indication of underdevelopment, but pollution caused by street barbecues and food safety issues are also said to be reasons for crackdowns.
Double standard for foreigners?
In the case of Randy, some netizens point out that had the street vendor been Chinese, authorities may have even resorted to violence to close down the food stall.
Confrontations between local officers and street vendors have turned into physical altercations before.
One popular comment, with more than 2000 likes, read: "Foreigners are
'friendly', but you wouldn't hesitate to hit your own people.."
It is not the first time Chinese netizens complain about state authorities putting foreigners' rights ahead of their own. Earlier this year, a video that showed the differences in dorms across China between foreign students and Chinese went viral. Many Chinese netizens felt outraged that the living conditions for foreigners were better than those of Chinese students.
In this case, there were also those netizens who came to the defense of the city authorities, saying they are generally good people and had been lenient with the American 'grandpa' because of their good will.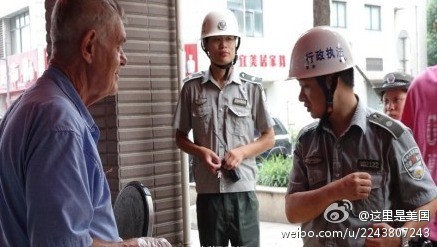 "Our city authorities here in Changzhou can be very helpful to the street merchants. Once, I saw with my own eyes as they helped some merchants move their watermelons back into their houses … do all people really think that they are monsters?," said one commenter, gathering over 1700 likes.
"There are many examples of local officers helping old grandpas and grandmas sell their vegetables. But you wouldn't mention those, would you? To put it bluntly, you are being narrow-minded. How sad."
But there are also those commenters who apparently only have one thing in mind: Randy's hamburgers. They write: "I just want to go to Grandpa's food stall.."
If they're lucky, they'll have a chance to taste Randy's hamburgers soon; according to business media account @Avirex, Randy has now started to apply for an official license to run his hamburger stall, and is planning to open up his own fast food shop in the near future.
Note: It has come to our attention that Randy's food stall generated media attention in 2014. The state media article referred to in this article also is from 2014. Nevertheless, this topic (again) became trending this week, along with the aforementioned discussions. All comments quoted in this article are from this week. If you have any updates as to how Randy is doing now and if he in fact has started up his restaurant, we'd like to know for a follow-up!
By Luka de Boni
Follow @whatsonweibo
This article has been edited and modified for clarity
Spotted a mistake or want to add something? Please let us know in comments below or email us.
©2018 Whatsonweibo. All rights reserved. Do not reproduce our content without permission – you can contact us at info@whatsonweibo.com.
Tsingtao Brewery 'Pee-Gate': Factory Worker Caught Urinating in Raw Material Warehouse
The pee incident, that occurred at a subsidiary Tsingtao Beer factory, has caused concerns among consumers.
A video that has circulated on Chinese social media since October 19 shows how an alleged worker at a Tsingtao Beer factory climbs over a wall at the raw material production site and starts to urinate.
The incident reportedly occurred at the Tsingtao Beer Factory No. 3, a subsidiary of the Tsingtao Brewing Company, located in Qingdao, Shandong.
This is the viral video showing how an alleged worker at the Tsingtao Beer Factory 3 climbs over a wall at the raw material production site and starts to urinate. Many people think it's an undercover operation by a rivaling company: one person peed, another leaked the video? 🍻🤢 pic.twitter.com/eJcYljo2aQ

— Manya Koetse (@manyapan) October 21, 2023
After the video went viral, the Tsingtao Brewery Company issued a statement that they took the incident very seriously and immediately report it to the authorities, who have started an investigation into the case. Meanwhile, the specific batch in production has been halted and shut off.
The incident has caused concern among consumers, and some commenters on social media wonder if this was the first time something like this has happened. "How do we know this hasn't happened many times before?"
Others speculate about what might have motivated the man to urinate at the production site. There are those who believe that the man is part of an undercover operation orchestrated by a rivaling company, aimed at discrediting Tsingtao. It's even suggested that there were two 'moles' leaking in this incident: one doing the urinating, and the other doing the video 'leak.'
Meanwhile, there are voices who are critical of Tsingtao, suggesting that the renowned beer brand has not effectively addressed the 'pee gate' scandal. It remains uncertain how this incident will impact the brand, but some netizens are already expressing reservations about ordering a Tsingtao beer as a result.
But there are also those who joke about the "pissing incident," wondering if Tsingtao Beer might soon launch a special "urine flavored beer."
By Manya Koetse
Get the story behind the hashtag. Subscribe to What's on Weibo here to receive our newsletter and get access to our latest articles:
Featured photo by Jay Ang (link).
Spotted a mistake or want to add something? Please let us know in comments below or email us. First-time commenters, please be patient – we will have to manually approve your comment before it appears.
©2023 Whatsonweibo. All rights reserved. Do not reproduce our content without permission – you can contact us at info@whatsonweibo.com.
From Baijiu Latte to DIY Liquor Coffee: China's Coffee Culture Takes a Shot at Coffee + Alcohol Fusion
The recent buzz surrounding the Luckin x Maotai collaboration shows that blending coffee + alcohol might just become the next major trend in Chinese coffee culture.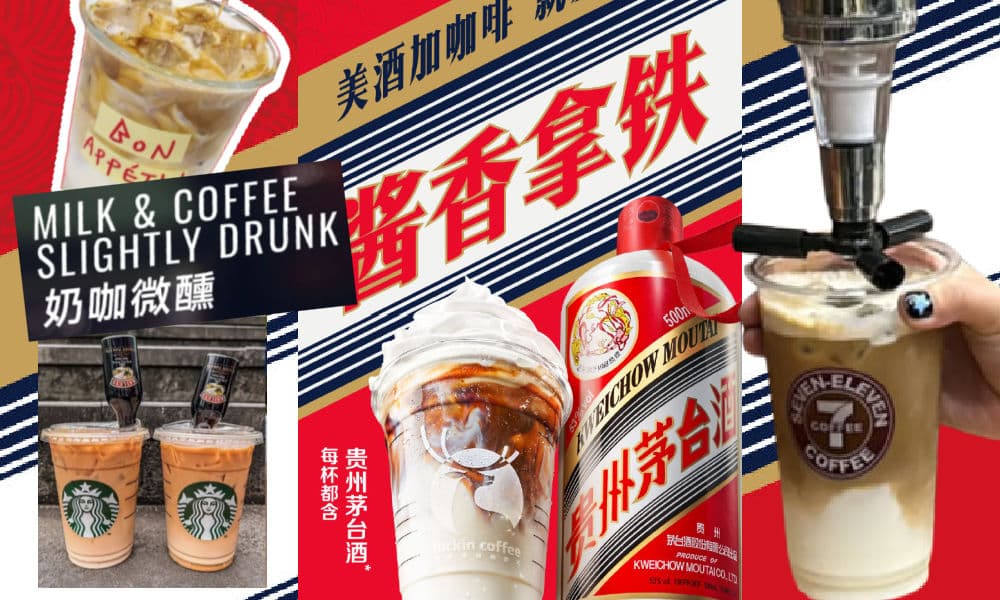 PREMIUM CONTENT
China's coffee culture is brewing up something new as it embraces the fusion of coffee and alcohol. This blossoming trend, currently a hot topic online thanks to the Luckin x Maotai collaboration, is sparking curiosity and discussions about its lasting impact on coffee culture in China.
Would you like a shot with that? Recently, a trend involving the fusion of alcohol and coffee seems to be taking off in China, blending established liquor brands with popular domestic coffee labels.
The concept of mixing alcohol with coffee is relatively new in China, where classics like Irish Coffee never achieved the same recognition as they did in Western countries.
But also, the way in which 'coffee + alcohol' is introduced to consumers is different, with brands such as 7-Eleven and Luckin promoting their 'coffee + liquor shot' or 'alcohol lattes.'
As a tea drinking nation, coffee culture is not part of Chinese traditional culture. However, over the past decade, China has witnessed the remarkable growth of a distinct and immensely popular Chinese coffee culture. In this evolving landscape, companies and consumers are continuously finding innovative ways to incorporate coffee into daily city life.
Coffee in China is typically an out-of-home purchase, particularly favored by the middle class (Ferreira & Ferreira 2018, 785). It has become intrinsically linked with modern urban life in China, taking on new cultural meanings related to status, lifestyle, aesthetics, urban communities, and the acquisition of new tastes. Millennials and Gen Z are at the forefront of shaping China's coffee culture.
The pursuit of unique flavors is a defining aspect of China's coffee culture, with a strong emphasis on specialty coffee. In fact, Shanghai alone boasts over 7,000 independent coffee houses, surpassing coffee hubs like London or New York (Xu & Ng 2022, 2349). Chinese coffee shops are known for introducing innovative concepts such as fruit-infused coffee, spicy chili coffee, garlic coffee, and liquor-flavored coffees.
Rather than introducing coffee into China's drinking culture, alcohol is now being integrated into China's coffee culture, providing consumers with yet another way to enjoy their coffee and explore new flavor experiences.

7-Eleven Blending Coffee with Alcohol

At various 7-Eleven convenience stores in China, you can now purchase a shot of alcohol to go with your coffee. For just 5 yuan ($0.70), customers can add a shot of their preferred liquor, such as Havana or Malibu, to their take-away coffee. It's also possible to add it to your soda.
While we first noticed this option at a Beijing 7-eleven somewhere during the summer of 2023, Radii and Phoenix News reported that the first DYI counter was piloted at a Beijing store in October of 2022.
The counter, that specifically promotes the coffee + alcohol combo, is meant to serve customers who would previously purchase their coffee and then separately buy a full-priced mini bottle of liquor for anywhere in between 20-40 yuan ($2.75-$5.50) for 50ml.
In late 2022, 7-Eleven in Taiwan also promoted the liquor + coffee combo as it exclusively offered the Hennessy cognac x City Prima coffee "Liquor Latte Set."

Luckin x Maotai Collab: Introducing Baijiu Latte

While the trend of adding alcohol to coffee seems to be taking off in China, Luckin coffee became all the talk on Chinese social media this week for its collaboration with Maotai (茅台), also known as Moutai, a renowned Chinese brand of baijiu – a type of strong distilled liquor.
Luckin launched the drink on Monday for 38 yuan ($5.20) under the name "酱香拿铁" (jiàng xiāng ná tiě) or "Sauce-Flavored Latte," soon selling out at various stores and becoming a trending topic online. The 'sauce' reference is because of the distinct flavor profile associated with Maotai, often described as having a soy sauce-like aroma ("酱香型").
The collaboration has become super popular for various reasons, one major one being the unexpected yet exciting combination of two such well-known Chinese brands coming together.
Luckin Coffee (瑞幸咖啡) was founded in Beijing in 2017, opened its first shops in early 2018, and it has seen incredible growth over the past five years. The brand's primary emphasis lies in providing top-notch coffee at accessible prices in convenient locations. Due to its ubiquity and dominant position in the market, it's sometimes also referred to as "China's Starbucks" ("中国星巴克").
Maotai, made in Maotai in Guizhou Province, prides itself for its 2000-year history and it became the first Chinese liquor to be produced in large-scale production. The strong luxury spirit (53%), known as China's national liquor, is especially popular among middle-aged and elderly men.
With Luckin being particular popular among China's younger generations, while Maotai is especially loved among the elder generations, one popular Weibo post about the recent collaboration said: "For young people, it's their first cup of Maotai, for the elderly, it's their first cup of Luckin."
It is also one of the reasons why the trend has become so big this week: many consumers are just curious to try this novel combination, although not everyone likes its special taste.
The blend of coffee with alcohol is really more about the flavor than the buzz; the baijiu-flavored Luckin coffee only has an alcohol content of about 0.5%. One Weibo hashtag related to the question of whether or not people should drive after consuming the drink amassed an astonishing 640 million views (#瑞幸回应喝茅台联名咖啡能否开车#). Despite the very low alcohol content, Luckin still advises that minors, pregnant women, and drivers should avoid consuming the beverage.
Some social media users add some extra Maotai to their coffee themselves, calling it the "Chinese version of Irish coffe" ("中国版的爱尔兰咖啡").

"Milk Tea for Grown-Ups"

Luckin is not the only Chinese coffee house offering a Maotai-flavored latte. Other Chinese coffee shops have independently introduced their own versions of Maotai coffee, without official partnerships.
In addition to company-driven innovations, consumers are also experimenting with their own coffee + liquor blends. On the social media platform Xiaohongshu, numerous users are enthusiastically sharing their personalized methods infusing coffee with Maotai and various other types of alcohol, including adding miniature bottles of Baileys to Starbucks takeaway coffee.
Others are going beyond the coffee trend, and mix their milk tea or fruit tea with Jameson, Kahlua, or other liquors, turning them into "grown-up milk tea" beverages (成年人的奶茶).
While such practices might receive disapproval in many countries, where daytime drinking and adding spirits to coffee could be seen as indicative of alcoholism and irresponsible behavior, in China, these actions generally lack these negative connotations. Many young people just view it as an innovative way to enjoy new tastes, describing it as "a new trendy way to drink coffee" (or tea).
Is the coffee + alcohol mix a temporary trend, or will it become a permanent part of China's out-of-home coffee culture? On social media, most people are curious to try it out but they are also not convinced the combination is one to stay.
"I don't really know the flavor of coffee + alcohol, but judging from their effects – alcohol makes me sleepy and coffee wakes me up – I'm afraid it would mix up my nerves, so I don't dare to try" one commenter (@无边桃炎) wrote.
"It's just the taste [of mixing coffee with alcohol] that's really good – apart from the Maotai Luckin one," one person responded.
They are not alone; numerous young Chinese internet users are speculating that the recent Luckin collaboration is Maotai's strategy to appeal to China's younger generations, who do not necessarily appreciate its distinct flavor. These younger demographics have moved away from the traditional drinking culture in which baijiu plays a significant role.
"It's just so unpleasant to drink," others write. "Is it alcohol or is it coffee?" another person wonders: "In the end, it's actually neither."
While Luckin's "Sauce-Flavored Latte" might not secure a permanent place on its menu, it's clear that the trend of adding alcohol to coffee has gained popularity among China's younger consumers. With 7-Eleven's DIY counter offering a variety of sweeter liquors for customers to blend with their coffee, it appears they've found the perfect "shot" in this coffee and liquor trend.
By Manya Koetse
with contributions by Miranda Barnes
References
Ferreira, Jennifer, and Carlos Ferreira. 2018. "Challenges and Opportunities of New Retail Horizons in Emerging Markets: The Case of a Rising Coffee Culture in China." Business Horizons 61, no. 5: 783-796.
Xu, Xinyue, and Aaron Yikai Ng. 2023. "Cultivation of New Taste: Taste Makers and New Forms of Distinction in China's Coffee Culture." Information, Communication & Society 26, no. 11: 2345-2362.
Get the story behind the hashtag. Subscribe to What's on Weibo here to receive our newsletter and get access to our latest articles:
Spotted a mistake or want to add something? Please let us know in comments below or email us. First-time commenters, please be patient – we will have to manually approve your comment before it appears.
©2023 Whatsonweibo. All rights reserved. Do not reproduce our content without permission – you can contact us at info@whatsonweibo.com.
Subscribe to our newsletter
Stay updated on what's trending in China & get the story behind the hashtag
Sign up here to become a premium member of What's on Weibo today and gain access to all of our latest and premium content, as well as receive our exclusive Weibo Watch newsletter. If you prefer to only receive our free newsletter with an overview of the latest articles, you can subscribe for free here.
Would you like to become a contributor, or do you have any tips or suggestions for us? Get in touch with us here.