Why Disney's Christopher Robin Is Not Released in China (And It's Not Just Because of Winnie)
Recently, many foreign media reported that Disney's 'Christopher Robin' (2018) will not be released in China due to an alleged "nationwide ban" on Winnie. But there is more to this than meets the eye.
Disney's latest film Christopher Robin will not be released in Chinese cinemas. Many English-language media claim it is for the fact that the movie's main star, Winnie the Pooh, is regarded too politically sensitive in the country. But these reports are clouded by misconceptions: Winnie is not banned in China, and it is common for Western films not to be released in the PRC. What's on Weibo explains.

With contributions from Luka de Boni

"Christopher Robin, denied Chinese release, is the latest victim in China's war on Winnie the Pooh," writes Vox. "China gives Winnie the Pooh the enemy-of-the-state treatment," says a recent New York Post headline.
Over the past days, the fact that Disney's new 2018 film Christopher Robin will not premiere in mainland China has made headlines in many English-language media, first reported by The Hollywood Reporter.
Most sources allege that the movie, inspired by A. A. Milne and E. H. Shepard's book Winnie-the-Pooh, will not be released in the country's theatres because "Chinese leader Xi Jinping is prickly about comparisons between him and the lovable cartoon character, who has become a symbol of the resistance there" (Vox).
BBC linked the film's absence from Chinese movie theatres to Winnie and the supposed "nationwide clampdown on references to the beloved children's character."
But to what extent are these allegations true? There seem to be some misconceptions in many media about the scope of censorship on Winnie, and the release of non-Chinese films in mainland China.
What's up with Winnie?
Over the past four years, Winnie the Pooh has, at times, been used as a political and satirical meme on Chinese social media, first becoming a target for China's online censors when netizens compared Barack Obama and Xi Jinping, who met at the California Summit, with Pooh and Tigger in 2013.
In September of 2015, an image of Pooh became trending again on the day of the military parade. During the Beijing Parade that commemorated the 70th anniversary of WWII, President Xi Jinping drove around in a car (image), inspecting the troops.
When someone watching the parade then posted an image of Pooh bear in a toy car on Weibo, it was shared 62.000 times in little over an hour. Online responses included: "As I watched [the parade], I told my mother and father the similarities [between Pooh and the President] were uncanny." The post was then soon deleted from Weibo.
The same happened in February of 2018, when images of Winnie the Pooh as a king emerged on Weibo after the end of China's two-term limit on presidency was announced.
Could've expected this, but still pretty creative. First images of "king Winnie" surfacing on Weibo in response to Xi's potential indefinite rule: https://t.co/u9kL5OYGwq #XiJinping #kingwinnie pic.twitter.com/Bb6Dmy46xH

— Manya Koetse (@manyapan) 25 februari 2018
Although the censorship of Pooh at these specific moments are reason enough to call the bear some sort of "symbol of defiance against censorship," it is not reason enough to assume the bear is at the epicenter of "a nationwide clampdown," as BBC suggested.
"Winnie the Pooh is not banned from China, neither online nor offline."
Winnie the Pooh is not banned from China, neither online nor offline. The bear is quite popular, just as in many other countries, and people walk around wearing Pooh t-shirts and accessories in Chinese cities every day.
A current search on Chinese search engine Baidu for 'Winnie the Pooh' ("小熊维尼") generates 8.5 million results. Taobao sells countless Winnie items on its e-commerce platform, and on social media site Weibo, thousands of Chinese netizens post photos of their Winnie-themed merchandise or favorite characters.
Disney's Christopher Robin is also discussed online; not just by netizens but also by state media.
The moments that Pooh was censored on Chinese social media in the past, were times that China's censorship machine was going at full-speed already. Any time that President Xi is taking part in an important meeting or event, whether it is a BRIC summit, military parade, or bilateral meeting, social media is more controlled than usual.
Because netizens were using the image of Pooh in a way that was meant to make fun of these high-profile political occasions and figures at particularly these times, they were censored. In other words: the Winnie images were censored along with many other things at particularly sensitive times for mocking a political event or figure.
Although it makes sense to say that Winnie the Pooh is perhaps more 'sensitive' than other cartoons (although Peppa Pig and Rage Comics had their share of censorship, too), it is questionable if this sensitivity is enough of a reason to ban Disney's new blockbuster Christopher Robin.
Chinese Summer: Not a Time for Western Films
But if not for the bear itself, what would be a reason not to release a promising Disney movie? China's strict foreign film import quota may play an important role.
Since the 1990s, China has a 'foreign film quota.' In the early years, this meant that just a small quote of foreign films were allowed to be imported into China, and in 2012, this was increased to 34 foreign movies per year. The amount of revenue that foreign producers can take from these movies is restricted to 25% (Latham 2007, 185; Ma 2017, 193).
Although Hollywood lobbyists have been negotiating with Chinese film authorities to allow more foreign films to be imported under revenue-sharing terms, there's been little progress for now – the ongoing looming trade-war has not benefited the situation.
Besides the longstanding cap on foreign films, China also has unofficial 'Hollywood black-out periods' in which Hollywood blockbusters are prevented to enter the market so as to boost sales of local productions, a phenomenon dubbed "Domestic Film Protection Month" (国产电影保护月).
The term was allegedly coined in 2004, when Chinese media reported about an order restricting screening foreign films between June 10 and July 10 each year. Although the measure was never officially admitted by government officials, this unspoken policy has been executed for the past 14 years (read more here). As a consequence, it is common for big American productions to not be released in China during the summer months, the period where cinemas make the most revenues. 
In 2011, for example, the Harry Potter blockbuster of the year was premiered in China five weeks later than it was in the rest of the world. Last summer, both Dunkirk and Spider-Man: Homecoming had their release dates delayed by several months, most probably to give the patriotic, local production Wolf-Warrior 2 a boost in sales. 
These black-out periods can also serve another purpose. According to CNBC, they can also be used to give Chinese film authorities additional bargaining power in their negotiations with US lobbyists. With these negotiations increasing in importance lately, as a result of deteriorating US-China trade relations, it might make sense that Chinese authorities would want to put themselves in the most favorable bargaining position.  
Each year, it is unclear when the 'black-out period' starts and ends. Generally, it can start as early as mid-June and finish as late as late-August.
Goodbye, Christopher Robin?
With many netizens and various state media (including China Global Television Network) posting about the release of Christopher Robin on Weibo and beyond, it is unlikely that political sensitivity over Winnie is the (only) reason why the film will not be shown in Chinese cinemas this summer.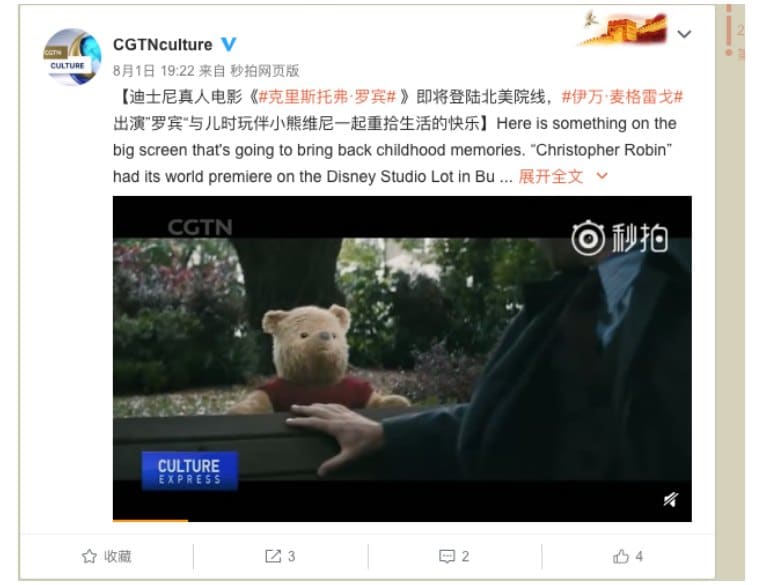 Whether or not the film will definitely not come out in China is also not clear. The process of translation and censorship checking for films can take a long time and will sometimes mean films come out much later in the PRC.
Even when not reaching the big screens, most Hollywood blockbusters will eventually be available for viewing on online channels such as Youku or iQiyi.
Goodbye Christopher Robin (2017), another movie focusing on the story of Winnie the Pooh, is available for viewing on iQiyi and other (paid) streaming sites in China.
Many netizens would welcome a delayed release of Christopher Robin in China. The movie's hashtag (#克里斯托弗·罗宾#) has already been viewed nearly three million times on Weibo.
While for many, the bear has no political connotations, there are also those who are still trying to post pictures of President Xi Jinping as Pooh – those will soon be deleted.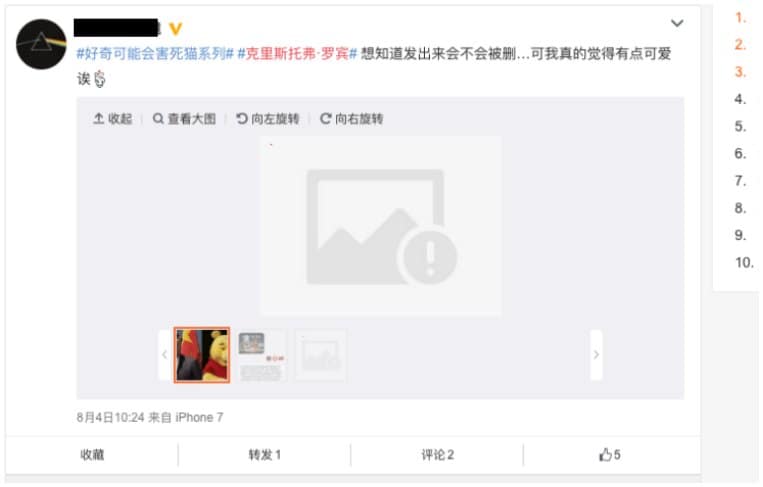 "I just wanted to see if it would be deleted," the Weibo user says: "But actually, I really do think he's cute."
For more on this, check out today's feature on BBC World Update (video by What's on Weibo).
By Manya Koetse, and Luka de Boni
Follow @whatsonweibo
References
Latham, Kevin. 2007. Pop Culture China! Media, Arts, and Lifestyle. Oxford: ABC Clio.
Ma, Winston. 2017. China's Mobile Economy: Opportunities in the Largest and Fastest Information Consumption Boom. Cornwall: Wiley.
Spotted a mistake or want to add something? Please let us know in comments below or email us.
©2018 Whatsonweibo. All rights reserved. Do not reproduce our content without permission – you can contact us at info@whatsonweibo.com.
Living the Dream: Chinese Architect Designs Stunning Six-Story Communal Living Space
This architect from Guangzhou turned her dream of living together with friends in a creative workspace into reality. The building is a hit on Chinese social media.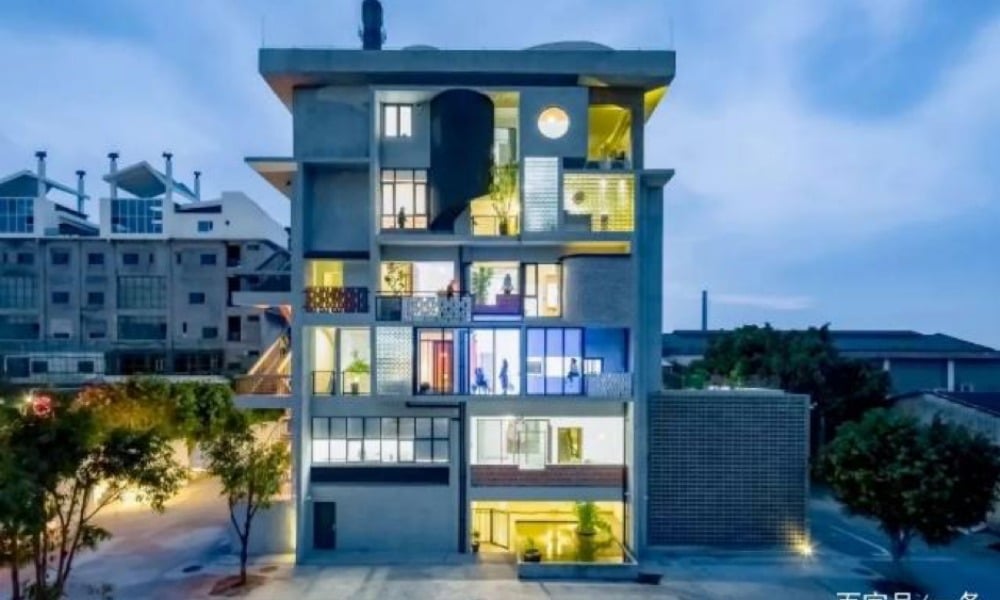 While living together with your best friends in one big house might be a dream of many people, this Chinese architect turned the idea into reality by transforming an old factory into a modern museum-like work- and living space. Through her work, the architect aims to change views on China's urban living spaces.
Guangzhou architect "Michelle" (米歇尔 or Mi Xiao 米笑) and most of her friends work in creative industries. A few years ago, they found that their work and lifestyle required a more flexible and multi-purpose living space; a place where they could live and work together as a small community while also showcasing what they do.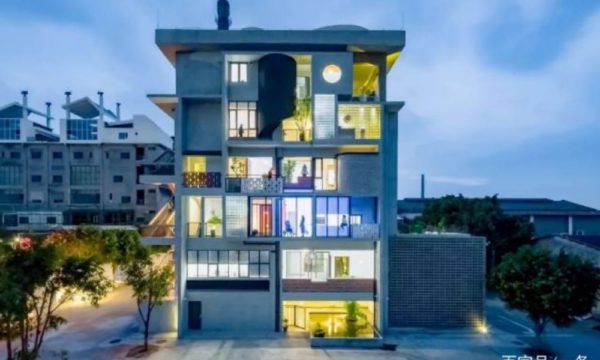 In 2012, the six friends found a workshop in an old abandoned sugar factory, built in the 1950s, located in Guangzhou's Panyu district. More than five years later, they had succeeded in transforming it into a modern six-story work- and living space.
A news story and a video of the building are now attracting major attention on Chinese social media. On Weibo, the hashtag "Six Friends Transform a Building" (#6个好友改造一栋楼#) has been viewed more than 250 million times.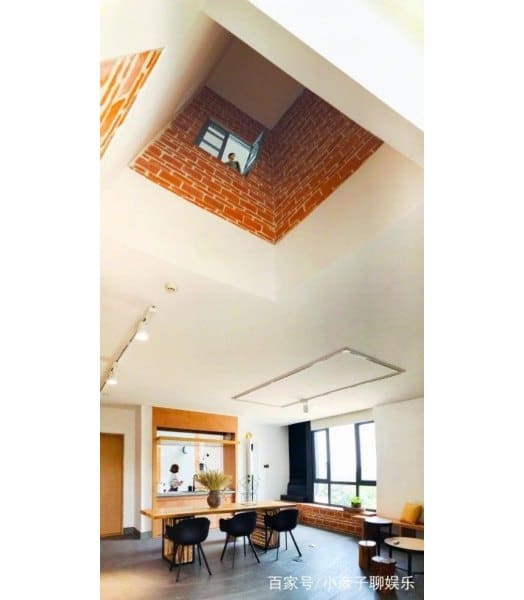 The communal living space, that has been named Boundless Community (无界社区), covers about 1500 square meter and has six completely separate rooms. Originally, the building was made up of only three stories, each with a ceiling height of six to nine meters high.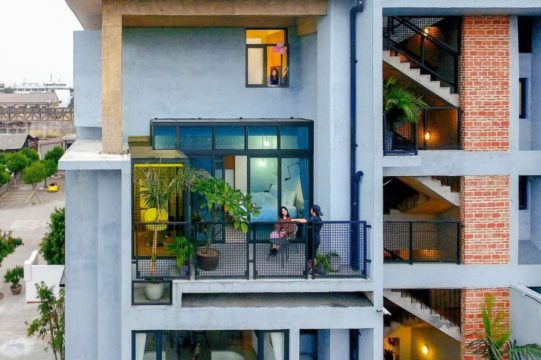 With the reconstruction of the building, the architect reportedly "wanted to break with the traditional urban types of dwellings," where many people live behind locked doors in small spaces. Michelle intended to design the space as a small "village," where people share their living space.
At the same time, the space also allows people to be creative and share their work with the outside world. All of these ideas resulted in a transparent "museum building."
The building itself is almost like a museum by allowing people from outside to look into the various studios.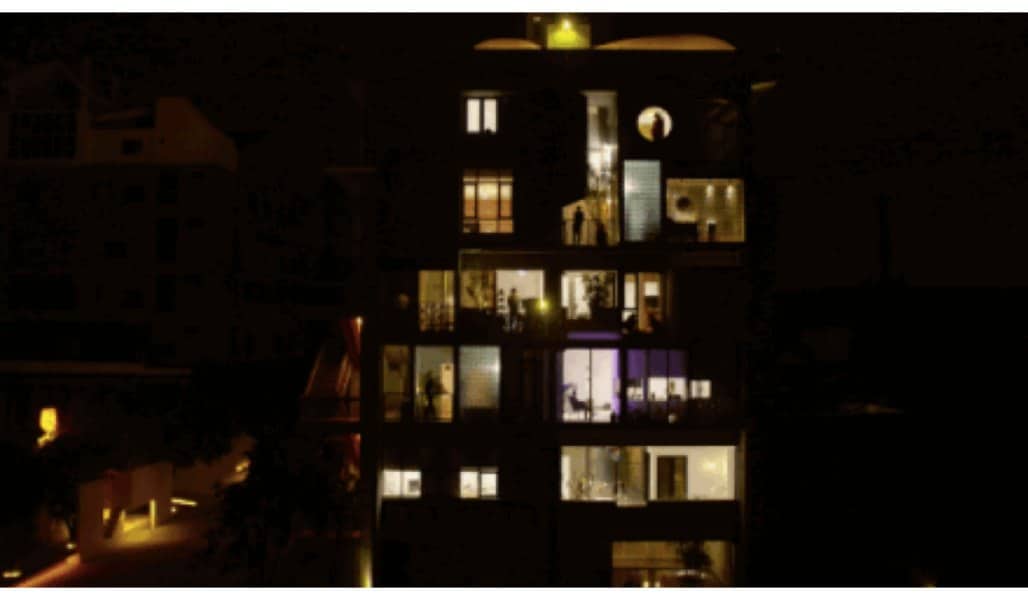 The popular architect is not the only one who is in favor of sharing a living space with her friends. A recent poll on Weibo shows that more than 90% of respondents would also like to live together with their friends; only 10% of the people prefer privacy over a communal living space with good friends.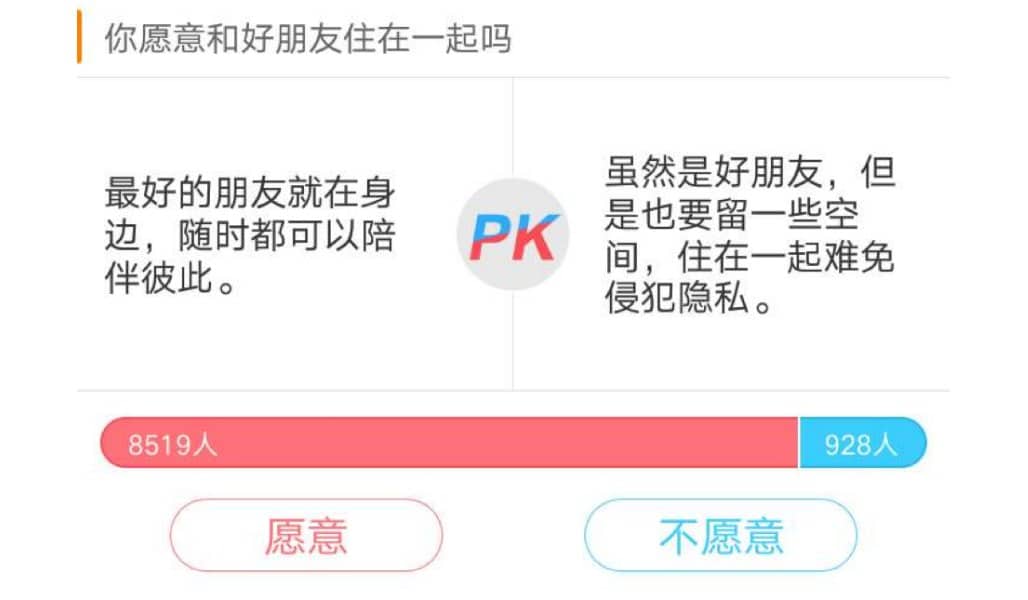 "This is my dream!", many commenters say, with others calling it "simply magical."
To read more about changing attitudes on home and living in China, also check out this article by What's on Weibo. 
By Gabi Verberg
Images via https://sjz.news.fang.com/open/31234746.html.
Spotted a mistake or want to add something? Please let us know in comments below or email us.
©2019 Whatsonweibo. All rights reserved. Do not reproduce our content without permission – you can contact us at info@whatsonweibo.com
When Ad Breaks Get Weird: Branded Content in Chinese TV Dramas Is Ruining It For the Viewers
China's ubiquitous inserted ad marketing is alienating viewers from their favorite TV drama characters.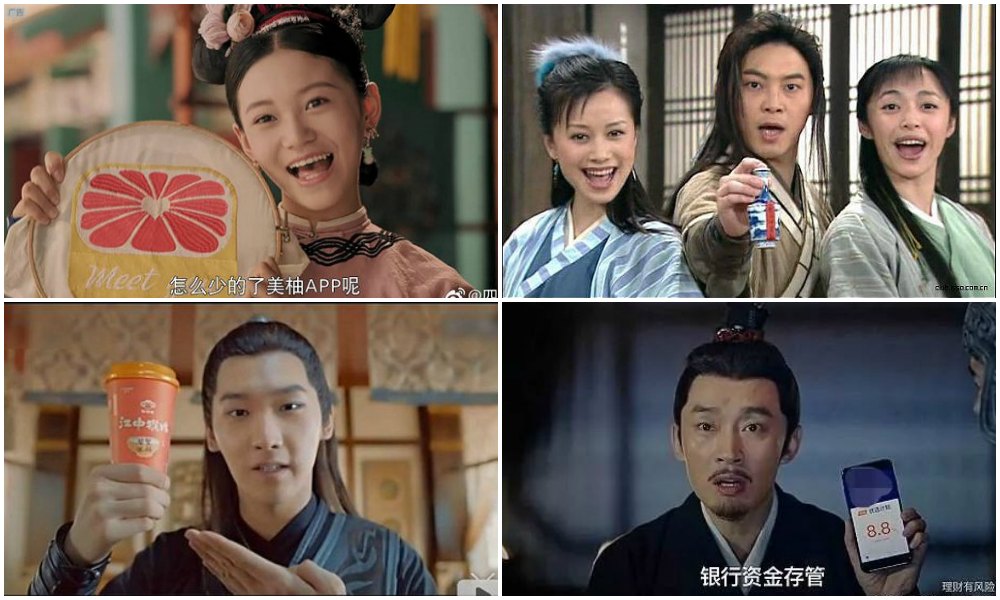 Ad breaks can be annoying, but when it's the main character of your favorite historical drama promoting the latest smartphone, it can actually ruin the viewer experience. In recent online discussions, China's ubiquitous 'Inserted Ad Marketing' (中插广告), that goes beyond product placement, is being attacked by netizens and media.
A 2017 Ad Age article on the high levels of branded content in China's online TV argues that Chinese viewers generally do not mind embedded marketing. They have allegedly become so used to to all kinds of branded distractions in TV shows, dramas, and films, that it is just "another part of the entertainment" (Doland 2017). But recent discussions on Chinese social media signal that the general sentiments regarding inserted sponsored content are changing.
On January 6, Chinese author Ma Boyong (@马伯庸, 4.5 million followers) posted an article on Weibo in which he criticized the phenomenon of inserted ad content in Chinese television series, saying the marketing style often does not suit the characters and is making the actors less credible.
Although Ma does not oppose to embedded marketing per se, he argues it hurts the credibility of TV dramas and the viewer's experience when it does not blend in with the style of the TV drama and its characters.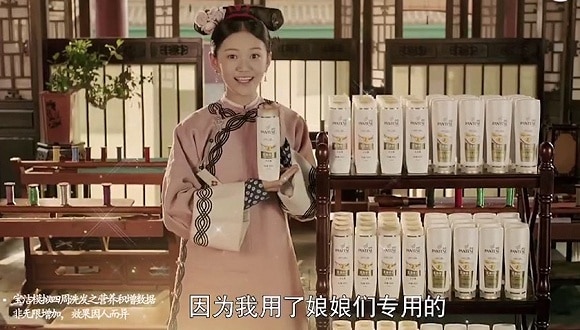 One of the TV dramas where the sponsored segments 'hurt' the show, according to Ma, is Mystery of Antiques (古董局中局, 2018) that is based on one of the author's novels. The actor Qiao Zhenyu (乔振宇), who plays the leading role, allegedly "looks like a fool" because of the inserted ad.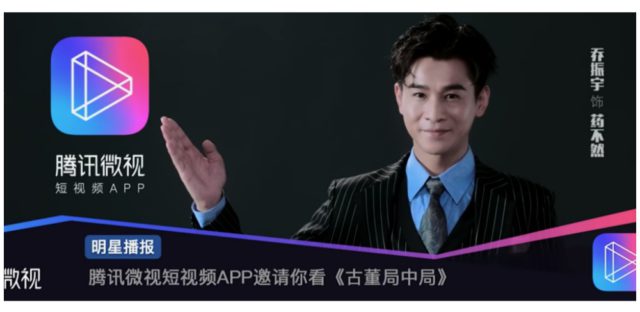 The type of advertising, that is central to this recent discussion, goes beyond product placement; it is the type of ad that appears inside (online) TV shows in which the actors, in character, straightforwardly promote a certain brand and product, sometimes in a scene dialogue ('storyline ads'), but also often while looking directly into the camera (see example here or here, Chinese term: zhōngchā guǎnggào 中插广告).
The hashtag 'Ma Boyong Roasts Inserted Ad Marketing' (#马伯庸吐槽中插广告#) had received more than 50 million views on Weibo by Sunday night, with the overall majority of people supporting the author's stance.
"Finally someone says this," one commenter said: "When it just started out, it was new, and I could endure it, but now it just really annoys me." "It is really disruptive," others agree.
A New Kind of Money-Making Machine
China's history of TV advertisement is not a long one; it wasn't until 1979 that China's first TV commercial was aired. Since then, the industry has blossomed, and branded content has become ubiquitous; the first TV drama incorporating product placement was broadcasted in 1991 (Li 2016).
Product placement is known as a powerful marketing tool since it is inescapable, has a long shelf life, is inexpensive, and unobtrusive (Huan et al 2013, 508). But as China's product placement has been turning into 'branded entertainment' within the settings of the show, it is losing its 'unobtrusiveness.'
Unsurprisingly, this is not the first time this type of advertising receives criticism. In 2017, various Chinese media, such as People's Daily, noted the rise of inserted product ads, stating that TV dramas were "shooting themselves in the foot" with these ad campaigns.
When the protagonist of a dynastic costume drama suddenly promotes a new smartphone app during an inserted ad break, he falls out of character, and the entire drama loses credibility. Do you remember those weird ad breaks in the famous American movie The Truman Show? Even Truman did not fall for that!
In China, this particular type of advertising can be traced back to the 2006 TV drama My Own Swordsman (武林外传), in which the characters suddenly turn to the camera in promoting a "White Camel Mountain" medicinal powder (watch the famous segment here).
Although that scene was for entertainment purposes only (the product was non-existent), it became reality in 2013, when the TV series Longmen Express (龙门镖局) first started using this kind of 'creative' advertising. Many online dramas then followed and started to use these inserted ads, especially since 2015 (Beijing Daily 2017). The promoted products are often new apps or money lending sites.
In the beginning, many people appreciated the novel way of advertising, and as the online video industry rose, so did the price of such advertisements. In a timeframe of roughly two years, their price became ten times higher. These type of 'ad breaks' have become an important and relatively easy money-making machine for drama productions (Beijing Daily 2017). In 2016 alone, Chinese TV drama productions made 800 million rmb (±116 million USD) through this marketing method – a figure that has been on the rise ever since.
The V-Effect: From Vips to Verfremdung
In China's flourishing online streaming environment, one of the problems with inserted ad campaigns is that even 'VIP members' of popular video sites such as iQiyi cannot escape them, nor 'skip' them, even though they pay monthly fees to opt out of commercials (similar to YouTube Premium).
"The reason I signed up for a VIP membership is to avoid ads, and now we get this," many annoyed netizens comment on Weibo.
Although that is one point that many people are dissatisfied with, the biggest complaint on social media regarding the inserted ad phenomenon is that it breaks down audience engagement in the show they are watching, and alienates them from the character, which is also known as verfremdungseffekt, distancing effect, or simply the 'V-effect,'  a performing arts concept coined by German playwright Bertolt Brecht in the 1930s.
The Brechtian "direct address" technique, one of the characteristics that made the American TV series House of Cards so successful, is employed to "break the fourth wall" – the imaginary wall between the actors and audience  – and serves a clear purpose: it makes viewers less emotionally attached to the characters and the narrative, it makes them more conscious and less likely to 'lose themselves' in the show they are watching, and is meant to provoke a social-critical audience response.
But this is exactly the faux pas China's ubiquitous 'creative inserted ads' make in letting popular TV drama characters promote a new app or soda; it is not meant to provoke a social-critical response, it is meant to advertise a product. But by alienating audiences from the show for a commercial and non-meaningful purpose, they actually reach the opposite effect of what their marketing objective is. Audiences become annoyed, less engaged, and 'exit the show' (in Chinese, the term '出戏' [disengage from the performance] is used).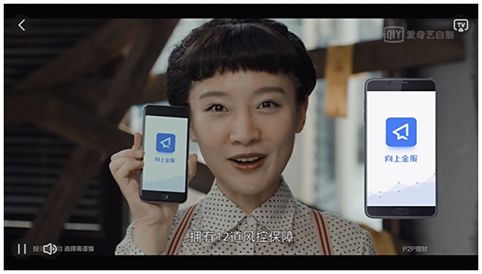 "These kind of ads make the entire drama seem so low," a typical comment on Weibo says. "What can we do? As long as people pay for it, they'll do it," others say.
Despite the recent attack on China's 'branded entertainment,' there is no sign of a change in these marketing techniques. Perhaps, if critique persist, this might change in the future. For now, disgruntled viewers turn to social media to vent their frustrations: "These ads completely make me lose interest in the story, they need to be criticized. I'm happy someone stood up to say it."
By Manya Koetse
Follow @whatsonweibo
References
Beijing Daily (北京日报). 2017. "创意中插广告泛滥,唯独缺了创意" [The Overflow of Creative Inserted Ads, Only They're Lacking Creativity] (in Chinese). Beijing Daily, Oct 18. Available online http://bjrb.bjd.com.cn/html/2017-10/18/content_183998.htm [Jan 6th 2019].
Doland, Angela. 2017. "China's online TV pushes product placement to crazy levels. Even crazier: Viewers don't mind." Ad Age, May 16. Vol.88(10), p.0030.
Huan Chen , En-Ying Lin , Fang Liu & Tingting Dai. 2013. "'See Me or Not, I Am There': Chinese White-Collar Moviegoers' Interpretation of Product Placements in Chinese Commercial Movies." Journal of Promotion Management, 19:5, 507-533.
Li, Hongmei. 2016. Advertising and Consumer Culture in China. Cambridge: Polity Press.
Spotted a mistake or want to add something? Please let us know in comments below or email us.
©2019 Whatsonweibo. All rights reserved. Do not reproduce our content without permission – you can contact us at info@whatsonweibo.com