Why Disney's Christopher Robin Is Not Released in China (And It's Not Just Because of Winnie)
Recently, many foreign media reported that Disney's 'Christopher Robin' (2018) will not be released in China due to an alleged "nationwide ban" on Winnie. But there is more to this than meets the eye.
Disney's latest film Christopher Robin will not be released in Chinese cinemas. Many English-language media claim it is for the fact that the movie's main star, Winnie the Pooh, is regarded too politically sensitive in the country. But these reports are clouded by misconceptions: Winnie is not banned in China, and it is common for Western films not to be released in the PRC. What's on Weibo explains.

With contributions from Luka de Boni

"Christopher Robin, denied Chinese release, is the latest victim in China's war on Winnie the Pooh," writes Vox. "China gives Winnie the Pooh the enemy-of-the-state treatment," says a recent New York Post headline.
Over the past days, the fact that Disney's new 2018 film Christopher Robin will not premiere in mainland China has made headlines in many English-language media, first reported by The Hollywood Reporter.
Most sources allege that the movie, inspired by A. A. Milne and E. H. Shepard's book Winnie-the-Pooh, will not be released in the country's theatres because "Chinese leader Xi Jinping is prickly about comparisons between him and the lovable cartoon character, who has become a symbol of the resistance there" (Vox).
BBC linked the film's absence from Chinese movie theatres to Winnie and the supposed "nationwide clampdown on references to the beloved children's character."
But to what extent are these allegations true? There seem to be some misconceptions in many media about the scope of censorship on Winnie, and the release of non-Chinese films in mainland China.
What's up with Winnie?
Over the past four years, Winnie the Pooh has, at times, been used as a political and satirical meme on Chinese social media, first becoming a target for China's online censors when netizens compared Barack Obama and Xi Jinping, who met at the California Summit, with Pooh and Tigger in 2013.
In September of 2015, an image of Pooh became trending again on the day of the military parade. During the Beijing Parade that commemorated the 70th anniversary of WWII, President Xi Jinping drove around in a car (image), inspecting the troops.
When someone watching the parade then posted an image of Pooh bear in a toy car on Weibo, it was shared 62.000 times in little over an hour. Online responses included: "As I watched [the parade], I told my mother and father the similarities [between Pooh and the President] were uncanny." The post was then soon deleted from Weibo.
The same happened in February of 2018, when images of Winnie the Pooh as a king emerged on Weibo after the end of China's two-term limit on presidency was announced.
Could've expected this, but still pretty creative. First images of "king Winnie" surfacing on Weibo in response to Xi's potential indefinite rule: https://t.co/u9kL5OYGwq #XiJinping #kingwinnie pic.twitter.com/Bb6Dmy46xH

— Manya Koetse (@manyapan) 25 februari 2018
Although the censorship of Pooh at these specific moments are reason enough to call the bear some sort of "symbol of defiance against censorship," it is not reason enough to assume the bear is at the epicenter of "a nationwide clampdown," as BBC suggested.
"Winnie the Pooh is not banned from China, neither online nor offline."
Winnie the Pooh is not banned from China, neither online nor offline. The bear is quite popular, just as in many other countries, and people walk around wearing Pooh t-shirts and accessories in Chinese cities every day.
A current search on Chinese search engine Baidu for 'Winnie the Pooh' ("小熊维尼") generates 8.5 million results. Taobao sells countless Winnie items on its e-commerce platform, and on social media site Weibo, thousands of Chinese netizens post photos of their Winnie-themed merchandise or favorite characters.
Disney's Christopher Robin is also discussed online; not just by netizens but also by state media.
The moments that Pooh was censored on Chinese social media in the past, were times that China's censorship machine was going at full-speed already. Any time that President Xi is taking part in an important meeting or event, whether it is a BRIC summit, military parade, or bilateral meeting, social media is more controlled than usual.
Because netizens were using the image of Pooh in a way that was meant to make fun of these high-profile political occasions and figures at particularly these times, they were censored. In other words: the Winnie images were censored along with many other things at particularly sensitive times for mocking a political event or figure.
Although it makes sense to say that Winnie the Pooh is perhaps more 'sensitive' than other cartoons (although Peppa Pig and Rage Comics had their share of censorship, too), it is questionable if this sensitivity is enough of a reason to ban Disney's new blockbuster Christopher Robin.
Chinese Summer: Not a Time for Western Films
But if not for the bear itself, what would be a reason not to release a promising Disney movie? China's strict foreign film import quota may play an important role.
Since the 1990s, China has a 'foreign film quota.' In the early years, this meant that just a small quote of foreign films were allowed to be imported into China, and in 2012, this was increased to 34 foreign movies per year. The amount of revenue that foreign producers can take from these movies is restricted to 25% (Latham 2007, 185; Ma 2017, 193).
Although Hollywood lobbyists have been negotiating with Chinese film authorities to allow more foreign films to be imported under revenue-sharing terms, there's been little progress for now – the ongoing looming trade-war has not benefited the situation.
Besides the longstanding cap on foreign films, China also has unofficial 'Hollywood black-out periods' in which Hollywood blockbusters are prevented to enter the market so as to boost sales of local productions, a phenomenon dubbed "Domestic Film Protection Month" (国产电影保护月).
The term was allegedly coined in 2004, when Chinese media reported about an order restricting screening foreign films between June 10 and July 10 each year. Although the measure was never officially admitted by government officials, this unspoken policy has been executed for the past 14 years (read more here). As a consequence, it is common for big American productions to not be released in China during the summer months, the period where cinemas make the most revenues. 
In 2011, for example, the Harry Potter blockbuster of the year was premiered in China five weeks later than it was in the rest of the world. Last summer, both Dunkirk and Spider-Man: Homecoming had their release dates delayed by several months, most probably to give the patriotic, local production Wolf-Warrior 2 a boost in sales. 
These black-out periods can also serve another purpose. According to CNBC, they can also be used to give Chinese film authorities additional bargaining power in their negotiations with US lobbyists. With these negotiations increasing in importance lately, as a result of deteriorating US-China trade relations, it might make sense that Chinese authorities would want to put themselves in the most favorable bargaining position.  
Each year, it is unclear when the 'black-out period' starts and ends. Generally, it can start as early as mid-June and finish as late as late-August.
Goodbye, Christopher Robin?
With many netizens and various state media (including China Global Television Network) posting about the release of Christopher Robin on Weibo and beyond, it is unlikely that political sensitivity over Winnie is the (only) reason why the film will not be shown in Chinese cinemas this summer.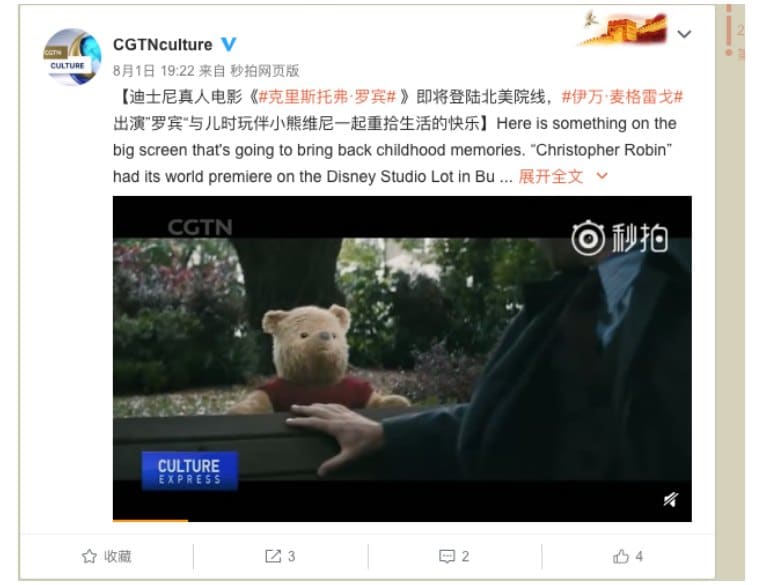 Whether or not the film will definitely not come out in China is also not clear. The process of translation and censorship checking for films can take a long time and will sometimes mean films come out much later in the PRC.
Even when not reaching the big screens, most Hollywood blockbusters will eventually be available for viewing on online channels such as Youku or iQiyi.
Goodbye Christopher Robin (2017), another movie focusing on the story of Winnie the Pooh, is available for viewing on iQiyi and other (paid) streaming sites in China.
Many netizens would welcome a delayed release of Christopher Robin in China. The movie's hashtag (#克里斯托弗·罗宾#) has already been viewed nearly three million times on Weibo.
While for many, the bear has no political connotations, there are also those who are still trying to post pictures of President Xi Jinping as Pooh – those will soon be deleted.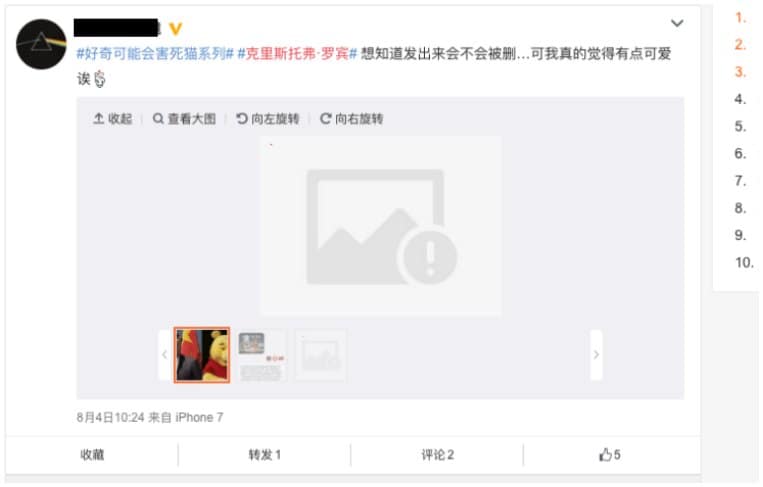 "I just wanted to see if it would be deleted," the Weibo user says: "But actually, I really do think he's cute."
For more on this, check out today's feature on BBC World Update (video by What's on Weibo).
By Manya Koetse, and Luka de Boni
Follow @whatsonweibo
References
Latham, Kevin. 2007. Pop Culture China! Media, Arts, and Lifestyle. Oxford: ABC Clio.
Ma, Winston. 2017. China's Mobile Economy: Opportunities in the Largest and Fastest Information Consumption Boom. Cornwall: Wiley.
Spotted a mistake or want to add something? Please let us know in comments below or email us.
©2018 Whatsonweibo. All rights reserved. Do not reproduce our content without permission – you can contact us at info@whatsonweibo.com.
China's Top Mobile Gaming Apps
In a booming online gaming market, these are some of the apps most appreciated by Chinese online gamers today.
China has the largest mobile gaming market in the world. It's an exciting market not just for game-lovers, but also for those into marketing and advertising.
One of the key drivers behind this online gaming environment is the fact that China is a mobile-first country. China's average mobile user owns a relatively cheap but high-performance mobile phone, which enables them to play mobile games. As the quality of China's smartphones keeps on rising, so are the possibilities and developments within China's mobile gaming market.
The Chinese gaming industry is flourishing, but also highly controlled. Online games are allowed to be imported, but have to pass the content censorship procedures and must be 'ideologically compatible' for the Chinese market. Many games, such as this year's Resident Evil 2, are not allowed into mainland China.
To gain more insights in this enormous market, we list five of the mobile apps that currently play an important role in the mobile gaming industry. We made our selection based on the data from the Android app stores Tencent, Baidu, Huawei, and Zhushou360. We tried our best to give you a representative overview of a variety of apps that are currently most used in China, but want to remind you that these lists are by no official "top 5" charts.
This article is part of a series of five articles, listing popular Chinese apps in the categories of short video & live streaming, news, health & sports, and knowledge & education. We'll list the other categories for you below this article, but let's move over to review these popular mobile gaming apps now.
#1 PlayerUnknown's Battlegrounds 绝地求生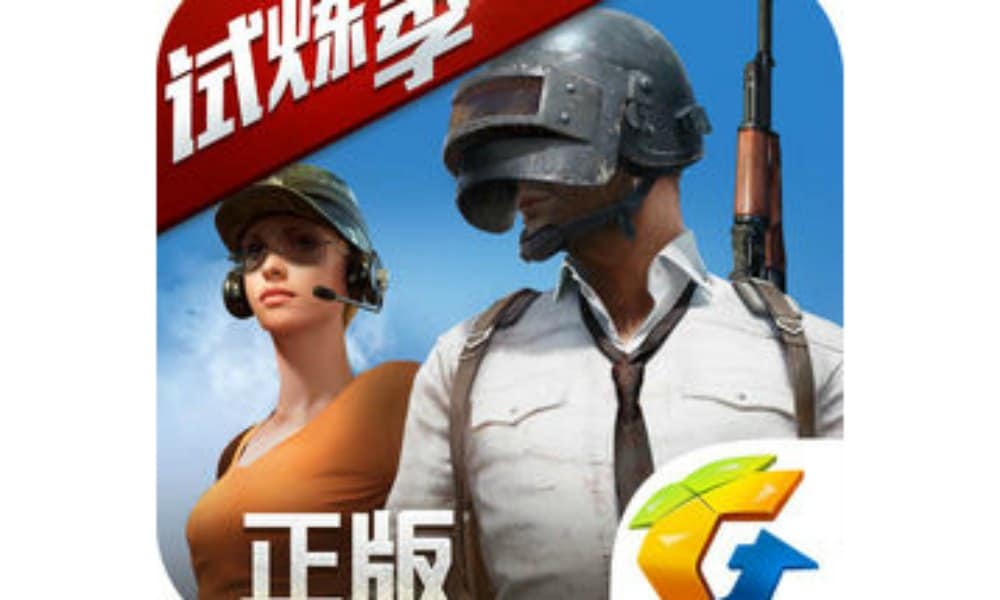 PlayersUnknown's Battleground (PUGB) is a so-called 'sandbox style' survival game, which basically means that gamers are allowed to freely roam and change the game, that does not have a set storyline, and that they are required to do all they can to survive as long as possible by eliminating its competitors.
In this online multiplayer game, that is called a Fortnite rival, players are placed together with up to 100 other players on an island. As the game proceeds, the battlefield gradually shrinks, putting more pressure on its players. The users have to assemble weapons and other necessities, and in doing so, need to kill their competitors and take their possessions. The last person left is the winner.
PUBG, which is currently the most popular mobile phone game app in China, was created by the South Korean Bluehole. In 2017, Chinese gaming giant Tencent launched the mobile app version of the game. The Chinese version is not entirely the same: it has been adapted to make sure it aligns with 'socialist values.'
At the moment, there are two versions of PUGB games: Exciting Battlefield (刺激战场) and Full Ahead (全军出击). The games Exciting Battlefield and Full Ahead subsequently ranked most and third most popular game app in the Chinese Apple stores in 2018, with Exciting Battlefield reaching 14,9 million daily active users at the end of 2018. Currently, Exciting Battlefield still ranks the most popular game app in both the Tencent and Zhushou360 app stores.
#2 Honor of Kings or Kings of Glory 王者荣耀
Honor of Kings is a game developed and published by Tencent which was first launched in 2015. The game is a multiplayer online battle arena game, where players have to team up for a five-to-five battle.
Every user can personally assemble their hero and equip it with certain features such as appearance, powers, etc. The goal of the game is to destroy the opponent's base.
In 2018, Honor of Kings was the second most popular game app in the Chinese Apple store with 53,8 million daily active users in the last quarter. This year, the game especially rose in popularity during the Chinese Lunar New Year: in the week from 4-10 February, Honor of Kings reached 92 million daily active users.
But the game's popularity isn't limited to China. In 2017, Tencent launched an international adaption of the game called Arena of Valor. The game was adopted as one of the games at the eSport Demonstration Event at the 2018 Asian Games, where the Chinese team won the gold medal.
#3 Speed QQ / QQ飞车
Speed QQ is a 3D game that combines both casual and competitive racing. The game has three kingdoms: wind, fire, and fantasy.
In each kingdom, there are different kinds of races, and players can move up levels if they beat other players. In the end, the strongest player of all will be crowned 'king.' To prove their skills, the best players of each kingdom can also race against each other in races played on racetracks on the border of the several kingdoms.
The game can be played by either a single player or multiplayer, with a maximum of six players.
Speed QQ, just as Honor of Kings and PUBG, is a game by Tencent  – it is the world's largest game distributor by revenue. Speed QQ was first launched in January 2008 as a PC version, and it was not until 2017 that the mobile app version was released.
In 2018, it became the fourth most popular game app in Chinese Apple stores, with nearly 25 million downloads in that same year.
#4 Identity V 第5人格  
Identity V is a so-called asymmetric warfare game, meaning that the game is a wargame between individuals or a group of players and their hostile opponent.
The horror game, designed in gothic art style, is a one-versus-four multiplayer game. Later in the game, players can decide whether they want to play either the hunter or one of the four survivors.
However, the game is mainly a survivor-based game. The player first enters the game as a detective who receives a mysterious letter inviting the player to investigate an abandoned estate and search for a missing girl. As the player is searching for clues about the missing girl, a hunter will try to catch the player and strap it to a rocket ready for blast off. This is where the three other survivors come in; those are the ones who can free their fellow-survivor from the racket. But if they are too late, the player will be fired off and lose.
Identity V is the newest game app in our selection as it was launched in April of last year by NetEase. Despite its short period on the market, the game gained significant success. The app was the fifth most popular game app in Chinese Apple stores in 2018, with over 26 million downloads.
#5 Mini World 迷你世界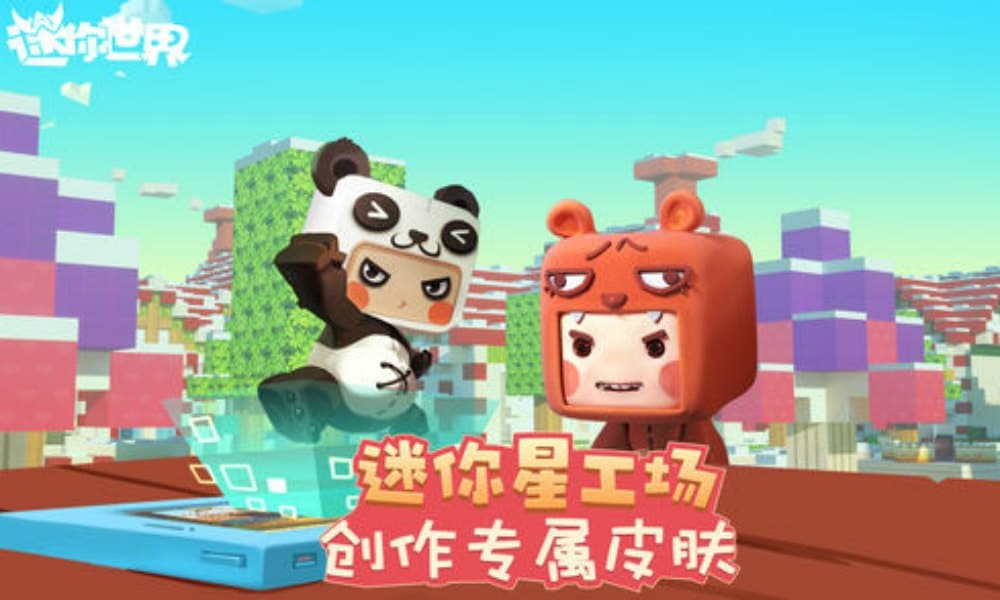 Mini World is a 3D sandbox style game, allowing its users to roam around in the virtual world of the game.
Mini World, also called a block art game, allows its players to build their world by moving around blocks and placing other elements. They can do this alone, but they can also invite friends and create a dream world together. The game closely resembles the Swedish game Minecraft (我的世界), which is also available in China.
Mini World was first launched in December 2015 by a Shenzhen based company. A couple of years later, the game was available in both Android and Apple stores. In 2018, Mini World became the fourth most popular game app in China with 3.7 million daily active users in the third quarter.
At the beginning of this year, Mini World released a new version of its game, which brings it back in the top ten most popular apps in both the Zhushou360 Appstore and Baidu Appstore.
Also see:
By Gabi Verberg, edited by Manya Koetse
Spotted a mistake or want to add something? Please let us know in comments below or email us.
©2019 Whatsonweibo. All rights reserved. Do not reproduce our content without permission – you can contact us at info@whatsonweibo.com
Here Comes Trump the Chinese Opera, Starring Mao Zedong and Kim Jong-un
In "Trump the Opera", Trump sings and plays ping pong.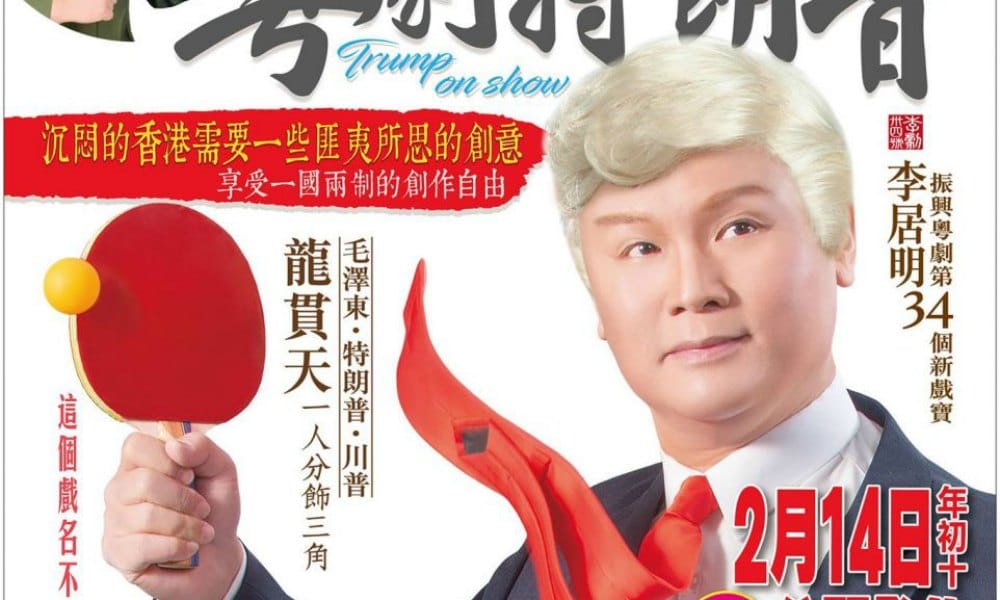 First published
Hong Kong playwright Li Kuiming is not afraid to take on sensitive topics in his productions. After an opera about Mao Zedong, this upcoming Cantonese opera focuses on US President Trump and explores China-US relations.
"Enjoy this 'one country, two systems' creative freedom," is one of the slogans promoting a new Hong Kong opera production that features US President Trump – played by the same actor who also played Mao Zedong – and North-Korean leader Kim Jong-un, presenting a story revolving around the modern history and current situation of China-US relations and international politics in the form of traditional Chinese art.
The opera, titled "Cantonese Opera Trump" (粵劇特朗普) was written by Fengshui master and playwright Li Kuiming (李居明), who likes to mix up traditional opera with creative new storylines. In this production, 'Trump' allegedly will not just be singing; he'll be playing ping-pong, too.
Promotion posters for the show have attracted the attention of some Weibo netizens, with some calling it "unimaginable."
This opera is the 34th production made by Li Kuiming, who has some 1,4 million fans on Weibo. Three years ago, Li made headlines for his controversial Chairman Mao opera that explored the private life of Mao Zedong and also featured a scene in which Mao comes back from the dead to talk to Chiang Kai-shek.
The current opera is a sequel to the 2016 production, featuring the same actor, Long Guantian (龍貫天), as President Trump. The role of Kim Jong-un will be performed by Chen Hongjin (陳鴻進).
The press conference for the new opera took place on March 1st, just after the Trump-Kim summit in Hanoi ended without a deal. The actors taking on the roles of Trump and Kim, however, posed together shaking hands.
Despite the somewhat controversial theme of the opera, the Singtao Daily writes that Li Kuiming's production "avoids politically sensitive topics as much as possible."
"Through this opera, I want to analyze China-USA relations," Li told reporters: "China and the US have had very good relations for a long time (..), Nixon's [1972] visit to China marked the friendship between the two countries. At present, the China-US friendship has turned into a struggle."
Li called it "a gift from heaven" that he was able to get performer Long Guantian to play Mao Zedong previously, praising his "enormous flexibility" in the roles he is able to take on. "For [his] role of Trump, I've read many books and thoroughly researched the life and thinking of Trump."
One reason for the opera to stir some discussions on Chinese social media, is the fact that its promotional poster states that the "three roles" of "Trump, Trump, and Mao Zedong" are all performed by the same actor (Long Guantian).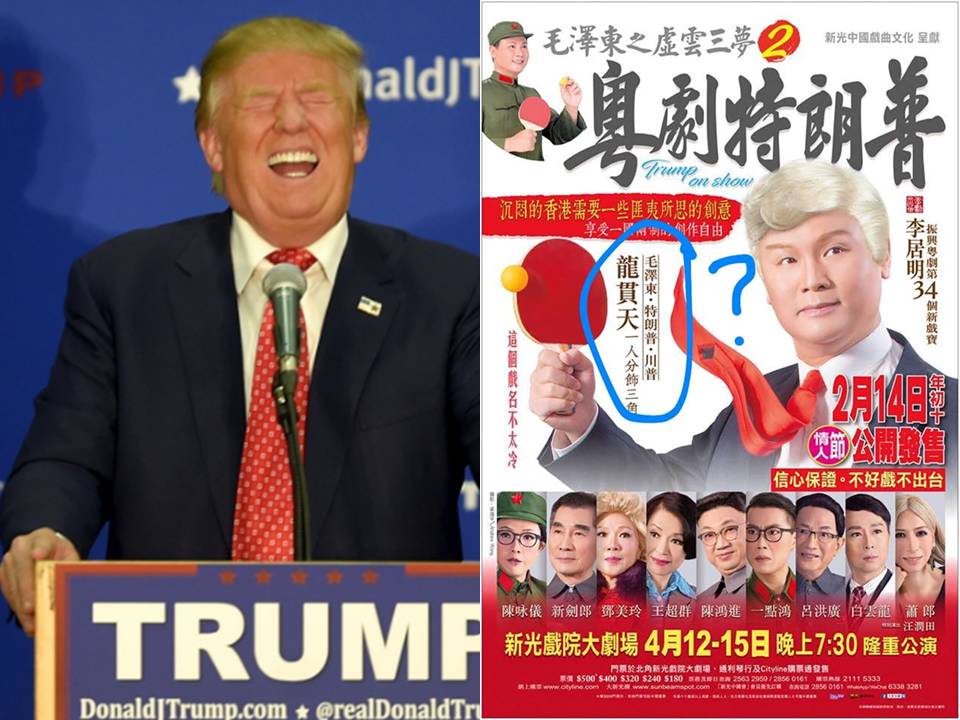 The name of 'Trump' is written in two different ways on the poster, causing much confusion among netizens, who write: "I thought there was only one Trump?!" (To understand more about the two Chinese names of Trump, check this article).  It is not clear if there will indeed be two 'Trumps' starring in the production or why the poster mentions the name of Trump two times.
The Mingpao newspaper reported that Li has high hopes for this production, quoting: "I have a friend who knows Trump, and who suggested bringing this opera to the White House so that Trump can enjoy it. We could translate it. If I'd ever be invited, of course, I wouldn't say no." He also added that he "wouldn't have the courage" to perform the opera in North Korea.
The opera will be performed at the Hong Kong Sunbeam Theatre from April 12 to April 15. "I guarantee it will be good," Li says: "If it wouldn't be good, I wouldn't put it on stage."
By Manya Koetse 
Spotted a mistake or want to add something? Please email us.
©2019 Whatsonweibo. All rights reserved. Do not reproduce our content without permission – you can contact us at info@whatsonweibo.com.