Why Disney's Christopher Robin Is Not Released in China (And It's Not Just Because of Winnie)
Recently, many foreign media reported that Disney's 'Christopher Robin' (2018) will not be released in China due to an alleged "nationwide ban" on Winnie. But there is more to this than meets the eye.
Disney's latest film Christopher Robin will not be released in Chinese cinemas. Many English-language media claim it is for the fact that the movie's main star, Winnie the Pooh, is regarded too politically sensitive in the country. But these reports are clouded by misconceptions: Winnie is not banned in China, and it is common for Western films not to be released in the PRC. What's on Weibo explains.

With contributions from Luka de Boni

"Christopher Robin, denied Chinese release, is the latest victim in China's war on Winnie the Pooh," writes Vox. "China gives Winnie the Pooh the enemy-of-the-state treatment," says a recent New York Post headline.
Over the past days, the fact that Disney's new 2018 film Christopher Robin will not premiere in mainland China has made headlines in many English-language media, first reported by The Hollywood Reporter.
Most sources allege that the movie, inspired by A. A. Milne and E. H. Shepard's book Winnie-the-Pooh, will not be released in the country's theatres because "Chinese leader Xi Jinping is prickly about comparisons between him and the lovable cartoon character, who has become a symbol of the resistance there" (Vox).
BBC linked the film's absence from Chinese movie theatres to Winnie and the supposed "nationwide clampdown on references to the beloved children's character."
But to what extent are these allegations true? There seem to be some misconceptions in many media about the scope of censorship on Winnie, and the release of non-Chinese films in mainland China.
What's up with Winnie?
Over the past four years, Winnie the Pooh has, at times, been used as a political and satirical meme on Chinese social media, first becoming a target for China's online censors when netizens compared Barack Obama and Xi Jinping, who met at the California Summit, with Pooh and Tigger in 2013.
In September of 2015, an image of Pooh became trending again on the day of the military parade. During the Beijing Parade that commemorated the 70th anniversary of WWII, President Xi Jinping drove around in a car (image), inspecting the troops.
When someone watching the parade then posted an image of Pooh bear in a toy car on Weibo, it was shared 62.000 times in little over an hour. Online responses included: "As I watched [the parade], I told my mother and father the similarities [between Pooh and the President] were uncanny." The post was then soon deleted from Weibo.
The same happened in February of 2018, when images of Winnie the Pooh as a king emerged on Weibo after the end of China's two-term limit on presidency was announced.
Could've expected this, but still pretty creative. First images of "king Winnie" surfacing on Weibo in response to Xi's potential indefinite rule: https://t.co/u9kL5OYGwq #XiJinping #kingwinnie pic.twitter.com/Bb6Dmy46xH

— Manya Koetse (@manyapan) 25 februari 2018
Although the censorship of Pooh at these specific moments are reason enough to call the bear some sort of "symbol of defiance against censorship," it is not reason enough to assume the bear is at the epicenter of "a nationwide clampdown," as BBC suggested.
"Winnie the Pooh is not banned from China, neither online nor offline."
Winnie the Pooh is not banned from China, neither online nor offline. The bear is quite popular, just as in many other countries, and people walk around wearing Pooh t-shirts and accessories in Chinese cities every day.
A current search on Chinese search engine Baidu for 'Winnie the Pooh' ("小熊维尼") generates 8.5 million results. Taobao sells countless Winnie items on its e-commerce platform, and on social media site Weibo, thousands of Chinese netizens post photos of their Winnie-themed merchandise or favorite characters.
Disney's Christopher Robin is also discussed online; not just by netizens but also by state media.
The moments that Pooh was censored on Chinese social media in the past, were times that China's censorship machine was going at full-speed already. Any time that President Xi is taking part in an important meeting or event, whether it is a BRIC summit, military parade, or bilateral meeting, social media is more controlled than usual.
Because netizens were using the image of Pooh in a way that was meant to make fun of these high-profile political occasions and figures at particularly these times, they were censored. In other words: the Winnie images were censored along with many other things at particularly sensitive times for mocking a political event or figure.
Although it makes sense to say that Winnie the Pooh is perhaps more 'sensitive' than other cartoons (although Peppa Pig and Rage Comics had their share of censorship, too), it is questionable if this sensitivity is enough of a reason to ban Disney's new blockbuster Christopher Robin.
Chinese Summer: Not a Time for Western Films
But if not for the bear itself, what would be a reason not to release a promising Disney movie? China's strict foreign film import quota may play an important role.
Since the 1990s, China has a 'foreign film quota.' In the early years, this meant that just a small quote of foreign films were allowed to be imported into China, and in 2012, this was increased to 34 foreign movies per year. The amount of revenue that foreign producers can take from these movies is restricted to 25% (Latham 2007, 185; Ma 2017, 193).
Although Hollywood lobbyists have been negotiating with Chinese film authorities to allow more foreign films to be imported under revenue-sharing terms, there's been little progress for now – the ongoing looming trade-war has not benefited the situation.
Besides the longstanding cap on foreign films, China also has unofficial 'Hollywood black-out periods' in which Hollywood blockbusters are prevented to enter the market so as to boost sales of local productions, a phenomenon dubbed "Domestic Film Protection Month" (国产电影保护月).
The term was allegedly coined in 2004, when Chinese media reported about an order restricting screening foreign films between June 10 and July 10 each year. Although the measure was never officially admitted by government officials, this unspoken policy has been executed for the past 14 years (read more here). As a consequence, it is common for big American productions to not be released in China during the summer months, the period where cinemas make the most revenues. 
In 2011, for example, the Harry Potter blockbuster of the year was premiered in China five weeks later than it was in the rest of the world. Last summer, both Dunkirk and Spider-Man: Homecoming had their release dates delayed by several months, most probably to give the patriotic, local production Wolf-Warrior 2 a boost in sales. 
These black-out periods can also serve another purpose. According to CNBC, they can also be used to give Chinese film authorities additional bargaining power in their negotiations with US lobbyists. With these negotiations increasing in importance lately, as a result of deteriorating US-China trade relations, it might make sense that Chinese authorities would want to put themselves in the most favorable bargaining position.  
Each year, it is unclear when the 'black-out period' starts and ends. Generally, it can start as early as mid-June and finish as late as late-August.
Goodbye, Christopher Robin?
With many netizens and various state media (including China Global Television Network) posting about the release of Christopher Robin on Weibo and beyond, it is unlikely that political sensitivity over Winnie is the (only) reason why the film will not be shown in Chinese cinemas this summer.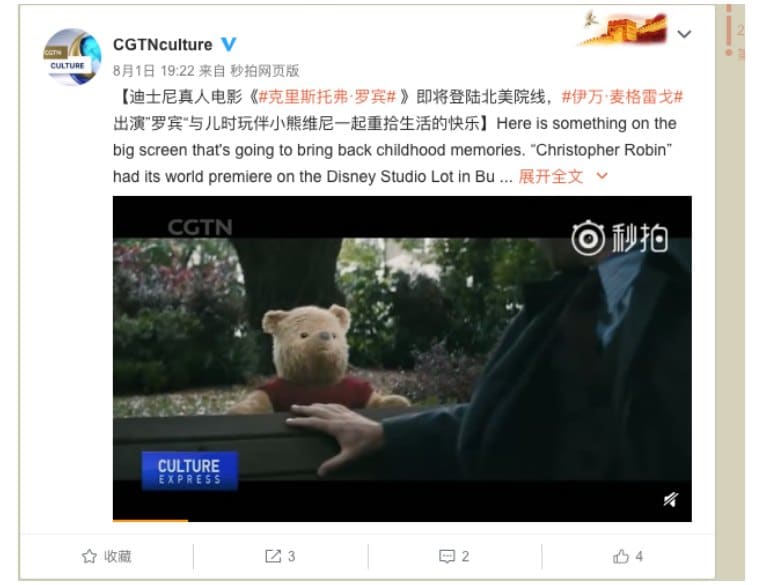 Whether or not the film will definitely not come out in China is also not clear. The process of translation and censorship checking for films can take a long time and will sometimes mean films come out much later in the PRC.
Even when not reaching the big screens, most Hollywood blockbusters will eventually be available for viewing on online channels such as Youku or iQiyi.
Goodbye Christopher Robin (2017), another movie focusing on the story of Winnie the Pooh, is available for viewing on iQiyi and other (paid) streaming sites in China.
Many netizens would welcome a delayed release of Christopher Robin in China. The movie's hashtag (#克里斯托弗·罗宾#) has already been viewed nearly three million times on Weibo.
While for many, the bear has no political connotations, there are also those who are still trying to post pictures of President Xi Jinping as Pooh – those will soon be deleted.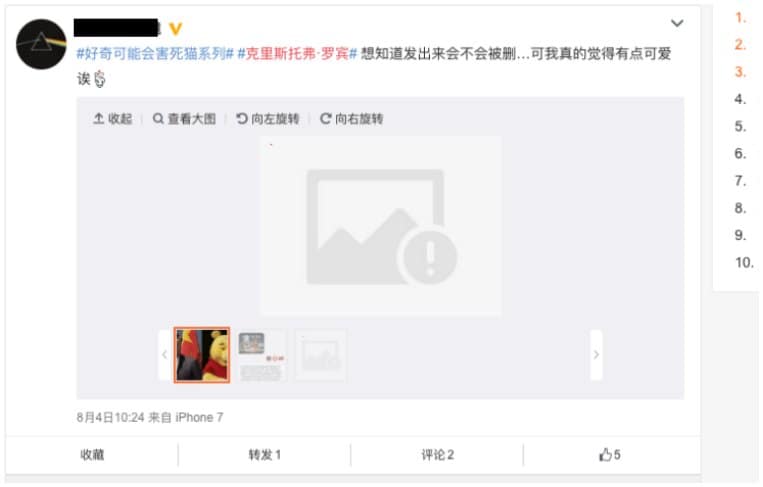 "I just wanted to see if it would be deleted," the Weibo user says: "But actually, I really do think he's cute."
For more on this, check out today's feature on BBC World Update (video by What's on Weibo).
By Manya Koetse, and Luka de Boni
Follow @whatsonweibo
References
Latham, Kevin. 2007. Pop Culture China! Media, Arts, and Lifestyle. Oxford: ABC Clio.
Ma, Winston. 2017. China's Mobile Economy: Opportunities in the Largest and Fastest Information Consumption Boom. Cornwall: Wiley.
Spotted a mistake or want to add something? Please let us know in comments below or email us.
©2018 Whatsonweibo. All rights reserved. Do not reproduce our content without permission – you can contact us at info@whatsonweibo.com.
Zheng Shuang, Zhang Heng, and 'Surrogacy Gate': A Timeline
One celebrity couple breakup, two children born through surrogacy: this sad and messy topic has exploded on Chinese social media.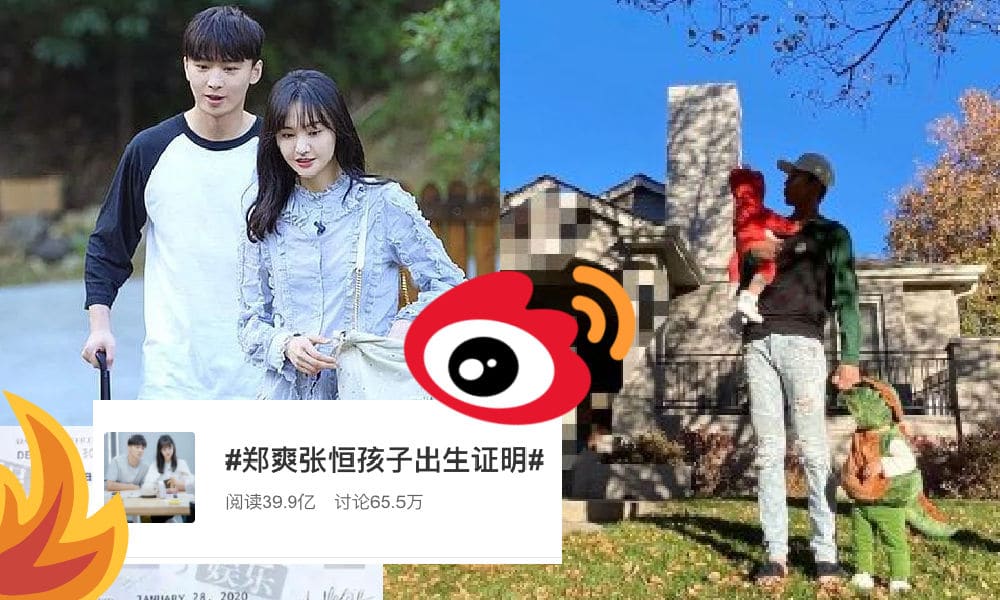 A celebrity surrogacy scandal is dominating discussions on Chinese social media, with one hashtag on the case attracting over 3 4 billion views. The scandal is triggering discussions on the topic of surrogacy in China.
Her name is Zheng Shuang (郑爽, 29), his name is Zhang Heng (张恒, 30). They're both celebrities in China; she is a super famous actress, he is a well-known producer.
This week, it is not their work that made them go viral on Chinese social media, but a surrogacy scandal taking place in the United States that is dominating all trending lists on Weibo.
The social media storm started on Monday, January 18, when rumors surfaced on Weibo and Wechat that the celebrity couple had separated. Some netizens had located a 'dissolution' case concerning the couple through the public access of the US federal court system.
Subsequently, news and rumors began circulating that the couple had two children in the US through a surrogacy arrangement, but that actress Zheng Shuang refused to have them because she and Zhang had broken up – even though her name was on their birth certificate.
The topic soon became known as the Zheng Shuang 'Surrogacy Gate' (郑爽"代孕门").
Chinese media outlet Netease Entertainment published images of the children's birth certificates and confirmed through sources close to producer Zhang Heng that he was stranded in the United States with the two babies, unable to bring them back to China with him since Ms Zheng allegedly did not cooperate with the necessary legal procedures.
It was Zhang Heng himself who spoke out about the situation on his Weibo account (@张恒KN) on January 18. He wrote the following post:
"Hi everyone, I'm Zhang Heng. Long time no see. As everyone has seen, I again hit the hot search lists recently. Since the past year or so, there has been baseless slander, disrespect, and endless online violence against me on the internet. My family is also frustrated, helpless, and mentally exhausted because of my problems. There's no way to lead a normal life or to socialize normally. We're unable to reunite because of this. I really feel so, so bad.   
I realize I can't bury my head in the sand any longer. Because it's not just me facing everything; it's also my cherished family members. I've decided to speak up, for my family and for myself, and to set the record straight. 
The online rumors about me committing fraud, borrowing from loan sharks, evading debts, taking funds and slinking off to America, etc –  they're all rumors and I swear I've never done these things, nor would I ever do them. It is true that I am in America, but my family and I have been in the United States for over a year because we had to take care of and protect our two young and innocent children. We had no choice but to remain here.
I have hired a lawyer to handle related matters, and I believe the actual facts will be restored by the American and Chinese courts. Finally, I hope the media and righteous people can recognize the truth in this matter, and will not be blinded by internet rumors." 
The children caught up in this scandal are one girl, born on January 4 2020, registered in the state of Nevada; and a boy, born on December 19 2019, registered in the state of Colorado. The birth certificates that were leaked to Chinese media show both Ms. Zheng and Mr. Zhang as the legal parents of the two babies.
Also leaked to Chinese media is an older audio recording in which Zheng, Zhang, and both of their parents allegedly discuss what to do with their unborn babies. In the voice recording, Zheng's side argues that the children should be given up for adoption, with Zheng herself even complaining that the babies could not be aborted because the surrogate mothers were already seven months pregnant.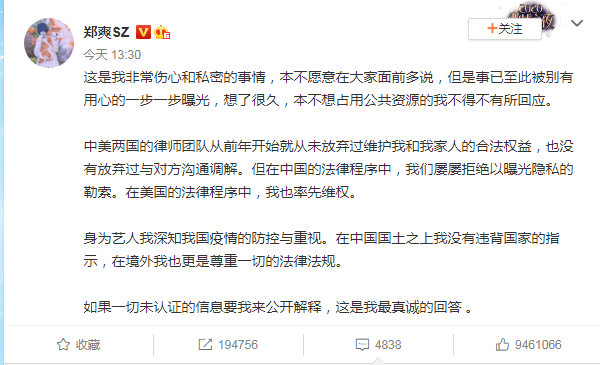 On January 19, Zheng Shuang herself also responded to the matter on Weibo (@郑爽SZ), where she did not address the matter directly but said that this is "a very sad and private matter that I did not want to discuss in front of everybody." She further wrote that legal teams in China and the US "never gave up defending the legal rights of me and my family since last year."
Of the two former partners, Zheng is the most famous celebrity. Born in Shenyang in 1991, she rose to fame when she starred in a popular TV series in 2009 (Meteor Shower 一起来看流星雨). She became an award-winning actress and was chosen as one of the most bankable young actresses of the post-90s generation. On her Weibo account, she has over 12.4 million followers.
'Surrogacy Gate': The Timeline
While this case is unfolding in front of netizens' eyes and through their own research, more and more details are coming up.
Money plays a major role in the falling-out between Zheng and Zhang, and a private lending dispute – involving no less than 20 million yuan (around 3 million dollars) – seems to be one of the reasons for their break-up.
Since the story is somewhat messy and complicated, we will attempt to reconstruct a timeline of events here.

TIMELINE:
2018, May
• Zheng and Zhang meet on the set of the variety show This Is Fighting Robots (这就是铁甲), where Zhang does the show's production. Weeks later, intimate photos of the two surface online.
2018, August
• The couple officially announces their relationship status and start a company together.
2018, November
• Ms Zheng allegedly loans Mr Zhang 20 million yuan ($3 million).
2019, January 19
• Zheng and Zhang 'secretly' get married in the United States on January 19 of 2019. Zheng's dog, "Wolfberry Kris" (@枸杞kris), has its own Weibo account where some 'wedding photos' of the joyous occasion are shared on this day.
2019, Fall/Winter
• Zhang and Zheng both appear on the TV show Meeting Mr. Right (女儿们的恋爱).
• An annual report of Zhang and Zheng's entertainment-meets-tech company, a joint business venture named Shanghai Whale Valley AI Tech (上海鲸谷座人工智能科技有限公司), shows that Zheng Shuang invested over 10 million yuan ($1.5 million) while Zhang – the company's legal representative – only contributed 200,000 yuan ($30,800).
2019, September
• In a Weibo post of January 2021, Zheng Shuang claims that Zhang cheated on her in September of 2019, which is why she left the US and went back to China.
2019, October 31
• Zhang Heng and Zheng Shuang go viral on Chinese social media when Zhang writes a love song for Zheng, and publicly announces his love for her (#张恒给郑爽写歌#).
2019, December 18
• Zhang Heng and Zheng Shuang announce their breakup, and rumors suggest that the two are caught up in a dispute over money.
2019, December 19
• The son of Zhang Heng and Zheng Shuang is born through surrogacy in Colorado.
2020, January
• The daughter of Zhang Heng and Zheng Shuang is born through surrogacy in Nevada on January 4.
• Zheng Shuang files a lawsuit in Shanghai, suing Zhang Heng for borrowing 20 million yuan from high-interest loaners under her name to invest in personal business ventures.
2020, November
• Shanghai Jing'an Court rules that Mr. Zhang needs to pay back 20 million yuan ($3 million) plus overdue interest to Ms. Zheng. Zhang Heng appeals the case, arguing the money involved was never a loan but a financial compensation and advance payment for invested labor, since Zhang also acted as Zheng's manager while they were together.
2020, December
• Zheng Shuang quits as a mentor on the Shine! Super Brothers (追光吧!哥哥) variety TV show after a clip exposing her gossiping about the past relationship of two co-stars circulated online.
2021, January 18
• Zhang posts his story on his Weibo account, stating he is stranded in the United States to take care of his two young children, implying Zheng has abandoned the babies. He also posts a photo of him with the two children.
• A voice recording in which Zheng talks about what to do with her unborn children surfaces in Chinese media, along with the birth certificates. The topic explodes on Chinese social media.
2021, January 19
• Zheng Shuang posts a reply to the matter on her own Weibo account, in which she is vague and evasive about the issue concerning the children. She implies that Zhang has "ulterior motives." She later adds that Zhang cheated on her in the fall of 2019.
• In light of all controversy, Italian fashion brand PRADA cuts ties with Zheng Shuang, with whom they had a cooperation agreement. Zheng was announced as one of the brand's new Chinese ambassadors earlier in 2021.
• London jewelry brand Lola Rose deletes all content including Zheng from their social media.
• Harper Bazaar deletes a feature on Zheng Shuang from their social media.
• Chinese cosmetic brand Chioture also posts a statement on Weibo saying it has terminated its contract with Zheng Shuang, who formerly was a spokesperson for the company.
• The second hearing of the Zheng versus Zhang lawsuit takes place in a Shanghai court over the disputed loan. Zhang and Zheng are both represented by their lawyers. (No news on outcome yet).
• State broadcaster CCTV condemns surrogacy in a post on Weibo.
• Zheng Shuang appears in public in Beijing, where she is followed by paparazzi. She does not respond to any questions, but her appearance still goes viral on social media with over 640 million views (#郑爽风波后首现身#).
2021, January 20
• Huading Awards announces it will revoke the honorary titles of Zheng Shuang, renouncing Zheng's former awards as best actress and favorite TV star. Over 2.2 million people 'liked' this update on Weibo (#华鼎奖取消郑爽荣誉称号#).
• China's State Administration of Radio, Film and Television officially shuts out Zheng Shuang.
• The Weibo hashtag "Birth Certificates of Zheng Shuang and Zhang Heng's Children" (#郑爽张恒孩子出生证明#) reaches a staggering 4 billion views.
2021, March 22
• The hearing for the supposed dissolution of Zheng and Zhang's marriage is scheduled to take place in Denver, US.
Surrogacy Abandonment
Although the timeline of events leading to the current situation might suggest that Ms. Zheng and Mr. Zhang are both at fault for handling matters in an irresponsible way, it is Zheng's "surrogacy abandonment" that mostly triggers the public's anger on social media.
Many people feel that Zheng Shuang is lacking morals for abandoning her children and call her "cold-blooded." There are also those who think the actress has serious mental problems. Despite all backlash, Zheng still has a strong fan base with people who still support her.
The scandal has sparked more discussions on the issue of surrogacy in China, which already was a big topic earlier in January when a story came out on a baby born through surrogacy who had no birth certificate and no legal registration (link here).
Although surrogacy is officially not legal in China, there is a flourishing underground surrogacy market, and many couples who are struggling with fertility issues travel overseas for surrogacy arrangements. It is not clear why Zheng and Zhang used surrogates to have children.
On Weibo, many people speak out against surrogacy practices, arguing that having children is not a business and surrogacy puts vulnerable women at increased risk of exploitation.
The hashtag "Firmly Oppose All Forms of Surrogacy" (#坚决反对一切形式的代孕#) received over 290 million views and thousands of comments.
One person commented: "Children are not a commodity you can buy, sell, or return. They're a life-long responsibility, they are the future of our society."

This story will be updated following the latest developments.

By Manya Koetse, with contributions by Miranda Barnes
Follow @WhatsOnWeibo
Spotted a mistake or want to add something? Please let us know in comments below or email us. First-time commenters, please be patient – we will have to manually approve your comment before it appears.
©2021 Whatsonweibo. All rights reserved. Do not reproduce our content without permission – you can contact us at info@whatsonweibo.com.
"Not Just a Style, But a Mission" – China's Online Hanfu Movement
What started with a 2003 internet sensation grew into a massive movement – Hanfu is booming on Weibo and beyond.
It's been nearly two decades since the Chinese traditional clothing trend named Hanfu 汉服 first became noticeable as a popular social phenomenon in mainland China. Throughout the years, Hanfu has gone from a fashion style to a full-fledged movement that is flourishing on Chinese social media. Koen van der Lijn reports.

When objects meet social media, two websites meet as well. This is a collaboration between What's on Weibo and Things That Talk (follow on Insta @thingsthattalk).

This last Christmas, Hanfu was once again a trending topic on Weibo. Enthusiasts of the traditional Chinese clothing trend posed online in their Christmas inspired Chinese clothing.
It was yet another development in the Hanfu Movement, which has been a hot topic with hundreds of hashtags and thousands of pictures, videos, and stories on Weibo, with the official Weibo Hanfu @微博汉服 account boasting a whopping 1.8 million followers and a Weibo 'supertopic' on Hanfu being joined by nearly half a million fans.
One example of the manifold of Hanfu content on Weibo is a video recently posted by Chinese actress Xu Jiao (徐娇). In the short video, which is an advertisement by the e-commerce platform RED (小红书), the actress wears Hanfu in various settings while talking about the meaning behind the fashion. Xu Jiao, being 23 years of age, is part of Generation Z (mid-1990s – early 2010s), who are adept users of social media and make up the mass of Hanfu enthusiasts.
Though Hanfu enthusiasts seldomly go out on the streets whilst wearing the clothing style,1 Hanfu sales have been increasing a lot over the past few years.2 Possibly linked to the popularity of Chinese costume dramas, many Chinese youth have started to wear Hanfu in the past two decades. However, it is not just a form of cosplay or a new clothing style. As Xu Jiao says herself in the video: "It's not just a style, it's a mission."
Background of the Hanfu Movement
It was November 2003 when Wang Letian walked the streets of Zhengzhou in Hanfu. News of his action rapidly spread over the internet through websites such as hanminzu.net.3
Besides online discussions, an article was also written about Wang Letian's bold move in the Singaporean newspaper Lianhe Zaobao 联合早报, helping spread word about the young man's actions. This moment was seen as the start of the Hanfu Movement.
Now, roughly twenty years later, the wearing of Hanfu has developed into a true movement, with many young Chinese participating in the wearing of the traditional Chinese dress. Especially on college campuses, the trend is very much alive.
In its most basic idea, the Hanfu Movement can be described as a social movement that supports the wearing of Han Chinese ethnic clothing. The emphasis on the Han ethnicity is of importance here. Han Chinese make up the vast majority of the population in China, accounting for more than 90% of China's total population. However, aspects famous outside China for being typically Chinese, such as the queue, are actually of Manchu origin.
The Manchus are an ethnic group from Northeastern China, showing cultural similarities to the Mongols, who ruled China's last dynasty, the Qing dynasty (1644-1912). Their clothing style has influenced foreign perceptions of China, due to the fact that the Manchus were the ruling class in the last Chinese imperial dynasty.
Hence the emphasis on the Han ethnicity. Central to the Hanfu Movement is the idea that ethnic Han clothing, as worn during Han Chinese ruled dynasties, such as the Han dynasty (202BC-220AD), the Tang dynasty (618-907), and the Ming dynasty (1368-1644), has much value in its own and should be worn and appreciated by contemporary Han Chinese, just as the ethnic clothing of China's minorities is appreciated in contemporary China.4
The Mission
On 4 December 2020, blogger Mi Qiujun posted a video with the hashtag #How to make the world understand Hanfu?#, (#如何让世界了解汉服#), gaining many likes and comments. Showing clips of herself wearing Hanfu in Egypt, the United States, France, and Japan, she tells how she became determined to make people around the globe understand China's traditional culture after her clothing being wrongly identified as a Japanese kimono at her first stop in Nepal.
Mi Qiujun discusses an important aspect of the Hanfu movement. Hanfu enthusiasts feel that their ethnic clothing is not understood well enough by others, and showing the rest of the world their clothing is a true mission.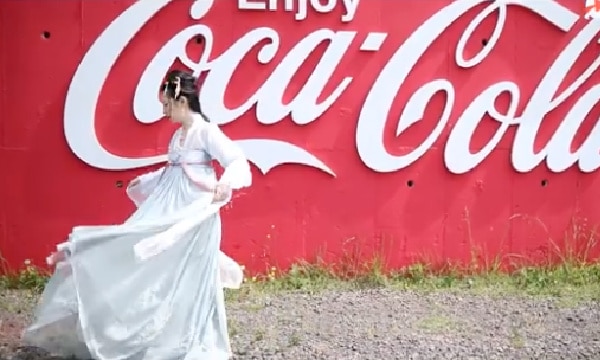 Hanfu enthusiasts have found themselves in online quarrellings about what can be defined as Hanfu, and what cannot be defined as Hanfu. It is worth noting that some scholars have disputed the existence of a uniform Hanfu throughout Chinese history.5 Instead, Hanfu is seen to have been popularised by students through the internet, without strong knowledge of Han Chinese clothing traditions.6 This makes it difficult to assess what does and what does not count as Hanfu.
Online quarrelings have therefore become part of the Hanfu Movement. In November 2020, for instance, Chinese netizens found themselves in an online discussion with their Korean neighbours. That month, Chinese actor Xu Kai (许凯) posted a photo of himself in traditional costume from the set of the Chinese drama titled Royal Feast (尚食), which is set in the Ming Dynasty.
After South Korean web users pointed out that the traditional costume worn by Xu resembled Korean traditional clothing named Hanbok, the drama's producer Yu Zheng (于正) posted a response on social media in which he firmly stated that this clothing was not Hanbok but Hanfu, adding that Korea was a vassal state of China at the time and that only "uncivilized people" would call it 'Hanbok.'
A Nationalist Movement?
These kinds of discussions also show another side of the Hanfu Movement. For some Hanfu enthusiasts, Hanfu is more than a mission to let others understand Han ethnic culture; instead, it is a way to construct a purified Han Chinese identity, free from foreign influence.7
This foreign influence is often linked back to the Manchus once again. 'Uncivilised practices' in contemporary Chinese society are attributed to the Manchus. This rhetoric reinforces the belief of Han supremacy, which has existed long before the invention of the internet, where the 'civilized' Han Chinese believe themselves to be superior to the 'uncivilized' barbarians, such as the Manchus.
This rise in Han Chinese nationalism started in the past few decades.8 The Hanfu Movement thus has followers who are a part of this new turn, where Han Chinese want to restore the glory of their past and turn away from Western and Manchu influences.9
These hardcore Han nationalists are but a small part of the movement. The Hanfu Movement encompasses a large and diverse group of people, who all share a certain belief that Hanfu should gain more appreciation in China and abroad. These are, for instance, some of the comments under Xu Jiao's video:
– "(…) Xu Jiao speaks for Hanfu!!" (@怪物与约翰)
– "Do not be afraid to doubt, never forget the original intention, Hanfu is a style, it's a mission, it's culture, and it's an attitude." (@打翻废纸篓)
– "I am so thankful we have you! I really like your work and your attitude towards Hanfu!" (@小瓦肯Shail)
What connects most Hanfu enthusiasts then? Hanfu enthusiasts take pride in wearing Hanfu, and they wear Hanfu simply because they like wearing it. Moreover, they believe it to be important to make others, both in and outside China, gain a deeper understanding of Han Chinese ethnic culture. Hanfu is more than a fad. It is a subculture, it is a style, and for Xu Jiao and many others, it is their mission.

By Koen van der Lijn
Follow @WhatsOnWeibo
Koen van der Lijn (China Studies, BA) is a ResMa student Asian Studies at Leiden University focused on Chinese history and its international relations. He is a student ambassador at Things That Talk.
This story was made in collaboration with ThingsThatTalk.net – exploring humanities through the life of objects. Things That Talk is an educational digital project where staff and students produce narratives and metadata about objects in Leiden collections and beyond. A story focused on the background of the Hanfu Movement and objects associated with this movement has previously been published on Things that Talk, go check it out!

Notes (other sources hyperlinked within the article)
1 Buckley, Chris, and Katrina Northrop. 2018. "A Retro Fashion Statement in 1,000-Year-Old Gowns, With Nationalist Fringe." New York Times, Nov 22 https://www.nytimes.com/2018/11/22/world/asia/china-hanfu-gowns-clothing.html [Jan 16 2021].
2 Zhou Xing 周兴. 2020. "Report: Hanfu turnover on Taobao platform exceeded 2 billion yuan in 2019 [报告:2019年淘宝平台上汉服成交金额突破20亿元]." Dianshangbao, August 2 2020 https://www.dsb.cn/124836.html [Jan 16 2021].
3 Cui Chentao 崔晨涛. 2016. "Han Costume Movement and National Culture Rejuvenation [汉服运动"与民族文化复兴的诉求]." Journal of Yunyang Teachers College 36(5): 19-24.
4 Cui Chentao 崔晨涛. 2016. "Han Costume Movement and National Culture Rejuvenation [汉服运动"与民族文化复兴的诉求]." Journal of Yunyang Teachers College 36(5): 19-24.
5 Carrico, Kevin. 2017. The Great Han: Race, Nationalism, and Tradition in China Today. Oakland, California: University of California Press.
6 Zhang Xian 张跣. 2009. "'Hanfu Movement': Ethnic Nationalism in the Internet Age ["汉服运动":互联网时代的种族性民族主义]." Journal of China Youth University for Political Sciences (4): 65-71.
7 Carrico, Kevin. 2017. "Imaginary Communities: Fantasy and Failure in Nationalist Identification," in The Great Han: Race, Nationalism, and Tradition in China Today, chapter 1. Oakland, California: University of California Press.
8 Dikötter, Frank. 2001. "Nationalist Myth-making: The Construction of the Chinese Race." Human Rights in China, 27 April https://www.hrichina.org/en/content/4573 [16 Jan 2021].
9 Carrico, Kevin. 2017. "Imaginary Communities: Fantasy and Failure in Nationalist Identification," in The Great Han: Race, Nationalism, and Tradition in China Today, chapter 1. Oakland, California: University of California Press.
Featured image: Photo by zhang kaiyv on Unsplash
Spotted a mistake or want to add something? Please let us know in comments below or email us. First-time commenters, please be patient – we will have to manually approve your comment before it appears.
©2021 Whatsonweibo. All rights reserved. Do not reproduce our content without permission – you can contact us at info@whatsonweibo.com.