Battling the Keyboard Warriors: How China's Netizens Address Online Harassment
Incidents of online harassment against women continue to rise year on year across the world, with severe cases in the PRC and abroad. What's on Weibo's Cat Hanson, who has personally experienced online stalking in China, explores how cyber-bullying is gradually receiving more awareness – although the Chinese laws are lagging behind.
Incidents of online harassment against women continue to rise year on year across the world, with severe cases in the PRC and abroad. What's on Weibo's Cat Hanson, who has personally experienced online stalking in China, explores how cyber-bullying is gradually receiving more awareness – although the Chinese laws are lagging behind.
In the summer of 2016, romantic comedy So I Married my Anti-Fan (所以…和黑粉结婚了) released in theaters across China. Actress Yuan Shanshan (袁姗姗) starred as a scorned journalist who unleashes an online campaign against a Korean pop idol (Park Chanyeol). In the movie, Yuan's character spends hours leaving insulting comments about the star in her crosshairs, giggling with glee as she argues with his diehard fans.
The role wasn't entirely fiction for Yuan, who in 2013 became the target of a deluge of online abuse on China's Sina Weibo.
The actress shared her experience during a TEDx presentation in Ningbo two years later, describing her shock of waking up to thousands of comments and posts criticizing her acting: "Before 2013, I would never in my wildest dreams have imagined that I'd become the internet's troll-fodder," she said.
Yuan was not alone. In late 2016, Chinese women's rights group Chilli Pepper (尖椒部落) published figures obtained from their survey on online harassment, also known in Mandarin as wangluobaoli (网络暴力 – a homonym of 'online violence' and 'online bully').
The report aimed to show that "Internet harassment is another form of violence." According to the data, the majority of respondents were female students who had encountered online harassment in the past.
IDEAS ON 'ONLINE VIOLENCE' IN CHINA
"Chinese websites tend to blame young people's 'impulsive' and 'ignorant' behaviour for the rise in online harassment."
Discourse on China's online violence has usually revolved around infamous 'human flesh searches' (人肉搜索), a term used to describe the activities of the wangluo baomin (网络暴民 'internet mob') who seek out and share the personal information of people involved in public scandals.
Due to the internet's comparatively youthful demographic and the aggressive nature of these search campaigns, Chinese Wikipedia-style websites tend to blame young people's 'impulsive' and 'ignorant' behaviour for the rise in online harassment.
In contrast, the majority of Chilli Pepper's survey respondents reported a style of online harassment beyond 'human flesh searches.' They also believe the issue is rooted in gender discrimination.
Given the varying opinions between online women's groups and encyclopedic websites, it begs the question as to whether online platforms like Weibo are becoming a discursive space for issues of gender, abuse, and harassment.
GLOBAL ONLINE VIOLENCE
"Online misogyny is a global tragedy, and it is imperative that it ends."
The online harassment of young women is not unique to China. Writing for The Guardian, Elle Hunt reported that over three-quarters of women reporting harassment were under 30 years old, according to Australian research.
In 2016, American actress and activist Ashley Judd delivered a TED Talk claiming: "Online misogyny is a global tragedy, and it is imperative that it ends." The talk was internationally praised and shared on multiple social networking sites including Weibo.
The mechanisms of online violence in Australia and America were consistent with Chilli Pepper's findings in China; harassment, hyper-sexualised comments, and attacks on appearance. The LGBT community are also regularly targeted worldwide with homophobic and transphobic online attacks.
Other factors such as money, crime, and morality are less likely to be the subject of harassment, despite being the main focus of human flesh searches. This suggests that a form of online violence exists outside of these searches, in contrast with online definitions.
"How many deaths before you're satisfied?"
Incidents of online harassment against women continue to rise year on year across the world, with severe cases in China and abroad.
In June 2016, a man named as 'Aidyn C' was ordered to stand trial in the Netherlands for 'extortion, internet luring and child pornography' after the death of Canadian teenager Amanda Todd. The teenager posted a video to YouTube about her online harasser shortly before taking her own life. The case sent shockwaves throughout Canada and the world, leading to calls for stronger laws to combat online harassment.
In China, the death of Chinese singer Qiao Renliang (乔任梁) was also followed by public outcry over online violence. The television actor and singer committed suicide in November 2016 at the age of 28. Qiao's death was officially attributed to depression, although many netizens blamed the online abuse that stars such as Qiao and actress Yuan Shanshan receive on a daily basis.
In a critical post addressed to online anti-fans, Weibo user @Lun­_少女依 wrote: "How many deaths before you're satisfied?"
Qiao Renliang's death has never been officially connected to online harassment.
THE VULNERABLE ONES
"A high number of children aged 8-17 in China have undergone negative experiences online, ranking first among 25 countries."
Despite evidence that young women and public figures are most vulnerable to online harassment, figures obtained by Microsoft in 2012 show that a disproportionately high number of children aged 8-17 in China have undergone 'negative experiences' over the internet, ranking first among 25 countries.
Some netizens dispute the reliability of these research projects. After China ranked 8th in internet civility in another study by Microsoft, a netizen wrote: "The software is still in the early stages. The words they search for [in these studies] are only one part of the Chinese language; there are still loads of other words created by internet users."*
However, China ranked above average for education and formal school policies about online bullying, with almost half of the children surveyed having been made aware of online risks and 'manners' by their parents.
Microsoft believes that China demonstrates a high awareness of online bullying, however preventative and punitive measures are yet to receive legislative support.
*(Chinese netizens often create new ways to circumvent censorship or have an own online language. A famous example is the 3-character phrase 'cao ni ma' (草泥马), literally meaning 'grass mud horse', but pronounced in the same way as the vulgar "f*ck your mother", which is written with three different characters. Netizens can thus say 'f*ck you' without this being picked up as such by software).
TACKLING ONLINE VIOLENCE
"I'm sorry for what I said about you."
For Yuan Shanshan, the online and media abuse became so overwhelming that she was compelled to take action. Yuan eventually devised a campaign called""Loving Criticism" (爱的骂骂). Phonetically similar to the phrase "a mother's love," Yuan pledged to donate 0.5 RMB to a children's charity for every comment she received.
After twenty-four hours, she had raised over 50,000 RMB (±7270$). Across her Weibo a similar message was echoed hundreds of times: "I'm sorry for what I said about you."
Yuan concluded her talk by mentioning the risk of suicide for the victims of online harassment. The actress advised young people to step away from the screens and find support via family, friends, and exercise.
Meanwhile, respondents to Chilli Pepper's survey were asked for the best methods of combating online harassment. Ranking above answers such as 'blocking the offender' or confronting them with the same tactics, the majority favored reporting the harassment to social media platforms or the police. However, the legal parameters of online violence remain open to interpretation.
ONLINE VIOLENCE & CHINESE LAW
"The police suggested that I confront the harasser myself."
Global laws on internet harassment are often unclear, although attitudes are changing. In 2016 while living in China, I reported an incident of online harassment by a local man to police. The cyber-stalking campaign of abuse and hyper-sexualised messages had lasted almost nine months. With no way to identify him other than several social media accounts, a legal channel seemed difficult to pursue.
After reviewing the messages, local police were sympathetic. However, the abuser had stopped short of directly threatening my life, which would have been a clear crime under law. It was later suggested that I confront the harasser myself. Knowing the abuser ranked collecting pen knives and pellet guns amongst his main hobbies, I maintained radio silence until the abuser went away.
Perpetrators of online violence are by no means immune to prosecution, and they can be prosecuted under existing laws both in China and around the world. In 2014, the South China Morning Post reported the arrest of a 20-year-old man in Hong Kong for posting violent death threats to an online forum regarding the daughter of a police officer.
Other nations in the region have been forced to amend existing laws to cover online crime. For example, Japan added online communications to the legal definition of stalking after the murder of two women. Gota Tsutsui sent malicious emails to one of the women before stabbing them to death in 2011.
In 2015 India also convicted a man for cyber-stalking in a case considered to be a first in the country. The BBC reported similar attitudes from the Indian police to those in the case in Hong Kong and my own in mainland China – a focus on finding evidence of physical threats sent via the internet rather than sexual harassment and stalking. It seems that like many countries, China is undergoing a transformative period in its legal recognition of online violence.
THE ROLE OF WEIBO
"Netizens should not give online violence a chance to flourish."
Despite China reforming sexual harassment laws in real public spaces, the topic can still be considered taboo. However on Weibo, some netizens have taken to exposing or confronting their abusers, sharing articles and engaging in discussion. Internet anonymity apparently works both ways – masking the perpetrators of online violence, but also encouraging the abused party to bypass social taboos, speak frankly about their experiences, and generate conversation over the issue.
"Insulting people on the internet is against the law and lacking in education. Everyone should be civilized and respect one another. If you see these 'keyboard warriors' and 'flamers', report them to the police!", was one comment among many.
Netizens not only feel empowered to call out online violence on Weibo, but also to propose solutions and changes to the law. A video of famed public speaker Wang Fan presenting her thoughts on the issues received thousands of re-blogs and comments:
"I suggest implementing a system that identifies internet users, such as needing your ID number to set up a Weibo account," said one user.
"You can't force people into having a good moral character, but you can emphasize the importance of having a good moral character" (source).
"If the big microbloggers get threatened, they can call the police to sort it out. What about us regular folk?" (source).
"I wish the police could sort out these 'keyboard warriors', these internet bullies who curse others as soon as they open their mouths – I've gathered all the evidence…The People's Daily said earlier: 'Keyboard warriors are not outside of the law!'" (source).
While debate over the need for clarity in online violence laws is ongoing, discourse continues to grow on Weibo. There are also indications that netizens aren't the only ones who use the platform to raise awareness of the pressing nature of the issue, or even to link online violence with gender.
Earlier this year, the Weibo account for the Centre of the Chinese Communist Youth League posted a full copy of women's rights under Chinese law, finally adding: "Netizens should maintain rationality, post positively, and not give online violence a chance to flourish."
By Cat Hanson
Follow @WhatsOnWeibo
©2017 Whatsonweibo. All rights reserved. Do not reproduce our content without permission – you can contact us at info@whatsonweibo.com.
Chairman Rabbit vs Hu Xijin: Divided Nationalists on Weibo
Hu's personal opinions should not be mistaken for China's official stance nor guide Chinese online public opinion, Chairman Rabbit argues.
Political commentator Hu Xijin was an influential online voice in the days surrounding Pelosi's visit to Taiwan. Chinese blogging account Chairman Rabbit lashed out against Hu, saying he misled public opinion at a time when his statements should have matched the official stance.
On August 3rd, a day after Nancy Pelosi's visit to Taiwan, Chinese blogger Chairman Rabbit (兔主席) posted a long piece of text on Weibo rebuking political commentator Hu Xijin (胡锡进) for his overdosed hawkish claims leading up to Pelosi's controversial visit.
Following the post by Chairman Rabbit, grandson of a former CCP leader, Chinese social media saw many discussions and a wave of criticism against Hu and his overaggressive position.
In his since-deleted post, Chairman Rabbit demanded stricter regulation of Hu's public statements due to his perceived ties with the Chinese government.
Hu Xijin is a Chinese journalist and the former editor-in-chief and party secretary of Global Times, a Chinese and English-language media outlet under the auspices of the Chinese Communist Party's official People's Daily newspaper.
Although he retired from his job, Hu is still a very active commentator on political affairs via social media. With nearly 25 million fans on Weibo and over half a million followers on Twitter, his posts and statements often go trending and influence public opinions.
Chairman Rabbit argued that Hu has built a credible reputation in his field, both within China and abroad, where he is generally perceived as having certain authority to speak about China's political affairs – with some foreign media almost regarding him as some sort of spokesman for the Chinese government. Meanwhile, according to Chairman Rabbit, Hu uses this credibility to promote his own personal views.
"He was too loud. It would make the people think that [China's] actions are not enough, bringing about disappointment and distrust. This is damaging to the morale of the people and also to the credibility of the government," Chairman Rabbit wrote.
Two Political Commentators "Protecting China's National Interests"
Chairman Rabbit is the alias of Ren Yi (任意), a Harvard-educated Chinese blogger who currently has over 1.8 million followers on Weibo, where he calls himself a 'history blogger.' He is also the grandson of former Chinese politician Ren Zhongyi (任仲夷), who was a leader in China's reform period since the late 1970s. 'Chairman Rabbit' is known as a nationalist, conservative political commentator who often comments on US-related issues and current affairs (for more on his background, check out this article by Tianyi Xu).
The Chinese blogger's post came after a week in which Hu Xijin recurringly went trending for his strong condemnation of a potential visit to Taiwan by U.S. House Speaker Pelosi.
Hu suggested that a Taiwan visit by Pelosi would be a clear provocation of China, giving the PLA "good reason" for "waging a war." One of Hu's tweets, in which he voiced the view that U.S. military planes escorting Pelosi to Taiwan could potentially be shot down, was deleted by Twitter on July 30. Afterward, Hu reiterated his views on Weibo and criticized Western censorship.
Chairman Rabbit wrote about Hu:
"(..) as we can see time and again, he lacks judgment and accurate sources of information on some major issues (..), and he represents only his personal views, which may be misdirected. If his views were perceived as being purely personal, they would not receive nearly as much attention – his "authority figure" status is the key to everything, and he is perceived as having a special channel to represent authorities."
In the post, Chairman Rabbit accuses Hu of using his status to promote his own views and to influence the public debate and the international view of China to gain clout.
Hu Xijin responded to the post himself on his Weibo account, suggesting he felt betrayed and "deeply puzzled" to be attacked by someone he considered a "friend who worked together [with me] to defend China's national interests," writing: "I originally saw them as allies, yet right in the heat of the moment, I was surprised to find that that they suddenly turned their guns to aim it at me."
In the same post, Hu still defended his own words, arguing that despite his "limited power" he still does what he can to "protect China's national interests."
"Frisbee Hu"
The Chairman Rabbit vs Hu Xijin dispute caught the attention of Chinese netizens, including the liberals and conservatives on Chinese social media.
With his muscle-flexing language, Hu seemingly regained popularity amongst die-hard nationalists on Weibo after long being suspected of being a "gongzhi" (公知), a derogatory use of the term "public intellectual." The latest controversy shows that the interests of online nationalists do not always align with the official government stances.
It also shows a division between populist nationalists and the more elite or 'establishment' nationalists on Chinese social media. The former operate independently and are willing to pressure the government toward a more hostile foreign policy, while the latter follow the decisions of the government and respond to them.
Hu is known for commenting on political issues and tuning into official narratives, which even led to him being nicknamed "Frisbee Hu" (胡叼盘), suggesting he can catch the 'frisbees' thrown by the Communist Party like a dog catches his toy.
However, it seems he did not catch their 'frisbee' this time. For the CCP, it arguably would be not a wise choice to engage in any kind of military conflict at this time, knowing the unpredictable societal changes it may bring to its regime, especially ahead of Xi Jinping's bid for a third term in office at the 20th party congress later this year.
Authorities did emphasize that China would not "idly sit by" if Pelosi would visit Taiwan. Chinese Ministry of Foreign Affairs spokesperson Zhao Lijian warned the U.S. on August 1st that if the U.S. House speaker would visit Taipei, "the Chinese side will respond resolutely and take strong countermeasures to defend our sovereignty and territorial integrity."
But the aggressiveness of Hu Xijin's posts perhaps went beyond what the authorities had in mind. According to Chairman Rabbit, Hu "influenced public opinion, and China's international image as well. What he got in the end was traffic for his own account."
Instruments to Govern the Public Sphere
On social media, Hu still received a lot of support while others agreed with Chairman Rabbit that Hu was chasing clout and that his words have consequences. Although that is not necessarily bad – as his influence can mobilize and channel public rage in a time of strict Covid measures and a declining economy, – it can also backfire and reflect negatively on the government when they fail to meet the public's expectations.
Chairman Rabbit suggests that it might be better for Hu to put a disclaimer and clarification at the top of any statement to make it clear that his views are personal and do not represent the official view.
This is not the first time Hu gets caught up in a conflict between Chinese populist and establishment nationalists. In 2021, Hu had a public spat with Shen Yi, a professor at Fudan University. When Shen Yi defended a controversial post by the CCP Central Political and Legal Affairs Commission which put an image of the Chinese rocket launch besides that of a mass cremation in India, Hu argued that official accounts should not ridicule India's Covid deaths but "express sympathy for India, and place Chinese society firmly on the moral high ground" (read here).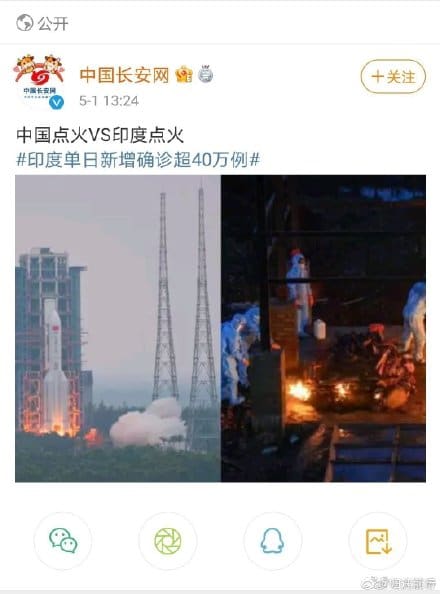 At that time, however, Hu sided with the so-called 'establishment nationalists' advocating for more decent public expressions from an official government account at a time when their neighboring country was mourning the victims of their Covid outbreak.
Disputes such as 'Hu vs Shen' and 'Hu vs Chairman Rabbit' could be seen as instruments to govern the public sphere, shifting the focus of attention amid online storms. The 'Hu vs Shen' public spat shifted the subject from whether it is moral to ridicule a neighboring country for its tragedy to whether it is good for an official government account to ridicule a neighboring country for its tragedy.
Similarly, the 'Hu vs. Chairman Rabbit' dispute shifted the subject from whether it is moral to wage a war over Pelosi's visit to whether it would be in China's best national interests to wage a war and to the influence of online public commentators within this matter.
Chairman Rabbit posted a second lengthy post regarding the dispute on August 4th, in which he again reiterated his stance that Hu Xijin's tone on social media did not match the official stance, and that Hu, with limited diplomatic and military knowledge, miscalculated his response to the Pelosi issue and guided public opinion in the wrong direction.
The dispute between the two influential commentators triggered discussions, with some bloggers wondering when the next round of bickering is going to take place. In doing so, Chairman Rabbit has also been instrumental in channeling nationalist sentiments and creating some calm after the online storm following Pelosi's visit.
"I think the Propaganda Department needs take responsibility, as they tacitly accepted Hu Xijin's influence on public opinion. They can't later shift all the blame to a person who's already retired," one popular comment said: "Those who are responsible should take responsibility! Our propaganda has always seen some problems, both internally as well as externally."
Other commenters think Hu Xijin is getting too much credit for being held responsible for shifting public opinion. "My friends don't even know who Hu Xijin is, yet they had also shifted in the 'prepare for war' direction," one Weibo user writes, with another person adding: "He's just saying out loud what I was thinking already. If everyone said it, it might be blocked, but he can speak for us."
"Hindsight is 20/20," others say: "And we might need hawkish expressions such as those published by Hu. I still support him."
By Xiuyu Lian and Manya Koetse
Get the story behind the hashtag. Subscribe to What's on Weibo here to receive our weekly newsletter and get access to our latest articles:
Spotted a mistake or want to add something? Please let us know in comments below or email us. First-time commenters, please be patient – we will have to manually approve your comment before it appears.
©2022 Whatsonweibo. All rights reserved. Do not reproduce our content without permission – you can contact us at info@whatsonweibo.com.
Pelosi in Taiwan: "1.4 Billion People Do Not Agree with Interference in China's Sovereignty Issues"
"The Old Witch has landed!", many commenters wrote on Weibo when Pelosi arrived in Taiwan.
August 2nd was a tumultuous day on Chinese social media, with millions of netizens closely following how Pelosi's plane landed in Taiwan. Chinese state media propagate the message that not only Chinese authorities condemn the move, but that the Chinese people denounce it just as much.
Pelosi's visit to Taiwan is all the talk on Weibo, where netizens are closely following the latest developments and what they might mean for the near future of Taiwan and Sino-American relations.
"Today is a sensitive time, as it is said that Pelosi will fly into Taiwan tonight, challenging the one-China principle," Global Times political commentator Hu Xijin wrote on Weibo on Tuesday afternoon, while Pelosi's plane was still en route:
"At this time I'd like to tell everyone, that I firmly believe the Chinese government will definitely take a series of countermeasures, which include military actions. The Ministry of National Defense and the Ministry of National Defense have repeatedly said they are "on the alert and combat-ready" and will not "sit and watch." This is the country's prestige, how could they not hit back? So let's wait and see what will happen next."
Tuesday was an extremely tumultuous day on Chinese social media as Taiwan- and Pelosi-related hashtags popped up one after the other, and news and videos kept flooding the platform, sometimes leading to a temporary overload of Weibo's servers.
Around 20.30, an hour before Pelosi was expected to land in Taiwan at that time, more than half of all the trending search topics on Weibo related to Pelosi and Taiwan as virtually everyone was following the plane's route and when it would land.
Not long before the expected landing of Pelosi's plane, footage circulated on Weibo showing the iconic Taipei 101 building with a display of greetings to Pelosi, welcoming her to Taiwan and thanking her for her support.
This video of this building in Taiwan projecting messages welcoming Pelosi and thanking her for support is circulating online right now (they say it's Taipei 101 but not sure if it really is). pic.twitter.com/Vid02Orkp1

— Manya Koetse (@manyapan) August 2, 2022
By Tuesday night, Chinese official channels promoted the hashtags "The United States Plays With Fire & Will Burn Itself by Taiwan Involvement Provocation" (#美台勾连挑衅玩火必自焚#) along with the hashtag "1.4 Billion People Do Not Agree with Interference in China's Sovereignty Issues" (​​#干涉中国主权问题14亿人不答应#).
Millions of Chinese netizens followed flight radar livestreams, with one livestream by China.org receiving over 70 million viewers at one point.
On Tuesday night at 22:44 local time, after taking a detour, Pelosi's plane finally landed in Taipei. About eight minutes later, Nancy Pelosi, wearing a pink suit, stepped out of the plane together with her delegation.
"The Old Witch has landed!", many commenters wrote on Weibo, where Nancy Pelosi has been nicknamed 'Old Witch' recently.
Not long after, Hu Xijin posted on both on Twitter (in English) and on Weibo (in Chinese), writing that Pelosi's landing in Taiwan opened an "era of high-intensity competition between China and US over Taiwan Strait." Hu wrote that the PLA is announcing a series of actions, including military drill operations and live-fire exercises in zones surrounding Taiwan from August 4 to 7.
Foreign Ministry spokesperson Hua Chunying (华春莹) also posted a series of tweets condemning the "wrong and dangerous path" the U.S. is allegedly heading down, reiterating the same '1.4 billion people do not agree' narrative that was previously propagated on Weibo by official channels: "Making themselves an enemy of the 1.4 billion Chinese people will not end up well. Acting like a bully in front of the whole world will only make everyone see that the US is the biggest danger to world peace."
Many netizens expressed frustrations over how seemingly easy it was for Pelosi to land in Taiwan despite repeated warnings. "It's not like I want us to go to war," one person wrote on Weibo: "But they are getting off too easy. For days we shouted about countermeasures, what kind of countermeasure is this?"
"Even our community guard who makes 1500 a month [$220] does a better job; if he says you can't come in, you can't come in," another blogger wrote.
The majority of commenters do express their dissatisfaction and anger about Pelosi coming to Taiwan, some even writing: "I hope that Taiwan is liberated when I wake up" or "We must unify again, once the Old Witch is gone, we can do so."
Passed midnight the hashtag "There Is But One China" (#只有一个中国#), initiated by CCTV, picked up on Weibo and received over 320 million views. The post by CCTV that only said "there is but one China" was forwarded on Weibo over 1,3 million times.
"Taiwan is China's Taiwan," many people commented.
"I don't think I can sleep tonight," some wrote.
Meanwhile, on FreeWeibo, a website monitoring censored posts on Chinese social media platform Weibo, there are some posts casting another light on the Taiwan issue.
"Regarding 'Taiwan is China's Taiwan.' Every person can vote, there's multi-party rule, and there can be democratic elections. Only then can we talk about a reunification," one comment said. It was censored shortly after.
For our other articles relating to Pelosi and her Taiwan visit, click here.
By Manya Koetse
With contributions by Miranda Barnes
Get the story behind the hashtag. Subscribe to What's on Weibo here to receive our weekly newsletter and get access to our latest articles:
Spotted a mistake or want to add something? Please let us know in comments below or email us. First-time commenters, please be patient – we will have to manually approve your comment before it appears.
©2022 Whatsonweibo. All rights reserved. Do not reproduce our content without permission – you can contact us at info@whatsonweibo.com.