Beijing Introduces New Rules: Employers Can No Longer Ask Female Candidates about Marital or Childbearing Status
It's supposed to promote equality on the job market, but will it change things?
First published
Chinese employers are reportedly no longer allowed to ask female job candidates if they are married or have children. But will this help the position of Chinese women on the job market?
Nine government departments in Beijing have jointly released a document stating that employers are no longer allowed to ask female job candidates about their marital or childbearing status.
Although the issue made headlines in China on June 27, a document issued by the Chinese Ministry of Human Resources and Social Security in February of this year already contained the stipulations. The notice shared by state media today is dated May 20, 2019.
The document is titled "Notice on Further Strengthening Recruitment Management to Promote Women's Employment" ("关于进一步加强招聘活动管理促进妇女就业工作的通知") (link), and states that no requirements for gender should be included in any recruitment plans or interviews.
Xinhua News reports that the document prohibits asking about the marital or fertility status of female candidates during interviews, and also eliminates pregnancy testing from pre-employment health examination lists.
The recent move is part of a wider effort led by China's Ministry of Human Resources and Social Security to ban discrimination against women in the workforce.
Companies violating these rules will reportedly be fined 10,000 yuan ($1452) or more if they refuse to correct their practices.
At time of writing, the topic "Recruiters Cannot Ask about Women's Marital & Childbearing Status" (#招聘不得询问妇女婚育情况#) received over 340 million views on social media platform Weibo.
Gender discrimination on China's job market
Gender discrimination in the job-search process has been a hot topic in China for years. A 2015 study found that 87% of female college grads say there is gender discrimination for female job candidates.
The position of women in China's job market is a complicated one.
On the one hand, education levels for women have greatly improved among Chinese women over recent decades, bringing greater gender equality – not just within the family, but within the society at large.
China boasts one of the higher levels of female labor force participation in the world. In 2018, the female labor force participate rate was 61%.
But at the same time, Chinese women face huge disadvantages in their working lives. Preferences for male candidates are ubiquitous in job advertisements, or may state that women who are married with children are preferred candidates. On average, women also still earn 36% less than men for doing similar work.
Since the end of the One Child Policy, social pressure to have a second child and calls for extended maternity leaves for women are potentially harming the (economic) position of women in China in the long run.
With a 98-day paid maternity leave and paid leave for prenatal checkups, Chinese laws on maternity leave are quite generous. But because this significantly increases the financial costs for (private) companies, many employers would rather hire a man than a woman who has not had children yet.
With the introduction of the "two-child-policy", a woman could take a total paid leave of almost 200 days if she had two children. Calls to extend maternity leave to three years caused controversy on Weibo in 2014, when women said that nobody would hire a woman that could potentially be gone for six years.
In 2018, news came out that one school in Zhengzhou, Henan, had a policy of giving 'time slots' to female teachers to get pregnant with their (second) child. When one female teacher fell pregnant before her 'turn' was up, she was dismissed.
Earlier this year, the case of a woman in Dalian who was let go by the company for falling pregnant within her trial period also ignited discussions online.
When women who are already employed have a baby, they also have a greater chance of being demoted or earning less. A survey by job recruitment site Zhaopin.com found that 33 percent of women had their pay cut after giving birth and 36 percent were demoted (NPR).
When it was announced in 2016 that Anhui province would introduce a paid 'menstrual leave' for working women on their period, many female netizens protested the policy, saying that granting women special days off would only "make it even harder for women to be hired."
Will this really help?
As for the latest announced regulations – many netizens are not too optimistic that they will actually change the position of women on the job market.
"Lazy politics, do they think that a few laws will solve the basic problem? And that companies will listen?"
"How will you implement these regulations?", others wonder.
"Even if they're not allowed to ask, they have others way to find out your status," another person writes.
One Weibo commenter remarks: "I asked my friend who works in human resources if they really ask these questions. He answered: 'Of course we don't, that would be very unprofessional.' 'But if you filter out the resumes do you take gender into account?' He answered: 'Ha ha ha! Of course we do!'"
Some responses on Weibo are even more pessimistic, saying: "This will just make companies deny women of a certain age altogether. If you really want to change things you should give both men and women maternity leave."
"To be honest," one commenter named Absolom writes: "The costs that come with women's childbearing should either be a responsibility taken up by the family (if you think that childbearing is a private affair), or by the state (if you think heightening childbearing rates is of importance to society). The ones least responsible for this are companies. If you put all responsibility on companies, I'm afraid that it's still the women who suffer in the end. If they're not allowed to ask, these companies simply won't hire women of childbearing age at all."
The majority of comments on Weibo also convey the idea that the policy might lead to companies not hiring women at all anymore; making things worse for them instead of improving their position on the job market.
But not all responses are negative. "I do support this policy," one person comments: "When I just graduated and was looking for a job, one employer once expressed his concern over my single status, [saying] they were afraid I'd get married. Recently I was also looking for work, and one person straightforwardly asked me if I was okay with quitting my job if I'd get pregnant."
Even so, the supportive comments are difficult to find among the thousands of reactions. "Are you 30 and single?" one Weibo user writes: "You might as not go to the job interview at all anymore."
By Manya Koetse, with contributions from Miranda Barnes
Follow @whatsonweibo
Spotted a mistake or want to add something? Please let us know in comments below or email us. Please note that your comment below will need to be manually approved if you're a first-time poster here.
©2019 Whatsonweibo. All rights reserved. Do not reproduce our content without permission – you can contact us at info@whatsonweibo.com
Residents in Locked Down Lhasa Say Local Epidemic Situation is a "Giant Mess"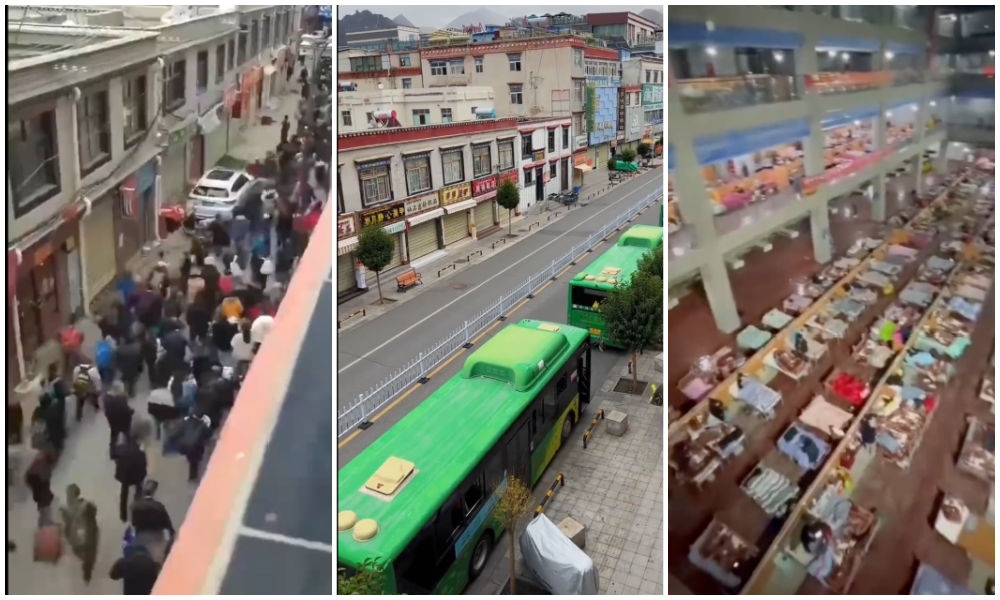 They've been in lockdown for 42 days already, but according to some Lhasa-based bloggers, there have been no improvements in the local epidemic situation. They say there is a stark difference between what officials are reporting and the daily reality they are dealing with in Tibet.
"The epidemic situation is bad in Lhasa, please pay attention," one netizen wrote on Weibo on September 15, pointing to many new posts surfacing on Chinese social media about the difficulties people are facing in Lhasa city in Tibet.
Over the past week, many Tibet-based bloggers have posted on social media about the local circumstances, and hundreds of Chinese social media posts talk about similar problems in the region. Despite the ongoing lockdown, they say, there are still a growing number of positive cases within Lhasa communities; buses are allegedly going back and forth to bring people to quarantine sites where those testing positive and negative are mixed; they claim that there is an absolute lack of management and control; and many locals suggest that the official reports do not reflect the actual number of Covid cases at all.
According to the official numbers, Tibet saw its peak in Covid cases on August 17 and has since reported fewer new cases, reporting a total of 118 new cases on Thursday.
"I am a bit shocked!" one local social media user wrote: "What I saw was a total of 28 buses lined up outside Lhasa Nagqu No. 2 Senior High School, and then still more [buses] were coming. One bus can fit around 50 people, so there must have been around 1400 positive cases. There was a blind man, there were elderly people in wheelchairs, there were swaddled-up babies, from getting on the bus at 9.30 pm up to now, we've been waiting for 5 hours and we're still waiting now. It's just pure chaos at the school entrance, there is no order. I won't sleep tonight."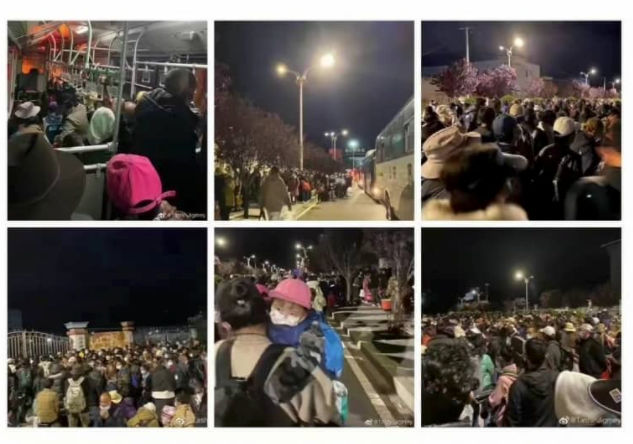 On the 14th of September, another netizen wrote:
"In order to welcome central government leaders to Lhasa and to demonstrate the "excellent" epidemic prevention capabilities of the local government & the "outstanding" results of the fight against the epidemic to them, they moved citizens to the rural areas and let them all stay crowded together in unfinished concrete buildings, with all kinds of viruses having free reign."
On a Lhasa community message board, one Weibo user wrote: "Lhasa has already been in lockdown for over a month, yet our little community has so many infected people that I'm wondering how effective a lockdown actually is? Has Tibet been forgotten? When other places in China have a few positive cases it becomes a hot topic. But what about Tibet? And what about Lhasa?"
Another anonymous poster writes: "Regarding the Lhasa epidemic situation, the numbers were already a bit fake before, but I can understand it was also to take the public sentiment into consideration. I personally don't care how you report the data, as long as the epidemic prevention and control work is properly managed, then the lockdown can be lifted soon and nobody will say anything about it. But a month has passed already, and in a town with some hundred thousands of people, the epidemic work is increasingly getting worse. Many people around me have never even left the house and inexplicably turned out to test positive. Meanwhile those who tested positive are quarantined together with people who still tested negative, it's a giant mess."
"Lhasa hasn't had a Covid outbreak for the past three years, the city doesn't have enough experience in controlling the epidemic."
"It's the 42nd day of lockdown," another person wrote on Friday: "People are lining up to go to centralized isolation, Lhasa has been in lockdown longer than Chengdu, but it doesn't make it to the hot topic lists. People who tested negative again and again suddenly turn out to be positive. Lhasa hasn't had a Covid outbreak for the past three years, the city doesn't have enough experience in controlling the epidemic. It's going to be hard to restore tourism here before the end of the year. Before, big crowds would come to visit.
Over the past few days, following a heightened focus on the situation in Xinjiang, there has also been more attention for the epidemic situation in Tibet.
"Please pay more attention to the topic of the Lhasa epidemic," one person wrote, repeating a similar message sent out by many others: "Lhasa doesn't need your prayers, we need exposure."
On Friday, one popular gamer with more than a million followers wrote on Weibo:
"Many have been reaching out to me via private messages, saying that the epidemic situation in Tibet's Lhasa is very serious. If it's really like this, I hope matters can be settled as soon as possible. I don't know if this post can stay up or not, but I want to try my best to speak up and generate more attention to this epidemic trend. I experienced two months of lockdown in Shanghai myself and understand what it feels like. I have faith in our nation, and I believe the country will definitely take action. Everyone in Tibet, jiayou [come on]."
Many of the comments and posts coming from Lhasa are similar to those we saw last week, coming from Yining in Xinjiang. Social media users based in these places complain that many of their posts have been deleted and that it is very difficult for local residents to make their voices heard.
This is different from the previous lockdown situations in, for example, Xi'an, Shanghai, or Chengdu, where people posted videos, photos, and shared their lockdown experiences, either from home, from the Covid testing lines, or from the makeshift hospitals.
A Weibo hashtag on Tibet's covid outbreak (#西藏疫情防控#) has repeatedly surged up Weibo's trending searches only to be batted down again. It purports to show now-familiar but still grim scenes: haphazardly arranged quarantine centers, barely edible food, no potable water

— Alexander Boyd (@alexludoboyd) September 15, 2022
On the one hand, the reason why people in places such as Lhasa or Yining have more difficulties in making their stories heard in China's hectic social media environment relates to the fact that these places have a relatively small population size – while Yining and Lhasa have approximately 542,00 and 465,000 inhabitants respectively, there are 21 million people in Chengdu and some 26 million in Shanghai.
But a bigger barrier to posting about their circumstances is formed by the social media censorship that is extra strict when it comes to Xinjiang and Tibet as these places are considered sensitive political subjects, which is why topics related to these regions see far more aggressive online censorship – even for seemingly innocuous posts.
One Weibo user with over 600,000 followers wrote: "In such a sensitive place as Tibet, I really needn't worry about whether they're gonna see my post or not. I posted to vent my anger and scolded the leadership for a bit and within 24 hours the police came to my hotel and asked me to delete my posts. Now that everyone is asking for help like this, they will definitely see it, but they are determined to do this and do so on purpose, it's clear they don't care about people's lives."
Meanwhile, Chinese official media reporting on the epidemic situation in Tibet stress the collective effort to fight the virus in Lhasa. On September 15, People's Daily reported how 18 sister provinces and cities across China sent their best teams to Tibet to help with local anti-epidemic work and to bring supplies.
The Tibet-based military blogger ZhufengZhengrong (@珠峰峥嵘) writes: "It's been over a month and my comrade-in-arms are still fighting on the front line (..). I just hope the epidemic will end soon, and that I will be able to meet my family and hold my children and weep."
By Manya Koetse 
Get the story behind the hashtag. Subscribe to What's on Weibo here to receive our weekly newsletter and get access to our latest articles:
Spotted a mistake or want to add something? Please let us know in comments below or email us. First-time commenters, please be patient – we will have to manually approve your comment before it appears.
©2022 Whatsonweibo. All rights reserved. Do not reproduce our content without permission – you can contact us at info@whatsonweibo.com.
Chinese Actor and State Security Ambassador Li Yifeng Detained for Soliciting Prostitutes
Li Yifeng is not exactly living up to his role as spokesperson for the Ministry of State Security.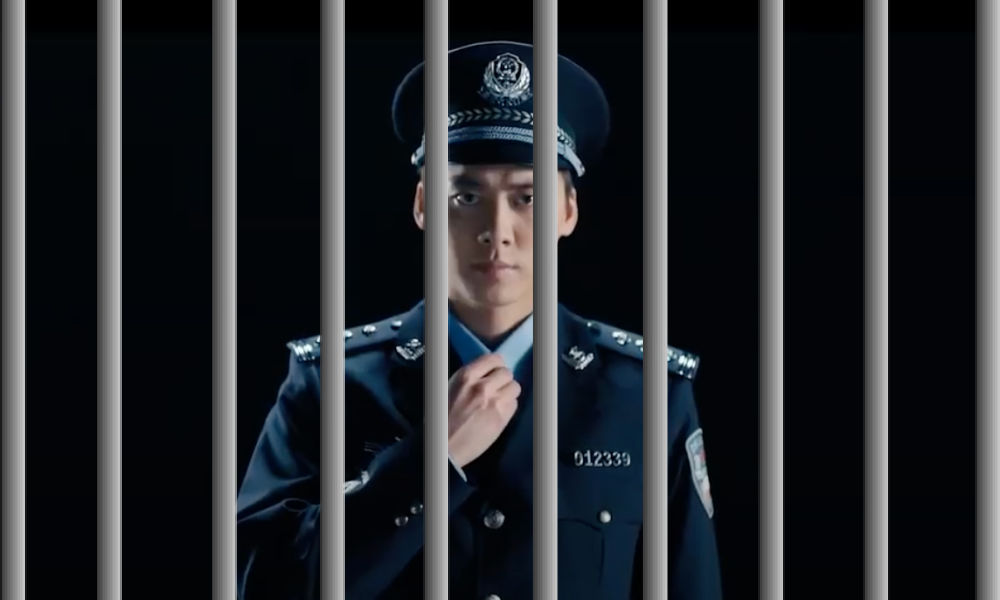 Chinese actor and singer Li Yifeng (李易峰) went top trending on Chinese social media today. The actor, who previously starred as brand ambassador for the Ministry of State Security and played Mao Zedong in The Pioneer, has been detained for visiting prostitutes.
On January 10 of 2021, China celebrated its very first National Police Day to give full recognition to the police and national security staff for their efforts. For this special day, the Ministry of State Security launched a promo video starring Chinese actor Li Yifeng as the National Police Ambassador (#李易峰国安形象传片#). But today, it turned out that Li might not have been the best man for the job.
Chinese official media reported on September 11 that the 35-year-old actor has been detained for soliciting prostitutes. The hashtag "Li Yifeng Detained for Visiting Prostitutes" (#李易峰多次嫖娼被行政拘留#) received nearly two billion views on Weibo on Sunday; the hashtag "Beijing Police Informs that Li Yifeng Solicited Prostitutes" (#北京警方通报李易峰多次嫖娼#) received a staggering three billion views.
Shortly after the news was announced, various brands for which Li served as a brand ambassador announced that they were no longer working with the actor. Lukfook Jewellery, Mengniu Dairy, Honma Golf, Panerai, Prada, Sensodyne, King To Nin Jiom, and other brands declared that they had terminated their contract with Li (#多个品牌终止与李易峰合作#).
Li rose to fame in 2007 when he participated in the Chinese My Hero talent show. He later debuted as a singer and became a successful actor, starring in various Chinese TV dramas and films. Li became especially popular after starring in Swords of Legends and won an award for his role in the 2015 Chinese crime film Mr. Six (老炮儿). He would go on to win many more awards. One of his biggest roles was starring as Mao Zedong in the 2021 blockbuster The Pioneer (革命者).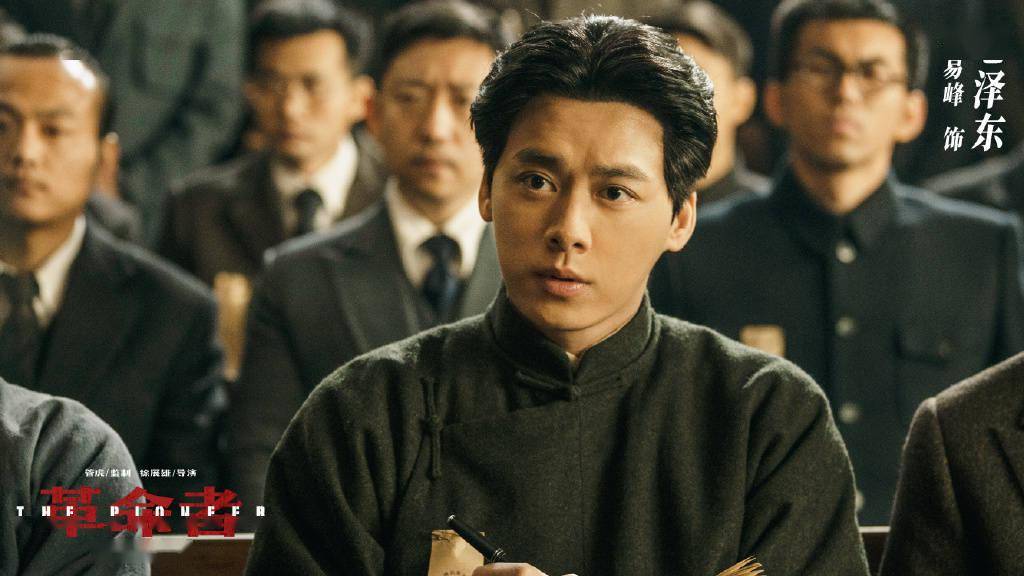 According to Global Times, Li was previously announced as one of the celebrities attending the Mid-Autumn Festival Gala on CCTV on Saturday night, but his name was later deleted from the program.
"I had never expected my idol to collapse like this," some disappointed fans wrote on Weibo.
In a 'super topic' community dedicated to the star, some fans would not give up on their idol yet: "Where is the proof? Besides the Beijing police statement, where is the actual proof?"
On Li Yifeng's Weibo page, where the actor has over 60 million fans, nothing has been posted since September 5.
The Huading Awards, a famous entertainment award in China, announced that they cancelled Li Yifeng's title of "Best Actor in China" (#华鼎奖取消李易峰中国最佳男主角等称号#).
"He lost all he had overnight," some commenters wrote. "Celebrities generally get cancelled for two things: one is evading taxes, the other is sleeping around," one popular comment said: "So in a nutshell, pay your taxes and don't sleep around.*"
"Why do you even need to see a prostitute when you're so good-looking?" others wondered.
One Weibo user (@大漠叔叔) wrote: "Have a good head on your shoulders and just remember one thing. It does not matter how good your reputation is, or how many titles you have, how much the audience loves you, how much the fans embrace you, how many awards you get, it won't protect you. Stay clear-headed, merit does not outweigh faults! You can't cross the moral bottomline nor cross the boundaries of the law. You can be canceled just like that."
By Manya Koetse 
* This comment is loosely translated here, but the Chinese is quite funny because the words 'taxes' and 'sleeping' sound similar. "明星塌房的两个主要原因:一个睡,一个税。 简而言之:该税的税,不该睡的别睡."
Get the story behind the hashtag. Subscribe to What's on Weibo here to receive our weekly newsletter and get access to our latest articles:
Spotted a mistake or want to add something? Please let us know in comments below or email us. First-time commenters, please be patient – we will have to manually approve your comment before it appears.
©2022 Whatsonweibo. All rights reserved. Do not reproduce our content without permission – you can contact us at info@whatsonweibo.com.