Beijing Introduces New Rules: Employers Can No Longer Ask Female Candidates about Marital or Childbearing Status
It's supposed to promote equality on the job market, but will it change things?
First published
Chinese employers are reportedly no longer allowed to ask female job candidates if they are married or have children. But will this help the position of Chinese women on the job market?
Nine government departments in Beijing have jointly released a document stating that employers are no longer allowed to ask female job candidates about their marital or childbearing status.
Although the issue made headlines in China on June 27, a document issued by the Chinese Ministry of Human Resources and Social Security in February of this year already contained the stipulations. The notice shared by state media today is dated May 20, 2019.
The document is titled "Notice on Further Strengthening Recruitment Management to Promote Women's Employment" ("关于进一步加强招聘活动管理促进妇女就业工作的通知") (link), and states that no requirements for gender should be included in any recruitment plans or interviews.
Xinhua News reports that the document prohibits asking about the marital or fertility status of female candidates during interviews, and also eliminates pregnancy testing from pre-employment health examination lists.
The recent move is part of a wider effort led by China's Ministry of Human Resources and Social Security to ban discrimination against women in the workforce.
Companies violating these rules will reportedly be fined 10,000 yuan ($1452) or more if they refuse to correct their practices.
At time of writing, the topic "Recruiters Cannot Ask about Women's Marital & Childbearing Status" (#招聘不得询问妇女婚育情况#) received over 340 million views on social media platform Weibo.
Gender discrimination on China's job market
Gender discrimination in the job-search process has been a hot topic in China for years. A 2015 study found that 87% of female college grads say there is gender discrimination for female job candidates.
The position of women in China's job market is a complicated one.
On the one hand, education levels for women have greatly improved among Chinese women over recent decades, bringing greater gender equality – not just within the family, but within the society at large.
China boasts one of the higher levels of female labor force participation in the world. In 2018, the female labor force participate rate was 61%.
But at the same time, Chinese women face huge disadvantages in their working lives. Preferences for male candidates are ubiquitous in job advertisements, or may state that women who are married with children are preferred candidates. On average, women also still earn 36% less than men for doing similar work.
Since the end of the One Child Policy, social pressure to have a second child and calls for extended maternity leaves for women are potentially harming the (economic) position of women in China in the long run.
With a 98-day paid maternity leave and paid leave for prenatal checkups, Chinese laws on maternity leave are quite generous. But because this significantly increases the financial costs for (private) companies, many employers would rather hire a man than a woman who has not had children yet.
With the introduction of the "two-child-policy", a woman could take a total paid leave of almost 200 days if she had two children. Calls to extend maternity leave to three years caused controversy on Weibo in 2014, when women said that nobody would hire a woman that could potentially be gone for six years.
In 2018, news came out that one school in Zhengzhou, Henan, had a policy of giving 'time slots' to female teachers to get pregnant with their (second) child. When one female teacher fell pregnant before her 'turn' was up, she was dismissed.
Earlier this year, the case of a woman in Dalian who was let go by the company for falling pregnant within her trial period also ignited discussions online.
When women who are already employed have a baby, they also have a greater chance of being demoted or earning less. A survey by job recruitment site Zhaopin.com found that 33 percent of women had their pay cut after giving birth and 36 percent were demoted (NPR).
When it was announced in 2016 that Anhui province would introduce a paid 'menstrual leave' for working women on their period, many female netizens protested the policy, saying that granting women special days off would only "make it even harder for women to be hired."
Will this really help?
As for the latest announced regulations – many netizens are not too optimistic that they will actually change the position of women on the job market.
"Lazy politics, do they think that a few laws will solve the basic problem? And that companies will listen?"
"How will you implement these regulations?", others wonder.
"Even if they're not allowed to ask, they have others way to find out your status," another person writes.
One Weibo commenter remarks: "I asked my friend who works in human resources if they really ask these questions. He answered: 'Of course we don't, that would be very unprofessional.' 'But if you filter out the resumes do you take gender into account?' He answered: 'Ha ha ha! Of course we do!'"
Some responses on Weibo are even more pessimistic, saying: "This will just make companies deny women of a certain age altogether. If you really want to change things you should give both men and women maternity leave."
"To be honest," one commenter named Absolom writes: "The costs that come with women's childbearing should either be a responsibility taken up by the family (if you think that childbearing is a private affair), or by the state (if you think heightening childbearing rates is of importance to society). The ones least responsible for this are companies. If you put all responsibility on companies, I'm afraid that it's still the women who suffer in the end. If they're not allowed to ask, these companies simply won't hire women of childbearing age at all."
The majority of comments on Weibo also convey the idea that the policy might lead to companies not hiring women at all anymore; making things worse for them instead of improving their position on the job market.
But not all responses are negative. "I do support this policy," one person comments: "When I just graduated and was looking for a job, one employer once expressed his concern over my single status, [saying] they were afraid I'd get married. Recently I was also looking for work, and one person straightforwardly asked me if I was okay with quitting my job if I'd get pregnant."
Even so, the supportive comments are difficult to find among the thousands of reactions. "Are you 30 and single?" one Weibo user writes: "You might as not go to the job interview at all anymore."
By Manya Koetse, with contributions from Miranda Barnes
Follow @whatsonweibo
Spotted a mistake or want to add something? Please let us know in comments below or email us. Please note that your comment below will need to be manually approved if you're a first-time poster here.
©2019 Whatsonweibo. All rights reserved. Do not reproduce our content without permission – you can contact us at info@whatsonweibo.com
Shandong Woman Dies after Suffering Abuse by In-Laws over Infertility
Anger over Shandong abuse case: "Is this how the law protects women?!"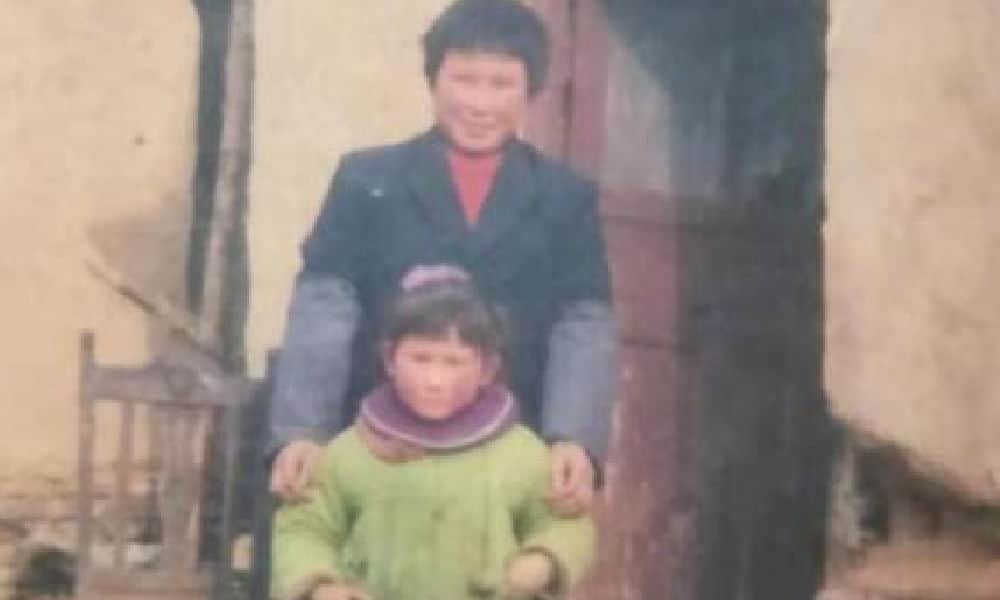 Just a month after the tragic story of a Chinese vlogger being killed by her husband triggered outrage on social media, another extreme domestic abuse case has gone trending on Weibo.
This time, it concerns the story of the 22-year-old woman named Fang Yangyang (方洋洋) who lived in Fangzhuang village in Dezhou, Shandong Province. The woman passed away in 2019 after suffering prolonged abuse by her husband and in-laws. Chinese media report that the abuse was related to Fang's infertility issues.
Fang married her husband Zhang Bing (张丙) in November of 2016. It was an arranged marriage, with Zhang's parents paying a bride price of 130,000 yuan (almost $20,000).
When Fang did not get pregnant after marrying her husband, she started suffering severe emotional and physical abuse at the hands of her husband and in-laws, beginning in July of 2018. Zhang and his parents reportedly beat Fang with wooden rods, refused to let her eat, locked her up, and let her freeze outside in the cold.
Fang, who weighed 180 pounds (80 kilograms) when she got married, only weighed 60 pounds (30 kilograms) in early 2019. Beijing News reports that Fang, malnourished and weak, died on January 31st 2019 after suffering another beating by her in-laws.
The case received more attention on social media this week as the local Yucheng People's Court (山东禹城法院) reviewed the case after an earlier verdict in January. The retrial is set to take place on November 27.
In January 2020, the court sentenced Fang's husband and his parents for the crime of abuse. The victim's father-in-law, Zhang Jilin (张吉林), received three years in prison, her mother-in-law, Liu Lanying (刘兰英), got 26 months in prison, and her husband's sentence was suspended with a three-year probation time, as reported by Sixth Tone and China Daily.
The relatively light punishments triggered anger on Weibo, where the hashtag "Woman Suffers Abuse by In-Laws for Being Infertile and Dies" (#山东一女子因不孕遭婆家虐待致死#) has been trending for days, along with other similar hashtags (#女子因不孕被夫家虐待致死案重审#, #山东女子因不孕被虐待致死#).
A statement issued by Yucheng People's Court said the court gave the defendants lighter punishment because they were truthful about their crimes and, in advance, paid a voluntary compensation of 50,000 yuan ($7630). The verdict will now be withdrawn.
In an interview with Southcn.com, Fang's cousin stated the family had contacted police before when Fang's in-laws would not allow the family to see her. The second time they contacted the police was after Fang had died.
Sources close to the family state that Fang's mother had been diagnosed with a mental condition, with Fang allegedly also showing signs of mental disability, although this has not been verified by official sources. There are also sources claiming that the father-in-law, Zhang Jilin, was a heavy drinker who would get aggressive when drunk.
On social media, many people are outraged. "I just don't understand it!", one person writes: "It's just because of societal pressure that this case is now going on retrial. But this is not justice!"
Public anger about the case grew louder due to another case trending at the same time, in which a Shenzhen mother who beat her 12-year-old daughter to death received a ten-year prison sentence (#母亲失手打死12岁女儿获刑十年#).
"This is unimaginable," one Weibo user wrote: "Isn't the idea of sentencing someone to actually punish them?!"
"This pains me so much, is this the actual society we're living in?"
Besides the anger over China's criminal justice system when it comes to domestic violence, there are also those who express disgust over the fact that the Zhang family apparently arranged a marriage for the sole purpose of producing offspring. "Are we still living in the Qing Dynasty?"
Many of the comments online are similar to those that flooded social media after the death of Lamu: "Is this how the law protects women?!"
We will report more on this story after November 27.
By Manya Koetse
Follow @WhatsOnWeibo
Spotted a mistake or want to add something? Please let us know in comments below or email us. First-time commenters, please be patient – we will have to manually approve your comment before it appears.
©2020 Whatsonweibo. All rights reserved. Do not reproduce our content without permission – you can contact us at info@whatsonweibo.com.
Hard Measures for Durex in China after "Vulgar" Ads
One Durex sex toy ad gave off the wrong vibrations to Chinese regulators.
As if it wasn't already bad enough that fewer people are having sex during COVID19 lockdowns, leading to a decline in condom sales, condoms & sex toys brand Durex is now also (again) punished for the "vulgar" contents of its advertisements in China.
News of Durex facing penalties in China became top trending on Thursday, with one Weibo hashtag page about the matter receiving over 1,2 billion views.
Durex has over three million fans on its official Weibo account (@杜蕾斯官方微博), which is known for its creative and sometimes bold posts, including spicy word jokes. Durex opened its official Weibo account in 2010.
A post by Durex published on Wednesday about the release of Apple's super speedy new 5G iPhone, for example, just said: "5G is very fast, but you can take it slow," adding: "Some things just can't be quick." The post received over 900,000 likes.
Other ads have also received much praise from Chinese netizens. One ad's slogan just shows a condom package, saying "Becoming a father or [image of condom] – it's all a sign of taking responsibility."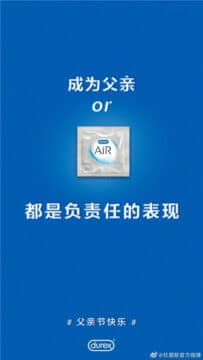 According to various Chinese news outlets, Durex has been penalized with a 810,000 yuan ($120,400) fine for failing to adhere to China's official advertisement guidelines, although it is not entirely clear to us at this point which fine was given for which advertisement, since the company received multiple fines for different ads over the past few years.
One fine was given to Durex Manufacturer RB & Manon Business (Shanghai) for content that was posted on e-commerce site Tmall, Global Times reports.
According to the state media outlet, "the ad used erotic words to describe in detail multiple ways to use a Durex vibrator." The fine was already given out in July of this year, but did not make headlines until now.
In another 2019 case, the condom brand did a joint social media campaign cooperation with Chinese milk tea brand HeyTea, using the tagline "Tonight, not a drop left," suggesting a connection between HeyTea's creamy topping and semen.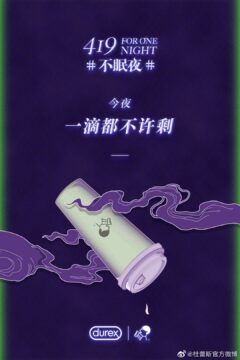 According to China's Advertisement Examination System (广告审查制度), there are quite some no-goes when it comes to advertising in China. Among many other things, ads are not allowed to be deceptive in any way, they cannot use superlatives, nor display any obscene, scary, violent or superstitious content.
Chinese regulators are serious about these rules. In 2015, P&G's Crest was fined $963,000 for "false advertising", at it promised that Crest would make your teeth whiter in "just one day."
However, advertisement censorship can be a grey area. Any ads that "disturb public order" or "violate good customs," for example, are also not allowed. For companies, it is not always clear when they are actually crossing a line.
On Weibo, there are also contrasting opinions on this matter. Many people, however, support Durex and enjoy their exciting ads and slogans. With the case dominating the top trending charts and discussions on social media the entire day, the latest penalty may very well be one of Durex's most successful marketing campaigns in China thus far.
By Manya Koetse
Follow @WhatsOnWeibo
Spotted a mistake or want to add something? Please let us know in comments below or email us. First-time commenters, please be patient – we will have to manually approve your comment before it appears.
©2020 Whatsonweibo. All rights reserved. Do not reproduce our content without permission – you can contact us at info@whatsonweibo.com.