Bystander Video Shows Chinese Blogger Wang Xixi Punching and Kicking Food Delivery Man
The 'big V' blogger tried to clear her name after the incident went viral.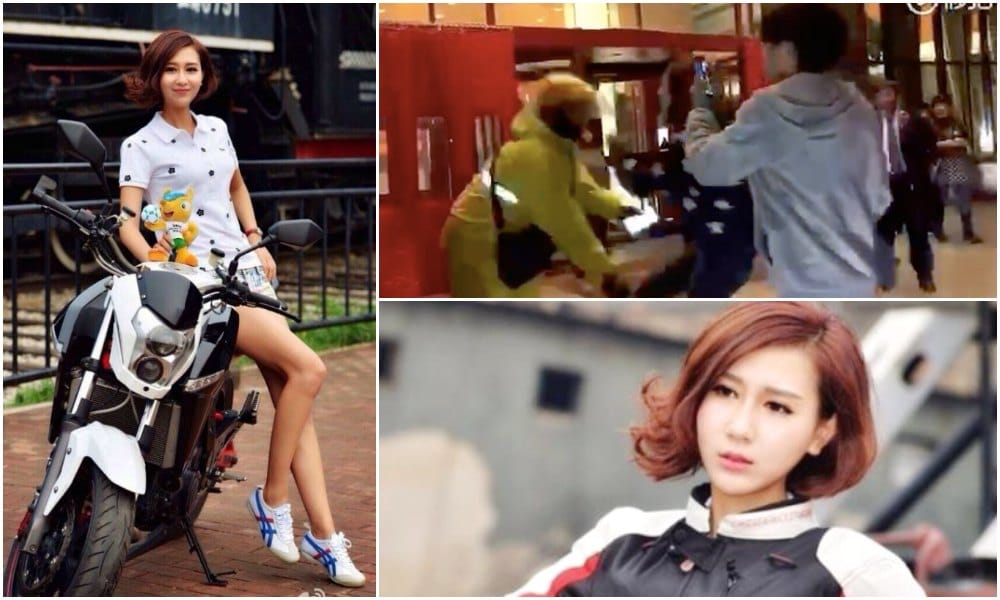 A well-known Chinese auto industry blogger named Wang Xixi (@王兮兮Shirley, 3.1 million fans on Weibo) is at the center of controversy since a video leaked on social media that shows her hitting and punching a food delivery man.
The video, that was recorded by a bystander in Beijing in March of this year, shows Wang standing outside a building during nighttime, yelling at a delivery guy working for the Meituan company (see part of the video in tweet below, full video here).
Quite infuriating how Chinese blogger & presenter Wang Xixi is punching on this Meituan delivery man and then tries to hide behind her status as a "media person." Big story on Weibo now. pic.twitter.com/7H6U3JiONs

— Manya Koetse (@manyapan) 25 juni 2019
According to various Chinese media sources, the altercation occurred after Wang and her colleague were driving together and hit the Meituan delivery man on his scooter.
Although the police ruled that Wang's colleague was at fault in the accident, the blogger later went to find the delivery man, named Tian.
The video shows Wang screaming at Tian, and then she starts kicking and hitting him, after which she accuses him of hitting her instead.
When he tries to call the police, she attempts to take his phone away from him. "Do you know what I do?", she can be heard saying in the video: "I'm in the media industry!"
Wang Xixi is a blogger and presenter for various online channels related to the auto industry.

Abusing Media Background

The incident has especially sparked controversy on Chinese social media because Wang apparently tried to use her media background to clear her name after the video started making its rounds.
Wang Xixi is a graduate from the Communication University of China (CUC). In screenshots that are now going viral on Weibo, Wang asks her friends in the media field for help in this matter to get her story on state media to "clarify," because she is suffering from "internet violence."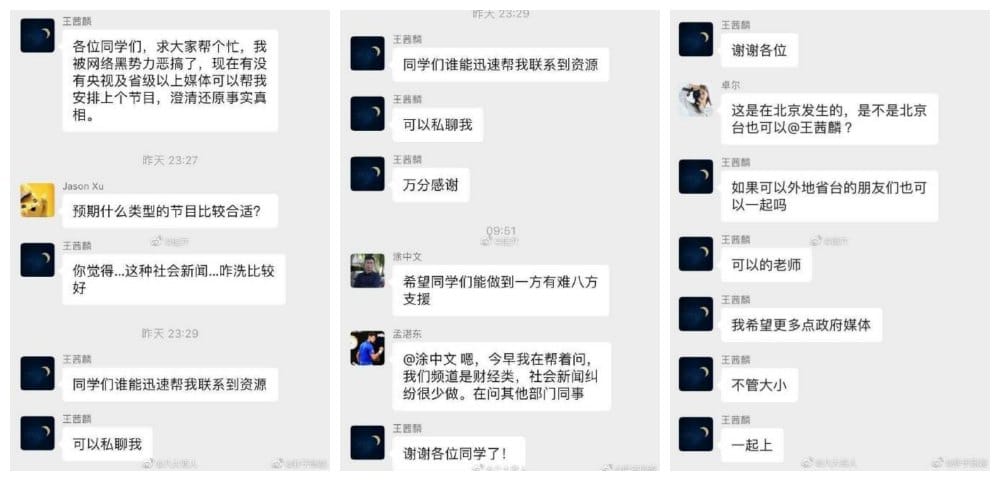 Many netizens are angry, not just because of Wang's violent behavior towards the Meituan delivery staff, but also because she has clearly been trying to use her media influence to threaten Tian and to clear her name by changing the story.
"She is abusing her media background to bully on the Meituan delivery man," one commenter writes, calling Wang's behavior "repulsive."
Earlier this month, Chinese singer Yico Zeng also triggered major controversy for refusing to comply with security officers' orders at the Beijing airport, after which she turned to social media to expose one officer's personal details.
On June 25, Wang published an apology video on her Weibo account, calling herself "hot-headed" and "impertinent." The apology post soon attracted more than 66,000 comments, but these were blocked from public viewing. Wang also stated she had already apologized to the Meituan delivery man.
"Your apologies are useless, the impact has already been too big, time for you to be shut out," some Weibo users write.
"Just because you're a 'big V' [verified social media influencer], you think it's ok to hit someone? If that delivery guy had hit you instead, he'd be arrested immediately."
Meituan responded to the issue stating that Wang had indeed apologized to their delivery staff member, and that the matter had been settled.
For many netizens, however, this case is far from over yet, and they are demanding that Wang should be punished for her actions. As for now, it is not clear to what extent the incident will impact Wang's work.
By Manya Koetse and Miranda Barnes
Follow @whatsonweibo
Spotted a mistake or want to add something? Please let us know in comments below or email us. Please note that your comment below will need to be manually approved if you're a first-time poster here.
©2019 Whatsonweibo. All rights reserved. Do not reproduce our content without permission – you can contact us at info@whatsonweibo.com
China's 'Sheep People': The Stigmatization of Covid Patients
Has testing negative or positive for Covid become a matter of 'good' versus 'evil'?
As many people face Covid-related discrimination in China after testing positive, social media users are now speaking out against popular (online) language that refers to Covid patients as 'sheep,' saying the way people talk about the virus is worsening existing stigmatization.
As Shanghai is entering its sixth week of citywide Covid lockdowns, there have been over 60,000 confirmed cases of Covid, and more than 52,000 people have recovered. Meanwhile, other cities in China, including Beijing and Zhengzhou, are also seeing Covid cases rise.
Everyone who tests positive for Covid in China currently needs to go to a centralized quarantine location to 'recover,' even if they have no symptoms. Covid-19 patients are not allowed to isolate at home due to the risk of spreading the virus or developing severe illness.
Patients who have been discharged from quarantine locations do not always receive a warm welcome upon returning back to their community. They need to test negative for Covid twice in a row before being discharged, but then often face discrimination from neighbors or family members who fear they might still carry the virus.
In online conversations, people who have tested positive for Covid are also referred to as "little positive people" (小阳人). But because the Chinese (Mandarin) word for 'positive' (yáng 阳) has the same pronunciation as the word for 'sheep' (yáng 羊), the meaning has come to shift, going from 'little positive people' to 'little sheep persons' (小羊人).
Gradually, Covid patients have also started to be labeled as "two-legged sheep" (liǎngjiǎoyáng 两脚羊), with male patients sometimes referred to as rams (gōngyáng 公羊) and female patients as ewes (mǔyáng 母羊). On social media, netizens also simply use the emoticon for a sheep (🐑) to refer to Covid-positive people.
"Stop calling Covid patients 'little sheep'!"
A recent WeChat article by the health and medical platform Dxy.com describes the trend of referring to Covid patients as 'little sheep' stigmatizing and disrespectful, calling on people to stop labeling (recovered) Covid patients like this (DXY 2022).
The article suggests it is harmful to discriminate against Covid patients, comparing the language that is being used to describe Covid patients to how people affected by leprosy have suffered stigma and discrimination throughout history.
Using the hashtag "Stop Calling Covid Patients 'Little Sheep [Positive] People'" (#别再叫新冠患者小阳人了#), Weibo users are discussing the stigmatization of people with Covid, with many agreeing that the language used to talk about Covid patients needs to change.
"This is no different than when other countries talked about the 'Wuhan virus' at the start of the pandemic," one commenter wrote. "I always felt puzzled when people would use 'sheep' to talk about infected people, it's so disrespectful," another person replied. "People are people, with feelings and dignity, it's just inhumane to refer to them as 'two-legged sheep.'"
In April, another online article – including a conversation with a Shanghai Disease Control and Prevention doctor – also pointed out the problem of Chinese Covid patients being stigmatized. Popular science author Wang Jie (汪诘), who is based in Shanghai, wrote that the misunderstanding and panic about the virus are actually more frightening than Covid itself and that the disdain for Covid patients is most harmful to them.
The article was controversial and ended up being taken offline from Wechat, mainly because Wang Jie stressed that in the midst of China's zero-Covid policy and the Shanghai outbreak, the 'cure' against the wave of Covid infections seemed to be worse than the virus itself. In doing so, Wang also addressed that the way Covid patients are being treated is often based on fear and panic rather than science.
All of the panic surrounding the virus has placed those who are positive or even recovered under scrutiny. China's low infection rates have also made persons who have tested positive for Covid an anomaly to many, and there is the simple fear the virus might be transmitted to them or their loved ones – a risk that would affect their family and might even have consequences for the entire community they live in.
In early stages of a local outbreak, some of the people who were among the first to test positive were also referred to as 'spreaders' (放毒). In many cases, their contact tracing records were made public to inform residents, leading to the entire country knowing a person's recent whereabouts (in one case, this exposed the tragic story of a Beijing migrant).
"When did testing positive become a social problem, and not just a medical one?"
Despite using different vocabulary, Chinese state media reports on how to deal with discharged patients perhaps also do not help in fighting the Covid stigma. In April, Shanghai Daily reminded people that recovered Covid-19 patients won't infect others after returning home, but at the same time, it also suggested that recovered patients should live in well-ventilated rooms alone and avoid close contact and meals with their family members, while also reducing contact with other residents in the community (Yang 20220).
The official guidelines for recovered Covid patients in Shanghai require seven-day home health testing (check temperature twice a day, another nucleic acid test on the seventh day), and also prescribe people to stay isolated at home in a room by themselves and keeping a safe distance from others.
"I talked to my neighbor who came back from the quarantine hospital. He said he felt that people were avoiding him, that he was discriminated against and getting stared at. He worried about how this might mentally hurt his daughter, afraid that others wouldn't play with her anymore," one Weibo commenter named 'Walexandraw' shared.
Another social media user nicknamed 'Love is Torture' wrote that the community where they lived did not allow them back in after returning from the quarantine facility, forcing them to stay at their company's dormitory instead: "So what use is the government proof of recovery? Is it nothing but a piece of paper? I have a home I can't return to, is this the correct way to handle things?!"
Recently, a photo showing a drawing on the back of the hazmat suit of an anti-epidemic worker also triggered some controversy online. The drawing shows a black and a white figure, and underneath it says "grabbing sheep" (捉羊).
The picture is based on Heibai Wuchang (黑白无常), two Chinese folk religion deities – the Black and White Guard, sometimes represented as one single person – in charge of escorting spirits of the dead to the underworld. Persons doing good will meet the deity of fortune, while persons committing evil will meet the malevolent deity (Eng 2019).
Many people condemned the drawing for the message it conveyed of wrong versus right, with the 'sheep' testing positive for Covid going to 'hell.' Some mentioned that this kind of objectification of people could contribute to a Lucifer effect where anti-epidemic workers actually start to internalize ideas about the people they are testing in terms of 'grabbing sheep' and 'good versus evil.'
"This person is objectifying patients by referring to them as 'sheep' and using the Heibai Wuchang drawing along with it, really making people uncomfortable," one person wrote, with another Weibo user commenting:
"Since when do you have to feel inferior and guilty about it all being your own fault if you get the virus? When did testing positive become a social problem, and not just a medical one? Why not give positive patients a respectful name instead of a wrong one like 'little sheep person'?"
Weibo blogger 'Directube' also posted another digital art work highlighting this idea of medical workers fighting against the evil of Covid.
"Is this 2022 or 1822?" one person wondered.
Despite all the online calls to change the popular language related to Covid ("language is a tool for thought and shapes what we think all the time), there are also many netizens who find the nicknames funny and innocent, and continue to call Covid patients 'little sheep' and other related terms.
"I just thought the term was cute," one person writes, with another netizen complaining: "We have another little sheep in the community – we're in lockdown again."
For more articles on the Covid-19 topics on Chinese social media, check here.
By Manya Koetse, with contributions by Miranda Barnes
Get the story behind the hashtag. Subscribe to What's on Weibo here to receive our weekly newsletter and get access to our latest articles:
References
DXY.com. 2022. "别再叫新冠患者「小阳人」了 ["Don't Call Covid Patients Little Sheep]" (In Chinese). Dingxiang Yisheng 丁香医生 WeChat Account, May 6 https://mp.weixin.qq.com/s/XbqZpi0PlP55RFe8RLV_1g [May 7 2022].
Eng, Khoo Boo. 2019. Understanding Chinese Culture in Relation to Tao. Singapore: Partridge Publishing.
Yang, Jian. 2022. "11,000 Patients Discharged after Recovery." Shanghai Daily 23 (7496), April 11.
Wang Jie 汪诘. 2022. "比新冠病毒更可怕的,是对病毒的误解和恐慌 [What Is More Frightening Than the Novel Coronavirus Is the Misunderstanding and Panic about the Virus]" (In Chinese). Sohu.com, April 3 https://www.sohu.com/a/535112126_120083328 [May 7 2022].
Spotted a mistake or want to add something? Please let us know in comments below or email us. First-time commenters, please be patient – we will have to manually approve your comment before it appears.
©2022 Whatsonweibo. All rights reserved. Do not reproduce our content without permission – you can contact us at info@whatsonweibo.com.
Chinese Netizens Respond to 'Uplifting' Covid News: "We're Not That Dumb"
A viral WeChat blog criticizes Chinese journalists for 'dumbing down' and exaggerating Shanghai Covid news.
Weibo commenters say they do not know "whether to laugh or to cry" about some state media news items that are desperately trying to turn news about Shanghai's Covid situation into something 'uplifting.'
This week, a WeChat article criticizing 'uplifting' news about Shanghai's Covid situation has been making its rounds on Chinese social media.
"Sometimes, I really doubt the intelligence of some institutionalized journalists, I really don't know whether to laugh or cry about it," the author (大松子哟) of the Wechat article titled "Please Guys, Give Us Less Retarded News" ("求求你们了,少整点弱智新闻吧") writes.
One of the recent news stories that is mentioned as an example of Shanghai blowing its own horn while also dumbing down news readers, is that of state media outlet Xinhua News about a drone flying over the Huangpu River to deliver priority life-saving medication to a cancer patient.
According to the state media report, the Shanghai local Committee of the Communist Youth League in Xuhui District received a help inquiry on April 27th from an elderly patient with advanced liver cancer who needed their emergency medicine from Shanghai's Pudong District.
With the help of the fire and emergency department, the Committee immediately arranged for two drones to go on a mission over the Huangpu River to pick up and deliver the medicine, a journey of about 20 kilometers. The mission was reportedly accomplished in thirty minutes and the entire ordeal was filmed by the second drone for a Xinhua video.
So some officials went through an awful lot of trouble to get medications to a cancer patient in Shanghai, with two drones crossing the Huangpu River and flying 20 km to deliver them. But netizens aren't buying it: "They could've just delivered them by car. There is no traffic." pic.twitter.com/OXKTIZnTTu

— Manya Koetse (@manyapan) May 4, 2022
"Such positivity," one popular blogger wrote: "But what about just putting these medications in a car for transportation – they won't go bad, and there are no traffic jams in Shanghai now. Transportation by car is a bit safer than flying them over the Huangpu river don't you think?"
Another Weibo user wrote: "Shanghai bridges aren't bombed, are they? The tunnels aren't blocked, are they? Couldn't the firemen just drive a car and deliver the medicine?" The idea that the two drones needed to fly out because the bridges and tunnels were bombed or blocked then became somewhat of a running joke on Weibo.
"This is all just to fit the propaganda messages, did you think people are stupid or something?" others wrote, with many commenters repeating the sentence: "I don't know whether to laugh or cry about it."
"I'm laughing so hard over this, all this trouble with a drone delivering medication and then another drone following it to film it, they're making things so difficult."
Following online criticism, a hashtag page related to the news was temporarily disabled and later only eight comments praising the video were displayed below the Xinhua thread, which actually received nearly 5000 replies.
Grateful Sick Man in Wheelchair
Another example raised is a news story about an elderly sick man with an amputated leg living on the fourth floor of an apartment building (without elevators) who had to go downstairs for a mandatory Covid test. Unable to leave his apartment by himself, the old man was helped by five anti-epidemic workers who carried him all the way down in his wheelchair.
According to the original news report, the old man was moved and thanked the workers for helping him get downstairs.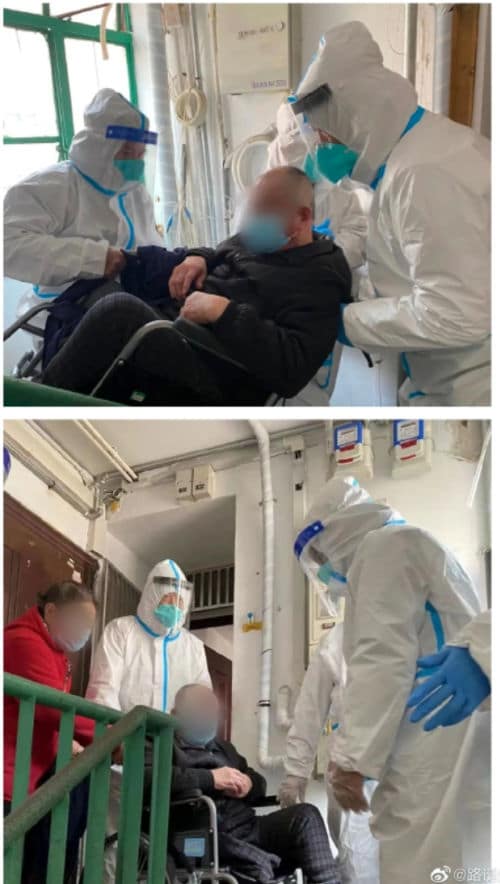 "Wouldn't it have been easier to bring the test upstairs?" many people wondered. "Wasn't the news editor a bit entertained about this news himself?"
Others also wondered how and if the man in the wheelchair ever got back to his fourth-floor apartment again.
"So you think it's not a good idea for one person to go to the house to do the nucleic acid test, but you do think it looks good for five people to carry the old man down with a wheelchair and take pictures of it?" the WeChat article author wrote: "And he was moved and actually thanked you? Are you sure he didn't call you idiots?"
The blogger also wrote: "I understand the goal of these kinds of articles is to express positivity and to convey a feeling of urgency that 'every second counts,' but could you please also take our IQ into considering when setting the atmosphere?"
Adding: "I once heard a story as a kid about an Arab who had won a camel at a competition. When he got home, he wanted to slaughter the camel but discovered his knife was on the third floor, so he asked three of his neighbors to help him get the camel up to the third floor…" I always thought this story was just fabricated, but now I've come to realize I was just too naive."
A Life or Death Mission
Another news story mentioned was originally published by Jiefang Daily (解放日报), the official daily newspaper of the Shanghai Committee of the Chinese Communist Party. It is a personal narrative of a Shanghai official who is going back to work 'in the field' for the first time in a decade.
This is how the story begins:
"On the evening of April 12, close to 10pm, I received a call from my unit that I would be part of a team of ten people as the first batch of cadres to get into the village. Actually, I felt afraid, I didn't know what the situation would be like in the place where we were heading. What challenges would we face? Also, I have two sons in junior high school, I always help them in their schoolwork, I worried their studies would be delayed."
"I told my sons to go up to the attic to get the biggest suitcase. They were stupefied, asking me: 'Mum, how long will you be gone for? Why do you need such a big suitcase?' I told them: 'You can never be over-prepared. I don't exactly know how long.' I could see the panic in their eyes."
"The next day, when my sons carried my luggage to the car, I turned around and hugged them both. I had never been so sad to part with them, and tears started welling up in my eyes. I held myself back and told myself: 'You can't cry, you need to be a good role model for your sons, when facing a catastrophe someone must stand up and bravely step forward. Besides, I'm not the one who is suffering the most – if others can do it, so can I."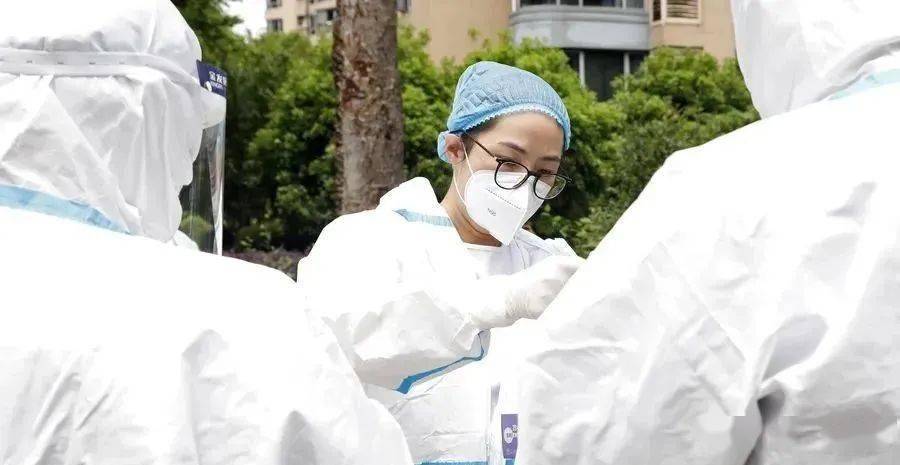 The WeChat blogger responds to the news article, writing: "I first thought the protagonist was leaving their family to go abroad for some secret all or nothing mission, moving heaven and heart, between life and death,.. but then I read on and, oh, my dear, it turns out to be an official who's going to work at a neighborhood committee!"
The author criticizes the article for presenting the work of a local cadre at a neighborhood committee – doing simple work such as scanning QR codes and collecting PCR tests – as some life or death mission.
"Where does this kind of 'self-moving' ['自我感动', like stroking one's own ego] come from? Isn't it embarrassing?"
Meanwhile, on Weibo, the banter continues: "I remember someone saying that the person in charge of the Shanghai propaganda line came back from North Korea."
This is not the first time that this kind of 'positive' reporting in times of Covid is deemed out of place and exaggerated.
In February 2020, Chinese media reports praised female nurses as true heroes for having their heads shaved before going to Wuhan to help in the fight against Covid-19. The reports and videos showed some women crying while having their hair completely shaved, and the media segment caused anger among Weibo and Wechat users who thought it was all about propaganda.
Many wondered why the women needed to shave off all of their hair while male nurses could keep their hair. Some experts chiming in claimed that having a bald head would not be helpful in the fight against the virus, as (short) hair also has a protective function, reduces irritation from wearing hats and masks, and prevents sweat from dropping into the eyes.
More recently, a CCTV video report on the situation in Shanghai went viral on WeChat after people thought the part showing a supposed Shanghai supermarket was "too fake," with many suggesting it was filmed inside a film studio instead of inside an actual Shanghai supermarket in times of lockdown and grocery problems.
Afterward, a video made by social media users edited a Joker Xue song into the state media video, in which he sings about a relationship in which one person is faking it and the other just plays along and pretends not to notice for the sake of their relationship.
Official media then reported that the supermarket scenes were "authentic." The very fact that state media outlets apparently felt the need to convince netizens that the state news program was legitimate, instead of being staged as some netizens suspected, says a lot about the current relationship between state media and Chinese netizens amid tensions surrounding the situation in Shanghai.
"These kind of news reports are an insult to my brain," one commenter wrote.
For more articles on the Covid-19 topics on Chinese social media, check here.
By Manya Koetse, with contributions by Miranda Barnes
Get the story behind the hashtag. Subscribe to What's on Weibo here to receive our weekly newsletter and get access to our latest articles:
Spotted a mistake or want to add something? Please let us know in comments below or email us. First-time commenters, please be patient – we will have to manually approve your comment before it appears.
©2022 Whatsonweibo. All rights reserved. Do not reproduce our content without permission – you can contact us at info@whatsonweibo.com.