Bystander Video Shows Chinese Blogger Wang Xixi Punching and Kicking Food Delivery Man
The 'big V' blogger tried to clear her name after the incident went viral.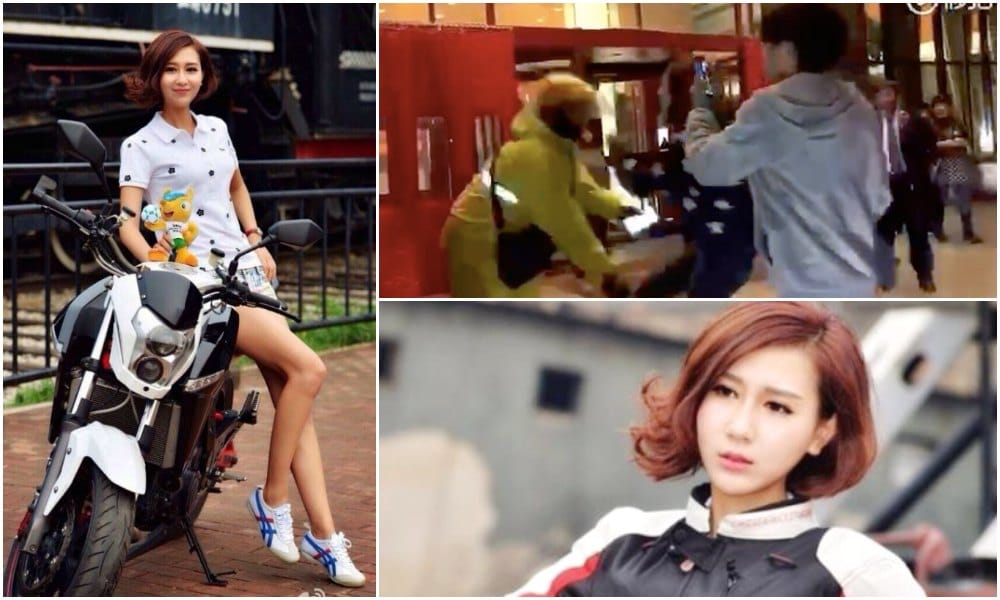 A well-known Chinese auto industry blogger named Wang Xixi (@王兮兮Shirley, 3.1 million fans on Weibo) is at the center of controversy since a video leaked on social media that shows her hitting and punching a food delivery man.
The video, that was recorded by a bystander in Beijing in March of this year, shows Wang standing outside a building during nighttime, yelling at a delivery guy working for the Meituan company (see part of the video in tweet below, full video here).
Quite infuriating how Chinese blogger & presenter Wang Xixi is punching on this Meituan delivery man and then tries to hide behind her status as a "media person." Big story on Weibo now. pic.twitter.com/7H6U3JiONs

— Manya Koetse (@manyapan) 25 juni 2019
According to various Chinese media sources, the altercation occurred after Wang and her colleague were driving together and hit the Meituan delivery man on his scooter.
Although the police ruled that Wang's colleague was at fault in the accident, the blogger later went to find the delivery man, named Tian.
The video shows Wang screaming at Tian, and then she starts kicking and hitting him, after which she accuses him of hitting her instead.
When he tries to call the police, she attempts to take his phone away from him. "Do you know what I do?", she can be heard saying in the video: "I'm in the media industry!"
Wang Xixi is a blogger and presenter for various online channels related to the auto industry.

Abusing Media Background

The incident has especially sparked controversy on Chinese social media because Wang apparently tried to use her media background to clear her name after the video started making its rounds.
Wang Xixi is a graduate from the Communication University of China (CUC). In screenshots that are now going viral on Weibo, Wang asks her friends in the media field for help in this matter to get her story on state media to "clarify," because she is suffering from "internet violence."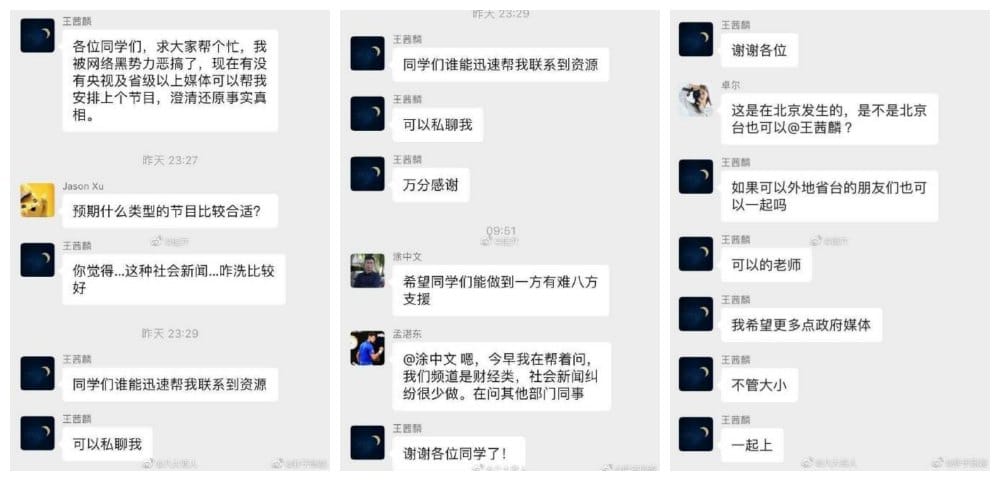 Many netizens are angry, not just because of Wang's violent behavior towards the Meituan delivery staff, but also because she has clearly been trying to use her media influence to threaten Tian and to clear her name by changing the story.
"She is abusing her media background to bully on the Meituan delivery man," one commenter writes, calling Wang's behavior "repulsive."
Earlier this month, Chinese singer Yico Zeng also triggered major controversy for refusing to comply with security officers' orders at the Beijing airport, after which she turned to social media to expose one officer's personal details.
On June 25, Wang published an apology video on her Weibo account, calling herself "hot-headed" and "impertinent." The apology post soon attracted more than 66,000 comments, but these were blocked from public viewing. Wang also stated she had already apologized to the Meituan delivery man.
"Your apologies are useless, the impact has already been too big, time for you to be shut out," some Weibo users write.
"Just because you're a 'big V' [verified social media influencer], you think it's ok to hit someone? If that delivery guy had hit you instead, he'd be arrested immediately."
Meituan responded to the issue stating that Wang had indeed apologized to their delivery staff member, and that the matter had been settled.
For many netizens, however, this case is far from over yet, and they are demanding that Wang should be punished for her actions. As for now, it is not clear to what extent the incident will impact Wang's work.
By Manya Koetse and Miranda Barnes
Follow @whatsonweibo
Spotted a mistake or want to add something? Please let us know in comments below or email us. Please note that your comment below will need to be manually approved if you're a first-time poster here.
©2019 Whatsonweibo. All rights reserved. Do not reproduce our content without permission – you can contact us at info@whatsonweibo.com
Goodbye 996? Weibo Discussions on Changes in Overtime Work Culture
Beijing made it clear that working overtime is illegal, but netizens are concerned about the realities of changing working schedules.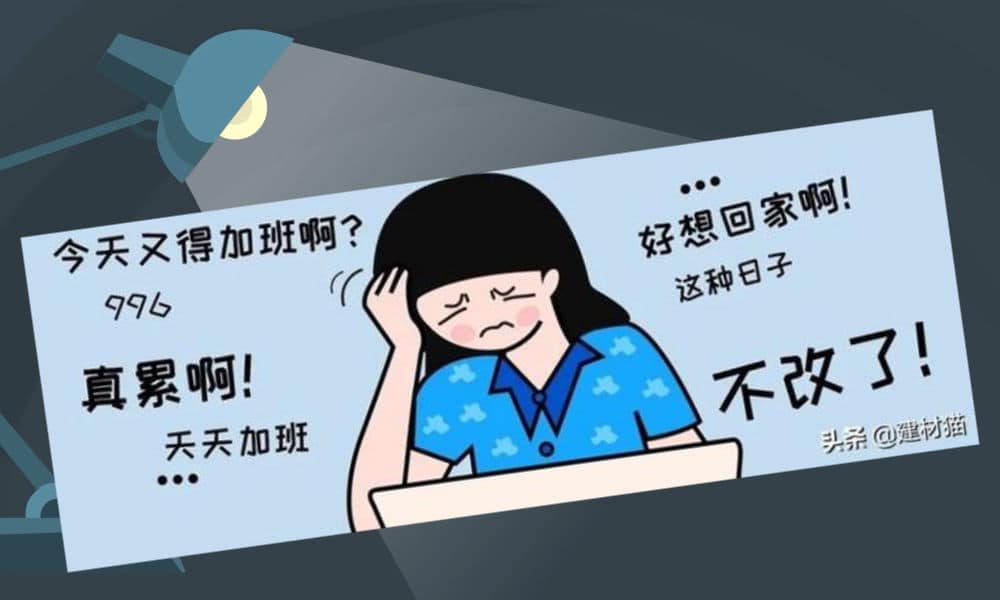 Many people are tired of being forced to log long hours, but are also worried about how a national crackdown on '996' working culture could impact their workload and income.
In late August of 2021, China's Ministry of Human Resources & Social Security (人社部) and the Supreme People's Court issued a joint clarification on the country's legal standards of working hours and overtime pay.
Their message was clear: the practices of '996' (working 9am-9pm, six days per week) and '007' (working 24 hours seven days per week, referring to a flexible working system worse than 996) are illegal, and employers are obliged to obey the national working-time regime.
On Weibo, China's state broadcaster CCTV published a 10-minute long video illustrating the 10 typical cases of overtime work laid out by the ministry and the top court. The moment was marked as the first time for the state-owned broadcaster to publicly comment on overtime work practices.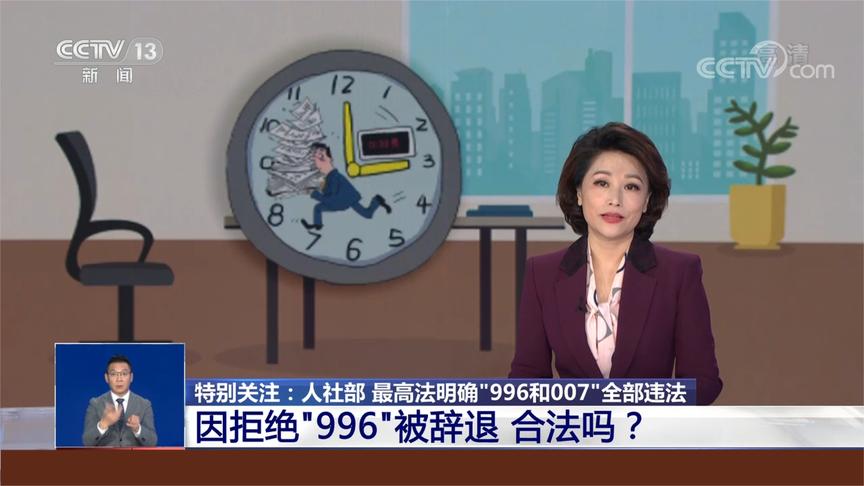 The Weibo post pointed out that "striving for success is not a shield companies can use to evade legal responsibilities," and made it clear that employees have the right to "say no to forced overtime."
The topics of overtime work and China's 996 work culture generated many discussions on Weibo, with the hashtag "Ministry of Human Resources & Social Security and the Supreme Court Clarify 996 and 007 Are Illegal" (#人社部最高法明确996和007都违法#) generating over 420 million views on the social media platform.

"Without implementation and enforcement, the law is useless"

The current labor law in China bars employees from working more than 44 hours a week, and any overtime work must be paid.
Although the 996 practice is technically prohibited by law, many companies still enforce the hours informally.
Many employees revealed online that, although the 996 practice is legally prohibited, they were nevertheless being assigned job tasks that exceeded the prescribed working hours.
"I wonder if the workload will decrease after all. If it doesn't change, it means people will now have to work voluntarily," one Weibo user commented.
People also indicated that, since the start of the pandemic, remote work has become a new norm. Many companies have moved from office to working at home, making it harder to draw the line between regular working hours and overtime hours.
"What really matters is whether working from home includes overtime hours," one Weibo user wrote. Many netizens complained that their companies wouldn't explicitly stipulate a 996 schedule; instead, most of them disguise the overtime hours as 'voluntary' work.
"These regulations are good, but they are basically impossible to implement. Even if they ban '996' and '007' there is no way to regulate the so-called 'voluntary work,'" one Weibo user wrote.
Some people said that their companies have various performance assessments and that they feared that refusing to work more hours would make them lose their competitive advantage: "The burn-out (内卷 nèijuǎn, 'involution') is severe. It is too difficult for us. I have only one day off during the week and I'm so tired," one person commented.

"We don't need those who comfortably work 8 hours"

China's 996 work culture has been championed by tech leaders and denounced by workers for years, and it has become an unwritten standard – not just in the tech sector but also in other industries.
While working long hours has been ingrained in Chinese workplace culture since the early days of the country's internet boom, it later also started to represent 'a road to success' for Chinese tech entrepreneurs.
Many Chinese netizens blame Alibaba's Jack Ma for praising the '996' work system. In 2019, Ma called the 12-hour working day a "huge blessing," causing much controversy online. During his talk at Kyiv International Economic Forum, Ma said: "(..) '996 is the spirit that I encourage Alibaba people to follow. If you want to have a bright future, (..) if you want to be successful, you have to work hard."
On another occasion, the tech mogul reportedly said: "If you join Alibaba, you should get ready to work 12 hours a day, otherwise why do you come to Alibaba? We don't need those who comfortably work 8 hours."
However, after the shocking death of one Chinese delivery man working for food delivery platform Ele.me and the widespread discussions about the '996 ICU' project – which called on tech workers to add names and evidence of excessive hours to a 'blacklist,' – the 996 work culture has come under increased scrutiny.
Some people argue that the overtime culture is draining employees and creating an unhealthy work-life balance; others argue that they work for themselves and believe that putting in extra hours will eventually translate to individual success.
While economic growth has slowed down during the pandemic, most companies are persisting with long working hours because they are under pressure to achieve results.
According to an online survey conducted by an influential tech blogging account (@IT观察猿), more than one-third of participants claimed to have one day off per week, and more than one quarter claimed they didn't have any weekend days off.

"The workload is the same, but the income has reduced"

Starting from August 1st, ByteDance, the Chinese company behind the popular short-form video app TikTok, dropped its 'big and small week' (大小周) – a schedule that previously required employees to work six days in a row every other week.
ByteDance is not the only Chinese tech company that has begun to cut back on its long working hours. More and more companies have decided to drop grueling work schedules.
Kuaishou, another Chinese short-form video app company, stopped scheduling weekend work in July. Since early June, Tencent – China's largest game publisher – has encouraged people to clock out at 6 pm every Wednesday.
Although these changes seem to signal a positive development, there are also many people who do not support the new measures. When Bytedance announced the changes to its working schedule, news came out that one-third of the employees did not support the decision (#字节跳动1/3员工不支持取消周末加班#).
Those relying on overtime pay said abolishing overtime work will cut their take-home pay by around 20%. Indeed, the first pay-out after the new implementation at Bytedance showed an overall drop of 17% in employees' wages.
"The workload is the same, but the income has reduced," one Weibo commenter complained.
One trending discussion on Weibo focused on the question "Do companies need to make up for employees' financial loss after the abolition of weekend work?" Many comments revealed the situation faced by thousands of struggling workers who value free time but value their income more.
Many on Weibo still wonder whether a company that abolishes '996' will come up with an alternative to compensate those employees who will otherwise inevitably lose vital income.
By Yunyi Wang
Follow @whatsonweibo
Spotted a mistake or want to add something? Please let us know in comments below or email us. First-time commenters, please be patient – we will have to manually approve your comment before it appears.
©2021 Whatsonweibo. All rights reserved. Do not reproduce our content without permission – you can contact us at info@whatsonweibo.com.
'Call Me By Fire' All-Male Variety Show Becomes Social Media Hit
'Call Me By Fire' is the male version of 'Sister Who Make Waves' and it's an instant hit.
A Chinese reality show starring 33 male celebrities titled Call Me By Fire (披荆斩棘的哥哥) has become an instant hit after its premiere on Mango TV last week.
The show is considered the male version of the hit variety show Sisters Who Make Waves (乘风破浪的姐姐, read more here) but with different rules. The contestants, ranging from age 27 to 57, are all in the entertainment industry; the group includes pianists, singers, dancers, actors, hosts, and rappers.
They are required to perform individually and in a team for the first episode's performances. Chinese viewers were surprised to see some of the high-quality performances, which then went viral on social media.
Li Chengxuan (@李承铉 a.k.a. Nathan Lee), who was previously mostly known for being the husband of Chinese actress Qi Wei (戚薇), rapped in a low voice and wowed the audience. The hashtag about his first stage performance on the show garnered more than 120 million views ( #李承铉天上飞舞台#). A video of his performance can be found here.
Li is a former member of the South Korean boy band TAKE. In 2014, the Korean-American pop star married Qi, who later gave birth to their first daughter Lucky. When Qi went back to focusing on her career, Li decided to be a stay-at-home dad.
Just like some of the other show contestants, Li also appeared on the talk show Definition (定义), where he spoke to the female journalist Yi Lijing about his life as a full-time father. In that show, he expressed how he used to think being a full-time parent would be easy. "It takes a lot of time and energy to take care of the baby and the family, but as a result, it always looks like you haven't done anything all day."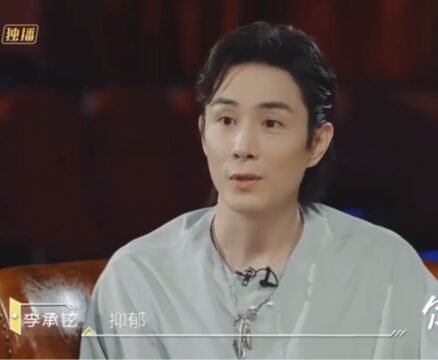 He describes how he experienced a time of depression during which he tried his best to be a good parent but sometimes just could not control his temper. Li explains how he would regret these moments of anger and then would cry at night when his daughter was asleep.  (Interview video here.)
Li's experiences as a full-time parent struck a chord among Chinese netizens, especially among stay-at-home moms. The hashtag "Li Chengxuan Was Depressed for Over a Year As a Full-Time Dad" (#李承铉当全职爸爸抑郁了一年多#) received more than 600 million views on Weibo. Under the hashtag, commenters shared their experiences and struggles in being full-time parents.
One netizen wrote: "This is so true. We do so much when taking care of our children, but other people often feel like it's nothing. When you lose your temper in front of the kid, you feel terrible inside and start to question yourself about why you failed to control yourself, and then you make another promise not to lose your temper anymore."

Another Weibo user wrote: "See, when a mom looking after her kids feels depressed, it is not because she is weak and sensitive! It is because the job itself will make any human being depressed."
Li later responded on his Weibo account, saying he just did his part as a parent, and this is what any new mom or new dad will face. That post also received thousands of comments and over 285,000 likes.
So far, the hashtag of the Call me By Fire TV show has received a staggering 4.4 billion views on Weibo (#披荆斩棘的哥哥#).
The show's performances and Li sharing his struggles as a stay-at-home dad are not the only reasons for the show's massive success on Chinese social media. Some other related issues also made the show gain more attention.
Even before Call Me By Fire aired, the show already made headlines when the 55-year-old Taiwanese singer Terry Lin Zhixuan (林志炫) reportedly fell off the stage while filming.
Later, one of the contestants left the show after some social media drama. Chinese singer Huo Zun (霍尊) announced his withdrawal from the show after his ex-girlfriend accused him of being a cheater and leaking some WeChat conversation screenshots to prove that he actually disliked the show.
The remaining 32 contestants will enter the real 'elimination stages' in the following episodes. The show and highlight clips can be viewed on the Mango TV official site here.
By Wendy Huang
Follow @whatsonweibo
Spotted a mistake or want to add something? Please let us know in comments below or email us. Please note that your comment below will need to be manually approved if you're a first-time poster here.
©2021 Whatsonweibo. All rights reserved. Do not reproduce our content without permission – you can contact us at info@whatsonweibo.com