Bystander Video Shows Chinese Blogger Wang Xixi Punching and Kicking Food Delivery Man
The 'big V' blogger tried to clear her name after the incident went viral.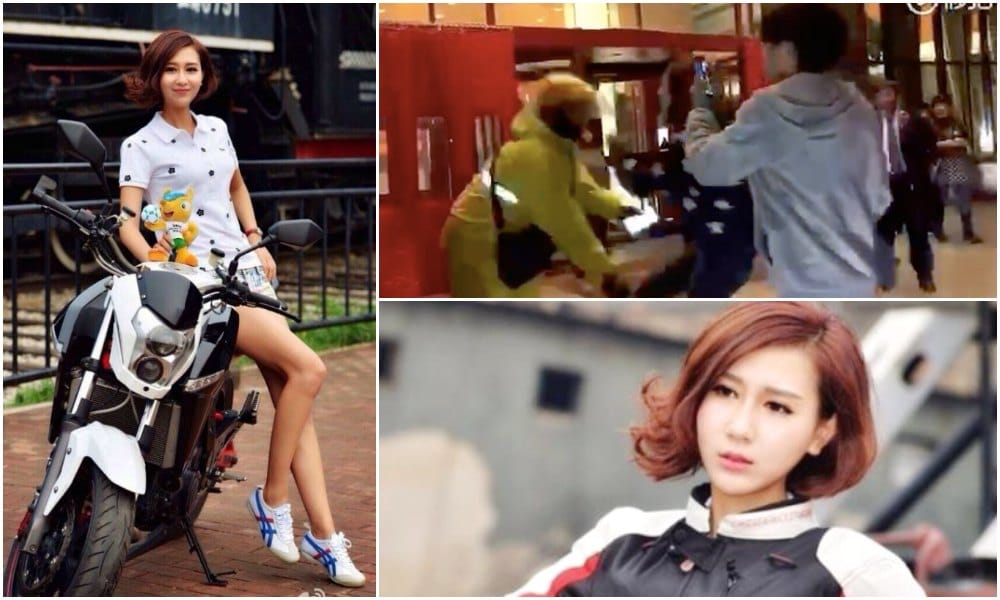 A well-known Chinese auto industry blogger named Wang Xixi (@王兮兮Shirley, 3.1 million fans on Weibo) is at the center of controversy since a video leaked on social media that shows her hitting and punching a food delivery man.
The video, that was recorded by a bystander in Beijing in March of this year, shows Wang standing outside a building during nighttime, yelling at a delivery guy working for the Meituan company (see part of the video in tweet below, full video here).
Quite infuriating how Chinese blogger & presenter Wang Xixi is punching on this Meituan delivery man and then tries to hide behind her status as a "media person." Big story on Weibo now. pic.twitter.com/7H6U3JiONs

— Manya Koetse (@manyapan) 25 juni 2019
According to various Chinese media sources, the altercation occurred after Wang and her colleague were driving together and hit the Meituan delivery man on his scooter.
Although the police ruled that Wang's colleague was at fault in the accident, the blogger later went to find the delivery man, named Tian.
The video shows Wang screaming at Tian, and then she starts kicking and hitting him, after which she accuses him of hitting her instead.
When he tries to call the police, she attempts to take his phone away from him. "Do you know what I do?", she can be heard saying in the video: "I'm in the media industry!"
Wang Xixi is a blogger and presenter for various online channels related to the auto industry.

Abusing Media Background

The incident has especially sparked controversy on Chinese social media because Wang apparently tried to use her media background to clear her name after the video started making its rounds.
Wang Xixi is a graduate from the Communication University of China (CUC). In screenshots that are now going viral on Weibo, Wang asks her friends in the media field for help in this matter to get her story on state media to "clarify," because she is suffering from "internet violence."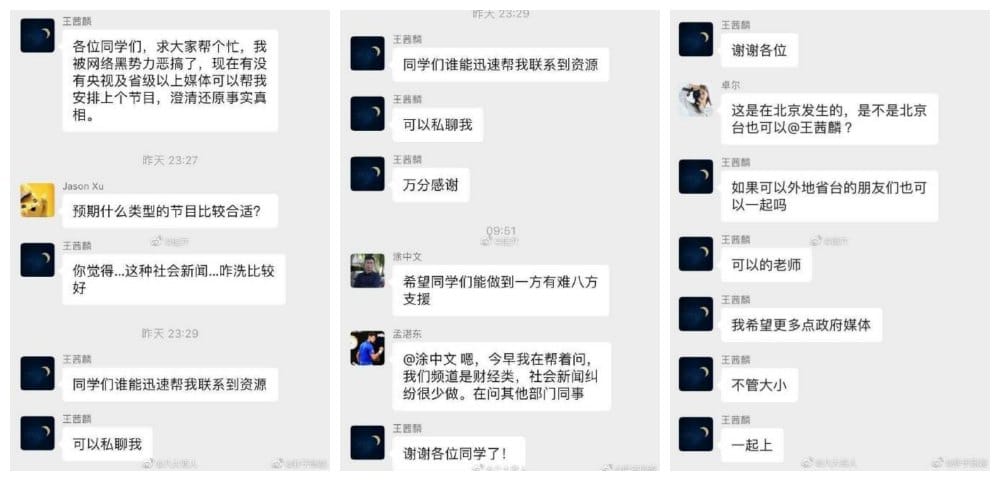 Many netizens are angry, not just because of Wang's violent behavior towards the Meituan delivery staff, but also because she has clearly been trying to use her media influence to threaten Tian and to clear her name by changing the story.
"She is abusing her media background to bully on the Meituan delivery man," one commenter writes, calling Wang's behavior "repulsive."
Earlier this month, Chinese singer Yico Zeng also triggered major controversy for refusing to comply with security officers' orders at the Beijing airport, after which she turned to social media to expose one officer's personal details.
On June 25, Wang published an apology video on her Weibo account, calling herself "hot-headed" and "impertinent." The apology post soon attracted more than 66,000 comments, but these were blocked from public viewing. Wang also stated she had already apologized to the Meituan delivery man.
"Your apologies are useless, the impact has already been too big, time for you to be shut out," some Weibo users write.
"Just because you're a 'big V' [verified social media influencer], you think it's ok to hit someone? If that delivery guy had hit you instead, he'd be arrested immediately."
Meituan responded to the issue stating that Wang had indeed apologized to their delivery staff member, and that the matter had been settled.
For many netizens, however, this case is far from over yet, and they are demanding that Wang should be punished for her actions. As for now, it is not clear to what extent the incident will impact Wang's work.
By Manya Koetse and Miranda Barnes
Follow @whatsonweibo
Spotted a mistake or want to add something? Please let us know in comments below or email us. Please note that your comment below will need to be manually approved if you're a first-time poster here.
©2019 Whatsonweibo. All rights reserved. Do not reproduce our content without permission – you can contact us at info@whatsonweibo.com
Iran "Unintentionally" Shot Down Ukrainian Airlines Flight 752
Despite the overall condemnation of Iran, there are also many pointing the fingers at the US, writing: "It's all because of America."
First published
Shortly after Iran's military announced on Saturday that it shot down Ukrainian Airlines flight 752 on Wednesday, killing all 176 passengers on board, the topic has become the number one trending hashtag on Chinese social media platform Weibo.
In a statement by the military, Iran admitted that the Boeing 737 was flying "close to a sensitive military site" when it was "mistaken for a threat" and taken down with two missiles.
Among the passengers were 82 Iranians, 63 Canadians, 11 Ukrainians, 10 Swedes, four Afghans, three Germans, and three British nationals.
Earlier this week, Iranian authorities denied that the crash of the Ukrainian jetliner in Tehran was caused by an Iranian missile.
The conflict between US and Iran has been a much-discussed topic on Chinese social media, also because the embassies of both countries have been openly fighting about the issue on Weibo.
Although many Chinese netizens seemed to enjoy the political spectacle on Weibo over the past few days, with anti-American sentiments flaring up and memes making their rounds, today's news about the Iranian role in the Ukrainian passenger plane crash is condemned by thousands of commenters.
"Iran is shameless!", one popular comment says. "This is the outcome of a battle between two terrorists!"
"Regular people are paying the price for these political games," others write: "So many lives lost, this is the terror of war."
The Iranian Embassy in China also posted a translated statement by President Hassan Rouhani on its Weibo account, saying the missiles were fired "due to human error."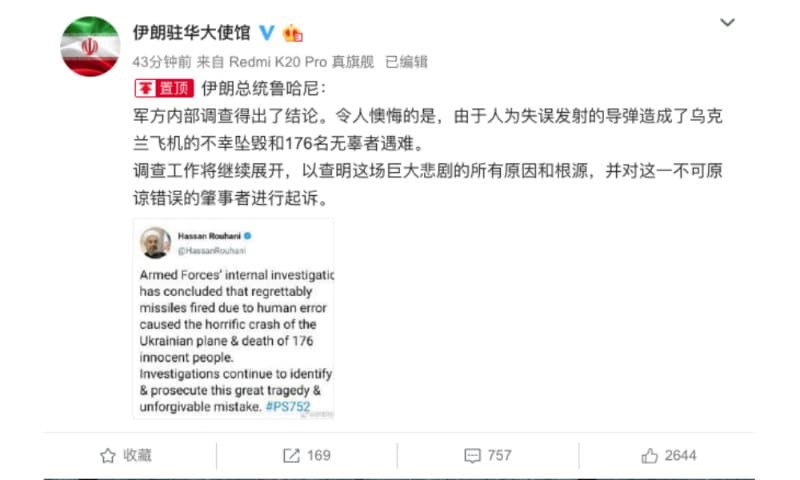 Despite the overall condemnation, there are also many commenters pointing the fingers at the US, writing: "It's all because of America."
Meanwhile, the American Embassy has not published anything about the issue on its Weibo account at time of writing.
The hashtag "Iran Admits to Unintentionally Shooting Down Ukrainian Plane" (#伊朗承认意外击落乌克兰客机#) gathered over 420 million views on Weibo by Saturday afternoon, Beijing time.
Chinese state media outlet CCTV has shared an infographic about the US-Iran conflict and the passenger jet news, writing they hope that these "flames of war" will never happen again.
By Manya Koetse
Follow @whatsonweibo
Spotted a mistake or want to add something? Please let us know in comments below or email us. First-time commenters, please be patient – we will have to manually approve your comment before it appears.
©2020 Whatsonweibo. All rights reserved. Do not reproduce our content without permission – you can contact us at info@whatsonweibo.com.
The Weibo Battlefield in the US-Iran Conflict: Iranian and American Embassies 'Argue' on Chinese Social Media
The US-Iran conflict has extended to Weibo, where Chinese netizens watch the online 'battle' unfold.
"Don't know if you all have discovered it yet, but the Iranian Embassy in China and the American Embassy in China have started to fight on Weibo," prominent Chinese media outlet 21st Century Business Herald (21世纪经济报道) writes on Weibo on January 10th.
The Iranian and American embassies have been all the talk on Chinese social media this week. While US-Iran tensions are dominating international media headlines, the embassies of Iran and US have been taking their conflict to the Chinese social media platform.
Ever since January 3rd, when the head of Iran's Quds Force Qasem Soleimani was killed by a US airstrike in Iraq, the Beijing embassies of both the USA and Iran have engaged in an online argument over the conflict between their two countries.
The Iranian Embassy (@伊朗驻华大使馆), that has 254670 followers on its Weibo account, condemned the assassination of Soleimani on January 3rd by reposting and translating a Twitter post by Iranian Foreign Minister Javad Zarif, calling it a "dangerous and foolish" act of "international terrorism."
That post received over 23,000 likes and thousands of comments, with many of them showing support for Iran.
The US Embassy Weibo account (@美国驻华大使馆), that has over 2,5 million followers, also posted a response to the attack on January 4 by translating several quotes by US Secretary of State Mike Pompeo asserting that the decision to kill Soleimani was the right one and that it made the world a safer place.
Although many of the thousands of netizens responding to the American Embassy's post praised the attack, there was also a lot of criticism.
"The terrorist group 'USA' has claimed responsibility for this act of terrorism," one popular comment said, with others also pointing the finger at the American government for behaving as 'terrorists.'
With the deepening of the US-Iran crisis after the Iranian military launched missiles against US bases in Iraq earlier this week, the Weibo posts and comments just keep coming in.
On January 8, the Iranian Embassy wrote that the "end of malign US presence in West Asia has begun," a sentence also posted on Twitter by Foreign Minister Javad Zarif.
In between some light-footed Weibo posts about the Golden Globes, the American Embassy published various Weibo posts explaining its stance on the situation. One post of January 7 detailed the "bloody history" of Qassem Soleimani, writing about him as a terrorist and evil man who killed hundreds of people.
The online 'battle' between Iran and the US has led to various hashtags, such as "The Weibo Fight of the Iranian and US Embassy of China" (#美伊驻华大使馆微博互斗#), a topic that is receiving a lot of attention on Chinese social media.
The official accounts of two foreign powers' embassies, discussing their conflict on a Chinese social media platform, in Chinese; it's not common, and Chinese netizens talk about it while Chinese media write about it.
One sentence* has been reposted dozens of times by Weibo users over the past days: "Here's the world's largest imperialist country and the world's largest theocratic republic, on a social media platform of the world's largest socialist nation, using Standard Chinese to engage in a fierce diplomatic fight."
"And we're all watching and eating popcorn," one commenter added [literal expression used is "Chī guā qúnzhòng" (吃瓜群众), online expression for "watermelon eating masses," meaning clueless bystanders watching the situation unfold].
The Weibo battleground has seemingly also turned into a way for the embassies to win the favor of the Chinese public; the Iranian Embassy, for example, published a post on its Weibo account that invites Chinese tourists to visit Iran during the Spring Festival and pinned it to its main page to attract the attention of readers amidst the recent online upheaval.
The online presence of the US-Iran conflict shows the importance of 'Weibo diplomacy,' also known as 'Weiplomacy.' A large number of foreign embassies in China have a presence on Sina Weibo to engage with local audiences. It is a low-cost, convenient, and seemingly effective tool to promote their countries, political goals, and inform people about their latest activities.
Over the past week, it seems that the majority of Chinese netizens have sided with Iran and condemned the US. This public sentiment, however, might have more to do with the prevailing anti-American sentiments over the past year than a general pro-Iranian stance.
In a 2016 overview of most popular foreign embassies on Weibo, the US embassy scored a number three position with its 1+ million followers, while the Iranian account only came in at number 39 with a mere 6000+ fans on its account.
Although it is unusual for foreign embassies to use Weibo as an online battleground for their offline conflicts, it is not the first time it has happened. In 2014, What's on Weibo reported how the Beijing embassies of Russia and Poland also argued on Weibo during the aftermath of MH17 crash.
This time around, some netizens conclude that the only one to really 'win' in online conflicts such as these is the Weibo platform itself. As the Weibo posts keep going, the 'melon eating masses' keep coming. "The Sina Weibo company must be secretly laughing at this ordeal," one person writes.
By Manya Koetse, with contributions from Miranda Barnes
Follow @whatsonweibo
* Chinese sentence: "世界上最大的帝国主义国家,跟世界上最大的政教合一的神权共和国,在世界上最大的社会主义国家的网络平台上,使用标准的汉语进行激烈的外交缠斗"
Spotted a mistake or want to add something? Please let us know in comments below or email us. First-time commenters, please be patient – we will have to manually approve your comment before it appears.
©2020 Whatsonweibo. All rights reserved. Do not reproduce our content without permission – you can contact us at info@whatsonweibo.com.