China's Central Commission for Discipline Inspection's New Online Campaign: "Anti-Corruption" Gifs & Video
China's Central Commission for Discipline Inspection is propagating old ideas in new ways.
Five years after launching its "Eight-point Regulation," the Central Commission for Discipline Inspection (CCDI) turns to Weibo and WeChat to propagate its core values amongst Chinese netizens.
China's Central Commission for Discipline Inspection (CCDI/中纪委), the highest internal-control institution of the Communist Party of China that enforces internal regulations and combats corruption and wrongdoings in the Party, has been remarkably active on social media this week.
Not only did the CCDI issue a set of 16 GIF images for netizens to use; they also launched a new public ad campaign reiterating their "Eight-point Regulation" (八项规定), a set of regulations aimed at instilling more discipline among Party members.
The rules were issued on December 4th, 2012, and relate to how Party members "should improve their work style in eight aspects, focusing on rejecting extravagance and reducing bureaucratic visits, meetings and empty talk," according to Xinhua (2012).

8 Rules, 16 Gifs

On December 3rd, the CCDI issued its set of 16 gifs. The images, that are meant to share as downloadable 'stickers' on WeChat, are all themed around regulations to fight corruption and malfeasance in the Party.
The images warn against things such as the private use of cars meant for official business, or using public money for festive dinners and drinking.
The WeChat stickers became a hot topic on Chinese social media this weekend, although many netizens did not necessarily appreciate the latest addition to the wide collection of WeChat gifs.
"You can use them among your 80 million [Party members], the commoners have no use for them!", some wrote. "What are the normal people supposed to do with them?" others wondered. Many comments on the stickers were soon taken offline.

"No Need to Spend Your Free Nights at Social Parties"

The CCDI is increasingly using digital media to communicate its core values to a large online audience. On Monday, Chinese state media also shared a short public ad campaign video by the CCDI.
It reflects on how the "Eight-point Regulation" have "changed people's lives" (link).
The introduction text says:
"You do not have to spend your after work hours on social events – coming home after drinking alcohol to find your child and wife fast asleep, leaving nobody to talk to. You do not have to spend you half-monthly wages on gifts to people who you barely even know. You do not have to surrender to the unwritten rules. In five years, the eight provisions have changed China – changing the lives of you and me."
The voice-over in the video suggests that people now have more time to read books, work out, and spend time with family. The campaign's main message is: "You can, but you don't have to."
Although the video was praised by some, there were also many who said its message might fall on deaf ears: "These 'unwritten rules' are not about Chinese bureaucracy, they are about Chinese culture," some pointed out. "If you don't give presents, you won't succeed."

Propaganda 3.0

Over the past few years, Chinese authorities are increasingly using social media as an important channel to share propaganda. This is often done in creative ways.
Information about important events and state visits of Chinese president Xi Jinping, for example, is often propagated online by means of a gif or short animated film, with Xi as a cartoon figure.
Both the One Belt, One Road initiative and the 19th Party Congress saw many gifs, cartoon, videos, rap songs, and even online mobile games that conveyed the government's main message on core Party aims and values.
With the Chinese online population growing every day, and a great majority of this online population using WeChat and Weibo for daily communication and news-checking, social media have become an effective channel for propaganda in China today.
By Manya Koetse
Follow @whatsonweibo
Spotted a mistake or want to add something? Please let us know in comments below or email us.
©2017 Whatsonweibo. All rights reserved. Do not reproduce our content without permission – you can contact us at info@whatsonweibo.com.
Video Shows Real-Time "Departure" Information Board at Chinese Crematorium
From "cremation in process" to "cooling down," the digital display shows the progress of the cremation to provide information to those waiting in the lobby. The crematorium 'departure' board strikes a chord with many.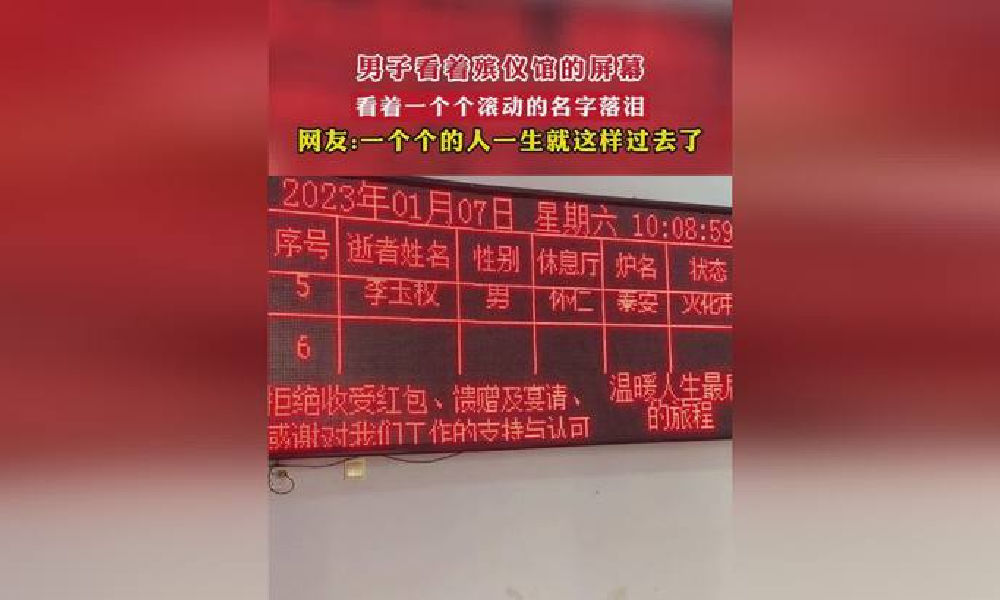 A video showing a live display screen announcing the names and status of the deceased at a Yunnan crematorium has been making its rounds on Chinese social media, from WeChat to Weibo, where one version of the video received over 1,7 million views.
Somewhat similar to a real-time platform departure display on train stations, the screen shows the waiting number of the deceased person, their name, gender, the name of the lounge/room (if any) for families, the name of the crematorium chamber, and the status of the cremation process. Below in the screen, it says "the final journey of a warm life" (温暖人生的最后旅程).
For example, the screen displays the names of a Mr. Chen and a Mr. Li; their bodies were in the process of being cremated (火化中), while other cremations were marked as "completed" (完成) or "cooling down" (降温中).
This video of a real-time "departure" information board in the lobby of a Chinese crematorium is making its rounds on Weibo/Wechat these days. The display shows the name and gender of deceased, which cremation chamber, and the cremation status to inform families of the progress. pic.twitter.com/EA94OWGwdk

— Manya Koetse (@manyapan) January 16, 2023
Through such a screen, located in the crematorium lobby, family members and loved ones can learn about the progress of the cremation of the deceased.
The video, recorded by a local on Jan. 7, received many comments. Among them, some people commented on the information board itself, while others simply expressed grief over those who died and the fragility of life. Many felt the display was confronting and it made them emotional.
"It makes me really sad that this how people's lives end," one commenter said, with another person replying that the display also shows you still need to wait in line even when you're dead.
"I didn't expect the screens [in the crematorium] to be like those in hospitals, where patients are waiting for their turn," another Weibo user wrote. "It would be better if the names were hidden, like in the hospitals, to protect the privacy of the deceased," another person replied.
Others shared their own experiences at funeral parlors also using such information screens.
"My grandfather passed away last September, and when we were at the undertaker's, the display was also jumping from one name to the other and we could only comfort ourselves knowing that he was among those who lived a relatively long life."
"Such a screen, it really makes me sad," another commenter from Guangxi wrote, with others writing: "It's distressing technology."
Although the information screen at the crematorium is a novelty for many commenters, the phenomenon itself is not necessarily related to the Covid outbreak and the number of Covid-related deaths; some people share how they have seen them in crematoriums before, and funeral parlor businesses have used them to provide information to families since at least 2018.
According to an article published by Sohu News, more people – especially younger ones – have visited a funeral home for the first time in their lives recently due to the current Covid wave, also making it the first time for them to come across such a digital display.
The online video of such an information board has made an impact at a time when crematoriums are crowded and families report waiting for days to bury or cremate their loved ones, with especially a large number of elderly people dying due to Covid.
On Jan. 4, one social media user from Liaoning wrote:
"I really suggest that the experts go to the crematoriums to take a look. There is no place to put the deceased, they're parked outside in temporary containers, there's no time left to hold a farewell ceremony and you can only directly cremate, and for those who were able to have a ceremony, they need to finish within ten minutes (..) At the funeral parlor's big screen, there were eight names on every page, and there were ten pages for all the people in line that day, I stood there for half an hour and didn't see the name of the person I was waiting for pop up anymore."
As the video of the display in the crematorium travels around the internet, many commenters suggest that it is not necessarily the real-time 'departure' board itself that bothers them, but how it shows the harsh reality of death by listing the names of the deceased and their cremation status behind it. Perhaps it is the contrast between the technology of the digital display boards and the reality of the human vulnerability that it represents that strikes a chord with people.
One blogger who reposted the video on Jan. 13 wrote: "Life is short, cherish the present, let's cherish what we have and love yourself, love your family, and love this world." Among dozens of replies, some indicate that the video makes them feel uncomfortable.
Another commenter also wrote:
"I just saw a video that showed an electronic display at a crematorium, rolling out the names of the deceased and the stage of the cremation. One name represents the ending of a life. And it just hit me, and my tears started flowing. I'm afraid of parting, I'm afraid of loss, I just want the people I love and who love me to stay by my side forever. I don't want to leave. I'm afraid I'll be alone one day, and that nobody will ever make me feel warm again."
One person captured why the information board perhaps causes such unease: "The final moments that people still spent on this earth take place on the electronic screen in the memorial hall of the funeral home. Then, they are gone without a sound."
Get the story behind the hashtag. Subscribe to What's on Weibo here to receive our newsletter and get unlimited access to all of our articles:
By Manya Koetse 
with contributions by Zilan Qian
Spotted a mistake or want to add something? Please let us know in comments below or email us. First-time commenters, please be patient – we will have to manually approve your comment before it appears.
©2023 Whatsonweibo. All rights reserved. Do not reproduce our content without permission – you can contact us at info@whatsonweibo.com.
Sheep a Sheep: The Game that Mysteriously Took China by Storm in 2022
One poll on 'Sheep a Sheep' found that over 90% of participants either "could not understand" the game's popularity or played it because they were just "following the trend."
Sheep a Sheep was the game hit of the year in China. But looking back, people struggle to understand how the simple game actually became such a success in the first place.
It was the game that everybody suddenly was talking about in 2022: Sheep a Sheep (Yang le ge Yang 羊了个羊), a mobile game that was mainly played through Chinese social apps such as WeChat, Tik Tok, QQ, and Kuaishou.
Sheep a Sheep is a tile-matching puzzle game produced by the Beijing Jianyou Technology company (北京简游科技公司) and it was officially released in June 2022.
In the game, players are supposed to move cards from the top of a pile to a box at the bottom. The box can hold up to seven cards, which can be deleted when three matching cards are collected.
Players can't see the types of cards under the top cards, nor move them until they move them to the box. The goal is to remove all cards from the pile, but the game is lost if the box reaches its maximum capacity and no more cards can be removed. Players can earn additional chances to play the game by watching advertisements or sharing it on social media.
There are three tools to use for each round. The moving tool (移除道具) allows players to move three cards out of the box and place them aside, which they can later move in if the opportunity of deleting the cards comes; the revoking tool (撤回道具) revokes the most recent move; the shuffling tool (洗牌道具) shuffles all unmoved cards in the card pile so that some new cards appear on the top for players to move. These tools can be used to help players strategize and increase their chances of success in the game.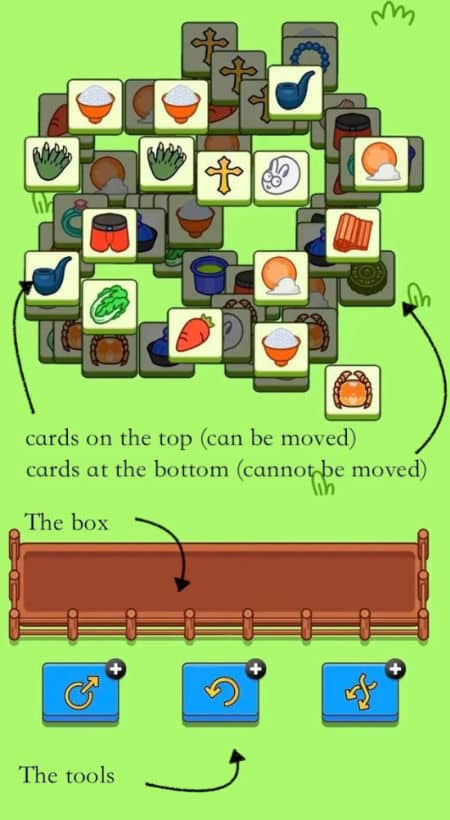 Although Sheep a Sheep appears to have no significant difference compared to other similar tile-matching puzzle games, it gained widespread popularity in China in the fall of 2022.
According to Weibo, until September 27, the hashtag 'Sheep a Sheep' (#羊了个羊#) had over 693,000 related messages and triggered nearly 180 million interactions. The Weibo article described how Sheep a Sheep had already managed to become the number one top trending topic six times before late September. At the time of writing, the game hashtag has attracted nearly 3,5 billion views on Weibo.
Why did such a simple game become a mega hit in China? It seems that Chinese gamers and social media users also find it hard to explain the Sheep a Sheep phenomenon themselves.
One poll conducted by China Youth Daily (中国青年报) in September found that over 90% of the 6,000 participants either "could not understand" the game's popularity or played it because they were just "following the trend (跟风)."
Nevertheless, there is plenty of speculation about why Sheep a Sheep became such a smashing hit.
A first thought that might come up is that the game is related to China's epidemic situation. After all, those who test positive for Covid are also referred to as 'sheep' since the word for 'positive' and 'sheep' sound the same in Chinese (羊/阳 yáng). Sixth Tone recently noted how the game came to be embedded with a new meaning in light of the rising number of positive cases in China.
There are also those who think the boredom of the lockdown in China's zero Covid era, when so many people stayed indoors and were more active on social media, might have contributed to the craze.
Another possible explanation, according to a comment on Zhihu by user Crepuscle, is the economic stagnation in China due to the country's zero Covid policy, which brought many companies to a a (temporary) standstill. This led to more employees having time to loaf on the job, watch TikTok videos, and play mobile games.
Others, however, point to how the game is designed. One unique aspect of the game is that it starts off easy and that the difficulty level suddenly increases in the second round to a point where only a very small percentage of players (less than 0.1%) are able to pass it. Some netizens commented that while the first round "teaches you 1+1=2," the second round suddenly gives you "a hell-level graduate exam."
One Zhihu user called it a "carrot approach." They wrote: "The easiness of the first round entices you to play the game. When you begin the second round, the first part also seems easy. So when you fail in the second round, you think it is just a matter of luck, and that you just need a few more tries. You need to share the game on social media to get more tries, and the viral spread begins."
Some also point out that the province-based competition aspect incorporated into the game makes Sheep a Sheep more attractive. When a player passes the second round, they will add an additional sheep to their province, and provinces are ranked based on how many sheep they have.
One video on Bilibili compiled the rankings of each province, with Shangdong province at the top, followed by Beijing, Guangdong, and Henan.
The top comment under the video explained how the province-based rankings initially become an incentive for players: "The first day [I played the game], I wanted to help my province to get to the top to show how good we are."
However, sentiments soon changed. The Bilibili user then writes: "The second day, I only wanted to make my province disappear on the rankings. Otherwise, it shows that we [people from this province] are stupid." The second sentence reveals that people started to associate Sheep a Sheep with a negative image, something which is also echoed by other comments under the same video, such as "which province has the laziest people," "meaningless game," and "it is a shame that Guangdong is in the top 3, people should spend more time on high-quality games."
The game's simple design makes it approachable to the general public and facilitated its rapid spread across the country. However, as the previous comments show, the simplicity of Sheep a Sheep also backfired as players felt it made them look 'stupid' or lazy for playing it.
Moreover, many people started criticizing the game company for earning too much money, feeling that they themselves were actually the 'sheep' that were getting their wool pulled for the game company's benefit ("薅羊毛" means 'pulling the wool' and refers to one party taking advantage over the other and gaining profits).
As one Bilibili user writes: "The game producer now bought two houses and already fully payed for them, while we've been getting our wool pulled for watching all those ads." Others also accused the game of plagiarizing the design and background music.
Just before the end of the year, at a time when discussions around Sheep a Sheep seemed to die out, another discussion flared up on social media around the game's creator Zhang Jiaxu (张佳旭), as he gave an interview in which he reflected on the game's success and how he had never dared to dream of achieving such record-breaking numbers.
Nevertheless, many people have grown tired of the game. "We are dealing with our own sheep now," some commented, making a word joke on how so many people are now testing positive for Covid. Another Weibo user joked: "It's game over now."
By Zilan Qian
Follow @WhatsOnWeibo
Get the story behind the hashtag. Subscribe to What's on Weibo here to receive our newsletter and get unlimited access to all of our articles:
Spotted a mistake or want to add something? Please let us know in comments below or email us. First-time commenters, please be patient – we will have to manually approve your comment before it appears.
©2022 Whatsonweibo. All rights reserved. Do not reproduce our content without permission – you can contact us at info@whatsonweibo.com.