Here's Xi the Cartoon – Online Animations Are China's New 'Propaganda Posters'
Easy to click, view & share – short cartoons and gifs are the propaganda posters of China's new digital era.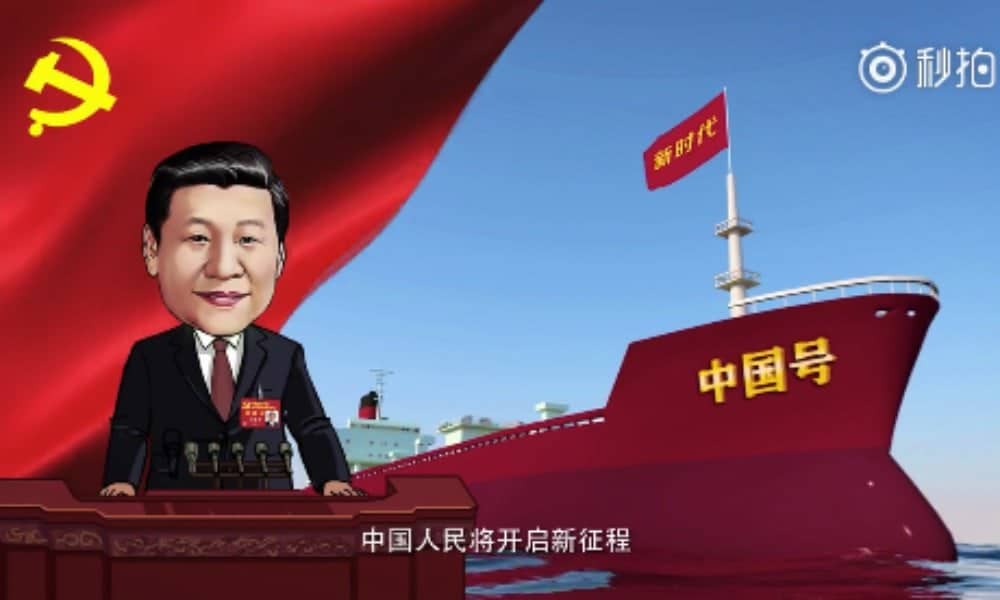 In an era where China's young generations are practically glued to their smartphone screens, China's propaganda departments are stepping up their game. Online animated videos and gifs use bright colors, simple design, and a very likable Xi to deliver strong political messages.
The speech that was delivered by president Xi Jinping at the APEC summit last week made its rounds on Chinese social media this Tuesday – not as a video, but as an animated cartoon.
The APEC Economic Leaders' Meeting took place in Vietnam's Da Nang from November 10-11, and was attended by international world leaders such as Japanese Prime Minister Shinzo Abe, American President Donald Trump, and South Korean President Moon Jae-in.
As one of the keynote speakers to the APEC CEO summit, Xi talked about his views on the Asian region's future. The speech was especially momentous since it marked Xi's first public address at an international multilateral meeting since the conclusion of the 19th National Congress of the Communist Party of China.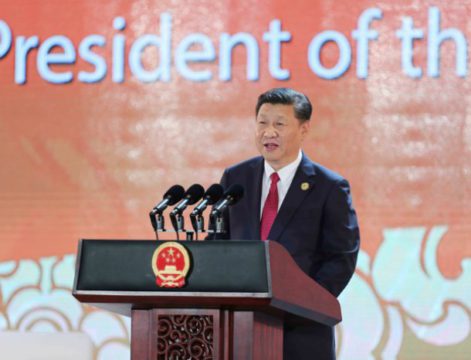 In his address, Xi spoke about China's commitment to regional multilateralism and open economic globalization, and the importance of promoting inclusive development.
The animated cartoon version of the speech presents China as a leader in the region, with Xi as the main cartoon character. It was widely shared on Chinese social media by state media outlets for the past few days, at a time when cartoons and gifs seem to have become the new way of communicating Xi's important visits and speeches to the online population.
Xi's Animated Speech: China Leads the Way
The recent APEC cartoon that made its rounds on Weibo this week summarizes Xi Jinping's speech in a 3,5 minute animation. It first shows a group of cranes, flying from China to the coastline of Vietnam's Da Nang where Xi is holding his keynote speech.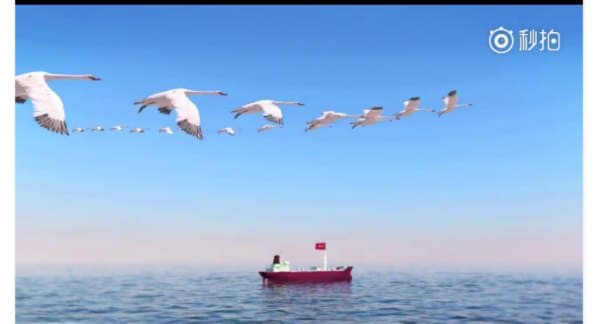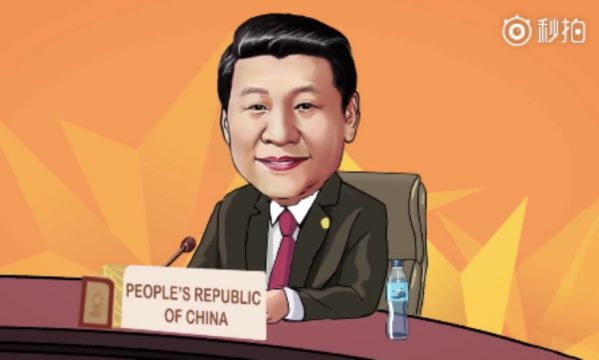 As Xi talks about the development of China and the start of the PRC's "New Era," this concept is visualized through a boat that is going forward under the leadership of Xi Jinping (see featured image).
The short animation video then shows another vessel by the name of "APEC" that is in rough weather, passing icebergs of "terrorism," "natural disasters," or "food safety issues." But luckily, there is a lighthouse standing up to the huge waves – and it is marked by the flag of China.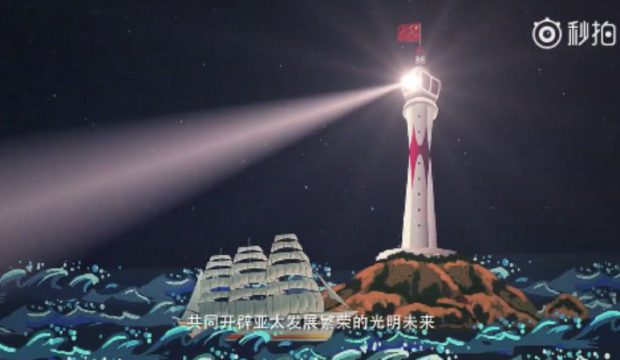 While the audio from Xi's speech continues throughout the animation, talking about stability in the region, the cartoon presents the APEC group of leaders and Xi meeting with various leaders, leading to the final part that shows a world connected through boats, trains, airplanes, and the internet.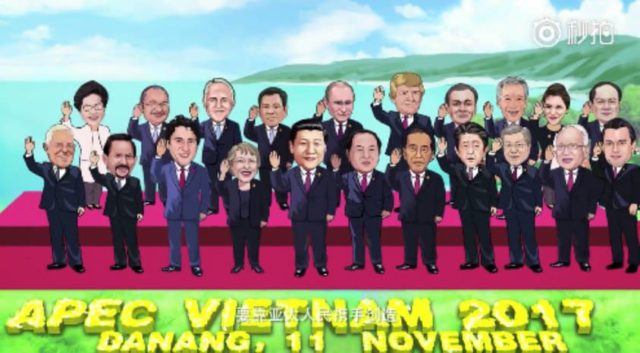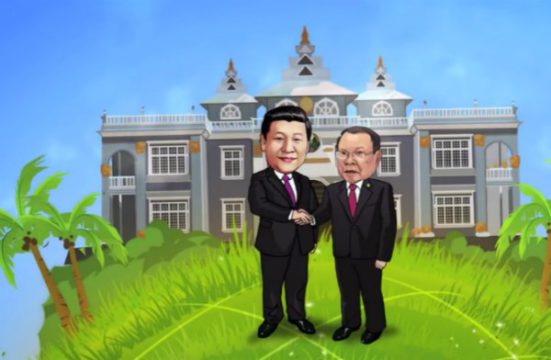 The very last fragment of the animation shows a fleet of boats going forward, "together building a better tomorrow for the Asia-Pacific," with the leading boat carrying the Chinese flag.
The animation was shared on video platform Miaopai and Weibo by state media such as CCTV (@央视网), Global Times (@环球网), China Economy (@中国经济网), and others.
Xi Jinping the Cartoon
It is not the first time that the cartoon image of President Xi is propagated online by Chinese state media. Over the past years, various key political concepts, events, and ideological messages have been spread online through animations, with a central role for Xi Jinping.
This trend became particularly apparent earlier this year during the launch of the Belt and Road Initiative and during the 19th National Party Congress; both crucial moment for Beijing's top leadership in 2017.
Xi Jinping was first launched as a cartoon image in 2013, when a video titled 'How a Political Leader was Tempered' (领导人是怎样炼成的) went viral online. At the time , Chinese state media reported that the identity of the video's author "remained unknown."
But not long after this success, the first official release of a Xi Jinping cartoon followed. The series 'Where did Xi's Time Go?' (习主席的时间都去哪了) was designed by media outlet Qianlong.com, and was propagated on major websites as well as new apps.
"More attractive than text news, the comic graphic news could reach readers' heart and it suits modern reading habits," the chief editor of Qianlong proudly said about the Xi cartoon.
In 2014, another cartoon series of Xi Jinping was released by Chinese state media. According to People's Daily, the image of cartoon Xi, drawn by cartoonist Jiao Haiyang (焦海洋), made it possible for the media to depict the country's leader in a "fun and vivid way", showing the President as "modest," "approachable," and "in touch with the people."
In 2015, Xi made another return as a cartoon hero fighting corruption. The cartoon, uploaded to Youku by the mysterious 'Chaoyang Studios,' was widely shared by state media outlets such as People's Daily (Gan 2015).
The exposure of Xi as a cartoon image increased thereafter in 2016 and 2017, with China Daily even launching a 'cartoon commentary' section. The 'cartoon commentary' section posts short animations of Xi Jinping during and after important political events, such as Xi's Europe-Asia tour in June 2016, the Central Asia tour in June of 2017 or the Hong Kong visit in July.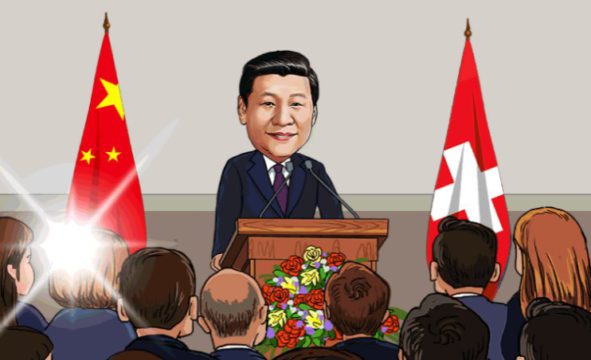 Most of the animated Xi cartoons that are widely shared on Chinese social media over the recent two years, including the official media 'cartoon commentaries', have been credited to a cartoonist named Liao Tingting (廖婷婷).
'Liao's' cartoons have a distinct style that is different from that of Jiao Haiyang or the Qianlong designers; Xi always has the same friendly face, which is relatively big for his body. The cartoons have bright colors and often have a simplicity to them which is comparable to the drawings in children's books.
'Propaganda Poster' in the Social Media Age
Colorful images depicting important events or developments, often with a special focus on Mao Zedong, have played an important role in Chinese state propaganda since the founding of the PRC in 1949. The propaganda poster was an especially relevant medium within this type of state-sponsored propaganda art. With bright colors and powerful images, posters could easily grab the attention of the people, and could also transmit messages to the many illiterate Chinese (Landsberger 2001, 541; Van der Heijden&Landsberger 2008).
But in an era of fast online media and smartphone-scrolling youth, Chinese leaders are changing their propaganda tactics. As noted by Chow (2017) in The Diplomat:
"China is hoping to reinforce belief in the Communist Party, Chinese nationalism, and socialist values through social media. The ruling party fears that it is losing the battle for hearts and minds – particularly among Internet-savvy millennials who have grown up with Western movies, music, and television."
Besides other new ways to disseminate political messages (such as rap music, mobile games), short animated cartoons or gifs are now an important vehicle for propaganda; they can communicate strong audiovisual messages in bite-sized chunks, making it easy to digest for an audience that is overwhelmed by online information and is not interested in listening to hour-long speeches.
Although the step from propaganda poster to online animation seems big, the idea remains the same: using bright colors and simple design to attract people's attention and communicate a strong message through a medium that can be easily placed in many locations, reaching a great number of people.
Besides communicating messages about China's development and its role in the world today, state-sponsored Xi cartoons also convey a different message. Namely that Xi Jinping is a very likable and approachable leader.
The manner in which this message is conveyed matters greatly: the control should lie with Chinese authorities. When Chinese netizens compared President Xi to Winnie the Pooh, images of the friendly bear were censored soon after they went viral.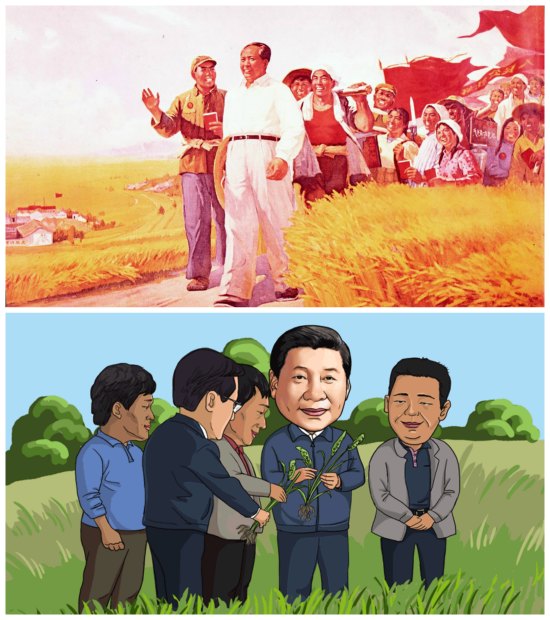 On Weibo, the animated cartoons of Xi's speeches and important moments already seem to have become a normal part of the everyday social media landscape. While the reactions to the first series were generally positive, with netizens calling them "so cute" (好萌), the later videos seem to have become accepted as just another way for state media to communicate news to the people.
'Xi the cartoon' has become part of netizens' daily online-scrolling routines. In this regard,  propaganda departments have succeeded in bringing a likable and approachable Xi "in touch with the people."
By Manya Koetse
Follow @whatsonweibo
References & Further Reading
Chow, Eugene. 2017. "China's Propaganda Goes Viral." The Diplomat, June 29 https://thediplomat.com/2017/06/chinas-propaganda-goes-viral/ [14.11.17].
Creemers, Rogier. 2017. "Cyber China: Upgrading Propaganda, Public Opinion Work and Social Management for the Twenty-First Century." Journal of Contemporary China (26): 85-100.
Gan, Nectar. 2015. "Cartoon Xi Jinping Returns in New Animated Adventures." South China Morning Post, February 21 http://www.scmp.com/news/china/article/1719881/cartoon-xi-jinping-returns-new-animated-adventures [14.11.17].
Landsberger, Stefan R. 2001. "Learning by What Example? Educational Propaganda in Twenty-first Century China." Critical Asian Studies 33(4): 541-571.
Van der Heijden, Marien & Stefan Landsberger. 2008. Chinese Propaganda Posters. Amsterdam: International Institute of Social History. Available online at http://www.iisg.nl/publications/chineseposters.pdf [14.11.17].
Spotted a mistake or want to add something? Please let us know in comments below or email us.
©2017 Whatsonweibo. All rights reserved. Do not reproduce our content without permission – you can contact us at info@whatsonweibo.com.
Uh Oh, IP: Chinese Social Media Platforms Now Display Users' Geolocation
From Weibo to Zhihu, Chinese social media platforms now display netizens' geolocation to ensure a 'healthy online environment.'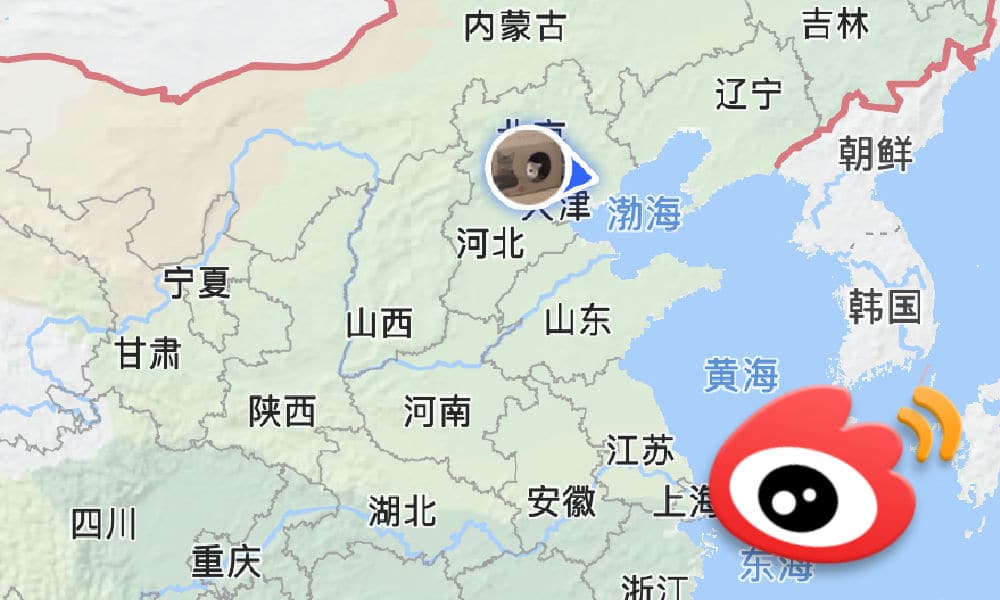 Over the past few days, Chinese social media platforms have started to introduce a new function that displays the IP location of online commenters.
Weibo was the first platform to introduce the function on Thursday – the topic also became top trending on April 28 – and social media platforms Douyin, Toutiao, Xiaohongshu and others followed later. Zhihu announced the measure on April 30 (#知乎宣布全面上线显示用户IP属地#).
Weibo has experimented with the function since March 22 of this year before completely rolling it out on April 28. Whenever users post a reply or comment to a thread, their Internet Protocol (IP) address location will be displayed underneath their comment, right next to the post date and time information. The location will also be displayed on the personal account page of Weibo users.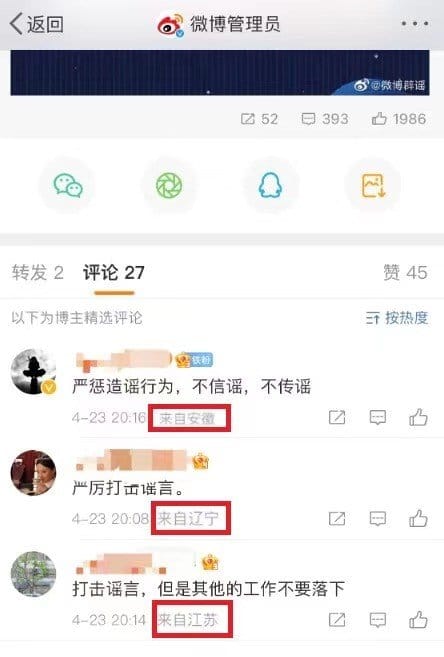 According to Sina Weibo, the function was introduced to ensure a "healthy and orderly discussion atmosphere" on the platform and to reduce the spread of fake news and invidious rumors by people pretending to be part of an issue or city that they are actually not part of. To keep online discussions "authentic and transparent," social media users' specific region, city, province, or country will show up below their names. The function can not be turned off by users.
'Refuting rumors' is a priority for Weibo management and has only become more relevant during the Covid-19 pandemic outbreak in China and the recent Shanghai outbreak.
On Saturday, the hashtag "What Does It Mean That Platforms Are Unrolling the IP Function?" (#平台开放IP属地功能意味着什么#) was trending on Weibo, attracting over 170 million views.
The new measure has attracted mixed reactions on Chinese social media, where some users think it is useful that you can now discern users located abroad from those who are based in China, making it easier to draw conclusions on what is really going on in society (you can now spot trends that are particularly taking place within one region) and what is merely taking place in cyberspace.

But there are many users who think the new function is just another layer of control and does not really help to combat fake news or malicious rumors, since the IP location could actually still be changed.
Although the entire idea of displaying the IP location is to minimize the gap between cyberspace and reality based on one's location, the location is merely the geographic location of the internet from the connected device and does not always correspond with the actual location of the social media user.
Once a person is connected to a Virtual Private Network (VPN), for example, internet traffic is sent through a server in another location, and the IP address will be replaced by the IP address of the VPN server in a different location from people's actual address.
Some Weibo account are also not run by the persons themselves but by a social media or marketing company.
In this way, Bill Gates unexpectedly turned out to be located in Henan province, and Lionel Messi's location showed up as Shanghai.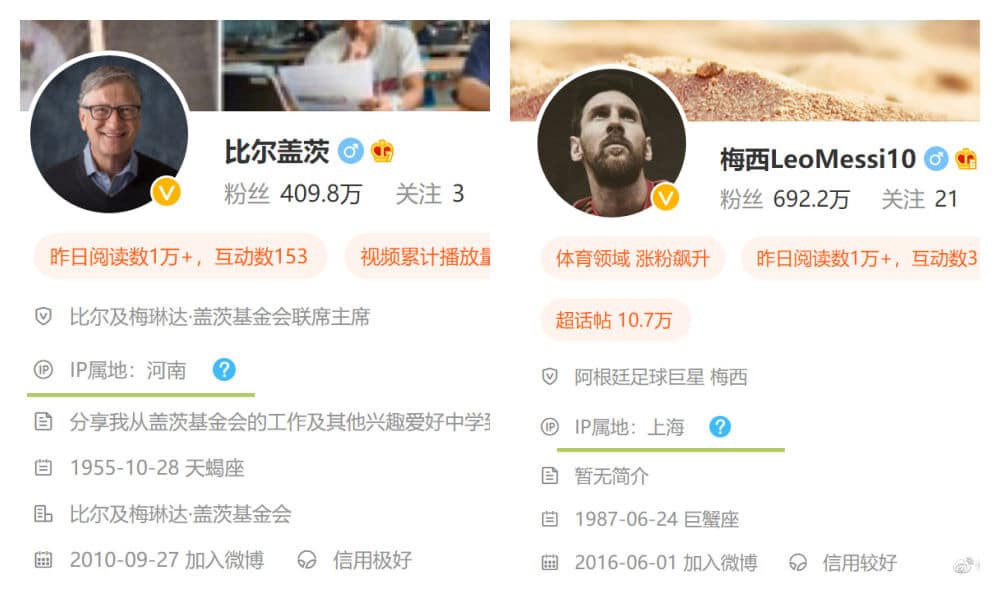 Others think that the new rule will only lead to more online polarization and self-censorship: "Who made this unsettling decision?! From now on, Chinese nationals who are studying or living abroad will be extra extra careful in what they write, otherwise, they'll be labeled as 'foreign forces.'"
Some people joked about the new function revealing their location, writing: "It made me so embarrassed. I'm pretending to be studying in the UK, while I'm actually in the mountains feeding the pigs." Others were also surprised that their IP location was completely different from the place where they are actually living: "Weibo, what are you doing? I've never even been to Jilin," one commenter wrote.
According to an online poll held by Fengmian News, 56% of the participants (nearly 300,000 at time of writing) said they supported the new function. 21% did not like the function, 17% said they did not care, and 6% were just curious to see their own IP location and if it matches their actual location.
"I'm gonna go and delete my more extreme comments," one person wrote: "I don't wanna give my hometown a bad reputation."
Global Times commentator Hu Xijin (胡锡进) also gave his views on the new measure, saying that people's viewpoints and values will always be more important than where they come from, and that all friends of China matter, no matter where they are based. However, he argued, it is also good to know where those who openly express anti-Chinese sentiments come from, exposing those 'evil foreign force' who are trying to disrupt social cohesion within the country.
Noteworthy enough, Hu Xijin's own IP location was not displayed on his Weibo account, as some celebrities seem to have been excluded from this measure or can decide themselves whether or not they would like to display their IP location or not.
One Weibo user wrote: "Twitter can follow its own regulations in banning Trump, while Weibo can transcend its own regulations and not show Hu Xijin's IP location."
For recent articles Covid-19 topics on Chinese social media, check here.
By Manya Koetse
Get the story behind the hashtag. Subscribe to What's on Weibo here to receive our weekly newsletter and get access to our latest articles:
Spotted a mistake or want to add something? Please let us know in comments below or email us. First-time commenters, please be patient – we will have to manually approve your comment before it appears.
©2022 Whatsonweibo. All rights reserved. Do not reproduce our content without permission – you can contact us at info@whatsonweibo.com.
'Voices of April': The Day After
"The best way to make videos go viral is by censoring them."
On April 23, a day after the video 'Voices of April' briefly took over social media before it was censored, the trending topic of the day is a hashtag related to new Covid cases reported in Shanghai.
Shanghai reported higher Covid-19 cases and deaths on Friday than the five days prior, which showed a daily decline in new cases. Shanghai reported a total of 23,370 new cases (including 20,634 asymptomatic ones), the municipal health commission said Saturday. A related hashtag by Xinhua News received over 910 million views on Weibo on Saturday (#上海新增本土确诊2736例无症状20634例#).
Although the hashtag was initiated by state media to inform about the Shanghai Covid situation, netizens started using it to criticize Shanghai's handling of the crisis, with more commenters questioning China's zero-Covid strategy. Similarly, other state media-initiated hashtag places also became online spaces where Weibo users vented their frustrations earlier this month.
Besides the ongoing online criticism and vocal disagreement with China's Covid handling and policies, there are also many who express shock at the recent crackdown of any form of protest or criticism regarding the situation in Shanghai.
"'Voices of April' has been shutdown all over the internet, I'm simply dumbfounded," one person said about the popular video that contained real recordings of events that happened during the city's lockdown.
"If you still can find the video anywhere, forward it," another person writes.
Besides Voices of April (四月之声), there have also been other videos over the past week that are meant to expose the mishandling of the Covid situation in Shanghai.
One of them is titled Farewell, Language (再见语言), another one is Shanghai Late Spring (上海晚春).
Farewell, Language (再见语言) is a 42-second sound art video by artist Yang Xiao (杨潇), who used over 600 commonly used propaganda phrases from Chinese official channels and randomly broadcasted the audio in the community where he lives.
The anti-epidemic workers just continue their work and do not seem to notice anything out of the ordinary at all. The video shows how this kind of language has been so normalized that for most, it has just become background noise in their everyday life – without even noticing nor critically assessing its meaning or logic anymore.
The Shanghai Late Spring (上海晚春) video is a compilation of video footage from the Shanghai lockdown, showing people struggling to get food, violent altercations between anti-epidemic workers and residents, people living in deplorable conditions in quarantine centers, and more (link to video).
The video uses the song Cheer Up London by Slaves, its chorus being:
"You're dead, already, dead, dead, already-ready
Dead, already, dead, dead, already-ready
Dead, already, dead, dead, already-ready
Dead, already, dead."
One Weibo commenter responded to the video in English, using a text from Les Misérables: "Do you hear the people sing / Singing the song of angry men / It is the music of a people / Who will not be slaves again!" The phrase "do you hear the people sing" was also used by other social media users to address the situation in Shanghai and the censorship of related topics.
"The best way to make videos go viral is by censoring them," one commenter replied.
Read our previous article about 'Voices of April' here.
For more articles on the Covid-19 topics on Chinese social media, check here.
By Manya Koetse, with contributions by Miranda Barnes
Get the story behind the hashtag. Subscribe to What's on Weibo here to receive our weekly newsletter and get access to our latest articles:
Spotted a mistake or want to add something? Please let us know in comments below or email us. First-time commenters, please be patient – we will have to manually approve your comment before it appears.
©2022 Whatsonweibo. All rights reserved. Do not reproduce our content without permission – you can contact us at info@whatsonweibo.com.