Anti-Black Racism Dominates Online Discussions over 'Privileged' Exchange Students in China
Controversy erupted when Jinan University allegedly 'forced' female students to accompany exchange students from Congo.
This week has seen various heated discussions on Chinese social media regarding the alleged privileged position of exchange students in the PRC. Anti-black racism is ubiquitous within these online discussions.
In the same week that a short video exposing the dorm disparity between Chinese and foreign students went viral, another issue has sparked controversy regarding overseas students in China.
This time, Chinese bloggers and social media users show their discontent with another type of alleged "internationalization" at Chinese universities – Jinan University in specific.
The controversy was triggered by a Weibo post published on June 24, in which a female netizen claimed that Jinan University was "forcing female students to participate in [cultural] 'exchange' activities with black exchange students."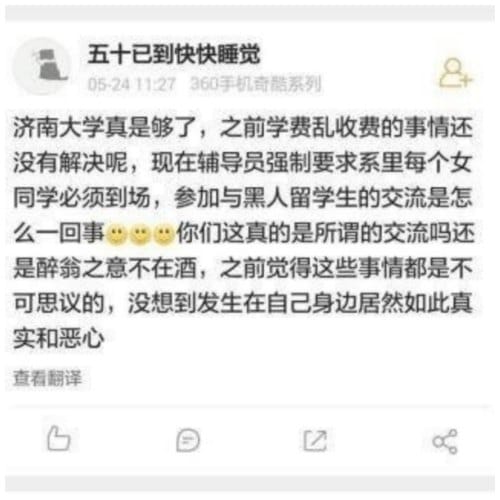 The post added fuel to recent ongoing discussions about the privileged position of foreign students, in which many Chinese social media users show their anger over exchange students' relatively better dorm conditions, the scholarships they get, and other ways in which universities allegedly prioritize the comfort of international students over that of Chinese students.
This week, the alleged installment of new air-conditioning at the exchange students' dorm at Jinan University – rather than an installment of air-conditioning at the Chinese students' dorm – also sparked anger.
"Why don't they send their own wives and daughters to 'communicate' with black students?"
What stands out in these online discussions is that, although there is a general anti-foreign trend, many netizens specifically talk about black students when they vent their anger, with waves of anti-black racism permeating these debates.
The claim that Chinese female students would be required to participate in on-campus activities with black exchange students triggered controversy on many online media platforms, from Sina Weibo to Zhihu.com and Tianya.
Some internet commentators suggested that it was improper for university staff to 'assign' Chinese girls to African students.
Photos of the programme arranged for the foreign students, in which Chinese students were to take part in, also leaked online.
"Not only does China educate these black devils for free, lets them eat and live for free on a scholarship, but also do they provide them with women. Just reincarnate me as a black person in my next life," one commenter on messageboard Tianya writes.
"Why don't they send their own wives and daughters to 'communicate' with black students?", one Weibo user asked.
Jinan University responded to the online controversy on Weibo, writing:
"Firstly, these exchange students from Congo visited China with a clear sequence of processes. Our school helped to arrange the welcoming of these visitors, as is said in The Analects of Confucius: 'What a pleasure to have friends come from afar.' (..) Since our students from the foreign language department are mostly female, these circumstances were unavoidable. (..). Our school is on a regular site and is all monitored. No one needs to worry that something would happen at our school."
"Is this the People's Republic of China, or People's Republic of Africa?"
With the promotion of the One Belt One Road initiative and closer China-Africa relations, thousands of African students come to China on scholarships every year, pursuing undergraduate and graduate degrees subsidized by the government.
According to Quartz Magazine, more Anglophone African students studied in China in 2017 than in the United States or the United Kingdom, which used to be their traditional destinations of choice.
The issues of the recent viral short movie – exposing the better living conditions of foreign students – together with the Jinan University controversies, have sparked off hundreds of comments on Weibo over the past week.
Saying they feel that Chinese students are being treated as "second-class citizens," some netizens ask: "Is this the People's Republic of China, or People's Republic of Africa?"
"The Ministry of Education has become like an immigration office," one Weibo user says: "It is damaging our country."
Some blogs focusing on "black exchange students" in China say they bring HIV into the country, writing: "The Ministry of Education spends ten-thousands of yuan to let these low-class exchange students come to China, yet they haven't had medical checks and bring in diseases."
This is a recurring pattern on Weibo and other Chinese social media, where phrases such as "black devil go away" or "black monkey go back to Africa" are commonplace. Discrimination of Africans often comes with issues in which Chinese netizens themselves somehow feel marginalized or discriminated.
"The denigration and discrimination of black people is spreading like an epidemic."
Online racism against Africans has been an ongoing issue on Weibo since the platform was launched in 2009. At the time, an essay about the racism against Chinese in Africa drew much attention. In 2013, Weibo was flooded by news of Chinese being killed in Ghana.
The existing idea that Chinese are looked down upon in Africa has allegedly worsened anti-African sentiments in China, although there are also those who already warned in 2013 that "the denigration and discrimination of black people [in Africa by the Chinese] is spreading like an epidemic."
Throughout the years, multiple news stories concerning Africans have triggered waves of racist remarks. In "From Campus Racism to Cyber Racism," scholar Cheng (2011) argues that anti-black racism in China has re-emerged with China's deeper economic involvement in Africa, due to which large numbers of Chinese and Africans have come to work and study in each other's countries.
Cheng writes that, although there already were waves of racism against Africans in the early post-Mao era, it has resurfaced over the last decade with the rise of China as a global power. Given that there are still many Chinese regarding Africans as "racially inferior," "these people think it is wrong for Africans to create social problems in Chinese cities and impede China's actions in Africa" (561).
"Chinese students often suffer discrimination when they go abroad. Why would they do the same to black students here?"
What is noteworthy is that anti-African sentiments on Weibo are mostly targeted at black men, not black women, and that their relations with Chinese women are strongly denounced. (Note: the Google image search results for 'black African exchange student' in Chinese (非洲黑人留学生) are very telling for what African exchange students are associated with online). It is perhaps for this reason that the Jinan incident especially ignited controversy.
But there are also those who resist racial stereotyping and discrimination.
Popular Weibo blogger Mai Tian (@麦田) wrote this week: "Lately, in the news feed of Weibo, I see more and more content that denounces Chinese girls being romantically involved with black men. This kind of content distributes racial discrimination, narrow-minded views, and a conceited stinkiness. It's unbearable."
"Chinese students often suffer discrimination when they go abroad. Why would they do the same to black students here?", another commenter writes.
Others think the problem can be easily solved: "Just give Chinese students the same dorm conditions as other students and foreign students."
For now, discussions are quieting down; most online threads and articles discussing this issue, including the response by Jinan University, have been taken offline by censors.
By Manya Koetse with contribution from Chauncey Jung
Follow @whatsonweibo
Reference
Cheng, Yinghong. 2011. "From Campus Racism to Cyber Racism: Discourse of Race and Chinese Nationalism." The China Quarterly (207): 561-579.
Directly support Manya Koetse. By supporting this author you make future articles possible and help the maintenance and independence of this site. Donate directly through Paypal here. Also check out the What's on Weibo donations page for donations through creditcard & WeChat and for more information.
Spotted a mistake or want to add something? Please let us know in comments below or email us.
©2018 Whatsonweibo. All rights reserved. Do not reproduce our content without permission – you can contact us at info@whatsonweibo.com.
The Curious Case of the Henan Bank Depositors and the Changing Health QR Codes
"It must be American hackers who did this, right?", some Weibo commenters wrote in light of the miraculously changing Health Codes.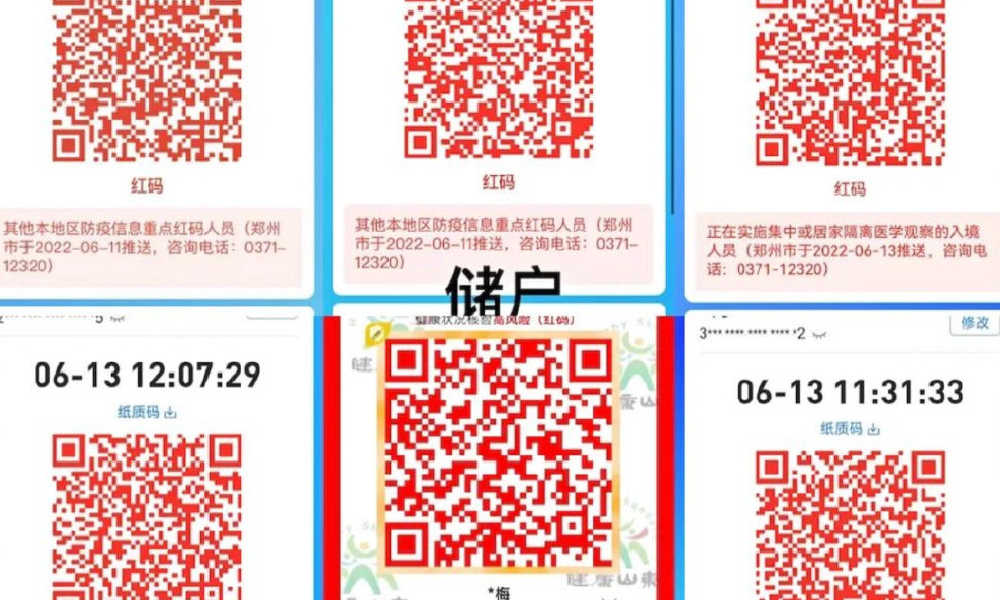 Where can people turn to once their money seems to have gone up in flames? How could Health Codes randomly turn from green to red? And who will stand up for justice? These are the questions asked by Chinese netizens in the Henan bank depositors case that is making headlines this week.
This week, the story of a Henan banking scandal and depositors' Health Codes suddenly turning red triggered online discussions in China and even made international headlines.
In between online deposit products, financial platforms, regional banks, and Health Code systems, the story is a bit messy. Here, we'll explain the story and its latest developments.
DUPED DEPOSITORS
The story starts in April of this year when people discovered that they were unable to withdraw money they had invested in online deposit products offered by various smaller regional banks.
Some people had deposited money via the Baidu money app (Du Xiaoman Financial 度小满), others had used another third-party platform, intermediaries, or one of the mini-programs run by the banks themselves.
By early May, it had become clear that dozens of depositors who once thought they had invested their money wisely had actually been duped. Four of the banks involved are located in Henan province, namely: the Yuzhou Xinminsheng Village Bank (禹州新民生村镇银行), Shangcai Huimin County Bank (上蔡惠民村镇银行), Zhecheng Huanghuai Community Bank (柘城黄淮村镇银行), and the Kaifeng New Oriental Country Bank (开封新东方村镇银行).
But there are also other smaller banks involved, including Guzhen Xinhuaihe Rural Bank (固镇新淮河村镇银行) and Yixian Xinhuaihe Rural Bank (黟县新淮河村镇银行) in Anhui.
As reported by South China Morning Post by late May, multiple customers had confirmed that they had not been able to withdraw funds either online or in person.
The sudden apparent closure of their withdrawal channels set off a wave of panic among depositors, who then protested in the provincial capital of Zhengzhou on May 23rd, demanding the return of their money.
Yang Huajun (杨华军), deputy director of the Henan branch of China's Banking and Insurance Regulatory Commission (CBIRC), arrived at the scene of the protests and – speaking through a megaphone – promised the demonstrators that as long as their funds were "legally" deposited, they would be protected by law.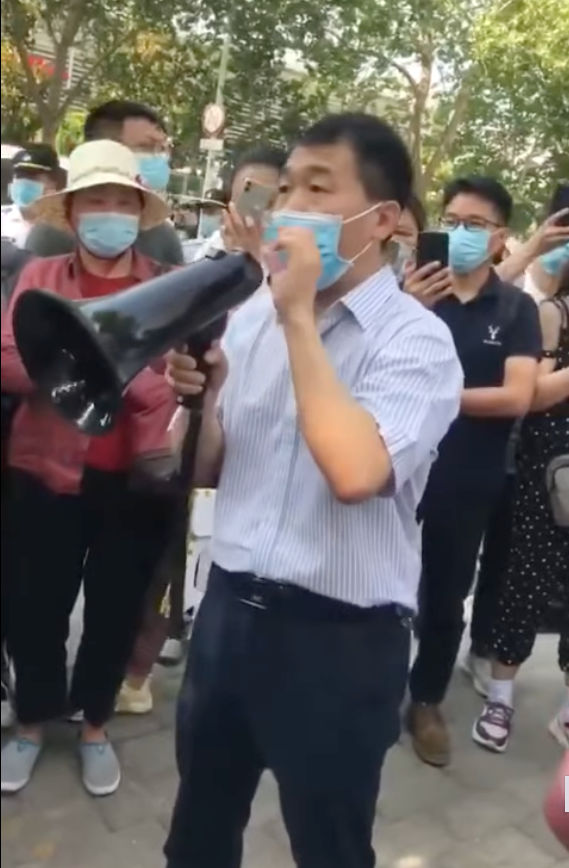 Many depositers, however, were unsure of whether or not their deposits were actually made in a "legal" way and what the definition of "legal" entailed in this case.
Over the past years, Chinese smaller rural banks have partnered with online platforms, often offering relatively high returns, in order to boost their deposit-reliant funding base.
In December of 2020, platforms Alipay, Du Xiaoman Financial, JD.com and Tencent Wealth Management all suspended the sale of online deposit products via their financial apps in light of heightened scrutiny from regulators concerning funds raised by unstable smaller lenders.
The smaller banks that are now at the center of the recent financial scandal then (illegally) reached out to their existing customers directly after December 2020 and convinced them to download the banks' apps in order to deposit even more money.
One of the persons duped is Mr. Sun from Shenzhen. As reported by Sina Finance, it was in 2020 when Sun came across a seemingly attractive online saving product via the Du Xiaoman Financial app. Although Sun was not familiar with the banks in question, namely the Yuzhou Xinminsheng Village Bank and Shangcai Huimin County Bank, he could not resist the deposit interest rate of 4.6%, which was much better than what the big banks were offering at the time.
In early 2021, Mr. Sun received a text message from Yuzhou Xinminsheng Village Bank saying that although the financial products had been taken offline, users would still be able to deposit through the bank's own online application. Mr. Sun ended up depositing his entire savings into the Henan-based rural bank, thousands of miles away from his own home.
And then, earlier this year, Sun came across the news that Henan New Wealth Group, the primary shareholder of all banks involved, was under investigation for fraudulous practices. When he opened up his online financial application, there was nothing to see but a notice that the system was under maintenance. Sun could no longer access his funds. Hundreds of other customers were seeing the same empty screens.
According to media reports, the current suspected scam case affects some 400,000 customers of seven local banks and involves a money sum of 40 billion yuan ($5,6 billion).
IN THE RED
As thousands of depositors have been fighting to recover their savings over the past two months, they were duped a second time earlier this week. Dozens of affected depositors claimed they had seen their Health Codes turn red without any logical reason on June 13 or June 14 – the day of a planned protest.
In China's Covid era, the Health Code system has become a pivotal tool in the country's battle to contain the spread of the virus. The Health Code system is embedded in various apps, most importantly in Wechat and Alipay, and uses various data to assess an individual's exposure risk. There is not one unified national Health Code application; they are developed by different actors and their management is different across Chinese provinces and cities.
If there is no detected risk, an individual is assigned a Green QR Code and is allowed access into any venue or location where a QR code scan is mandatory. With a Yellow Code, you should stay home for a week, and Red Code means you are high risk and need to quarantine for 14 days – this severely limits your freedom to move around and travel.
On June 13th, many affected investors saw their Health Code turn red when arriving in Zhengzhou, where they were allegedly coming to retrieve their savings and protest the injustice they suffered. The QR code color change was unexpected and strange, considering that there were no new reported Covid cases in their vicinity and also considering the fact that accompanying family members who made the exact same journey did not see their Health Codes change.
This raised suspicions that the duped depositors were specifically targeted, and that their Health Codes were being manipulated by authorities.
CNN reported that many distributors who had come to Zhengzhou were taken to a guarded quarantine hotel before being sent back to their hometowns via train the next day. According to a Chinese media report by Nanfang Daily, the depositors were not even asked to do nucleic acid testing and were told by local staff that they would get their Green Code back as soon as they left Henan.
Various media report that minimally 200 depositors saw their Health Code change from Green to Red earlier this week.
"OPERATION CODE RED"
The curious case of the Henan depositors scandal and the changing Health Code colors has become a trending topic on Chinese social media this week.
The topic of the duped depositors was also discussed online before this week, and it brought back memories of earlier financial scandals, such as the P2P chaos that occurred back in 2018.
But the topic of depositors' Health Codes changing to Red is something that attracted much wider discussions on the apparent abuse of a system that has now become a part of everyday life for people in China's Covid era.
The main proof for people that the Henan depositors were targeted in this apparent "Operation Code Red" is that, as mentioned before, the family members that were traveling together with the duped depositors never saw a change in their Health Code: those people who were listed on the affected regional banks' depositors list were seemingly singled out and purposely targeted.
"Who is in charge of changing the Health Code colors?" became a much-asked question on Weibo, with many blaming local Henan authorities for abusing their powers to try and stop protesters from raising their voices in Zhengzhou. One Weibo post on this issue received over 1,6 million views. Meanwhile, Henan authorities still said they did "not understand" what had happened.
"It must be American hackers who did this, right?", some Weibo commenters wrote, putting in a sarcastically smiling emoji, with others adding: "No, the aliens did this – it must have been the aliens!"
Others wrote that the situation at hand should be simple to figure out: "There is no way that this is an oversight or a data error. If you want to know who did this, look at who or which department has the authority to manage both epidemic prevention measures as well as finance affairs."
Many comments also showed a sense of disillusionment with how China's Covid management affects the people: "After seeing the chaos during the Shanghai lockdown, this does not even surprise me anymore," one person wrote on Weibo: "All we can do is pray that it won't happen to us."
"Why is Henan's "messy Red Code" incident so extremely vile and scary? Because once a person or institution holding public power looks at you in a bad light, they can give you a Red Code and take you away, in the name of legality. This is the evil that comes from unmonitored power," one blogger from Anhui wrote.
Other people also worried about foreign media reporting on this issue, saying this incident is being used to cast China in a bad light while local authorities are to blame: "We should unify the Health Code system into a national system in order to avoid this from happening again."
According to Chinese state media reports, the case has now been forwarded to the Health Commission of Henan Province for further investigation.
We will keep tracking upcoming developments. Meanwhile, check out our other reports on trending topics relating to China's banking and finance here. For more about Covid-related trending topics, check here.
By Manya Koetse
With contributions by Miranda Barnes
Get the story behind the hashtag. Subscribe to What's on Weibo here to receive our weekly newsletter and get access to our latest articles:
References (all other sources included in hyperlinks)
Lee, Amanda. 2022. "Rural Banks Freeze Customers' Accounts." South China Morning Post, May 31.
Spotted a mistake or want to add something? Please let us know in comments below or email us. First-time commenters, please be patient – we will have to manually approve your comment before it appears.
©2022 Whatsonweibo. All rights reserved. Do not reproduce our content without permission – you can contact us at info@whatsonweibo.com.
From Teacher to Livestreamer: Ecommerce Move is Game Changer for China's New Oriental Education
New Oriental is going from classroom to e-commerce. Online shopping has never been more educational.
After laying off 60,000 staff last year, Chinese private education company New Oriental is now offering unexpected new employment opportunities for teachers in the livestream market. Changing e-commerce channels into virtual classrooms, New Oriental has hit the sweet spot with Chinese netizens.
Last year, an unprecedented crackdown on China's private education sector left many teachers unemployed and worried about their future.
China's so-called 'double reduction' (双减) policy was announced in August of 2021 and targeted "excessive homework" and off-campus tutoring for students in the mandatory nine-year education system. The new regulations imposed strict sanctions on existing private education institutions, forcing them to register as non-profit organizations. Foreign investment in the private tutoring sector was also banned.
One of the companies that was hit particularly hard by this policy is New Oriental (新东方), the largest provider of private educational services in China. Following the crackdown, the company suffered huge losses and dismissed 60,000 employees.
Facing the new regulations, including the ban on for-profit tutoring in subjects on the school curriculum, New Oriental tried to keep its head above water by exploring new markets and ideas within the private education sector. For example, the company launched a special program to train parents on how to tutor their K-12 children themselves. New Oriental called it their "excellent parenting" (优质父母) training class.
Now, nearly a year later, another initiative by New Oriental has become an online hit. Inspired by the success of livestream e-commerce in China, the tutoring company started its own livestream channels. Although New Oriental already introduced its e-commerce business in late 2021, with founder Yu Minhong (俞敏洪) sometimes hosting the sessions himself, it had not been as much of an online success until it recently introduced bilingual livestream e-commerce sessions.
Now, tutors-turned-sellers are teaching viewers English – or sometimes other subjects – while selling (agricultural) products via the Douyin app. Whether they are selling fruit, rice, or even shrimp, New Oriental's livestream hosts are grabbing every opportunity to teach their viewers a new word or concept, often using a whiteboard to introduce new vocabulary.
One reason for New Oriental becoming a viral hit is because of Dong Yuhui (董宇辉), who is one of the experienced teachers now selling products online. Dong's bilingual livestreams are particularly successful among viewers because of his enthusiasm, fluency in English, witty jokes, personal stories, and talent for singing.
Teacher Dong recently had a breakthrough moment with his June 10th livestream, during which he sold bags of rice using English. He has since attracted over nine million viewers. While thanking all viewers for their support in a recent Weibo post, Dong described himself as a "ordinary peasant boy."
Besides Dong, there are also other popular hosts. English teachers Ming Ming, Yoyo, and Dun Dun are all loved by viewers for their charm and wit.
Although various kinds of social e-commerce categories are particularly popular in China, this new phenomenon of combining education + e-commerce + livestream is appreciated by many netizens who like to learn something while being entertained and perhaps also buying something. "I don't know whether to place an order or to make notes," has become a popular comment. Another commenter said: "As a kid I took your class, and now I buy your goods."
Others say that they like the calm way in which the livestreams are presented, posing a stark contrast to other livestreams where the hosts are hyping up products and urging people to buy fast and buy more.
On June 15th, news came out that New Oriental's stocks had surged by more than 25% following its livestreaming success.
Although some Weibo users predict that this is just a temporary trend, others think that the educational livestream model is here to stay: "New Oriental really started a new business venture, and I'm learning a lot through their livestream sessions."
By Manya Koetse
With contributions by Miranda Barnes
Read related article: China's Crackdown on Tutoring Schools: Concerned Parents and Teachers on Weibo
Get the story behind the hashtag. Subscribe to What's on Weibo here to receive our weekly newsletter and get access to our latest articles:
Spotted a mistake or want to add something? Please let us know in comments below or email us. First-time commenters, please be patient – we will have to manually approve your comment before it appears.
©2022 Whatsonweibo. All rights reserved. Do not reproduce our content without permission – you can contact us at info@whatsonweibo.com.