Critical Essay: "The Hype Surrounding Zibo BBQ is a Sign of Social Wasteland"
The essay suggests that the recent popularity of Zibo BBQ is a symptom of a society that's all about consumerism and empty social spectacle.
Fast, fun, BBQ travel is a major topic on Chinese social media these days. One WeChat essay recently attracted attention for arguing that the hype surrounding Zibo barbecue is a symptom of a "sick society" in which people are disconnected from meaningful topics. While serious social issues are muted and superficial marketing tricks are blasted all over the internet, China's "hypocritical youth" actively participate in the societal emptiness they say they reject.
Everyone is talking about Zibo. The old industrial city in Shandong suddenly became the hottest city in China earlier this year when big groups of young people hopped on trains to seize the post-Covid travel opportunity and enjoy a BBQ-filled weekend.
As described in our previous article on Zibo, the town achieved hit status through a combination of factors: its appealing local barbecue culture, the city's hospitality to students in difficult zero Covid times, the 2023 spring travel craze, smart city marketing, and the social media trends surrounding Zibo which further fueled the hype.
Ever since April and throughout this Labor Day holiday, Zibo managed to crawl into Chinese social media's top trending lists on a daily basis. And now Zibo has also become part of a bigger travel trend by Chinese younger generations that is all about fast, frugal fun (read here).
But despite all the videos showing BBQ parties, travel excitement, and smiling visitors, the Zibo hype is not all about roses, and there are also voices criticizing the craze.
One of these voices is that of the author of a recent article titled "The Hype Surrounding Zibo BBQ is a Sign of Social Wasteland" ("淄博烧烤走红是社会荒芜的表现"), which was posted by Chinese Professor of Journalism and Communication Liu Yadong (刘亚东).
Liu Yadong is a senior journalist and former editor-in-chief of Science and Technology Daily (科技日报). He is now a professor at Nankai University and the Dean of School of Journalism and Communication.
Although the article is attributed to Liu in most Weibo discussions, the article originally appeared on the WeChat account Jiuwenpinglun (旧闻评论), authored by 'Picture-Taking Master Song' (照相的宋师傅), pen name of prominent Chinese journalist Song Zhibiao (宋志标).
The article includes some hot takes on China's recently hyped Zibo travel culture, which is strongly connected to social media governance and city marketing initiatives. The aurthor argues that the Zibo craze is a symbol of "societal illness" that uses temporary hypes, facilitated by social media, to cover up existing problems and, most of all, is a sign of a society that is devoid of true value.
It also criticizes those netizens/young people that jump in on the hype. Despite claiming to go against various top-down policies, they willingly and collectively are driving the hypes that are supposedly also part of dynamics that are strategically used by those in power to maintain influence.
Here, we provide a full translation of the short essay, translated by What's on Weibo. Some parts are loosely translated or slightly edited for clarity, the Chinese original is included for your reference.

"The Hype Surrounding Zibo BBQ is a Sign of Social Wasteland" [TRANSLATION]

"Zibo barbecue has gone viral overnight, and with giant steps, we're seeing a preposterous scene unfold: crowds of people are flocking to Zibo, long lines are forming in front of the BBQ stalls, the municipal government is making emergency preparations in various ways to facilitate "two-way travel" for young people coming to the city. This immersive scene is unfolding at the barbecue grills, while we are seeing Zibo's 'northeasternisation' (东北化)* and the accelerated desolation of society. *['Dongbei-ization' or 'northeasterisation' is a term used to refer to the phenomenon where people are leaving the northeastern provinces of China and moving to other provinces or regions which are then 'northeasternized.']
This desolation of society does not refer to a lack of people or empty streets. On the contrary, the contemporary social wasteland is crowded, grimy, and lively. The youth, in particular, are unconsciously marching in the same direction, and with fervor, they are chewing on Zibo BBQ 'soul food' as if they were devouring their own souls. In this existence, we are witnessing the demise of certain parts of themselves and our own.
Many people really want to explore the reasons why Zibo became such a hype, and they can list various factors, but they all stay at the instrumental level and do not go beyond it. This kind of result of up-and-down marketing of [China's] cultural tourism industry is not so much because of collusion between local officials and traffic-generating mechanisms, as it is a random and hollow expression of society's desolation. Society is sick, and the hyping of things like barbecue is just a symptom of that."
淄博烧烤一夜走红,正在大踏步铺陈一副荒诞景象:成群结队的外地人蜂拥前往,烧烤摊前排满长队,市政府正在从各个方面应急建设,以奠基淄博与年轻人的"双向奔赴"。这是发生在烧烤架边上的沉浸式场景,淄博东北化,而社会加速荒芜化。
这里的社会荒芜并不是指人流量稀少,或街面荒凉,相反,现在的社会荒芜群集、油腻且热闹,尤其是年轻的躯壳无意识地追求整齐划一的动作,以饱满的热情,像吞噬自己灵魂一样咀嚼淄博烧烤的"灵魂三件套"。这样的存在,见证了自己和他人某些部分的死亡。
有人很想探究淄博烧烤走红的成因,罗列各种因素,但都停留在工具的层面,而没有往前更推进一步。这种文旅行业乍起乍落的营销成果,与其说是主政者与流量制造机制的合谋,莫若说是社会荒芜化随机的、空洞的表现。社会病了,烧烤等走红是它的症状。"
"It's especially the young people that are unconsciously moving in the same direction and, full of enthusiasm, they are chewing on Zibo BBQ 'soul food' as if they were devouring their own souls."
"Pulling stunts like turning barbecue into an online sensation and tourism bureau directors dressing up etc., help places to be covered by a huge filter, and it enables local authorities' supervisory departments to shift their cultural and creative thinking to the short video era. One of the characteristics of the short video era is the shrewd operation that appears to conform to the lifestyle of the lower classes, grabbing their attention and using large-scale deception to cover up the rapid social barrenness of everyday life.
In this everyday life, a large number of more valuable topics are first decoupled from power, and then detached from the people closely related to them. In this process, these meaningful topics receive blows from two directions: firstly they are restrained and smeared by authorities, and then they are ridiculed and abandoned by the public. The erosion of our basis of values is similar to the process of desertification, and it is achieved through manipulation and conformation.
It seems that we can't regard the people in this social wasteland purely as tools. They happily laugh in front of the barbecue stalls, they skillfully jumble up words and use special characters on social media to be influenced and influence others. For a moment, they forget about the ubiquitous risk of unemployment, and without a sense of history or awareness of problems, they fantasize about the next paradise.
The satirical thing is that while the young generation prides itself in 'lying flat' and in rejecting the policy lines [that encourage them] to have more kids, struggle, buy houses, etc, they vigorously participate in a movement to create a landscape of social desolation. The social wasteland provides them with a life kit where one thing after the next comes dashing up and then speeds away. This makes the wastage of the hypocritical youth especially evident, and because they are overly exploited, they are particularly ill."
"烧烤网红、文旅局长便装等把戏,让一个地方罩上巨大的滤镜,帮助当局的主管部门从文创思维过渡到视频时代。短视频时代的特征之一,就是以名义上附和底层生活方式的精明操作,收割底层的注意力,以规模化的欺骗掩盖社会急速荒芜的日常。
在这种社会日常中,大量更有价值的议题先是与权力脱钩,再与和议题密切相关的人群脱钩。脱钩过程,价值议题遭到了两个方向的捶打:先是被权力遏制与污化,然后再受到民众的嘲笑与抛弃。价值基础的流失近似荒漠化进程,在操作与附和中达致。
似乎还不能将荒芜社会中人视作完全的工具人,他们在烧烤摊前发出快乐的笑声,他们娴熟地使用掺杂字母、异形字的话术在社交媒体上接承接灌输并灌输别人。一时间,他们忘了四面楚歌的失业风险,没有历史感与问题意识,却在畅想下一个乐园。
讽刺的是,年轻世代一边以躺平自诩,排斥多生、奋斗、买房等政策口径,另一边却精力旺盛地参与社会荒芜化的造景运动。社会荒芜提供了一个个飞奔而来又疾驰而去的生活套件,这让虚伪的年轻人损耗尤其明显,也因为被过度地利用,他们病得特别厉害。
"The people in this social wasteland aren't just tools as they happily laugh in front of the barbecue stalls. For a moment, they forget about the risk of unemployment, and without a sense of history or awareness of problems, they fantasize about the next paradise."
"The short video and click-through economy originated on the internet, and with the aid of the social wasteland, they have given birth to plastic flower-like gardens. The official attitude is very straightforward. On the one hand, they tame the flow of serious topics, directing and filtering their moral assessment; and on the other hand, they utilize it [the short video & click-through economy] to their advantage, harnessing the power of traffic to soften underlying anxieties.
Recently, cultural tourism chiefs in all parts of the country, according to the symbols of their local culture, competed with each other in [online] costume shows put together due to safe traffic flows.* These costume shows, realized for the sake of clicks, ended up straight in the social corner of topics such as the Zibo BBQ stalls – because there are no social topics to compete with, – and similarly resonated with spirit-lacking audiences. *[for more information on this trend, see our article about the cultural tourism chief video hype here.]
The "Zibo BBQ hype" and the trend of "cultural tourism chiefs costume" may appear as noteworthy accomplishments for cultural tourism bureaus, but the growth of such "light industry" is insufficient in addressing real issues, let alone the ongoing financial crisis affecting different regions. It is ineffectual in resolving the predicaments of economic development. While it is hailed in a desolate society, it may only serve as a temporary distraction, numbing the senses and blinding people from reality.
In the process of society becoming more desolate, the concept of "yān huǒ qì" (烟火气)* is almost destined to be emphasized, and it carries a feeling of nationalism and forlorn. Its visual effect is quite impressive, providing the illusion for both young and old in a desolate society, while dulling the strict street order enforced by the city police, giving people a feeling of intoxication. With the twinkling of the neon lights and the smoke filling up the air, the world can be anything.
*[Yān huǒ qì is a 2022 buzzword, initially means the smoke and fire produced from cooking food, but after 'zero Covid,' the phrase has come to be used to capture how restaurants and the hospitality sector across China seeing vitality again.]
Not long ago, 'yān huǒ qì' was a rhetoric to decorate the facade of the controlled economy, but now its existence has become like a common understanding between the government and the people. This rhetorical resonance, recited from above and echoed from below, has unexpectedly masked the perspective the term 'yān huǒ qì' represents, [namely that of] those in power overseeing it."
"短视频及流量经济是局域网的原创,它们借助社会荒芜衍生出塑料花一样的花园。官方的取态非常干脆,它一方面驯化严肃议题的流量呈现,引导阻击它的道德评价;另一方面,它又滥用"为我所用"的原则攫取流量利益,以柔化深层次的焦虑。
前段时间,各地文旅局长按照当地的标志性文化,竞相登上由到安全流量组装而成的变装秀场。这些冲着流量变现而去的变装秀,因为没有与之竞的争社会议题,它们长驱直入到类似"淄博烧烤摊"的社会角落,与精神贫乏的受众同频共振。
"淄博烧烤走红","文旅局长变装"也许可作为文旅局的业绩,但这种"轻工业"的繁荣无法求解真问题,丝毫不减席卷各地的财政危机,更无助于解决经济发展的困境。当然,它们在荒芜社会空间搞出几声官民合唱,兴许可以暂时麻醉神经,遮断望眼。
在社会荒芜化的进程中,"烟火气"这个词得以强调几乎是命中注定,带着某种民族性与悲凉感。它的视觉效果相当可观,为荒芜社会提供了老少皆宜的幻觉,同时钝化了城管严控的街头秩序,令人们获得醉酒般的感受,假如霓虹闪烁,缭绕烟雾,亦可人间万象。
在不久之前,"烟火气"还是装点管控经济门面的修辞,现如今成为官民共识一样的存在。这种上有念叨、下有回声的修辞共鸣,出人意料地掩盖了"烟火气"这个词所象征的权力俯瞰视角,社会的荒芜化不仅蚕食价值议题,也以不知畏惧的憨态吞噬阶级差异。
"Have you considered that the desolation of society does not necessarily make it safer? In fact, it may just be another extreme form of a risky society. It is only ignored because the script of click-through traffic plays around the clock."
"Similar to the intensity of a desert storm, the attention span of a desolate society is also brief, and the pace of the attention economy is fast. In a desolate society, the density of life for its members is low, and they can bear with or ignore their quality of life, but they cannot endure a short-lived infatuation. As the Zibo barbecue hype gained momentum, the countdown to the conclusion of the Ding Zhen craze* had already commenced. *[read about the hype surrounding Ding Zhen here.]
Some people believe that eliminating social diversity will also eliminate certain unpopular hidden dangers. However, have you considered that the desolation of society does not necessarily make it safer? In fact, it may just be another extreme form of a risky society that is ignored because the script of click-through traffic keeps playing around the clock. While you can control the click-through traffic, the logic of a decaying society remains uncontrollable.
Ultimately, the Zibo barbecue hype is very boring. It offers little solace to the government's concerns about development or the public's pressures for survival, unless we define a drunken and reckless lifestyle as positive. While we cannot fully blame the click-through economy for the desolation of society, it does contribute to numbing society's awareness of how it operates, and the warning signs of a hollow society are all around us".
"就像沙漠上的风暴特别强,荒芜社会的注意力也相当有限,注意力经济快速来也会快速去,毕竟荒芜意味着社会成员的生活密度低,他们可以容忍或漠视生活质量,但无法容忍略微时长的钟情。就在淄博烧烤走红的同时,始乱终弃的丁真式命结局就开始倒计时。
有人以为,消除了社会的多元化,就可以消除某些不受待见的隐患。何曾想,社会的荒芜化并不与安全社会划等号,它是风险社会的极端形式之一,只因日夜不停上演的流量剧本被忽视了。流量或许可以驯服,但社会荒芜化却沿着它的逻辑如脱缰之马。
说到底,淄博烧烤走红是非常无聊的事,它既不能真正安慰官方的发展焦虑,也无法减轻大众的生存压力,除非醉生梦死也被定义为积极的生活方式。当然,流量无法为社会的荒芜化负上全部责任,但它在合谋中钝化社会敏感度也是事实,荒芜将警讯紧紧包裹。"

Online Responses

The short essay is a critique of China's youth, the online media sphere, and the click culture that goes from one hype to the next. But it is also a serious critique of Chinese authorities and the dynamics in place to mute serious social issues while blasting superficial trends.
The author suggests that everything is becoming less diverse (places like Zibo are 'northeasternized') and that society is actually so empty that people are constantly trying to fill the holes of their attention with the next meaningless buzz. Besides Zibo BBQ (link), he also mentions the Cultural Tourism chief cosplay trend (link), and the sudden rise to fame of Ding Zhen (link).
With Zibo and other domestic travel destinations being such a hot topic on Chinese social media recently, Liu's critical essay – published on WeChat account Jiuwen Pinglun 旧闻评论 on April 17 – has inevitably become a topic of discussion.
By now, the essay has been deleted from Weixin, but online screenshots are still circulating online and have triggered new discussions this Labor Day holiday week (this link and this ifeng link are also still active). Various Weibo threads on the essay received hundreds of likes and comments over the past two days.
Some bloggers on Weibo value Liu's perspective. As one blogger (@校长梁山) writes: "This is a thoughtful and high-quality article that you rarely come across (..) I have no intention of criticizing the government, but in terms of social management, the views in this article are worth thinking about."
"Actually, he is right," another commenter writes: "What he's expressing is that the current economic downfall cannot be solved by the next barbecue hype, but this is something the media is burying" (the idiom used is yǎn ěr dào líng 掩耳盗铃, meaning covering one's ears while stealing a bell, burying one's head in the sand)." Those agreeing with the author suggest that Zibo's success might be a win for its local cultural tourism department, but actually says nothing about a recovery of other industries and economy at large.
But there are also those who think Liu's perspective is outdated and that, while talking about a lack of meaning, his own words are actually meaningless: "I have no idea what he is talking about."
Some say he is making a big fuss over nothing, suggesting that it is only normal for people to want to seek for entertainment and simple pleasures like eating BBQ skwers, and that it does not represent a bigger problem at all. He is "moaning over an imaginary illness," one Weibo user wrote ("wú bìng shēn yín" 无病呻吟).
Although not everyone agrees with Liu's takes, many do agree that it gives food for thought. However, the deletion of the essay itself and the removal of some related online comment threads also prevents further discussions on the topic, which ironically exemplifies one of the issues that the author aimed to address in his essay.
By Manya Koetse
Edited May 19, 2023: An earlier version of this article suggested Liu Yadong (刘亚东) is the original author of the critical essay. Although the article is attributed to Liu on Chinese social media, Liu reposted it and had his own bio under the article, but the original (censored) article is authored by Song Zhibao (宋志标).
Get the story behind the hashtag. Subscribe to What's on Weibo here to receive our newsletter and get access to our latest articles:
Spotted a mistake or want to add something? Please let us know in comments below or email us. First-time commenters, please be patient – we will have to manually approve your comment before it appears.
©2023 Whatsonweibo. All rights reserved. Do not reproduce our content without permission – you can contact us at info@whatsonweibo.com.
The Story of Li Jun & Liang Liang: How the Challenges of an Ordinary Chinese Couple Captivated China's Internet
"Liang Liang and Li Jun are just the tip of the iceberg; there are thousands of couples facing similar challenges."
Two years after they first started sharing their story on Chinese social media, millions of netizens are engrossed in the struggles of the Chinese young parents Li Jun and Liang Liang, whose journey of starting a family and buying an apartment in the city at a time of economic downturn turned into an emotional rollercoaster.
The struggles faced by an ordinary young Chinese couple have recently become a major topic on Chinese social media.
For some, their story has unfolded like a compelling movie, "starring Li Jun and Liang Liang." Others think they could be protagonists in a novel, perhaps one written by Victor Hugo or Lao She.
Here, we explain their story thus far and why it has become such a big topic of discussion on Chinese social media.
A PROMISING FUTURE
"Among tens and thousands of lights in the city, finally there's a light that only shines for me."
In 2022, the couple, Zhang Liliang (张艺亮, the husband, also called 'Liang Liang') and Dong Lijun (董丽君, the wife, referred to as Li Jun), first became popular on Chinese social media as they shared their journey of buying a property and building a life in Zhengzhou, Henan Province, on their account 'The Couple Liang Liang & Li Jun' (亮亮丽君夫妇).
Their first social media post had appeared in November of 2021. In this video, they shared their excitement about buying an apartment and starting their new life as home owners.
They previously put a deposit on an off-planned apartment, eagerly anticipating its delivery in 2024. They regularly updated their progress on Douyin, showcasing their savings efforts and monthly visits to the construction site. "Among tens and thousands of lights in the city, finally there's a light that only shines for me," they said ("从此万家灯火,终有一盏只为我而亮").
The couple took out a mortgage amount of 1.02 million RMB ($143.660) for the Zhengzhou apartment, which had a total floor area of 1,055 sqft / 98 sqm. They made a downpayment of 450k RMB ($63.370), and agreed to a monthly – relatively high-interest rate – payment of 6293 RMB ($886), while also paying the monthly rent for their apartment (1500 RMB/$211). This meant the budget for other expenses was very tight already, since the couple had an approximate monthly combined income of only 9000 RMB ($1267).
They mainly paid for the downpayment with money that Liang Liang had been saving over the past five years, along with monetary gifts from their wedding and some support from their parents. In order to generate some extra income, Liang also became a taxi driver (Didi) at night.
As the couple gained more popularity online, mainly on Douyin and Bilibili, some Chinese media outlets also began taking notice. In July of 2022, Sanlian Life Weekly (三联生活周刊) featured an interview with the couple, bringing their story to the attention of a wider audience.
THE SPARK IS GONE
"This is our life now, the life of mortgage slaves."
However, things did not go as planned. Months into the construction process, the developer, Sunac China Holdings Limited (融创中国), encountered financial difficulties. In May of 2022, Sunac made headlines as it didn't meet its payment obligations on a dollar bond, making it one of the major Chinese property companies failing to fulfill its financial commitments.
Li Jun and Liang went to check on how the construction was going every month, and found that Sunac's financial woes were causing a standstill in construction. Their apartment was located on the 22nd floor of a 33-story-building, but the construction was suspended from the 13th floor up.
Their daughter was also born during this tumultuous time, in October 2022, adding to the financial strain of rent and mortgage payments without a clear move-in date. "This is our life now, the life of mortgage slaves," they said in one of their videos.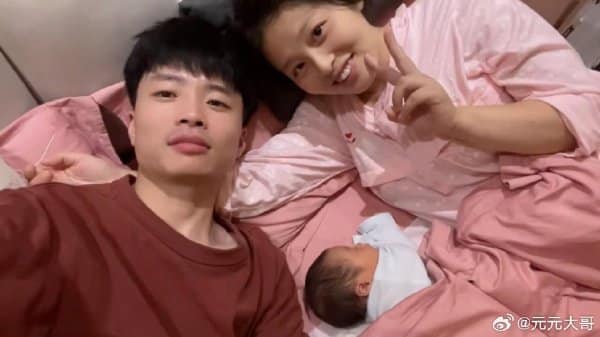 Adding to their challenges, Li Jun experienced a pay cut, reducing their monthly income by 2000 RMB ($282). With the cut leaving them with insufficient funds for essential expenses, they resorted to using their credit card.
In later Douyin videos, fans noticed how frustrated and disillusioned the couple now looked. Some made comparisons to their earlier videos, concluding that the "spark" they previously had in their eyes was gone.
Li Jun and Liang Liang feared that their house might join the ranks of millions of homes in China categorized as "烂尾楼" (làn wěi lóu), referring to 'rotting' unfinished buildings. In such cases, apartments that have been sold are abandoned and are not delivered due to financial struggles or other challenges faced by the developers.
After the pay cut they desperately needed more money to get by. They started doing some e-commerce on Douyin and tried to get the rebate that was promised to them when purchasing their apartment-the initial contract included a 20,000 RMB ($2775) special rebate for buyers, which they qualified for.
But no matter how many times they went back and forth to the sales center, the couple faced rejection and insults when demanding their payment. Desperate, Li Jun and Liang Liang turned to their social media fans and livestream followers to put more pressure on the company, but the staff just shut down the lights, closed the doors, and refused to pay them the money that was promised to them.
SILENCED ON SOCIAL MEDIA
"Instead of pursuing justice, I'd rather have a peaceful life."
In November 2023, the story of Li Jun and Liang Liang gained prominence as they shared dramatic details of their struggles to retrieve their money. On November 15, the couple claimed to have been physically assaulted by staff members of the sales center while demanding their money. Liang ended up in the hospital with minor injuries, and Li, attempting to record the incident, had her phone snatched and the livestream was cut off.
The couple later posted a video later explaining what happened, but that video was soon taken down. Strange things kept happening, and people suspected the couple might have been threatened and bribed.
Because two days later, Li Jun and Liang Liang suddenly shared that the police were now involved, stating that "everything was sorted" and that they were content with the solution provided. This claim of police involvement was confirmed on November 19 by local authorities, who announced penalties for those responsible for beating the couple.
Yet, the last video they posted suddenly became unavailable, and their Douyin account was blocked from updating. Additionally, their other social media accounts on Weibo and Bilibili were both banned from posting (@亮亮和丽君夫妇).
Li Jun still had her personal social media account, revealing on November 22 that the couple had chosen to return to their hometown with their daughter. Liang expressed his desire for justice, but Li Jun emphasized, "But now we have our daughter. I'd rather have a peaceful life." (#亮亮丽君决定离开郑州回老家#)
The idea that Li Jun and Liang Liang felt defeated enough to (temporarily) give up their dream of building their life in the city saddened and angered many netizens, and their story went viral.
But through all their trials and tribulations, the story of Li Jun and Liang Liang may not conclude with an unhappy ending after all.
Their Zhengzhou apartment is apparently not destined to remain an 'unfinished building' — the government has intervened to ensure the delivery of the building. In November of 2023, news also came out that Sunac had met conditions for a long-awaited debt restructuring deal, reportedly reducing its total debt by $4.5 billion. The construction of the building has resumed.
In late November, the story of Li Jun and Liang took another unexpected turn when a new video surfaced, suggesting that the couple – despite saying they would relocate to their rural hometown – would give it another shot in Zhengzhou by starting their own business.
Many online users found this twist confusing, suspecting that local authorities might have intervened to reshape the couple's narrative, possibly to ensure a positive outcome in the public eye (#亮亮丽君决定在郑州创业#).
"Perhaps I should become an internet sensation too," one commenter responded. "Maybe then my unfinished three-room apartment will finally be delivered to me as well."
ORDINARY CHINESE DUPED
"Three years of Covid did not break our spirit; it's our unfinished property that brought us down."
There are numerous reasons why so many people are invested in the story of Liang Liang and Li Jun. Their journey, documented on social media, deeply resonated with millions who are dealing with similar struggles or are finding it hard to start a life in the city, build a family and pay a mortgage.
Their Douyin videos reflected the emotional rollercoaster of an ordinary Chinese couple facing setbacks despite diligently following the conventional path of education, hard work, marriage, savings, property ownership, and family-building.
Many wondered if their lives would have taken a different turn if they had chosen to 'lie flat' or go against the norm. Who is responsible for the fact that, despite their hard work and dedication, their pursuit of the 'Chinese dream' seemed unattainable?
Beyond this issue of ordinary families struggling to get by and pay for a mortgage, a central issue in Li Jun and Liang's story was also the problem with their unfinished apartment.
Concerns about Chinese real estate developers grappling with substantial debts have have consistently dominated headlines in recent years, sparked by the difficulties faced by Evergrande Group and other Chinese property developers, such as Country Garden, Kaisa Group, Fantasia Holdings, Sinic Holdings, Modern Land, and Sunac – the property owner from whom Li and Liang purchased their apartment.
Regular people like Liang Liang and Li Jun are the ones most affected by this ongoing property crisis, often facing severe consequences. For many, this once hopeful young couple, now disillusioned, represents a larger social and economic problem within China's real estate industry.
"Liang Liang and Li Jun are just the tip of the iceberg; there are thousands of couples facing similar challenges," one Weibo blogger (@鸿蒙钊哥) wrote.
Another Weibo user wrote: "We all know the story of Liang Liang and Li Jun, and we want to help them because they represent numerous urban residents. Three years of Covid did not break our spirit; it's our unfinished property that brought us down. So far I did not see official media speaking up for them, is it that they do not know or that they are worth helping? Or, perhaps, they feel ashamed?"
Despite this aspect of Li Jun and Liang's story, which highlights both the trap of mortgage slavery and the problem of ordinary Chinese duped by the country's property woes, the young couple has become a subject of public contention. Not everyone agrees with the choices they made.
Some bloggers, such as Lao Liang (老梁不郁闷), argue that their story was exaggerated for clout, and that their apartment actually never qualified as a 'rotten' unfinished building (烂尾楼 làn wěi lóu) since construction was only temporarily halted but never really abandoned.
While many express sympathy for the couple, others deem it unwise for them to have purchased an apartment with an already strained monthly budget, let alone to have a child under such uncertain circumstances. Critics suggest the couple lacked a proper life plan, didn't assess risks, and ended up in this situation through their own fault.
These critics also view the couple's recent change of plans as evidence that they may have fabricated parts of their story to garner attention and financial support.
However, there are widely different opinions on this issue. Some label these critics as proponents of Social Darwinism (社会达尔文主义), accusing them of being selfish and cold-hearted. They argue that the blame should not be on the couple, striving for a better life, but on the developer who breached the contract and made life so hard for them.
The couple's chosen path, moving from small towns to study and work in big cities, reflects a common value not only in China but worldwide. They argue that society should appreciate those working hard despite facing challenges and insecurities, instead of condemning them for the bold choices they make.
Those supporting the young couple seemingly also do not care if their story has somehow become entwined with (local) propaganda efforts. As their narrative is now shifting from representing defeated Chinese youth in a complex economic situation to showcasing the strength of Chinese urban workers in a revitalized nation, many people simply wish them the best.
As one commenter writes: "If they want to start a business in Zhengzhou now, let them go for it. They've made positive use of the attention they've received. They don't need to live up to the expectations that others have them. All the luck to you!"
By Manya Koetse & Miranda Barnes
Get the story behind the hashtag. Subscribe to What's on Weibo here to receive our newsletter and get access to our latest articles:
Spotted a mistake or want to add something? Please let us know in comments below or email us. First-time commenters, please be patient – we will have to manually approve your comment before it appears.
©2023 Whatsonweibo. All rights reserved. Do not reproduce our content without permission – you can contact us at info@whatsonweibo.com.
Chinese Social Media Reactions to Israel-Hamas War: Pro-Palestinian Sentiments and Anti-Semitic Discourse
Chinese perspectives on the Israel-Palestine conflict are influenced by China's historical context and perceptions of its role in the world today.
PREMIUM CONTENT
The Israel-Hamas war has been dominating discussions on Weibo recently. Amid the different Chinese responses to what's happening in Israel and Gaza, recurring trends and narratives highlight how social media reactions and their pro-Palestine stance are connected to China's own historical context and perceived global role, as well as Chinese anti-Jewish prejudices.
After the Hamas attacks began on October 7, the Israel-Hamas war has been a major topic of discussion on Chinese social media.
Over the past two weeks, a series of critical events have unfolded since Palestinian militant group Hamas fired more than 5,000 rockets from the Gaza Strip into Israel and infiltrated Isreal. The attacks killed a large number of Israeli civilians, including the 260 deaths at the Supernova music festival massacre. As deadly fights continued, the Israeli government formally declared war and retaliated against Hamas.
Israel has since dropped some 6,000 bombs on the Gaza Strip, killing hundreds of Palestians. More than a million people have fled their homes in the Gaza Strip.
On October 17 and 18, various media reported that at least 500 people were killed in a devastating blast hitting the Al-Ahli Arab hospital in Gaza City, a day before US President Biden arrived in Israel for a wartime diplomatic trip, marking a public show of support for Israel.
While Palestinian officials blamed Israel for the hospital blast, Israel asserts it was a rocket launched by an Islamist militant group that caused the explosion. This claim was later backed by American officials, who cited intelligence suggesting that the explosion was indeed caused by an armed Palestinian group.
On Chinese social media sites, various discussions related to the Israel-Hamas war and all the latest developments have attracted a lot of attention. From October 7 to October 19, the Weibo hashtag "Palestian-Israeli Conflict" (#巴以冲突#) received over 2 billion views. One hashtag related to the Gaza hospital explosion received over 320 million views in a day (#加沙地带一医院遭袭数百人死亡#).
Amid all of the hashtags, posts, videos, images, and discussions on Chinese social media, we have identified three prominent trends concerning the Israel-Hamas conflict: growing pro-Palestinian sentiments, a surge in anti-Jewish racism, and an increased focus on China's role on the world stage and how its calls for peaceful resolutions contrast with U.S. policies.

1. Pro-Palestine Sentiments

There is a clear trend on Weibo, as well as on other Chinese social platforms like Douyin and even Xiaohongshu, that netizens are demonstrating greater support for the Palestinian side than for Israel.
Some posts (here, here) argue that if the recent attacks on civilians by Hamas militants are labeled as "extreme terrorism," Israel's actions against Palestinians over the years should be seen as a form of "mild terrorism."
This view is repeated by many bloggers and regular netizens all over Chinese social media, where numerous videos depict bombings in Gaza, emphasizing heartbreaking scenes of severely injured children and their grieving parents and siblings.
In Weibo's 'hot' section, which features currently popular posts, it's evident that there's a stronger emphasis on images and videos portraying the suffering in Palestine compared to those depicting hardships on the Israeli side.
These distressing videos evoke significant sympathy on Chinese social media, where some commenters suggest that the Hamas movement is becoming more prominent because of the suffering Palestians are enduring ("If my child were killed like that, I would immediately turn into a terrorist as well.") Others argue that Hamas should be seen as guerrilla fighters rather than terrorists.
The pro-Palestinian sentiments go beyond netizens' views alone, and are strengthened by Chinese media reports and official positions. The Chinese Foreign Ministry's initial response to the conflict focused on expressing concerns about the escalating tensions and voicing China's stance that civilians should be protected and that further deterioration should be prevented.
They reiterated that the fundamental solution to the Israeli-Palestinian conflict and the path to peace, according to China, lies in the implementation of the "two-state solution" (两国方案) and the establishment of an independent Palestinian state.
Days later, on October 13, Chinese Foreign Ministry's Wang Yi stated that the "historical injustice suffered by the Palestinian people" lies at the root of the conflict between Israel and Palestinians, emphasizing the "two-state solution" and the importance of realizing the dream of an independent State of Palestine.
Wang also stated on October 15 that Israel's bombing campaign had gone "beyond the scope of self-defence" and that it "should stop collective punishment of the people of Gaza."
One Weibo newsblogger called Creamy Banana (@Creamy蕉, 140k fans) writes:
"What many people do not understand is that when we support Palestine in the Israel-Palestine [conflict], is that we do not support a specific regional political group, that we do not support or oppose a specific racial group, and that we certainly do not support a particular religion. None of that. In this issue, supporting Palestine means supporting justice, supporting the weak, supporting the eggs resisting the high wall, it's as simple as that.
For instance, during World War II, when Jews were massacred by the Nazis, we sympathized and supported the Jews because they were the weak ones and the victims at that time. Now, Israel is involved in genocide against Palestine, killing civilians, attacking hospitals, and it is the Palestinians who are the weak and the victims. Former victims—the Jews—have now become the perpetrators.
Good people and bad people, justice and evil, they are all relative and ever-changing. This may be the complexity of human nature. There is no absolute goodness, no absolute evil. You can be a victim and a villain hurting others at the same time."
While the blogger argues that the pro-Palestine sentiment on Chinese social media is unrelated to politics or race, this isn't exactly accurate. Many Chinese netizens' support for the Palestinians is closely connected to current geopolitics, America's pro-Israel stance, existing prejudice towards Jews, and China's own historical context.
As suggested by Yiyi Chen in "The Basis of China's Pro-Palestine Stance and the Current Status of Its Implementation" (2013), China leans towards supporting the Arab side because, in the Chinese perspective on the Israel-Palestine conflict, Israel was established by aligning with the Imperial powers of its era. In this context, the Palestians are seen as sufferers of imperialism (p. 216).
This deeply resonates with many Chinese, who, both explicitly and implicitly, associate the current Palestinian issue with China's historical scars of the "hundred years of national humiliation," during which China also suffered from imperialism by Western powers and Japan from 1839 to the 1940s.
"The Gaza children shaken and trembling from Israeli bombardments experience scenes similar to what China went through during the War of Resitance against Japan," one Weibo user wrote: "So don't say that it has nothing to do with you."
"We're helping Palestine, but we're helping ourselves from 70 years ago," ("帮的是巴勒斯坦,也是七十几年前的自己") one commenter (@
姜橙橙_捏唐冽大脸) wrote, receiving over 5500 likes. Others reiterated similar views, writing: "It's because we endured hardship that we now hold the umbrella for others who are suffering."
Another reason for the pro-Palestine stance, as detailed by Chen, is rooted in reciprocity. The Chinese tend to support the Palestinians as a way of reciprocating the solidarity shown by Arab countries during the 1960s and 1970s when China was isolated due to Western animosity (p. 216).
Furthermore, and this is particularly evident in the numerous posts and blogs within China's online media landscape, support for Palestine also stems from opposition to the United States and a lack of trust in Israel due to the close alliance between the U.S. and Israel.
This distrust also extends to American media, which is seen as biased and untrustworthy on Chinese social media platforms. For instance, when the New York Times modified its headlines about the Gaza hospital blast to reflect new information indicating that Israel might not be responsible, many Chinese netizens viewed it as another instance of American media deliberately distorting facts and concealing the truth.
"They did it because of political correctness," some suggested: "They were afraid to trigger the anger of the Jewish people."

2. Anti-Semitic Sentiments

Apart from the general pro-Palestinian views on Weibo, there are also voices on Chinese social media denouncing Hamas and the people who support them. For instance, when a video captured students from New York University (NYU) tearing down posters depicting Israeli children held hostage by Hamas, many commenters condemned their actions and questioned why they didn't go to Gaza themselves. Others comment general phrases such as, "The Hamas evil must be eradicated" ("消灭哈马斯恶魔").
But despite some condemnation of Hamas, it is hard to find many strong pro-Israel voices on Weibo these days.1 Notably, the Israeli Embassy in Beijing, which is one of the most popular foreign embassy Weibo accounts with 2.4 million followers, is currently not only shadowbanned on the platform (it does not immediately show up in search results), it has also disabled comments on many of its posts or is showing only a limited number of replies.
The posts that do allow comments do not only show strong anti-Israeli sentiments, denouncing Israel as a state engaged in acts of terror and genocide in Gaza, but they also display instances of anti-Semitic racism.
For instance, when the Israeli Embassy posted about the Kutz family, murdered by Hamas terrorists in their home, some netizens commented: "Auschwitz misses you."
References to the Holocaust, Hitler, Goebbels, and related topics are also evident in many other posts on Weibo. Some bloggers (@扫天下媒体, over 70,000 fans) write things such as "(..) the Germans have since long seen through the true nature and character of the Jewish people."
Alongside openly anti-Semitic comments, there are anti-Semitic conspiracy theories circulating on Chinese social media. Some of these theories mention Hollywood actors or American political figures of Jewish descent, hinting that Jews control different parts of America's political, entertainment, and business sectors.
The ubiquity of anti-Semitic comments in China's online media sphere may be surprising, especially considering how bilateral relations between China and Israel have blossomed since the 2000s.
Not only did a 2019 Pew Research Center study discover that the Israeli public held a "very favorable" opinion of China, but a 2016 China Radio International feature also sought the views of Chinese people on Jews and Israelis. The responses were generally positive, with many respondents describing Jews and Israelis as "very smart" (Yellinek 2022, 185-192).
There are also those who generally express pity for Jews, considering them "stateless" or "oppressed," and empathizing with their historical struggles. This is one of the reasons why the Holocaust, and Holocaust studies, have received relatively more attention in China than in other Asian countries (Haime 2020; Timmermans 2016).
In 2010, the animated film A Jewish Girl in Shanghai (犹太女孩在上海) was proudly described as "China's first homegrown Jewish film" – it was part of a renewed remembrance of shared Jewish-Chinese history (read more). The Shanghai Jewish Refugees Museum was opened in 2007 to commemorate the Jewish refugees who lived in Shanghai during World War II, and the first musical themed around the Jews in Shanghai saw the light at the Shanghai International Arts Festival in 2015, the same year when a renewed Chinese translation of The Diary of Anne Frank was published.
However, the perception of 'Jews' or 'Jewishness' in China is multifaceted and often conflicting, as shown by various studies. According to Zhou Xun (2016), Chinese attitudes towards Jews and Jewishness are often a mixture of curiosity and envy, yet Jews are primarily seen as a racialized 'Other' who differ significantly from social groups in China. Xun suggests that anti-Semitic language in China is frequently borrowed from Western sources, but that the racialized discourse itself is inherently rooted in Chinese society.
The many popular books that exist about Jews in China, ranging from What's Behind Jewish Success to 16 Reasons for Jews Getting Wealthy, demonstrate that the authors' perceptions of Jewishness are often riddled with misunderstandings and stereotypes. These books frequently highlight the perceived success of Jews in business and education to promote values highly cherished by the Chinese (Ross 2016, 25-30).
While many prevailing opinions and stereotypes about Jews in China today revolve around their perceived success, intelligence, and warmheartedness, there are also those who portray them as devious, dominating, and cruel.
The recent surge of anti-Semitism on Chinese social media underscores that 'Othering' and stereotyping of Jewish people can focus on their perceived admirable traits in times of flourishing Israel-China relations, but that this praise, exaggerated and rooted in prejudice, can just as swiftly turn into hatred in times of Israel-Palestine conflict escalation.

3. Sending Help: China as Responsible World Leader

Another key trend within Chinese online discussions about the Israel-Hamas conflict is the focus on China's role as a geopolitical influencer: many see China as a promoter of global peace that is "mending the world."
Within this context, the topic of China providing humanitarian assistance to Palestinians gained traction on Weibo recently (#中国政府向巴勒斯坦提供紧急人道主义援助#, #中方向巴方提供紧急人道主义援助#), referring to China's efforts to provide emergency humanitarian assistance to the United Nations Relief and Works Agency for Palestine Refugees in the Near East (UNRWA).
"We bring emergency relief, others bring bullets," some commenters wrote.
This ubiquitous narrative of China as a responsible, fair, and peaceful global power, supported by Chinese state media reports, underscores a distinction between American and Chinese influence on the world stage. It implies that the U.S. frequently interferes and provokes conflicts, while China discreetly offers aid and works to reduce tensions.
In this context, reports of Chinese Foreign Minister Wang Yi telling his U.S. counterpart, Anthony Blinken, that the United States should genuinely play a constructive role in the Israel-Hamas war and push for a political solution sparked hundreds of online comments praising China for being a responsible and peaceful leader (#中方呼吁召开巴以冲突国际和会#) .
On October 18, the United States vetoed a UN resolution calling for a humanitarian pause in the Israel-Hamas war, citing Israel's right to self-defence. China was one of the countries voting in favor of the 'humanitarian pauses' resolution.
In response to the American decision to vote against the resolution, China's permanent representative to the United Nations, Zhang Jun, said: "We cannot help but doubt that some countries do not genuinely wish to resolve the issue" (#联合国巴以问题决议草案遭美一票否决#).
Among the comments are statements like: "This clearly indicates a lack of desire for peace." "They're the tumor of the world." "The U.S. is lacking moral values."
One popular Weibo reply suggested that "the rabbit is quietly patching up [mending] the world" ("兔子总在默默为世界缝缝补补"). In this context, the 'rabbit' is 'China', referring the Chinese webcomic Year Hare Affair (那年那兔那些事儿) in which different animals represented different countries.
These phrases about China "mending the world" have been posted numerous times on Chinese social media (also: "世界破破烂烂,兔子缝缝补补"). Some of these posts also include a political cartoon showing Western media solely focusing on a crying baby in Israel while turning their backs to the bodies in Gaza.
Meanwhile, there are also many commenters who simply express their hopes for a swift end to the war. "I hope for peace between Palestine and Israel. War is merciless."
Some netizens also just share their appreciation for living in China. "We are not living in peaceful times, but at least we're living in peaceful China."
By Manya Koetse
1 Given the scope of this article and its time sensitivity, this comment exclusively focuses on online discussions on Weibo on October 16-19, and it does not reflect the period prior to the current Israel-Hamas conflict
References
Chen, Yiyi. 2013. "The Basis of China's Pro-Palestine Stance and the Current Status of Its Implementation." Digest of Middle East Studies 22 (2): 215-228.
Haime, Jordyn. 2020. "Chinese Philo-Semitism: Why China Admires the Jewish People." Student Research Projects. 26. https://scholars.unh.edu/student_research/26
Ross, James R. 2016. "Images of Jews in Contemporary Books, Blogs, and Films". The Image of Jews in Contemporary China, edited by James R. Ross and Song Lihong, Boston, USA: Academic Studies Press, pp. 24-36.
Timmermans, Glenn. 2016. "Holocaust Studies and Holocaust Education in China". The Image of Jews in Contemporary China, edited by James R. Ross and Song Lihong, Boston, USA: Academic Studies Press, pp. 185-205.
Xun, Zhou. "Perceiving Jews in Modern China". The Image of Jews in Contemporary China, edited by James R. Ross and Song Lihong, Boston, USA: Academic Studies Press, pp. 5-23.
Yellinek, Roie. 2022. "China's Media Strategy Towards Israel." Israel Affairs 28: 184-198.
Get the story behind the hashtag. Subscribe to What's on Weibo here to receive our newsletter and get access to our latest articles:
Spotted a mistake or want to add something? Please let us know in comments below or email us. First-time commenters, please be patient – we will have to manually approve your comment before it appears.
©2023 Whatsonweibo. All rights reserved. Do not reproduce our content without permission – you can contact us at info@whatsonweibo.com.
Subscribe to our newsletter
Stay updated on what's trending in China & get the story behind the hashtag
Sign up here to become a premium member of What's on Weibo today and gain access to all of our latest and premium content, as well as receive our exclusive Weibo Watch newsletter. If you prefer to only receive our free newsletter with an overview of the latest articles, you can subscribe for free here.
Would you like to become a contributor, or do you have any tips or suggestions for us? Get in touch with us here.