Meet Ding Zhen: Khampa Tibetan "Horse Prince" Becomes Social Media Sensation
Ding Zhen's quiet life out in the grasslands is seemingly over.
A Khampa Tibetan farmer has become an online sensation in China due to his handsome features. His overnight fame, which comes with legions of adoring fans and TV show invitations, has sparked discussions about the often-overwhelming loss of privacy that can accompany online stardom.
The recent rise to internet fame of a young man named Ding Zhen (丁真) has sparked controversy over the benefits and downsides of e-celebdom.
The 20-year-old farmer, who lives in Litang in the Kham region of Tibet, found accidental online fame after being captured in a blogger's photography session in Nyima County, according to a Haixia News article.
His handsome features attracted online attention, snowballing out of control after his appearance on a livestream. The young man shyly admitted to having little proficiency in reading or speaking Mandarin, but managed to express his love for raising horses.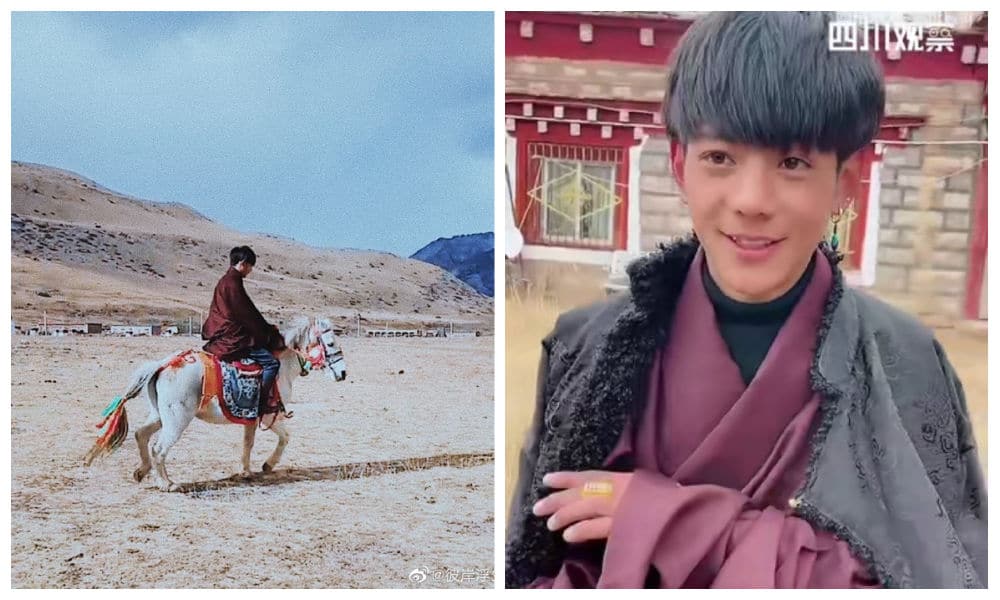 The cameraman and other villagers apparently later publicized Ding Zhen's name, address, and other personal info, soliciting gifts and leading some netizens to mock Ding Zhen's village neighbors as "blood-sucking vampires."
Ding, still unaware of his own fame, mentioned with some difficulty on the livestream that his dream was simply to become a "horse prince" (马王子) by winning his local horse races. His dream after that? To raise more horses, of course much to the delight of many Weibo users, some of whom have begun creating fan art in the young man's honor.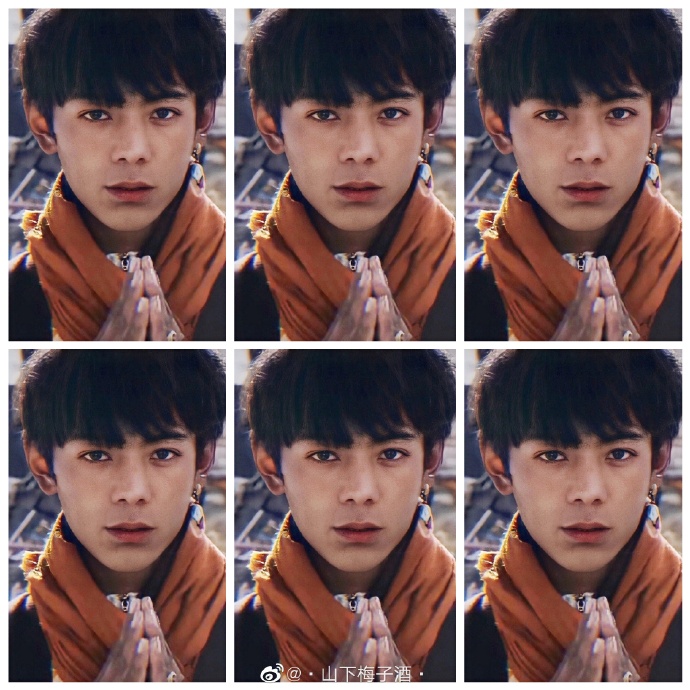 Calls for Ding Zhen to open a Douyin account of his own, or even to appear on reality television shows such as The Coming One (明日之子) and Produce Camp (创造营), have inspired heated debate.
"This kind of person," wrote one Weibo commenter, "should be riding horses and shooting arrows out on the grasslands; he shouldn't be imprisoned in Vanity Fair by your fan club's cultural values."
Others worried that this young man, "uncorrupted by the world," might be taken advantage of by others for financial gain.
This concern over the invasiveness of online fans likely stems from previous incidents where ordinary Chinese citizens became extraordinarily famous overnight, such as in the cases of 'Brother Sharp,' a homeless man similarly inundated with adoring praise online for his good looks and stylish appearance, and Shanghai's 'Vagrant Professor,' both of whom found their privacy constantly invaded by fans seeking photos or just a chance to meet the new stars. Soon both men could hardly walk outside without being swarmed as their private life had been effectively ended- all because they happened to become popular online.
Two phenomena unique to the Chinese internet seem to place these e-celebrities at a higher risk of being tracked down offline by their fans. One of them is the "human flesh search engine" (人肉搜索,) a massive online effort tapping into the knowledge and offline connections of netizens to track down and identify a person, often for shaming or as justice for perceived wrongdoing. The other is the highly-organized "super fan club" phenomenon prevalent in Chinese e-celeb culture, some of which boast structures rivaling the biggest corporations, with PR and financial departments. It's no wonder then that some netizens fear for Ding Zhen's personal life.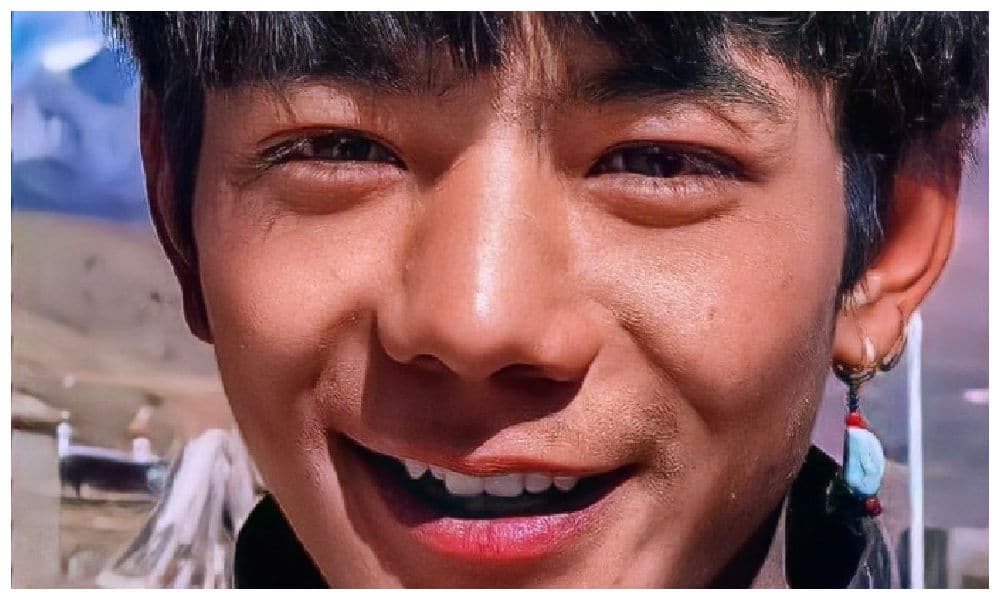 Many of these concerned netizens seem to particularly admire the simple, pastoral lifestyle of the "grasslands" (草原) which Ding leads, one which has been popularized in novels like Jin Yong's Legends of the Condor Heroes (射鵰英雄傳), which details the adventures of the young Guo Jing, a Chinese boy who joins the court of Genghis Khan. The novel has been read by millions across China and has become a prominent source of political metaphors on the Chinese web. One commenter exhorted others to "Let him become his own hero, a horse prince! Don't let the worst impulses of the internet corrupt him."
With the question "Should Ding Zhen leave the grasslands?" (#丁真该不该离开草原发展#) becoming a trending topic all of its own, it seems opinions about his popularity are fiercely divided. "I hope this handsome guy can make his own choices," writes one Weibo user: "..and no matter whether he becomes a star or not, I hope he can keep such an innocent heart!"
According to the latest reports, Ding has received a job offer from a Chinese state-owned company since his unexpected rise to online fame. CGTN writes that the 'horse prince' has now signed the contract, but they do not mention if this new job will allow him to do what he loves most – raising horses and being out in the grasslands.
UPDATE: also listen to our podcast on Ding Zhen here.

By Luke Jacobus
Follow @whatsonweibo
Spotted a mistake or want to add something? Please let us know in comments below or email us. First-time commenters, please be patient – we will have to manually approve your comment before it appears.
©2020 Whatsonweibo. All rights reserved. Do not reproduce our content without permission – you can contact us at info@whatsonweibo.com.
"A Good Day" – Kris Wu Sentenced to 13 Years in Prison
The first woman who came forward to accuse Kris Wu in 2021 celebrated his sentencing in a livestream.
The Chinese-Canadian fallen celebrity Kris Wu, better known as Wu Yifan (吴亦凡) in China, has been dominating Chinese social media discussions after a preliminary court ruling came out in the criminal case in which Wu was accused of rape and other sex crimes.
On November 25, the Beijing Chaoyang district court found Wu guilty of raping three women in his home in 2020 and of "gathering people to commit adultery." He was sentenced to 13 years in prison followed by deportation.
Kris Wu is a 32-year old rapper, singer, and actor who was born in Guangzhou and moved to Vancouver with his mother at the age of ten. Wu also spent a part of his high school years in Guangzhou, but he holds a Canadian passport. He became famous as a member of the K-pop band Exo and later started a solo career.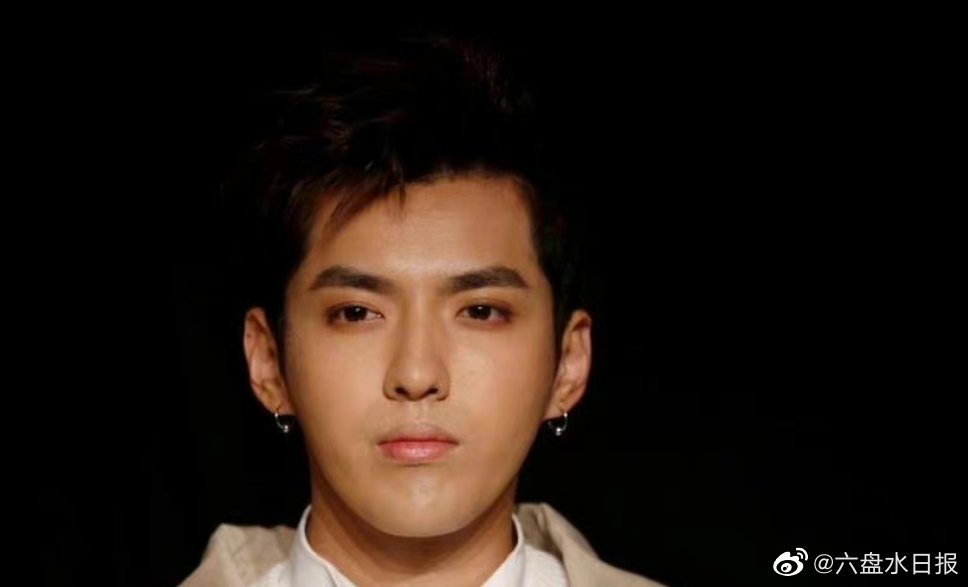 As an actor, he starred in several award-winning movies. He also starred in Sweet Sixteen, a movie in which Wu ironically plays the role of someone getting jailed for shooting a rapist.
The 19-year-old student Du Meizhu (都美竹) was the first to accuse Wu of predatory behavior online in 2021, with at least 24 more women also coming forward claiming the celebrity showed inappropriate behavior and had pressured young women into sexual relationships. As the scandal unfolded, various hashtags related to the story received billions of views on Weibo. Wu was formally arrested on suspicion of rape in mid-August 2021.
On Friday, Meizhu posted "Finally [I've waited for this]" on her social media account. She also briefly joined a livestream in which she celebrated the sentencing and played the song "A Good Day" ("好日子").
On Weibo, the hashtag "Wu Yifan Gets 13 Years" [13 years prison sentence in preliminary ruling] (#吴亦凡一审被判13年#) received nearly 1,8 billion views on Friday.
Noteworthy enough, the Kris Wu hashtag was also being used by netizens to discuss the tragic Urumqi fire which was also a major trending topic on the same day.
Some speculated that the media attention for the Kris Wu case was being used to overshadow the Urumqi news. Others condemned social media users for turning to celebrity news instead of focusing on the tragic fire in Xinjiang's capital.
At the same time, there was also a running joke on social media in light of China's ongoing 'zero Covid' policy, with people saying: "Who will come out first, Kris Wu or us?"
By Manya Koetse 
Featured image: Kris Wu starring in Sweet Sixteen movie.
Get the story behind the hashtag. Subscribe to What's on Weibo here to receive our newsletter and get access to our latest articles:
Spotted a mistake or want to add something? Please let us know in comments below or email us. First-time commenters, please be patient – we will have to manually approve your comment before it appears.
©2022 Whatsonweibo. All rights reserved. Do not reproduce our content without permission – you can contact us at info@whatsonweibo.com.
About Lipstick King's Comeback and His 'Mysterious' Disappearance
After Li Jiaqi's return to livestreaming, the 'tank cake incident' has become the elephant in the room on social media.
Earlier this week, the return of China's famous livestreamer Li Jiaqi, also known as the 'Lipstick King', became a hot topic on Chinese social media where his three-month 'disappearance' from the social commerce scene triggered online discussions.
He is known as Austin Li, Lipstick King, or Lipstick Brother, but most of all he is known as one of China's most successful e-commerce livestreaming hosts.
After being offline for over 100 days, Li Jiaqi (李佳琦) finally came back and did a livestreaming session on September 20th, attracting over 60 million viewers and selling over $17 million in products.
The 30-year-old beauty influencer, a former L'Oreal beauty consultant, rose to fame in 2017 after he became a successful livestreamer focusing on lipstick and other beauty products.
Li broke several records during his live streaming career. In 2018, he broke the Guinness World Record for "the most lipstick applications in 30 seconds." He once sold 15000 lipsticks in 5 minutes, and also managed to apply 380 different lipsticks in another seven-hour live stream session. Li made international headlines in 2021 when he sold $1.9 billion in goods during a 12-hour-long promotion livestream for Alibaba's shopping festival.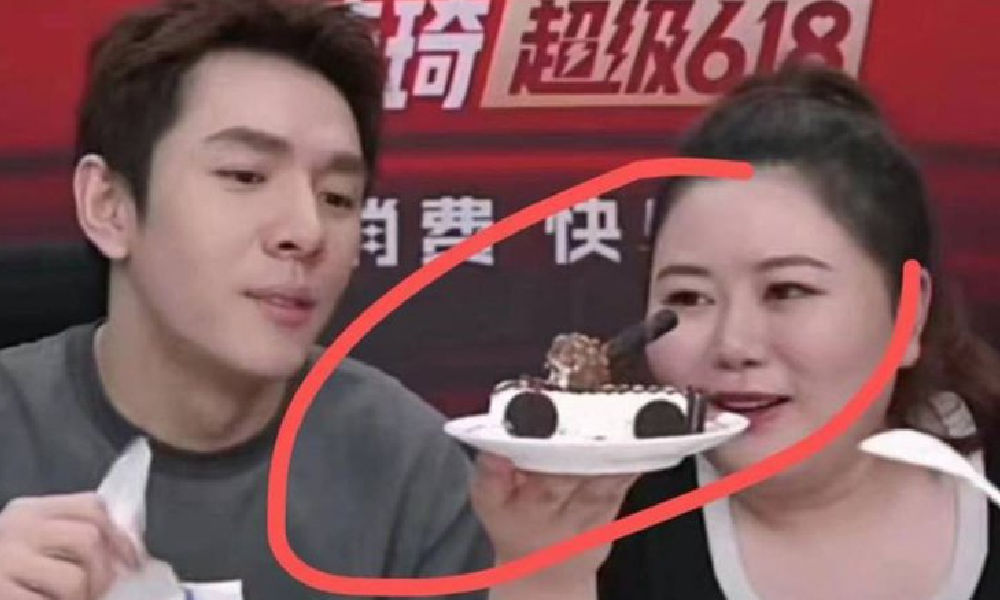 But during a Taobao livestream on June 3rd of this year, something peculiar happened. After Li Jiaqi and his co-host introduced an interestingly shaped chocolate cake – which seemed to resemble a tank, – a male assistant in the back mentioned something about the sound of shooting coming from a tank ("坦克突突").
Although Li Jiaqi and the others laughed about the comment, Li also seemed a bit unsure and the woman next to him then said: "Stay tuned for 23:00 to see if Li Jiaqi and I will still be in this position."
The session then suddenly stopped, and at 23:38 that night Li wrote on Weibo that the channel was experiencing some "technical problems."
But those "technical problems" lasted, and Li did not come back. His June 3rd post about the technical problems would be the last one on his Weibo account for the months to come.
The 'cake tank incident' (坦克蛋糕事件) occurred on the night before June 4, the 33rd anniversary of the violent crackdown of the Tiananmen student demonstrations. The iconic image of the so-called 'tank man' blocking the tanks at Tiananmen has become world famous and is censored on China's internet. The control of information flows is especially strict before and on June 4, making Li's 'tank cake incident' all the more controversial.
But no official media nor the official Li Jiaqi accounts acknowledged the tank cake incident, and his absence remained unexplained. Meanwhile, there was a silent acknowledgment among netizens that the reason Li was not coming online anymore was related to the 'tank cake incident.'
During Li's long hiatus, fans flocked to his Weibo page where they left thousands of messages.
"I'm afraid people have been plotting against you," many commenters wrote, suggesting that the cake was deliberately introduced by someone else during the livestream as a way to commemorate June 4.
Many fans also expressed their appreciation of Li, saying how watching his streams helped them cope with depression or cheered them up during hard times. "What would we do without you?" some wrote. Even after 80 days without Li Jiaqi's livestreams, people still commented: "I am waiting for you every day."
On September 21st, Li Jiaqi finally – and somewhat quietly – returned and some people said they were moved to see their lipstick hero return to the livestream scene.
Although many were overjoyed with Li's return, it also triggered more conversations on why he had disappeared and what happened to him during the 3+ months of absence. "He talked about a sensitive topic," one commenter said when a Weibo user asked about Li's disappearance.
One self-media accountpublished a video titled "Li Jiaqi has returned." The voiceover repeatedly asks why Li would have disappeared and even speculates about what might have caused it, without once mentioning the tank cake.
"This cracks me up," one commenter wrote: "On the outside we all know what's going on, on the inside there's no information whatsoever."
"It's tacit mutual understanding," some wrote. "It's the elephant in the room," others said.
Some people, however, did not care about discussing Li's disappearance at all anymore and just expressed joy about seeing him again: "It's like seeing a good friend after being apart for a long time."
By Manya Koetse 
Elements in the featured image by @karishea and @kaffeebart.
Get the story behind the hashtag. Subscribe to What's on Weibo here to receive our weekly newsletter and get access to our latest articles:
Spotted a mistake or want to add something? Please let us know in comments below or email us. First-time commenters, please be patient – we will have to manually approve your comment before it appears.
©2022 Whatsonweibo. All rights reserved. Do not reproduce our content without permission – you can contact us at info@whatsonweibo.com.