Digital Diplomacy: These Foreign Embassies Are Most (Un)Popular on Weibo
'Weiplomacy' is here; Weibo and other social media platforms are a tool for government public diplomacy purposes. What's on Weibo gives an overview of Weibo's most (un)popular foreign embassies.
As social media has become an increasingly common tool for government public diplomacy purposes, a large number of foreign embassies in China now has a presence on Sina Weibo to engage with local audiences. As Weibo diplomacy a.k.a. 'Weiplomacy' is becoming more important, What's on Weibo gives an overview of Weibo's most (un)popular foreign embassies.
Digital diplomacy is a hot topic. Embassies all over the world increasingly use social media as a low-cost and convenient tool to promote their countries, inform people about their latest activities and engage with their followers.
Many embassies can be found on Facebook, Twitter or Youtube, but also on China's Sina Weibo or WeChat, changing the way foreign embassies engage with with local audiences in China.
E-Diplomacy: Up & Downsides
Foreign embassies on Weibo have recently been getting more scholarly attention. In "Social Media and E-Diplomacy: Scanning Embassies on Weibo" (2017), Ying Jiang writes that social media is an effective way for embassies to communicate to target groups, more so than conventional (offline) public diplomacy.
However, Jiang also points out that the presence of foreign embassies on Weibo has its downsides, as web users can vent their anger and post negative comments to embassy pages if they are against the policies of those countries.
This is especially apparent on embassy pages such as that of the Japanese embassy in China, where people often leave anti-Japanese comments and pictures related to the Sino-Japanese war.
But there are also countless negative comments on pages of other embassies. On the Weibo page of the German embassy in China, for example, Weibo users have posted many critiques on the country's refugee policies after a post about new visa announcements. One netizen says: "If Germany doesn't solve its refugee problem, the country has zero attractiveness anymore."
On the USA embassy page, netizens leave comments such as: "The US truly is an evil country. You're the world's biggest terrorist organization."
But visitors also often leave words of praise to embassy accounts. On the Danish embassy's account, for example, some call Denmark "a magical place", with the "land of fairytales" seemingly captivating the minds of many Chinese netizens.
When Thailand's king passed away in October 2016, the Thai embassy page on Weibo was filled with condolences from Chinese expressing their grief and stressing the friendship between the Chinese and Thai.
Ying Jiang's research calculated the number of reactions to every post on Weibo's embassies with the most followers and found that even if an embassy had the most followers, it was not necessarily most influential based on their received comments and amount of post shares.
According to Ying Jiang's data, which was collected in the first half of 2015, the Canadian embassy had the largest following on Sina Weibo, followed by the USA, Cuba, UK and South Korea, with the latter being most influential based on its interactions with its followers.
It seems that things have changed over the past two years, as the following list of foreign embassies collected and compiled by What's on Weibo shows a different order of popularity.
Weibo's Top 5 Embassies
Although the Canadian, Cuban, US and South Korean embassies are still popular in terms of followers on Weibo, the Brazilian, Japanese, and especially Israeli embassies now have the highest number of fans on Weibo.
The popularity of the Canadian embassy on Weibo can undoubtedly partly be attributed to the strong promotion of China-Canada friendship, the popularity of Canadian Prime Minister Justin Trudeau, and perhaps even the great popularity of the Canadian doctor Norman Bethune, who is honored in China for his role as a battleground surgeon during the Second Sino-Japanese War.
But most importantly, Canada's success on Weibo is a result of its own endeavors on Chinese social media. In a DiploFoundation interview with Mark McDowell, Counsellor of the Canadian Embassy in Beijing, McDowell stresses the importance of the so-called 'weiplomacy' (微郊外 Weibo diplomacy) to the Canadian embassy, that has boosted its efforts in using social media as an efficient form of public diplomacy.
McDowell says the Canadian embassy in China posts about 20 to 30 Weibo messages per week, on topics varying from business news to visa issues, the ways Canada measures air pollution, or information about studying in Canada – all topics that interest their large group of followers on Weibo.*
But the current most popular embassy on Weibo is not Canada, nor Cuba or any of the biggest embassies mentioned in Ying Jiang's 2015 research; it is the Embassy of Israel, that currently has over 1.9 million fans on its Weibo page, where it has posted a total of 3590 posts at the time of writing (in comparison: the Canadian embassy had posted 6979 posts at this time).
Top five according to What's on Weibo, December 2016:
1. Israeli embassy (@以色列驻华使馆) – 1.913.384 followers
2. Canadian embassy (@加拿大大使馆官方微博)
– 1.131.700+ followers
3. US embassy (@美国驻华大使馆) – 1.035.300+ followers
4. Brazilian embassy (@巴西驻华大使馆) – 522.310+ followers
5. Japanese embassy (@日本国驻华大使馆) – 480.500+ followers
Why is Israel so popular on Weibo?
What makes the Embassy of Israel so popular on Weibo? Overall, Chinese netizens seem to have a positive attitude towards the country. It is, among others, shared memories of the history of WWII that have contributed to the present strong relations between China and Israel.
In 2015, the Consulate General of Israel in Shanghai published a video that featured hundreds of Israelis holding "Thank you" signs in Chinese as a sign of gratitude for Shanghai helping the Jews during WWII. It also included a message from Prime Minister Benjamin Netanyahu expressing thanks to the Chinese people.
In 2014, late Israeli president Shimon Peres became a trending topic on Weibo when he registered for an account and met with Chinese president Xi Jinping. The "handsome old president" was warmly welcomed by Weibo users. One netizen said: "Israel really has been very good to China. During World War II, China took in a lot of Jewish refugees helping them avoid the disaster of war, and now this ethnicity truly knows how to be thankful. This is the kind of country that China should foster good relations with, and whether it be Israel or Pakistan, these are the true brothers of China. Anyway, this president is truly so adorable, and I just love adorable uncles [older men]" (China Smack 2014).
In 2014, the Australian reported that Israeli president Shimon Peres was one of the few Western leaders maintaining a social media presence in China, and that he had over 450,000 followers. When Peres passed away in September 2016, many web users visited the Israeli embassy account to share their condolences, praising the former president as a friend of China.
According to Robert Lakin (@LakinTLV), founder of Analytika Research, Israel's popularity on Weibo is a case of cause and effect.
"The Israel Foreign Ministry has really stepped up its game on social media," Lakin tells What's on Weibo: "The Israel Defense Force's has also boosted its use of social media. As the country puts out more buzz-worthy content, the effect is a jump in social followers. This includes lots of peripheral, one-off activity, too." Lakin also mentions the influence of the Times of Israel's Chinese language website, which might have contributed to the Israeli success on Weibo.
What About the 'Unpopular' Foreign Embassies?
With countries such as Israel and Canada having a relatively positive image among Chinese people – which also reflects in their popularity on social media – does this mean that the lowest-ranking foreign embassies on Weibo also are of those nations that have a less positive reputation in China?
Not necessarily so. According to What's on Weibo, the embassies of Estonia, Monaco and Indonesia have the lowest number of followers on Weibo, but this also has to do with the low activity on the concerning accounts; Estonia last posted in 2012, Indonesia in 2014, whereas Monaco has just posted its 75 first posts on the social media platform.
List of Foreign Embassies on Weibo
This is the list of foreign embassies currently present on Sina Weibo, from most popular to less popular in terms of followers. The great majority of these accounts have all been verified by Sina Weibo as the official embassy of their country ('V' status); if not, it has been noted.
---
1. Israeli embassy (@以色列驻华使馆) 1.913.384 followers
2. Canadian embassy (@加拿大大使馆官方微博) 1.131.700+ followers
3. US embassy (@美国驻华大使馆) 1.035.300+ followers
4. Brazilian embassy (@巴西驻华大使馆) 522.310+ followers
5. Japanese embassy (@日本国驻华大使馆) 480.500+ followers
6. South-Korean embassy (@韩国驻华大使馆) 396.960+ followers
7. Cuban embassy (@古巴驻华大使馆) 358.950+ followers
8. British embassy (@英国大使馆文化教育处) 289.280+ followers
9. French embassy (@法国驻华使馆) 255.240+ followers
10. Russian embassy (@俄罗斯驻华大使馆) 167.539+ followers
11. Australian embassy (@澳大利亚驻华使领馆) 165.240+ followers
12. German embassy (@德国驻华大使馆) 147.230+ followers
13. Embassy of Myanmar (@中缅胞波兄弟情) 146.000 followers
14. Danish embassy (@中缅胞波兄弟情) 丹麦驻华大使馆) 139.760+ followers
15. Thai embassy (@泰国驻华大使馆) 104.570+ followers
16. Swiss embassy (@瑞士驻华大使馆) 99.190+ followers
17. Swedish embassy (@瑞典驻华大使馆微博) 68.310+ followers
18. Dutch embassy (@荷兰驻华大使馆) 68.070+ followers
19. Mexican embassy (@墨西哥驻华大使馆) 50.160+ followers
20. Belgian embassy (@比利时驻华使馆) 49585+ followers
21. Italian embassy (@意大利驻华使馆) 46.330+ followers
22. Polish embassy (@波兰使馆文化处) 39185+ followers
23. Nepal embassy (@尼泊尔大使馆官方微博) 37.177+ followers
24. New Zealand embassy (@新西兰驻华大使馆) 37.140+ followers
25. Mauritanian embassy (@毛里塔尼亚驻华大使馆) 36.545+ followers
26. Zimbabwean embassy (@中国驻津巴布韦大使馆) 35.450+ followers
27. Costa Rican embassy (@哥斯达黎加驻华大使馆) 34.930+ followers
28. Peruvian Embassy (@秘鲁驻华使馆) 33.507 followers
29. Portugese embassy (@葡萄牙驻华大使馆) 28.380+ followers
30. Maldives embassy (@马尔代夫驻华大使馆) 22.460+ followers
31. Indian embassy (@印度使馆文化处) 22.225+ followers
32. Irish embassy (@爱尔兰驻华大使馆) 20.191+ followers
33. Spanish embassy (@西班牙驻华大使馆官方微博) 16.030+ followers
34. Austrian embassy (@奥地利驻华使馆) 15.960+ followers
35. Norwegian embassy (@挪威驻华大使馆) 11.800+ followers
36. Turkish embassy / official tourism board (@土耳其旅游局) 67.430+ followers
37. Kazakhstan embassy (@哈萨克斯坦驻华大使馆) 12.670+ followers
38. Ukranian embassy (@乌克兰信使) 9960+ followers
39. Iranian Embassy (@伊朗驻华大使馆) 6166 followers [not verified]
40. Rwandan embassy (@卢旺达驻华大使馆) 5480+ followers
41. Lithuanian embassy (@立陶宛驻华大使馆商务处) 3170+ followers
42. Chilean embassy (@智利驻中国大使馆) 2540+ followers
43. Sri Lankan embassy (@中国驻斯里兰卡大使馆) 2109 followers
44. Egyptian embassy (@埃及驻华大使馆) [account not verified] 910+ followers (Note: the account of the official Egypt tourism board on Weibo has 28392 followers).
45. Estonian Embassy (@爱沙尼亚驻华大使馆) [account not verified] 540+ followers
46. Embassy of Monaco (@摩纳哥公国大使馆) 450+ followers
47. Indonesian Embassy (@印度尼西亚驻华大使馆) [account not verified] 350+ followers
---
With Sina Weibo currently seeing a revival and WeChat being China's number one app, the use of these social media platforms in digital diplomacy is essential for foreign embassies wanting to engage with millions of Chinese – not just for the sake of providing information about traveling, arranging visas, or studying abroad, but also for the mere purpose of boosting their nation's image in China.
With China's online population growing as we write, and its social media features getting more versatile by the day, this might just be the beginning of China's digital platforms being used as a diplomatic tool for foreign embassies.
Please follow us to stay up-to-date on more articles on this topic in the near future.
– By Manya Koetse
Follow on Twitter or Like on Facebook
*According to Globe and Mail, not all of the Canadian embassy's followers are actually 'real'; in a 2014 article, the website alleged that nearly 87% of the Canadian embassy account fans are 'zombies'; fake accounts that do not represent actual persons. The Canadian government, however, stated it had never paid for the alleged fake followers and that it does not know where they come from. Note that for this article, we have not done any research into 'fake followers' and do not know if the top-ranking embassies have fake followers, and if so, how many there would be.
References
Bjola, Corneliu and Marcus Holmes (ed). 2015. Digital Diplomacy: Theory and Practice. Routledge: London and New York.
Cai, Peter. 2014. "How Israel is winning the social media war in China." The Australian, September 2 http://www.theaustralian.com.au/business/business-spectator/how-israel-is-winning-the-social-media-war-in-china/news-story/08fb25d94b34b3036616c0334531ddc6 [20.12.16].
Jiang, Ying. 2017. "Social Media and E-Diplomacy: Scanning Embassies on Weibo." In: Naren Chitty, Li Ji, Gary D. Rawnsley, Craig Hayden (ed), The Routledge Handbook of Soft Power. New york: Routledge: New York.
Rugh, William A. 2014. Front Line Public Diplomacy: How US Embassies Communicate with Foreign Publics. New York: Palgrave Macmillan.
What's on Weibo is an independently run news blog. We accept donations to help us keep the site going. Donating is possible via www.paypal.me/whatsonweibo.
©2016 Whatsonweibo. All rights reserved. Do not reproduce our content without permission – you can contact us at info@whatsonweibo.com.
Key Players, Digital Trends & Deep Dives: China Internet Report 2021
SCMP just launched its latest China Internet Report. (And What's on Weibo readers can get a 30% discount on the Pro Edition!)
As China's tech sector has been facing an ongoing crackdown by Beijing regulations, a lot has been changing in the country's digital environment over the past year. The new China Internet Report 2021 by SCMP gives an overview of the latest trends and developments.
When it comes to China's online landscape, nothing ever stays the same. Over the past year, political, economic, and social developments and measures have once again changed the Chinese digital environment.
Giving a comprehensive overview of the key leaders and major trends dominating the Chinese online field, South China Morning Post (SCMP) issued its fourth annual China Internet Report.
China's internet population has now risen to 989 million – last year's report indicated an internet population of 904 million. By now, there are 853 million mobile payment users, which indicates that over 86% of the entire mobile internet population uses mobile as a way to pay.
As China's internet population is still growing, and new online startups are still popping up every day, there have been tightening regulations on multiple fronts.
As laid out in SCMP's report, regulations mainly focus on the four areas of antitrust, finance, cybersecurity, and data privacy. Regulatory actions targeting the monopolistic behaviours of China's biggest internet companies are still ongoing, and the new Data Security Law came into effect on September 1st of this year.
While Chinese tech companies are seeing increased scrutiny at home, they have also been facing intensifying geopolitical tensions between China and other countries. Over the past year, the various probes and shutdowns into Chinese companies by countries such as the US and India have meant a serious blow to the market share of Chinese apps.
Meanwhile, the SCMP report highlights the trend of various older and newer Chinese (e-commerce) apps "downplaying" their Chinese origins when entering foreign markets. Shein is a good example of this development, but other players including Zaful, Urbanic, and Cider are also experiencing more success outside of China while not explicitly marketing themselves as Chinese e-commerce apps.
Another noteworthy trend explained in the new report is how China's shifting demographics are creating new niche segments to compete over. The COVID-19 crisis is partially a reason why China has seen an increase in senior internet users, with an increasing number of online products and content catering to the elderly.
China's Ministry of Industry and Information Technology (MIIT) even issued special guidelines earlier this year for web pages and mobile apps to carry out so-called "elderly friendliness modifications." Since this user group is still expected to see significant growth, the "silver economy" is an area that will only become more important in the years to come.
To check out all the main trends for 2021, China's latest internet statistics, its top tech competitors, internet companies, and more, here's a link to the free report.
The free report is 55 pages long and gives an overview of China's latest internet numbers and players, covers the top cross-sector trends for 2021, including the tightening regulations and the bumpy road ahead for China's tech IPOs.
The Pro Edition of China's Internet Report 2021, also launched by SCMP, is 138 pages long and provides a deep-dive into ten relevant sectors – featuring insightful and useful analysis, data, and case studies relating to China's e-commerce market, content & media, gaming, blockchain, fintech, online education, healthtech, smart cars, 5G, and Artificial Intelligence.
The China Internet Report Pro Edition is priced at US$400, but the team at SCMP has kindly reached out and made it possible for us to offer a special 30% discount to What's on Weibo readers.
You'll get the discount by using the discount code: WHATSONWEIBO30, or by clicking this link that will automatically include your discount code.
By Manya Koetse
Spotted a mistake or want to add something? Please let us know in comments below or email us. First-time commenters, please be patient – we will have to manually approve your comment before it appears.
©2021 Whatsonweibo. All rights reserved. Do not reproduce our content without permission – you can contact us at info@whatsonweibo.com.
How Social Media Is Speeding Up Zhengzhou Flooding Rescue Efforts
Chinese social media are speeding up local rescue efforts after Zhengzhou saw the heaviest rain in 1,000 years.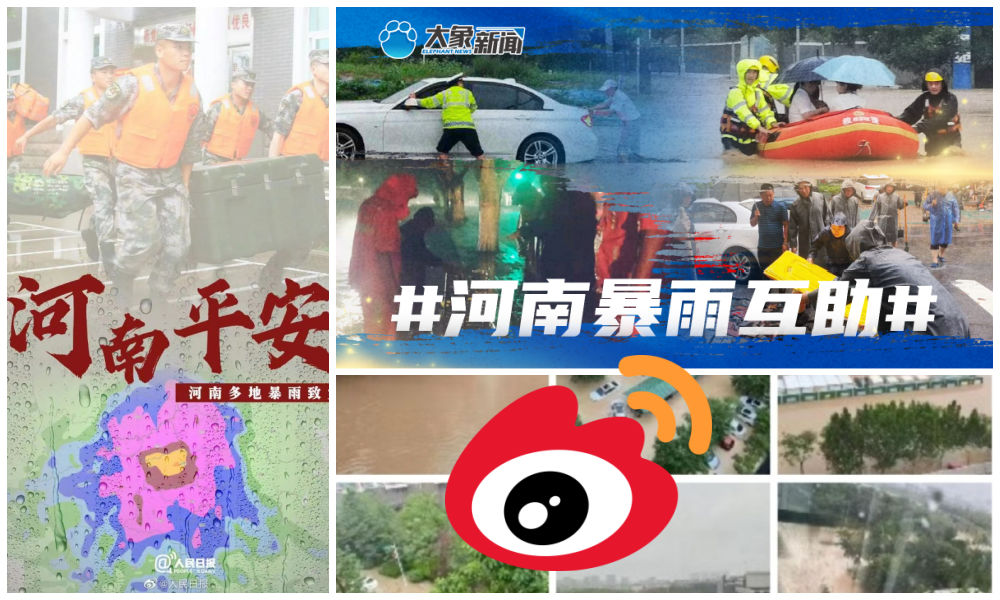 Social media is utilized as a tool in the response to the floodings in Henan province. Once again, Weibo facilitates active public participation to provide immediate assistance to the people facing this natural disaster. 
On Tuesday, July 20, heavy rainfall caused major disruptions in the central province of Henan. The amount of rain over the last three days in Zhengzhou is reported to be the same as what it would usually receive in an entire year.
It is reported that Henan Province has initiated the highest-level emergency response to floods, and China's State Flood Control and Drought Relief Bureau has dispatched a workgroup to Henan, initiating level III emergency response rescue work.
Since the evening of July 20, news and information streams on the heavy rains and floods have been dominating Chinese social media. In the midst of the disastrous events, Weibo has become an online space for people seeking help, those disseminating information on available resources, and for other related activities that help netizens engage in emergency management and accessing information.
The volume of such messages is huge, with thousands of netizens seeking ways to help speed up rescue work and actively contribute to the emergency relief efforts.
The organically improvised response protocol on social media includes the following guidelines:
Verify, summarize, highlight, and spread online help requests posted by people from different locations
Remind people to delete help-seeking posts once they have been rescued or have found assistance.
Disseminate relevant knowledge relating to emergency care and response, and public health information, such as how to deal with different disaster scenarios, warning people about the safety of drinking water during floods, etc.
Share information regarding mental health and psychosocial support during the different phases of the disaster.
When posts of people trapped by the heavy rain started to be published on Weibo, many online influencers, no matter what subject they usually focus on, participated in spreading help-request posts that were not getting a lot of online attention.
Erdi 耳帝, a music influencer with nearly 15 million fans on Weibo, has been retweeting the online posts of people asking for help since the night of July 20.
An example of such an online emergency help request (求助贴) is the following post of July 21st, 17:15 local time:
"Our entire neighborhood is cut off from water and electricity, the water level is rising to chest level, and we currently have no drinking water at the moment. Need help urgently.
Status: Verified, pending rescue.
Seeking help: Wu M**, phone 13*****27
Number of people to be rescued: five or six thousand
Location: Zhengzhou City, Henan Province, Zhengdong New District, Shangdu / Xuzhuang Street intersection, east courtyard of Shangdu Jiayuan Muzhuang district (we can't exit the building, there is no water, no electricity, no supplies, and it's been 24 hours)"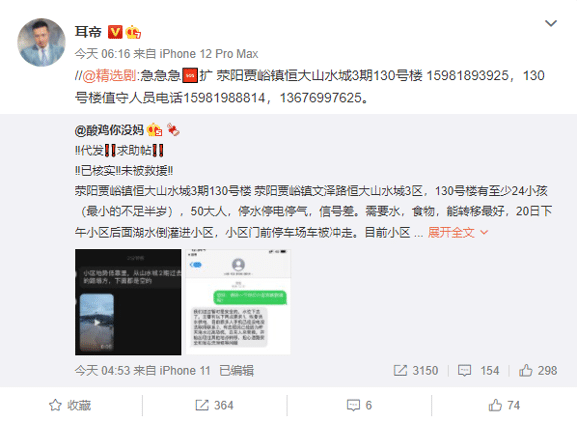 Some Weibo users engage in organizing scattered online information in one single post, e.g. posts regarding local electricity leakage, making this information more accessible and easier to understand.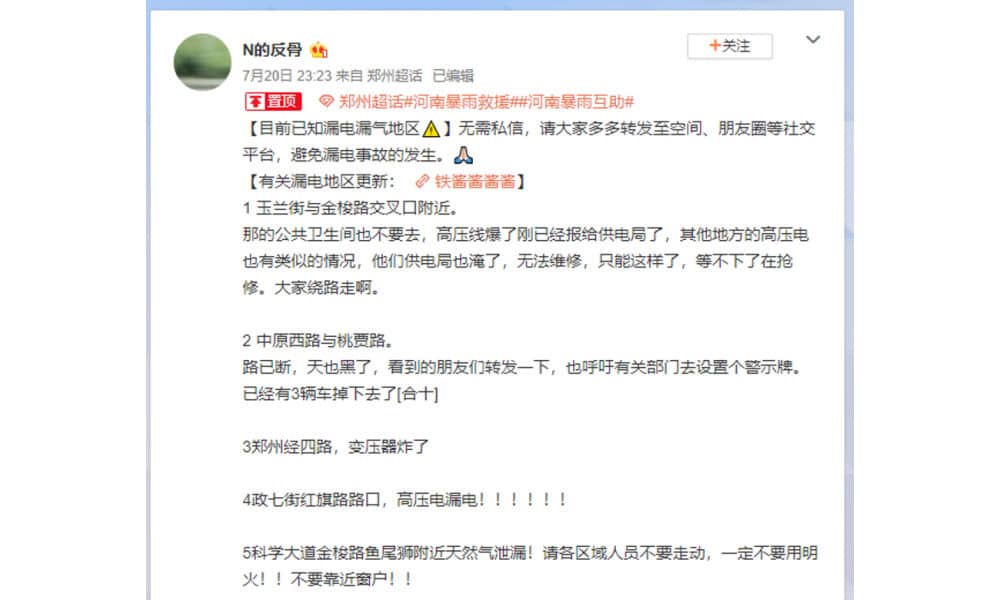 One post that was among the top-shared ones this week, is a picture that includes contact information of rescue teams of both officials and civilians. When realizing that some people were unable to upload the picture due to poor internet connections caused by the heavy rain, an up-to-date and full-text version was quickly shared by netizens.
Some Weibo users listed various methods to get assistance for hearing-impaired and deaf-mute people affected by the floods, advising people to download various apps to help to communicate and translate.
Besides the more general practical advice and emergency action plans shared by Chinese social media users, there are also those who pay attention to the importance of personal hygiene during these times. Some are sending out information about menstrual hygiene needs during floods, reminding women to frequently change sanitary pads and try to keep the genital area clean and dry due to the risk of infection. A hashtag related to menstruation during the flooding momentarily ranked fifth in the top search lists (#河南暴雨 如果你出在经期<).

Information on mental health support is disseminated all across social media.
People also try to provide mental support in other ways. A student orchestra spontaneously performed at the Zhengzhou station, where dozens of passengers were left stranded in the night. The video clips of the performance went viral, with the young musicians playing two widely-known songs, "My People, My Country" (我和我的祖国) and "Ode to the Motherland" (歌唱祖国). Many social media users shared the clips and expressed how the performance moved them to tears.
A kind gesture in these terrible times. This youth orchestra pulled out their instruments and performed for all those other passengers who are stranded at the Zhengzhou East Station tonight ❤️ All trains were suspended after 2am on the 21st. pic.twitter.com/50THGOhy6O

— Manya Koetse (@manyapan) July 20, 2021
Some video clips that show how ordinary people save ordinary people amid such a natural disaster have also been widely shared. One video shows citizens of Zhengzhou standing in a line and use a rope to pull people from an underground floor where they were trapped by the water flooded.
Earlier in this thread there was a video of people helping those trapped in lower levels. There is more footage showing other places in Zhengzhou where citizens also joined forces to help those trapped by the water to get out safely. pic.twitter.com/1R9q1JcUtY

— Manya Koetse (@manyapan) July 20, 2021
In all the aforementioned ways and many more, Weibo has become a public platform for Chinese people to respond to the Henan disaster, efficiently communicate and keep track of help requests, organize and disseminate related information, and provide access to timely knowledge and relevant advice.
With so many online influencers and ordinary netizens voluntarily joining in, the online information flows are quickly circulating, allowing for necessary public communication channels while other resources and communication methods are still overwhelmed or in the making. The last time Weibo was used as an efficient emergency communication tool was during the early days of the COVID19 outbreak in Wuhan.
"Please stand strong, Zhengzhou" and "Hang on, Henan," many commenters write: "Help is underway!"
Also see our previous article on the situation in Zhengzhou here.
By Wendy Huang
Follow @whatsonweibo
Spotted a mistake or want to add something? Please let us know in comments below or email us. Please note that your comment below will need to be manually approved if you're a first-time poster here.
©2021 Whatsonweibo. All rights reserved. Do not reproduce our content without permission – you can contact us at info@whatsonweibo.com