Digital Diplomacy: These Foreign Embassies Are Most (Un)Popular on Weibo
'Weiplomacy' is here; Weibo and other social media platforms are a tool for government public diplomacy purposes. What's on Weibo gives an overview of Weibo's most (un)popular foreign embassies.
As social media has become an increasingly common tool for government public diplomacy purposes, a large number of foreign embassies in China now has a presence on Sina Weibo to engage with local audiences. As Weibo diplomacy a.k.a. 'Weiplomacy' is becoming more important, What's on Weibo gives an overview of Weibo's most (un)popular foreign embassies.
Digital diplomacy is a hot topic. Embassies all over the world increasingly use social media as a low-cost and convenient tool to promote their countries, inform people about their latest activities and engage with their followers.
Many embassies can be found on Facebook, Twitter or Youtube, but also on China's Sina Weibo or WeChat, changing the way foreign embassies engage with with local audiences in China.
E-Diplomacy: Up & Downsides
Foreign embassies on Weibo have recently been getting more scholarly attention. In "Social Media and E-Diplomacy: Scanning Embassies on Weibo" (2017), Ying Jiang writes that social media is an effective way for embassies to communicate to target groups, more so than conventional (offline) public diplomacy.
However, Jiang also points out that the presence of foreign embassies on Weibo has its downsides, as web users can vent their anger and post negative comments to embassy pages if they are against the policies of those countries.
This is especially apparent on embassy pages such as that of the Japanese embassy in China, where people often leave anti-Japanese comments and pictures related to the Sino-Japanese war.
But there are also countless negative comments on pages of other embassies. On the Weibo page of the German embassy in China, for example, Weibo users have posted many critiques on the country's refugee policies after a post about new visa announcements. One netizen says: "If Germany doesn't solve its refugee problem, the country has zero attractiveness anymore."
On the USA embassy page, netizens leave comments such as: "The US truly is an evil country. You're the world's biggest terrorist organization."
But visitors also often leave words of praise to embassy accounts. On the Danish embassy's account, for example, some call Denmark "a magical place", with the "land of fairytales" seemingly captivating the minds of many Chinese netizens.
When Thailand's king passed away in October 2016, the Thai embassy page on Weibo was filled with condolences from Chinese expressing their grief and stressing the friendship between the Chinese and Thai.
Ying Jiang's research calculated the number of reactions to every post on Weibo's embassies with the most followers and found that even if an embassy had the most followers, it was not necessarily most influential based on their received comments and amount of post shares.
According to Ying Jiang's data, which was collected in the first half of 2015, the Canadian embassy had the largest following on Sina Weibo, followed by the USA, Cuba, UK and South Korea, with the latter being most influential based on its interactions with its followers.
It seems that things have changed over the past two years, as the following list of foreign embassies collected and compiled by What's on Weibo shows a different order of popularity.
Weibo's Top 5 Embassies
Although the Canadian, Cuban, US and South Korean embassies are still popular in terms of followers on Weibo, the Brazilian, Japanese, and especially Israeli embassies now have the highest number of fans on Weibo.
The popularity of the Canadian embassy on Weibo can undoubtedly partly be attributed to the strong promotion of China-Canada friendship, the popularity of Canadian Prime Minister Justin Trudeau, and perhaps even the great popularity of the Canadian doctor Norman Bethune, who is honored in China for his role as a battleground surgeon during the Second Sino-Japanese War.
But most importantly, Canada's success on Weibo is a result of its own endeavors on Chinese social media. In a DiploFoundation interview with Mark McDowell, Counsellor of the Canadian Embassy in Beijing, McDowell stresses the importance of the so-called 'weiplomacy' (微郊外 Weibo diplomacy) to the Canadian embassy, that has boosted its efforts in using social media as an efficient form of public diplomacy.
McDowell says the Canadian embassy in China posts about 20 to 30 Weibo messages per week, on topics varying from business news to visa issues, the ways Canada measures air pollution, or information about studying in Canada – all topics that interest their large group of followers on Weibo.*
But the current most popular embassy on Weibo is not Canada, nor Cuba or any of the biggest embassies mentioned in Ying Jiang's 2015 research; it is the Embassy of Israel, that currently has over 1.9 million fans on its Weibo page, where it has posted a total of 3590 posts at the time of writing (in comparison: the Canadian embassy had posted 6979 posts at this time).
Top five according to What's on Weibo, December 2016:
1. Israeli embassy (@以色列驻华使馆) – 1.913.384 followers
2. Canadian embassy (@加拿大大使馆官方微博)
– 1.131.700+ followers
3. US embassy (@美国驻华大使馆) – 1.035.300+ followers
4. Brazilian embassy (@巴西驻华大使馆) – 522.310+ followers
5. Japanese embassy (@日本国驻华大使馆) – 480.500+ followers
Why is Israel so popular on Weibo?
What makes the Embassy of Israel so popular on Weibo? Overall, Chinese netizens seem to have a positive attitude towards the country. It is, among others, shared memories of the history of WWII that have contributed to the present strong relations between China and Israel.
In 2015, the Consulate General of Israel in Shanghai published a video that featured hundreds of Israelis holding "Thank you" signs in Chinese as a sign of gratitude for Shanghai helping the Jews during WWII. It also included a message from Prime Minister Benjamin Netanyahu expressing thanks to the Chinese people.
In 2014, late Israeli president Shimon Peres became a trending topic on Weibo when he registered for an account and met with Chinese president Xi Jinping. The "handsome old president" was warmly welcomed by Weibo users. One netizen said: "Israel really has been very good to China. During World War II, China took in a lot of Jewish refugees helping them avoid the disaster of war, and now this ethnicity truly knows how to be thankful. This is the kind of country that China should foster good relations with, and whether it be Israel or Pakistan, these are the true brothers of China. Anyway, this president is truly so adorable, and I just love adorable uncles [older men]" (China Smack 2014).
In 2014, the Australian reported that Israeli president Shimon Peres was one of the few Western leaders maintaining a social media presence in China, and that he had over 450,000 followers. When Peres passed away in September 2016, many web users visited the Israeli embassy account to share their condolences, praising the former president as a friend of China.
According to Robert Lakin (@LakinTLV), founder of Analytika Research, Israel's popularity on Weibo is a case of cause and effect.
"The Israel Foreign Ministry has really stepped up its game on social media," Lakin tells What's on Weibo: "The Israel Defense Force's has also boosted its use of social media. As the country puts out more buzz-worthy content, the effect is a jump in social followers. This includes lots of peripheral, one-off activity, too." Lakin also mentions the influence of the Times of Israel's Chinese language website, which might have contributed to the Israeli success on Weibo.
What About the 'Unpopular' Foreign Embassies?
With countries such as Israel and Canada having a relatively positive image among Chinese people – which also reflects in their popularity on social media – does this mean that the lowest-ranking foreign embassies on Weibo also are of those nations that have a less positive reputation in China?
Not necessarily so. According to What's on Weibo, the embassies of Estonia, Monaco and Indonesia have the lowest number of followers on Weibo, but this also has to do with the low activity on the concerning accounts; Estonia last posted in 2012, Indonesia in 2014, whereas Monaco has just posted its 75 first posts on the social media platform.
List of Foreign Embassies on Weibo
This is the list of foreign embassies currently present on Sina Weibo, from most popular to less popular in terms of followers. The great majority of these accounts have all been verified by Sina Weibo as the official embassy of their country ('V' status); if not, it has been noted.
---
1. Israeli embassy (@以色列驻华使馆) 1.913.384 followers
2. Canadian embassy (@加拿大大使馆官方微博) 1.131.700+ followers
3. US embassy (@美国驻华大使馆) 1.035.300+ followers
4. Brazilian embassy (@巴西驻华大使馆) 522.310+ followers
5. Japanese embassy (@日本国驻华大使馆) 480.500+ followers
6. South-Korean embassy (@韩国驻华大使馆) 396.960+ followers
7. Cuban embassy (@古巴驻华大使馆) 358.950+ followers
8. British embassy (@英国大使馆文化教育处) 289.280+ followers
9. French embassy (@法国驻华使馆) 255.240+ followers
10. Russian embassy (@俄罗斯驻华大使馆) 167.539+ followers
11. Australian embassy (@澳大利亚驻华使领馆) 165.240+ followers
12. German embassy (@德国驻华大使馆) 147.230+ followers
13. Embassy of Myanmar (@中缅胞波兄弟情) 146.000 followers
14. Danish embassy (@中缅胞波兄弟情) 丹麦驻华大使馆) 139.760+ followers
15. Thai embassy (@泰国驻华大使馆) 104.570+ followers
16. Swiss embassy (@瑞士驻华大使馆) 99.190+ followers
17. Swedish embassy (@瑞典驻华大使馆微博) 68.310+ followers
18. Dutch embassy (@荷兰驻华大使馆) 68.070+ followers
19. Mexican embassy (@墨西哥驻华大使馆) 50.160+ followers
20. Belgian embassy (@比利时驻华使馆) 49585+ followers
21. Italian embassy (@意大利驻华使馆) 46.330+ followers
22. Polish embassy (@波兰使馆文化处) 39185+ followers
23. Nepal embassy (@尼泊尔大使馆官方微博) 37.177+ followers
24. New Zealand embassy (@新西兰驻华大使馆) 37.140+ followers
25. Mauritanian embassy (@毛里塔尼亚驻华大使馆) 36.545+ followers
26. Zimbabwean embassy (@中国驻津巴布韦大使馆) 35.450+ followers
27. Costa Rican embassy (@哥斯达黎加驻华大使馆) 34.930+ followers
28. Peruvian Embassy (@秘鲁驻华使馆) 33.507 followers
29. Portugese embassy (@葡萄牙驻华大使馆) 28.380+ followers
30. Maldives embassy (@马尔代夫驻华大使馆) 22.460+ followers
31. Indian embassy (@印度使馆文化处) 22.225+ followers
32. Irish embassy (@爱尔兰驻华大使馆) 20.191+ followers
33. Spanish embassy (@西班牙驻华大使馆官方微博) 16.030+ followers
34. Austrian embassy (@奥地利驻华使馆) 15.960+ followers
35. Norwegian embassy (@挪威驻华大使馆) 11.800+ followers
36. Turkish embassy / official tourism board (@土耳其旅游局) 67.430+ followers
37. Kazakhstan embassy (@哈萨克斯坦驻华大使馆) 12.670+ followers
38. Ukranian embassy (@乌克兰信使) 9960+ followers
39. Iranian Embassy (@伊朗驻华大使馆) 6166 followers [not verified]
40. Rwandan embassy (@卢旺达驻华大使馆) 5480+ followers
41. Lithuanian embassy (@立陶宛驻华大使馆商务处) 3170+ followers
42. Chilean embassy (@智利驻中国大使馆) 2540+ followers
43. Sri Lankan embassy (@中国驻斯里兰卡大使馆) 2109 followers
44. Egyptian embassy (@埃及驻华大使馆) [account not verified] 910+ followers (Note: the account of the official Egypt tourism board on Weibo has 28392 followers).
45. Estonian Embassy (@爱沙尼亚驻华大使馆) [account not verified] 540+ followers
46. Embassy of Monaco (@摩纳哥公国大使馆) 450+ followers
47. Indonesian Embassy (@印度尼西亚驻华大使馆) [account not verified] 350+ followers
---
With Sina Weibo currently seeing a revival and WeChat being China's number one app, the use of these social media platforms in digital diplomacy is essential for foreign embassies wanting to engage with millions of Chinese – not just for the sake of providing information about traveling, arranging visas, or studying abroad, but also for the mere purpose of boosting their nation's image in China.
With China's online population growing as we write, and its social media features getting more versatile by the day, this might just be the beginning of China's digital platforms being used as a diplomatic tool for foreign embassies.
Please follow us to stay up-to-date on more articles on this topic in the near future.
– By Manya Koetse
Follow on Twitter or Like on Facebook
*According to Globe and Mail, not all of the Canadian embassy's followers are actually 'real'; in a 2014 article, the website alleged that nearly 87% of the Canadian embassy account fans are 'zombies'; fake accounts that do not represent actual persons. The Canadian government, however, stated it had never paid for the alleged fake followers and that it does not know where they come from. Note that for this article, we have not done any research into 'fake followers' and do not know if the top-ranking embassies have fake followers, and if so, how many there would be.
References
Bjola, Corneliu and Marcus Holmes (ed). 2015. Digital Diplomacy: Theory and Practice. Routledge: London and New York.
Cai, Peter. 2014. "How Israel is winning the social media war in China." The Australian, September 2 http://www.theaustralian.com.au/business/business-spectator/how-israel-is-winning-the-social-media-war-in-china/news-story/08fb25d94b34b3036616c0334531ddc6 [20.12.16].
Jiang, Ying. 2017. "Social Media and E-Diplomacy: Scanning Embassies on Weibo." In: Naren Chitty, Li Ji, Gary D. Rawnsley, Craig Hayden (ed), The Routledge Handbook of Soft Power. New york: Routledge: New York.
Rugh, William A. 2014. Front Line Public Diplomacy: How US Embassies Communicate with Foreign Publics. New York: Palgrave Macmillan.
What's on Weibo is an independently run news blog. We accept donations to help us keep the site going. Donating is possible via www.paypal.me/whatsonweibo.
©2016 Whatsonweibo. All rights reserved. Do not reproduce our content without permission – you can contact us at info@whatsonweibo.com.
The Curious Case of the Henan Bank Depositors and the Changing Health QR Codes
"It must be American hackers who did this, right?", some Weibo commenters wrote in light of the miraculously changing Health Codes.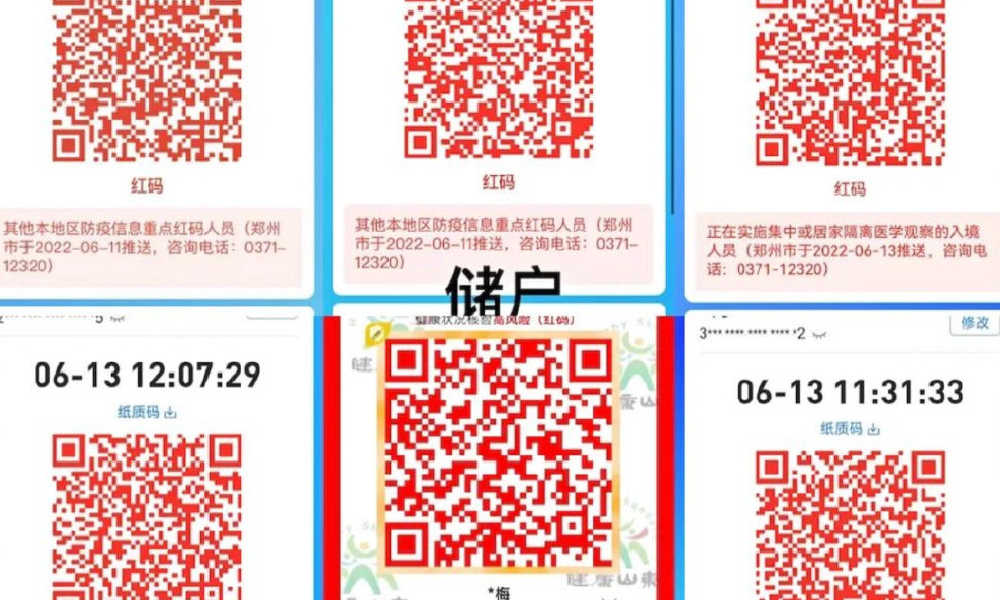 Where can people turn to once their money seems to have gone up in flames? How could Health Codes randomly turn from green to red? And who will stand up for justice? These are the questions asked by Chinese netizens in the Henan bank depositors case that is making headlines this week.
This week, the story of a Henan banking scandal and depositors' Health Codes suddenly turning red triggered online discussions in China and even made international headlines.
In between online deposit products, financial platforms, regional banks, and Health Code systems, the story is a bit messy. Here, we'll explain the story and its latest developments.
DUPED DEPOSITORS
The story starts in April of this year when people discovered that they were unable to withdraw money they had invested in online deposit products offered by various smaller regional banks.
Some people had deposited money via the Baidu money app (Du Xiaoman Financial 度小满), others had used another third-party platform, intermediaries, or one of the mini-programs run by the banks themselves.
By early May, it had become clear that dozens of depositors who once thought they had invested their money wisely had actually been duped. Four of the banks involved are located in Henan province, namely: the Yuzhou Xinminsheng Village Bank (禹州新民生村镇银行), Shangcai Huimin County Bank (上蔡惠民村镇银行), Zhecheng Huanghuai Community Bank (柘城黄淮村镇银行), and the Kaifeng New Oriental Country Bank (开封新东方村镇银行).
But there are also other smaller banks involved, including Guzhen Xinhuaihe Rural Bank (固镇新淮河村镇银行) and Yixian Xinhuaihe Rural Bank (黟县新淮河村镇银行) in Anhui.
As reported by South China Morning Post by late May, multiple customers had confirmed that they had not been able to withdraw funds either online or in person.
The sudden apparent closure of their withdrawal channels set off a wave of panic among depositors, who then protested in the provincial capital of Zhengzhou on May 23rd, demanding the return of their money.
Yang Huajun (杨华军), deputy director of the Henan branch of China's Banking and Insurance Regulatory Commission (CBIRC), arrived at the scene of the protests and – speaking through a megaphone – promised the demonstrators that as long as their funds were "legally" deposited, they would be protected by law.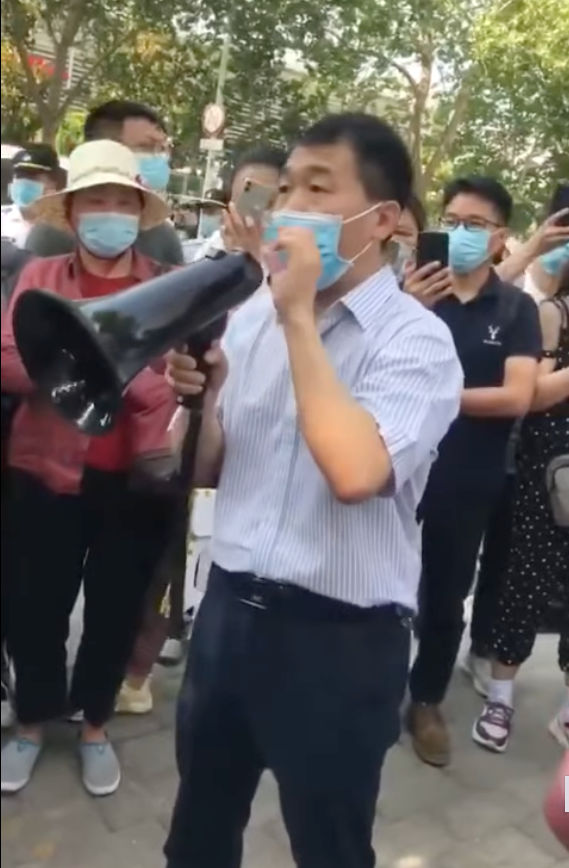 Many depositers, however, were unsure of whether or not their deposits were actually made in a "legal" way and what the definition of "legal" entailed in this case.
Over the past years, Chinese smaller rural banks have partnered with online platforms, often offering relatively high returns, in order to boost their deposit-reliant funding base.
In December of 2020, platforms Alipay, Du Xiaoman Financial, JD.com and Tencent Wealth Management all suspended the sale of online deposit products via their financial apps in light of heightened scrutiny from regulators concerning funds raised by unstable smaller lenders.
The smaller banks that are now at the center of the recent financial scandal then (illegally) reached out to their existing customers directly after December 2020 and convinced them to download the banks' apps in order to deposit even more money.
One of the persons duped is Mr. Sun from Shenzhen. As reported by Sina Finance, it was in 2020 when Sun came across a seemingly attractive online saving product via the Du Xiaoman Financial app. Although Sun was not familiar with the banks in question, namely the Yuzhou Xinminsheng Village Bank and Shangcai Huimin County Bank, he could not resist the deposit interest rate of 4.6%, which was much better than what the big banks were offering at the time.
In early 2021, Mr. Sun received a text message from Yuzhou Xinminsheng Village Bank saying that although the financial products had been taken offline, users would still be able to deposit through the bank's own online application. Mr. Sun ended up depositing his entire savings into the Henan-based rural bank, thousands of miles away from his own home.
And then, earlier this year, Sun came across the news that Henan New Wealth Group, the primary shareholder of all banks involved, was under investigation for fraudulous practices. When he opened up his online financial application, there was nothing to see but a notice that the system was under maintenance. Sun could no longer access his funds. Hundreds of other customers were seeing the same empty screens.
According to media reports, the current suspected scam case affects some 400,000 customers of seven local banks and involves a money sum of 40 billion yuan ($5,6 billion).
IN THE RED
As thousands of depositors have been fighting to recover their savings over the past two months, they were duped a second time earlier this week. Dozens of affected depositors claimed they had seen their Health Codes turn red without any logical reason on June 13 or June 14 – the day of a planned protest.
In China's Covid era, the Health Code system has become a pivotal tool in the country's battle to contain the spread of the virus. The Health Code system is embedded in various apps, most importantly in Wechat and Alipay, and uses various data to assess an individual's exposure risk. There is not one unified national Health Code application; they are developed by different actors and their management is different across Chinese provinces and cities.
If there is no detected risk, an individual is assigned a Green QR Code and is allowed access into any venue or location where a QR code scan is mandatory. With a Yellow Code, you should stay home for a week, and Red Code means you are high risk and need to quarantine for 14 days – this severely limits your freedom to move around and travel.
On June 13th, many affected investors saw their Health Code turn red when arriving in Zhengzhou, where they were allegedly coming to retrieve their savings and protest the injustice they suffered. The QR code color change was unexpected and strange, considering that there were no new reported Covid cases in their vicinity and also considering the fact that accompanying family members who made the exact same journey did not see their Health Codes change.
This raised suspicions that the duped depositors were specifically targeted, and that their Health Codes were being manipulated by authorities.
CNN reported that many distributors who had come to Zhengzhou were taken to a guarded quarantine hotel before being sent back to their hometowns via train the next day. According to a Chinese media report by Nanfang Daily, the depositors were not even asked to do nucleic acid testing and were told by local staff that they would get their Green Code back as soon as they left Henan.
Various media report that minimally 200 depositors saw their Health Code change from Green to Red earlier this week.
"OPERATION CODE RED"
The curious case of the Henan depositors scandal and the changing Health Code colors has become a trending topic on Chinese social media this week.
The topic of the duped depositors was also discussed online before this week, and it brought back memories of earlier financial scandals, such as the P2P chaos that occurred back in 2018.
But the topic of depositors' Health Codes changing to Red is something that attracted much wider discussions on the apparent abuse of a system that has now become a part of everyday life for people in China's Covid era.
The main proof for people that the Henan depositors were targeted in this apparent "Operation Code Red" is that, as mentioned before, the family members that were traveling together with the duped depositors never saw a change in their Health Code: those people who were listed on the affected regional banks' depositors list were seemingly singled out and purposely targeted.
"Who is in charge of changing the Health Code colors?" became a much-asked question on Weibo, with many blaming local Henan authorities for abusing their powers to try and stop protesters from raising their voices in Zhengzhou. One Weibo post on this issue received over 1,6 million views. Meanwhile, Henan authorities still said they did "not understand" what had happened.
"It must be American hackers who did this, right?", some Weibo commenters wrote, putting in a sarcastically smiling emoji, with others adding: "No, the aliens did this – it must have been the aliens!"
Others wrote that the situation at hand should be simple to figure out: "There is no way that this is an oversight or a data error. If you want to know who did this, look at who or which department has the authority to manage both epidemic prevention measures as well as finance affairs."
Many comments also showed a sense of disillusionment with how China's Covid management affects the people: "After seeing the chaos during the Shanghai lockdown, this does not even surprise me anymore," one person wrote on Weibo: "All we can do is pray that it won't happen to us."
"Why is Henan's "messy Red Code" incident so extremely vile and scary? Because once a person or institution holding public power looks at you in a bad light, they can give you a Red Code and take you away, in the name of legality. This is the evil that comes from unmonitored power," one blogger from Anhui wrote.
Other people also worried about foreign media reporting on this issue, saying this incident is being used to cast China in a bad light while local authorities are to blame: "We should unify the Health Code system into a national system in order to avoid this from happening again."
According to Chinese state media reports, the case has now been forwarded to the Health Commission of Henan Province for further investigation.
We will keep tracking upcoming developments. Meanwhile, check out our other reports on trending topics relating to China's banking and finance here. For more about Covid-related trending topics, check here.
By Manya Koetse
With contributions by Miranda Barnes
Get the story behind the hashtag. Subscribe to What's on Weibo here to receive our weekly newsletter and get access to our latest articles:
References (all other sources included in hyperlinks)
Lee, Amanda. 2022. "Rural Banks Freeze Customers' Accounts." South China Morning Post, May 31.
Spotted a mistake or want to add something? Please let us know in comments below or email us. First-time commenters, please be patient – we will have to manually approve your comment before it appears.
©2022 Whatsonweibo. All rights reserved. Do not reproduce our content without permission – you can contact us at info@whatsonweibo.com.
From Teacher to Livestreamer: Ecommerce Move is Game Changer for China's New Oriental Education
New Oriental is going from classroom to e-commerce. Online shopping has never been more educational.
After laying off 60,000 staff last year, Chinese private education company New Oriental is now offering unexpected new employment opportunities for teachers in the livestream market. Changing e-commerce channels into virtual classrooms, New Oriental has hit the sweet spot with Chinese netizens.
Last year, an unprecedented crackdown on China's private education sector left many teachers unemployed and worried about their future.
China's so-called 'double reduction' (双减) policy was announced in August of 2021 and targeted "excessive homework" and off-campus tutoring for students in the mandatory nine-year education system. The new regulations imposed strict sanctions on existing private education institutions, forcing them to register as non-profit organizations. Foreign investment in the private tutoring sector was also banned.
One of the companies that was hit particularly hard by this policy is New Oriental (新东方), the largest provider of private educational services in China. Following the crackdown, the company suffered huge losses and dismissed 60,000 employees.
Facing the new regulations, including the ban on for-profit tutoring in subjects on the school curriculum, New Oriental tried to keep its head above water by exploring new markets and ideas within the private education sector. For example, the company launched a special program to train parents on how to tutor their K-12 children themselves. New Oriental called it their "excellent parenting" (优质父母) training class.
Now, nearly a year later, another initiative by New Oriental has become an online hit. Inspired by the success of livestream e-commerce in China, the tutoring company started its own livestream channels. Although New Oriental already introduced its e-commerce business in late 2021, with founder Yu Minhong (俞敏洪) sometimes hosting the sessions himself, it had not been as much of an online success until it recently introduced bilingual livestream e-commerce sessions.
Now, tutors-turned-sellers are teaching viewers English – or sometimes other subjects – while selling (agricultural) products via the Douyin app. Whether they are selling fruit, rice, or even shrimp, New Oriental's livestream hosts are grabbing every opportunity to teach their viewers a new word or concept, often using a whiteboard to introduce new vocabulary.
One reason for New Oriental becoming a viral hit is because of Dong Yuhui (董宇辉), who is one of the experienced teachers now selling products online. Dong's bilingual livestreams are particularly successful among viewers because of his enthusiasm, fluency in English, witty jokes, personal stories, and talent for singing.
Teacher Dong recently had a breakthrough moment with his June 10th livestream, during which he sold bags of rice using English. He has since attracted over nine million viewers. While thanking all viewers for their support in a recent Weibo post, Dong described himself as a "ordinary peasant boy."
Besides Dong, there are also other popular hosts. English teachers Ming Ming, Yoyo, and Dun Dun are all loved by viewers for their charm and wit.
Although various kinds of social e-commerce categories are particularly popular in China, this new phenomenon of combining education + e-commerce + livestream is appreciated by many netizens who like to learn something while being entertained and perhaps also buying something. "I don't know whether to place an order or to make notes," has become a popular comment. Another commenter said: "As a kid I took your class, and now I buy your goods."
Others say that they like the calm way in which the livestreams are presented, posing a stark contrast to other livestreams where the hosts are hyping up products and urging people to buy fast and buy more.
On June 15th, news came out that New Oriental's stocks had surged by more than 25% following its livestreaming success.
Although some Weibo users predict that this is just a temporary trend, others think that the educational livestream model is here to stay: "New Oriental really started a new business venture, and I'm learning a lot through their livestream sessions."
By Manya Koetse
With contributions by Miranda Barnes
Read related article: China's Crackdown on Tutoring Schools: Concerned Parents and Teachers on Weibo
Get the story behind the hashtag. Subscribe to What's on Weibo here to receive our weekly newsletter and get access to our latest articles:
Spotted a mistake or want to add something? Please let us know in comments below or email us. First-time commenters, please be patient – we will have to manually approve your comment before it appears.
©2022 Whatsonweibo. All rights reserved. Do not reproduce our content without permission – you can contact us at info@whatsonweibo.com.