Digital Diplomacy: These Foreign Embassies Are Most (Un)Popular on Weibo
'Weiplomacy' is here; Weibo and other social media platforms are a tool for government public diplomacy purposes. What's on Weibo gives an overview of Weibo's most (un)popular foreign embassies.
As social media has become an increasingly common tool for government public diplomacy purposes, a large number of foreign embassies in China now has a presence on Sina Weibo to engage with local audiences. As Weibo diplomacy a.k.a. 'Weiplomacy' is becoming more important, What's on Weibo gives an overview of Weibo's most (un)popular foreign embassies.
Digital diplomacy is a hot topic. Embassies all over the world increasingly use social media as a low-cost and convenient tool to promote their countries, inform people about their latest activities and engage with their followers.
Many embassies can be found on Facebook, Twitter or Youtube, but also on China's Sina Weibo or WeChat, changing the way foreign embassies engage with with local audiences in China.
E-Diplomacy: Up & Downsides
Foreign embassies on Weibo have recently been getting more scholarly attention. In "Social Media and E-Diplomacy: Scanning Embassies on Weibo" (2017), Ying Jiang writes that social media is an effective way for embassies to communicate to target groups, more so than conventional (offline) public diplomacy.
However, Jiang also points out that the presence of foreign embassies on Weibo has its downsides, as web users can vent their anger and post negative comments to embassy pages if they are against the policies of those countries.
This is especially apparent on embassy pages such as that of the Japanese embassy in China, where people often leave anti-Japanese comments and pictures related to the Sino-Japanese war.
But there are also countless negative comments on pages of other embassies. On the Weibo page of the German embassy in China, for example, Weibo users have posted many critiques on the country's refugee policies after a post about new visa announcements. One netizen says: "If Germany doesn't solve its refugee problem, the country has zero attractiveness anymore."
On the USA embassy page, netizens leave comments such as: "The US truly is an evil country. You're the world's biggest terrorist organization."
But visitors also often leave words of praise to embassy accounts. On the Danish embassy's account, for example, some call Denmark "a magical place", with the "land of fairytales" seemingly captivating the minds of many Chinese netizens.
When Thailand's king passed away in October 2016, the Thai embassy page on Weibo was filled with condolences from Chinese expressing their grief and stressing the friendship between the Chinese and Thai.
Ying Jiang's research calculated the number of reactions to every post on Weibo's embassies with the most followers and found that even if an embassy had the most followers, it was not necessarily most influential based on their received comments and amount of post shares.
According to Ying Jiang's data, which was collected in the first half of 2015, the Canadian embassy had the largest following on Sina Weibo, followed by the USA, Cuba, UK and South Korea, with the latter being most influential based on its interactions with its followers.
It seems that things have changed over the past two years, as the following list of foreign embassies collected and compiled by What's on Weibo shows a different order of popularity.
Weibo's Top 5 Embassies
Although the Canadian, Cuban, US and South Korean embassies are still popular in terms of followers on Weibo, the Brazilian, Japanese, and especially Israeli embassies now have the highest number of fans on Weibo.
The popularity of the Canadian embassy on Weibo can undoubtedly partly be attributed to the strong promotion of China-Canada friendship, the popularity of Canadian Prime Minister Justin Trudeau, and perhaps even the great popularity of the Canadian doctor Norman Bethune, who is honored in China for his role as a battleground surgeon during the Second Sino-Japanese War.
But most importantly, Canada's success on Weibo is a result of its own endeavors on Chinese social media. In a DiploFoundation interview with Mark McDowell, Counsellor of the Canadian Embassy in Beijing, McDowell stresses the importance of the so-called 'weiplomacy' (微郊外 Weibo diplomacy) to the Canadian embassy, that has boosted its efforts in using social media as an efficient form of public diplomacy.
McDowell says the Canadian embassy in China posts about 20 to 30 Weibo messages per week, on topics varying from business news to visa issues, the ways Canada measures air pollution, or information about studying in Canada – all topics that interest their large group of followers on Weibo.*
But the current most popular embassy on Weibo is not Canada, nor Cuba or any of the biggest embassies mentioned in Ying Jiang's 2015 research; it is the Embassy of Israel, that currently has over 1.9 million fans on its Weibo page, where it has posted a total of 3590 posts at the time of writing (in comparison: the Canadian embassy had posted 6979 posts at this time).
Top five according to What's on Weibo, December 2016:
1. Israeli embassy (@以色列驻华使馆) – 1.913.384 followers
2. Canadian embassy (@加拿大大使馆官方微博)
– 1.131.700+ followers
3. US embassy (@美国驻华大使馆) – 1.035.300+ followers
4. Brazilian embassy (@巴西驻华大使馆) – 522.310+ followers
5. Japanese embassy (@日本国驻华大使馆) – 480.500+ followers
Why is Israel so popular on Weibo?
What makes the Embassy of Israel so popular on Weibo? Overall, Chinese netizens seem to have a positive attitude towards the country. It is, among others, shared memories of the history of WWII that have contributed to the present strong relations between China and Israel.
In 2015, the Consulate General of Israel in Shanghai published a video that featured hundreds of Israelis holding "Thank you" signs in Chinese as a sign of gratitude for Shanghai helping the Jews during WWII. It also included a message from Prime Minister Benjamin Netanyahu expressing thanks to the Chinese people.
In 2014, late Israeli president Shimon Peres became a trending topic on Weibo when he registered for an account and met with Chinese president Xi Jinping. The "handsome old president" was warmly welcomed by Weibo users. One netizen said: "Israel really has been very good to China. During World War II, China took in a lot of Jewish refugees helping them avoid the disaster of war, and now this ethnicity truly knows how to be thankful. This is the kind of country that China should foster good relations with, and whether it be Israel or Pakistan, these are the true brothers of China. Anyway, this president is truly so adorable, and I just love adorable uncles [older men]" (China Smack 2014).
In 2014, the Australian reported that Israeli president Shimon Peres was one of the few Western leaders maintaining a social media presence in China, and that he had over 450,000 followers. When Peres passed away in September 2016, many web users visited the Israeli embassy account to share their condolences, praising the former president as a friend of China.
According to Robert Lakin (@LakinTLV), founder of Analytika Research, Israel's popularity on Weibo is a case of cause and effect.
"The Israel Foreign Ministry has really stepped up its game on social media," Lakin tells What's on Weibo: "The Israel Defense Force's has also boosted its use of social media. As the country puts out more buzz-worthy content, the effect is a jump in social followers. This includes lots of peripheral, one-off activity, too." Lakin also mentions the influence of the Times of Israel's Chinese language website, which might have contributed to the Israeli success on Weibo.
What About the 'Unpopular' Foreign Embassies?
With countries such as Israel and Canada having a relatively positive image among Chinese people – which also reflects in their popularity on social media – does this mean that the lowest-ranking foreign embassies on Weibo also are of those nations that have a less positive reputation in China?
Not necessarily so. According to What's on Weibo, the embassies of Estonia, Monaco and Indonesia have the lowest number of followers on Weibo, but this also has to do with the low activity on the concerning accounts; Estonia last posted in 2012, Indonesia in 2014, whereas Monaco has just posted its 75 first posts on the social media platform.
List of Foreign Embassies on Weibo
This is the list of foreign embassies currently present on Sina Weibo, from most popular to less popular in terms of followers. The great majority of these accounts have all been verified by Sina Weibo as the official embassy of their country ('V' status); if not, it has been noted.
---
1. Israeli embassy (@以色列驻华使馆) 1.913.384 followers
2. Canadian embassy (@加拿大大使馆官方微博) 1.131.700+ followers
3. US embassy (@美国驻华大使馆) 1.035.300+ followers
4. Brazilian embassy (@巴西驻华大使馆) 522.310+ followers
5. Japanese embassy (@日本国驻华大使馆) 480.500+ followers
6. South-Korean embassy (@韩国驻华大使馆) 396.960+ followers
7. Cuban embassy (@古巴驻华大使馆) 358.950+ followers
8. British embassy (@英国大使馆文化教育处) 289.280+ followers
9. French embassy (@法国驻华使馆) 255.240+ followers
10. Russian embassy (@俄罗斯驻华大使馆) 167.539+ followers
11. Australian embassy (@澳大利亚驻华使领馆) 165.240+ followers
12. German embassy (@德国驻华大使馆) 147.230+ followers
13. Embassy of Myanmar (@中缅胞波兄弟情) 146.000 followers
14. Danish embassy (@中缅胞波兄弟情) 丹麦驻华大使馆) 139.760+ followers
15. Thai embassy (@泰国驻华大使馆) 104.570+ followers
16. Swiss embassy (@瑞士驻华大使馆) 99.190+ followers
17. Swedish embassy (@瑞典驻华大使馆微博) 68.310+ followers
18. Dutch embassy (@荷兰驻华大使馆) 68.070+ followers
19. Mexican embassy (@墨西哥驻华大使馆) 50.160+ followers
20. Belgian embassy (@比利时驻华使馆) 49585+ followers
21. Italian embassy (@意大利驻华使馆) 46.330+ followers
22. Polish embassy (@波兰使馆文化处) 39185+ followers
23. Nepal embassy (@尼泊尔大使馆官方微博) 37.177+ followers
24. New Zealand embassy (@新西兰驻华大使馆) 37.140+ followers
25. Mauritanian embassy (@毛里塔尼亚驻华大使馆) 36.545+ followers
26. Zimbabwean embassy (@中国驻津巴布韦大使馆) 35.450+ followers
27. Costa Rican embassy (@哥斯达黎加驻华大使馆) 34.930+ followers
28. Peruvian Embassy (@秘鲁驻华使馆) 33.507 followers
29. Portugese embassy (@葡萄牙驻华大使馆) 28.380+ followers
30. Maldives embassy (@马尔代夫驻华大使馆) 22.460+ followers
31. Indian embassy (@印度使馆文化处) 22.225+ followers
32. Irish embassy (@爱尔兰驻华大使馆) 20.191+ followers
33. Spanish embassy (@西班牙驻华大使馆官方微博) 16.030+ followers
34. Austrian embassy (@奥地利驻华使馆) 15.960+ followers
35. Norwegian embassy (@挪威驻华大使馆) 11.800+ followers
36. Turkish embassy / official tourism board (@土耳其旅游局) 67.430+ followers
37. Kazakhstan embassy (@哈萨克斯坦驻华大使馆) 12.670+ followers
38. Ukranian embassy (@乌克兰信使) 9960+ followers
39. Iranian Embassy (@伊朗驻华大使馆) 6166 followers [not verified]
40. Rwandan embassy (@卢旺达驻华大使馆) 5480+ followers
41. Lithuanian embassy (@立陶宛驻华大使馆商务处) 3170+ followers
42. Chilean embassy (@智利驻中国大使馆) 2540+ followers
43. Sri Lankan embassy (@中国驻斯里兰卡大使馆) 2109 followers
44. Egyptian embassy (@埃及驻华大使馆) [account not verified] 910+ followers (Note: the account of the official Egypt tourism board on Weibo has 28392 followers).
45. Estonian Embassy (@爱沙尼亚驻华大使馆) [account not verified] 540+ followers
46. Embassy of Monaco (@摩纳哥公国大使馆) 450+ followers
47. Indonesian Embassy (@印度尼西亚驻华大使馆) [account not verified] 350+ followers
---
With Sina Weibo currently seeing a revival and WeChat being China's number one app, the use of these social media platforms in digital diplomacy is essential for foreign embassies wanting to engage with millions of Chinese – not just for the sake of providing information about traveling, arranging visas, or studying abroad, but also for the mere purpose of boosting their nation's image in China.
With China's online population growing as we write, and its social media features getting more versatile by the day, this might just be the beginning of China's digital platforms being used as a diplomatic tool for foreign embassies.
Please follow us to stay up-to-date on more articles on this topic in the near future.
– By Manya Koetse
Follow on Twitter or Like on Facebook
*According to Globe and Mail, not all of the Canadian embassy's followers are actually 'real'; in a 2014 article, the website alleged that nearly 87% of the Canadian embassy account fans are 'zombies'; fake accounts that do not represent actual persons. The Canadian government, however, stated it had never paid for the alleged fake followers and that it does not know where they come from. Note that for this article, we have not done any research into 'fake followers' and do not know if the top-ranking embassies have fake followers, and if so, how many there would be.
References
Bjola, Corneliu and Marcus Holmes (ed). 2015. Digital Diplomacy: Theory and Practice. Routledge: London and New York.
Cai, Peter. 2014. "How Israel is winning the social media war in China." The Australian, September 2 http://www.theaustralian.com.au/business/business-spectator/how-israel-is-winning-the-social-media-war-in-china/news-story/08fb25d94b34b3036616c0334531ddc6 [20.12.16].
Jiang, Ying. 2017. "Social Media and E-Diplomacy: Scanning Embassies on Weibo." In: Naren Chitty, Li Ji, Gary D. Rawnsley, Craig Hayden (ed), The Routledge Handbook of Soft Power. New york: Routledge: New York.
Rugh, William A. 2014. Front Line Public Diplomacy: How US Embassies Communicate with Foreign Publics. New York: Palgrave Macmillan.
What's on Weibo is an independently run news blog. We accept donations to help us keep the site going. Donating is possible via www.paypal.me/whatsonweibo.
©2016 Whatsonweibo. All rights reserved. Do not reproduce our content without permission – you can contact us at info@whatsonweibo.com.
The Disappearing Emoji on Weibo in Light of June 4
No candle or cake emoji on Weibo on June 4th.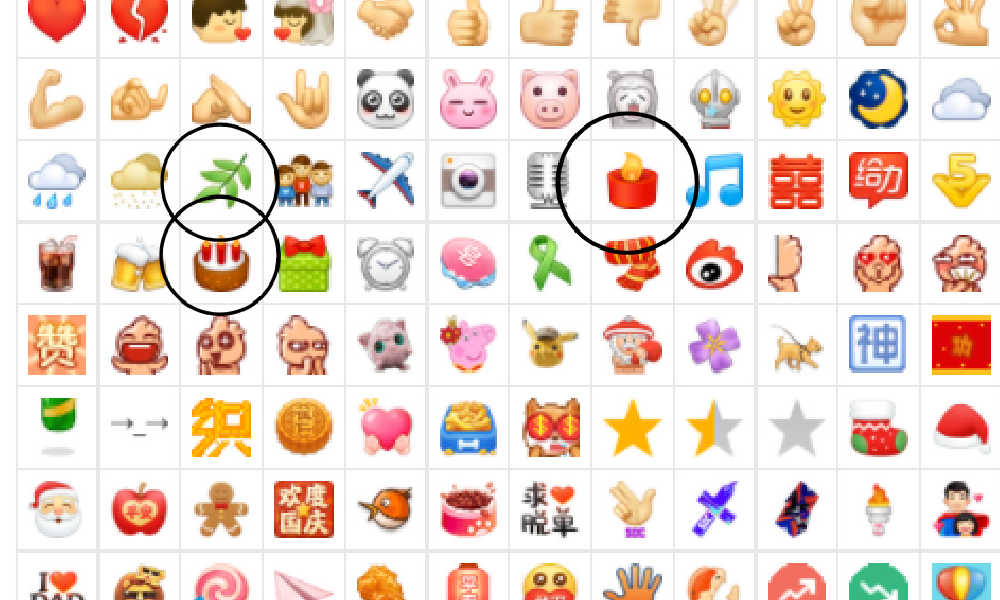 This week marks the anniversary of the Tiananmen student protests which started in April 1989 and ended with the violent crackdown on June 4th of that year.
It is the time of the year that censorship on Chinese social media intensifies, which is noticeable in various ways.
One noteworthy change is the disappearance of various Weibo emoji. Already in 2012, China Digital Times reported that the Sina Weibo platform quietly removed the candle icon from its collection of "frequently used emoticons" just before June 4. A year later, Shanghaiist also reported that the candle emoji had once again been removed, making the disappearing emoji a questionable annual Weibo tradition.
On Twitter, BBC reporter Kerry Allen (@kerrya11en) posted earlier that usually at this of year, it is not just the candle that disappears from Weibo's list of emoji, but also the leaf, the cake, the ribbon, and the present.
It's that time of year where I start watching #Weibo closely as emojis suddenly disappear ahead of the Tiananmen anniversary.

There don't appear to be any restrictions on the platform just yet, but the four clumsily circled emojis always vanish around this time. pic.twitter.com/kHuOPrVaqE

— Kerry Allen 凯丽 (@kerrya11en) June 1, 2021
A screenshot taken by What's on Weibo on June 1st of this year showed that all emoji were still available.
But on June 3rd, three emoji had disappeared from the list, including the falling leaf (风吹叶落), candle (蜡烛), and cake (生日蛋糕).
The disappearance of the emoji means that Weibo posts that were previously made by official media using these emoji also no longer contain them – instead, only the emoji description shows up.
To circumvent censorship, social media users in China often use emoji, creative language, or images to get their message across. To keep discussions on the violent events of June 4 contained, online censors also crack down on sensitive words, numbers, photographs, and symbols.
At this time, the term 'Tiananmen' has not been banned on Weibo, but the only posts using the term are official ones about another anniversary, namely that of the Communist Party. The Communist Party of China will mark its 100th anniversary in July.
By Manya Koetse
Spotted a mistake or want to add something? Please let us know in comments below or email us. First-time commenters, please be patient – we will have to manually approve your comment before it appears.
©2021 Whatsonweibo. All rights reserved. Do not reproduce our content without permission – you can contact us at info@whatsonweibo.com.
Chinese E-Readers: The Best E-book Devices in China
Overview of the top 10 e-readers in China in 2021.
From Onyx to Xiaomi, these are the top selling e-readers in China right now.
Ereaders have become booming business over recent years. Some people prefer an e-reader because it is easier on their eyes than reading from phone screens, others want a distraction-free digital reading style, and some just like the idea of carrying their own mini-library with them with a battery that lasts much longer than those of tablets or smartphones.
While Amazon's Kindle is the biggest brand name in the American and European e-book reader market, the Chinese e-reader market also has several domestic brands topping the popularity lists.
Here is an overview of the top 10 brands currently dominating the lists in China. This list is based on the rankings of Zol.com, one of China's leading IT information and business portals.
The devices mentioned in this list are all devices with E Ink ("electronic ink") display technology, which gives them that low-power paper-like display. Devices using E Ink technology are usually in grayscale, but color e-paper technologies are now also available.
1. ONYX BOOX (CHINESE BRAND)
BOOX, also known as Onyx Boox (文石BOOX), currently is China's top e-book reader brand, produced by Onyx International Inc., which mostly produces E Ink (ePaper) devices. Onyx Boox was founded in 2008 by a team from IBM, Google, and Microsoft. It is headquartered in Guangzhou.
What sets Onyx apart from many other e-book reader brands is that they offer devices from 7.8 to 13.3 inches that can also function as digital note-taking tablets, equipped with a pen that allows users to pen down their notes as they would in any paper notebook.
The latest Onyx devices such as the Max Lumi (13.3 inch), Onyx Boox Note Air (10.3 inch), the Note 3 (10.3 inch), and the Nova 3 and Nova 3 Color (7.8 inch) all have a wide variety of functions. Besides the common e-reading functions and digital note-taking possibilities, these devices run Android, handle many different file formats, and allow an install of Google Play, Kindle, OneDrive, and more, which really make them "like a tablet unlike any tablet" (which just happens to be their slogan).
Currently, the Boox Nova 3 is the brand's most popular model in China. Priced at ¥2480 ($377), it is also among the pricier models in the markets due to its multifunctionality. It has 32GB of storage, E Ink Carta Plus (the latest generation of screens made by "electronic paper" technology) and also has a screen front light system, allowing users to keep on reading in the dark.
At ¥2780 ($423), the Onyx Boox Note S, which features a 9.7-inch screen, is also rising in popularity. Then there is also the Nova 3 Color 7.8-inch color E Ink tablet with a new Kaleido (Kaleido Plus) screen.
The Onyx is also sold outside of China, check it out here on Amazon.
2. AMAZON
The American Amazon brand is also popular in China when it comes to its e-reader devices. While compiling this list, the Onyx and Amazon brands actually competed over the number one spot, so there is not much difference there in terms of ranking.
Along with the entry-level Kindle Migu X, the 4th generation (2018) Kindle Paperwhite (6 inches, 1448x1072px) is among the most popular e-reader models in China, priced at ¥998 ($152). Like the Onyx Nova 3, it is also available with 32GB storage, but keep in mind that the screen is smaller.
The Kindle e-book devices are much more affordable than the Onyx ones, and their functionality is more straightforward as an e-book reader. They are known for their great battery life, and since the first Kindle was introduced in 2007 it has become the world's most famous dedicated e-reader. Kindles are designed to interface seamlessly with Amazon's online store, which makes them perfect for Amazon fans and less appealing for those who have no desire to use the Amazon ecosystem.
The Paperwhite model has an extra advantage to it, as it allows to keep on reading while taking a bath or sitting by the pool since it is water-resistant. The Paperwhite is currently the no.2 best-sold e-book reader on Chinese major shopping platform JD. It is sold through Amazon here.
3. iFLYTEK (科大讯飞) (CHINESE BRAND)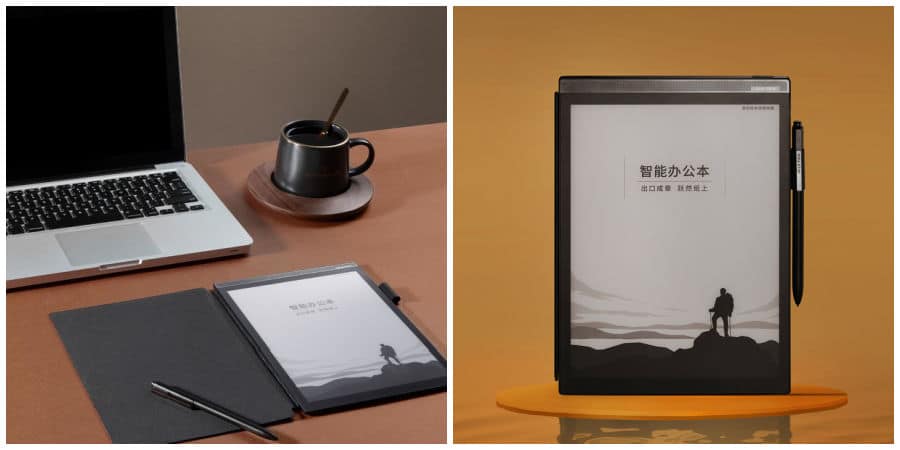 iFlytek is a partially state-owned Chinese AI firm established in 1999 that also produces e-book readers. The company made headlines in 2019-2020 when it was blacklisted in the US for allegedly using its technology for surveillance and human rights abuses in Xinjiang.
Its iFlytek Smart Office X2 (科大讯飞智能办公本X2) is the e-book reader that is currently in the top 5 list of most popular ink screen devices in China (it even scores no 1 on e-commerce platform JD.com at the time of writing), and it is also among the most expensive (¥4999/$762). The X2 is a 10.3-inch E Ink device.
Similar to the Onyx Boox devices, it is much more than an e-reader alone; it is also a note-taking device (comes with the Wacom stylus) and incorporates fingerprint authentication, Wifi/4G, (offline) voice recognition, and transcription functions; it probably is the smartest e-reader around.
The iFlytek also has a whopping 64GB storage, which can be expanded to 128GB. GizTechReview did a review of the Smart Office X2 here.
4. IREADER / ZHANGYUE (掌阅) (CHINESE BRAND)
Ebook reader Zhangyue (掌阅) made headlines in late 2020 when it was announced that Tiktok owner Bytedance would invest $170 million in the company.
Zhangyue, founded in 2008 in Beijing, is not just a producer of e-readers, it is also the online literature publisher behind the iReader platform (掌阅书城). Its most popular ebook reader in China at this time is the 6-inch Zhangyue iReader Light (掌阅iReader Light青春版), which is priced at ¥638 ($97) and comes with 8GB storage.
A much pricier model is the Smart X (¥3499/$539), which has 32GB storage and a 10.3 inch 1872×1404 resolution screen, making it just as big as the Onyx Boox Note Air and the iFlytek Smart Office X2. The iReader Smart X also comes with a Wacom pen for note-taking. There's a review of this device on Gearbest.
The iReader Smart 2 is popular on shopping site JD.com, priced at ¥2299 ($353). It came out in 2020, and also is a note-taking device with 32GB storage and a 10.3 inch screen. The difference with the Smart X device mainly lies in its screen quality.
5. XIAOMI (CHINESE BRAND)
Beijing-brand Xiaomi is mostly known for being one of the world's largest smartphone makers, but the tech company does so much more, from watches to earphones, TVs, scooters, and e-readers.
Priced at ¥599 ($92), the Xiaomi MiReader (小米多看电纸书), released in November 2019, is among the more popular e-reader devices in China at the moment. Mainly marketed for the Chinese market, it is Xiaomi's first ebook reader which comes with a 6-inch e-Ink screen and 16GB storage. With its 1024×768 pixels at 212 PPI screen, it might not be as crisp and fast as other devices in this list, but its price is also much lower. This review at Goodereader was not positive at all, calling it "super slow and plodding."
The MiReader also has a Pro device (小米多看电纸书Pro) available in China, which is ¥1299 ($200) and comes with a 7.8-inch 300 PPI screen and 32GB storage. The Xiaomi e-readers allow access to the WeChat Library, which is a great advantage for Chinese consumers (Kindle doesn't allow access to the WeChat Library).
6. HANVON (汉王) (CHINESE BRAND)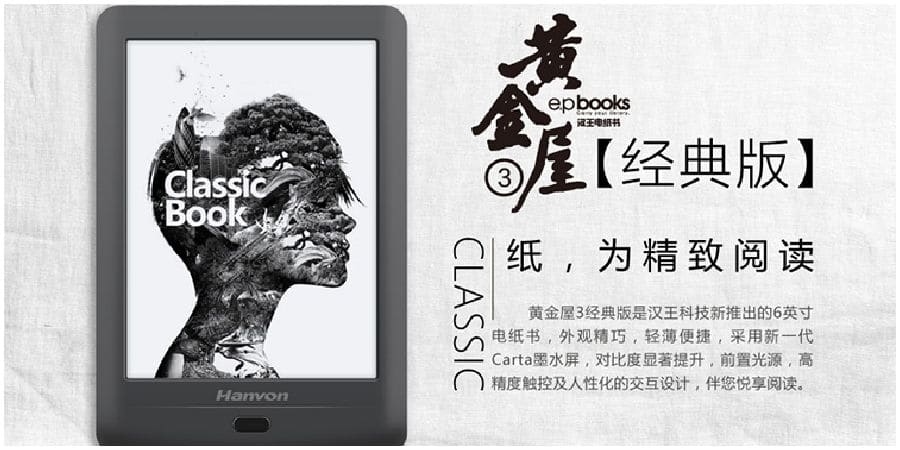 Established in 1998, Hanwang is a pioneering company in character recognition technology and intelligent interactive products.
Although Hanvon is in the top 10 of China's hottest e-book device brands, its Hanvon Gold House 3 model (汉王黄金屋3), priced at ¥799 ($123), is not nearly as popular as other devices in this list. The Hanvon Gold House comes with a 6-inch 1024×758 resolution screen and 4GB in storage. The device is marketed as being simple, stylish, and ergonomic.
7. TENCENT (CHINESE BRAND)
Chinese tech giant Tencent is mostly known for its social media and gaming products, but it also produces e-book devices.
The Tencent Pocket Reader (腾讯口袋阅) is small and lightweight with its 5.2 inches 1280×720 eInk screen, it comes with 8GB storage and is priced at ¥889 ($136). The device is centered around the Tencent ecosystem and provides access to the Tencent Library and bookstore.
Its small size makes this device different from other e-readers. It is the size of a smartphone, which is great if you really want an e-reader in your pocket, but less ideal if you are looking for a more comfortable reading experience. The Pocket Reader supports a 4G mobile card and can also make calls and do text messaging.
8. BOYUE (博阅) (CHINESE BRAND)
Boyue is a digital reading technology company founded in 2009. Throughout the years the company has released different e-book devices as well as digital note-taking devices.
The Boyue T80 model and its Likebook Mars are its best-sold devices in China. The Boyue T80 is priced at ¥1199 ($184) and has 8GB of storage, features an 8-inches 1024×768 screen, and supports SD.
The Likebook Mars is ¥1380 ($212) and comes with 16GB of storage, a 7.8 inch 1872×1404 screen, and it also has SD card support, which allows you to extend the storage capacity to 128GB.
9. OBOOK (国文) (CHINESE BRAND)
Guowen or OBOOK is an e-reader company established in 2010 as what was meant to be the Chinese answer to Kindle.
Its Dangdang E-reader 8 (当当阅读器8) is currently rising in popularity. It features a 6-inch 300 PPI resolution screen and 16GB of storage and is priced at ¥918 ($141).
10. SONY
Sony is perhaps not a name you'd expect in this list, since Sony seems to have exited the e-reader business some time ago.
There are only a few e-book devices by Sony that are still popular in China right now, and one of them is the 10.3-inch 1404×1872 screen Sony DPT-CP1 model that is priced at ¥4888 ($750). For this price, you get a lightweight, thin device that also serves as a digital note-taking tablet that syncs with PC or Mac.
The DPT-RP1/WC model is even pricier at ¥5299 ($815), for which you get a 13.3 inch 1650×2200 screen, which is comparable to the Onyx Boox Max Lumi.
By Manya Koetse
This is not a sponsored post. This article could contain links to online shops, which might allow us to earn a very small affiliate commission at zero extra cost to you – it helps us in maintaining this site. Spotted a mistake or want to add something? Please let us know in comments below or email us. First-time commenters, please be patient – we will have to manually approve your comment before it appears.
©2021 Whatsonweibo. All rights reserved. Do not reproduce our content without permission – you can contact us at info@whatsonweibo.com.