A Film Lover's Complaint: Netizens Weary of China's "Domestic Movie Protection Month"
During the summer season, big international movies are blocked from Chinese cinemas. The policy, meant to boost China's domestic film industry, is a dreaded one amongst China's movie-loving social media users.
During China's summer season, big international movies are blocked from cinemas in the PRC. The policy, meant to boost China's domestic film industry, is a dreaded one amongst many movie-loving social media users.
This summer, while big Hollywood films such as Spiderman: Homecoming or War of the Planet of the Apes are riding the heat wave in North America, audiences in China will not be seeing them until end of August. The only big western film they can see during this two-month-period is Despicable Me 3.
The measure is a much-dreaded one on Chinese social media, where many young people complain that now that they finally have the time to go and see their favorite movies in the cinema, they can't because they are blocked: "I'm always in school and can't see any movies. Now that I'm free I still can't see them."
DOMESTIC FILM PROTECTION MONTH
"What once started out as a month-long Hollywood 'blackout' has gradually extended over the years."
The reason behind the delay is the "invisible hand" of the Chinese state. During the summer holidays, the Chinese National Film Board blocks many imported foreign blockbusters, a phenomenon called "Domestic Film Protection Month" (国产电影保护月).
The term was allegedly coined in 2004, when Chinese media reported about an order restricting screening foreign films between June 10 and July 10 each year. According to Baidu Baike (百度百科), Baidu's equivalent of Wikipedia, there are no publicly available official documents defining this policy.
The term was also used in an item published by regional media in 2006. The article ("国产电影保护月"沈阳遇冷引发议论") states that the policy was launched in order to protect China's domestic movie business. During "Domestic Film Protection Month," as it was dubbed by the media and film industry, it is not "encouraged" to show big foreign films in China's cinemas.
What once started out as a month-long Hollywood 'blackout' has gradually extended over the years. Currently, the blocking of foreign blockbusters lasts around 2 months each summer.
Although the measure was never officially admitted by government officials, this unspoken policy has been executed for the past 14 years. The policy has also extended to several other major national holidays like Chinese New Year and the National Day holiday. During these holidays, a majority of China's population is off work – a peak moment for cinemas.
BOOSTING CHINA'S FILM INDUSTRY
"The scene in which Tom Cruise's character kills two Chinese henchmen was one of those eliminated scenes, as it was deemed 'truly insulting'"
There are various ways in which the Chinese state interferes in the movie industry to support and protect domestic film production. Besides the "Domestic Film Protection Month" and other measures – such as opening two big Hollywood movies on the same day – there is also a limit to the number of foreign films accepted into China's cinemas; Chinese audiences can only see 34 overseas films per year. Revenues from these films are shared between the Chinese film distributors and the western producers.
The measurements are part of a wider campaign to boost the domestic film industry. In the 2005-2012 period, only one-third of China's domestic movies were screened by China's major cinemas; up to 80% of Chinese film projects lost money as a consequence. The 'blackout' periods need "to ensure that Hollywood films account for no more than 50% of the market in any given year" (Su 2016).
Some of the films that were postponed in China over the past decade include Spider-Man 2 (2004), Mr. Smith&Mrs Smith (2004) Garfield (2006), Transformers (2007), Harry Potter (2011), Ben-Hur (2016), and many others.
But support for domestic films is not always the only reason why the release of Hollywood films is postponed in Chinese cinemas. The process of translation and censorship also contributes to the final date a western film is released in China.
The release of Mission Impossible 3 in 2006, for example, was delayed because some scenes filmed in Shanghai needed to be erased. The scene in which Tom Cruise's character kills two Chinese henchmen was one of those eliminated scenes, as it was deemed "truly insulting" by the China Film Group. The film could only be released after this part was censored.
FUTILE EFFORTS?
"Despite the endless efforts, Hollywood films are still making substantially more money than their domestic rivals in Chinese cinemas."
Despite the endless efforts, Hollywood films are still making substantially more money than their domestic rivals in Chinese cinemas. In 2016, Terminator Genysis was the first big foreign film to come out after the 'protection month.'
This film, that was rather mediocre considering its ratings and ticket sales in North America, received a warm welcome from Chinese audiences: it made a staggering RMB 181 million (USD 27million) on its opening day. Thanks to its sales in China, this film could be deemed – financially at least – a success.
Despicable Me 3, the only western film to have been allowed outside of this summer's 'Hollywood blackout', exceeded RMB 300 million (USD 44.6m) in ticket sales within 2 days after its release. As of 31st July, 25 days after in Chinese cinemas, that number had already risen to RMB 990 million (±USD 147m).
Ironically, its success also comes as a result of the 'Domestic Film Protection Month'. As some netizens say on Weibo: "Thanks to the domestic film protection month, ???, I've seen too many sh*t films; I need to see some cartoon [Despicable Me 3] to wash my eyes."
A FILM-LOVER'S COMPLAINT
"I'm in despair – when will the 'Domestic Film Protection Month' finally be over?!"
On Chinese social media, many other film-loving netizens also complain about the summer restrictions on foreign movies and express their wish to watch big foreign films at the same time as the rest of the world. Many also indicate they would rather support movies based on their quality than where come from.
"I'm in despair – when will the 'Domestic Film Protection Month' finally be over?!" some commenters asked.
"Are you done protecting your stuff yet? I'm waiting," others said.
Despite the criticism, there are also netizens who say they hope that China's domestic cinema can grow and develop into a more thriving industry. Their wishes might be fulfilled, as recent reports show that Chinese films such as Wolf Warrior 2 (战狼2) are benefiting from the fact that China blocks international competition from the market during this period; the patriotic blockbuster made a massive $130M debut this summer.
Some netizens are satisfied despite the restrictions, and praised the movie on their Weibo account, adding: "Wolf Warrior 2 has become the movie hit of the summer. I didn't expect it – it's not easy to see a good movie during the 'protect movies' summer season."
By Miranda Barnes & Richard Barnes
Follow @whatsonweibo
This article has been revised by the editor.
©2017 Whatsonweibo. All rights reserved. Do not reproduce our content without permission – you can contact us at info@whatsonweibo.com.
References (online references linked to through text):
Su, Wendy. 2016. China's Encounter with Global Hollywood. Kentucky: University Press of Kentucky.
Oppenheimer Hits Screens in China, But Jean Tatlock's Nudity is Censored
Chinese cinemagoers noticed that a nude Florence Pugh, who plays Jean Tatlock, is covered by a 'little black dress' in China's version of Oppenheimer.
Chinese cinemagoers noticed that a nude Florence Pugh, who plays Jean Tatlock, is wearing a computer-generated black dress in China's version of Oppenheimer. Instead of criticizing the censorship, many people praised the little black dress, suggesting China's editing is better than India's.
Christopher Nolan's summer blockbuster has finally hit the screens in China, five weeks after it was first released in the United States and several other countries.
Back in July, it was first confirmed that the movie would be released in Chinese mainland theaters on August 30, causing a buzz.
The film centers on the efforts leading up to the bombings of Hiroshima and Nagasaki, highlighting the Manhattan Project led by J. Robert Oppenheimer and his team of scientists. Over the course of several years, they dedicated themselves to the development and design of the atomic bomb. After bombings on August 6 and 9, 1945, Japan surrendered on August 15, marking the end of WWII and the Second Sino-Japanese War, the latter of which had merged into World War II in 1941.
It now turns out that the movie could not have come at a 'better' time to boost ticket sales in the mainland, as anti-Japanese sentiments have flared in mainland China since last week, when Japan formally announced its decision to discharge Fukushima wastewater into the ocean. Within this context, the history of war often comes up in online discussions.
Back in July, SCMP's Fran Lu already noted how China was likely to follow the example of India and the Middle East in dealing with the nude scenes, adding a computer-generated black dress on topless Jean Tatlock, played by Florence Pugh, in a sex scene.
On Wednesday, Chinese moviegoers soon posted about how Pugh was indeed covered by a 'little black dress.' They also suggested that the Chinese censored version was done better than the Indian one. "I can even see some texture to it, making it look real," some Weibo commenters noted.
"Not bad at all," others remarked.
Chinese censorship of nudity is known for being quite blatant. An infamous illustration is the way Fan Bingbing's cleavage in The Empress of China was edited out, only showing tightly-cropped shots that depicted only the actresses' heads and shoulders.
Last year, a live-streamed Coachella concert caused some hilarity (and frustration) among Chinese viewers when censors had a hard time catching up with covering nudity during a Megan Thee Stallion performance (see video below).
Coachella is also being livestreamed via WeChat. Apparently, this performance not only made censors sweat, everyone was also joking that they're singing a song about Shanghai Puxi District. #MeganTheeStallion #Shanghailockdown pic.twitter.com/2ltSqzFC9c

— Manya Koetse (@manyapan) April 17, 2022
The computer-generated little black dress diverges from China's typical, less nuanced approach to editing and cutting.
"The little black dress should be nominated for the Golden Rooster Awards for Best Visual Effects," another moviegoer joked (the Golden Rooster Awards are film awards given in mainland China).
"Thumbs up for the little black dress," other Weibo users wrote after seeing the movie.
By Manya Koetse & Zilan Qian
Get the story behind the hashtag. Subscribe to What's on Weibo here to receive our newsletter and get access to our latest articles:
Spotted a mistake or want to add something? Please let us know in comments below or email us. First-time commenters, please be patient – we will have to manually approve your comment before it appears.
©2023 Whatsonweibo. All rights reserved. Do not reproduce our content without permission – you can contact us at info@whatsonweibo.com.
How Chinese Netizens Boosted the Buzz for the 'Creation of the Gods' Blockbuster
Despite initial low expectation, this Chinese 'Lord of the Rings' has now garnered a devoted online community of fans who are helping to boost its success.
It has become a major summer box office hit in China: Creation of the Gods I. Despite its initial lackluster performance, audiences raved about the mix of traditional Chinese mythology and high-tech industrialized cinema, and a loyal online community of fans boosted its ticket sales.
Early this week, the Weibo hashtag "Creation of the Gods I Breaks 2 Billion Yuan [US$275M] in Box Office" (#封神第一部票房破20亿#) became a trending topic on Weibo, followed by a hashtag celebrating raking in 2.2 billion [US$302M] on Friday (#封神第一部票房破22亿#), showcasing the remarkable success of Creation of the Gods I: Kingdom of Storms (封神第一部:朝歌风云) in both Chinese cinemas and across social media platforms.
Together, the hashtags have amassed an impressive 230 million views to date, underscoring the growing popularity of this summer box office sensation.
Directed by Chinese film director Wuershan (乌尔善), Creation of the Gods I: Kingdom of Storms stands as the initial film within the trilogy of the fantasy epic Creation of the Gods, also known as Fengshen Trilogy (封神三部曲).
The mythological epic is considered the most ambitious and expensive production in Chinese film history with a planned budget of 3 billion yuan (approximately US$410 million).
The film, which was officially released on July 20th, achieved its box office milestone 25 days after its release. The success of Creation of the Gods I can largely be attributed to the collaborative efforts of the production team and a dedicated group of fans who volunteered to promote the film online, a phenomenon referred to as zìláishuǐ (自来水).
Zìláishuǐ (自来水) literally means 'tap water' but it is a label for those netizens who spontaneously promote a film or artist without getting paid for it.
The three characters, 自来水, are actually an abbreviation of the term 自发而来的网络水军 (zìfāérlái de wǎngluò shuǐjūn: "self-organized internet water army").
This term has emerged on Chinese social media in recent years, signifying a group of individuals who willingly promote films or television series out of love and admiration. Their actions are driven by personal enthusiasm and passion. Unlike those who are paid to promote something, these ardent fans invest their own time and effort into amplifying the presence of their favorite films or shows.
This concept first gained prominence within the fan community of the film Wolf Warrior (战狼) in 2015. It gained broader recognition with Monkey King: Hero Is Back (西游记之大圣归来) later that same year when zìláishuǐ successfully influenced numerous cinemas to increase showings for the animated movie. Earlier this year, zìláishuǐ once again played a crucial role in boosting the popularity of The Wandering Earth II (流浪地球2) upon its release.
Rocky Start for a Multi-Billion-Dollar Film
The origins of the Fengshen Trilogy can be traced back to an initial pinghua (平话) story – which laid the foundation for later written narrative forms in China, – namely King Wu's Campaign Against [King] Zhou (武王伐纣平话), that emerged sometime between the Song (960-1279) and Yuan (1271-1368) dynasties, as well as the Investiture of the Gods (封神演义), a novel from the Ming (1368-1644) dynasty.
This captivating narrative delves into the history of the Shang (c. 1600-c. 1046 BC) and Zhou (c. 1046-771 BC) dynasties, intricately weaving together folklore, legends, and a variety of mythical beings and creatures.
Wuershan reportedly came up with the idea for the movie after watching The Lord of the Rings: The Fellowship of the Ring in 2001 and publicly shared his intention to turn the Fengshen story into a film in 2012. The project officially commenced in June 2014.
From February 2017 onwards, a global audition was held to select the lead actors and actresses, who then underwent 6-8 months of specialized training. The filming started on August 2018, and concluded in January 2020.
The narrative of Fengshen holds tremendous popularity in China. Nevertheless, this extensive familiarity might actually present a challenge when it comes to triggering the audience's interest. Past mythological films produced in China have often left viewers with exceedingly low expectations – or even a lack of expectations altogether – for this genre of Chinese cinema.
The challenges encountered by Wuershan and his team were amplified by the three-year-long pandemic and the investment issues of the film's primary production company, Beijing Culture. The pandemic introduced uncertainty about the film's release, while Beijing Culture, the primary investor, faced complications due to its involvement in actress Zheng Shuang's project. Zheng's reputation had already taken a significant hit when she was accused of abandoning her two surrogate babies in the US, followed by substantial fines for tax evasion (read more).
Although the filming concluded, the movie's release date was pushed back, prompting concerns about the film's quality and noticeably dampening the expectations and excitement among Chinese netizens. In June 2023, the announcement of the film's official release date also failed to generate significant attention or interest among netizens.
At the early stages of promoting the film, the movie's marketing team adopted a strategy in which they mostly highlighted the young, good-looking, and muscular actors starring in the film. But this approach made some netizens believe that the film had to rely on such visuals to attract audiences because its overall quality was just not up to par.
Based on data from the Chinese ticketing platform Maoyan, Creation of the Gods I garnered a modest box office earnings of slightly over 49 million yuan (US$6.7M) on its opening day, positioning it in the eighth spot among other films that were launched around the same time. This outcome was not just quite disappointing for a project that had received a substantial investment of 3 billion yuan – it was actually pretty disastrous.
Captivating the Hearts of Moviegoers
In spite of its tumultuous production journey and initial cautious response from Chinese moviegoers, as the film continued to be screened in theaters, an increasing number of netizens began to develop a genuine fondness and admiration for Creation of the Gods I.
1: New Portrayal of Su Daji
The presentation of the storyline, especially the reinterpretation of the renowned character Su Daji (苏妲己), garnered praise from moviegoers.
In the original story of Investiture of the Gods, Su Daji was held responsible for the downfall of the Shang Dynasty due to her seduction of Yin Shou (殷寿), the King of the Shang Dynasty. This fateful enticement ultimately metamorphosed him into a ruthless ruler, leading to the demise of the dynasty.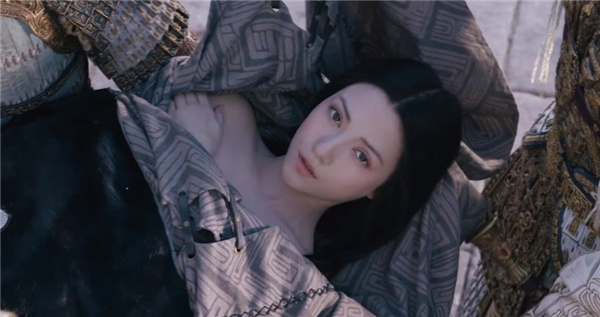 Within China, an ingrained idiomatic expression places responsibility on women for unfortunate occurrences, known as "a beauty that brings disaster" (红颜祸水), and Su Daji has long been emblematic of this notion. However, Wuershan and his screenwriting team chose to diverge from this perspective in the film. Instead, the movie portrays Su Daji as a manifestation of Yin Shou's ambitious nature. It underscores that Su Daji wasn't the catalyst for the dynasty's downfall; rather, Yin Shou himself was responsible for his own downfall.
Although not everyone agrees with this new portrayal of Su Daji, the controversy around the character's representation has brought greater attention to the film.
2: Fresh Faces in China's Cinema
Another factor contributing to Creation of the Gods I's success in capturing the affection of early moviegoers is the commitment exhibited by both the younger and more seasoned actors and actresses, whether in leading roles or supporting positions.
The majority of actors and actresses who assumed key roles in the film were newcomers to the entertainment industry, introduced through a global audition process. This extensive search encompassed around 15,000 individuals worldwide, culminating in the selection of over 30 participants for a specialized training camp.
Within this training program, they underwent instruction in martial arts, equestrianism, archery, drumming, ancient qin music, and a variety of cultural courses, including pre-Qin history and etiquette. These courses were devised based on the Six Arts: rites (礼), music (乐), archery (射), chariotry or equestrianism (御), calligraphy (书), and mathematics (数). These arts formed the core of education in ancient Chinese culture and were required to be mastered by students during the Zhou dynasty.
3: Costume & Set Design
The production team's meticulous attention to detail in the costumes and set designs further increased the film's popularity.
For example, the production team built an entire forest system ecosystem reminiscent of Tibet's Linzhi and Motuo forests, all within a 10,000-square-meter studio in Qingdao. This was partly due to the protective status of Tibet's forests, rendering filming scenes involving horse riding impossible. The set allegedly was so lifelike, that many butterflies and insects were attracted to the forest after it was completed.
Similar stories also includes the construction of the main set, the Longde Hall (龙德殿) which was built up by a set design team consisting of 1,500 workers, with 800 of them specializing in wood carving.
After learning all these stories behind the movie, many Chinese netizens have come to believe that the film is not as bad as initially thought. They attributed its underperformance at the box office not to its quality but to an inadequate promotional strategy and execution. In response, many have rallied to support the film.
Zilaishui to the Rescue
Lately, a big group of fresh enthusiasts for Creation of the Gods have come together on Chinese social media and are growing rapidly as a community of 'Fengshen zìláishuǐ' (封神自来水): voluntary and passionate supporters and promoters of the Fengshen Trilogy.
Shui Mu Ding (@水木丁), a Chinese columnist and writer, who is also a member of the 'Fengshen zìláishuǐ,' shared her emotions after observing the film's first-day box office results: "Picture yourself strolling along the beach and stumbling upon a beached whale. You may not have the power to help it, but would you just turn around and leave? It seems impossible to let go."
She then wrote an article and published it on WeChat and Weibo, recommending this film to her readers and followers. Some people questioned if she was paid for it, but she said she did this "simply because I want to."
Simultaneously, other members of the 'Fengshen zìláishuǐ' community are also contributing to broaden the film's impact through various approaches.
For example, they use the content of the film to create memes on social media.
They also cleverly "hijack" ongoing trending topics linked to the actors involved in the film, even when these subjects weren't directly linked to the film itself. By employing a clickbait approach or crafting posts reminiscent of gossip news narratives, their ultimate goal is to persuade netizens who viewed this hashtag to learn more about the film and, ideally, entice them to go to the cinemas to see the movie.
Then there are those people sharing their experiences after viewing the movie in the cinema and posting them on different social platforms. Some fans even choose to watch the film in theaters twice, three times or even more, pondering over details and sharing their discoveries online, to showcase their support for the film.
Embracing a New Era in the Industrialization of China's Film Industry
Among the many reviews shared by Fengshen zìláishuǐ, the credits list at the end of the film, just before the bonus scene, keep poppping up. This extensive roster of names, scrolling across the screen for about three minutes, shows the immense scale of this challenging project, resonating deeply with many moviegoers and sparking discussions on the industrialization of Chinese films.
As highlighted in prior interviews, director Wuershan possesses a clear vision for enhancing and refining Chinese film production. His ideas encompass streamlining film production processes by genre, implementing structured and methodical approaches to oversee every facet of filmmaking, and seamlessly integrating cutting-edge technologies.
These principles have been seamlessly woven into the production of the Fengshen Trilogy, setting new standards for the industrialization of China's film realm.
For instance, prior to actual filming, Wuershan conducted multiple animation previews and rehearsals, aligning his team with his creative vision and mitigating potential losses arising from miscommunication. This approach not only trimmed shooting and editing expenses but also facilitated meticulous planning of the shooting schedule.
Given the film's extensive utilization of visual effects and reliance on blue screen technology, director of photography Wang Yu (王昱) and his team devised an ingenious technique to craft an expansive screen. They ingeniously repurposed excavator buckets into blue panels, collaborating with the excavator team to erect the blue screen as needed. Through precise control of various angles, they erected a sprawling screen wall.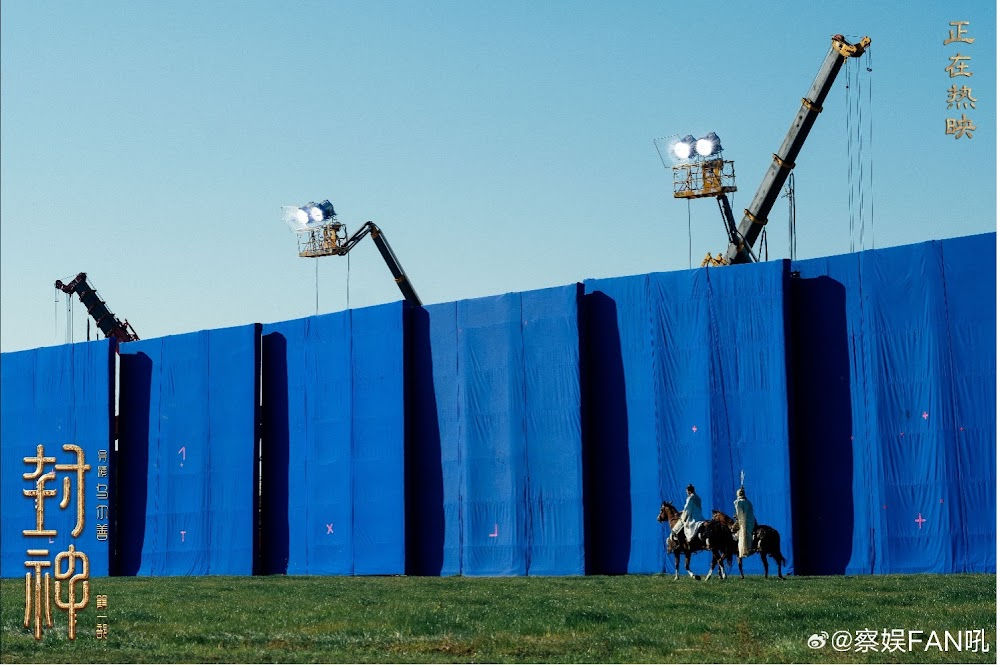 In another instance of production innovation aimed at standardizing filming procedures, the production team veered away from conventional boxed meals and fast food, instead establishing an actual "Fengshen Canteen" to cater to their workforce of 8000 members, strictly following China's food safety regulations.
In his quest to explore new ways to improve China's movie industry industrialization, Wuershan joins the ranks of other directors such as Guo Fan (郭帆) (The Wandering Earth 2) or Chen Sicheng (陈思诚) (Lost In The Stars). They're all dedicated to innovating film processes across various genres by melding Hollywood knowledge with their own filmmaking expertise to bolster China's film industry. Guo Fan also visited the set of Fengshen Trilogy to learn from the filming process.
This idealism and drive to improve China's film industry at large has also resonated with Fengshen zìláishuǐ, futher motivating them to continue their efforts in promoting high quality Chinese films like Creation of The Gods
For now, some fans are already concerned about how their beloved "domestically produced masterpiece" will perform in the international market. But most zìláishuǐ are still busy to promote the movie on Chinese social media and further helping to grow its box office numbers, paving the way for the release of the first and second films of the trilogy during the upcoming summer vacations in China – next year and the year after. If all goes well, we'll know what they'll do next summer.
By Wendy Huang
Follow @whatsonweibo
Edited for clarity by Manya Koetse.
Spotted a mistake or want to add something? Please let us know in comments below or email us. Please note that your comment below will need to be manually approved if you're a first-time poster here.
©2023 Whatsonweibo. All rights reserved. Do not reproduce our content without permission – you can contact us at info@whatsonweibo.com
Subscribe to our newsletter
Stay updated on what's trending in China & get the story behind the hashtag
Sign up
here
to become a premium member of What's on Weibo today and gain access to all of our latest and premium content, as well as receive our exclusive Weibo Watch newsletter. If you prefer to only receive our free newsletter with an overview of the latest articles, you can
subscribe for free
here.
Would you like to become a contributor, or do you have any tips or suggestions for us? Get in touch with us here.