Didi Announces Relaunch of Hitch Carpooling, Igniting Controversy with Curfew for Women
This week, Didi announced it would allow users to 'hitch' a ride again, but the proposed curfew for female passengers stirred controversy.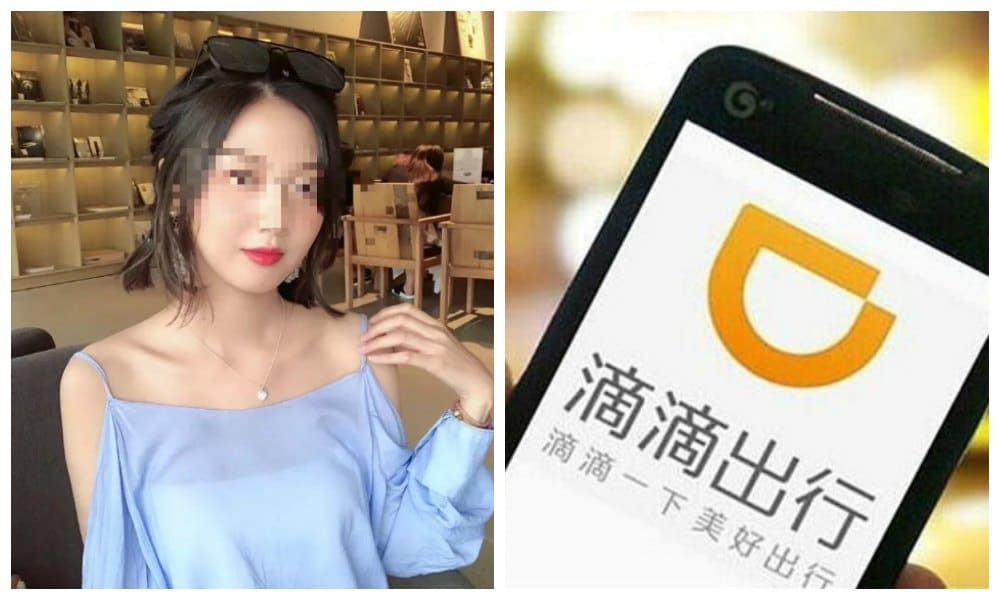 Over a year after China's most popular car-hailing company Didi Chuxing took down its carpooling service, news of its relaunch – including a curfew for female passengers – became a huge topic of debate on Chinese social media this week.
Earlier this week, Didi Chuxing (滴滴出行) announced that it would be relaunching its carpooling service Hitch (滴滴顺风车 Didi Shunfengche) on November 20 in seven trial cities.
The announcement comes after more than a year of safety overhauls and periods of public discussion following the murder of two female passengers committed by Hitch drivers in 2018.
But the new safety guidelines, which included an 8 pm curfew for female riders, drew major outrage from online commenters.
Hitch is a carpooling app where riders and drivers heading in the same direction can team up and split the cost. The two murder cases in May and August of 2018, coupled with multiple reported cases of sexual assault, led to widespread criticism that Didi does not sufficiently vet drivers and ensure the safety of its (female) riders.
In response, Didi suspended the Hitch service indefinitely in the summer of 2018 and revamped its safety protocols across the entire platform.
"Hi, long time no see," began a statement from Didi Hitch's Weibo account announcing the relaunch on November 6: "After 435 days of hard work, we developed 18 iterations, optimized 330 functions, and received 300,000 user suggestions. Finally, we decided to move forward, hoping that Hitch can shoulder our responsibilities and create value for the public."
The trial operations are set to begin in Harbin, Taiyuan, Shijiazhuang, and Changzhou on November 20 of this year, and expand to Shenyang, Beijing, and Nantong on November 29.
Didi further specified its trial operations, writing that services would be active from 5.00 in the morning until 23.00 at night, adding in between brackets that the services for women would end at 20.00 at night.
Many Weibo users were ecstatic at the news of the Hitch service starting again, but discussions were soon dominated by the question of whether or not Didi's curfew for women was a sexist measure.
"What kind of protection is limiting the movement of women?! How about please restrict the damn criminals instead, okay?" one Weibo user commented on a popular news post about the story.
"After an entire year of discussion, this is your plan??" others asked: "Sure, I agree to the rule that women cannot ride after 8 pm, as long as men are also not allowed to leave home after 8 pm."
One lawyer commented: "Stupid. Is this just a disclaimer from Didi? Self-protection? Or is it blatant discrimination against customers? In the face of a frequent and dangerous problem, rather than be concerned with prevention, protection, and response, they simply come up with strategies that refuse service to passengers."
Didi responded that both the curfew and a 50km limit placed on rides were temporary safety measures during the trial relaunch period while the company continues to improve its services, but it did not help cool down discussions. Hashtags such as "Didi Hitch's New Plan is Sex Discrimination" (#滴滴顺风车新方案被指性别歧视#) soon made their way across social media.
Besides the curfew, the relaunch announcement of Hitch also included an extensive range of other new safety features and regulations, including an entire program devoted to the safety of women. We have translated it below:
"PROTECTION PLAN FOR WOMEN"
1. Anti-single-picking mode: hide personal information and adopt a two-way confirmation mechanism to avoid the danger of drivers targeting single women.
2. Utilizing travel behavior records and other data, an algorithm will be integrated to find the most suitable fellow travelers for female users.
3. A customized "female safety assistant" includes the following features:
1 Rider can view relevant information such as the age of the car, the driver's age, and the time of the most recent facial recognition verification of the driver
2 Reminder to share your route while traveling, availability of emergency contact services, real-time location protection, and other security functions.
3 Can check trip safety information and discover whether any abnormal behavior has taken place. In the case of abnormal behavior such as route deviation and long-term stopping, the emergency contact person will be informed immediately.
4. Special protections for women's travel: long-distance trips require riders to undergo facial recognition, female users must set up emergency contacts, the driver will automatically audio record the trip (encrypted and uploaded to the platform).
5. Temporary restrictions: no cross-city trips or trips longer than 50 km will be allowed, and women will not be allowed as passengers from 8 pm to 5 am.
Although some of the new proposed policies above were met with online support*, as they were clearly designed to address the specific circumstances that led to the two murders in 2018, the curfew for women predominantly caused online anger.
Many commenters pointed out that one of the Didi murders was committed in broad daylight, not at night, which makes the curfew rule all the more confounding.
When big Weibo accounts such as the All-China's Women Federation also started commenting on the issue, Didi Hitch apparently chose to avert further controversy; on November 7, Didi announced that during the trial period of its continued operations, services for all passengers, male and female, will now be limited to 8 pm.
"That's right, we're all equal as passengers," some commented on the sudden policy change. Others, however, saw the change as a confirmation that Didi Hitch's policies were indeed sexist.
Some commenters suggested something else to supposedly ensure Didi passengers' safety: "Perhaps Didi should no longer allow male drivers to work after 8.00 pm instead."
With 2018 being Didi's toughest business year yet, this week's controversy shows that the company still has to work hard this year and in the year to come to win back its customers' trust, especially when it comes to its female passengers.
*(One of the more popular safety suggestions submitted to Didi during its period of public comment was the plan for all Hitch drivers' information to be checked through a third-party credit data provider, although it is not sure when or if this proposed measure will be realized in the future.)
Spotted a mistake or want to add something? Please let us know in comments below or email us. First time commenters, please be patient – we will have to manually approve your comment before it appears.
©2019 Whatsonweibo. All rights reserved. Do not reproduce our content without permission – you can contact us at info@whatsonweibo.com.
Chinese Comedian Li Dan under Fire for Promoting Lingerie Brand with Sexist Slogan
Underwear so good that it can "help women lie to win in the workplace"? Sexist and offensive, according to many Weibo users.
Popular talk show host and comedian Li Dan (李诞) has sparked controversy on Chinese social media this week for a statement he made while promoting female underwear brand Ubras.
The statement was "让女性轻松躺赢职场", which loosely translates to "make it easy for women to win in the workplace lying down" or "make women win over the workplace without doing anything," a slogan with which Li Dan seemed to imply that women could use their body and sex to their advantage at work. According to the underwear brand, the idea allegedly was to convey how comfortable their bras are. (The full sentence being "一个让女性躺赢职场的装备": "equipment that can help women lie to win in the workplace").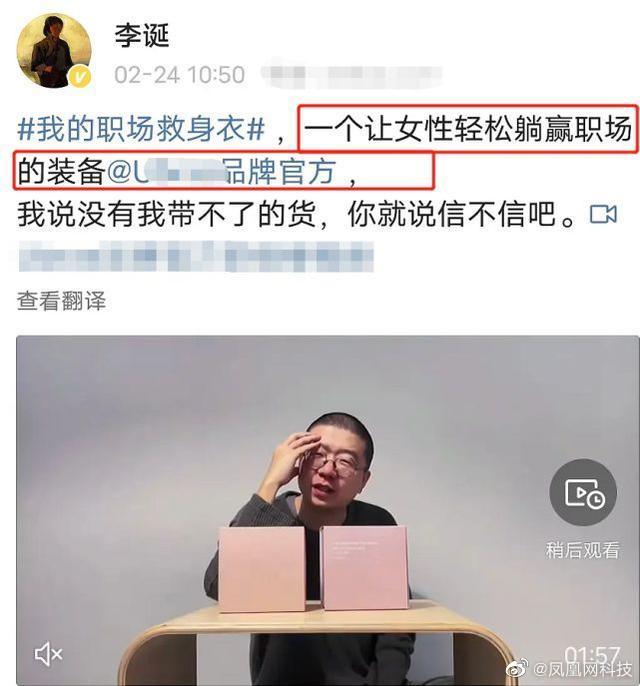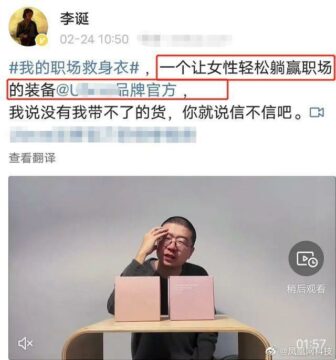 Li Dan immediately triggered anger among Chinese netizens after the controversial content was posted on his Weibo page on February 24. Not only did many people feel that it was inappropriate for a male celebrity to promote female underwear, they also took offense at the statement. What do lingerie and workplace success have to do with each other at all, many people wondered. Others also thought the wording was ambiguous on purpose, and was still meant in a sexist way.
Various state media outlets covered the incident, including the English-language Global Times.
By now, the Ubras underwear brand has issued an apology on Weibo for the "inappropriate wording" in their promotion campaign, and all related content has been removed.
The brand still suggested that the slogan was not meant in a sexist way, writing: "Ubras is a women's team-oriented brand. We've always stressed 'comfort and wearability as the essence of [our] lingerie, and we're committed to providing women with close-fitting clothing solutions that are unrestrained and more comfortable so that more women can deal with fatigue in their life and work with a more relaxed state of mind and body."
Li Dan also wrote an apology on Weibo on February 25, saying his statement was inappropriate. Li Dan has over 9 million followers on his Weibo account.
The objectification of women by brands and media has been getting more attention on Chinese social media lately. Earlier this month, the Spring Festival Gala was criticized for including jokes and sketches that were deemed insensitive to women. Last month, an ad by Purcotton also sparked controversy for showing a woman wiping away her makeup to scare off a male stalker, with many finding the ad sexist and hurtful to women.

By Manya Koetse
with contributions by Miranda Barnes
Follow @whatsonweibo
Spotted a mistake or want to add something? Please let us know in comments below or email us. First-time commenters, please be patient – we will have to manually approve your comment before it appears.
©2021 Whatsonweibo. All rights reserved. Do not reproduce our content without permission – you can contact us at info@whatsonweibo.com.
Hard Measures for Durex in China after "Vulgar" Ads
One Durex sex toy ad gave off the wrong vibrations to Chinese regulators.
As if it wasn't already bad enough that fewer people are having sex during COVID19 lockdowns, leading to a decline in condom sales, condoms & sex toys brand Durex is now also (again) punished for the "vulgar" contents of its advertisements in China.
News of Durex facing penalties in China became top trending on Thursday, with one Weibo hashtag page about the matter receiving over 1,2 billion views.
Durex has over three million fans on its official Weibo account (@杜蕾斯官方微博), which is known for its creative and sometimes bold posts, including spicy word jokes. Durex opened its official Weibo account in 2010.
A post by Durex published on Wednesday about the release of Apple's super speedy new 5G iPhone, for example, just said: "5G is very fast, but you can take it slow," adding: "Some things just can't be quick." The post received over 900,000 likes.
Other ads have also received much praise from Chinese netizens. One ad's slogan just shows a condom package, saying "Becoming a father or [image of condom] – it's all a sign of taking responsibility."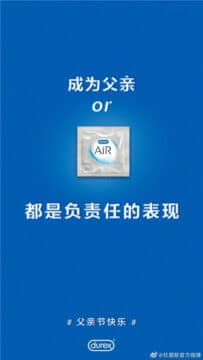 According to various Chinese news outlets, Durex has been penalized with a 810,000 yuan ($120,400) fine for failing to adhere to China's official advertisement guidelines, although it is not entirely clear to us at this point which fine was given for which advertisement, since the company received multiple fines for different ads over the past few years.
One fine was given to Durex Manufacturer RB & Manon Business (Shanghai) for content that was posted on e-commerce site Tmall, Global Times reports.
According to the state media outlet, "the ad used erotic words to describe in detail multiple ways to use a Durex vibrator." The fine was already given out in July of this year, but did not make headlines until now.
In another 2019 case, the condom brand did a joint social media campaign cooperation with Chinese milk tea brand HeyTea, using the tagline "Tonight, not a drop left," suggesting a connection between HeyTea's creamy topping and semen.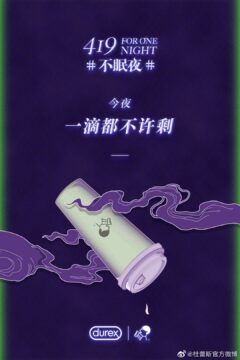 According to China's Advertisement Examination System (广告审查制度), there are quite some no-goes when it comes to advertising in China. Among many other things, ads are not allowed to be deceptive in any way, they cannot use superlatives, nor display any obscene, scary, violent or superstitious content.
Chinese regulators are serious about these rules. In 2015, P&G's Crest was fined $963,000 for "false advertising", at it promised that Crest would make your teeth whiter in "just one day."
However, advertisement censorship can be a grey area. Any ads that "disturb public order" or "violate good customs," for example, are also not allowed. For companies, it is not always clear when they are actually crossing a line.
On Weibo, there are also contrasting opinions on this matter. Many people, however, support Durex and enjoy their exciting ads and slogans. With the case dominating the top trending charts and discussions on social media the entire day, the latest penalty may very well be one of Durex's most successful marketing campaigns in China thus far.
By Manya Koetse
Follow @WhatsOnWeibo
Spotted a mistake or want to add something? Please let us know in comments below or email us. First-time commenters, please be patient – we will have to manually approve your comment before it appears.
©2020 Whatsonweibo. All rights reserved. Do not reproduce our content without permission – you can contact us at info@whatsonweibo.com.