Didi Announces Relaunch of Hitch Carpooling, Igniting Controversy with Curfew for Women
This week, Didi announced it would allow users to 'hitch' a ride again, but the proposed curfew for female passengers stirred controversy.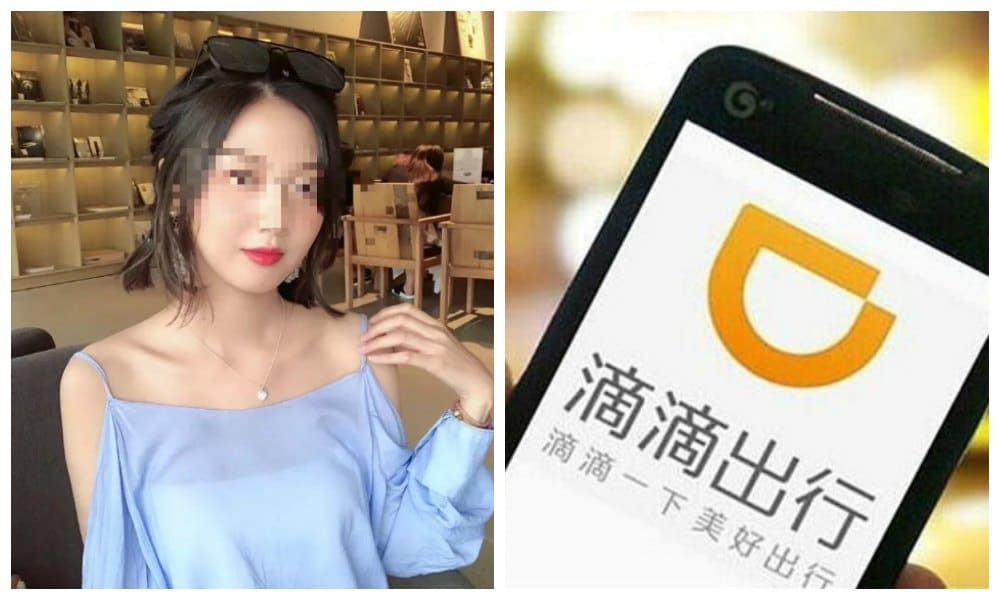 Over a year after China's most popular car-hailing company Didi Chuxing took down its carpooling service, news of its relaunch – including a curfew for female passengers – became a huge topic of debate on Chinese social media this week.
Earlier this week, Didi Chuxing (滴滴出行) announced that it would be relaunching its carpooling service Hitch (滴滴顺风车 Didi Shunfengche) on November 20 in seven trial cities.
The announcement comes after more than a year of safety overhauls and periods of public discussion following the murder of two female passengers committed by Hitch drivers in 2018.
But the new safety guidelines, which included an 8 pm curfew for female riders, drew major outrage from online commenters.
Hitch is a carpooling app where riders and drivers heading in the same direction can team up and split the cost. The two murder cases in May and August of 2018, coupled with multiple reported cases of sexual assault, led to widespread criticism that Didi does not sufficiently vet drivers and ensure the safety of its (female) riders.
In response, Didi suspended the Hitch service indefinitely in the summer of 2018 and revamped its safety protocols across the entire platform.
"Hi, long time no see," began a statement from Didi Hitch's Weibo account announcing the relaunch on November 6: "After 435 days of hard work, we developed 18 iterations, optimized 330 functions, and received 300,000 user suggestions. Finally, we decided to move forward, hoping that Hitch can shoulder our responsibilities and create value for the public."
The trial operations are set to begin in Harbin, Taiyuan, Shijiazhuang, and Changzhou on November 20 of this year, and expand to Shenyang, Beijing, and Nantong on November 29.
Didi further specified its trial operations, writing that services would be active from 5.00 in the morning until 23.00 at night, adding in between brackets that the services for women would end at 20.00 at night.
Many Weibo users were ecstatic at the news of the Hitch service starting again, but discussions were soon dominated by the question of whether or not Didi's curfew for women was a sexist measure.
"What kind of protection is limiting the movement of women?! How about please restrict the damn criminals instead, okay?" one Weibo user commented on a popular news post about the story.
"After an entire year of discussion, this is your plan??" others asked: "Sure, I agree to the rule that women cannot ride after 8 pm, as long as men are also not allowed to leave home after 8 pm."
One lawyer commented: "Stupid. Is this just a disclaimer from Didi? Self-protection? Or is it blatant discrimination against customers? In the face of a frequent and dangerous problem, rather than be concerned with prevention, protection, and response, they simply come up with strategies that refuse service to passengers."
Didi responded that both the curfew and a 50km limit placed on rides were temporary safety measures during the trial relaunch period while the company continues to improve its services, but it did not help cool down discussions. Hashtags such as "Didi Hitch's New Plan is Sex Discrimination" (#滴滴顺风车新方案被指性别歧视#) soon made their way across social media.
Besides the curfew, the relaunch announcement of Hitch also included an extensive range of other new safety features and regulations, including an entire program devoted to the safety of women. We have translated it below:
"PROTECTION PLAN FOR WOMEN"
1. Anti-single-picking mode: hide personal information and adopt a two-way confirmation mechanism to avoid the danger of drivers targeting single women.
2. Utilizing travel behavior records and other data, an algorithm will be integrated to find the most suitable fellow travelers for female users.
3. A customized "female safety assistant" includes the following features:
1 Rider can view relevant information such as the age of the car, the driver's age, and the time of the most recent facial recognition verification of the driver
2 Reminder to share your route while traveling, availability of emergency contact services, real-time location protection, and other security functions.
3 Can check trip safety information and discover whether any abnormal behavior has taken place. In the case of abnormal behavior such as route deviation and long-term stopping, the emergency contact person will be informed immediately.
4. Special protections for women's travel: long-distance trips require riders to undergo facial recognition, female users must set up emergency contacts, the driver will automatically audio record the trip (encrypted and uploaded to the platform).
5. Temporary restrictions: no cross-city trips or trips longer than 50 km will be allowed, and women will not be allowed as passengers from 8 pm to 5 am.
Although some of the new proposed policies above were met with online support*, as they were clearly designed to address the specific circumstances that led to the two murders in 2018, the curfew for women predominantly caused online anger.
Many commenters pointed out that one of the Didi murders was committed in broad daylight, not at night, which makes the curfew rule all the more confounding.
When big Weibo accounts such as the All-China's Women Federation also started commenting on the issue, Didi Hitch apparently chose to avert further controversy; on November 7, Didi announced that during the trial period of its continued operations, services for all passengers, male and female, will now be limited to 8 pm.
"That's right, we're all equal as passengers," some commented on the sudden policy change. Others, however, saw the change as a confirmation that Didi Hitch's policies were indeed sexist.
Some commenters suggested something else to supposedly ensure Didi passengers' safety: "Perhaps Didi should no longer allow male drivers to work after 8.00 pm instead."
With 2018 being Didi's toughest business year yet, this week's controversy shows that the company still has to work hard this year and in the year to come to win back its customers' trust, especially when it comes to its female passengers.
*(One of the more popular safety suggestions submitted to Didi during its period of public comment was the plan for all Hitch drivers' information to be checked through a third-party credit data provider, although it is not sure when or if this proposed measure will be realized in the future.)
Spotted a mistake or want to add something? Please let us know in comments below or email us. First time commenters, please be patient – we will have to manually approve your comment before it appears.
©2019 Whatsonweibo. All rights reserved. Do not reproduce our content without permission – you can contact us at info@whatsonweibo.com.
China's Livestreaming Queen Viya Goes Viral for Fraud and Fines, Ordered to Pay $210 Million
Viya, the Queen of Taobao, is under fire for tax evasion.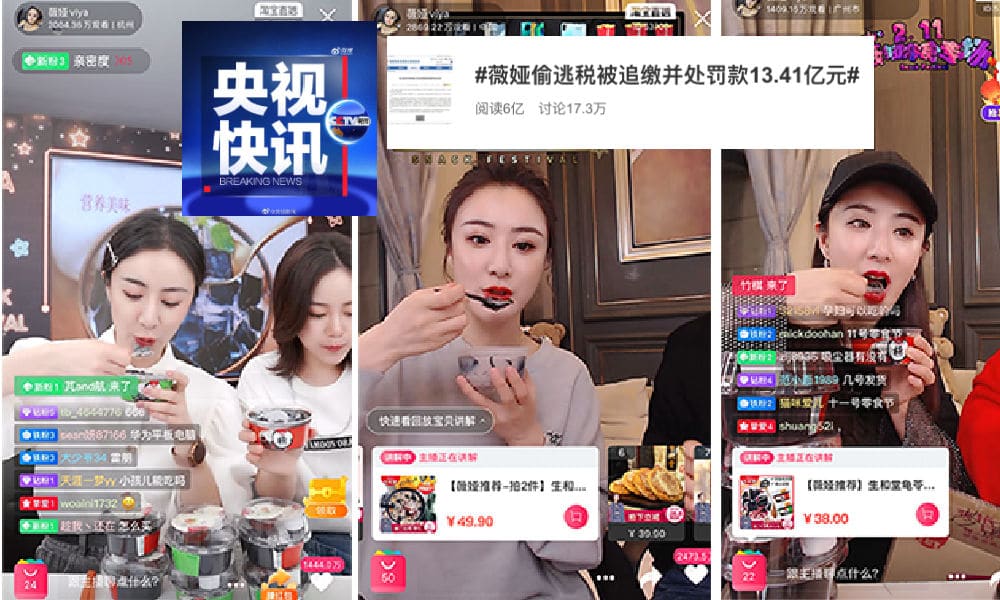 Viya, one of China's most well-known and successful live streamers, is trending today for allegedly committing tax fraud by deliberately providing false information and concealing personal income.
The 'Taobao queen' Viya (薇娅, real name Huang Wei 黄薇) reportedly committed tax fraud from 2019 to 2020, during which she evaded some 643 million yuan ($100 million) in taxes and also failed to pay an additional 60 million yuan ($9.4 million) in taxes.
The Hangzhou Tax Administration Office reportedly ordered Viya to pay an amount of over 1.3 billion yuan ($210 million) in taxes, late payment fees, and other fines. On Monday, a hashtag related to the issue had garnered over 600 million views on Weibo (#薇娅偷逃税被追缴并处罚款13.41亿元#).
Viya made headlines in English-language media earlier this year when she participated in a promotional event for Single's Day on October 20th and managed to sell 20 billion yuan ($3.1 billion) in merchandise in just one live streaming session together with e-commerce superstar Lipstick King.
China has a booming livestreaming e-commerce market, and Viya is one of the top influencers to have joined the thriving online sales industry years ago. When the e-commerce platform Taobao started their Taobao Live initiative (mixing online sales with livestreams), Viya became one of their top sellers as millions of viewers starting joining her channel every single day (she livestreams daily at 7.30 pm).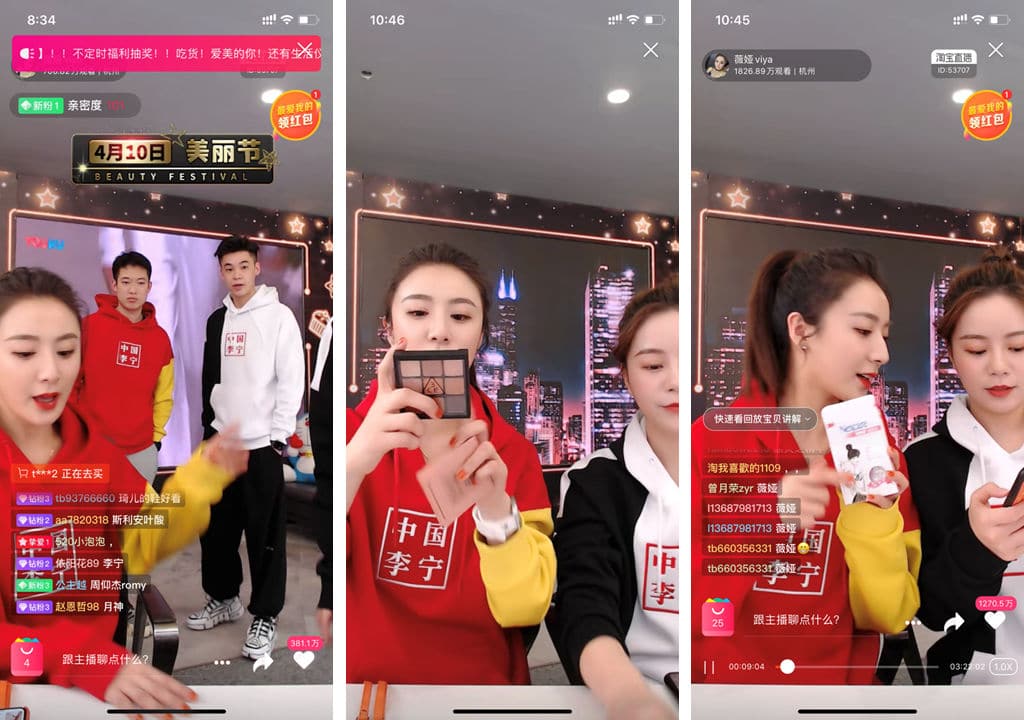 With news about Viya's tax fraud practices and enormous fines going viral on Chinese social media, many are attacking the top influencer, as her tax fraud case seems to be even bigger than that of Chinese actress Fan Bingbing (范冰冰).
Chinese actress Fan Bingbing went "missing" for months back in 2018 when she was at the center of a tax evasion scandal. The actress was ordered to pay taxes and fines worth hundreds of millions of yuan over tax evasion. The famous actress eventually paid approximately $128,5 million in taxes and fines, less than Viya was ordered to pay this month.
Like Fan Bingbing, Viya will also not be held criminally liable if the total amount is paid in time. This was the first time for the e-commerce star to be "administratively punished" for tax evasion.
Around 5pm on Monday, Viya posted a public apology on her Weibo account, saying she takes on full responsibility for the errors she made: "I was wrong, and I will bear all the consequences for my mistakes. I'm so sorry!"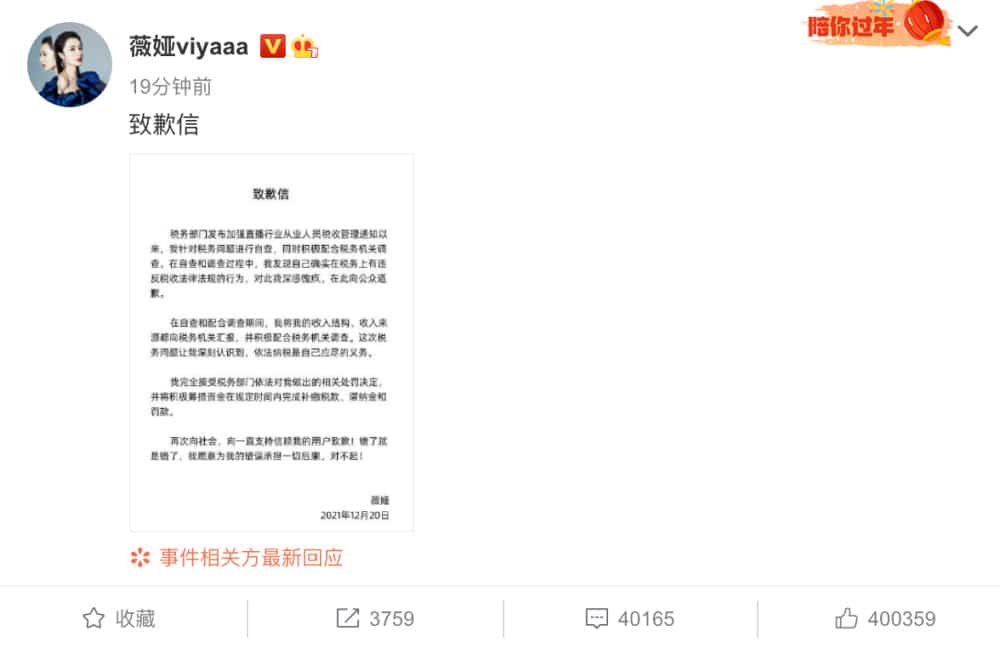 It is not clear if she will still do her daily live stream later today and how this news will impact Viya's future career.
Update: Vaya's live stream was canceled.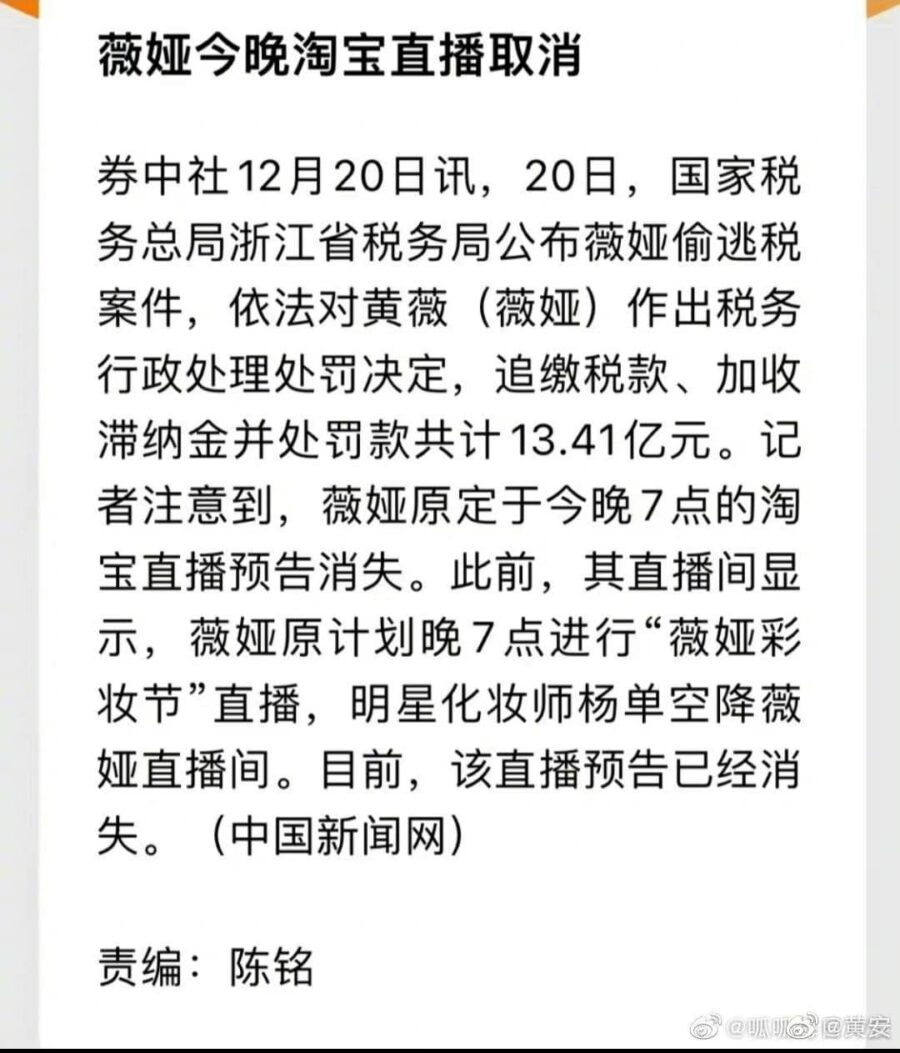 Update 2: Vaya's husband also issued an apology on Weibo.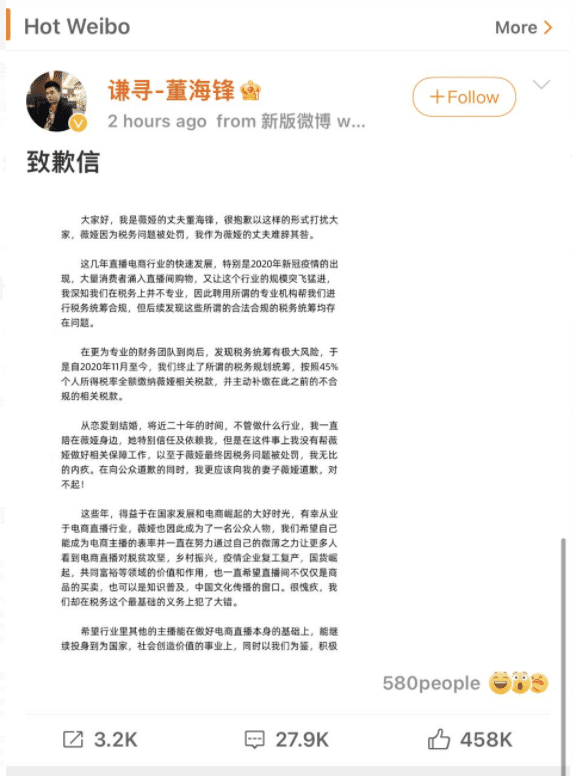 Update 3: Taobao has suspended or 'frozen' ("冻结") Vaya's livestreaming channel. Her Taobao store is still online.
By Manya Koetse
With contributions by Miranda Barnes.
Spotted a mistake or want to add something? Please let us know in comments below or email us. First-time commenters, please be patient – we will have to manually approve your comment before it appears.
©2021 Whatsonweibo. All rights reserved. Do not reproduce our content without permission – you can contact us at info@whatsonweibo.com.
Chinese Fashion Brand Peacebird Accused of Plagiarism (Again!)
The Chinese fashion brand Peacebird turns out to be a copycat.
The Chinese fashion brand Peacebird (太平鸟) is trending on Chinese social media this week for its alleged involvement in various cases of plagiarism. The brand is accused of producing exact copies of garments designed by other labels. Hashtag "Peacebird Repeatedly Accused of Plagiarism" (#太平鸟多次被控抄袭#) drew in over 230 million views on Weibo.
In late October of this year, fashion blogger and small fashion brand @SOS_SEAMSTRESS called out Peacebird on Weibo for plagiarizing one of their designs.
Besides changing the material used for the garment, the Peacebird outfit is an exact copy of the design by SOS Seamstress – even the buttons and pockets and other details are exactly the same. The price, however, is five times higher.
SOS Seamstress condemned Peacebird for claiming to have their own original fashion designs, produced by their in-house design team, while actually stealing from others and completely disregarding the rights of domestic local designers.
It is the fifth time this year that the fashion house is accused of plagiarism. Beijing Business News reported that other brands, including Mostwantedlab and Annomundi, previously also accused Peacebird of stealing their designs. In February of this year, the artist @LOONY_FACE also publicly exposed Peacebird for using his designs without his permission.
Chinese netizens have further researched other clothing brands that Peacebird allegedly plagiarized, including UNALLOYED, Moussy, Off-White, FREI, Maje, and other domestic and international brands.
Various Chinese media outlets, including Beijing Business News, call it noteworthy that Peacebird's response to these plagiarism accusations is not an apology but a simple statement that "original brands can go through legal channels." Meanwhile, the company has allegedly also taken down the designs that have been pointed out as copies.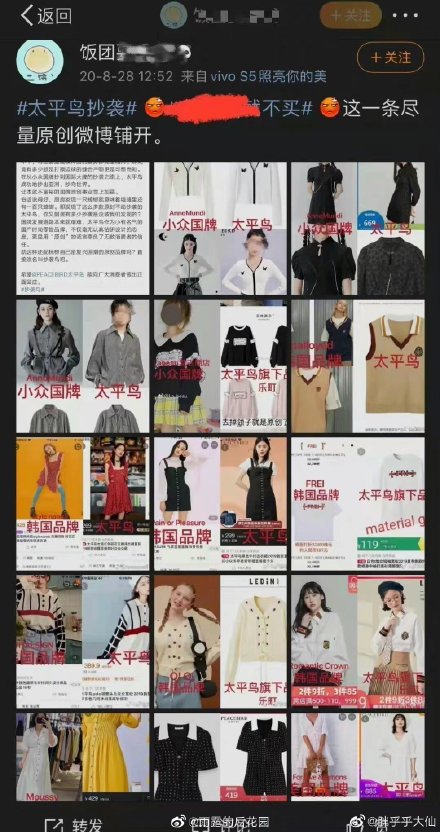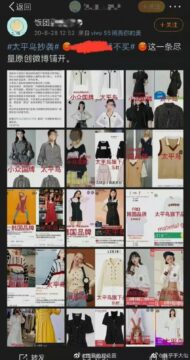 Peacebrand is a fashion retail brand established in Ningbo in 1996. The company also holds various smaller brands such as LEDIN (乐町) and Material Girl. The fashion company claims to have approximately 12,000 employees in its stores, headquarters and factories. In 2018, it made its first debut at New York Fashion Week.
Among all the people commenting on this issue, there are many who think that although 'borrowing' popular designs has always been a part of the fashion industry, doing an exact copy is uncommon and unacceptable – especially for such a large company as Peacebird. "Shameless!", multiple commenters say.
"I once bought an embroidered garment at Peacebird's, and then later saw the same design from a brand I didn't know. I thought it was copied from Peacebird, but now I think it might've been the other way around," one person writes.
"I'm shocked that the national brand Peacebird would plagiarize while waving the flag of originality," another commenter says.
"Plagiarizing one time, ok, but plagiarizing so many times and then even doing one on one copies, how can they run a business?!"
There are also those who hope that the current focus on Peacebird's alleged plagiarism will lead to more attention for smaller, original brands in China.
To read more about the recent surge in popularity of domestic brands in China, see: "Chinese Fashion First: Consumer Nationalism and 'China Chic'."
By Manya Koetse
Spotted a mistake or want to add something? Please let us know in comments below or email us. First-time commenters, please be patient – we will have to manually approve your comment before it appears.
©2021 Whatsonweibo. All rights reserved. Do not reproduce our content without permission – you can contact us at info@whatsonweibo.com.