Insights into the Social Credit System on Chinese Online Media vs Its Portrayal in Western Media
In many international media, China's nascent Social Credit System is presented as a gloomy sci-fi storyline with clickbait titles. In Chinese mass media, the story is not nearly as 'sexy'.
First published
The lurid scenario of how China's nascent Social Credit System (SCS) might unfold as presented by many international media, stands in stark contrast to how the topic is discussed on Chinese online media. Not only is the SCS discussed and presented much differently within the PRC, the topic is also not nearly getting as much attention as it does in the West.
"The year 2018 has been a crucial year in the development of China's Social Credit System (社会信用体系)," lawyer Ju (居小森律师) writes on Weibo this week.
The past year has indeed been the year of China's Social Credit System: it was an important year for the system's implementation, and it also became one of the most discussed China-related news topics in international media1 – using sci-fi vocabulary, powerful emotional words, suspenseful music, and dramatic images in their SCS-focused stories, the SCS is presented much differently in Western media than it is within the PRC.
SCS: From Google to Weibo Trends
From October 2017 to October 2018 alone, the Google search engine comes up with more than six million results in a search for the term "China social credit system" in English. Showing all results from before this time, there are 160 million results for the term in total.
Google Trends statistics show that worldwide interest in China's Social Credit System had its absolute peak in the past year, and that Black Mirror, the British science fiction series exploring the dark consequences of new technologies, is one of the terms that is most associated with the web search query 'China's social credit system.'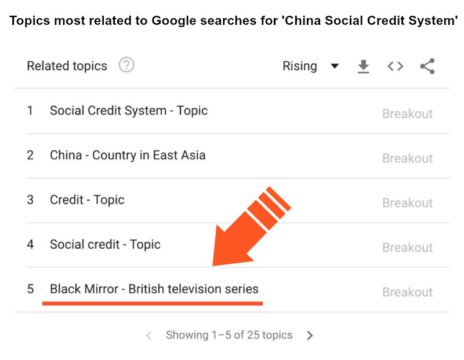 Black Mirror is a highly popular series on Netflix, of which one 2016 episode called 'Nosedive' revolved around a dystopian society where people are judged by a numeric rating given to them by their interactions with other people, affecting their opportunities in life. This episode is often connected to China's SCS by Western blogs or news sites.
The Black Mirror association with 'social credit' does not only come up on Google Trends. On Twitter, for example, some of the hashtags most related to the term also includes "#blackmirror."
In contrast to the English term, with 160 million results, the Chinese term for the social credit system (社会信用体系) comes up with only 19,2 million total search results on Google. Google Trends also shows a rather minimal interest in the Chinese term compared to its English equivalent.
Although that result is somewhat flawed (the Google search engine is blocked in mainland China), Baidu, one of China's most popular search engines, also gives a comparatively small total of 7,7 million results for the same Chinese web search query.
All in all, there are clear indications that the attention for the Chinese Social Credit System in the international English-language online media environment is much bigger than that within China.
While the Social Credit System (SCS) is being mentioned on Twitter almost every five to ten minutes at time of writing, it is only being discussed on Weibo with intervals of minimally one or two hours by posts that are barely getting likes or comments.2
This is especially noteworthy when considering that Sina Weibo has around 100 million more monthly active users (±430 million) than Twitter has (±326 million).
So what does this all mean? How come that there is so much appetite for this topic outside of China, while inside the PRC, where the 'system' is well underway, there is a lesser public interest in its development?
What Actually is the Social Credit System?
In the book Social Credit Law: Principles, Rules and Cases, author Luo Peixin explains Social Credit as follows:
"Social Credit is a management system that takes big data as its basis, is supported by technological capacities, and is backed by law [legal provisions]; it is an important modern method to forward the country's governance systems and management capabilities" (3).
Rather than one system or database, the Social Credit System is an overall policy or ideology, a mechanism of punishments and rewards, that is allegedly "meant to improve the integrity and trust level of the whole society" (creditchina.gov.cn).
In 2014, the Chinese government announced its first plans on the construction of a nationwide Social Credit System to be rolled out by 2020. For now, there is not one system in place, but rather a collection of different implementations and experiments across various regions and cities across China.
What they all have in common, though, is that individuals, corporations, or agencies are being assessed based on their 'trustworthiness' (Kostka 2018, 1).
The past summer has seen some important developments in the realization of a national Social Credit System. In the Chinese state media article "The Credit Society is Coming, Are You Ready for It?" ["信用社会来临,你准备好了吗"], People's Daily notes that new Social Credit terms such as "blacklists" (黑名单) will become more ubiquitous in daily life from now on.
Earlier this year, the first names on the 'lose trust list' (失信人名单) – meaning those who have failed in complying with their public commitments or court orders – were reported to the Chinese railway and aviation departments by the China Securities Regulatory Commission (CSRC) to block these people from traveling.
At the beginning of 2018, twelve cities have been announced as successfully laying out the foundations of a Social Credit management system.3
Other Chinese cities are frequently added to the 'credit cities' list. Dalian, for example, is one of the cities that is highlighted by Chinese media this month for "steadily advancing" its Social Credit System implementation. The city has introduced an automated administrative process at its Public Resources Trading Center, in which people who are found to have bad credit will automatically be refused the handling of business.
It is just one among dozens of examples of how various cities and regions in China are experimenting with Social Credit and both punitive and rewarding measures.
Besides the SCS initiatives being implemented by local governments, commercial companies are also participating in making China a more credit-based society. Users who opt in to Alibaba's Sesame Credit loyalty program system, for example, can enjoy many benefits if they have a good credit score (650+), such as borrowing books from the local library for free, or using share bikes without deposit (more on Sesame Credit and its perks here).
According to Weibo user 'Lawyer Ju', the broad credit system "covers both economic credit systems and social integrity systems," within which the blacklist system is getting "more and more important", adding that "the joint structure of 'lose trust in one place, and there's no place to go' [一处失信、处处受限] will soon be here."
Weibo Focus: No Bad Deed Should Go Unpunished
Lawyer Ju is not the only Weibo user who seems rather optimistic and happy about the implementation of a system that governs society based on trust.
Although major discussions on the actual 'Social Credit System' – using that exact term (社会信用体系) – are practically non-existent on Weibo, there are other examples of trending topics linked to the system that have gone viral lately.
One noteworthy example is the topic of two 'Train Tyrants' that went trending on Chinese social media since August of this year.
It all started with the "Highspeed Train Tyrant" (高铁霸座男) in September. It is a nickname that was given to a man who refused to give up the seat he took from another passenger on the G334 express train to Beijing in late August, and whose bizarre and rude behavior was caught on video.
The other train bully that went viral in September, is a woman from Hunan who was dubbed 'High-Speed Train Tyrant Woman' (高铁霸座女) by Weibo netizens.
She had taken a seat assigned to another passenger while riding the train from Yongzhou to Shenzhen. A video (YouTube link here) shows how the woman makes a scene when the train conductor tells her she is in the wrong seat; she refuses to get up, raises her voice, talks rudely to the conductor, and simply claims she has bought a ticket and will not change to another seat until she has reached her final destination.
With more than 600 million combined views on the stories of the highspeed 'Train Tyrants', making them one of the bigger news stories of the year, the unruly behavior of passengers on Chinese public transport system made headlines. When news came out that both 'bullies' were fined and blacklisted by the Chinese railways (banning them from boarding trains for 180 days, see this article by Jeremy Daum for more on the legal aspects), many commenters applauded the system – although some deemed it not punitive enough ("180 days and a 200 yuan [$28] fine is nothing!").
Although this case concerned a Railway-specific blacklist, many people commented that this blacklisting system should also be applied to people disturbing the order in hospitals, for example, and that it should be linked with the nationwide Social Credit System.
Moreover, many deemed that the Social Credit System should be even more punitive to people disturbing the public order, saying they "only had themselves to blame" ("咎由自取"), and it is a mere matter of "how karma works."
Twitter Focus: China's Scary Social Credit System
Meanwhile, on Twitter, a very different Social Credit story is going viral. A two-minute short video published by the Economist on October 26 titled "How Does China's Social Credit System Work?" has more than 275,000 views on Twitter alone at time of writing (Update 23.00 China time: Economist has removed the video within hours after this article was posted).
Accompanied by suspenseful music, the video starts by captioning that by 2020, "the Chinese government will give all 1.4bn of its citizens a personal score based on how they behave."
It further alleges that the 'system' will "track people's activities on the Internet," and that "what they buy, view, and say online will all be analysed," followed by the claim that "this data will then be evaluated and distilled into a single number according to rules set by the government."
The Economist video then focuses on surveillance cameras "that track people's behavior in public", suggesting that someone's "score" could be lowered by crossing a red light, and that 12 million people have already been "punished for having a low score" through domestic travel bans.
Among thousands of reactions on the video, many compared China to an "Orwellian surveillance state" or a "Black Mirror episode."
This recent Economist video is but one of dozens of examples of international media outlets describing China's Social Credit System within a certain framework, mainly linking it to terms such as 'punishment,' 'surveillance,' and 'individual scores.'
Many of these news stories suggest that every Chinese citizen will be assigned a 'score', or that people's mere way behaving in public will be able to lower that 'score', resulting in 'punishment' (FYI: there is no indication that there will be one 'score' for citizens in a nationwide SCS, also see this article).
These stories are often grossly conflating the (optional) commercial credit systems, such as Sesame Credit, with national government policies and local experiments. (For more about this, also check this article).
Dramatically Different Approaches
By just comparing the previously mentioned examples of the Train Tyrant viral story in China, and the Economist viral video, one can get a glimpse of the great gap in (social) media approaches of the Social Credit System in China and in Western media.4
In the international media headlines, powerful emotional words like 'chilling', 'creepy', or 'dystopian' are often used. Perhaps not coincidentally, marketers since long know that readers react more strongly to 'alert words' that make us feel anxious, such as 'afraid', 'scare', 'risk', and 'alarm' – which are all great words to get more engagement with social media users, and thus will result in more clicks.
As 'sexy' as the SCS might seem in Western media, as 'dry' it can seem in the Chinese media context, where the most powerful words used in headlines are terms as 'trust', 'harmony' or 'blacklist', and where there are no dramatic images; occasionally there is a featured photo of officials having a meeting (to see more on how state media propagates the SCS through cartoons, click here).
This difference in the framing of SCS between Western publications and Chinese articles can also be seen in the specific words used in SCS-focused news stories.
The word clouds below show the most used words in three typical SCS articles from Western mainstream media (Independent, Guardian, and ABC), and three typical English-language Chinese state media articles on SCS (namely Global Times, Xinhua, and China Daily ).
While there are many words overlapping between the two examples, the most-used words in these Western media sources (left) are words as 'system', 'list', 'citizen', 'behaviour', 'score', and 'government', whereas the Chinese state media sources (right) more commonly use words as 'business', 'law', 'market', and 'build.'
Doing the same experiment with Chinese-language state media articles on the SCS (Sina News, People's Daily, and Guangming Daily) shows that 'trust' or 'credit' (信用) and 'building' (建设) are among the most-used words, with terms such as 'enjoy together', 'cooperate', or 'unite' frequently popping up.
The different public attitude towards the SCS implementation in China versus the Western media discourse on the issue, is also illustrated in a recent study by Genia Kostka (2018), that investigates Chinese citizens' attitudes towards social credit systems. Rather than thinking of it as a 'creepy' or 'dystopian' system, it showed that SCSs actually have very high levels of approval across the respondent groups in the study (her work can be viewed here).
Social Credit Accounts without Followers
Ever since the 2014 plans of China's Social Credit implementation were announced, Chinese social media has seen dozens of regional, urban, district-based 'Social Credit' accounts pop up on Weibo and WeChat to inform netizens of local developments.
The online presence of these local social credit programmes signals that Weibo and Wechat may have hundreds of these accounts in the future informing citizens/netizens of new measures and guidelines.
However, the fanbase numbers of these accounts, again, reflect that there does not seem to be that much interest for the nascent SCS implementations.
A brief overview of some of these Weibo accounts:
* Credit Suzhou @苏州工业园区信用平台
Followers: 391
First post on record: September 29, 2015
* Liaoning Credit @信用辽宁
Followers at time of writing: 764
First post on record: August 1, 2012
* Wuhu Credit
@信用芜湖
Followers at time of writing: 14
First post on record: August 22, 2016
* Beijing City Social Credit Building Promotional Association @北京市社会公信建设促进会
Followers at time of writing: 14913
First post on record: September 17, 2014
* China Trustworthy Guangzhou @中国诚信广州
Followers at time of writing: 383
First post on record: June 20, 2012
* Honest Suqian @诚信宿迁
Followers at time of writing: 21
First post on record: September 9, 2014
With more than 24,000 followers, the Weibo account of commercial credit system Sesame Credit (@芝麻信用) is much more popular than the government-related management programmes.
Perhaps the topic of SCS, for many Chinese, is lacking the 'Black Mirror' appeal it has for many Western consumers of news. Perhaps 'harmony' and 'trust' are not as click-worthy as 'creepy' and 'dystopian'?
On Weibo, Lawyer Ju is confident in the future of SCS in China: "Whether it's from a social, corporate, or individual perspective," he writes: "'trust' is now everywhere; it's become a necessary 'virtual asset.' The gradual improvement of the construction of a legal credit system is the fundamental policy in order to regulate the market economy."
Although his message is sound and clear, it is perhaps also somewhat boring and dry: it has not received any likes or shares to date. Meanwhile, on Twitter, the Economist's suspenseful video on China's grim SCS future has received more than 280,000 views, and counting. "Oh my god!", one popular reply to the video says: "This is just like that Black Mirror episode!"
(Update 23.00 China time: Economist has removed the video within hours after this article was posted).
By Manya Koetse
Follow @whatsonweibo
1 This article talks about 'international' or 'Western' media to show a clear difference from Chinese media. Although the term can be understood in many ways, we mean it here to address mainstream English-language (news) sources of media outlets from mainly the US, Europe, and Australia.
2 Please note that there is currently no reason to assume that discussions of this specific topic are being censored: censorship scanning sites such as Free Weibo show no signs that posts using the term are specifically targeted, and state media and local governments are actually trying to start up discussions on this topic, as I will briefly touch upon later on in this article.
3 Namely Hangzhou, Nanjing, Xiamen, Chengdu, Suzhou, Suqian, Huizhou, Wenzhou, Weihai, Weifang, Yiwu, and Rongcheng.
4 Note that these are just small examples within a big and complicated discourse that has more sides to it than this article allows to zoom in on.
References
Kostka, Genia. 2018. "China's Social Credit Systems and Public Opinion: Explaining High Levels of Approval" SSRN, July 23. Available at https://ssrn.com/abstract=3215138 or http://dx.doi.org/10.2139/ssrn.3215138 [29.10.18].
Luo Peixin 罗培新. 2018. Social Credit Law: Principles, Rules and Cases [社会信用法:原理、规则、案例]. Beijing: Peking University Press.
People's Daily. 2018. "Observing the Social Credit System: The Credit Society is Coming, Are You Ready for It? [观察社会信用体系:信用社会来临,你准备好了吗]." Xinhua June 4. Available online at http://www.xinhuanet.com/2018-06/04/c_1122931164.htm [29.10.18].
Directly support Manya Koetse. By supporting this author you make future articles possible and help the maintenance and independence of this site. Donate directly through Paypal here. Also check out the What's on Weibo donations page for donations through creditcard & WeChat and for more information.
Spotted a mistake or want to add something? Please let us know in comments below or email us.
©2018 Whatsonweibo. All rights reserved. Do not reproduce our content without permission – you can contact us at info@whatsonweibo.com
Summer Censorship: Weibo Launches "Project Sky Blue"
No hot summer on Weibo: the social media network announces extra censorship on 'vulgar content.'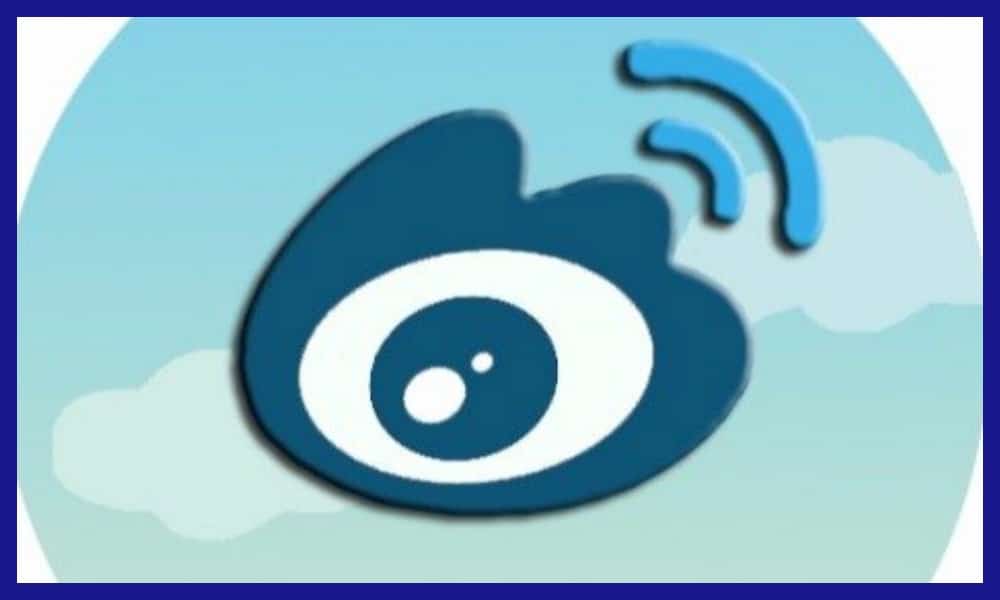 Earlier this week, the administration of Sina Weibo announced a special summer holiday crackdown on "vulgar content," including "pornographic novels, erotic anime, pictures or videos."
In a public announcement that was posted on July 4th, the Weibo administration writes that the primary goal of this campaign is to "create a healthier, more positive environment for underage users" during the summer break period.
The censorship plan is titled "Project Deep Blue" (or: "Project Sky Blue") (蔚蓝计划), and will use filter systems, human moderators and user reports to censor more content for the upcoming two months.
The project even has its own Weibo account now, where Weibo users can ask questions, report inappropriate content, and get more information on the campaign.
Weibo states it will further expand its team of online content supervisors, and also explicitly encourages netizens to flag 'inappropriate' content to make the online community 'more wholesome.'
The hashtag #ProjectDeepBlue (#蔚蓝计划#) topped the hot search lists on Weibo this week; not necessarily because of the topic's popularity, but because it was placed there by the social media site's administration. At time of writing, the hashtag page has attracted more than 180 million views.
Online responses to the summer censorship program are mixed: many commenters voice their support for the latest measure, while others express frustration.
One Weibo user from Hubei calls the latest measure "hypocritical," arguing that minors surf Weibo just as much during school time as during the summer holiday – suggesting that launching a special censorship program for the summer vacation does not make sense at all.
But many popular comments are in favor of the project, saying: "I support Project Deep Blue, the internet needs to be cleaned up," and: "China's young people need to be protected."
This is not the first time Weibo launches a special intensified censorship program. Throughout the years, it has repeatedly carried out 'anti-pornography' campaigns in cooperation with Chinese cyberspace authorities.
Often, the crusade against 'vulgar' content also ends up being used for the purpose of censoring political content rather than to actually eradicate 'obscenities' (read more).
By now, it seems that many Weibo users are quite actively using the Project Deep Blue tag to report on other users who are posting violent or vulgar content.
"If you're not careful, you're hit with vulgar and obscene content the moment you're on the internet," well-known mom blogger Humapanpan (@虎妈潘潘) writes: "Now that the summer holiday is coming, I hope we can join the Project Deep Blue, and clean up the internet environment.  Actively report obscene content the moment you see it – let's protect our future together."
By Skylar Xu & Manya Koetse
Spotted a mistake or want to add something? Please let us know in comments below or email us. Please note that your comment below will need to be manually approved if you're a first-time poster here.
©2019 Whatsonweibo. All rights reserved. Do not reproduce our content without permission – you can contact us at info@whatsonweibo.com
Faking Street Photography: Why Staged "Street Snaps" Are All the Rage in China
Staged street photography is the latest "15 minutes of fame" trend on Chinese social media.
It looks as if they are spontaneously photographed or filmed by one of China's many street photographers, but it is actually staged. Chinese online influencers – or the companies behind them – are using street photography as part of their social media strategy. And then there are those who are mocking them.
Recently a new trend has popped up on Chinese social media: people posting short videos on their accounts that create the impression that they are being spotted by street fashion photographers. Some look at the camera in a shy way, others turn away, then there are those who smile and cheekily stick out their tongue at the camera.
Although it may appear to be all spontaneous, these people – mostly women – are actually not randomly being caught on camera by one of China's many street fashion photographers in trendy neighborhoods. They have organized this 'fashion shoot' themselves, often showing off their funny poses and special moves, from backward flips to splits, to attract more attention (see example in video embedded below).
These are some examples of the "pretending to be spontaneously spotted by street fashion photographer so gotta do something funny" phenomenon: pic.twitter.com/OUMhGaFG6W

— Manya Koetse (@manyapan) 25 juni 2019
In doing so, these self-made models are gaining more fans on their Weibo, Douyin, Xiaohongshu, or WeChat accounts, and are turning their social media apps into their very own stage.
Street Photography in Sanlitun
The real street photography trend has been ongoing in China for years, near trendy areas such as Hangzhou's Yintai shopping mall, or Chengdu's Taikoo Li.
One place that is especially known for its many street photographers is Beijing's see-and-be-seen Sanlitun area, where photographers have since long been gathering around the Apple or Uniqlo stores with their big lens cameras to capture people walking by and their trendy fashion.
A few years ago, Thatsmag featured an article discussing this phenomenon, asking: "Who are these guys and what are they doing with their photos?"
Author Dominique Wong found that many of these people are older men, amateur photographers, who are simply snapping photos of attractive, fashionable, and unique-looking people as their hobby.
But there are also those who are working for street fashion blogs or style magazines such as P1, and are actually making money with their street snaps capturing China's latest fashion trends.
People featured in these street snaps can sometimes go viral and become internet celebrities (网红). One of China's most famous examples of a street photographed internet celebrity is "Brother Sharp."
It's been ten years since "Brother Sharp" (犀利哥), a homeless man from Ningbo, became an online hit in China for his fashionable and handsome appearance, after his street snap went trending on the Chinese internet.
Staged Street Scenes
But what if nobody's snapping your pics and you want to go viral with your "Oh, I am being spotted by street fashion photographers" video? By setting up their own "street snap" shoots, online influencers take matters into their own hands.
It is not just individuals who are setting up these shoots; there are also companies and brands that do so in order to make their (fashion) products more famous. According to People's Daily, in Hangzhou alone, there are over 200 photographers for such "street snaps" and hundreds of thousands of models for such "performances."
The photographers can, supposedly, earn about 20,000 to 30,000 yuan ($2,890-$4,335) per day and the models are well paid.
In this way, the "street snap performance" phenomenon is somewhat similar to another trend that especially became apparent in China around 2015-2016, namely that of 'bystander videos' capturing a public scene. Although these videos seem to be real, there are actually staged.
One such example happened in 2017 when a video went viral of a young woman being scolded on a Beijing subway for wearing a revealing cosplay outfit.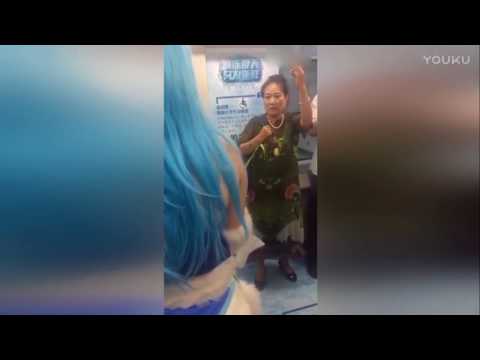 The story attracted much attention on social media at the time, with many netizens siding with the young woman and praising her for responding coolly although the woman was attacking her. Later, the whole scene turned out to be staged with the purpose of generating more attention for the ad of a "cool" food delivery platform behind the older lady.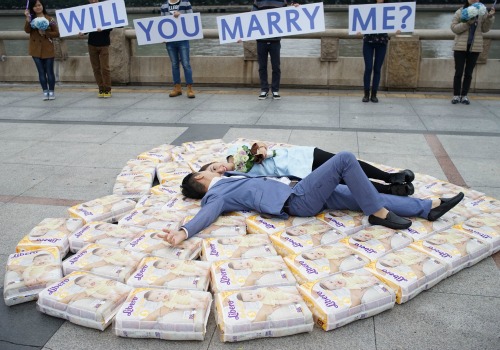 In 2015, photos of a 'romantic proposal' made its rounds on social media when a young man asked his pregnant girlfriend to marry him using over 50 packs of diapers in the shape of a giant heart. One bag of diapers carried a diamond ring inside. It was later said the scene was sponsored by Libero Diapers.
Wanghong Economy
Both the latest street snap trend and the staged video trend are all part of China's so-called "Wanghong economy." Wǎnghóng (网红) is the Chinese term for internet celebrities, KOL (Key Opinion Leader) or 'influencer.' Influencer marketing is hot and booming in China: in 2018, the industry was estimated to be worth some $17.16 billion.
Being a wanghong is lucrative business: the more views, clicks, and fans one has, the more profit they can make through e-commerce and online advertising.
Using Chinese KOLs to boost brands can be an attractive option for advertisers, since their social media accounts have a huge fanbase. Prices vary on the amount of fans the 'influencer' has. In 2015, for example, the Chinese stylist Xiao P already charged RMB 76,000 ($11,060) for a one-time product mention on his Weibo account (36 million fans).
According to the "KOL budget Calculator" by marketing platform PARKLU, a single sponsored post on the Weibo account of a famous influencer will cost around RMB 60,000 ($8730).
The current staged street snap hype is interesting for various online media businesses in multiple ways. On short video app Douyin, for example, the hugely popular street snap videos come with a link that allows app users to purchase the exact same outfits as the girls in the videos.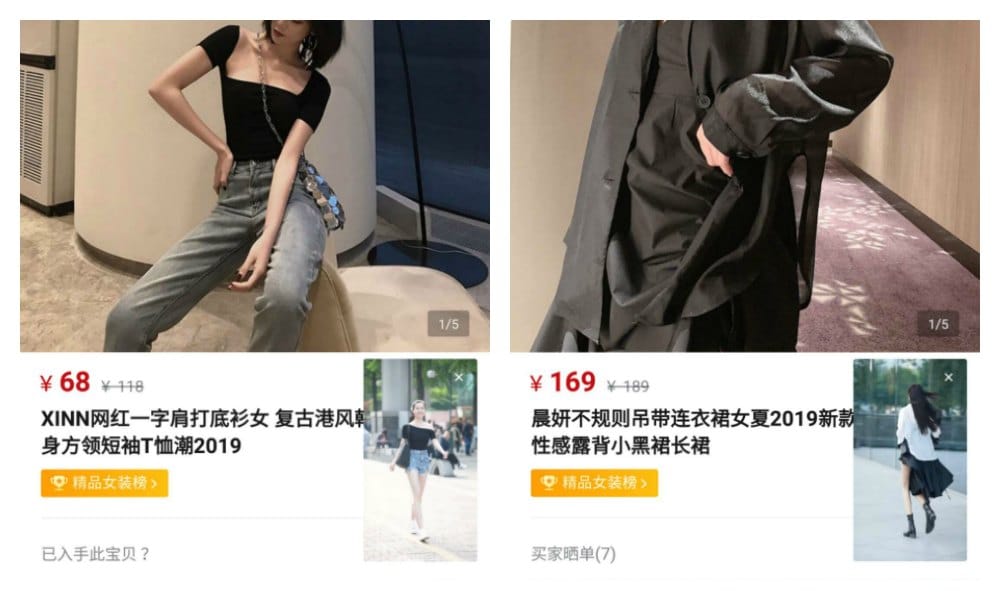 Perhaps unsurprisingly, an online survey by Tencent found that 54% of college-age respondents had the ambition to become an "online celebrity."
Making Non-Fashion Fashion: The Farm Field as a Catwalk
Although becoming an actual online celebrity used to be a far-fetched dream for many Chinese netizens, the latest staged-street-snap trend creates the possibility for people to experience their "15 minutes of fame" online.
Just as in previous online trends such as the Flaunt Your Wealth Challenge or A4 Waist Challenge, you see that many people soon participate in them, and that they are then followed by an "anti-movement" of people making fun of the trend or using it to promote a different social point-of-view.
The 2018 "Flaunt Your Wealth" challenge, for example, in which Chinese influencers shared pictures of themselves falling out of their cars with their expensive possessions all around them, was followed by an Anti-Flaunt Your Wealth movement, in which ordinary people mocked the challenge by showing themselves on the floor with their diplomas, military credentials, painting tools, or study books around them.
In case of the (staged) "Fashion Street Photography" movement, that now has over 103 million views on Weibo (#全国时尚街拍大赏# and #街拍艺术行为大赏#), you can also see that many people have started to mock it.
"I find [this trend] so embarrassing that I want to toss my phone away, yet I can't help but watch it," one Weibo user (@十一点半关手机) writes, with others agreeing, saying: "This is all so awkward, it just makes my skin crawl."
The anti-trend answer to the staged street shoot hype now is that people are also pretending to be doing such a street snap, but ridiculing it by making over-the-top movements, doing it in 'uncool' places, wearing basic clothing, or setting up a funny situation (see embedded tweet below).
And then this is other example (there are many) of people mocking this pretending-to-be-spotted-by-street-photographers trend pic.twitter.com/2WBP3F326l

— Manya Koetse (@manyapan) 25 juni 2019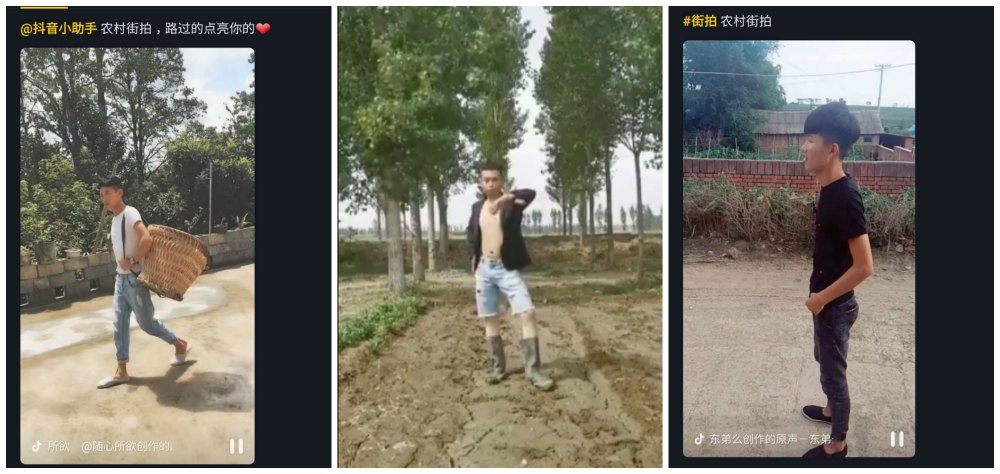 Some of these short videos show 'models' walking in a rural area, pretending to be photographed by a 'street fashion photographer' – it's an anti-trend that's become a trend in itself (see videos in embedded tweets below).
There's a recent Chinese social media trend of people mocking the wannabe cool Sanlitun rich kids who are walking the streets like it's their catwalk while pretending to be spotted by street photographers. It's always the anti-cool people who are actually the coolest..👇👏 pic.twitter.com/LnEOEdyzRE

— Manya Koetse (@manyapan) 24 juni 2019
Although this 'anti-trend' is meant in a mocking way, it is sometimes also a form of self-expression for young people for whom the Sanlitun-wannabe-models life is an extravagant and sometimes unattainable one.
More: pic.twitter.com/WpcDepTcYe

— Manya Koetse (@manyapan) 24 juni 2019
They don't need trendy streets and Chanel bags to pretend to be models: even the farm field can be their catwalk.
In the end, the anti-trend "models" on Chinese social media are arguably much cooler than the influencers pretending to be photographed. Not only do they convey a sense of authenticity, they also have something else that matters the most in order to be truly cool and attractive: a sense of humor.
Also read: From Mountains of Taishan to Faces of Amsterdam – Interview with Street Photographer Jimmy on the Run
Also read: Beijing Close-Up: Photographer Tom Selmon Crosses the Borders of Gender in China
By Manya Koetse
Follow @whatsonweibo
Spotted a mistake or want to add something? Please let us know in comments below or email us. Please note that your comment below will need to be manually approved if you're a first-time poster here.
©2019 Whatsonweibo. All rights reserved. Do not reproduce our content without permission – you can contact us at info@whatsonweibo.com