Insights into the Social Credit System on Chinese Online Media vs Its Portrayal in Western Media
In many international media, China's nascent Social Credit System is presented as a gloomy sci-fi storyline with clickbait titles. In Chinese mass media, the story is not nearly as 'sexy'.
First published
The lurid scenario of how China's nascent Social Credit System (SCS) might unfold as presented by many international media, stands in stark contrast to how the topic is discussed on Chinese online media. Not only is the SCS discussed and presented much differently within the PRC, the topic is also not nearly getting as much attention as it does in the West.
"The year 2018 has been a crucial year in the development of China's Social Credit System (社会信用体系)," lawyer Ju (居小森律师) writes on Weibo this week.
The past year has indeed been the year of China's Social Credit System: it was an important year for the system's implementation, and it also became one of the most discussed China-related news topics in international media1 – using sci-fi vocabulary, powerful emotional words, suspenseful music, and dramatic images in their SCS-focused stories, the SCS is presented much differently in Western media than it is within the PRC.
SCS: From Google to Weibo Trends
From October 2017 to October 2018 alone, the Google search engine comes up with more than six million results in a search for the term "China social credit system" in English. Showing all results from before this time, there are 160 million results for the term in total.
Google Trends statistics show that worldwide interest in China's Social Credit System had its absolute peak in the past year, and that Black Mirror, the British science fiction series exploring the dark consequences of new technologies, is one of the terms that is most associated with the web search query 'China's social credit system.'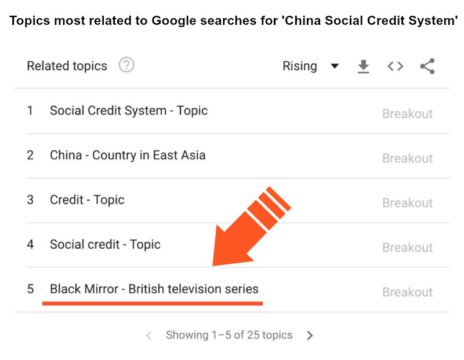 Black Mirror is a highly popular series on Netflix, of which one 2016 episode called 'Nosedive' revolved around a dystopian society where people are judged by a numeric rating given to them by their interactions with other people, affecting their opportunities in life. This episode is often connected to China's SCS by Western blogs or news sites.
The Black Mirror association with 'social credit' does not only come up on Google Trends. On Twitter, for example, some of the hashtags most related to the term also includes "#blackmirror."
In contrast to the English term, with 160 million results, the Chinese term for the social credit system (社会信用体系) comes up with only 19,2 million total search results on Google. Google Trends also shows a rather minimal interest in the Chinese term compared to its English equivalent.
Although that result is somewhat flawed (the Google search engine is blocked in mainland China), Baidu, one of China's most popular search engines, also gives a comparatively small total of 7,7 million results for the same Chinese web search query.
All in all, there are clear indications that the attention for the Chinese Social Credit System in the international English-language online media environment is much bigger than that within China.
While the Social Credit System (SCS) is being mentioned on Twitter almost every five to ten minutes at time of writing, it is only being discussed on Weibo with intervals of minimally one or two hours by posts that are barely getting likes or comments.2
This is especially noteworthy when considering that Sina Weibo has around 100 million more monthly active users (±430 million) than Twitter has (±326 million).
So what does this all mean? How come that there is so much appetite for this topic outside of China, while inside the PRC, where the 'system' is well underway, there is a lesser public interest in its development?
What Actually is the Social Credit System?
In the book Social Credit Law: Principles, Rules and Cases, author Luo Peixin explains Social Credit as follows:
"Social Credit is a management system that takes big data as its basis, is supported by technological capacities, and is backed by law [legal provisions]; it is an important modern method to forward the country's governance systems and management capabilities" (3).
Rather than one system or database, the Social Credit System is an overall policy or ideology, a mechanism of punishments and rewards, that is allegedly "meant to improve the integrity and trust level of the whole society" (creditchina.gov.cn).
In 2014, the Chinese government announced its first plans on the construction of a nationwide Social Credit System to be rolled out by 2020. For now, there is not one system in place, but rather a collection of different implementations and experiments across various regions and cities across China.
What they all have in common, though, is that individuals, corporations, or agencies are being assessed based on their 'trustworthiness' (Kostka 2018, 1).
The past summer has seen some important developments in the realization of a national Social Credit System. In the Chinese state media article "The Credit Society is Coming, Are You Ready for It?" ["信用社会来临,你准备好了吗"], People's Daily notes that new Social Credit terms such as "blacklists" (黑名单) will become more ubiquitous in daily life from now on.
Earlier this year, the first names on the 'lose trust list' (失信人名单) – meaning those who have failed in complying with their public commitments or court orders – were reported to the Chinese railway and aviation departments by the China Securities Regulatory Commission (CSRC) to block these people from traveling.
At the beginning of 2018, twelve cities have been announced as successfully laying out the foundations of a Social Credit management system.3
Other Chinese cities are frequently added to the 'credit cities' list. Dalian, for example, is one of the cities that is highlighted by Chinese media this month for "steadily advancing" its Social Credit System implementation. The city has introduced an automated administrative process at its Public Resources Trading Center, in which people who are found to have bad credit will automatically be refused the handling of business.
It is just one among dozens of examples of how various cities and regions in China are experimenting with Social Credit and both punitive and rewarding measures.
Besides the SCS initiatives being implemented by local governments, commercial companies are also participating in making China a more credit-based society. Users who opt in to Alibaba's Sesame Credit loyalty program system, for example, can enjoy many benefits if they have a good credit score (650+), such as borrowing books from the local library for free, or using share bikes without deposit (more on Sesame Credit and its perks here).
According to Weibo user 'Lawyer Ju', the broad credit system "covers both economic credit systems and social integrity systems," within which the blacklist system is getting "more and more important", adding that "the joint structure of 'lose trust in one place, and there's no place to go' [一处失信、处处受限] will soon be here."
Weibo Focus: No Bad Deed Should Go Unpunished
Lawyer Ju is not the only Weibo user who seems rather optimistic and happy about the implementation of a system that governs society based on trust.
Although major discussions on the actual 'Social Credit System' – using that exact term (社会信用体系) – are practically non-existent on Weibo, there are other examples of trending topics linked to the system that have gone viral lately.
One noteworthy example is the topic of two 'Train Tyrants' that went trending on Chinese social media since August of this year.
It all started with the "Highspeed Train Tyrant" (高铁霸座男) in September. It is a nickname that was given to a man who refused to give up the seat he took from another passenger on the G334 express train to Beijing in late August, and whose bizarre and rude behavior was caught on video.
The other train bully that went viral in September, is a woman from Hunan who was dubbed 'High-Speed Train Tyrant Woman' (高铁霸座女) by Weibo netizens.
She had taken a seat assigned to another passenger while riding the train from Yongzhou to Shenzhen. A video (YouTube link here) shows how the woman makes a scene when the train conductor tells her she is in the wrong seat; she refuses to get up, raises her voice, talks rudely to the conductor, and simply claims she has bought a ticket and will not change to another seat until she has reached her final destination.
With more than 600 million combined views on the stories of the highspeed 'Train Tyrants', making them one of the bigger news stories of the year, the unruly behavior of passengers on Chinese public transport system made headlines. When news came out that both 'bullies' were fined and blacklisted by the Chinese railways (banning them from boarding trains for 180 days, see this article by Jeremy Daum for more on the legal aspects), many commenters applauded the system – although some deemed it not punitive enough ("180 days and a 200 yuan [$28] fine is nothing!").
Although this case concerned a Railway-specific blacklist, many people commented that this blacklisting system should also be applied to people disturbing the order in hospitals, for example, and that it should be linked with the nationwide Social Credit System.
Moreover, many deemed that the Social Credit System should be even more punitive to people disturbing the public order, saying they "only had themselves to blame" ("咎由自取"), and it is a mere matter of "how karma works."
Twitter Focus: China's Scary Social Credit System
Meanwhile, on Twitter, a very different Social Credit story is going viral. A two-minute short video published by the Economist on October 26 titled "How Does China's Social Credit System Work?" has more than 275,000 views on Twitter alone at time of writing (Update 23.00 China time: Economist has removed the video within hours after this article was posted).
Accompanied by suspenseful music, the video starts by captioning that by 2020, "the Chinese government will give all 1.4bn of its citizens a personal score based on how they behave."
It further alleges that the 'system' will "track people's activities on the Internet," and that "what they buy, view, and say online will all be analysed," followed by the claim that "this data will then be evaluated and distilled into a single number according to rules set by the government."
The Economist video then focuses on surveillance cameras "that track people's behavior in public", suggesting that someone's "score" could be lowered by crossing a red light, and that 12 million people have already been "punished for having a low score" through domestic travel bans.
Among thousands of reactions on the video, many compared China to an "Orwellian surveillance state" or a "Black Mirror episode."
This recent Economist video is but one of dozens of examples of international media outlets describing China's Social Credit System within a certain framework, mainly linking it to terms such as 'punishment,' 'surveillance,' and 'individual scores.'
Many of these news stories suggest that every Chinese citizen will be assigned a 'score', or that people's mere way behaving in public will be able to lower that 'score', resulting in 'punishment' (FYI: there is no indication that there will be one 'score' for citizens in a nationwide SCS, also see this article).
These stories are often grossly conflating the (optional) commercial credit systems, such as Sesame Credit, with national government policies and local experiments. (For more about this, also check this article).
Dramatically Different Approaches
By just comparing the previously mentioned examples of the Train Tyrant viral story in China, and the Economist viral video, one can get a glimpse of the great gap in (social) media approaches of the Social Credit System in China and in Western media.4
In the international media headlines, powerful emotional words like 'chilling', 'creepy', or 'dystopian' are often used. Perhaps not coincidentally, marketers since long know that readers react more strongly to 'alert words' that make us feel anxious, such as 'afraid', 'scare', 'risk', and 'alarm' – which are all great words to get more engagement with social media users, and thus will result in more clicks.
As 'sexy' as the SCS might seem in Western media, as 'dry' it can seem in the Chinese media context, where the most powerful words used in headlines are terms as 'trust', 'harmony' or 'blacklist', and where there are no dramatic images; occasionally there is a featured photo of officials having a meeting (to see more on how state media propagates the SCS through cartoons, click here).
This difference in the framing of SCS between Western publications and Chinese articles can also be seen in the specific words used in SCS-focused news stories.
The word clouds below show the most used words in three typical SCS articles from Western mainstream media (Independent, Guardian, and ABC), and three typical English-language Chinese state media articles on SCS (namely Global Times, Xinhua, and China Daily ).
While there are many words overlapping between the two examples, the most-used words in these Western media sources (left) are words as 'system', 'list', 'citizen', 'behaviour', 'score', and 'government', whereas the Chinese state media sources (right) more commonly use words as 'business', 'law', 'market', and 'build.'
Doing the same experiment with Chinese-language state media articles on the SCS (Sina News, People's Daily, and Guangming Daily) shows that 'trust' or 'credit' (信用) and 'building' (建设) are among the most-used words, with terms such as 'enjoy together', 'cooperate', or 'unite' frequently popping up.
The different public attitude towards the SCS implementation in China versus the Western media discourse on the issue, is also illustrated in a recent study by Genia Kostka (2018), that investigates Chinese citizens' attitudes towards social credit systems. Rather than thinking of it as a 'creepy' or 'dystopian' system, it showed that SCSs actually have very high levels of approval across the respondent groups in the study (her work can be viewed here).
Social Credit Accounts without Followers
Ever since the 2014 plans of China's Social Credit implementation were announced, Chinese social media has seen dozens of regional, urban, district-based 'Social Credit' accounts pop up on Weibo and WeChat to inform netizens of local developments.
The online presence of these local social credit programmes signals that Weibo and Wechat may have hundreds of these accounts in the future informing citizens/netizens of new measures and guidelines.
However, the fanbase numbers of these accounts, again, reflect that there does not seem to be that much interest for the nascent SCS implementations.
A brief overview of some of these Weibo accounts:
* Credit Suzhou @苏州工业园区信用平台
Followers: 391
First post on record: September 29, 2015
* Liaoning Credit @信用辽宁
Followers at time of writing: 764
First post on record: August 1, 2012
* Wuhu Credit
@信用芜湖
Followers at time of writing: 14
First post on record: August 22, 2016
* Beijing City Social Credit Building Promotional Association @北京市社会公信建设促进会
Followers at time of writing: 14913
First post on record: September 17, 2014
* China Trustworthy Guangzhou @中国诚信广州
Followers at time of writing: 383
First post on record: June 20, 2012
* Honest Suqian @诚信宿迁
Followers at time of writing: 21
First post on record: September 9, 2014
With more than 24,000 followers, the Weibo account of commercial credit system Sesame Credit (@芝麻信用) is much more popular than the government-related management programmes.
Perhaps the topic of SCS, for many Chinese, is lacking the 'Black Mirror' appeal it has for many Western consumers of news. Perhaps 'harmony' and 'trust' are not as click-worthy as 'creepy' and 'dystopian'?
On Weibo, Lawyer Ju is confident in the future of SCS in China: "Whether it's from a social, corporate, or individual perspective," he writes: "'trust' is now everywhere; it's become a necessary 'virtual asset.' The gradual improvement of the construction of a legal credit system is the fundamental policy in order to regulate the market economy."
Although his message is sound and clear, it is perhaps also somewhat boring and dry: it has not received any likes or shares to date. Meanwhile, on Twitter, the Economist's suspenseful video on China's grim SCS future has received more than 280,000 views, and counting. "Oh my god!", one popular reply to the video says: "This is just like that Black Mirror episode!"
(Update 23.00 China time: Economist has removed the video within hours after this article was posted).
By Manya Koetse
Follow @whatsonweibo
1 This article talks about 'international' or 'Western' media to show a clear difference from Chinese media. Although the term can be understood in many ways, we mean it here to address mainstream English-language (news) sources of media outlets from mainly the US, Europe, and Australia.
2 Please note that there is currently no reason to assume that discussions of this specific topic are being censored: censorship scanning sites such as Free Weibo show no signs that posts using the term are specifically targeted, and state media and local governments are actually trying to start up discussions on this topic, as I will briefly touch upon later on in this article.
3 Namely Hangzhou, Nanjing, Xiamen, Chengdu, Suzhou, Suqian, Huizhou, Wenzhou, Weihai, Weifang, Yiwu, and Rongcheng.
4 Note that these are just small examples within a big and complicated discourse that has more sides to it than this article allows to zoom in on.
References
Kostka, Genia. 2018. "China's Social Credit Systems and Public Opinion: Explaining High Levels of Approval" SSRN, July 23. Available at https://ssrn.com/abstract=3215138 or http://dx.doi.org/10.2139/ssrn.3215138 [29.10.18].
Luo Peixin 罗培新. 2018. Social Credit Law: Principles, Rules and Cases [社会信用法:原理、规则、案例]. Beijing: Peking University Press.
People's Daily. 2018. "Observing the Social Credit System: The Credit Society is Coming, Are You Ready for It? [观察社会信用体系:信用社会来临,你准备好了吗]." Xinhua June 4. Available online at http://www.xinhuanet.com/2018-06/04/c_1122931164.htm [29.10.18].
Directly support Manya Koetse. By supporting this author you make future articles possible and help the maintenance and independence of this site. Donate directly through Paypal here. Also check out the What's on Weibo donations page for donations through creditcard & WeChat and for more information.
Spotted a mistake or want to add something? Please let us know in comments below or email us.
©2018 Whatsonweibo. All rights reserved. Do not reproduce our content without permission – you can contact us at info@whatsonweibo.com
From Red Packet to Virtual Hongbao: Lucky Envelopes in China's Digital Era
Raising virtual cows, shaking with phones – this is the Chinese New Year tradition of giving red envelopes in the digital era.
The custom of giving out red paper envelopes has evolved into a world of virtual lucky money and online games. This is the transformation of a Chinese New Year's tradition, reported by Koen van der Lijn and Xiaojun Zhang.

When objects meet social media, two websites meet as well. This is a collaboration between What's on Weibo and Things That Talk (follow on Insta @thingsthattalk).

Ever wanted to raise a digital cow? This year, you can raise your own lucky cow (福牛) for Chinese New Year on Weibo. Through maintaining and raising their virtual cow (or ox), users can participate in this online game to win red envelopes, a well-known and beloved tradition linked to Chinese New Year.
The hashtag "Lucky Cow's New Year's Travelogue" (#福牛新春旅行记#) is linked to Weibo's celebration of Chinese Spring Festival and the Year of the Ox. Users are expected to be active on Weibo daily to raise their cow/ox, similar to the once so popular Tamagotchi. Whilst leveling up their cow, users get the possibility to earn digital red envelopes.
The online game is another development in the story of the red envelopes, known in China as hongbao (红包). Often given during Chinese New Year, the envelopes can also be given at other joyous occasions like weddings. These red envelopes are given to each other by friends and family members to wish each other a happy new year and are always filled with an amount of money.
The practice of giving money during Chinese New Year goes far back in Chinese history. The earliest form of the red envelope is said to be yasuiqian (压祟钱). In order to keep evil spirits away, called sui (祟), people put money underneath children's pillow since the evil spirits were said to be warded off by coins.1 These coins were woven together using a string.
As time went by and paper money and envelopes became more widespread, string and coins were replaced and the red envelope was created.
Red envelopes are used by Chinese all over the world nowadays. The amount of money inside depends on many factors. Recently, the tradition has left behind its tangible form and entered the digital era.
"Adding the thrill of gambling to the practice of giving away red envelopes"
In 2014, the popular Chinese messaging app WeChat (微信) launched a new function that allowed users to send virtual red envelopes. Users could send an amount of money directly to another user, or an amount of red envelopes could be sent into a groupchat. When the function launched, users worldwide could shake their phones in order to receive free red envelopes. The amount of money that was given to users surpassed 500 million yuan ($77.5 million).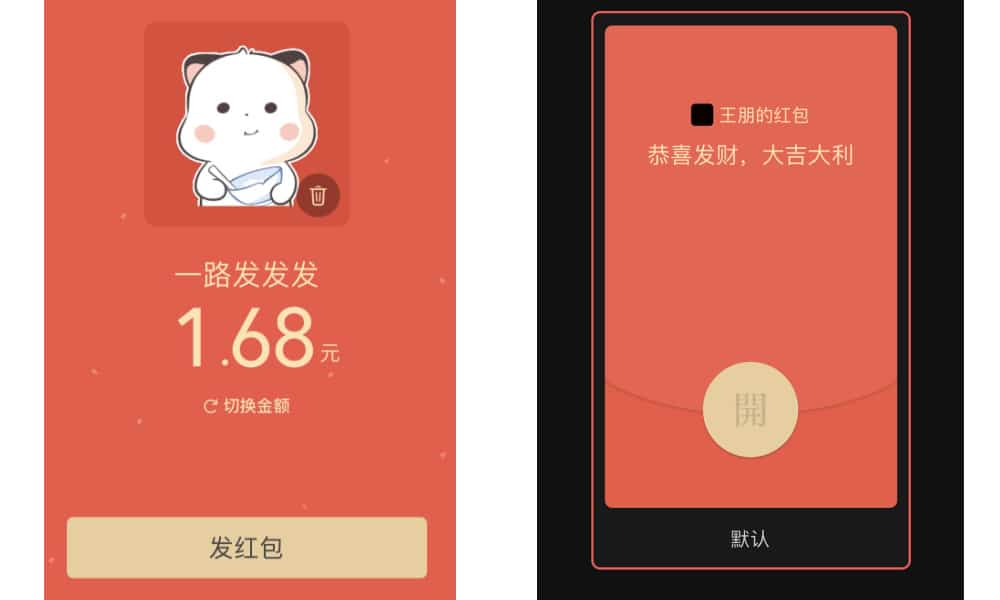 WeChat's inventive idea put digital red envelopes on the map in China. During the peak of the event, 800 million shakes were recorded per minute. There were two types of envelopes introduced in 2014 by Tencent, the company that owns WeChat:
1. A regular red envelope that could be sent directly from one user to another.
2. A 'group' red envelope, with a limited number to be grabbed and a limited sum of money which can be grabbed by all users in a group if they are fast enough. The sum inside this envelope is randomized, adding the thrill of gambling to the practice of giving away red envelopes.
Other companies also wanted a piece of the digital red envelope cake: Weibo and AliPay combined their strengths a year after WeChat introduced its digital hongbao in order to promote their version of the digital red envelope.
A 'war' then broke out between the two companies. AliPay handed out 600 million renminbi ($93 million) worth of red envelopes as a response to WeChat's 120 million envelopes sent out during the televised celebration of Chinese New Year.2
"Digital red envelopes can cross time and place, but cannot replace the method of face-to-face contact"
In the years after, the digital red envelope became more and more popular. Weibo and Alipay also came with their version of sending red envelopes online. The companies organized large-scale actions to make users make use of their form of digital red envelopes.
WeChat, for instance, gives users the option to make the red envelopes very personal through adding stickers and personal messages, making the digital red envelope an even more enjoyable experience.
Does this new development of the traditional red envelope make the tangible envelope obsolete?
When asked by the digital newspaper The Paper (澎湃新闻) about whether the digital red envelope might replace its tangible brother, scholar Tian Zhaoyuan (田兆元) of East China Normal University said that the digital red envelope can cross time and place, but cannot replace the method of face-to-face contact. Though friends and family may send one another digital red envelopes, it does not mean that it replaces the tangible red envelopes.3
The tradition of sending red envelopes is and will be inherently linked to Chinese New Year. Though both the paper and digital forms of the tradition remain incredibly popular, the virtual hongbao will definitely win territory once more this year as travel is restricted due to COVID-19. Especially in these times, the digital red envelope is the best digital way of wishing family and friends a happy new year.
Why are 'lucky envelopes' not just red, but sometimes also green or purple? Read more via Things That Talk here.

By Koen van der Lijn and Xiaojun Zhang
Follow @WhatsOnWeibo
Koen van der Lijn (China Studies, BA) is a ResMa student Asian Studies at Leiden University focused on Chinese history and its international relations. He is a student ambassador at Things That Talk.
Xiaojun Zhang (China Studies, BA) is an MA student Asian Studies at Leiden University focused on contemporary Chinese culture, symbolism and food. For Things That Talk, she currently works on a project about Chinese-Indonesian restaurants in the Netherlands.
This story was made in collaboration with ThingsThatTalk.net – exploring humanities through the life of objects. Things That Talk is an educational digital project where staff and students produce narratives and metadata about objects in Leiden collections and beyond. Check out the story "Hongbao: from paper envelope to digital gift" on Things That Talk here!

Footnotes (other sources hyperlinked within the article)
1 Kin Wai Michael Siu. 2001. "Red Packet: a Traditional Object in the Modern World." Journal of Popular Culture 35 (3), 103.
2 Chen, Liyan. 2015. "Red Envelope War: How Alibaba and Tencent Fight Over Chinese New Year." Forbes, Feb 19 https://www.forbes.com/sites/liyanchen/2015/02/19/red-envelope-war-how-alibaba-and-tencent-fight-over-chinese-new-year/?sh=1b88bccccddd.
3 The Paper, Zuowei yi zhong "xinnian su", weixin hongbao hui qudai zhizhi hongbao ma? 作为一种"新年俗",微信红包会取代纸质红包吗?, https://cul.qq.com/a/20160208/012888.htm.
Spotted a mistake or want to add something? Please let us know in comments below or email us. First-time commenters, please be patient – we will have to manually approve your comment before it appears.
©2021 Whatsonweibo. All rights reserved. Do not reproduce our content without permission – you can contact us at info@whatsonweibo.com.
Conversations Behind the Wall: Clubhouse App Now Blocked in China
While the Clubhouse app is no longer accessible from within the PRC, conversations continue behind the wall.
The Clubhouse app became a hot topic among web users in mainland China this weekend. On Monday, the platform was no longer accessible from within the PRC.
On Saturday, we posted an article about the surge in popularity of American 'drop-in audio chat' social media platform Clubhouse in mainland China.
As conversations about the popular app continued throughout the weekend, the app was no longer accessible from within mainland China on Monday.
Clubhouse describes itself as "a space for casual, drop-in audio conversations—with friends and other interesting people around the world" where you can "go online anytime to chat with the people you follow, or hop in as a listener and hear what others are talking about."
The app has virtual rooms and events themed around various topics – anything from politics to music – and lets hundreds of members join conversations as moderators, speakers, or listeners.
The Clubhouse app was developed by Silicon Valley entrepreneur Paul Davison and ex-Google employee Rohan Seth. It was first launched in April 2020 on iOS only, and is still only accessible through iPhone for users who have an invite.
Before Monday, the Clubhouse app was freely accessible from within China for those people who had an invite, but only if they had access to the non-Chinese Apple store to download the app.
The app was a hot topic on various Chinese social media platforms this weekend. On Weibo, the civilized and open character of the Clubhouse conversations were praised, allowing a broader understanding of issues that otherwise remain untouched or are limited within the Chinese social media sphere.
One Chinese-language virtual room about the Xinjiang camps was joined by hundreds of people on Saturday. But besides the room focused on Xinjiang, there were also other rooms where discussions took place about the status of Hong Kong and about issues such as whether or not (overseas) Chinese are willing to return to the mainland and why.
"It is like a small crack in a window," one person on Weibo said about Clubhouse, while others already predicted the app would become unavailable from within mainland China soon.
When it finally happened on Monday, the responses on Weibo were mainly those of disappointment. "Bye bye Clubhouse," some Weibo users wrote, with others expressing their surprise: "What?! It was just popular for two days and it's already blocked? They move so fast it's scary."
"I was active on Clubhouse for two days. I didn't expect it to be shut down so soon already."
Although many commenters previously expressed that they expected the app to become unavailable within the PRC, the fact that it was shutdown while it was just exploding online comes as a surprise to some, as various commenters write.
The term 'Clubhouse' was also temporarily blocked on Weibo by Monday night Beijing time; over the weekend various hashtags relating to the app made their rounds on Chinese social media, but the hashtag pages were no longer online by Monday evening.
Meanwhile, various Chinese-language rooms on Clubhouse discussed the topic of its disappearance in China.
A room titled "Clubhouse is blocked, and now?" was joined by over a hundred people on Monday night. The room "Clubhouse is blocked" attracted over 3000 participants. These conversations are likely to continue for the time to come, but now they must continue behind the Great Firewall of China.
By Manya Koetse
Follow @whatsonweibo
Spotted a mistake or want to add something? Please let us know in comments below or email us. First-time commenters, please be patient – we will have to manually approve your comment before it appears.
©2021 Whatsonweibo. All rights reserved. Do not reproduce our content without permission – you can contact us at info@whatsonweibo.com.