Man Harassed on Bus Triggers Netizens to Reverse 'Slut-Shaming'
When Chinese media reported about a man falling victim to sexual harassment by a woman on a bus, female netizens responded to the issue in great numbers, using the occasion to turn the tables and 'slut shame' the male victim. Their true motive: to make a stand against stigmatization and victim-shaming.
When Chinese media reported about a man falling victim to sexual harassment by a young woman on a bus, female netizens responded to the issue in great numbers, using the occasion to turn the tables and 'slut shame' the male victim. Their true motive: to make a stand against stigmatization and victim-shaming often experienced by women.
Recently, a man was reported to be sexually harassed on a bus in Jinan, Shandong Province. The suspect, a young female passenger, allegedly had been involved in other similar harassment situations before, but this was the first time an incident attracted so much media attention. Chinese netizens have collectively responded to the news, taking the opportunity to do reverse 'slut shaming', which is often done when the victim of sexual harassment is female.
'Slut shaming' is a form of stigmatization and victim-blaming that often occurs when women fall victim to sexual harassment. According to Leora Tanenbaum, author of Slut-Shaming in the Age of the Internet: "Slut-shaming is sexist because only girls and women are called to task for their sexuality, whether real or imagined; boys and men are congratulated for the exact same behavior. This is the essence of the sexual double standard: Boys will be boys, and girls will be sluts" (Huffington Post, 2015).
"What are you doing?!"
Jinan TV reported on the issue, featuring an interview with the driver of the bus on which the incident occurred and including some recordings of the incident by another bus passenger (see video below).
Mr. Han, the bus driver, says: "I saw it from the rearview mirror. The man was shouting, 'what are you doing?!' So I stopped the bus and came to look, to see what happened. The man said that this woman was harassing him. I was surprised. To avoid any misunderstanding, I asked the girl. But she didn't say anything. So the man also dropped the issue. He changed to a front seat and got off at the next stop."
Han also said he had previously seen the girl and was then surprised by her behavior. What he exactly meant with this 'behavior' was not specified in the interview.
The issue has attracted the attention of local bus drivers. Mr. Fu, the manager of the drivers' team, stated that the girl has appeared on all three bus lines of their bus company: "She did some weird things towards male passengers on our bus lines K55, K93 and 165. Her actions including touching and some other strange things." He said he believed the girl was emotionally troubled, and expressed his hope that her friends and family would intervene.
Weibo netizens: time for reverse slut-shaming
It is rare for news about men becoming victims of sexual harassment to make headlines in China. Many female netizens saw this news item as their chance to use some stereotypical 'slut-shaming' jargon on the male victim to turn the tables.
Some blame the man for being seductive and provoking trouble. "This man must be walking around with revealing clothes on," one netizen said: "so he deserves to be touched. Why didn't anyone else get touched? Next time, just wear more clothes and don't go outside by yourself."
"Shameless! Skimpily dressed just to seduce women! No wonder you were harassed; be thankful that you were not raped!" said another netizen.
Some offer 'friendly' advice, saying: "Look at you, wearing such revealing clothes in Summer, of course people will harass you! Remember to wear your winter jacket next time you go out!" Other commenters said: "Don't take the bus alone; go outside in groups, especially at night… learn some self-defense also, so you can avoid danger!"
Other netizens clarified that these comments were not meant to be taken seriously, although they do hold a real message: "These are sarcastic comments meant for those with 'Zhinan cancer' [chauvinist pigs] who blame girls when they are assaulted", according to one netizen.
Chinese netizens say no to slut-shaming
The phenomenon of 'slut shaming' or blaming women for falling victim to sexual harassment has recently been criticized in two other occasions.
Earlier this year, actress Liu Yan was teased as a bridesmaid by a group of best men on a celebrity wedding. As Liu Yan is generally considered a 'sexy' actress, some said it was 'unsurprising' that she was teased or harassed, since being sexy allegedly means lacking self-respect. This triggered much online debate, with many netizens speaking out against this: "Being sexy means lacking self-respect? You should go back to live in the 1950s". Another netizen defended the right to be sexy, commenting: "What is wrong with being sexy? Perfect curves and a nice figure should be shown! Not for the sake of chauvinistic pigs, but for the sake of feeling good about yourself."
But slut-shaming involves more than blaming sexiness. Chinese female netizens also question the recurring implication that women are not looking after themselves. Shortly after the Heyi incident where a girl was assaulted in a chain hotel in Beijing, many safety tips for women started circulating on Chinese social media. State media outlet People's Daily also published security guidelines for women, including tips saying women should not go to appointed places with strangers. Some netizens were critical about this kind of advice and defended their stance that women should not be held responsible for their safety when they are alone.
Blaming women for being "too attractive" or implying that they are "not careful enough" about their own safety supports a male-dominated discourse that holds women responsible for their own victimhood. What happened on the bus in Jinan offered netizens a chance to make this existing discourse explicit, and demonstrate how ridiculous it is.
"You can't escape the laws of karma", said some netizens. Apparently, many netizens hope that men will become more sympathetic to female victims of harassment after undergoing it themselves.
– By Diandian Guo
Follow @WhatsOnWeibo
Additional editing by Manya Koetse.
©2016 Whatsonweibo. All rights reserved. Do not reproduce our content without permission – you can contact us at info@whatsonweibo.com.
Shaanxi Domestic Violence Incident Caught on Home Security Camera, Sparks Online Outrage
The man, a deputy director at a state-owned company, has been fired after the video of the domestic abuse went viral online.
Home security footage showing a man brutally beating his wife in front of their young child has drawn widespread criticism on Chinese social media. The man, a deputy director at a state-owned company, has now been fired.
A shocking video of a domestic violence incident taking place inside a home in Xi'an, Shaanxi Province, has sparked anger across Chinese social media over the past week.
The video, recorded in the family's living room, shows a man severely beating his wife while their toddler is with them in the room (a blurred video published by The Paper can be viewed here, viewer discretion is advised).
Although stories of domestic violence often go trending on Chinese social media, this case is especially noteworthy due to the fact that the incident was recorded by indoor home security cameras. Security cameras inside the home have become more popular in China over the past few years, especially for families with kids or pets to keep tabs on what is going on inside the living room or other home areas.
The video first shows the man frantically hitting the woman on her head over a dozen times while she is sitting on the couch with the child on her lap. The woman then stands up and seemingly tries to get her daughter somewhere safe while the child cries out for her mum. The man then violently drags the woman away again and resumes to frantically beat her. When the child cries out, the mum tells her "don't be scared darling" while the abuse continues – the man slaps the woman on her face and pushes her down.
At one point, another woman, who is said to be the man's mother, steps into the room and takes the young child away without stopping the violence or saying anything at all.
The video of the incident sparked major outrage on Thursday, January 20, as it went viral on Chinese social media and became a hot search topic.
The video supposedly surfaced online because the domestic abuse victim posted it herself on WeChat, although this is not entirely clear as her identity and social media information are kept private. The video was posted on Weibo by someone within her Wechat friends group on January 19.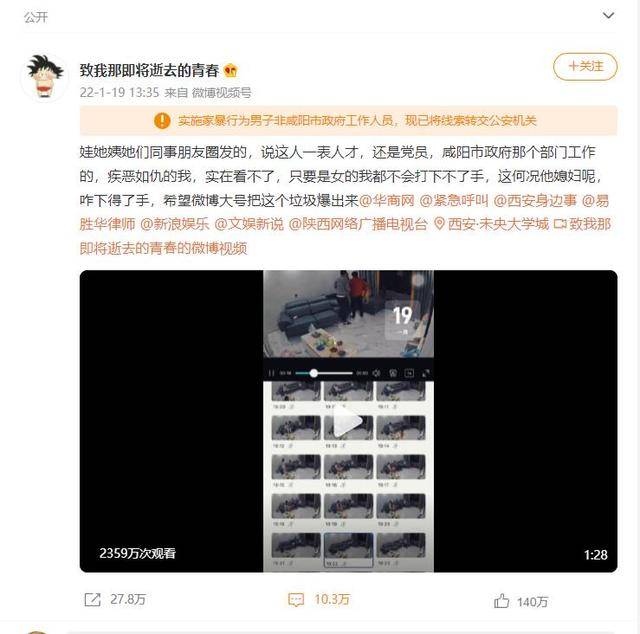 In screenshots that have also gone viral online, the victim speaks about the abuse, claiming it was not the first time for her to suffer abuse at the hands of her husband. She writes that she was also abused, both psychically and mentally, during her pregnancy and shortly afterward and that her husband has also been aggressive with their child.
Many Weibo users who watched the video of the incident already commented that they could tell domestic abuse was normalized inside the Wang family home due to the grandmother's seemingly calm and indifferent response to the violence.
The man in the video was identified as Wang Pengfei (王鹏飞), a deputy director at the state-owned Shaanxi Airport New Silk Road Trading Company. The company opened up a brand-new Weibo account to post a public statement on the matter, condemning the behavior of Mr. Wang and saying he was suspended from his duties. They later added another post that Wang was fired from his job.
On Thursday, the police also posted on social media to inform netizens that the case was under investigation. Two days later, local authorities from the Baqiao District in Xi'an, Shaanxi, issued a statement regarding the case.
According to the police statement, the 28-year-old Mrs. Wang and the 34-year-old Mr. Wang had an argument on the night of January 18 over a household matter. Mrs. Wang allegedly reacted in an "extreme" way and the conflict between the two escalated, leading to Mr. Wang beating up his wife. Mrs. Wang reported the incident to the police on January 19th.
The police statement said that "both spouses recognized their mistakes" and that, in accordance with the law, Mr. Wang received a five-day prison sentence and Mrs. Wang received "educational criticism." Being a Party member, Mr. Wang was also given a "severe disciplinary warning" within the Party.
Over the past few years, domestic violence has been a recurring topic on Chinese social media with many voices trying to raise public awareness about this widespread social problem.
In 2019, the Chinese makeup influencer Yuya Mika shared her story as a survivor of domestic abuse in a video that went viral on Weibo. That video contained shocking footage of Yuya's ex-boyfriend trying to violently drag her out of an elevator – a moment that was also caught on security cameras.
The tragic story of a Tibetan vlogger named Lamu (拉姆, Lhamo in Tibetan) also triggered many discussions on Chinese social media in 2020, after she was set on fire by her ex-husband who previously abused her for years. Lamu did not survive, and her death sparked an online movement advocating for better laws and support systems for domestic abuse victims in China (for more on this story, check out our podcast on Lamu here).
This week, the Xi'an incident again led to online discussions about how Chinese authorities deal with domestic violence. Many commenters argued that the five-day detainment sentence was too light, and others wondered why the wife was "re-educated" by the police while being the victim in this matter, and why it was suggested that her "extreme" response to their argument was what led to the beating.
"As if she deserved the beating due to her lack of good communication," one person wrote.
Various Chinese state media, including CCTV, condemned domestic violence and stressed that it was never just a "family issue."
Weibo blogger 'Marcus Says' (@马库斯说) posted a commentary on the incident, arguing that it is useless for Chinese state media to claim there is "zero tolerance" for domestic violence in China when the law still does not do enough to punish the wrongdoers and to protect the vulnerable people in these kinds of situations. The post was shared over 7000 times.
But there were also many Weibo users who claimed that it was Mrs. Wang who first hit her husband, arguing that the problem of domestic violence often comes from both sides and that there should be more awareness about women abusing men. Commenter @voiceyaya wrote: "Again we're talking about domestic abuse and we generally and repeatedly say we shouldn't blame the victim and that it's never the victim's fault, but I don't think it's very meaningful. Why can't we face the reality that many cases of domestic violence involve violence on both sides and that there is a problem of both parties hitting each other?"
There are also those who blame Mrs. Wang for punishing her husband too severely by exposing his behavior online, arguing that he will never get another job now that his name and photo are widely known.
Despite some online disagreements about the case, most people agree that the child's well-being should be prioritized above anything else. "How tragic for the child, will this really be the last time she sees her daddy hit her mum? She is so small to be immersed in such a frightening scene. This will continue to haunt her for a long time."
It is currently not known if the couple will divorce, or if Mr. Wang and his wife will be reunited after his five days of detainment are over.
By Manya Koetse
Spotted a mistake or want to add something? Please let us know in comments below or email us. First-time commenters, please be patient – we will have to manually approve your comment before it appears.
©2022 Whatsonweibo. All rights reserved. Do not reproduce our content without permission – you can contact us at info@whatsonweibo.com.
Doctor Livestreams Gynecological Surgery: Video Streaming Site Bilibili Responds to the Controversy
An anesthesiologist from Shandong live-streamed from the operating room while a patient was undergoing gynecological surgery.
A video on the popular Chinese video platform Bilibili has triggered controversy on social media. On January 15, a doctor was filming during gynecological surgery and live-streamed the entire procedure for everyone to see.
The issue came to light after one Bilibili user posted on social media that he had personally seen the live stream on Saturday, saying that the female patient was under anesthesia and unaware of being filmed. After this person immediately reported the live stream to Bilibili, it was cut off and ended.
The video streaming platform Bilibili responded to the controversy on Tuesday night, stating that the livestreamer was previously warned and cut off from the platform and that he has now been permanently banned. Bilibili also stated they had reported the person to Chinese authorities.
A hashtag related to Bilibili's statement was viewed over 220 million times on Weibo on Wednesday, making it one of the top trending topics of the day (#B站回应有账号直播妇科手术#).
Chinese news outlet The Paper (澎湃新闻) reported that the doctor in question was identified by authorities and has been arrested. According to one of their sources, the person who live-streamed the surgery is an anesthesiologist who works at Rizhao Central Hospital in Shandong. The case is currently under investigation.
Weibo commenters have responded to the incident with shock and disgust. "This doctor lacks any medical ethics," some write, with others mentioning how the privacy of the patient has been violated and saying they hope the doctor will be punished for what he has done. There are also those who wonder why other medical staff members did not intervene when they saw the anesthesiologist filming, suggesting this probably was not the first time for him to do so.
The issue has also triggered online discussions regarding Bilibili's content policies, with some raising questions on why videos or live streams relating to politically sensitive issues will be pulled offline immediately while these kinds of videos can apparently be live-streamed without any problem.
Just a few months ago, similar discussions also trended on Chinese social media after an online influencer committed suicide by drinking pesticide during a live broadcast.
Xiakedao (@侠客岛), a Weibo account run by state media outlet People's Daily, published a commentary on the recent Bilibili controversy on January 19, stressing that Chinese video platforms should be held accountable for their lack of supervision.
Update January 22:
China Daily reports on January 22nd that eleven people have been held accountable for the live stream and that the doctor, named Li, is currently in custody and is facing criminal charges. His medical certification will be canceled.
By Manya Koetse
Spotted a mistake or want to add something? Please let us know in comments below or email us. First-time commenters, please be patient – we will have to manually approve your comment before it appears.
©2022 Whatsonweibo. All rights reserved. Do not reproduce our content without permission – you can contact us at info@whatsonweibo.com.