McDonald's Celebrates 26th Birthday in China
McDonald's celebrates its 26th birthday in China this weekend. Despite its rocky journey, the American fast food chain is still popular amongst Chinese, with many sharing fond memories of their first McDonald's experience.
McDonald's celebrates its 26th birthday in China this weekend. Despite its rocky journey, the American fast food chain is still popular amongst Chinese, with many sharing fond memories of their first McDonald's experience.
This weekend, McDonald's (麦当劳) celebrates its 26th birthday in the People's Republic of China. On Sina Weibo, the official McDonald's account wrote: "Do you remember the first time you ate at McDonald's? 26 years ago today, we opened our first restaurant in Shenzhen."
The McDonald's birthday came with a smart marketing campaign. Every WeChat user sharing the post and wishing McDonald's happy birthday would get the 5 toy figures specially designed for the McDonald's birthday with their meal on the night of October 8 only.
The special building block toys made for the birthday of McDonald's China.
Mainland China's first McDonald's opened up on October 8, 1990, in the city of Shenzhen.
The very first McDonald's of mainland China: Shenzhen, 1990.
But the Shenzhen restaurant was not the first McDonald's in greater China. In 1975, the first McDonald's already opened in Hong Kong's Causeway Bay.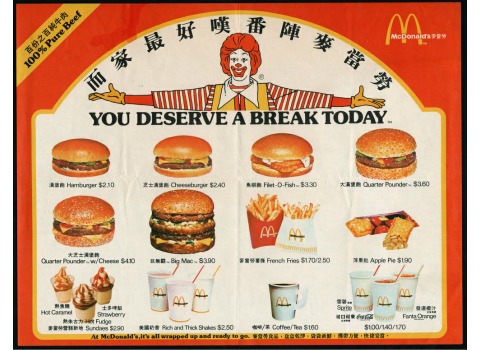 Early Hong Kong McDonald's menu, via hongwrong.com.
Since its first appearance in China, McDonald's has always faced strong competition within the fast food market. In 1984, China's first western-style fast food restaurant 'Yili's Fast Food Shop' opened its doors in Beijing's Xidan central area. Kentucky Fried Chicken arrived in 1987 and soon became very popular in China.
On Weibo, McDonald's has over 670.000 followers, whereas its competitor Kentucky Fried Chicken has over 1.4 million fans.
McDonald's suffered a major setback in China when in 2014 a local reporter exposed how expired meat products were used in different restaurants across the country.
But McDonald's China sales went up again in 2015. The chain still has more room for growth in the PRC, and is looking at new ways to franchise on the mainland.
The chain is also adapting to local tastes. The Chinese menu offers products such as the chicken rice bowl, double chicken burgers, or spicy chicken fillet burgers. In Japan, McDonald's also adapted to local preferences by introducing products such as the Teriyaki Burger, the Rice Burger and Green Tea ice-cream.
On Weibo, netizens share their McDonald's experiences: "The first time I ate at McDonald's was in Xiamen, and it was still quite expensive at the time," one netizen writes: "But my dad spoiled me, and I could eat there three times per month."
Other netizens also recall the relatively high prices of McDonald's: "We would save up to gather 50 yuan [±7.5US$] so we could go to McDonald's; we didn't really have any money."
Other Weibo users shared pictures of their childhood memories at McDonald's.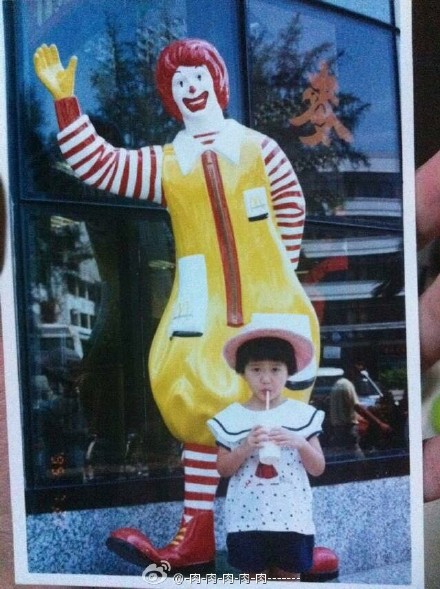 There are also users who have taken their love for McDonald's to the next level. This Weibo user collects Happy Meal toys, and has gathered quite the collection over the past 26 years..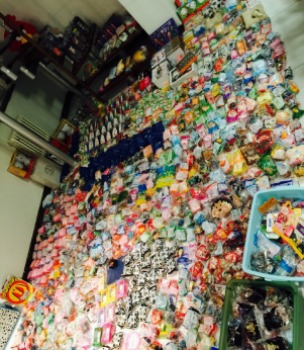 – By Manya Koetse
Follow on Twitter or Like on Facebook
©2016 Whatsonweibo. All rights reserved. Do not reproduce our content without permission – you can contact us at info@whatsonweibo.com.
Coca Cola Chicken Wings Are Here! McDonald's China Introduces Cola Chicken on Its Menu
Add cola, add chicken, and it's a recipe for success.
Coca-Cola Chicken wings are so popular in China that McDonald's China, in collaboration with Coca Cola, has now added them to their menu.
It is one of those dishes everyone in China will know of, yet its origins are somewhat murky: Cola Chicken.
Cola Chicken (可乐鸡) is a sweet and sour cooking dish using cola, chicken, ginger, soy sauce, cooking wine, and Sichuan pepper as its main ingredients (the Chinese way).
Braised Coca-Cola Chicken wings are especially popular in China, combining Chinese style braising and Coca-Cola to create juicy and savory BBQ style wings (see recipe).
According to some, Cola Chicken comes from Jinan, Shandong, where a cook in a restaurant accidentally tipped over a can of Coca Cola into a chicken dish, after which he discovered the taste of the soda matched the simmering chicken.
Others allege two Chinese Coca Cola salespersons thought of the recipe first.
Another explanation states that 'Cola Chicken' was already made in Western countries, using tomato sauce as one of its main ingredients. The dish then became popular in Taiwan, where the tomato sauce was replaced by soy sauce.
Whatever its origins are: Cola Chicken is hugely popular in China. So popular, in fact, that McDonald's China announced on Weibo this week that it would add 'traditional cola chicken wings' to its menu.
The latest addition to the McDonald's China menu is a special collaboration between the Coca Cola brand and McDonald's.
"I love Mcdonald's, I love Coca Cola, I wanna try!",  commenters on Weibo say: "I absolutely love Cola Chicken wings."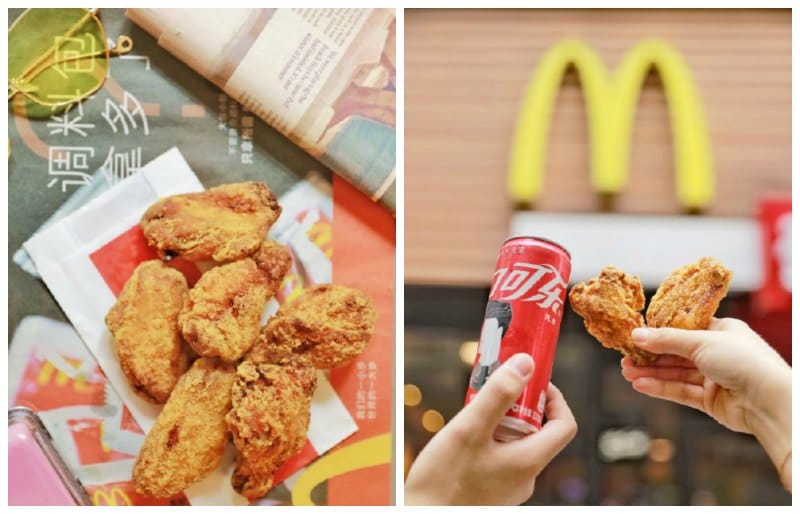 Although social media responses to McDonald's Cola Chicken have been very positive, some who have actually tried it out are less enthusiastic.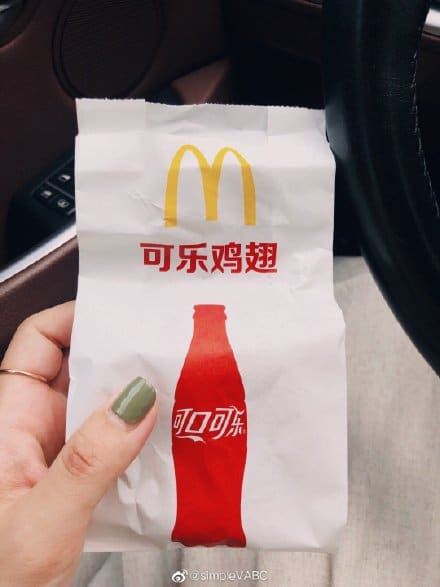 "I had them, but.. I actually didn't taste any cola flavor. Are we supposed to soak them in our coke first?" one disappointed netizen wonders.
Others also expressed similar sentiments, writing: "I am confused by how it tastes" and: "I think it tastes really weird, but I can taste the Cola in it!"
But others who tried it are very happy: "I loved them! While chewing, the skin of the chicken bursts open, giving you that feeling of a carbonated drink. And the chicken is slightly sour and sweet, with that hint of Coca Cola."
The Cola Chicken wings are not the only special additions to the McDonald's China menu, which also offers "Sichuan Spicy Double Chicken Burger," "Jumbo Milk Tea," "Taro Pie," and "Corn cups."
Earlier this year, Mcdonald's China also introduced a Japanese beef rice bowl to its main menu selections.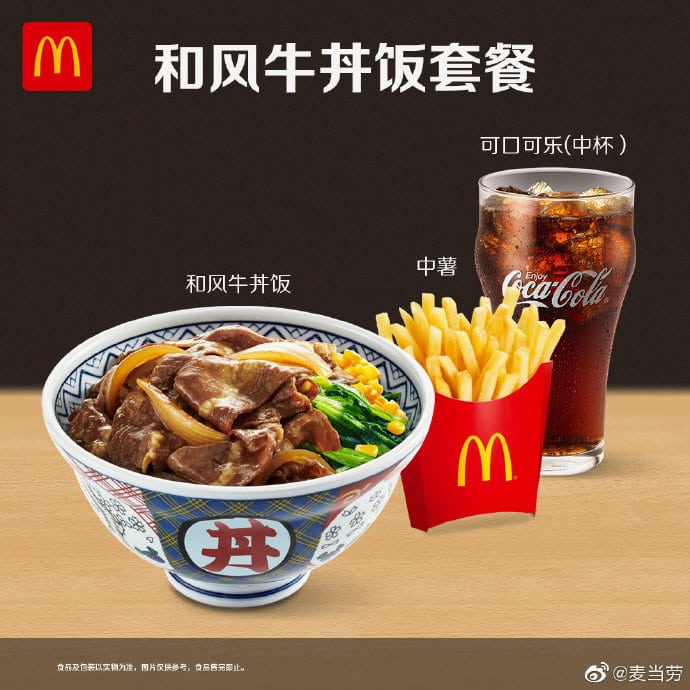 Many introductions to China's McDonald's menu have come and gone over the past few years. Whether Cola Chicken will be one of the items on the McDonald's menu that's here to stay is yet to be seen.
Also read: McDonald's Celebrates 26th Birthday in China
Also read: China's First Fast Food Restaurant
Also read: Coca Cola in China: "Not a Single Bottle of Coke Should Be Sold to Chinese"
Talking about Cola Chicken, a recommendation: the touching and funny short documentary (25 min) 'Cola Chicken' tells the story of the Chinese Chen Chen, who works as a tour guide in Spain, and dreams of opening up his own Cola Chicken restaurant one day:
By Manya Koetse
Spotted a mistake or want to add something? Please let us know in comments below or email us. Please note that your comment below will need to be manually approved if you're a first-time poster here.
©2019 Whatsonweibo. All rights reserved. Do not reproduce our content without permission – you can contact us at info@whatsonweibo.com
Faking Street Photography: Why Staged "Street Snaps" Are All the Rage in China
Staged street photography is the latest "15 minutes of fame" trend on Chinese social media.
It looks as if they are spontaneously photographed or filmed by one of China's many street photographers, but it is actually staged. Chinese online influencers – or the companies behind them – are using street photography as part of their social media strategy. And then there are those who are mocking them.
Recently a new trend has popped up on Chinese social media: people posting short videos on their accounts that create the impression that they are being spotted by street fashion photographers. Some look at the camera in a shy way, others turn away, then there are those who smile and cheekily stick out their tongue at the camera.
Although it may appear to be all spontaneous, these people – mostly women – are actually not randomly being caught on camera by one of China's many street fashion photographers in trendy neighborhoods. They have organized this 'fashion shoot' themselves, often showing off their funny poses and special moves, from backward flips to splits, to attract more attention (see example in video embedded below).
These are some examples of the "pretending to be spontaneously spotted by street fashion photographer so gotta do something funny" phenomenon: pic.twitter.com/OUMhGaFG6W

— Manya Koetse (@manyapan) 25 juni 2019
In doing so, these self-made models are gaining more fans on their Weibo, Douyin, Xiaohongshu, or WeChat accounts, and are turning their social media apps into their very own stage.
Street Photography in Sanlitun
The real street photography trend has been ongoing in China for years, near trendy areas such as Hangzhou's Yintai shopping mall, or Chengdu's Taikoo Li.
One place that is especially known for its many street photographers is Beijing's see-and-be-seen Sanlitun area, where photographers have since long been gathering around the Apple or Uniqlo stores with their big lens cameras to capture people walking by and their trendy fashion.
A few years ago, Thatsmag featured an article discussing this phenomenon, asking: "Who are these guys and what are they doing with their photos?"
Author Dominique Wong found that many of these people are older men, amateur photographers, who are simply snapping photos of attractive, fashionable, and unique-looking people as their hobby.
But there are also those who are working for street fashion blogs or style magazines such as P1, and are actually making money with their street snaps capturing China's latest fashion trends.
People featured in these street snaps can sometimes go viral and become internet celebrities (网红). One of China's most famous examples of a street photographed internet celebrity is "Brother Sharp."
It's been ten years since "Brother Sharp" (犀利哥), a homeless man from Ningbo, became an online hit in China for his fashionable and handsome appearance, after his street snap went trending on the Chinese internet.
Staged Street Scenes
But what if nobody's snapping your pics and you want to go viral with your "Oh, I am being spotted by street fashion photographers" video? By setting up their own "street snap" shoots, online influencers take matters into their own hands.
It is not just individuals who are setting up these shoots; there are also companies and brands that do so in order to make their (fashion) products more famous. According to People's Daily, in Hangzhou alone, there are over 200 photographers for such "street snaps" and hundreds of thousands of models for such "performances."
The photographers can, supposedly, earn about 20,000 to 30,000 yuan ($2,890-$4,335) per day and the models are well paid.
In this way, the "street snap performance" phenomenon is somewhat similar to another trend that especially became apparent in China around 2015-2016, namely that of 'bystander videos' capturing a public scene. Although these videos seem to be real, there are actually staged.
One such example happened in 2017 when a video went viral of a young woman being scolded on a Beijing subway for wearing a revealing cosplay outfit.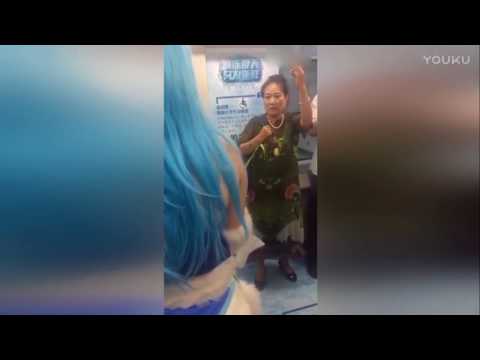 The story attracted much attention on social media at the time, with many netizens siding with the young woman and praising her for responding coolly although the woman was attacking her. Later, the whole scene turned out to be staged with the purpose of generating more attention for the ad of a "cool" food delivery platform behind the older lady.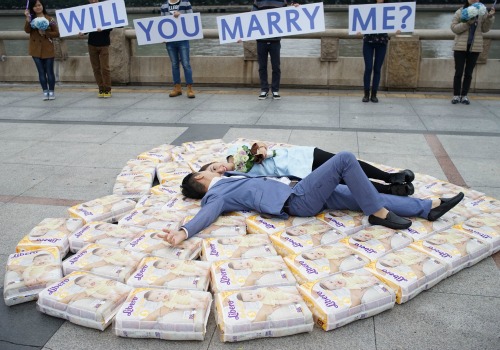 In 2015, photos of a 'romantic proposal' made its rounds on social media when a young man asked his pregnant girlfriend to marry him using over 50 packs of diapers in the shape of a giant heart. One bag of diapers carried a diamond ring inside. It was later said the scene was sponsored by Libero Diapers.
Wanghong Economy
Both the latest street snap trend and the staged video trend are all part of China's so-called "Wanghong economy." Wǎnghóng (网红) is the Chinese term for internet celebrities, KOL (Key Opinion Leader) or 'influencer.' Influencer marketing is hot and booming in China: in 2018, the industry was estimated to be worth some $17.16 billion.
Being a wanghong is lucrative business: the more views, clicks, and fans one has, the more profit they can make through e-commerce and online advertising.
Using Chinese KOLs to boost brands can be an attractive option for advertisers, since their social media accounts have a huge fanbase. Prices vary on the amount of fans the 'influencer' has. In 2015, for example, the Chinese stylist Xiao P already charged RMB 76,000 ($11,060) for a one-time product mention on his Weibo account (36 million fans).
According to the "KOL budget Calculator" by marketing platform PARKLU, a single sponsored post on the Weibo account of a famous influencer will cost around RMB 60,000 ($8730).
The current staged street snap hype is interesting for various online media businesses in multiple ways. On short video app Douyin, for example, the hugely popular street snap videos come with a link that allows app users to purchase the exact same outfits as the girls in the videos.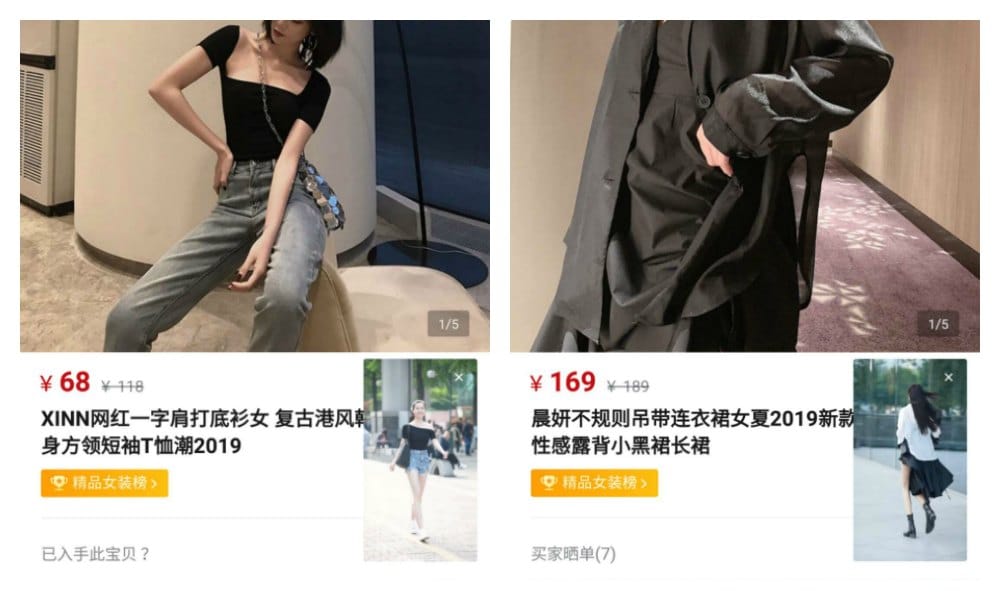 Perhaps unsurprisingly, an online survey by Tencent found that 54% of college-age respondents had the ambition to become an "online celebrity."
Making Non-Fashion Fashion: The Farm Field as a Catwalk
Although becoming an actual online celebrity used to be a far-fetched dream for many Chinese netizens, the latest staged-street-snap trend creates the possibility for people to experience their "15 minutes of fame" online.
Just as in previous online trends such as the Flaunt Your Wealth Challenge or A4 Waist Challenge, you see that many people soon participate in them, and that they are then followed by an "anti-movement" of people making fun of the trend or using it to promote a different social point-of-view.
The 2018 "Flaunt Your Wealth" challenge, for example, in which Chinese influencers shared pictures of themselves falling out of their cars with their expensive possessions all around them, was followed by an Anti-Flaunt Your Wealth movement, in which ordinary people mocked the challenge by showing themselves on the floor with their diplomas, military credentials, painting tools, or study books around them.
In case of the (staged) "Fashion Street Photography" movement, that now has over 103 million views on Weibo (#全国时尚街拍大赏# and #街拍艺术行为大赏#), you can also see that many people have started to mock it.
"I find [this trend] so embarrassing that I want to toss my phone away, yet I can't help but watch it," one Weibo user (@十一点半关手机) writes, with others agreeing, saying: "This is all so awkward, it just makes my skin crawl."
The anti-trend answer to the staged street shoot hype now is that people are also pretending to be doing such a street snap, but ridiculing it by making over-the-top movements, doing it in 'uncool' places, wearing basic clothing, or setting up a funny situation (see embedded tweet below).
And then this is other example (there are many) of people mocking this pretending-to-be-spotted-by-street-photographers trend pic.twitter.com/2WBP3F326l

— Manya Koetse (@manyapan) 25 juni 2019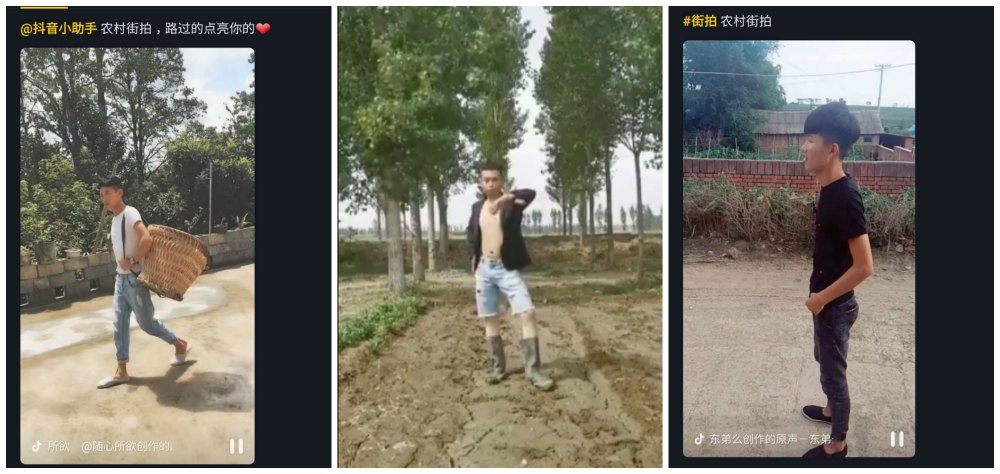 Some of these short videos show 'models' walking in a rural area, pretending to be photographed by a 'street fashion photographer' – it's an anti-trend that's become a trend in itself (see videos in embedded tweets below).
There's a recent Chinese social media trend of people mocking the wannabe cool Sanlitun rich kids who are walking the streets like it's their catwalk while pretending to be spotted by street photographers. It's always the anti-cool people who are actually the coolest..👇👏 pic.twitter.com/LnEOEdyzRE

— Manya Koetse (@manyapan) 24 juni 2019
Although this 'anti-trend' is meant in a mocking way, it is sometimes also a form of self-expression for young people for whom the Sanlitun-wannabe-models life is an extravagant and sometimes unattainable one.
More: pic.twitter.com/WpcDepTcYe

— Manya Koetse (@manyapan) 24 juni 2019
They don't need trendy streets and Chanel bags to pretend to be models: even the farm field can be their catwalk.
In the end, the anti-trend "models" on Chinese social media are arguably much cooler than the influencers pretending to be photographed. Not only do they convey a sense of authenticity, they also have something else that matters the most in order to be truly cool and attractive: a sense of humor.
Also read: From Mountains of Taishan to Faces of Amsterdam – Interview with Street Photographer Jimmy on the Run
Also read: Beijing Close-Up: Photographer Tom Selmon Crosses the Borders of Gender in China
By Manya Koetse
Follow @whatsonweibo
Spotted a mistake or want to add something? Please let us know in comments below or email us. Please note that your comment below will need to be manually approved if you're a first-time poster here.
©2019 Whatsonweibo. All rights reserved. Do not reproduce our content without permission – you can contact us at info@whatsonweibo.com