Beijing Company Makes Female Staff Kiss the Boss Every Day
This so-called "team-building activity" has caused a storm of criticism on Chinese social media.
Standing in line to kiss the boss every day at 9:00 AM – while it probably is not the ideal morning routine for everyone, it is an everyday reality for one Chinese company. This so-called "team-building activity" has caused a storm of criticism on Chinese social media.
On 8 October, Chinese state broadcaster CCTV published a short article on its Sina Weibo account titled "Beijing Company Makes Female Staff Kiss the Boss Every Day." In the attached pictures, a group of women is standing in an office-like room. One of the girls appears to be kissing a man, while the other girls are watching.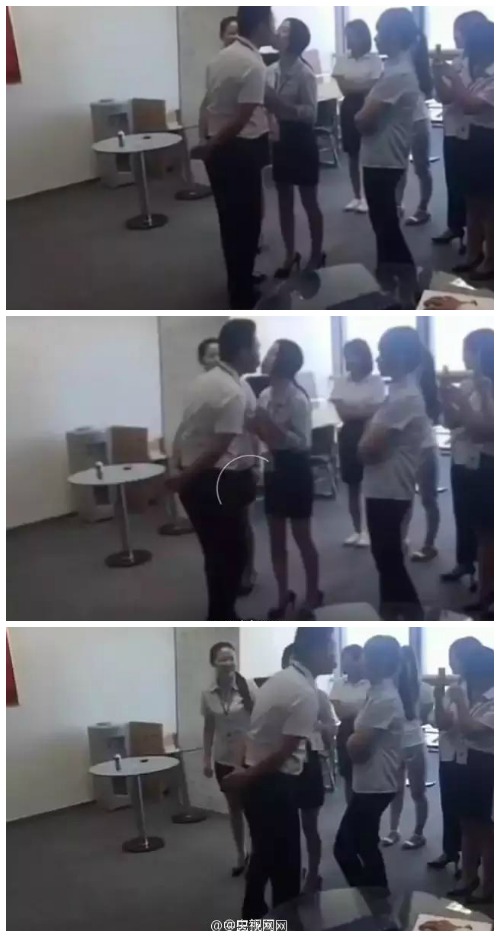 According to CCTV, the pictures were taken at a brewery company in Beijing's Tongzhou district, where more than half of the staff is female. To create a "unique company culture" and to "promote solidarity", the company has set the rule that every morning, the time between 9:00 and 9:30 should be dedicated to "team building". This daily ritual includes female staff standing in line to kiss the boss.
The story soon went viral on Sina Weibo. The hashtag 'Female Staff Must Queue Up to Kiss the Boss Everyday (#女员工须每天排队吻老板) attracted 11 million reads within one day, and has become one of the top trending topics on Weibo. A video of the "kissing ritual" is also available online.
Many netizens are outraged over the story. "Old satyr", one netizen writes: "Just because he is the boss, he feels like he has the right to command his staff to satisfy his needs. Abnormal boss, abnormal company."
Some people also wonder why the female staff does not stand up against the kissing ritual. Although some suggest that employees sometimes just have to do things they do not like to keep their job, others believe that kissing the boss really crosses the line.
"Is it really worth it for a bit of money?", one netizen wonders. "If you want to motivate employees, why not learn something from Japan? Bosses bow to employees every morning as a greeting there."
Even while there are some arguments going around that the video shows an "object-passing" circle game instead of a kissing scene, not everyone is satisfied with this explanation. "If it was an 'object-passing game', it would not involve one single person passing something to everyone else", one netizen argues. "It doesn't matter if it is a kissing or object-passing game – this is extremely dirty either way", another person comments.
Many netizens link the story to more awareness of and opposition towards sexual harassment in the workplace. As the official magazine of China Women's Federation (中国妇联) writes on its Weibo account: "This is institutionalized sexual harassment. However nice the excuses may sound, the bad essence of [such behavior] cannot be changed; once it is turned into a rule, it becomes blunt power abuse at the workplace."
-By Diandian Guo
Follow on Twitter or Like on Facebook
©2016 Whatsonweibo. All rights reserved. Do not reproduce our content without permission – you can contact us at info@whatsonweibo.com.
[showad block=1]
"Elderlies" in Their Thirties: The Growing Interest of Chinese Youth in Nursing Homes
Some Chinese nursing homes are evolving into sought-after havens where China's younger people can "lie flat" without worrying about meals and household chores, while enjoying a high-quality lifestyle.
Chinese nursing homes are changing their image in the social media age. While Chinese vloggers experiment with living in old people's homes, and nursing homes are modernizing their facilities, some senior care centers are offering young people the chance to reside in their communities for free – as long as they spend some time with their elderly residents.
In China, nursing homes (养老院, yǎnglǎoyuàn) are usually not linked to lively living spaces. Many picture elderly residents trapped in dull daily routines, lacking companionship, without any visitors or children around, simply awaiting the inevitable alone.
However, these places, once synonymous with boredom, loneliness, and the end of life, are now piquing the interest of younger generations in China, breathing new life into them and transforming them into more vibrant living communities.
Recently, a nursing home in Hangzhou, Zhejiang Province, began to recruit young people to live there. The initiative is a part of the "Companion Aging Program" promoted by the local civil affair bureau.
Its objective is twofold. One the one hand, it provides new living environments for younger generations facing difficulties in securing housing. On the other hand, it alleviates the burden of social isolation on seniors who struggle to stay in touch with the communities around them.
The program is focused on attracting young people, especially those who have just entered the workforce. They can stay in one-bedroom apartments within nursing homes for free, with only a small monthly management fee of 300 yuan ($41). The only requirement is that they spend at least ten hours each month engaging in activities with elderly residents, like sharing meals, going for walks, or having conversations.
The government initiators stress the program's win-win situation. A staff member at the bureau explains, "The program can provide accompany to satisfy seniors' emotional needs, while also helping 'companions' to save on rental costs."
To ensure that the program is indeed mutually beneficial, the government has established specific criteria for potential senior companions. These requirements include not having current residents in the city, holding at least a junior college education level, and having desirable backgrounds in fields such as medicine, psychology, information technology, arts, or law.
The program has been well-received thus far. In a Weibo poll with the hashtag "Are you willing to live in nursing homes for free by accompanying old people?" (#你愿意陪伴老年人免费入住养老院吗#), initiated by Xinjin News (@新京报), 55% of the respondents wholeheartedly support the initiative, while approximately 30% remain undecided.
According to another recent Weibo post by Sina News, the nursing home has already received hundreds of resumes from applicants.

"The Old Man in His Thirties": Young People Who Want to Live in Nursing Homes

In the meantime, living in nursing homes seems to have become increasingly popular among young people in China, even when it's not always free of charge. Nursing homes have not only been portrayed in more favorable lights on social media by state media outlets, they have also taken proactive measures themselves to improve their image.
Thanks to these collective efforts, what were once seen as lonely and uninspiring places are now seemingly transforming into popular residences where China's younger people can "lie flat" (read more), without worrying about meals and household chores, while enjoying a high-quality lifestyle.
On social app Xiaohongshu, one user named "The Old Man in His Thirties" (三旬老汉) has recently been documenting his experience of moving to a nursing home.
In his first video, somewhat jokingly, he talks about quitting his job due to overwhelming work demands and choosing to embrace a "lie-flat" lifestyle ("躺平"). He was drawn to the nursing home because it provides meals, takes care of residents, and handles daily chores.
Titled "Day xx of living in a nursing home at the age of thirty" ("三十岁入住养老院的第xx天"), his subsequent videos showcase the nursing home staff preparing delicious meals for him, getting him snacks, and even engaging in esports activities with him. These videos also feature his humorous interactions with his roommate, a senior resident in his seventies.
Another post-95 generation Xiaohongshu user (久久姨家政) recently also shared his experiences of living in an old people's home. His videos revolve around talking to older residents, enjoying meals with them or joking around. There are also other accounts, all young Chinese vloggers, sharing their own journeys of moving into senior care facilities.
Although these videos are apparently filmed based on written scripts, many netizens still see the attractiveness of nursing homes through these kinds of videos and posts. Many viewers have left comments under these videos expressing their desire to reside in senior living communities, asking for locations and inquiring about the costs.
Since the first video by "The Old Man in His Thirties" was posted in mid-June, the series has documented approximately 70 days of life in the nursing home. By now, the account has nearly 60,000 followers, and the videos accumulated thousands of likes.
In addition to improving their image through social media, some nursing homes in China have also enhanced their appeal by upgrading facilities. Gyms, swimming pools, snooker tables, free wifi and esports rooms – a variety of amenities have been introduced to transform nursing homes into modern spaces that also cater to the preferences of younger individuals.
Some private nursing homes also market themselves as "nursing homes even young people would want to live in," emphasizing the exceptional quality and modern standards of services and facilities.
This online promotion has had the surprising by-effect that younger and middle-aged people are also changing their attitudes about moving into nursing homes when they are old and retired.
While some nursing homes across the country are offering free short stays for young Chinese, other individuals have gone as far as paying for a short stay to personally experience various nursing homes. One Xiaohongshu user, after spending a night at a local upscale nursing home and sharing her experience with a friend, commented, "After the immersive experience, I'm eager to apply for long-term residency right away."

A Path to Change Eldercare in Aging China

The growing interest of young people in nursing homes is not merely a coincidental trend arising from local government initiatives or viral social media trends.
Elderly care services have been a significant focal point of China's national strategies for several years, driven by the projected fourfold increase in the elderly population, from 36 million to 150 million, in the next three decades.
In early May of this year, the government issued guidelines aimed at establishing a comprehensive elderly care system by 2025. These guidelines emphasize the provision of material support to elderly individuals living alone, which includes the improvement of services and facilities within nursing homes.
This increased focus on nursing homes may indicate a shift in China's eldercare strategies, particularly in light of the significant decline in birth rates. From 2011 to 2020, China prioritized a home-based eldercare system, encouraging younger generations to live in close proximity to their elderly relatives through restructured healthcare facilities and the promotion of filial piety.
Between 2015 and 2020, the central government allocated 5 billion yuan (approximately USD 743 million) to support new pilot programs for home-based elderly care services (Krings et al 2022).
However, with record-low marriage and birth rates, it is likely that a significant number of young people today will later lack the younger family members needed to provide home-based care as they age. Consequently, nursing homes are bound to play a more crucial role in China's future eldercare industry.
In Chinese society, older adults residing in nursing homes are often regarded as examples of personal failures for not having loving families with caring children (Luo & Zhan 2911). Moreover, concerns about potential mistreatment of vulnerable elderly residents by staff members at nursing homes persist.
The increasing interest and recent active involvement of young people in nursing homes offer a way to challenge old stereotypes and bring new ideas to the changing eldercare landscape in China. Perhaps most importantly, it helps combat the loneliness that many seniors face while bridging the gap between the country's younger and older generations.
By Zilan Qian
Follow @whatsonweibo
References (other sources hyperlinked in text):
Krings, Marion F., Jeroen D. van Wijngaarden, Shasha Yuan, and Robbert Huijsman. 2022. "China's Elder Care Policies 1994–2020: A Narrative Document Analysis." International Journal of Environmental Research and Public Health 19, no. 10: 6141.
Luo, Baozhen, and Heying Zhan. 2011. "Filial Piety and Functional Support: Understanding Intergenerational Solidarity among Families with Migrated Children in Rural China." Ageing International 37, no. 1: 69–92.
This article has been edited for clarity by Manya Koetse
Get the story behind the hashtag. Subscribe to What's on Weibo here to receive our newsletter and get access to our latest articles:
Spotted a mistake or want to add something? Please let us know in comments below or email us. First-time commenters, please be patient – we will have to manually approve your comment before it appears.
©2023 Whatsonweibo. All rights reserved. Do not reproduce our content without permission – you can contact us at info@whatsonweibo.com.
Changsha Restaurant Employee Pays the Price after Protecting Abused Child
A Changsha restaurant employee who intervened when a mother beat her child ended up paying the price for it.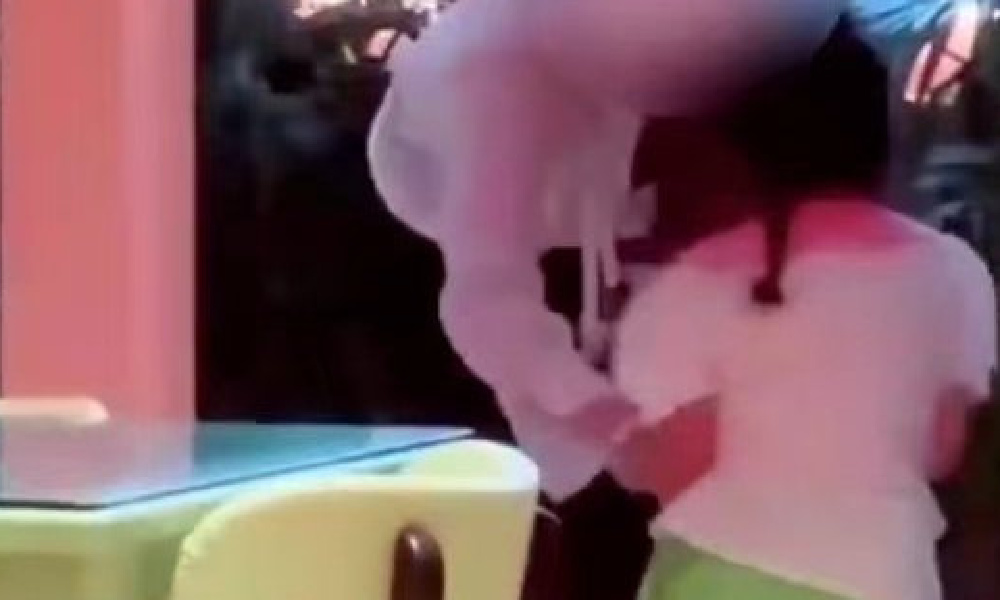 The story of a restaurant employee who had to pay the price for sharing a video of a mother beating her child has triggered anger on Chinese social media.
The incident happened on September 14, when Mr. Jiang (江), an employee at the 'Peng Shu' Western-style restaurant in Changsha, stopped a mother from beating her young daughter at the shopping mall where the restaurant is located.
As reported by the Guizhou media channel People's Focus (@百姓关注), a mother and daughter at the restaurant drew the staff's attention when the mother began physically assaulting her daughter.
The mother, clearly overwhelmed by her emotions, resorted to kicking, hitting, yelling, and even attempting to strike her child with a chair, allegedly in response to the child accidentally spilling ice cream on her clothing.
During this distressing incident, which was captured on video, Mr. Jiang and another colleague intervened to protect the child and immediately alerted the police to the situation.
But the one who was punished in the end was not the mother.
Changsha restaurant staff intervened when seeing a mother beating her child. The topic went trending as a case of injustice after an employee was forced to pay a 10k rmb fine for spreading a video of the incident, while the mother faced no punishment. Read https://t.co/tHGSJx3EGN pic.twitter.com/of5j8KBlCe

— What's on Weibo (@WhatsOnWeibo) September 21, 2023
The video of this incident was shared online, leading the woman to repeatedly visit the restaurant in frustration over her unblurred face in the video. The police had to mediate in this dispute.
To the dismay of many netizens, the employee ended up being forced to pay the woman 10,000 yuan ($1369) in compensation for "moral damages." He has since resigned from his job and has left Changsha. A related hashtag was viewed over 110 million times on Weibo (#餐厅员工发顾客打娃视频后赔1万离职#) and also became a hot topic on Douyin.
The majority of commenters expressed their anger at the unjust outcome where a restaurant employee, who had attempted to protect the child, faced repercussions while the mother appeared to avoid any legal consequences for her actions.
"Where is the All-China Women's Federation when you need them?" some wondered, while others wanted to know why the incident was not followed up with an immediate investigation into the child abuse. Others suggested that if it were a man who had beaten his child, authorities would have been quicker to intervene.
The issue of corporal punishment for children often comes up in Chinese social media discussions. While many people find it unacceptable to beat children, using violence to discipline children is also commonplace in many families.
When China's first national law against domestic violence came into effect on 1 March 2016, article 5 and 12 specifically addressed the special legal protection of children and made family violence against children against the law.
By Manya Koetse
Get the story behind the hashtag. Subscribe to What's on Weibo here to receive our newsletter and get access to our latest articles:
Spotted a mistake or want to add something? Please let us know in comments below or email us. First-time commenters, please be patient – we will have to manually approve your comment before it appears.
©2023 Whatsonweibo. All rights reserved. Do not reproduce our content without permission – you can contact us at info@whatsonweibo.com.
Subscribe to our newsletter
Stay updated on what's trending in China & get the story behind the hashtag
Sign up
here
to become a premium member of What's on Weibo today and gain access to all of our latest and premium content, as well as receive our exclusive Weibo Watch newsletter. If you prefer to only receive our free newsletter with an overview of the latest articles, you can
subscribe for free
here.
Would you like to become a contributor, or do you have any tips or suggestions for us? Get in touch with us here.