Proposal to extend maternity leave to 3 years
Trending topic of August 11, 2014: China's policies on maternity leave. Businessman and National People's Congress delegation member Wang Youjun has consistently been advocating extending China's maternity leave to three years. The topic became trending on Sina Weibo after this weekend. With a greying society and declining birth rates, China is facing similar problems as Japan.
After Japanese Prime Minister Abe, Chinese delegate Wang Youjun now also strongly advocates extending the maternity leave of Chinese women to three years. Read all about this topic in our latest article: Baby Steps Forwards or Backwards? Call to extend maternity leave to three years in China.
[box] This is Weiblog: the What's on Weibo blog section. Short daily updates on what is currently trending on China's biggest social medium, Sina Weibo.[/box]
China's 'Three Child Era' Announcement Is Met with Banter and Backlash on Weibo
"The three-child policy is here, and it's terrifying!"
Four decades after the introduction of the one-child policy and five years after the start of a two-child policy, the Communist Party of China has now issued a statement on May 31 that all Chinese couples are allowed to have three children.
On May 31, after a meeting by the Politburo, Chinese authorities announced that all married couples would be allowed to have three children. The announcement comes over five years after an earlier law came into effect allowing Chinese couples to have a second child.
On Weibo, the topic immediately became top trending, with the Xinhua News hashtag page on the issue (#三孩生育政策来了#) going from 800 million views to 2.2 billion views within just an hour on Monday afternoon local time.
An illustrated image showing three small children was shared on social media by Xinhua, saying: "The three-child policy is here! Actively responding to the aging population, the Central Committee of the Communist Party of China convened a meeting on May 31 on the implementation of a policy allowing couples to have a third child and interrelated support measures."
State media outlet China Youth Daily also published an image depicting two children playing on the floor, the text saying: "The three-child policy has come. They will have a brother or sister."
Loosening policies and plummeting birth rates
Facing a rapidly aging population, China has been loosening its previous 'one-child policy' for years.
China initiated the one-child policy in 1979 with an aim to control the nation's rapid population growth. It was successful in doing so: the government estimates that it prevented over 400 million extra births. The policy has also been blamed for innumerable cases of forced abortions and mandatory sterilizations.
Ethnic minorities or couples in rural areas were already allowed to have more than one child if their firstborn was a girl. Since 2013, couples were entitled to have a second child if they themselves were an only child. Richer families could also choose to have a second child and simply pay the high fine they would get for having another baby.
In October of 2015, the Communist Party of China (CPC) issued an official statement that all couples would be allowed to have two children. That law went into effect on 1 January 2016. Although the new policy led to a brief 'baby boom' – birth rates in China rose to their highest level since 2000 – the number still fell short of government estimation's and the birth rates soon dropped again. In 2019, the birth rate of 10.48 per thousand marked the lowest number since 1949.
More kids, more stress?
When the shift from the one-child policy to a 'two-child policy' was announced in 2015, the expected change created a major buzz on social media. Although many people applauded the change in policy, there were also those who thought the end of the one-child policy came too late to counter the slow growth in population.
'Many Chinese families cannot afford to have a second child,' was one of the most recurring online comments at the time. For many Chinese couples, as only children, the everyday pressure of taking care of their elderly parents and carrying the financial burden for their own household was already very high. "We need more financial support from the government so that we can actually consider having a second child," Chinese Weibo users said in 2015.
The introduction of a possible 'three-child policy' first became a trending topic on Chinese social media in 2018. In that year, Chinese bloggers and netizens denounced the potential measure in saying that an extension from a 'two-child policy' to a 'three-child policy' would add to the burden of Chinese women. Such a policy, they argued, would lead to Chinese women facing social expectations to birth a third child. And with supposed longer maternity leaves, they would also face unequal opportunities in the employment market.
But it is not just about the financial burden and economic pressure. In a 2018 column for What's on Weibo, writer Frankie Huang emphasized that China's declining birth rates are often explained through an economic lens, while the social and historical background that has shaped the ways Chinese young parents think about family life today is perhaps more crucial in understanding people's decision to postpone a second child or eschew one entirely. "We must take into account how the One Child Policy made the single child family normative by erasing the experience of having siblings from the lives of millions," Huang wrote.
The 'terrifying' three child era
Looking back at the online sentiments that dominated Chinese social media before, it is perhaps unsurprising that many commenters on social media platforms in China today are somewhat skeptical about the introduction of a 'three child policy' (三孩生育政策).
A Weibo poll by Chinese state media outlet Xinhua asking "Are You Ready for the Three Child Policy?" was ridiculed by some when nearly 30,000 people replied "I am not considering it [three kids] at all", with only a few hundred people indicating a more positive stance on the policy. The poll was apparently soon deleted.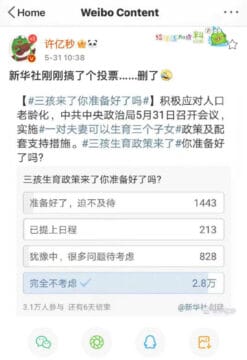 Many people raise issues and concerns that come with having multiple children, including those related to the position of women in the employment market, the high cost of daycare, and children's education.
One popular comment even suggested that China's post-80s and post-90s generations deserve to get a medal if they actually had three children, which would mean that – as only children themselves – they would need to look after four elderly parents, three young children, and then continue working while facing a gradually delayed legal retirement age.
"The three-child policy is here, and it's terrifying!" one popular female Weibo blogger (@Alex绝对是个妞儿) writes: "Many girls around me are already afraid to have one child, and I personally think having one is the limit – I didn't expect the policy to be so ahead of its time! No kidding, if other supporting policies and guarantees are not in place, it will be very difficult to change women's willingness to have children. It's not that we don't want to have children, it's not that the policy doesn't allow us to have children, it's that once we have children, women's lives will collapse and fall apart, and that's what makes women not want to have children."
"This just gives my parents more reasons to pressure me to find a partner," others complained.
"This cracks me up. My monthly income is already barely enough to cover for me alone."
Besides those expressing concerns, there are also many jokes circulating online, such as a supposed Durex ad saying: "I'll go, you guys have fun."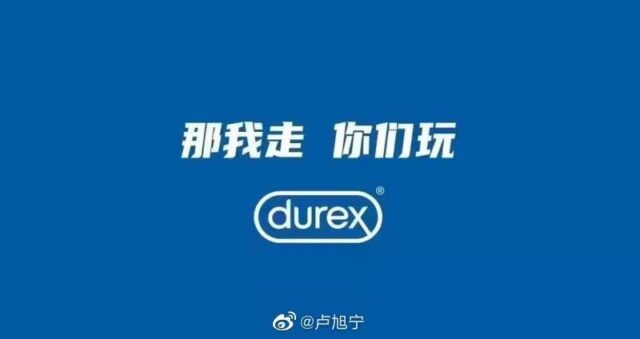 In light of the new announcement, an older interview with Chinese businessman Shih Wing-ching (施永青), chairman of the Centaline Group, caused some controversy online when he suggested that Chinese couples should only be allowed to use contraception after having two children. According to the real estate mogul, it would be an effective way to solve China's declining fertility rates.
"It would be better for him to wear a condom around his brain to protect him from these bewildering thoughts," one Weibo commenter suggested.
Another topic of public ridicule was the image announcing the 'three child policy' by Chinese state media outlet Xinhua for containing a typo, with the wrong character being used in the word 生育, "give birth to" (using 肓 instead of 育).
"Shouldn't we eliminate illiteracy first before letting people have three kids?" one Weibo user jokingly commented.
Despite all the criticism and online jokes, there are also those who are genuinely happy that having three children is now allowed for all couples. Recurring comments praise the freedom that comes with the loosening of family planning policies: "If you want to have more children, you can. If you don't want to, you don't have to."
One woman on Weibo wrote: "When the two-child policy was introduced, I soon became pregnant with my second child. Yesterday I was thinking if we could try to have a baby girl, and just like that, the 'three-child policy' is here!"
By Manya Koetse, with contributions by Miranda Barnes
Spotted a mistake or want to add something? Please let us know in comments below or email us. First-time commenters, please be patient – we will have to manually approve your comment before it appears.
©2021 Whatsonweibo. All rights reserved. Do not reproduce our content without permission – you can contact us at info@whatsonweibo.com.
"Before I Met Him" – Unhappy Marriage Post Goes Viral on Weibo
A post on Zhihu about an unhappy marriage has received millions of views.
A social media post by a Chinese woman sharing her unhappiness in marriage has gone trending on Weibo. The post, which was originally posted on Q&A platform Zhihu.com on May 19, focuses on the issue of losing the desire to share one's passions with each other after getting married.
The post was reshared on Weibo on May 27 by a popular blogger (@我的前任是极品, 16M fans), after which it went viral. Over 37,000 people commented on the post and more than 450,000 users liked it.
The post describes the life of a woman who used to live a happy life in Shanghai but who now, married with a child, feels she cannot share her memories and feelings with her husband, who keeps shutting her down. She feels her married life is like "living in a cage."
A hashtag page relating to the post (#婚后分享欲丧失的瞬间#) received over 490 million views on Friday, making it one of the most-discussed Weibo topics of the day.
Over the past weeks, there have been many trending topics related to marriage and married life in China. Earlier in May, the annual China Beautiful Life Survey, conducted by the National Bureau of Statistics, revealed that 19.7% of married women in China regret getting married.
That topic also sparked discussions on married life and dissatisfaction among women, with many commenters indicating that they thought the actual number of unhappily married women might actually be much higher than 19.7%.
The dissatisfaction with marriage relates to many different issues. The problem of domestic violence has received much more attention in China recently. The issue of women feeling pressured to get married also sparked many discussions throughout the years. The clash between traditional ideas about married life, including the division of household responsibilities, and the ambitions and aspirations of modern-day women in China keeps coming back in day-to-day discussions.
The post that went viral is (loosely) translated below:
Before I met him, I was in Shanghai, going out for food and drinks every weekend, hiking and camping in the mountains with my buddies, and going to my colleagues' house for mahjong and hotpot games. I spent all of my money every month and also used installments for my credit card. But I was also working hard, I was the best performer in a team of about ten people. I was doing well for myself but I was also a bit of a 'happy-go-lucky.'
After I met him, I left Shanghai to go to Guangzhou, because we had more prospects of settling down there and buying a house. We've been in Guangzhou for four years now. We got married and have a child. On the weekends, we never get together with friends. Actually, we don't really have friends. He doesn't like to go out for walks and I feel too lazy to move anyway. Before we had our baby, we would watch movies on the weekends and have dinner together, but now basically everything revolves around our child. Of course, since we've been leading this life we've been able to save money, even though my wages aren't high, and we have a strong sense of security.
But as the days go by, I feel more and more suffocated. I will give you an example, I hope you'll understand.
A while ago I went back to Shanghai to take care of something. I was finished at 9 pm that evening and felt good, so I rode a bike to go back to the bar, and I wanted to see the place where I had lived. I had lived in Shanghai for three years, and I felt deeply about it – I loved this city. Especially the area of Xujiahui, where I had lived, and where the streets were quiet and the houses were pretty.
When I bring back the memories of my old life, my heart feels a bit heavy, but I can't share that with him, because I don't think he would like to hear about it.
After I returned from the bar, I told him about the job interview I had in a video call. HR had told me they would discuss wages with me the next day. He immediately started to lecture me on how to talk to them. It would be ok if it was just that, but in his tone of voice, I sensed he questioned my capabilities as if I didn't understand anything. This manner of speaking will come up on a daily basis, but on this day it particularly got to me. I just said: "Could you mind your tone and consider my feelings? I was just riding my bicycle and feeling good, but I can't share that with you because I know you don't want to talk about that." He immediately responded: "Don't tell me about it, I definitely don't want to chat about it with you. I don't approve of your Shanghai life values at all, I don't want to hear about your life there."
I felt hurt. I remember how he shared pictures taken at his old school with me before and how I showed interest and brought back memories together with him. Even now I could imagine him not wanting to share more with me, but I can't phantom him being so determined not to discuss this.
This all left a bad taste in my mouth and made me despair about my life afterward. How the person that matters most to me did not show any care or longing for me while I was away by myself, just wanting to shut you up and not talk about those useless things. Who can I share my happiness with? Who could I confide in and share my longing? Who could take my loneliness away? You are happily married, but have you ever thought that there are women out there who are treated like this by their husbands and that these husbands even think their wives should be grateful for finding a wise husband like him? I can't really analyze it too much. I don't know if I made myself clear. I just hope someone will understand.
Perhaps a lot of people are stuck dealing with marital infidelity, domestic violence, or poverty, and you may find this kind of sentimental nonsense of mine very boring, but I would like to say; is this not some kind of psychological domestic violence? When at any time and anywhere you are degraded by your partner, your needs are always rudely rejected, and you're always afraid of being lectured and blamed for everything you do -isn't that hard to bear?
Some of you may question if there's something I did wrong, or if I perhaps really am incapable. I think I can still objectively evaluate myself: I have an annual salary of 150K [$23,500] (the other day of negotiating salary with the company we talked about an annual salary of 240K, and by the way, his annual salary is over 400K [$62,700]), I show filial respect to my parents, I'm especially good to my in-laws – I gave birth to the son the whole family wanted (let's not mention the preference for boys), we have no house and no car (we're planning to buy a house). I don't like luxury goods. The most expensive bag I have is 780 [$122]. I do not wear makeup. My skincare products are of Curél rank. My most expensive shoes aren't more expensive than 600 [$94]. Since I'm with him, I've only gone on two three-day trips in the area. Usually, I pay for most of the meals and movies (he pays for the water and electricity), Starbucks is overpriced, but we often have Luckin coffee. In general, I'm a level-headed – not overly materialistic and certainly not stingy – mentally healthy woman who is longing for a happy life.
Before getting married, I was looking forward to married life. Maybe my parents were too happy. After marriage, I feel like I'm living in a cage for 80% of the time. I can't escape from it, and even if I could escape, I don't know where to go.
The hard part about marriage is not that you are not married to a good man, but that you are married to a man who everyone thinks is a good man, but who is not good to you at all and does not even want to be good to you.
One of the main reasons the post went viral on Friday is because the anonymous blogger's story resonated with many Weibo users.
"I feel this could have been me," one person said: "Before, if there was something, he would be the first person I'd share it with, but not anymore. Because now I think he wouldn't like it, or even dislike it, or not show interest at all. Over time, I've stopped sharing my feelings with him, regardless of whether I'm happy or unhappy."
One commenter wrote: "When men get married it's fine as long as they go to work, there is no big difference from being single. Yet when women get married they also need to work, and to give birth and look after the baby, do housework, serve the in-laws – it's just not about losing the desire to share one's passion, it's about there simply being no time to share!"
Others also comment that sometimes too much information is shared between their partner and them: "He even lets me know how many times he went to the toilet!"
Although many people understand the original poster's situation or even recognize themselves in her, there are also those who do not understand why she doesn't get divorced. "This is not about losing a passion to share, this is about no longer loving someone," some say: "If you can't even talk about things that make you happy anymore, it's the beginning of the end."
By Manya Koetse
Featured image by JJ Ying on Unsplash
Spotted a mistake or want to add something? Please let us know in comments below or email us. First-time commenters, please be patient – we will have to manually approve your comment before it appears.
©2021 Whatsonweibo. All rights reserved. Do not reproduce our content without permission – you can contact us at info@whatsonweibo.com.