Remembering San Mao – the Bohemian Writer That Captured the Hearts of Millions of Chinese
27 years after her suicide, bohemian writer San Mao still strikes a chord with Chinese netizens.
Renowned author and world traveler San Mao (三毛) was one of the first Chinese mass media celebrities. Exactly 27 years after her passing, Weibo netizens collectively commemorate her free spirit, inspirational life, and tragic death.
In a time when Beijing's first fast-food restaurants opened their doors, people were hooked on Teresa Tang's sweet voice, and television sets entered Chinese living rooms, pirate editions of books by the wildly popular Chinese author San Mao first started spreading all over mainland China.
Before this time in the late 1980s, the female author was already a celebrity in Taiwan and Hong Kong since the 1970s; not just because of her many books, newspaper columns, song lyrics, and public lectures, but also because of her free, cosmopolitan, and "legendary" life that captured the imagination of many Chinese eager to look beyond their own borders.
Researcher Miriam Lang (2015) describes San Mao as "one of the first mass media celebrities in the Chinese-speaking world" (440).
On January 4th 2018, the 20th-century writer became a trending topic on social media when various media commemorated her. Chinese state media outlet People's Daily dedicated a post to the iconic author on Weibo, titled "Today, we cherish the memory of San Mao."
People's Daily writes:
"She was born in Chongqing, moved to Taiwan, studied in Spain, and settled in the Sahara. All of her life she pursued freedom and touched the hearts of many with all of her words. Her love-story with Jose stirred people's emotions. Her mother said that maybe her life was not perfect enough for her, but we now know that her life-long pursuit of her dreams has already become romantic legend. Today, in 1991, writer San Mao committed suicide."
Besides that the post itself attracted thousands of comments and was shared nearly 3800 times, many other media outlets and netizens also posted their own commemorations to the author on Weibo. One post by the Communist Youth League received more than 100,000 comments on January 4th.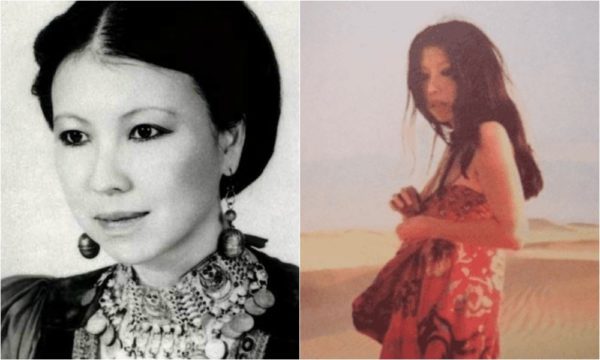 "She was the first author I really loved," one person comments: "Whether she was in the Sahara or Madrid, the way she describes her love has become like a little gemstone in my own life."

A Woman Writer Named Chen, Echo, and San Mao

San Mao is known as the wandering writer. Throughout her life, she moved from place to place; a life pattern that already started forming in the early years of her childhood.
San Mao was born in Chongqing, China, in 1943. Her parents, mother Miao Jinlan and father Chen Siqing, named their little girl Chen Mao Ping (陈懋平). Chen, however, later preferred to be called Chen Ping, and gave herself the English name of 'Echo' to honor her painting teacher. Once she started writing, she used the pen name San Mao (三毛), which is how she came to be remembered.
San Mao's early years took her from wartime Chongqing via Nanjing to Taiwan, where the 6-year-old girl had trouble fitting in at school. She preferred reading books over doing schoolwork, and while she read literary classics such as Don Quixote at an early age, she failed in mathematics and received low grades.
After a teacher at her Taipei school embarrassed her in front of her classmates by drawing a '0' grade on her face and making her parade around, she refused to continue her classes there and was home-schooled by private tutors and her own father, who was a lawyer (Chen 2007).
After studying Philosophy at the Chinese Culture University in Taiwan, the 20-year-old San Mao set out to broaden her horizons and moved to Spain, where she enrolled at the University of Madrid. It was the start of her bohemian lifestyle, that brought her from Spain to Germany, from the Sahara Desert to the Canary Islands, and from Central and South America back to Taiwan.
San Mao experienced many adventures but also had to face many difficult times. Her first great love whom she was to be married to, a German teacher 19 years her senior, died of a heart attack when San Mao was 26 old.
Ten years later, her Spanish husband Jose Maria Quero Y Ruiz, whom San Mao lovingly called 'He Xi' (荷西) and with whom she had spent six years in the desert, tragically died during a diving accident.
Miriam Lang, in her study of San Mao (2015), describes her as "unusual for a woman of her time and place"; she traveled far from home, married a non-Chinese man, and remained childless. Nonetheless, Lang notes, San Mao was also traditional in that she represented herself as a "happy housewife" while married, and expressed conservative feminine values in her books (443).
Although San Mao published her first book at the of 19, she did not really gain fame until the release of The Stories of the Sahara (撒哈拉的故事) in 1976. This work revolves around San Mao's personal experiences in the Sahara desert together with her husband Jose (Ying 2010, 162).

An Unhappy Ending

In the decade following her husband's death, San Mao first set out on a 6-month journey to America but then traveled less and finally settled in Taiwan in 1982, where she started teaching literature and creative writing at the Chinese Culture University.
Being a celebrity, her classes were always packed – students lined up to attend her lectures.
In 1989, she first visited mainland China again since her childhood, where she started working on the screenplay of Red Dust, a love story set during the Sino-Japanese war. Although the film eventually received much acclaim – even winning the prize for Best Film at the Golden Horse Awards of 1990 – San Mao received criticism for creating a "too positive picture" of the leading male character, who was perceived to be a traitor to the Chinese nation (Lang 2015, 442).
Despite all of her activities in her later career, San Mao never parallelled the success she had with her stories about the Sahara. In 1990, San claimed she had won a literary prize in Spain for novella written in Spanish, but the work appeared to be non-existent (Lang 2015,442).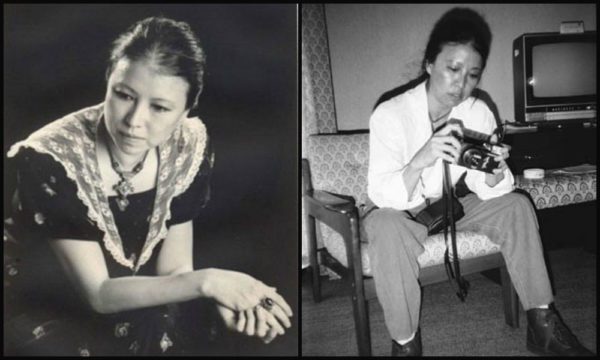 In early 1991, San Mao admitted herself to a hospital in Taiwan where she was tested for cancer. The results turned out negative, but San reportedly asked the nurse for a sleeping pill for the night and asked her not to wake her (Chen 2007).
San Mao ended her own life by hanging on January 4, 1991, at Rongmin General Hospital. She was 47 years old.
Father Jerry Martinson, a Jesuit priest who knew San Mao for years as the brother of her close friend Barry Martinson, told UCA News two weeks after her suicide that San Mao "desired to escape from her fame's pressure and emotional entanglements, and to reunite with Jose (..). His death was a trauma in her life."
He also said that Antoine Saint-Exupery's The Little Prince was San Mao's favorite reading: "At the end of the story, the Little Prince wanted to go back to his planet, reachable only through short suffering."
Throughout her life, San Mao visited over 54 countries and wrote a total of 26 complete works (Chen 2007; Lang 2015, 442; Huang 2017). An English translation of her work Stories of the Sahara (1976) is expected to be released by publishing house Bloomsbury in 2018.

Online "San Mao Fever"

The suicide of San Mao generated a new wave of "San Mao fever" in the 1990s. And now, more than two decades after her death, the Chinese celebrity still has major appeal to social media users, who post her quotes, photos, and audio segments.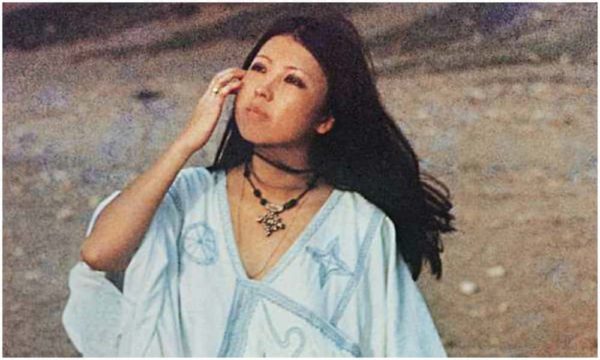 "How I love San Mao," one person writes: "Her every word is just immersed with her wisdom."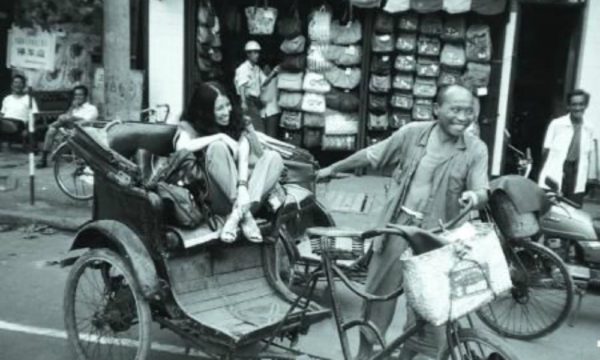 But not all commenters are equally positive. Some say that San Mao is representative of a time when Chinese women "blindly followed" western values, adoring foreign men.
For the majority of commenters, however, San Mao is a name that brings out new inspiration or old memories. "Whenever I think about her stories from the Sahara, it just moves me."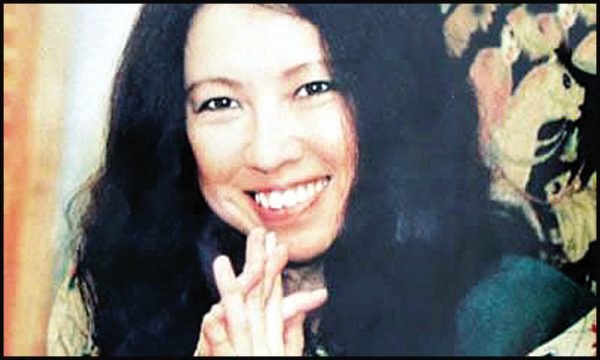 One Weibo user honors San Mao by posting one of her quotes*:
"Often, I asked myself, what is distance? Then I heard my own answer, saying that distance is what I desired most in life – that it is freedom.
A freedom far, far away, like the air.
At that moment, I realized that I had slowly released myself from all the things I didn't need that were binding me to my life. I then thought: I can go to the most remote corners of the earth if that is where my heart wants to go.
It was in that moment, that my freedom had finally arrived."
If you are interested in this story you might also be interested in reading the story of Li Xianglan, the superstar who was caught between China and Japan during the Second Sino-Japanese War.
Update 2020: Sanmao's most famous work is now also available in English translation! Get it on Amazon here:
Stories of the Sahara (English)
The Stories of the Sahara (in Chinese) can be purchased from Amazon:
The Story of the Sahara (Chinese Edition)
The complete works of San Mao can also be purchased in Chinese online:
The Complete Works of Sanmao (Chinese Edition)
iTunes also offers The Stories of the Sahara in Chinese:

By Manya Koetse
Follow @whatsonweibo
Sources & References
Chen, Shaoshua. 2007. "San Mao – Taiwan's Wandering Writer." Women of China, November 30. http://www.womenofchina.cn/womenofchina/html1/people/writers/8/8989-1.htm [4.1.18].
Huang, Echo. 2017. "The brave, tragic adventurer who inspired generations of Chinese girls to adopt her nickname." Quartz Magazine, April 24. https://qz.com/963273/the-world-traveling-writer-san-mao-inspired-generations-of-girls-to-adopt-her-nickname-echo/ [4.1.18].
Lang, Miriam. 2015 (2003). In Lily Xiao Hong Lee and A.D. Stefanowska (eds), Biographical Dictionary of Chinese women – The Twentieth-Century 1912-2000. London/New York: Routledge.
Treichel, Tamara. 2013. "The Echo Effect." Global Times, March 10. http://www.globaltimes.cn/content/767044.shtml [4.1.18].
UCA News. 1991. "PRIEST SAYS WRITER WHO COMMITTED SUICIDE WANTED TO BECOME CATHOLIC NUN." UCA News, February 21. https://www.ucanews.com/story-archive/?post_name=/1991/02/19/priest-says-writer-who-committed-suicide-wanted-to-become-catholic-nun&post_id=32086 [7.1.18].
Ying, Li-hua. 2010. Historical Dictionary of Modern Chinese Literature. Lanham: The Scarecrow Press.
Images
http://www.baike.com/wiki/%E4%B8%89%E6%AF%9B%5B%E4%BD%9C%E5%AE%B6%5D
http://designblog.rietveldacademie.nl/?tag=mask
http://cq.people.com.cn/GB/365409/c24845560.html
http://www.360doc.com/content/14/0623/15/700274_389097947.shtml
https://www.lemiaunoir.com/san-mao-mujer-escritora/
http://www.sohu.com/a/142240780_767795
http://www.sohu.com/a/130964781_488738
https://elpais.com/elpais/2016/10/25/inenglish/1477405923_390849.html
* "常常,我跟自己说,到底远方是什么东西。
然后我听见我自己回答,说远方是你这一生现在最渴望的东西,就是自由。
很远很远的,一种像空气一样的自由。
在那个时候开始,我发觉,我一点一点脱去了束缚我生命的一切不需要的东西。
在那个时候,海角天涯,只要我心里想到,我就可以去。
我的自由终于在这个时候来到了."
Spotted a mistake or want to add something? Please let us know in comments below or email us.
©2018 Whatsonweibo. All rights reserved. Do not reproduce our content without permission – you can contact us at info@whatsonweibo.com.
A Baby for Sale, a Mother Chained Up – How Chinese Netizens Are Pushing Specific Social Issues to the Forefront
The stories of Liu Xuezhou and the Xuzhou mother both developed in real-time while netizens pushed them to the front page, making them too big for state media to ignore.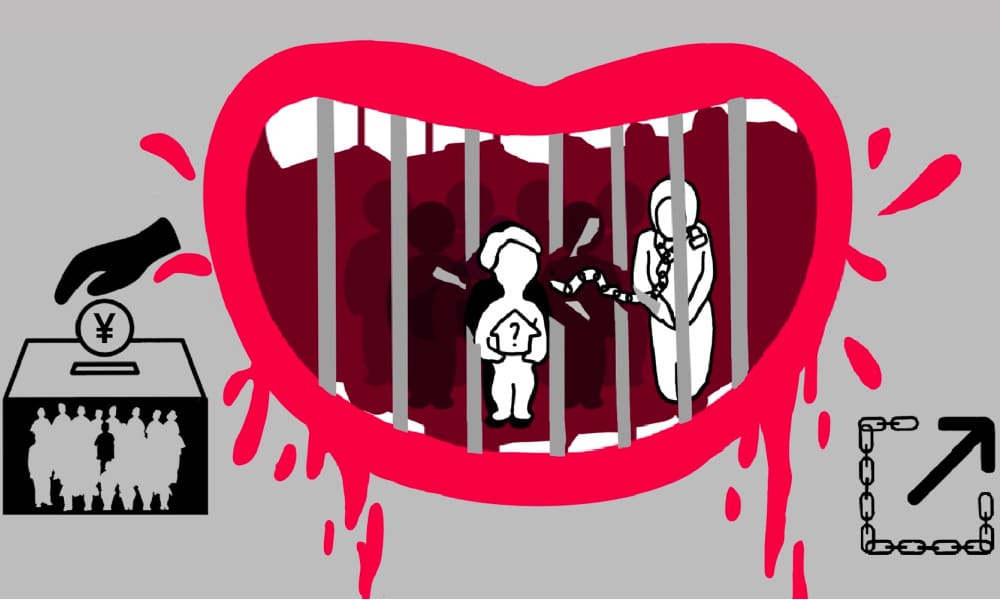 It only takes a spark to start a wildfire. From Liu Xuezhou to the Xuzhou mother, China's online spheres have seen multiple major trending topics this year that started with one short video and then caused a social media storm with netizens highlighting and amplifying specific stories to address bigger social problems.

This is the "WE…WEI…WHAT?" column by Manya Koetse, original publication in German by Goethe Institut China, visit Yi Magazin: WE…WEI…WHAT? Manya Koetse erklärt das chinesische Internet.

It was December 6th of 2021 when a teenage boy posted a short video on Chinese social media. With a straight back, clear voice, and serious face, he looked directly into the camera and said:
"Hello everyone, I am Liu Xuezhou and I am looking for my biological parents. I was born in between 2004 and 2006 and around the age of three months old, I was bought by my parents, my adoptive parents, in Datong in Shanxi. I am healthy. I don't have any congenital physical defects or diseases; I don't have any obvious birthmarks or scars. At the age of four, my adoptive parents passed away due to an accident. I am now living in Nangong, Xingtai, in Hebei Province. I study in Shijiazhuang. I wish I'd found my biological parents sooner, to make up for what I missed. I hope you can help me spread my message so that those who suspect they might be my parents can see it."
This video would be the start of a story followed by millions of Chinese netizens. It is the story of Liu Xuezhou (刘学州). The search for his parents and his death became one of the biggest topics on China's social media of the past months.
Why did the tragic story of one teenage boy capture the entire nation? There are multiple reasons. By posting his call for help in finding his biological parents, Liu involved Chinese netizens in his journey from the start, allowing them to follow his story in real-time through his social media and news reports. Another aspect of Liu's story is the resilience he showed despite his tough life, something that many admired about him.
But more importantly, Liu's story is part of a recent broader interest in the stories behind the widespread problem of trafficking in women and children in China, with more people raising awareness on the tragedies caused by these practices and demanding justice for the victims.
Besides Liu's story, the story of a Xuzhou mother-of-eight being tied up and living in abominable conditions in a shed also dominated online discussions for weeks on end.
Liu's Story: Sold, Orphaned, Abandoned
After Liu Xuezhou posted the aforementioned video on Douyin, the Chinese version of the popular TikTok short video platform, it soon went viral and various Chinese news sites started reporting on Liu's search for his biological family.
Liu's resilience was impressive. In interviews, he said that his story did not define him and that he was determined to make something of his life. Since 2018, the young Liu was working to earn money while also going to school. His plan was to be admitted to university.
After his adoptive parents died in a firework explosion, Liu was raised by his grandparents and was sent to boarding school. Liu's childhood was not a happy one. Being so young without parents, he was a target of school bullies and had to change schools at least four times until, by grade six, he had finally found a school where he could thrive.
Many people supported Liu and wanted to help the teenage boy, who was thought to have been kidnapped as a baby and then bought by his adoptive parents through an intermediary at a Datong hotel for 30,000 yuan ($4735).
Although Liu's birth certificate said he was born in September of 2005, nobody was sure how old Liu actually was, and his grandparents did not remember the details surrounding his adoption. By late 2021, as a 16-something-year-old, Liu felt it was time to get some answers and find his biological parents. How did he end up being adopted? Was he abducted? Were his parents still out there searching for him?
Through his own efforts – sped up by finding his vaccination records – and with some help of the police, Liu was able to trace down his biological parents. On the evening of December 15, Liu sent a message to a journalist reporting on the case: "I found my mum and dad."
His parents' story, however, was not what Liu had expected at all. After DNA tests confirmed that they were in fact his biological parents, Liu was ready to meet them. But what was supposed to be a happy reunion turned out to be a bitter disappointment.
Liu's biological parents, who were living in Datong, were not together anymore. Liu soon learned that he had not been abducted as a child, but that he had been sold on purpose by his father. His parents were unmarried when they had him, and Liu's father turned out to have used the money they earned by selling their baby to marry Liu's birth mother. They married and had another son, but then ended up divorcing. Both remarried again, and Liu's father even got divorced two more times after that.
Although some of the unhappy circumstances surrounding Liu's reunion with his parents came out through his posts on social media throughout January of this year, most of the details surrounding his situation only became clear when Liu posted a farewell letter on his Weibo account on January 24th, just a few minutes past midnight.
Titled "Born with little, return with nothing," Liu posted a lengthy letter explaining his situation.
In this letter, Liu said that besides being sold as a child and becoming an orphan at the age of four, he was also severely bullied by classmates and molested by a teacher at school. His aunt, whom he loved as a mother, also left him behind after she moved away due to a broken marriage.
As he spiraled into depression, Liu felt a spark of hope when he saw the news about Sun Zhuo (孙卓), whose story became one of the major trending news stories of 2021. In 2007, when Sun was only four, he was stolen off the street by a human trafficker. His biological parents never gave up hope they would find their son again and sacrificed everything to be able to fund their search efforts. The Chinese film Dearest (亲爱的) was partly based on their story.
After a years-long search, Sun was found in 2021 due to the help of authorities and face recognition technology that helped trace the person suspected of abducting him. In an unexpected twist, Sun stated that he would prefer to stay with his adoptive parents, who had raised him for a decade. The story triggered many online discussions and raised more awareness on the issue of the trafficking of children in China in times of the country's one-child policy. Sun's biological father spoke to the media saying: "For 2022, my biggest wish is that all the abducted children can finally be found."
It was Sun Zhuo's story that inspired Liu to search for his own parents, and it was also Sun Zhuo's story that brought more attention for Liu's initial video, which struck a chord with many who hoped that he could also be reunited with his parents and actually stay with them.
Liu described how his biological father did not seem happy when Liu first contacted him, and seemed reluctant to meet. His biological father eventually did come to see him, but their communication afterward was not smooth. When his father told Liu that he was sold as a baby so that he could pay for the bride price to marry Liu's mother, Liu was heartbroken and could not sleep for several days: he was not kidnapped, and his parents never searched for him.
His mother also was not elated that her biological son had found his way back to her. Liu felt unwanted, again, and was also searching for a home to live and was not sure who to turn to anymore. After he asked his biological father for help in buying or renting a place to live, he was blocked on WeChat. Liu then decided to take his parents to court.
Sharing screenshots on social media of the developments between him and his parents, Liu was condemned and bullied by netizens, who accused him of only wanting to find his biological parents for financial gains.
It was all too much for the teenage boy. In his farewell letter, he expressed the hope that the traffickers and biological parents would be punished for their deeds. Liu was later found to have committed suicide at a beach in the city of Sanya, and could no longer be rescued. Liu passed away within a month after meeting his biological parents at the age of just 15 years old.
By now, Liu's farewell letter has been shared approximately 174,000 times on Weibo, it was 'liked' over 2,4 million times and has received thousands of comments.
The topic of Liu's death exploded on social media and led to national outrage. Many people sympathized with the boy and were angry at all who failed him: "Poor child, abandoned and sold off by his parents, bullied and humiliated by his schoolmates, molested and discriminated by his teacher, cyberbullied by keyboard warriors. Now he's dead!"
The injustice of Liu's situation – starting with how he was sold as a child – is what angered people most. China Digital Times recently described how on the Weibo page of Dr. Li Wenliang, one of the doctors who raised the alarm about the coronavirus outbreak, many people also mention Liu Xuezhou. Dr. Li Wenliang was one of the eight so-called 'whistleblowers' who tried to warn his colleagues about the Wuhan virus outbreak in late 2019, but was censored and reprimanded by local police for making "false comments." He later became infected with the virus himself while working at the Wuhan Central Hospital and passed away on February 7th of 2020, sparking a wave of anger and sadness on social media.
Over the past two years, Dr. Li's Weibo page has become a digital Wailing Wall where people send little messages to remember Dr. Li, tell about their own anxieties and worries, but also address social injustices. As recorded by China Digital Times, one among thousands of comments said:
"Two years ago today, I had a sleepless night because of you, and my Weibo account once got shut down because I posted something about you. Over the past two years, I've often wondered: will this world become a better place? But between the Liu Xuezhou incident and the woman in Xuzhou with eight kids, I've been disappointed time and time again. If you happen to see Liu Xuezhou, please be good to him."
Looking at Dr. Li's Weibo account today, it is not just Liu Xuezhou who is brought up by commenters; 'the woman in Xuzhou' is also mentioned by dozens of people as someone experiencing injustice. But who is she?
The Chained-Up Mother in Xuzhou
In late January of 2022, right around the same time when Liu Xuezhou was one of the biggest topics on Chinese social media, a TikTok video showing a woman chained up in a shed went viral online and triggered massive outrage with thousands of people demanding answers about the woman's circumstances.
The video, filmed by a local vlogger in the village of Huankou in Xuzhou, showed how the woman was kept in a dirty hut without a door in the freezing cold. She did not even wear a coat, and she seemed confused and unable to express herself.
To give the full story, here is the original video that caused the social media storm, which is still ongoing today (tw distressing content, not sure why the lock is blurred, as if that is the most shocking thing about this video..) pic.twitter.com/UOA5zrfeQ4

— Manya Koetse (@manyapan) January 30, 2022
Other TikTok videos that came out around the same time showed how the woman's husband, a man by the name of Dong Zhimin (董志民), was playing and talking with their eight children in the family home right next to the hut where the mother was confined.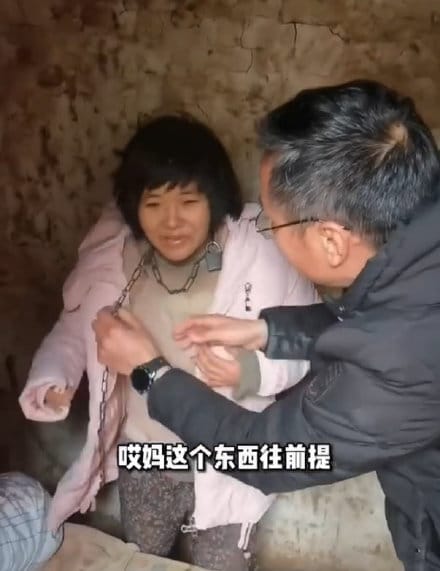 The video caused a storm on social media. Many netizens worried about the woman's circumstances. Why was she chained up? Was she a victim of human trafficking? Was she being abused? How could she have had eight babies? Was she forced to have so many children? While netizens were speculating about the case and venting their anger, Weibo shut down some of the hashtags dedicated to this topic, but the topic soon popped up everywhere, and people started making artworks and writing essays in light of the case.
Following public demands, local authorities started looking into the case. An initial statement by Feng County, where the village of Huankou is located, was issued on January 28 and it said that the woman, named Yang (杨), married her husband in 1998 and that there was no indication that she was a victim of human trafficking.
The woman was dealing with mental problems and would display sudden violent outbursts, beating children and older people. The family allegedly thought it was best to separate her from the family home during these episodes, letting her stay chained up in a small hut next to the house.
The first statement raised more questions than it answered and more people, including influential Weibo bloggers and media insiders, started investigating the case. Meanwhile, it became clear that husband Dong Zhimin was giving interviews to other vloggers flocking to Huankou. Besides talking about his eight children (seven sons, one daughter) as future providers for the family, he also used his newly-acquired 'fame' to make money through social media. This only led to more online anger about Dong exploiting his wife and children.
As the social media storm intensified, more official statements ensued. On January 30, Feng County local officials responded to the controversy in a second statement, in which the Xuzhou mother was identified as Yang *Xia (杨某侠) who allegedly once was "a beggar on the streets" in the summer of 1998 when she was taken in by Dong family and ended up marrying their 30-something son Dong Zhimin.
Local officials did not properly check and verify Yang's identity information when registering the marriage certificate and the local family planning department also made errors in implementing birth control measures and following up with the family. The statement said that Yang had been diagnosed with schizophrenia and was now receiving treatment.
A third, fourth, and even fifth statement issued by authorities on February 7th, 10th, and 23rd confirmed what many on Weibo had suspected all along, namely that Yang had indeed been a victim of human trafficking. Xuzhou authorities said their investigation had brought them to the village of Yagu in Yunnan, a place that was mentioned on Yang's marriage certificate.
Yang was identified as Xiaohuamei (小花梅), born and raised in Yagu. Yang's DNA had been compared to that of the family of Xiaohuamei, and the DNA match confirmed that Yang was indeed Xiaohuamei. According to the statements, Xiaohuamei married and moved to another city in 1994, but she divorced and returned to her village two years later, which is when she allegedly also showed signs of mental illness.
Her parents, now deceased, then allegedly ordered a female fellow villager to take their daughter to Jiangsu to get married there. According to the woman, she took Xiaohuamei with her on a train from Yunnan to Jiangsu's Donghai, but she allegedly 'went missing' shortly after arrival. The woman never reported her as missing to the police and she never notified the family.
That woman, along with another man and Dong Zhimin, are now held criminally responsible for illegal detainment and human trafficking. Xiaohuamei was reportedly sold to a man in Donghai for 5,000 yuan ($790) in 1998. Though Xiaohuamei managed to escape, she was sold twice again, eventually ending up with the Dong family.
While details surrounding the case of the 'chained Xuzhou mother of eight' are still being discussed on Chinese social media, it has become clear that by now, 'Yang' has come to represent many more women like her. Over the past few weeks, the stories of other women who also might be a victim of human trafficking have surfaced, and the public outcry demanding justice for trafficked women is ongoing.
One Social Media Spark Starting a Wildfire
Both in the case of Liu Xuezhou and the Xuzhou mother, it should be noted that their stories initially did not catch the public's attention because official news media reported them, but because of first-hand videos being posted on TikTok (Douyin) and then being picked up and shared by bigger accounts.
Both Liu's video and the short video featuring the mother of eight were posted on accounts that were not necessarily very popular: starting as a small spark in an online environment with over 900 million social media users, they were shared, commented on, and then spread like wildfire.
Both stories developed in real-time while netizens were following the case, both stories eventually became too big for Chinese state media to ignore, and both Liu and Yang highlighted bigger social issues in contemporary China, mainly those relating to human trafficking.
Since these cases went viral, there has been a heightened focus on the problem of human trafficking, which mostly occurs in China's poorer areas with weak governance. The trafficking of especially women and children has various purposes, including forced marriage and illegal adoption in areas where there is a shortage of women (along with a preference for baby boys).
China Daily recently reported that lawmakers and advisers are now pushing for heavier punishment for human trafficking crimes, suggesting that the current penalties imposed on the buyers of women and children are too weak; the maximum prison sentence for those who purchase abducted women and children is three years.
In the case of the Xuzhou mother, there has been online censorship but the ongoing intense public outrage eventually did lead to higher-level research into the case. The mother was rescued from her terrible situation, the human traffickers involved are being held responsible, and so are 17 officials, who will be punished by authorities for their wrongdoings in the case.
As for Liu Xuezhou, his adoptive family members have recently filed a request at the Sanya Public Security Bureau to launch another investigation into his case. Their request was accepted on February 23rd, with multiple people being suspected of criminal offenses, eventually leading to his death. On Weibo, many people are now demanding punishment for Liu's biological parents.
In late January of this year, following the tragic ending to Liu's story, Chinese state media1 emphasized how the widespread attention for these kinds of stories in the social media era is also changing how government agencies should interact with the public.
According to Dr. Liu Leming, associate professor at East China University's Political Science faculty, government agencies need to follow up and respond more quickly to social incidents like these in the internet era: "When public issues emerge, people who are involved in social problems or incidents want to know, more than anything, whether their requests have been seen and who will handle their concerns."
In light of these recent stories, the public is happy that actions have been taken, but they are not satisfied with how these cases were handled. Many argue that authorities have failed in being transparent, that local governments have not done enough to prevent these cases from happening, and that China should do more to put an end to human trafficking.
And so, they are still posting the stories of children like Liu and women like Xiaohuamei to keep raising awareness and to keep pressuring local authorities and lawmakers to take more action to eradicate these practices.
As Liu is no longer alive and Xiaohuamei, still hospitalized, cannot defend herself, Chinese netizens keep raising their voices for them. In doing so, they have not just impacted how authorities dealt with these specific cases, but they are also changing how cases such as these will be handled in the future.
One Weibo user discussing Liu and the Xuzhou mother wrote: "We need to get to the bottom of these kinds of stories: who is to blame, who made mistakes, and where do we go from here?"
In the meantime, online posts, videos, and artworks honor both Liu and Xiaohuamei, so that their stories will not be forgotten. "Dear little one, springtime has come," one among thousands of messages still flooding Liu Xuezhou's Weibo page says: "You have endured too many things that you should have never experienced. It should have been us, the adults, taking care of these things for you. You please go and rest now, we will finish the rest for you."
By Manya Koetse
Follow @whatsonweibo
For information and support on mental health and suicide, international helplines can be found at www.befrienders.org.
1 Cao Yin and Li Yang. 2022. "Policymakers, Lawmakers Respond to Opinion Voiced Online." China Daily Hong Kong, January 28, Page 1-2.
Featured image by Ama for Yi Magazin.
This text was written for Goethe-Institut China under a CC-BY-NC-ND-4.0-DE license (Creative Commons) as part of a monthly column in collaboration with What's On Weibo.
Spotted a mistake or want to add something? Please let us know in comments below or email us. First-time commenters, please be patient – we will have to manually approve your comment before it appears.
Full Translation of Peng Shuai's Weibo Post and Timeline of Events
Over the past seven weeks, the whereabouts and safety of Chinese tennis star Peng Shuai have been a matter of constant concern in international (social) media. Here is a timeline of events and a full translation of the Weibo post by Peng Shuai – where it all began.
On the night of November 2nd of 2021, a Weibo post by the 35-year-old Chinese tennis player Peng Shuai (彭帅) sent shockwaves across social media. In her lengthy post, the three-time Olympian describes details surrounding an alleged affair she had with the 75-year-old Zhang Gaoli (张高丽), who served as China's senior Vice-Premier (2013-2018) and was also a member of China's highest ruling council, the Politburo Standing Committee (2012-2017).
Here, we will give you a short timeline of the things that unfolded from the moment Peng Shuai's story was published on Weibo, as well as providing the full text of her post and a translation.
Timeline of Events
November 2nd, 2021
On the night of November 2nd of 2021, 35-year-old tennis player Peng Shuai posts her story on her Weibo account, where she has over 590,000 followers. The post comes online at 22:07 and is sent through a mobile phone.
Although Peng's post was only online for about twenty minutes before it was deleted, its impact was irreversible. Peng Shuai's Weibo account remained online, but the name 'Peng Shuai' started to be censored on Weibo and other Chinese social media platforms, where online discussions about the tennis player and Zhang Gaoli were soon silenced. Peng Shuai's post and the ensuing silence triggered a wave of global concern about her wellbeing and whereabouts.

November 3, 2021
Peng Shuai's story makes headlines in the international media, with many Western media outlets describing the issue as a "#MeToo allegation." within the context of the global #MeToo movement, suggesting Peng's post was a "MeToo post." The tennis star did not mention '#Metoo' in her own writings.

November 16, 2021
Japanese tennis player Naomi Osaka attracts more international attention for Peng's whereabouts when she posts the #WhereisPengShuai hashtag on Twitter. Two days later, tennis star Serena Williams also writes on Twitter: "I am devastated and shocked to hear about the news of my peer, Peng Shuai. I hope she is safe and found as soon as possible. This must be investigated and we must not stay silent."

November 17, 2021
While the issue is still completely silenced in Chinese (social) media, the English-language state media outlet CGTN addresses the commotion on Twitter on November 17, when they share a screenshot of an email allegedly sent by Peng to WTA Chairman Steve Simon, saying she was not actually missing and not unsafe.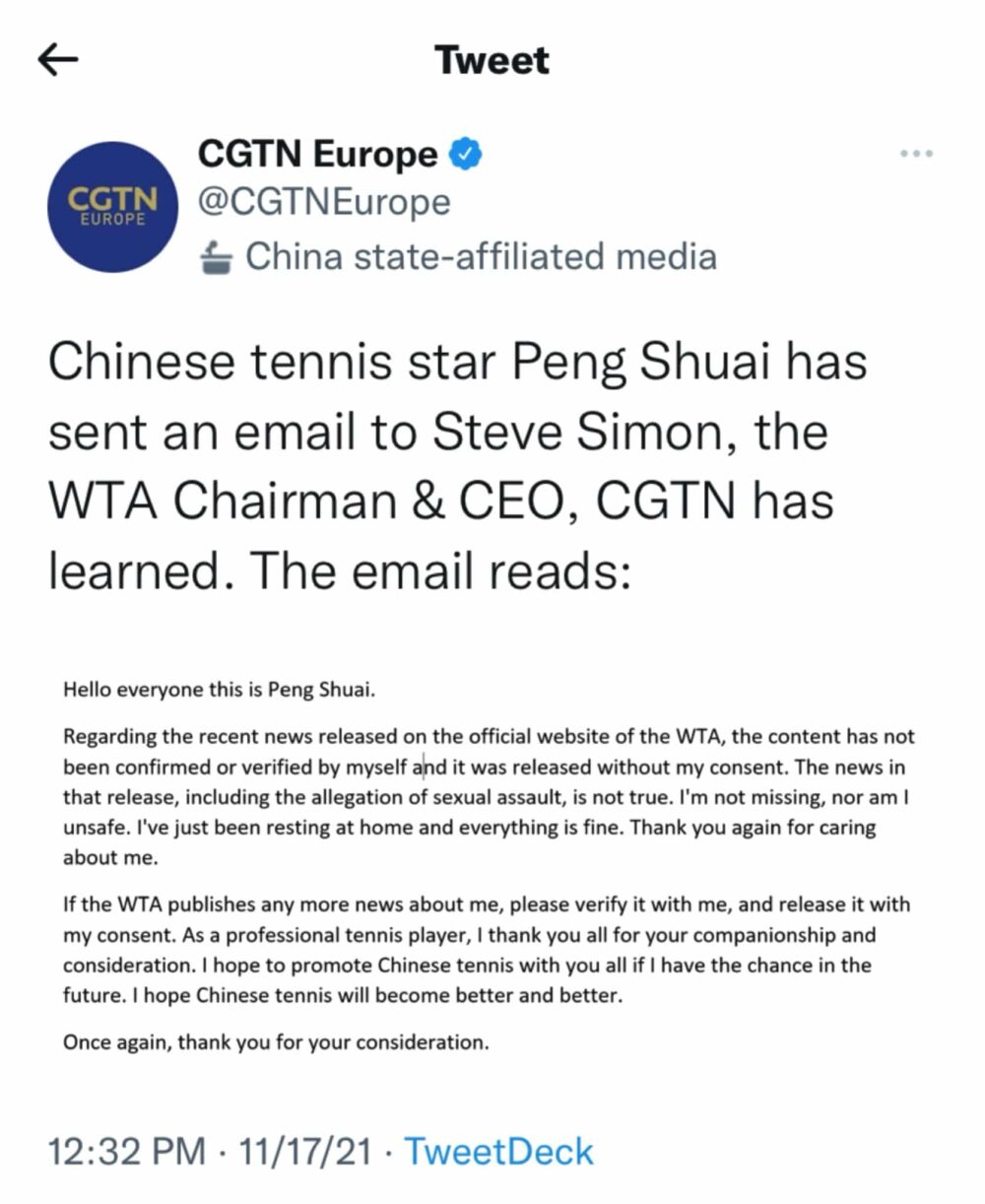 November 19, 2021
While many people still raised their concerns on Twitter – and a White House spokesperson even said the Biden administration was 'deeply concerned' about the reports alleging that Peng Shuai had gone missing – photos of Peng Shuai in her home showed up on November 19th, posted on Twitter by Chinese journalist Shen Shiwei (沈诗伟) claiming the tennis star posted them on her WeChat moments herself.

November 20, 2021
One day later, a video was also shared on Twitter by the same Shen, showing Peng enjoying dinner with friends and having conversations in which it was clearly indicated that the date was November 20, 2021.

November 21, 2021
During that very same weekend of November 20-21, Peng also reappeared in public when she attended the Junior Tennis Finals in Beijing. This was also the very first time in 19 days that she 'reappeared' in mainland China's online media spheres, where photos of her attendance at the games were also shared online.
On that same day, it was announced by the Olympics governing body that International Olympic Committee president Thomas Bach held a 30-minute long video phone call with Peng Shuai. Chinese sports official Li Lingwei and the Chair of the Athletes' Commission, Emma Terho, reportedly were also on the call, during which Peng explained that she was safe and well at her home in Beijing, but would like to have her privacy respected.

November 22, 2021
A Weibo post published by the French embassy in Beijing marks the first time for Peng Shuai's case to be addressed on Chinese social media.
In their post, the French embassy expresses concerns about the lack of information surrounding Peng Shuai, and reiterates its belief in promoting freedom of expression, equality between men and women, and combating sexual and gender-based violence. The post receives many replies, but its comment section is heavily censored.

December 1st, 2021
The WTA (Women's Tennis Association) announces the suspension of all tournaments in China amid concerns about the safety of Peng Shuai.
In a statement by Steve Simon, WTA Chairman & CEO, the immediate suspension of all WTA tournaments in China, including Hong Kong, was said to also be related to concerns about risks that all players and staff could face if the WTA were to hold events in China in 2022.
Due to the Covid19 situation, there were no WTA events scheduled for China in the near future.

December 7, 2021
The US announces a "diplomatic boycott" of the 2022 Winter Olympics in China. American athletes will still compete at the Winter Games. Although this boycott was not necessarily directed linked to Peng Shuai, many media outlets did connect it to concerns over the tennis player.

December 19, 2021
In an interview with Singapore-based media outlet Lianhe Zaobao (联合早报), Peng Shuai claims she did not accuse Zhang Gaoli of sexually assaulting her.
A video issued by Lianhe Zaobao shows a reporter asking Peng questions during a skiing competition event in Shanghai, where Peng could be seen talking to Chinese basketball player Yao Ming. When the reporter asks Peng if she is free, she answers that she has always been free and is not being monitored.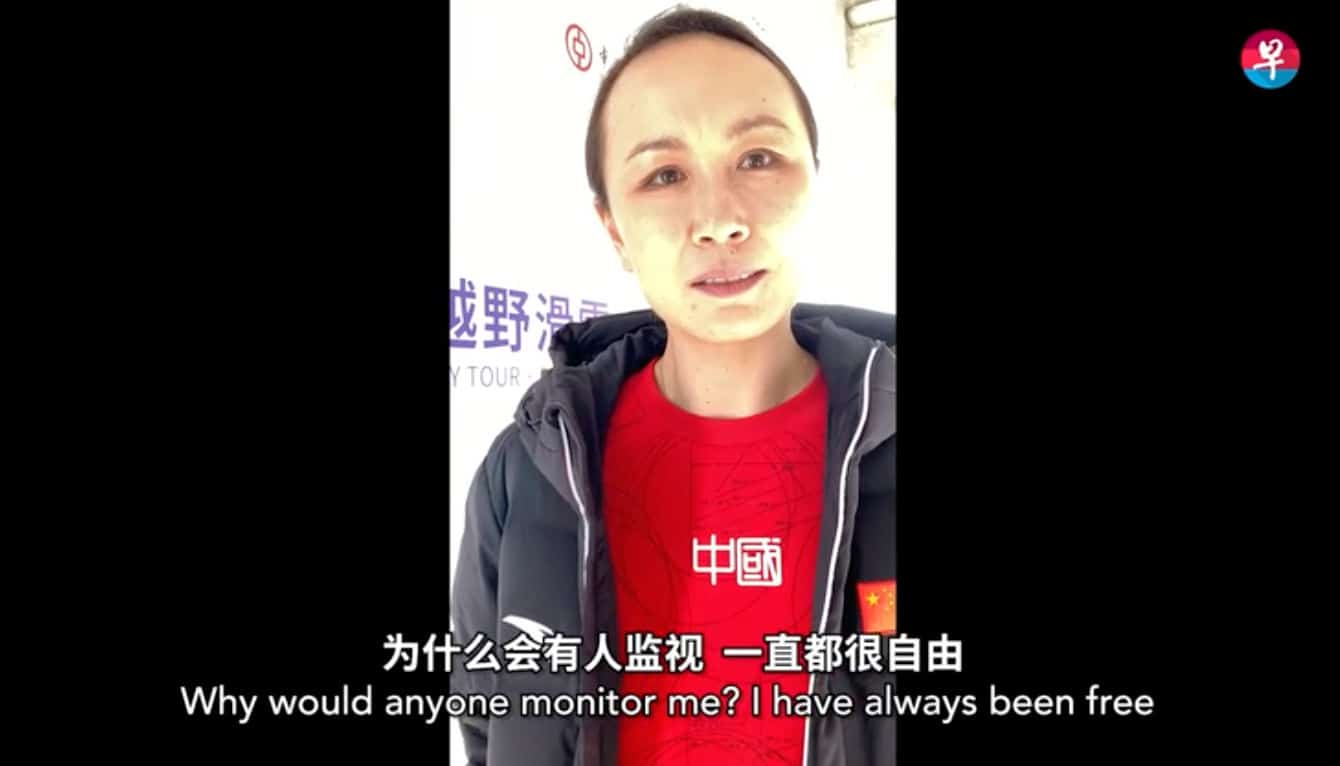 When the reporter addresses the allegations of sexual assault, Peng says:
"First and foremost, I must emphasize. I have never said or written about anyone sexually assaulting me. That's a very important point. On the Weibo post, that's my personal issue."
Peng also confirms that the English email that was screenshotted and published by CGTN on November 17 was written by her in the Chinese version, but that it was translated into English for her since her English language skills aren't good enough to write such an email herself.
Full Text Translation of Peng Shuai's Weibo Post
In a previous post, What's on Weibo gave a partial translation of Peng's Weibo post. Here, we will provide a full translation. Please note that this is a translation provided by What's on Weibo and not an official translation issued by any other party.
我知道说不清楚,说了也没有用。但还是想说出来。我是多么的虚伪不堪,我承认我不是一个好女孩,很坏很坏的女孩。大概三年前张高丽副总理你退休了,找天津网球中心的刘大夫再联系到我,约我打球,在北京的康铭大厦。上午打完球,你和妻子康洁一起带我去了你们家。然后把我带进你家的房间,和十多年前在天津时一样,要和我发生性关系。
"I know I can't say it clearly and that it's useless to say. But I want to say it anyway. I'm such a hypocrite. I'll admit I'm not a good girl, I'm a bad bad girl. About three years ago, Vice Premier Zhang Gaoli, you had retired and asked Dr. Liu from the Tianjin Tennis Center to contact me again to play tennis at the Kang Ming Hotel in Beijing. After we finished playing in the afternoon, you and your wife Kang Jie took me with you to your home. You then took me to your room, and like what happened in Tianjin over ten years ago, you wanted to have sex with me."
那天下午我很怕,根本没想到会是这样,一个人在外帮守着,因为谁都不可能相信老婆会愿意。七年前我们发生过一次性关系,然后你升常委去北京就再没联系过我。原本埋藏了一切在心里,既然你根本不打算负责,为何还要回来找我,带我去你家逼我和你发生关系?是我没有证据,也根本不可能留下证据。后来你一直否认,可确是你先喜欢的我,否则我也不可能接触的到你。
"I was very scared that afternoon, I had not expected things to go this way, someone was guarding outside,1 because nobody would believe that a wife would allow this. Seven years earlier we had sexual relations once, and then you – promoted as a member of the Standing Committee – went to Beijing and never contacted me again. I had buried it all inside me, and since you were not planning on taking responsibility at all, why did you come and look for me again, take me to your house, and force me [逼 = force, press for] into sex? I have no proof, and it would be impossible for me to keep any evidence. You denied everything afterward, but it is true that you liked me first, or otherwise, I wouldn't have had a way to come into contact with you."
那天下午我原本没有同意一直哭,晚饭是和你还有康洁阿姨一起吃的,你说宇宙很大很大,地球就是宇宙的一粒沙,我们人类连一粒沙都没有,还说了很多很多,就是让我放下思想包袱。晚饭后我也并不愿意,你说恨我!又说你这七年从未忘记过我,会对我好等等……我又怕又慌带着七年前对你的情感同意了……是的就是我们发生性关系了。
"That afternoon I originally did not agree and cried the whole time, and I still had dinner with you and auntie Kang Jie together. You said the universe is so big, that the earth is just a grain of sand in the universe, and that we as mankind are not even a grain of sand, and you said a lot more to alleviate the load on my mind. After dinner I still did not want to, and you said you hated me! You also said that in these seven years, you never forgot me and that you would be good for me etc etc. I was afraid and panicked and carrying the emotions of seven year ago, I agreed…yes, we had sex."
感情这东西很复杂,说不清,从那日后我再次打开了对你的爱,后来与你相处的日子里,单从你人相处你是一个很好很好的人,对我也挺好,我们从近代历史聊到远古时代,你同我讲万物的知识再谈到经济哲学,聊不完的话题。一起下棋,唱歌,打乒乓球,桌球,包括网球我们永远可以打得不亦乐乎,性格是那么的合得来好像一切都很搭。
"The feelings between two people can be very complicated, I can't clearly explain, [but] after that day I again began to open up to your love. In the days I interacted with you afterward, purely from how we got along, you were a very good person and also treated me well. We would talk about anything from modern history to ancient times, you spoke to me about so much knowledge and talked about economic philosophy, [we had] endless talks about topics. We played chess together, sang songs, played ping pong, billiards, and, including tennis, we could always have a good time. Our personalities got along well together, it looked like we were a great match."
自小离家早,内心极度缺爱,面对发生这一切,我从不认为我一个好女孩,我恨我自己,恨我为什么要来到这个世界,经历这一劫。你同我说你爱我,很爱很爱,来生希望在你二十岁我十八岁时我们就遇见。你说你很孤独,一个人很可怜,我们有聊不完的天,讲不完的话,你说你这个位置没有办法离婚,如果你在山东时认识,还可以离婚,可是现在没有办法。我想过默默无闻就这样陪着你,开始还好,可是日子久了慢慢的变了,太多的不公与侮辱。每次你让我去,背着你你妻子对我说过多少难听侮辱的话,各种冷嘲嘲讽。我说喜欢吃鸭舌,康洁阿姨会冲着我说~咿真恶心。冬天北京雾霾我说有时候空气不太好,康洁阿姨会对我说,那是你们郊区,我们这儿没感觉。等等诸如类似的话说了很多很多,你在时候她不这样说,好像和我们一样,两个人相处时是一个样,有旁人时你对我又是一个样。我同你说过,这些话听多了心里特别难受委屈。
"Since I left home early in my childhood, I felt a lack of love in my heart. Facing everything that was happening, I never thought I was a good girl. I really hated myself, hated why I had to come into this world and experience this disaster. You told me that you loved me, very very much, and that in the next life you hoped to meet me when you are 20 and I am 18 years old. You said you were very lonely, that you felt miserable, we had days of endless chats, endless talks, you said there was no way for you to divorce in your position, that if we'd met while you were in Shandong, you could have still divorced, but that there was no way now. I thought about staying with you like this without attracting public attention, which was okay in the beginning, but the days slowly started to change, and there was too much injustice and insult. Every time you let me go, your wife would say many offensive insulting words to me behind your back, [giving me] all kinds of sneers. When I said I like to eat duck tongue, auntie Kang Jie would go and say ~ ugh, how disgusting. During Beijing's winter smog, I said sometimes the air is not very good, and auntie Kang Jie would tell me 'that's just your suburbs, we do not notice a thing here.' And so on, there were many of such talks, but she would never do it when you were there. It was similar to when we were together – when it was just the two of us you'd be this way, when there were others there you'd act that way. I told you that these kinds of words were really painful to hear."
从认识你第一天到现在没用过你一分钱,更没通过你某去过任何利益或者好出,可名分这东西真重要。这一切我活该,自取其辱。从头到尾你都是一直让我保密和你的一切关系,更不可以告诉我妈和你有男女关系,因为每次都是她送我去西什库教堂那儿,然后换你家的车才能进院里。她一直以为我是去打麻将打牌,去你家玩。我们在彼此的生活中都是真实生活中的一个透明人,你的妻子好像甄嬛传的皇后一样,而我无法形容自己多么的不堪,很多时候我觉得我自己还是一个人吗?我觉得自己是一个行尸走肉,装,每一天都在装,哪个我才是真的我?我不该来到这个世界,可又没有勇气去死。我好想可以活的简单点,可事与愿违。
"From the first day I met you up to today, I've never used a penny of yours, and I've never used you for any personal benefits, but a person's status is very important. I deserved all of this, I courted disaster. From beginning to end, you have always asked me to keep my relationship with you secret, let alone tell my mother that we were in a relationship. Every time she brought me to the Xishiku cathedral, I would have to change to your car to be able to enter the courtyard. She always thought I was going to your place to play mahjong and cards. We were transparent individuals in each other's lives. Your wife seemed like the Empress in Empresses of the Palace (甄嬛传), and I can't describe how bad I felt, and how many times I wondered if I was still an actual person myself. I felt like a zombie, I was pretending so much every day that I didn't know who the real me was anymore. I shouldn't have come into this world, but I didn't have the courage to die. I wanted to live a simpler life, but things turned out contrary to what I wanted."
30号那天晚上争议很大,你说2号下午再去你家我们慢慢谈,今天中午打电话来说有事再联系,推脱一切,借口说改天再联系……,就这样和七年前一样"消失了",玩玩想不要就不要了。你说我们之间没有任何交易,是,我们之间的感情和钱,权利没有任何关系,可这三年的感情我无处安放,难以面对。你总怕我带什么录音器,留下证据什么的。是的,除我以外我没留下证据证明,没有录音,没有录像,只有被扭曲的我的真实经历。我知道对于您位高权重的张高丽副总理来说,你说过你不怕。但即使是以卵击石,飞蛾扑火自取灭亡的我也会说出和你的事实。以你的智商某略你一定否认或者可以反扣给我,你可以如此玩世不恭。你总说希望你母亲在天可以保佑你,我是一个坏女孩不配为人母,你为人父也有儿有女,我问过你就算是你的养女你会逼她这么做吗?你今生做的这一切日后心安理得的去面对你的母亲吗?我们都很道貌岸然……
"There was a big dispute on the night of the 30th [October], and you told me to come to your place on the afternoon of the 2nd [November] so we could talk things over. Today a phone call came that something had come up and you'd contact me again. Evading everything, with the excuse that we would get in touch another day ……, this is the same "disappearing act" as seven years ago, getting rid of me after you're done playing with me. You said there were no transactions between us, that's true, with all the feelings and money between us, it had nothing to do with power and wealth. But I have nowhere to leave my feelings of the past three years, it's very hard to face. You were always afraid that I would bring some kind of recorder and leave evidence or something. Apart from myself, there is indeed no evidence left, no recordings, no videos, only my distorted real experiences. I know that for someone of your status, Vice Premier Zhang Gaoli, you've said that you're not afraid. But even it's like striking a stone with an egg, and courting self-destruction like a moth to the flame, I will tell the truth about you. With your intelligence, I'm certain you will deny it or you can blame it on me, or disregard it. You always said you hoped your mother in heaven could bless and protect you. I am a bad woman who doesn't deserve to be a mother, but you are a father with both a son and a daughter. I have asked you this before: if it was your adopted daughter, would you have forced her to do this? Do you still have the courage to face your mother after everything you've done in your lifetime? We sure all like to pose as people with high morals…"
By Manya Koetse
1 There's been some discussions on the correct translation of this part of the sentence ("一个人在外帮守着"). One of our readers suggested translating it as "an outsider fending for herself," although others dispute that translation. "A person guarding outside" is another way to translate this sentence: "I was very scared that afternoon, I had not expected things to go this way, a person on guard outside, because nobody would believe that a wife would allow this."
Spotted a mistake or want to add something? Please let us know in comments below or email us. First-time commenters, please be patient – we will have to manually approve your comment before it appears.
©2021 Whatsonweibo. All rights reserved. Do not reproduce our content without permission – you can contact us at info@whatsonweibo.com.