The Rise of Pear Video (梨视频): Making Short News Videos Trending on Chinese Social Media
Pear Video (梨视频) is the new kid on the block in the pool of China's many digital news platforms.
Pear Video (梨视频) is the new kid on the block in the pool of China's many digital news platforms. Its rise is noteworthy as it comes at a time when authorities are strengthening regulations on the media sharing 'non-official' news videos. Does Pear Video show the way China's new media is going?
Over the past few months, the promotion and popularity of Chinese video news platform Pear Video (梨视频) has been exponentially growing on China's various social media platforms. Its rise is noteworthy, especially after Chinese authorities announced new regulations concerning the sharing of 'unofficial' online news videos in December of 2016.
According to The Guardian, the new regulations block public (media) accounts on platforms such as WeChat and Weibo from (re)posting "user-generated audio or video" (Haas 2016).
Chinese media sources (e.g. Sina News) reported that these regulations are specifically about user-generated news that focuses on current politics "and such."
Short videos have become an increasingly popular tool in the world of Chinese media, with short news video platforms like Kanka News (@看看新闻) having thousands of followers on Chinese social media.
WHAT IS PEAR VIDEO?
"China's leading short news video platform."
Pear Video calls itself "China's leading short news video platform" (梨视频是中国领先的资讯短视频平台). With an app and ultra-short informative news clips, it is a digital video platform that is specifically aimed at mobile users.
The company was established in September 2016. It was founded by Qiu Bing, former CEO of Chinese media outlet The Paper. In its official description on its website and Facebook, it states that it has received an investment of over one hundred million RMB (±14.4M$) by China Media Capital, and that its team consists of over 200 members, allegedly producing 200 news videos every day.
The company also states that its team members come from media companies such as, among others, The Paper (澎湃) and the Shanghai Media Group.
Pear Video's clips often, even daily, make it to the top trending lists of Sina Weibo, recent examples being the video about a pet dog killed by a local guard, a clip on pole-dancing girls at a Taiwanese official funeral, or the report about a man injured during the anti-Japanese protests of 2012.
Pear Video mainly focuses on society, entertainment, and tech news. Besides the more local news, Pear Video also reports on international news, such as developments regarding Trump and Jack Ma, or more marginal news that has become trending in Europe or America.
Pear Video currently has a fanbase of 340.000 on its official Weibo account, but since they are also active on WeChat, their own app, Facebook, YouTube, and other social media platforms, the company currently has a reach of millions – and is growing explosively.
The formula is clean and simple: Pear Video brings news in short edited clips, usually less than a minute, showing news footage and audio with bold captions that explain the background and news value often accompanied by music. The news is easy to digest, very contemporary, and with its trendy design is especially appealing to China's younger generations.
On Sina Weibo, Pear Video broadcasts its videos through short-video app Miaopai, that partnered up with Weibo in 2013 for easy audiovisual content sharing on the Sina platform.
BEHIND PEAR VIDEO
"The face of commercial media and the heart of Party media."
In many ways, the launch of Pear Video is similar to the 2014 launch of The Paper, a newspaper directed at China's younger generations. In 2015, Tabitha Speelman wrote about this new Chinese web-based media outlet in Foreign Policy, calling it a "smarter, sexier" form of state media that adhered to government calls for more "proactive" and "effective" ways of bringing news in a changing media environment.
David Bandurski, editor of the China Media Project, wrote an insightful piece about The Paper in 2016, in which he quoted former Southern Weekly journalist Fang Kecheng in saying that The Paper "has the face of commercial media, and the heart of Party media."
Bandurski linked the launch of The Paper to China's new "internet management path" that became apparent at the Wuzhen Summit. Unsurprisingly, its initial funding of 100 million RMB (±14M$) came from the Shanghai United Media Group (SUMG): a state-owned media group. "Propaganda 2.0", is how the Economist called it.
Seeing the launch of The Paper in the same light as Pear Video – a fresh, new, cross-media 21st-century news platform  – it seems that the two media platforms are walking a similar path in making China's 'official' news more appealing to younger audiences.
But there is one slight difference. Although Pear Video's team also comes from The Paper and from the state-run Shanghai United Media Group, its funding comes from China Media Capital (CMC), a private equity and venture capital firm headed by Li Ruigang. Although not state-owned, it is nevertheless a company that is also backed by the state.
In July of 2016, China's media regulators called for a development of more powerful media organizations to make more of an impact, not just within but also outside of China, to compete with foreign ones. According to Patrick Frater (Variety 2016), the need for more influential media meant a growing government support for private-sector companies, like China Media Capital.
The establishment and rising popularity of Pear Video coincides with both the official call for more media giants – CMC financed Pear Video within months after this call – and the announcement of new media regulations on the sharing of 'non-official' news, after which the big state media outlets like People's Daily (nearly 50 million followers on Weibo) also started sharing Pear News video on its official account on a daily basis.
Popular news accounts like Sina Video (@新浪视频) also shares their videos, and other short video news accounts such as Weila Video (@微辣Video) or Yishou Video (@一手视频) now seem to have merged with Pear Video and only post Pear Video content on their accounts, making their audience grow even bigger.
With so many official media sharing Pear Video content, and their videos making it to the Sina Weibo top trending lists on a daily basis, it is apparent that the Pear Video cross-media platform has the full support of China's cyberspace authorities.
THE FUTURE OF CHINESE NEWS MEDIA
"This is the mobile social media generation that rather watches the news than read it – making short videos all the more influential."
"Short news videos may be a new weapon in the spread of new media," People's Daily wrote in September of 2016, the month of Pear Video's launch. The article notes that in the era of "mobile government", the public has increasingly higher demands when it comes to taking in information.
"Simple information release no longer meets the needs of users", the article says, advocating that media should adapt to a new audience that is mobile and wants to take in information through short, insightful videos.
Tsinghua University's media specialists also stress the importance of short mobile videos for the future of media in China, as becomes apparent in a lecture that was also posted on the Chinese government website.
China's younger generations are the mobile generation, the 'bowed head clan' (smartphone addicts), who consume the news through their smartphone and are less inclined to watch television news.
They are also used to staying the same app to do multiple things; apps such as WeChat and Weibo are not just where they talk with friends, but also where they play games and watch the news – preferably served to them in short 'bites.'
Furthermore, the lecture states, it is the mobile social media generation that rather watches the news than read it – making short videos all the more influential.
It is this audience that is the present-day and future media consumer of China. The widespread support for short video platforms like Pear Video and their explosive popularity shows that China's future official media is mobile, short, and audiovisual. It has a fresh look and a clean layout – it is propagated news in your hands, just a click away. The rise of Pear Video just shows how juicy new Chinese media can be.
– By Manya Koetse
Follow on Twitter or Like on Facebook
Many thanks to those providing input on this article.
Any remarks or ideas about this article? Please leave a comment.
What's on Weibo is an independent blog. Want to donate? You can do so here.
References / Further Reading:
Bandurski, David. 2016. "Reading THE PAPER." Medium / China Media Project (July 7) https://medium.com/china-media-project/reading-the-paper-d15ec241652f#.bu6wblsui [6.1.16].
Frater, Patrick. 2016. "China Wants More Media Giants." Variety (July 18) http://variety.com/2016/biz/asia/china-wants-more-media-giants-1201816245/ [13.1.16].
Haas, Benjamin. 2016. "China restricts sharing of 'unofficial' videos on Social Media." The Guardian (Dec 20) https://www.theguardian.com/world/2016/dec/21/china-restricts-sharing-of-unofficial-videos-on-social-media [5.1.16].
Speelman, Tabitha. 2015. "Story image for looking for sexier state media? There's an app for that." Foreign Policy (Dec 15) http://foreignpolicy.com/2015/12/15/smarter-sexier-chinese-state-media-pengpai-paper/ [6.1.16].
©2016 Whatsonweibo. All rights reserved. Do not reproduce our content without permission – you can contact us at info@whatsonweibo.com.
WeChat's New Emoji Are Here (Including a Watermelon-Eating and Doge One)
WeChat's new emoji are based on popular memes.
On January 14, Tencent's Wechat introduced new emoji to its existing emoji set. The new emoji include, among others, a watermelon-eating emoji and a smiling Shiba Inu.
On Weibo, the new emoji have become a topic of discussion under the hashtags "WeChat's New Emoji" (#微信上线新表情#), "WeChat's Watermelon Eating Emoji" (#微信上线吃瓜表情#), and "WeChat's Dog Emoji" (#微信上线狗头表情#).
Different from the Unicode emoji (see Emojipedia), WeChat and Weibo have their own sets of emoji, although there is overlap.
The reason why especially the watermelon-eating and dog emoji are being discussed on social media, is because these emoji are based on popular internet memes.
"Eating watermelon" (吃瓜 chī guā) is an online expression that comes from "watermelon-eating masses" (吃瓜群众 chī guā qúnzhòng), which describes a common mentality of Internet users who have no idea what is actually going on but are still commenting or following online stories for their enjoyment – perhaps comparable to the "popcorn memes" that are ubiquitous on Western social media platforms.
The smiling dog has been around since 2013 and is known as the doge meme, based on a photo of a Shiba inu. The meme was originally spread on social media platforms such as Reddit, but then also became hugely popular in China, where it became a symbol of sarcasm (also read this Abacus article on this topic).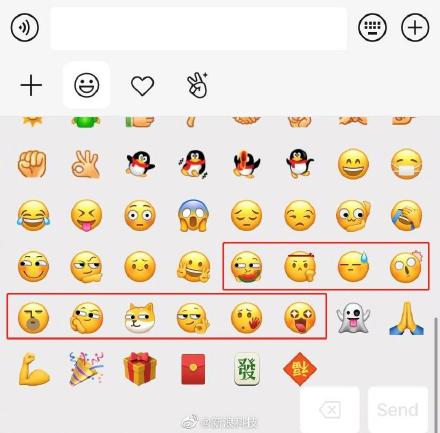 Other new emoji are the "wow" emoji, and others to express "ok," "add oil," "emm," "oh!"
There's also a "shehui shehui" (社会社会, lit. "society society") emoji, which also comes from online culture and is a way among friends to (self-mockingly) talk about being 'gangsters,' 'brothers.' or 'scoundrels.'
As the new emoji are still in their testing phase, not all WeChat users can use the new emoji yet, so you might have to wait a bit before being able to try them out.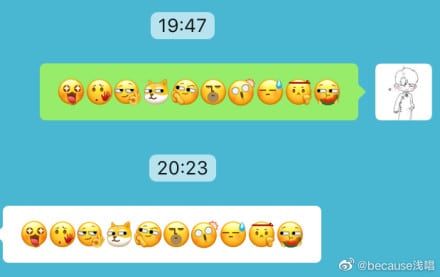 By Manya Koetse, with thanks to @caaatchina
Follow @whatsonweibo
Spotted a mistake or want to add something? Please let us know in comments below or email us. First-time commenters, please be patient – we will have to manually approve your comment before it appears.
©2020 Whatsonweibo. All rights reserved. Do not reproduce our content without permission – you can contact us at info@whatsonweibo.com.
'Good Doctor', Digital Hospitals: How Mobile Apps Are Alleviating China's Healthcare Problems
With the rapid digitalization of China's healthcare, Chinese patients now have more ways than one to receive medical assistance.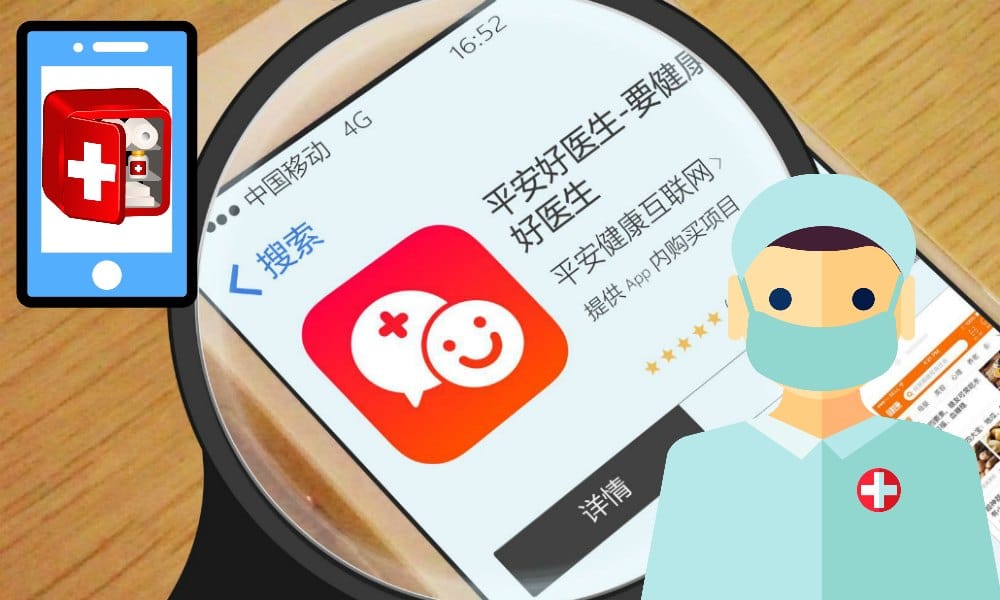 China's healthcare industry is facing some serious challenges. As Chinese society is rapidly digitalizing, mobile apps now provide innovative solutions to alleviate pressing problems in the country's health services sector.

This is the "WE…WEI…WHAT?" column by Manya Koetse, originally published in German by Goethe Institut China on Goethe.de: "Good-Doctor Apps und Digitale Krankenhäuser." 

Social Credit System, artificial intelligence, surveillance cameras; these are some of the hottest topics making headlines in mainstream Western media when discussing China-related developments recently.
With the rapid digitalization of Chinese society, these topics certainly have come to play a more important role in social media discussions within the People's Republic of China (PRC). But if there is one issue that seems to concern Chinese social media users the most, it is not facial recognition nor their 'Sesame score': it is the topic of healthcare.
In December of 2017, a photo showing a crying mother kneeling down beside a toddler on the sidewalk in front of a Shanghai hospital went viral overnight. The moment was captured on camera by a reporter who was visiting Shanghai's Children's Hospital.
The mother, Guo Yinzhen, is a single parent who had traveled from a remote village to seek medical help for her 3-old-son, who was suffering from congenital hydrocephalus or 'water on the brain.' Already having traveled to the city multiple times and spending all her money on medical bills, Guo could not afford the additional 100.000 yuan (€ 12.600) for medical procedures needed to save her son's life.
Guo's story struck a chord with Chinese netizens, who continue to share the heartbreaking photo on social media to this day. It has become emblematic of China's healthcare problems.
Crowded Hospitals and 'Healthcare Disturbance'
The key to an adequate healthcare system, no matter where in the world, is that there is a right balancing in the "iron triangle" of efficiency/cost containment, high quality care, and patient access.[1] China, however, struggles with all three sides of this triangle.
Guo's case is an extreme example, but many people in China dealing with less serious health issues and needing basic medical services also struggle to afford and access the healthcare they need.
Over 95% of people in China have health insurance, but people from different regions do not enjoy the same benefits and their out-of-pocket expenses can vary greatly. Uncovered medical costs can sometimes be catastrophic and simply unaffordable for patients and their families.
As more money flows are going to healthcare facilities in China's cities, there is also the issue of varying levels of providers' medical education and the overall healthcare quality, with the substantial majority of modern hospitals still existing in urban areas.
Easy access to the right kind of healthcare can be especially problematic for China's rural population, as people often need to travel long distances and have to go through the lengthy process of registering and waiting for their doctor's appointment, which sometimes requires them to stay in the city overnight.
For all of these reasons, China's bigger public hospitals can get super crowded, sometimes resembling shopping malls on an end-of-season sales day. On social media, both patients and medical workers often complain about the stress brought about by the huge crowds and the shortage of doctors in hospitals across the country.
Perhaps it is no wonder that China even has a word to describe outbursts of violence between patients and doctors: 'Yī nào' (医闹, literally: "healthcare disturbance").
One major problem within China's healthcare conundrum is the lack of local family or primary-care doctors, which often makes bigger hospitals the first stop to any kind of medical treatment for Chinese patients.
The reasons for this issue are manifold. There is a general lack of trust in private and smaller local healthcare clinics, for example, and patients often choose to go directly to a bigger hospital to avoid making extra costs.
This makes it extra difficult for many community health care centers – that are already struggling – to make enough money and to retain qualified staff. In a society that is rapidly aging, the challenges facing China's healthcare industry are only becoming more pressing.
A Doctor Today, Just an App Away
As China's online environment is thriving, new innovative online apps are popping up on a daily basis. Some of these apps, that have found their ways into China's most popular app rankings, are offering solutions to some of the country's most pressing healthcare problems.
One of these apps is Ping'an Good Doctor (平安好医生), which was developed by health insurance provider Ping'an in 2015 and calls itself China's "one-stop healthcare ecosystem."
Employing some 1000 medical staff in its in-house team, contracting over 5,200 external doctors, and collaborating with 3000 hospitals and thousands of pharmacy outlets across the country, the app is somewhat of an "online hospital."
Through the app, users can look through an online database of medical professionals, order medicine at nearby pharmacies, get 24/7 online medical consultancy, search for information about both Western and Chinese Traditional Medicine, etc., but they can also use Ping'an Good Doctor as a fitness app to track their own health.
When looking for a specific doctor for a one-on-one consult, the app first lets users select an area of expertise (e.g. dermatology or gynecology), and then offers a list of different specialists in various price categories.
Doctors from well-known hospitals, for example, or those with excellent ratings, have a one-time consultation fee of 100 yuan (€ 12,60). Other doctors can be consulted starting from 30 yuan (€3,70). All costs can be paid efficiently via online payment apps.
Ping'an Good Doctor uses an AI-driven system to ask patients various questions about their symptoms and to automatically create a user's medical record to save time. Based on the AI-generated record and the conversation with the patients – files such as photos can also be uploaded to the app -, the doctors can prescribe medicine or refer the patient to a hospital for an offline appointment if needed.
Ping'an recently announced that its number of registered users exceeded 300 million users, with 62 million monthly active users. Because the app keeps building on its AI-driven system, Ping'an Good Doctor can be expected to only become a 'smarter' smart health app the more popular it gets.
Although Ping'an is now leading within China's medical app category, there are many other apps providing similar services, such as Chunyu Yisheng (春雨医生), Haodafu Online (好大夫在线), or DingXiang Doctor (丁香医生).
The emergence of these apps is just one of the many ways in which China's digital developments, online media, and tech giants are impacting the healthcare industry, profoundly changing how patients receive healthcare information and access medical services now and in the future.
In a way, China's medical consultation apps fill the void in offline primary care. Patients who would otherwise turn to hospital care as their first stop can now  access medical consultations any time, any day, at a relatively low cost. Those who suffer from relatively harmless conditions could be diagnosed by a medical specialist via the app and get the medicine they need within a matter of minutes. With the growing popularity of these kinds of apps, many patients no longer need to visit a hospital at all.
Are smart health apps such as Ping'an Good Doctor the solution to China's healthcare problems? No, they're not. Struggling mums like Guo Yinzhen will not find the help they need there. But they do contribute to a more efficient healthcare environment where crowd flows in hospitals can be reduced, and patients do not need to spend a lot of time and money to stand in hour-long queues to get five minutes of their doctor's time.
Although smart health apps could not help Guo Yinzhen and her son, social media apps could. As soon as their story went viral in late 2017, Shanghai Children's Welfare Foundation Xiaoxingxin offered to cover medical treatments for the little boy, with a notable pediatric neurosurgeon operating the child. According to the latest updates, the boy's situation was "looking good."
Hopefully, the same holds true for the challenging sides of China's healthcare industry.
By Manya Koetse
Follow @whatsonweibo
[1] Burns & Liu, 2017: 3-4.
References/Linked Sources
Burns, Lawton Robert, and Gordon G. Liu. 2017. "Introduction." In China's Healthcare Industry: A System Perspective, Lawton Robert Burns and Gordon G. Liu (eds), pp-1-116. Cambridge: Cambridge University Press.
Economist, 2017. "China needs many more primary-care doctors." The Economist, May 11 https://www.economist.com/china/2017/05/11/china-needs-many-more-primary-care-doctors [20.10.19].
Zhou, Viola. 2018. "Does China Have Universal Healthcare? A Long (And Better) Answer." Inkstone, Oct 10 https://www.inkstonenews.com/health/china-translated-does-china-have-universal-health-care/article/2167579
This text was first published by Goethe-Institut China under a CC-BY-NC-ND-4.0-DE license (Creative Commons) as part of a monthly column in collaboration with What's On Weibo.