The Rise of Pear Video (梨视频): Making Short News Videos Trending on Chinese Social Media
Pear Video (梨视频) is the new kid on the block in the pool of China's many digital news platforms.
Pear Video (梨视频) is the new kid on the block in the pool of China's many digital news platforms. Its rise is noteworthy as it comes at a time when authorities are strengthening regulations on the media sharing 'non-official' news videos. Does Pear Video show the way China's new media is going?
Over the past few months, the promotion and popularity of Chinese video news platform Pear Video (梨视频) has been exponentially growing on China's various social media platforms. Its rise is noteworthy, especially after Chinese authorities announced new regulations concerning the sharing of 'unofficial' online news videos in December of 2016.
According to The Guardian, the new regulations block public (media) accounts on platforms such as WeChat and Weibo from (re)posting "user-generated audio or video" (Haas 2016).
Chinese media sources (e.g. Sina News) reported that these regulations are specifically about user-generated news that focuses on current politics "and such."
Short videos have become an increasingly popular tool in the world of Chinese media, with short news video platforms like Kanka News (@看看新闻) having thousands of followers on Chinese social media.
WHAT IS PEAR VIDEO?
"China's leading short news video platform."
Pear Video calls itself "China's leading short news video platform" (梨视频是中国领先的资讯短视频平台). With an app and ultra-short informative news clips, it is a digital video platform that is specifically aimed at mobile users.
The company was established in September 2016. It was founded by Qiu Bing, former CEO of Chinese media outlet The Paper. In its official description on its website and Facebook, it states that it has received an investment of over one hundred million RMB (±14.4M$) by China Media Capital, and that its team consists of over 200 members, allegedly producing 200 news videos every day.
The company also states that its team members come from media companies such as, among others, The Paper (澎湃) and the Shanghai Media Group.
Pear Video's clips often, even daily, make it to the top trending lists of Sina Weibo, recent examples being the video about a pet dog killed by a local guard, a clip on pole-dancing girls at a Taiwanese official funeral, or the report about a man injured during the anti-Japanese protests of 2012.
Pear Video mainly focuses on society, entertainment, and tech news. Besides the more local news, Pear Video also reports on international news, such as developments regarding Trump and Jack Ma, or more marginal news that has become trending in Europe or America.
Pear Video currently has a fanbase of 340.000 on its official Weibo account, but since they are also active on WeChat, their own app, Facebook, YouTube, and other social media platforms, the company currently has a reach of millions – and is growing explosively.
The formula is clean and simple: Pear Video brings news in short edited clips, usually less than a minute, showing news footage and audio with bold captions that explain the background and news value often accompanied by music. The news is easy to digest, very contemporary, and with its trendy design is especially appealing to China's younger generations.
On Sina Weibo, Pear Video broadcasts its videos through short-video app Miaopai, that partnered up with Weibo in 2013 for easy audiovisual content sharing on the Sina platform.
BEHIND PEAR VIDEO
"The face of commercial media and the heart of Party media."
In many ways, the launch of Pear Video is similar to the 2014 launch of The Paper, a newspaper directed at China's younger generations. In 2015, Tabitha Speelman wrote about this new Chinese web-based media outlet in Foreign Policy, calling it a "smarter, sexier" form of state media that adhered to government calls for more "proactive" and "effective" ways of bringing news in a changing media environment.
David Bandurski, editor of the China Media Project, wrote an insightful piece about The Paper in 2016, in which he quoted former Southern Weekly journalist Fang Kecheng in saying that The Paper "has the face of commercial media, and the heart of Party media."
Bandurski linked the launch of The Paper to China's new "internet management path" that became apparent at the Wuzhen Summit. Unsurprisingly, its initial funding of 100 million RMB (±14M$) came from the Shanghai United Media Group (SUMG): a state-owned media group. "Propaganda 2.0", is how the Economist called it.
Seeing the launch of The Paper in the same light as Pear Video – a fresh, new, cross-media 21st-century news platform  – it seems that the two media platforms are walking a similar path in making China's 'official' news more appealing to younger audiences.
But there is one slight difference. Although Pear Video's team also comes from The Paper and from the state-run Shanghai United Media Group, its funding comes from China Media Capital (CMC), a private equity and venture capital firm headed by Li Ruigang. Although not state-owned, it is nevertheless a company that is also backed by the state.
In July of 2016, China's media regulators called for a development of more powerful media organizations to make more of an impact, not just within but also outside of China, to compete with foreign ones. According to Patrick Frater (Variety 2016), the need for more influential media meant a growing government support for private-sector companies, like China Media Capital.
The establishment and rising popularity of Pear Video coincides with both the official call for more media giants – CMC financed Pear Video within months after this call – and the announcement of new media regulations on the sharing of 'non-official' news, after which the big state media outlets like People's Daily (nearly 50 million followers on Weibo) also started sharing Pear News video on its official account on a daily basis.
Popular news accounts like Sina Video (@新浪视频) also shares their videos, and other short video news accounts such as Weila Video (@微辣Video) or Yishou Video (@一手视频) now seem to have merged with Pear Video and only post Pear Video content on their accounts, making their audience grow even bigger.
With so many official media sharing Pear Video content, and their videos making it to the Sina Weibo top trending lists on a daily basis, it is apparent that the Pear Video cross-media platform has the full support of China's cyberspace authorities.
THE FUTURE OF CHINESE NEWS MEDIA
"This is the mobile social media generation that rather watches the news than read it – making short videos all the more influential."
"Short news videos may be a new weapon in the spread of new media," People's Daily wrote in September of 2016, the month of Pear Video's launch. The article notes that in the era of "mobile government", the public has increasingly higher demands when it comes to taking in information.
"Simple information release no longer meets the needs of users", the article says, advocating that media should adapt to a new audience that is mobile and wants to take in information through short, insightful videos.
Tsinghua University's media specialists also stress the importance of short mobile videos for the future of media in China, as becomes apparent in a lecture that was also posted on the Chinese government website.
China's younger generations are the mobile generation, the 'bowed head clan' (smartphone addicts), who consume the news through their smartphone and are less inclined to watch television news.
They are also used to staying the same app to do multiple things; apps such as WeChat and Weibo are not just where they talk with friends, but also where they play games and watch the news – preferably served to them in short 'bites.'
Furthermore, the lecture states, it is the mobile social media generation that rather watches the news than read it – making short videos all the more influential.
It is this audience that is the present-day and future media consumer of China. The widespread support for short video platforms like Pear Video and their explosive popularity shows that China's future official media is mobile, short, and audiovisual. It has a fresh look and a clean layout – it is propagated news in your hands, just a click away. The rise of Pear Video just shows how juicy new Chinese media can be.
– By Manya Koetse
Follow on Twitter or Like on Facebook
Many thanks to those providing input on this article.
Any remarks or ideas about this article? Please leave a comment.
What's on Weibo is an independent blog. Want to donate? You can do so here.
References / Further Reading:
Bandurski, David. 2016. "Reading THE PAPER." Medium / China Media Project (July 7) https://medium.com/china-media-project/reading-the-paper-d15ec241652f#.bu6wblsui [6.1.16].
Frater, Patrick. 2016. "China Wants More Media Giants." Variety (July 18) http://variety.com/2016/biz/asia/china-wants-more-media-giants-1201816245/ [13.1.16].
Haas, Benjamin. 2016. "China restricts sharing of 'unofficial' videos on Social Media." The Guardian (Dec 20) https://www.theguardian.com/world/2016/dec/21/china-restricts-sharing-of-unofficial-videos-on-social-media [5.1.16].
Speelman, Tabitha. 2015. "Story image for looking for sexier state media? There's an app for that." Foreign Policy (Dec 15) http://foreignpolicy.com/2015/12/15/smarter-sexier-chinese-state-media-pengpai-paper/ [6.1.16].
©2016 Whatsonweibo. All rights reserved. Do not reproduce our content without permission – you can contact us at info@whatsonweibo.com.
China's Latest Online Viral Game Makes You Clap for Xi Jinping
Smart propaganda – now clapping for Xi Jinping has become a competition.
In a new online game that has come out during the 19th National Congress in Beijing, Chinese netizens can compete in applauding for Xi Jinping. The game has become an online hit.
The major 19th CPC National Congress started on Wednesday in Beijing with a speech by Chinese President Xi Jinping that took nearly 3,5 hours.
The speech, that focused on China's future and its rise in the world today, was repeatedly paused for the appropriate applause from the party members in the audience.
With the introduction of a new game by Tencent, people can now also clap along to Xi Jinping's speech from their own living room. The game became an online hit on October 18. It was already played over 400 million times by 9 pm Beijing time.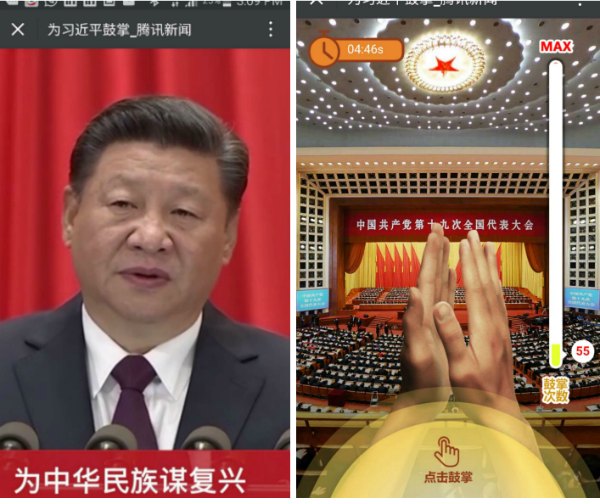 The mobile game can be opened through a link that takes you to a short segment of the lengthy speech by Xi Jinping. In the short segment, President Xi mentions that it is the mission of the Communist Party of China to strive for the happiness and the rise of the Chinese people.
The app then allows you "clap" for Xi by tapping the screen of your phone as many times as you can within a time frame of 18 seconds. After completing, you can invite your friends to play along and compete with them.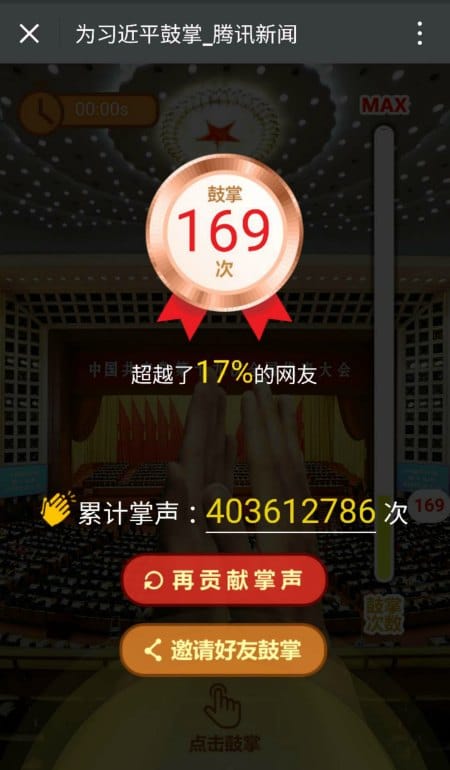 The game has become especially popular on WeChat, where some users boast that they have scored a 'clap rate' of 1695.
If you're up to it, you can try to clap as much as you can for Xi Jinping here (mobile only).
(Update Friday, October 20: the game link now redirects to the Tencent News site themed around the 19th Party Congress through desktop. On mobile, the game still works, and has been played over 1,2 billion times.)
By Manya Koetse and Diandian Guo
Follow @whatsonweibo
Spotted a mistake or want to add something? Please let us know in comments below or email us.
©2017 Whatsonweibo. All rights reserved. Do not reproduce our content without permission – you can contact us at info@whatsonweibo.com.
This Digital Device Now Helps Chinese Police Catch Traffic Violators
After RoboCop, here's Guardrail Drone: this high-tech device makes it easier and safer for Chinese police to catch traffic violators.
A new digital device makes it easier and safer for Chinese police to catch traffic violators. A local experiment with the police gadget proved successful earlier this year.
From now on, it might no longer be the police that warns drivers to drive slowly through construction zones or to get off the emergency lane. A new digital device can now help Chinese traffic police to send out warnings or to catch people violating traffic rules.
The automated device can be placed on the guardrail and is directly connected to the smartphone of the police officer controlling it. Through the camera on the device, the police can see when someone is driving on the emergency lane and can send out police warning signs and sounds through the speakers on the device.
On Chinese social media, a video on how the device works has been making its rounds over the past few days. Some netizens say the new device is just "awesome," and others warn drivers not to use the traffic lane; the chances of getting caught are now bigger because of the police's new helper.
The device was first successfully tested locally in May of this year at a Zhejiang Expressway, NetEase's Huang Weicheng (黄唯诚) reported in July of this year.
Earlier in 2017, police also experimented with a new police robot, jokingly called 'Robocop' by netizens, to help police catching fugitives and answer questions from people at the train station.
In our latest Weivlog we will tell you all about this 'guardrail drone'; how it works and where it has been implemented:
By Manya Koetse
Follow @whatsonweibo
NB: Please attribute What's on Weibo when quoting from this article.
Spotted a mistake or want to add something? Please let us know in comments below or email us.
©2017 Whatsonweibo. All rights reserved. Do not reproduce our content without permission – you can contact us at info@whatsonweibo.com.