Social Media Blows up over Chinese Teen Celebrity Roy Wang Smoking in Beijing Restaurant
The star, who recently featured in a 'social credit' song, triggered controversy for smoking indoors and breaking the law.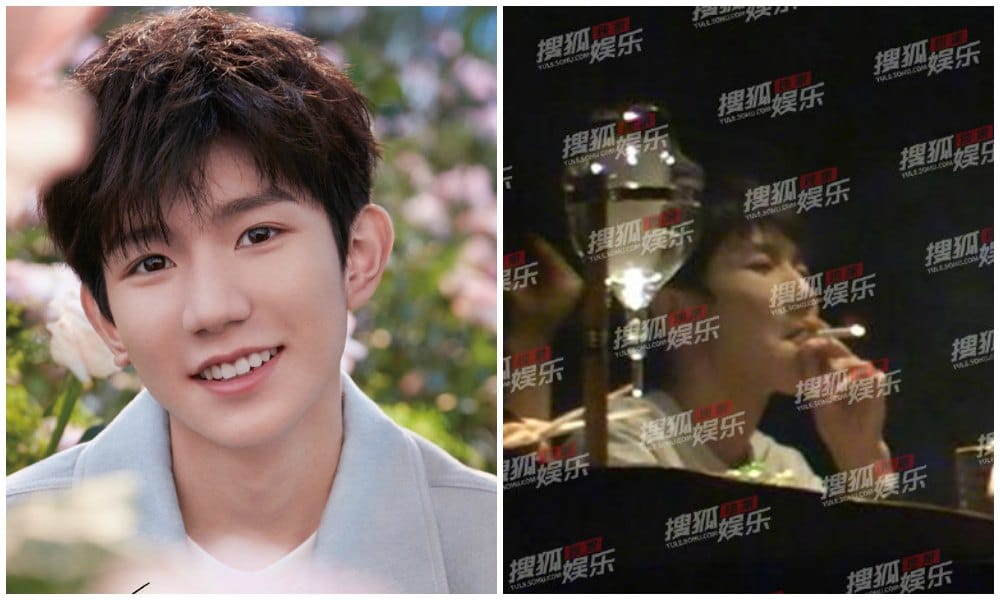 Roy Wang (Wang Yuan 王源), who is considered one of the most influential teens in China, was caught smoking during a '520' banquet in Beijing. May 20 (5.20) is China's unofficial second Valentine's Day.
The Sohu Entertainment channel published the exclusive photos of Wang smoking a cigarette. The hashtag 'Wang Yuan Smoking' (#王源抽烟#) received a staggering 1,4 billion views on Weibo on Tuesday, making it the number one trending topic of the day.
Wang was having dinner at a Japanese restaurant near Beijing's Worker's Stadium together with Chinese actor Jia Nailiang (贾乃亮) and teen idol Yang Chaoyue (杨超越) when the pictures were taken.
Roy Wang, who is now 18 years old, is a member of the super popular boy band TFBoys, but also has a solo career as a singer-songwriter and actor.
Wang often appears in high profile (government) events and media campaigns. With the TFBoys, he performed for the CCTV Spring Gala multiple times. Recently, he also starred in the 'social credit song' that was released by the Communist Youth League.
The fact that Wang's smoking has blown up on Chinese social media relates to two things. Beijing has banned smoking in all public indoor spaces since 2015, meaning that Wang was breaking the law by lighting up in a restaurant. Then there is also the fact that Wang, as a teen icon, is young and influential, with many people considering it inappropriate for him to smoke at all.
One popular comment on Weibo summarized the issue as follows: "Actually, smoking is quite normal. But 1) as a very influential teen idol you must surely avoid it – the fans are all young and they can easily be influenced. 2) It is not okay for him to smoke in a public place. It is forbidden by regulations, should you break those [regulations] as a celebrity?"
The incident led to Sina Headlines introducing the Weibo hashtag "Can You Accept that [Your] Idol Smokes?" (#你能接受偶像吸烟吗#), which received over 21 million views on Tuesday.
"Smoking is not a problem. It is harmful to one's health, and that's an individual choice. But smoking in a public place is inappropriate and bothers other people," some said, with others being less forgiving, writing: "If Wang does it again, he'll surely lose fans. It's unacceptable."
A poll, that 530,000 responded to, asked people if they could accept their idol smoking. A majority of people (50.3%) responded: "No, it's not setting a good example." Over 49% of respondents said they could forgive their idol for smoking.
Wang Yuan has now expressed regret on his social media account, after getting a warning from health authorities. He reportedly has been fined for smoking indoors.
Wang has nearly 73 millions fans on his Weibo page.
"I'm so sorry!" he wrote on May 21st: "This issue has made me deeply reflect on my actions, and how they negatively affect society. I feel sorry and ashamed. I apologize for setting the wrong example. I take on all responsibility and will accept punishment. As a public figure, I will now pay more attention to my words and actions. I hope nobody will follow my wrongful actions. I apologize again, and I will take this as a lesson to become a better person."
His post received over 219,000 shares.
Meanwhile, the restaurant where Wang smoked has received a visit from local inspectors, who found that there were no stipulated "No Smoking" signs on the premises. The restaurant has been ordered to adhere to local regulations as soon as possible, Phoenix News reports.
Update May 22: The first memes relating to Wang's smoking scandal have now also appeared online:
I was already expecting some 'Wang Yuan breaks the internet by smoking' memes. Voila. pic.twitter.com/nFJsoQDfgF

— Manya Koetse (@manyapan) 22 mei 2019
By Manya Koetse
Follow @whatsonweibo
Spotted a mistake or want to add something? Please let us know in comments below or email us. Please note that your comment below will need to be manually approved if you're a first-time poster here.
©2019 Whatsonweibo. All rights reserved. Do not reproduce our content without permission – you can contact us at info@whatsonweibo.com
Top 3 Much-Anticipated Chinese TV Dramas (2019)
These are some of the upcoming Chinese TV dramas to keep an eye on this summer!
Featuring talented directors and popular superstars, these are some much-anticipated Chinese TV dramas to keep an eye on this year.
Summer is finally coming! Although for many people, summer is the time of the year to open the doors and windows and spend time outside, it also the Chinese peak season for drama series. This year, according to the 365 TV Series site, a total of 105 Chinese drama series will be released from June to September 2019. This includes new seasons of existing series and the launch of new original series.
Most of us, however, don't have the time or patience to watch all the new releases that are out there. To make it easier for you, What's on Weibo has selected three promising TV dramas that are coming out this summer.
Different from our other "Top Drama Series" articles, this list is not based on audience ratings. Instead, we have scanned various relevant mainland Chinese TV drama blogs and looked at social media to list these much-anticipated releases.
#1 Novoland Eagle Flag
Chinese title: 九州缥缈录 Jiǔzhōu piāomiǎo lù
Genre: Fantasy, Ancient, Martial Arts
Directed by: Zhang Xiaobo (张晓波)
Release date: June 3, 2019 at Zhejiang TV, Youku and Tencent
Update: release has been postponed, read more here.
The heroic epic drama Novolang Eagle Flag is an adapted screenplay from the immensely popular like-named novel by Jiang Nan (江南) and is part of a six-volume collection. The book was released in 2015, and only a few years later it was director Zhang Xiaobo who took up this story to turn it into a drama series.
Despite Zhang's one-time experience with directing a fantasy story in 2005, his most recent successes include To Be A Better Man (好先生) and The Nanny Man (我爱男保姆): all romantic contemporary dramas. Many TV drama lovers are therefore curious to see if Zhang can be as successful with this upcoming drama as he was with his contemporary ones.
Besides the director, the cast of this drama is also quite outstanding. Three of the four main characters are in their early twenties. The leading role is played by the 21-year-old award-winning actor Liu Yuran (刘吴然). Liu gained national fame with his appearance in the popular military propaganda reality series Takes A Real Man (真正男子汉) in 2015, and ever since he has played in numerous TV series, ranging from fantasy to historical, and comedy to contemporary works.
The story of Novolang Eagle Flag revolves around Lu Guichen, the heir of the nomadic Qingyang tribe. When he is sent to the Eastern Land, he meets Ji Ye, an illegitimate son who is training to become a warrior, and princess Yu Ran. In the process of helping each other, the three become friends. The situation gets complicated when both boys start having romantic feelings for Yu Ran. But a bigger challenge is awaiting them when they join forces to fight the powerful warlord Ying Wuyi.
The airing of Novolang Eagle Flag is very much anticipated on Chinese social media, where the drama's hashtag (#九州缥缈录#) has already been viewed over 690 million times.
#2 Wait In Beijing
Chinese title: 我在北京等你 Wǒ zài Běijīng Děng Nǐ
Genre: Coming of Age, Romance
Directed by: Yan Po (鄢颇) and Eddie Tse (解航)
Release date: Expected August 2019 at Youku, Tencent
Wait in Beijing is the only series in our list that is partly filmed outside of China, namely in New York City. The series is a collaboration between the directors Yan Po and Eddie Tse. The latter studied in New Zealand and authored four books which were all published in China. All of his novels revolve around young people dealing with societal problems.
Wait in Beijing is Tse's second series. Netizens are curious to see if the rawness of Tse's previous works will still be visible in this seemingly perfect love story.
The main characters are played by super idols Li Yifen (李易峰) and Jiang Shuying (江疏影), who have 19 million and 55 million followers on Weibo. The series was already filmed and completed in 2018.
Wait in Beijing tells the story of Sheng Xia and Xu Tian. The latter is a Chinese orphan who grew up in Brooklyn, New York, while Sheng was born and raised in China. Xu is a cynical young man striving to become a famous lawyer. Shang is equally ambitious as she seeks to develop her own brand and open a fashion boutique on Fifth Avenue.
Both equally ambitious and eager to pursue their goals, Xu and Sheng one day cross paths. From then on, their feelings and dreams become intertwined. But with Xu's American and Sheng's Chinese upbringing, the cultural differences and contrasting views between the two lovers keep them from coming closer together.
The upcoming drama has received 190 million views on its Weibo hashtag page at time of writing.
#3 City of Desire/Yearning Life
Chinese title: 欲望之城 Yùwàng zhī Chéng, later changed to 渴望生活 Kěwàng Shēnghuó
Genre: Contemporary, Romance, Psychological
Directed by: Liu Jin (刘进)
Release date: Expected September 2019 at Zhejiang TV, Dongfang TV, Youku, iQiyi and Tencent
City of Desire is directed by Liu Jin (刘进), who also produced some of the most successful and largest Chinese TV drama productions in recent years including White Deer Plain (白鹿原). With his new drama series, Liu raises awareness for more contemporary social problems such as anxiety and depression.
This upcoming drama features some of China's biggest superstars. The two main characters are played by Wu Xiubo (吴秀波) and Angelababy (Yang Ying 杨颖). Wu has received several best actor awards. Angelababy is one of China's most popular actresses and fashion icons. She's social media celebrity with more than a staggering 100 million followers on Weibo.
City of Desire follows the life of a man named Jiang Nianhua and the younger woman Lin Li. After a bitter divorce, the childless Jiang gradually builds up his life again and accumulates considerable wealth. To others, it seems as if Jiang got his life all back on track, but in reality, Jiang is battling with severe depression. Just when he decides he cannot take life any longer, he meets the young Lin.
Not long after their encounter, Lin also has to endure emotional hardships and career struggles. When Lin is at the verge of leaving her job because she cannot handle the stress, it is Jiang who motivates her to stay and fight for her position. In the process of Jiang helping Lin getting back on her feet, something changes within him.
Want to see more? Also see our top 10 of February 2019 here, or our list of best Chinese TV dramas of all-time here.
By Gabi Verberg
PS All three series will be available for viewing online, some also with English subtitles. If you need a VPN to circumvent any geo restrictions, we recommend either NordVPN or ExpressVPN to do so.
Spotted a mistake or want to add something? Please let us know in comments below or email us. Please note that your comment below will need to be manually approved if you're a first-time poster here.
©2019 Whatsonweibo. All rights reserved. Do not reproduce our content without permission – you can contact us at info@whatsonweibo.com
K-Pop Celebrity Goo Hara in Hospital after Suicide Attempt
K-pop celebrity Goo Hara (구하라), a former member of girl group Kara, has reportedly attempted suicide in her house in Seoul, where she was found in the early morning of May 26. The 28-year-old singer and social media star was taken to a local hospital and has no life-threatening injuries.
Hara's fans became worried when the star posted various ambiguous messages on her Instagram (1.3 million followers) on May 25, including one that said "goodbye." After unsuccessful attempts to get in touch with her, Hara's manager rushed to her home, where he found her unconscious in a smoke-filled room.
On Sunday, the topic "Goo Hara Attempts Suicide" (#具荷拉欲自杀#) became the number one trending topic on Weibo, receiving 320 million views at time of writing and thousands of comments.
"I hope she can live a good life, and step out of the spotlight, so that she can lead her life in peace," some wrote, with others saying: "The one who needs to die is her violent ex-boyfriend, not her."
Goo Hara made headlines in October of 2018 when she pressed charged against ex-boyfriend Choi Jung Bum for blackmailing and assaulting her.
Some Weibo commenters also mentioned the pressure faced by South-Korean female celebrities, comparing their social status to that of [Chinese] opera singers in the past. "South Korean entertainment circles are scary sometimes," others write.
South-Korean entertainment circles have been hit by various scandals over the past years, involving drugs, prostitution and secretly recorded videos of K-pop stars having sex with women.
South-Korean popular culture, and K-pop specifically, has a major influence on Chinese pop culture. Many K-pop stars have a huge following on Chinese social media (read more about K-pop and its success in China here).
"Sister, lead a good life," many Chinese netizens write: "Move away from the entertainment world and go on living."
By Manya Koetse
Follow @whatsonweibo
Spotted a mistake or want to add something? Please let us know in comments below or email us. Please note that your comment below will need to be manually approved if you're a first-time poster here.
©2019 Whatsonweibo. All rights reserved. Do not reproduce our content without permission – you can contact us at info@whatsonweibo.com