20 Ways to Use Tiger Balm
For most Chinese, Tiger Balm is a classic from grandmother's cupboard. Reason enough for Sina News to publish a "20 ways to use Tiger Balm" on their Weibo account.
For many, Tiger Balm is a childhood household item. But for those born after the 1990s, the little red tin is something they only know from their grandmother's cupboard. Reason enough for Sina News to publish a "20 ways to use Tiger Balm" on their Weibo account, instantly turning it into a trending topic (#清凉油的20个用法#).
Update 2018: Also read our tips on how to use Tigerbalm by Chinese social media users here.
"For the majority of the post-1980 generation, tiger balm is part of their past,"   Sina writes: "But for many post 1990-ers and 00-ers, it's a historical relic. Tiger balm has so many benefits – it is really a good thing from the past. It's a jack of all trades!" Sina and other media have shared a list of the various ways to use tiger balm.
What is known as 'tiger balm' in most western countries is better known as 'soothing balm' (清凉油 qingliangyou) or 'essential balm' (风油精 fengyoujing) in China; a hot/cool and fragrant balm or oil containing menthol.
Tiger balm, essential balm and soothing balm (picture by WhatsonWeibo).
The original Tiger Balm was developed in Birma in the 1870s, by the China-born herbalist Aw Chu Kin. Different to what the name suggest, Tiger Balm does not contain any ingredients related to the tiger. The balm, containing menthol, mint oil, clove bud oil, cajuput oil and camphor, was named after Aw's son, whose name literally meant 'Gentle Tiger' (Aw Boon Haw, 胡文虎). He was the son who later inherited the recipe of the balm, and turned Tiger Balm into a household name together with his brother.
Apart from the original Tiger Balm (虎標萬金油) there are various brands available in China's stores, available from drug stores to supermarkets. According to Sina Weibo, this top 20 list contains various ways to use this household classic.
Check out our top 20 list
(Please note that this original list was published by Chinese media. If you're in doubt about tiger balm usages and/or allergies, consult a doctor before using.)
1. Stung by a mosquito? Tiger balm can help take away the itchiness by applying it directly to the sting.
2. Tiger balm is the perfect insect repellent, as mosquitos and wasps do not like its strong scent. Leave a tin of tiger balm in every corner of the (bed)room during summertime, and leave the lid open. Mosquito's will not enter a room that reeks of tiger balm.
3. Wooden or bamboo furniture affected by bugs can benefit from treatment with tiger balm. Put some balm on every termite hole of the affected furniture, and they will die out.
4. For those with rheumatic pains, tiger balm can be used as a painkiller by applying it in the lower back area, legs, and directly on sore muscles and bones. Apply as many times as necessary.
5. You've been painting the house, and now there are paint stains all over your hands and arms that are not easy to remove by water. Put some tiger balm on a cloth and thoroughly wipe your skin with it. After a couple of minutes, the paint will start letting go, and you can easily pull it off.
6. Weibo suggests that a bad body odor can be cured by the longtime use of tiger balm. Regularly apply tiger balm to the body, the list suggests, and the bad body odors will disappear. You will reek of menthol instead.
7. Got diarrhea (拉肚子)? Rub some tiger balm in and around the navel area, and cover it with the palm of your hand for two or three minutes to let the hotness work on the belly. You can also rub a little bit of balm in between the tailbone and anal area for full effect, the list suggests.
8. The list also suggests to use tiger balm when your baby has an inflamed bottom. Applying tiger balm to the anal area is said to provide some soothing relief. (We are not sure about this one, please always first consult a doctor before applying this balm on babies!)
9. For the early signs of a soar throat, apply tiger balm around the neck area before sleeping. Generously rub it around the neck with the palm of your hand, and your throat will feel better in the morning.
10. Throbbing toothache may feel better after applying some tiger balm to it. Put some balm on a cloth, and rub it into the affected area around the tooth.
11. For mild burns: lightly apply the balm to the afflicted parts. It can help alleviate the pain and avoid blisters. The earlier the balm is applied, the better.
12. Corns and calluses on the feet may disappear after consistent use of tiger balm. Smear the balm directly on to the corn. The list, like this blog, suggests that the balm is warmed with a burning cigarette to improve the balm penetrate into the corn, and to repeat it every day, one to three times a day.
13. Tiger balm is an excellent remedy against headaches. Rub some tiger balm on both temples and reapply if necessary. Be careful not to get the balm in your eyes.
14. When you got a cold and have a stuffed nose, it might help to put some balm right underneath and around the nostrils to let your nose clear up.
15. If you get carsick or seasick easily, moisten the lips with some balm to prevent nausea.
16. Just as tiger balm might help when suffering from diarrhea, it might also help with constipation. Rub some balm around the belly area to ease the stomach.
17. German soccer players have discovered that applying some balm to your chest and calves can help to alleviate the pain associated with fast running.
18. Tiger balm can also be useful when removing the remnants of stickers; rub some in, and you can peel it right off (as also suggested by Vision Times).
19. For those suffering from cold feet in winter, tiger balm might be the solution. Rub the cream into the feet to help stimulate and improve circulation.
20. Bye bye bad smells! Freshen those stinky sneakers and shoes by putting some open packages of tiger balm where you keep your shoes.
Out of Tiger Balm or still not have it in your cupboard. You can order Tiger Balm online from various places:
Buy here:
Tiger Balm White Ointment HR Pain Relief 30g (Big Size)
By Manya Koetse
Follow @WhatsOnWeibo
©2015 Whatsonweibo. All rights reserved. Do not reproduce our content without permission – you can contact us at info@whatsonweibo.com.
40-Year-Old Woman Completes Shanghai Marathon While 8 Months Pregnant
Pregnant marathon runner Lili clashes with Chinese traditional attitudes towards women who are expecting a baby.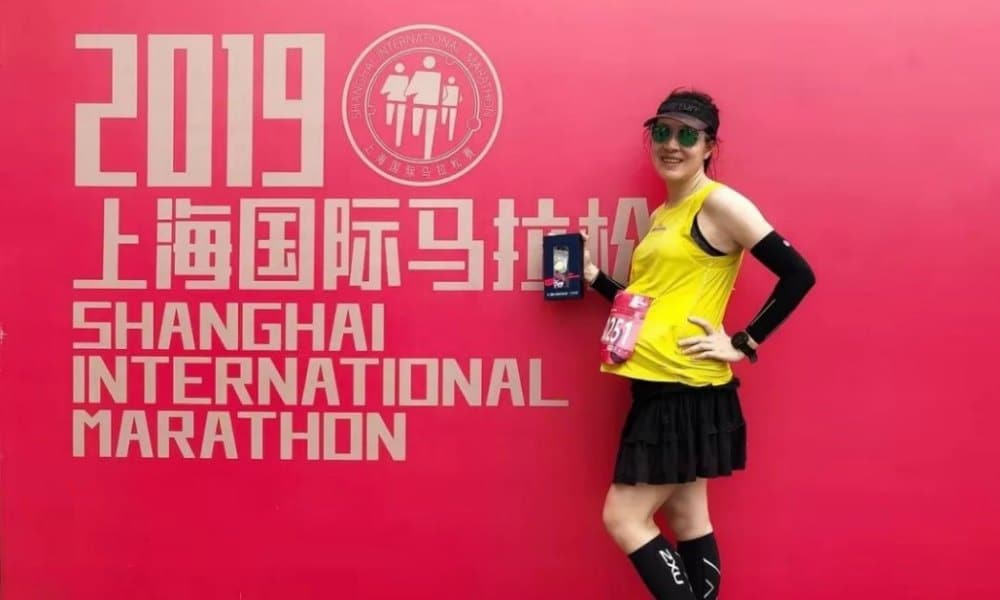 Published
A 40-year-old woman named Li Lili (黎莉莉) became news in China after she ran the Shanghai Marathon last Sunday while 32 weeks pregnant, completing the race in five hours and 17 minutes.
This was the third marathon Li has run during her pregnancy. She ran the first two during week eight (with a time of 3:54:43) and week 22 (with a time of 4:47:58) of her pregnancy.
Lily is an avid runner, having completed 62 marathons during her lifetime. Her story went viral on Weibo under the hashtag "8 Months Pregnant 40-Year-Old Woman Runs Marathon" (#40岁孕妇怀胎8月跑完全马#), which has received over 200 million reads at time of writing.
Her story has ignited debate across Weibo this week regarding the merits and dangers of vigorous exercise during pregnancy. In interviews with the press, however, Li remained defiant in the face of her critics.
"For many people, they are worried about this because they don't understand it," she told video news site Pear Video in an interview.
"Many people have told me it is dangerous. They criticize me, just like they criticized Chen Yihan," she says, referring to Taiwanese actress Ivy Chen (陈意涵) who faced fierce online criticism after posting pictures of herself running while five months pregnant in 2018.
"But most of these critics have never even been pregnant," Li continued: "The fact is, I did this because I have a very deep understanding of my own body. I've run over 60 marathons, I am an extremely good runner. I've run a marathon in 3:28, which is considered an excellent time even for talented athletes, even for men. I have my own training methods, I've been training for a very long time, and have carefully prepared for these marathons."
The reactions to Li's story online have ranged from enthusiastic praise to outright condemnation.
"Wow! I admire how strong she is! It is said that each person knows what is right for them in their own heart. It's none of your business what she does with this unborn hero!" gushes the most popular comment on Pear Video's Weibo post about the story.
But another popular comment argues that marathon running is actually inappropriate for Chinese women in general: "Foreigners running marathons is fine, but this is not for Chinese women. Pregnant Chinese women running marathons is equivalent to them not caring for their children."
The results from a poll put out by Chengdu Economic Daily so far show the majority of readers do not oppose Li's decision to run a marathon, with 54,000 choosing the option "One case cannot represent the whole, it will vary from individual to individual" and 38,000 choosing "Support, if the mother's body is strong enough." Only 17,000 chose the option "Oppose, pregnant women should not engage in vigorous exercise."
Some comments on the poll argued that Li was irresponsible to take part in a marathon, in case something did go wrong: "Problems come up when you least expect them. If it's just you running on your own, that's one thing. But this is a group race. I can't say if it's right or wrong, but it could bring a lot of trouble to other people."
But the majority of popular comments expressed outright support and admiration, or at the very least opposition to Li's critics, telling them to mind their own business.
The support for Li's decision appears to fly in the face of Chinese traditional attitudes towards pregnant women. The list of dos and don'ts for Chinese mothers-to-be is long and complex, ranging from the bizarre (no eating/drinking dark foods so as not to affect the baby's skin color) to the more common (avoiding shellfish).
The belief that pregnant mothers should avoid exertion is high on the list, extending even to the month after birth.
But despite these strong traditions, Li's strength and determination have clearly inspired new support for expectant mothers who wish to continue an active lifestyle while pregnant.
Also read: 'Sitting the Month' – a Gift or Torture?
Also read: Bad Mom To Be? Pregnant Woman Intentionally Trips 4-Year-Old Boy in Baoji
By Jessica Colwell
Follow @whatsonweibo
Spotted a mistake or want to add something? Please let us know in comments below or email us. First-time commenters, please be patient – we will have to manually approve your comment before it appears.
©2019 Whatsonweibo. All rights reserved. Do not reproduce our content without permission – you can contact us at info@whatsonweibo.com.
No Need for Plague Panic? China's Trending Plague Outbreak
After the Year of the Pig brought swine flue, some fear the Year of the Rat will bring the 'rat plague.'
Published
For the past nine days, during which three cases of the plague have been reported in China, the deadly bubonic plague has become a hot topic on Chinese social media.
The topic first made headlines on November 12, when Chinese state media announced that two people, a husband and wife from Inner Mongolia, were transported to Beijing's Chaoyang Hospital for treatment after being diagnosed with the pneumonic plague.
The couple reportedly got sick after eating raw marmot kidney.
A 55-year old hunter from the same region, the Inner Mongolian Xilingol League, was later also diagnosed with bubonic plague after eating wild rabbit meat.
The bubonic plague, also called the 'Black Death,' is an infectious disease that is known to have caused one of the most devastating pandemics in human history, killing millions of people in 14th century Europe.
News of the three cases of bubonic plague reminded many of the 2003 SARS panic; an outbreak of SARS in southern China caused over 8000 cases that year.
The World Health Organisation criticized China at the time for covering up the scale of the problem, with officials conceding in the Spring of 2003 that China's SARs problem was "nearly 10 times worse than had been admitted."
Current online reports on the bubonic plague in China stress that there is no reason for panic, with a hospital spokesperson confirming that the situation is "under control."
42 people who are known to have come into contact with the Chinese patients have all been quarantined and were not found to have any symptoms of catching the disease.
Chinese (state) media channels are spreading social media posts this week that mainly emphasize that the plague "can be prevented, controlled, and managed," and that it can be effectively treated.
"Don't panic over plague outbreak," Sina News headlines, with People's Daily posting on Weibo that, according to the China Center for Disease Control and Prevention, "there is no need to worry."
The bubonic plague primarily affects rodents and other animals, with animals – and incidentally humans – usually contracting the infection through insects such as (rat) fleas. This form of plague is highly contagious – can spread through coughing – and could be fatal within days if left untreated (Benedict 1996, 4).
Mammals such as rabbits or marmots, as eaten by the recent Chinese patients, but also rats, squirrels, gerbils, mice, etc., can all harbor the disease.
Although the disease is increasingly rare, and for many is something from the history books, there were still 3248 cases worldwide between 2010 and 2015, leading to 584 deaths, according to the World Health Organization.
Although Chinese media stress that there is no need to panic over the recent outbreak of the bubonic plague, many netizens still fear an epidemic, making comments such as: "The Year of the Pig brought the [African] swine fever, now the plague is starting just before the Year of the Rat!" (The word for 'plague' in Chinese is 鼠疫 shǔyì, literally meaning 'rat plague' or 'mouse plague').
Others are asking questions such as: "Do we risk the plague more if we have mice in the house?" and "How can we prevent getting it?"
Meanwhile, according to Jiemian News reports, the area in Inner Mongolia where the patients originally contracted the illness is currently under strict control by the Ministries of Health and Agriculture; some roads are closed off, and there's temperature screening for those taking public transport.
The area has seen four cases of plague over the past decades, the most recent one before this month being in 2004.
Last news on the current three patients was from last Saturday, when it was reported that at least one of the patients is now in stable condition.
By Manya Koetse
Follow @whatsonweibo
References
Benedict, Carol Ann. 1996. Bubonic Plague in Nineteenth Plague in Nineteenth Century China. Stanford University Press.
Spotted a mistake or want to add something? Please let us know in comments below or email us. First time commenters, please be patient – we will have to manually approve your comment before it appears.
©2019 Whatsonweibo. All rights reserved. Do not reproduce our content without permission – you can contact us at info@whatsonweibo.com.