20 Ways to Use Tiger Balm
For most Chinese, Tiger Balm is a classic from grandmother's cupboard. Reason enough for Sina News to publish a "20 ways to use Tiger Balm" on their Weibo account.
For many, Tiger Balm is a childhood household item. But for those born after the 1990s, the little red tin is something they only know from their grandmother's cupboard. Reason enough for Sina News to publish a "20 ways to use Tiger Balm" on their Weibo account, instantly turning it into a trending topic (#清凉油的20个用法#).
Update 2018: Also read our tips on how to use Tigerbalm by Chinese social media users here.
"For the majority of the post-1980 generation, tiger balm is part of their past,"   Sina writes: "But for many post 1990-ers and 00-ers, it's a historical relic. Tiger balm has so many benefits – it is really a good thing from the past. It's a jack of all trades!" Sina and other media have shared a list of the various ways to use tiger balm.
What is known as 'tiger balm' in most western countries is better known as 'soothing balm' (清凉油 qingliangyou) or 'essential balm' (风油精 fengyoujing) in China; a hot/cool and fragrant balm or oil containing menthol.
Tiger balm, essential balm and soothing balm (picture by WhatsonWeibo).
The original Tiger Balm was developed in Birma in the 1870s, by the China-born herbalist Aw Chu Kin. Different to what the name suggest, Tiger Balm does not contain any ingredients related to the tiger. The balm, containing menthol, mint oil, clove bud oil, cajuput oil and camphor, was named after Aw's son, whose name literally meant 'Gentle Tiger' (Aw Boon Haw, 胡文虎). He was the son who later inherited the recipe of the balm, and turned Tiger Balm into a household name together with his brother.
Apart from the original Tiger Balm (虎標萬金油) there are various brands available in China's stores, available from drug stores to supermarkets. According to Sina Weibo, this top 20 list contains various ways to use this household classic.
Check out our top 20 list
(Please note that this original list was published by Chinese media. If you're in doubt about tiger balm usages and/or allergies, consult a doctor before using.)
1. Stung by a mosquito? Tiger balm can help take away the itchiness by applying it directly to the sting.
2. Tiger balm is the perfect insect repellent, as mosquitos and wasps do not like its strong scent. Leave a tin of tiger balm in every corner of the (bed)room during summertime, and leave the lid open. Mosquito's will not enter a room that reeks of tiger balm.
3. Wooden or bamboo furniture affected by bugs can benefit from treatment with tiger balm. Put some balm on every termite hole of the affected furniture, and they will die out.
4. For those with rheumatic pains, tiger balm can be used as a painkiller by applying it in the lower back area, legs, and directly on sore muscles and bones. Apply as many times as necessary.
5. You've been painting the house, and now there are paint stains all over your hands and arms that are not easy to remove by water. Put some tiger balm on a cloth and thoroughly wipe your skin with it. After a couple of minutes, the paint will start letting go, and you can easily pull it off.
6. Weibo suggests that a bad body odor can be cured by the longtime use of tiger balm. Regularly apply tiger balm to the body, the list suggests, and the bad body odors will disappear. You will reek of menthol instead.
7. Got diarrhea (拉肚子)? Rub some tiger balm in and around the navel area, and cover it with the palm of your hand for two or three minutes to let the hotness work on the belly. You can also rub a little bit of balm in between the tailbone and anal area for full effect, the list suggests.
8. The list also suggests to use tiger balm when your baby has an inflamed bottom. Applying tiger balm to the anal area is said to provide some soothing relief. (We are not sure about this one, please always first consult a doctor before applying this balm on babies!)
9. For the early signs of a soar throat, apply tiger balm around the neck area before sleeping. Generously rub it around the neck with the palm of your hand, and your throat will feel better in the morning.
10. Throbbing toothache may feel better after applying some tiger balm to it. Put some balm on a cloth, and rub it into the affected area around the tooth.
11. For mild burns: lightly apply the balm to the afflicted parts. It can help alleviate the pain and avoid blisters. The earlier the balm is applied, the better.
12. Corns and calluses on the feet may disappear after consistent use of tiger balm. Smear the balm directly on to the corn. The list, like this blog, suggests that the balm is warmed with a burning cigarette to improve the balm penetrate into the corn, and to repeat it every day, one to three times a day.
13. Tiger balm is an excellent remedy against headaches. Rub some tiger balm on both temples and reapply if necessary. Be careful not to get the balm in your eyes.
14. When you got a cold and have a stuffed nose, it might help to put some balm right underneath and around the nostrils to let your nose clear up.
15. If you get carsick or seasick easily, moisten the lips with some balm to prevent nausea.
16. Just as tiger balm might help when suffering from diarrhea, it might also help with constipation. Rub some balm around the belly area to ease the stomach.
17. German soccer players have discovered that applying some balm to your chest and calves can help to alleviate the pain associated with fast running.
18. Tiger balm can also be useful when removing the remnants of stickers; rub some in, and you can peel it right off (as also suggested by Vision Times).
19. For those suffering from cold feet in winter, tiger balm might be the solution. Rub the cream into the feet to help stimulate and improve circulation.
20. Bye bye bad smells! Freshen those stinky sneakers and shoes by putting some open packages of tiger balm where you keep your shoes.
Out of Tiger Balm or still not have it in your cupboard. You can order Tiger Balm online from various places:
Buy here:
Tiger Balm White Ointment HR Pain Relief 30g (Big Size)
By Manya Koetse
Follow @WhatsOnWeibo
©2015 Whatsonweibo. All rights reserved. Do not reproduce our content without permission – you can contact us at info@whatsonweibo.com.
Chinese Doctor Knocks Herself Out in Controversial Self-Experiment
Dr. Chen wanted to warn about the dangers of sevoflurane and other drugs.
A female doctor has become a topic of discussion on Chinese social media for her self-experimentation with anesthesia.
Dr. Chen (陈大夫), a Nanjing doctor who works in the Obstetrics and Gynecology department, conducted the experiment in response to an ongoing discussion on whether or not a handkerchief dipped in inhalation anesthetics could cause immediate unconsciousness ("一捂就晕").
The discussion was triggered by news of the death of a 23-year-old woman from Foshan, Guangdong Province, on February 8. The recent college graduate was found in a hotel room and it was later ruled that the cause of death was acute respiratory failure due to sevoflurane toxicity. The victim's company supervisor, a 39-year-old man named Peng, is now suspected of fatally sedating and raping the young woman.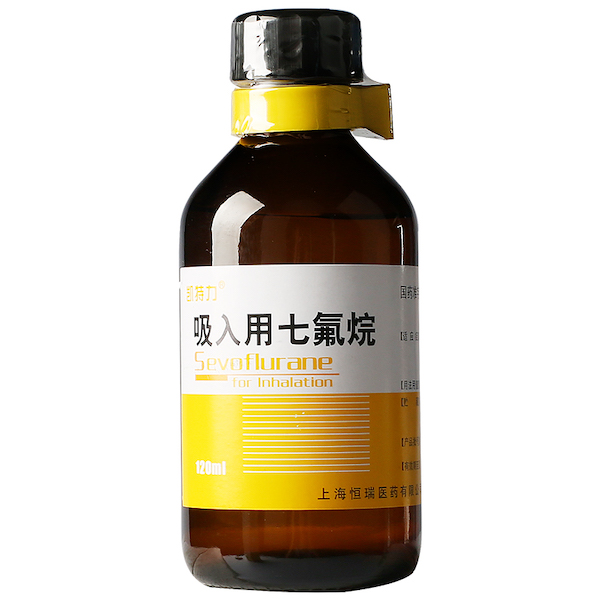 The case led to speculation among netizens whether or not sevoflurane could have knocked out the woman in seconds. There have been ongoing debates on the effects of general anesthetics used to sedate unsuspected victims, with some specialists arguing that it is not so easy to make someone slip into unconsciousness within a matter of seconds – saying it would take much longer than and only if an unusually high dosage is used.
Dr. Chen posted on February 10 that she was certain that it is possible for certain inhalation anesthetics to immediately make someone pass out, but her claim was refuted by others. The popular Weibo blogger Jiangning Popo (@江宁婆婆), a police officer, was one of the persons involved in the discussion claiming Chen was wrong.
Dr. Chen is active on Weibo under the handle @妇产科的陈大夫, and with over two million followers on her account, she is somewhat of a 'celebrity' doctor.
Instead of spending time arguing back and forth on the internet, Dr. Chen decided to put the issue to the test herself with an unopened bottle of sevoflurane that she had previously purchased for the planned sterilization of her dog. The sevoflurane had already passed its expiry date.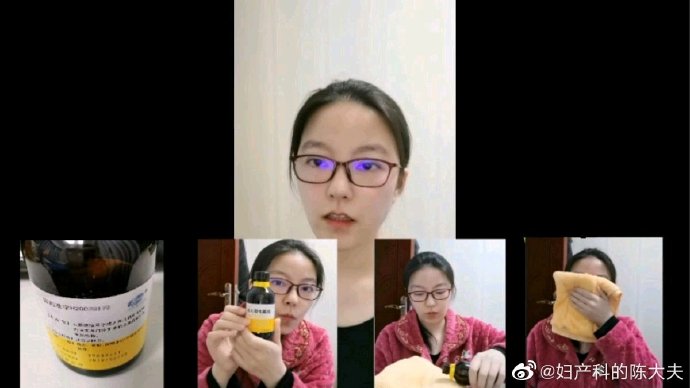 On February 16, Dr. Chen then asked someone else to film her doing the self-experiment and she posted the video on Weibo, in which she inhaled sevoflurane on a cloth. The doctor soon passed out in the video, which has since been deleted.
The experiment in the video lasts 64 seconds, and shows Chen:
– 00:01-00:06 Opening the bottle of sevoflurane
– 00:07-00:12 Preparing a cloth
– 00:13-00:23 Putting the sevoflurane on the cloth
– 00:23-00:26 Closing the cap of the bottle
– 00:27-00:28 Putting the cloth on her mouth and nose
– 00:29-01:33 = the time frame of losing consciousness (with first symptoms starting at 0:44) to going limp and falling on the floor (1:20) and being completely unconscious (1:21-1:33).
Dr. Chen's experiment immediately sparked controversy after she posted the video on social media.
Although sevoflurane is a prescription drug and a controlled substance, it is also sold online as a type of drug. According to The Paper, the number of rape cases in China facilitated by drugs have risen over the past three years, with many 'date rape drugs' being sold and bought over the internet.
With sevoflurane being a controlled substance, Dr. Chen's video triggered discussions on whether or not she was actually involving in a criminal act by doing the self-experiment. She also received criticism from within the medical community that she used this medication outside of the hospital environment.
Dr. Chen soon deleted the video herself and then called the police to personally explain and apologize for the incident, with the news soon going viral (#女医生拿自己做实验后报警并致歉#, 270 million views).
But despite the controversy, the doctor still defends her actions to some extend. Although Chen stated on February 17 that her self-experiment was "not right," dangerous, and should never be imitated by anyone, she later also explained on her Weibo page that she thinks sevoflurane as a prescription drug is too easy to get your hands on and that the existing laws to prevent people from buying it are too weak.
The doctor has succeeded in raising public awareness on the dangers of these kinds of drugs. She also reminds both women and men never to leave their drink unattended, as the dangers of someone slipping something in your drink are real and the consequences can be grave.
As the incident has gone trending on Chinese social media, many commenters praise Dr. Chen for her experiment, while others also praise her for being transparent and admitting her mistakes.

By Manya Koetse
with contributions by Miranda Barnes
Follow @whatsonweibo
Spotted a mistake or want to add something? Please let us know in comments below or email us. First-time commenters, please be patient – we will have to manually approve your comment before it appears.
©2021 Whatsonweibo. All rights reserved. Do not reproduce our content without permission – you can contact us at info@whatsonweibo.com.
Applying China's New Civil Code, Shanghai Court Annuls Marriage after Husband Hides HIV-positive Status from Wife
The court case triggered discussions on the need for premarital health checks.
Jiang is HIV-positive but did not mention his status to his partner before getting married. Under China's new civil code, the marriage is now annulled.
On January 4, a Shanghai court applied the new rules of China's Civil Code for the first time to annul a marriage.
The Civil Code of the People's Republic of China was adopted by the third session of the 13th National People's Congress in May of last year and is effective since January 1st 2021. Some experts within China call the law a "milestone legislation" that will better protect people's civil rights.
On Monday, January 4, a landmark court case in which the new civil code was applied for the first time in Shanghai went trending on Chinese social media.
The case involves a married couple of which the husband had failed to inform his wife that he was HIV positive before getting married.
In June of 2020, Mr. Jiang and Ms. Li got married after Li became pregnant. Afterward, Jiang confessed that he had been HIV-positive for multiple years, and was taking medication to control his disease.
Jiang alleged that, due to his medication, there was effectively no risk of transmitting HIV to his partner. But Li, who did not contract HIV, could not accept the situation and decided to terminate her pregnancy and applied for a marriage annulment.
Under the new civil code, annulment of marriage is possible when a partner who is "seriously ill" – which now includes HIV/AIDS – fails to inform their fiance of their condition before getting married.
Since Jiang had not informed his wife of his condition before tying the knot, the Shanghai Minhang Court ruled in Li's favor and annulled the marriage.
On Weibo, the case has attracted a lot of attention, with one hashtag about the case (#男方婚前患艾滋未告知婚姻关系被撤销#) attracting 690 million views on Monday.
The news item also led to another hashtag gaining many views: "The Need for Premarital Medical Examination" (#婚前体检的必要性#) had 200 million views on its hashtag page on Monday.
One popular relationship blogger (@感情感分析异地恋) argues that the Shanghai court case shows the importance of couples getting a medical examination before getting married: "It's not to discriminate against those who are HIV positive or who are suffering from other illnesses, but it's about informing your partner about these things before getting married."
Premarital health checks were previously compulsory in China, but these examinations are no longer required since 2003. Many couples do still go for premarital health checkups. According to Xinhua, over 61% of Chinese couples had a medical examination before getting married in 2018.
Although the application of China's new civil code is generally praised by Weibo users in this case, it has previously also received a lot of negative attention. The new law also introduced a mandatory 30-day "cooling off" period for couples seeking divorce.
This "cooling off" period is seen as harmful to those who are suffering abuse within marriage and already have difficulties in leaving their abusive partner. The case of Lamu, a Tibetan vlogger who died after her husband set her on fire, also led to more online discussions of the "cooling off" period and how it makes women more vulnerable within their marriage.
By Manya Koetse
Follow @WhatsOnWeibo
Spotted a mistake or want to add something? Please let us know in comments below or email us. First-time commenters, please be patient – we will have to manually approve your comment before it appears.
©2021 Whatsonweibo. All rights reserved. Do not reproduce our content without permission – you can contact us at info@whatsonweibo.com.